Opening a restaurant comes with a massive up-front cost, which includes your commercial space lease, permits, licenses, and marketing expenses. Commercial restaurant equipment is often a costly but necessary expense. When planning how much it will cost to open your new restaurant, diner, food truck, or other food serving location, save your money for equipment.
With the high start-up cost, you won't want to make a mistake when purchasing equipment. It's normal and encouraged to update your equipment as your restaurant becomes more popular, but you won't want to pay for the same thing twice within a day, month, or year period.
You also won't want to open your new food establishment, only to realize you're missing equipment! If that happens, you'll find yourself running out of your restaurant opening day, scouring the local stores and shops for utensils that don't match or fit into your theme.
All the below tools are essential in a commercial kitchen, but there may be some things you'll have to add depending on the type of food you serve. For example, a pizza joint will need a pizza oven, while a quick-serving restaurant will need microwaves and fast-cooking ovens.
Let's take a look at some of the most important items you'll need before operating.
Commercial Kitchen Equipment You'll Need at Your Restaurant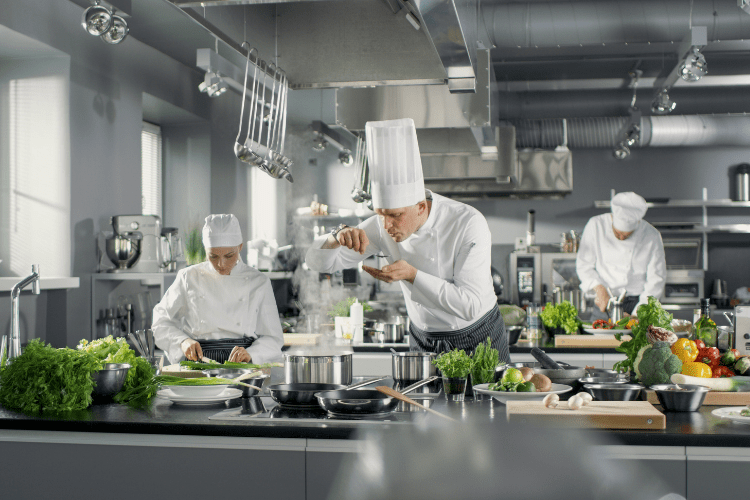 There are 21 different types of commercial kitchen equipment you'll need in your restaurant or place that serves food. We separate each equipment based on type, function, and location.
Ranges and Ventilation
Ranges are a key component of your cooking gear, and you'll need proper ventilation to keep your staff comfortable throughout their shifts. When it comes to ranges, you have options.
Take a look at our range buying guide, and highlight the things you'll need for your equipment.
Types of Commercial Ranges

Type
Description
Restaurant

Designed as a stand-alone unit and varies between 24" to 74". Gas connection is in the back. Lighter-duty than heavy-duty ranges, but designed for commercial kitchens. Plenty of BTUs for cooking.

Heavy-Duty

Designed to accompany other ranges, and typically doesn't stand alone. Gas connection is in the front or side. Heavy-duty and high-volume uses, has thicker gauges, produces more energy.

Wok

Designed for cooking Asian-style dishes in high quantities. Prepared stir-fry dishes, and designed with high-BTU burned and a raised ring that supports the wok. Cooks at very high temperatures.

Stock Pot

Designed for heating larger pots full of liquid. If a restaurant has a stockpot, they typically only have one. The low height reduces spillage and makes it easier to lift heavier pots off the top.

Gas vs. Electric Ranges

Type

Description

Electric

Efficient, easy to clean, and cook evenly. More expensive.

Gas

Heats up quickly and keeps working through outages. Harder to clean.

Stove Size

Common range sizes are between 24" to 60" wide, but you can find specialty models that are as small as 12" and as large as 72" 

Hood Space

Health and safety codes require hoods to sit 6" higher than the stove.

Menu + Application

Choose stove size based on menu items and food output.

Choosing the Number or Range Burners

Consider your kitchen's output to determine the burners you'll need. Most burners use between 6 or 10 burner models, but you can find anything from 1 to 12. 

High-volume establishments need ranges that sport 32,000 BTU, which smaller restaurants only need 20,000 BTU.

Stove Top Types

Type

Description

Gas Open Burner

Most common, high BTUs (30,000). Supports a variety of cooking styles, like frying with a pan, pot, or boiling with a crock pot.

Even-Heat 

Designed for stock pots. Smooth surface is easy to maneuver.

Tubular Electric + French 

Burners heat up quickly, and are perfect for sautéing. Provides softer, even heats for various stews. Very easy to clean.

Grill Top

Used in breakfast or high-volume restaurants. Great for grilled sandwiches, pancakes, and burgers. Range from 11" and 72".

Combination

Includes several burners in one. Makes the best use of space.

Induction

Energy efficient, keeps kitchens cooler and doesn't require a hood.

Countertop

Small, portable stove top. Perfect for maximizing space.

Range Base Types

Type

Description

Oven

Often seen as space saves, they are usually 20" wide by 26" deep.

Refrigerated

Used on combination ovens and for kitchens who use cold storage.

Storage

Open cavities beneath range tops. Used instead of an oven.

Add-On Types

Salamanders

A broiler that used infrared heat to meal cheese and cook steak.

Cheesemelters

Similar to a salamander, but used for cheese specifically.

Grill Broilers

Built into the range top. Has a broiler for melting cheese.
Commercial kitchens will become uncomfortable very quickly without proper ventilation. Ventilation manages temperature and airflow in the space to help maintain a clean, pleasant, and healthy environment for all staff. Keep in mind the following factors when choosing vents.
Air Volume Flow Rate:

The rate at which the air moves through your ducts.

Static Pressure:

The resistance or friction present in the ventilation system.

Energy Efficiency:

Find a balance between the fans' horsepower and emissions.

Noise:

Fans can be loud, so find a fan that's between 7-21 sones.

Size:

Consider both the size of your

kitchen and range. Ensure it doesn't break code.
There are many types of ventilation hoods available on the market, including ones made for food trucks, outdoors, and pizza.
You can also choose between PSP Makeup Air Hoods, Type 1 Restaurant Hoods, fire suppression models, heat removal, condensate, short cycle, and BRP Makeup air systems. Most ventilation systems pair with your hoods or restaurant type.
Ovens
Most ovens are underneath your range and ventilation system, so you won't necessarily have to consider how large your standard oven should be in your kitchen. However, most kitchens need a commercial, convention, and combination to cook all common menu items. The quality of your oven is also important, as you'll need one that heats up quickly, is easy to clean, and won't rust.
Commercial Convection Ovens:

Helps establishments handle higher volumes.

Rapid Cook Ovens: Quickly toasts bread and swiftly cooks food.
Pizza Oven:

Specialty oven made for baking pizzas and flatbread.

Conveyor Ovens: Uses a conveyor belt system to quickly bake items.
Cook and Hold Ovens: Spacious ovens with multiple rungs/racks.
Combination Ovens:

Combines one or more oven

types.
If you plan to cook traditional pizzas, you'll need space for it. Commercial pizza restaurants that only bake and serve pizza won't have to worry about adding other ovens or equipment.
Microwave
Microwaves are essential for all kitchen operations, as you're unlikely to cook everything from scratch. They come in handy when it comes to reheating pre-cooked items, steam cooking, or defrosting. You'll find commercial microwaves with the following features, sizes, and specs.
| | | | | | | |
| --- | --- | --- | --- | --- | --- | --- |
| Type Duty | Wattage | Cook Time (Baked Potato) | Hourly Output | Size (cu. ft) | Max Use Per Day | Uses |
| Light | 1000 | 4:03 | 13 | 0.3 – 0.8 | 50 of fewer | Wait stations, break rooms, breakfast bars, concession stands. |
| Medium | 1200-2000 | 3:10 – 2:10 | 17 – 24 | 0.8 – 1.0 | 100 – 150 | Convenience stores, coffee shops, bakeries, and kitchens. |
| Heavy | 2000-3000+ | 2:10 – 1:00- | 24 – 38+ | 1.2 – 1.6 | 200 or more | Kitchens, quick-serve restaurants, cafeterias, catering companies. |
Some microwaves, some with a digital display, are programmable, have USB port support, or have stackability. Decide which microwave you need based on the size of your kitchen, its included features, and how often you'll use it. Heavy-duty microwaves are the most expensive.
Gas or Electric Grills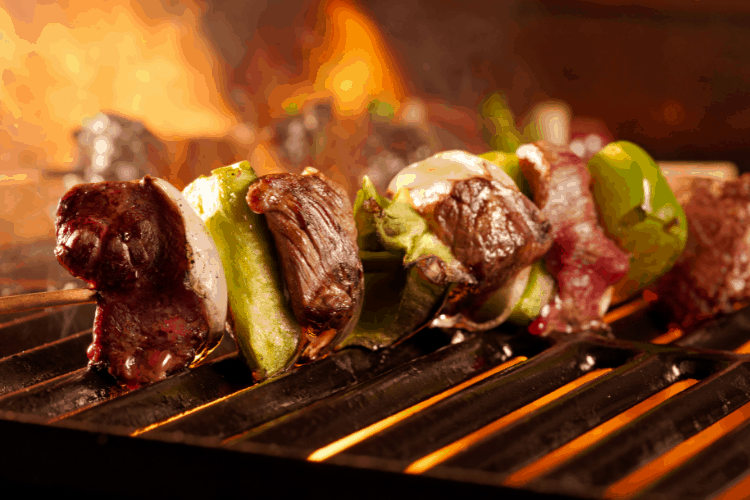 Grills are the backbone of many commercial restaurants, and you'll need one if you serve a lot of sandwiches, burgers, or wraps in a 24 hr period. The main difference between electric and gas is their efficiency and price. A gas countertop grill heats up quickly, has easy-to-use temperature controls, and is less expensive to operate.
Electric grills, on the other hand, last longer, reduce overall operating costs and have more consistent cooking results. However, electric grills take a while to heat up.
There are three main types of grills, and each is available to use with gas or electric.
Countertop Grill:

Ideal for restaurants, are portable and compact.

Drop-in Grill:

Permanent solution that's more expensive but looks nice.

Teppanyaki Grill:

Looks like a drop-in but allo

ws you to heat food along the edges.
Restaurants should consider the size of each grill and the number of people they serve. The standard grills sizes range from 24"-72", but larger grills can cost thousands of dollars. If you serve a lot of people but prefer a lower-cost option, consider a drop-in model. 
Grills come in stainless steel or chromium, but stainless steel is more resistant to dents and scratches. Chromium isn't as durable but stays shiny and is highly resistant to corrosion.Plate thickness may also be a deciding factor for your business, as ½" thick plates are only suitable for minimal use. 1" plates are for high-volume restaurants and cooking from frozen.
Freezers and Refrigerators
To keep your food fresh for longer, invest in quality freezers and refrigerators. Depending on your set-up, you may already have walk-in freezers and refrigerators, but if you don't, you should consider installing them if you have space.
For all other spaces, you'll need to purchase separate commercial freezers and refrigerators you can install on-site.
You'll need at least one freezer, one refrigerator, and a condenser for each unit.
Types of Commercial Freezers and Refrigeration

Type
Description
Single Door Reach-In

Best for production lines or cooking areas that need to serve small portions. Stocked and used daily.

Multiple Door Reach-In

Located in prep areas. Stores bulk items the restaurant will use weekly. Allows for fewer trips to the walk-in.

Walk-In 

Found outside or in basements. Used to store bulk ingredients, frozen stock and for receiving deliveries.

Undercounter

Able to roll around the prep area for quick access. Can be placed under counters. Best for frequently used ingredients.

Roll-In

Installed in prep areas. Contains empty cavities for placing roll-in racks. Best for catering, buffets, and preparing food.

Pass-Through

Great for use between prep areas and stocking or serving stations. Accessible for both sides for better efficiency.

Door Types for Freezers and Refrigeration

Type
Description
Swing Door

Makes loading and unloading easier, but swing doors can block traffic and minimize space within the kitchen.

Half Door

Uses swing doors, but they're shorter and split in two sections. Helps to conserve energy, but still blocks traffic.

Pass Thru Doors

Has both front and rear doors. Great for server stations and prep areas. Comes in multiple materials and door types.

Door Materials for Freezers and Refrigeration

Materials

Description

Solid

Easy to clean, better insulation, and energy-efficient.

Glass

Better visibility and reducing opening to retain more cool air.

Compressor Locations

Compressors draw in ambient air to regular internal temperatures. Warmer air causes the compressor to work harder, and heat naturally rises to the top.

Location
Description
Top

Pulls in warmer air, making it better for cooler environments. They're less likely to clog than bottom mounts and don't take up storage space. However, they are harder to clean.

Bottom

Cheaper than top-mounted compressors, as it pulls in cooler air. Bottom shelves in the fridge are easier to reach, but they get dirty fast and have less storage space.
Businesses within the food industry should consider removable gaskets for more accessible cleaning, digital thermostats, and specification line products for more fridge/freezer functionality.
Ice Maker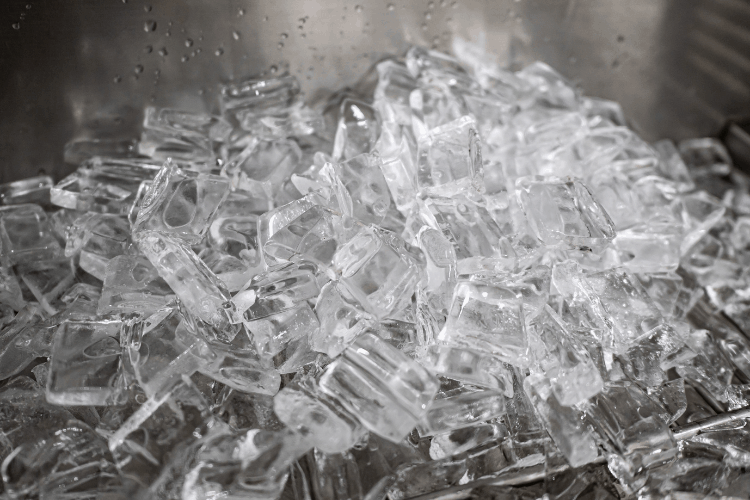 Most commercial kitchens need an ice maker, an ice bin, and a condensing unit. The size of your ice machine is determined by how much ice output you'll need per day, but you may want to account for growth and the replaceability of the machines. Consider the following specs.
7-10 oz. cup: 5 oz. of ice per cup.
Water Glasses: 6 oz. per 12 oz. glass.
12-16 oz. cup: 8 oz. of ice per cup.
18-24 oz. cup: 12 oz. of ice per cup.
Cafeteria/Hotel Catering: 1 lbs. of ice per person.
Restaurants: 1.5 lbs. per meal.
Cocktail Bar: 3 lbs. of ice per person.
Hotel Guests: 5 lbs. per hotel room.
Salad Bar/Buffet: 35 lbs. per cubic foot.
Now that you have an idea of how much ice you'll use per day, let's look at different ice makers, the ice shapes they make and their purpose, and condensing units.
Types of Ice Makers

Type
Useage
Size
Output
Modular or Ice Machine Heads 

Can store and dispense ice. Can sit on top of ice machine bins, and soda and ice dispensers.

22", 30", 48"

250 lbs. per day or over 1000 lbs. per day.

Countertop Ice Dispensers/Makers

Compact unit found in hospitals. Produces small, easy-to-chew ice.

22", 30" or less.

400 lbs. per day.

Undercounter Ice Machines

Combines ice makers and an ice machine storage bin. Good for restaurants, cafes or bars.

40" or more.

350 lbs. per day.

Combination Ice/Water Machines

Combines a water and ice machine. Great for offices and cafeterias. 

22" or less.

500 lbs. per day.

Types of Ice Machine Condensing Units

Type
Description
Air Cooled Ice Machines

Cost-effective and don't involve additional water costs. Air cooled condensers need 6" of clearance. They're a great choice for most places that serve food/drinks.

Water Cooled Ice Machines

Cooled with water, but only use one if it's placed in a room that's less than 80°F and free of contaminants. Water consumption is high, making them expensive.

Remote Cooled Ice Machines

Still air-cooled, but mounted in a separate location away from the ice maker. It's usually placed on the roof and is the quietest, cooler, and costly of the three.

Types of Ice

Type
Description
Cubed Ice

Most common ice types found in restaurants and other commercial businesses. Cubed ice melts slowly, is great for liquors, and comes in multiple sizes.

Nugget Ice

"Chewblet" ice is commonly found in healthcare settings and quick-serve restaurants. It's slow melting, easy to chew, and displaces more liquids, reducing syrup use.

Flaked Ice

Exclusively used to chill foods, like seafood, meats, and salads. The small flakes make them perfect for buffets and markets. They're easy to chew in blended drinks.
The last thing you need to consider is the size of the bin. Unless you're purchasing a modular ice machine, an ice bin is a necessity, especially if you have a large restaurant and multiple places that serve drinks, like a bar and a family zone.
Always choose a bin with enough capacity to hold slightly more ice than what you'd need in a 24 hour period.
Sinks
In foodservice, sinks are used for three main purposes: hand washing, food preparation, and dishwashing. You'll likely need more than 3 sinks in your kitchen, and each unit will be used for different purposes. Let's look at the compartments, material, and gauges of commercial sinks.
Number of Sink Compartments

Type
Description
1 Compartment Sinks

Basic model that's optimal for saving space. Perfect for food trucks, utility or vegetable washing.

2 Compartment Sinks

Compact footprint and contains bowls that vary in size and depth. Best for thawing, prep, cades, and snack bars.

3 Compartment Sinks

Most common commercial kitchen model, as it includes each step of the prepping process. Best for cleaning dishes.

4 Compartment Sinks

Has the largest footprint and has bowls dedicated to every function: scape, rinse, wash, sanitize. Great for hospitals.

Types of Compact Sink Materials

Type
Description
430 Stainless Steel 

Made from a lower quality stainless steel than 304. It's the most commonly used and will eventually rust.

304 Stainless Steel

A higher quality material than 304 and is perfect for wet environments. It's a heavy duty material that resists rust.

Types of Compartment Sink Gauges

Types
Description
18 Gauge (Low Quality)

Thin material. Good for soft water areas (no hard water).

16 Gauge (Mid-Quality)

Mid-grade material with basin support and strong legs.

14 Gauge (High Quality)

Thickest material with a high-level of durability
The higher the quality, the more expensive the sink will be, but if you expect to scale your business or you have a high food output, you may need multiple 3-4 compartment sinks made from 430 stainless steel with a 14 gauge compartment. You should also add other sink types.
Bar Sink: Small, compact sinks placed on a low level equipped with a speed rack.
Drop-In Units:

Similar to sinks used in the home. Dropped inside a countertop.

Hand Sinks:

Tiny sinks only used for handwashing to not contaminate other sinks.

Mop Sinks:

Janitorial sinks that are used for drinking mops and filling buckets.
Most of your industrial-sized sinks should be equipped with a backsplash that supports gooseneck, swing nozzles, or pre-rinse faucets, as they streamline the cleaning process.
Washing Equipment
Commercial kitchens need to keep the area clean at all times. In a high-traffic area, employees are more likely to slip and hurt themselves unless the kitchen is free of puddles and obstructions. You'll need more than soap and water to keep your kitchen up to code each night.
Purchase the following washing equipment, and be sure your kitchen or janitorial staff uses said equipment to keep the space clean before, during, and after service every single day.
Commercial-Grade Cleaning Products:

Floor cleaners, disinfectants, dish detergents.

Rags:

Bar mop towels, Terry Cloths, dish rags, and sponge cloths. 

Sponges:

Sponge cup brushes, soot erasers, MetriSponges, kitchen sponges.

Mops:

Microfiber mop kits, dust mops, mop-heads made from cotton.

Brushes for Grills:

Grill cleaning block, grill grate cl

eaner, scrapers, scour pads.
Be sure to keep months' worth of stock in your storage or basement, so you never run out.
Food Prep Counters and Cutting Boards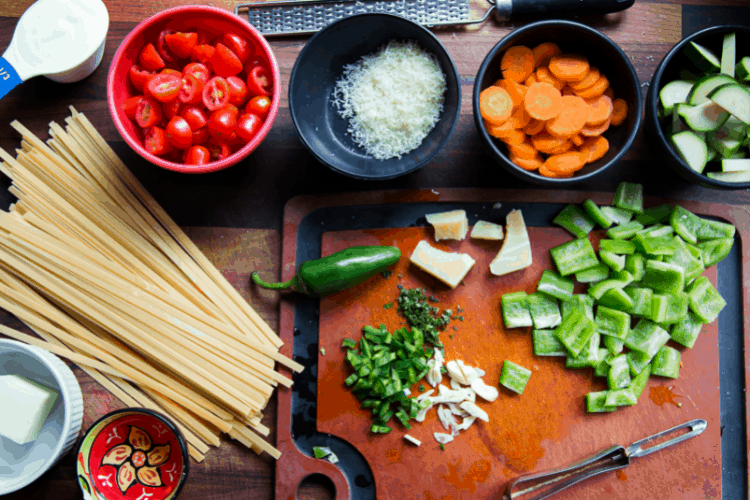 All kitchens need a dedicated prep station with color-coded cutting boards that determine which food type should be cut on its surface. For example, buy a red cutting board for meat, and a green one for vegetables. Plastic is typically the best bet, as it's not porous like wood. Wood can crack, is difficult to clean, and hides more bacteria on its surface than plastic cutting boards.
Prep counters should have drawers for storage, are sturdy enough for daily wear, and made from stainless steel. Stainless steel won't absorb bacteria and can withstand commercially graded cleaning products. Keep small refrigerators under your prep station at all times.
Sharpening Stone (Whetstones)
Kitchen owners spend a lot of money on their kitchen utensils, and every cook knows that the best knives are sharp and made with the industry in mind.
To keep your knives in great shape, invest in multiple sharpening stones. You'll want to have more than one in your kitchen made from different grit sizes, stones, and plates, as some knives need special whetstones.
Different grit sizes are needed for specific purposes, as indicated in the chart below.
| | | |
| --- | --- | --- |
| Grit Size | Particle Diameter (μm) | Typical Use |
| 200 | 80 μm | Removes chips from damaged blades. |
| 500 | 30 μm | Sharpens blunt edges. |
| 1,000 | 8 μm | Smoothes rough edges into medium edges. |
| 4,000 | 4 μm  | Smoothes medium edges into sharp edges. (for meat) |
| 8,000 | 2 μm | Smoothing sharp edges for vegetables and fish. |
| 30,000 | 0.5 μm | Polishes edges into a mirror-smooth finish. |
Sharpening stones are made from natural stones or artificial stones. Natural stones are prized for their beauty, while artificial stones are bought for their low cost. Diamond plates can be added to whetstones as the hardness in diamonds makes them slow to wear or not wear at all. 
Food Processors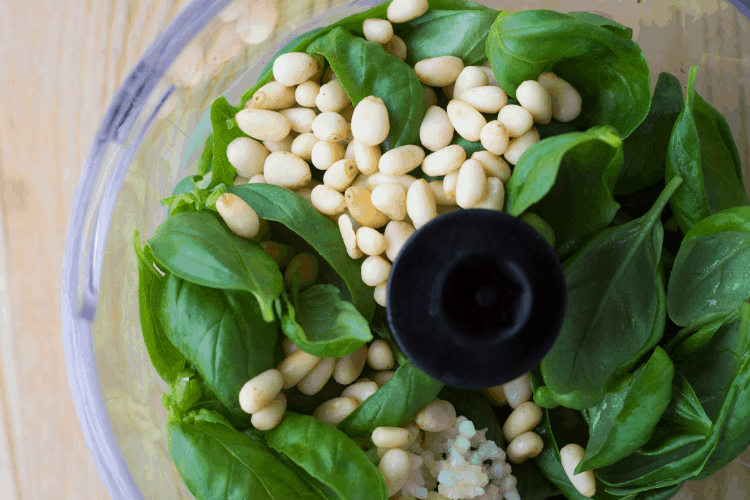 A food processor is a kitchen appliance that's useful for piercing, grinding, shredding, slicing, and chopping food. Depending on your kitchen setup, you may need one or more of the following.
Batch Bowl Processors:

Chop, shred, dice, grate, and slice multiple batch ingredients.

Continuous Feed Processors: For heavy dicing, vegetable prep, and cheese slicing.
Combination Processors:

Does everything a batch and continuous processor does.

Vertical Cutter Mixers: Giant mixing bowl with a powerful motor.
Buffalo Chopper:

Best for pureeing

meats, fruits, and vegetables.
Purchase multiple attachments and bowls for your food processors, so you don't have to clean the unit between preps. Designate processors based on food like meats, cheese, fruits, and vegetables to avoid cross-contamination and to ensure the unit stays clean long-term.
Mixers
Mixers vary between sizes, and you may need one if you plan on making a lot of bread or desserts. Select a mixer based on the amount of food you'll make and the frequency of use.
Floor Mixers
The most popular mixers in traditional restaurants and bakeries, they are high-powered and capable of mixing large amounts of floor and dough in a short time. Only buy floor mixers in restaurants that produce a high volume of desserts and bread, as they're quite expensive.
Hand Mixers
Also called handheld mixers or immersion blenders, kitchen staff can use them for blending a small amount of sauces and soups. It beats blending by hand, and it cuts down the time staff will need to make small items. You can effortlessly mix or chop at high speeds for a low price.
Countertop Mixers
All small bakeries, home kitchens, and restaurants have countertop mixers as they only need to use them for desserts or sauces. Great for places that are low on space and output.
Slicers
Slicers are perfect for, well, slicing. Most restaurants will use a slicer for cheeses and meats, but others will keep them around for prepping fruit and vegetables. Not all restaurants will need a slicer, but if you make a lot of sandwiches, you can cut your prep time down significantly.
Entry Level Slicers:

Manual operation, 9 to 12" blade size, 1/16 to ⅓ horsepower.

Mid-Tier Slicers:

Manual/Automatic, 10 to 14" blade size, ⅓ to ½ horsepower.

Premium Slicers:

Manual/Automatic, 13" blade size, ½ horsepower. Can cut cheese.
Restaurants that need to cut cheese should choose a mid-tier or premium slicer.
Cooking Equipment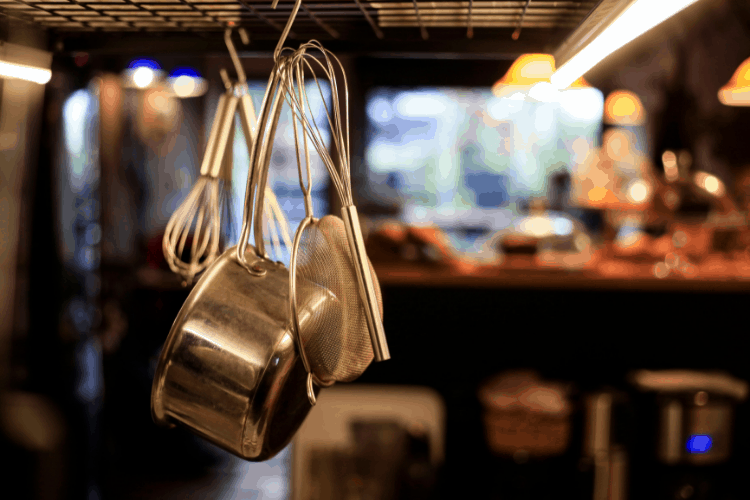 Cooking equipment includes everything you need or may need to prepare the dishes in your restaurants. You'll need many types of cooking equipment and duplicates of each item, or you'll have to wash each spoon after use. Try to get enough equipment to avoid washing each shift.
Sheet Pans

Roasting Pans

Baking Pans

Tongs

Ladles

Spatulas

Whisks

Mixing Bowls

Chef's Knives

Spoons for Tasting and Mixing

Pots and Pans of Varying Sizes With Lids

Kitchen Towels for a Quick Cleanup

Kitchen Rags for a Quick Cleanup
If your dishwasher breaks down and your employees are busy, you'll need a lot of dishes to compensate for that scenario. Prepare for the worst and buy a lot of cooking equipment.
Serving Ware
How are you going to serve the food you made without some plates and utensils? The right dishes can make your food look incredible and presentable.
You'll need to stock up on different-sized plates, bowls, ramekins, glassware, trays, and more. For your serving ware, think about their breakability, serviceability, color, cost, amount, and special dishware for specific meals.
China:

Elegant and beautiful, but easy to break and hard to replace.

Porcelain:

Ideal for catered events, unscaled joints and has high durability.

Melamine:

A stylish solution for high volume, casual restaurants.

Stoneware:

A modern yet classic look for an upscale restaurant.

Plastic:

Economical and efficient. Perfect for high-volume eateries.

Wooden:

Traditional wood serving ware works great in natural settings.

Metal:

Durable and visually appealing, they're a great choice for any business.

Glass:

From geometric plates to recycled glass, they look great in hotels.

Bone China:

Made from 25% bone ash, they're incred

ibly durable and unique.
Now that you've decided on the material of your serving ware, think about the color next. You'll want to match your restaurant, but when all else fails, white dishware is the best option. Severability is next on the list, which accounts for presentation and style. You can pick anything from round, square, oblong, or wavy plates, and each of these are made with a dish in mind.
For example, mini-cheesecakes look best with small or dessert plates, while a whole cheesecake looks best sitting on top of a decorative tray with a handle. Pizza restaurants should include a decorative tray in their serving wear, as it looks better and makes food easy to grab.
Most restaurants will need the following serving ware, but most places will need more.
Dishware:

Platters, plates, serving plates, bowls, serving bowls.

Glassware:

Cocktail, wine, water, beer, dessert, and specialty glasses.

Flatware:

Spoons, forks, knives, serving utensils.

Dinnerware Accessories:

Ramekins, charger plates, sauce cups, plate covers, dessert dishes, butter plates, break, teacups, coffee mugs, and saucers.

Displayware:

Tasting and appetizer dishes and baskets.

Linens:

Tablecloths and cloth napki

ns.
Don't start buying serving wear until you know your turnover rate, the amount of plates you'll need per seat, the types of dishes you're serving, the number of people you expect to serve per day, your popular dishes, and specialty plates you'll need to dress your specialty foods.
Storage Containers
Minimizing food waste should be one of your top priorities, and you can't do this productively without storage containers. You should purchase containers for customers (take-out containers) and for personal use. Restaurants need storage containers for their prepped food and freezers.
Be sure to stock up on the following storage containers, even if you think you won't need them.
Food Storage Containers:

For take-out and other miscellaneous food storage.

Dough Boxes:

Perfect for storing unbaked dough. Great for planning deserts.

Kitchen Canisters:

Small containers for holding coffee or sugar.

Large Ingredient Bin:

Stores dry ingredients in bulk, like flour.

Vegetable Crispers:

See-through bins made for k

eeping produce fresh.
Keep sharpies and masking tape in the office or somewhere in the fridge for ease of use. Staff will need to correctly label food based on the item and best before date to avoid waste.
Storage Racks and Shelving
A busy kitchen needs an easy-to-access, organized place that stores dry food, equipment, and utensils. Most kitchens will install storage racks above the prep area, and since shelving will go through some wear and tear, you'll want to find units that are made of high-quality materials.
For the best balance between durability and price, choose chrome, but other materials like epoxy, polymer, coated, anti-microbial, and stainless steel are other great choices. Choose a material that best suits your kitchen, climate (humid or dry), and your budget.
If mobility is important to you and your kitchen staff, consider purchasing a mobile storage unit instead of one that screws into a base. You might need to move your shelving periodically.
Steam Table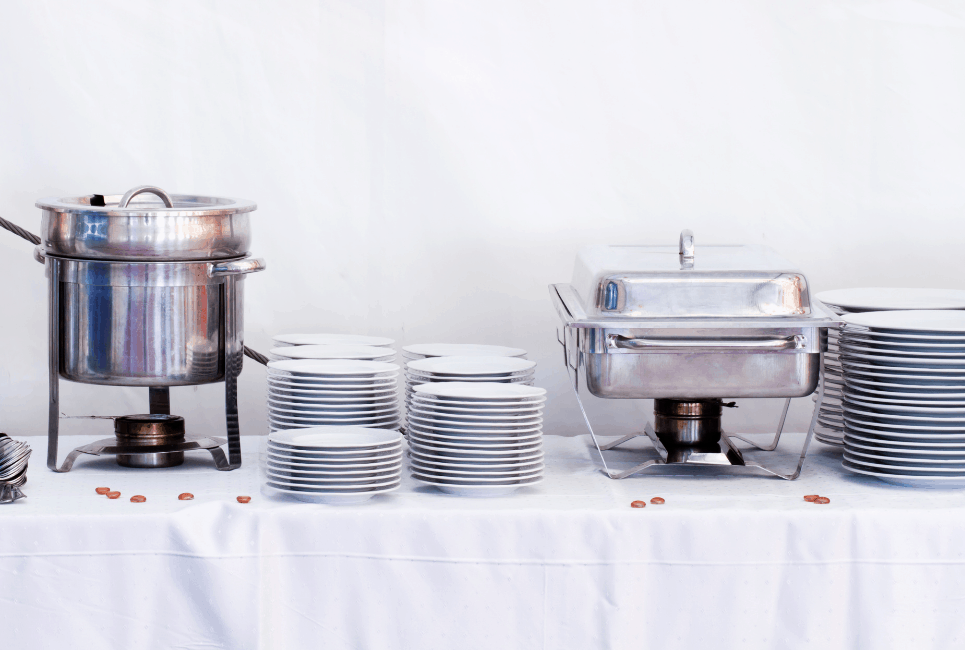 Steam tables are a type of food holding equipment that keeps food warm on a high-volume basis. Kitchen, buffets, hotels, and cafeterias that create large portions of food at once could benefit from a steam table.
Steam tables typically have compartments that hold pots and pans, have extensive temperature controls, and are a nice way to display items that need heat.
Gas Powered Tables:

Quicker to heat up and are less likely to malfunction.

Electric Powered Tables:

Long to heat up but are energy efficient and more advanced.

Open Well:

Can be used for moist or dry heat holding and is more cost-effective.

Sealed Well:

Built-in drai

n for cleanup, but can't be used for dry heat holding.
A gas unit will raise the temperature of the room you're using, while an electric table won't. Both the open and sealed wells can be made using gas or electric power. Overall the gas-powered open well is the cheapest unit. However, you will need to service it more frequently.
Kitchen Display System (KDS)
Unless you want to run to the kitchen every time you have an order, you need a kitchen display system that directs your orders to the back-of-house. Writing down orders isn't ideal because there are greater opportunities for mistakes. When used with a point of sale system, KDS can truly shine, because each staff will have access to orders in real-time without confusion.
Kitchen staff can modify the orders or how they're displayed on their end, and servers can sort through orders with images and modifiers. Online orders can go directly to the KDS as well, so you won't need to keep your phone on you at all times.
Finally, a KDS displayed ticket times, making it easy to track turnaround time based on stats like "New," "Preparing," and "Done." Toast, Square, Lightspeed, Upserve by Lightspeed, Revel Systems, and TouchBistro are the most popular. We recommend using the same KDS and POS provider to reduce confusion.
Point of Sale System (POS)
Point of sales systems (POS) are an essential aspect of your business. It connects the front to the back-of-house, so it's integral you find a system that answers these questions.
Is it intuitive?

User-friendly POSs are easy to learn on and minimizes mistakes.

Offline features?

The best systems are still usable if the Internet goes down.

Is it customizable?

A POS needs to suit your business and style.

Does it support the customer?

Find a system that allows you to create customer profiles, loyalty programs, and promotions you can send directly to their emails.

Multi-store capabilities?

If you have more than one store, the POS can connect them.

Mobile?

Employees should be able to use the POS from anywhere in the store.

Reporting?

Being able to view your analytics will help you improve your business.

24/7 Support?

Without 24/7 support, you

could be in a situation you can't fix.
Square, Clover, Toast, and Lightspeed are the most common POS you can buy on the market. Toast and Upserve are best for restaurants, while Square is preferred by small businesses.
Safety Equipment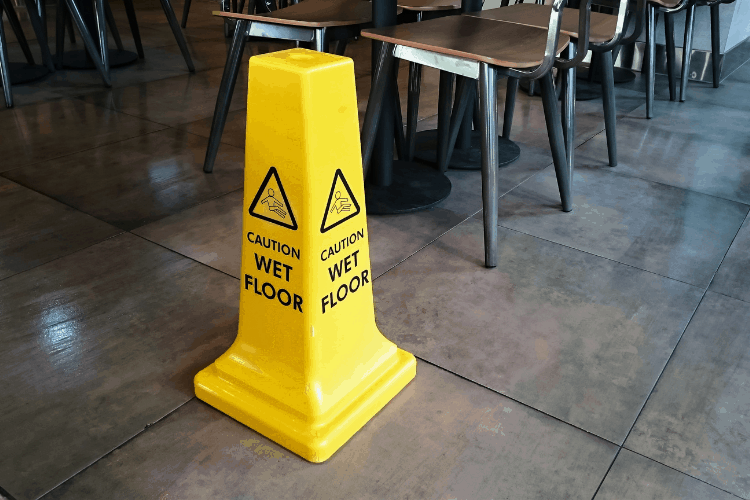 Every business that serves food needs to earn its permits and licenses, and you don't want to lose them for not keeping up with safety requirements. Foodservice is picky with their safety standards, and who could blame them? No one wants a hair in their mashed potatoes.
In order to maintain high safety standards, keep these essential items in your business.
Security Cameras

Hairnets

Beardnets

Googles

Finger Slips (for cuts)

Oven Mitts

Aprons

Wet Floor Signs

Rubber Floor Mats

First Aid Kits

Fire Extinguishers
Keep the fire extinguisher close to the grills and ovens for easy access.
fAQs
Question: What are the 4 categories of kitchen equipment?
Answer: Kitchen equipment is separated into four categories: maintenance, food production, food storage, and special equipment.
Knowing which kitsch utensils fall into the right categories can help you organize your commercial kitchen more effectively. These categories can also make it easier for you to locate and buy all necessary kitchen equipment.
Question: What are the most useful kitchen tools?
Answer: The most useful kitchen tools are as follows: a high-quality knife, tongs, a non-stick pan, can opener, spatula, crockpot, funnels, cheese graters, silicone baking sheets, and a blender.
Most commercial kitchens will use these items daily. You're better off finding high-quality versions of each of these items, so they're long-lasting and durable.
Question: What are the main types of kitchen layouts?
Answer: Commercial kitchens will usually be in an L-shape (two perpendicular walls meeting at a corner), Island (accessible from all sides), or Parallel (divided into wet and dry areas).
However, it is possible to see Peninsula (island that juts out from the wall), U-Shaped (3 adjoining walls + 2 parallel walls), and One Wall kitchens in smaller establishments.
Conclusion
Buying commercial kitchen equipment may seem like a large undertaking at first, but after you get past the initial roadblocks of what you need and why you need them, you're halfway there. The 21 equipment types we listed in this article are all necessary for your kitchen, but you can't just buy whatever is the most cost-effective or energy-efficient; it also has to be up to code.
A word of advice: If you're having a difficult time choosing equipment, speak to a distributor or installer. Companies that distribute or install commercial kitchen equipment are knowledgeable and understand your state's code.
They can help you choose the right ranges, ovens, fridges, and ventilation systems based on the size of the building and the purpose of the equipment.
Recommended Reads: