Latest posts by Maddy Chiffey
(see all)
In this post, I will be reviewing the nine best commercial lasagna pans for the professional kitchen. I will look at different materials, shapes, sizes, and price points to ensure that every chef can find something suitable from my commercial lasagna pan guide.
Lasagna is a well-loved dish. Beginning in Italy between 1544 & 1692, with its actual origins being dated back to Ancient Greece; The Italians were the first to own the pasta and meat meal we know today. Lasagna is now one of America's favorite dishes, second only to spaghetti in popularity, within Italian eateries in the US.
Featured on nearly 8% of all American restaurant menus and coming with a combination of different ingredients, from beef and pork to lobster tails and halibut, and with lots of vegetarian and vegan versions, people with all kinds of tastes, preferences, and dietary requirements can enjoy lasagna.
This guide will focus on how best to cook and serve the dish, with the nine best commercial lasagna pans out there.
At a Glance – 9 Best Commercial Lasagna Pans
What to Look for When Buying a Commercial Lasagna Pan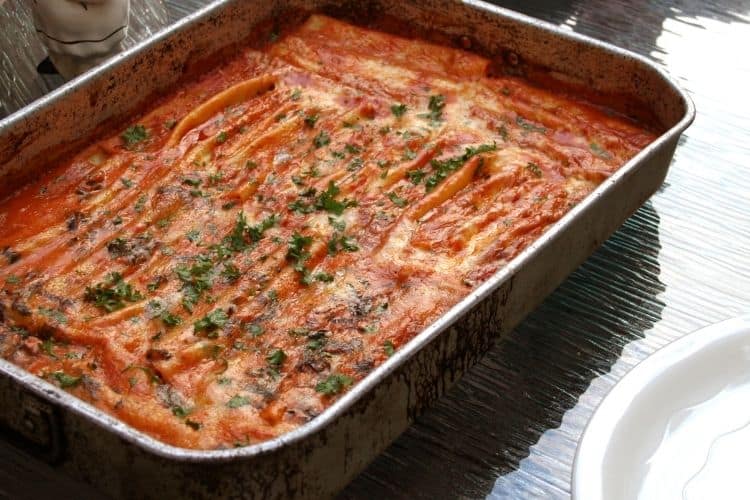 The kind of lasagna pan that is right for your commercial kitchen will depend on various factors, such as the type of food establishment you have; do you have an Italian restaurant that will be cooking lasagna in abundance, or is lasagna a less popular menu item?
Are you a high-end fine dining restaurant that needs quality above all else, or is budget a restriction?
It may be that you're a mobile caterer who needs cheap and cheerful, no-frill pans that can be used once then disposed of. Or it could be that you're a family-friendly restaurant that needs heavy-duty, deep pans that will cater to the masses.
Below are some guidelines to follow to help you know what to consider when buying a commercial lasagna pan.
Material
Commercial lasagna pans come in many materials, with ceramic, metal, and glass being the most common. Metal is the most durable and the type traditionally used in commercial kitchens. Metal pans aren't prone to chipping or cracking and can usually stand up better to high temperatures.
Ceramic options are more attractive when going from oven to table. Still, they often have a much higher price tag than their counterparts. Glass is another aesthetically pleasing material but often quite fragile for a busy commercial kitchen.
Size
Lasagne bakeware can come in all shapes and sizes but tends to be specifically sized to fit the width of standard lasagna sheets three times across and deep enough to fit the sheets in two to three layers with additional layers of meat, sauce, and cheese.
Lasagna pans can be extremely large to cook a large one-dish meal divided into portions afterward. Or, pans can come in individual serving sizes, look nice on a restaurant table, and do away with any concerns of cross-contamination of meat for vegan and vegetarian diners.
Budget
As a general rule of thumb, a commercial establishment should invest in the highest level of quality that they can afford. However, there are times when the budget can be a significant limitation, especially for start-up restaurants or smaller eateries.
Therefore, metal lasagna pans are often the most affordable option, which also offers great longevity.
Features
Ideally, a commercial lasagna pan will have a non-stick finish. This will ensure that the diner gets the entire portion, with no wastage left in the pan's bottom. Non-stick also tends to mean a more straightforward and more convenient, dishing up process.
Heavy-duty can mean several things, but primarily it should be longevity and durability. For example, a lasagna pan that is considered heavy-duty should withstand high temperatures and lots of use.
Additional features like handles and lids can make the cooking and handling of lasagna easier, but they aren't essential. I would recommend not paying more than you want to just for handles and lids.
Cleaning Process
Most lasagna pans will be dishwasher friendly, which is always a convenient option for a busy professional kitchen. But, some more delicate materials, such as copper, may be hand-wash only.
However, many professional chefs recommend avoiding a dishwasher for all cookware, as detergents and vigorous washing can tarnish, corrode or damage most materials over time. Where applicable, it is best to wash kitchen items and equipment by hand to ensure longevity.
9 Best Commercial Lasagna Pans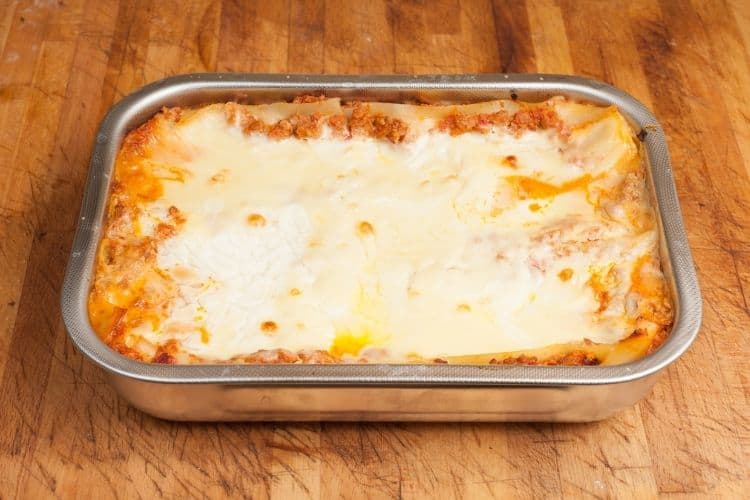 USA Pan Bakeware Rectangular Pan – Our Top #1 Pick!

Non-stick
Quick Release Coating
Made in the USA

Buy Here
Propack Disposable Aluminum Foil Pans– #1 Budget Buy!

One Use Foil Pans
X10 Pack
Lids Included

Buy Here
Gotham Steel Bakeware Nonstick Rectangular Cake Pan

Premium Grade Ceramic
Even-Heat Distribution
Dishwasher Safe

Buy Here
casaWare Ultimate Series Commercial Weight Lasagna Pan

Ceramic Construction
Non-Stick
4 Color Options

Here
Fat Daddio's Anodized Aluminum Pan

Options up to 4-in Deep
16-Gauge Anodized Aluminum
50-Year Established Brand

Buy Here
Chicago Metallic Professional Lasagna Trio Pan

3 Lasagna Recipes at One Time!
Superior Heat Conduction
Fast and Easy Lasagna Build

Buy Here
S·KITCHN Lasagna Pan Kit

Extra-thick Die-Cast Aluminum
3 Pan Sizes
2-Year Warranty

Buy Here
Mrs. Anderson's Baking Oblong Lasagna Pan

Award-Winning Design
High-Fired Ceramic
Scratch Free Finish

Buy Here
Chicago Metallic Commercial II Non-Stick Mini Loaf Pans

Individual Lasagna Servings
Heavy-weight Aluminized Steel
Non-Stick Coating

Buy Here
USA Pan Bakeware Rectangular Pan – Our Top #1 Pick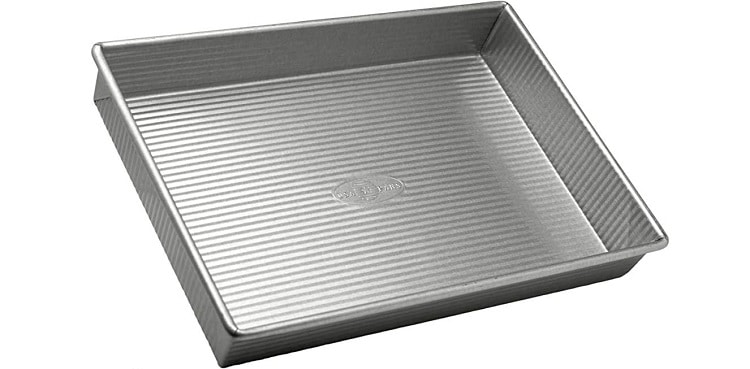 An online best-seller, the USA Pan Bakeware Rectangular Pan is also our top choice overall for commercial lasagna pans. Firstly, maybe patriotically of me, it is made in the USA from premium all-American resources, such as aluminized steel and a patented AMERICOAT Plus non-stick coating.
It's not the deepest of the pans featured, but at 2.25-in deep, 13-in long, and 9-in wide, it is by no means a small pan.
The AMERICOAT Plus coating provides a quick release when serving the lasagna. It is simple to use a spatula to scoop out the desired portion, no food is left in the pan, and the spatula doesn't scratch or mark the metal.
Although this is dishwasher safe, it is advisable to wash it by hand, which is very simple due to its unique coating.
The heavy-gauge steel construction provides excellent longevity, as well as consistent even heat distribution. In addition, there is a steel wire in the rim, which provides increased strength and protection against warping.
This pan weighs a little less than 2 lb, so it is stable and secure, without being too heavy to lift in and out of the oven.
USA Pan is a family-run business that has been around for 50 years, manufacturing cooking equipment for professional and domestic kitchens across America. They are the experts in this field and have so much trust in their products that they offer a lifetime warranty!
Pros
Made in the USA
Heavy-Duty Materials
AMERICOAT Plus non-stick coating
Cons
Folded Corners – Can be Difficult to Hand Wash
Sell Out Fast
A Little Pricey
Propack Disposable Aluminum Foil Pans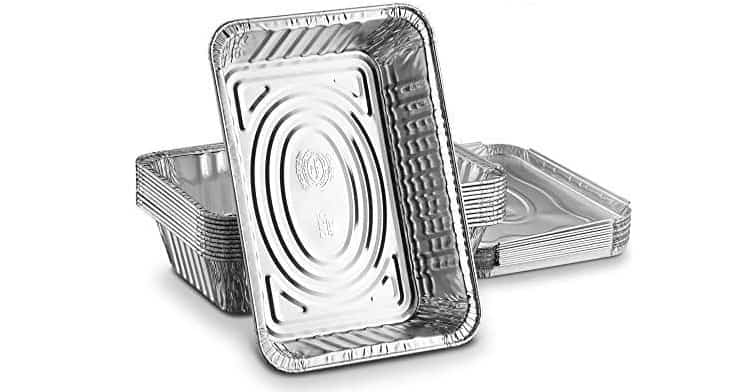 For mobile caterers, restaurants that provide a takeaway service, or commercial chefs who want to batch cook and freeze meals, the Propack Disposable Aluminum Foil Pans are an excellent budget-friendly choice. You receive ten individual aluminum trays, with lids, that arrive stacked neatly, one on top of the other.
There are purchasing options to get 20 or 50 trays at great financial savings. I found the trays to be sturdy and secure but bendable and so handling bubbling cheese and piping hot meat can be a little troublesome. However, for those who want no-frills cooking and serving solutions for quick-eat lasagnas on the go, it would be difficult to find a more affordable option than these.
They're an ideal shape and size for an individual serving of lasagne, and with the included lids, you can transport, store or freeze safely. In addition, the aluminum is strong enough to contain the lasagne during cooking in the oven.
Still, I would place them onto a more substantial baking tray rather than directly onto the oven shelves as there is quite a bit of giving, which increases with the heat.
Pros
Budget Choice
Individual Portion Control
Lids Included
Cons
One Use / Disposable – Not The Best Environmentally Friendly Option
Not The Most Durable
Food Tends to Stick a Little
Gotham Steel Bakeware Non-Stick Rectangular Pan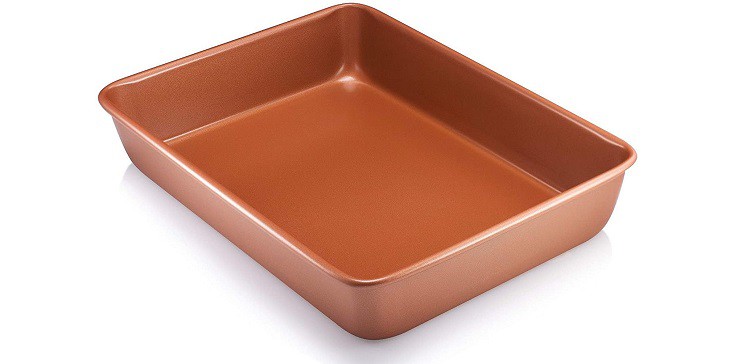 The Gotham Steel Bakeware Nonstick Rectangular Cake Pan is of commercial-grade construction, with solid aluminum, non-stick ceramic, even heat, and a quick food release; it is also at a highly affordable price point. In addition, the pan is scratch-proof and oven safe, up to 500 degrees Fahrenheit.
I like the aesthetics of this pan; with the high-sheen brown design, they look truly authentic when piled high with delicious lasagne. There's no warping even at high temperatures, and spatulas leave no scratches on the bottom or sides of the pan.
The dimensions are considered 'chef size' at 9-in x 13-in x 2-in, and it is certainly a large enough pan to fill with a hearty meal.
The food slides right out of the pan with ease; literally, nothing is left behind. The clean-up is also simple, recommended by hand, but also dishwasher safe. Simply soaking the pan in soapy water before cleaning reduces the scrubbing time, which should be done with a soft sponge instead of a wired one.
Pros
Commercial Grade
Quick Food Release
Large Size
Cons
Sides are a Little Shallow
Can Chip Fairly Easily
Many Consumers Dispute the Longevity
casaWare Ultimate Series Commercial Weight Ceramic Coated Non-Stick Lasagna Pan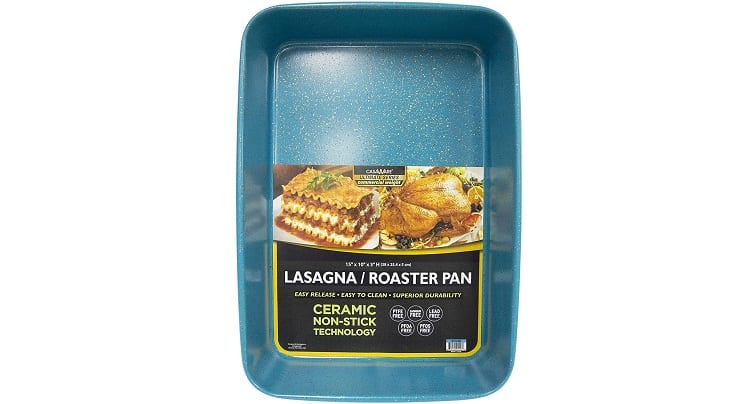 A perfect pan to make show-stopping lasagnas. The casaWare Ultimate Series Commercial Weight Ceramic Coated Non-Stick Lasagna Pan can accommodate a variety of foods and dishes up to a 20 lb turkey – it's big.
With dimensions of 15.¾-in 11-in x 3-in, this can cater to larger groups very quickly, and the easy-clean finish means little more than a wipe down is needed after.
There are four different color options to choose from; blue granite, red granite, silver granite, and rose-gold granite, all of which are rich with brown accent flecks that make for a stunning finish. Unfortunately, the pan is pretty heavyweight and certainly requires two hands to maneuver when loaded with lasagna.
The ceramic coating is FDA California Proposition 65 and EU approved – it is lead, cadmium, PTFE, PFOS, and PFOA free. The non-stick coating leaves no food left behind and makes for an effortless clean-up operation. In addition, I like that the pan is made from carbon steel, which adds to the overall durability and appearance.
Pros
FDA California Proposition 65 Approved
Easy Clean
Large Size
Cons
Fairly Heavy
Not Compatible with Metal Utensils
Would be Better With Handles Due to Weight
Fat Daddio's Anodized Aluminum Pan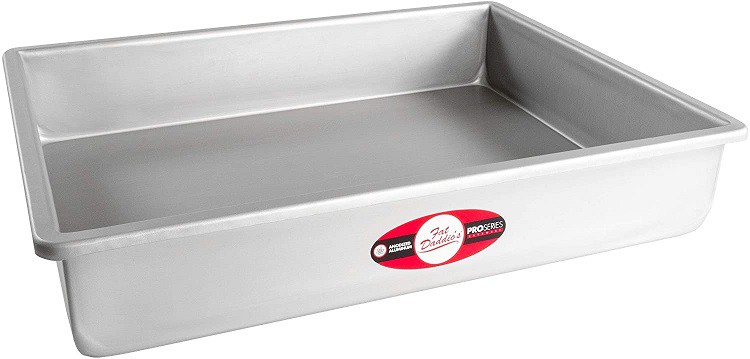 One thing I love about the Fat Daddio's Anodized Aluminum Pan is that it's 50-years in the making. Fat Daddio's has been around for half a century – established by bakers, artisans, and professionals, the products combine commercial-grade quality with great functionality like no other brand has achieved. There is also a lifetime warranty with this pan.
This lasagna pan is built to last. Drop it, throw it, shove it in the oven at the highest temperature, and it'll come out unscathed. Any chef could rely on this pan to make a succession of delicious lasagnas, and it's at an incredible price for this level of quality.
In addition, fat Daddio's pans come in a vast range of sizes to suit most dishes, such as cakes and brownies, casseroles, and lasagnas.
The square shape of this pan has perfect vertical sides and sharp corners that result in picture-perfect lasagnas. The anodized aluminum is an ideal surface for baking and means a more robust, safer, and more durable pan.
The material is heat reflective rather than absorbent, which means that cooking temperatures are reached quickly.
Pros
Commercial Grade
Heavy Duty
Lifetime Warranty
Cons
Sharp Edges
Sticker is Difficult to Remove
Pretty Expensive
Chicago Metallic Professional Lasagna Trio Pan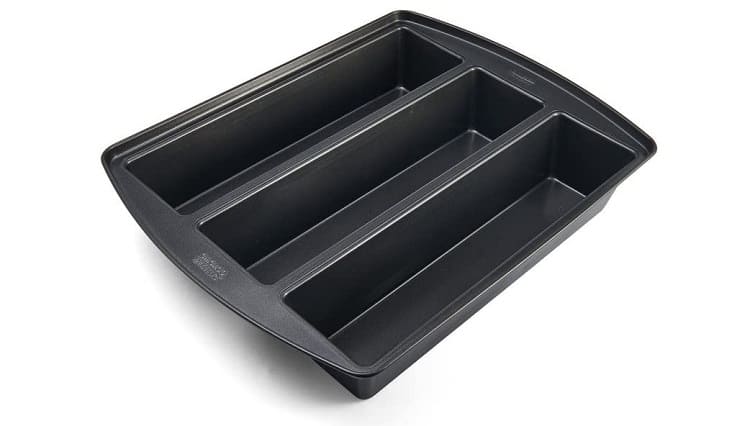 The Chicago Metallic Professional Lasagna Trio Pan is something really quite special; featuring three identical wells, you can cook three different lasagna versions at one time – perfect for times when you're up against the clock and have a flurry of different orders in.
In addition, the wells are designed to fit standard lasagna sheets, which makes the build sublimely convenient. The wells are each 13-in long, 2.5-in deep, and 3-in wide, capable of three hearty portions of various lasagna fillings.
If you have a diner with dietary restrictions or are trying a combination of lasagna recipes – or even if you just want three perfect portions of lasagna, each with four delicious crispy edges – then this pan will cater to all of that and more.
The coating is durable and non-stick, ensuring an easy food release and quick clean-up. I found the top lip to be a great, unsung feature that really helps to contain the lasagna and reduce spillages. It is easy to see why professional chefs have been using this brand for many years; the professional-grade craftsmanship, high quality, and sturdiness of this pan are outstanding.
Pros
Unique 3 Well Design
Durable, Non-Stick Coating
25-Year Guarantee
Cons
Standard Sheets Fit – Not All
Narrow Non-Metal Spatula Required – I recommend this set here 
Made in China – Despite Insinuating American Made
S·KITCHN Lasagna Pan Kit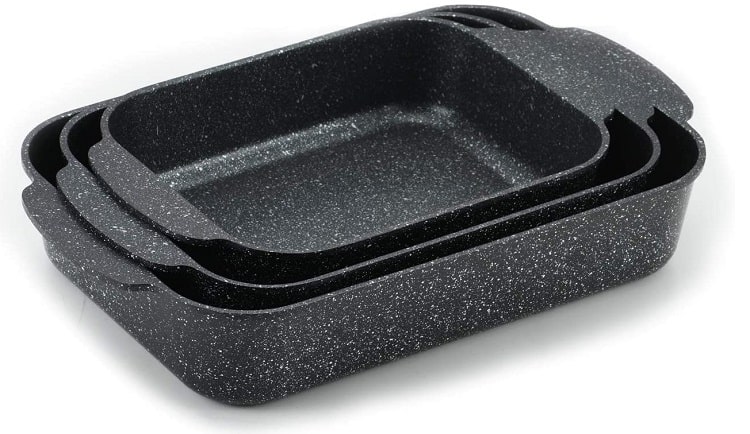 With a similar concept to number 6, the S·KITCHN Lasagna Pan Kit allows three different sized servings of lasagna to be created and cooked simultaneously. Or, if you have different sized portion requests, from child to adult diners, this can be accommodated easily with this set.
The pans sizes are; 13.8-in x 9.45-in x 2.83-in, 11.8-in x 8.66-in x 2.83-in, and 9.84-in x 7.87 x 2.64-in. The sizes mean that they can easily be stacked when not in use to save space. My favorite feature is the dual handles on each pan, making lifting and turning the pans during cooking much easier.
The coating of this lasagna pan set is PTFE and PFOA-free, non-stick aluminum. Food slides out easily, and the pans can withstand dishwasher cleaning. This is an expensive set, which could be a worthwhile investment for some, but likely not all establishments.
Pros
3 Different Sizes
Dual Handles
High-Quality Construction
Cons
Expensive
May be Novelty
Small Sized Pans Equate to Small Portions
Mrs. Anderson's Baking Oblong Lasagna Pan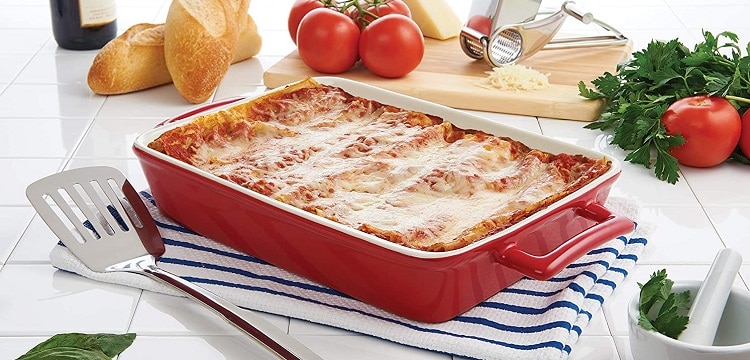 The award-winning design Mrs. Anderson's Baking Oblong Lasagna Pan is an excellent choice for restaurants and commercial kitchens that pay no heed to budget! This is a highly-priced pan. It's iconic, generously sized, and the dual handles feel very comfortable and secure, but I struggled to justify the price tag at first glance.
Upon further examination and discovering that the scratch-free glaze on the high-fired ceramic resists cooking odors, stains, and cracking, I grew more impressed. I can fully appreciate the simplicity of transferring from the oven to the table to serve; it is an attractive pan, which I can't dispute.
The size is generous and great for building up a densely layered lasagne. It is microwave safe and can be used in the dishwasher. I have struggled to find many negative reviews for this lasagne pan, and its longevity is widely undisputed.
However, for an item priced so highly, I was a little disappointed to learn that it was made in China.
Pros
Award-Winning Design
Take from the Oven to the Table
Sturdy Feel Handles
Cons
Made in China
Expensive
Not as Durable as I'd Have Liked for this Price Point
Chicago Metallic Commercial II Non-Stick Mini Loaf Pans

Now, everyone's favorite lasagna portion has to be the one with the crispy, cheesy edges, which come from the corner servings of a larger pan. But, they don't have to if you use Chicago Metallic Commercial II Non-Stick Mini Loaf Pans.
This four-piece set will ensure that every diner has that perfect slice of lasagna, with no sloppier middle portions insight.
Each pan is 5.75-in x 3.25-in x 2.25-in, which are excellent measurements for the ideal serving of lasagna. The pans are made from heavy-weight, aluminized steel which is a great metal to gain even heat distribution during cooking.
From top to bottom, side to side, every mouthful of lasagna should be the same temperature without hot or cool spots.
I found the folded corners and wire rod reinforced rims a great feature to prevent leakages of the food and warping of the pan. The coating is non-stick and of diamond quality, and although these are dishwasher safe, hand washing is recommended. I find the price for this set astounding – an absolute steal!
Pros
Identical Individual Servings
Great for Restaurants
Affordable and High Quality
Cons
They Look Basic
Crevices are Difficult to Clean by Hand
Not as Robust as I'd Like
FAQs
Question: How Deep Should a Lasagna Pan be?
Answer: Although sizes vary, a traditional lasagna pan measures 9-in x 13-in and has a depth of between 2-in to 3-in. Chefs tend to be united in the idea of lasagnas having a minimum of three layers of meat, cheese, and sauce. However, restaurant-style lasagna often has more layers, so it would require deeper pans.
Question: Should You Line Lasagna Pans?
Answer: Lining lasagna pans can make the clean-up more straightforward. However, it's often unnecessary as most commercial lasagna pans are non-stick and wash easily without needing to be lined.
Question: How Versatile is a Lasagne Pan?
Answer: Lasagne pans are possibly one of the most universal cooking vessels out there. From roasting joints of meat to baking brownies, they can pretty much do it all. As a result, often, higher price points can be justified due to their multi-use.
Best Commercial Lasagna Pans – My Verdict
For affordability, I would highly recommend; Gotham Steel Bakeware Nonstick Rectangular Cake Pan, the casaWare Ultimate Series Commercial Weight Ceramic Coated Non-Stick Lasagna Pan, or of course the budget pick: Propack Disposable Aluminum Foil Pans. These three lasagna pans are small investments for excellent quality and high convenience.
The Fat Daddio's Anodized Aluminum Pan is an excellent choice for bigger, busier commercial kitchens that need large batches of expertly cooked lasagna. However, the edges are exceptionally sharp, and the price is high.
Another high-end-priced pan is Mrs. Anderson's Baking Oblong Lasagna Pan, an award-winning design with extremely sturdy handles of a generous size. Still, I found it difficult to fully accept its price tag. That may be down to my bargain-seeking nature, however!
I like the Chicago Metallic Professional Lasagna Trio Pan and the great convenience for those catering for individuals who want a similar meal, but not the same one. The same can be said for the S·KITCHN Lasagna Pan Kit, which offers various portion sizes cooked in extra-thick die-cast aluminum.
The Chicago Metallic Commercial II Non-Stick Mini Loaf Pans are incredibly affordable, and I like how each diner would receive four perfectly crispy sides to their lasagne portions. I did, however, find the design extremely plain, but for less than $20, this is something I could happily live with.
Our top pick had to be the USA Pan Bakeware Rectangular Pan; as for me, it ticks so many boxes. The price point is reasonable, and the quality is exceptional. Commercial-grade, heavy-gauge aluminized steel, non-stick Americoat coating, PTFE, PFOA, and BPA-free come with a lifetime warranty. There is very little criticism about this lasagne pan.