Latest posts by Alice Smith
(see all)
How do you find the perfect furniture for your restaurant? This is a question that many restaurateurs ask themselves before they open their doors. If you own a restaurant, the furniture you choose is one of the most important features of your venue – it can make or break how people feel about their experience there. You want to be sure that the restaurant furniture you're purchasing reflects the theme and style of your establishment to create a cohesive look.
There are plenty of things to consider when looking at how to furnish your restaurant, and you'll need to think about everything from how much space you have available to how much money you want to spend. So, if you are wondering how to find the perfect restaurant furniture, then we've got you covered.
What Your Furniture Says About Your Restaurant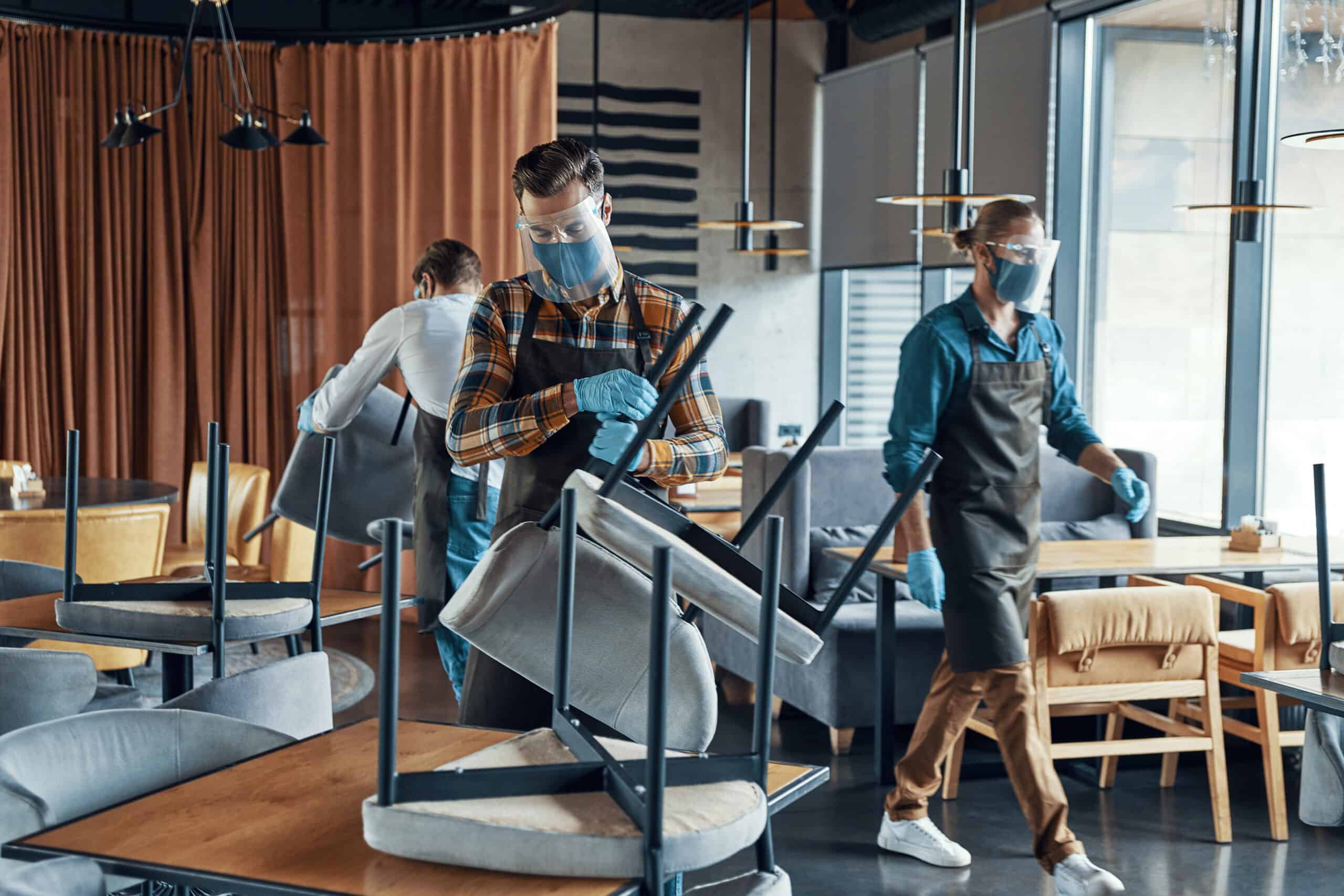 Your furniture is a serious part of your restaurant's first impression. You want to make sure it's not only comfortable for your diners but also reflects the theme of your restaurant and the food you serve. Think about how you feel when you first walk into a restaurant. You can almost tell (or at least get a very good impression) how the restaurant is going to be based on how it feels from the moment your foot touches the carpet.
And the ambiance, décor, and theme of a restaurant are all largely influenced by what types of furniture you choose.
For example, does your restaurant serve traditional European fare? Then incorporating pub tables and leather chairs into your dining area or bar space will give off that rustic feel that many diners love. Does it have an authentic Australian outback theme? Then make sure to include some cozy leather couches or benches for your guests.
In general, everything from the colors of the walls to the style of the tables and chairs should be in line with how your establishment is themed – whether that's nautical, rustic, or modern.
What to think about before you style your restaurant
So, when you think about your restaurant decor, what sort of things do you need to consider? Firstly, what type of food do you serve? If you run a seafood restaurant, then you may want to incorporate round tables with chairs that are reminiscent of a boat and a blue and white color theme.
Do you serve Asian cuisine? Then how about some sleek dining room sets and oriental decorations for your restaurant? The food itself is the first thing you should consider when deciding how to furnish your restaurant because that's how people are going to remember you.
If you want to stick with a simpler theme, then think about incorporating oak tables for the dining area and armchairs in the bar space. This type of styling creates a casual, friendly atmosphere perfect for either a romantic evening out or a cozy family dinner.
What is your target customer base?
The next thing you should consider is who will be coming into your food venue on any given day. What kind of people do you cater to? What are they likely to want? For example, if you cater to working professionals, then a more modern style of furniture such as sleek, metal chairs, and cool lamps for the dining area might appeal to them.
If you are looking to cater to families or kids then how about having some brightly colored paintings and perhaps provide an outdoor dining area with a children's playground. If you are more of an upscale restaurant that caters to wealthy diners or couples, then how about going with high-end furniture made from exotic wood or rich leather with brass accents?
How your customers feel while they are dining in your restaurant is largely influenced by what types of furnishings and atmosphere you create for them. You want people to enter your establishment and feel like it's a place where they can have an enjoyable experience.
How much space do you have?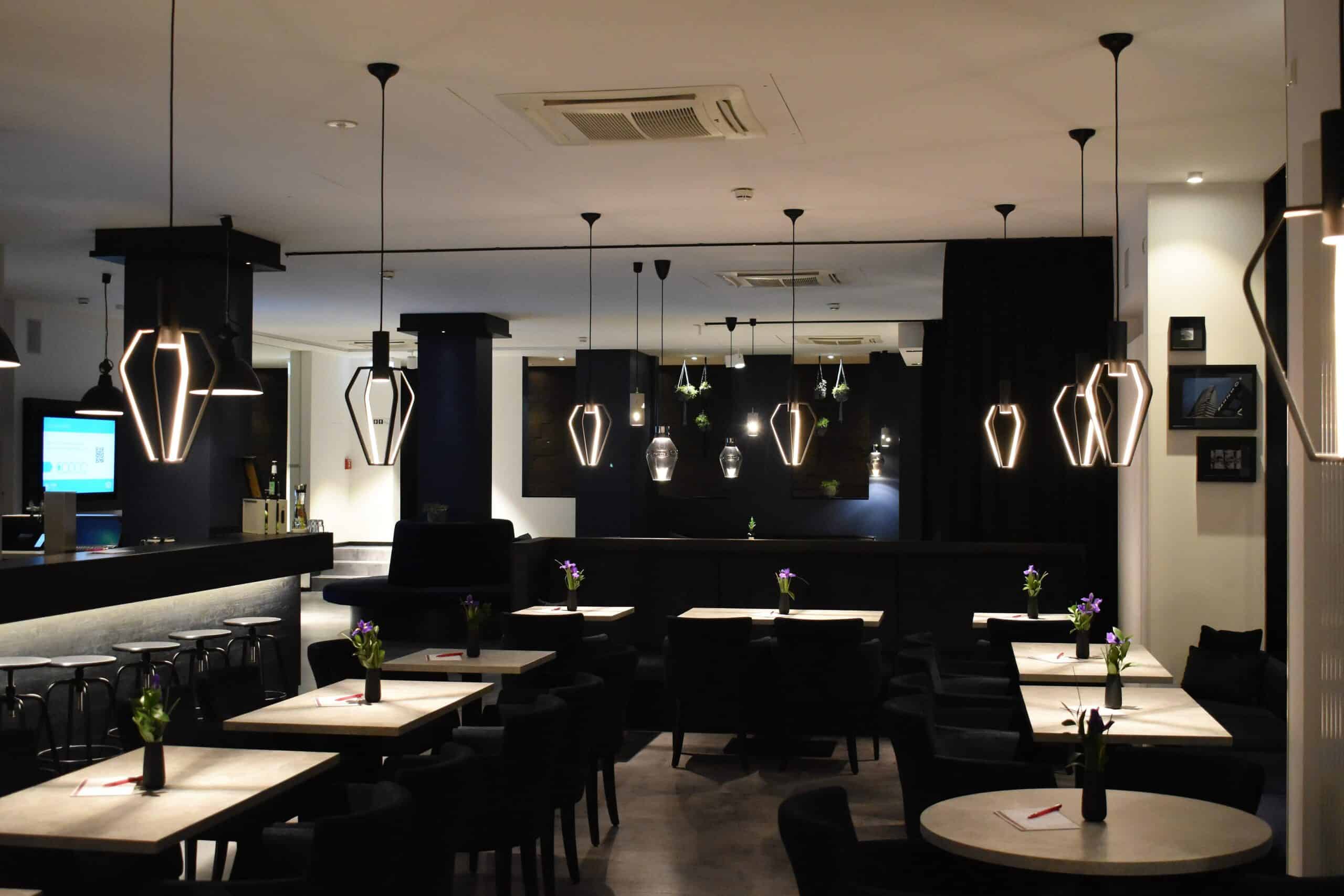 If you have a limited amount of space, then all the furniture in each room must work together. This will help create an aesthetically pleasing design while simultaneously maximizing how much floor space is available. You'll also need to work out how the tables work with the chairs so there are no kinks or gaps within the seating arrangements.
It can be tempting to think about fitting as many seats as possible into a certain area – the more seats, the more covers, and the more money your business brings in, right? Well, people still want to be comfortable. Cramming them together won't achieve that effect and you might push people away. So, instead, keep in mind how long people typically spend eating and ensure the tables are spaces suitable for a quick turnover.
If you don't have limited space and you're not going for something too formal, you could also go with a mix of seating arrangements to make things more interesting. Incorporating tables and chairs with couches, comfy armchairs, and higher bar stools give customers more choice of the type of seating they want. It's also important to consider whether you want to offer indoor or outdoor dining or both.
Styles of Restaurant Furniture
There are many types of restaurant furniture available, so how do you know which one is right for your establishment? It all depends on how formal or informal it needs to be and who your ideal guests are. But as for the overall theme or look of the furniture, here are a few ideas you could play with:
Classic
A classic restaurant theme is an easy one to pull off. You'll need traditional wooden tables and chairs organized in a simple seating arrangement. But you could also go for a traditional diner-style with round tables and metal chairs or even opt for rectangular shapes instead for your seating area.
Formal
A formal restaurant will often incorporate high-backed banquettes alongside heavy wood furniture such as oak tables for the dining room. The bar might also be designed in an upscale way using sleek brass accents and leather upholstery depending on what type of clientele you are catering to.
Retro
Retro is a style that is popular in the design world and can be very unique in a restaurant when it's done right. You could use nostalgia-inducing furniture from the '50s or '60s, complete with chrome accents on wooden tables, alongside vinyl booths for those classic diner-style dining experiences.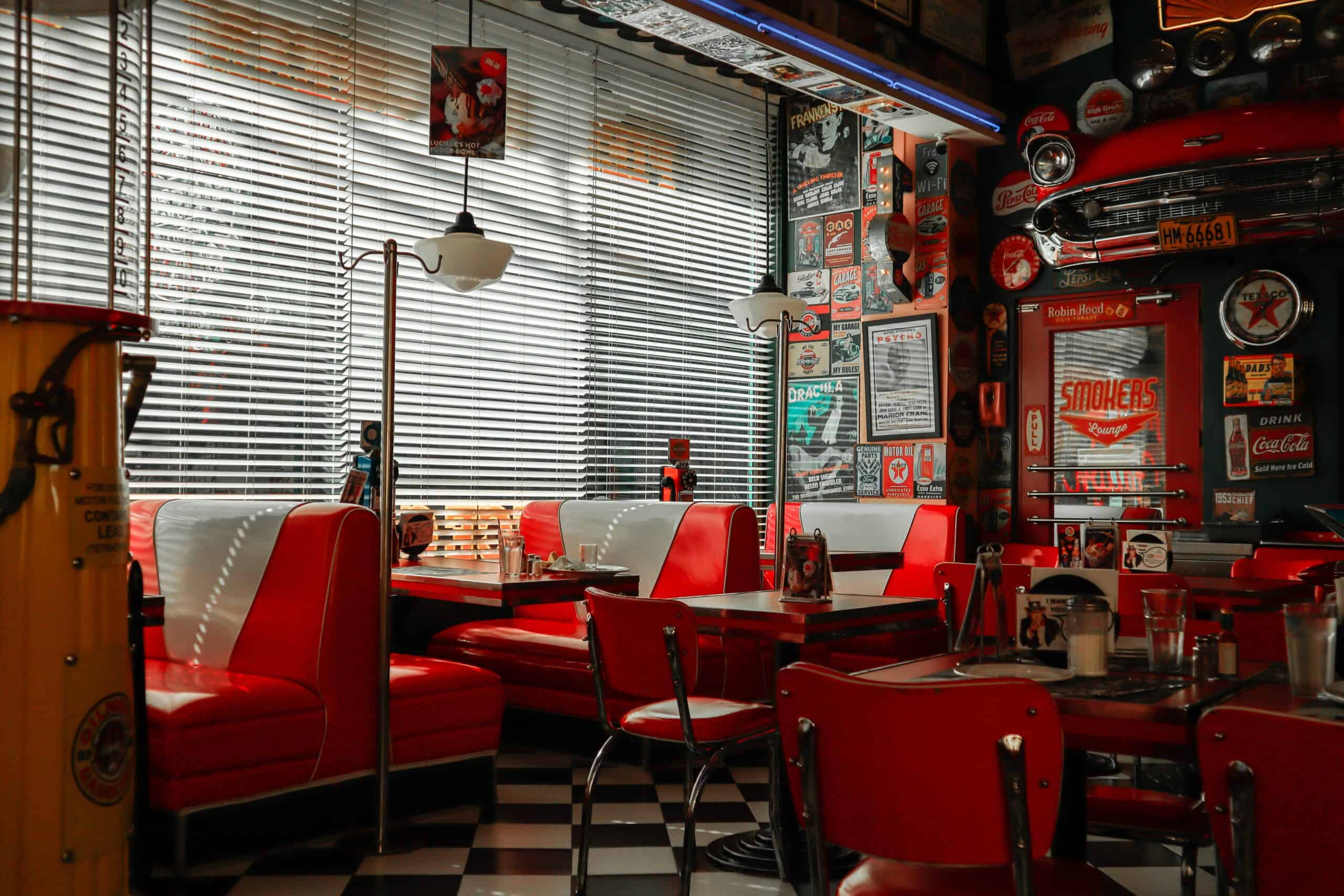 Casual
Casual restaurants often go for more of an industrial vibe to their design which includes metal chairs and exposed brick walls complemented by strings of Edison light bulbs hanging overhead. If you want your restaurant theme to feel more urban then how about going all out and adding some graffiti art as well? This will give it a cool "street culture" flair while still being welcoming at the same time.
Modern
Modern is all about clean lines and how the furniture is designed so it doesn't take up too much space. You could use a mix of different colors here to help create an interesting pattern, but be conscious of how well these work together as this will make or break how the whole restaurant feels.
Contemporary
Contemporary restaurants can often be the best restaurant furniture for your venue. They will typically have a sleek and modern design with plenty of glass, steel, and concrete finishes, and an open floor plan.
Farmhouse
This look is all about soft colors, natural materials, and a relaxed setting. Wooden chairs with natural upholstery are common here, as well as rustic wooden tables that will make you feel like your dining experience is more than just about the food.
Rustic
Similar to the farmhouse style, rustic restaurants also specialize in natural materials and the use of wooden furniture. But, you'll also want to add lots of earthy colors such as olive green or blue-grey alongside a warm woodsy brown color palette to make it feel more inviting.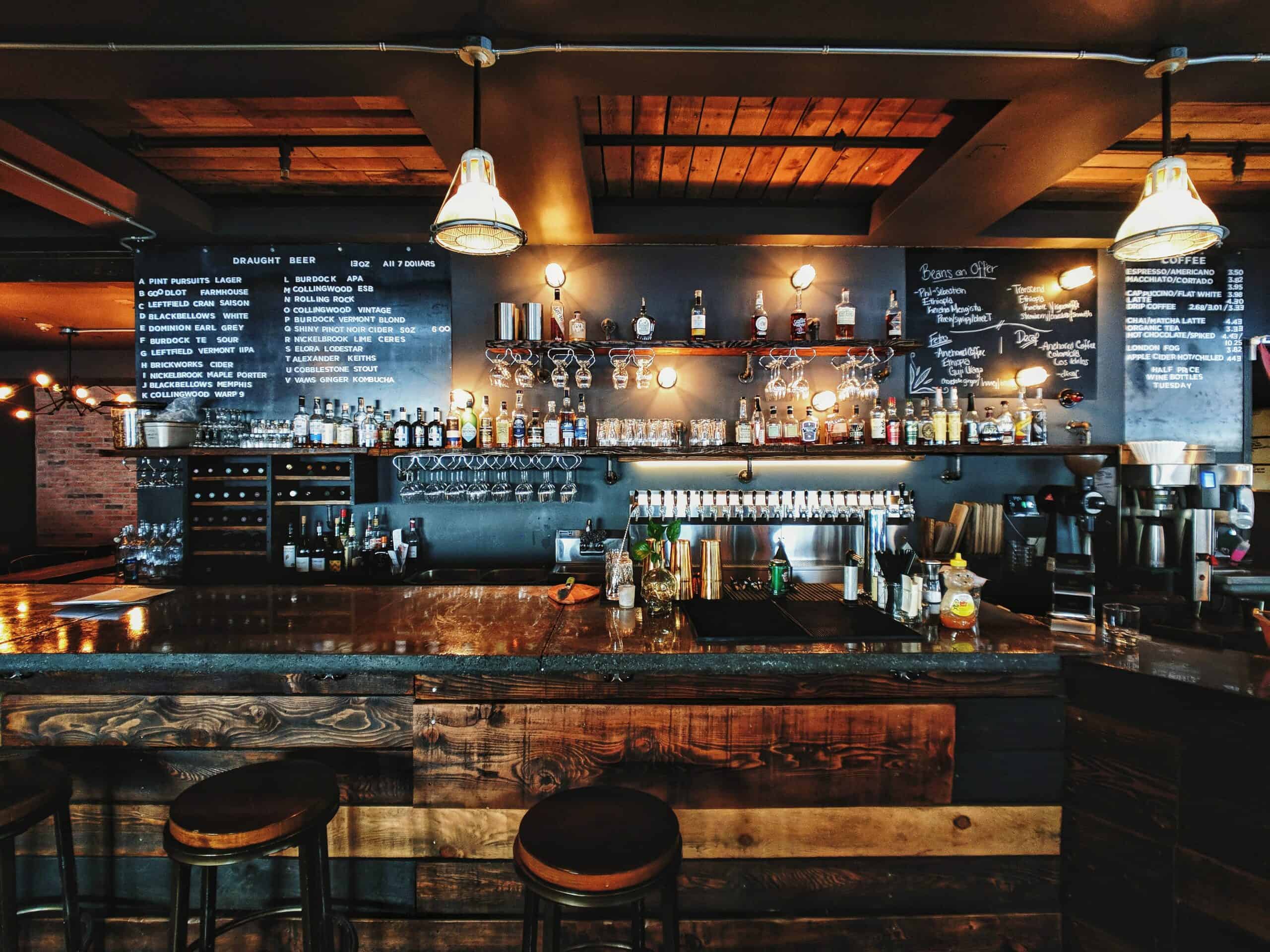 Outdoor
If your restaurant is mainly outdoors, you might want to incorporate some features such as large potted plants, open-air kitchens, and plenty of windows in the design.
Of course, you can also theme your furniture around your restaurant's overall vibe. For a chic, Parisian coffee house, you might opt for pastel colors, wrought iron, and lacy doilies; a barbecue joint might have reclaimed wooden chairs with a rustic finish and metal tables; for a restaurant that specializes in seafood dishes, you might consider using nautical colors such as navy blue or aquamarine.
What are the Best Pieces of Restaurant Furniture?
When it comes to the actual furniture itself, there are plenty of options that can help you to get the right look for your restaurant.
Here are a few must-have pieces of restaurant furniture:
Chairs
Tables
Folding Furniture
Bar Stools
Conference Furniture
Lighting
Baby Furniture
Commercial Kitchen Furniture
Bar Furniture
Tills
Accessories and Decoration
Let's dig into those in a little more detail:
Chairs
Every restaurant needs chairs. They can be used in just about any type of setting and have a big impact on how your restaurant looks. There's also plenty to choose from.
Some of the types of chairs that you might need are:
Armchairs – Popular around bars or in waiting areas, armchairs can be plush and comfortable for guests to relax in. However, due to their low back, they're usually not suitable for dining.
Dining chairs – A restaurant must-have, dining chairs go around the tables. You can find many different designs and many different styles.
Barstools – Great for drinkers, barstools go around the bar. They're usually higher than dining chairs and don't have a back.
Outdoor chairs – For garden diners, you might need outdoor chairs. Be sure to make these comfortable with outdoor dining cushions and high backs. Some are foldable which can make them easy to store during the chilly winter months.
Couch – Cushy and plump, couches are also great for waiting areas or the lounge area.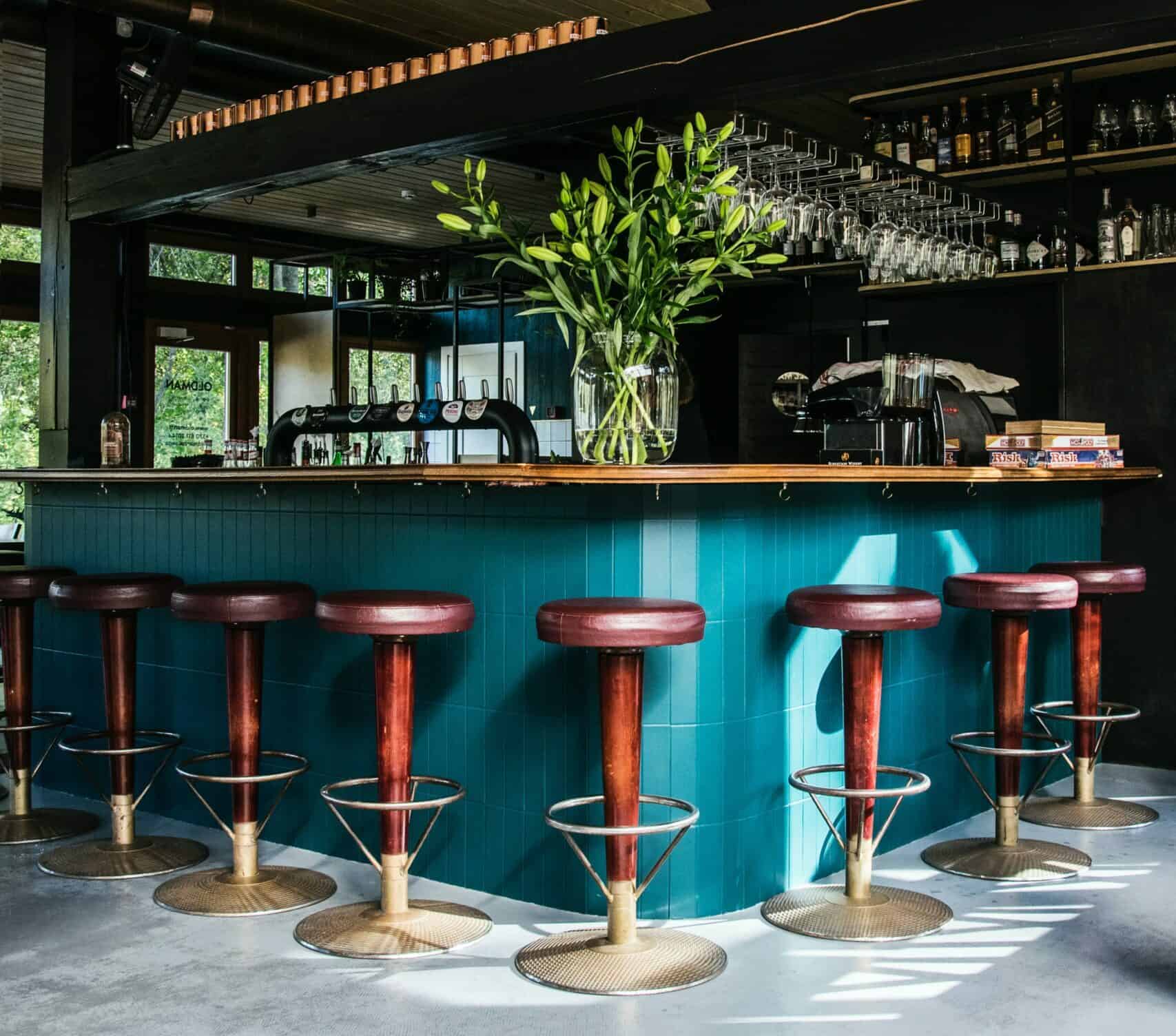 Tables
Another restaurant must-have, you'll need tables to go with your chairs. There are many different types of tables to choose from and how you use them depends on how the restaurant is laid out:
Round Tables – These can be found in most restaurants as they're great for small groups who want a more intimate setting.
Square Tables -The table style that's usually seen, square tables can fit larger parties or smaller ones depending on how they're arranged. They can fit together to accommodate more party sizes. They also work well if there isn't enough space for round tables alongside one another.
Banquet Tables – If you need plenty of floor room available, banqueting tables will give it to you. Ideal for conferences or large events where lots of people might be sitting at once.
Buffet Tables – If you run a self-serve restaurant, buffet tables will make it easy for your guests to take their pick of what they want to eat.
Coffee Tables – Slightly different than the other types of tables, coffee tables are usually found in restaurants with bars or waiting areas. They're often low to the ground and have a round or square shape for drinks.
Folding Furniture
If you find that your restaurant needs extra seating at times but doesn't want to invest in an expensive couch, there's always folding furniture. You can get folding chairs and tables which can be easily stored when not being used. This means they take up less space overall so it might work better if there isn't much storage room available elsewhere.
However, they are usually more unattractive than the other options.
Conference Furniture
Depending on how big your restaurant is, you might need some conference furniture to make your space work for more than just food and drink.
If there's a lot of covers needed or you have a room that can be used as an office area during the day then conference furniture will make this easy. It's usually stackable too, for easy storage. You may also need this if you frequently hold function events like weddings, or parties, as it will allow a lot of people to sit comfortably.
Lighting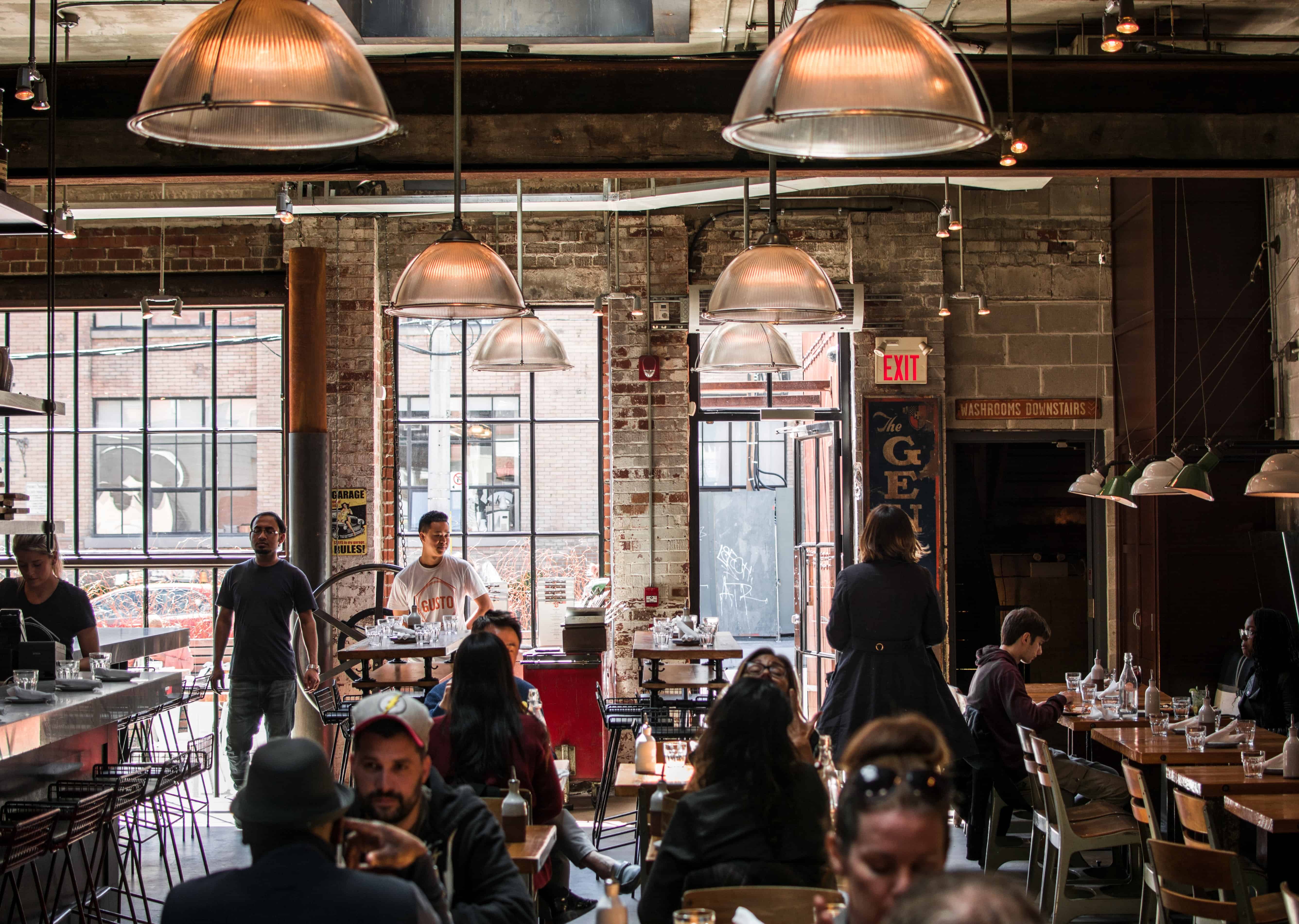 You may not think about how important lighting is in the restaurant but, unless the gloomy look is what you're going for, insufficient lighting can ruin the ambiance of the room. It could also be hazardous for both guests and staff if people can't see where they're going.
Sufficient lighting can make or break a restaurant's interior. It can also add some serious decoration to a room with exposed lightbulbs, fancy lampshades, and other lighting fixtures.
You should have a good mix of both high and low lights in your restaurant. Different types of lighting also appeal to different types of diners – for example, couples may want lower, more romantic lighting, whereas families would likely want things brighter. So, you could consider having differently lit areas throughout.
However, don't forget about natural light. This is arguably the best kind of lighting and if your restaurant has lots of windows then, during the day, natural light might be all you'll need. Although you may need to watch place settings that aren't in direct, blinding sunlight as diners would find that too bright without any curtains or blinds drawn.
For restaurants with gardens outside, ambient lighting such as candles and lanterns works best alongside string lights hung from trees which can look beautiful when they're lit up at night.
Baby Furniture
Particularly for family restaurants, baby furniture is a must-have. Babies are often the restaurant's cutest guests but they also need to be able to sit comfortably.
There are a few options when it comes to baby furniture but the most common for restaurants is high chairs with straps and booster seats. These will keep children strapped in, safe, and comfortable throughout their meal. These are usually portable, foldable, easy to clean, and can be stored out of sight when they're not needed.
Commercial Kitchen Furniture
Of course, furniture doesn't just mean inside the restaurant. You'll also need to think about kitchen furniture, particularly if you have an open kitchen where people can see what the chefs are doing. You'll need workbenches, a hot plate, storage spaces for pots, pans, plates, and plenty of other furniture to kit out your kitchen.
Make sure you have enough space to store everything too – it's a good idea to measure how much room you're going to take up before buying any furniture to make sure the kitchen is big enough.
Bar Furniture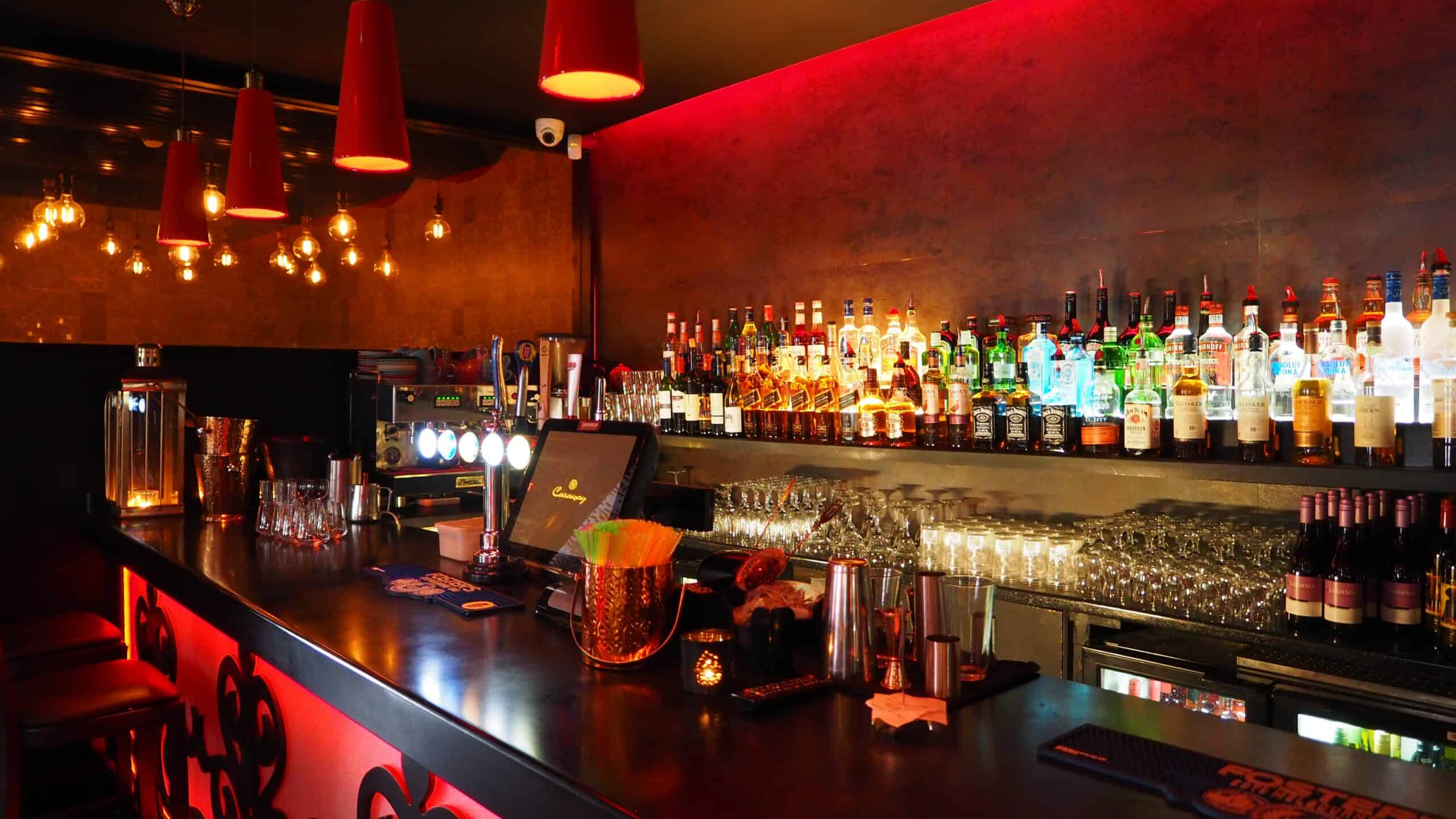 You'll also need to consider the bar. There's plenty of bartending equipment that's just as important as the tables and chairs because many people come to a restaurant or pub just to have a drink.
You'll need bar stools, a fridge for drinks, glass washers to make sure the glasses. You might also want some wine racks or wine fridges too. Then, you'll need to buy the bar itself, whether you opt for a long bar, a circular bar, or a standing bar, and plenty of space for all the bottles.
The bar is an important part of any restaurant so don't forget to think about how much room there will be as well as what bar furniture is needed when designing the space.
Tills and POS Systems
Once people are finished eating or drinking, they'll need to pay. It's worth looking into the type of tills you need for your restaurant – some will have a cash register built-in but others might require this as an additional purchase.
Tills are often combined with the bar, but you should think about how many people can be served at one time and how easy and quick the machine is to use. Customers won't want to be waiting around to pay. If there's not enough space, then consider putting another till close by or even creating a separate bar just for paying bills if things regularly get busier during the evenings.
You could also invest in a dedicated POS system for your restaurant. A POS system is an all-in-one solution that lets staff members take orders, process payments, and calculate a customer's change.
A POS system is a great investment and means that staff doesn't have to use pen and paper when they're taking orders or processing payments from guests. It can also help manage how busy a restaurant gets because orders can be processed quicker, and easier. Admittedly, they are a little more expensive but they will make the whole payment process a lot smoother for customers and staff alike.
Accessories and Decoration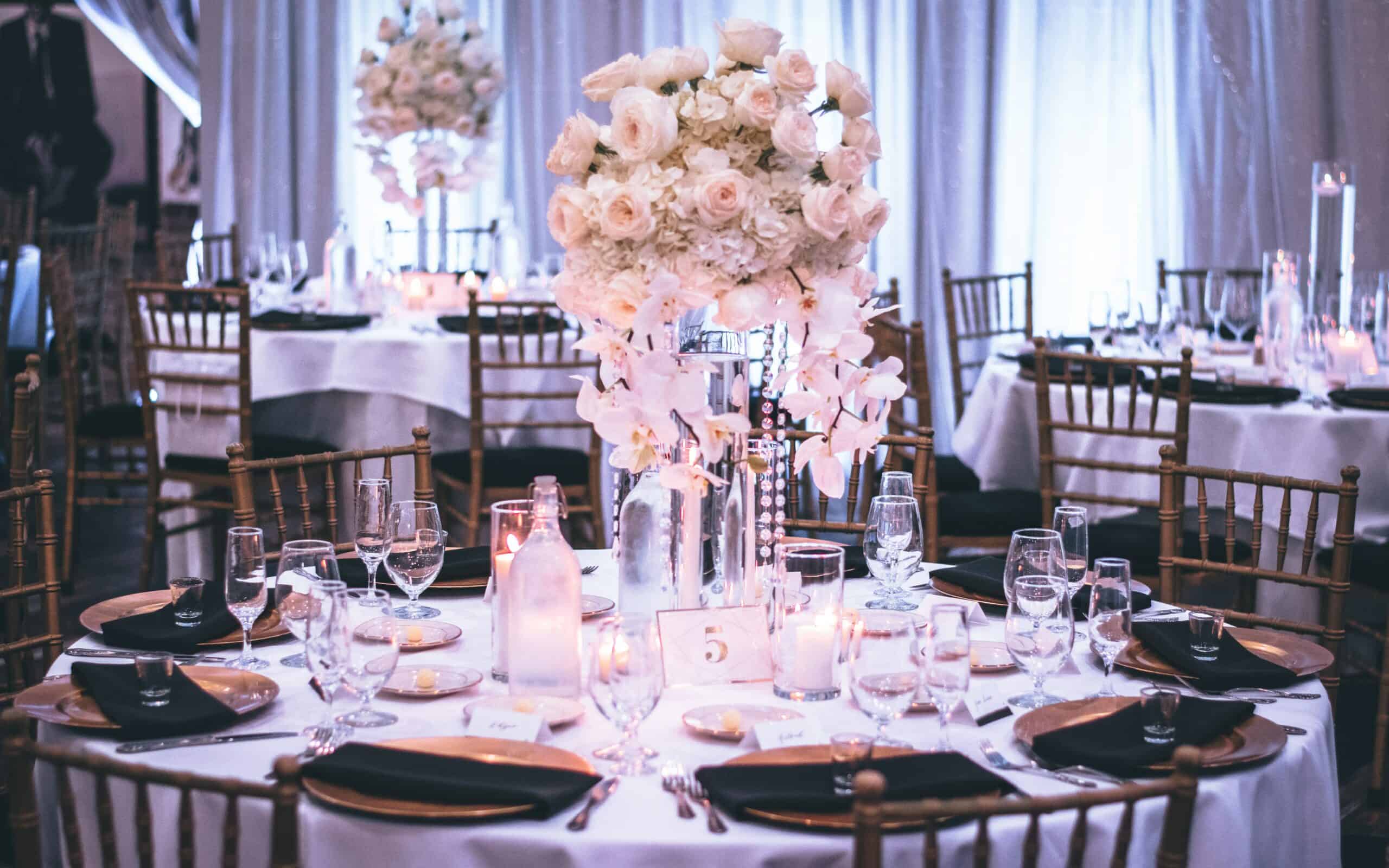 The fun part of sprucing up any restaurant is the decoration. You can experiment with things like menu boards to advertise your food or specials, hang posters, flags, and even artwork to make space feel more welcoming and homely, or add mirror panels for that extra bit of light.
You can always add in small touches as well; candles at every table could help set the mood, while flowers and plants will brighten up a room. Shelves can serve as both attractive decoration, and practical storage solutions, and some restaurants might want to have a bar or coffee station where people can sit and enjoy their meal.
The decoration is an incredibly important aspect of restaurant furniture. It can make a room go from bland to beautiful and it's how each owner will be able to put their own mark on how the restaurant looks.
The Best Places to Buy Restaurant Furniture
Many different stores sell restaurant furniture. Here are a few places you can purchase the perfect furniture for your venue:
Commercial Supplier
If you're looking for furniture that's built to last and designed with the needs of a busy restaurant in mind, then this is the place. These stores sell everything from tables and chairs to bar stools, as well as any other equipment your venue might need.
Commercial suppliers often have a large range of products to suit any occasion and have a range of pricing options to suit different budgets.
Online Retailers
Many retail outlets have an online presence these days which makes shopping around quick and easy. Simply order what you want when it suits you best and it's delivered either straight to your restaurant, or a chosen location.
There are a couple of downsides to online shopping, however.
Firstly, you won't be able to physically see the material or how the product looks in situ before you buy it. Secondly, if there's a problem with your purchase then it can be harder to return than going into an actual store – especially when buying from overseas suppliers. Lastly, delivery can take a while depending on what is in stock and where the nearest depo is, but many sites offer express services so choose wisely before making your purchase.
However, they will offer you a much quicker, more efficient shopping experience, and usually have a wider variety than in actual stores.
Local Supplier
If you don't fancy waiting for your goods, or want to be able to see the product before buying it then local suppliers are the way to go. There are likely a few different stores that sell restaurant furniture and equipment in your area, so have a look around and you might find exactly what you're looking for. Supporting local businesses might also pay off in the long run as they may decide to support your restaurant further down the line.
Second-hand
In some cases, you can even furnish your restaurant with second-hand pieces. Restaurant furniture, particularly chairs and tables, can be beautifully upscaled by a professional polisher or restorer.
Restaurants tend to do this to save money. The best part is that you can find vintage furniture absolutely everywhere if you know how to look for it – from markets, charity shops, and garages sales, up through online auction sites like eBay.
The only issue with this method would be finding enough of the same furniture to make a consistent set – unless you were deliberately going for the mismatched look.
Online Retailers vs Brick-and-Mortar Stores: Which Should You Choose?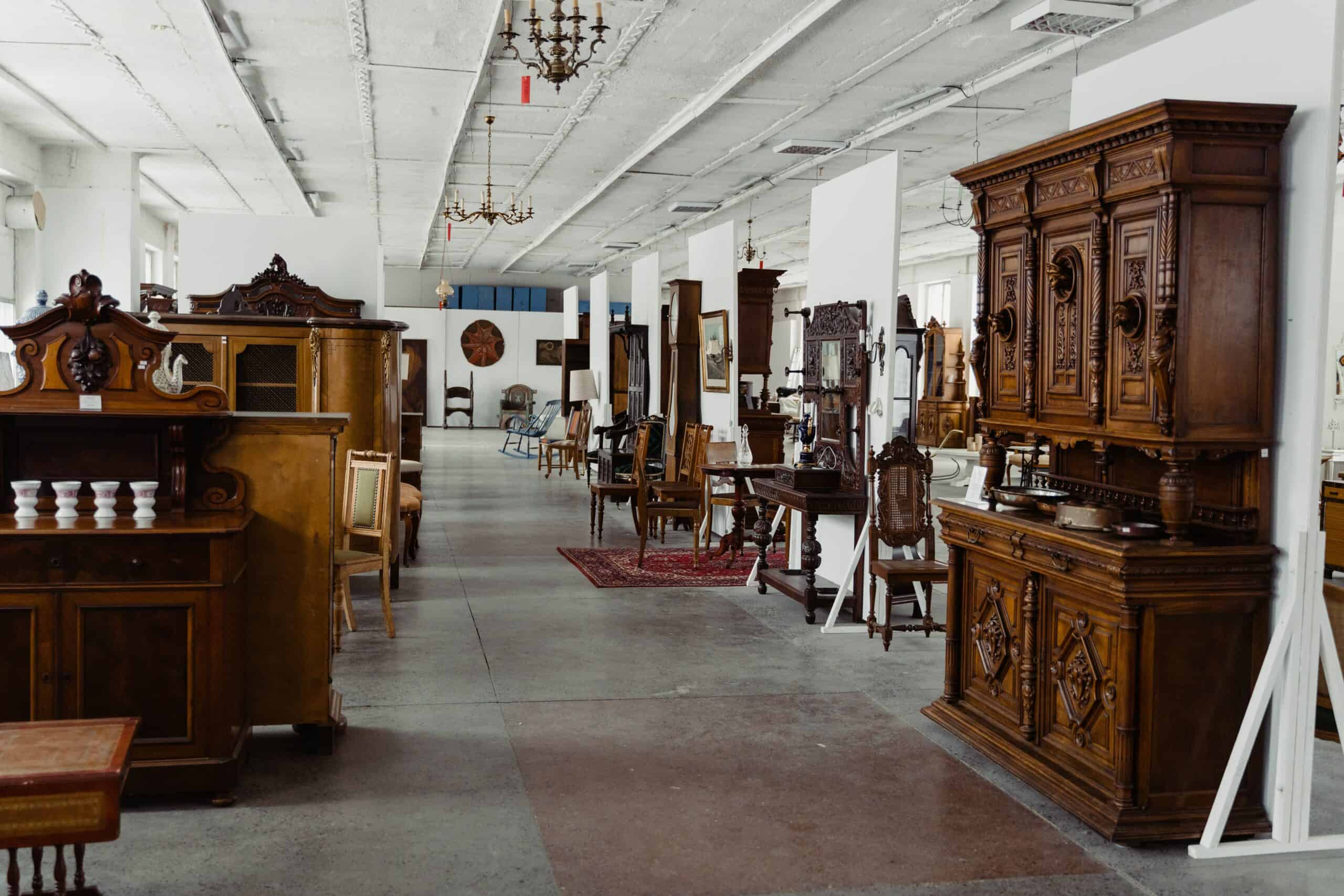 There are pros and cons to both online retailers and brick-and-mortar stores for purchasing restaurant furniture. When it comes down to which offers the better shopping experience for customers, there really isn't an easy answer because everyone has their own opinion depending on how they like to shop in general.
With physical shops, you'll get to actually see how the product looks in situ and how different items would look together. You'll also be able to speak to the store owner or staff members who will be able to assist with your purchasing decision.
The downside is that there might not be enough items available for sale which means you could end up waiting until it's back in stock or coming back at a later date when they have more of the same product. You also might have a limited choice.
With online retailers, you'll save time because they don't need to go into a physical store, the products are often cheaper than in-store pricing, and delivery is usually fast – but there's no way of physically seeing how it looks.
However, you can shop anytime from first thing in the morning to late at night, which is super convenient for busy restaurant owners. You are also able to purchase a very wide range of different brands – including everything you'll likely find in a store – plus brands that might not be available from your local supplier.
The downside to buying restaurant furniture online is the lack of customer service. You may get a chatbot, but these are often slow and annoying. Plus, if there's an issue with your order or something goes wrong during delivery, it can be a lot of hassle to return things. So make sure any terms and conditions, or warranty details have been read before purchasing.
Top Tips for Choosing Your Restaurant Furniture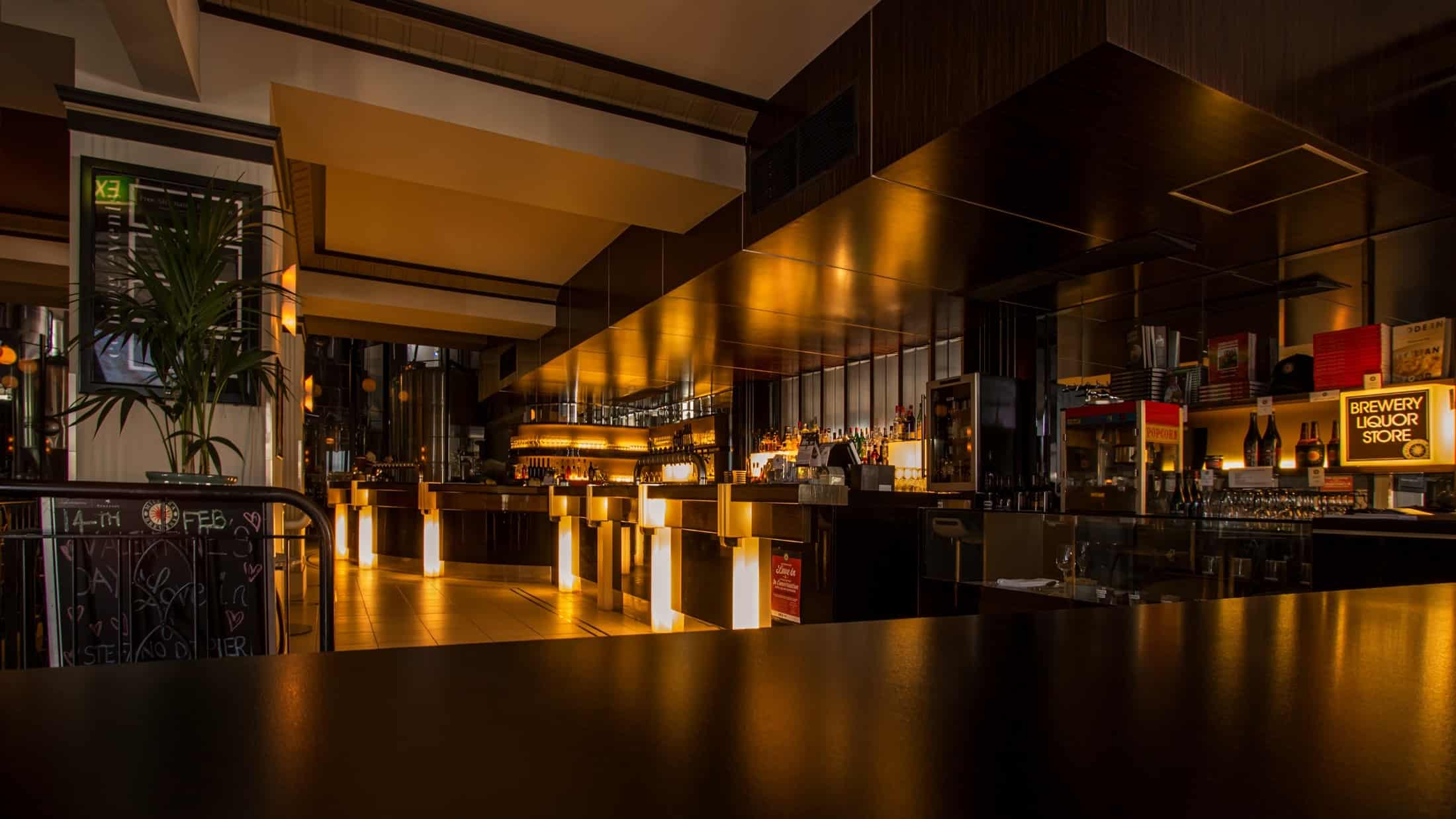 If you're still not sure where to start with furnishing your restaurant, the first thing you should do is make a list of all the things that your venue needs. Write down how much space each item requires, what material it's made from, and if there are any special requirements for delivery (for example, will it need assembling?).
Next, consider how you're going to theme your restaurant. There are many different styles to choose from, and it's often a good idea to go with a style that matches your menu and the general vibe you want to create.
Once you've done this, take a look at how much space is available. The overall design of your front of the house will need to be both spacious (for comfortable customer dining, and easy staff maneuverability) and practical. If you're not sure how to do this, then there are plenty of design websites that talk about how the perfect restaurant layout should be. You can also find inspiration from other blogs or visual social media platforms like Instagram or Pinterest.
If it's a small restaurant, then furniture in darker colors may help make your venue look more spacious. There are also some lighting tricks you could use here too – if the walls aren't lit up much, but the seating is well-lit, then guests will subconsciously think that the area feels bigger than it really is.
When it comes to buying restaurant furniture, the best advice is to spend a little time considering how it would work with your venue. What atmosphere are you trying to create? Who do you want to visit your restaurant? How much space will they have, and how many people can fit in comfortably at any one given moment?
FAQs
Question: How can I find the perfect restaurant furniture?
Answer: The best way to find the perfect restaurant furniture is by firstly working out what you want, how much space you have,, and how many people or covers you want to serve at once. From there, think about how you want it to look – are you going for a modern or rustic feel? How are you going to theme your restaurant? Finally, take some inspiration from design websites and blogs before deciding which pieces would work with your layout.
Question: What happens if I buy something that doesn't suit my venue?
Answer: If this happens then try contacting customer service as soon as possible so they can help remedy the problem. If anything does go wrong during delivery, it may be more difficult to return the product, so make sure you read all of the terms and conditions before you buy.
Question: What should I consider when buying restaurant furniture?
Answer: Think about how it will suit your venue. What are you trying to create with your design? Who do you want to visit your restaurant? Will there be a variety of different types of seating for customers as well as easy maneuverability space for staff? Is this going to be a small or large venue, and how dark or light should the colors be? You'll also need to think about how much time is available before ordering anything too; most places will take up to eight weeks lead time on orders.
Question: What are some of the best places to look for restaurant furniture?
Answer: The best places to find restaurant furniture are online, commercial suppliers, local suppliers, or second-hand. If you're looking for furniture that's a little more high-end, then the best place to look is commercial suppliers or online. There are many different websites with selections of restaurant and bar furniture from all over the world, including branded styles.
Question: Where should I start if my budget is $500 or less?
Answer: If you don't have a large budget, you can look for restaurant furniture at cheaper retailers like Ikea or Target. You could also try buying second-hand furniture from a commercial supplier, looking through clearance sections, or trying charity shops or marketplaces like eBay.
But, before you buy used and cheap restaurant furniture from a commercial supplier, make sure that it's in good condition and is going to suit your venue – especially if you're not confident how much space you'll need. Overall, it's better to go for furniture that is slightly more expensive if it means that it's going to last longer, but cheaper and more practical options can work if you're on a budget.
How to find the Best Restaurant Furniture for Your Venue
In the end, how to find the best restaurant furniture depends a lot on your venue. It's is all about how much space you have, the themes of your restaurant, and the ambiance you want to create. If you're in the market for restaurant furniture, we hope this ultimate guide has been helpful. From chairs and tables, all the way down to bar stools and booths—we've covered the basics. Now it's time to get shopping!