Latest posts by Alice Smith
(see all)
Many restaurants, caterers, and other food service businesses are always looking for new ways to keep their food at the perfect temperature for serving. When it comes to commercial foodservice equipment, there are a lot of different types of machines that can be used for hot holding and warming. For many restaurants, these are essential pieces of equipment that need to be in top working order at all times.
You may be wondering what a commercial food warmer or hot holding equipment even is. Well, it's basically any type of device that can help keep your food warm and fresh in the kitchen. This includes anything from buffet equipment to hot passes in a busy kitchen.
Keeping your food warm is of the utmost importance. You want to be able to serve customers piping hot, delicious meals without having to worry about them getting cold while they wait for their order.
There are many different types of commercial food warming equipment available on the market today – from tabletop electric units that keep a single plate at serving temperature, to large steam tables with heated shelves for keeping full pans and trays of food warm. But which one should you choose?
The answer largely depends on the type of cuisine you offer in your restaurant or catering business, as well as how much space you have available in your kitchen. We will explore these considerations in more detail below
What Is Commercial Food Warming And Holding Equipment?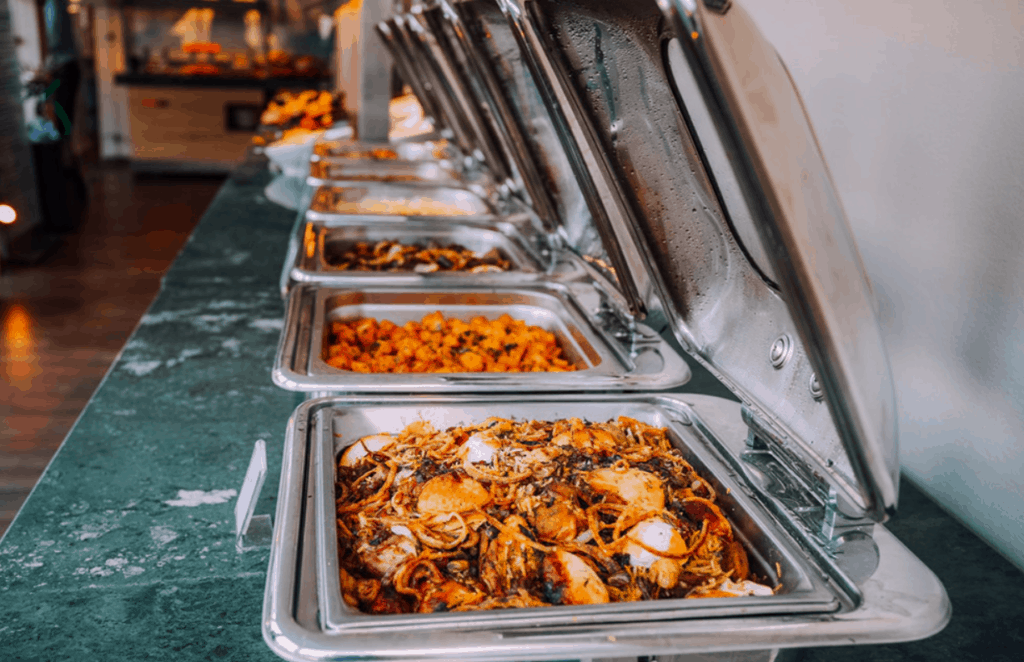 There are many different types of commercial food warming and hot holding equipment available on the market today. Food warming and holding equipment is typically used in commercial kitchens to keep food at serving temperature so that it is ready to be served when customers order it. This can be great for buffets, cafeterias, fast-casual restaurants, or any type of catering business.
How Do Commercial Food Warming And Holding Equipment Work?
Hot holding equipment works by keeping food out of the danger zone ( between 40 degrees and 140 degrees Fahrenheit) so that it is safe to eat. This means that food will be heated before being placed in the unit, and the until will keep it at that steady temperature. Although some units have a dishwasher-safe plate warmer on top for keeping prepared plates warm while they wait to be delivered to customers.
The equipment will hold the food at the desired temperature for the duration of service. This is different from commercial cookware, in which food starts out cold and then is gradually warmed up over time.
In commercial restaurants, not every meal is always ready to be sent to the table at the same time – this is where hot holding equipment really comes in useful because, in order to send an entire table hot food, one meal might need to be kept hot under a heat lamp while the others are plated. Hot holding equipment ensures perfect customer service and that everyone at the table has a hot meal.
What Are The Different Types Of Commercial Food Warming And Holding Equipment?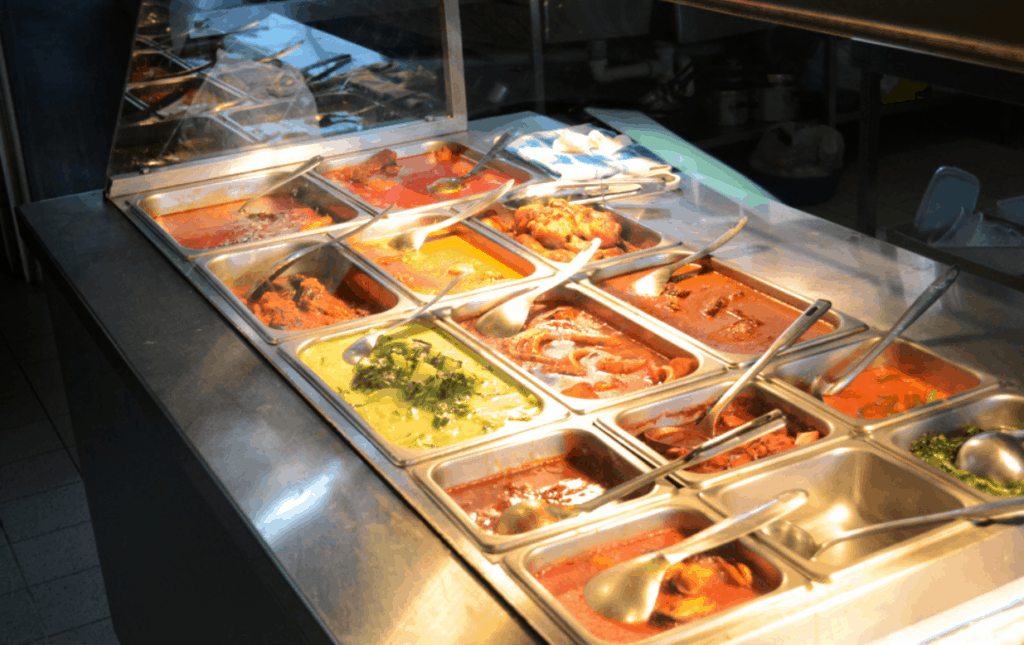 There are many different types of commercial food warming and hot holding equipment available – from tabletop electric units, which work well with single items like entrees or side dishes, all the way up through large steam tables with heated shelves for keeping full pans and trays of food at serving temperatures. Which one you choose largely depends on your kitchen space as well as what you offer.
Here are some of the most popular types of commercial hot holding equipment:
Snack Warmer Cabinets
These are great for buffets, cafeterias, or fast-food restaurants. They are typically designed to hold a single dish at serving temperature and include an adjustable thermostat – some even have extra features like pan warming zones so that you can keep multiple pans of food hot.
Steam tables with heated shelves work well in large kitchens where there is plenty of cabinet space for storage. These units can hold large pans or trays and are designed to keep your food at serving temperature all day long, even on a busy shift.
Serving Carts With Dish Warmer Drawers
These work well in restaurants that specialize in carry-out orders. They have an insulated top shelf that works as a heating element to keep your food hot while customers wait for their order.
Hot Cupboards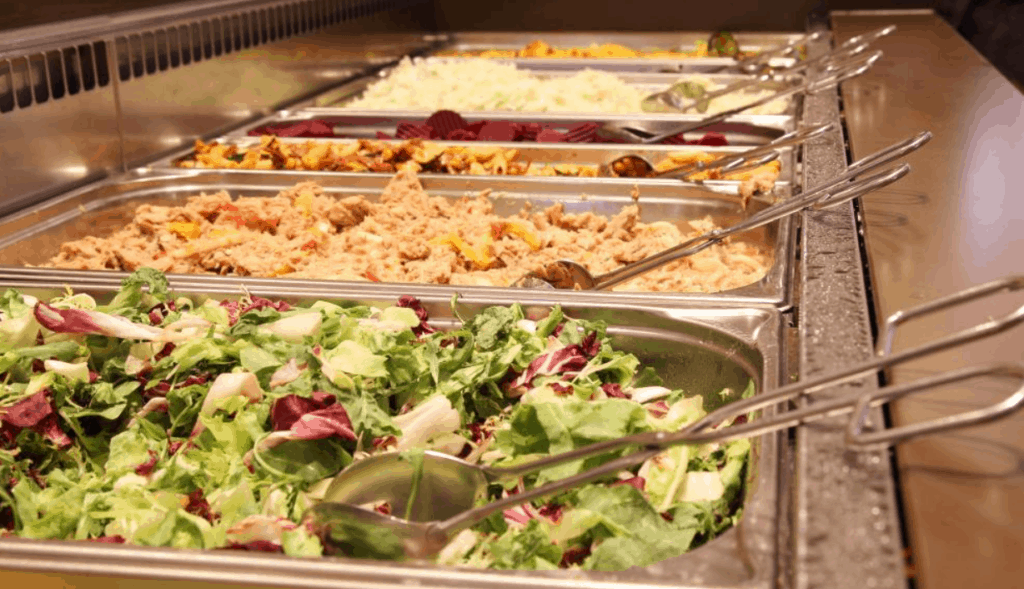 Used by plenty of catering establishments, a hot cupboard is a great way to keep your food hot while you deliver it. These units are typically designed for one or two items and have a dishwasher-safe plate warmer on top so that prepped plates can be kept warm until they are delivered.
Display Holding Cabinets
This type of hot holding cabinet allows you to keep your food at serving temperature without the need for a large amount of cabinet space. These are great options if you have limited kitchen space. Customers are able to see what is inside the cabinets and order from the front, making it a great option for cafeterias or fast-casual restaurants.
Electric Heat Pads
Popular with buffet restaurants, electric heat pads mount under a pan so that the food is warmed without drying it out. These units are great for maintaining an even temperature on individual dishes.
Cook and Hold Cabinets
These cabinets are incredibly efficient pieces of commercial cookware. They are designed to cook the food first, and then maintain the food at a steady temperature for as long as you need them to hold your food.
Chafing Dishes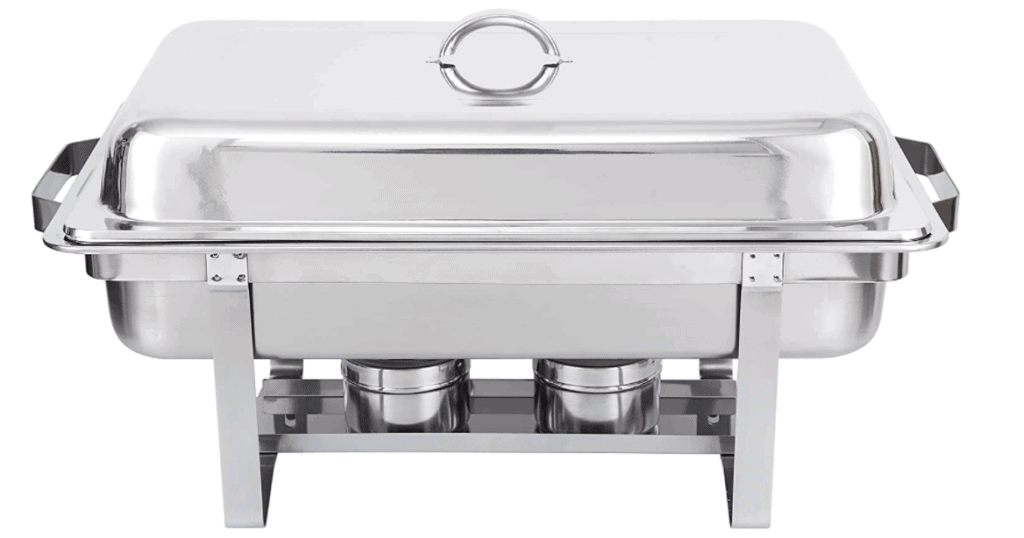 Chafing dishes are one of the most popular types of commercial food warming equipment on the market. They work well at keeping individual dishes warm and are designed to be insulated so that they will last for hours on end.
Chip Warmers
These are exactly what they sound like. This type of warmer is specifically designed to keep chips at serving temperature.
Tray warmers
If you are a catering company, these units can be placed on top of your trays before they go out the door so that food will stay hot and fresh as it arrives. They generally have an adjustable thermostat with space for up to four trays
Proofing cabinets
Proofing cabinets are perfect for bakeries. These units are designed to maintain a consistent temperature so that you can keep your dough at the perfect proofing temperature.
Heat lamps
Another buffet favorite, heat lamps are perfect for keeping buffet lines full of hot food. These units are lamps that emit heat and are designed to keep your food warm and ready without the need for a warming tray.
Steam Tables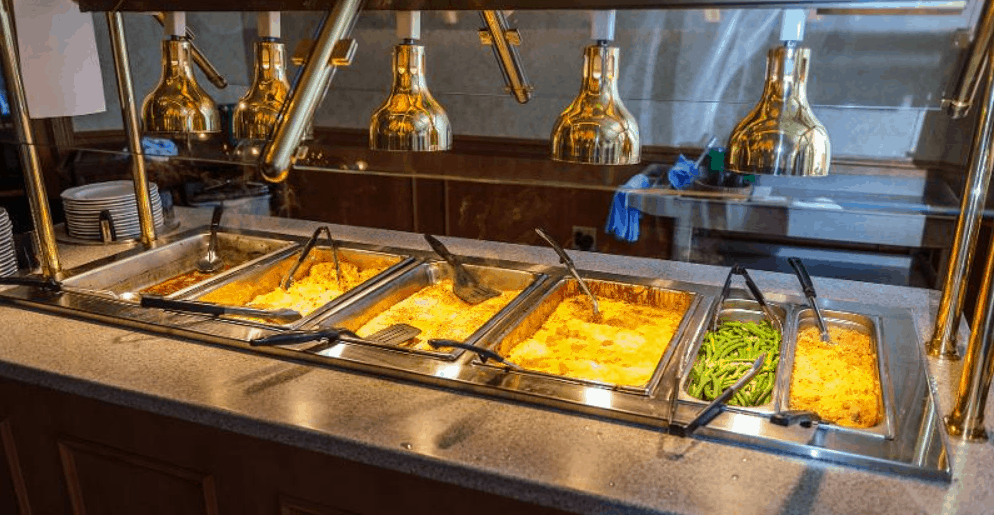 Steam tables are excellent in commercial kitchens where there are plenty of cabinet spaces for storage. They can hold a large pan or tray and are designed to keep your food at serving temperature all day long, even on busy shifts.
Bain Maries
Ideal for keeping liquid food warm like soups and stews, a Bain Marie is a type of oven where there's no cooking going on, but instead, hot water or steam is circulated around a container of food (usually metal) to keep it warm.
Heated buffet warmers
The solid food version of a Bain Marie, a buffet warmer is perfect for keeping food warm and ready to serve. They are typically designed to hold several gastronorm pans or trays of hot food while the lamp underneath maintains the perfect serving temperature.
Strip warmers
If you need a low-profile way to keep your food warm, then these units are perfect. These units can be mounted under tables or counters and provide reliable warmth without taking up any space at all.
What Should You Look For In Commercial Food Warming And Holding Equipment?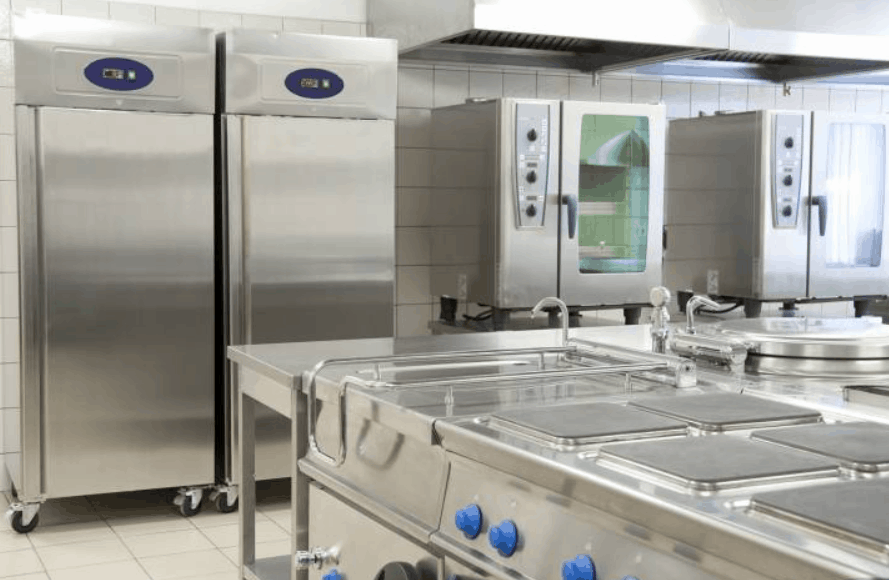 The type of heating element can be one important consideration to keep in mind when purchasing a commercial food warmer. The most common are radiant heaters which sit under the countertop and provide constant gentle warmth at all times. They're perfect for keeping individual plates warm while they wait to go out on their own tabletop if not being ordered right away by customers waiting.
There are also convection ovens with heated shelves that solve the problem of having to constantly rotate trays around inside and over – these work great for full pans and trays of food that need continuous cooking time as well as maintaining warm temperatures.
The size of the hot holding equipment can also be an important consideration in your purchase decision. You'll want to make sure you have enough space for it in your kitchen so that you're not left without any room to make other dishes. It's also worth considering how many people the equipment will need to serve at one time.
Some hot holding equipment, such as steam tables or Bain Maries, are heated by the addition of boiling water. This can be inconvenient when you're not around to monitor the equipment and ensure that it has enough hot steam, so make sure to take the time to look into that when you're making your purchase decision.
Overall, the type of commercial food warming equipment best suited to your business will depend largely on what cuisine you offer as well as how much space you have available in your kitchen.
But regardless of your business, these are things that everyone looking for food warming equipment will need to consider:
Size
Don't forget to consider the size of your kitchen when making a purchase decision. You should also make sure that you have enough room for it before deciding which commercial food warmer is best for you.
Type
The type of warmer you opt for is also very important. This could be the difference between the food staying warm or getting cold. The type of food warmer you go for isn't just about which style, but also what type of heating element they use.
Capacity
As well as the size and how much room it will take up in your kitchen you also need to consider how many people your food warmer will be serving before you purchase it. If you serve a lot of customers, then go for the larger hot holding equipment and the more space you'll need inside the unit.
Functionality
Take into consideration what type of functionality is important to you in order to maintain control over your kitchen. For example: Does having convection cooking or a buffet-style design matter most to you?
Efficiency
You'll also want to consider how energy efficient the food warmer is. This will help you keep your bills lower by spending less on running costs. It will also help make sure that they can handle what you need from them and are able to stay warm.
Ease of cleaning
How difficult is it to clean? Does the unit have removable parts and are those dishwashers safe or just wipe-able with a cloth? As this type of catering equipment will need to be cleaned often, this is an important consideration to make when choosing a food warmer.
Ease of use
There are also many different types of commercial food warming equipment that you'll want to consider depending on what type of food and which style they offer. But something complicated to use may not be worth it long term.
Price
Finally, the price of your food warmer may also be a consideration. For example, if you have to purchase the hot holding equipment as well as other items such as countertops or storage for it, then this could increase the overall cost considerably. Be sure to consider the price before deciding on a unit.
Commercial Food Warming And Holding Equipment Best Use Tips
Be careful about food entering the danger zone. Large food items like roasts could take up to two hours in a hot holding unit, so make sure you know what the food is and how long it needs to stay warm.
Reduce emissions from your commercial food warmer by ensuring they're not left on all day when there's no one around. This will save energy as well.
You should also be careful about any liquids that may come into contact with your equipment (something like soup broth spilling). If this happens, then ensure you clean it immediately before leaving an odor or flavor behind. The liquid may also burn on the hot surface of the warmer which will look unappealing to customers.
If a cabinet is not holding food at the correct temperature, it could be due to a dirty air sensor. Check for possible debris on the sensor and clean if needed.
Hot foods need to be held at 140°F and above for safety. Anything above or below this temperature may cause bacteria to grow rapidly, so be sure to keep your hot foods at the right temperature. A digital temperature gauge will help with this.
You should also have someone who can take care of food warming equipment (such as a repair specialist) in case anything goes wrong. Your commercial food warmer is an important part of your business and you need it running efficiently for everyone's sake. This may be included in your warranty.
Casters are important for commercial food warmers, as they allow the unit to be moved easily from event location to event location. Operators should make sure casters stay in good condition by checking that there is no debris around them and replacing any broken wheels.
Be sure to clean your hot holding equipment regularly, both outside and inside, before and after every use to reduce the chance of dangerous bacteria growth.
Food warming and hot holding equipment are typically electric-powered. If they seem to malfunction more often than not, it's worth inspecting the electric cord before anything else.
Do not use abrasive cleaners on warming cabinets because rubbing can cause scratching or scrape the finish, which will decrease its longevity.
My Top Commercial Food Warming And Holding Equipment Recommendations
Lincat Seal Hot Plate HB4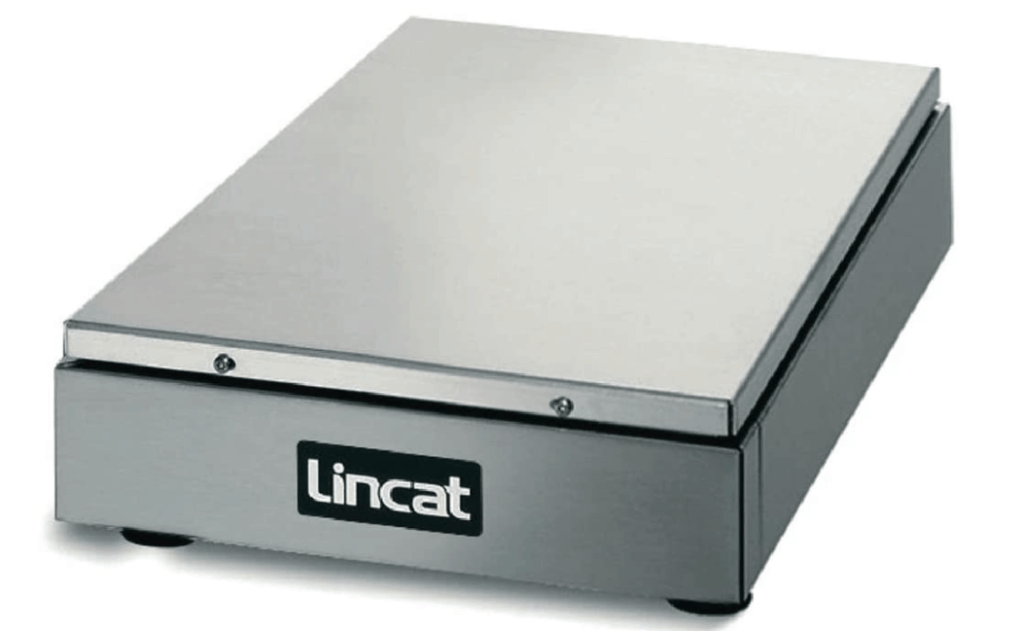 This portable Lincat hot plate is a classic low-budget solution for buffets and self-service, so your food stays warm when you need to keep topping up. The steam tunnel ensures that food will never cool down, while the circulating hot air from above combined with radiant heat at your feet achieves an endless and constant internal temperature.
This unit can accommodate up to three gastronorm pans simultaneously, providing heat without the requirement for additional overhead heating or illumination. It can seriously save you money on running costs in the long term. Made of aluminum, this material evenly distributes energy across its surface.
Key features:
Stainless steel cover
2-year parts and labor warranty
Thermostatic controls
Energy-efficient aluminum surface for heat conduction
Parry Electric Food Warmer C4LU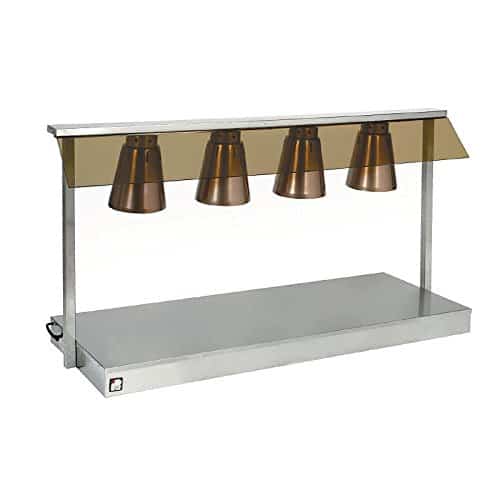 Parry C4LU is an attractive-appearing food warmer that offers high hygiene standards and efficient heating. The Parry four-lamp electric food warmer is perfect for buffets and carveries. It's constructed with sturdy stainless steel and has a brushed aluminum finish that looks great in any venue.
A variety of heat settings are available, which is perfect for catering to your needs for hot food. The hot plate has nearly 1.5 meters in width, which is enough room to warm many gastronorm pans of food at once. With a high-quality sneeze guard and adjustable temperature control, the Parry is an ideal food warmer for buffet restaurants and other self-serve catering establishments.
Key features:
Sturdy stainless steel construction with brushed aluminum finish – attractive and clean-looking design
Wide surface area to accommodate various food pans simultaneously
Adjustable thermostat and timer settings for precise temperature control
Infrared heat bulbs
Lincat Panther 670 Series Hot Cupboard with Plain tops P6P4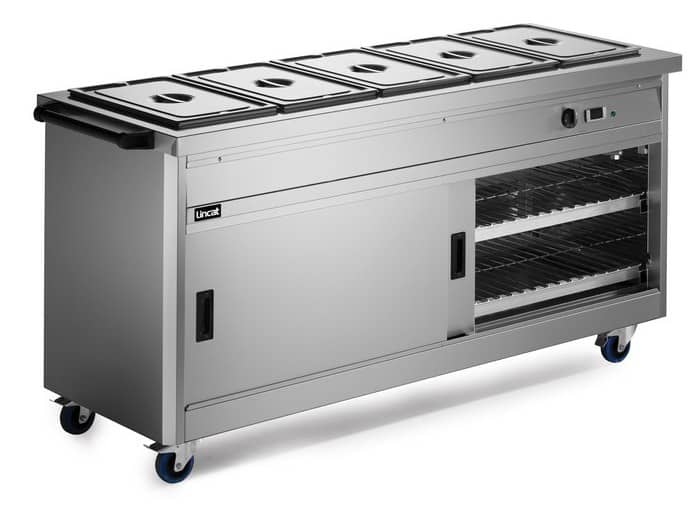 This Lincat type 670 hot cupboard is only 16.5 inches deep and specifically designed to fit through narrow corridors and doors, even those with restricted access. It's also lighter and more portable than other models, with a removable front panel for easy cleaning from the inside out.
They are ideal for small establishments where the easy transportation of plated meals is a necessity in order to get them to diners. Not just restaurants and cafes, but also care homes and hospitals would benefit from this system.
The fan-assisted heating element provides the most efficient and rapid heating, which is perfect for keeping your food at a constant temperature. Plus, the unit comes with two heavy-duty chrome-plated shelves and has digital electronic dials for precise temperature control.
Key features:
Extremely compact size for easy transportation
Easy to keep clean
Fan assisted cupboard
Digital temperature controls
Dualit Soup Kettle Copper 70017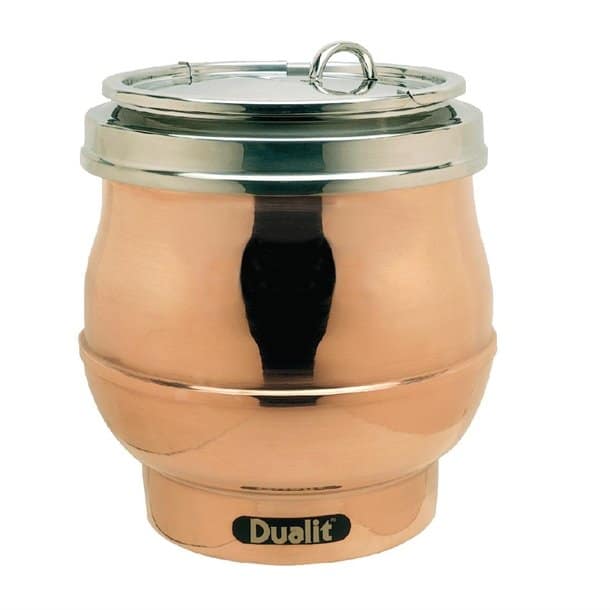 If you are looking for a cast copper soup kettle that is safe, reliable, and attractive, this is the one for you. The Dualit Soup Kettle stores soup according to a singular design and has a beautiful copper finish which will look very appealing on your buffet table.
The warmth and heat level can be adjusted by the variable heat control dial, which is very convenient. You can also choose between a wet or dry bain-marie style of heating. It also comes with a safety thermostat, a removable stainless steel liner for effortless cleaning, and even comes with Soup of the Day cards for your guests to enjoy as well.
Key features:
Cast-copper construction with a beautiful finish
Variable heat control dial for customizable heating
Bain-marie style of wet or dry heating
Safety thermostat for peace of mind
fAQs
Question: What service equipment can keep food hot during service?
Answer: A range of different commercial food warmers and hot holding equipment can keep your products at the optimal serving temperature. Some examples of this are food warmers, hot food holding cabinets, and steam tables.
Question: What are some important features to consider when purchasing an electric food warmer?
Answer: An electrical warming plate that evenly distributes heat is a good idea, as well as stainless steel or aluminum construction so you don't have to worry about rusting over time. You'll also want to look for a model that has adjustable heat settings, as well as timer controls.
Look for a product that is durable and easy to clean between uses. You also want the heating surfaces to be large enough to accommodate your needs during service. Have at least two shelves so you can organize different pans of food. You'll also want to find a product that has adjustable heat settings and timer control, as well as durable construction. Keep in mind that you should have at least two shelves for organization purposes.
Question: What is hot holding equipment designed for?
Answer: Hot holding equipment is used to keep food at a constant serving temperature. This includes hot plates, electric or gas-fired steam tables, and warming cabinets. It's also designed to keep food out of the temperature danger zone.
Question: What are some advantages of commercial food warmers?
Answer: Commercial food warmers can help you save money because they make it possible for restaurants with small footprints to reheat dishes quickly without using a lot of energy. They also make it possible to hold your food at a constant temperature, which is important for maintaining taste and texture.
Question: What are some disadvantages of commercial food warmers?
Answer: Commercial food warmers do take up space because they must be plugged in and you may not want them on the tabletop or countertop with customers. Plus, they can be quite pricey which can be off-putting for some businesses.
Question: What is the temperature danger zone for food?
Answer: The temperature danger zone for food is anything between 40 and 140 degrees Fahrenheit. This means that if your product falls within this range, bacteria can grow at an exponential rate. Refrigeration will keep foods below the "danger zone", but, if you want to keep the food hot, then you'll need to use a commercial food warmer or a hot holding device instead of just relying on cold storage.
Question: Can you use hot holding equipment to reheat food?
Answer: No, you should never reheat food in hot holding equipment. This can lead to bacterial contamination and other health risks for your customers because the food won't heat fast enough, or thoroughly enough to kill the bacteria. One exception is cook to hold equipment, but this was designed to cook food and then keep food at a constant serving temperature.
Question: How long can you keep food in a warming cabinet?
Answer: Food should not be kept in a warming cabinet any longer than two hours. Longer than this and the food will start to break down and cause bacterial contamination. If you do want to keep food in a warming cabinet longer than this, then you should reheat the food after two hours and then place it back in the cabinet. If it's been continuously out for longer than 2 hours, throw it away.
Question: What is the life expectancy of a commercial food warmer?
Answer: The life expectancy of commercial food warmer will depend on factors like the quality and care it is given, as well as how often it's being used. If you're using your product every day, then you can expect to replace it within six years or less.
Question: How much does a commercial food warmer cost?
Answer: The cost of a commercial food warmer will depend on the size, type, and features. For example, you can find models that are priced under $100 for small warmers (such as a soup kettle) and up to $10,000+ for large warming cabinets with many features.
Conclusion…
When you need to keep food at a constant serving temperature, hot holding equipment can be the best solution. There are many different types of commercial food warmers and they all have their own advantages and disadvantages. But hot holding equipment and food safety are closely related.
You'll also need to make sure that your kitchen is equipped with the right type of heating equipment for all types of foods because there's a lot more to consider than just keeping things warm. We hope this guide has been helpful in determining what type of hot holding equipment would work best for your needs. Hopefully, we answered all of your questions and gave you a better understanding of hot holding equipment in general.