Latest posts by Maddy Chiffey
(see all)
In this guide, I will review the five best commercial countertop griddles on the market today. I will include complete product details and pros and cons to help you form a more informed buying decision. This post will also feature a short buying guide to make selecting the right commercial countertop griddle for your kitchen easier.
Commercial countertop griddles have their place within commercial kitchens, such as restaurant kitchens and cafeterias. But, a commercial countertop griddle can also become the hub of the home or garden event, with the ability to cook as much food as possible effortlessly and a simple clean-up afterward.
Commercial countertop griddles can be expensive to purchase but an excellent investment for a professional kitchen. Some are relatively lightweight, perfect for mobile catering companies, while others will be permanent fixtures.
There are different sizes, materials, temperature settings, and other features that can make buying the right one difficult.
If you're in a hurry, here are 5 of the best commercial countertop griddles.
At a Glance – The 5 Best Commercial Countertop Griddles
What is a Commercial Countertop Griddle?
Also known as a flat grill or plancha, a commercial countertop griddle is one of the most widespread machines in the professional kitchen. They have a large, open metal cooking plate, often made of stainless steel or other heavy-duty metal, which provides a generous surface area to cook large batches of food at the same time.
The countertop griddle provides excellent convenience in the commercial kitchen. It allows chefs to monitor the cooking process more efficiently, and the clean-up afterward is quick and easy. In addition, many have pull-out grease trays, which further increase the ease of cleaning.
The Benefits of Commercial Countertop Griddles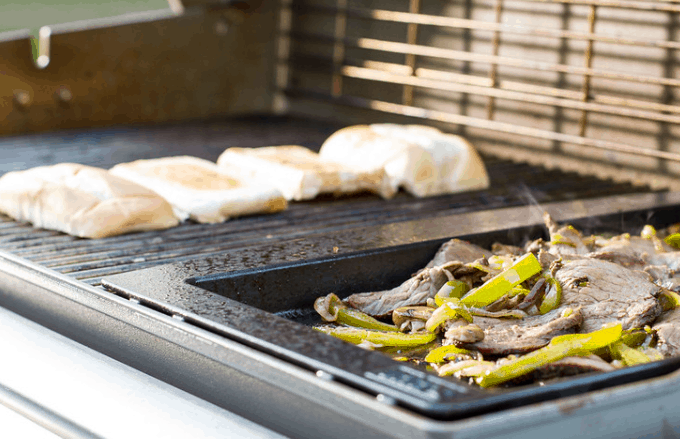 Commercial countertop griddles provide you with plenty of options when it comes to grilling a variety of different foods. A commercial countertop grill makes the cooking process more straightforward, convenient, and quicker, whether steaks, ribs, burgers, corn, vegetable kebabs, and falafel.
Many countertop griddles have different temperature settings so that meat can be cooked to the rarity of the individual preference. And some are packed with some pretty impressive features, like elevated legs, high-quality splashbacks, and removable grease trays.
In addition, griddles provide even heat distribution which gives great peace of mind that if one piece of meat is cooked correctly, every other part is too.
Buying the Right Griddle for You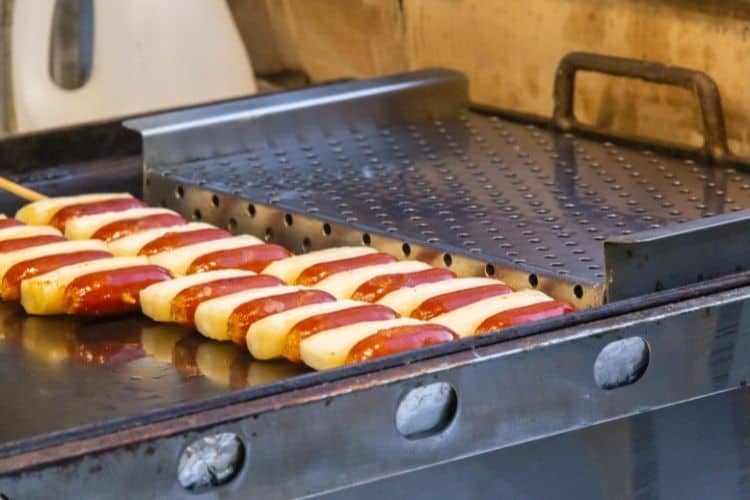 What type of griddle is perfect for one chef and one kitchen may not be the most appropriate for another, and so I'm going to explain the things to look at to help with your personal purchasing decision.
Power – Gas or Electric?
Gas and electric griddles work in similar ways – both energies heat the cooking plate through powerful burners or elements sitting directly underneath the surface plate. Some electric-powered griddles may have heating elements embedded into the plate, which results in a faster heat-up process.
However, gas griddles tend to heat up faster and are often considered to be more economical.
Electric griddles can have more flexibility than their gas counterparts. They can come in a larger range of sizes, from large to very small versions, which are ideal for mobile catering. Pretty much every kitchen today has electric power sockets, not all have gas connections, so this should be considered for those who cook in various venues.
Cooking Area Size
You can cook more food simultaneously on a countertop griddle with a larger plate. However, larger plates require more prominent space and may not be suitable for smaller domestic or commercial kitchens.
Larger plates will also use more energy than smaller plates unless you choose a large plate griddle with multiple heat zones, as this can save energy with the option of only heating the area you wish to use.
Plate Metal
Commercial countertop griddle plates are usually available in steel, iron, ceramic, or chromed glass surfaces. The most popular choice is cast iron, as this retains heat well and is highly durable.
However, cast iron needs seasoning occasionally to prevent food from sticking to the surface. It can also be a weighty metal, so it isn't the most appropriate for traveling or mobile caterers.
Another prevalent choice is steel; it's non-stick, easy-clean, and usually fast to heat up. It is always worth looking at the thickness of the plate, though, as thinner steel plates are not as efficient at retaining heat.
Chromed griddle plates are essentially a more premium steel plate. The chromed finish effectively transfers heat to the food while emitting less heat into the kitchen. They're usually non-stick or more non-stick than the alternatives.
Relatively new technology to commercial countertop griddles is the ceramic glass plate option. These are highly efficient for cooking and even easier to clean, but they can be delicate and specialized scrapers are needed to prevent scratching when cleaning up.
Plate Surface
Predominantly griddles will be flat, but some have small grooves on the plate. Called ribbed plates, these are good for channeling away grease and fat and adding chargrill-style sear marks to food for great aesthetics.
Ribbed plates are great for cooking chunky vegetables and meats, but they're not suitable for all foods. A flat griddle provides more consistent results across the entire food group, including meats, chunky vegetables, pancakes, and waffles.
Some griddles are manufactured to combine flat and ribbed plates, which are an excellent compromise for both cooking styles.
Now, let's look at my five best commercial countertop griddles available to buy today, including complete product information and their pros and cons.
5 Best Commercial Countertop Griddles – Comparison
Waring Electric Commercial Countertop Griddle – Our #1 Top Pick 

Stainless Steel
1800.0 watts
Professional Grade

Buy Here
Vevor Electric Countertop Griddle 

Large Temperature Control Range
Includes Spatchas x2, and Brushes x 2
High-Quality Stainless Steel

Buy Here
Gdrasuya10 Electric Grill Griddle 

Power 4400W
Large Cooking Surface
Even-Heat Distribution

Buy Here
NICE CHOOSE Commercial Countertop Griddle 

Quick Heat Up
Space Saving Compact Griddle
Affordable Price Tag

Here
JOZOOES Electric Commercial Countertop Griddle 

Red and Green Light Indicators
Even-Heat Distribution
Budget-Friendly Choice

Buy Here 
#1 Waring Electric Commercial Countertop Griddle – Our #1 Top Pick!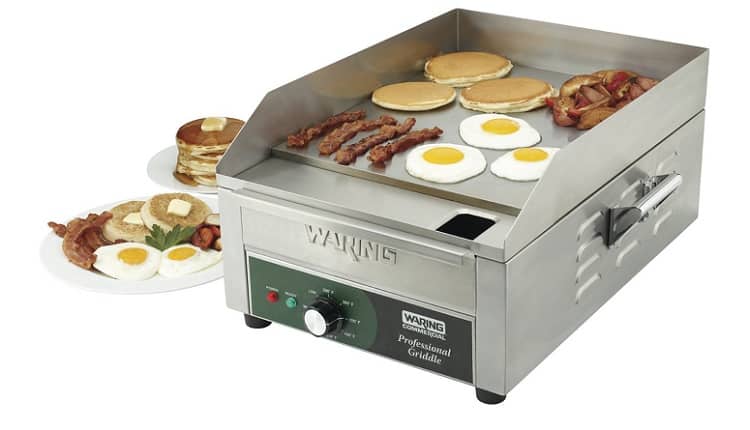 The Waring Electric Commercial Countertop Griddle is a professional-grade stainless steel machine with so much going for it. The price point is high but reasonable when you factor in the quality and (hopefully) longevity you will get with this product.
I was impressed with the finish of this griddle on the first inspection; it is incredibly smooth and looks great. The griddle surface provides even heat distribution, and the extra-tall splash guards have tapered front ends offering further protection against burns or scalds.
There is a fully removable grease tray that measures 11-inches long and performs its job effectively.
Approved by UL, with NSF certification, this commercial countertop griddle has an adjustable thermostat that reaches 570-degree Fahrenheit and has a 180 watts power rating with a 120 volt AC. It comes with a limited one-year warranty.
There are no scratches or scrapes left after using the griddle, and I particularly like the heat-resistant handles on either side, made of strong stainless steel. Waring's Countertop Griddle is on the heavy side at 42.1 pounds, but this also means it will stay where you put it.
The dimensions are 9.¾-in x 17-in x 22.¼-in, making it pretty compact and so it won't take up too much room on the countertop. I recommend this highly for domestic cooking, bbq competitions, galas, fetes, and commercial cooking – it won't let you down, and in the eyes of many happy customers, it is well worth the money.
Pros
Professional Grade
High-quality Materials
Great Longevity
Cons
Expensive
Heavy
On the Small Side
#2 VEVOR Electric Countertop Griddle – Our #1 Budget Buy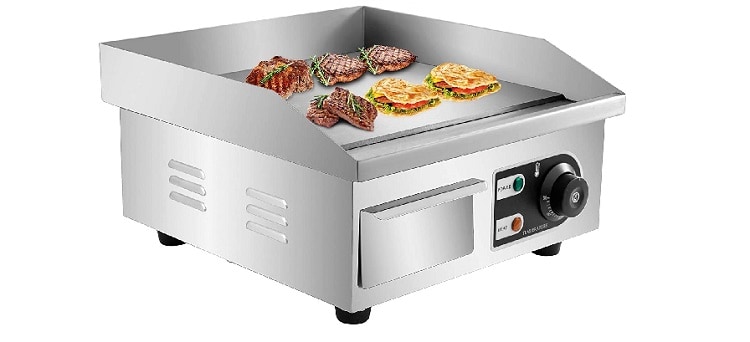 The highly affordable VEVOR 14″ Electric Countertop Flat Top Griddle is an excellent choice for a smaller commercial kitchen. It has an incredible 2000W power and is crafted from premium stainless steel, with a cast iron cooking service. The plate is non-stick and heats up quickly, with heat distribution being even across the plate.
The temperature range is adequate for cooking most meals, going from 50℃-300℃. The temperature control range is simple to operate, with two controllers, and large enough to correctly heat vegetables, meat, grilled cheese, scrambled eggs, flatbreads, and so on.
The dimensions of the plate are not overly generous at 14-in x 15-in, but this means that the griddle is well suited to smaller kitchens where a more compact griddle would be preferable. The griddle is sturdy and weighs 24 lb; this weight, combined with the rubber anti-slip feet, ensures it stays put when used.
I like that it arrives with two brushes and two spatulas; inexpensive accessories but necessary ones nonetheless. The oil collection box on this griddle has a larger capacity than most, which means that it doesn't need to be regularly tended to. The tray is also fully removable for easy and quick cleaning.
Pros
Budget Buy!
Free Accessories
Large Oil Collection Box
Cons
Smaller Cooking Surface
Must Scrub With Detergent on Arrival – Cannot Use Straight Away
Up to 10 Minutes to Fully Heat Up
#3 Gdrasuya10 Electric Grill Griddle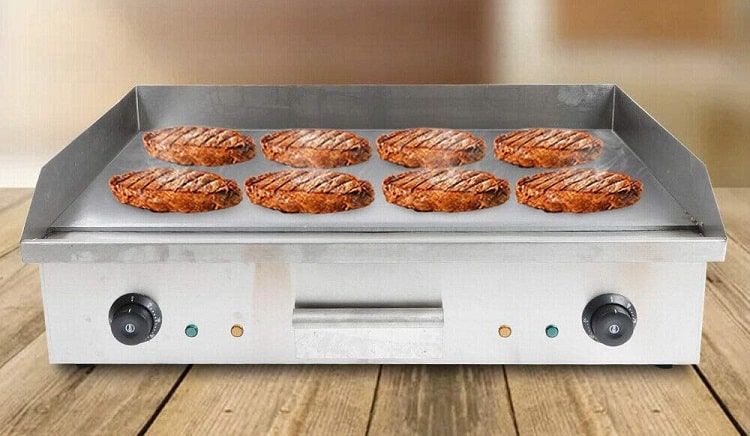 The extra-large cooking plate of the Gdrasuya10 Electric Grill Griddle ensures that a large group of people can be cooked at once; 28.7-in is a highly generous cooking surface that could hold more than 72 sausages 30 standard-sized burgers.
The control panel is easy to operate and conveniently positioned on the front of the griddle, which is cool-touch.
The griddle is made from stainless steel with heavy-duty accessories, such as knobs, feet, and dials. There is a rapid response to surface temperature changes, and the temperature range is from 50°C to 300°C. It heats up very quickly and cools down fast – you will know when it is safe to touch as both the yellow and green lights will go off.
It is straightforward to operate, from beginning through to the duration and the clean-up. The clean-up can be done simply with a damp cloth or a wet towel, and the plate is difficult to stain or mark. The downside to this griddle is that it comes without a plug, which I found a little odd.
Pros
Large Cooking Surface
Power 4400W
Quick to Heat and Cool
Cons
Comes Without a Plug
Small Grease Tray
No Warranty Information
#4 NICE CHOOSE Commercial Countertop Griddle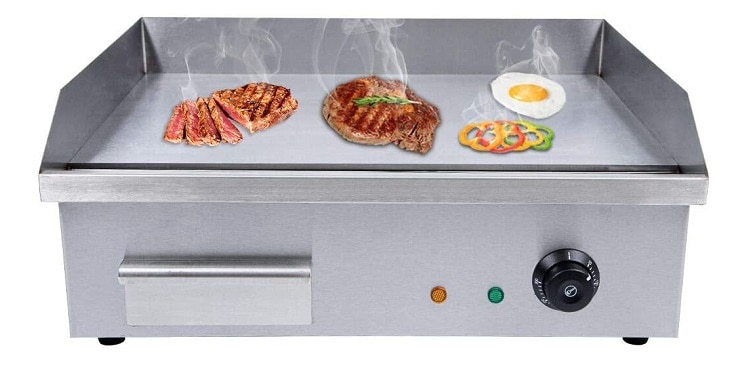 The NICE CHOOSE Commercial Countertop Griddle boasts an incredible 3000 watts of cooking power and has a highly generous 548mm x 350xx cooking service – perfect for commercial kitchens. The temperature can be adjusted from 50ᵒC to 300ᵒC for precise cooking, and this is a griddle that can undoubtedly feed a large number in a canteen, cafeteria, or commercial kitchen.
The NICE CHOOSE stainless steel griddle will also blend into any domestic kitchen with dimensions of 21.65-in x 13.78-in x 8.12-in; it is pretty compact, and it has non-slip rubber feet to ensure that it will remain secure during cooking.
The plate is thick (½-in) and heats up rapidly; it also distributes even heat across the entirety of the plate, so all foods are cooking to perfection simultaneously. It can be used in a wide range of kitchens and for many different foods, from stir-fries and rice to steaks and burgers.
The brand offers a 100% refund guarantee, although I believe that this is unlikely to be needed! Unfortunately, the griddle does not come with a US plug, so consumers will need to purchase a US plug adapter. It is easy to wipe down after use with a damp cloth, although it cannot be washed with water as this could burn the machine – if water were to enter the heating pipe.
Pros
Affordable – for Commercial Griddles
Quick Heat Up
Even-Heat Distribution
Cons
Cannot Be Thoroughly Washed With Water
Doesn't Have US Compatible Plug
Some Reviews Cite Poor Manufacturing
#5 JOZOOES Electric Commercial Countertop Griddle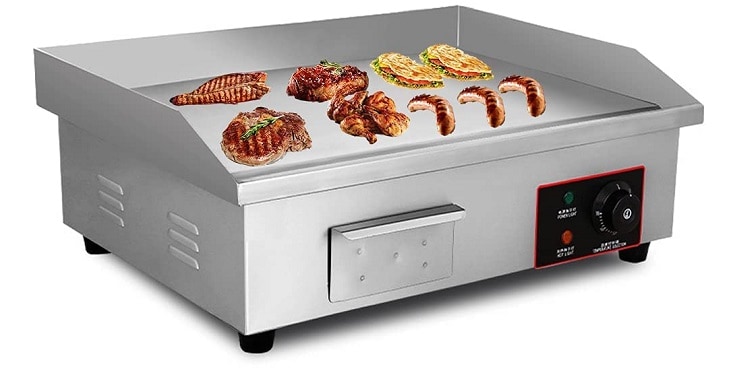 Retailing at the same price as number four, the JOZOOES Electric Commercial Countertop Griddle is an excellent choice for a commercial kitchen that wants to keep costs down. There is precise temperature control, from 50 – 300℃, easy to operate from the dial on the front of the griddle. The machine heats up quickly and performs well overall.
The table plate is flat, 8mm thick, and made from double-sided cast iron. The rest of the griddle is made from a high-quality stainless steel body, promoting no rust or corrosion and easy-clean. The grease/oil tray is conveniently positioned and fully removable.
Heat is distributed evenly across the griddle, and you're notified when the griddle is ready to use by the green light indicator. The red light remains on after cooking until the griddle cools fully down and is safe to touch. Underneath the griddle sits four rubber feet, which elevate it slightly from the counter and provide additional security to remain in place during cooking.
There is 300W of power and 110V. I like the ventilation slits at the side of the griddle that allows the high power an escape route that isn't going to interfere with the food. The dimensions are 22 x 16 x 8 inches, so not a lot of space is needed for this griddle, and it could make a massive difference to a busy commercial kitchen or home kitchen that needs to feed a larger family.
Pros
Affordable – for Commercial Griddles
Red and Green Light Indicators
300W Power
Cons
Cannot be Taken Apart to Wash
Not Dishwasher Safe
Heavy (38.7lb)
The Best Commercial Countertop Griddles – My Verdict
The best commercial countertop griddle for one person may not be so for another; there are many things to factor in, such as budget, use, and space. For a smaller domestic kitchen, I would suggest the VEVOR 14″ Electric Countertop Flat Top Griddle. This griddle will perform well without setting you back a lot of money.
For a start-up, commercial kitchen, or a professional kitchen where budget is a priority, the JOZOOES Electric Commercial Countertop Griddle and the NICE CHOOSE Commercial Countertop Griddle are great options. They're affordable, perform well, and can be relied on to cook food uniformly, especially when a speedy service is needed.
For those busy kitchens where a large cooking surface is needed, the Gdrasuya10 Electric Grill Griddle could be a good option. The 28.7-in plate can cater to lots of people simultaneously, heat is distributed evenly, and the clean-up is simple. However, this griddle comes without a plug, so you need to wire in your own plug after delivery.
Our top pick, however, is the Waring Electric Commercial Countertop Griddle. It is the most expensive griddle on the list, but I believe it to be the best. It is highly durable, reliable, and compact, too – a real space saver that won't let you down and will also look the part in any commercial kitchen.