Latest posts by Alice Smith
(see all)
Are you dreaming of owning your own bakery? Waking up to the smell of freshly baked bread, and spending your day baking and icing cupcakes (and eating leftover cookie dough) might sound like a dream come true. But there is lots of hard work that goes into running a successful bakery and even more that goes into starting one.
If you've been wondering how to start a bakery, then you're not alone. And don't worry, it's completely possible. There are a lot of steps that need to be taken before you can officially open the doors and get customers. But, we're here to give you everything you need to know about how to start a bakery from scratch.
Types of bakery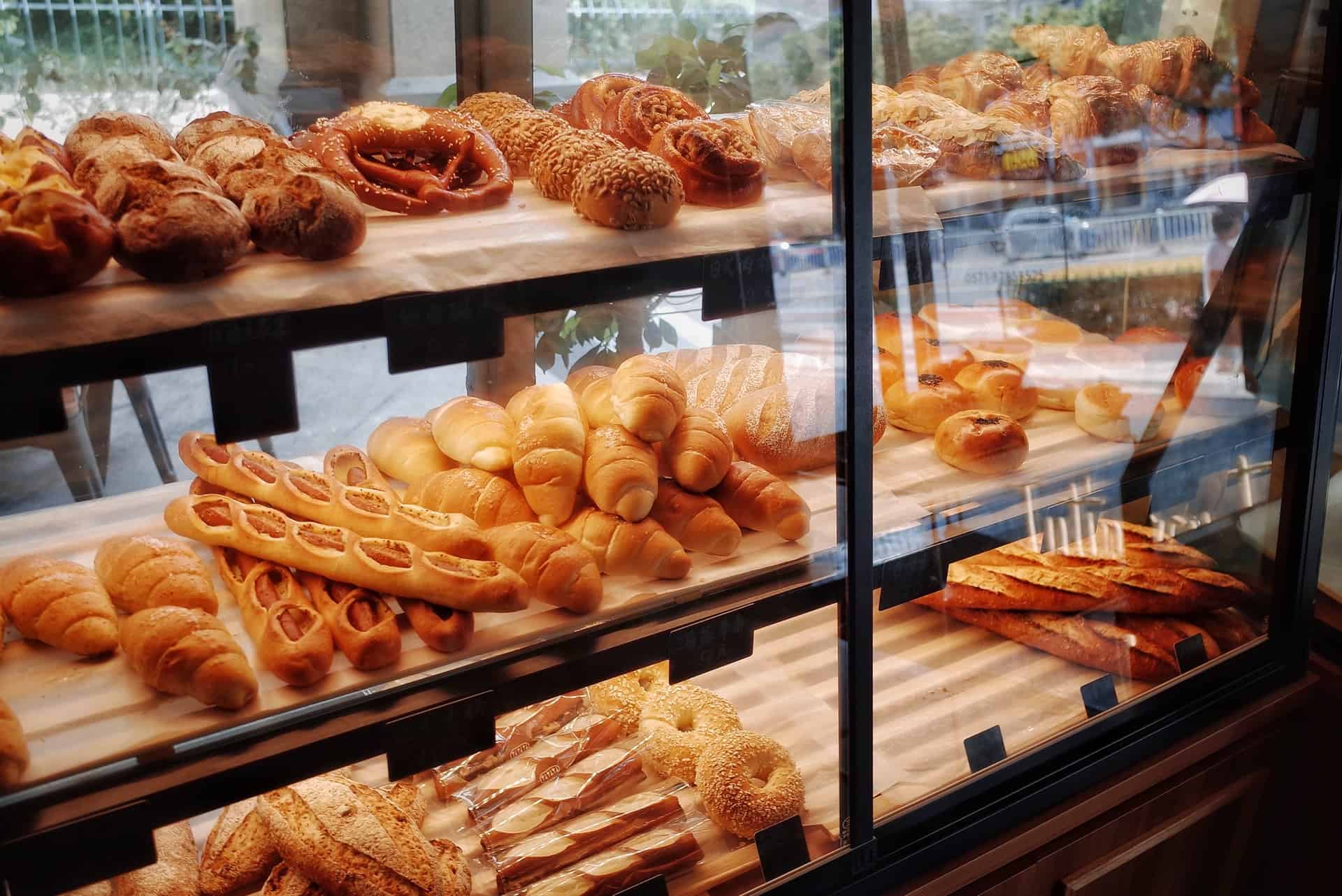 Before you can make any definite plans about how to start a bakery, you'll need to decide what types of bakery you want to start. To do that, you'll need to understand what types of bakeries there are. The two main types are retail and wholesale.
Retail includes high street bakeries, cake shops, and wedding cake designers. Wholesale bakeries are those that work in the backend, designing cakes to sell to high streets or other types of business. Let's look at these in a little more detail
Bakery cafe
A bakery cafe is a cafe that sells bread, cakes, and other pastries you might find in a bakery. They don't always produce the items on-site. Some buy them from wholesale bakeries or high street shops before serving them to customers. But that doesn't mean to say that you can't bake the products on site. Or bake half on-site and buy the rest in.
This is not an easy type of business because it requires lots of start-up capital (even if you're baking things in-house, you'll still need bulk ingredients), as well as maintaining inventory levels at all times. It also involves purchasing expensive equipment such as ovens and mixers which can be difficult to maintain and hiring staff members to help.
However, this could be one of the best types of bakery to start. Especially if there are no others in your area since you'll be people's first choice if they want a sweet treat.
Patisserie
Patisseries bake pastries like croissants or éclairs but also offer savory items such as quiche lorraine or lunchtime sandwiches. They usually have seating areas, serve coffees with their meals, and feature a full range of scrumptious desserts.
Patisseries are also sometimes called finer bakeries, specialty bakeries, or artisanal bakeries. They specialize in pastries and bread with more complex flavors than the average bakery might offer.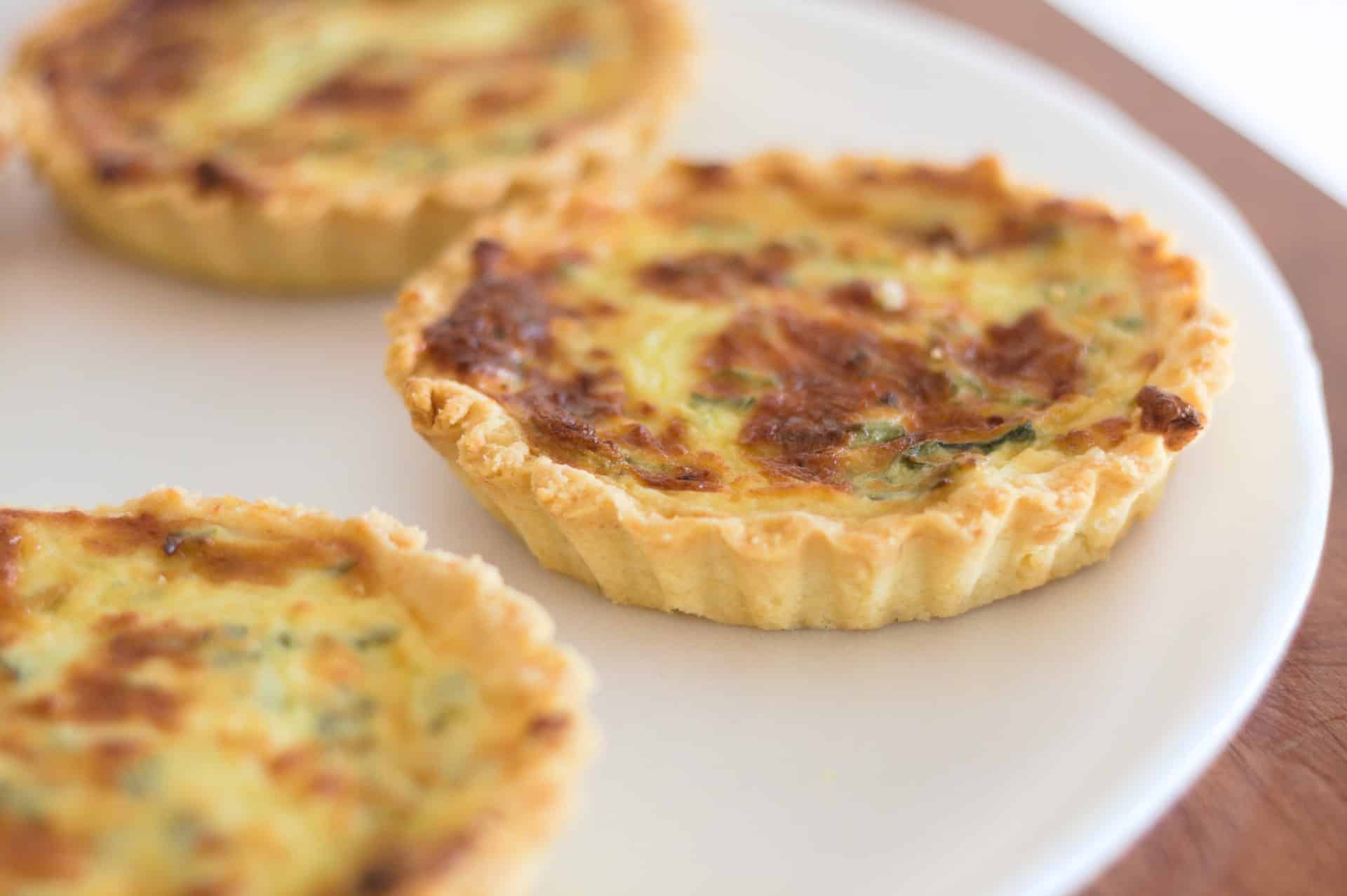 A patisserie can be pricier since they often require specialized equipment that takes longer to pay off for businesses than other types of bakery. They also usually have higher overheads because they have an on-site kitchen that requires buying lots of ingredients. You may also need to hire more qualified pastry chefs with a higher skill level to produce specialty treats.
However, they can be incredibly rewarding. If done right, they will give you a glowing reputation and can end up more profitable than other bakeries. However, they are usually more high-end than traditional bakeries and require more delicate processes, so this is something you should only consider if it fits with your other skills.
Portable bakery or food truck
This is another popular type of bakery. You can often find baked goods food trucks popping up at markets or outdoor events such as food festivals.
Because of the small space inside a truck, most of these bakeries do their actual baking either at home or buy goods from wholesalers. But once you've bought the van, you'll need little startup capital and it won't be difficult to maintain.
This could also be the best option for those who don't have any previous baking experience or just want something simple that they can manage themselves. A food truck is a less high maintenance than a brick and mortar location and, of course, you can move around which means you can find the best spots and target busy events where people will definitely be wanting a snack. You could also market yourself as a mobile baker, and travel to parties or other locations to supply baked goods.
The downside with this type of bakery is you may also have difficulty finding parking at venues where food trucks typically stop. There's a lot of competition for food truck parking spots, especially if there's lots of foot traffic in an area like during festivals or outside busy office buildings near lunchtime.
Home Bakeries
A home bakery is a great option for someone who wants to start a bakery and work from home. You can bake in the early hours of the morning before you go to your day job then sell what you've baked at night or on weekends. You could even offer baking classes as well.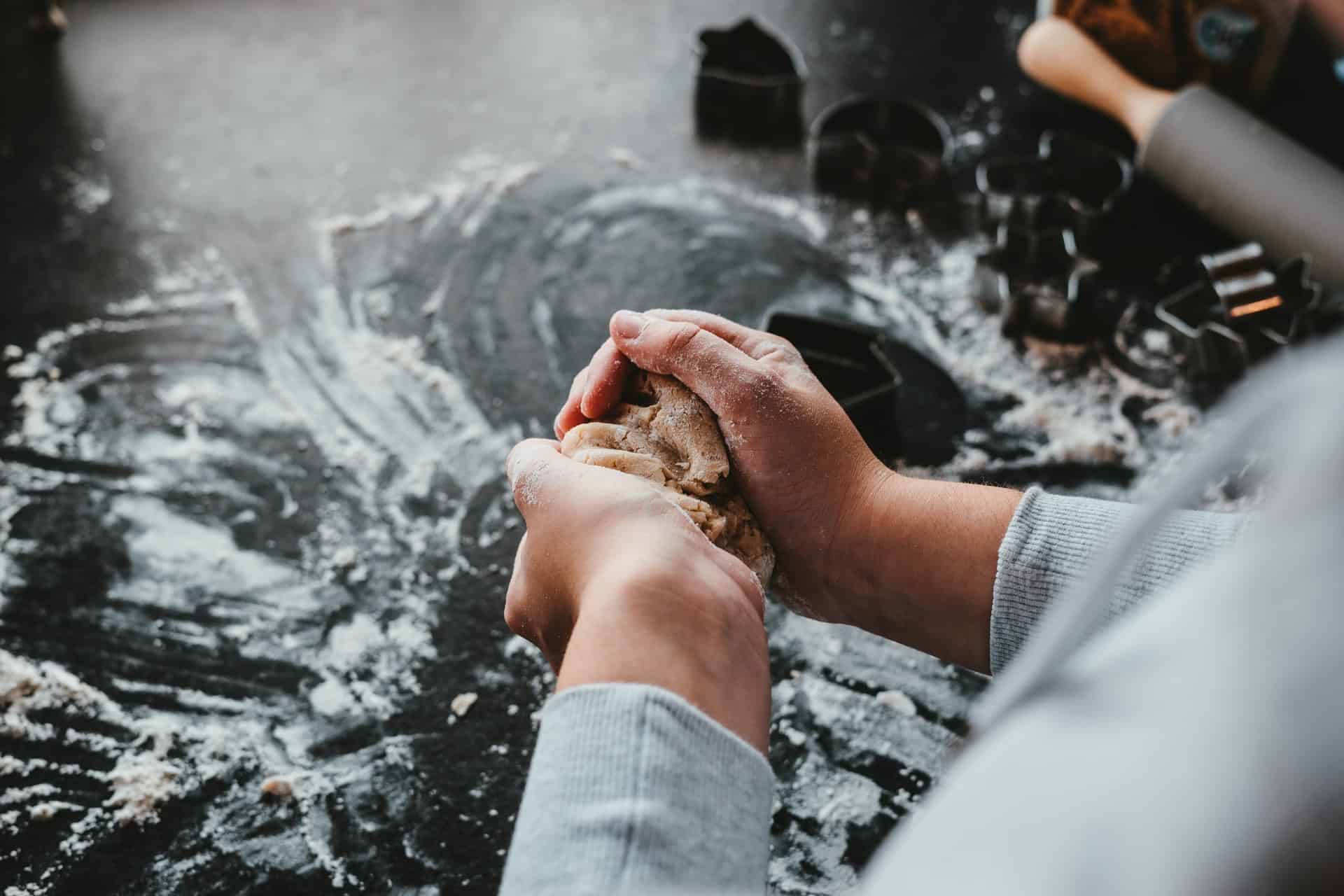 This is how many professional bakers have started because it's relatively low-cost and has little overhead. Those who opt for this type of organization, market their products online and offer a shipping or delivery service.
Specialty Bakeries
Specialty bakeries usually focus on a specific type of product. This might mean that you specialize in bread, cupcakes, pies, or wedding cakes for example. Bakeries like this usually have some kind of defining feature too – for example, vegan goods or sourdough bread. This allows you to really stand out from the crowd.
Specialty bakers usually have higher overhead costs but they also often charge more for their goods because many can be customized or made to order. So, if you're willing to spend some money upfront it could pay off later.
Counter Bakery
A counter bakery is more of a general type of bakery. Counter bakeries tend to have a dining area where customers can sit and eat and usually sell a wide range of different products. Once again, you can either make items in-house or buy products from wholesalers.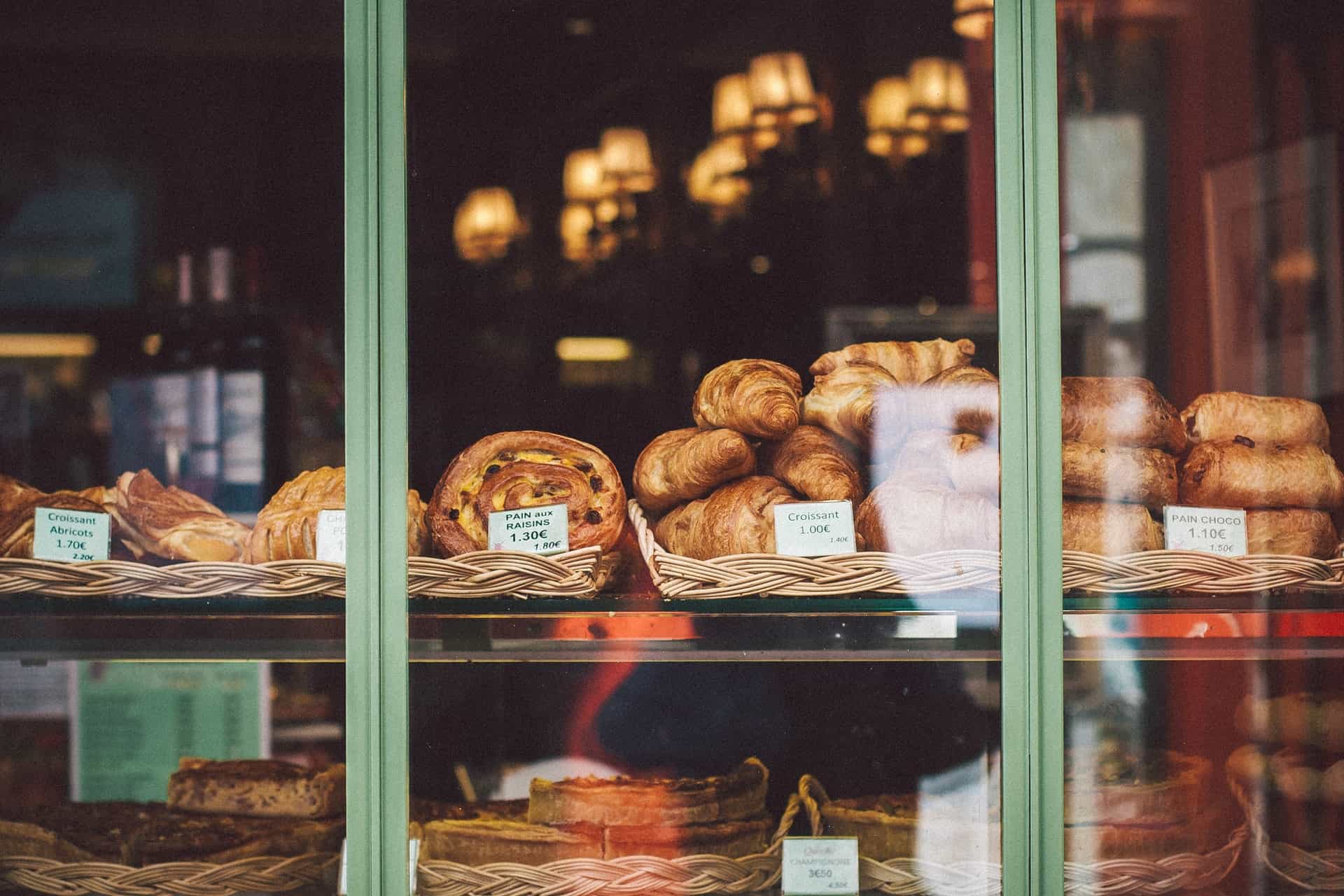 Counter bakeries also typically serve coffee alongside their baked goods. This makes them popular with commuters who want to grab something warm before they head to the office.
This is a great type of bakery for someone who wants a business that can grow and change with their customer's needs. There are also plenty of opportunities to collaborate with other businesses if you have a counter, especially if you're buying goods from wholesalers.
Wholesale bakery
A wholesale bakery produces and sells products to retailers. Unsurprisingly, these types of bakeries usually come with large start-up fees so they can invest in new equipment or hire staff. As long as you have enough capital to cover both your start-up costs and ongoing expenses then this could be the right type of bakery for you.
Wholesale bakeries often specialize in one specific product line – such as supplying muffins to grocery stores. But they can also create multiple different lines of a similar product, such as different types of pastries or different types of cakes.
There are many potential disadvantages with this type of business model though: shipping time means can cause delays, you will almost certainly have to hire a large team to help you which can be pricey, and these types of bakeries often have slim profit margins because their prices need to remain competitive with home bakeries.
How to start a bakery
So, now that you're familiar with the different types of bakery, and what products you can make, let's get into the details of how to start a bakery.
Make a Business Plan
The first step to starting any business is to make a business plan. A business plan isn't just what your business will sell and what your business will be called. It should also cover how much money you need to start the business, how much it will cost to run your bakery year-round as well as any other expenses (such as shipping or hiring employees), and how long you estimate it'll take before the company starts making a profit.
It should cover marketing strategies, financial projections, and even potential issues you might run into.
These are the areas that you'll need to consider when writing your bakery business plan:
Company overview – this includes the name, what your business sells, and a general description of the business.
Market analysis – evaluate your competition. What gaps are there that you could fill?
Business offerings – how will you deliver value to your customers?
Management plan – this includes who will be in charge, what their responsibilities will be, and an overall ownership structure.
Marketing strategy – how will you market your business? How will you stand out from the competition? What is your advertising budget?
Financial projection – compare your outgoings to your predicted earnings. What do you expect to make in profit for the first 6 months and the first year of business?
Obtain Loans and Capital
Next, you'll need to actually obtain the money to start the business. You need to know how much your business will cost and how you'll pay for it.
This doesn't just mean leasing a building – although this is certainly part of it. There's also insurance, the cost of ingredients, how much you'll need to spend on kitchen equipment and other supplies. You also need a budget for running the business – how much will it cost per month to pay staff? What's your monthly electricity bill going to be? What will you spend on advertising?
Unless you have bucket-loads of saving (if you do, I'm jealous), then you'll most likely have to take out some sort of loan to fund some of the start-up expenses. There are a few options for this: small business loans, commercial loans, or business lines of credit:
Business loans – A business loan is the cheapest option. You'll be able to borrow a fixed amount of money, and then make monthly payments on the loan until it's paid off.
Commercial loans – These are often used for larger purchases or projects that require more than just one business line of credit. They require a very good credit score and are often a low-interest amount, but it can take quite a while for you to access the money.
Business Lines of Credit – These are like personal credit cards (except they aren't under your name), as each purchase is approved separately before being charged against your account balance that month. This means that, like a credit card, you have to pay off your existing borrowing to access more credit.
Find a Location
Once you've secured some funding, you can start looking for a location for your future bakery. This can be the hardest part of starting a bakery, but it's also one of the most rewarding.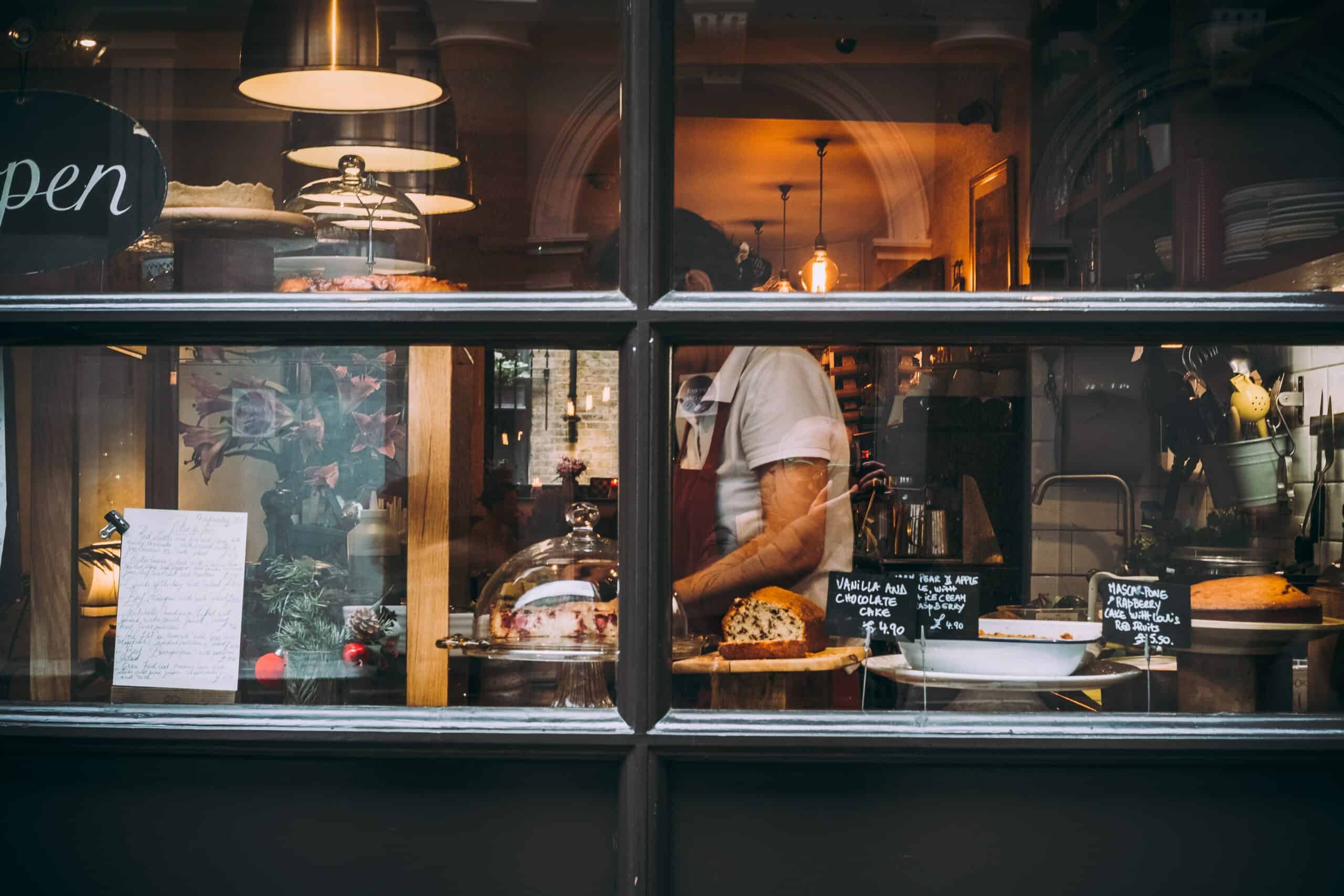 The type of space you need depends on what type of bakery you want to open. For example, if you're purchasing a cafe, you might want a central location and if you're purchasing a food truck bakery, you'll need to buy the truck. Wholesale bakeries will need a much larger space for mass-producing goods.
Here are a few things you'll need to consider when choosing a location:
How much space do you need?
How central is the location to your target market?
How close is the bakery to public transportation or parking lots for customers?
How will choosing this location affect your bottom line/your budget as a business owner?
How close are you to your suppliers, such as wholesalers for goods and ingredients?
How safe is the area? What are the crime rates?
What are the health and safety regulations in the area?
What is the competition like in the area?
Once you've worked all this out and picked the perfect location, it's time to get in touch with a lawyer who will help draw up the lease for you and negotiate with the landlord. Be sure to read this thoroughly and triple-check it to make sure no problems arise in the future.
Get the Necessary Permits
Next, you'll need to tackle more legal stuff. The hospitality and catering industry is heavily regulated (understandably), and there are a few permits and licenses that you'll need before you can open your bakery. Be sure to check the local laws, and with your lawyer to make sure everything is correct and above board.
Design your Layout
Once you have all the legalities crossed off, it's time to sit down and work out the layout of your bakery. This will, once again, depend on the type of bakery you have – the layout of a large wholesaler, will be very different from that of a small, high-street cafe.
Back of House
When it comes to designing your bakery's back of house, you'll need to consider several things.
Space – How many staff members will you have on hand? Because of this, how big will space have to be? Plus, how much storage space is available, is there access to the kitchen from outside? Where will you store cooked food and uncooked ingredients?
Cleaning – How easy will the area be to clean? Where can you store cleaning equipment?
Food prep – one of the most important aspects, you'll need to consider how much space you'll need to prep food. This also depends on how many staff members you'll have and how much food you'll be preparing at once.
Cooking space – How many ovens will you need? How much space will they use? What other space will you need for finished products like storing space and cooling space for baked goods?
When it comes to the layout of the kitchen, you'll want to design it to match the production flow – this means how you and other staff members will be moving from one area to the next.
You may want a food assembly line – this is where items are assembled and packaged in sequence according to how they will be used during production. You might also find it helpful to have an 'area of work' system, which would allow for increased space efficiency by grouping tasks together based on their required skill level or how difficult they are.
Similarly, cleaning stations will have to follow a similar layout. You wouldn't want dirty dishes cluttering up the clean work surfaces. There are also other considerations such as security (is it open plan? Is food kept under lock-and-key?), safety (where are the fire exits in proximity to the cooking equipment), and how easy is it going to be for staff to navigate?
Front of House
If you need a front-of-house, you'll have to work out how to make this both visually appealing to customers, as well as spacious and practical for staff. For this, you'll need to consider how much space is available for the front-of-house and how many staff members will be working there.
You should also think about customer flow – how are customers going to enter your store? What point do they stop to browse before purchasing items? Is it an open plan or a more traditional one? What sort of layout do you want (straight, angular, diagonal, mixed)?
Choosing the optimum layout can help your customers feel more comfortable and help encourage return visits and purchases.
Order your Equipment
Once your setup is sorted, you'll need to think about equipment. Make sure to measure how much space you have available for storage so that your stock doesn't overflow.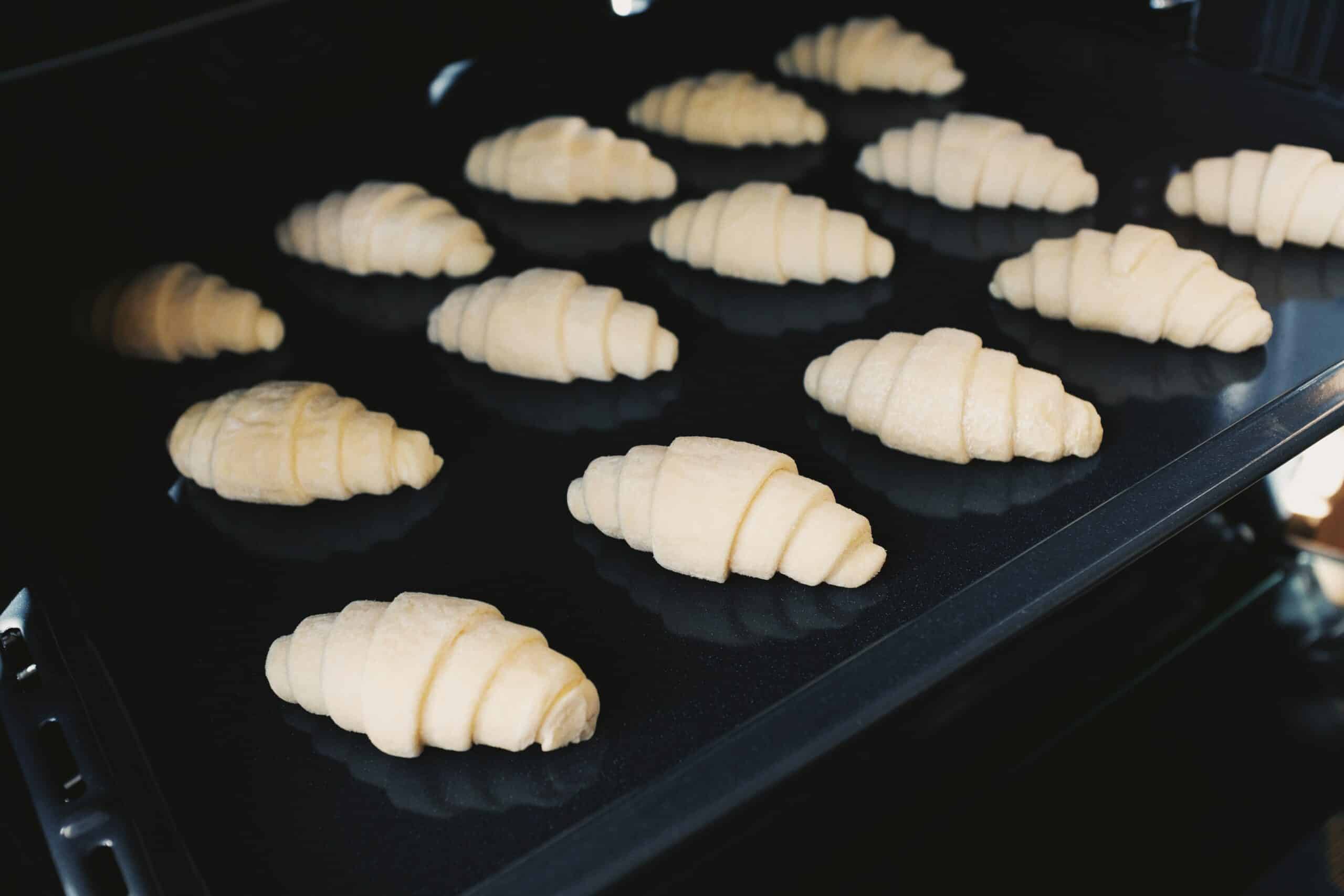 You should also consider how much equipment will be required in the different areas of the bakery – how many ovens do you need? How about workbenches and shelves? Calculate how much it's going to cost before making a purchase order as this can sometimes end up being a lot more expensive than anticipated.
You'll also need to think about the equipment you'll need to bake your products. This includes:
Dough prep – dough sheets, dough dividers, worktops for kneading, dough cutters, proofing cabinets, dough scales, and so on.
Baking equipment – this is everything from cookie cutters and cake decorations, to piping bags and muffin tins. You'll need baking trays, mixing bowls, blenders, rolling pins, bread knives, peelers, paring knives, and more.
Ingredients – You'll also need to think about all sorts of ingredients from different types of flour, sugar, salt, and butter, to chocolate sprinkles and marzipan.
Cooking equipment – Convection ovens are great for baking. They provide a nice dry heat, which cooks products evenly, they are fast, easy to use, and they're reasonably priced. But this is just one of the pieces of cooking equipment that you'll need to consider.
Storage – As well as storing baked products, you'll also have to work out where to bulk store dry ingredients and ensure you have enough fridge space too. Airtight storage containers and shelving are great for this.
Display – If you've ever walked into a bakery and seen beautiful cakes and pastries lined up in a glass cabinet then you'll know what I mean. Display units are just s important as production as that's the bit your customers get to see. Presentation is everything.
Sales – Do you need a till? A POS system? How will you take payments?
Cleaning and maintenance – Again, due to the rigorous standards in hospitality, cleaning equipment is just as important as baking equipment. You'll likely need a dishwasher (or a few!) and various chemical cleaners, along with washing up liquid, hand soap, mops, buckets, brooms, dustpans, and more.
PPE – Don't forget your apron! The last thing you want is to spill hot jam down yourself because, boy, that burns! Make sure to stock up on aprons, hairnets, protective shoes,
Price your Products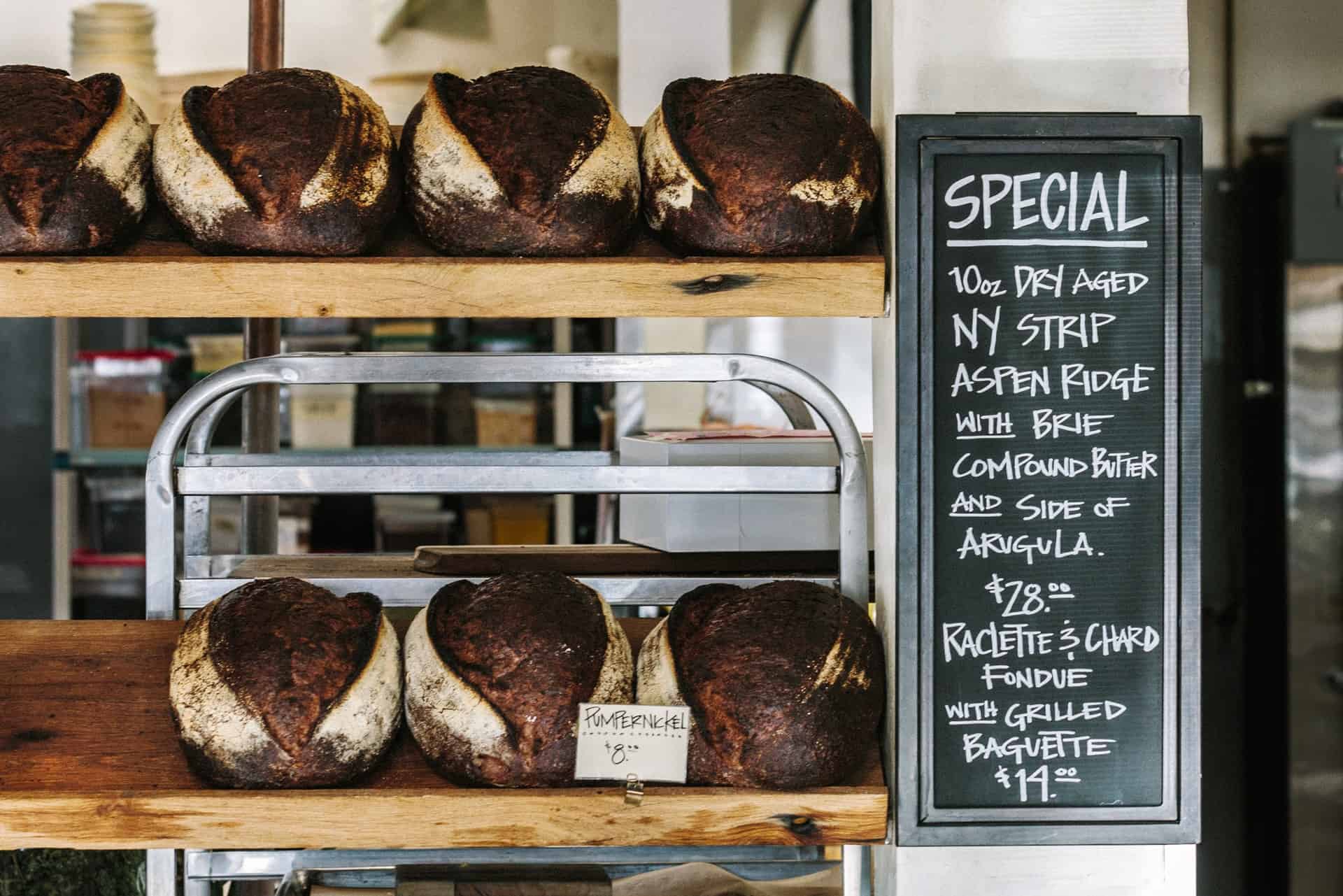 Once you've bought everything, it's time to start working out your menu, what you're going to serve, and what it's going to cost. In order to properly price your products, you need to estimate how much your ingredients will cost for a batch of the same size as your planned menu. This is called working out your 'profit margin'.
For example, if a bulk bag of flour costs £10, how much does it cost to make one loaf of bread? Once you know this, you'll need to work this out for every ingredient in the loaf. Then, add your mark up and the difference is your profit margin.
But remember to bear in mind the competition in the area before you add your mark up. Especially in the beginning, people aren't usually willing to pay a higher price for an unknown brand. But, this is all part of your business plan, which we covered earlier.
It's important not only to think about what customers would pay but also how much profit margin goes into each item, which is why pricing items individually rather than just working in bulk is so important.
How Will You Stand Out?
Another important step when thinking about your competition is to think about how you will differ from them. Is there something you could offer in the local area that other bakeries currently don't? This is where you find your unique selling point. Here are a few examples:
Delivery Service
You could offer a service similar to UberEats where people can order cakes and pastries to their doors whenever they're feeling peckish. This would work especially well with bakeries that serve things like sandwiches and pies as well, as you could offer a 'meal deal' type deal which could work really well with office workers. You could also offer bulk orders of your products for parties or office lunches.
Free From
Gluten-free ingredients are a popular trend in the bakery market, but how about going one step further and being completely free from allergens? If you're allergic to eggs, for example, how would it feel if you went into a cake shop only to find out they use them in every recipe? This includes vegetarians and vegans too. Your unique selling point could be that you cater specifically to people with allergies or intolerances.
Locally Sourced / Organic Ingredients
Another popular foodie trend right now is locally sourced ingredients or sustainable baking. Incorporating this into your business, and even your branding could give you a real competitive edge in the market.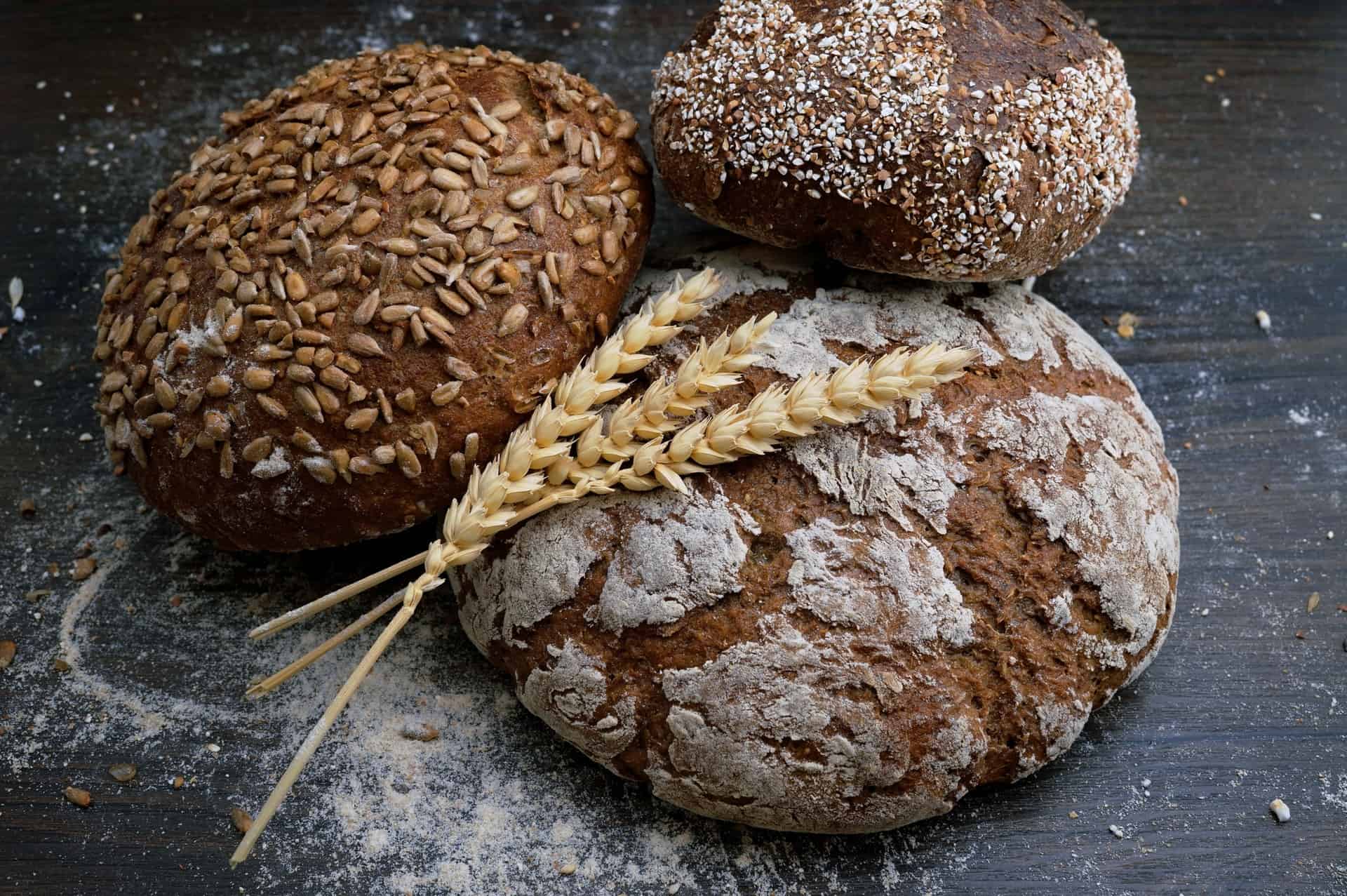 Using organic ingredients could also be a way to set yourself apart from other bakers – especially those who buy from wholesalers. Not everyone is willing or able to spend the money on organic ingredients. Plus, if you buy from other local businesses, you could end up with plenty of collaboration opportunities too.
Healthy Options
Most people love a donut, but not everyone loves the calorie count! Offering healthy options and letting people know what they're putting into their bodies, is a great way to stand out from the crowd.
Hire Staff
Next, you'll need to hire staff. How many staff members you need to hire will depend, once again, on the type of bakery you have.
If you have dining options, you should typically have at least two other staff members besides yourself, to run the front of house and assist with the back-end prep, but you may need more depending on how fast you scale. Some of the staff you need to hire may be professional chefs, so you'll need to factor this into your budgeting cost.
Training
Remember, all of these staff members will need training. Not just in the way you like to run your bakery, but also in health and safety, correct cleaning procedures, how to use the equipment. Not training staff could result in customer complaints or even more serious issues like food poisoning.
Market your Business
It may seem scary, but everything we've already covered will be done in vain if you don't know how to correctly market your business. Here are a few tips to get the word out:
Research
First, you'll need to research the market. Who else is out there? What is your target market? What is the competition like in your area? Once you know this, you can come up with more in-depth marketing strategies.
Market Analysis
This is effectively a summary of your market research. It should also be part of your business plan and include everything from the average income in your area to your competitor's prices.
Determine How to Advertise
Once you know these factors, you'll be able to decide how to advertise. This will be largely based on your budget, as huge billboard campaigns will cost a lot more than a Facebook ad. But bear in mind that traditional methods still work – newspaper ads can go a long way, so can flyers and simple signs.
Social Media
Of course, you definitely don't want to forget about social media. It can be a goldmine if used correctly and a great place to display everything about your business. Pictures of your products, customer reviews, and even staff testimonials can go down really well on social media. It can also be a great place to connect with your customers and ask how they like a particular product or flavor or even ask how it can be improved.
Hold Car Boot Sales etc to Raise Awareness
As well as internet advertising, it's also a good idea to look into other methods of grabbing people's attention. Car boot sales, street fair stalls, and other small events can go down really well, especially if you're marketing to the local community. This can raise awareness and get people talking about your products.
Reach Out to Other Local Businesses
You can also try reaching out to local businesses and asking how you can work together. This could include handing out flyers to customers in a nearby restaurant or holding pop-up events at their shops. You could also sell your products to local businesses (especially restaurants or shops), and gain more exposure that way.
SEO and Google Ranking
Don't forget about Google! The most popular search engine in the world is definitely not something to forgo with your advertising strategy. Be sure to make a Google My Business account, and work hard on your SEO techniques to get your page ranking.
Host a Grand Opening
The final step in your bakery journey is to open your doors, cut the ribbon (physically or metaphorically) and start welcoming in your customers.
A successful grand opening can create loyal customers from the get-go, so it's important to do it right. It might also be worth including opening discounts, free samples, or other promotions, to encourage people through the doors.
Conclusion
So there we have it! A few tips on how to start a bakery and how to ace your business plan with some success factors thrown in too. It might take time and effort, but think about how great it would feel when you have a successful business. So, get your business plan together, stay organized and you'll be well on your way to successful baking.
FAQs
Question: How much money does it take to open a bakery?
Answer: It's difficult to give a precise answer, but how much you need will depend on how big your bakery is and how many staff members you hire. However, on average, you will probably spend between $50,000 and $75,000 before you open your doors.
Question: Is owning a bakery profitable?
Answer: Yes, owning a bakery can be very profitable. It's a business with low risk and high demand, so if you do it properly then the profits could be very healthy.
Question: How do I start a small bakery from home?
Answer: To start a small bakery from home, you'll need to have a large enough kitchen to complete the baking process. You'll also need an oven, so you may want to invest in a convection model if possible. To work out how much time it will take for each batch, figure how long your typical recipe takes and then multiply that by how many batches you can bake at once – this way you won't have any wastage due to under or overproducing. Then, follow the business plan above, advertise your products, and you should be on your way to a profitable business.
Question: What do I need to start my own bakery?
Answer: To open up your own establishment, first, make sure that there is demand for what you're selling by doing some market research. Next, create a business plan with key information such as how big the place needs to be and what equipment you'll need (a commercial-grade oven, mixer, etc). Then you'll need to find suitable premises and apply for all of the necessary permissions. Once that's done, it's time to start baking!
Question: How should I advertise my bakery?
Answer: To promote your business effectively, first, think about how much money you are willing to spend on advertising and how often you want advertising to happen. Second, make sure that your advertising reaches the right people – there's not much point in advertising to a stationary supplier if you're selling cakes! Third, think about how much risk you want with how often and how frequently adverts are shown.
Finally, consider how many people will be able to see your advertising – for instance, Facebook advertising would be a good way to reach lots of people in your local area, it's easy to set up, and affordable for most small businesses too.
Question: What should I consider before opening my own bakery?
Answer: Before you open up shop and start baking for the first time, think about how much money you want to invest initially. You'll also need to find suitable premises that are large enough (think how many square feet you'll need – it depends on how much baking space is needed). You should also think about the type of bakery you want to open, as well as how big your oven needs to be and how many staff members will be required.
You'll also need to think about your own future goals. Opening a bakery is a huge commitment, not something that should be taken on lightly, but something that will affect your life for years to come. So make sure you're prepared to put the hard work and dedication into making it work.
Question: What licenses are needed for a bakery?
Answer: To start a bakery, you'll need 5 licenses: Fire License, FSSAI license, GST Registration, Municipal Corporation Health Licenses, and the Police Eating House. This process of obtaining these is essential to opening your doors legally, but it can take a few months, so start it as soon as you decide to open your bakery.