Latest posts by Alice Smith
(see all)
Do you love food? Are you interested in the culinary industry, but not sure where to start? Well, one of the most important aspects of any food service operation is hiring.
When you think about food service careers, the first thing that probably comes to mind is the kitchen. This is understandable, but there are plenty of other food service careers out there as well. You can find food service roles in everything from restaurants and hotels to cafeterias and remote catering companies.
Whether you're looking for work as a chef, bartender, or dishwasher, there are a wide selection of foodservice roles and careers to choose from. You may have thought that your foodservice career was limited to being a line cook, dishwasher, or restaurant manager. But the truth is that there are many jobs in food service you might not know about.
We'll be covering some of the most typical food service careers and roles insider and outside of kitchens. Read on to learn more about these exciting opportunities and discover your next culinary adventure!
Food Service Careers and Their Importance
The first restaurant was opened by a Parisian named Antoine Boulanger in 1765. As such, restaurant servers, chefs, and other roles within the foodservice industry have been around for that long.
There are more than 660,000 restaurants in the United States alone and it is one of the most common jobs in the country. The global foodservice market was valued at 3.5 trillion U.S. dollars in 2020 and is expected to carry on growing.
In fact, it's one of the most common jobs in most countries and is the largest single sector of the global economy. Catering is responsible for a whopping 10% of all economic output around the world.
The foodservice industry has a variety of roles for people with different interests. In addition to servers and chefs, foodservice professionals may also be interested in kitchen management or catering services positions where they don't have direct contact with customers. There are literally hundreds if not thousands of careers available within this field!
What Do Food Service Professionals do?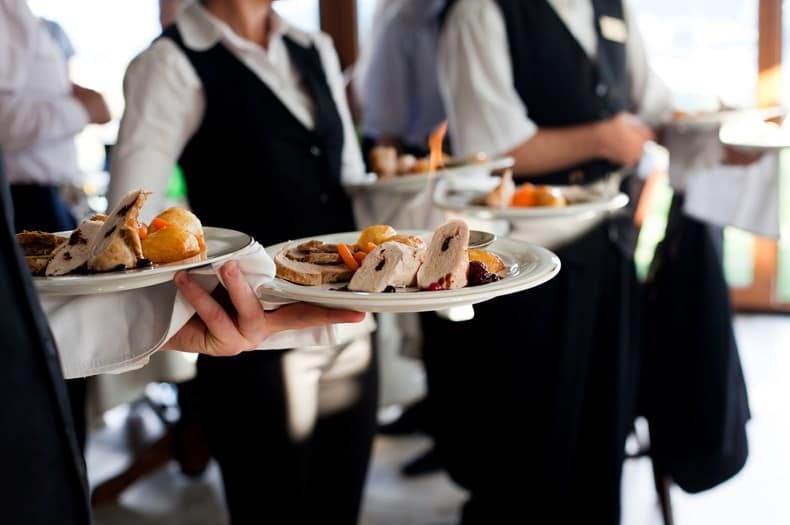 These workers ensure that every customer's needs are met by running a restaurant or any other type of catering establishment efficiently. They are usually expected to provide outstanding customer experiences. Foodservice professionals often work closely together as a team so everyone can take care of all aspects involved with serving guests from greeting them at the door to cleaning tables and taking orders.
However, some foodservice professionals will specialize in one area of the industry. For example, chefs and cooks are responsible for preparing meals while waiters, waitresses, or runners take orders from guests and serve them their food when it's ready.
Other workers may be tasked with providing customer support such as answering phones and taking reservations while others work on administrative tasks like scheduling shifts or managing inventory. In many cases, you'll find that a worker's responsibilities change depending on where they're employed – there is no single role within this field!
Plus, whilst everyone has their own separate areas, they are also all required to work together. The chefs won't know what to cook if the waitresses don't take the orders. Catering needs to functions as a well-oiled machine.
What Kinds of Food Service Careers Are Available?
While the most common jobs involving food service careers involve cooking, serving customers at restaurants (both front-of-house positions like servers/waiters/waitresses and back-of-house positions like cooks or chefs), there are plenty of other foodservice careers in this field.
For example, catering professionals may be responsible for coordinating events by providing delicious dishes that suited the needs of their clientele, while hotel staff members help customers with check-in services or provide assistance to people who need it within a restaurant they're hosting. There are also jobs available as mobile caterers where employees must drive around and bring food to different locations, such as schools, offices, etc.
The only limitation when choosing your catering job is your own imagination! In addition to restaurants and hotels, you'll find opportunities for these types of roles at cafeterias (which typically offer food more like schools and hospitals), on cruise ships, in casinos, or even at amusement parks.
Here are some of the most popular food service careers that you could apply for:
The Best Food Service Careers and Roles In the Kitchen:
Prep Chef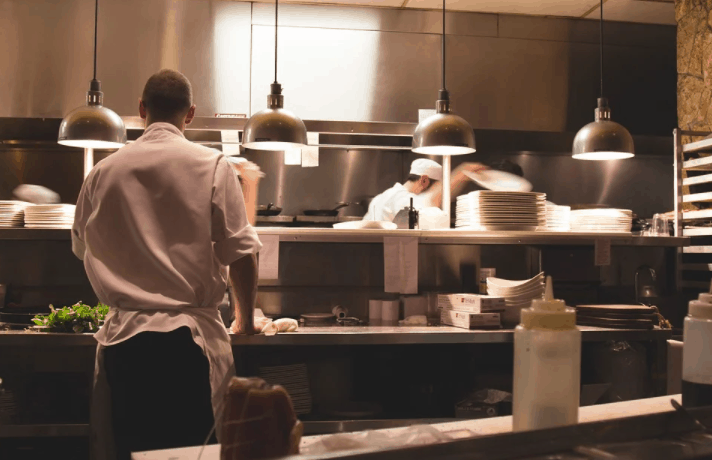 A prep chef is responsible for preparing ingredients for cooking. They may be responsible for chopping and cleaning vegetables, mixing ingredients, monitoring food temperatures, or even making sauces from scratch.
This is a great position for people who enjoy working in the kitchen because it offers many traditional cooking duties to keep them busy. Prep chefs are also typically in charge of stocking their own station before and during service so they have plenty of work to do throughout an average day.
Baker
Bakers are responsible for the bread and baked goods that a restaurant or hotel offers. They may be in charge of managing their own ovens, ensuring they're always firing on all cylinders so there's plenty of food to go around.
This is an excellent position if you enjoy baking but would like more variety than what can be found at home – bakers need to know how to create everything from muffins and cupcakes to pies, strudels, croissants, etc., plus they often get to make the call on introducing different flavors as well.
Be sure not to overlook this food service role as being a baker can be seriously fun.
Sous Chef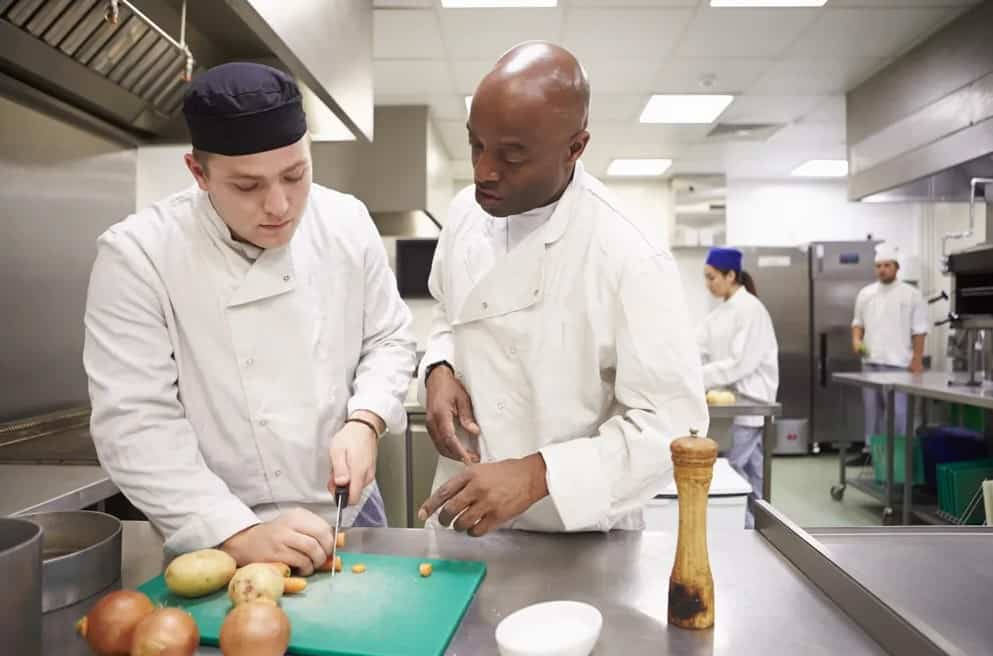 The sous chef is a high-ranking individual who oversees the other kitchen staff. They report directly to the Head Chef, and it's their job to run the kitchen when the head isn't there.
This position requires many skills – it's not enough just to know how to cook, the Sous also needs strong organizational and interpersonal skills in order to work with chefs, bakers, line cooks, prep cooks as well as plating food when orders come through the door, and sometimes even back-end tasks like ordering new stock.
As head of operations for their restaurant or hotel, this person must be on top of every detail that goes into running an establishment from food inventory management to menu planning.
While this job has plenty of managerial duties involved (typically 40 hours per week), there are still plenty of opportunities for cooking too; some sous chefs may get time off during slower times where they can make soups and sauces, bake bread and pastries, or even take on dishwashing duties.
Head/Executive Chef
The head chef or executive chef is in charge of all the foodservice operations for a catering establishment. They have to be well-versed in both culinary arts and business management skills so they can oversee their staff while also making sure that everything runs smoothly operationally.
For example, if there's an event coming up that requires extra staffing (think large groups with special dietary needs), it's this individual who will make those decisions – including hiring additional temporary employees like dishwashers or cooks as needed.
Some executives might even work on menu planning too; after all, what good are restaurants without delicious dishes? It's these creative individuals who come up with new ideas and recipes each day which means no two days are ever the same for them.
Pizza Chef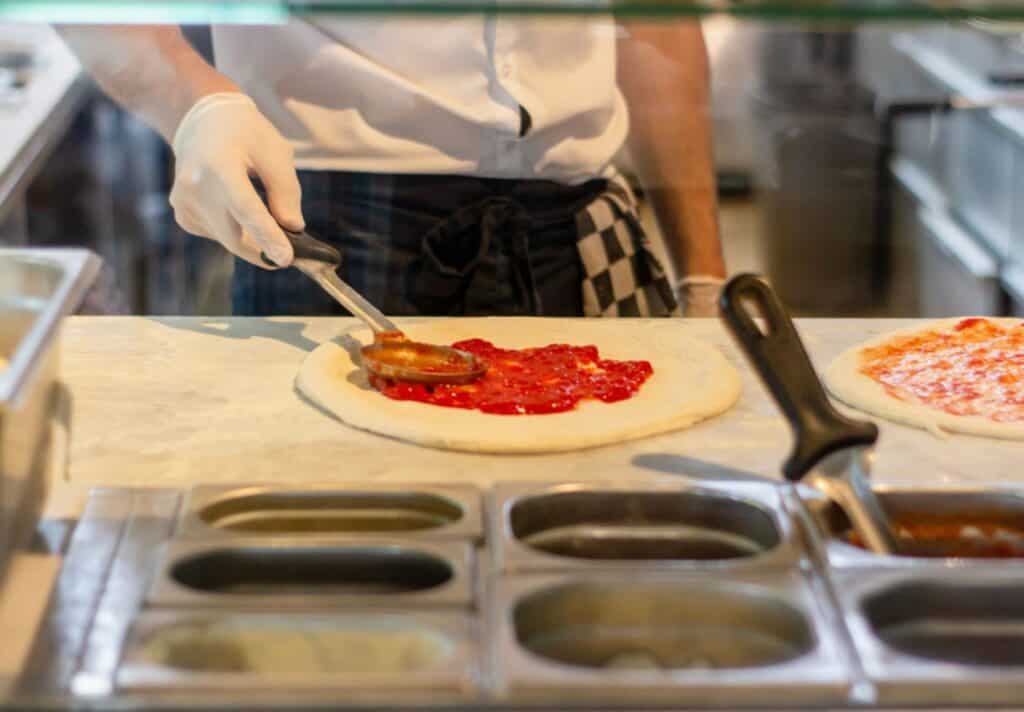 The pizza chef is responsible for preparing and cooking all of the pizzas that a restaurant offers! They're not limited to just pizzas though – they might also be in charge of making pasta, salads, or sauces.
This position has several different paths it could take: some individuals are more hands-on with dough preparation whereas others may focus on sauces, making or preparing toppings, or even experimenting with new pizza flavors. So this career path can be quite creative.
Be aware that this position has a lot of physical labor – you'll be spending hours working with dough and flour, and when you're not doing that, you'll likely be standing in front of a hot pizza oven. So, if your back is sensitive to repetitive motions then it may not be the best choice for you.
Patisserie/Pastry Chef
The pastry chef's job is similar to bakers in many ways but they also need to know how to make other desserts too like custards, puddings, ice creams, mousses…the list goes on! They manage their own ovens most likely (depending on where they work) which means being able to multitask when things are busier than usual.
If you're worried about having enough time off from cooking because there isn't much room inside an average day just for desserts, don't worry! Pastry chefs can work in the bakery or breakfast and lunch sections of a restaurant as well.
This position is more creative than others because it's not limited to one type of food service – you're free to explore all sorts of culinary arts like baking, cooking, or decorating cakes, so there are many possibilities for your career path when you become a pastry chef.
Cake Decorator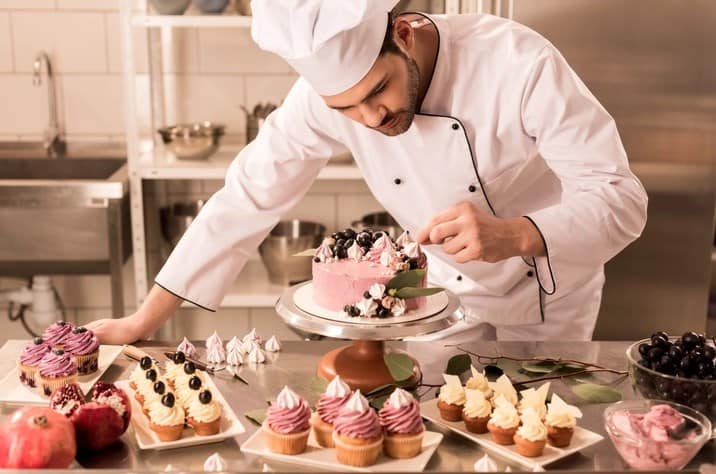 As a cake decorator, you'll be the one in charge of making cakes that are ordered ahead of time for get-togethers or events. Or maybe you're just creating desserts to sell from your own storefront.
There's plenty of options with this position; some individuals may specialize in custom orders and others might make more traditional baked goods like cookies and muffins. If it sounds like what you want is an independent job where people come to your store every day then this could definitely work out well for you.
Line Cook
The line cook is responsible for taking orders from the chef, making sure that those dishes are properly plated and put out to be served. They also have a responsibility of keeping an eye on food safety so they might need to throw away any food which has gone bad or remind their fellow co-workers about certain procedures like washing hands before handling anything.
If you're looking for something more stable, then this position may work well. But bear in mind that it's less creative than other positions on this list because all day long you'll do essentially the same thing: make plates with different types of food items and go through your daily tasks in order to keep things safe.
But there still might be room for creativity too depending on where you work and what you're cooking. You might be able to help introduce new dishes, or test and plate up the specials for the first time. Plus, there's lots of opportunity for progression with this role, and, if you push hard enough, you could end up rising through the ranks to Sous or above.
Butcher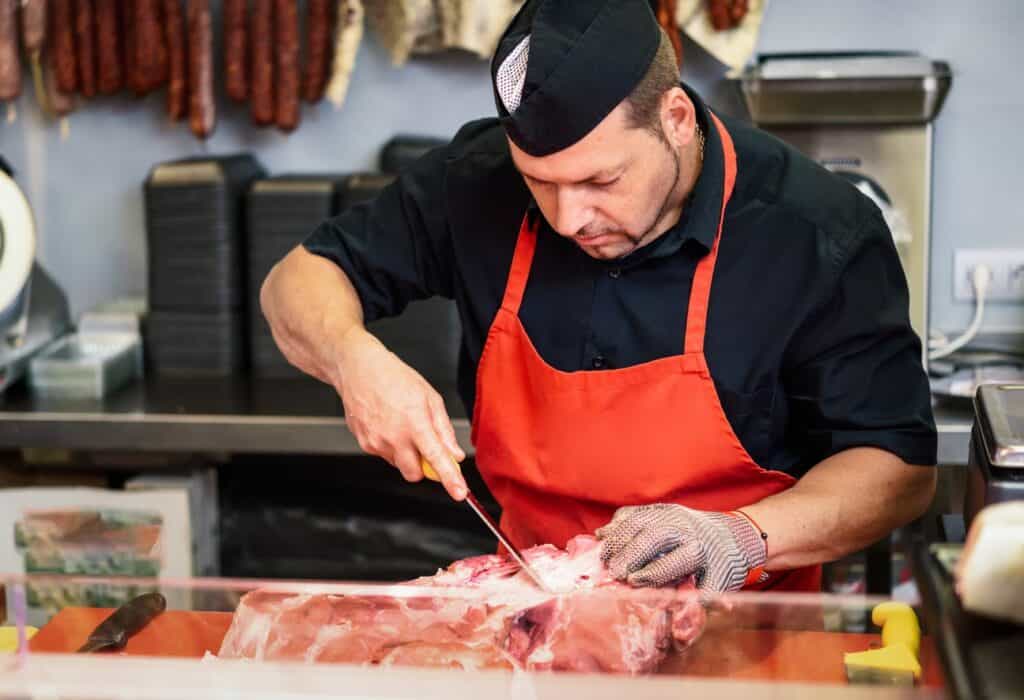 The butcher is responsible for cutting up meat and slicing it in order to make everything from the perfect sandwich to the perfect steak. If you're good with knives then this position might be a great fit because they'll have to know how to handle them safely. It would also work for a fan of meat and someone who has a lot of strength as well.
Butchers are often expected to work quickly on their feet all day, so if you're not used to standing for long periods of time then this may be a little too much. This position is also more physical than others so if you have back problems or are simply looking for something less strenuous, it might not work out well for you.
Sushi Chef
The sushi chef is more than just a food prep worker who hands the dish to you when it's done – they're an artist of sorts. They spend all day long preparing various types of raw fish and seaweed and other types of sushi ingredients in order to make this special type of roll.
It also means knowing how to cut things like cucumbers, mangoes, and carrots and it definitely requires creativity as well. This career choice also requires some decent knife skills, so it's worth sharpening upon those before applying for a specialist sushi chef role.
If you're keen on this career path, and you've never cooked sushi before, there are places that can train you because it is a bit of a specialist art. There are also courses on making sushi that can teach you what you need to know about using knives.
Kitchen Porter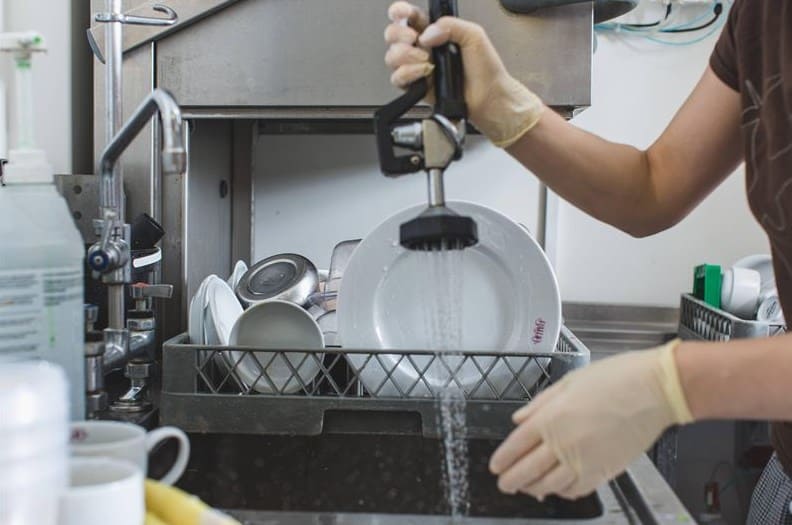 Every restaurant needs kitchen porters – also known as a pot wash or dishwasher – who are responsible for keeping the kitchen clean and sanitary, especially because food is being cooked in there all day long. This is where a lot of chefs will start their kitchen careers before rising through the ranks.
The duties of a kitchen porter will depend on their employer but you can expect to spend your days cleaning dishes by hand, including pots and pans that have been used in cooking.
Dishwashing jobs are perfect for people looking for entry-level positions or those with physical limitations as they often provide more hours than other roles while also allowing plenty of time off between shifts so no one has to work too hard at any given time.
Food Service Careers Outside the kitchen:
Waiter/Waitress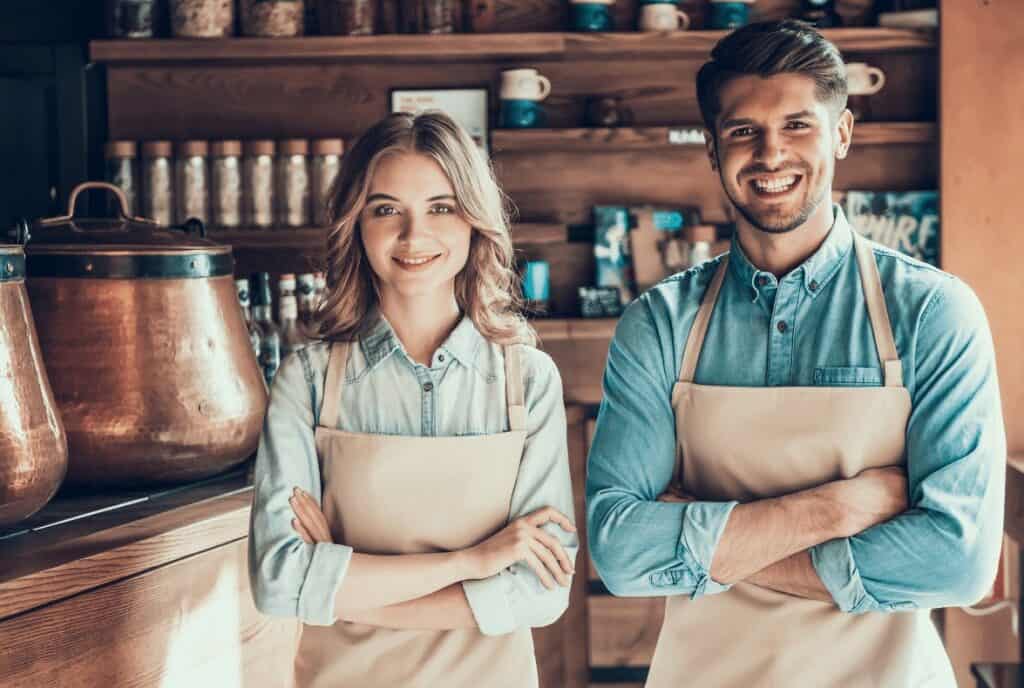 Waiters and waitresses are in charge of taking orders, serving food to customers, and then collecting payment. Their job is one that requires a lot of responsibility because it means being in charge of the dining experience and making sure everything is perfect for customers.
They also have to be good at multitasking since waiting tables can involve a lot of juggling multiple orders, multiple tasks, and multiple tables (just keep in mind that the busier it gets, the more challenging things become).
It can take some time getting used to people constantly coming up and asking questions so if you're not used to being around strangers then this might not work out well. But if you're looking for something where your personality shines then this might be a great option for you.
Food Runner
Another behind-the-scenes job that's perfect for people who can't stand being in the spotlight, food runners transport food from the kitchen to their tables. They don't have to take orders, they just deliver the food when dishes are ready.
Some restaurants will require these employees to wear a uniform with an identifying name tag while others might not provide one at all. It gets tiring running around delivering orders so make sure you know what kind of restaurant you work at before deciding.
Bartender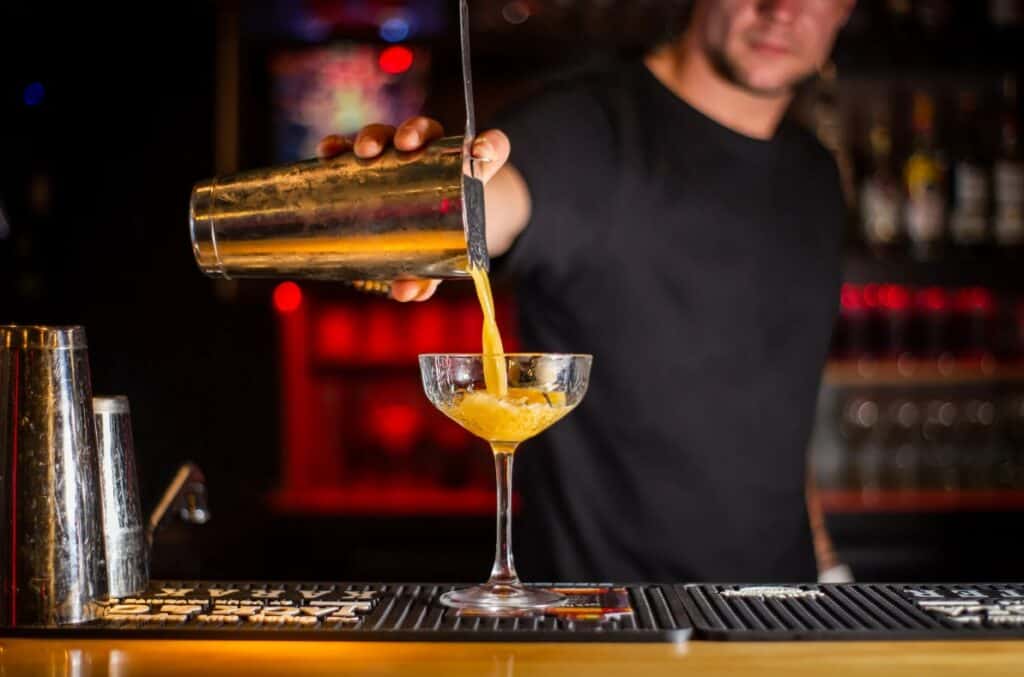 Bartenders are responsible for making drinks and ensuring that they're always stocked up on products. They also need to be good with people as lots of people visit restaurants and catering establishments just to have a drink.
These professionals spend most of their day standing, so if you have physical limitations then bartending may not be the best job for you. Bartending jobs can require you to wear some type of uniform, and may be required to work quite late shifts – some venus is open for drinks until very early hours of the morning.
Host/Hostess
The host or hostess greets customers and directs them to their seats. Sometimes, they are also required to take down any information they may need, such as a drink order. They also make sure that everything is running smoothly including making sure everyone has what they need and is happy with their experience.
The host or hostess should be organized and able to multitask – in case of any issues they need to know how to handle them quickly, and should also be skilled at handling problematic customers. They have a lot on their plate so this just might not be what you're looking for if you like an easy day with minimal responsibility.
Sommelier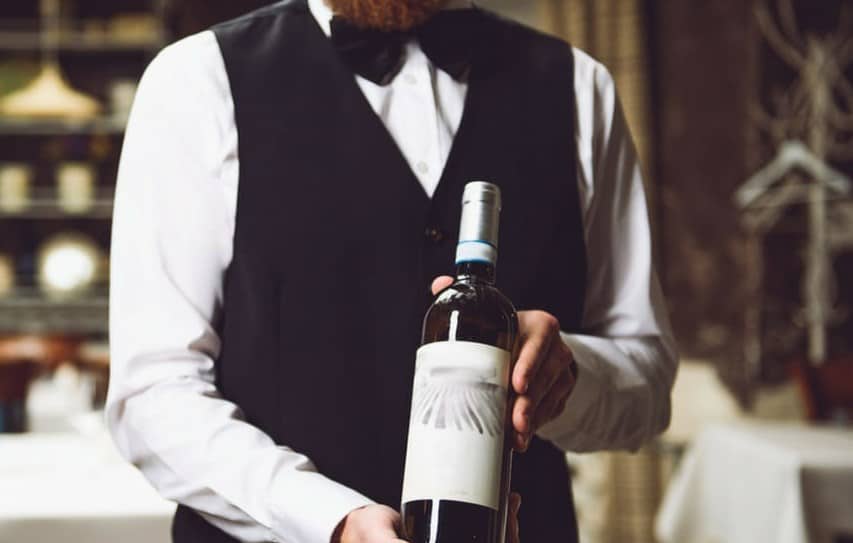 A sommelier is someone who knows all there is to know about the wine menu. They can recommend something that fits a customer's tastes and may even be able to pair food with different drinks for those who are interested in trying something new.
The only downside of this job (aside from not being able to drink the wine yourself) might be their uniform. Sommeliers are required by some restaurants or bars to wear formal attire including tie or bowtie, dress shoes, shirt/blouse, slacks/skirt suit jacket along with a neck scarf if assigned one color per shift. This isn't always easy so it's important you do your research before applying just in case.
Restaurant Manager
The restaurant manager is the person in charge and needs to know everything about what goes on in the front of the house during a shift. They have a lot of responsibility so it's important that you're someone who can handle this type of pressure if you want to pursue this job. This is another position where people may be required to dress in some sort of uniform, but this is usually more casual than a sommelier.
Restaurants come with different management styles as well so it's best to ask a lot of questions before taking this job. It's also something that can be promoted from within, for example, a waitress or waiter that's been working at an establishment for a while might be promoted to restaurant manager if they do a good job.
Restaurant Designer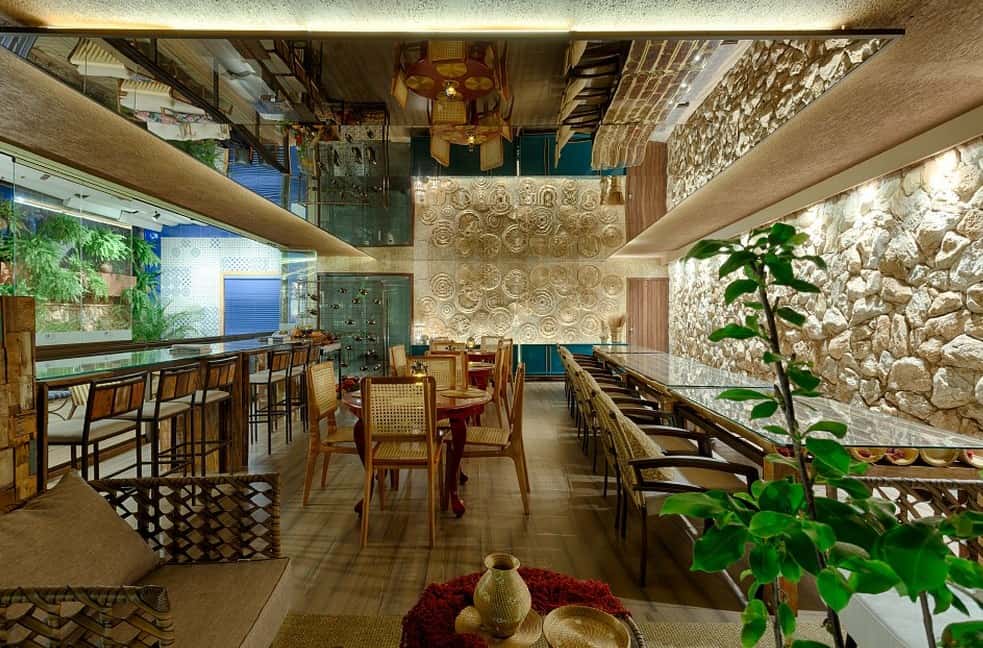 People might not think that foodservice has anything to do with design but restaurant designers make sure the customer is satisfied before they even come in. They keep everything looking pleasant and are responsible for making it as easy as possible for staff members so they can do their job well.
A restaurant designer will scope out a dining space, suggest designs, tips, and organization techniques to make it look professional, inviting, or stick to a restaurant's theme. They will design everything from the bar location to the table layout, and the paint color, whilst ensuring that the space is practical for staff and comfortable for customers.
The downside of this profession? It's a high-stress environment where you have many people relying on you (usually because everyone wants something different). It's important to be someone who doesn't take criticism personally or else you'll find yourself spiraling out of control quickly.
Food Lawyer
Did you know that food has its own law? If not then it's time to find out as everyone in the catering industry has to abide by it. There are many rules and regulations in place which can be confusing, especially if you're new to the industry.
In some cases these laws exist for safety reasons – for example, fridge temperature regulations are there for a reason and people should have the required training to be able to handle food. It's important to work with someone who understands how the system works so both your business and personal interests are protected at all times. A food lawyer helps to regulate these rules, and will be there to settle any debates, should something go wrong.
A downside of this profession is, as, with any job in law, it can come with both a lot of stress and a lot of prejudice from people, especially those that you are telling off. So prepare to face a lot of criticism if you get into this field.
Craft Brewer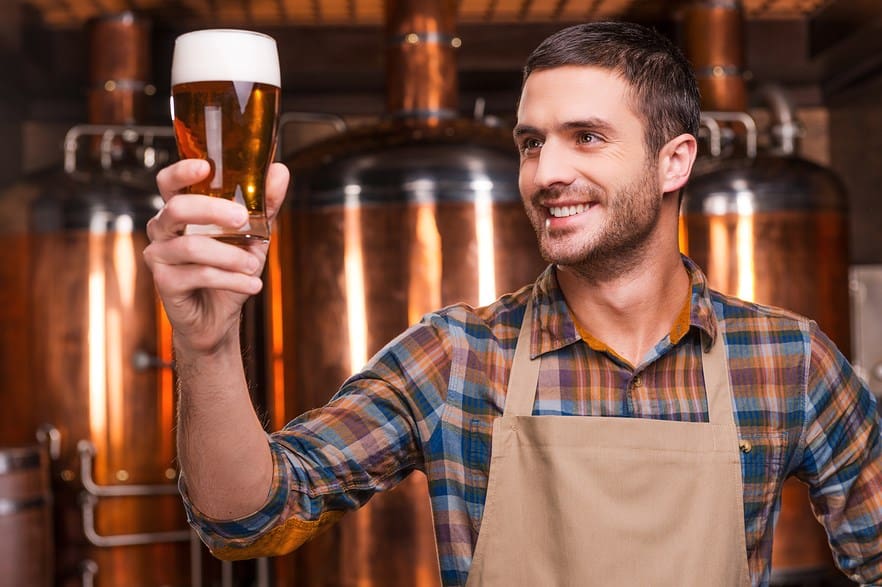 If you love beer and creating new flavors, then this might be the role for you. However, some people might think that as long as they have a good idea and some help with the initial startup costs then anyone can make it in this field, but not so fast! This is an extremely competitive industry which means you need to know what you're getting into.
A craft brewer needs to be creative, knowledgeable about ingredients, and able to work well under pressure – something like opening your own restaurant where it's up to them on how successful it will be from day one.
The downside? They often work long hours (sometimes more than 40 per week) which may not always give them enough time at home. However, if you have enough space, you might actually be able to do this job from home – at least in the early days anyway!
Banquet Manager
It's not always the person cooking food that is closest to their work… in fact, there are banquet managers who have no idea how to cook at all! And yet they're still responsible for everything that happens during an event. Whether this is a plated dinner or buffet-style service, these people need to know every detail of what goes on and are able to keep themselves calm when things go wrong – which really isn't easy considering it could happen any day without warning.
Banquet managers deal with all sorts of personalities from customers but also staff members too, so if you want this job then prepare yourself for some disagreements along the way. It's important that everyone understands exactly what needs doing and where they fit into the puzzle because only then will things get done.
They will be in charge of ensuring the food is satisfactory and topped up if it's a buffet-style service. They'll also be in charge of making sure diners don't step out of line.
The upside? This job is rewarding as long as you enjoy being in a super-fast-paced environment all day, every day! There's always something to do and if someone needs help then they need it now… so be prepared for anything (which includes the occasional food spill)!
Maître d'hotel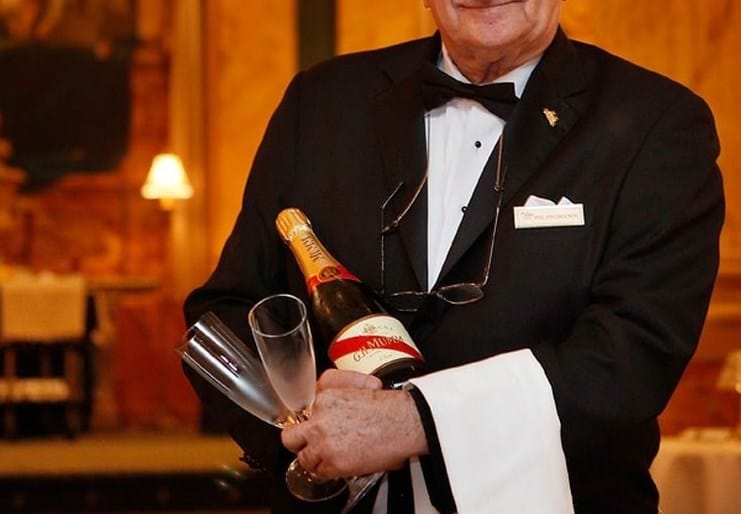 If you're someone who always likes to know what's going on then this might be the perfect role for you. The maître d'hotel coordinates with all of their staff of a restaurant and ensures that everything is running smoothly. They also work closely with guests, making sure they have an amazing time while in the restaurant. Another name for this role is Head Waiter or Waitress.
This person needs to stay calm at all times (even when it feels like things are falling apart) because if there's a hiccup then it usually falls back onto them! Also, they need to manage any difficult customers by taking control of the situation and figuring out how best to deal with it – which may not always go down well depending on how stubborn the customer is being!
A positive? They get to be the person everyone looks up to so it's a great opportunity for people who enjoy being in charge!
Conclusion
It's not hard to find a food service job these days. And it's a good time to be in the food service industry. The number of restaurants is growing at an unprecedented rate and there are more jobs than ever before.
As you can see from our guide, there are many options available for people in the industry and plenty of room for career growth. We hope that this article has helped give you some insight into what it means to be a successful food service professional.
But, the best way to learn about the industry is by talking with someone who works in catering, speaking to hiring employees, or talking to a restaurant owner. So what are you waiting for? There's no better time than now to start your journey as a food service professional.
Food Service Careers and RolesFAQs
Question: What is the highest-paying job in the food industry?
Answer: The answer to this question is not an easy one because it really does depend on how much you want to work and where. For example, a Head Chef will naturally earn more than a Line Chef working in the kitchen but they need at least three years of experience before even being offered a job. Typically, food service workers have to work their way up the ladder, but if you're dedicated and reach Head Chef, Restaurant Manager, or even Sous Chef positions, you could be looking at north of $45,000 per year.
Question:  What are the best food service jobs?
Answer: For people who want to work in a more relaxed environment, there are various catering assistant positions available. These may include being the event manager's right-hand person as well as helping with preparation tasks like chopping up vegetables and washing dishes – an all-around great role for someone looking for something less hectic!
Question: How do I get a job in the food industry?
Answer: If you're looking to get into the foodservice industry then there are a number of ways in which this could happen. Some people may be lucky enough to find an organization that's hiring and they can jump right in, but for most, it'll involve submitting their CV and waiting until something comes up – or at least until they hear back from someone who has read their application!
With your CV, it's best to include anything relevant to catering – for example, do you like cooking dinner parties at home? Have you worked in a kitchen before? Or did you do a catering qualification at school or college? Plus, with today's technology, social media is also playing a huge part when it comes to getting noticed so, it's worth checking out the social pages of restaurants in your area too.
Question: Is being a Chef a good career?
Answer: This is difficult to answer because it really depends on what you're looking for. For example, if you love cooking and enjoy being hands-on in the kitchen then this could be a great career path for you! However, there are also Chef positions that don't require too much hands-on kitchen work – like an Executive Chef who oversees all of their restaurant's kitchen operations. There are also other types of Chef positions, like becoming a Line Chef at a hotel or working as a Pastry Chef – it really does depend on what you're looking for! However, if you love cooking, have excellent people skills, and enjoy working in a  busy team, then it can be a very rewarding career path.
Question: Is cooking a stressful job?
Answer: Yes – although it is rewarding, cooking can also be a very stressful job and has been frequently voted one of the most stressful jobs in the US. This is because it's an incredibly hands-on position. There's always something going on, it's busy, fast-paced, and a very hot environment. Plus, there's always that one difficult customer who complains!
It's important to understand this before getting into this line of work. The best attitude to have in the kitchen is to stay calm (even when things feel a bit hectic), which may sound easier said than done. This will keep your head clearer, lead to fewer mistakes, and keep everything flowing smoothly.
It's also important to keep a positive attitude. For example, acknowledge that the difficult customer might just be a person who's had a long day and is just looking for someone they can complain to – don't take it personally! And be sure you're always smiling because this will make everything easier in the kitchen too.
You also need the ability to improvise when things go wrong and to be able to work with other people. A commercial kitchen is a team and if one cog isn't working, then it will all fall apart.
You may also need to think on your feet. For example, if a dish isn't looking up to scratch then you'll need the ability to quickly come up with another idea or solution – may be suggesting an alternative ingredient. In this industry, it's so important that everyone works together.
But… it can also be a very rewarding job! Yes, it's high-stress but you'll be working with like-minded people who all have a passion for food. Plus, as long as you're willing to put in that extra bit of effort then there are lots of opportunities for growth and to progress your career. For example, as a Line Chef you may be cooking in the kitchen one day but then managing all food-related issues at an event venue another day – or even becoming an Executive Chef or starting your own restaurant.