Latest posts by Alice Smith
(see all)
No matter how large or small your catering establishment is, the best commercial refrigerators will be critical to keeping food safe. Buying a commercial refrigerator can be a difficult process. They come in all sorts of shapes, sizes, and prices so it's best to have some basic knowledge before you start shopping.
But, when you're looking for a commercial refrigerator, it can be difficult to know where to start. There are so many different types of refrigerators on the market, so how do you find one best suited for your needs?
Well, that's where we come in! This blog post on the best commercial refrigeration will cover what you need to know about refrigerator types and uses in catering establishments, as well as some safety tips for best operation and use. Read on for all the information you need!
Refrigerators and Their Uses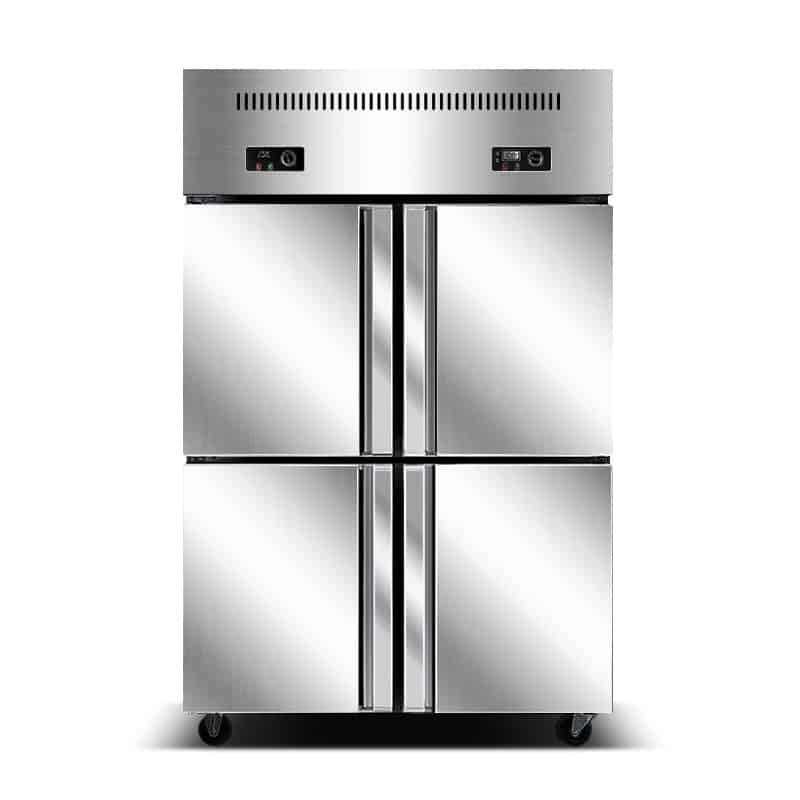 If selling food is part of your business, then a good refrigerator will be crucial to its success. Not only will it keep your food cold, but a commercial refrigerator will also best help to maintain the quality of its contents.
Proper refrigeration slows down bacterial growth which can lead to spoilage and even illness when consuming foods that are high-risk like raw meat or rice. It also ensures that meats, vegetables, and other products will stay fresh for a longer period of time, keeping your customers satisfied and coming back and potentially saving your catering establishment thousands of dollars.
Within the food industry, different types of commercial refrigerators are best for different catering establishments. To determine the best refrigerator type, you need to first consider what will be stored in it – whether that is perishable items only or a combination of both perishables and non-perishables.
Types of Refrigerators
In catering establishments, there are two main types of commercial refrigerators: walk-in and reach-in. Walk-ins best fit large spaces such as restaurants while reach-ins best suit smaller spaces like a cafe or food truck.
However, within both of these overall categories, there are plenty of other varieties of refrigerators including box-type units with shelving on them, slide-out models, side-by-side fridges, and freezers where you have more flexibility for storing multiple products at once along with top loaders.
It is important to consider the best types of refrigerators and how they best fit into your establishment's needs in order to best serve your customers. Here is some more information on each type of refrigerator and how they can assist your business:
Bar Refridgerator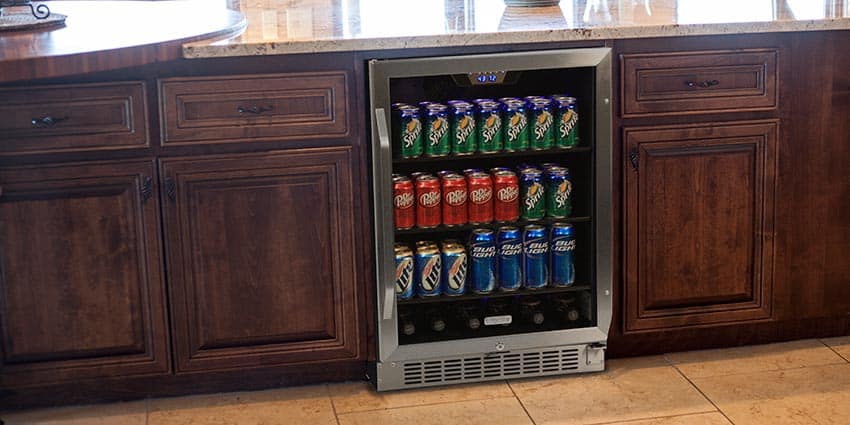 Best for storing alcohol, beer, and wine, bar refrigerators are commonly found in bars, clubs, restaurants, and hotels. They are short units, that fit beneath counters and usually have a transparent door so that the contents can be seen from the outside. This helps with both easy stock take and to help bartenders serve customers faster. Bar refrigerators are designed specifically for behind-the-bar use and are incredibly useful for storing drinks and other bar essentials like fruit and garnishes.
Refrigerator Freezer
The best choice for smaller catering establishments such as cafes, bakeries, and small restaurants, this type of two-in-one unit has both a fridge and a freezer. You can find these in a variety of sizes from small to large with sturdy stainless steel construction and back-lit displays. They can be used to store both chilled and frozen food, but they will also work for storing drinks and non-perishable products as well.
Walk-In Refrigerator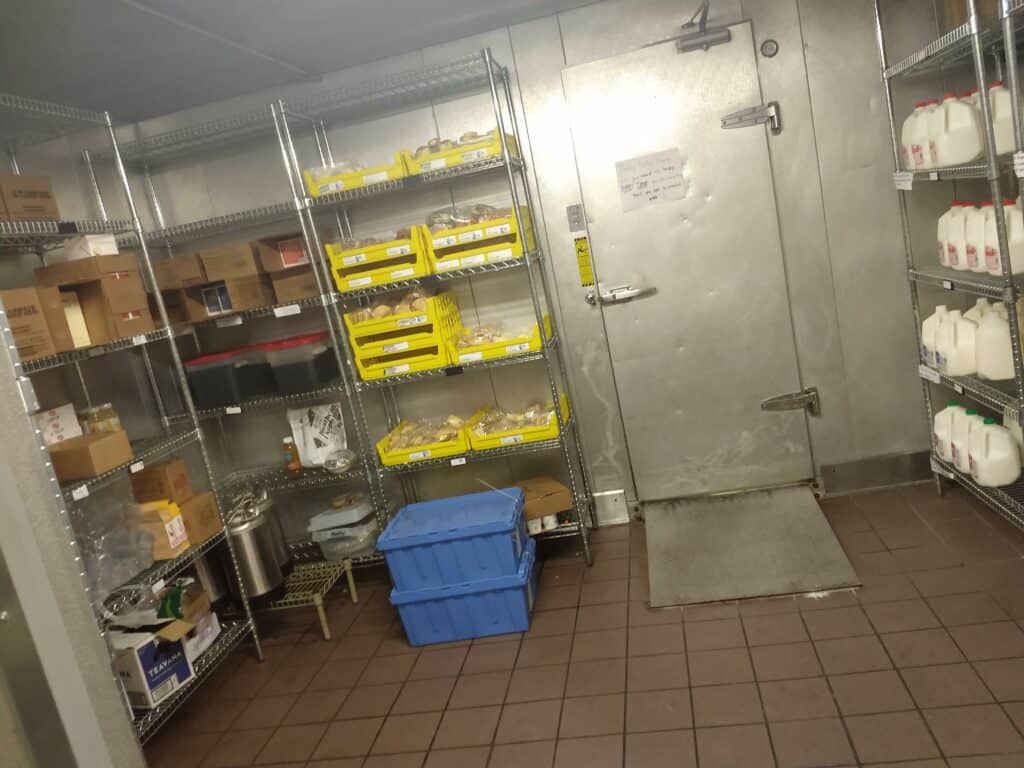 Popular in larger establishments such as restaurants, hotels, and schools, walk-in refrigerators are exactly what they sound like – a fridge that you can walk into. They are effectively a small room but are great at keeping foods at a constant temperature while preventing cross-contamination between different products.
These types of commercial refrigerators best suit the needs of large catering establishments with high volumes or storage amounts required. Walk-ins fridges come in sizes from small to extra-large and are usually customizable depending on your space.
Undercounter Refrigerator
Doubling as a refrigerator and a workstation, an under-counter unit is great for a busy kitchen. This type best suits establishments that have limited space and need to maximize their kitchen as much as possible.
These can be found in a variety of sizes, are easy for maintenance, and make kitchen work much quicker and more efficient for chefs who can simply reach beneath their workstations when they need more fresh ingredients.
Refrigerator Display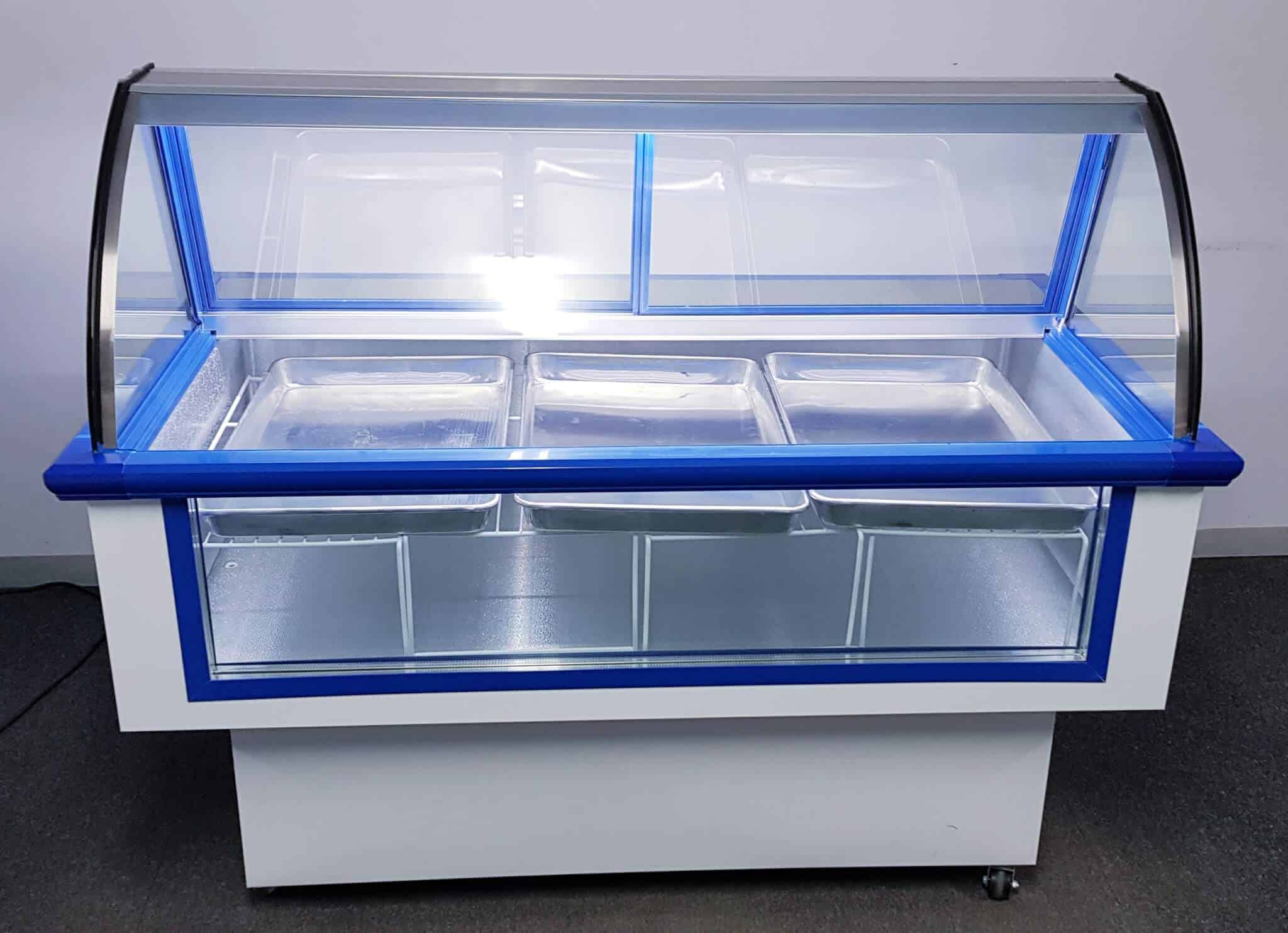 A refrigerator display can be found in a commercial restaurant, cafe, hotel, or even fresh food market. This usually consists of one large and several smaller individual units that are designed to showcase perishable foods for sale, along with non-perishables like eggs and dairy products.
These displays often have an insulated door so that they can be left open without the contents becoming spoiled by heat from the outside of the unit while also making sure customers don't access any refrigerated goods until they pay at the register first.
Display Refrigerator
Not to be confused with a refrigerator display above, a display fridge is similar to a bar fridge except it's full-sized as opposed to under the counter. It has a similar glass-doored design and is best for small businesses or larger catering establishments to display and sell their products. These are often found in a commercial restaurant, cafe, hotel, convenience store, or supermarket where customers can see what they're buying before they make a purchase.
Salad Bar Refrigerator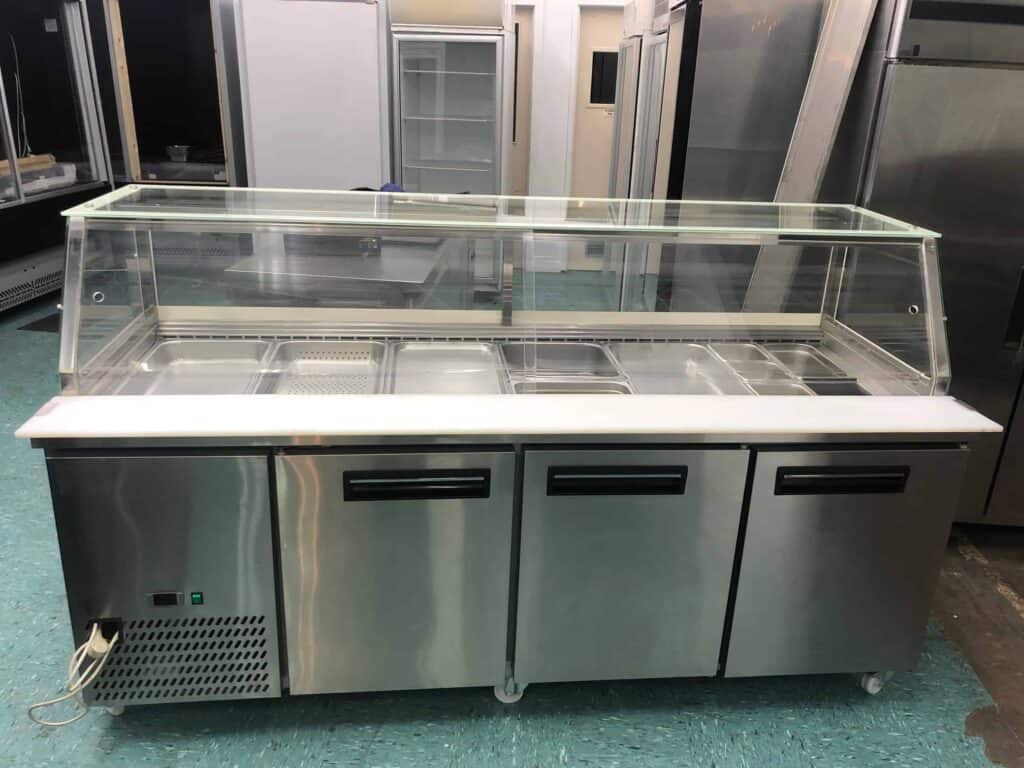 Another type best for busy kitchens, a salad bar refrigerator is designed to keep ready prepared salad items fresh. It has a top lid that can be lifted to reveal a salad station underneath and often come equipped with a handy, built-in chopping board, meaning the top of the unit can double up as a workstation.
This best suits restaurants and canteens that sell pre-prepared mixed salads as it allows them to keep these items chilled so they don't spoil while also keeping food prepped and ready to go.
Wine Refrigerator
For establishments that sell wine, a wine fridge is great. This is also the best choice if you need to display wines in bottles or those on racks for sale, as they are usually made of tempered glass so customers can see all different types without opening up the unit itself.
Wine fridges come in various sizes from small to extra-large depending on how much storage space your establishment needs. They best suit restaurants, bars, liquor stores, and other places where people purchase alcohol by the bottle rather than just buying drinks at a bar every time.
Merchandiser Refrigerators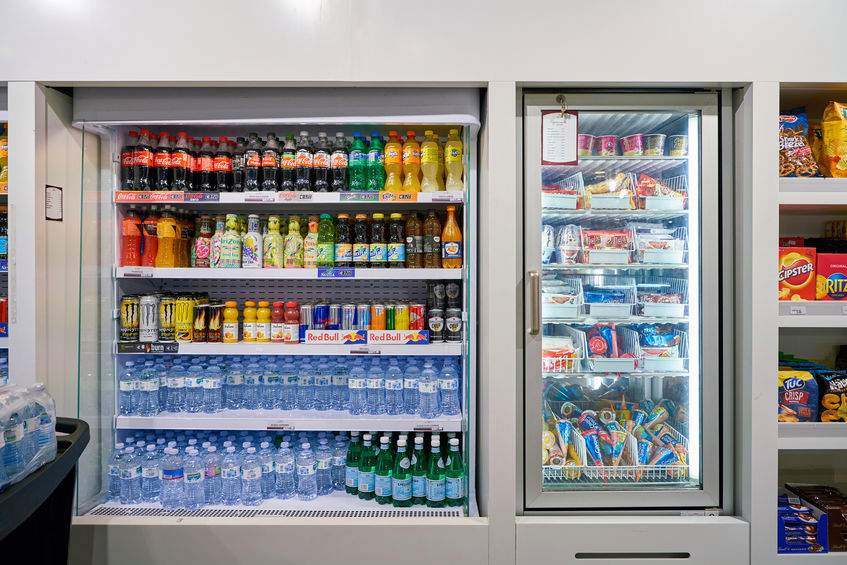 You would find a merchandiser refrigerator in the chilled aisle of your local supermarket. They usually come in two sizes: full-sized and half-sized. These best suit grocery stores, convenience stores, or sometimes even large restaurants.
They're often used to display products and are open so customers can choose things that they want. They also have powerful motors, so that they can be kept at a constant temperature while preventing cross-contamination between different products stored inside of them
What To Look For When Buying A Refrigerator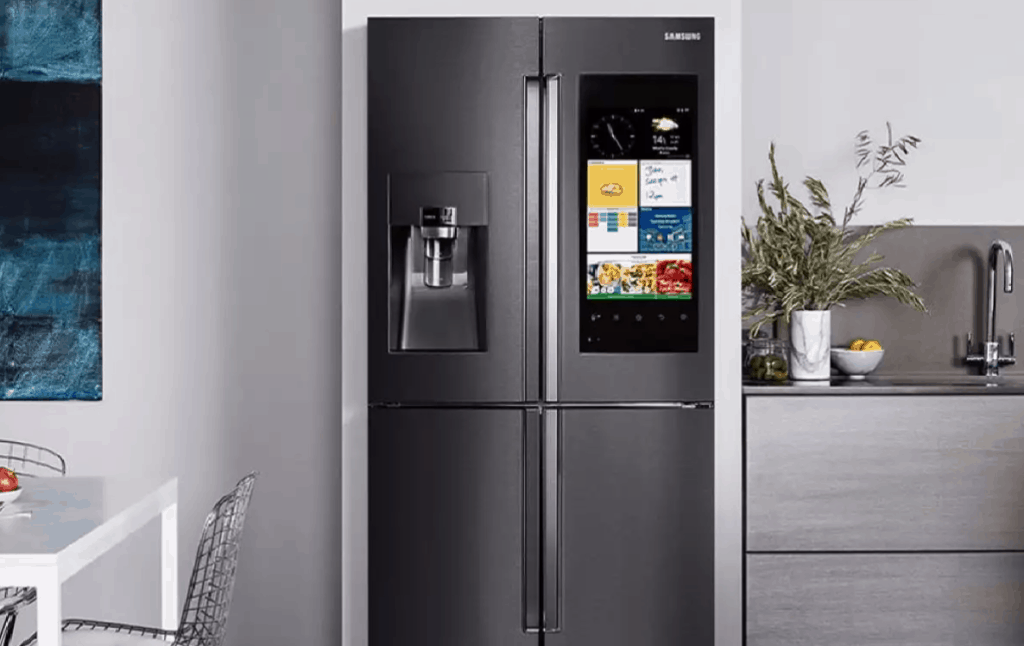 So, now that you know a little more about the types of refrigerators available to buy, let's have a little look at what you need to consider before you purchase one:
Material
The best commercial refrigerators are made from stainless steel. It's best to avoid aluminum and plastic versions because they're less durable and won't last as long. In comparison, stainless steel is extremely durable and very strong. It's also very easy to clean.
Power Usage
It is important to consider power usage too because bigger appliances often require more electricity which can get expensive.
Size
The best commercial refrigerators come in a range of sizes, so it's best to decide on the size you need before heading out shopping. A refrigerator needs to be the size that fits your needs best depending on how much space you have available.
You also need to consider what it's going to store so as not to buy a large one when all you really need is something for drinks or vice versa. You don't want to have wasted food due to lack of storage, so find something that has enough room for what you need now as well as what will happen in the future without needing any modifications or additions.
Insulation
The most energy-efficient refrigerators are armed with foam insulation to help reduce the power needed to maintain a cool temperature inside. This will also help keep the food fresh for longer and is best suited for commercial use.
When you're looking for the best refrigeration, make sure your refrigerator is insulated with at least 2 inches of foam of a premium insulation brand. This will keep energy costs low and ensure the contents of your fridge stays sold. Cheaper brands just use solid foam blocks of foam as insulation which isn't very efficient in the long run.
Energy Star Rating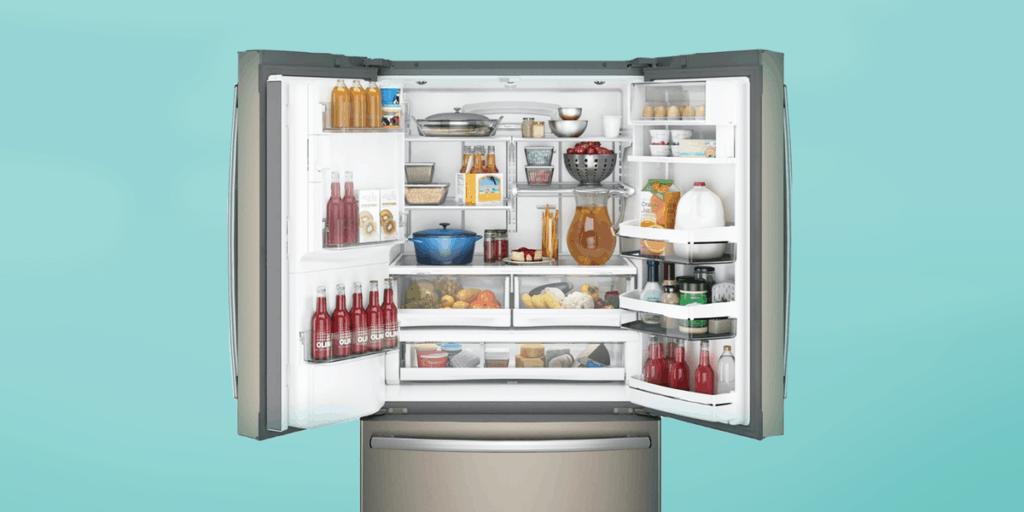 The best commercial refrigerators should have a low energy rating, meaning they're designed to conserve energy and reduce the amount of power needed. These are best if you want a refrigerator that will save money on electricity bills in the long term because it uses less than others do without sacrificing quality or performance. It's also better for the environment. For the best efficiency, choose a fridge rated A or above.
Door Handle
Considering a door handle may seem bizarre, but refrigerators should have a door handle that is easy to grab. This prevents you from struggling when opening the fridge, especially if it's heavy and you're running a busy catering establishment where the fridge is opened and closed hundreds of times per day.
Plus, door handlebars are not always durable long term, can snap off or become loose after frequent use or during busy service. It's best to opt for full-length door handles which are also more practical and prevent dust and dirt collection.
Welded Corners
Welded corners prevent food from getting caught in the seams of a fridge, prevent collecting dust, snagging on clothing, and are less subject to less general wear and tear. If your fridge is properly built and welded, you likely will find the outside easier to clean, and generally speaking, fridges with non-welded corners are more cheaply made.
Interior Capacity
Before deciding on the best refrigerator for your business, you should have an idea of the interior capacity that you'll need. A high interior capacity means you can store more food. If you're intending on storing whole pots and pans in your fridge, then you'll likely need a higher capacity than if you're just using it for vegetables, for example.
Ventilation System
Some fridges come equipped with ventilation systems that regulate temperature and pressure, making sure everything inside remains cool even if it gets heated up outside.
This ensures constant performance without wasting electricity because your refrigerator will be able to maintain its coldness no matter what happens outdoors. Ventilated models cost more upfront but save money over time as well as distress when bought at the best prices.
Condensing Unit
The best commercial refrigerators should have a condensing unit for the best efficiency. This means it will be able to maintain cool temperatures without wasting electricity and is best suited for busy catering establishments, restaurants, or other businesses that need rapid cooling at all times of the day. An absorbent cooling system located at the bottom will make maintenance, serviceability, and cleaning much easier since your staff won't need a ladder to do the job.
Temperature Control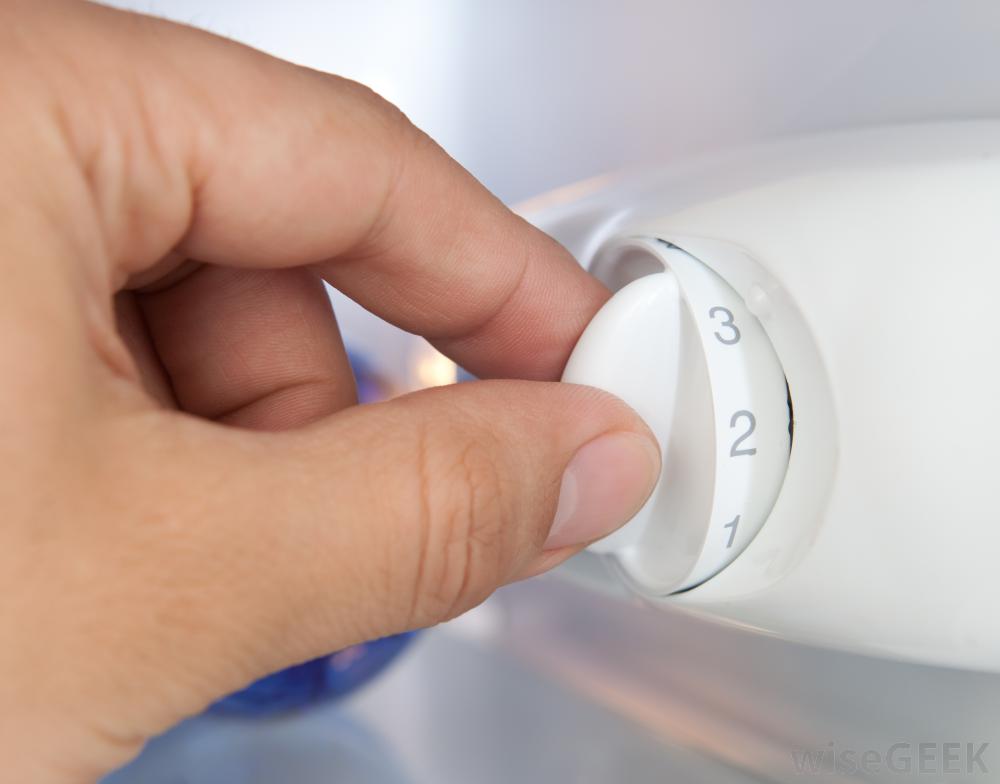 In order to keep food fresh as long as possible, the best commercial refrigerators should be able to maintain a constant temperature. This is because all food should be kept between 1 and 5 degrees Celcius and without this, it can easily spoil or go bad before you know it.
Standard temperature ranges will be able to help you do this. Digital temperature controls are also good because they're easy to read and are more accurate than some of the other options available.
Security
Additional security like locking doors are great for commercial refrigerators. This ensures that people can't get into the fridge without permission and prevents theft of food from your refrigerator. It also means that the fridge door is less likely to be left open, spoiling all the food inside.
Price
Before choosing your refrigerator, you'll need to work out your budget, so that you know what sort of fridge you can afford. The best commercial refrigerators have many different prices and it's best to explore them all until you find the one that best suits your needs. But they can range in price from anywhere between $400 and up to $8000.
Warranty
Another important thing to consider is the refrigerator's warranty. This will ensure that it lasts as long as possible and you can easily repair or replace things if anything goes wrong in the future.
Most commercial refrigerators have warranties between one year and five years, but there are some which only offer 90 days' worth of coverage for their products. So be sure to check the warranty before you purchase.
Ease of Cleaning
Commercial refrigerators should be easy to clean. Some have doors that open almost fully, meaning you can easily wipe down any spills from the inside. They also have removable shelves which are incredibly useful when it comes to cleaning behind them.
The Best Refrigerators for Commercial Kitchens
The refrigerators we've included as recommendations for you to purchase were chosen by pricing, positive customer feedback, and functionality.
POLAR Refrigeration C-Series Stainless Steel Under Counter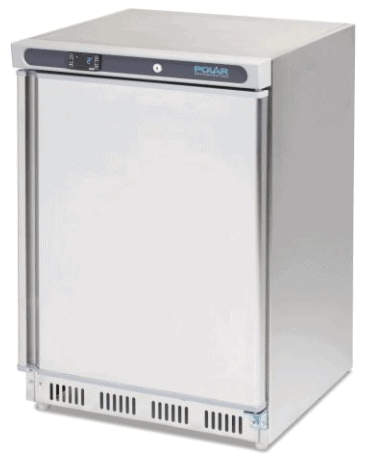 This handy under-counter refrigerator by Polar is great for smaller kitchens. The bottom ventilation fan makes it easy to clean, whilst the digital temperature gauge will show chefs exactly what temperature their contents are.
The fan-assisted technology ensures that the fridge will cool down quickly even after frequent opening and closing, which is ideal for busy kitchen environments, while the convenient under-counter design means it can double as a worksurface – perfect for small spaces.
Inside, it has a 150-liter capacity and there are 2 sturdy, adjustable full shelves and one half-shelf for maximum storage capacity. The door is lockable for extra security, reversible for convenience, and features a full-length handle for hygienic use and easy cleaning.
Pros
The bottom ventilation fan will cool down the content quickly
2 full and one half-shelf for maximum storage space
Lockable, reversible door
Digital temperature controls and display
Cons
150 liters will definitely be too small for some kitchens
Arctic Air 2 Door Commercial Refrigerator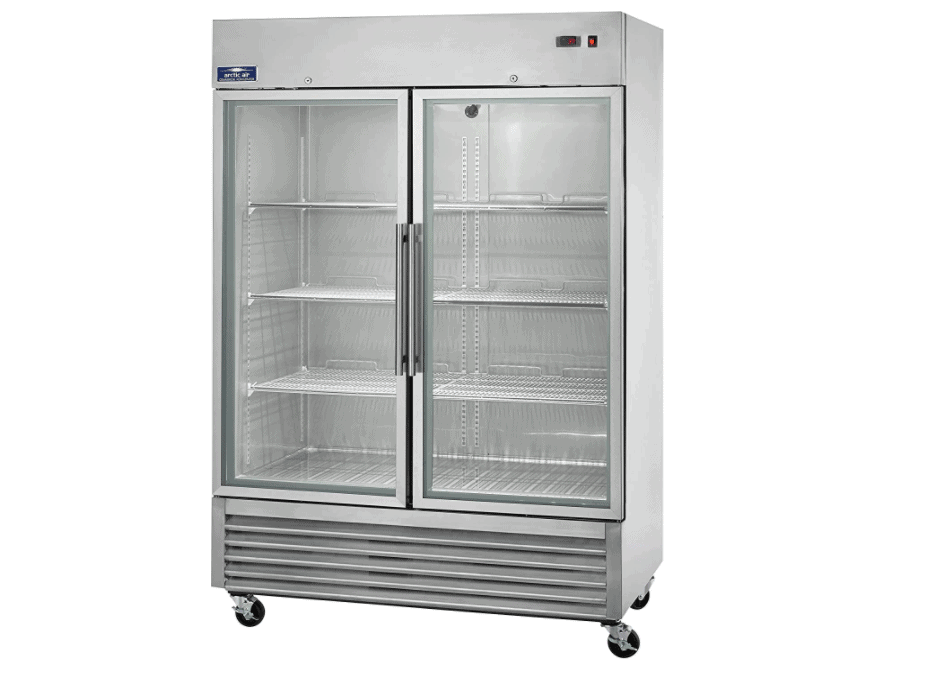 This large 49-cubic-foot, 2 door refrigerator is ideal for large catering establishments that need a lot of fridge storage space but are not quite large enough for a walk-in. The reach-in model is made entirely of high-quality, welded stainless steel, and contains 6 epoxy coated shelves inside. Each shelf is fully adjustable.
It features an exterior digitally controlled thermostat which ranges from -10° to +10°F and has high output fan motors to make sure everything stays cool inside.
The exterior doors are lockable with foamed-in-place recessed handles and the entire unit has been tested to an NSF Standard 7 which is a catering requirement for food storage. Plus, before each fridge is shipped, they turn them on for a minimum of 13 hours, the ensure everything is working as expected.
On top of that, they come with one-year parts and labor warranties and a five-year compressor warranty, so they literally do everything to ensure this fridge is top quality and made to last.
Pros
49 cubic feet large unit
6 adjustable interior shelves
NSF 7 Standard
Heavily tested before shipped
Comes with an extensive warranty
Cons
EcoSolarCool Solar Refrigerator 7.1 Cu Ft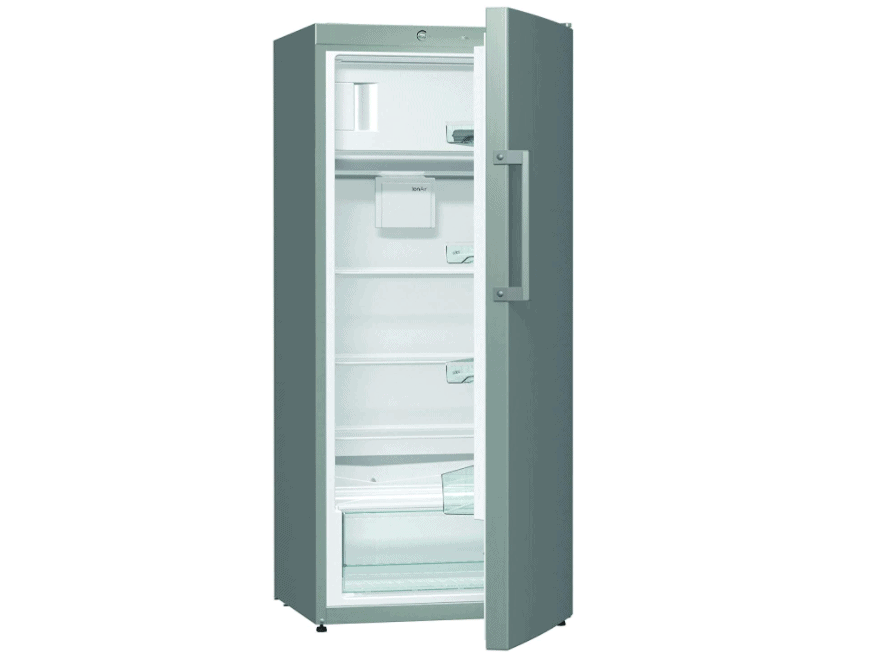 For slightly smaller commercial needs such as bakeries or cafes, this single-door professional refrigerator is a great choice. If you have limited floor space, this 7.1 cubic foot unit is small enough to fit in compact spaces, yet large enough inside for plenty of practical storage.
It has highly environmentally friendly features, such as solar panel power and an environmentally friendly condenser. Plus, as well as being great for the environment, it's also super practical.
You can adjust the hinges to be on either side of the fridge ensuring it can fit in all spaces, and, as it doesn't plug into AC power, you can literally put it anywhere. The stainless steel design is also incredibly high quality and very easy to clean
Pros
Environmentally friendly design
Entirely solar-powered
Reversible door
Easy to clean
Cons
Relies on the sun so might be inconvenient for some
Size might be too small for some
Polar U-Series Double Door Prep Counter Fridge 405Ltr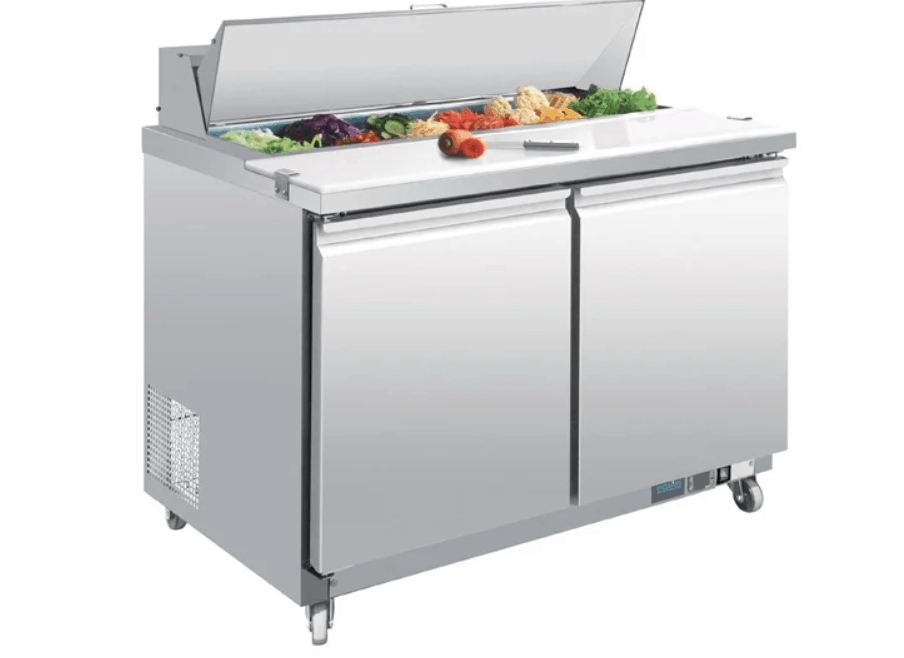 This prep counter fridge by Polar is an excellent choice for those who need to combine a handy workspace with convenient refrigerator storage. The Polar U-Series Double Door Prep Counter is a robust and reliable piece of equipment. You can make pizza, salads, sandwiches, starters, and other dishes without having to move between different stations, ideal for busy kitchens where time is precious.
Underneath the top lid, it has handy storage space for top-mounted refrigerated GN pans, and a large, reversible, and removable chopping board running the length of the unit. At the bottom, it features a double-door under-counter refrigerator and the total capacity is 405 liters.
The reliable design is incredibly handy for chefs, and the machine is built to the highest standard. The powerful air cooling unit will help keep the contents cool, and help reduce waste, and it comes with a 2 years warranty for labor and parts.
Pros
Convenient workstation which doubles as a refrigerator
Large, 405-liter capacity
Powerful air cooling unit
Comes with 2 years parts and labor warranty
Cons
2 doors might be too small for some kitchens
Coolpoint HX250 Sliding Door Bottle Cooler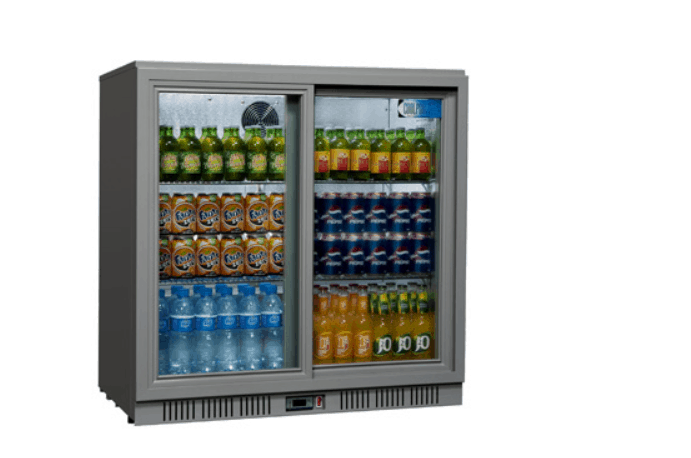 Great for bars and other establishments where drinks are served, this bottle cooler by Coolpoint has a convenient sliding door design. The glass design gives easy access to stock and the self-closing functionality helps to prevent the fridge from being left open and helps maintain efficiency. The doors are also lockable for extra security.
It's ideal for smaller spaces and can be installed underneath a bar or other unit. The feet are also adjustable, meaning you can edit the height of the unit to suit your particular requirements.
The interior chrome shelves are fully adjustable and removable for easy cleaning, and the cooler has a digital temperature controller, which displays the current temperatures – which range from 2°C to 10°C. This makes it easy to monitor and adjust when necessary.
The unit is capable of holding 166 x 330ml bottles inside.
Pros
Glass sliding doors allow for easy stock take
Adjustable feet
Digital temperature controller
Capable of holding 166 x 330ml bottles
Cons
It may be too small for larger kitchens
The Major Differences Between Commercial vs Household Refrigerators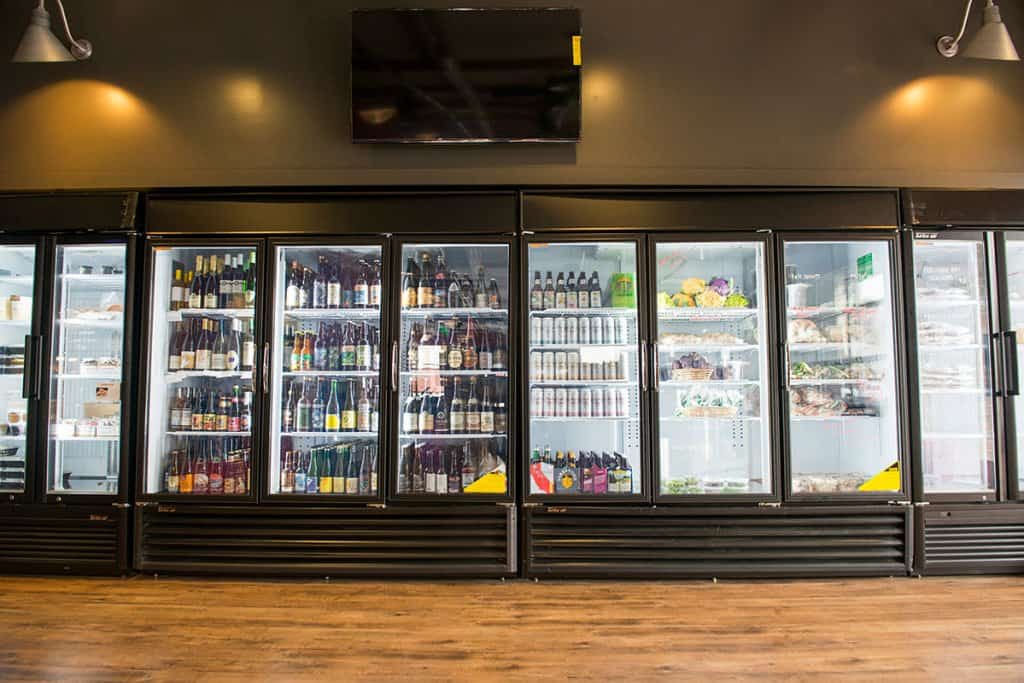 The major differences between commercial and household refrigerators are the size, space, and overall design. Commercial refrigerators are best for large establishments like a restaurant because they can hold more food than domestic ones, which mostly serve as normal fridges in homes.
There is also a difference when it comes to their durability – commercial refrigerators are designed for frequent use and are consequently made from the best quality stainless steel. They also have better temperature controls, stronger insulation, and are designed to be easier to clean to comply with strict catering regulations.
Advantages of Commercial Refrigerators
Commercial fridges are designed to be opened multiple times per hour, so they have features designed to control the frequent changes in temperature.
They have stronger hinges too for this same reason.
Commercial refrigerators are designed for easy cleaning through features like shelves that can be removed.
They are often built with super powerful compressors, which can quickly and efficiently reduce the temperature inside the fridge.
Commercial refrigerators are often fan-assisted, meaning it's easier for the fridge to keep all areas and all food items cool.
Much more powerful – domestic fridges will typically run off a standard 3-point plug, whereas commercial ones may need slightly more than that.
They will keep contents at a precise temperature to ensure that they comply with health regulations.
There are many different styles and designs available because of the wide range of uses fridges have within the catering industry.
Disadvantages of Commercial Refrigerators
They are often noisier than domestic fridges due to the fan assistance.
Commercial refrigerators often cost more than domestic ones, so it's important to bear this in mind when it comes to budget.
They are large units, so you'll need to take into account your available space before you purchase one.
They often weigh more than domestic refrigerators which can make transporting them difficult and expensive.
Refrigerator Safety and Best Use Tips
Don't overload the refrigerator – some air needs to be able to circulate inside to keep it running efficiently.
Keep all food covered when in the refrigerator and don't put anything on top of a shelf that could leak.
Wipe shelves dry before putting fresh food away, especially meat products which need extra protection during storage time.
Always store raw meat at the bottom of the fridge to prevent juices from leaking and dripping onto other products.
Check the fridge temperatures daily to make sure they are all correct. Commercial refrigerators should be between 1-5 degrees Celcius.
Wipe up any spills or leaks immediately to prevent bacteria from growing and spreading.
Turn off power before you do anything that might cause a fall inside the fridge like changing light bulbs, replacing shelves, etc.
Be careful of what is stored near vents – the best practice is to avoid placing anything near vents that are not designed for cooking.
Choose a fridge with the best features for your establishment – catering regulations differ from country to country so it's important you know what they are before purchasing one.
It's also worth considering the availability of spare parts, as commercial refrigerators need regular maintenance and often have more complicated parts.
FAQs
Question: How long does a commercial refrigerator last?
Answer: Commercial refrigerators will last best for about five years as a minimum. However, with proper maintenance, commercial refrigerators can have lifespans up to 10 years or more.
Question: What is the best commercial refrigerator?
Answer: The best commercial refrigerator depends on your particular needs, but it would be one that meets those needs and best suits your budget. For example, if you need to store drinks, a bar fridge is best; if you need to store big pots and pans in the fridge, then a large reach-in or walk-in fridge would be best. It's important to do research first so you're not wasting money on something that doesn't suit what you need.
Question: How do you organize a commercial refrigerator?
Answer: All refrigerators are best when they're organized. The best thing to do is open doors as wide as you can and have a good amount of shelves available for storage so food doesn't get lost in the back or on top where it's hard to see. It's also good to organize foods by type, for example keeping all the fruit together, all the dairy products together, and all the raw meat at the bottom.
Question: How much does a commercial refrigerator cost?
Answer: Commercial refrigerators can be quite pricey and will typically range in cost from $400 to up to $8000.
Question: What should you look for before buying a new commercial refrigerator?
Answer: There are many factors that come into play when looking at what's right for you, but it's important to be mindful of the size, energy efficiency, and warranty before making a purchase.
The best commercial refrigerator will also have top ventilation to save on maintenance, be easy to clean with good organization for food storage, and have great temperature control options.
Conclusion
Overall, when you're in the market for a commercial refrigerator, it can be confusing to know which one is best. There are many things to consider when buying a commercial refrigerator.
But hopefully, this guide will help you identify the different features and benefits of refrigerators, as well as some considerations for buyers who need an appliance that will keep their food fresh longer or be energy efficient. If you're ready to buy a commercial fridge, hopefully, you now have a slightly clearer picture of what you expect and can make an informed decision about which one is best!