Latest posts by Maddy Chiffey
(see all)
American Range makes commercial fryers in a range of styles and sizes to suit many budgets. Their products are well received and rated highly. But what are the best American Range fryers available on the market today? And, how do you know which is the best for you?
In this guide, I will look at the best-rated American Range Fryers and provide a small buying guide to help you to decide which product is the best for you. I will also look at some alternatives and answer popular FAQs that surround American Range fryers.
American Range is known for its chef-inspired, professional cooking equipment that can make the life of a chef much easier and a commercial kitchen run more efficiently.
Their equipment ranges from compact countertop frying systems to enormous stand-alone fryers, and I will look into the options available. I will also explain the things to consider when purchasing a fryer for a commercial kitchen and the different types of American Range fryers available.
At a Glance – Best American Range Fryers 
Why Choose American Range?
American Range has been making commercial kitchen equipment for over 40 years, and they have such a solid track record. More recently, within the last five years or so, they have merged into the domestic kitchen sector, which has been very well received.
With many professional cooks and bakers working from home, American Range ensures that they can use the same high-quality, commercial kitchen equipment used in the world's finest restaurants.
Home cooking makes up for a vast percentage of YouTube Channels, with some home chefs making millions of dollars per year – they would have to make a lot to consider an American Range product a worthwhile investment for a domestic kitchen; this isn't a brand known for affordable appliances.
American Range is a family business that began when the Demirjian family came to the US in the 1960s. The family had a background in plumbing, not catering, but developed their own commercial cooking equipment, which they began to retail in the US and overseas. Their commercial-grade appliances were greatly in demand by the late 1980s and are still so today.
The brand is the brand of choice among professional chefs and restaurants worldwide due to its renowned passion for excellence, advanced technology, and innovation.
Where to Buy American Range Appliances 
Due to the sheer weight and size of American Range appliances, you would be hard pushed to find them easily on sites like Amazon. However, they have a list of official distributors for their products, which you will find here.
You will be able to find American Range Parts at affordable prices and with low cost, fast delivery options at Amazon and other online marketplaces and retailers.
Now let's look briefly at what each American Range fryer category means.
Best American Range Fryer Categories
Professional Fryers 

Large Nickel Plated Fry Baskets
Double Panel Doors
Cool-touch Vinyl Finish

See Here 
Countertop Fryers 

Cooks 20-22 Lbs. of fries per hour
Stainless Steel Build
4" Adjustable Legs

See Here 
Fryers with Built in Dump Station 

High Efficiency Tube-fired Heating
Large Heat Transfer Area
Deflector/baffle Design

See Here 
Medallion Heavy-Duty Fryers 

Heavy-Duty 304 Grade Stainless Steel
Nickel Plated 2 Large Wire Fryer Baskets
100% Safety Shut-off

See Here 
American Range Professional Fryers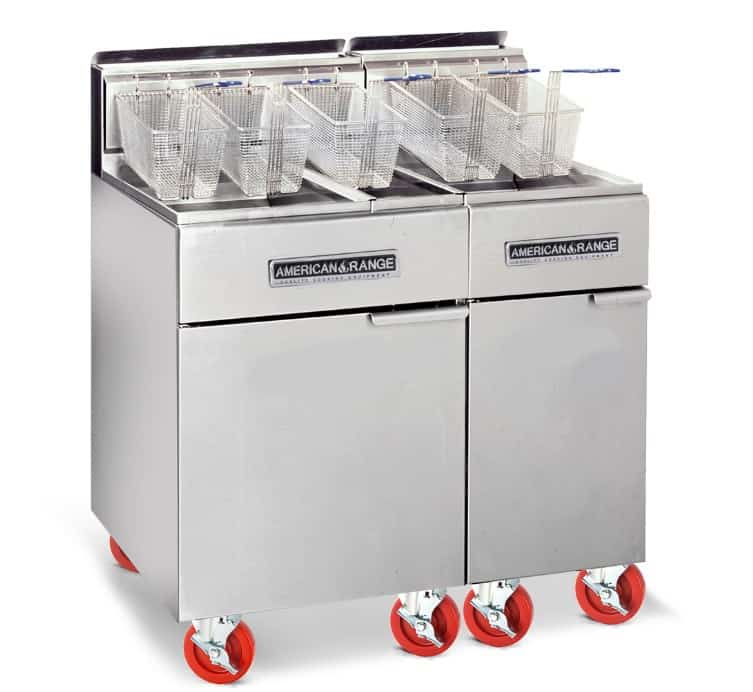 With capacities of 35-50lb, the deep fat fryers in the professional range deliver 200,000 BTU of heating power to suit the needs of a commercial kitchen. With the ability to create large quantities of fried foods, these floor-standing fryers are dependable workhorses appropriate for diners, cafeterias, cafes, restaurants, and fast-food outlets.
The stainless steel heavy-duty construction of the American Range professional fryers makes the appliances easy to clean – often, a simple wipe down with a damp cloth is sufficient. The steel build also protects the fryer from rust and corrosion. These models retail for around $5,000, so I would urge any purchaser to register their product in order to activate the warranty!
The available configurations for the fryers in the professional range are:
AF-25
AF-25/25
AF-35/50
AF-50/25
AF-50HE
AF-75
AF-DS
Pros
Up to 50lb Capacity
High-Grade Stainless Steel
Easy Clean
Cons
Expensive
Difficult to Source
Costly Delivery
American Range Countertop Fryers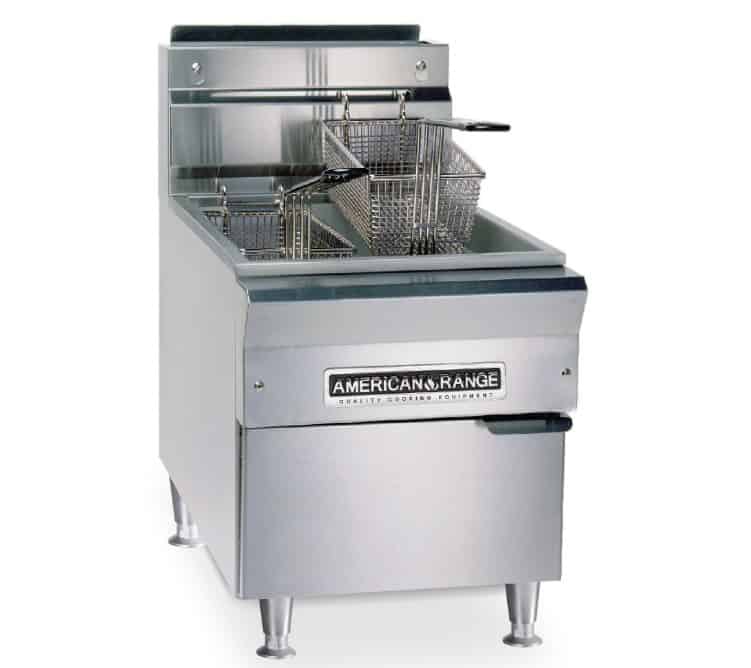 The American Range commercial countertop fryer is 14-in wide, with a 15 lb oil capacity. It delivers 30,000 BTU of heating power yet stands at a modest 26-in high. This fryer is ideal for commercial kitchens limited in space or for mobile catering vans that need to cook large volumes of fried foods in various venues.
Countertop fryers require some additional safety features, which American Range has adhered to expertly. Their countertop fryer will remain securely in place during cooking and has a 100% safety shut-off. It may be smaller in stature, but the two baskets can cook up to 22 lb of french fries in 60-minutes, making the fryer a great addition to any fast service restaurant.
The unit feels smooth and sturdy, with the stainless steel build being challenging to mark and durable to the environmental factors that could cause damage – such as rust or erosion. The standard countertop is 36-in tall, so when added to the height of the fryer, you must be way over 62-in (5-foot 1-inch) to use efficiently.
Pros 
Space Saving
100% Safety Shut Off
More Affordable than Most from American Range (around $1700)
Cons
High Shipping Costs (around $200)
Shorter Chefs May Struggle to Use Efficiently
High-end Price Point
American Range Fryers with Built-in Dump Station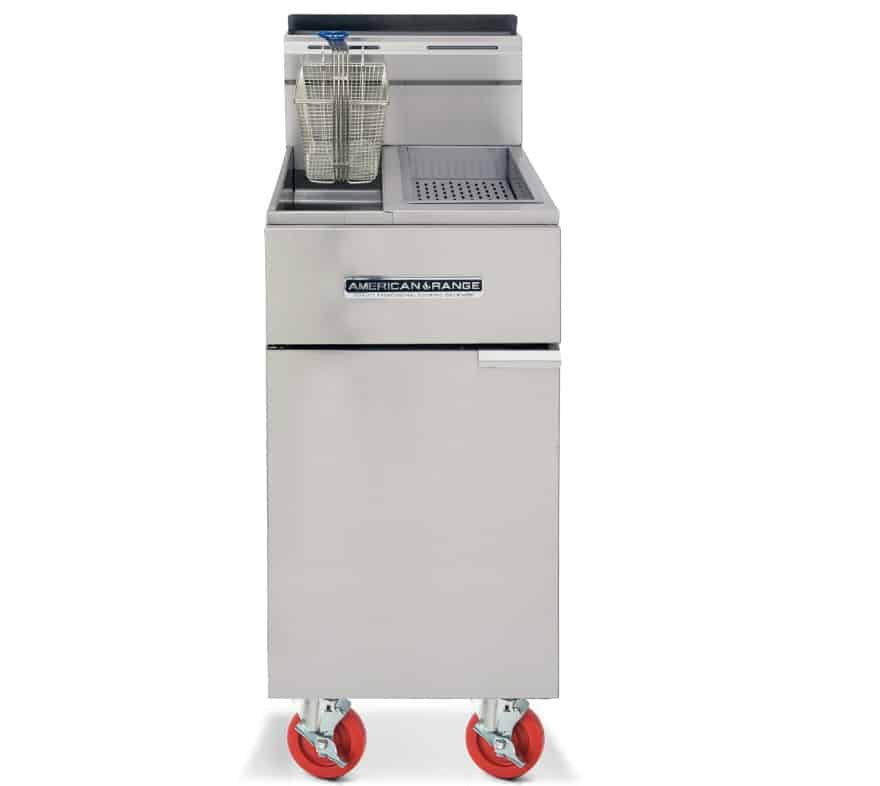 The AF25-DS American Range Fryer with Built-in Dump Station has more BTU and oil capacity than any other fryer in its category. The high BTU power allows instant recovery even during the most extreme cooking peaks; it also heats up incredibly quickly.
At 15.5 wide and with a 25 lb capacity, this commercial fryer can be known as a mini frying station that would make a great addition to a professional kitchen that either doesn't cook a lot of fried foods or is relatively limited space.
The lockable swivel wheels make moving this fryer simple, but it will remain secure once it is in place and cooking.
Pros
More BTU and Oil Capacity than Most
Instant Heat Recovery
Swivel Wheels
Cons
Expensive
High Shipping Costs
Hard to Source
American Range Medallion Heavy-Duty Fryers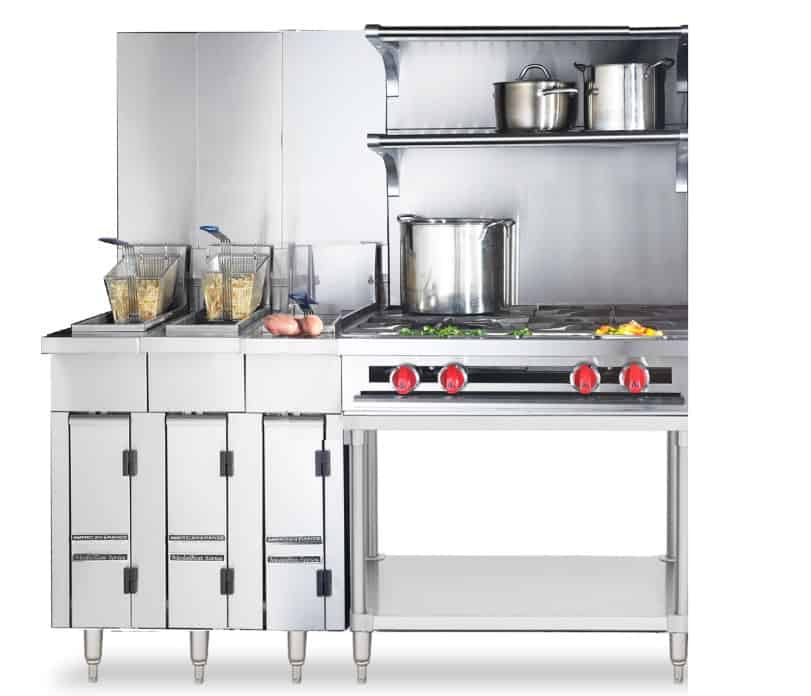 The American Range Medallion Heavy-duty Fryer is a beautiful unit that can stand alone or match several more if needed. Each fryer has an oil capacity of 40 lb and weighs 215 lb – these are not for mobile caterers! They are 36-in high and 17-in wide, so long and narrow, and constructed from high-grade stainless steel and nickel.
The stainless steel is heavy-duty 304 grade, and nickel-plated wire baskets and crumb screens protect the integral inner parts of the unit from rust or erosion. In addition, these fryers are high efficiency in a commercial kitchen due to the cast iron burners and millivolt temperature control circuit.
There is also a 100% safety shut-off which I feel should be an essential aspect of any commercial kitchen appliance, but sadly it is not. The double-layer access door is easy to remove and made from stainless steel. Chefs could opt for a rear gas connection too.
Pros
High-grade Stainless Steel
Nickel Plating
Large Oil Capacity
Cons
Heavy to Move
No Wheels to Aid Transporting
Expensive
Alternatives to American Range 
American Range is one of the major players, but they don't stand alone. The commercial appliance sector is a competitive one, and here are a few other manufactures of commercial fryers that you may wish to consider.
Frymaster – Best for Energy Efficiency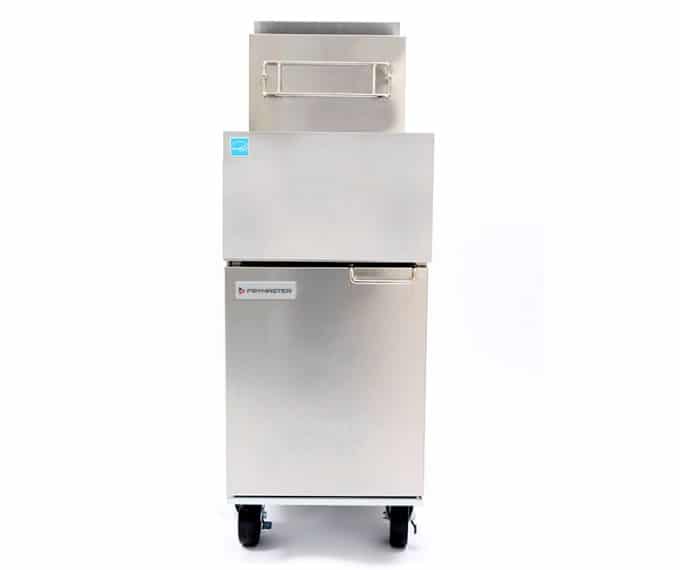 Frymaster is very similar to American Range because they both produce top-quality commercial kitchen equipment for professional caterers and chefs. In addition, Frymaster has a selection of fryers, rivaling American Range; take a look at their products here.
This company has constantly been evolving over an incredible 80 years to meet the ever-changing needs of clients. Their equipment is built to last and sits in some of the best restaurant kitchens in the country. They have a large selection of fryers, including energy-efficient, oil-conserving, and even an economy range.
Avantco – Best for Overall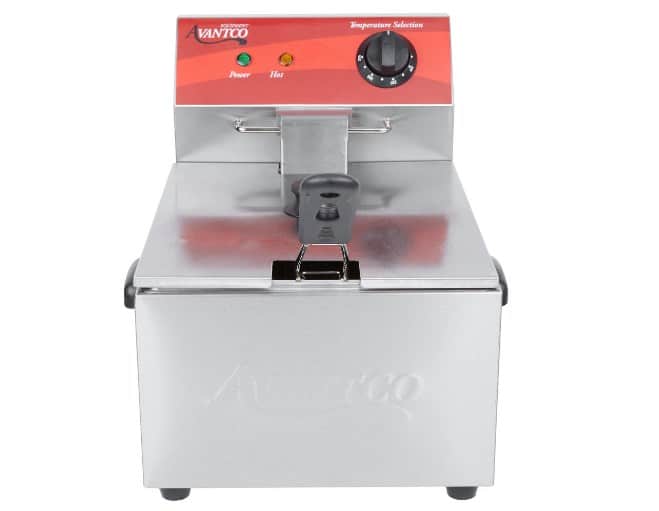 Avantco Fryers come in countertop form, free-standing and larger capacity. They'reThey're similar in price to American Range but readily available to purchase online – with fast shipping options. Avantco has a large selection of catering equipment for commercial kitchens that don't always cost a lot. This range includes professional meat slicers, which can be purchased on Amazon!
The commercial fryers by Avantco are compact units that are simple to use; some have valuable extras such as lift-out tanks and night covers. In addition, the dual-tank version has individual controls for each side, allowing for cooking two different foods simultaneously at two different temperature settings.
Designed to maximize efficiency while ensuring simplicity, the stand-alone range of phase one, phase two, and phase 3 fryers are excellent choices for busy professional kitchens that need durability, reliability, and longevity.
VIVIOHOME – Best for Budget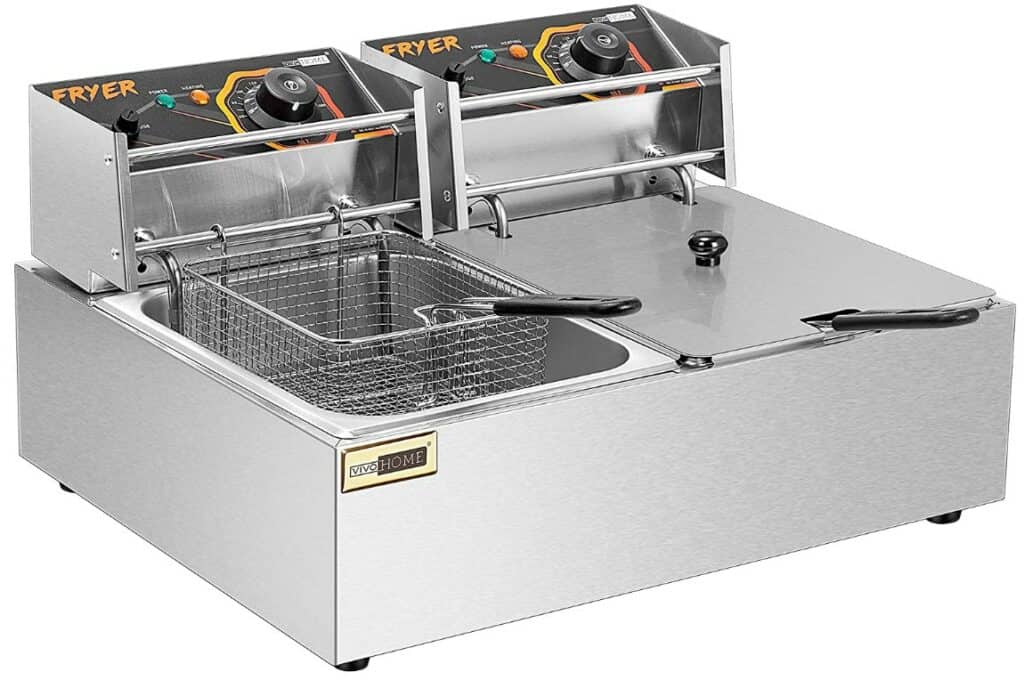 VIVIOHOME is a relative newcomer, having been established in 2015. However, they're rapidly extending and are now an international premium brand in the United States. With premium products at affordable price points being their primary aim.
VIVIOHOME Deep Fat Fryer is the number one bestseller on Amazon for commercial deep fryers. It is equipped with a powerful 2500W heating element in each basin which gives a hugely powerful performance. The food is fried evenly with the temperature maintained, and a heating indicator light will show when the fryer is on, off, or hot.
At 230℃, the fryer automatically turns off, which means it will never overheat and result in an accidental kitchen fire. There are two 10.36QT oil tank containers with two 6.35QT baskets. I like the cool-touch handles and the anti-slip feet, which both provide stability and additional safety.
This is a countertop fryer with dimensions of 22.44-in x 17.13-in x 11.81-in and total weight (without oil) of 18.11 lb.
My Verdict – Best American Range Fryers
The best fryers mean something different to each chef and every kitchen. If space is an issue, then American Range commercial countertop fryer could be the best option; these are more lightweight and a space-saving solution as they sit on an existing structure.
Fryers in the professional range are an excellent choice for busy commercial kitchens where food needs to be served quickly. The AF25-DS American Range Fryer with Built-in Dump Station has more oil capacity than most fryers, yet is compact in size and so suited to professional kitchens who cook fried foods on a less regular basis.