Latest posts by Jodie Chiffey
(see all)
Turbo Air refrigerators and freezers can be found in thousands of commercial kitchens all over the country. They are known for their efficient performance, durability, and reliability. But even the best products can break or malfunction. So, if you're wondering where to buy Turbo Air replacement parts conveniently and cost-efficiently, you've come to the right place.
This guide will help you navigate through the vast range of replacement parts and spare components for your Turbo Air appliances. I'll discuss the most common types of parts you might need, help you recognize some of the issues you might encounter with your appliance, and show you some of the best online stores for buying the parts you need.
Different Types of Turbo Air Replacements Parts
We all would certainly love to fill our kitchens with 100% reliable equipment that will withstand any hardship and serve us well for the rest of our lives without any major issues.
Unfortunately, this idea is not very realistic, although good professional kitchen equipment can come pretty close to it. You just have to be ready to commit to its thorough and regular maintenance, which can sometimes include repairs and replacement of some of the components.
Turbo Air is a brand with a great reputation. Their under-counter refrigerators, commercial freezers, and combined appliances are known to be exceptionally reliable and durable. But probably the best aspect of these machines is that even if they do eventually break or malfunction, they are usually easy to repair and return to an operating state.
Are you going through some technical issues with your Turbo Air fridge or freezer lately? These are some of the most common types of Turbo Air replacement parts you might need:
Compressor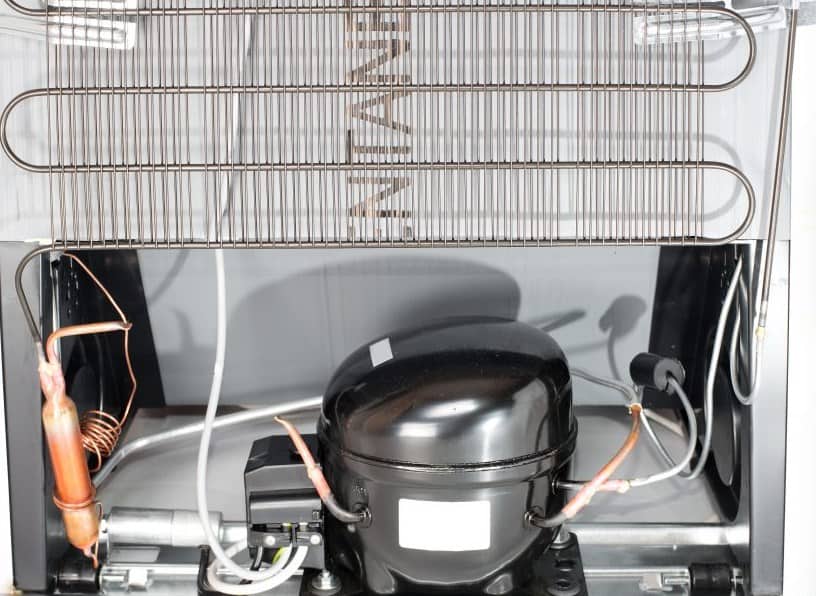 The compressor is a vital part of every refrigerator. Some might even say that it is the heart of the entire appliance, as it circulates the refrigerant around the whole system, adding the pressure that is needed to keep it hot.
The compressor also moves vapor away from the refrigerator's evaporator in order to maintain a lower pressure and temperature here. Then it sends it right to the condenser.
Refrigeration compressors come in different varieties: some are reciprocating, others are screw-type, scroll-type, or centrifugal. Their power (indicated in HP units) also differs significantly from model to model, so you must carefully choose the right replacement compressor.
Compressors are some of the most expensive yet also absolutely vital replacement parts on your Turbo Air refrigerator. Some users even claim that its malfunction is essentially the death of your whole fridge. Nevertheless, if your appliance otherwise works as it should, the investment is usually still worth it.
Control Board
If the compressor is a refrigerator's heart, the control board can certainly be perceived as its brain. The control panel basically distributes all the orders and directions throughout the whole system, enabling you to achieve the desired temperature, adjust the performance to your actual needs, or reset the whole machine if needed.
Again, this is, unsurprisingly, one of the most expensive components you might need to change on your fridge. As an electric component, it is quite sensitive to circuit/power supply problems, though, so it's not totally uncommon to experience its malfunction.
Gasket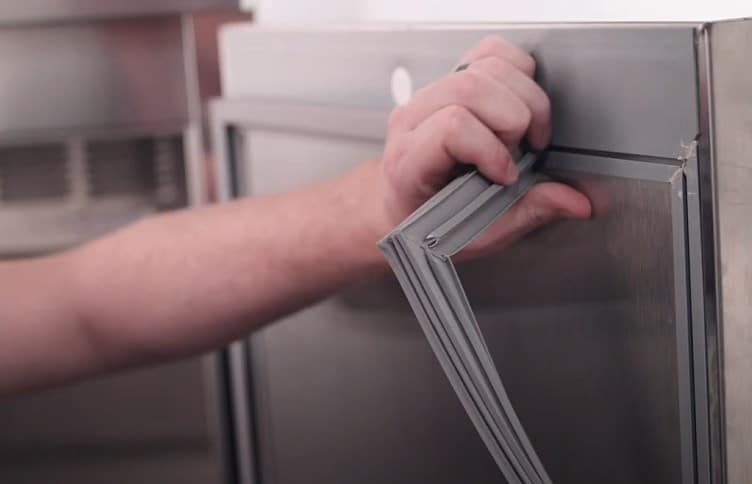 A gasket usually looks like a frame made of heavy-duty rubber. It works as an effective seal on your refrigerator's door. Due to the constant opening and closing of the commercial refrigerators and freezers, gaskets are some of the most commonly replaced components on these types of appliances.
The good news is that gaskets are relatively cheap and easy to replace in comparison with both of the previously mentioned parts. Just make sure that you get the right type and attach it to its place properly. It will help you prevent excessive energy consumption and prolong your fridge's lifecycle.
Sensors
Sensors are like the eyes, ears, or taste buds of your refrigerator. They are installed throughout the appliance in order to detect the current state and conditions within it and pass the information to the functional components.
Based on the actual features of your model and type of appliance, Turbo Air fridges and freezers can have different sets of sensors. Most commonly, though, you can come across freeze/defrost sensors, icing sensors, and temperature sensors.
When some of your sensors malfunction, your fridge or freezer will not be able to evaluate its current temperature or condition, so it won't be working correctly. Given that these sensors are relatively cheap and easy to reinstall, deciding on the investment is usually a no-brainer.
Common Signs That You Might Need Turbo Air Replacements Parts
Search for Turbo Air replacements parts is usually preceded by a failure, malfunction, or incident with your refrigerator. But are you sure you know what's wrong with your appliance and what replacement parts does it really need? Here's a brief troubleshooting guide that can help you recognize some of the most common issues with Turbo Air refrigerators and freezers:
The Fridge Is Not Cooling Properly:
This issue can be caused by a wide range of conditions and circumstances. It can happen either in a snap or gradually. It can be associated with minor issues such as leaking gaskets or even more serious problems like failing control boards or malfunctioning sensors. In any case, do not hesitate to resolve this issue before your fridge breaks down completely.
The Fridge Makes Weird Noises:
Some refrigerators standardly produce buzzing or squealing noises throughout their operation – and it's totally normal and fine. Nevertheless, some noises can also indicate that your fridge is going through some serious technical issues – particularly a failing compressor.
The Fridge Leaks Water:
If your fridge leaks water, it usually has a mechanically clogged drainage system. If you can access and locate the drain tubes, a thorough cleaning should resolve your situation quickly. Nevertheless, sometimes the tubes or drainage itself can also be damaged, which means that they must be replaced.
Ice Builds up In the Freezer Uncontrollably:
When your freezer constantly accumulates large quantities of ice, it can mean that it has a faulty seal. Unless you plan to use all the excessive frost to make ice cream, the seal gasket should be replaced immediately.
In order to avoid these issues in the future, pay attention to proper maintenance and don't overload the freezer with food that would create pressure on the door from the inside. If maintenance and gasket replacement don't help, you might be dealing with a faulty sensor too.
How to Recognize Good Turbo Air Replacements Parts
If you want to have your Turbo Air fridge or freezer repaired reliably, professionally, and conveniently, you might delegate the whole process to an authorized serviceman who should also be able to order the replacement parts you need autonomously.
Nevertheless, this is usually the most expensive solution. This process can also be quite lengthy in some cases, particularly when your repairman's contractual parts distributor doesn't have the component you need in stock. Ordering the part you need yourself can be a much cheaper and faster solution, but it also comes with a risk of buying unsuitable or low-quality parts – which is certainly something we all would prefer to avoid.
How to recognize good Turbo Air replacements parts? Here are some good tips and suggestions:
Look for OEM Certification
OEM stands for 'original equipment manufacturer,' and it marks replacement parts that were produced by the same company that produced the appliance you're trying to repair. OEM label is a guarantee of the part's originality and perfect compatibility. Original parts also usually last longer than and should come with a manufacturer's warranty too.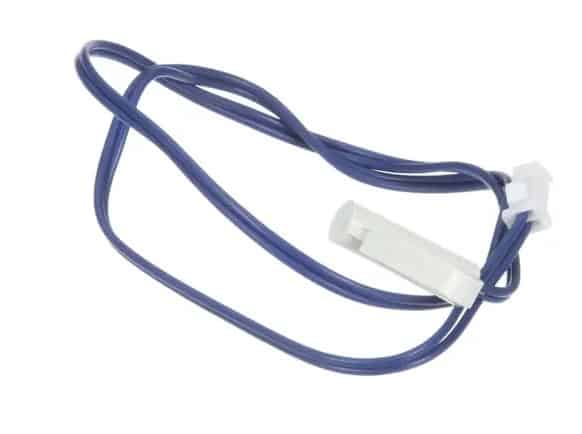 Although most Turbo Air refrigerators and freezers have a lot in common, different models, types, and sub-variants can come with incompatible components and parts. So before you order the first Turbo Air condenser, door handle, or sensor you see, make sure that it fits your specific appliance perfectly.
Buy From Reliable Resellers
Turbo Air's official website contains a detailed list of all of its official distributors around the country. While their buying conditions and price quotes can slightly differ, these authorized resellers should all be reliable sources of original top-quality TA parts.
Of course, even some unofficial stores can have original replacement parts in stock, but you should be more careful when buying your parts outside of the official distribution network. Read reviews from other customers and double-check the compatibility and origin of the parts to minimize the risk of disappointment.
Selection Criteria
Here are some other factors and criteria for you to consider before making the purchase:
Material
Sometimes you can find two interchangeable components that are made of different materials. Almost by a rule, the more delicate (and potentially less durable) one will cost you less, whereas the sturdier and stronger solution costs more. Which one to choose?
If we're talking about some less stressed and non-critical components, you can probably safely save some money by opting for a replacement made of less expensive material. But if you're looking for movable components, tactile surfaces, or rotary parts, choosing the best possible quality and durability should be your priority.
Original vs Generic replacements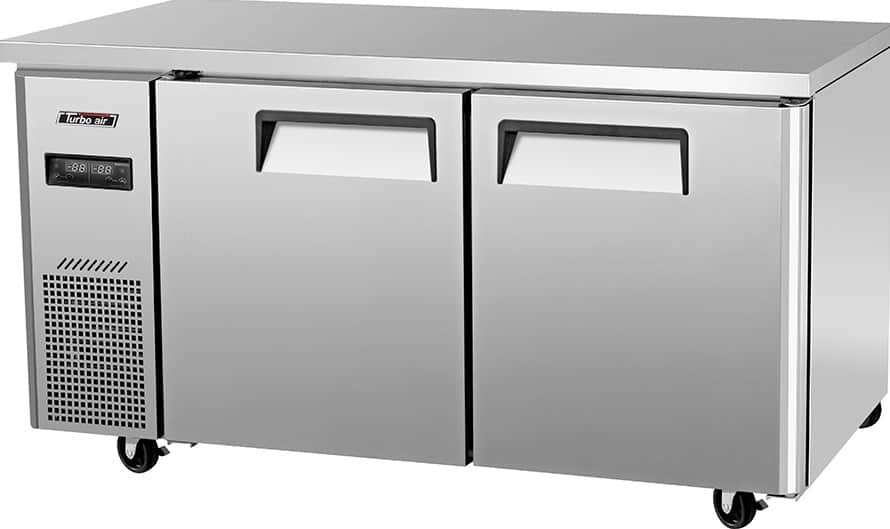 I have mentioned originality numerous times throughout this article already, and I have to get back to it once again: Yes, buying original replacement parts manufactured directly by Turbo Air IS the safest solution.
Nonetheless, sometimes you just don't have the luxury to go with what's safest. For example, it might be quite demanding to find original parts for some of the older models of TA appliances that were already discontinued. Or your tight budget simply won't allow you to invest $1,000+ in a new condenser.
In these cases, finding a generic replacement part made by other manufacturers can be your only choice. Choose wisely and carefully, especially if you're after some electronic components.
Budget
All of the aforementioned criteria depend mostly on your budget. So, how much should you expect to spend on the Turbo Air replacement parts?
Although there's no universal answer to this question, I recommend you to count the overall expenses on the repair thoroughly before ordering any products. Then you can evaluate whether the whole investment is really profitable, or if it won't be cheaper and easier to replace your appliance with a new one instead.
Where to Buy Turbo Air Replacements Parts: Top 5 Places To Buy From
Still not sure where to search for your Turbo Air replacement parts? Here are our top five most favorite online sources:
#1 Parts Town Store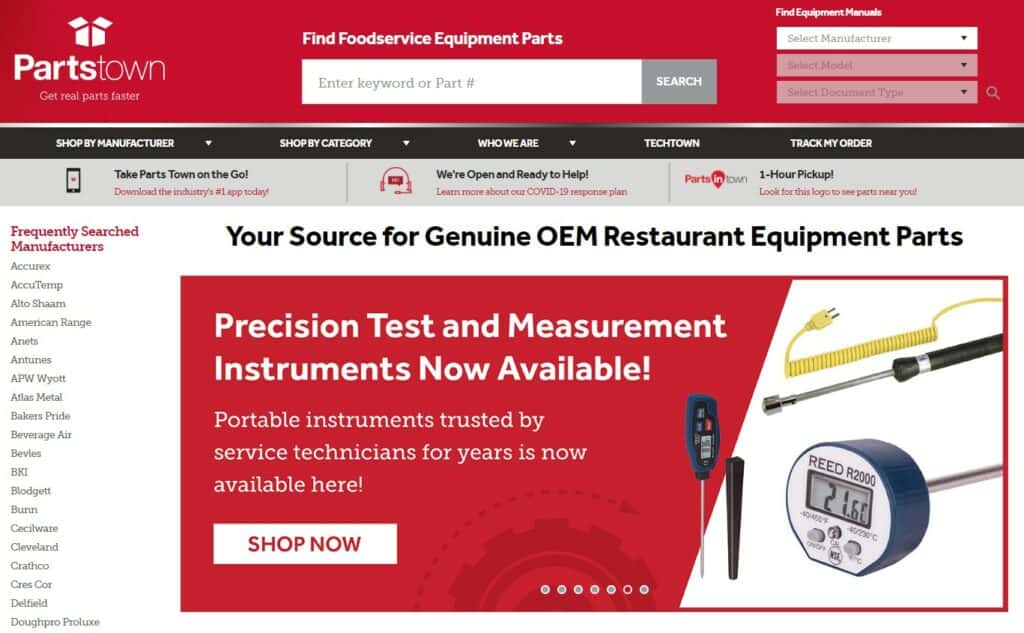 Parts Town is one of the best online sources of accessories and replacement parts for a wide range of kitchen appliances (and many other machines). Although the design of this store is quite plain and unamusing, the interface is very clear and simple, so you should be able to navigate towards the parts you need fast and easily.
When it comes to Turbo Air replacement parts, Parts Town has an unbeatable range of both mechanical and electronic components and spares. From the door gaskets and power rocker switches to fan controls, capacitors, thermostats, or various sensors.
This store has thousands of original Turbo Air products on offer, and most of them are also readily available in stock, available for immediate dispatch. That's great when you're under pressure and need your spare asap. If you're dealing with a limited budget, rest assured that prices here are quite competitive too. Moreover, the store also often has various similar options with different prices to choose from.
This online store also boasts wonderful customer reviews – it has a 4.5/5 score on TrustPilot with thousands of reviews praising its reliability, fast deliveries, and forthcoming customer service. On the other hand, some customers think that Parts Town charges too high shipping fees. Apparently, they also occasionally mess up some orders, although this seems to happen only very rarely.
Pros
Great variety
Simple navigation
Tons of replacement parts in stock
Fast delivery
Original certified products
Competitive prices
Great customer feedback
Reputable shop with a long history
Good customer service
Cons
Not too appealing store design
Quite high shipping fees – especially for small products
History of mixed-up orders
#2 Turbo Air Inc. (official store)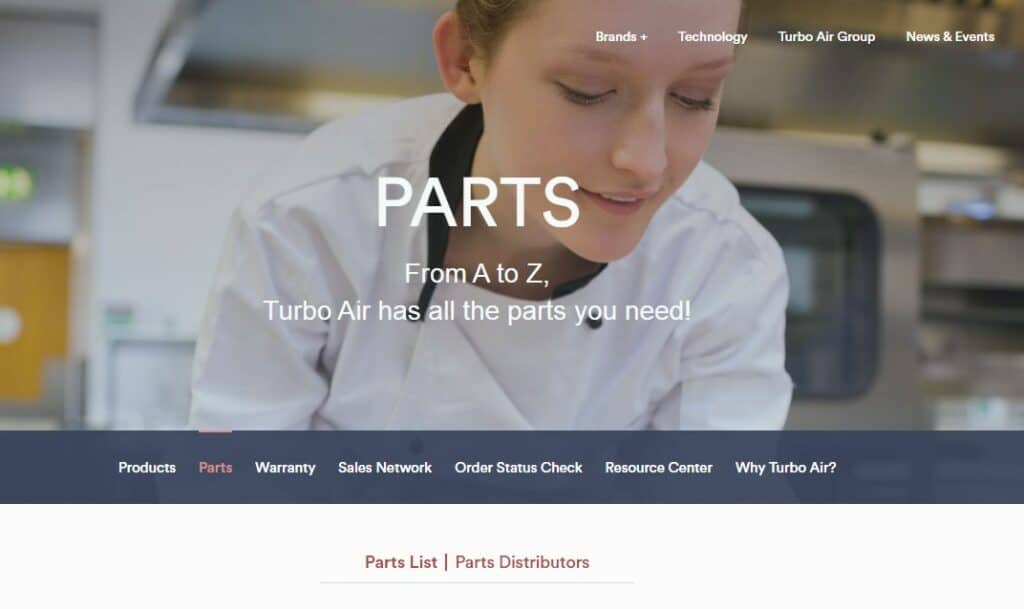 Unsurprisingly, Turbo Air has its own store filled with thousands of top-quality parts, components, and accessories for pretty much any of their currently sold and manufactured appliances.
For most of the authorized servicemen, this is the no. 1 source of Turbo Air replacement parts. After all, buying your parts directly from the original manufacturer comes with many undeniable advantages.
Firstly, Turbo Air store is the most reliable source of 100% ORIGINAL, perfectly fitting, and long-lasting replacement parts. So you can rest assured that you won't come across any cheap-looking, lamely constructed, or unfitting copies here.
The original manufacturer's shop also boasts the most accurate descriptions, and there's also a responsive customer service ready to answer all your remaining inquiries and questions. The prices' right at the source' is also often the best you can get.
Nevertheless, nothing is perfect. Turbo Air's native store is primarily oriented on the authorized distributors and service centers, so ordering a sole part as an individual customer here can be a bit complicated.
Most likely, the store will try to direct you towards some of its local distributors with higher rates and longer delivery times instead of serving you directly.
Pros
Parts directly from the manufacturer
You cannot go wrong with these super-accurate descriptions
100% genuine components and spares
Probably the widest range on offer
Professional customer service
Cons
Reserved mostly for professionals
#3 Tundra FMP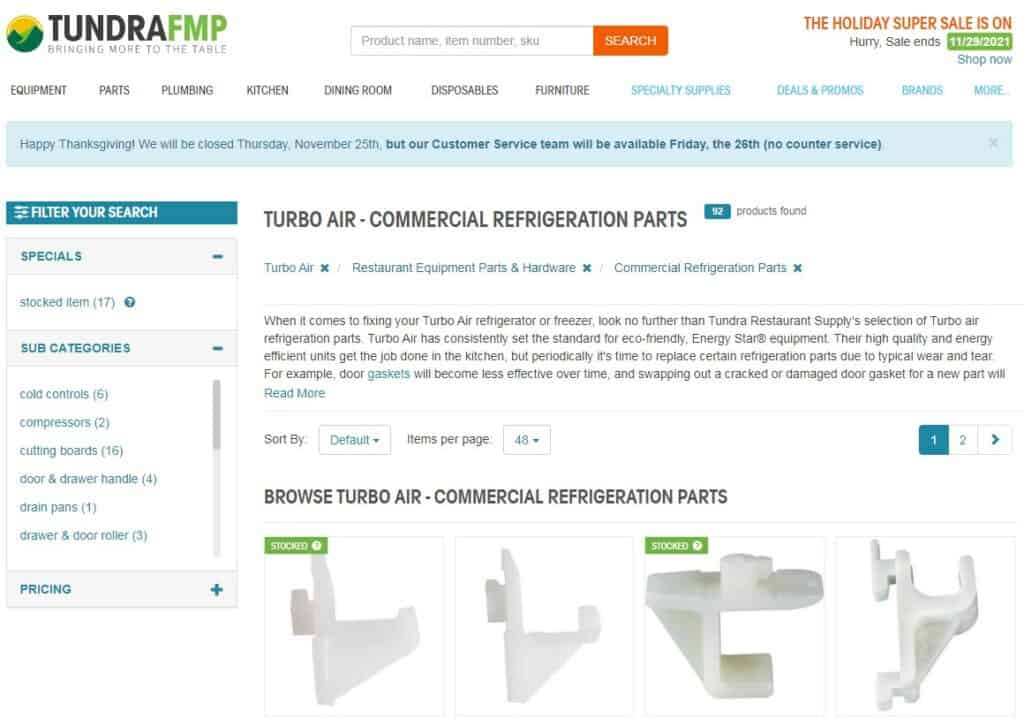 When it comes to Turbo Air refrigerator or freezer spare parts, Tundra Restaurant Supply is another great source of reliable products. This shop has a wide selection of neatly organized parts ranging from cold controls, drawers, door rollers to compressors, hinges, gaskets, and more.
Tundra has a user-friendly interface and tons of useful features, including verified customer reviews, live updates on stock availability, detailed descriptions, information on compatibility, and zoomable product pictures.
If you're after the best prices, Tundra shouldn't disappoint you either. If you're lucky, you can even find what you're looking for in some of the store's regular sales at a discounted price. This popular store also has some sort of a loyalty program for its regular customers – if you open your shopper account here, you should get access to even better quotes.
Another great benefit comes with free delivery on all orders exceeding $150 (subject to the promotional code, which is published directly on the site). You can also follow your order conveniently via the online Tracking feature.
​​Tundra restaurant supply boasts quite favorable customer reviews too. Most of them mention professionality, reliability, competitive prices, and a wide range of products as the store's greatest advantages.
Nevertheless, customers seem to experience occasional issues with the Refunds & Return policy of this seller. Apparently, people also sometimes receive their orders unexpectedly split into several parts, which can certainly complicate the repair of your appliance.
Pros
Good variety
Modern, neatly organized store
Regular promotions
Free shipping (conditions apply)
Loyalty program for regular customers
Online order tracking and other useful tools
Cons
Refunds and returns seem to be a bit complicated
Orders are sometimes split into several deliveries
#4 Amazon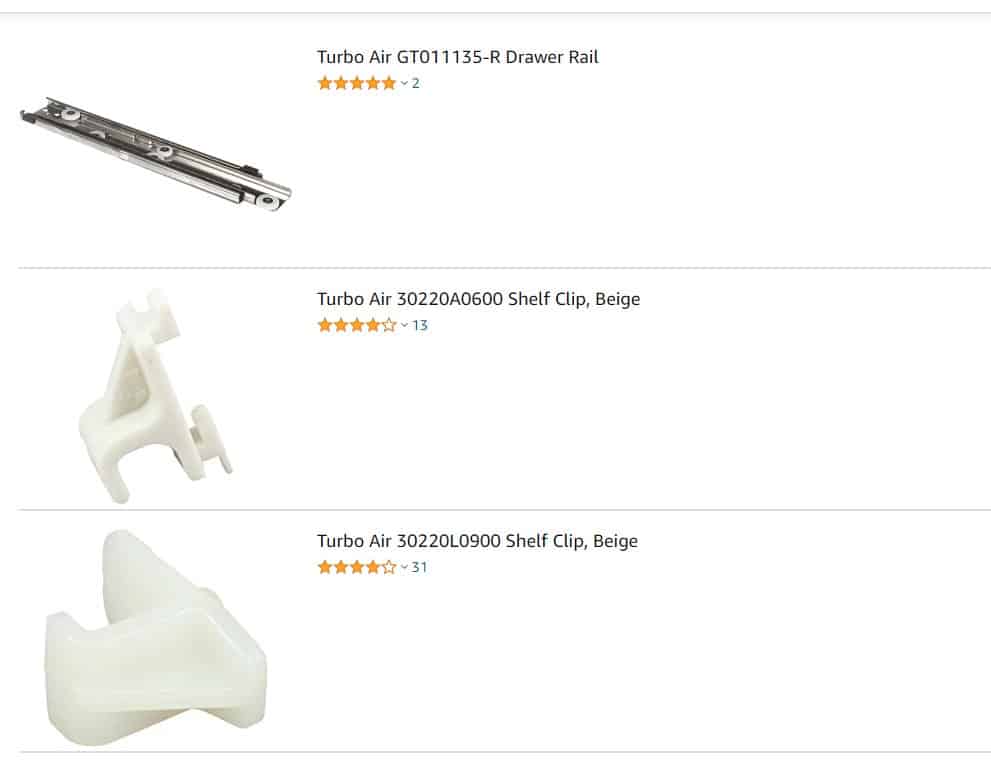 Amazon is a leading global marketplace offering pretty much anything and everything conveniently under one roof. The vast range of products now also includes Turbo Air replacement parts for many types of refrigerators and freezers from the brand's portfolio.
Why should you consider looking for the desired replacement parts at this address? Well, first and foremost, Amazon is widely recognized for its super-user-friendly design where all the products are sorted, filtered, and categorized by dozens of logical filters. This helps you find exactly what you are looking for almost effortlessly.
Secondly, Amazon gathers thousands of resellers from all around the world in one place, so instead of searching the catalog of a single store, you're combing through portfolios of many sellers at once. Your chances of finding some rarer parts are therefore much higher.
Lastly, Amazon offers thousands of first-hand customer reviews that can help you recognize a fishy seller/product immediately.
Unfortunately, Amazon doesn't do much else to guarantee the reliability of its sellers and the originality of the products sold on this marketplace. As a result, the platform is used by many resellers of cheaper yet also less reliable non-original products or even refurbished second-hand products, which can sometimes be hard to spot.
Pros
Huge selection
Neat organization
Lots of customer reviews
Competitive prices
Great source of rare/discontinued products
Everything under one roof
Cons
High concentration of non-original parts and components
Difficult returns and refunds if the seller resides abroad
#5 WebStaurant Store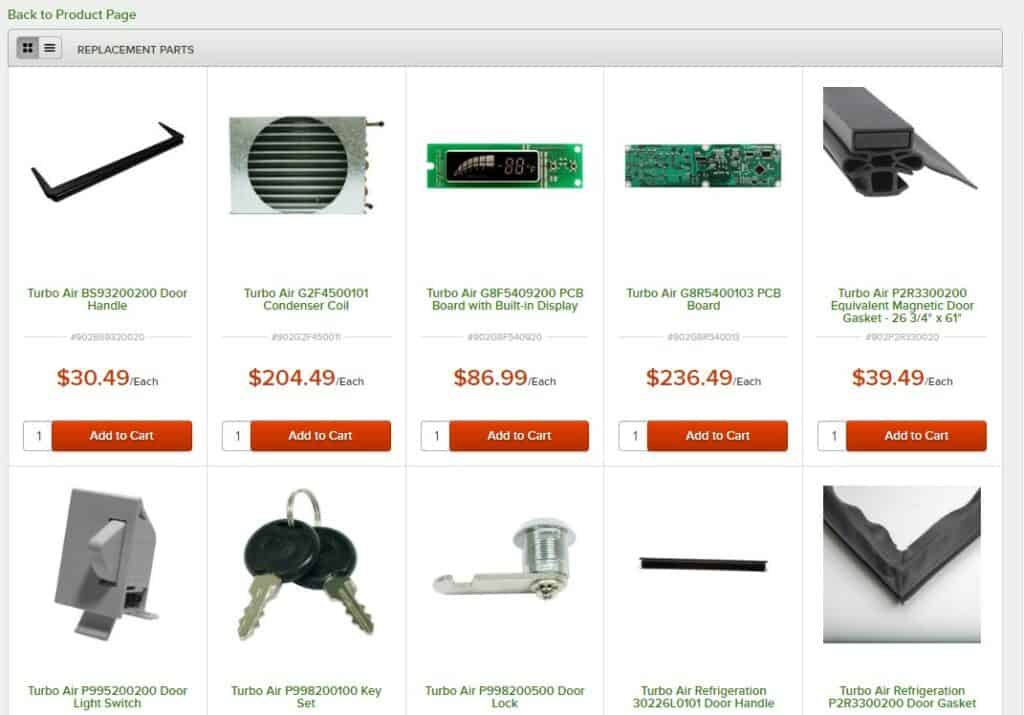 Webstaurant Store is another great online shop that should definitely be on your radar when you're looking for quality replacement parts for your Turbo Air refrigerator or freezer.
This platform focuses directly on professional kitchen equipment, so there's no-nonsense to distract you from your main interest. Its catalog contains thousands of original products at competitive prices, all neatly organized and thoroughly described.
You can also take advantage of the store's compatibility tables, user manuals, and customized suggestions. Moreover, an attractive rewards program allows you to earn credit for each posted user review, product picture, or video.
Webstaurant is also one of the most popular online stores among chefs and other gastronomy professionals, thanks to its professional customer service. If you're not entirely sure about the product you need, these guys are always eager to help and assist you.
On the other hand, some customers claim that the store should have a much more flexible returns policy, and it also reportedly takes quite a long time until your Webstaurant order reaches you.
Pros
Well-designed website
Lots of valuable information in one place
Wide range of replacement parts in stock
Rewards program
Professional customer service
Cons
Strict returns policy
Shipping sometimes takes quite long
FAQs
Question: What Is The Average Cost Of Turbo Air Replacement Parts?
Answer: This is highly individual. Whereas some smaller and simpler Turbo Air replacement parts (e.g., wires, switches, handles) can be very cheap (less than $10 per item), most components will cost you at least several dozens of dollars (sensors, thermometers), and some of the most sophisticated parts (condenser, control board) can even cost hundreds of dollars each.
Question: Is It Worth Investing In Turbo Air Replacement Parts?
Answer: Commercial-grade refrigerators and freezers are usually quite expensive, yet their life expectancy is also much longer in comparison with appliances for at-home use. Even though Turbo Air replacement parts and repairs can be quite expensive, it's usually still much cheaper than buying a whole new appliance.
On the other hand, if your fridge or freezer is already 10+ years old, and besides the most acute problem you're trying to resolve, it also has other faults and imperfections, you should consider if your investment in its repair is still reasonable. With older machines, you sometimes repair one component only to watch another one break down in a week or a month.
Question: How To Prepare A Fridge For The Installation Of Turbo Air Replacement Parts?
Answer: First of all, if you're planning to repair your fridge, you should take out everything that's stored inside all of its compartments. Removing any unnecessary movable parts (e.g., shelves, drawers, etc.) is a good idea too. If your fridge has a freezer compartment, you should defrost any accumulated ice and wipe it out dry. In case you're planning to replace any internal (or electronic) components, turn the fridge off and detach it from the power supply. Clean larger stains or debris inside and out. Now your refrigerator is ready to be repaired or equipped with replacement parts.
Looking for more kitchen-related shopping guides? I recommend reading some the following articles next:
• How to Find the Best Commercial Cutlery
• Best Banquet Table Options For Hotels And Restaurants
Best Crushed Ice Maker Guide: How To Find the Best Model for Your Budget?