The practice of making pasta from scratch is a rewarding and wholesome pursuit that has a great return on your hard work at the end of the day; a big hot bowl of delicious hand-crafted pasta. In a restaurant setting this is something that is rare to find but really sets the dining experience apart and makes it just that bit more satisfying knowing that someone crafted your pasta with their very own hands.
The added bonus of making your own pasta is that it is the healthier option since pasta you make with your own hands will be preservative-free. After you have gone through the process of making your dough, resting it, rolling it out, and cutting it the next stage is to dry it and that's when these clever drying racks come into play.
But why dry your pasta?
Drying your pasta allows the gluten to relax, firm up, and become less stick so it doesn't clump up and stick together during the cooking process. The resting can take as little as an hour but ideally, it is done overnight to fully dry it.
Once the pasta is dry it can either be cooked immediately for a few minutes or frozen as-is for a later date when you have made a larger batch. This can then be cooked directly from frozen as a home-cooked meal you can get on the table in twenty minutes.
So now we come to the purpose of this article: which pasta drying rack is the best for the job? There are a few criteria we are going to use to judge these racks and their efficacy:
Functionality– How easy is it to put together and how well does it do the job?
Capacity– How much pasta can each rack hold?
Storage– How easy is the stand to store and how much space does it take up?
Value for money– Is it worth what it costs?
Cleaning– How easy is it to clean after use?
Now with these criteria in mind let's have a look at what the best pasta drying racks are on the market right now so you can decide what works best for you.
Best Pasta Drying Rack Options: Our Top Picks
Pastabiz Plastic Pasta Drying Tray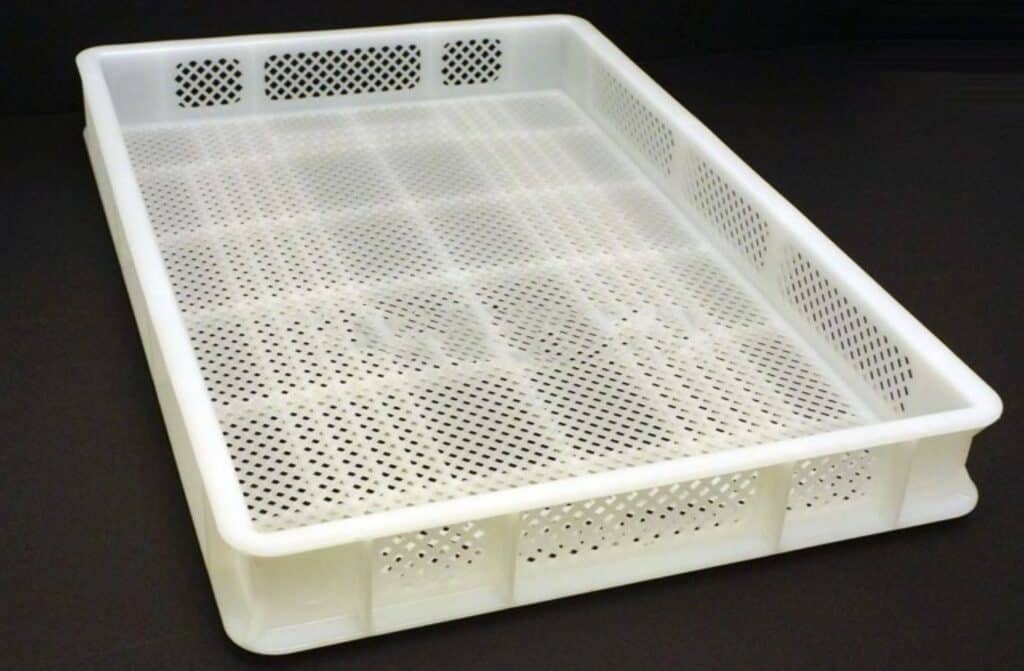 Now we're getting into the big guns. If you are producing a large amount of pasta for your restaurant or cafe then this kind of drying rack is what you need to be looking at. These trays are specially designed to be stacked on top of one another with enough gaps between so it remains well ventilated. This kind of rack is ideal for large batches and drying efficiently in bulk as quickly as possible.
Each tray is 23″ by 16″ and 1.5″ high and costs $29.99 each but there are discounted options if you buy more than one at a time which is great for large volumes of pasta. They are made up of a very heavy-duty chunky plastic that locks into one another when they are stacked on top of one another.
The base and sides of each tray are perforated with small holes that allow air to circulate from the sides, the top, and the bottom for the ultimate drying ability. Although these are quite large and bulky the fact that they are stackable means that you get a lot of drying space compared to the amount of floor space that your base tray will take up. You could stack these all the way up to the ceiling and take up no more floor space than one rack on its own.
So this rack is definitely functionally superior, has a high capacity, and is designed carefully to do its job but what about cleaning and visual appeal? Honestly, this design is all about the utility and since this will be finding its home in a commercial kitchen rather than in a home setting its appearance isn't that important.
Cleaning, however, is important and these are really easy to clean. Extra care should be made that every hole in the tray is clean but this should be no trouble in a commercial sink. Merely scrub them in hot soapy water and dry completely before storing in their stack.
On a commercial level, this design makes the most sense on every level. Its efficient, sturdy, and hygienic as well as being as economical with space was possible; this would be a great addition to any kitchen.
Pros:
Stackable
Easy to clean
Large capacity
Heavy duty
Very efficient drying
Cons:
Bulky
Takes up a lot of space
Eppicotispai Beechwood Stackable Food Dryer with Net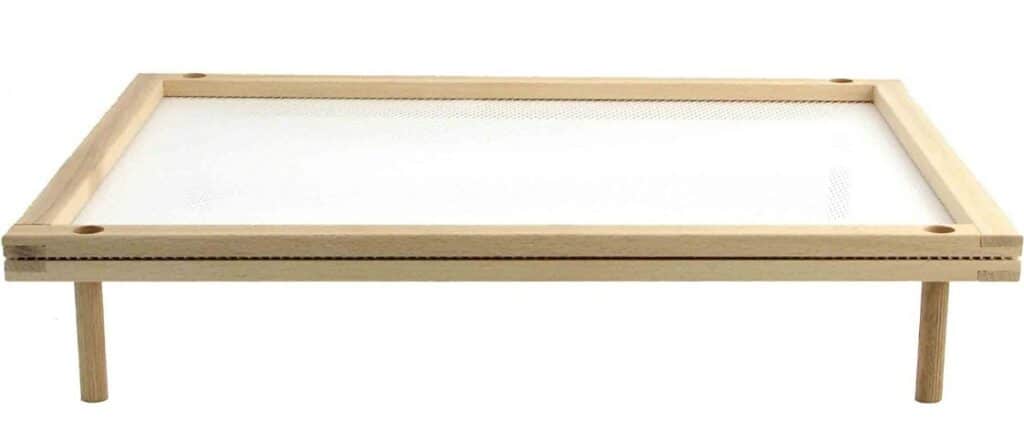 Like the drying rack above this one aims to dry large volumes of fresh pasta while it lays flat by increasing the airflow. The trays consist of a wooden framework that has a fine net stretched between them to cradle the pasta. The net is specially designed for food drying so it is totally food safe. This design allows for a lot of airflow around the pasta so it dries as evenly and as quickly as possible.
The wooden framework has specially design holes in each corner so another screen can be securely slotted in over the top to increase your drying space without taking up any more floor space. Each screen goes for $30 each so you can buy as many as you need and even grow your capacity over time as you stack them on top of one another.
The downside to this style of drying rack is that they are far harder to clean because the net holds onto stray bits of dough. The frame itself is also raw wood which needs to be carefully hand cleaned to prevent the wood from being submerged and growing mold.
A bonus of this type of drying tray, however, is that it can be used to dry multiple different items such as herbs or vegetables as the net itself is very fine and it won't allow bits to fall through to the layer below. This gives you a little extra bang for your buck and means it can be useful even when you don't have a batch of pasta drying.
All in all, this is an attractive and useful design that dries pasta quickly and efficiently so it would be a good choice in any kitchen. When compared to the Pastabiz drying trays, however, they are not as large or as sturdy which means you won't be able to stack as many and increase your drying space so if you're looking to pump up your output that might be the better option.
Pros:
Stackable
Large capacity
Very efficient drying
Cons:
Hard to clean
Takes up a lot of space
Lightweight
Haussler Pasta Drying Cabinet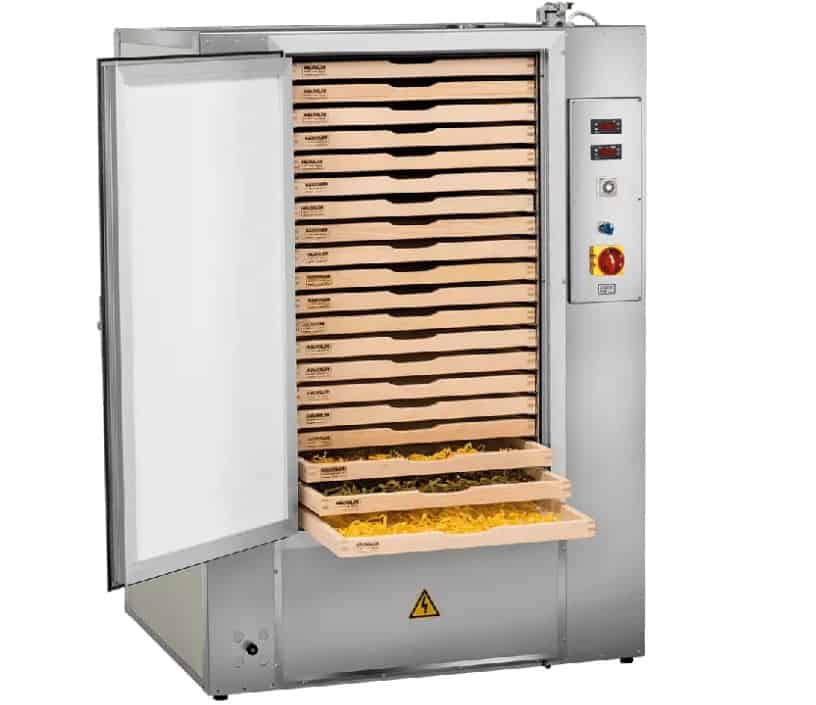 If house-made pasta is a focus of your restaurant and you are producing high volumes then this drying cabinet is a really great choice. This cabinet stands the same size as many ovens and is specially designed for drying pasta efficiently and hygienically in large volumes.
The drying process takes between 24-30 hours kept at a steady 30 degrees while the humidity is carefully controlled as the paste dries and releases its moisture. The body itself is made of stainless steel and they come in both semi-automated and fully automated models so the whole drying process can be hands-free and leave your staff free to get on with other tasks.
Inside the cabinet hold a neat stack of 20-25 24 by 30″ stainless steel drying racks that are perforated with small holes to increase the airflow. The pasta needs to be simply laid out on each shelf, slid back into place and the machine does the rest for you. This makes drying super quick and easy and, most importantly, consistent so you will never have any issues with your production.
Where this cabinet falls down, however, is with cleaning, electricity use, and price. This type of appliance is going to be an investment piece so you will need to budget for your initial purchase though once you have it if you maintain it well, you will have a great return on investment as it will last you years. Another cost factor that you need to consider is the electricity that this machine will be using.
The other commercial drying racks we have looked at already completely rely on natural airflow whereas this cabinet makes its own environment. This is a massive plus but will obviously cost you more to run after your initial purchase which is something you will have to factor in when making your purchasing decision.
Maintaining this appliance will be something that needs to be done thoroughly and regularly but removing all the racks and cleaning both them and the inside cavity to catch any stray piece of pasta that might have escaped. This may be a laborious process but if it is done often your cleaning job will be relatively straightforward.
Overall this drying cabinet is a really good choice for restaurants that are producing high volumes and really want to focus on quality house-made pasta production. It is a huge investment but at the end of the day, its usefulness makes it all worth it.
Pros:
Automated controlled environment
Large capacity
Even result
Efficient
Cons:
Takes up more kitchen space
Uses a lot of electricity
Expensive
For your at-home pasta pursuits or for small batches check these ones out:
Goziha Collapsible Drying Rack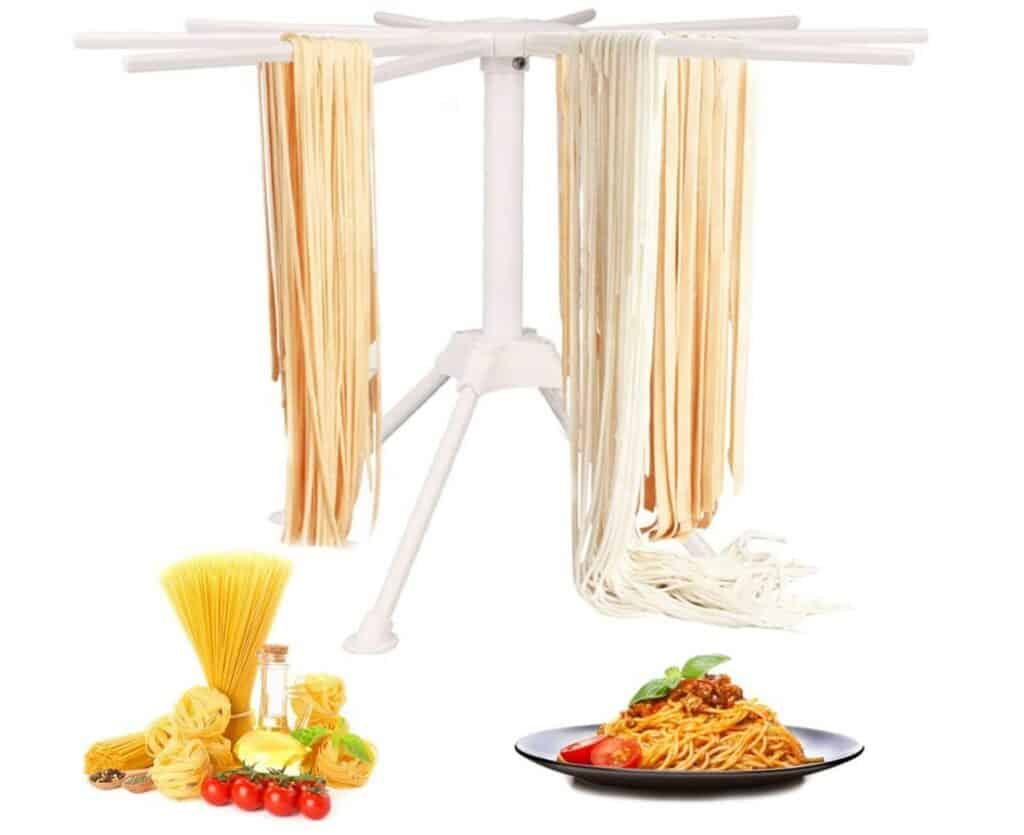 Right off the bat, we are starting with the option that is by far the best for your budget. This drying rack is $9.99 and made out of lightweight plastic that comes in three different colors so it looks like a cute, colorful tree on your countertop. When it comes to functionality each arm folds out and slots into place at right angles to the column to create the tree-like effect when it is finally erected.
The process of folding out each arm can be a little finicky but the process can definitely be sped up once you get used to it. This structure is lightweight but fairly solid once fully put together however you should be careful not to bump it while it's drying as it may be easy to knock over.
Capacity wise this can hold a small to a medium batch of pasta so it is perfect for a home setting cooking for an individual or small family.
Once you are finished using the rack it needs to be cleaned and with this one, you may need to be careful during this process. If you wipe it down with a wet cloth while it is set up you should be able to clean it relatively easily without getting any bits caught in the small fold-out mechanisms. However, once you start breaking it down you will have to be careful to clean up any excess flour and dough so they don't get caught up in the little nooks and crannies that will allow bacteria to grow.
Where this product really shines is in the storage. The base as well as each individual arm folds away neatly into a small, compact cylinder that is really easy to store away while taking up very little space in any cupboard or drawer.
This product may be made from cheap plastic, which isn't ideal but it has a lot of great utility in one small package. In short this rack is very affordable and it gives you a lot of bang for your buck so its great value for money.
Pros:
Easy to store
Looks attractive
Medium capacity
Affordable
Easy to clean
Cons:
Tricky to put together
Lightweight
Cheap plastic
X Home Collapsible Pasta Drying Rack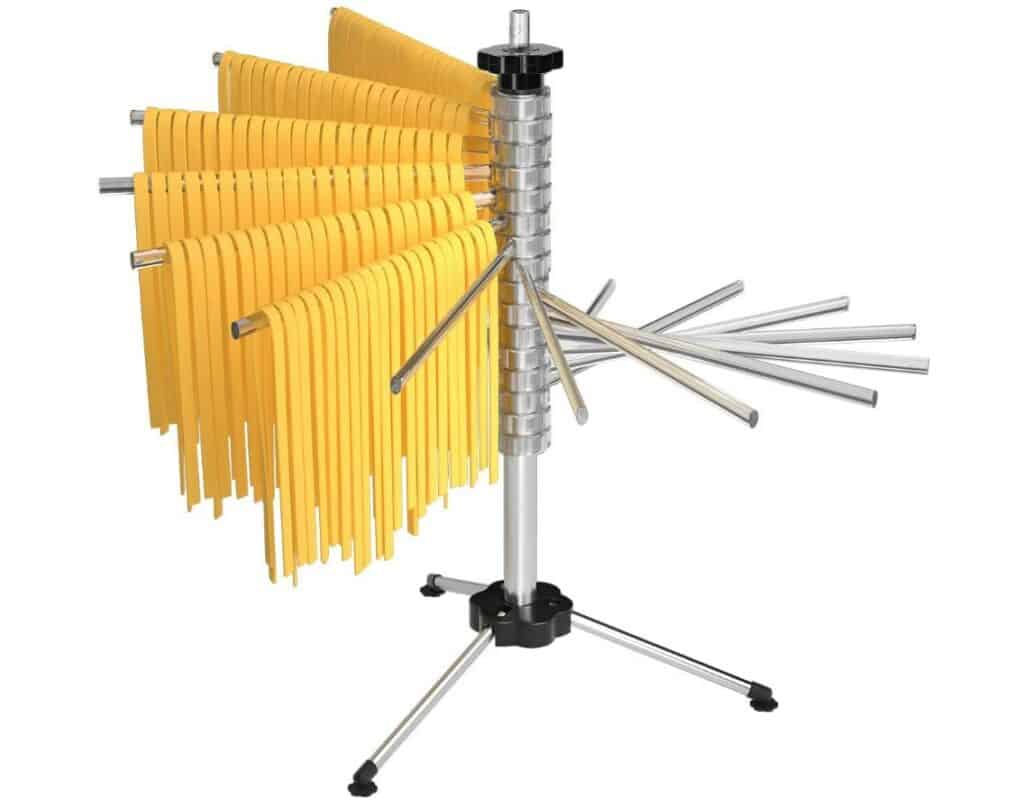 If you like to make pasta in large batches then this X Home drying rack is ideal as it has the largest holding capacity by far. Its stacked clear plastic arms fan out to create a stepped hanging space where no pasta will cross to avoid sticking. Each arm extends from the sturdy central trunk that holds them all in place.
This whole rack weighs 4 pounds with a wide four-legged base so it is generally sturdy and not easy to disturb. With this said once the pasta is on the rack you must ensure that the pasta is hung in an even way the whole way around the rack so that it doesn't unbalance and fall over. Luckily the stacked arms are really easy to adjust in a way that none of the previous racks have been so this one provides a lot of adaptabilities.
Another two things that these adjustable arms help with are cleaning and their overall visual appeal. Due to the fact that the arms can slide from side to side as well as up and down the trunk, they are easy to move out of the way, which makes the whole piece very easy to clean.
It is also constructed from a hard, smooth plastic that is easy to clean and won't stain. Once the whole product is put together with the arms fanning out it is really appealing to look at and once it is hung with pasta is actually creates a beautiful temporary display in your kitchen while you dry your creation.
Where this particular rack falls down is, again, with storage. It does collapse to a certain extent with the four legs folding away and the arms all stacking on top of one another. It is also all connected in one unit so there is no risk of losing any of the parts in the depth of your cupboards. However the arms and the support column in the center are rather large so it will take up awkward space wherever you are storing it even while it stores flat; which is something to take into consideration.
Overall is this worth the money? This product is $18.55; which is up there in price when compared to similar products on the market. You do get a lot of space for your money so this is a good investment if you tend to make large volumes of pasta at a time. The rack is also sturdy, which makes it feel high quality to match the price tag. Generally, a cheaper rack will serve you just as well as this but if you are rolling out dough frequently and in large volumes then this is a good solution.
Pros:
Large capacity
Attractive
Easy to use
Versatile
Sturdy
Cons:
Expensive
Hard to clean
Difficult to store
FAQs
Question: What is a pasta drying rack?
Answer: A pasta drying rack is a stand with a number of skewer-like arms branching out from it from which you hang fresh pasta to let it dry after cutting and rolling but before cooking.
Question: Why do I need a pasta drying rack?
Answer: These racks are a pretty important part of the pasta-making process because pasta is very glutenous and therefore sticky. If you don't carefully hang the fresh pasta on a rack to separate each strand then the pasta could get stuck together and clump up which creates a doughy texture when cooked so for the rest results always use a drying rack for between an hour and overnight.
Question: What can I use instead of a pasta drying rack?
Answer: There is one alternative to a drying rack that you can try but it definitely doesn't reproduce the same kind of result. You can try liberally flouring a surface and dry the pasta in small bundles that are well floured. This technique works but still risks sticking and clumping if the pasta is on the wetter side or you have not floured well enough.
Best Buy
So, after looking at all of these racks in detail which one do we recommend you purchase? When it comes to the best drying rack for large volumes then the Pastabiz plastic drying trays are the ones to go with. They are stackable so they are adaptable to whatever volume you produce. All in all, these are solid options for a pasta rack that would all be good solutions depending on your space, the volume of pasta, and of course your budget.