Latest posts by Alice Smith
(see all)
If you are the owner of a restaurant, hotel, or another type of food establishment then you know how important it is to maintain a high level of quality and consistency with the food you serve. One of the best ways to achieve this is to invest in high-quality commercial cooking equipment that will help your kitchen run smoothly and efficiently.
We're going to explore the best ovens, grills, ranges, microwaves, hobs, and more that come from trusted manufacturers from Lincat to Buffalo. If you're looking for something affordable but still high quality, then this blog post might just be exactly what you need. Read on to find out which brand has the best commercial cooking equipment for your kitchen!
Why do you need commercial cooking equipment?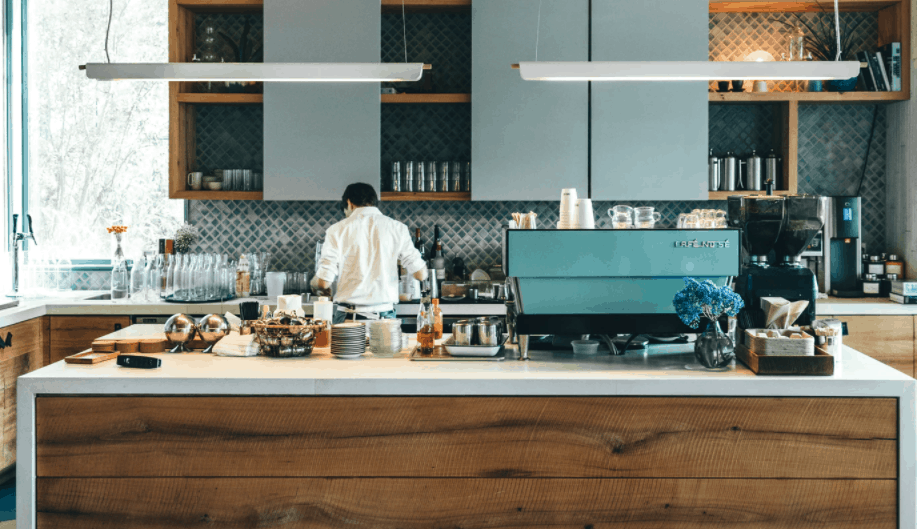 Cooking equipment is the beating heart of any commercial kitchen. Without the right equipment to cook your food, serving options will be limited. And yes, commercial cooking equipment is expensive. But it's also specifically designed for heavy-duty kitchen work.
These high-powered appliances can handle any task you throw at them – from cooking your house favorite to perfection, to whipping up a basket of hot, crisp, fries. Commercial cooking equipment is also designed to be used in all kinds of settings, from upscale restaurants and hotels to hospitals and cafeterias.
Whatever your commercial space requires – ovens, grills, ranges, microwaves, hobs, or more – you'll find it here!
What Cooking Equipment Do You Need for a Commercial Kitchen?
So, what do you need for a commercial kitchen? These are some of the most popular pieces of commercial kitchen equipment:
Ovens
Grills and Griddles
Chargrills
Salamander Grills
Ranges
Hobs
Microwaves
Deep Fat Fryers
Slow Cookers
Toasters
Specialist Equipment
Let's dig into each of those in a little more detail.
Ovens
Ovens are often the essence of the kitchen. They are used to bake, roast, and even steam a wide range of dishes. There are many different types of ovens: convection, combi, steam ovens, or specialty ovens. Each can be used in different ways and you can also get a gas or electric version of each. Here's a quick list of things to consider before buying an oven:
Types of food – Make sure to choose an oven that fits the types of for you will most frequently be serving.
Speed of cooking – If you'll be cooking on a tight schedule, then choose an oven that can get up to high temperatures quickly.
Energy use – As well as upfront costs, also consider long-term costs. You won't want something cheap upfront that's going to cost an arm and leg to run going forwards. You'll also need to decide if gas or electricity suits you better.
Size – Make the best use of your space. You don't want an oven too bulky that'd going to get in the way, nor do you want one that'd going to fill up frequently and hold up your restaurant.
Price – Evaluate your budget prior to heading into a store so you know what items are not within your price range.
Reliability – Quality materials will last. Your oven will be crucial to your restaurant so be sure to pick one that will last.
The oven you choose should reflect what you need to use it for. For example, if you plan on cooking a lot of bread at once, it's best to get an oven with heating elements in the top and bottom, so they heat up evenly. If you plan on steaming lots of vegetables, get a steamer or a combi. But make sure you consider your usage thoroughly before you buy. These are some of the best ovens currently available:
The best convection oven
Waring Commercial WCO500X Convection Oven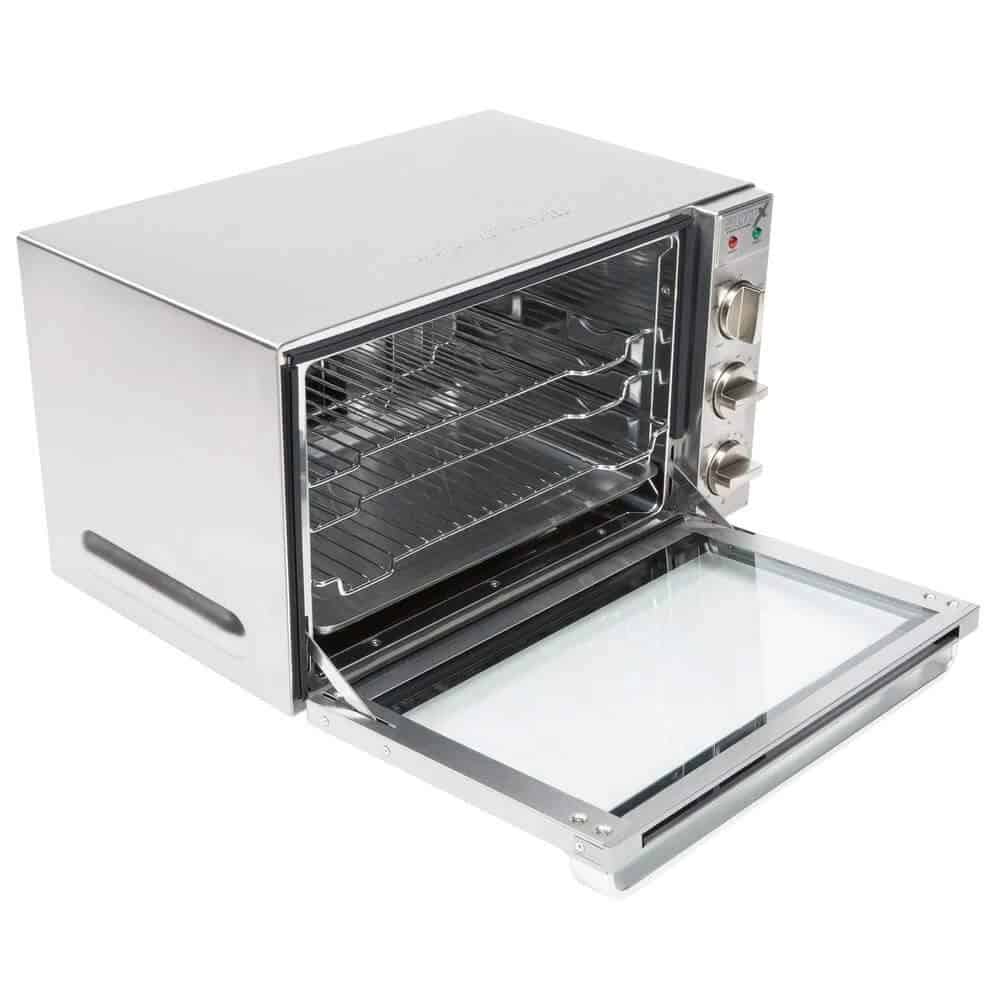 Waring's Convection oven is a beautifully designed machine with plenty of fantastic features. The oven is set for standard ½ sheet baking trays and can bake, roast, convection bake, or broil.
It is made from hard-wearing stainless steel, making it ultra-durable, and the included steel drip pan makes it easy to clean. The clear double-pane glass door allows you to see what you're cooking and the dials make it easy to change the settings.
Pros
Multiple cooking method settings available
Clear view double pane glass
Includes stainless drip pan for easy cleaning
Cons
Pricier than some other models
The best combination oven
Rational SelfCookingCenter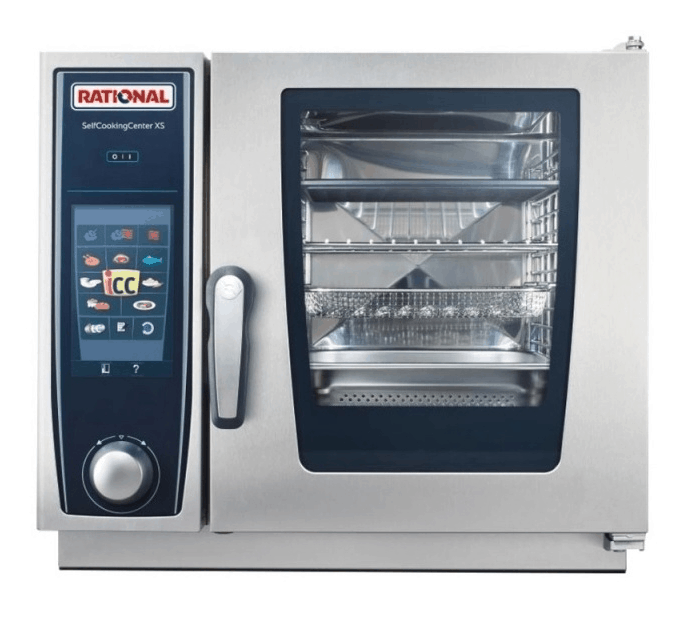 One of the most popular oven brands on the market, Rational is a genius when it comes to innovative commercial cooking equipment. Their SelfCookingCenter does what it says on the tin: it is a convection oven, steamer, combination oven, and cleaner in one.
You can grill, roast, bake, steam, stew, blanch, or poach with this incredible machine. It does all the monitoring and checking for you, setting the temperature you need, monitoring the humidity, and even setting you a timer. Your perfect cooking companion for every dish imaginable, the SelfCookingCenter is one of the only ovens to actually learn what your cooking habits are and implement them.
Pros
Built-in intelligence learns your cooking habits
Cook an entire meal with one appliance
Self-cleaning feature
Multiple size options to fit your space
Cons
The best steamer oven
Lincat Atmospheric Electric Steamer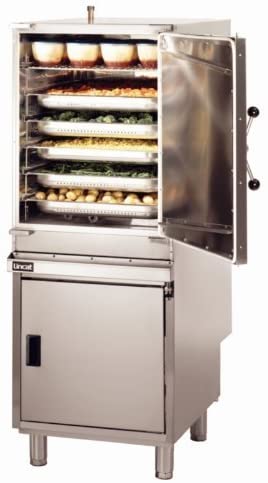 Ideal if you're cooking large qualities of fish, rice, or vegetables, Lincat's Atmospheric steamer will retain the color, texture, and nutrient levels of your food compared to other cooking methods.
It has space for up to 6 trays, meaning you can cook an array of different dishes at once and its electric power source gives it a quick 15-minute heat up time. It's also easy to clean – the stainless steel design makes it simple to wipe down and sanitize.
Pros
Can hold up to 6 trays at once
Perfect for cooking multiple items at once
15-minute heat-up time
Stainless steel easy clean design
Cons
Electric option may cost more to run
Won't work through a power outage
The best pizza oven
Fornetto Alto Wood Fired Pizza Oven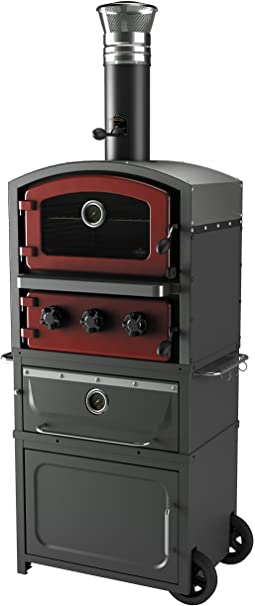 Created with chefs in mind, the Fornetto Alto Wood Fired Piza Oven is versatile, effective, and ideal for any pizza connoisseur. This outdoor oven works not only as an oven but as a smoker too. It has a pull-out rack for easy maintenance of the wood or charcoal and has a pair of wheels for easy maneuverability.
The attractive black design will make a stunning centerpiece for any pub or restaurant garden. But it's practical as well as pretty, as it can reach temperatures of up to 650°. Plus, its steel cast iron material is also highly durable and easy to clean.
Pros
Sleek, attractive look
Can also be used as a smoker
Easy to clean, durable material
Can reach temperatures of up to 650°
Cons
Can only be used outside
Might take some practice for beginners to use
The best potato oven
King Edward Bake Solo Oven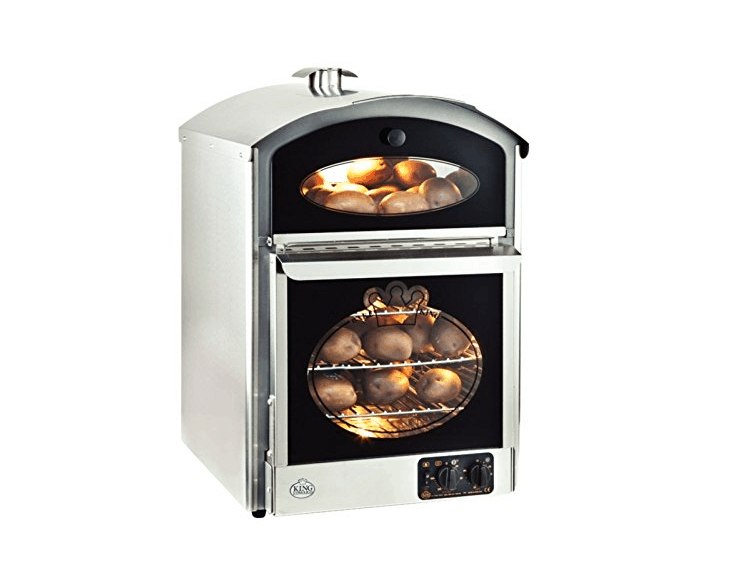 More than just a traditional potato oven, this clever machine by King Edward, is capable of holding up to 3 Gastronorm dishes. This gives it plenty of space to cater to the busy jacket-potato lunch rush. But, it's also compact in size, taking up less than half a square meter, making it suitable for smaller restaurants as well as larger establishments. The glass-windowed front allows both you and your customers, to see what's going on.
However, as I mentioned, it's more than just a potato oven – although it has the traditional potato oven look, it's technically a convection oven, so you can cook other items (like pizzas) in here too. It's ideal for smaller spaces that serve a variety of dishes and don't want an oven that takes up too much room.
Pros
Compact for smaller spaces
Versatile – can cook more than just potatoes
Paneled, glass window
Cons
Can only go up to 250°
Can't hold as many potatoes as other designs
Grills and Griddles
Commercial grills, like ovens, come in two types: gas and electric. Gas is best if you need high heat quickly. This is ideal for fast-paced cooking environments such as hotel kitchens or schools where there may be many people using the grill simultaneously. When choosing a grill, you'll need to consider:
Gas or electric – Like ovens, gas tends to heat up quicker than its electric counterparts. However, electricity is usually more flexible than gas and more portable – great for mobile catering.
Material – Griddles are usually cast iron, chromed, ceramic glass, or steel surfaced. Each has different qualities, and you'll need to decide which works best for you.
Surface – Do you want a flat grill or a ridged grill? If you're cooking lots of eggs or pancakes, flat is ideal, whereas for steaks, burgers, or chunky veggies, ribbed will give professional grill lines on your dishes. You can also get a combination of both if you have space.
Griddle positioning – Do you want a free-standing grill or a countertop grill? What type you choose typically depends on the size you have available.
Price – Once again, this will all depend on your budget. It's best to work this out before you start grill shopping.
So, now that we've looked into a few grill-buying consideration factors, let's dive into a few of the best grills on the market at the moment.
The best contact grill
Lincat Lynx 400 Electric Twin Contact Grill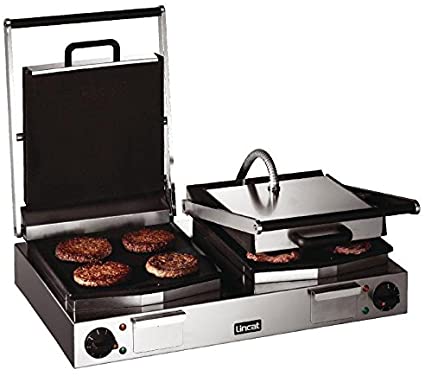 If you're looking for the best way to make bacon rolls, paninis, or other grilled foods look professional and taste delicious, look no further than this contact grill by Lincat. The double grill solution is perfect for busy restaurants, although small establishments can also opt for the same grill in a single version.
It features simple dial controls for exceptionally easy use and each side is independently controlled, meaning you can switch one side off if you no longer need it. The cast-iron cooking plates are long-lasting, ensure food is cooked consistently all over, and will simply wipe clean after a busy shift. You can even cook from frozen without the grill losing heat.
Pros
Double sides grill for busy professionals
Independently controlled sides
Easy to clean
Suitable for cooking from frozen
Cons
Bulky
Both sides have smooth plates
The Best Salamander Grill
Buffalo Salamander Grill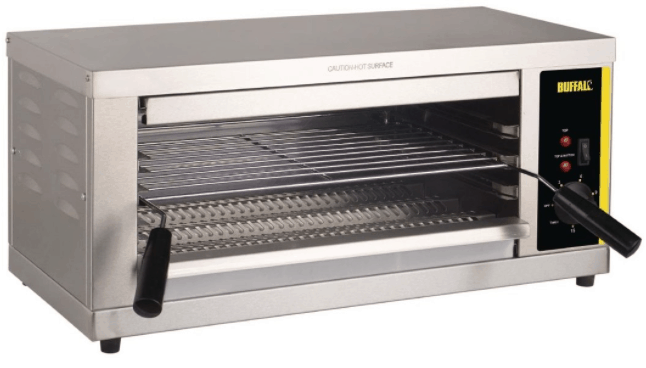 Whether you need to melt cheese on homemade burgers or toast a panini for lunch service, the Salamander Grill from Buffalo is a great choice in any commercial kitchen. It features a total of 3 shelves, so it has plenty of room for busy restaurants and smaller cafes alike. It also has variable heat controls for perfect cooking every time.
The built-in waste collection tray and removable upper and lower splash guards make cleaning the grill a breeze. If you have limited time and space, this is perfect for you. Plus, the stainless steel material means the grill will be with you for a long time and can withstand the hectic, frequent use of a busy commercial kitchen.
Pros
3 shelves give plenty of cooking room
Variable heat controls
Built-in waste collection tray
Removable splash guards
Cons
Fixed, so not suitable for portable kitchens
Some accessories cost extra
The Best Chargrill
Central Restaurant CBR-24 Charbroiler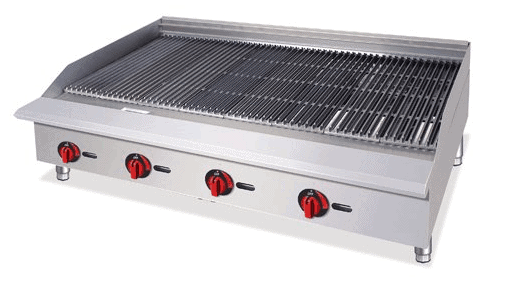 This charbroiler by Central Restaurant features U-style, stainless steel burners, flames every 6 inches on charbroiler grates, and temperature controls every 12 inches. This gives chefs much more control over how their meat is cooked and is just one of the things that make this grill stand out from the crowd.
It has reversible racks made of cast iron, and a backsplash and side splash will help to keep other parts of your kitchen clean and free from grease. All of the grates, racks, and radiants can be easily removed for quick, thorough cleaning. It has a grease pan too, which can also be removed with ease. The stainless steel legs are adjustable and non-skid.
Pros
U-style stainless steel burners
Flames every 6 inches
Temperature controls
Backsplash, side splash, and removable grease pan for easy cleaning
Cons
Heavy and large – may not be suitable for small spaces
The Best Kebab Grill
Li Bai Doner Kebab Shwarma Gyro Machine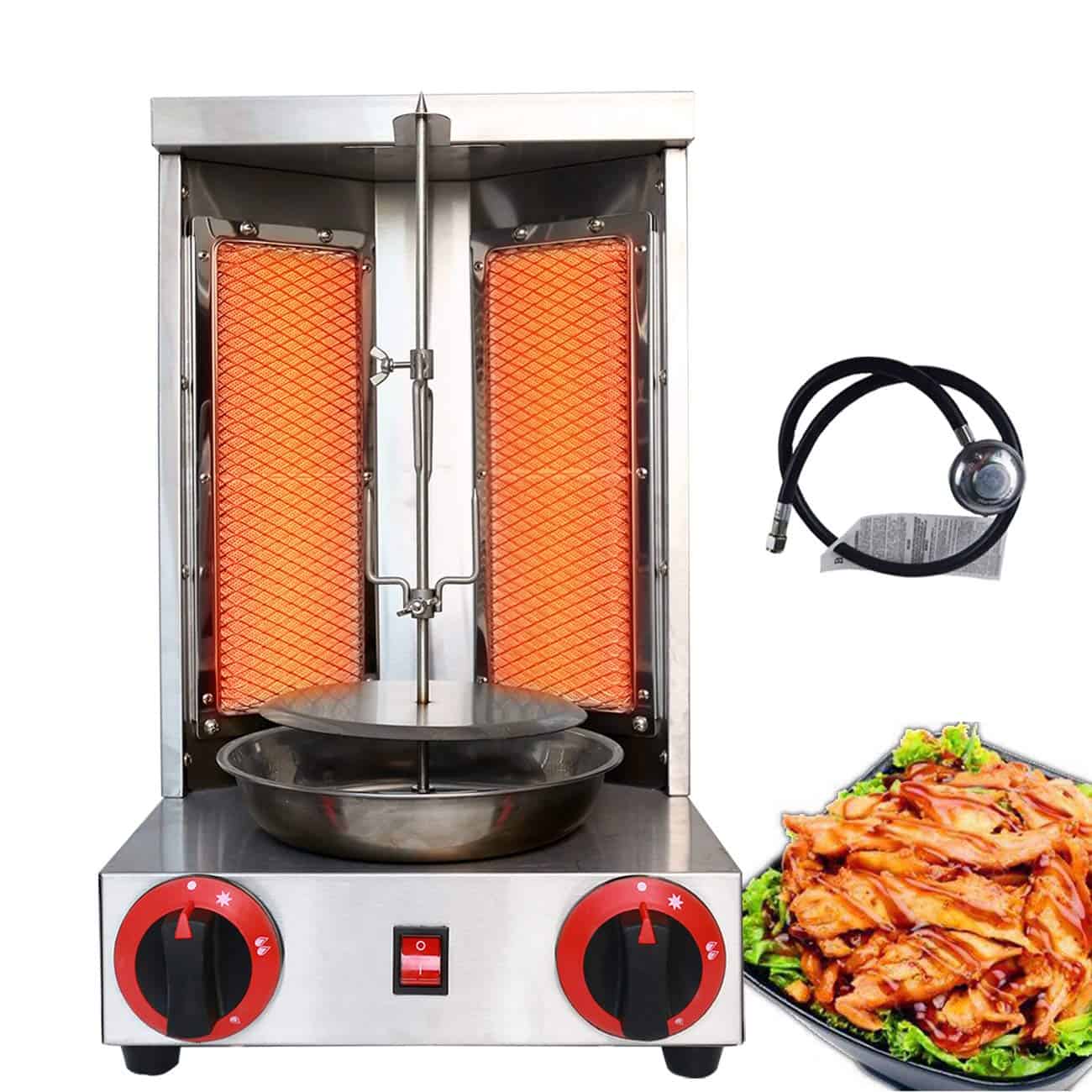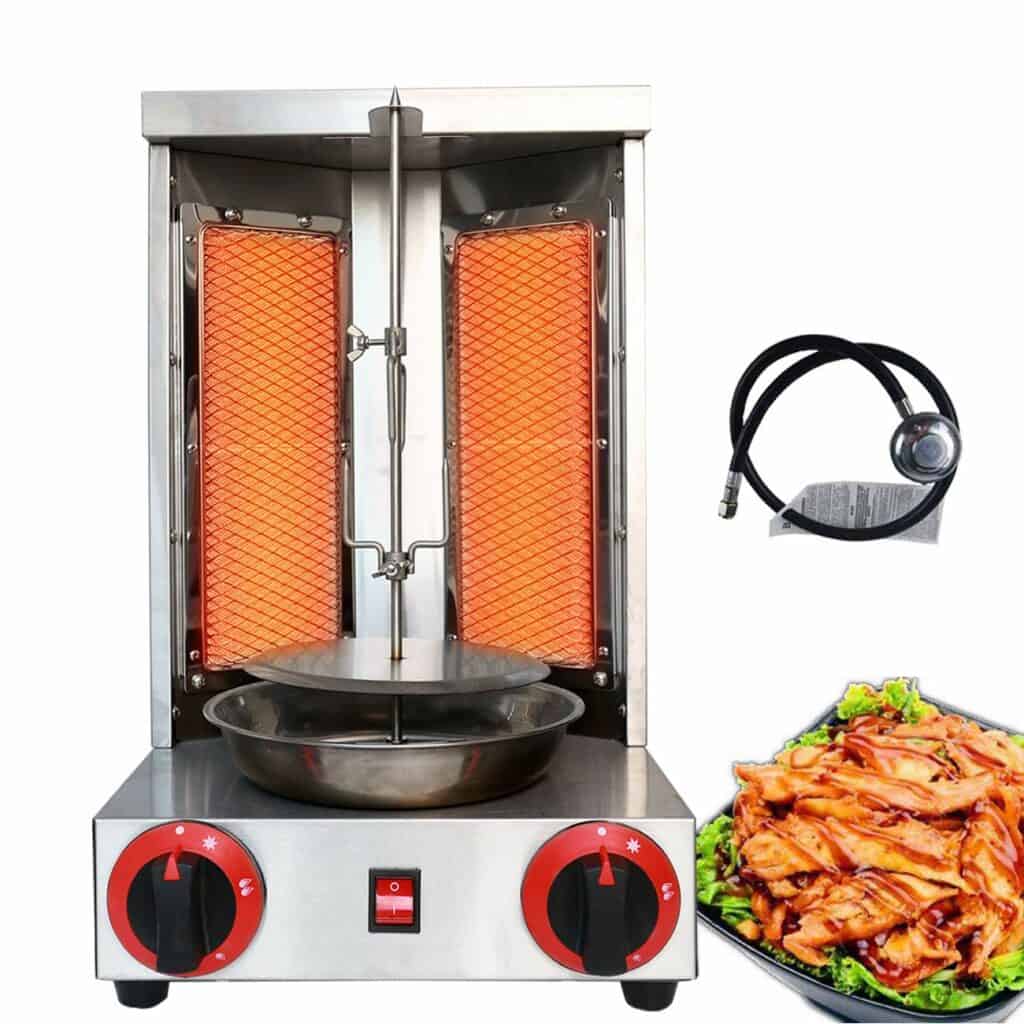 This intuitive kebab grill from Li Bai is suitable for both indoor and outdoor use. It's constructed using high-quality stainless steel and is resistant to rust and corrosion. This also makes it highly durable and likely to last you a while.
It cooks the meat using two infrared, high-energy thermal burners, with adjustable temperature controls for both. This means you can set each burner to your desired temperature quickly and easily. It also utilizes both methane and natural gas. These are easily interchangeable, so you can switch between the two with very little trouble. The pole rotates smoothly and quietly, ensuring an even cook throughout the meat.
Pros
Two infrared thermal burners
Adjustable temperature controls
Rust and corrosion-resistant
Suitable for indoor and outdoor use
Cons
Cleaning can be time-consuming
Ranges
Ranges are great for those who need a versatile cooking surface. They are commonly either electric or gas cooktops, which both offer an efficient, easy-to-use, and quick way to prepare recipes while only using one burner at a time.
This is great if you like preparing meals that require high temperatures or simmering sauces on low heat slowly over the course of several hours. It's suitable for any recipe requiring different components cooked in succession – it offers plenty of room for multiple saucepans, frying pans, and griddles, so your meal can come together without much hassle.
Most ranges also have a separate oven: one small convection oven beneath the range that can be used for additional cooking. Some models even include a larger conventional oven as well. Here are a few things you'll need to consider before buying a range:
Electric vs Gas – Gas is often the most popular choice here. It's much quicker to heat up and usually comes with an included gas oven. However, electric ranges are easier to clean, often cheaper to buy, and more environmentally friendly. But they can be more expensive to run.
Size – How much space do you have for your cooking range? Are you looking for a small appliance you can combine with an oven, or for a larger, independent unit? How many burners do you need?
Additional Features – Some ranges come with additional features, so you'll need to bear this in mind when choosing one.
Oven Doors – Do you want to see inside the oven when things are cooking? If so, make sure to factor oven doors into your purchasing decision.
These are a few of the top ranges on the market at the moment.
The Best Electric Range
Verona VEFSEE365DSS Electric Range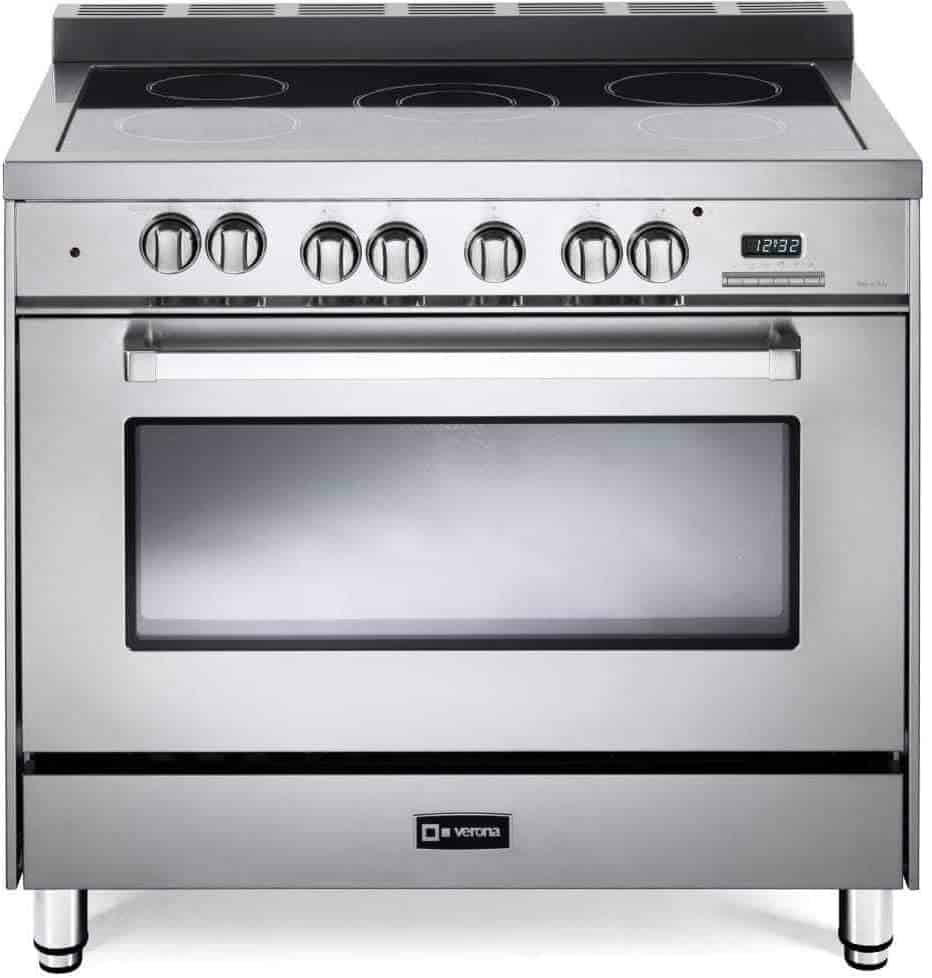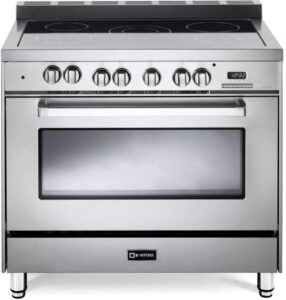 If you want the benefits of a commercial stove without it taking up all of your kitchen space, then this electric range by Verona will be right up your street. Highly corrosion resistant and built from long-lasting stainless steel, this range is of great quality and should last for years to come.
It features two convection ovens underneath and, with a total of 5 burners on the black ceramic stovetop, you'll have plenty of space to cook a range of complicated dishes and use all sorts of processes from frying, sauteing, boiling, or steaming.
Pros
2 built-in convection ovens
5 burners
Made from corrosion-resistant stainless steel
Space-saving design
Cons
Electric burners take longer to heat up
The Best Gas Range
Cosmo DFR486G Commercial Stove with Cast Iron Grate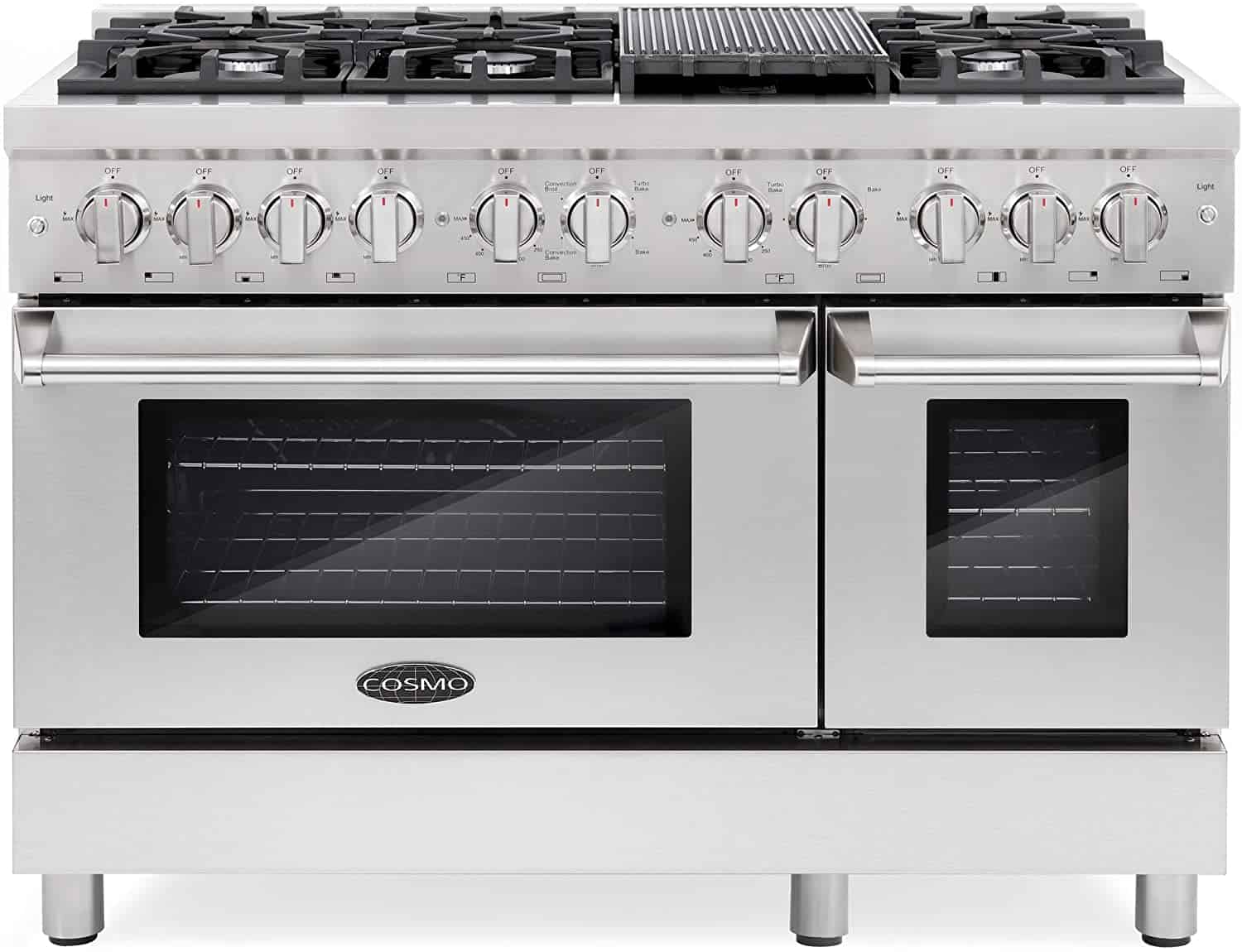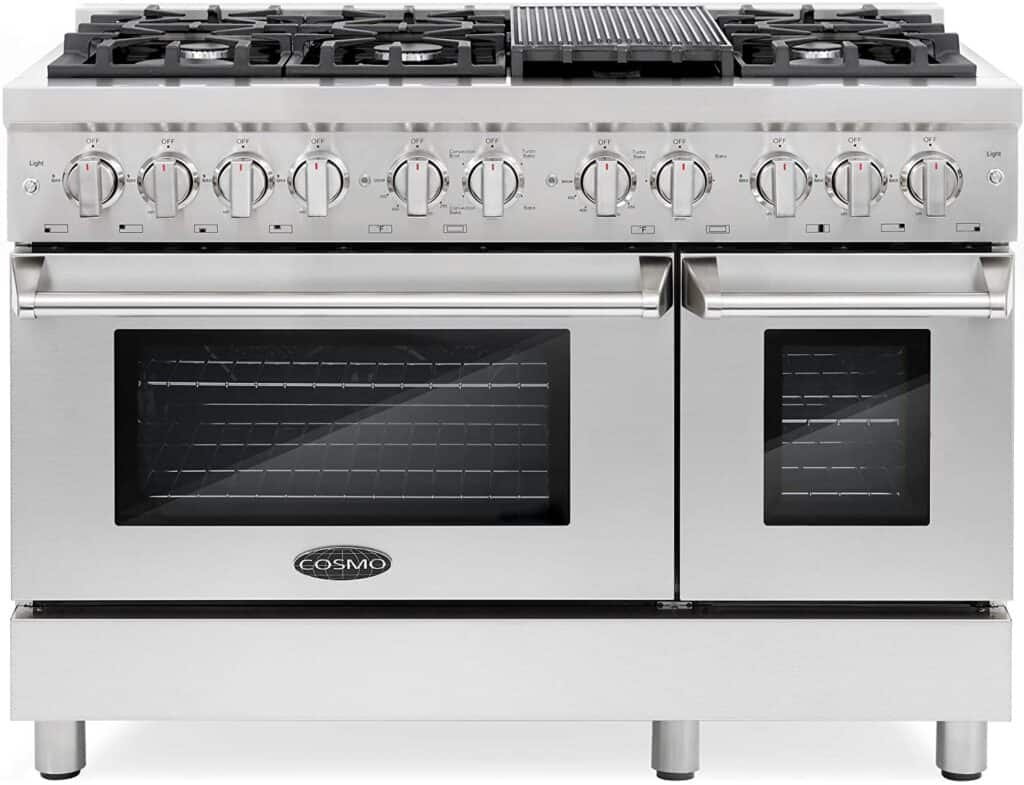 A clever combination of a range and a grill, this stove by Cosmo will cover 3 of your catering needs in one. It has a handy double convection oven, 6 sealed burners, and a cast-iron grate for easy grilling all compacted into one convenient machine. The high-performance burners have a range of settings for a variety of cooking types and are easily adjustable.
The oven features a dual-fan to ensure your food is cooked thoroughly and evenly and the low-output requirement means you won't have to have your oven up as high, saving you money and energy. It's built to last with quality, stainless steel construction and has raised legs for easy cleaning underneath.
Pros
3 in 1 commercial stove
6 sealed burners and double, dual-fan convection oven
Raised legs for easy cleaning
Includes cast-iron grate
Cons
More expensive than other models
Microwaves
For busy kitchens looking to speed up their workload, a commercial microwave is essential. This handy gadget can heat food up in minutes – much quicker than a traditional oven – and, as some go up to and above 1800W, you'd certainly expect them too! So, what should you look for in a commercial microwave:
Performance – There are many different types of microwave ovens made for specific purposes, and specific types of food. So what will you be cooking? Do you need heavy-duty, medium-duty, or light-duty?
Size – The most common type of commercial microwave available for commercial use is a countertop one. But they come in many sizes. Once again, what size you need will depend on the size of the dishes or containers you want to heat.
Price – Some microwaves come with a hefty price tag. I recommend pricing your microwave depending on the level of work you want it to do.
Operation and Maintenence – A microwave should be a quick and simple way to re-heat food. As such, it should be quick and simple to operate without overcomplicated processes and lots of fiddly buttons. You also won't want a microwave that takes ages to clean at the end of the day.
Turntable – A turntable keeps the food rotating and means that it cooks evenly all over. However, if your microwave has a bottom energy feed, you may not need a turntable as well.
These are some of the best microwaves on the market at the moment. We've looked into manual, programmable, and combi microwaves to give you a range of options:
The Best Manual Microwave
Panasonic NE-1025F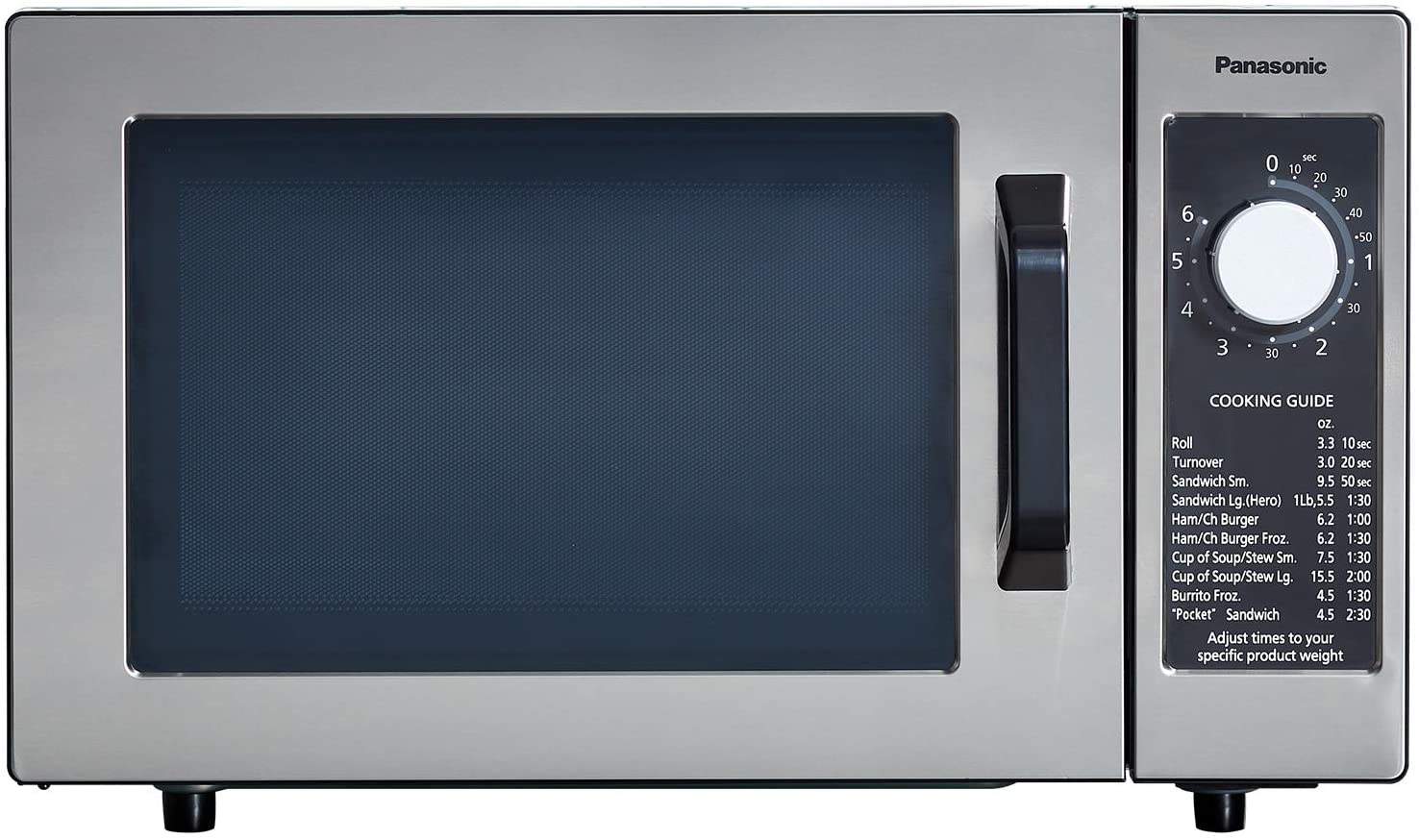 This manual model by Panasonic is the perfect combination of powerful, strong, and affordable. Designed to handle the constant workload of a busy kitchen, this 1000 watt machine has both a stainless steel interior and exterior, for seamless durability and effortless cleaning.
It features both bottom and top energy which helps to evenly heat up even the toughest of foods. It also has an easy dial knob for simple usage.
Pros
Stainless steel interior and exterior
Top and bottom energy
Easy to use dial knob
Cons
Only goes up to 1000 watt
The Best Programmable Microwave
Panasonic NN-SN966S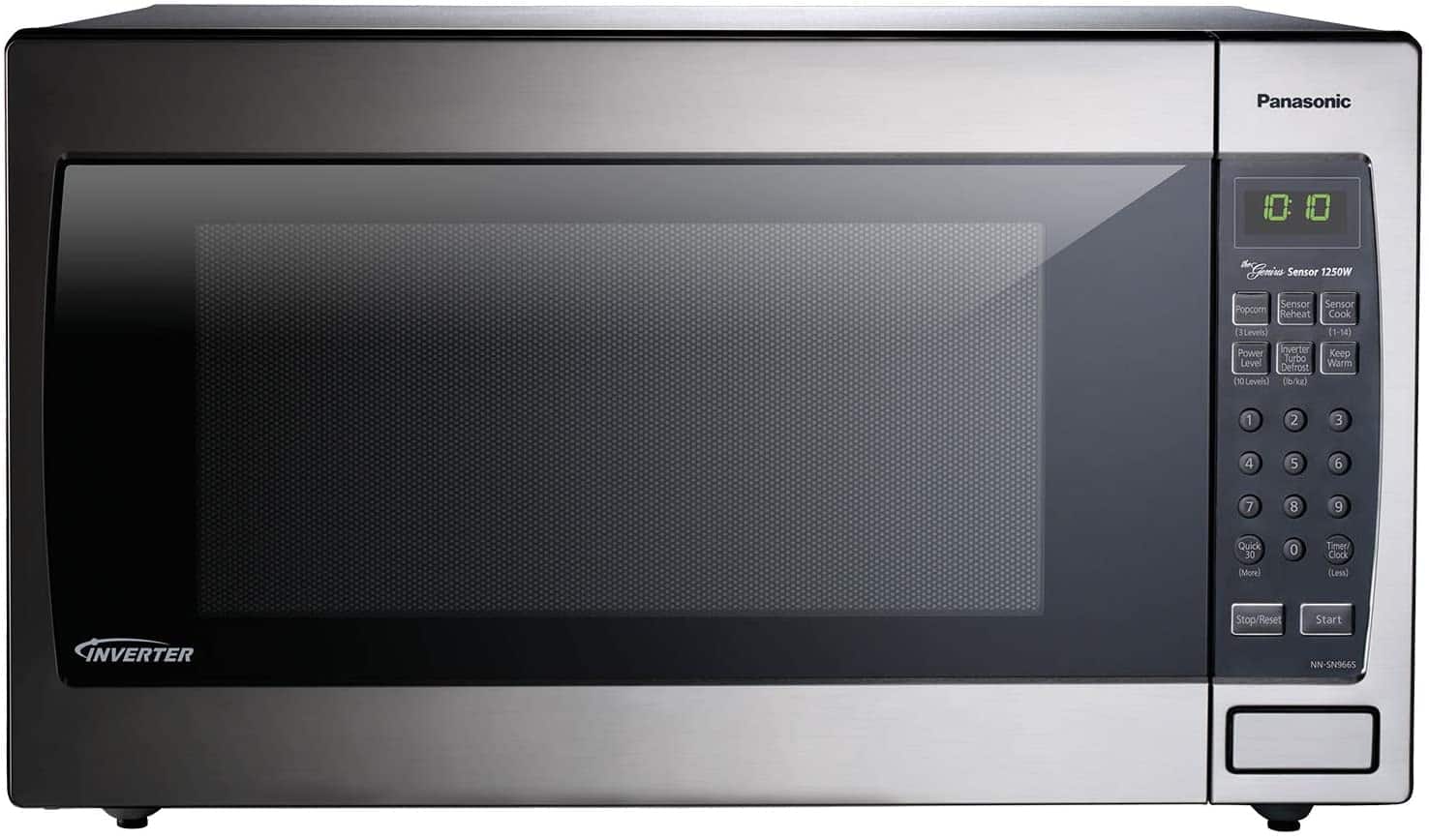 One of the best commercial microwaves on the market. This 1250 watt oven sets itself apart from other microwaves with its inverter system technology, streamlined features, and professional functions.
The oven features cutting-edge sensor technology that signals when your food is done. It requires very little work and attention, which means it will do most of the cooking for you, without the need to constantly monitor it. It also has a large capacity, meaning you can heat bigger plates or containers without hassle.
Pros
Programmable buttons
Lets you know when your food is done
1250 watts power
Cons
Expensive
You may experience wifi interference
The best Combi Microwave
NuWave BRAVO XL 30-quart Convection Oven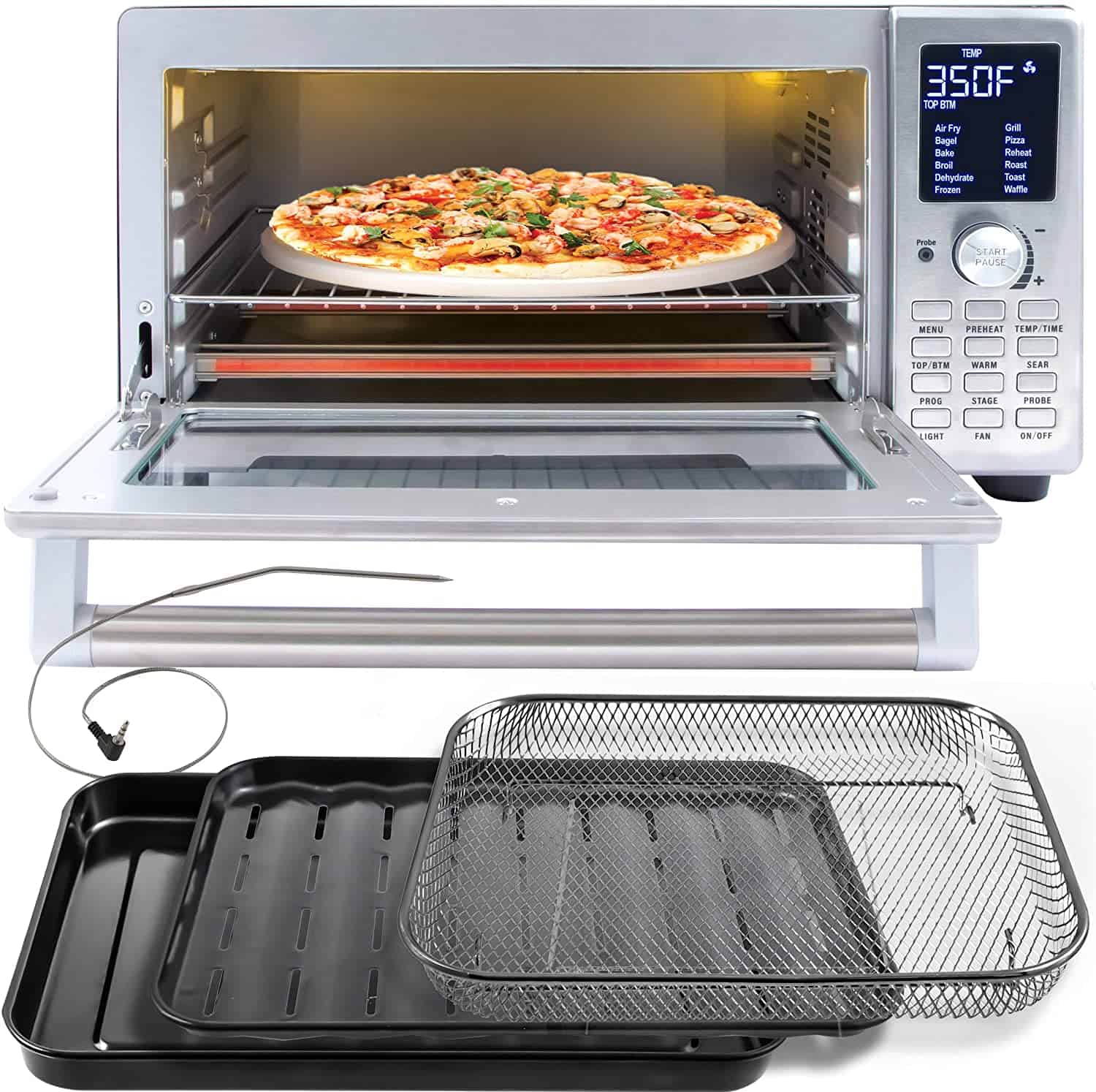 If you want a microwave that's much much, more than a microwave, then go for this combi, convection oven by NuWave. It can cook practically anything you like and is able to perform a range of cooking methods, including air frying, baking, roasting, broiling, grilling, and an awful lot more.
It has 12 one-touch cooking functions that are already programmed upon purchasing. The oven also has a sleek, brushed steel exterior with non-stick enamel baking pans and heavy-duty cooking racks. The glass door is heat resistant and it's more affordable than you might think. Overall, this is a perfect, all-in-one microwave oven.
Pros
12 one-touch pre-programmed functions
Non-stick enamel baking pans
Heavy-duty cooling racks
Cons
Cleaning takes longer than regular microwaves
Deep Fat Fryers
For crisp fries, onion rings, and other deep-fried favorites, you'll need a commercial-grade fryer. Fryers often have a range of great features for both electric and gas models. They're easy to use (just set your desired temperature), it's safe (provided you use it safely), and the best deep fryers will last you a long time. Here are a few things to bear in mind before buying your fryer:
Size – Your space will be critical to choosing a deep-fat fryer. This will also decide whether you go for a countertop model or a freestanding one.
Price – Some fryers will instantly strip thousands of dollars from your budget. But, if you use the fryer regularly, it might be wise to splurge on one that will last.
Usage – How much are you planning on using your fryer? Will it be every so often, or frequently every service?
Ease of cleaning – Deep fat fryers are not fun to clean. They need regular oil changes and thorough scrubbing to keep them in good shape, so make sure you pick one that isn't too complicated to keep shiny.
Energy – Do you want gas or electricity? Your choice will marginally affect the appearance and color of food produced and gas fryers can be a little trickier to clean due to the carbonization produced.
So, let's dive into the best deep-fat fryers on the market today:
The Best Freestanding Deep-fat Fryer
Lincat Silverlink Electric Free Standing Twin J18 Stainless Steel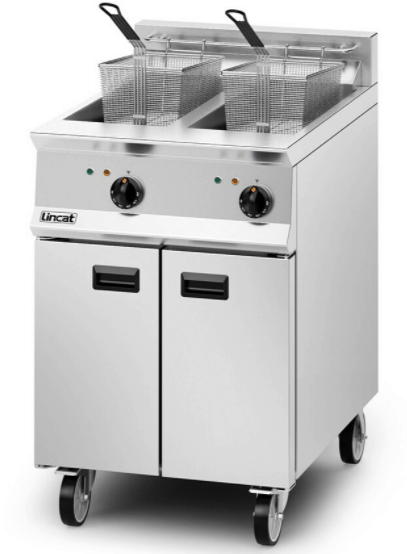 Lincat offers a range of great fryer options, but this electric twin fryer is ideal for busy commercial kitchens. It features mounted, thermostatic controls, and a fail-safe top temperature cut-out to ensure maximum user safety. It also has height-adjustable feet and a cabinet for oil storage.
Each side of the fryer can hold 9 liters of oil, which can reach a temperature of up to 190°C, and the fryer comes complete with a basket, lid, batter plate, oil drainage bucket, and sieve. The drainage tap at the front means you can easily empty the oil and the stainless steel design makes for even easier cleaning. It's also quite attractive compared to other deep-fat fryers, but also a little bulkier.
Overall, it's a pretty well-rounded machine, that will give you delicious crispy fries every time and also comes in a gas option if you'd prefer.
Pros
Thermostatic controls with safety cut out
2 x 9 liters of oil capacity
Can reach temperatures of 190°C
Cons
Slightly chunkier than other options
The best Countertop Deep-fat Fryer
Buffalo Twin Tank Induction Fryer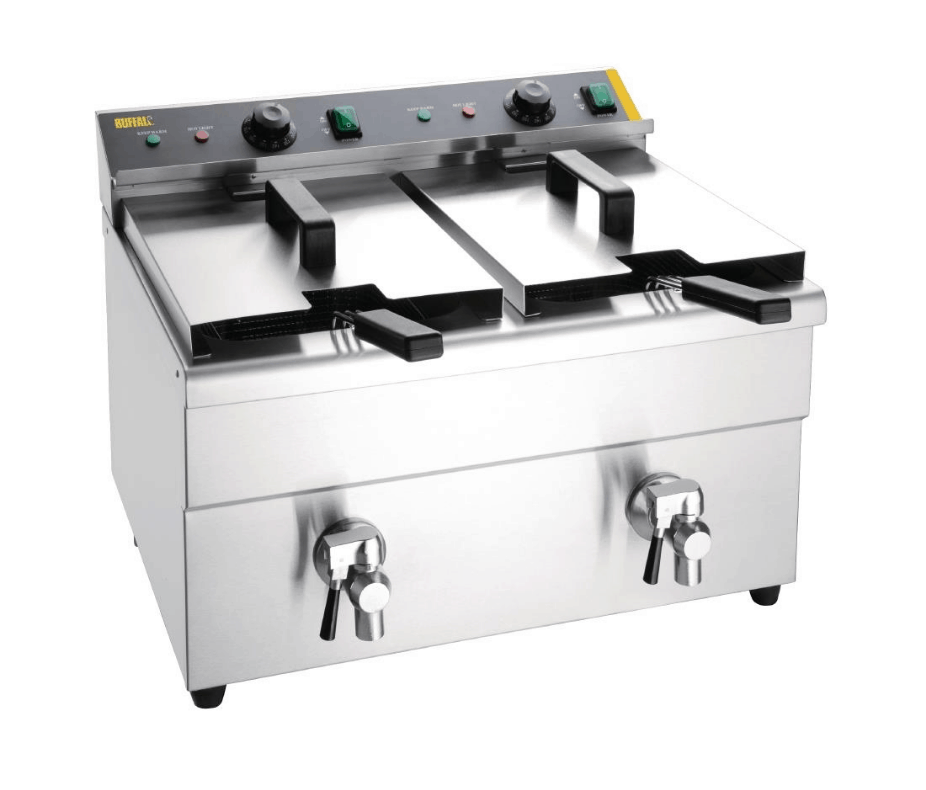 If the hardwired installation isn't your thing but you still want a fryer that is powerful and efficient, then this Buffalo double tank induction fryer might be exactly what you're looking for. It's multifunctional, boasts a sleek design, and brings both performance and convenience.
With an impressive 3000W output and two 7.5 liter oil tanks, it can handle a high volume of tasks and can fry everything from battered fish to mini donuts. Each side of the fryer plugs in separately, so you will need two wall plugs to use both, but this also gives you complete control over each individual side, and you can turn one off to save energy.
The induction heating system will also save plenty of energy and it can reach temperatures of between 60°C to 190°C. Plus, the handy, mess-free front drainage tap, lack of exposed elements, and stainless steel construction make it very easy to clean.
Pros
Energy-efficient induction fryer
Can reach up to 190°C
Mess-free drainage tap means easy cleaning
Cons
Need two wall plugs to operate both sides
Slow Cookers
Perfect for slow-cooking joins of meat, stews, casseroles, and many other dishes, a slow-cooker can be just as useful in a commercial kitchen as it can in your home. If you need to cook dishes on low heat, perhaps overnight or throughout the day without having to keep an eye on them, this will be a godsend. Here are a few features to consider before choosing your slow cooker:
Cooking pot size – How much of a meal will you be cooking? In general, I suggest always buying bigger than necessary, but for large restaurants, you may need to consider buying more than one slow-cooker to fully get the job done.
Overall size – How much space do you have for storage and how much room is there on your countertop for a slow cooker?
Features – It's also important to think about bells and whistles. Do you want it to be programmable? Do you want an automatic 'keep warm' setting to hold food once it's finished cooking? Do you want extra cooking functions like the ability to sear, air fry, or sous vide as well?
Considering all this, here is our top choice for commercial slow cookers:
The best commercial slow cooker
Buffalo Twin Tank Induction Fryer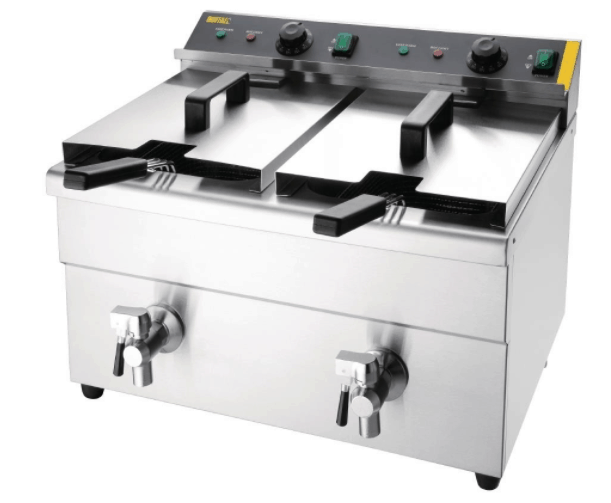 When it comes to slow cookers you want maximum flavors and minimum efforts. This six-quart model by Breville does exactly that. It will give you tender roasts, hearty chilies, scrummy stews, and indulgent desserts.
Its easy-to-use control panel offers 11 pressure cook options and high to low for slow cooking for maximum cooking flexibility. You can see whether your meals are ready via the digitally displayed 24-hour timer and precisely adjust the temperature and pressure levels. It also has pre-programmed cooking modes for vegetables, rice, risotto, soup, stock, beans, poultry, meat, bone-in meat, chili and stew, dessert, and more.
It's easy to clean, thanks to its stainless steel construction and large, removable ceramic pot, and is even oven-safe up to 300 degrees.
Pros
Digital 24-hour timer
Pre-programmed cooking modes
6-quart model
Oven safe up to 300 degrees
Cons
Toasters
A toaster is great for busy cafes, bistros, or restaurants serving breakfast or toast-based starters. It's best to opt for a larger model that will accommodate bagels and thicker slices of bread.
The best models offer variable heat settings, meaning you can toast at low or high temperatures depending on the type of bread being used. You should also take note of how many slices it accommodates as well as power output – some may require more time than others so be sure to read reviews before purchase.
Lastly, go for one with a removable crumb tray which makes cleaning up after use much easier. Here are a few factors to consider before choosing your toaster:
Size – Once again size matters. How thick will the bread be that you're toasting?
Usage – for smaller restaurants or occasional use, a pop-up toaster might work best. But for busy restaurants or hotel breakfasts, a conveyor toaster usually works better.
Design – Particularly if the toaster is going front of house, it may need to be appealing as well as practical.
Features – Can it handle frozen bread? Can it cook more than just bread like bagels or waffles?
Once you know the answer to these questions, it's time to choose your toaster.
The Best Pop-up Toaster
Breville BTA840XL Die-Cast 4-Slice Smart Toaster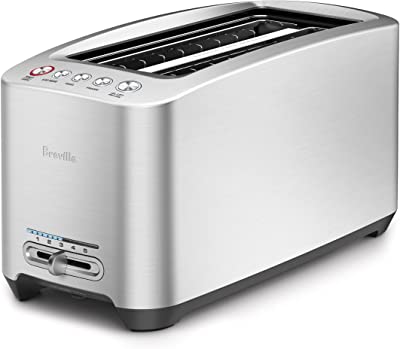 For a toaster that can give you the perfect, crisp slice of toast, crusty bagel, or lightly warmed waffle, Breville's 4-slice pop-up toaster is the one for you. You don't need to defrost before toasting either thanks to its built-in grill slot.
When it comes to additional features, the toaster has a special feature for bagels where it will just toast one side. It also has a 'check bread' feature which allows you to quickly pop bread up for a second before returning it to the toaster to continue toasting. Lastly, the 'Bit More' feature lets you give an extra 30 seconds to slices of bread that are not quite done, perfect for adding that little bit crisper without putting the bread on for another round.
Lastly, it's durably made and has a pull-out crumb tray for easy cleaning.
Pros
Built-in grill slot
Plenty of extra features
Easy to clean
Cons
The Best Conveyor Toaster
Omcan 19938 Commercial Conveyor Toaster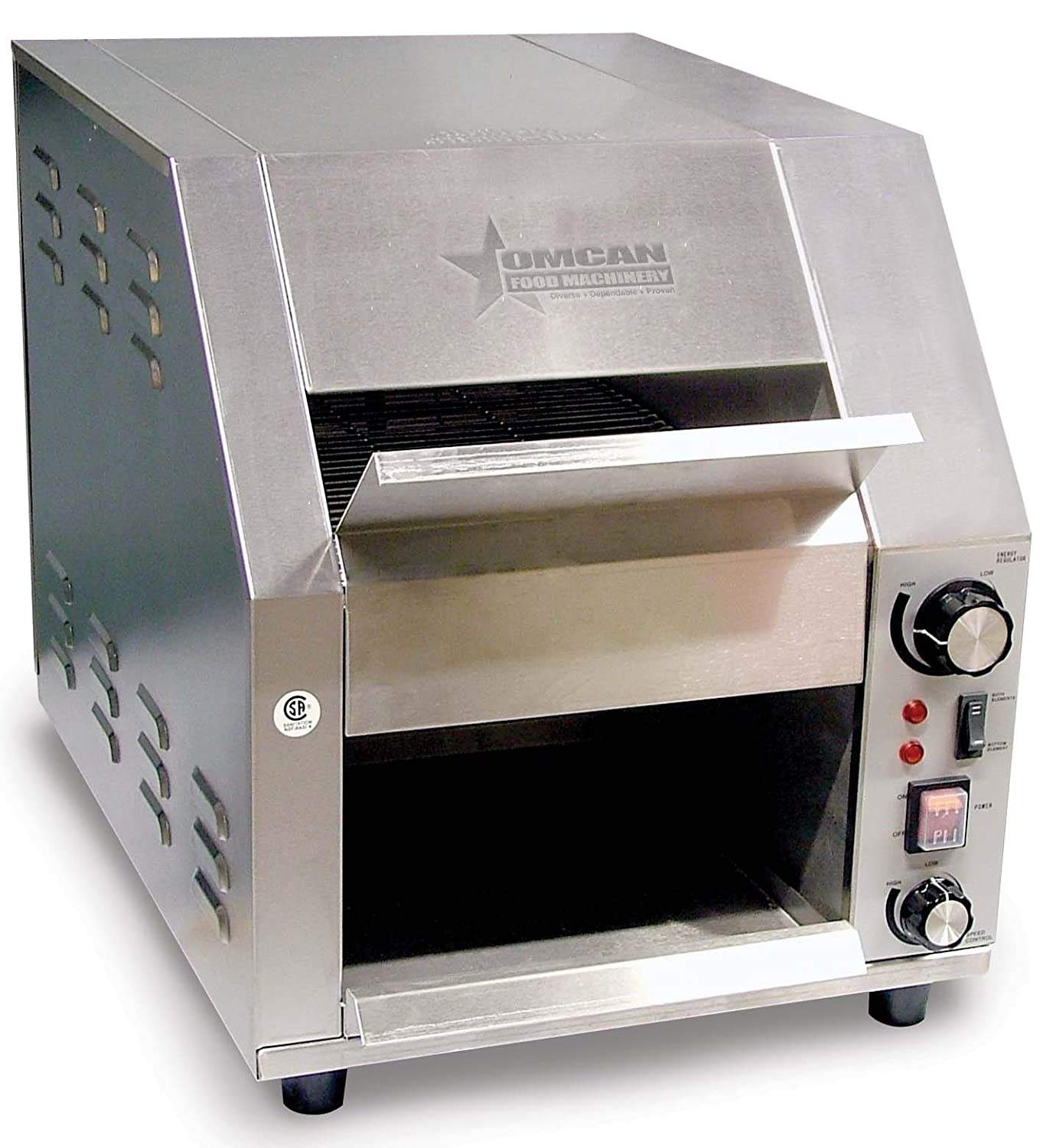 Ideal for buns, bagels, bread, and more, this conveyor toaster is great for large-scale use. This is an excellent commercial toaster for high-impact areas of use. The heavy-duty design and sturdy, stainless steel creation ensure longevity in your kitchen and maximum life span.
It's easily operational, with adjustable temperature and speed controls, and can bake all kinds of bread with equal quality, unlike other, similar machines.
Pros
Adjustable temperature and speed controls
Can bake all bread types with equal quality
Sturdy construction for maximum lifespan
Cons
The unattractive design might put people off
Specialist Equipment
Depending on the type of restaurant you have, sometimes a simple oven and grill job simply won't do. This is where specialist equipment comes in, and we've covered everything from crepe makers to pasta boilers. Here are some of the best specialized pieces we could find:
The Best Commercial Smoker
Masterbuilt 20077515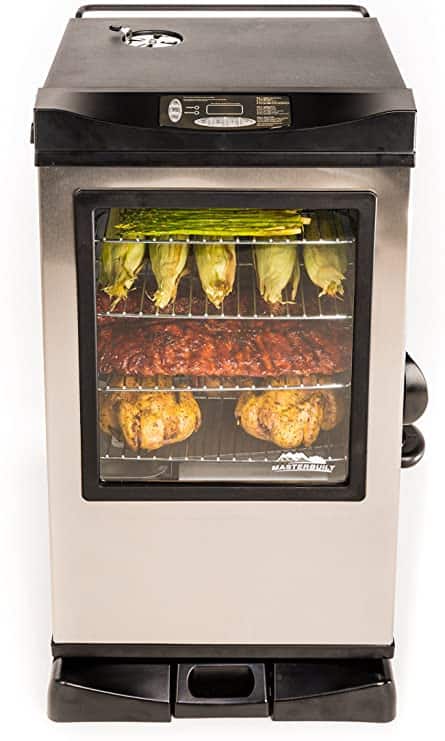 The Masterbuilt 20077515 is an innovative machine and one of the most popular smoker options on the market today. The glass front gives you a clear view of what's going on inside and the digital display gives you various controls, such as an internal light switch, a timer, and the ability to modify your heat according to your needs.
The unit comes with four cooking grates that provide a total space of about 730 square inches. This is enough to roast fairly large pieces of meat such as pork tenderloin or a whole rack of ribs.
When it comes to cleaning, it's just as intuitive. The built-in, removable drip tray catches all the meat juices and all of the grates are removable – perfect for an easy clean-up once your meat is smoked to perfection. Lastly, the wheels and handle make it easily portable.
Pros
Glassdoor lets you see inside
4 large removable cooking grates
Portable
Built-in drip tray
Cons
The Best Commercial Crepe Maker
Waring Commercial WSC160 Electric Crepe Maker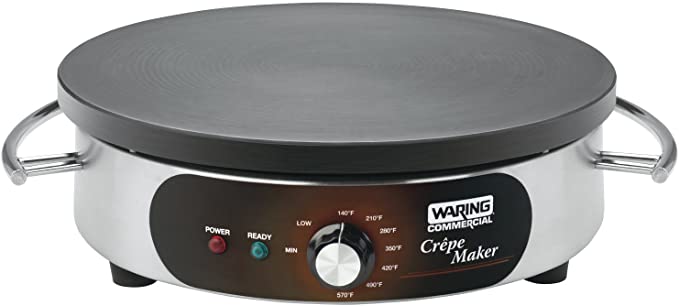 This is the latest and greatest electric crepe maker for high demand or for commercial use. The 1800-watt heating element is powerful and designed for superior performance. It can heat up to a whopping 570° F.
Once the large, 16-inch plate has heated up – this takes roughly between 10 and 20 minutes – it has excellent heat retention capabilities. It's also very easy to operate – there's a LED power light, a temperature knob, and another LED bulb to let you know the plate has reached the perfect heat.
It has superb build quality, with a thick, heavy-duty cast-iron cooking plate, and a stainless steel base. It's created to withstand constant commercial use and will undoubtedly last you years to come.
Pros
Large 16-inch diameter
1800W heating element can reach 570° F
Easy to operate
Cons
A little bulky
No on/off switch
The Best Commercial Rice Cooker
Tiger JNO-A36U-XB
This handy rice cooker was created for everyday commercial use and definitely stands up to the task. It can hold up to 20 cups of uncooked rice and make 40 cups of light, fluffy rice every time. There's also an automatic warming feature to keep your rice hot for hours once it's cooked.
A silicone sheet lines the bottom preventing the rice from burning, and the entire interior is made from easy-to-clean non-stick material. The outside is just as practical. Made from durable stainless steel, it looks slick and is built to last. The lid is also washable and it comes with a 6-ounce rice measuring cup and spatula.
Pros
Can make up to 40 cups of rice at once
Easy to clean both inside and out
Comes with a 6oz rice cup and spatula
Cons
Heavy to carry
May come with delivery defects
The Best Pasta Boiler
Falcon Dominator Plus Gas Pasta Boiler G3203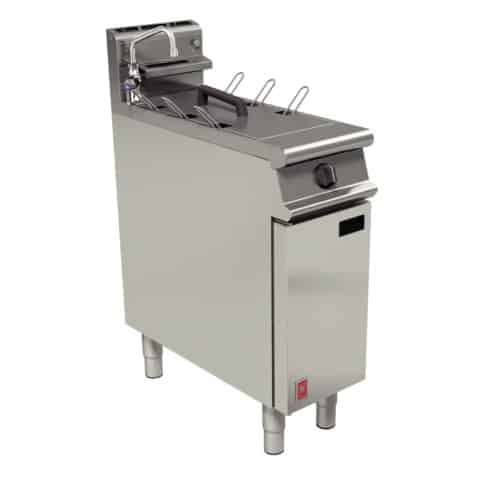 For Italian restaurants, the perfect pasta boiler is less of a luxury and more of a must-have. But any restaurant that serves pasta would benefit from this pasta boiler from Falcon. The slim design takes up much less space than other pasta boilers.
The pasta boiler is great for both individual and bulk portions. It features a speedy burner to quickly raise the temperature, as well as an easy-to-use faucet for filling. It also has a 16 liters capacity, meaning it can withstand large quantities with ease, perfect for those busy nights.
It comes as standard with 3 baskets and a protective lid. The easy drain valve and stainless steel construction make for easy cleaning and the controls are thermostatic for simple usage.
Pros
16-liter capacity
Powerful fast heat-up burner
Thermostatic controls
Comes with 3 baskets
Cons
It may still be too bulky for some restaurants
FAQs
Question: Can you get commercial cooking equipment second-hand?
Answer: Yes, you can technically get commercial cooking equipment second-hand and this will certainly save you some money in the long run. However, you will have to ensure that the equipment is in good condition and has been well maintained before you buy it. You'll also need to bear in mind that second-hand equipment isn't likely to come with a full warranty which could lead to more expensive repairs if something was to go wrong.
Question: How much does commercial kitchen equipment cost?
Answer: Commercial cooking equipment can be pretty pricey. To fully stock out a new kitchen, you'll likely be looking at between $25,000 and $100,000 as a minimum. You can get quite good deals though by buying second-hand or looking on the internet for the best offers; it's worth keeping an eye out to save some money!
Question: What are the best commercial cooking appliances?
Answer: The best types of commercial kitchen equipment are those that will be used often such as ovens and ranges. Microwaves and hobs should also be included if you cater regularly but you may not need them all the time. They're also easier to maintain than traditional ovens which require more cleaning. For storage space, consider what items you use most frequently so that everything is close at hand when needed – this makes working quicker too because we don
Question: Does commercial kitchen equipment need to be stainless steel?
Answer: Technically, commercial cooking equipment doesn't have to be stainless steel. However, the majority of appliances you'll find that cater to commercial kitchens are made from that material. This is because stainless steel, although not the most attractive design, is incredibly hard-wearing, easy to clean, and easy to maintain.
Overall Verdict
Overall, there are many wonderful types of commercial cooking equipment out there. The best items will depend on your needs and the size of your business, but in general, you're most likely to need an oven, a range, and a grill.
The best oven for a commercial kitchen has got to be the Rational. Their SelfCleaningCentre is everything you could need in an oven all rolled into one machine. When it comes to grills, the Buffalo Salamander Grill will give you a nice crisp on a wide variety of food, and the Cosmo DFR486G Commercial Stove with Cast Iron Grate has all the benefits of a traditional gas range, but with an additional double convection oven and an iron grill top.
With all these kitchen appliances, you could whip up practically any delicious meal in no time, and they are definitely some of the best kitchen tools money can buy.