Latest posts by Alice Smith
(see all)
When you are looking to buy a commercial range for your restaurant, it is best to do some research in advance. Different ranges have different features and capabilities that make them best suited for certain types of establishments.
Whether you are opening a new restaurant or just looking to replace your old range, it is important that you take the time to research what type of commercial ranges best suit your needs. There are many different types of ranges on the market – gas, electric, ranges with built-in convection ovens, and more.
There are lots of things you'll need to consider before you buy a commercial range. For example, how much food will you be preparing at once? Will you be cooking for a few people, or large volumes of people in your restaurant on a regular basis?
If you have any questions about what best commercial ranges to get for your kitchen, this blog post is the best place to find the answers. There are many different types of ranges out there and deciding which one to buy can be difficult. We've done all of the research so that you don't have to!
This best commercial ranges guide will help walk you through some of the best options on the market so that you can make an informed decision when buying a commercial range for your kitchen!
What Is a Commercial Range?
But first what exactly is a commercial range? A commercial range is a type of cooking equipment commonly used in restaurants. They typically have a huge capacity and are used to cook food for large parties of people. They also have a high heat capacity and are best for cooking over an open flame.
Commercial ranges come in many shapes and sizes, but most have the same basic components:
Burners (the part of the range that heats up)
Ovens and oven doors to cooking food in a hot, enclosed space
A grill for cooking meat or vegetables over an open flame
Commercial ranges are best used when you're preparing large amounts of different types of dishes at once. They can be equipped with anything from 4 to 8 (or sometimes more!) burners depending on your needs, as well as many other features like a built-in oven and griddle plates. It is best to look for commercial ranges with quality materials as they will last much longer than less expensive models.
What to Look For When Buying a Commercial Range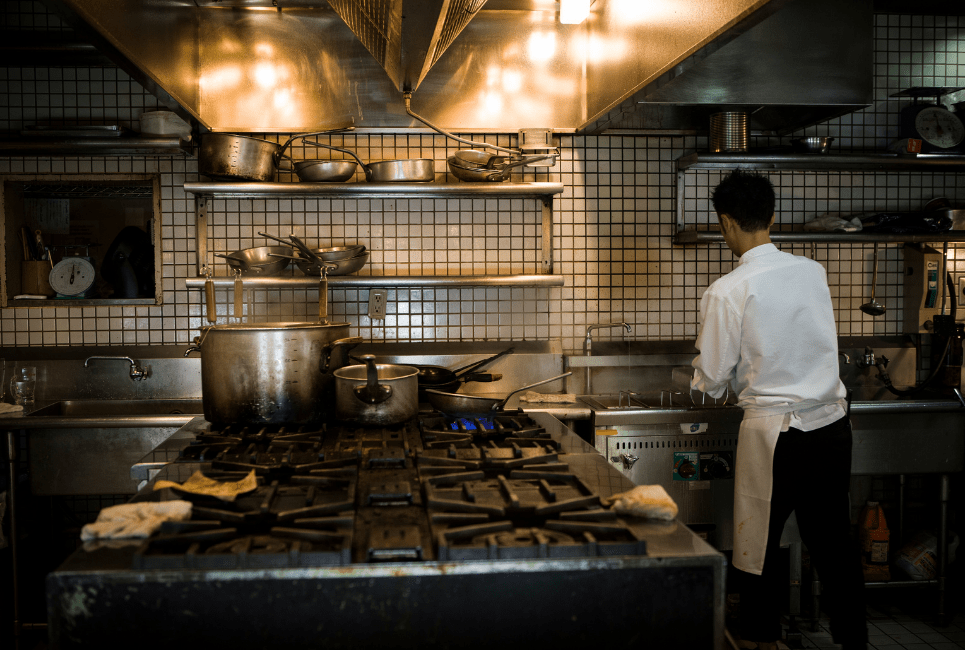 There are a few things to look for when you're shopping around for the best commercial ranges. These are some of the top components to consider before you purchase:
Size
Make sure you take into account the size of your kitchen and how much space you have for a range. Some ranges vary in size from a small, portable unit, up to a full-sized range. So, as with purchasing any type of new cooking equipment, it's always best to measure and see how much space you have before buying.
Durability
You want something with high heat capacity, but also something that's durable so that it will last for many years. It's best to buy one that is made with quality materials like stainless steel, and be sure to look for a range that is easy to clean and maintain.
Features
Different ranges have different features like ovens, griddles, slow cooker pots, or an open flame grill to cook over. You should look at the best commercial ranges on the market before making any decisions about which one you want! Be sure that it has all of the features you're looking for, and also one that best suits your needs.
Price
There are many different types of ranges, so it's best to set a budget for yourself and stick with it. You don't want to spend too much money if you're not sure what type of commercial range is best suited for your kitchen.
Type
There are many different types of commercial ranges, and you should pick one that best suits your specific needs. For instance, if you're only cooking for a few people at once, it might be best to get an oven or griddle instead of a range with all the bells and whistles like an open-flame grill.
Power Type
Do you want a gas or electricity-powered range? This is one of the most important decisions you'll be making when choosing a commercial range because they each have their pros and cons. For example, gas ranges are best if you need to cook food quickly because it heats up faster than an electric range does.
Gas is also best for cooking over an open flame while electrical ones work best with ovens – this is just one of the many considerations when shopping around for a commercial range. Also, before deciding on a range power source, be sure to how much it'll cost to run your range long-term.
Ease of Cleaning
It's best to buy a commercial range that is easy to clean and maintain because they're typically used for long hours every single day. This means you'll want one made with quality materials like stainless steel, which are easier than cheaper alternatives. If possible, look for a model that has removable parts so it will be much easier to clean than those that don't!
Efficiency
One thing you'll want to take into consideration is how efficient your commercial range will be in comparison to others on the market. You don't want it to be too expensive or use up more electricity than necessary, so try and find one that is fairly energy efficient.
Oven doors
Do you like the idea of cooking and keeping an eye on your dishes? If so, transparent glass doors on our stove are better than solid oven doors.
This means that you can cook your food and then, without having to open the door every time, you can observe it until it is perfected. This will also mean that you won't ruin foods like Yorkshire pudding which can sink if the door is opened during the cooking process.
What Are The Types Of Ranges Used In Commercial Kitchens?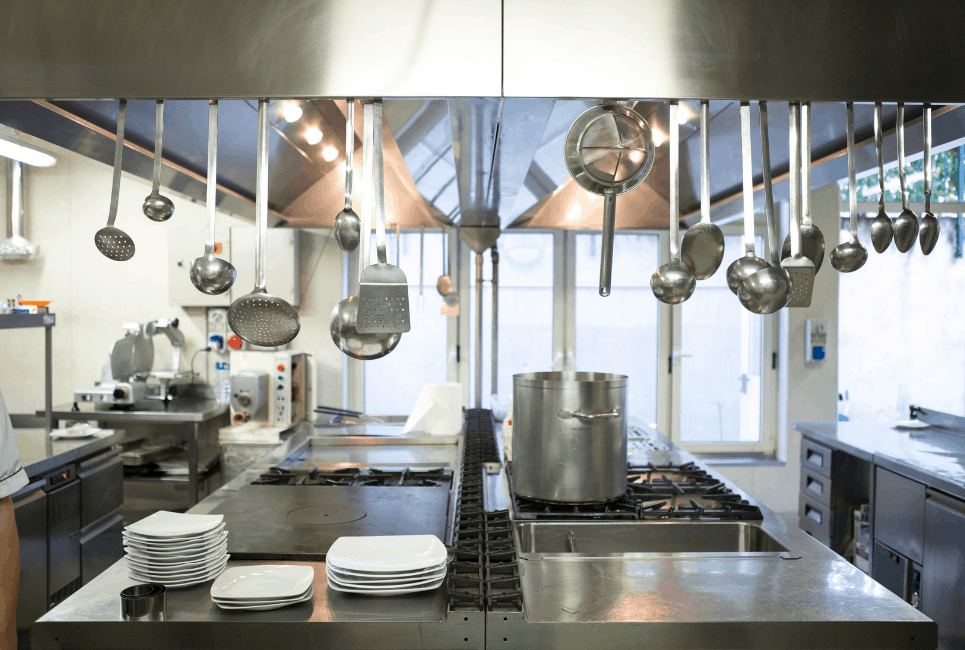 There are many different types of commercial ranges on the market today, and it can be hard to know which one is best suited for your kitchen needs. Some factors are obvious. For example, if you're cooking in a smaller space, then you'll need something that takes up much less room. But the decision on the particular type of range, there are a lot of options.
These are some of the most popular types of commercial ranges on the market:
Standard range
This is best for a larger kitchen that has plenty of space to accommodate it. It utilizes gas or electrical power and can cook food quickly with a high heat capacity. Standard ranges often come with an oven, a griddle, slow cooker pots, or an open-flame grill. They're also the most common type of range used in restaurants.
Portable range
If you're cooking in a small space, then it might be best to get something that is portable or smaller. These are typically not as durable and have fewer features than standard ranges, but they work best for those with limited amounts of kitchen space.
Portable models come either gas-powered or electrical, but electric ones are definitely easier to move about. They can also be expensive, but they're best if you need to move them around the kitchen.
Restaurant series range
If you're a restaurateur or restauranteur, then it might be best to invest in an expensive and high-quality range. This is because they typically have all the features that most other commercial ranges don't have like the extra storage on top of them for pans.
Restaurant series models also come with gas-powered ones as well as electrical options, and they are ideal for those with a lot of space to work with.
Heavy-duty range
This type of commercial range is best for restaurants and kitchens that are in high volume, so they can cook food quickly. They're usually used to boil or steam foods, and have many other features such as ovens, griddles, and slow cookers.
Heavy-duty ranges are best with gas power because they can produce high heat levels quickly. But they can come with either gas or electric-powered options. The best one will depend on the specific needs of your kitchen space.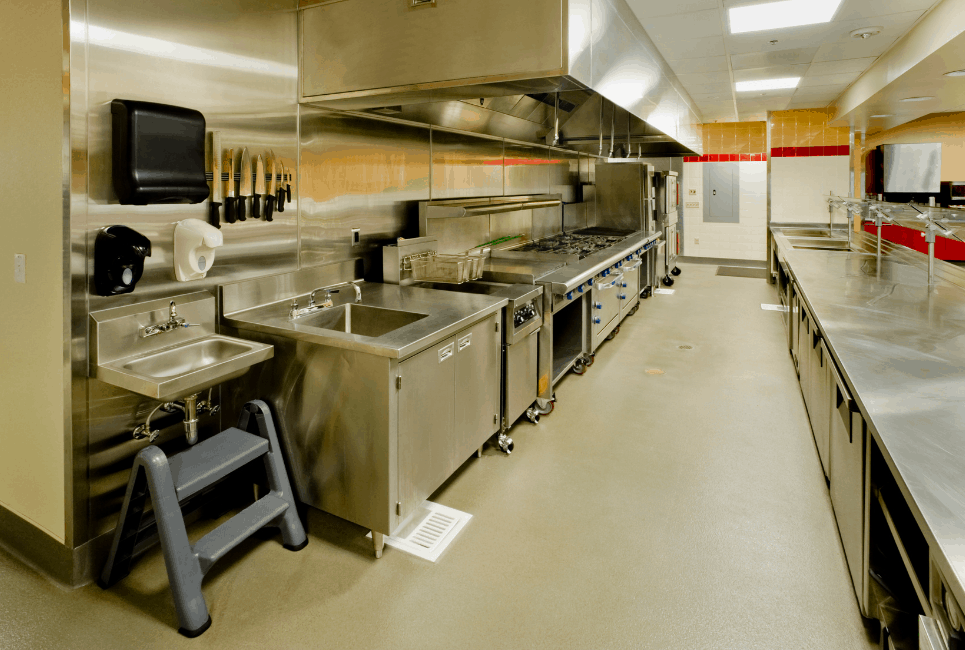 Stockpot range
If you're looking for commercial ranges that are best with pots and pans, then it might be best to invest in a stockpot range.
These models don't tend to have ovens attached and they are ultimately designed to heat up the entire contents of a stockpot. As such, they can reach high temperatures. They are also designed lower to the ground so that chefs don't have to reach too high to take their stockpot off the hob.
Stockpot models use gas power because the high heat is easy to regulate compared to electric ones which can sometimes malfunction or overheat easily.
Wok range
This commercial range is best for cooking food quickly and evenly. They are designed specifically for Asian cuisine, with burners that can reach a very high heat. Wok models use gas power because the high heat can be regulated easier than electric ones which sometimes malfunction or overheat easily. They also come with an open grill that makes cooking meat much more efficient.
The Different Types or Range Tops
So, those are the different designs of ranges you can get. You can also get a variety of range tops besides your traditional burners. These are some of the most popular:
Electric top
This commercial range top is best for those who don't want to use gas or oil, and it's most often used in a small kitchen. Electric tops are don't use an open flame, and usually have an induction-style burner. They can reach high temperatures without catching fire, and eliminate the risk of gas leaks.
Oven burner top
The traditional range-topper, an oven burner best works with ovens and ranges that have an open-flame grill. They are best if you want to cook food quickly, but the downside is they can also be expensive too.
Oven burners are typically gas-powered types, give you much more control over the heat than an electric range top, and use an open flame.
Charbroiler
A range with an integrated charbroiler will operate similarly to a countertop charbroiler. It differs primarily because the range is connected to it. This type of commercial range is best for those who want to cook meat or vegetables, but it's most common in restaurants that serve a lot of meat or barbecued food.
Charbroilers are best with gas power because the high heat can be regulated easier than electric ones which sometimes malfunction or overheat easily. It also comes built-in so you don't have to buy a separate appliance.
Hot tops
A hot top is a flat and smooth plate of steel that produces a stronger heat output than an individual open burner. They are best for those who want to cook a lot of food quickly and work particularly well with stockpots.
Hot tops come in both gas and electric models, and the flat design makes it super easy to maneuver pots and pans on its surface.
Griddle top
Griddles are stainless steel plates that are raised and suspended above the cooking surface of a range. They have a stainless steel guard bordering it, as well as an elongated trough along the front that serves to collect excess grease.
Griddles are best with gas power because they can produce high heat levels quickly. But they can come with either gas or electric-powered options.
Graduated hot top
A graduated top is essentially just another hot top. One disadvantage of smooth-top ranges is that they can't accommodate varying sizes of pots and pans. Granulated hot tops feature concentric rings around the burners that allow you to adjust the distance between them.
The number of rings you have depends on the size of the range, however between 4-6 is an average.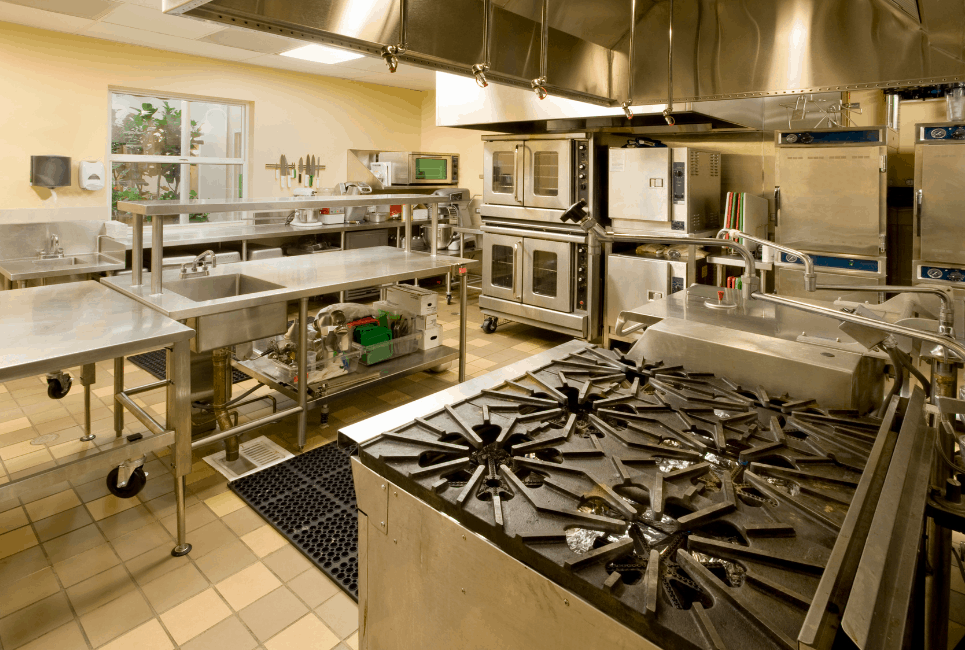 The Different Range Accessories
As well as the ranges themselves, there are also often a number of different accessories that come with them. These range from warming trays to ovens, and many of the best commercial ranges will have a few extras included in the price.
These are some of the top additions to the best commercial grills:
Ovens
An oven range combination would best suit those who want to bake, roast, or grill food. These best commercial ranges are best for large kitchens because they consume a lot of space and power, however, can also benefit smaller organizations because they function as an all-in-one appliance.
They come in gas and electric models and the ones beneath a range will usually be the same fuel as the range itself. They are also usually either a traditional oven or a convection oven.
Storage
Instead of an oven, some ranges come with ample storage space either above or below the range. This type of commercial range is best for smaller kitchens because it takes up less space.
Storage ranges come in a lot of different shapes, sizes, and materials; from traditional cabinets to open steel shelves. There's also the option between drop-in or drop-down storage where you can measure your own kitchen space before deciding which would be best for you.
Shelving
Either above or below, some ranges also come with shelving units. This type of commercial range is best for those who want to store small items or use them as a work surface while cooking.
Shelves come in different materials such as steel, stainless steel, or aluminum. Some ranges also have shelves integrated into the oven itself. Or you can put them at eye level so that they form an extension of your countertop space when not in use.
Range hoods
A range hood will help keep smells from spreading around the kitchen, and some best commercial ranges include one included in their price tag. Range hoods are best for gas power because they produce powerful suction which helps remove steam vapor and grease before it reaches the atmosphere outside your kitchen. This helps to keep the work area comfortable for your chefs and reduce the number of fumes the range will produce.
Range hoods come in a variety of styles, including traditional chimney-style and commercial range with cone or flat top exhaust systems.
Some best commercial ranges can also accommodate an oven below them so the double functionality saves you space. However, these will usually come with a rather hefty price tag.
Salamander grill/broiler
This combination is best for professional chefs who want a versatile grill/broiler that can cook on all sides. Salamanders go well with gas-powered ranges because they produce high heat. Furthermore, the flat design makes it super easy to maneuver pots and pans on their surface.
Salamander broilers are often installed on the back shelf above the range cooktop. They usually have an adjustable grill and use infrared heat.
These types of ranges are best for those who want to sear meats and cook fish, or grill vegetables. They can also be used as a traditional stovetop when the grates are removed.
Different fuel types in ranges
Ranges come in a variety of different fuel types, and the best commercial ranges will be limited to the type that best suits your needs.
Gas ranges are best for those who want on an open flame because they make it easier to control how much heat you're getting from each burner. You can simply turn the knobs or adjust the cooktop grate closer or further away from the flame. This also means the hob will turn on and off instantly.
Electric ranges also come with their own pros: they produce even fewer odors than gas models, but can't get as hot when compared side-by-side. They also take longer to heat up, longer to cook down, and the time to adjust the temperature will also be longer. However, these commercial ranges also produce fewer carbon emissions.
There are also induction ranges and duel fuel, which use a bit of both. Here's a little more information on each of these types of ranges:
Gas commercial ranges
Best for those who want a model that can get really hot. These best commercial grills typically come with an open gas flame, but some come in a radiant tube variety.
Their temperature is controlled by the knob just near your cooking surface, but they also have another knob labeled "BTU" to adjust how much heat you'll be getting from each burner. Radiant commercial ranges use tubes filled with natural gas– these cooktops usually give off more of a blue hue than their other counterparts because of this type's design feature.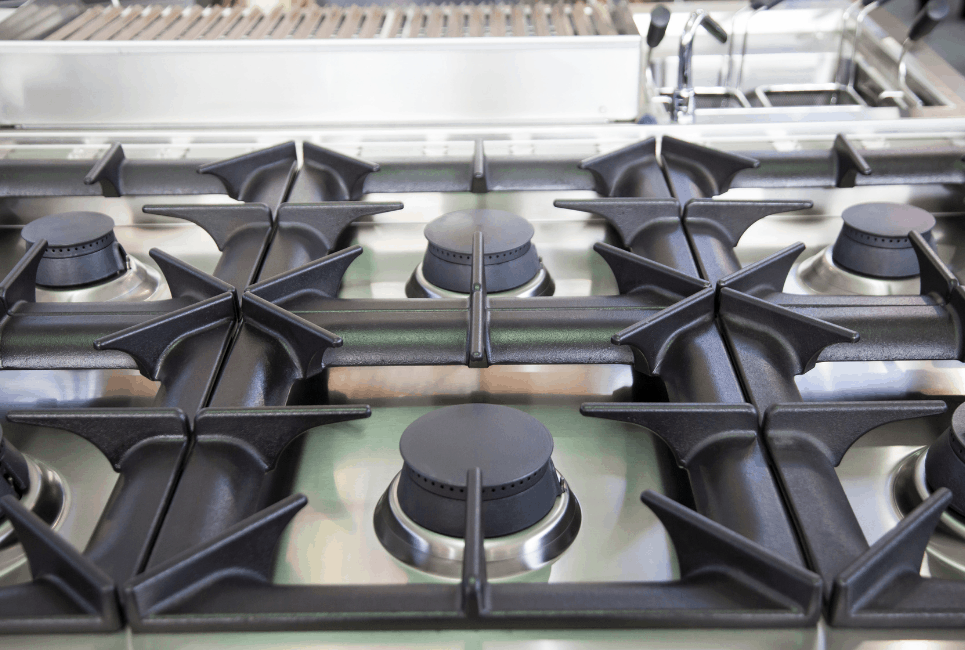 Electric Commercial Ranges
These types of commercial grills are best for someone who can't use gas power because of a location's restrictions or doesn't want to deal with the upkeep that comes along with it (such as installing new burners).
Best done on cooktops made from glass-ceramic tiles, these ranges work by using electrical energy to generate heat through a heating element below the surface of the hob. They're also controlled through knobs near your cooking surface which adjust how much electricity is being sent to each burner– you'll have anywhere from five to twelve adjustable settings– but you won't have an open flame. The downside? Electric best commercial ranges can't heat up as quickly and their gas counterparts. They are often also more expensive to run.
Dual-fuel Commercial Ranges
This type of commercial range has a gas and electric grill. They are best for those who want to be able to cook with either fuel type and have the best of both worlds.
Dual-fuel ranges usually have an oven below them so the double functionality saves you space. These commercial kitchen appliances come in both radiant tube and infrared heat types, just like their other counterparts.
The large cooking surface on these ranges is great if you're looking for something that can do it all. From broiling meat, eggs, or fish, baking bread or pastries, roasting vegetables, or searing meats at high temperatures…you name it, a dual fuel range can do it!
The only downside? Dual-fuel commercial ranges are typically more expensive than models that use just one fuel type, but they're also more versatile, so are often worth it for commercial businesses.
Induction Commercial Ranges
Induction's ranges don't use gas to cook from below– they work by using an electromagnetic field below the glass cooktop surface that transfers currents of energy directly to teh cookware causing it to heat up. It's fairly modern and clever technology and can be found in household ranges as well as in commercial kitchens.
This is best for someone who is looking for a commercial range that's easy on their electric bill but won't take as long to heat up as some of the other models. These commercial grills are also great because no additional ventilation system is needed and they won't release any odors into your kitchen. The more pans you have on at once though, the slower these best commercial ranges can go (but if you do want to get something done quickly there are always duel-fuel models!).
These best commercial grills come in two varieties: induction cooking directly onto a metal surface and induction cooking with a non-metallic range. Non-metallic ranges are usually glass-ceramic tiles and cook surfaces that use a magnetic field to heat up the pan: these models get really hot without being limited by how close you can be, so they're great for sauteing or searing meat.
The Major Differences Between Gas and Electric Ranges
The best commercial range can be gas or electric and offers a few different features.
Gas commercial ranges
Provide more control over what you're cooking. You can more easily adjust the temperatures and turn off the range.
Burns at a hotter temperature.
Gas also provides a moister environment than electric heat, which isn't always good.
You'll need to regularly rotate your food to prevent it from getting burnt.
There's a potential for gas leaks.
Gas ranges are usually more expensive upfront.
Gas ovens are a lot more energy efficient than electric ovens and will usually cost less to run.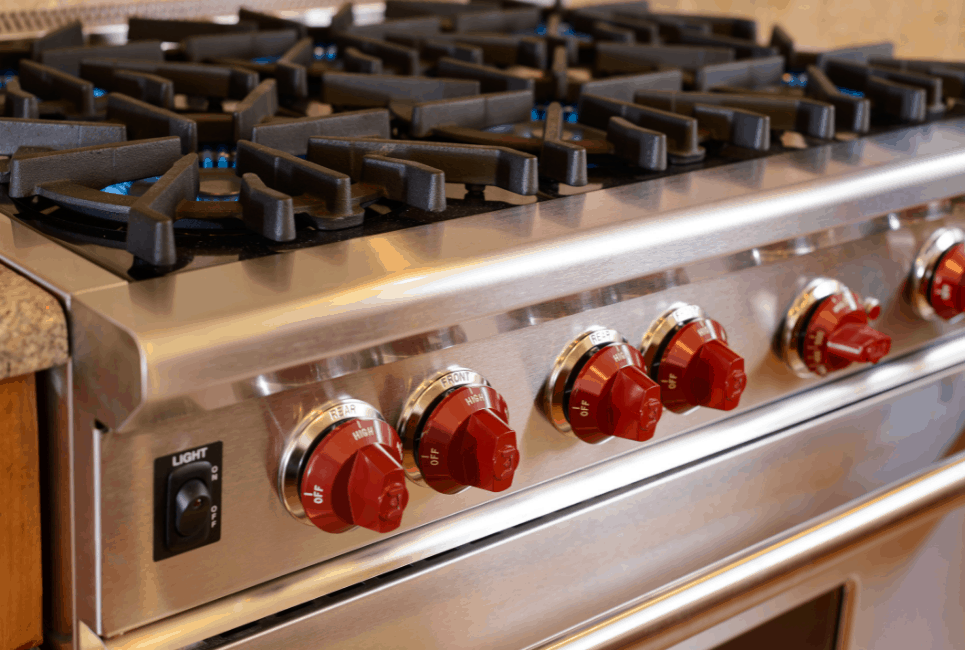 Electric Commercial Ranges
Electric ranges are usually cheaper to buy upfront than gas ranges.
They produce dry heat, which is great for baking and roasting.
They're easy to maintain, with simple wipe-down hobs.
Electric ovens usually have more space than gas ovens.
Easy to install – simply plug them in.
Electric ranges tend to cook food slower than gas ones.
They also heat up slower and will take longer to adjust to any temperatures.
If you have a power cut, your range won't work anymore either.
They can also be very expensive to run.
Commercial Range Safety Tips
As with a lot of commercial cooking equipment, ranges have to be used correctly for them to remain safe. They come with plenty of risks if staff is not trained on how to use them correctly.
Here Are Some Top Tips On How To Use Your New Commercial Range Correctly:
Be aware of hot surfaces. Ranges can become extremely hot, requiring staff to be mindful of their hands and clothing around surfaces at all times. Some ranges, particularly gas ones, also have an open flame, so even more care is needed.
Pay attention to the stove's weight. Ranges can be quite heavy and staff needs to be careful not to injure themselves or others when they are moving them around.
Check the stove before leaving the kitchen. Staff should always check the stove prior to leaving work for the day in order to make sure that it is turned off and secure, to avoid any potential accidents with kitchen equipment when no one is around.
Be careful of food boiling or spilling over. Ranges are excellent for cooking, but staff needs to be aware of overfilling pans or pots. This can lead to boiling liquids spilling onto the stove and catching fire.
Keep the stove clean. Ranges should be cleaned regularly to avoid any buildup of food and grease that can lead to a potential gas leak.
Never store items on top of a range. This can lead to injuries, as well as a potential fire hazard.
Beware of gas leaks. Staff should always make sure that the gas is off when cooking and never use a range if they smell any type of leak.
Use protective equipment when using the range. Chefs should always wear proper protective equipment such as a chef's hat, an oven mitt or potholder, and high-quality shoes when using the range.
Ensure the range is properly maintained. It is important to ensure that the range has been properly maintained at all times, which will prevent any issues with maintenance or usage in the future.
Keep the floors clean. This may seem obvious within a professional kitchen, but the floors must be always clean to avoid any accidental slips.
The Best Commercial Range Recommendations
Thor Kitchen Gas Range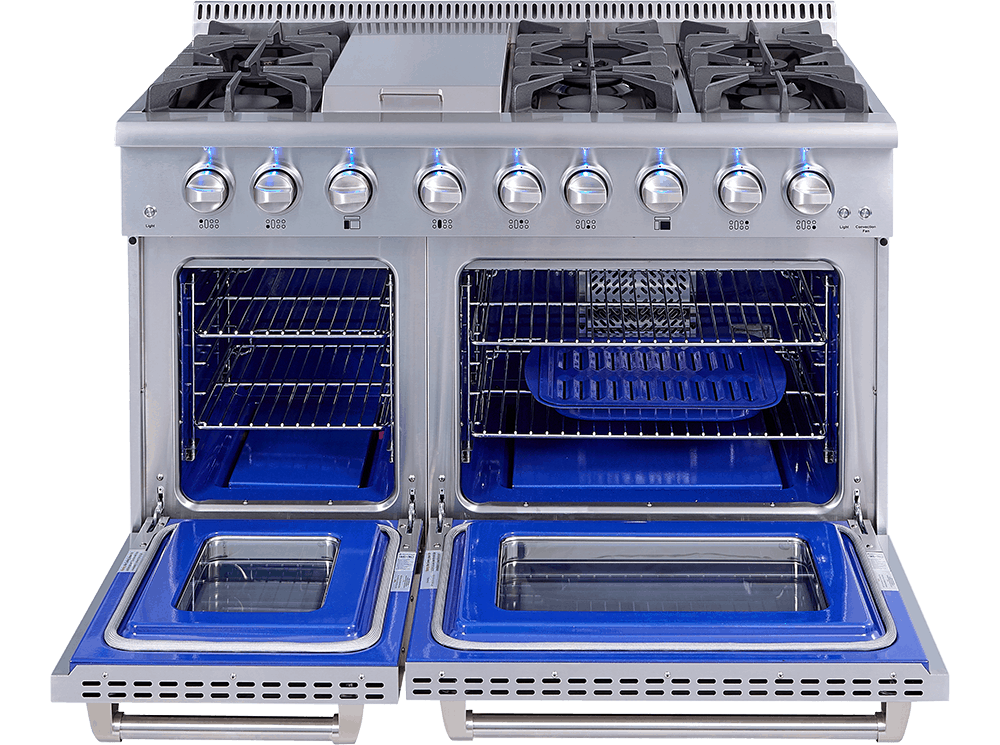 This Thor commercial range features superior quality which, in turn, makes cooking easier. There are 6 different-sized burners installed on the stovetop. This gives you the flexibility of being able to cook multiple different dishes, or aspects of a dish, at the same time.
They range in power from 15,000 BTU dual burners to 18,000 single BTU single burners at the back. All of these burners are also fitted with a sensor that automatically re-ignites the flame if it begins to drop, which can be extremely useful for efficiency and productivity in a commercial kitchen.
The range also has a handy double oven beneath it, which provides even more room for a range of catering needs. The convection fan helps to evenly distribute the heat, while the 2-year warranty provides plenty of peace of mind.
Key features
6 different sized burners
Double convection oven beneath it
2-year warranty
Verona VEFSEE365DSS Electric Range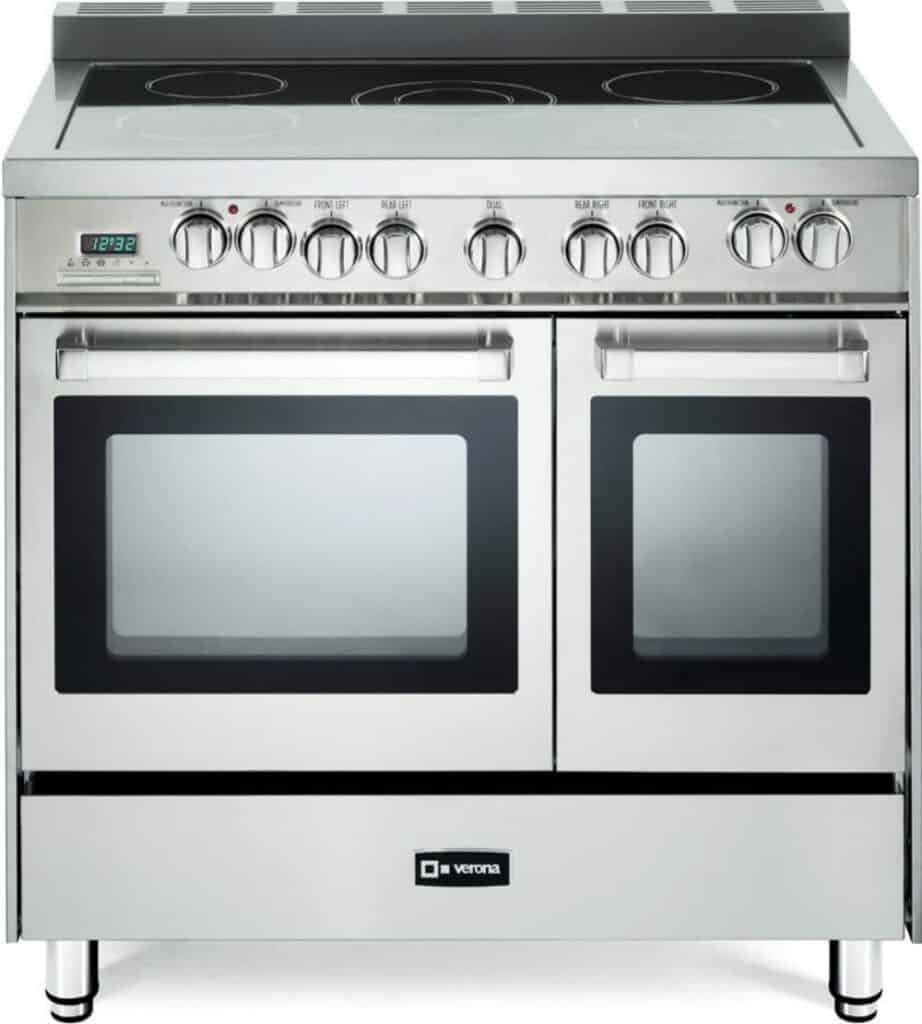 The Verona VEFSEE365DSS 30-inch commercial electric oven is a stylish, functional kitchen appliance. It's fairly small compared to some of the others on this list. This makes it ideal for smaller restaurants or cafes. Built of 304 (commercial-grade) stainless steel, you can be confident that this range will last for many years. It's also very durable and resistant to corrosion.
Despite its compact size, Verona has managed to include 2 convection ovens fitted in this device, which is even better for saving on space. There are also a total of five burners in a black ceramic glass cooktop with plenty of room for frying, sauteing, and more. It also comes with a handy 2-year warranty.
Key features
Compact size is great for smaller spaces
2 convection ovens and 5 burners mean plenty of cooking space
2-year warranty
Cosmo DFR486G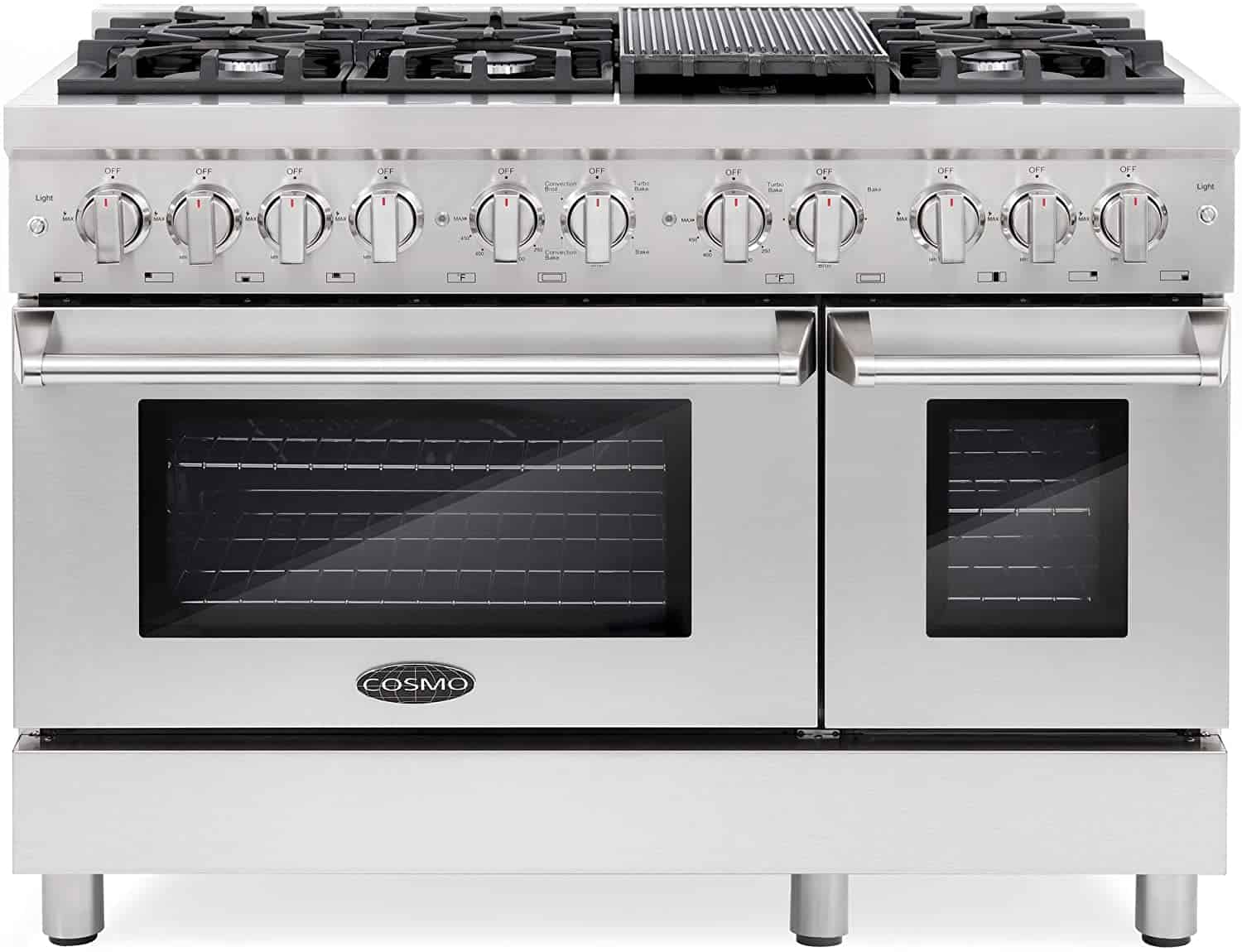 The Cosmo DFR486G is a gas range with 6 sealed burners, an oven that cooks with both convection and radiant heat, and a cast-iron grate. It will literally cover all of your professional kitchen needs.
High-performance gas burners provide various power ratings from low to high and have settings that allow for both a rolling boil and a gentle simmer. The burners have an automatic re-ignition feature and are all fitted with top-quality cast-iron grates.
This range also features a generous double convection oven, which offers plenty of space for bigger dishes. It is powered using Turbo True European convection (which means both a smaller energy bill and you won't need to have your oven on as high). It's also fitted with a dual fan.
Key features
6 sealed burners
Automatic re-ignition feature
Turbo True European Convection Oven
Commercial Kitchen Equipment Heavy Duty Range Top 4 Burner Cooktop Propane Gas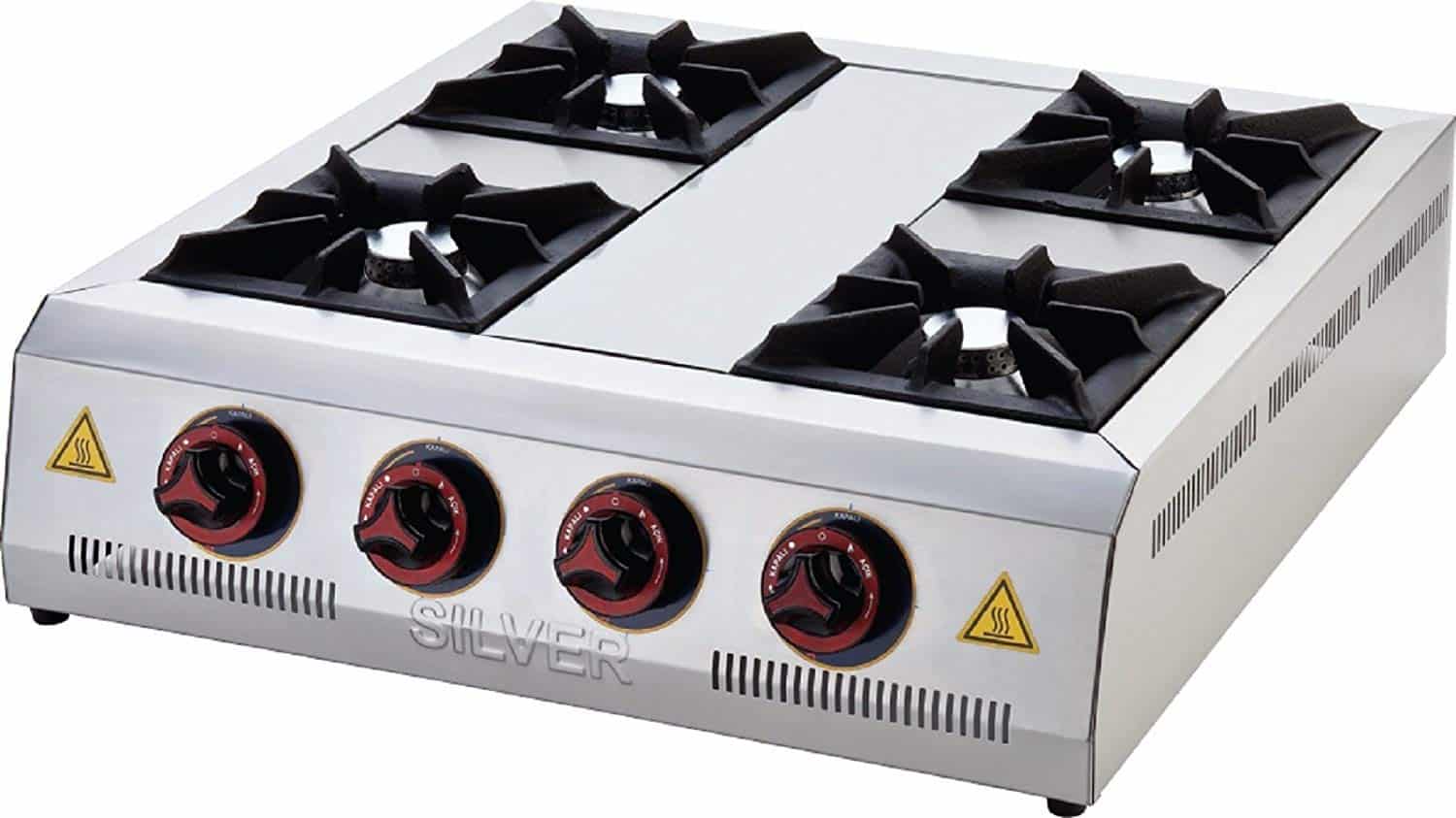 This small, portable, tabletop range is perfect for food trucks, portable kitchens, or other smaller or temporary establishments. It's a countertop unit which means it's the perfect solution for a commercial kitchen that doesn't have the necessary space to install one.
Countertop ranges are simple to install and take up minimal space, so they're perfect for restaurants. This range is powered by propane and equipped with multipurpose hot plates, which allow you to prepare multiple kinds of foods quickly and efficiently.
It has an easy-to-clean stainless steel top, and the body is made of stainless steel too. Thus, you will be able to comfortably clean your range, in case it gets spills.
Key features
Fully portable
Perfect for small spaces
Stainless steel for easy cleaning
FAQs
Question: How do I choose a commercial range?
Answer: When choosing a commercial range, there are lots of factors to consider. You should decide on what type of fuel you want your best commercial grill to use (gas or electric), as well as the size and style that will suit your needs. You should also be sure that it has enough space for all the pots and pans you need. Make sure to check how many burners you need as well. Something else to consider is the type of range hood- do they have a duct system for ventilation or an open flame?
Question: What are the different types of ranges?
Answer: There are a few different types of ranges, each with its own pros and cons.
A radiant stovetop is the most traditional type and so heats up quickly. Radiant heating uses less energy than other types but requires more upkeep because there's no natural ventilation system like some other models have. This means it may be harder to keep surfaces clean without scrubbing them down frequently.
A gas range has an open flame that can get very hot as well as burners that heat up instantly, making cooking much faster than on an electric model (but at the cost of high electricity consumption).
An induction cooktop also emits far lower levels of radiation or electromagnetic waves than others do. This means they're safer for staff who work in close proximity to the range.
Question: What are the major considerations when purchasing a range?
Answer: Be sure to measure your space and consider whether or not you need an open flame, radiant stovetop, gas range, or induction cooktop. You should also look at how many burners you need. As well as what type of ventilation system you have installed (ducted venting vs natural). Many commercial ranges include all safety features such as automatic shut-off systems for stoves with hot surfaces and proper equipment use warnings. The final thing to keep in mind is maintenance: make sure you read any warranty details before making the purchase.
Question: How much does a commercial range cost?
Answer: Commercial ranges can be expensive, with gas models costing about $2000 and induction ranges are usually more. You can find a radiant stovetop for less than $1000 – but you will need to pay more for an oven that's built-in or has a venting system included. On average, for a high-quality commercial range, you're likely to be spending around $2000.
Best Commercial Ranges Guide: Conclusion
In conclusion, there are a lot of different considerations to take into account when you're looking for the perfect commercial range. Whether you want to use natural ventilation or ducted venting, gas or electric models, and how many burners they have – these are all factors that should be taken into account when deciding on what is best for your kitchen.
You will also want to consider how much you can afford to spend and whether or not you need an oven that's built-in or has a venting system included. In this article, we've covered everything you should know about finding the best commercial range for your restaurant! Now it's time to go range shopping!