Latest posts by Alice Smith
(see all)
In the world of fried food, there are few pieces that are as sought after by catering businesses as Vulcan fryers. If you're looking for a way to make your cooking experience easier and more efficient, then it's time to start thinking about getting yourself a Vulcan fryer.
A brilliant machine that will both save you time, money, and make your food taste better, Vulcan fryers are ideal for all different types of catering organizations, whether you own a large 5-star restaurant, or a simple fast food joint.
So, if you are in the market for a new Vulcan fryer, or are considering purchasing your first Vulcan fryer, then you have come to the right place. It is important that you do your research before buying any appliance so that it will be compatible with your kitchen needs. Some people might prefer gas fryers while others want electric fryers – this article should help make your decision easier!
We have compiled a list of our favorite models on the market today and will discuss what each one has to offer. If you are looking for a fryer that can do everything from frying chicken to making your favorite french fries, then read on!
What Is a Vulcan Fryer?
A Vulcan fryer is a type of deep fryer that uses a range of modern technology to cook food quickly and evenly. There are gas, electric, freestanding, and even countertop versions of this product available and they are an absolute must-have in a modern-day kitchen. Well, let's be honest, any deep fat fryer is pretty much a must-have in a modern kitchen but Vulcan takes simply frying food to the next level.
Vulcan Equipment offers a wide selection of convection catering equipment including ovens, charbroilers, griddles, ranges, steamers, and, of course, deep fat fryers. Each piece of equipment is well-known in the business for its dependability and productivity, and you can trust any one of them to get your meal on time.
Vulcan's deep fryers are state-of-the-art in terms of simplicity, time efficiency, and clean-up.  The fryers are intended to run with maximum efficiency in a variety of operations from tiny independent restaurants to enormous stadiums throughout popular events.
So, let's talk about what specifically makes Vulcan fryers so great!
Where Are Vulcan Fryers Manufactured?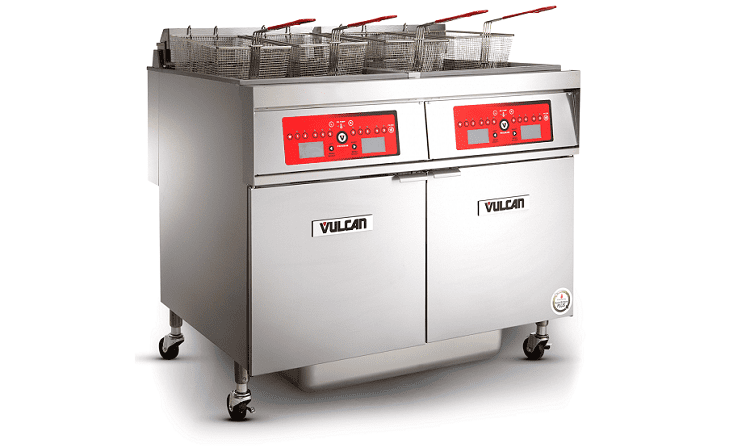 Originally founded in Louisville Kentucky, the name Vulcan first appeared as a gas and heating company in 1890, however, the company was originally created over 30 years prior. Vulcan expanded and continued to develop throughout the early 20th century. Throughout a couple of decades, they manufactured and expanded their product lines, either through the acquisition of other businesses or simply research and developing. They made it their priority to be the best.
Today, after over 150 years of development, Vulcan has achieved its goal and is now one of the world's leading producers of excellent commercial kitchen equipment. They've been named the top-quality, energy-efficient equipment by some of the industry's best.
How do Vulcan Fryers Differentiate from Regular Fryers?
So, I bet you're wondering how Vulcan fryers differentiate from other fryers. Well, they do so in many ways. Here are some of the ways they stand out from the crowd:
Trusted Dependability
Vulcan fryers are known for their ease of use and dependability. They're a must-have in any kitchen, whether it's commercial or home. Having a dependable, simple-to-use, and user-friendly device that cuts down on complexity in a commercial kitchen is essential. It also demonstrates the care that has gone into each Vulcan model.
High-Quality Materials
Expertly crafted from high-quality stainless steel, Vulcan fryers are also known for their quality. They're made to be durable and effective so that they can stand the test of time in your busy kitchen environment.
Useful Features
They also have many features that your bog-standard deep-fat fryer wouldn't have. For instance, built-in menu timers, hi-limit shut off, and snap action millivolt thermostat controls. All of these features are put in to make sure that your food is cooked to perfection.
Energy Efficiency
Caring a great deal about saving energy both for the environment and for their customers, Vulcan fryers are known for their energy-efficient quality. Many types come with Energy Star labels and have a lower lifecycle operational cost than traditional fryers. This also means that you'll use less energy each time you cook with your fryer and consequently save on utility bills.
Included Fryer Baskets
Instead of making you fork out extra for fryer baskets, Vulcan fryers actually come with fryer baskets so you can get started as soon as your product arrives. This can both shave time off an already expensive piece of kitchen equipment and give you added peace of mind that Vulcan has thought of everything to satisfy your frying needs.
Customer-Centric Company
Finally, being in business as long as they have has taught Vulcan a thing or two about customer service. The company is very good at prioritizing its customers and offers both top-notch customer service and continues to create products that directly address its customer's needs.
What Are Vulcan Fyers Used For?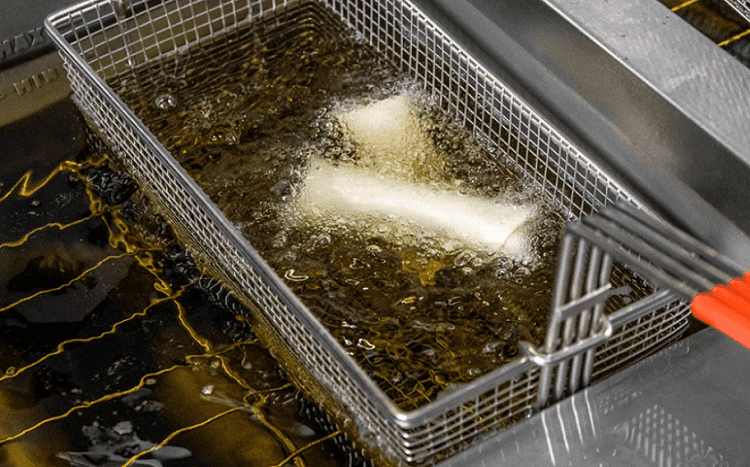 You can use a Vulcan fryer for everything you can use a regular deep fat fryer for. this includes:
French fries and chips
Fried chicken
Tempura vegetable
Donuts and sweet treats
Much, much more!
The sky's the limit when it comes to what you can fry with a Vulcan deep fat fryer and they really do make sure your kitchen is kitted out for frying deliciousness!
What are the Different Types of Vulcan Fryer?
There are lots of different types of Vulcan Fryer. They all come with a different set of features that make them suited to cooking particular foods, as well as being used in certain areas and purposes.
Some examples are:
Stand-Alone Fryer
This is the most common type of deep fat fryer used in a commercial kitchen. It is a stand-alone unit that is separate from any other equipment. This means you can fit it into your kitchen design and so long as there's an outlet, you can plug it in and start frying immediately.
Stand-alone fryers are generally used in kitchens that specialize in fried foods. They come in a variety of styles and materials and are perfect for daily use owing to their sturdiness, simplicity of usage, and easy maintenance.
Countertop Fryer
For those with limited space but still want to be able to enjoy Vulcan quality and benefits, countertop deep fat fryers are an excellent choice. They sit on your countertop and do not take up too much space, but still give you the ability to fry delicious food in a small place like a food truck, or even an apartment or your home kitchen.
Built-in Deep Fat Fryer
For those with very little counter space (or who just don't want anything taking up their precious counter space) built-in deep fat fryers are the next best thing. They have all of the same great benefits as stand-alone or countertop fryers, but they come with a dedicated cooking area so you don't need to worry about finding somewhere else for your pan and oil – it's already there!
Gas Fryers
If you want a fryer that is going to safely and accurately cook your food without having to use electricity, gas-powered deep fat fryers are the way to go. They may be slightly more expensive than electric models, but they will give you an excellent cooking environment for years of service.
Electric Fryers
Powering a light or gas fryer with electricity is also an option. If you are looking for a stand-alone deep fat fryer, electric models can give you the added benefit of being able to plug it into any type of outlet around your kitchen.
Open Pot Fryer
Open pot fryers are excellent for high-volume frying since the heating components are on the outside of the fry-pot rather than inside. This, coupled with the lack of tubes or burners inside the tank, makes the fryer incredibly easy to clean. However, it's also better suited for foods that have a low sediment level, such as frozen foods or fries. Plus, the tank's "V" shape creates a little cold zone at the bottom, allowing more oil to be used for frying.
Flat Bottom Fryer
Ideal for fish and chip shops or restaurants that serve a lot of doughy or freshly battered cuisine, a flat-bottomed fryer allows foods to sink and rise whilst they cook.
The fry pot itself is surrounded by heating elements, which allow the entire surface to radiate heat. Unfortunately, this does mean that there's no cold zone with a flat bottomed fryer, which can be slightly more high maintenance due to sediment causing a burnt oil taste.
But, it also means that wet battered foods don't sink and get stuck to the bottom during the cooking process. They will be as crispy as possible but also retain their shape and structure.
Tube Fryer
If you're frequently frying things like freshly-breaded fish or chicken, you may find that tube-type fryers are excellent for you. They are fantastic at handling foods that generate a lot of debris.
This is mainly due to the designated cold zone at the bottom of the tank which allows sediment and bits of waste food to sink to the bottom. This keeps your oil cleaner for longer, resulting in less waste and an overall better fryer experience.
Different Sized Fryers
Vulcan also makes fryers in all different shapes and sizes. For instance, they have fryers that range from a small countertop deep fat fryer to a huge commercial unit for larger restaurants. These commercial units can come in 1 to 4 or more basket models. Whatever your needs, Vulcan has the perfect fryer for you whether it's a household or high-volume kitchen!
What are the Vulcan Fryers Models?
So, now that we've had a look at which deep fat fryers Vulcan offers, let's also take a look at their specific model series. These are some of the most popular model options for Vulcan Fryers:
LG Gas Series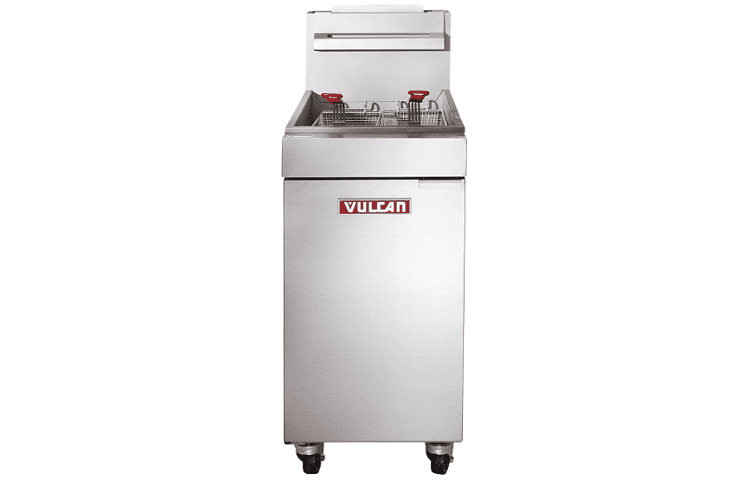 Ideal for a lower volume of frying operation, the LG Series is one of the most popular of the Vulcan fryers. They are excellent for home use and smaller kitchens, but can also be used in a restaurant setting if you're not looking to cook too much food at once.
These units are less expensive than comparable Vulcan Equipment items, but they maintain the high quality that we have come to expect. They also come with a range of oil capacity and basket options, making them perfect for anything from small-batch frying needs all the way up to high volume use.
The LG Series is a high-quality, high-performance fryer with a stainless-steel fry tank and heat exchanger tubes for maximum heat transfer. The temperature can go from 200 to 400 degrees. Any model comes with free twin fryer baskets and a drain extension for easy cleaning.
ER Electric Series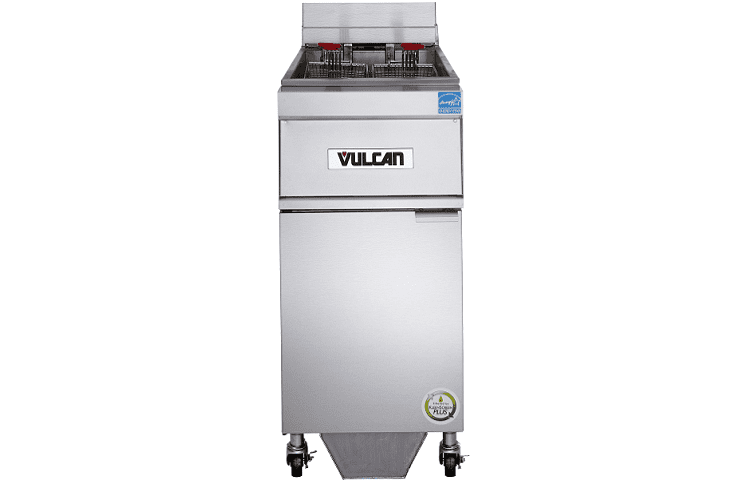 For businesses that sell fried foods a little more regularly, the ER series is a great option. Having a higher oil capacity and more baskets, these fryers are excellent for places that need to make fried foods at a much faster rate than the LG Series can handle.
The ER series is a primarily electric range which means that they are typically more energy-efficient than gas models. The heat-dispersing system recycles the heat, lowering the amount of energy needed to keep the oil warm. Also made from stainless steel, with ribbon-style heating elements as opposed to exchanges tubes. It's these ribbons that boost the efficiency of the device, and give the ER Series its Energy Star Rating.
VEG Gas Series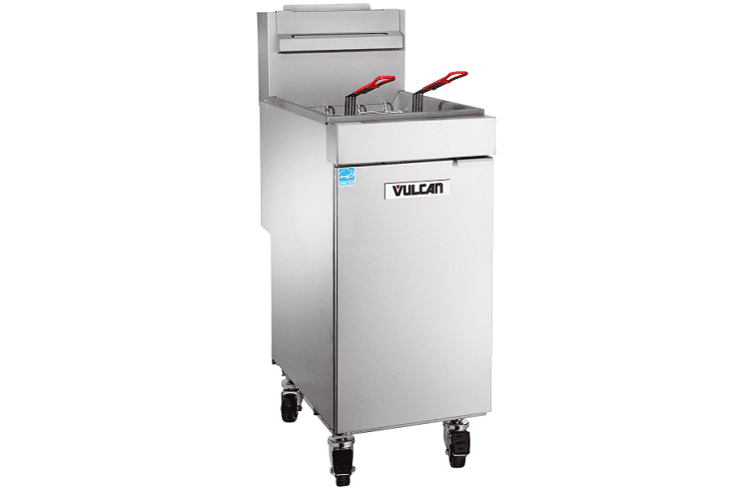 The VEG Series fryer is a Vulcan Energy Star qualified entry-level fryer.
This unit is perfect for any business that is just starting out and needs a deep fat fryer to get them started. It's available in a single 35-40-pound oil capacity model with a 70,000 BTU, so it's perfect for the small family-owned business that just needs to crisp up some french fries or chicken tenders. However, if you're looking for larger models, this probably isn't going to be what you need.
The VEG Series has a clever control system with a digital front panel and a Millivolt control behind the door, which means that the temperature is controlled by detecting how much power it's using. It's also energy star certified, so it'll help your business save on energy costs over time.
Powerfry VK Series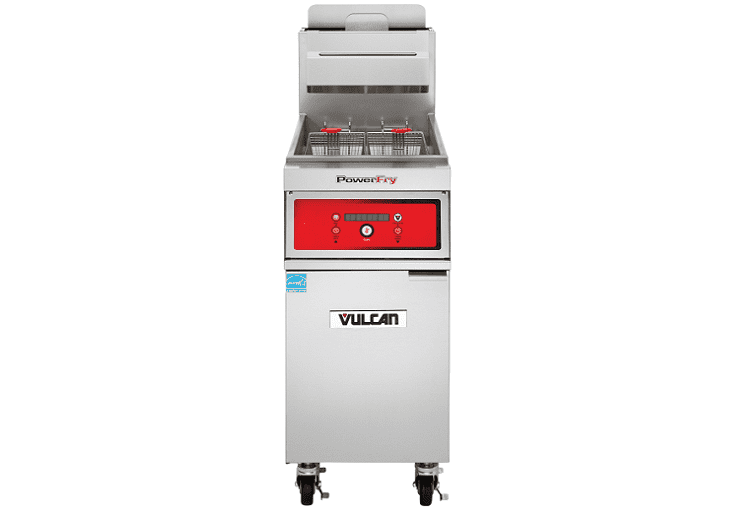 The Powerfry VK Series offers a powerful (of course) method for frying foods. The VK series is designed for extremely high-volume frying needs and has been shown to be capable of cooking up to 14% more compared to other brands of deep-fat fryers. With this model, you'll be able to get your food out hot and crispy in no time at all!
The stainless-steel construction is sturdy and can endure the strain of a busy kitchen. It's also high quality and is designed to last a long time. Furthermore, the series has some great features. The FivePass heat transfer method distributes heat uniformly throughout the oil for rapid recovery and lowers the amount of energy required in the long run – once again saving your utility bills.
This increases the efficiency of the unit, which helps to extend its life. It also helps to decrease heat emission into the flue stack, minimizes wear and tear on it, and extends the life of your oil – which could save your business some serious money!
Vulcan also has a Powerfry 3 model which uses a ThreePass heat exchange system instead of the Five. This is a somewhat less sophisticated design than the previous one, although it still allows for greater heat transfer surface area between the equipment's burners and oil than traditional fryers, resulting in quick, energy-efficient cooking.
GR Gas Series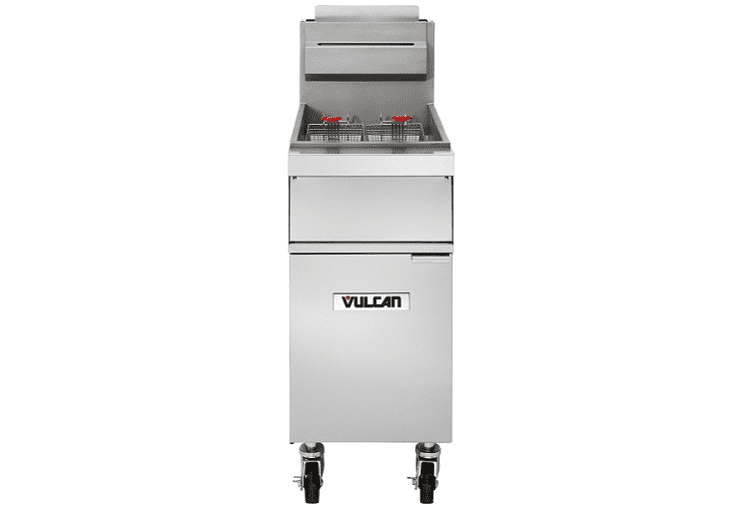 For business owners who don't want a lot of extras but need dependable equipment, Vulcan's GR series of gas fryers are ideal. They're simple, no-frills machines with a medium capacity.
The GR series is designed for ease of use and allows the owner to get cooking as soon as possible, with little setup time or preparation required. It is available in a range of oil capacities and comes with a tank brush, crumb scoop, and clean-out rod to make cleaning up after a busy day in the kitchen nearly effortless.
The controls are easy to use, with either analog dials or digital controls with a millivolt system. With the simple design, you don't have to rely on a lot of fancy bells and whistles – just great cooking performance at an affordable price!
What are the Best Vulcan Fryers?
PowerFry High-Efficiency Gas Fryer, 85-90 lb. Oil Capacity
The most powerful fryer on this list, the PowerFry VK Series is designed for extremely high-volume frying needs. With this model, you'll be able to get your food hot and crispy in no time at all!
The stainless steel construction is sturdy and can endure the strain of high-volume frying for years to come. This model uses five-pass heat transfer, which recovers faster and produces better tasting food. This will also help you save on gas costs and makes the model much more energy-efficient than other models.
With a large oil capacity of 90 pounds, you'll have the freedom to fry as much food as you need without being limited by frequent refills! This model also comes with four casters (two of which are lockable) for easy mobility.
The Vulcan VK Series is designed with a "V" shape that eliminates hot and cold zones around the fryer, keeping your oil at an even temperature throughout use. This helps cut down on cook times and keeps you from having to wait too long between batches of food! Overall, this is an excellent addition to any commercial kitchen and will help make your life easier in many ways.
Vulcan LG300 Gas Fryer, 35-40 lb. Capacity
This Vulcan Fryer is perfect for restaurants, cafes, delis, and more. It has a maximum temperature of 400 degrees Fahrenheit with adjustable thermostat control.
Available in either LP or natural gas, it has a 35-40 lb. oil capacity. This Vulcan fryer has a maximum temperature of 400 degrees Fahrenheit with different adjustable thermostat control settings between 200°F and 400°F. The V-shaped cold zone helps with preventing food from overcooking.
It's made from extremely durable stainless steel and both the frying tank and door are lined for added stability. The commercial deep fryer's three heat exchanger tubes allow for optimum heat transfer, which will help to shorten the cooking time. It comes with twin fry baskets for easy food handling and the handles have an added layered coating for comfort.
Commercial Electric Fryer – 50 lb. Oil Capacity
This electric fryer is a commercial grade model, with a 50lb. oil capacity and easy to clean construction. It has a ribbon design for even heating and a built-in filtration system that is designed to make it easier on you as the owner.
This Vulcan Fryer comes equipped with an amazing +200°F to +390°F thermostat range, so you can adjust the heat to your preference. With a KleenScreen Plus filtration system and strong ribbon-style heating element, this fryer will give you an even cooking temperature throughout each time it is used.
This electric frying unit also has a flat bottom design for maximum surface contact with food items that are cooked in oil. It includes stainless steel construction throughout its design, which makes it easy to clean and maintain after use.
What Should You Look for in a Commercial Vulcan Fryer?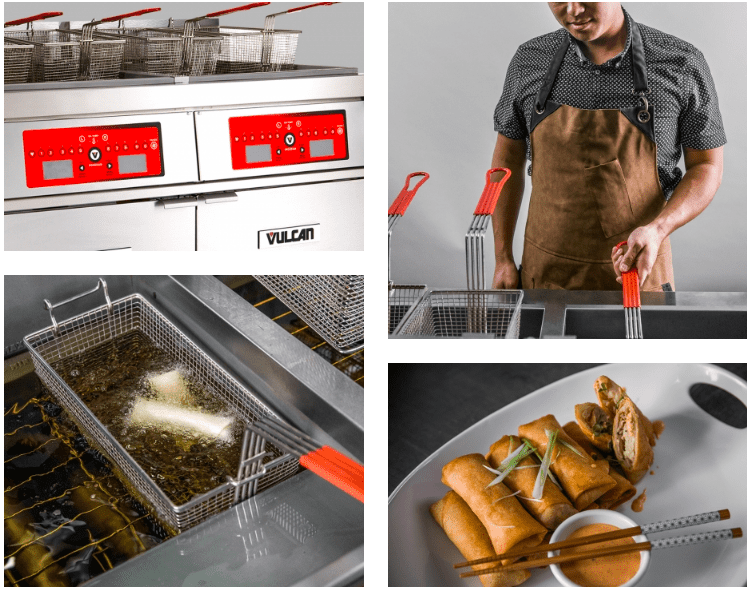 Once you've has a look at the best Vulcan fryer models and hopefully, you've found one that's suitable for your needs, there are a few things to consider when looking at commercial fryers:
Size
The size and weight of the fryer are very important. Ensure that you have space to store the unit after every use, and if possible – an area for it to cool down so it can be drained safely before being stored away.
This is especially true when considering a large commercial deep fat frier like Vulcan's Powerfry VK Series or GR Gas series because they can be quite large and weigh up to 500 pounds.
Capacity
The size of the fryer you select should also take into account its capacity; what will it hold? If your restaurant's menu includes things like fried fish or chicken, consider an oil capacity that can handle at least four full-sized orders. This may require you to purchase a larger capacity fryer than you originally planned on.
If your menu includes fried foods like French fries, tater tots, and other similar items – consider an oil capacity that can handle at least four orders of those products at once, or even more than this if you're running a larger organization. This will help save time and ensure that customers don't have to wait very long for their orders.
Efficiency
The best commercial fryer will cook your food quickly and efficiently. Check the BTU/hour of each model you consider to ensure that it can keep up with demand, but also understand how much power is being used by considering efficiency measurements like the energy Factor or cooking power. These numbers are usually listed on product specifications so be sure to check them out before making a decision.
Construction
What is your potential new fryer made from? If it's a large commercial deep fat fryer, does the material used in construction seem durable and able to withstand regular use? This will ensure that it will last for years in your restaurant.
Don't forget to consider the fryer's components too like its oil tanks, baskets, or filters when determining the quality of construction.
Ease of Cleaning
Ensure that you can easily clean your new unit as well. Emptying a deep fat fryer of dirty oil is never going to be a particularly fun task, however, if the oil drain is difficult to access, or there are components that won't come apart for cleaning – it will be even more hassle.
Plus, consider external cleaning and maintenance. Stainless steel is often considered the most popular option for restaurant equipment because of its durability and easy maintenance. However, even stainless steel may eventually rust, and all fryers are prone to damages like scratches, and other types of superficial issues damage that can be difficult to fix.
Power Rating
Next, consider the power rating of your potential new fryer. This is important because it can affect how much energy you use and also – how quickly food cooks (which we've already mentioned).
It's a good idea to check this before making a decision about which commercial deep fat frier to buy so that you can better plan how much energy you'll need to use.
Heating Method
Do you want a gas or an electric fryer? You'll need to consider both the benefits and drawbacks of each of these choices before you make a decision. For instance, electric fryers are often considered less expensive to buy and easier to maintain.
However, electric deep fat fryers require a power supply nearby which may make installation more difficult, and they also tend to cook food slower than gas-powered models do (because of the way electricity transfers heat). The same is true for gas commercial fryers; while they cost slightly more, they cook food faster and tend to be easier to install. They also require less maintenance than electric fryers do.
Features
Consider what other features your potential new commercial fryer may have like stainless steel construction for durability (which we already mentioned) or a particular design that allows it to do something unique like handle larger orders of certain types of foods without issue.
Ease of Use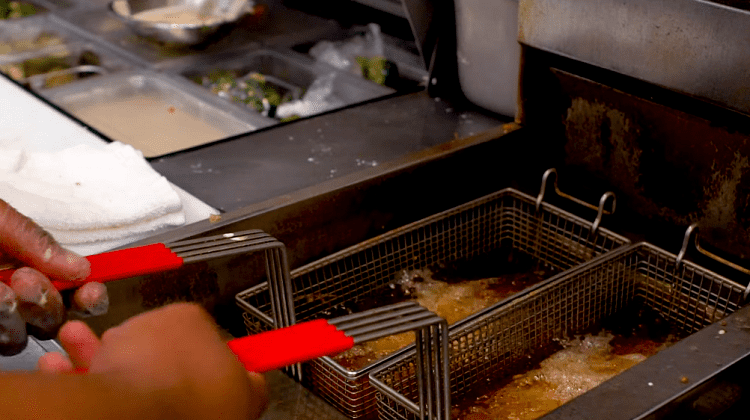 Also, consider ease of use. Make sure that you can control all aspects of your new fryer easily so that it works for you – not the other way around. A new fat fryer should make your life easier, not harder.
Pay attention to details like parts that come apart easily for cleaning or a design that allows you to drain oil more easily and quickly (and without making a mess). Also, note how easy is it to move the fryer, turn on the fryer (does it require lighting, or is it just a switch), and how comfortable the baskets are to hold.
Controls
Talking of controls, it's important to note that the controls on your commercial deep fat fryer should be easy for you and anyone else who uses it, to understand. The ideal control panel is one with a large monitor (that shows everything from temperature settings) as well as big buttons which are simple enough for everyone to use – no matter how young or old they are.
In addition, you should also consider things like timers and alerts as well as automatic shutdowns which will help to keep your new fryer safe at all times. Most of the top models come with these features included – but it's a good idea to check before buying a commercial deep fat fryer that they are there because this could be something that you really need.
Safety
safety features are vitally important when it comes to deep fat fryers. Having an unsafe unit can lead to fires, severe burns, and other types of issues, which is why it's important that you look for safety features like automatic shutoffs and splash guards before buying a new commercial deep fat fryer.
BTU Outputs
Also, you'll want to consider BTU outputs before making a decision about which commercial deep fat fryer is the best for your restaurant.
Units with higher BTUs will cook food faster and more efficiently – but they also use up more energy (and cost more money in terms of utility bills). Units that have low BTU output may take longer to cook food – but they also use less energy and cost less money in terms of utility bills.
Portability
Particularly for those who own portable restaurants or catering businesses such as food trucks, having a portable deep fat fryer is essential. It'll allow you to move your commercial deep fat fryer from place to place quickly and easily – which is something that can't be said for fixed units.
Included Extras
Next, you should also take note of the extras that come with your unit. Some deep fat fryers include everything from baskets to drain racks – while others may not even have a frying basket included at all (and will require purchasing this extra.) Having these things included can seriously save on costs – particularly with an already rather expensive piece of kitchen equipment.
Price
Of course, price is also a factor. While there are some commercial deep fat fryers on the market that cost over $1000, most of them will be in the region of around $600 for entry-level models – and then they go up from here based on their features, BTUs, etc.
Vulcan Fryers have many different models to suit a range of different budgets – with some of the cheapest models available starting at around $700 for a small, entry-level fryer.
Warranty
Finally, warranty length is another thing to consider when buying a commercial deep fat fryer. While some units only come with warranties of between three months and one year (which can be rather frustrating) others will come with much longer warranty lengths – meaning that you'll always be covered for at least 12 months, or more if possible!
Always look carefully before deciding on a product, and ensure that you check the fine print of warranties before buying a commercial deep fat fryer.
FAQs
Question: Are Vulcan Fryers Good?
Answer: Yes, Vulcan fryers are well known in the catering industry for their quality, durability, and reliability.
Question: What BTU Should I Get in a Vulcan Fryer?
Answer: As a general rule, you should aim for 15000 BTUs or above if possible so that your food is cooked quickly and efficiently. However, if you're on a budget, lower BTU models will do.
Question: Which Type of Deep Fryer is Best?
Answer: This depends a lot on what you want to use your fryer for. For home use, a smaller electric fryer is probably the best option. However, for commercial purposes, you'll generally be looking to purchase a unit that's gas-powered because they are often more reliable and efficient than their electric counterparts.
If you run a busy restaurant that serves a lot of fried foods, a large stand-alone deep fat fryer is probably the best option.
Question: Are Vulcan Fryers Worth Buying?
Answer: Yes, they are a good investment for any business looking to buy deep fat fryers as they're built tough and designed with quality in mind first and foremost – meaning that you'll be able to use them every day with ease without having to worry about damage or issues over time.
Question: What are the Benefits of Fryers?
Answer: Fryers have many advantages – but one of the biggest ones is that they allow you to cook large quantities quickly and efficiently. They also come with a range of other benefits, including being easy to clean because most units are dishwasher safe. Fryers are particularly good for those who struggle cooking food quickly on the stovetop or oven.
Question: What are Electric Deep Fryers?
Answer: Electric deep fat fryers are one of the most popular types, particularly for home use – as they're easy to set up and operate, relatively safe (as long as you remember not to overload them), and quick at cooking food with little pre-heating required.
Question: What is the best oil for a fryer?
Answer: Fryers can generally use most types of cooking oil, including olive and sunflower oils. However, using one that's specially designed for deep-fat frying will often give you better results as they'll be more effective at keeping food from sticking to your equipment during the deep-frying process.
Question: How do You Clean a Vulcan Deep Fryer?
Answer: Similar to most deep-fat dryers, Vulcan fryers need to be thoroughly deep cleaned after use – and this is usually done using a combination of dish soap, hot water, and baking soda to remove any leftover residue.
Question: What Does BTU Stand For?
Answer: BTU stands for British Thermal Unit and it's a unit that measures how much heat energy something generates or uses up during the course of its lifespan. It's a useful way of measuring the amount of power that a deep fat fryer uses.
Question: How Much Will a Vulcan Deep Fat Fryer Cost?
Answer: Vulcan deep fat fryers tend to vary a lot in price – with many costing well over $1000. However, there are also some more affordable models available that range from around $700-$900 depending on the features you need and how much power the unit has.
Question: What is the Life Expectancy of a Vulcan Fryer?
Answer: One of the best things about Vulcan deep fat fryers is that they often last for many years without any issues. Many of the best models are designed to be robust and durable, meaning that more expensive doesn't necessarily mean better when it comes to this type of equipment – as long as you choose a reputable brand like Vulcan then you shouldn't have too much trouble with it.
Best Vulcan Fryer Guide: Conclusion
In conclusion, Vulcan is a well-known brand of deep fryers that has been producing high-quality products for over 70 years. They offer a wide range of different types and models to suit all budgets as well as kitchen types. If you're looking for the best deep fat frying machines around, then this manufacturer should be at the top of your list.
The best Vulcan fryers are durable, built tough, and provide outstanding results every time you use them – plus, they're all on this list! They are a worthwhile investment for any business looking to buy deep fat fryers as they're designed with quality in mind first and foremost. If you run a busy restaurant that serves fried foods then getting one of their deep fat fryers is a must.