Latest posts by Maddy Chiffey
(see all)
In this post, I will be covering the seven best commercial bread slicers on the market, as well as some top tips when searching for the right bread slicer for your professional kitchen and providing the answers to some popular FAQs.
Commercial bread slicers are not the newest piece of equipment to emerge for the professional kitchen, but their popularity is undoubtedly increasing. With the rise of cafes, coffee shops, and high-street delis, almost every eatery out there could benefit from owning a commercial bread slicer. But, which one is right for your commercial kitchen?
This guide will include seven of the best commercial bread slicers, including features, designs, and price points that should suit almost every chef and every kitchen.
At a Glance: 7 Best Commercial Bread Slicers 
Commercial Bread Slicers Buying Guide 
Slicing bread the traditional way, with a sharp knife, isn't the best option for bakery owners or busy restaurant chefs. A commercial bread slicer is the most efficient way of preparing delicious sliced bread for customers in the shortest time and in the most uniform way.
Commercial bread slicers come in various widths and sizes to handle fresh-baked bread, bagels, deli meats, and vegetables with ease. Unlike the old-fashioned way of using a knife, a commercial bread slicer will guarantee perfection with every slice cut to the desired width every time.
Using a commercial bread slicer is simple, and every member of the kitchen team will be able to operate this piece of equipment with minimal training. If you're looking for a new commercial bread slicer for your professional kitchen, here are a few things to consider before making the purchase.
Freestanding vs Countertop Bread Slicers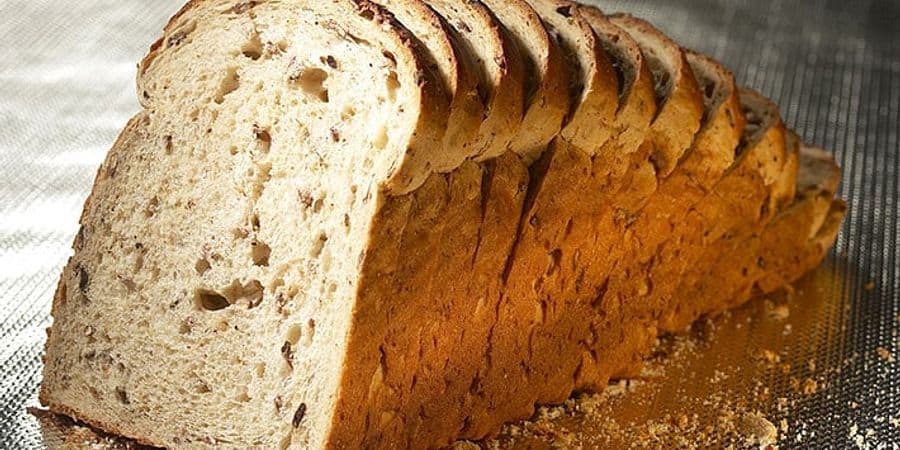 There are two kinds of commercial bread slicers; floor-standing and countertop. The freestanding models are much more expensive to purchase but can cut through hundreds of loaves an hour compared to their counterparts. Floorstanding slicers come with casters typically and sit conveniently on the kitchen floor, leaving countertops free.
Countertop slicers sit on top of the counters, so a freestanding slicer could be the better option for kitchens with a lack of countertop space. However, countertop slicers can be purchased for less than $30 from highly reputable brands and do the job well. Freestanding models cost a considerable amount more but are more heavy-duty workhorses.
Slicer Configurations 
There are typically several pre-set thickness settings on a commercial bread slicer, which help to streamline the bread preparation in the kitchen. Before you make a purchase, ensure that you read the specifications of the bread slicer to make sure that it can meet your needs. Some models have pre-set configurations; others are more bespoke and allow users to tweak the settings to their desired thickness.
If you need a large amount of bread sliced daily, it would be wise to buy a model that can handle the greater demand. It would be best to purchase a slicer that can turn out the number of slices you need per hour, whether this is ten or a hundred. The higher the turnover, the higher the cost is likely to be, but it is down to you whether this is an investment or not.
Electric or Manual
There are some bread slicers that purely give you the width required, in between plastic or wooden slats, for you to position the bread in between and cut down manually with a knife. I have included a couple of these in the guide as more budget-friendly choices.
Other manual slicers will cut the bread for you as you turn the wheel on the side of the machine. Electric slicers are a higher financial outlay initially but can save an incredible amount of time in the kitchen. At the touch of a button, a whole loaf can be cut perfectly in seconds.
For a smaller bakery or deli, a manual commercial bread slicer could be sufficient. But, for a busy sandwich shop, an electric model would be the speedier and more convenient option.
Features 
Obviously, slicing bread will result in crumbs which can cause havoc in a commercial kitchen if they're not properly cleaned up. It would be best to opt for a commercial bread slicer with maintenance features, like a crumb drawer or removable parts for easy cleaning.
Another feature you may wish to consider is bagging. Suppose you need to bag up bread for customers efficiently. In that case, you may want to consider buying a model with a front-mounted bagging feature, as this will save considerable time and present the bread professionally. When purchasing bread bags, always opt for airtight ones to preserve the freshness of the bread for longer.
7 Best Commercial Bread Slicers
Kitchen Seven Bamboo Bread Slicer – #1 Top Pick

Durable Bamboo
Foldable
Lifetime Warranty

Find Here

Norpro Bread Slicer – #1 Budget Pick

Crumb Holder
Highly Affordable
Hygienic Plastic Material

Find Here

Oliver Variety Slicer Model 777-N

Slices 150 Loaves Per Day
Minimal Maintenance
X4 Lockable Casters

Find Here

Techwood Food Slicer 

Removable Stainless Steel Blade
Adjustable Knob for Thickness
Non-Slip Feet

Find Here

Zassenhaus Classic Manual Bread Slicer

Germany Stainless Steel Serrated Blade
Wood Base Offers Easy Cleanup
Long Established Brand

Find Here

OSTBA Electric Bread Slicer

Adjustable Thickness
Electric Operation
Removable Blade

Find Here

Doyon Floor Bread Slicer

Automatic Safety Features
Slices 100 Loaves per Hour
Integrated Crumb Drawer

Find Here
Kitchen Seven Bamboo Bread Slicer – Our #1 Top Pick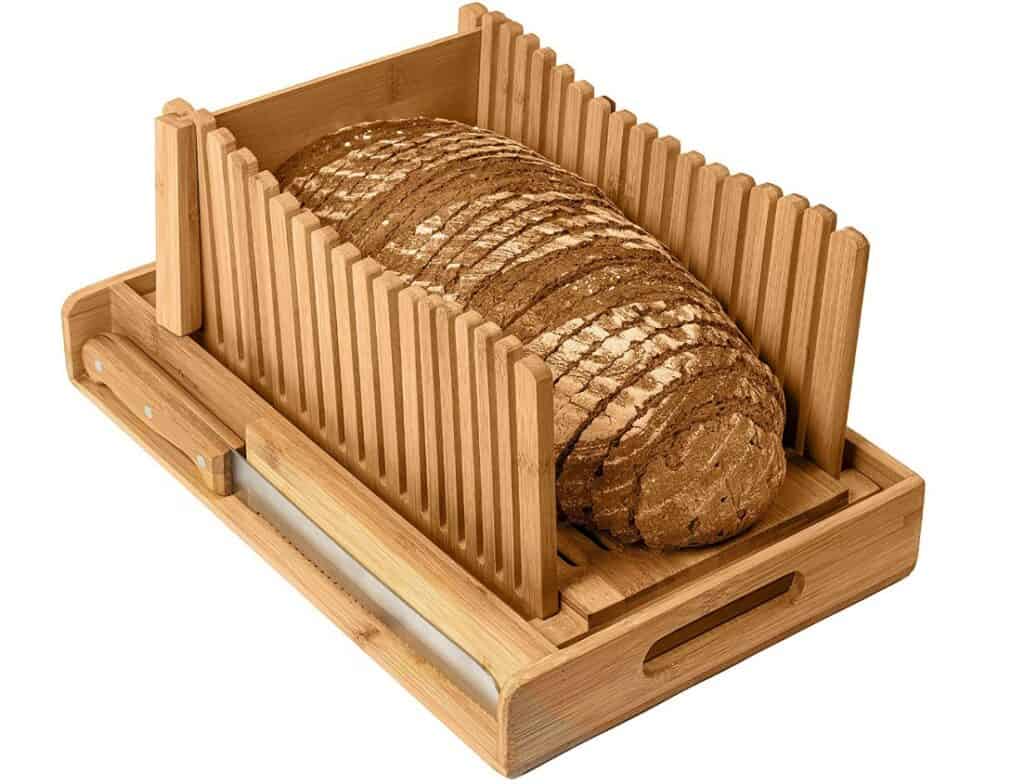 The Kitchen Seven Bamboo Bread Slicer is an affordable bread slicer with some great features to make a commercial kitchen run more smoothly. The rustic aesthetics are very fitting with traditional bakeries, vintage deli's, or front of the house in a restaurant; to provide bread to accompany starters or as an aperitif.
The entire slicer is constructed from beautiful bamboo, a highly durable, water-resistant, and eco-friendly material. It feels smooth, with no unfinished edges. There is an easy-to-clean pull-out tray to catch any crumbs, which is also made of natural bamboo.
The slicer works by holding the bread in place in between wooden slats. You then use the included 9-inch Kitchen Seven sharp, serrated bread knife to cut the bread into uniform slices. It isn't electric and does require some work, but the bread comes out well, and the slicer looks great. It is built from durable, quality bamboo, and there is a lifetime warranty with the purchase.
Although the knife included is of cut quality, with a sharp 9-in blade, you could half the work time and use an electric knife instead. I would just use caution to protect the board from incisions.
Pros
Affordable
Looks Great
Quality Bamboo Construction
Cons
Not a Machine
The Board May Not Survive Heavy Cutting Unscathed
Individual Hand Cutting
Norpro Bread Slicer – Our #1 Budget Buy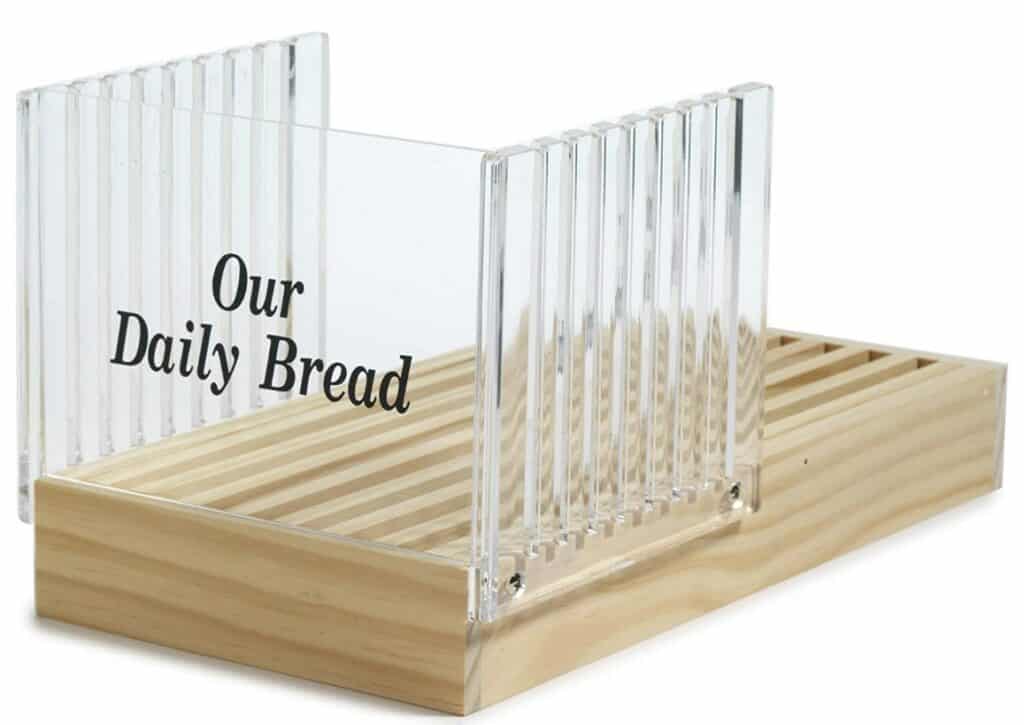 A real budget buy that can work well in a commercial kitchen, restaurant, or deli is the Norpro Bread Slicer. This highly affordable bread slicer helps create perfect slices of bread for chefs or can be a great item to be placed on a restaurant buffet table, salad bar, or coffee shop counter.
Its main selling point is its affordability. But, the slicer is exceptionally durable and efficient. The Norpro brand has an excellent reputation for providing good quality kitchen items at great prices over its 40-year history. Long-lasting kitchenware is a guarantee from this company.
The Norpro bread slicer is a perfectly adequate, no-frills device that does require manual input to obtain ½-in slices of bread. You cannot adjust this, and you are required to slice the bread manually with a sharp bread knife, not included. The crumb tray is a nice addition, and the gadget is easy to assemble and maintain.
Pros
Budget Buy
Trusted Brand
Easy to Clean and Maintain
Cons
Manual Slicing
Cannot Adjust Width
Additional Knife Purchase Needed
Oliver Variety Slicer Model 777-N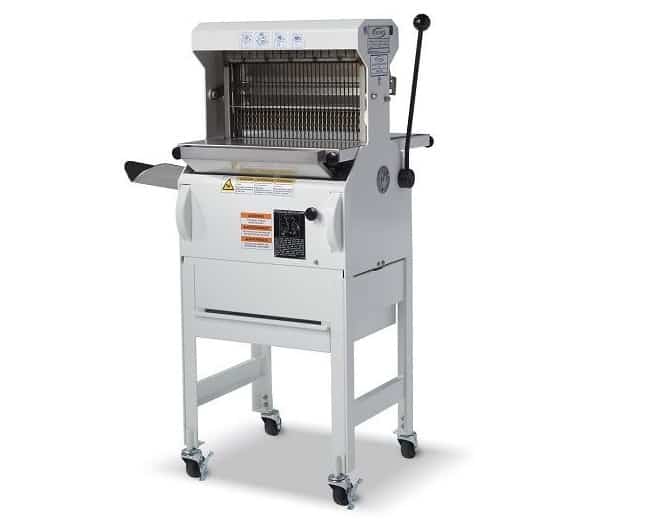 Made in America, the Oliver Variety Slicer Model 777-N slices virtually all bread varieties quickly, cleanly, and efficiently. It is a floor-standing workhorse of a bread slicer that can slice up to 150 loaves per day. The maintenance required is minimal, and this is considered a trouble-free operation by those who have experience with it.
One of the best advantages of the Oliver 777-N is that the cost of replacing the blades is the lowest in the industry. This really contributes to an overall low ownership cost. The blades are easy to replace as they're independently mounted. They are rust-resistant and of good quality, but it is recommended to change them every six months.
The design is relatively compact, and the slicer easy to use. The machine automatically holds bread while it slices perfectly, with no manual labor required. I have tried to source a price for this slicer, which is not easy to find, but similar models are retailing from $7,000 upwards.
Pros 
Lowest Blade Replacement Cost in the Industry
Slices 150 Loaves per Day
Minimal Manual Input Needed
Cons 
Price Difficult to Find
Bagging Bread Could be Simpler
Bread Holding Tray a Little Flimsy
Techwood Food Slicer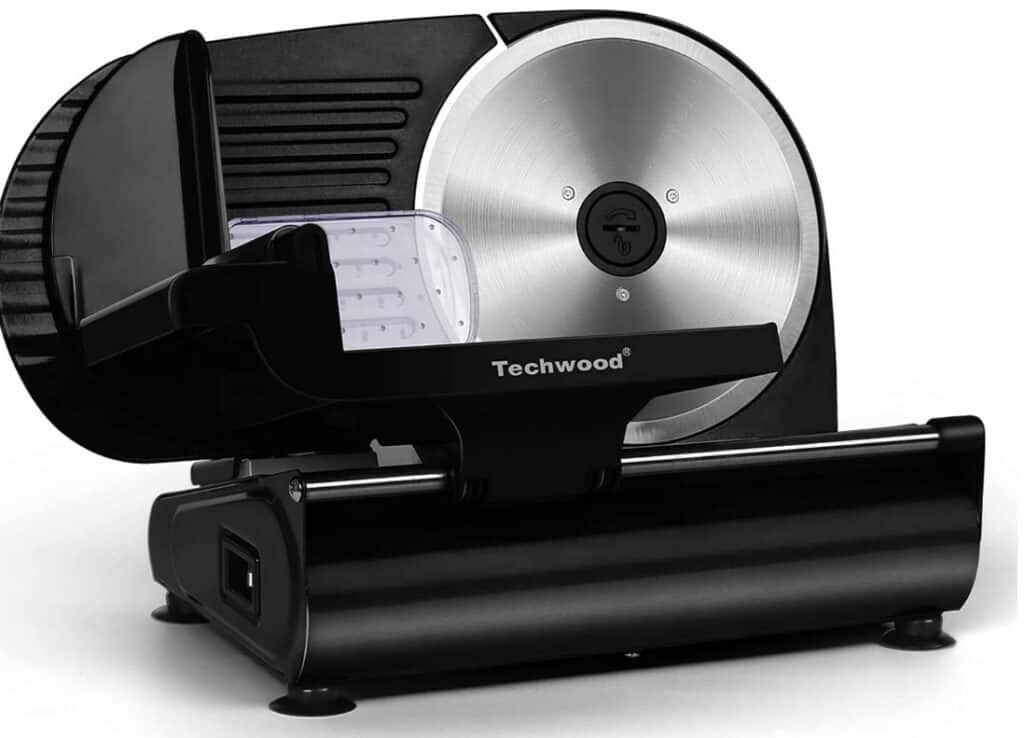 The Techwood Food Slicer is a space-saving countertop food slicer, working with 200W of electricity and an upgraded, removable 9-in stainless steel (420) blade. It slices through bread, meats, vegetables, and cheese evenly with precise blade adjustments to cut as narrow as ¾-in.
The slicer weighs just over 14 lb which means it is light enough to pick up but heavy enough to stay in position on the countertop. Extra stability is in place with the four suction feet. To use the slicer, simply push the loaf gently through and watch the blade do its magic.
With minimal input, this machine is to use, and the results are fantastic – time, after time. Clean-up is also simple; the blade is removable and dishwasher safe. Techwood offers a 30-day no-quibble return policy and an 18-month warranty.
Pros 
High-grade Stainless Steel Blade
Space Saving for Countertop
Minimal Human Input Needed
Cons
Cannot Remove Tray to Clean Thoroughly
Mostly Plastic Construction
A Little Noisy
Zassenhaus Classic Manual Bread Slicer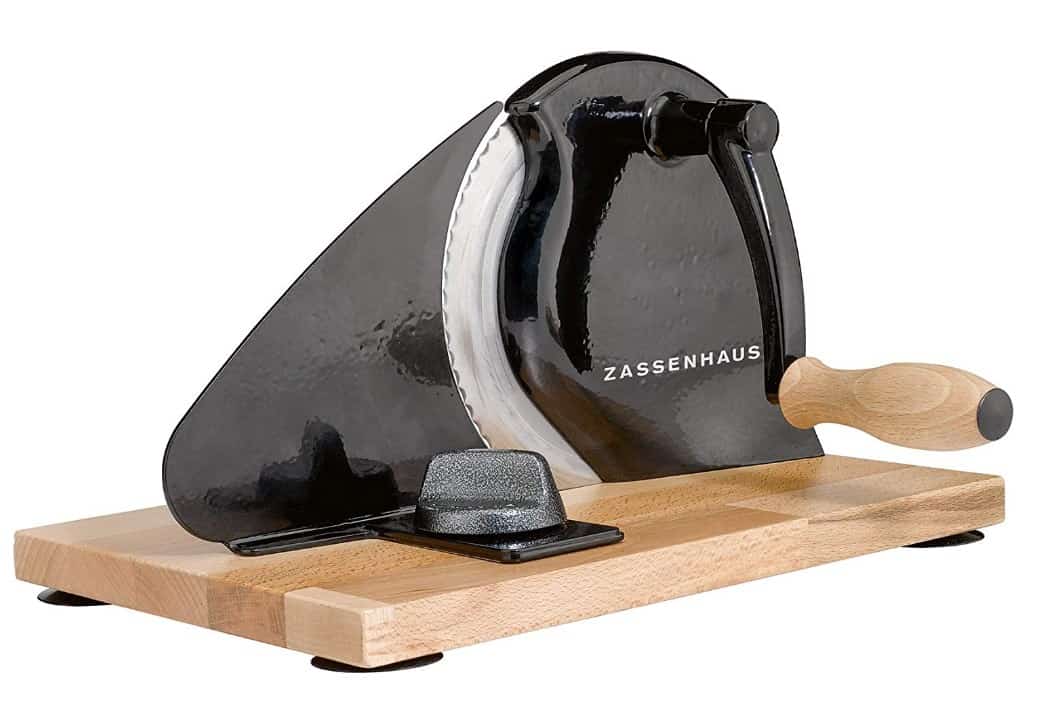 The Zassenhaus Classic Manual Bread Slicer is an excellent piece of kitchenware for any eatery that appreciates good quality with beautiful simplicity. Compact enough to be easily stored on a kitchen shelf when not in use, and with Solingen German Stainless-steel to slice through bread with ease, this is a top choice for any chef.
The Zassenhaus brand has been around for 150-years and offers a variety of high-quality kitchen accessories. This bread slicer has the aesthetics and simplicity of times gone by but made in Germany from high-quality materials; it can be relied upon in a busy establishment. You can easily adjust the width by the small dial on the wooden base to gain thinner or thicker slices as you wish.
It is easy to use, easy to store, and simple to maintain. The price point is reasonable, and the materials are of outstanding quality.
Pros 
Simple to Use
Easy to Store
High-grade German Steel
Cons 
Slice Each Bread Slice Individually
Fairly Time Consuming
Suction Cups Could be Sturdier
OSTBA Electric Bread Slicer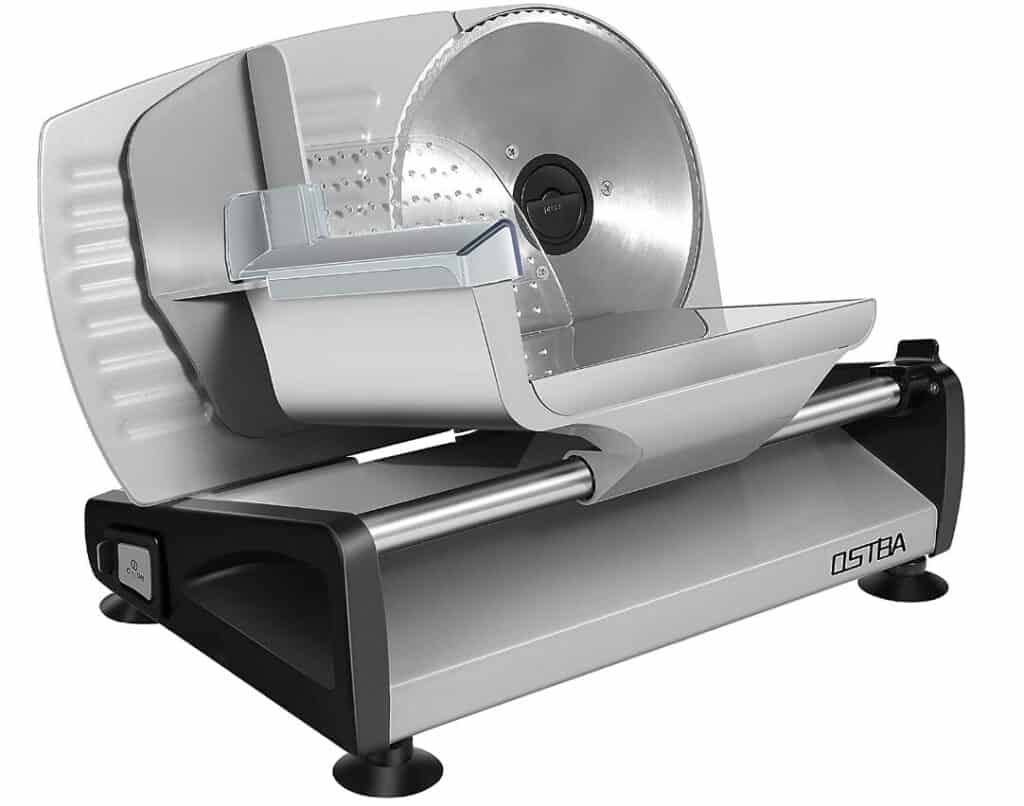 For the expert procession, the OSTBA Electric Bread Slicer is an excellent choice in the professional kitchen. There is 200W of electric power, and the machine can tackle bread, meat, cheese, fruits, and vegetables with ease. The blade is 7.5-in, stainless steel, and has a serrated blade that can cut through frozen meats easily.
Simply push through the bread, or other food items, turn the handle, and the machine does the rest of the work. It is simple to use and easy to clean. The ring-guard cover is removable, a unique feature that prevents the build-up of debris for excellent sanitation.
You can hold the machine and the bread, relying on the stability of the suction feet to keep the slicer in place on the countertop. A lower-powered model is available for a slightly lower price, and both models are received well by chefs, both domestic and professional.
Pros 
Great Price
Easy to Use
Good Safety Features
Cons 
Motor Fairly Loud
Difficult to Clean Entire Item
A Lot of Plastic in Construction
Doyton Floor Bread Slicer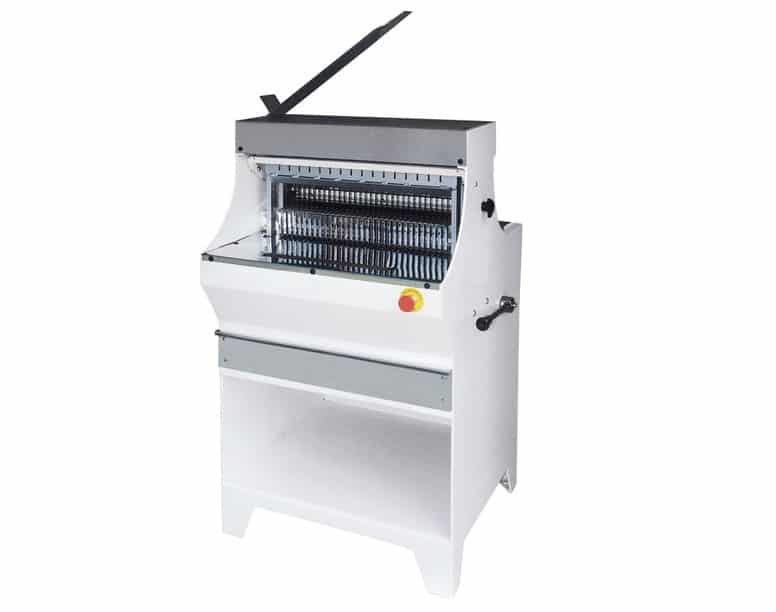 The most expensive on the list is the Doyon Floor Bread Slicer but known in the culinary world as 'one of the most effective bread slicers' out there, it may be the machine you were looking for. A powerful motor and sharp blade can cut up to 100 loaves of bread per hour, each at ½-in thick in a perfectly uniformed fashion.
It is easy to use the Doyon Floor Bread Slicer; simply push and release the handle when the bread is in position, and the machine will automatically begin to slice. The machine automatically pushes the bread through the blades and stops when the job is done. These features increase the safety aspects of using an electric bread slicer.
The bagging device helps package up the sliced loaf afterward effortlessly, and the integrated crumb drawer performs excellently at catching any bread that doesn't make it to the bag. There are four casters, two with brakes, to help to maneuver the unit.
Pros
Great Reputation
Excellent Safety Features
Slices Upto 100 Loaves per Hour
Cons
FAQs
Question: Are Bread Slicers Worth it?
Answer: If you have to cut many slices of bread and have them all look uniform, a knife can be insufficient, regardless of how well you handle knives. Cutting with a bread knife can also create a lot of mess and food wastage.
A commercial bread slicer will ensure that every slice is cut to the desired width every time. Some are adjustable for thinner or thicker slices. Many also have underneath trays to catch any crumbs and prevent mess.
Question: Can I Use a Meat Slicer Instead?
Answer: I have included a couple of multi-use slicers in this guide, so in short, the answer is yes. However, crustier bread, or conversely softer bread, requires a serrated knife to be sliced precisely.
If you have a meat slicer with a flat blade, it may be worth it to buy a bread slicer too. But, if you have a food slicer that already has a serrated blade, then this should be adequate to use for bread.
Question: Can I use a Bread Slicer for Meat?
Answer: Some bread slicers are explicitly designed to slice through the dry consistency of bread and may struggle to do so with other more moist food, such as meat. Meat can often become stuck in serrated blades. If you're only going to be cutting bread, it would be best to opt for a designated bread slicer.
Best Commercial Bread Slicer – My Verdict
I particularly liked the Kitchen Seven Bamboo Bread Slicer. Its appearance is a significant selling point for me, and I like the entre natural bamboo construction. It requires manual labor to use but comes with a sharp, serrated knife – that matches the board – to do this. It's affordable, collapsable for convenience, and easy to clean. But, I appreciate it isn't for everyone.
Another option that requires elbow grease is our budget pick, the Norpro Bread Slicer. This doesn't come with a knife and doesn't slice bread for you, but it offers an excellent platform for you to do so. It's easy-clean, compact, and highly affordable.
The Techwood Food Slicer and the OSTBA Electric Bread Slicer are reasonably similar. They retail at similar prices, have similar features, and operate in the same way. However, the different safety aspects of the OSTBA slicer may sway you in that direction, but the Techwood has a more extended warranty period – of 18-months.
If you're looking for a vintage-looking slicer that offers modern-day convenience, then the Zassenhaus Classic Manual Bread Slicer makes an excellent choice. Made in Germany of some of the world's toughest materials, this slicer is built to last. It is easy to store, use and adjust and would look great behind the counter of a delicatessen or retro diner.
There are no better choices for the busy baker out there than the floor-standing Oliver Variety Slicer Model 777-N or the Doyon Floor Bread Slicer. Slicing through 150 and 100 loaves daily, respectively, they both make excellent choices for people who need a lot of bread in a short amount of time. The initial outlays are higher than other slicers I have featured, but if the use is set to be more than the average restaurant or diner, these slicers can be relied on.