Latest posts by Maddy Chiffey
(see all)
If you're looking for a commercial tart pan for your professional kitchen, this guide will hopefully help make the search more simple. I have found and reviewed the eight best commercial tart pans out there and including their pros and cons to provide honest, straightforward information.
A commercial tart pan isn't going to require as much consideration or expense as larger kitchen appliances, but it will still need some.
No restaurant wants to be using low-quality kitchenware in their commercial kitchen; it is likely to be ineffective. It could tamper with the flavor or presentation of the food. It doesn't give the best impression to customers – especially if you have an open-plan kitchen.
I have included a range of tart pans across the price spectrum and with various features in this guide. If you're in a hurry, you can check them out quickly below.
At a Glance: 8 Best Commercial Tart Pans
Boa Large Tart Pan Set – Our #1 Top Pick
Choosing The Best Commercial Tart Pan – Our Guide 
Choosing the best commercial tart pan for your professional kitchen will depend on a number of things. I have listed some considerations below that should help you when looking to buy this item for your kitchen.
Price 
Commercial tart pans are similar to restaurant cutlery in that they're never going to be the most expensive investment you make, but they do matter. For cutlery, it is about restaurant presentation, and this is the same for tart pans.
A cheaper tart pan can have a detrimental effect on the actual tart, flan, or quiche, too – it may cook it unevenly or stick to the pan and tarnish the finished presentation. If you're a restaurant owner who will be serving a lot of dishes cooked in a tart pan, then it is best to opt for the highest level of quality that you can afford.
The average tart pan retails at under $20 – with even the most expensive commercial tart pans coming in at under $50 – and the average American diner spends around $18 per meal. So, if you're serving a good-quality tart, your profits could be extreme.
Tarts, pies, and flans are traditionally cheap dishes to make, and the pan will be affordable, so I would advise spending as much as you can afford to ensure that this dish is its most profitable.
Material 
Tart pans can be made from many different materials, including stainless steel, ceramic pot, glass, and even plastic. All of these materials are good choices and should cook the dish properly. However, they all have their benefits.
A stainless steel or metal pan will be easy to clean, dishwasher safe, and will usually be non-stick. Metal tart pans are often the more durable and affordable choice. Ceramic pie dishes are the most traditional, but this can often mean that they're not built for the commercial kitchen. Although ceramic looks the best, it will usually be the most delicate and unreliable material to use.
Glass is an excellent choice to showcase the layers of certain dishes like crustless quiches, for example, but not the hardiest for heavy use.
Features 
One of the more important features to look out for when buying a commercial tart pan is whether it is 'non-stick.' Pans without this feature can often heat the food underneath to such a temperature that it sticks to the bottom, resulting in burnt-on, hard-to-clean and wasted food. This also means the customer isn't being presented with their entire portion of the pie.
Another feature to look for is a removable bottom – this is usually pretty standard for more modern-day tart pans, and many of those listed in my guide have this, as it is such a good invention! A removable bottom means that you can lift the tart out entirely from the sides of the pan to cut and serve evenly.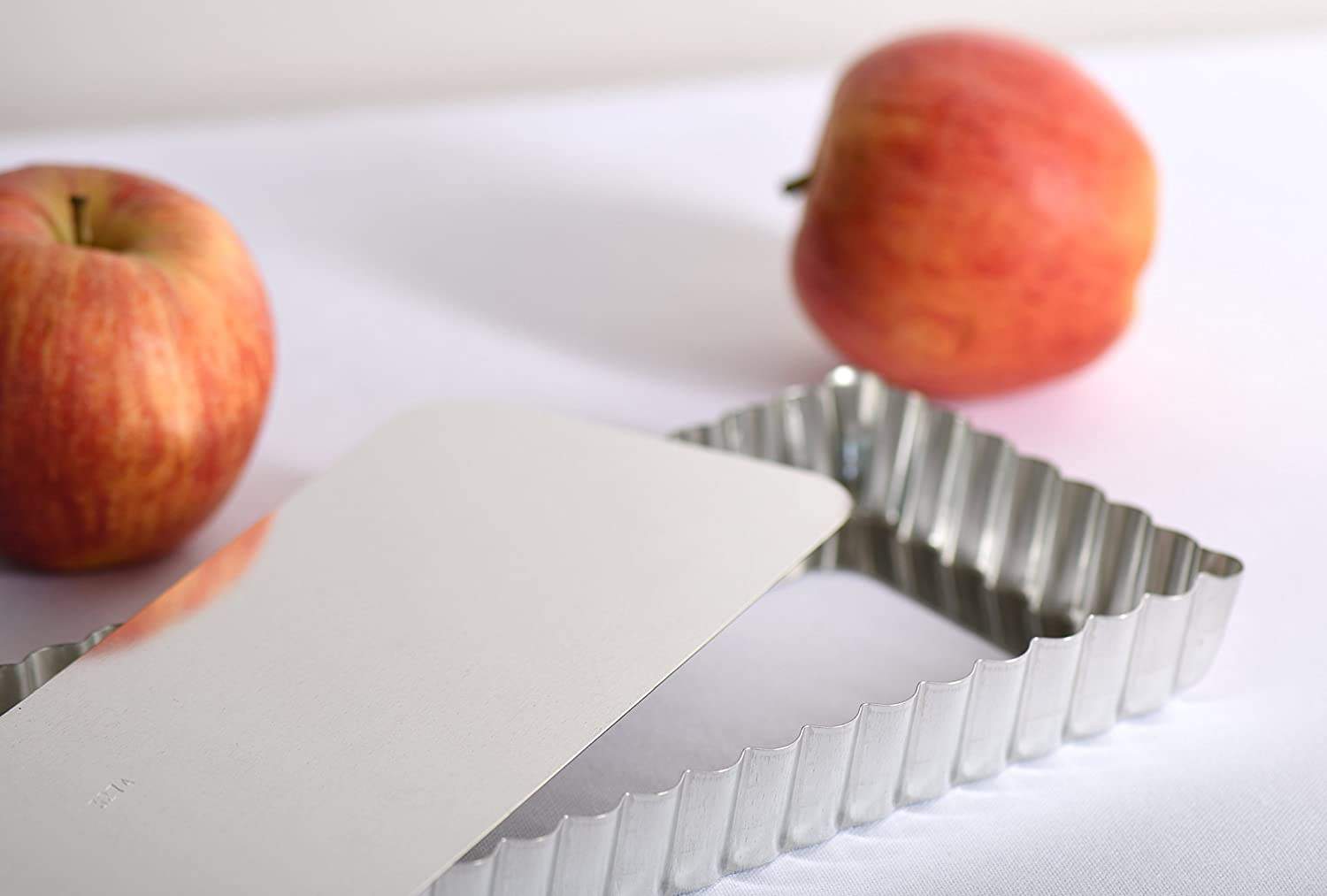 A spatula can lift a portion of the pie much more efficiently without any sides in the way, and so the piece should be entire.
Eight Best Commercial Tart Pans 
Boa Large Tart Pan Set – Our #1 Top Pick

1 9-in Pan & 4x 4-in Pans
2 Color Choices
Removable Bottoms & Non-Stick

Find it here
Fat Daddio's Anodized Aluminum Fluted Tart Pan – Our #1 Bargain Buy!

10 Size Options
Anodized Aluminum
Quick Heat & Cool

Find it here
HOMOW Nonstick Heavy Duty Tart Pan

American Top Class Coating
Heavy Duty
6 Size Options

Find it here
CHEFMADE 9.5-Inch Round Tart Pan

8 Buying Options
Carbon Steel
Food-grade Silicone Coating

Find it here
Wilton Non-Stick Mini Tart Pan

Alloy Steel
12 Mini-Tarts at One Time
10 Year Warranty

Find it here
CopperKitchen Original Tart Pans

3 Pans – 2 Sizes
Organic, Natural Non-Stick Coating
Handles Heat up to 500°F

Find it here
Gobel Rectangular Tart Pan

Unique Rectangle Shape
Removable Bottom
Fluted Edging

Find it here
Webake Square Tart Pan

Square Shape
Unique Extended Edge Design
Easy Release

Find it here
#1 Boa Large Tart Pan Set – Our #1 Top Pick!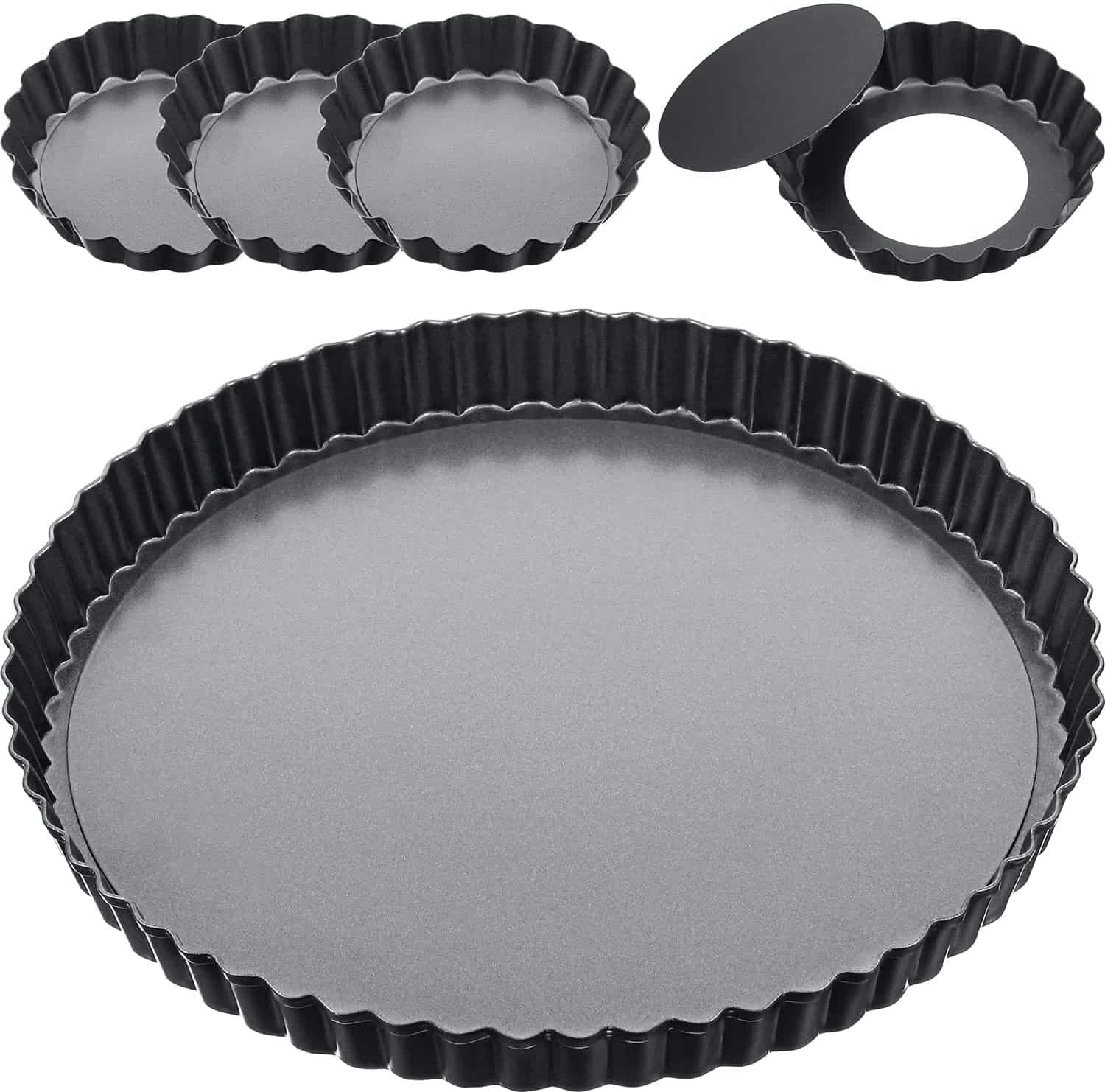 I have selected the Boa Large Tart Pan Set as the top choice for a few reasons. Firstly, this is a set that provides you with one 9-in tart pan and four 4-in mini tart pans. The pans have removable non-stick bottoms and are made from quality carbon steel. The set is highly affordable, too, at less than $20, making the value of the five pans extremely high.
The pans are all dishwasher safe for convenience and distribute heat evenly during the cooking process to prevent hot spots or undercooked segments. There are two color choices, gray or gold, and both look great. The pans feel durable, rigid and I think that there will be great longevity with this set.
The height of the larger pan is 1-in, and for the smaller pans, 0.7-in, so perfect for dishes such as deep-dish pizzas. The sides slant slightly, which can result in a more professional-looking finished product. The sides also have slight ridges, so pies, flans, and tarts will have a more traditional-shaped crust.
Pros
Dishwasher Safe
Slanted, Ridged Edges
Easy Release
Cons
Confusing Advertising – States 5 Small Pans, You Get 4
Many Consumers Cite Damaged on Arrival
Packaging Could be Better
#2 Fat Daddio's Anodized Aluminum Fluted Tart Pan – Our #1 Bargain Buy!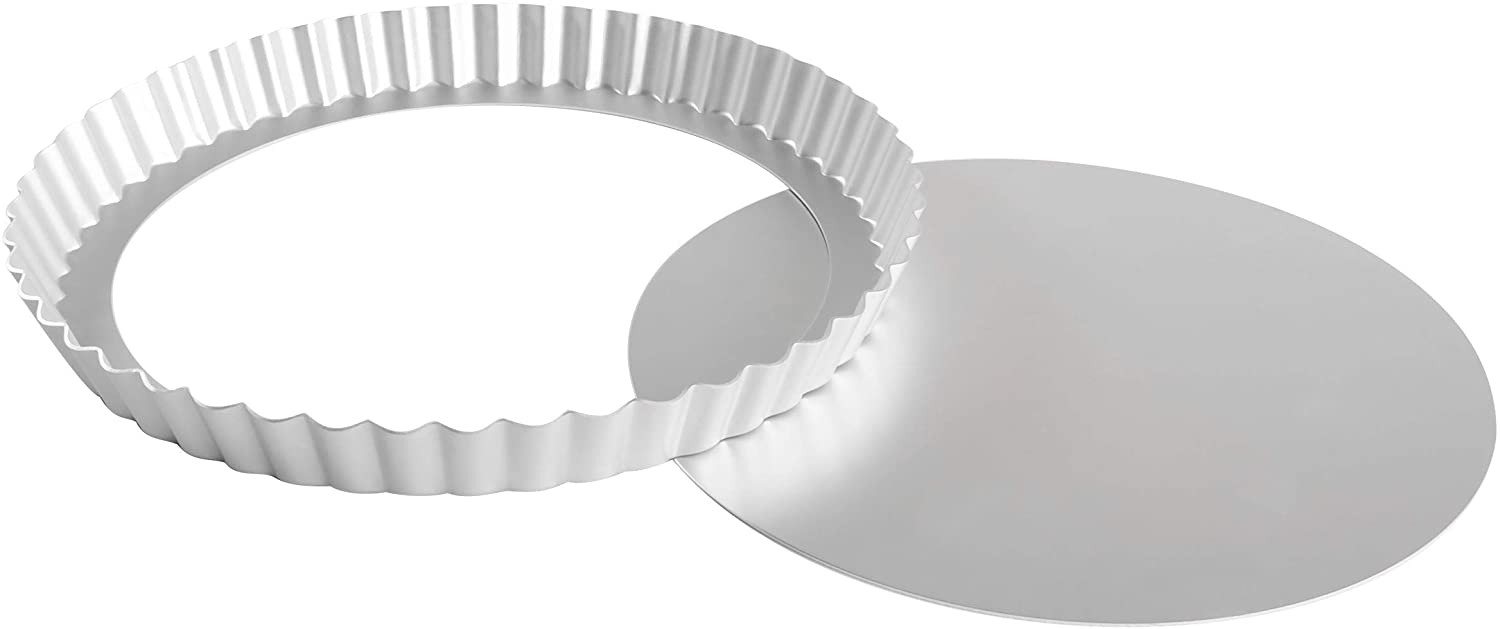 We have reviewed this brand previously in our Best Lasagna Pans Guide and feature it here too because they've come up trumps again with the Fat Daddio's Anodized Aluminum Fluted Tart Pan. Now, how this has made it a bargain buy, I do not know. The quality is excellent, the brand respected, and the durability is outstanding!
The Fat Daddio's Tart Pan comes in ten different sizes, with the smallest being 3.75-in x 1-in and the largest being 12-in x 2-in – there are so many buying options! The removable bottom requires a gentle push-up to release the tart, which comes out of the incomplete form due to the non-stick coating around the sides.
I am reviewing the 9.5-in x 1-in pan, as this is the most common tart pan size. This pan is built 'bakery tough'; it is astonishingly durable due to the safe-seal anodizing process. Food heats up quickly and cools down rapidly. It feels incredibly sturdy and built to last – the price? Less than $10!
Pros
Incredible Value
Highly Durable
Quick Release
Cons
A Fastener to Secure the Bottom When not in Use Would Prevent it Getting Lost
#3 HOMOW Non-stick Heavy-duty Tart Pan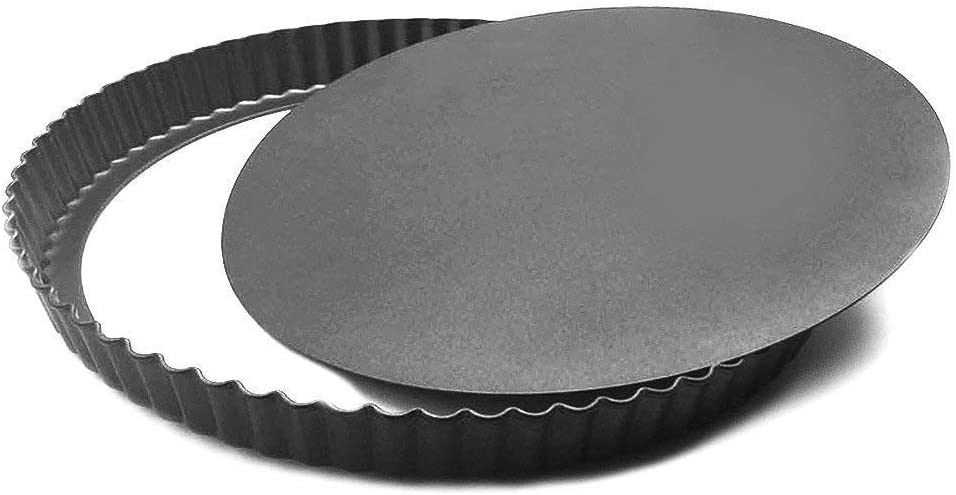 The HOMOW Nonstick Heavy Duty Tart Pan is a great sturdy, a durable tart pan that can easily cook a range of dishes. There are six different size options, most with one-inch heights, but a 9.5-in x 2-in pan has sides high enough to cook fruit pies, meat pies, and deep-dish pizzas beautifully. I have chosen to review the 10-in x 1-in pan, which retails at around $17.
This pan has a premium Whitford coating, which helps significantly with friction reduction and wears resistance. The tart pan is made from high carbon steel, and the bottom is fully removable. It can withstand temperatures up to 450°F and has been featured by Alton Brown on Good Eats to cook his 'Super Apple Pie' recipe.
The clean-up after use is effortless; a wipe down with a damp cloth should be enough, although this is dishwasher safe. To protect the longevity, I would always hand wash this pan, and looking at consumer reviews; it certainly seems to stand the test of time.
Pros
Whitford Coating
Featured on TV!
Highly Durable
Cons
Rusting is Mentioned by Some Consumers
Slight Gap Between Removable Bottom and Bottom of the Sides – Could Result in Leakage
#4 CHEFMADE 9.5-Inch Round Tart Pan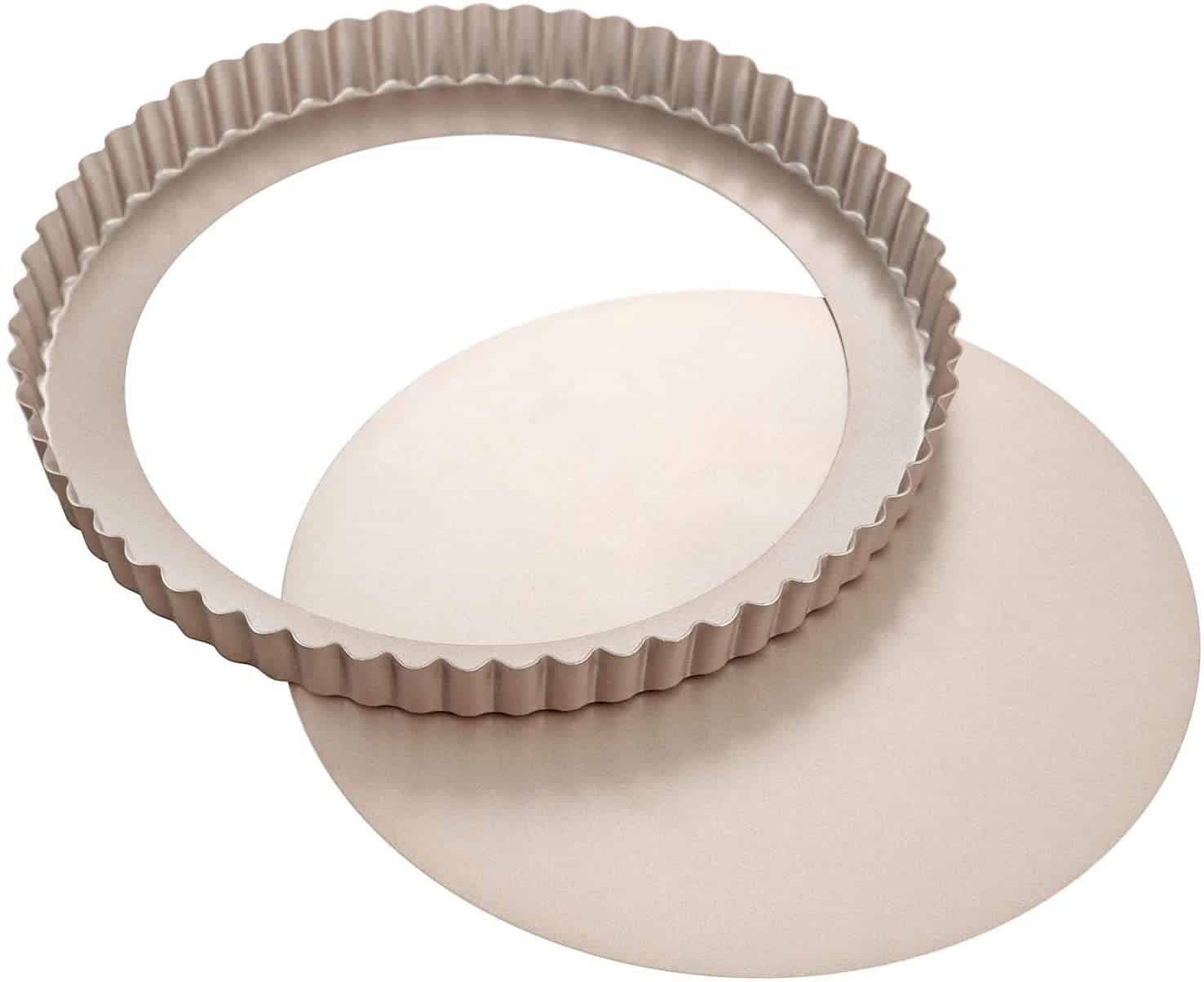 The CHEFMADE 9.5-Inch Round Tart Pan is PTFE and PFOA free, with an innovative food-grade silicone coating. The pan is made from commercial-grade carbon steel and has strengthened edges to prevent warping and improve durability. There is a quick release of the tart due to the removable push-up bottom, and I particularly like the unique champagne gold color.
The CHEFMADE range of tart pans includes some excellent choices, including individual round and rectangle shapes or sets of various sizes. A beautiful set of four heart-shaped tart pans would be a perfect choice for a romantic restaurant – or in preparation for Valentine's day.
The tart pan has a no-stick bottom, so food is easily lifted off to serve fully formed. The edges are ridged and vertical, which is ideal for both fruit and savory tarts. Parchment paper would protect the bottoms, as they are relatively sensitive to scratching.
Pros
Very Strong Pan
Great Color
Lots of Buying Options
Cons
Bottom Scratches Fairly Easily
A Little on the Expensive Side
#5 Wilton Non-stick Mini Tart Pan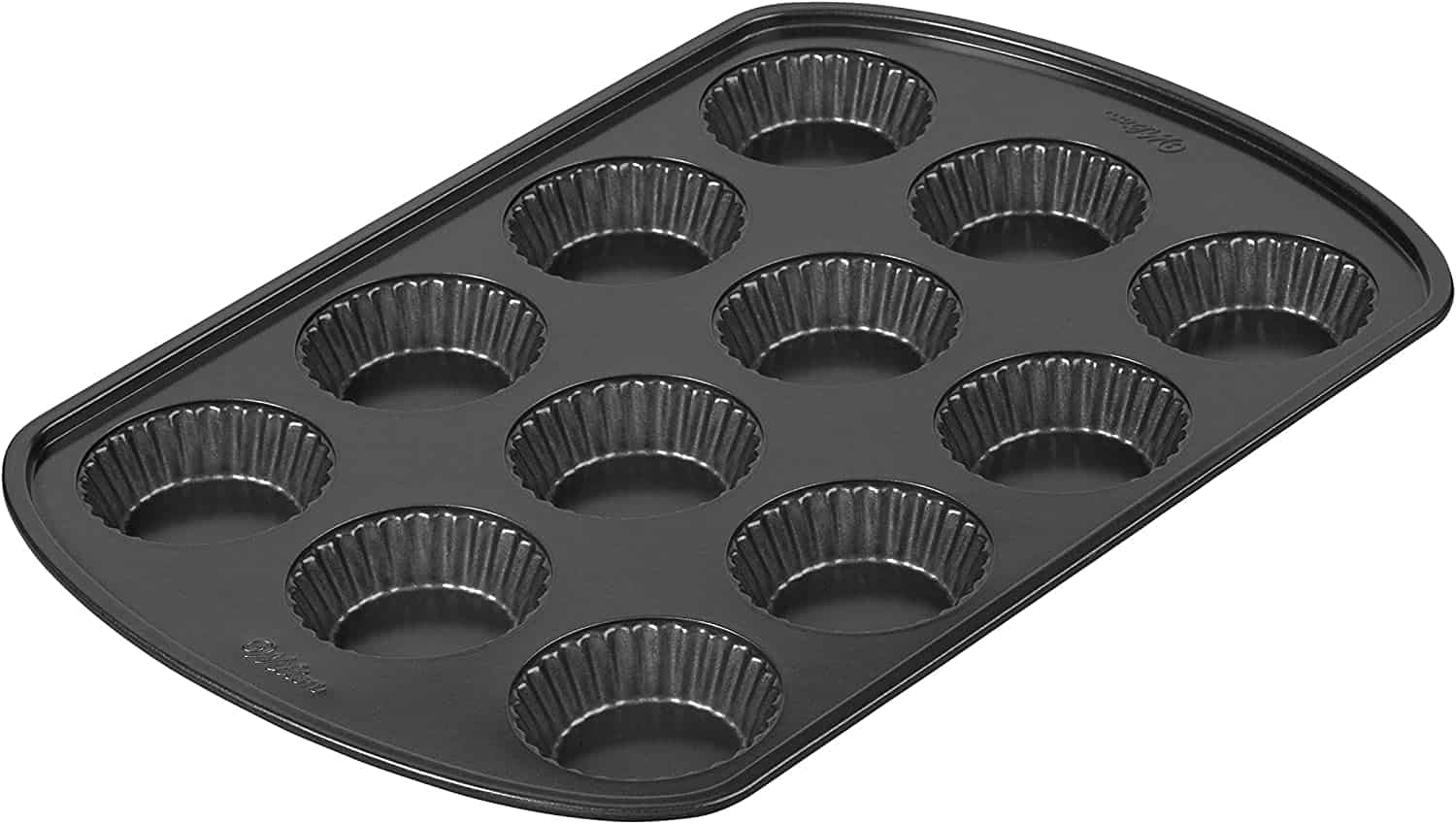 For individual tarts or canapes, the Wilton Non-Stick Mini Tart Pan is a great choice. With the capacity to bake 12 small tarts simultaneously, with even heat and easy release, this would suit many commercial kitchens when time is of the essence.
The 12-cavity pan is made from steel, with a non-stick surface so that tarts can be cooked directly in the cavities – without the need for cases or parchment paper. The tray measures 10-in x 14.6-in, with each cavity being 1-inch deep and around 2-inches wide – they take around three tablespoons of tart mixture.
Wilton is known for making excellent quality bakeware, and this mini tart tin is no exception. Great quality, easy to clean, and very sturdy. It feels exceptionally strong to hold, the depth of each cavity is perfectly adequate, and it really is non-stick.
Pros
12 Perfect Bakes in One go
Truly Non-stick
Easy Clean
Cons
Cavity Size Suitable for Canapes and Mini-Bites Only
Would Like Larger Cavity Size Options
#6 CopperKitchen Original Tart Pans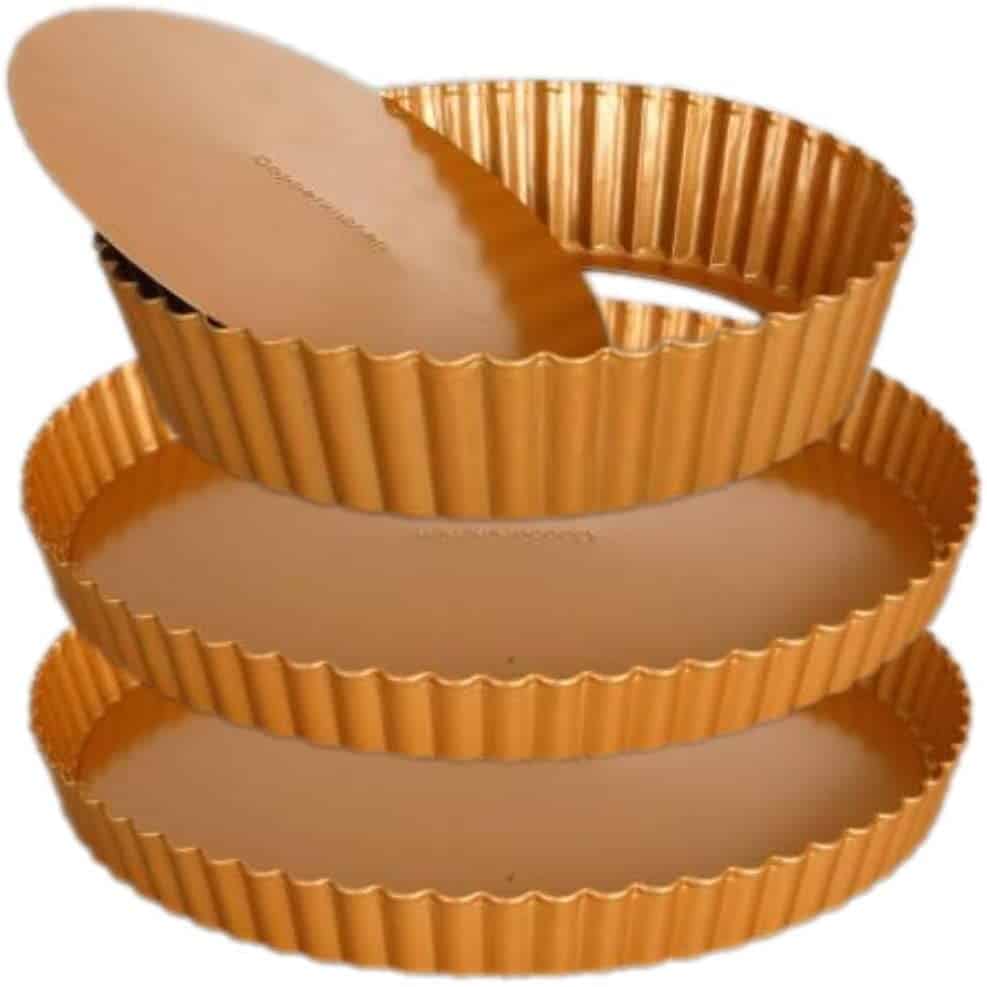 The CopperKitchen Original Tart Pans are the original versions, not lower-priced similar ones, and the brand is clear to point this out. This three-piece set has x2 10.24-in tart pans and one 9.45-in deep dish pan. They're all non-stick with fully removable bottoms. The non-stick coating is PFOA, PFOS, and PTFE free and made from organic and natural, non-toxic materials.
This set is highly durable and feels substantial in the hands. I believe they will last a long time and offer great longevity. Food cooks evenly with the pans able to handle temperatures up to 500°F. They are dishwasher safe, but hand washing is recommended.
The set of three CopperKitchen pans retail at the same price as the one CHEFMADE tart pan, so it makes good financial sense, especially if more than one is needed. The bottoms of these pans are tough, showing no knife marks or scratches after cutting out a tart. No food is left behind either – this set is an excellent buy!
Pros
Great Value
Tough Bottoms
Even-Heat Distribution
Cons
Carbon Steel Can be Prone to Rusting
#7 Gobel Rectangular Tart Pan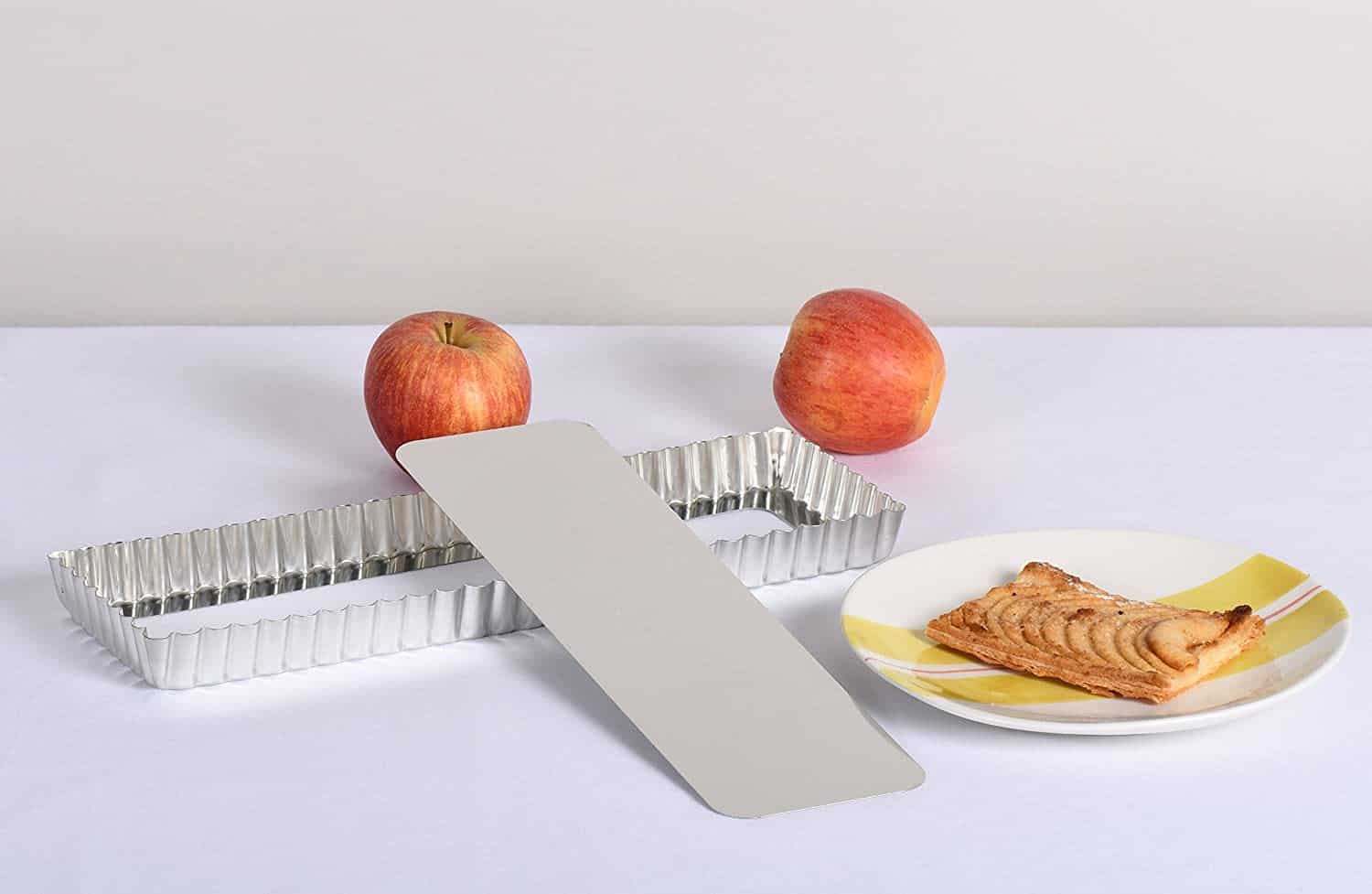 For a long rectangular tart pan, the Gobel Rectangular Tart Pan is an excellent choice. With fluted edges to create thicker borders, a removable bottom, and the ability to hold heavier fillings – this product has many benefits. However, it is made of tin, and this may be a swaying point for some. It is worth noting that tin cookware is deemed safe under current US health regulations.
Tin is prone to rust, and so additional care is required. For example, this pan is hand wash only and must be immediately dried after. However, it is of excellent robustness and feels very strong and sturdy. For those wanting large portions of pot pies, sweet tarts or
The Gobel pan is made in France and is BPA-free. The construction isn't especially thick, but it is robust and doesn't bend or warp when cooking. For dishes that require this shape, you'd be hard pushed to find a more affordable or better quality pan.
Pros
Rectangular Shape
Very Robust
French Made Tart Pan
Cons
Thin Construction
Tin Could be a Swaying Point for Some
Fairly Pricey
#8 Webake Square Tart Pan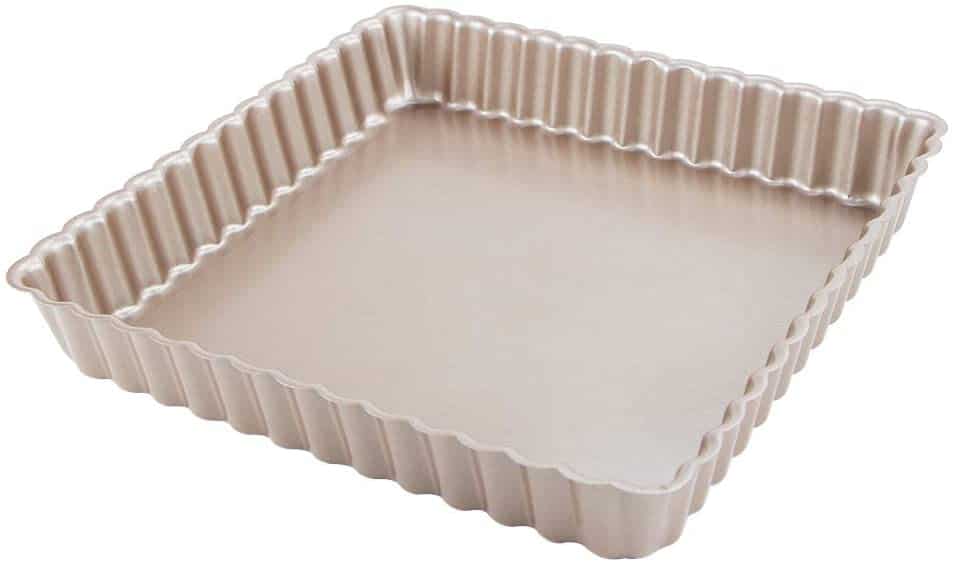 The Webake Square Tart Pan measures 1.5-in deep, 9.5-in x 9.5-in x 8.5-in x 8.5-in – so, not exactly a perfect square, but good enough. This is a great quality pan with some excellent features for recipes that look great in this shape, such as flans, pizzas, quiches, and tarts.
The unique edged design provides easy grip when you hold the pan, and the loose-base and oval hole in the bottom offers easy release when it is time to get the food out. The non-stick surface aids with this further. The pan is heat resistant up to 500℉.
Butter tart squares, brownies, or even savory favorites such as frittatas would be excellent choices to cook in this pan. Check out the Webake Amazon store for more great bakery finds!
Pros
Square Shape – Multiuse for Sweet and Savory Dishes
Unique Edge Gives Good Grip
Easy Release
Cons
Isn't a Perfect Square
Other Size Options Would be Good
FAQs
Question: Do you Have to use a Tart Pan?
Answer: It is possible to make a tart without a tart pan and use a pie plate or other pan with sides higher than one inch. However, designated tart pans allow the dish to be unmolded through removable bottoms, then cut evenly before being served onto a plate.
Question: What is the Most Common Size Tart Pan?
Answer: Usually, tart recipes will require tart pans that average between 9 to 12 inches, so this is the size range for the most common tart pans.
Question: How Deep Should a Tart Pan be?
Answer: Tart pans usually have a depth of one inch. This can vary slightly, but 1-in is the average.
Question: Is There a Brand of Tart Pan That is the Best?
Answer: As with all kitchenware, people have their own preferred brands. I have named some American favorite brands in this guide, such as Fat Daddios and CHEFSMADE. However, I believe in the durability and longevity of all of the brands I have listed above.
Best Commercial Tart Pan – My Verdict 
I have included some commercial tart pans that over incredible value for money, such as our top pick, the Boa Large Tart Pan Set, our bargain buy, the Fat Daddio's Anodized Aluminum Fluted Tart Pan, and the CopperKitchen Original Tart Pans – which is a set of three highly-durable tart pans for the retail price of one from another brand.
For something different, I included the Wilton Non-Stick Mini Tart Pan, which can cook a uniformed dozen mini tarts at one time. I also reviewed a couple of different shaped pans; Gobel Rectangular Tart Pan and the Webake Square Tart Pan. The HOMOW Nonstick Heavy Duty Tart Pan has the unique Whitford coating and has been seen on TV!
What attracted me to the CHEFMADE 9.5-Inch Round Tart Pan was its great color and many buying options. I was also impressed with the strength of this pan.
I have faith in every product listed to contribute to making great tarts in a commercial kitchen. But our overall favorite is the Boa Large Tart Pan Set, as it offers incredible value for money, and each pan in the 4-piece set is of excellent quality.