Latest posts by Maddy Chiffey
(see all)
Whether you're a chef in a steakhouse or a diner, the knives you use have so much bearing on the experience of cooking, or eating, prime cuts of steak. In this guide, I will feature six of the best restaurant steak knives for diners, as well as a couple of product recommendations for chefs in the kitchen to ensure a great experience all round.
It isn't impossible for diners to eat steak without using a traditional steak knife, so it can be easy to consider them an unnecessary purchase. However, restaurant steak knives will allow paying guests to enjoy their succulent cuts of meat without having to saw away at them with inadequate blades.
So here is where this guide should prove helpful. First, I will explain what you should be looking at in terms of wording, quality, materials, and price to make sure that you purchase the right restaurant steak knives for you. I will also look into maintaining the sharpness of the blades and the overall appearance of your knives. But first, let's look briefly at the products I will be discussing.
At a Glance – 6 Best Restaurant Steak Knives 
How Important is the Right Knife in the Kitchen?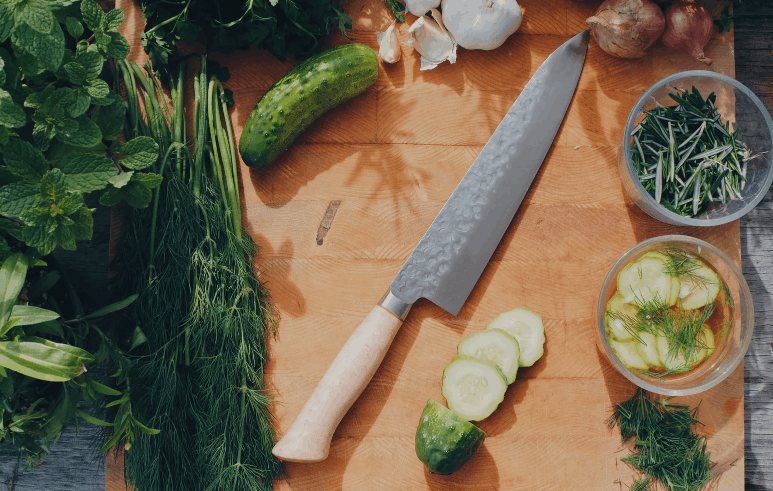 There should be no compromise made for chefs regarding the quality of the knives used in the kitchen. A good-quality, an ultra-sharp kitchen knife will do the meat justice and ensure that it is sliced neatly, adequately, and with good portion control. A chef's knife is the most important tool in the kitchen and so well worth investing in.
If budget is an issue for a start-up kitchen or small restaurant, then I would recommend investing in a knife set that has multiple knives included; for different cuts of meats. Henckels Statement Knife Set is a great choice when the budget is tight.
Master Masons 19-Piece Set claims to be the perfect setting for the everyday chef. Included in the set are many stainless steel knives, such as a carving knife, serrated knife, bread knife, paring knife, slicing knife, cooking scissors, a knife sharpener, storage block, and eight eating knives.
A good knife also promotes safety as there should be less slippage and more precise cutting.
The Importance of Providing Diners with Good Quality Knives 
Competition for restaurant diners is intense. In today's online world of faceless negative reviews, it doesn't seem to take much to leave a bad taste in a patron's mouth. If you have the right ingredients, cooking team, dining furniture, and restaurant aesthetics, you must also pay great attention to the crockery and cutlery you provide to guests.
Chipped plates, stained glasses, and blunt knives are easily avoidable – and so important to be aware of. No restaurant owner wants photographs posted online of less-than-adequate eating equipment; it sends the wrong message that if this is how poor things are in front of the house, how bad must they be in the kitchen?!
As well as image, the utility of a good quality steak knife is equally important. You can cook up the finest steak in the whole of America, but if a dinner can't cut it properly, it's pretty pointless.
What Makes a Good Steak Knife?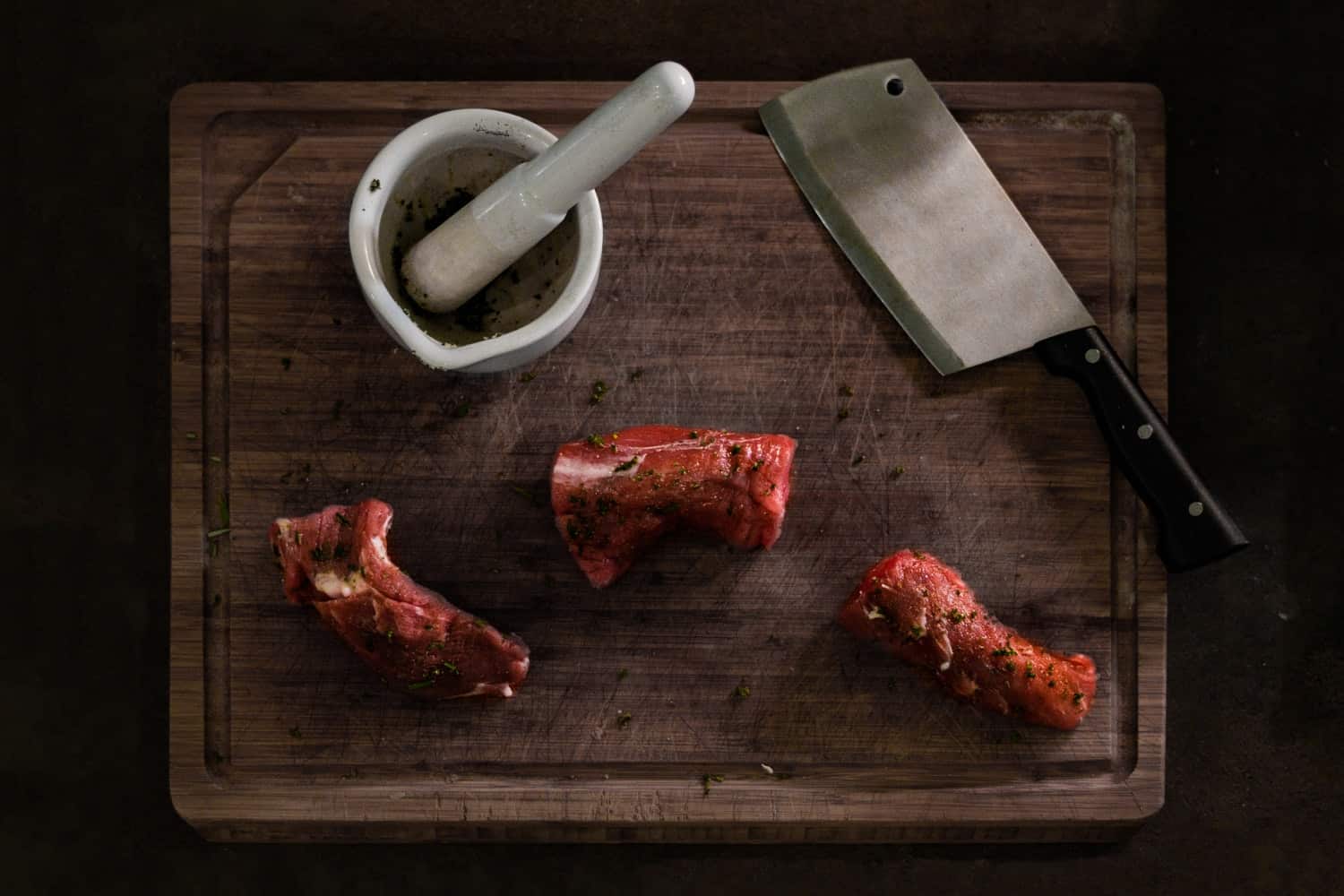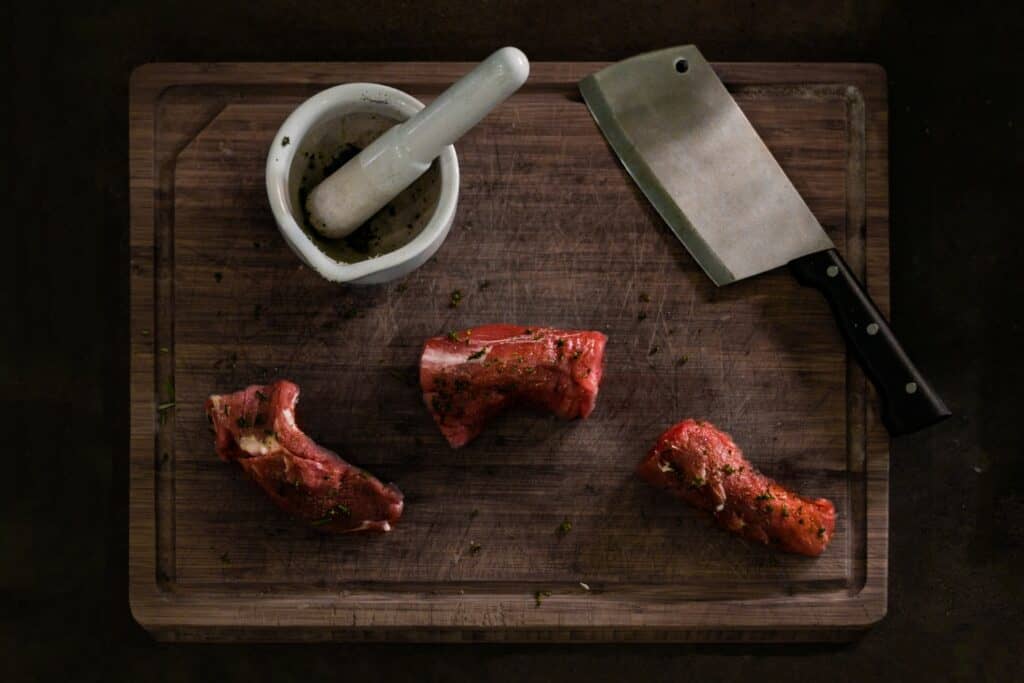 The main things to be looking for in a restaurant steak knife are:
Sharp Blade: To be able to cut through tougher cuts with ease, a sharp blade is essential.
Full Tang: Having full tang is best for the longevity of the knife and the safety of the user.
Balanced: For ease of use, a steak knife should be well balanced.
Close Handle Fit: There should be no gaps between the start of the handle and the blade.
Stainless Steel: The higher the grade, the better to retain the sharpness and to cut more precisely.
Sturdy Handle Material: Predominantly wood for steak knives, but whatever handle material it should be smooth, durable, and comfortable.
High-quality steak knives must have sharp blades, with carefully crafted edges that should allow them to slice through steak like butter. Cheaper steak knives blunt more easily and can shred at the meat, which causes the flavorsome juices to run out and waste.
As well as being sharp, restaurant steak knives should also be comfortable to hold, be well-balanced, and easy to use. Providing guests with high-quality steak knives can also be good conversation starters and show that you have gone the extra mile.
6 Best Restaurant Steak Knives
Wusthof Stainless Steel Eight Piece Steak Knife Set with Black Box – Our #1 Top Pick

Precision-forged from 18/10 polished stainless steel
Lifetime Warranty
Presentation Gift Box

Buy Here

Henckels, Set of 4, Steak Knife Set

Half serrated blade
Alloy Steel
2 Color Options

Buy Here

Wusthof CLASSIC Six Piece Steak Set

High Carbon Stainless Steel Blades
Triple-riveted Ergonomic Handles
Luxury Steak Knives

Buy Here

Chicago Cutlery 4-Piece Basics Steakhouse Knife Set

Full Metal Tang
Triple-riveted, Ergonomic Wooden Handles
High Carbon Stainless Steel Blades

Buy Here

UMOGO Steak Knives Set of 6 with Gift Box

German Premium Stainless Steel
Natural Pakkawood Handles
Micro Serrated Knife Edge

Buy Here

G.a HOMEFAVOR 6-piece Steak Knife Set – Top #1 Budget Buy

Highly Affordable
2 Set Options – 6, or 8.
No Quibble Refund Policy

Buy Here
#1 Wusthof Stainless Steel Eight Piece Steak Knife Set with Black Box – Our #1 Top Pick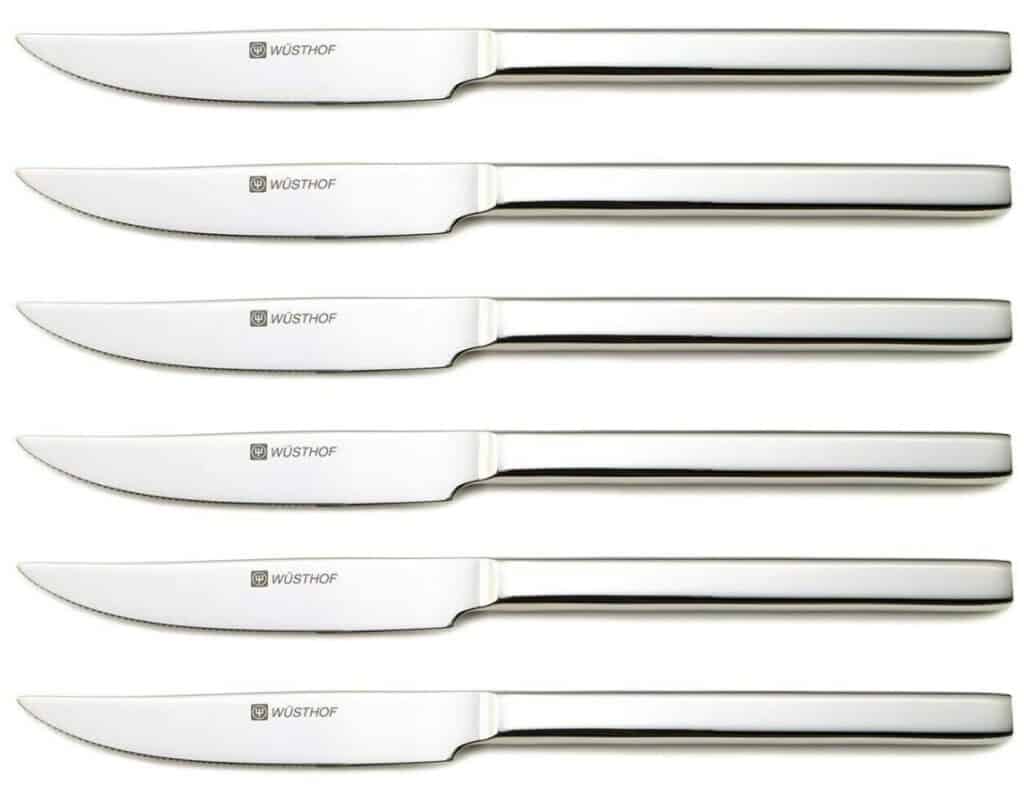 Combining great looks with excellent precision slicing, the Wusthof Stainless Steel Eight Piece Steak Knife Set with Black Box is a steal at less than $100 and a set that is certain to impress and delight diners. This is my best overall choice for several reasons: fantastic quality, affordability, longevity, and the lifetime warranty offered by the brand.
The set has eight highly polished 18/10 stainless steel steak knives, a top-quality industry-standard, sure to stand the test of time. The blades are serrated and precision-forged; the serrations are half an inch deep, making slicing through meat effortless. In addition, due to the high-carbon content, the knives are exceptionally strong.
These steak knives feature full tangs, which extend through the handles and akes them extremely well-balanced and easy to use. The handles are also 18/10 stainless steel and look incredibly sleek and stylish. It isn't easy to find a knife set this good at such an affordable price point.
The rosewood-stained presentation box isn't especially robust, which lets it down slightly, but it is still a nice way to gift these knives or to display them on a restaurant table. I feel one would be hard pushed to find a knife set to beat this one in terms of performance, aesthetics, and value.
Pros
18/10 Polished Stainless Steel – Both Blades and Handles.
Full Tangs – Optimum Balance and Easy Handling
High Carbon Content
Cons
Presentation Box – Not as Durable as I'd Have Liked
Made in China, Not U.S – Or Germany, as the name would suggest.
Pro65 Warning; Suggesting Lead Content
#2 Henckels, Set of 4, Steak Knife Set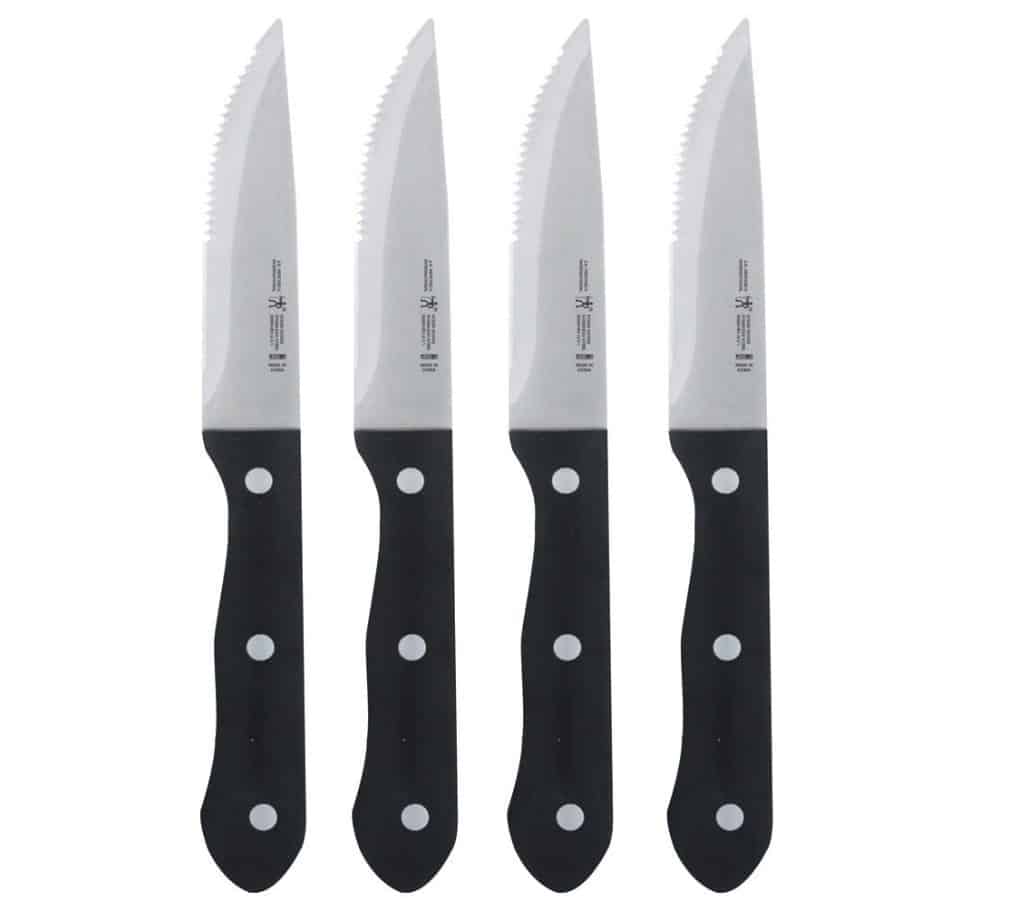 Henckels is a global distributor of premium kitchen products manufactured to enhance the lives of a professional chef. The Henckels Steak Knife Set is made with German Stainless Steel to guarantee durability, longevity and that you have a top-quality knife set at a highly competitive price.
There are two color options; black and silver, and the knives come in a 4-piece or an 8-piece set. The alloy steel blades are deeply serrated and 4.5-in long. The handles are made from plastic but feel comfortable to hold, and there is a good grip.
Most steak knives are hand-wash only, but due to there being no wood, these are dishwasher safe, which can be a great convenience in a busy commercial kitchen. Due to the deep serrations, they won't need sharpening, and this also means that they can be multi-use to chop vegetables expertly.
The silver option is a one-piece knife, which can be considered more hygienic due to the lower risk of food debris getting stuck between the blade and the handle. However, these seem to sell out much faster online than the black-handled set.
Pros 
Affordable Option
Trusted Global Brand
Top 3 in Best Sellers at Amazon
Cons 
Shorter Blade Than Most
Presentation Poor on Arrival (Plastic Box)
Plastic Handles Can Ruin Aesthetics
#3 Wusthof CLASSIC Six Piece Steak Set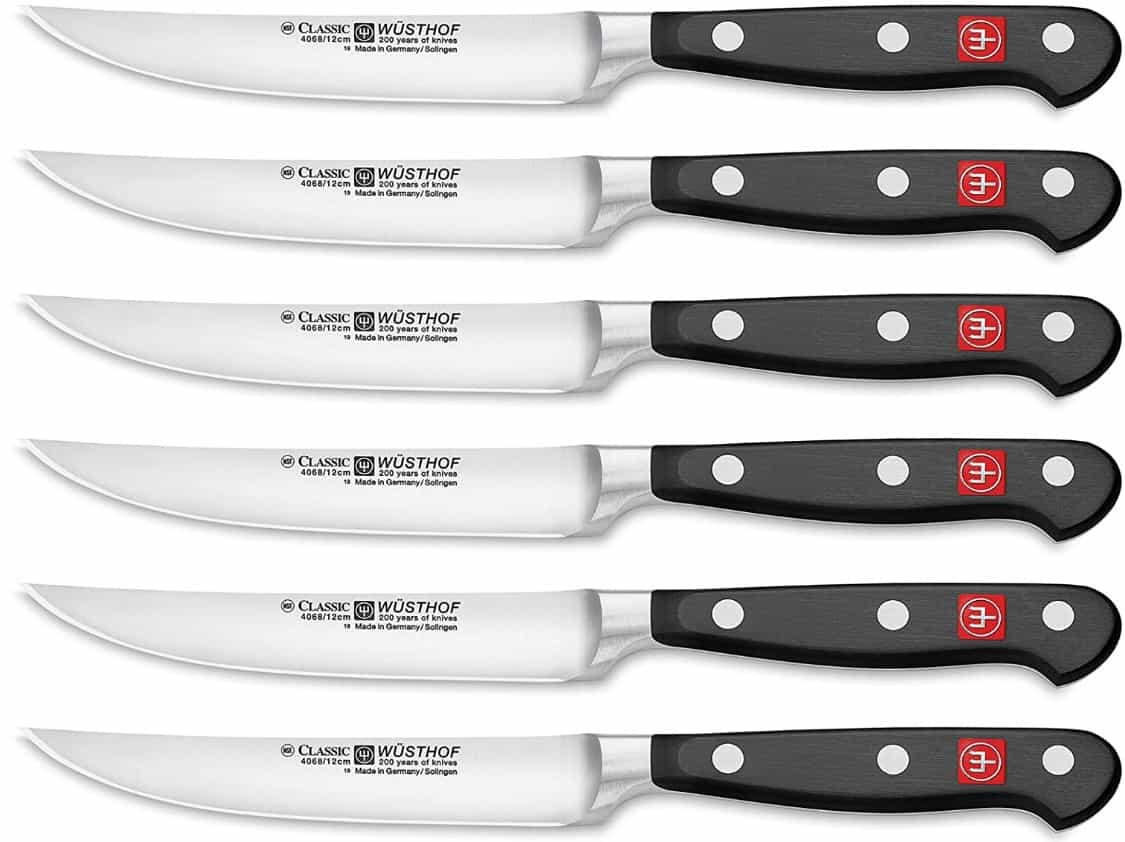 Best for luxury, the Wusthof CLASSIC Six Piece Steak Set is undoubtedly an investment with a high price tag, but as the saying goes, you get what you pay for. If you're looking for a real top-quality restaurant steak knife set, then Wüsthof could easily meet that need with this set.
Each knife features a 4.5-in, razor-sharp blade that is straight-edged; this does mean that they will require sharpening to be kept at their finest. In addition, the blades have been crafted from high-carbon stainless steel to guarantee durability, outstanding sharpness, and precision slicing.
The triple-riveted handles are made from polypropylene, which isn't to everyone's liking but contributes to their remarkable longevity, and makes their impact and heat resistant so that they can be cleaned in the dishwasher for convenience.
Unlike the other set I have featured in this post by the brand, this set has been manufactured in Solingen, Germany, where Wüsthof has been making knives for more than 200-years. They offer their lifetime warranty with this set, which I have great doubt would ever be needed.
These steak knives are complete luxury with exceptional sharpness, clean lines, and traditional style handles. They will slice through any steak as if it was butter, and they'll look great while doing so.
Pros
Razor-Sharp Blade – Superior Cutting
Delivered in Highly Protective Casing
Limited Lifetime Warranty
Cons 
Require Regular Sharpening – High Maintenance
Expensive to Buy (around $350 for 6)
Will Slice Through Anything – A note for restaurants who serve on wooden boards!
#4 Chicago Cutlery 4-Piece Basics Steakhouse Knife Set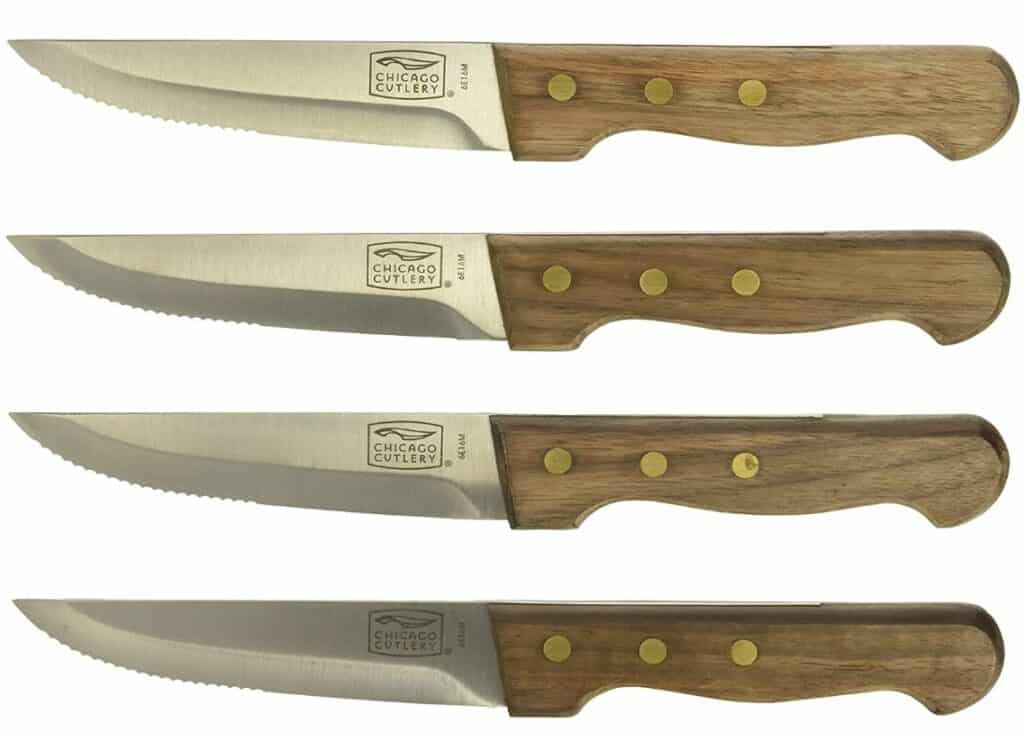 The Chicago Cutlery 4-Piece Basics Steakhouse Knife Set is an excellent choice for those who want a set of steak knives in a true steakhouse style. The knife set is about as authentic as you can find, complete with wide blades and chunky rustic wooden handles.
This set is perfect for tackling steak cooked to any preference with their sharp, high carbon stainless steel blades. There is a 5-in or 10-in blade buying option, both extremely affordable at under $30, making this a great budget buy. With their full metal tang ensuring longevity and balance, there is little to dislike about this sharp knife set.
Chicago Cutlery has a unique 25-degree taper grind finish which means that the sharp blades are difficult to blunt. In addition, I like the logo on each blade, which only adds to the stylish finish of these knives.
The traditionally styled handles are triple-riveted, and due to them being unfinished, the rustic appearance is authentic. Although, you could easily add a coat of varnish if this isn't to your liking. The traditional look and no-nonsense style, combined with a highly competitive price, make these knives an excellent option for any steakhouse, restaurant, or grill.
Pros 
High Carbon Stainless Steel
25-degree Taper Grind Sharp Edges
Full Metal Tang
Cons 
Unfinished Handles – Not to Everyone's Taste
Hand-wash Only
No Compatible Block Holder
#5 UMOGO Steak Knives Set of 6 with Gift Box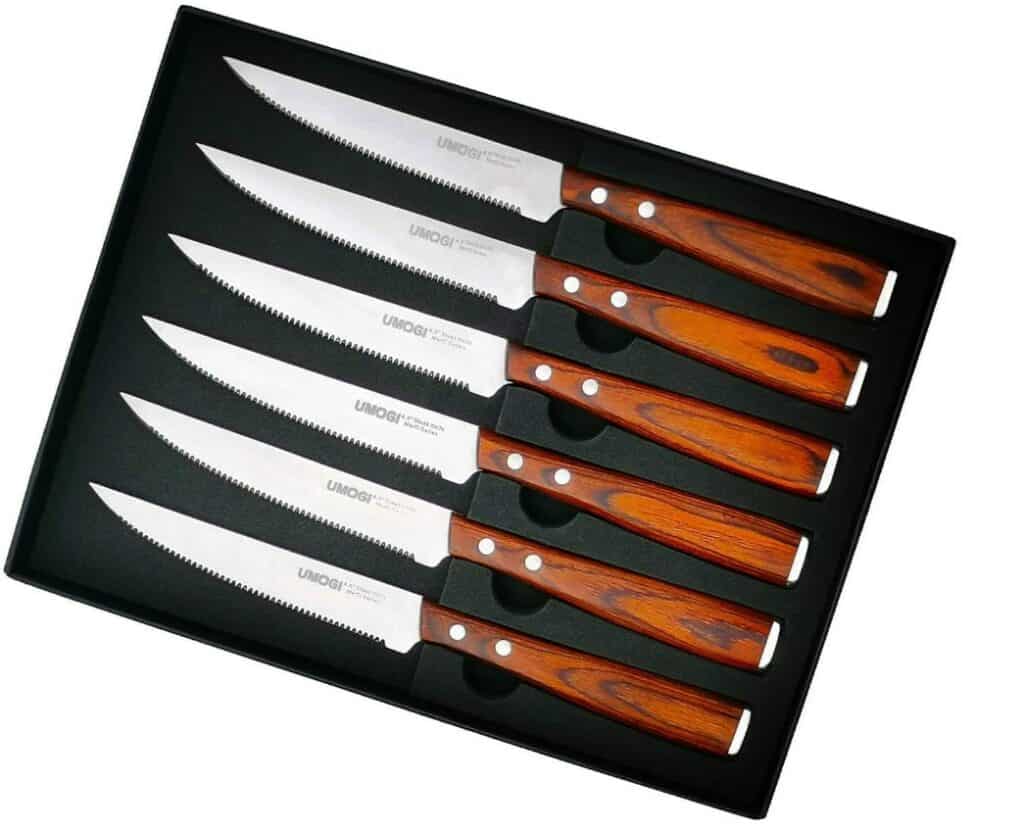 Made of durable German stainless steel with natural pakkawood wooden handles, the UMOGO Steak Knives Set of 6 with Gift Box are practical, hardy, and a simply beautiful choice. The knives come in a black cardboard presentation box, which means they can be given as a gift and stored nicely when not in use.
The handles are exceptionally comfortable to hold due to their smooth finish, which has been hand-polished. The handles contribute to just how high-end this set looks, which is far beyond its affordable price point. The blades are of exceptional strength, made from premium high-carbon stainless steel, which is also anti-stain, anti-rust, and anti-corrosion.
A unique feature of this knife set is the micro-serrated edges, which help to cut through tougher cuts more easily. The blade has hand-polished, superfine jagged edges that won't pull or tear at meat but slice through effortlessly. There is also a 100% satisfaction guarantee, meaning that you can try these knives with no risk attached; if you're not happy, simply send them back for a full refund.
Pros
Natural Pakkawood Handles
Micro Serrated Edges
100% Satisfaction Guarantee
Cons 
Gift Box Could be More Sturdy and Secure
Not Dishwasher Safe
Not Full Tang
#6 G.a HOMEFAVOR 6-piece Steak Knife Set – Top #1 Budget Pick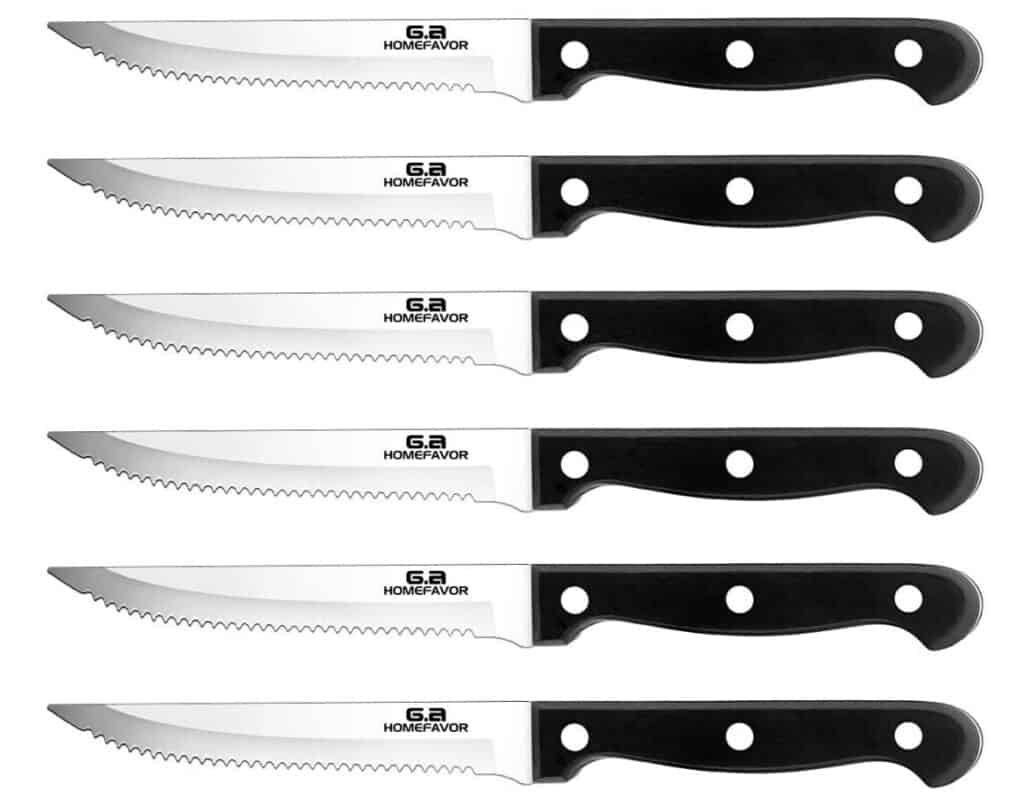 If budget is your main priority when looking for a set of steak knives, then the G.a HOMEFAVOR 6-piece Steak Knife Set is a superb option. With an elegant, classic steak knife design, and a no-quibble refund policy, these knives are perfect for those restaurants who don't feel the need to splurge on a steak knife set.
Affordability really is the most significant selling point with this knife set, but they're also pretty good quality too! The handles look nice and feel comfortable. They are of the right length to obtain good balance, and the 8.5-in blades cut well into steaks with little effort required.
They're not fine dining, but they are a steal for those eateries who don't focus on steaks or prime meats as menu staples. With infrequent use, I believe that this set will last a long time. I like that for this price point; you get a full-tang design with micro-serrated high carbon stainless steel blades, which offer a precise cut.
Pros
Budget Buy
Comfortable Handle
No-Quibble Refund Policy
Cons
Blades are Fairly Thin
Reports of Rusting
Not Dishwasher Recommended
FAQs
Question: What's The Best Way to Sharpen a Steak Knife?
Answer: Even serrated steak knives will need sharpening, but this will be done differently to steak knives with straight edges. To sharpen a serrated steak knife, you will need to use a ceramic honing rod designed to fit inside the knife's serrations and sharpen it tooth by tooth.
Straight-edged knives are often better at cutting steak but will dull more quickly than a serrated knife and require sharpening more often. You can sharpen this kind of knife with a sharpening rod, a whetstone, or an electric sharpener.
Question: Why Can So Many Not be Washed in a Dishwasher?
Answer: Most steak knives will have handles that cannot withstand the heat and turbulence of a dishwasher, which can also have a detrimental impact on the sharpness of the blades. Therefore, it is always recommended to wash steak knives by hand to obtain the longevity of both the handle and the blade.
Question: How Much Should I Really Spend on a Set of Steak Knives?
Answer: How much you want to spend depends on how much you have to spend initially and how big an investment you see this set being.
For example, a designated steak house needs to have great quality steak knives that won't let the establishment down, and in this instance, it would be wise to purchase the best quality you can afford. But, if you're an eatery that cooks steaks infrequently, then you will be able to get away with lower-quality knives that come with lower purchasing prices.
The Wusthof Stainless Steel, Eight Piece Steak Knife Set with Black Box, made the number one position for a few reasons, namely its great blade and handle quality, affordability, and high-quality materials. However, I was disappointed with the quality of the presentation box.
The first Henckels Steak Knife Set featured has a lot going for it. It is a top 3 online bestseller from a globally trusted brand and has superb craftsmanship and construction materials. But, the shorter blade and plastic handles don't go down well with everyone.
Made in Germany with high-grade stainless steel, the Wusthof CLASSIC Six Piece Steak Set offers exceptionally sharp blades, comfortable handles, and a lifetime warranty. They are the most expensive steak knife set on the list and a luxury item for more high-end establishments or for people who just want the finer things in life. There is little-to-no criticism surrounding this set.
Personally, I love the rustic, vintage look and feel of the Chicago Cutlery 4-Piece Basics Steakhouse Knife Set but appreciate that the unfinished handles are not for everyone. This can be sorted with a layer of varnish, which would result in a beautiful shine to the chunky wooden handle. The blades on this set are sublime, and the price point is reasonable.
Another wooden-handled set I love is the UMOGO Steak Knives Set of 6 with Gift Box, and the online images do not show the true beauty of these knives. The pakkawood handles are simply stunning. The blades sharp with superfine jagged edges, but I wish the gift box were a little harder as I feel this lets the set down.
Our budget pick; the highly affordable G.a HOMEFAVOR 6-piece Steak Knife Set, which has 8.5-in sharp blades, a comfortable plastic handle, and a no-quibble refund policy. So, for those who aren't wanting to spend a lot, this is indeed a great option.