Latest posts by Maddy Chiffey
(see all)
The kitchen may be the heart of your business, but the back office is undoubtedly the brains of the operation, and without utilizing some of the best restaurant software around, that brain just wouldn't be able to function in the kind of effective and efficient manner that you need to ensure success.
There's just one problem:
The minute you start diving into researching that software, you soon find yourself overwhelmed by a veritable minefield of back-office services, all of which offer a myriad of features that promise to change the way you run your business.
Sure, that's great for guaranteeing you've got plenty of options at your disposal, but it can also pretend untold challenges when it comes to determining precisely which software you should invest in. If that sounds familiar, this guide is for you. Below, I've rounded up some of the very best restaurant software and back office services currently on the market, all to help you determine which platforms will make the biggest difference to your business.
Why Restaraunt Software is So Essential for Your Success
There once was a time when the very thought of using any kind of restaurant management software seemed unnecessary and unfathomable for the restaurant industry. After all, to the untrained eye, it's a relatively simple process:
Your waiting staff took a customer's order. The kitchen cooked that order, and that order is delivered to the customer. The customer pays.
That's all there is to it, right?
Wrong.
Of course, as a restauranteur, you know that that's simply not the case. Running a restaurant can be hectic, tense, and incredibly stressful, especially at peak times. To help them manage, restaurant owners started turning to restaurant management software, Point of Sale (POS) solutions, scheduling tools, and more, all in an effort to streamline and simplify their operation.
In doing so, these forward-thinking restaurant operators made it much easier to not only run things behind the scenes but easier to deliver the kind of five-star service and dining experiences that leads to customer loyalty and all-around increased success.
Ultimately, this set a new standard for the industry. Customer expectations have been raised for good, and if you're still trying to run a restaurant without decent software in place, you may struggle to meet those expectations.
Struggle to meet expectations and, of course, you'll struggle to retain much -if any- customer loyalty. In other words, if you're going to keep up in your industry, having at least some restaurant software and back-office services in place is pretty much essential. The only question then, of course, is which ones should you use?
Below, we've listed the top 10 best restaurant software solutions you should be considering using for your business.
10 Best Restaraunt Software and Back Office Services
1. Toast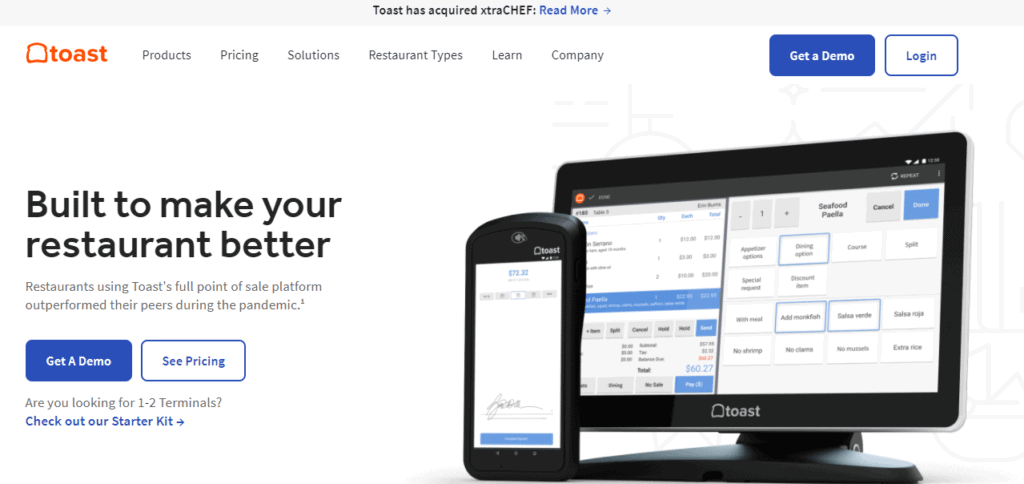 Some platforms specialize in managing just one aspect of your restaurant business, but bringing them all together can prove to be a costly -not to mention an incredibly complicated- affair. Toast solves that problem by taking many of the tools you need to succeed and bringing them together in one, easy-to-use, all-in-one restaurant management solution.
Front-of-house sales, online ordering, workforce management, sales reporting, and even loyalty and reward programs can be handled via a very intuitive interface. The best part? All this is available at some of the most affordable prices in the market.
2. Fourth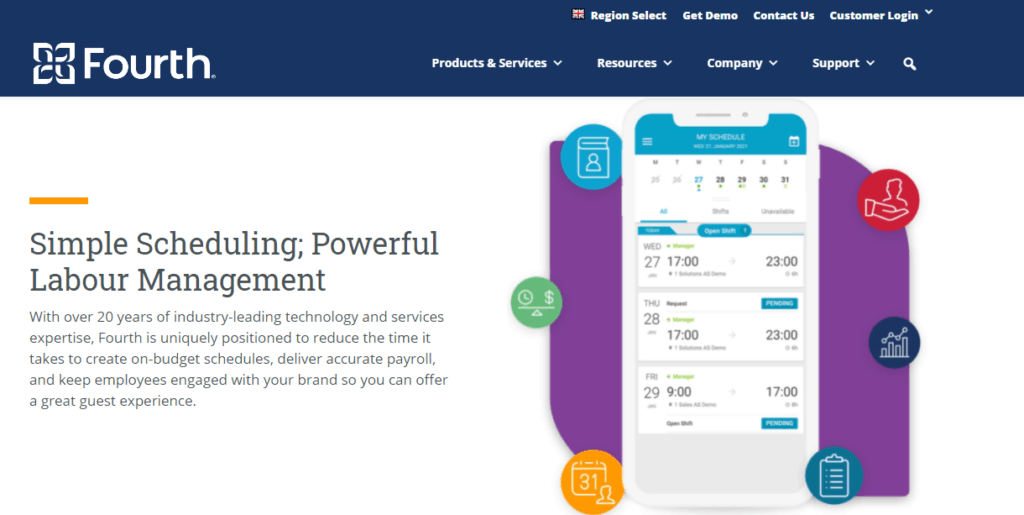 If you're looking for the best labor management software for your restaurant business, Fourth (formerly HotSchedules) should at least be on your radar. As its name implies, the tool's primary objective is to simplify the process of shift programming, making it a breeze to ensure schedules are up-to-date without the need for endless paperwork.
It achieves that objective very well. Managers can assign schedules, but employees can also use the mobile app to pick up extra shifts, swap with colleagues, or report absences, thanks to some very high-quality communications features.
3. POSist Restaurant POS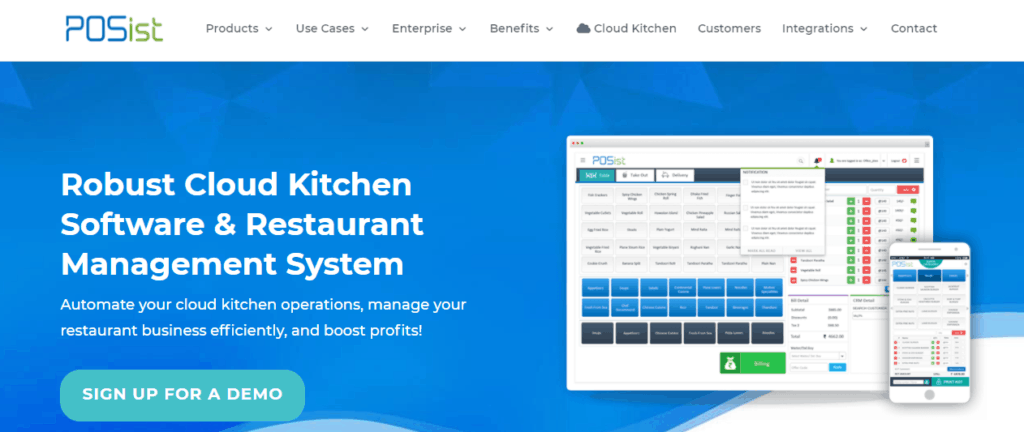 Since emerging on the scene in 2012, POSist has carved out a reputation as the go-to- restaurant POS software for new start-ups and fledgling small businesses. Part of the reason for this is no doubt down to the cloud-based app's remarkable simplicity.
Requiring very little training, the intuitive billing interface makes it a breeze for even technically challenged staff to issue bills, accept payments, and carry out a host of essential Front-of-House tasks. In the back office, POSist can also be used for stock management, customer rewards, and expense reporting, but it's the Front-of-House features that really earn this one such rave reviews.
4. Menumiz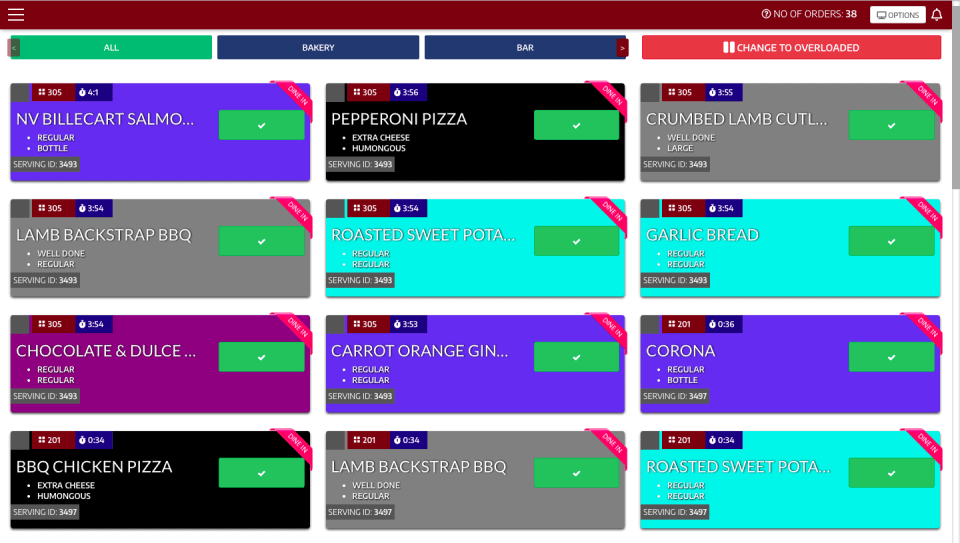 A powerful, cloud-based restaurant management mobile app, Menumiz, is designed to help business restaurants increase the speed of their service without sacrificing the quality of performance. Servers can use the app to take table-side orders and send them directly to the kitchen before accepting payments, issuing bills, accepting and delivering discount coupons, and more.
However, what we really love about Menumiz is the ability to create your own digital menu that customers can order from directly via their smartphone. If your staff currently struggle to keep up with demand during peak hours, you may find Menumiz to be a complete game-changer.
5. LS Central for Restauarnts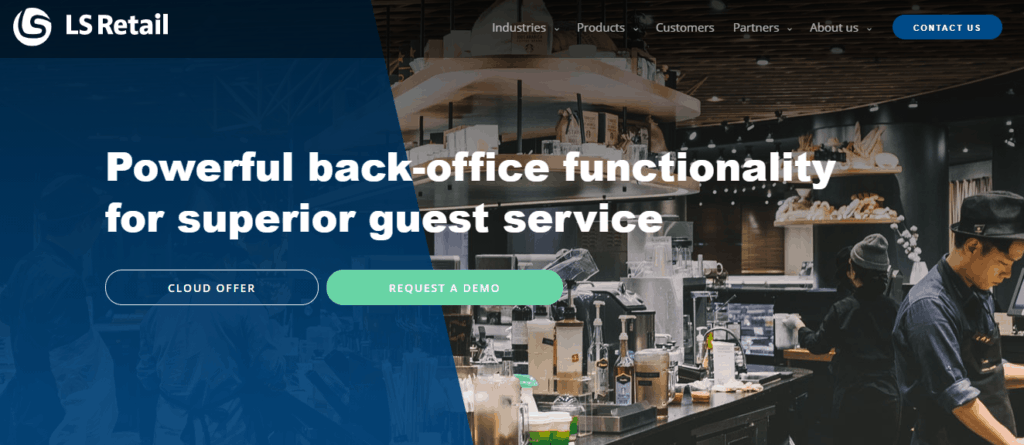 While many of our favorite restaurant apps focus on the front-of-house experience, LS Retail takes care of those all-essential back-office services that no successful restaurant could manage without. Purchase planning, recipe creation, supply chain, and inventory management are all handled via a single simple-to-use app, and that's just for starters.
Menu management, meal deals, promotions, and pricing can be tackled with ease, all at a cost that's well within the budget of most small and growing restaurants.
6. Lightspeed Restaurant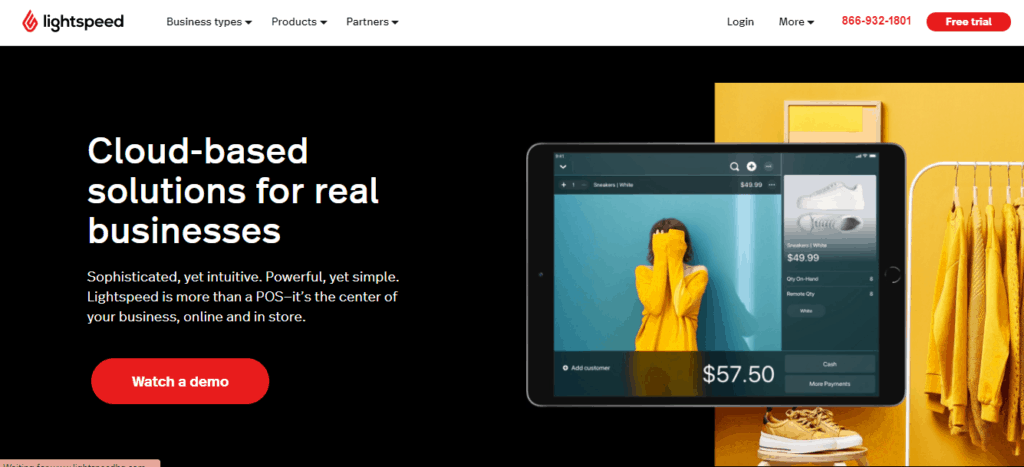 Like other restaurant POS solutions, Lightspeed Restaraunt lets you manage your entire operation from a single iPad app. Sales, menus, table-side ordering, promotions, and more can all be handled through an interface that's so user-friendly that you should have no problem training up your team members in minutes.
What we really like about this one, though, is that even though it's cloud-based, Lightspeed Restaurant also offers an offline mode, so if your WiFi is spotty (or goes out altogether), it doesn't have to impact the way you run your business.
7. HungerRush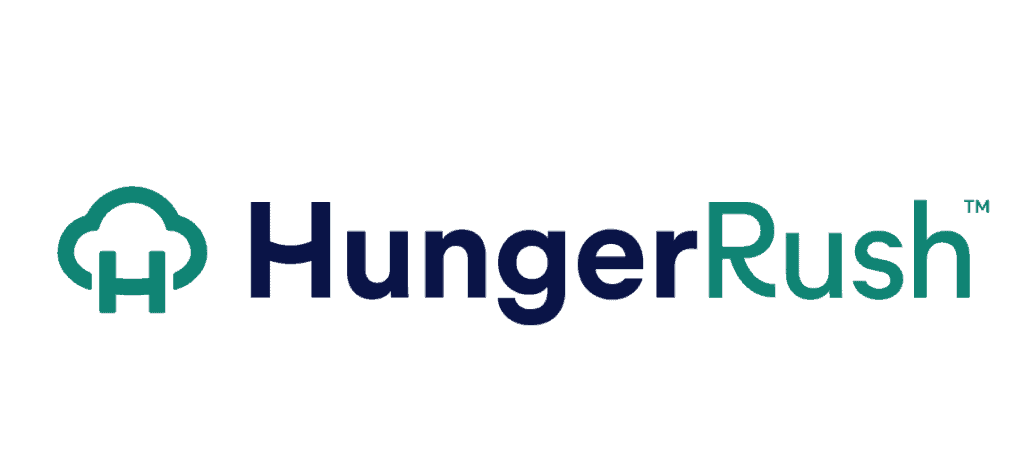 HungerRush is another all-in-one restaurant management software solution, combining POS capabilities with back-end reporting, inventory management, marketing automation, and more. While it isn't the only tool in our guide to doing all that, HungerRush really comes into its own in terms of online ordering.
If you're planning to up your game in terms of offering take-out and delivery, you'll love the text-to-order and delivery management features that truly help you to compete in an age of Grubhub, Doordash, and the like.
8. Restaurant365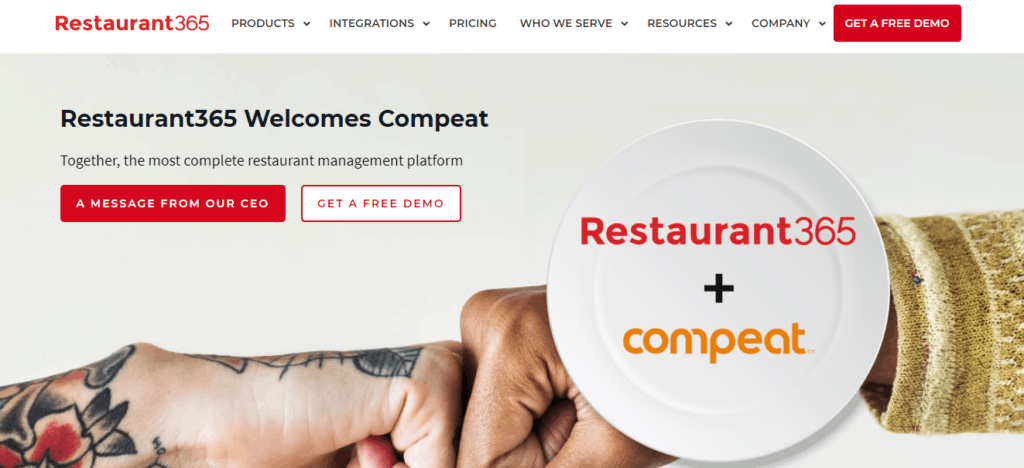 Restaraunt365 provides a complete range of restaurant back-office services in one handy app. From payroll and HR to accounting and sales reports, it's all here, and it's all pretty straightforward to use. That said, the app's key feature is its inventory and supply chain management features which are a cut above those I've seen in similar tools.
Digital counts, smart ordering and fulfillment, and connected invoices take the hard work out of managing your inventory, leaving you free to focus on delivering an outstanding customer experience.
9. MarketMan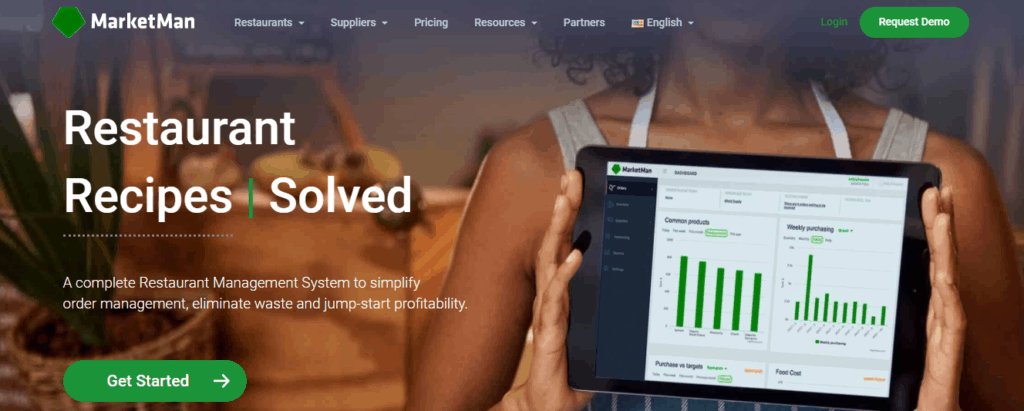 If you like the idea of a single app for all of your back-office restaurant operations but find Restaraunt365 just doesn't cut it for you, you might find MarketMan to be a suitable alternative. It's designed to eliminate the headaches involved in ordering and purchasing, meal and menu management, handling vendor payments, and automating your inventory management.
Though it doesn't handle Front-of-House tasks in its own right, the app does integrate seamlessly with your POS and other tools to help keep things simple.
10. Upserve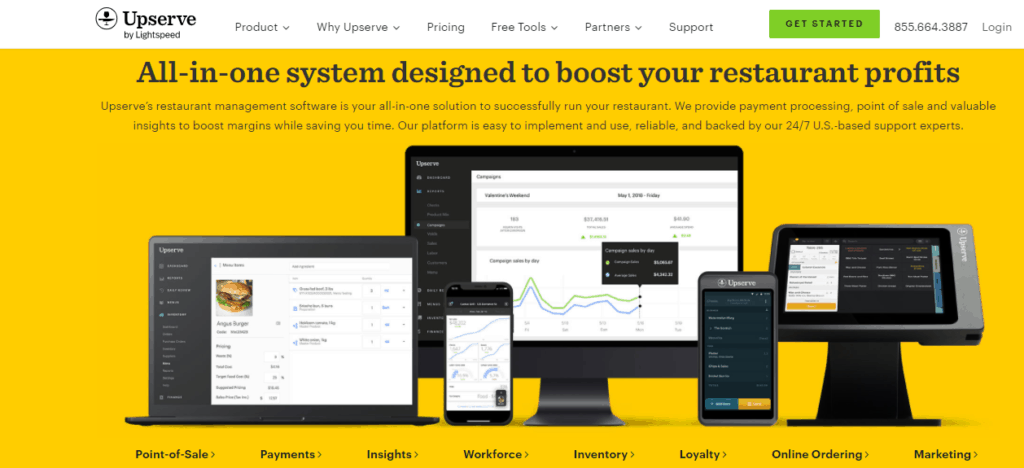 Upserve is one of the industry's best-selling POS systems, thanks to its user-friendly approach and strong performance.
While other tools may be better suited if you need an all-in-one approach to restaurant management, if it's simply your Point of Sale that needs an upgrade, you'll find Upserve's automation features and restaurant-focused approach tough to beat.
The Major Differences Between Different Types of Restaurant Software
By now, you've got a pretty good idea of the best restaurant software solutions currently on the market, but with so many different options, how do you know which type of software you need? Below, I'll break down the major differences between the different types of restaurant software and what difference they'll make to your business.
Point of Sale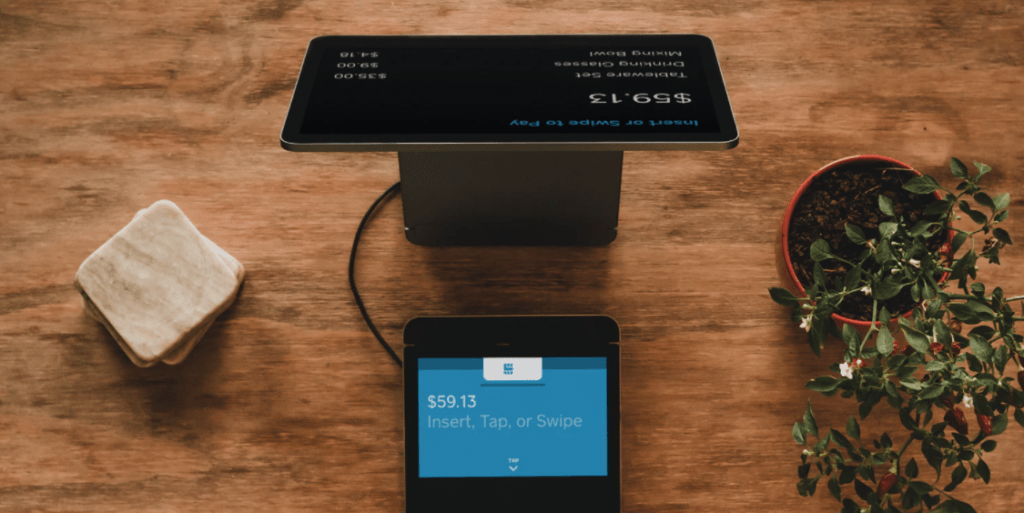 Usually shortened to simply POS, a Point of Sale system is exactly what it sounds like: A complete system designed to help you manage point of sale transactions. Though credit card processing is usually a big part of this, the best POS systems for restaurants also offer contactless payments, eCommerce integration for online ordering, and loyalty and rewards.
The best of the best also integrates with other aspects of your business to help with inventory management and sales reporting.
Inventory Management and Supply Chain
A good restaurant inventory management system makes it easy to track the levels of your essential supplies at every part of the supply chain. The best inventory management software can automate the process, providing notifications when things are running low, placing orders, and even handling vendor payments.
Scheduling and Workforce Management
Scheduling and workforce management software makes it easier to manage shifts and keep track of personnel. At a management level, such systems give you the power to create, view and alter schedules.
From an employee level, the best workforce management software will let your team members communicate with you and with each other so that they can pick up extra shifts, swap shifts with teammates, or even use it to report absences.
Loyalty and Rewards Programs
Rewarding customer loyalty can make a tremendous difference to the success of your business, and loyalty-related software helps you manage the programs, discounts, and one-off promotions that will keep your customers coming back time and time again.
Marketing Automation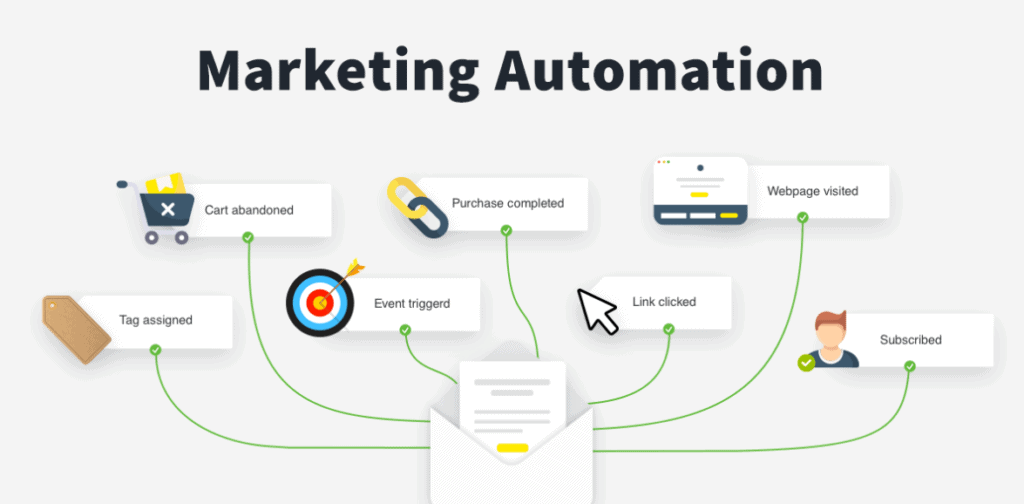 Marketing automation software takes the hard work out of managing the kind of simple, repetitive marketing tasks you'd otherwise have to handle manually.
This could be as simple as sending out coupons and discounts to your email newsletter list, automatically encouraging customers to leave a review after they've used your online ordering system, or automating your social media posts.
Complete Restaurant Management Software
While many restaurant apps focus on one specific function, many more combine features, and functionality into one complete all-in-one restaurant management software solution.
While these powerful tools may not always contain every single feature you could ever possibly want, some of the best restaurant management systems such as Toast will at least feature most of the essentials such as POS, sales and reporting, inventory management, staff scheduling, online reservations, and loyalty and rewards.
The Advantages of Restaurant Software
1. Improve Customer Service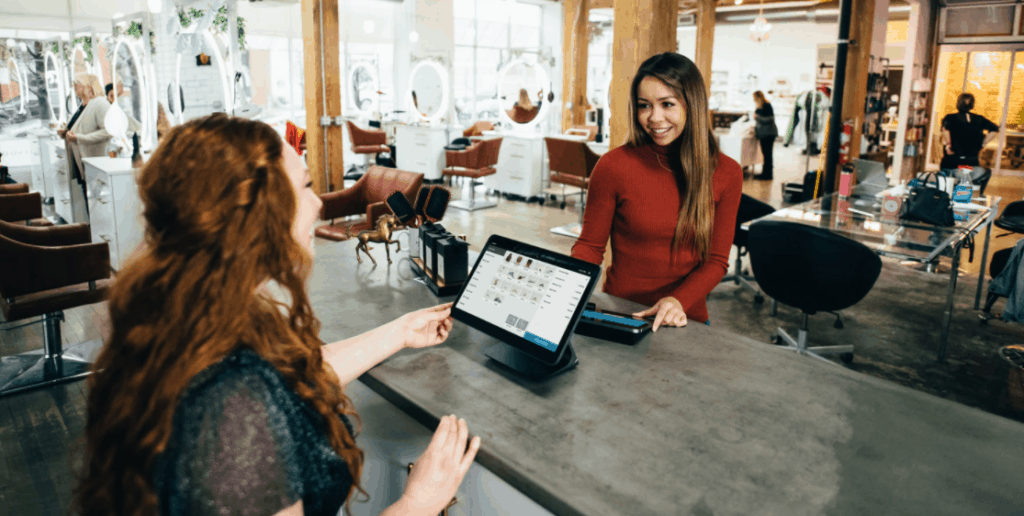 Though it probably goes without saying, the biggest advantage of using restaurant software is its impact on your customer service.
With improved Point of Sale processes, table-side orders that can be sent directly to the kitchen, and even the ability for customers to place their own orders via digital menus, you can drastically reduce waiting times and improve efficiency without sacrificing the quality of service.
What's more, with software making multiple back-office and Front-of-House services easier to manage, you and your team are less stressed out and more in control. When that happens, there's going to be fewer mistakes, happier staff, and, ultimately, happier customers.
2. Increase Brand Loyalty
One key feature that I love about restaurant software is that it makes it easy to improve brand loyalty which is essential for maintaining success in today's competitive market.
Whether you use a dedicated loyalty app or simply take advantage of the features in a complete restaurant management solution, you can not only run ongoing loyalty and reward schemes but set bespoke promotions and discounts based on days of the week, menu items, or per table.
3. Smoother Back-End Operations
The Front-of-House may be all that your customers see, but it's the behind-the-scenes restaurant operations that no doubt demand just as much of your time, attention, and energy.
Everything runs smoothly with features such as inventory management, vendor payments, purchasing and ordering, and even staff scheduling. That means fewer headaches, less hassle, and more time to focus on serving customers and growing your business.
4. Improve Employee Morale
I've said it before, and I'll say it again – the main job of restaurant software is to make life easier for you and your team.
When life is easier, employees are happy and less stressed out. That has a significant impact on your business. Happy employees are more motivated and more likely to work harder. Plus, they're more likely to have a big smile and friendly welcome for customers, all of which ties back into the all-important positive impact on customer experiences.
The Disadvantages of Restaurant Software
1. The Learning Curve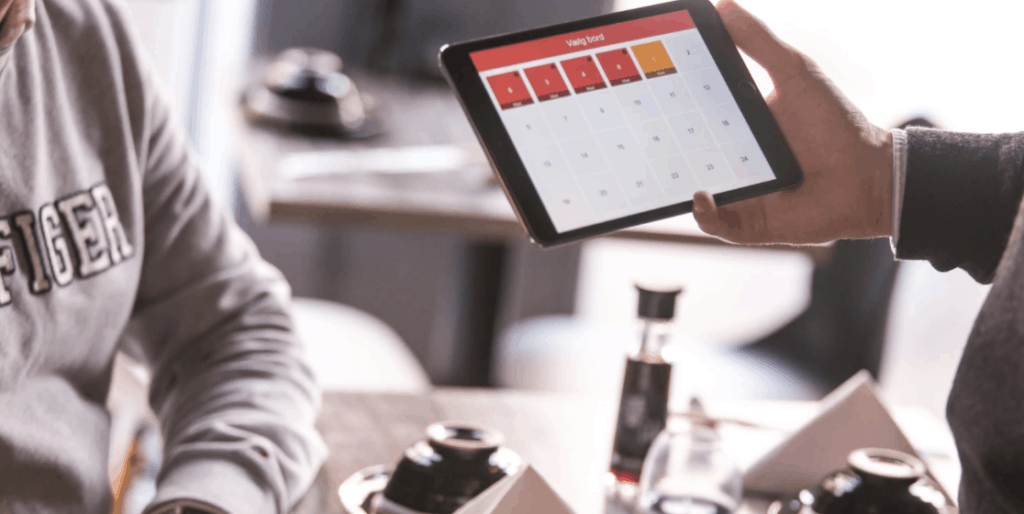 While we may be living at the height of the digital age, even the best of us need a little time to get used to the intricacies of a new software platform. If you're at the helm of a large team, that can mean a fair amount of time spent training them to use your new software, not to mention the likelihood of mistakes being made while people get used to things.
2. Dependent on Internet Connectivity
Software developers these days are often too quick to hype the fact that their apps are cloud-based as a huge benefit, but this often overlooks the fact that if your Internet connection goes down, it can easily derail your entire operation.
3. Ongoing Costs
A large number of restaurant apps fall under the heading of 'Software as a Service (SaaS)', which means you're more likely to pay a recurring monthly fee to use that service rather than the flat rate that you'd pay if buying software as a product.
While that can mean your initial outgoing costs are smaller, it also means you'll never truly be done paying for software.
Add in the costs of upgrades and any hardware you need, and those costs can soon add up.
4. Security Concerns
Though I've only picked software that has in-built security features for this particular guide, it's worth noting that the nature of any digital tool -especially those based in the cloud- comes with a small risk of data breaches and other security vulnerabilities.
Top Tips for Choosing the Best Restaurant Management Software
If you've been through my top ten picks above and still can't determine which is the right restaurant software for you, the following are all things you may want to consider to make that decision easier.
1. Hardware Requirements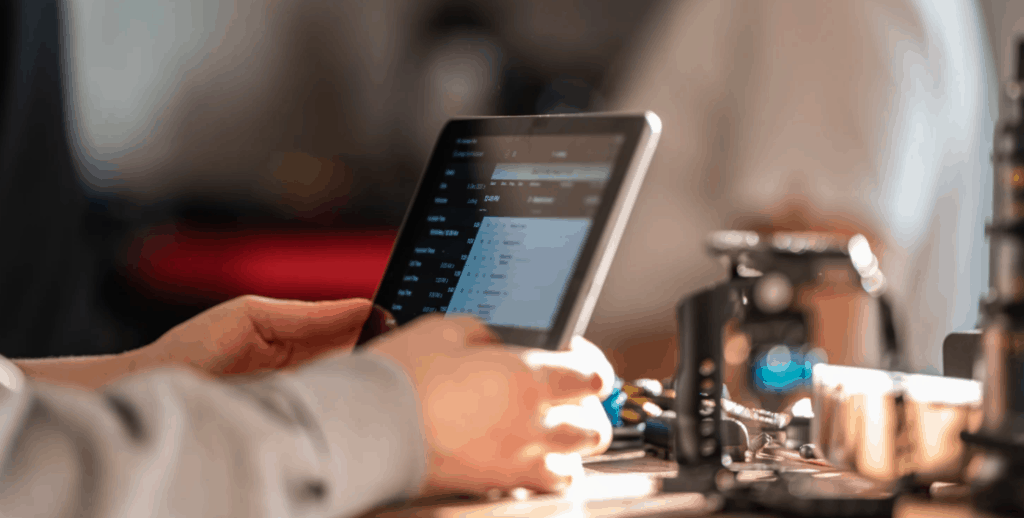 What kind of hardware will you need to buy to run your preferred software? Will it work on an iPad or a similar device? If so, your investment in hardware will likely cost you much less than it would if you had to shell out for specialist equipment.
2. Flat Fees vs. Rolling Costs
As I mentioned above, there are pros and cons to the monthly subscription fees charged by restaurant SaaS platforms. Not only is the initial investment less, but they usually offer more flexibility and scalability, meaning you only end up paying for what you need.
However, you may prefer to buy a ready-made, out-of-the-box solution for a flat fee, ensuring you've got one less monthly bill to worry about.
3. Training, Support, and Demonstrations
Almost all restaurant apps pride themselves on simplicity, but there'll still be some degree of a learning curve to contend with. Where possible, look for software that offers a free demo version so that you can check just how easy it is to use.
Tools that come with free training or a good degree of customer service also ranked highly in my top ten.
4. All-in-One vs Specialist Tools
Complete all-in-one restaurant management systems may manage multiple aspects of your restaurant, but they may not do any one thing, as well as specialist tools designed with a specific purpose in mind.
Of course, there are pros and cons to both approaches. Buy an all-in-one management system, and you save time, money, and endless complications. Buy individual tools for each aspect of your operation, and while it'll be harder work to set them up, it may also mean that you get a better quality tool and additional features.
My Top 3 Recommendations
1. Best All-Round: Toast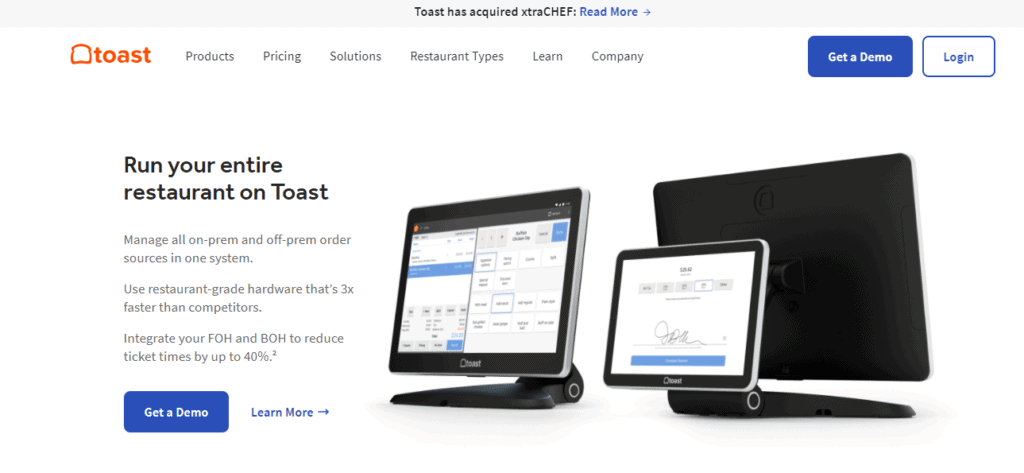 Toast is my pick of the all-around best software for restaurant management. It offers a winning combination of quality and quantity, packing in a wealth of features built to a high standard, and all at very competitive entry-level pricing.
2. Best for Menus: Menumiz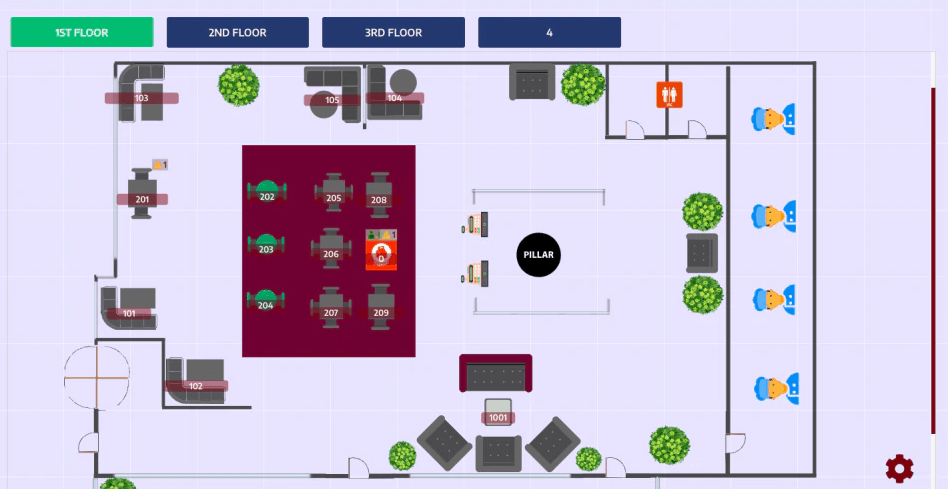 Menumiz is the best restaurant software for menu management and creating digital menus. If you want to improve efficiency by giving customers the freedom to place their own orders directly via their smartphones, this is the way to go.
3. Best Restaraunt POS: Lightspeed Restaurant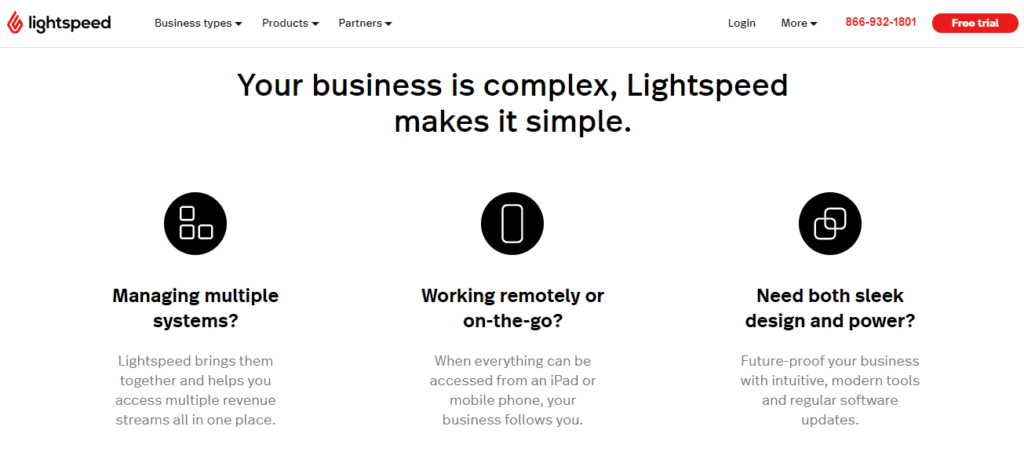 Lightspeed Restaraunt isn't the only Point of Sale tool on this list, as many others also offer this feature. However, the quality of its table-side ordering features and the fact that it has a very helpful offline mode both make it a clear winner for the best POS around.
FAQs
Question: What software do most restaurants use?
Answer: Toast, Lightspeed POS, and Upserve are all among the best-selling restaurant software solutions. However, others such as Menumiz, POSist POS, and HungerRush all have excellent features that help them remain popular.
Question: What is the best restaurant POS system?
Answer: As a stand-alone Point-of-Sale system, Lightspeed POS is among the best there is. However, if you're looking for a POS system integrated with other restaurant management features, Toast is my top recommendation.
Question: How much does restaurant management software cost?
Answer: Typical costs for software alone range from $50 – $150 per month, though you may be able to save by paying a yearly subscription or one-off flat fee rather than a monthly charge.
If you've read this far, then you've hopefully got everything you could possibly need to help you decide on the best restaurant software for your business. That said, if I could leave you with one final piece of advice, let it be this: What's best for one business isn't necessarily best for another. Just because your competitors across the street are using Toast doesn't mean that you won't be better suited to Upserve or LS Retail.
Ultimately then, the best approach is to think long and hard about what challenges your restaurant currently faces. If you're struggling with online ordering and delivery, for example, then HungerRush may be just the thing, whereas if it's inventory that's tripping you up, then Restaraunt365 may be the right solution.
Either way, if there's one thing I can tell you for certain, it's that whatever those challenges may be, there's always a software solution out there to help you overcome them.