Latest posts by Jodie Chiffey
(see all)
A professional-grade fryer is certainly an important part of most commercial kitchens. Are you looking for a reliable heavy-duty fryer right now? This is a great place to start. Today we'll review one of the most popular options on the market; the Frymaster MJCFSD Natural Gas Fryer. Let's find out if this is the fryer your kitchen needs to achieve its full potential.
Frymaster MJCFSD is a commercial gas fryer specifically designed for the massive production of breaded poultry, pork, or fish. Nevertheless, it is perfectly versatile, so you can use it to prepare, for example, french fries or even some fried desserts. You can find this fryer in many American restaurants and bistros thanks to its reliability and perfect ease of use. But it's also quite an expensive appliance.
In this article, we'll try to answer all your questions and provide you with a realistic evaluation of the features, advantages, and even some downsides of this sought-after fryer. Let's start with an overview of its basic technical specifications.
Key specifications of Frymaster MJCFSD
| | |
| --- | --- |
| Type of fryer | Open-pot Commercial Gas Fryer |
| Burner | Master Jet burner heat transfer system |
| Capacity | 1x 80 lbs / 40 litre oil pot |
| Frying area | 18"x 19" x 4-1/2" (45.7 x 48.3 x 11.4 cm) |
| Input | 150,000 Btu/hr. (37,783 kcal/hr.) (44 kW) |
| Dimensions/weight | 20 ¾ " x 39 ⅞ " x 46 ⅜ "/297 lbs |
| Latest price | Click here for the latest price |
Core features of Frymaster MJCFSD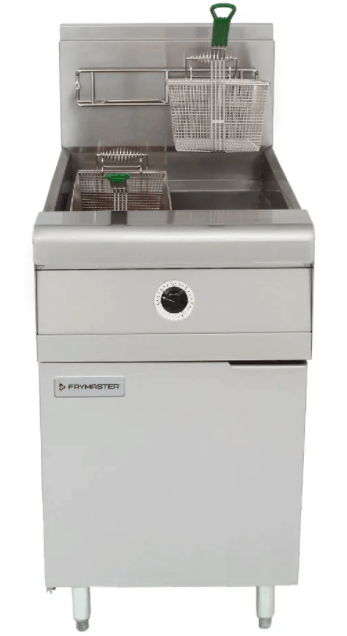 Let's check this fryer in detail and explore its strengths and weaknesses one by one:
Construction and design
Frymaster MJCFS series presents commercial gas fryers intended mostly for middle to large kitchens in restaurants, fast foods, or bistros. According to the manufacturer, the whole design of these practical machines focuses on the smooth, fast, and reliable production of large amounts of breaded delicacies.
To serve this purpose the best, this fryer boasts a simple yet effective open-pot design. It is fully accessible and therefore effortless to clean, which is certainly important when working with breaded food that tends to leave more burns and residues than, say, simple fries. In addition, the unit has a deep cold zone with a 1-1/4″ IPS ball-type drain valve, which makes maintenance and cleaning very simple.
Although Frymaster MJCFSD has only one large pot with 80 lbs/40 l capacity, its large frying area (18"x 19" x 4-1/2") can easily accommodate impressive amounts of food. The large heat transfer contributes to even and conveniently fast performance regardless of how packed loads you're currently frying.
Like most commercial fryers, MJCFSD is quite a robust and heavy piece of cooking equipment. In fact, it might even be a bit larger and heavier than average units from the same category, so if you're an owner of a smaller kitchen, you should definitely check upfront if it fits your space well. The fryer measures 20 ¾ " x 39 ⅞ " x 46 ⅜ " and weighs almost 300 lbs.
This natural gas fryer is made of stainless steel, and it comes with 6″ stainless steel legs with 1″ adjustment. Note that this fryer also comes with a set of four caster wheels. Although, due to its dimensions and weight, it most likely isn't very suitable for frequent transports or moving from place to place within the kitchen, having this option at hand out of the box is surely helpful.
Functions and controls
Frymaster is known for producing efficient, highly professional, yet at the same time also perfectly easy to use kitchen machines. Their MJCFSD gas fryer fits this description perfectly too. This equipment consists of just a few pieces and several super-simple controls, so the learning curve is quite small.
All you have to do is open the steel cabinet door, ignite the fryer, and then set the preferred temperature according to the recipe you're making or your personal preferences.
The impressive "1° action" thermostat provides an accelerated rise of temperature – you might probably be surprised at how fast this fryer achieves the desired heat, which certainly increases your workflow throughout the day. This feature also eliminates temperature overshooting and ensures perfectly even results every time you use it.
Although this gas fryer, naturally, requires to be connected to a gas supply (3/4″ NPT connection), thanks to its millivolt temperature control, it does not require any electrical hookup.
Its input is officially stated to be somewhere around 150,000 Btu/hr., which makes it quite energetically efficient too (especially given its power and capacity). When it comes to accessories, depending on the exact model, you might get a single full basket only or + one triplet-style basket). There are also other necessary components in the box, like trays, covers, or splash shields.
Safety
Fryers can potentially cause a lot of damage if they are not handled or maintained properly. Some practical features incorporated into all Frymaster units can, however, reduce these hazards effectively.
First and foremost, these fryers are equipped with an automatic shut-off feature which turns the unit off when the safe temperature is suddenly exceeded. It also has quite a thoughtful design and cold-touch handles on the included basket(s), so it should be easy to avoid any contact with the hottest parts of the unit or the boiling oil inside.
Of course, to ensure that your gas fryer is really safe and secure, you must also keep in line with the recommended maintenance schedule and train your staff thoroughly before you let them operate the fryer without any supervision.
Reliability
Frymaster specializes in heavy-duty commercial-grade fryers that are expected to work almost around the clock and fry large volumes of food every single hour of their operation. According to my personal experience, but also hundreds of reviews from other users around the country, these machines really can be trusted. If they are treated with reasonable care, they can serve you flawlessly, even for a decade or more.
In any case, Frymaster offers a comprehensive warranty (12 months) on all of its products, and there are also many authorized servicemen at hand if you need to repair the machine or replace some of its components.
Price
Like many other open-pot commercial grade gas fryers on the market, Frymaster MJCFSD is quite an expensive piece of kitchen equipment. Nevertheless, given its reliability, durability, and energetic efficiency, I believe that the higher price is justified. For its latest price, click here.
Pros of the Frymaster MJCFSD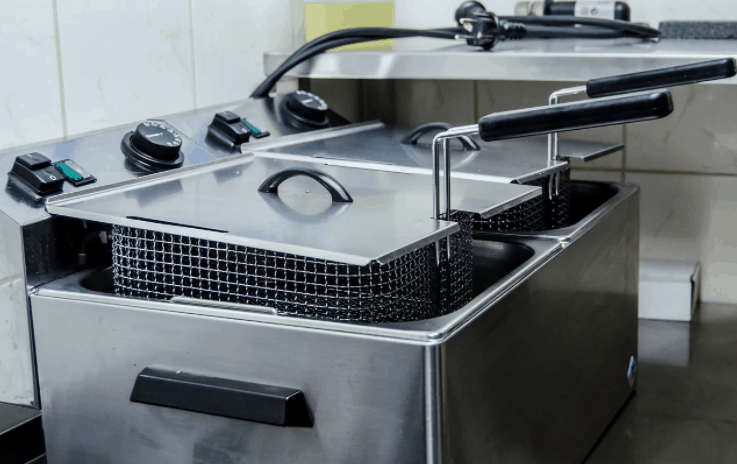 Still in doubt whether Frymaster MJCFSD is your best option? Let's summarize all the top qualities and advantages of this natural gas fryer:
Durability
Frymaster produces heavy-duty commercial-grade fryers that are built to last. MJCFSD fryers are made of first-class stainless steel. All the controls and accessories (including the burner and heating system – two of the most important components on every fryer) are sturdy, firm, and thoughtfully designed to withstand many years of intensive use in professional kitchens.
Large capacity frying pot
This large fryer boasts a single pot with 80lbs/40l oil capacity. This allows you to prepare large quantities of food at once and serve your customers much faster than you would be able with some smaller fryers. If you're running a large commercial kitchen or organizing events for bigger crowds, this is a huge advantage.
Easy and safe use
This gas fryer is very easy to ignite, set, and use, so your staff will be able to operate it efficiently and smoothly even without major previous experience. Thanks to the automatic shut-off and some other safety features, this machine also doesn't pose any significant safety hazard.
Open-pot design for easy cleaning
Some fryers are great to operate but a headache to clean. Thanks to its perfectly accessible open pot design and a deep cold zone with a 1-1/4″ IPS ball-type drain valve, Frymaster MJCFSD can be thoroughly cleaned very easily and fast.
No electric hookup is needed.
This gas fryer does not require you to have any accessible electric hookup, making it even more versatile.
Energetic efficiency
Frymaster gas fryers are, in general, requiring a relatively small input in comparison with some other machines in their respective categories. Therefore, although MJCFSD fryers are not the most energetically efficient models in the manufacturer's portfolio, if you consider this fryer's powerful performance and large capacity, it is still very effective in saving energy (and operational costs).
Cons of the Frymaster MJCFSD
Although Frymaster MJCFSD certainly has many impressive strengths and advantages, it might not be everyone's best option. Here are some drawbacks you should consider before buying yours:
One fry pot only
Although the single open-design pot of this fryer boasts huge capacity, it still is a single pot only, so if you need to fry two different products at different temperatures or frying times, you cannot do it at once with this machine. If you are offering numerous different fried products on your menu, this might be a great disadvantage.
Bulky and heavy
Most commercial-grade gas fryers are relatively large and heavy, yet this particular device is probably even a bit above the average. So if you're coping with a small kitchen or you're hoping to transport your fryer from place to place regularly, this 297lbs weighing machine might not be your No. 1 choice.
Expensive
Frymaster MJCFSD is a top-quality fryer providing great durability, reliability, efficiency, and wonderful ease of use. Its energetic efficiency even further adds to its overall value. Nevertheless, to enjoy all these qualities and benefits, you must have a considerably large budget at hand. If you're opening your very first business at the moment, or you're not yet at the stage when you can afford large investments, this fryer might probably be too expensive for you.
Are There Any Alternatives?
Not entirely convinced that Frymaster MJCFSD is your best choice? Here are some other popular gas fryers you might probably like better:
Frymaster GF14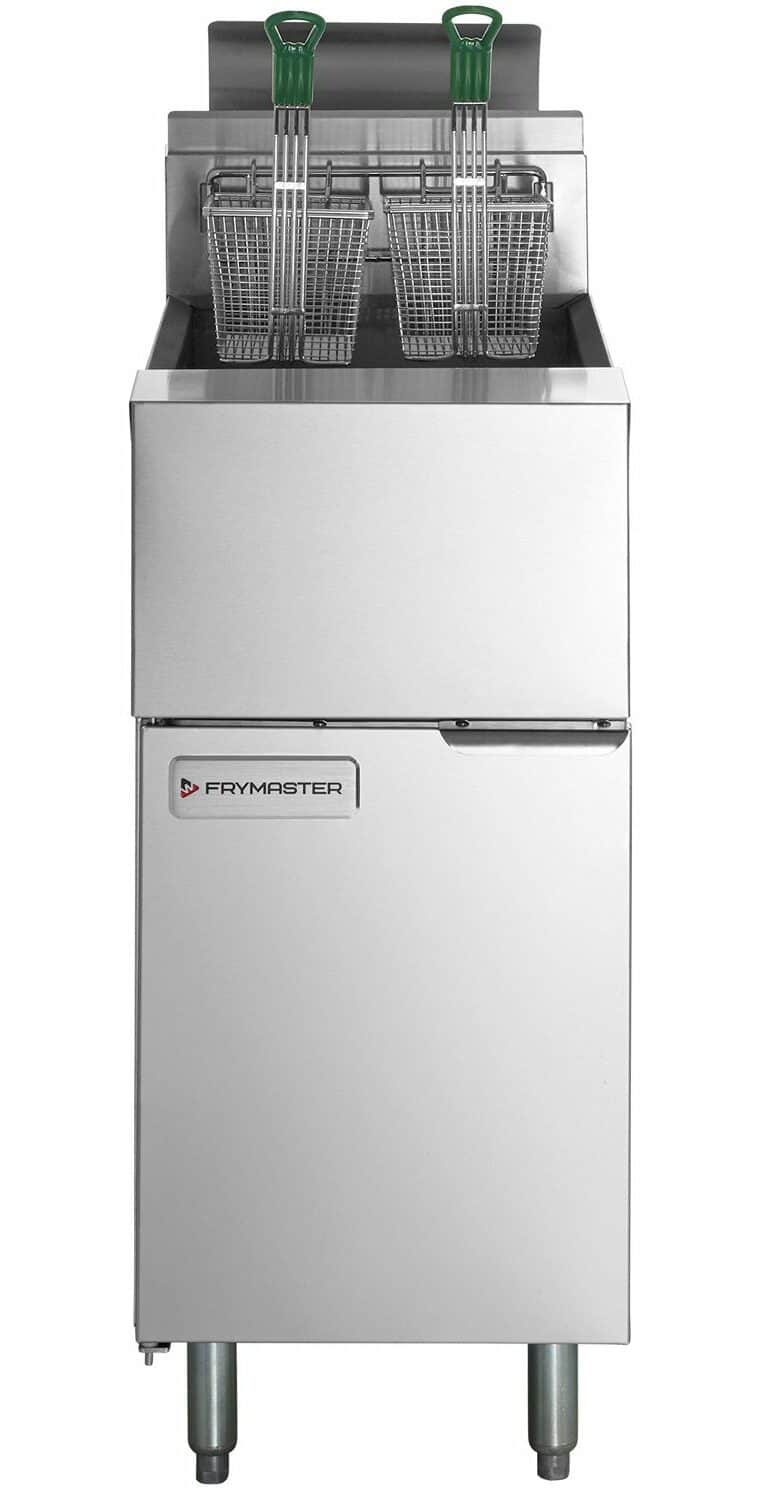 Frymaster GF14 is another commercial-grade gas fryer from the same manufacturer. Just like the MJCFSD fryer we have discussed in this article in detail, this fryer also possesses an open-pot design, durable stainless steel housing, a powerful jet burner heating system, and great user-friendliness.
What makes this fryer unique, though, is that it has two separate frying pots (optional 40/50lbs capacity). It is smaller and lighter than its single-pot counterpart and slightly more energetically efficient. It will also cost you less.
Bayou Classic 700-701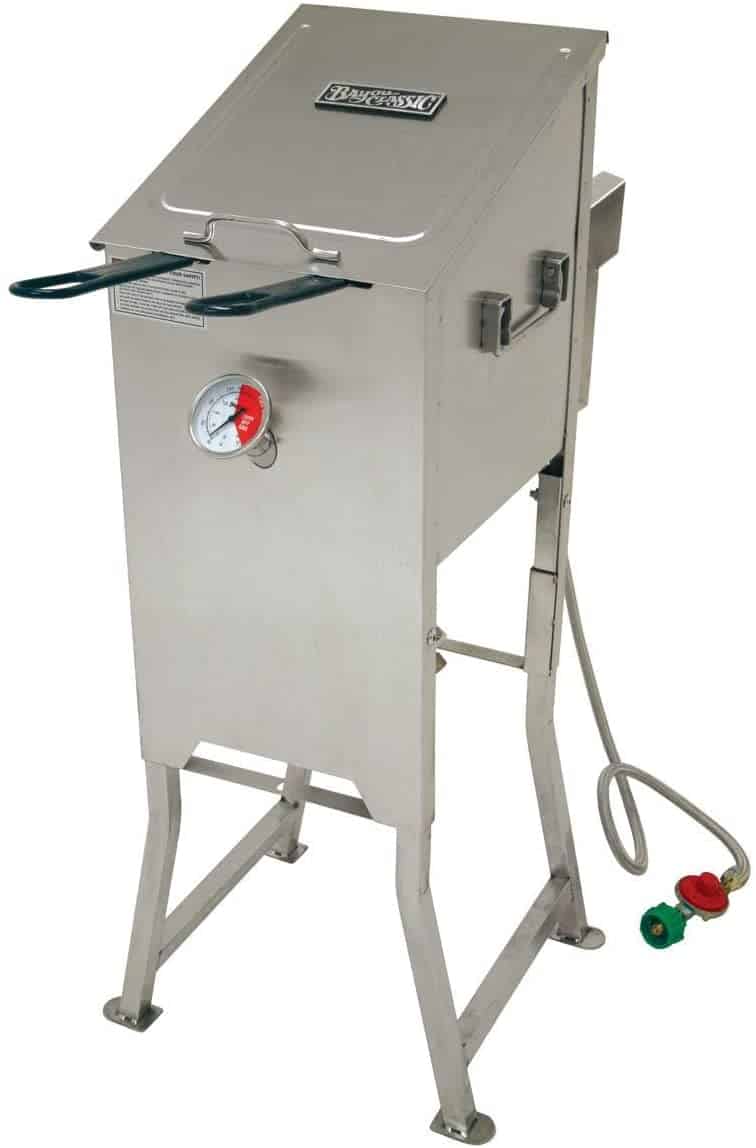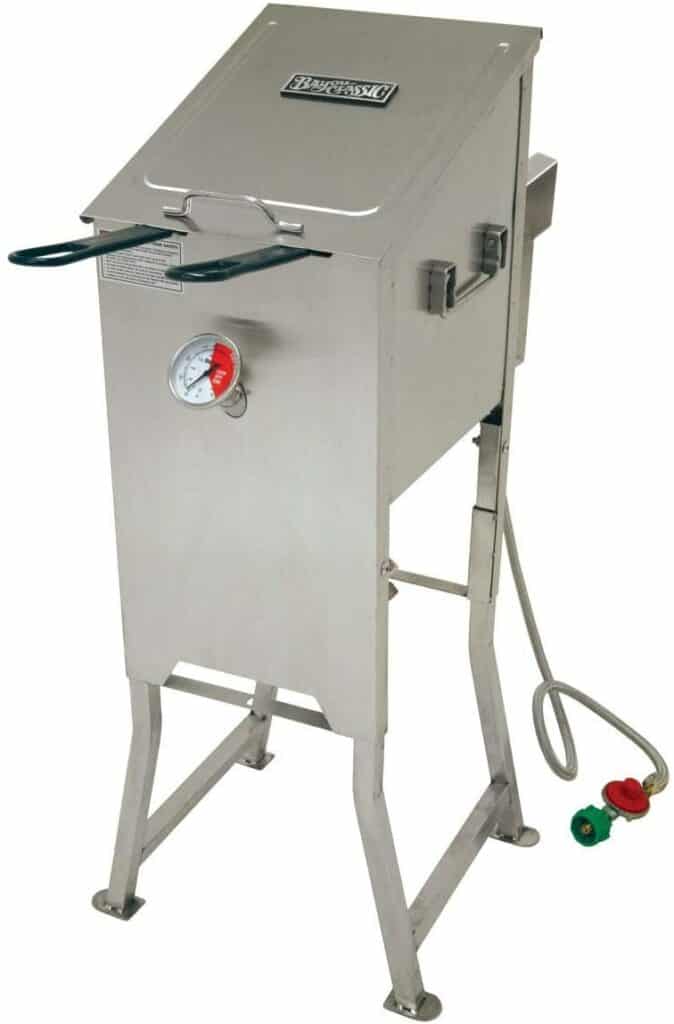 Bayou Classic 700-701 is a modern 4-gallon stainless steel fryer with a super-lightweight design that allows easy and convenient transport. Thanks to these construction assets, it is a fine choice for outdoor events, catering services, or food trucks.
The fryer comes with two stainless steel fry baskets, a temperature gauge, a drain valve, extension legs, and a 10-PSI regulator kit. This convenient fryer boasts great user reviews, and it is also quite affordable.
Final thoughts: Frymaster MJCFSD is an expensive, but worthy choice for large commercial kitchens
Frymaster MJCFSD is a commercial gas fryer designed particularly for large kitchens that need to produce huge amounts of fried chicken, fish, or other popular fried delicacies daily. It provides perfectly even results, it is super-easy to operate and clean, and you can rely on its safety and durability for many years.
On the other hand, this is also quite an expensive piece of equipment, which might price out those who need to stay on budget. This machine is also quite bulky and heavy, so it might not be the best solution for smaller kitchens.
Since Frymaster MJCFSD only has a single (although huge) fry pot, this appliance will mostly suit fast-food-style restaurants with relatively small and homogenous menus. If you need to fry different foods at various temperatures or frying times, you will have to get a separate fryer or wait until your Frymaster finishes the current task and achieves a newly set temperature, which is certainly not very effective and convenient.
In any case, if you consider all the pros and cons of this unit thoroughly, you should probably know by now whether it is or isn't your best option. We hope this Frymaster MJCFSD review has answered all your questions and provided you with the details you need to make a wise decision.
Looking for more information on commercial fryers? Start with reading our American Range Fryer Guide – it includes all the information you should know.