Latest posts by Maddy Chiffey
(see all)
Commercial prep tables are usually refrigerated and an essential piece of equipment for a professional kitchen. If you're looking to buy a commercial pizza prep table, then our guide will show five of the best commercial pizza prep table available today.
Prep tables are a convenient way for chefs to create their dishes without having to leave their stations. They are an essential item in a pizza parlor, sandwich deli, and many other foodservice businesses. But buying the right one for your kitchen and your business isn't always straightforward.
Depending on the size of your commercial kitchen, you could opt for a small, compact unit or larger wall-to-wall table packed with features, such as cold storage compartments.
In this post, I will outline the different options that chefs would be wise to consider when looking to purchase a commercial pizza prep table for their kitchen. Hopefully, this will ensure that you make the right purchasing decision for your kitchen and your business.
At a Glance – The Five Best Commercial Pizza Prep Tables 
How Pizza Prep Tables Are Different
When it comes to commercial prep tables, they are broken down into two main categories: sandwiches and Pizza. These categories may seem very specific, but they help to distinguish between the products' varying features. For example, it takes more surface area to make a pizza than it does a sandwich, so pizza prep tables tend to be wider than their counterparts.
Typically a commercial pizza prep table can span from 44-in to 119-in in width, while a commercial sandwich prep table spans 27-in to 72-in. Likewise, a pizza cutting board will be much larger than a sandwich cutting board. For example, the cutting board on a pizza prep table will be more than 16-in deep, but a cutting board on a sandwich prep table can be as shallow as 8-in.
Furthermore, pizza prep tables will have designated storage areas to maintain topping and condiment temperatures during extended services.
Choosing the Best Commercial Pizza Prep Table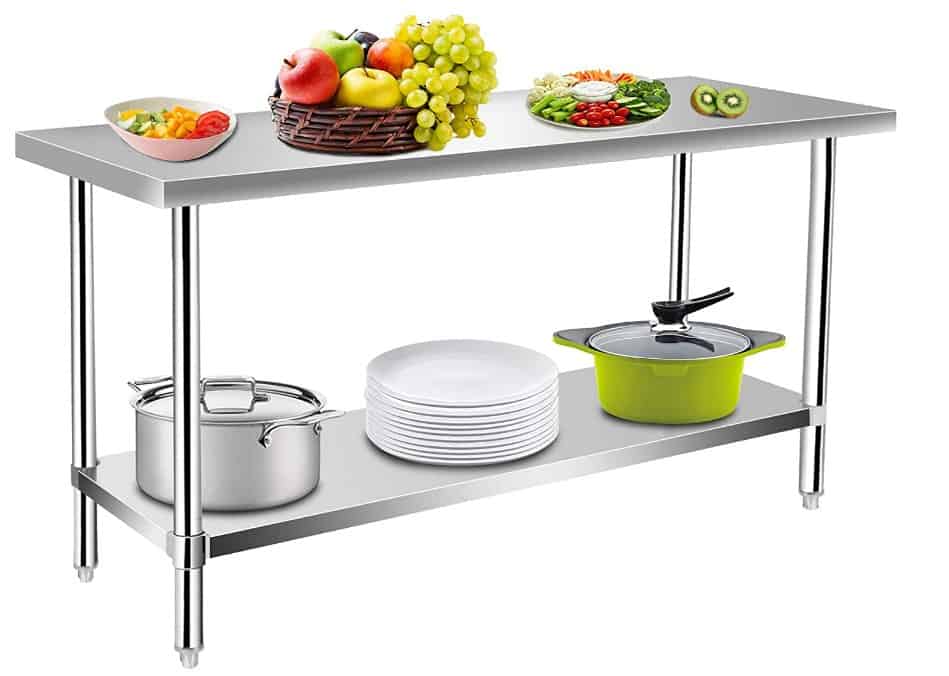 To help to narrow down your commercial pizza prep table selection, consider the menu from your restaurant. If you're a pizza parlor or deli, it will be simpler to choose between the tables detailed in this article, but other establishments may need to assess their specific goals.
For example, a sandwich prep table is also suitable for preparing salads, and it could also be wide enough for other items on your menu. If the prep table is refrigerated, it may include an insulated hood to retain freshness and keep pans cold.
Standard Top or Mega Top 
It may be worth considering whether a standard top or mega-top would be more suited to your commercial kitchen. Many prep tables have ingredient storage facilities in a standard top, but some prep tables have a larger 'mega-top,' which can be used to store a row of pans – effectively doubling the storage capacity—but also increasing the initial financial layout.
Size Considerations
When comparing the different sizes of commercial pizza prep tables, it is essential to consider where you plan to install the unit in your kitchen. Of course, it needs to be able to fit safely in the space constraints and be long enough to accommodate your food items. If your food business is extremely busy, a longer table will be able to handle more orders as long as it fits into the kitchen.
The sizes of commercial prep tables vary dramatically. They can be as short as 27-in (which would likely be labeled as a sandwich prep table) or as long as 119-in (the longest pizza prep table available). It may be that a shorter prep table is sufficient to get the job done in a smaller commercial space.
You should always select a length that makes the most sense for your business.
Doors and Drawers 
Commercial pizza prep tables can have no doors and drawers, one of each or a combination. Typically doors on a prep table will open to a cavity with similar features as a reach-in refrigerator, i.e., multiple shelves for storing items of different sizes.
Drawers often have a much smaller refrigeration area and tend to have been designed for holding and accessing pots and pans quickly. A drawer design is often thought of as the most convenient in a busy commercial kitchen.
5 Best Commercial Pizza Prep Tables 
Beverage-Air Refrigerated Pizza Prep Table

Large Work Space
Optimum Storage
One Door and Three Drawers

Buy Here
Blue Air Refrigerated Commercial Pizza Prep Table

3 Year Parts/Labor 5 Year Compressor Warranty
1 Door Auto Closer Equipped
Stainless Steel Interior

Buy Here
KoolMore Refrigerated Countertop Pizza Prep Station

Countertop Design
Stainless Steel Pans Included
Space Saving Prep Station

Buy Here
Rockpoint Stainless Steel Prep Table – Our #1 Top Budget Buy

Adjustable Under Shelf
5 Different Styles
9 Size Options

Buy Here
North American Refrigeration Pizza Prep Table

Extra Deep Pizza Prep Refrigerated Storage
Digitally Controlled Refrigeration
All Stainless Steel – Interior and Exterior

Buy Here
#1 Beverage-Air Refrigerated Pizza Prep Table – Our #1 Top Pick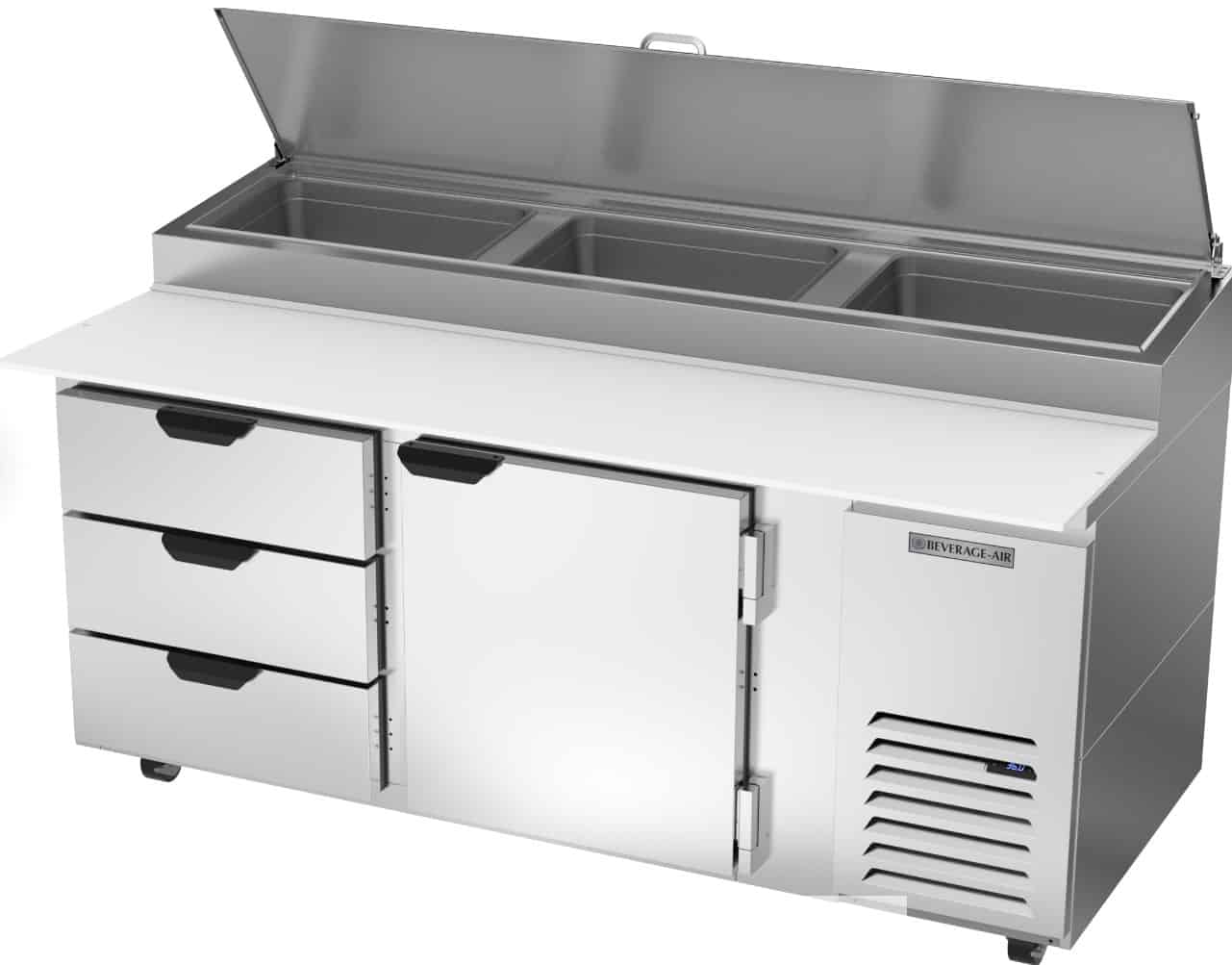 The Beverage-Air Pizza Prep Table has been engineered for superior function and durability. The generously sized 72-in x 37-in table simplifies the workflow of pizza assembly. There is exceptional product visibility due to the pre tables clear lid, which means that customers can see the ingredients if this is stored 'front of house' and that staff can locate toppings quickly.
It has a convenient rail that holds 6-in deep pans, making the storage of various pizza toppings convenient and easily accessible. The lift-up lid retains the cold air – of between 36 – 38 degrees Fahrenheit and helps to prevent cross-contamination between ingredients.
There is a 19-in deep cutting board in front of the rail, providing ample workspace for food preparation. The cutting board is reversible, made from white polyethylene, and easy to clean. The table hosts three drawers, which have been constructed with magnetic gaskets and telescoping slides, which lock the drawers in place. The drawer frames are 100% stainless steel.
Stainless steel is also the metal used for the front of the table, the top, grille, drawers, and sides. In addition, there are four 3-in casters (two with brakes) to enable easy transportation of the unit.
Pros
Stainless Steel Construction
Ample Work Space
Optimum Storage
Cons
The Unit Contains Lead – For California Residents, See Here
Prices May Vary State to State
Shipping Can be 9-Weeks or More.
#2 Blue Air Refrigerated Commercial Pizza Prep Table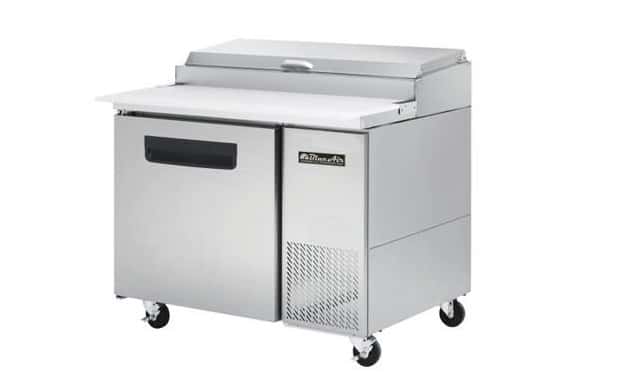 The Blue Air Refrigerated Commercial Pizza Prep Table is an excellent choice for any busy pizza parlor or food service restaurant. Its large size, 44.5-in x 32.14-in x 42.5-in and provides ample room to create a large number of pizzas in quick succession on the stainless steel worktop. It is a heavy unit of 302 lb but has x4 5-in foot casters to enable easier moving.
The doors have an auto-close function and are entirely stainless steel, which will help to minimize dents, scratches, erosion, and rust. The metal is chosen for construction as it maximizes longevity and provides a beautiful sheen. This elegant design has a more stable appearance and safety benefits than many other pizza prep tables.
The entire unit, inside and out, is made from stainless steel, which promotes durability. There is high-density foam in place for insulation, which is environmentally safe polyurethane. The side rail cutting board bracket is 19-in deep and has a ½-in thick cutting board included.
You can easily purchase the Blue Air Prep Table on Amazon, which is pretty uncommon for this weight and size commercial kitchen equipment. There is also the option to buy additional shelves from the supplier, who you can contact here.
Pros
Easy to Order Online
Entire Stainless Steel Construction
Optional Extras Available
Cons
Fairly Expensive
Flammable Refrigerant Used
Often Long Delivery Wait
#3 KoolMore Refrigerated Countertop Pizza Prep Station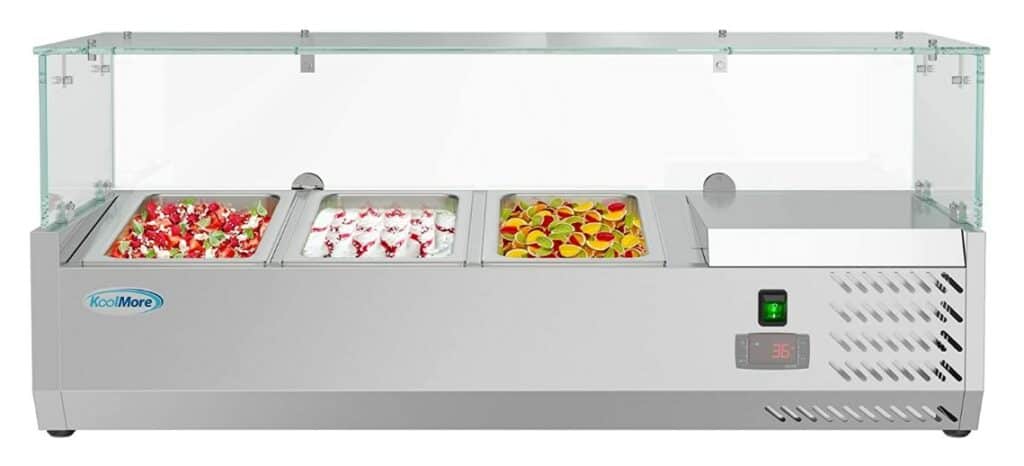 For those chefs with little room in the kitchen, the KoolMore Refrigerated Countertop Pizza Prep Station could be an ideal piece of equipment, maximizing space and providing additional refrigerated storage for those essential pizza ingredients. There are three ⅓ stainless steel pans included with the purchase, although the station can hold more pans in smaller sizes.
This prep station could be used in pizza parlors, sandwich shops, and delis to display food for self-service, such as salads. There is a sneeze guard, which would make this a more hygienic operation if a self-serve salad bar was on the agenda.
The digital temperature display ensures that food is kept fresh, and the non-scratch fee means that it will securely stay in place during use. This is a beneficial space-saving station for kitchens that cannot accommodate full-sized refrigerator prep stations. The compact unit is 39.3-in x 15.5-in x 17.2-in, with the sneeze guard included.
The unit is made from stainless steel, and the sneeze guard is glass, all hyenic materials to use around food due to their inability to harbor germs and bacteria and the fact they are easy to wipe clean. I recommend keeping a box of antibacterial wipes near the station, especially if multiple employees or guests use it.
Pros
Digital Temperature Display
Space Optimizing
Stainless Steel and Glass
Cons
Small Station for Small Businesses Only
No Work Surface
Often Out of Stock
#4 Rockpoint Stainless Steel Prep Table – Our #1 Top Budget Buy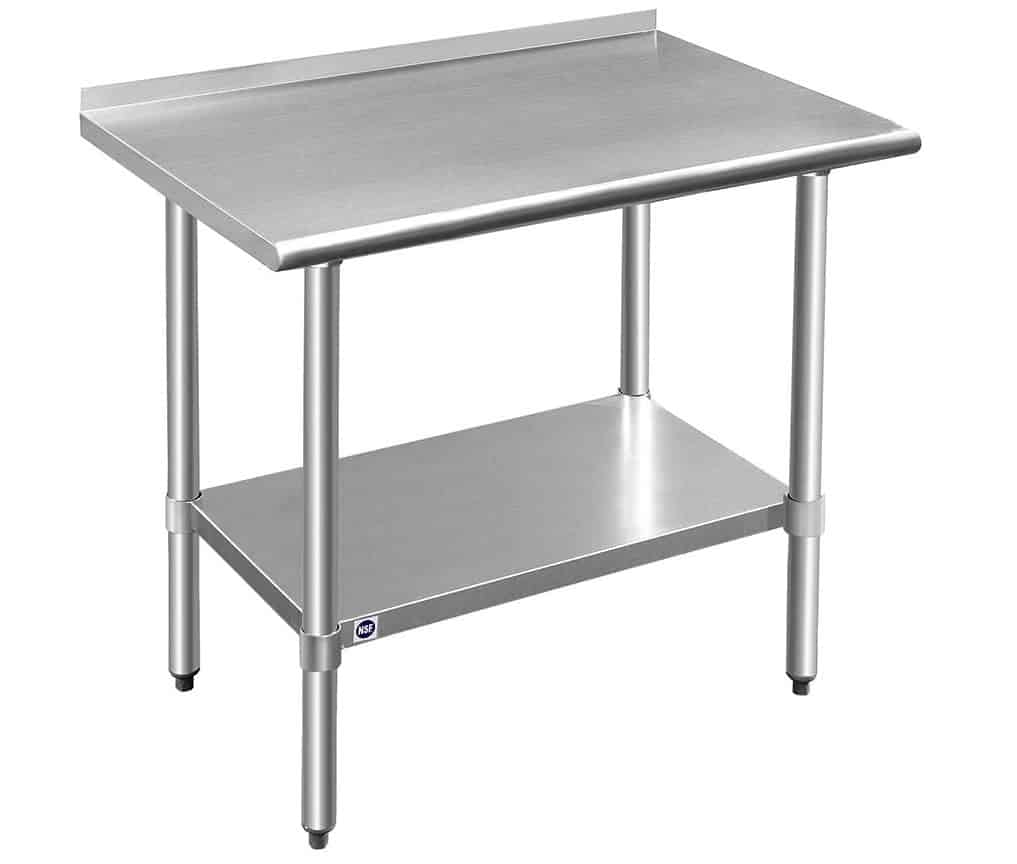 The Rockpoint Stainless Steel Prep Table is a highly affordable additional prep table or worktop for a commercial kitchen with a tight budget and a need for more workspace. It is a tall, heavy-duty construction made from high-grade stainless steel. It is NSF certified too, which means that the design and material meet strict food safety standards.
The prep table doesn't have built-in refrigeration, nor does it host storage drawers or shelves, but this is why it is such a budget buy – it is basic and can be added to when budgeting permits. With the additional purchase of an under-counter fridge, countertop organizer, and wall shelves, you will be able to build your own bespoke workstation around this prep table.
Depending on which of the five different styles you choose from this brand, you could have one with adjustable stainless-steel shelving underneath, wire shelving running across the bottom, or four rotating wheels. There are also nine different size options, from 24-in x 24-in x 34.7-in at the smallest to the largest model, which is 60-in x24-in x34.7-in.
The table legs are also adjustable, which is great if there are chefs on different shifts who have vast height differences. All can work comfortably and reduce backpressure and pain by working at a table that is the right height for them. The legs are galvanized and have non-marring feet, which is excellent for stability and for floor protection.
Pros
Highly Affordable
Space Saving
Adjustable
Cons
Additional Purchases Needed to Optimize Prep
Cannot Purchase Additional Shelves from Supplier
Relatively Long Assembly – 30-minutes or More
#5 North American Refrigeration Pizza Prep Table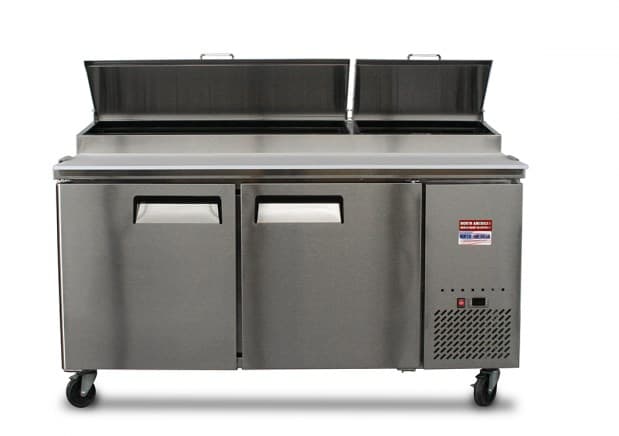 There is truly so much to love about the North American Refrigeration Pizza Prep Table, from the double-insulated lock open tops, self-closing doors, and heavy-duty magnetic door gaskets, to the convenient casters, stainless steel construction, and deep refrigeration storage. This is the commercial pizza prep table for the finest pizza house in the city.
The side mount refrigeration systems are digitally controlled, ensuring the safe storage of ingredients. The refrigeration area is vast – more than ample enough to accommodate sheet pans, full-size dough boxes, and anything else needed in an authentic Italian kitchen.
The prep area is extensive, at 19.5-in, meaning that stretching the dough and creating hand-stretched pizzas is a breeze. The double doors house three storage compartments each, making six in total, which is plenty big enough for crockery, cooking utensils, ingredients, and condiments. The unit weighs 549lb, so it is a hefty build, but the four rotating wheels (two front lockings) allow for easy transportation if needed.
Pros
Five-year Compressor Warranty, Three Year Parts Warranty, One Year Labor Warranty
Ample Storage and Workspace
Free Shipping Within 10 Days
Cons 
The Unit Contains Lead – For California Residents, See Here
Slightly Expensive
No Return Policy
FAQs
Question: Is a Prep Table a Pizza Prep Refrigerator?
Answer: A pizza prep table is fundamentally a refrigeration unit that is horizontal with additional storage, designed to streamline the pizza assembly process. A 'prep table' doesn't have to have these features and so differs from a pizza prep refrigerator.
Question: Is a Prep Table Just a Worktop?
Answer: A prep table is usually made from hygienic and durable stainless steel, which promotes food freshness. It can have extra storage features underneath, above, or included in the unit within drawers or cupboards. It is basically an entire workstation designated to prepare food on and for nothing else. A worktop can be used for many different things and often constructed from wood.
Prep tables tend to come with casters for easy transport and can also be refrigerated units. They are very much a separate thing from a worktop and an essential item for a commercial kitchen.
Question: Does a Pizza Prep Table Have to be Refrigerated?
Answer: If you're using a prep table to store pizza toppings, dough, and other pizza ingredients, to prevent bacteria and ensure food freshness, the pizza prep table must be refrigerated. The USDA states that food shouldn't be left out of a refrigerator for more than 2-hours, max, as this is when it will start to spoil and be unfit for consumption.
However, some foods that are perfect for pizza toppings, such as peppers, tomatoes, and onions, are best kept out of the refrigerator. So, a pizza prep table doesn't necessarily have to be refrigerated, but it is the most popular kind of prep table for commercial chefs.
The Best Commercial Pizza Prep Table – My Verdict 
Of all the commercial pizza prep tables listed in this guide, I would be happy to use any and see the benefits of each. The simple, affordable Rockpoint Stainless Steel Prep Table is a no-frills table that can increase the food preparation area within a smaller kitchen without taking up much room.
Another space-saving unit is the KoolMore Refrigerated Countertop Pizza Prep Station, which is multi-use. It could make a great feature in front of the house, as a self-serve salad bar or addition to a restaurant buffet table.
Despite the long delivery wait, I really like the Blue Air Refrigerated Commercial Pizza Prep Table and its array of incredibly convenient features. The entire unit is made from stainless steel, inside and out, and it is easy to order online with optional extras available.
The North American Refrigeration Pizza Prep Table has one of the best warranties in the industry and so many features that are just perfect for a busy pizzeria. There is ample storage in the cabinets and room to create delicious hand-stretched pizzas on the steel top surface. Delivery is also fast – often within 48 hours and totally free.
My #1 top pick is the Beverage-Air Pizza Prep Table, and this was down to a number of reasons; mainly, I liked the varying storage facilities that promote an organized kitchen. This station really has it all with three pull-out drawers, a cupboard, top storage boxes, and a generously sized worktop. There may be an issue with this product for California residents due to the lead, and delivery can take some time, however.