Latest posts by Alice Smith
(see all)
The best commercial food processors will help you save time in the kitchen, produce healthier dishes, and bring more variety to your menu. They are designed to do more than just chop up vegetables and fruits for soups or salads – they can also mix the dough, grate cheese, and shred chicken. But there are many different types of food processors on the market.
So, if you're looking to find what best suits your needs, then we've compiled all the best tips and food processor recommendations into one place.
What is a food processor?
A food processor is a kitchen appliance that is used to chop, slice, grate, mix, and generally speed up food prep times. Food processors usually come in 4 parts: removable blades, a bowl (sometimes plastic and sometimes metal), a lid, and a base with a built-in motor. They are available in different shapes from square to round, rectangle, or sometimes oval-shaped. You also get a range of different sizes to suit different needs.
When it comes to blades, as well as being removable, they are often interchangeable, meaning you can substitute different blades depending on what you need to do. This is one of the main differences between food processors and blenders, as blenders usually only have one blade.
Some food processors also come with bowl inserts that allow you to blitz more than one ingredient at once and chutes which allow you to add more ingredients while you're mixing.
Overall, a food processor allows you to quickly and efficiently complete many tasks that would take much longer to do by hand.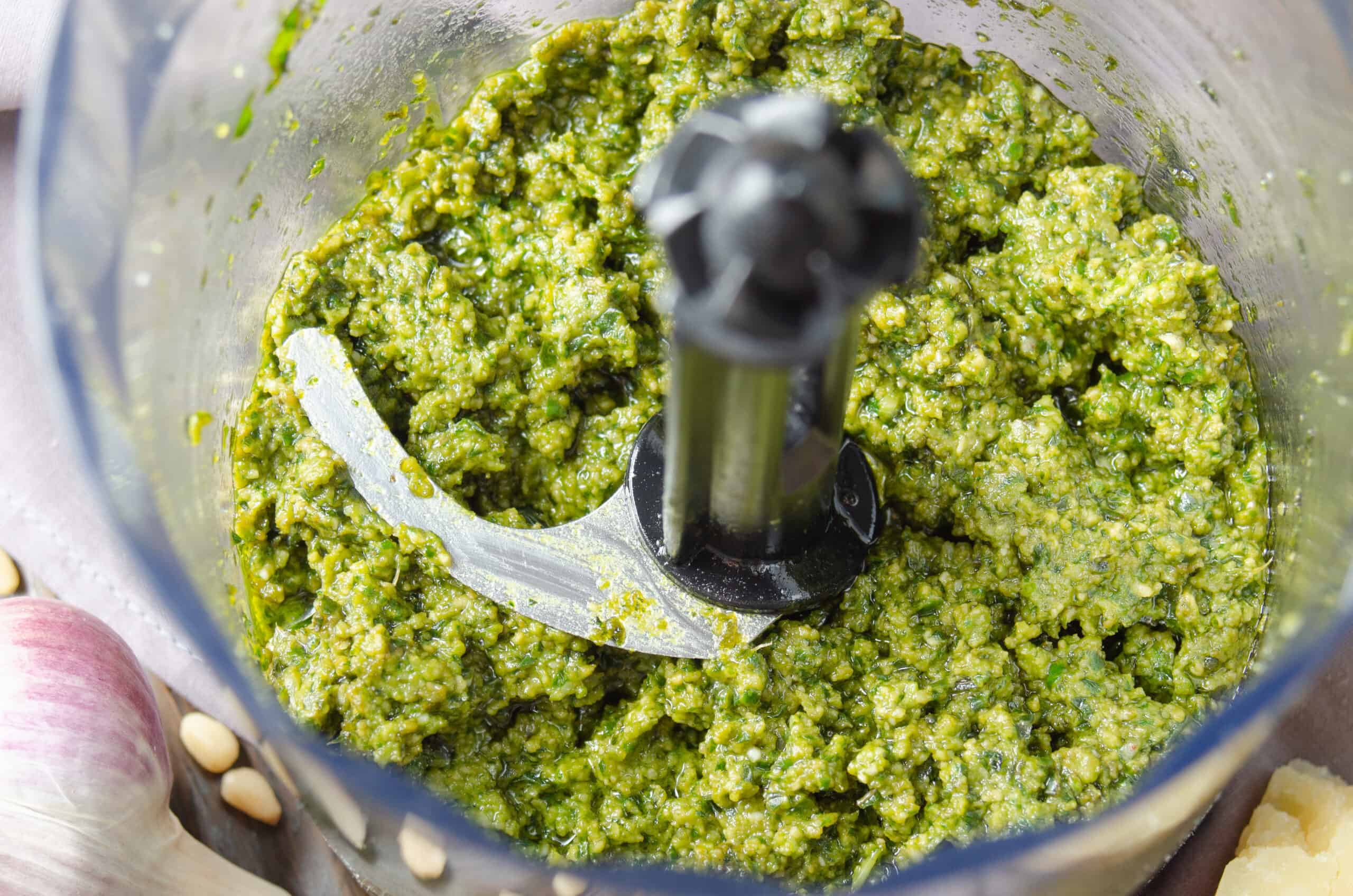 What are the top uses of food processors?
Food processors are commonly used to make dough for pizzas or bread, blend soups or sauces, shred vegetables such as carrots into thin strips, grate hard cheeses like cheddar, or many other uses.
Here is a bit of inspiration of dishes you can create with a food processor:
Fresh salsa. Use fresh tomatoes and cilantro. You can also add other seasonings such as lime juice, onion powder, garlic salt, or red pepper flakes if desired.
Homemade peanut butter. Just put the peanuts into the bowl, add salt and water to wet the nuts. Blend until it reaches a smooth consistency (about 30 seconds).
Hollandaise sauce. Just put egg yolks, lemon juice or vinegar, and butter into your food processor's bowl. Cover the blades with a towel and blend for about 30-60 seconds or until it reaches desired consistency.
Bread crumbs. Just put bread cubes or slices, spices (such as black pepper, garlic salt, parsley), oil, water, and salt into your bowl. Process until the mixture is crumbly.
There are many other recipes that you can create with a commercial food processor, and that's just a small taste of the variety that you can produce. One of the best things about food processors is that they require little to no liquid. This means they're much more versatile than blenders and can make items like breadcrumbs with ease.
What to look for in a food processor?
Before you buy your food processor, it's best to be sure of what you're looking for so you can make an informed decision. Here are some things to bear in mind before you make your decision:
Bowl Capacity
How much food do you usually prep at once? Or how much do you want to prep at once? If you're looking for a food processor that can hold more, then it's best to buy one with a bigger bowl. This will allow you to save time in the kitchen as well as make cooking much easier.
Blades
How many blades do you need? Most commercial food processors come with two blades: an S-shaped blade (for slicing) and a flat blade (for shredding). But overall, consider buying a machine with at least three interchangeable blades so it'll be able to perform a wider range of tasks.
Size
What is the overall size of your machine, and how much space will it take up on your work surface? Are you looking for something small and compact, or do you have a larger, designated space for a machine? Plus, if the machine isn't going to remain on your countertop or kitchen table at all times, it's best to find one that isn't too heavy, or that has a handgrip so you can easily move it from place to place.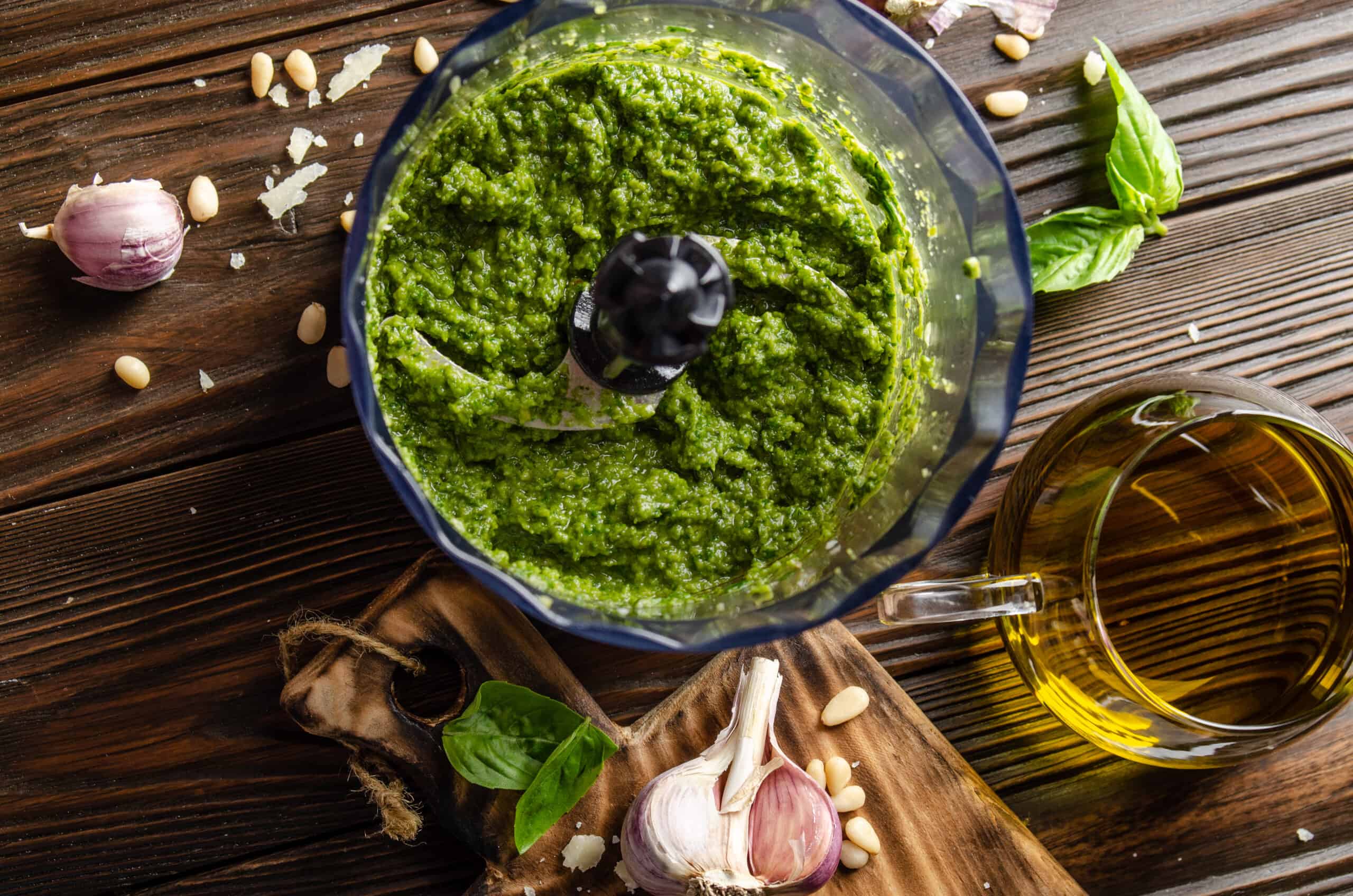 Power (Wattage)
Certain food processer functions, like dough-making, require larger amounts of power, and a higher quality motor. If you're looking to process tough ingredients regularly, make a powerful motor a priority.
Ease of Cleaning
Do you need the processer to be dishwasher safe? Many are, but if easy cleaning is important to you, then look for a processor that states it's suitable to be placed in a dishwasher. It should also have stainless steel blades for durability and further ease of cleaning.
Warranty
Finding a longer warranty can save you costly repair jobs down the line.
Price
Of course, you'll need to make sure that your food processor fits your budget. Food processors are available at a variety of prices, so there is something to fit every budget. However, the price will more than likely be a deciding factor in your buying decision, so work out your spending limit before you start shopping.
What are the best commercial food processors?
Even once you've considered these factors, choosing the best commercial food processor for your needs can be difficult. But, here are some of our top recommendations to help you choose:
Breville BFP800XL Sous Chef Food Processor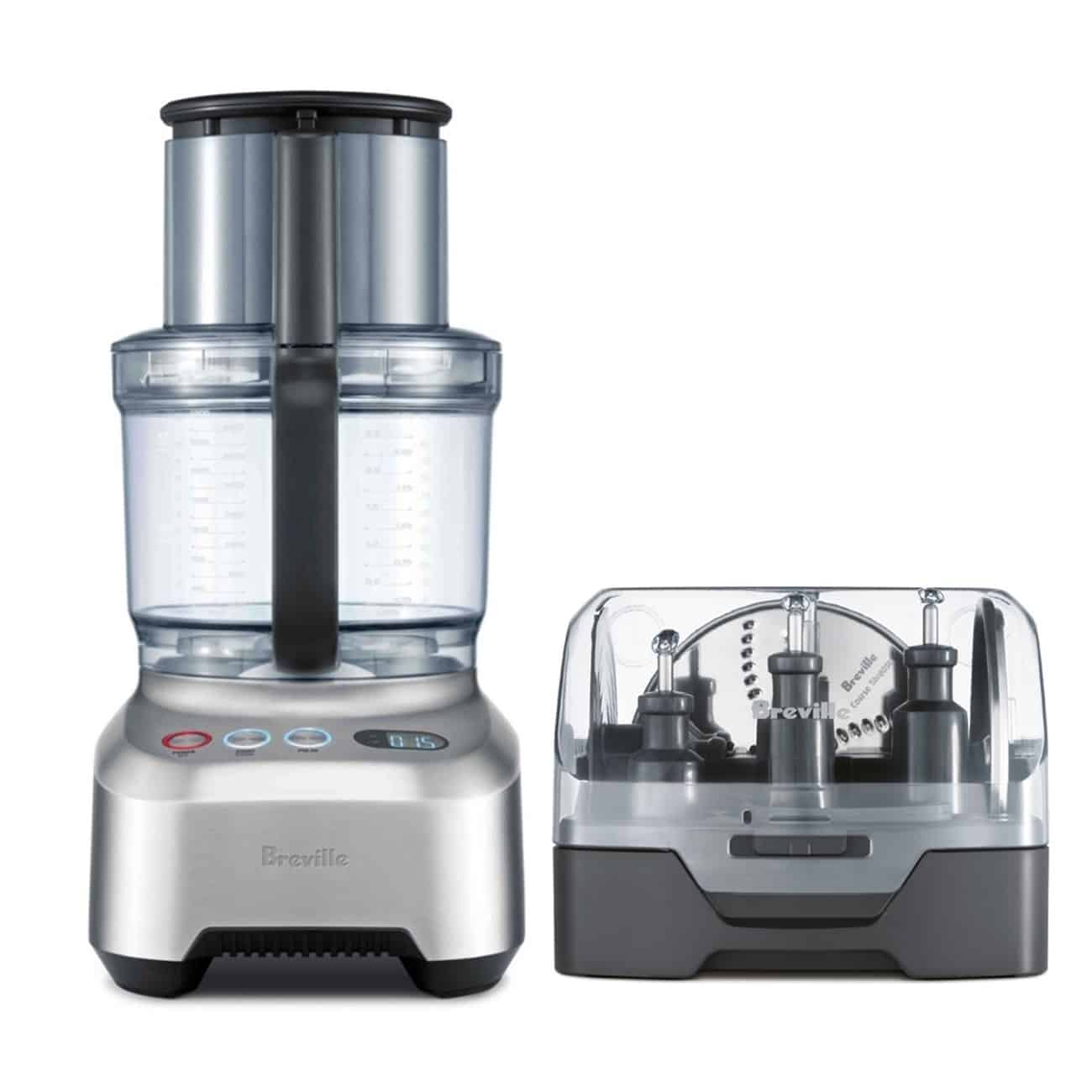 For a machine that can handle food of all different shapes and sizes, you'll have hit the jackpot with this processor by Breville. The wide feed tube makes slicing tough veggies a piece of cake and it comes with so many disc blades that you'll have no trouble completing a wide variety of kitchen prep tasks.
The powerful 1200-watt motor was designed for frequent use and the 2.5 cup mini-processing bowl and 16-cup lidded work bowl lets you prep both large and small tasks. It also has plenty of safety features: the 4 rubber, anti-slip feet will keep this processer glue to your worktop, the silicone seals will prevent leakage of liquid foods, and it has a built-in safety lock which means it will automatically turn off if the lid is open.
Suitable for any kitchen space, it's easy to store – parts will store horizontally or vertically – and it comes with a stackable storage case. The BPA-free plastic pots will clean with a simple rinse over and it's completely detachable, making cleanup even easier.
Pros
Comes with 3 blades and 5 discs
Non-slip feet
Large and small food pusher for all types of ingredients
Safety braking system
Powerful motor
Cons
Robot Coupe R101 Combination Food Processor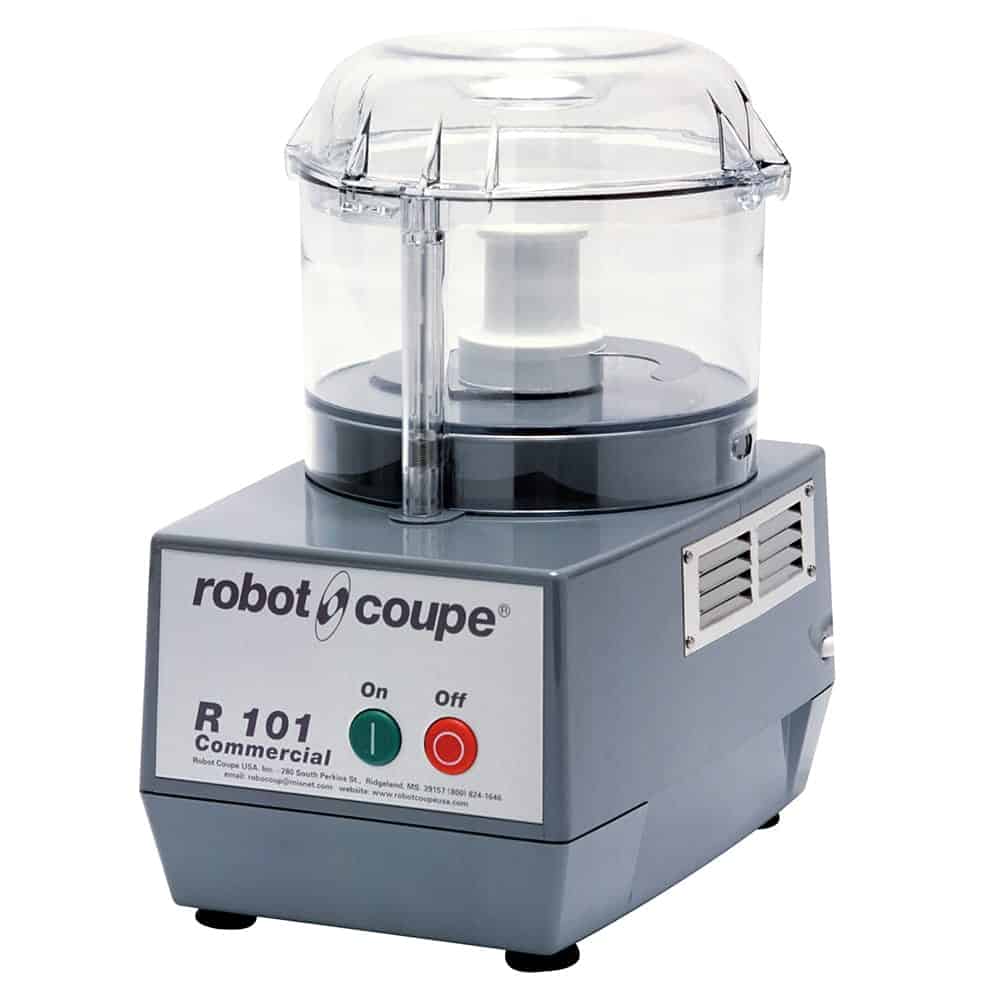 A brand that's popular among catering professionals, it's really no surprise that Robot Coupe made it onto this list. The heavy-duty R101 food processor is a great tool to have in a busy, commercial kitchen.
The 3/4 horsepower motor is both quiet and powerful, allowing you to perform time-consuming chopping tasks quickly and with ease, whilst its simple on-off control with a one-speed setting makes things as streamlined as possible. The open-top allows you to continue to add ingredients whilst the machine works for even more efficiency.
The Robot Coupe has four rubber feet to prevent worktop skidding, and it's quite heavy too, which will help with this. It's also compact, and will neatly fit in most commercial kitchens.
Pros
3/4 horsepower motor
Simple settings are easy to use
Open top to add ingredients while you work
Cons
Quite noisy
Lack of features
Single-speed setting
Cuisinart DLC-8SY 11-Cup Food Processor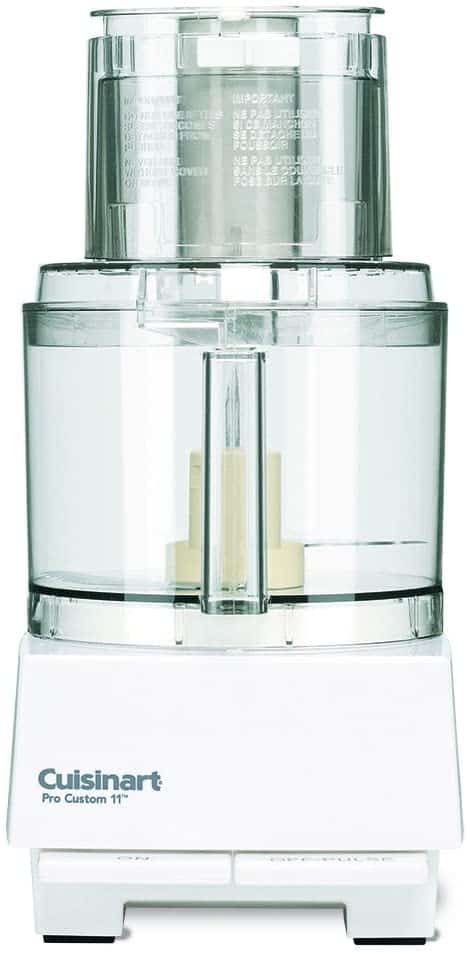 This mid-sized machine was an easy addition to our best commercial food processors list due to its wonderful combination of features and affordable price tag. Coming in a handy package with a stainless steel blade, a 2mm slicing disc, a 4mm slicing disc, and a shredding disc, this food processor will provide accurate results, no matter what you need it for.
The 11-cup capacity and 625-watt motor are equipped to handle both large or small loads, while the wide-mouth feed tube means you can add ingredients as you go.
It also features rather a unique design with paddles instead of power buttons. The paddles are built for comfort; one paddle controls the device while the other has two functions: on and off. Lastly, it comes with an included recipe ebook for the creative cooks out there.
Pros
Large, 11-cup capacity
Comfortable paddle controls
Comes with multiple discs and a recipe ebook
Affordable
Cons
Might be too small for some kitchens
Magimix 5200XL Premium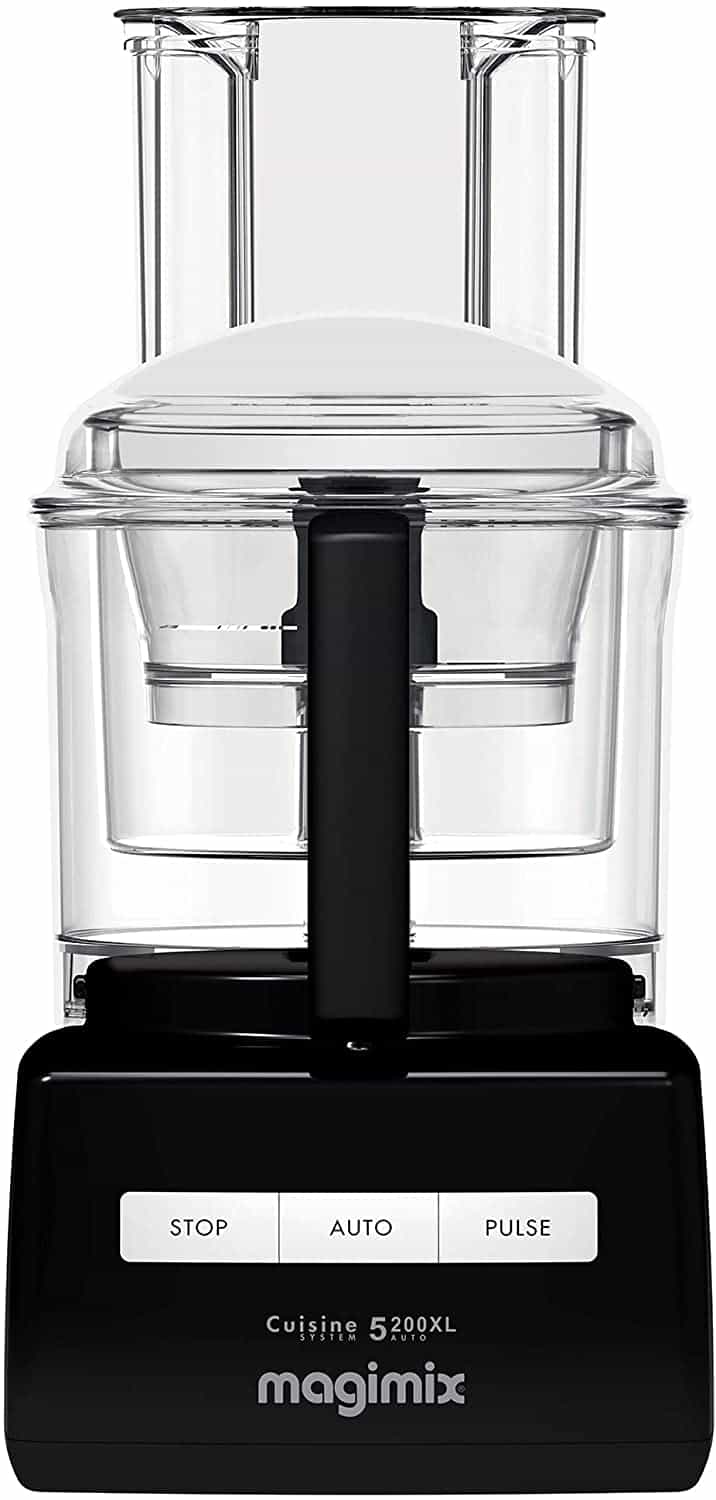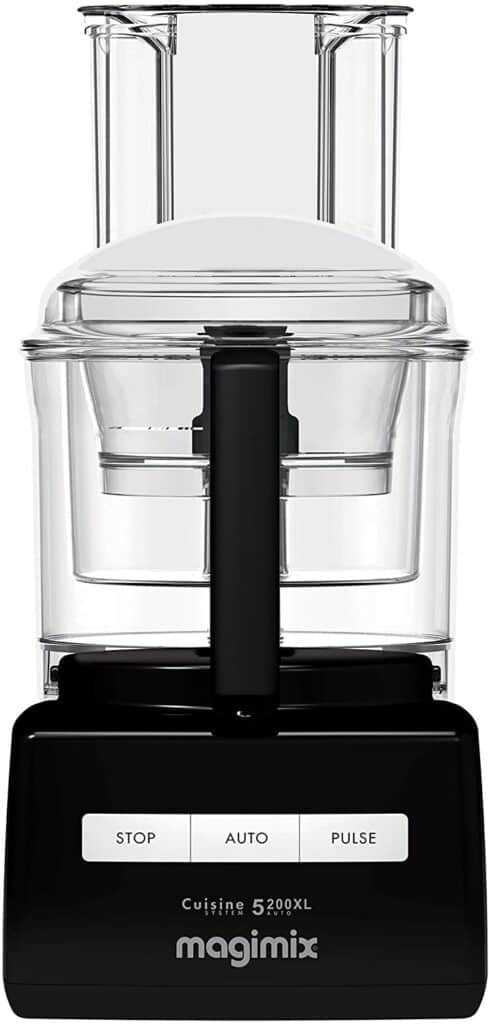 Ideal for large loads, this Magimix food processor can perform a variety of kitchen prep tasks. It comes with a total of 23 different accessories (including different blade styles, bowl sizes, and graters), so the only limit to what you can do with this food processor is your imagination.
Its attractive design is suitable for open kitchens or being left in customer sight. And it's safe as well as pretty, with non-slip feet and automatic stop controls. It also comes with a 30-year motor guarantee, one of the longest guarantees on this list!
The machine has 2 settings: auto and pulse, with a stop button for further control. Lastly, it is a little bulky, but it will most likely fit in most commercial kitchens.
Pros
Comes with 23 different accessories
Attractive design
30-year motor guarantee
Cons
A little bulky for some kitchens
KitchenAid KFP1466CU 14-Cup Food Processor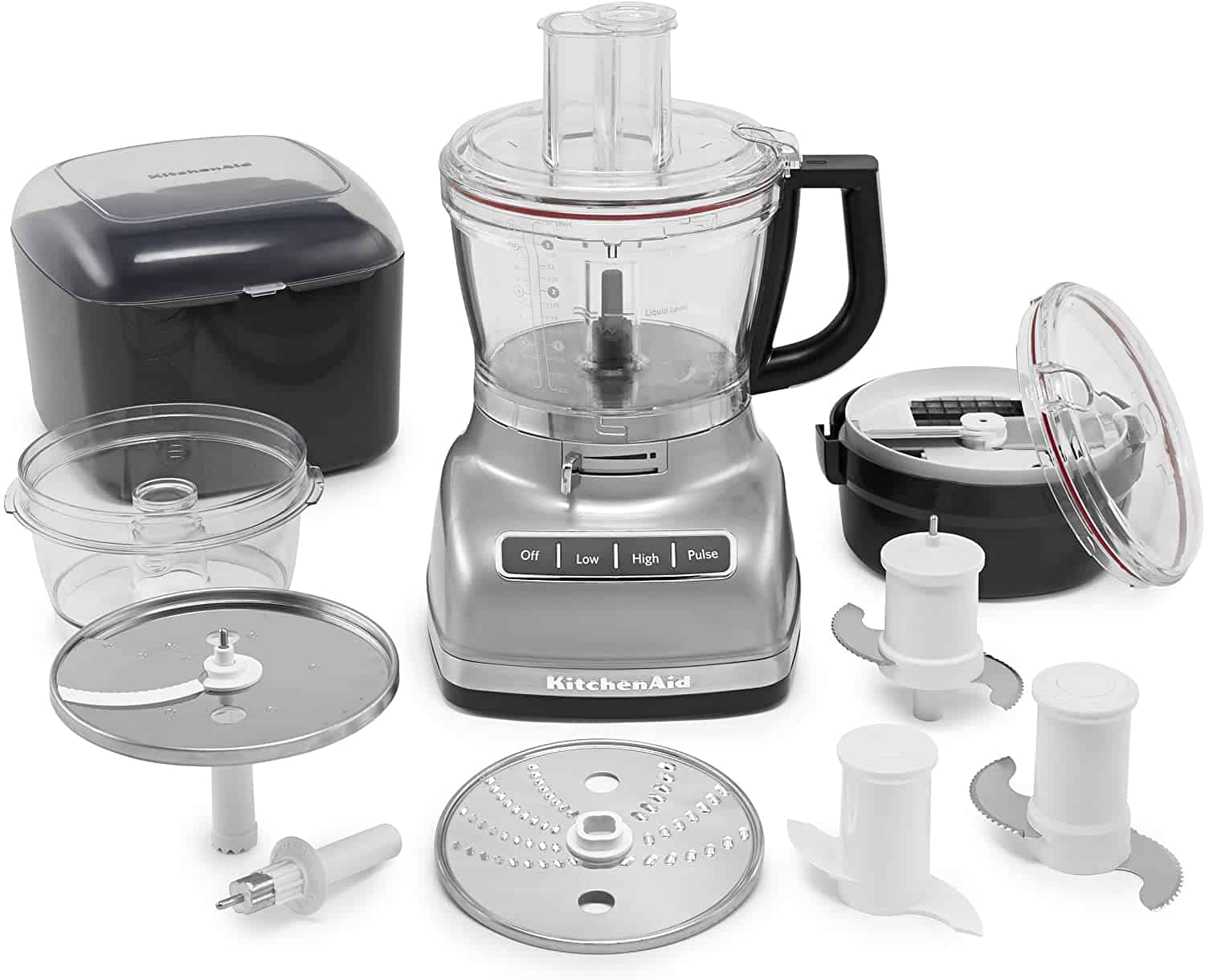 Created for handling the most complex chopping and slicing tasks, this machine by KitchenAid can cut your hard workload in half. The powerful, 480-watt motor can easily handle any food prep task, and it is impressively quiet too, so it won't add to your list of noisy kitchen appliances.
With the 14-cup work bowl and a 4-cup mini bowl, you'll be able to tackle both large and small quantities. The food processor comes with a variety of accessories, including dough blades, slicing discs, and spatulas.
It's also a very safe machine. The sturdy base is held in place by 4 non-slip feet, it also provides strong support while you work and the motor will turn itself off if the lid is opened. It will let you add ingredients mid-blend through, via the convenient feed tube lid.
Lastly, the machine is very easy to clean with a hard-wearing stainless steel base, and completely detachable bowls, blades, and lid.
Pros
480-watt motor
14-cup work bowl and 4 cup mini bowl suitable for a range of tasks
Comes with a variety of accessories
Multiple safety features
Cons
Braun FP3020 12 Cup Food Processor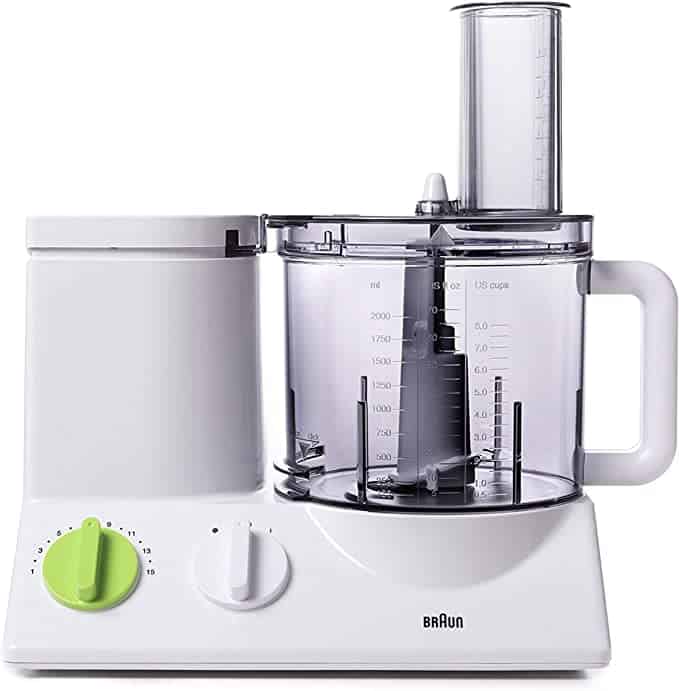 This German-engineered machine is easily one of the best commercial food processors and its innovative design just adds to that fact. The sleek machine has a good-sized 12-cup bowl, a small cup insert for smaller loads, and a separate citrus press which will make juicing lemons and other fruit a breeze.
It's also incredibly powerful. The 600-watt motor is super quiet yet strong enough to make nut butter and blitz chunky vegetables into a pulp. This versatile processor also includes 7 attachments to assist with a range of tasks easily. It has a dual-control system with various speeds and pre-set speed functions too for a little simplicity.
The compact design is easy to store and easy to use, plus it has a built-in cord tidy at the back, a non-slip design to prevent it from skidding on your counter. Cleaning is simple too, as every part – except the motor – is fully dishwasher safe.
Pros
7 included attachments
600-watt motor
Affordable
Cons
Might be too small for some kitchens
Robot Coupe (CL50) Continuous Feed Food Processor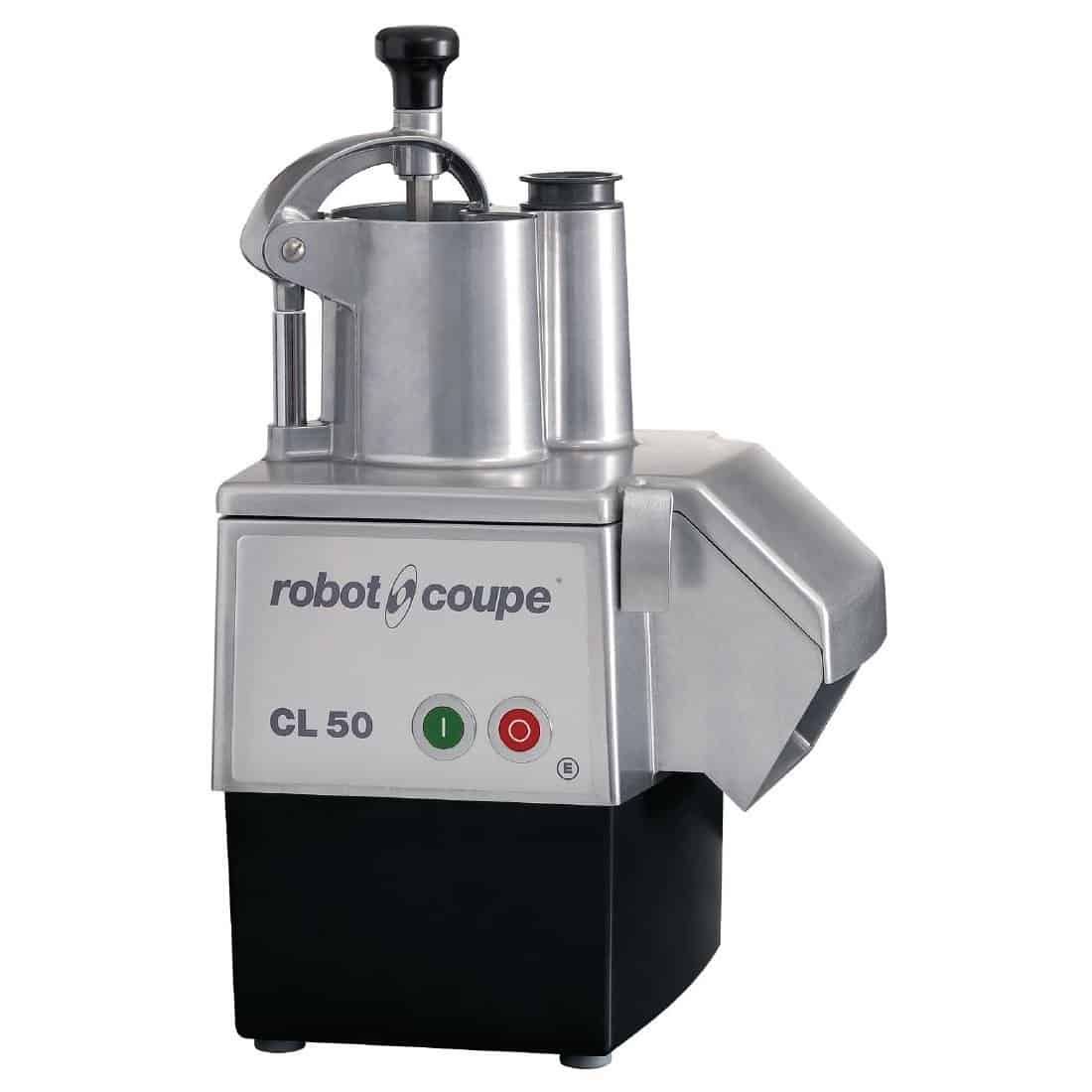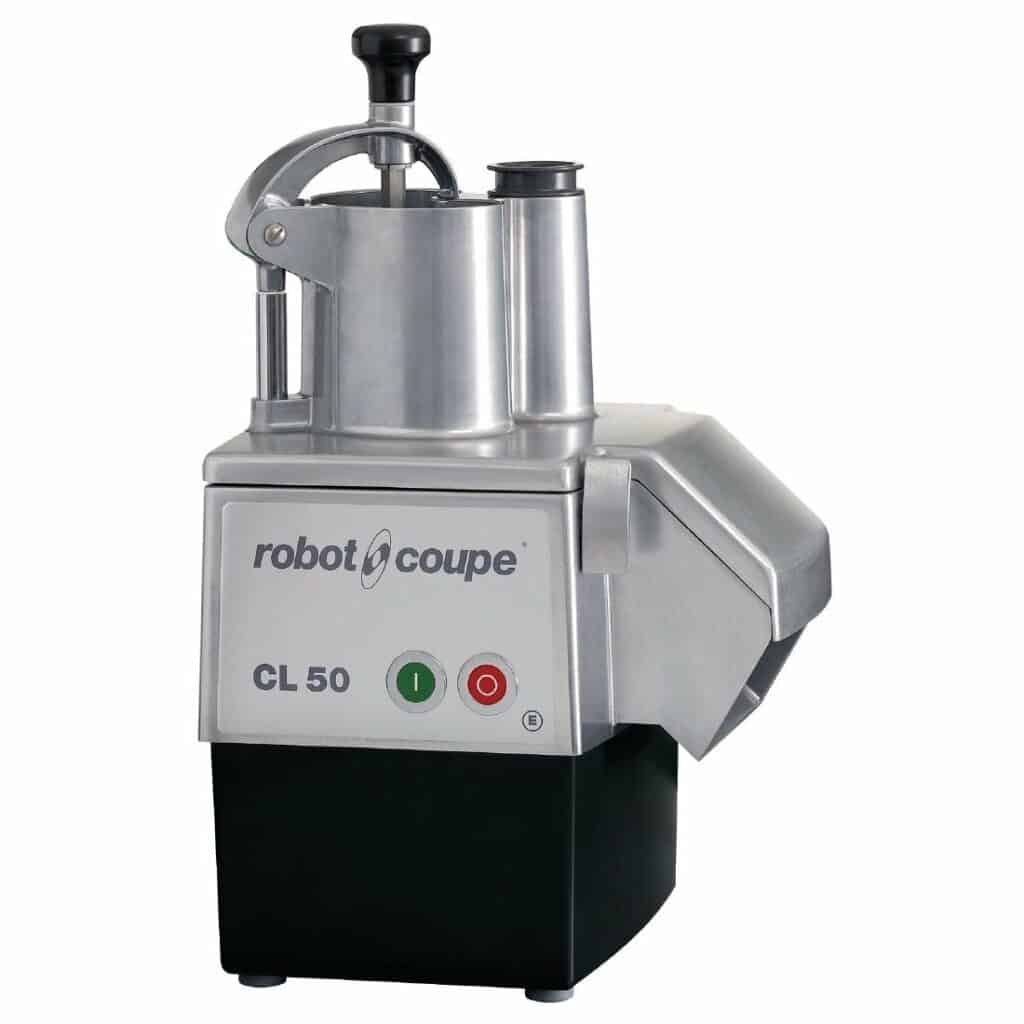 With a slightly different design to some of the other commercial food processors on this list, the Robot Coupe Continuous Processor is perfect for high-frequency cooking areas. Known for processing food with quick efficiency, this commercial food processor provides top-quality results.
The 1/2 horsepower motor is strong and quiet, and the sturdy, stainless steel blades are equipped for all sorts of tasks. In fact, you can change the blades to one of multiple to work with virtually any ingredient.
The large, cylindrical hopper can accommodate up to 10 large tomatoes at once, and the steel casing, while a little unattractive, is efficient, hard-wearing, and easy to clean. It's also very user-friendly, with intuitive buttons and easy detachable construction. Finally, the magnetic safety system helps protect fingers.
Pros
1/2 horsepower motor
Large, cylindrical hopper
Magnetic safety system
Cons
Unattractive design
Very expensive
Waring Commercial WFP11S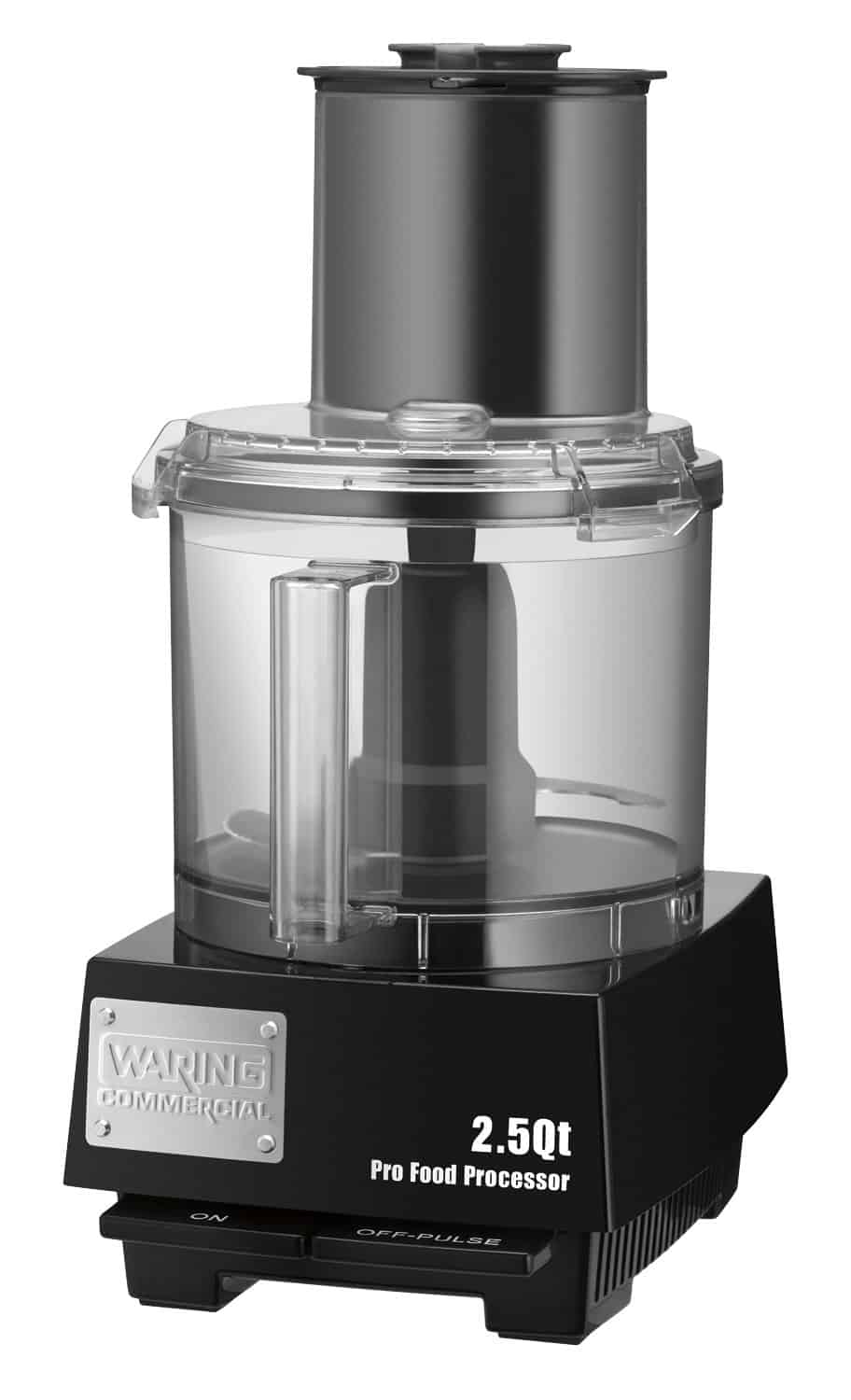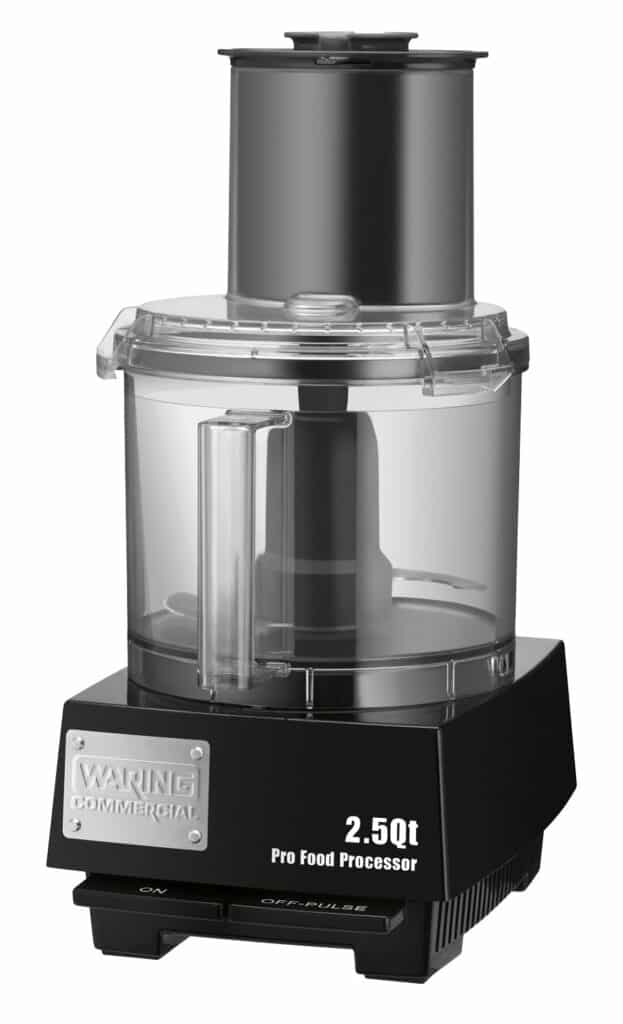 This commercial food processor by Waring is both professional and powerful, with a one-horsepower motor that's equipped for a wide variety of tasks. It has a rather large 2.5-quart work bowl, perfect for big kitchens or heavy loads of processing. It's made from a transparent, shatterproof material, to help prevent accidents.
The large bowl also features a LiquiLock seal to lock in liquid foods, prevent leaks, and keep your worktop clean, and the extra-large feed tube dramatically reduces the time you'll need to spend on prep.
The 20 additional attachments also help with this, and the machine comes with a slicer, shredder, grater, chopper, can purée, whip, and more. In fact, you'll struggle to find a kitchen task you can't perform with this processor! It also provides you with a 5-year motor warranty and 2 years for parts.
Pros
Large 2.5-quart shatterproof work bowl
LiquiLock seal is great for liquid foods
Comes with 20 extra attachments
Cons
Ninja Mega Kitchen System (BL770)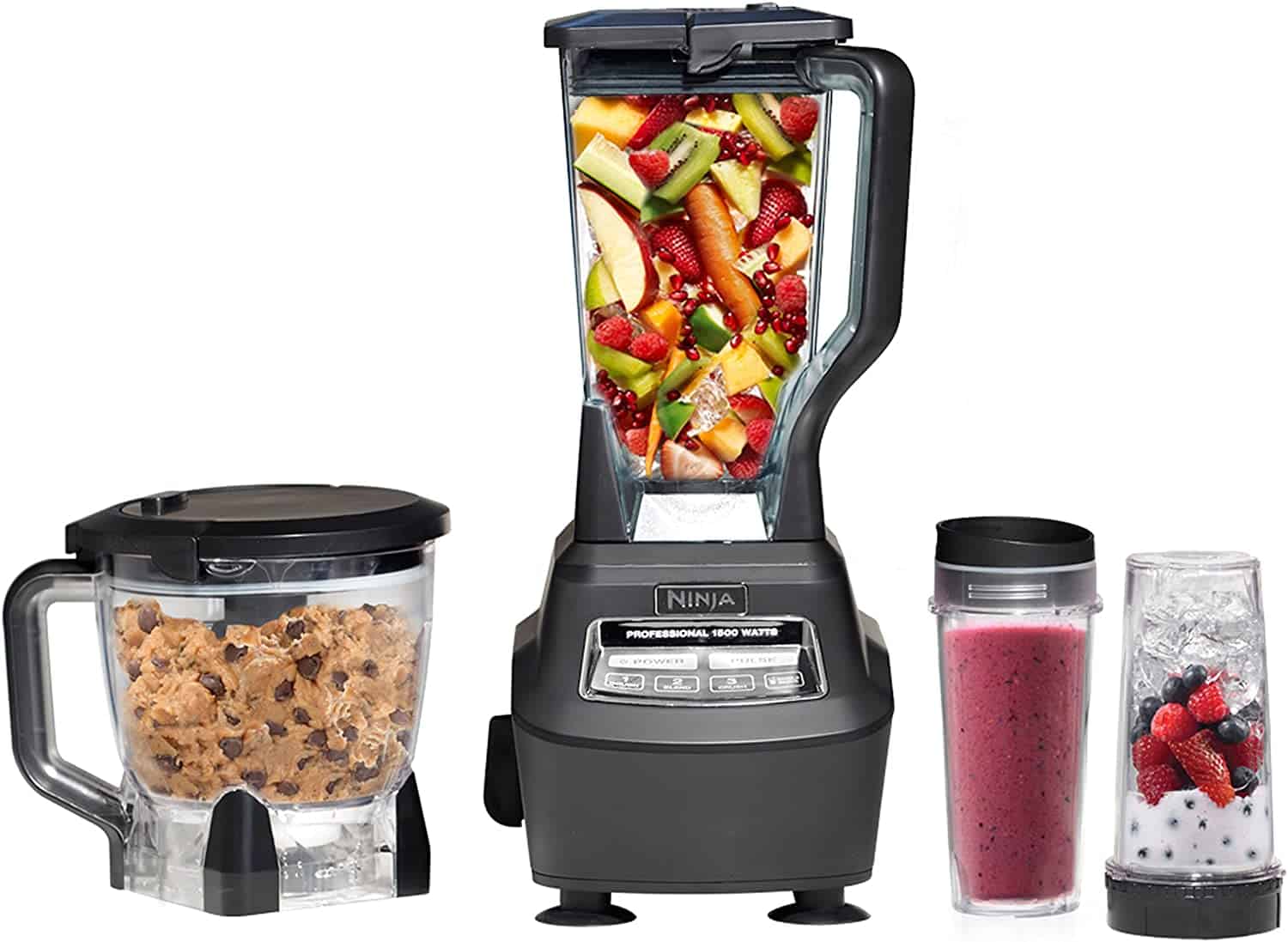 This ninja-like commercial food processor really lives up to its name. The multipurpose cooking aid can handle a wide range of kitchen prep tasks from grating to shredding. It can also crush ice into snow, cut up vegetables, make fruit juice or smoothies, or even knead the dough.
The 1500 watt base is incredibly powerful and the stainless-steel quad blades can blitz the chunkiest veggies into pulp in minutes. It has 4 blending speeds for precise work. The processor also comes with a 72-ounce crushing pitcher, an 8-cup processor bowl, and two 16-ounce spouted Nutri Ninja cups, complete with separate to-go lids, ideal for liquids.
The base is non-slip and the BPA-free plastic parts are all entirely dishwasher safe for easy cleaning. The hidden drainage holes will also prevent water build-up.
Pros
Can handle lots of different kitchen tasks
Very power 1500 watt motor
Comes with multiple attachments and cups
Dishwasher safe parts
Cons
Cuisinart FP-12DCN Elite Collection 2.0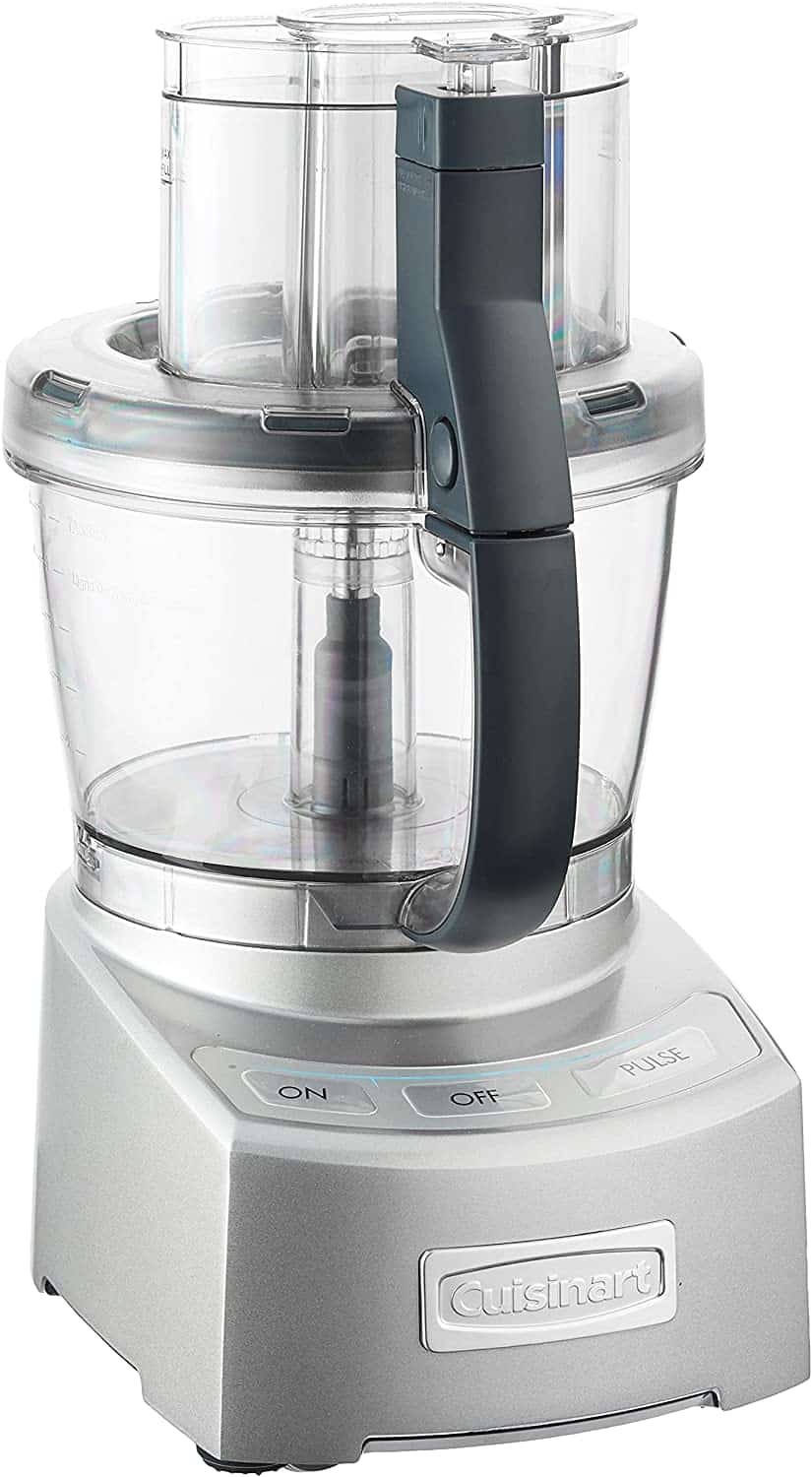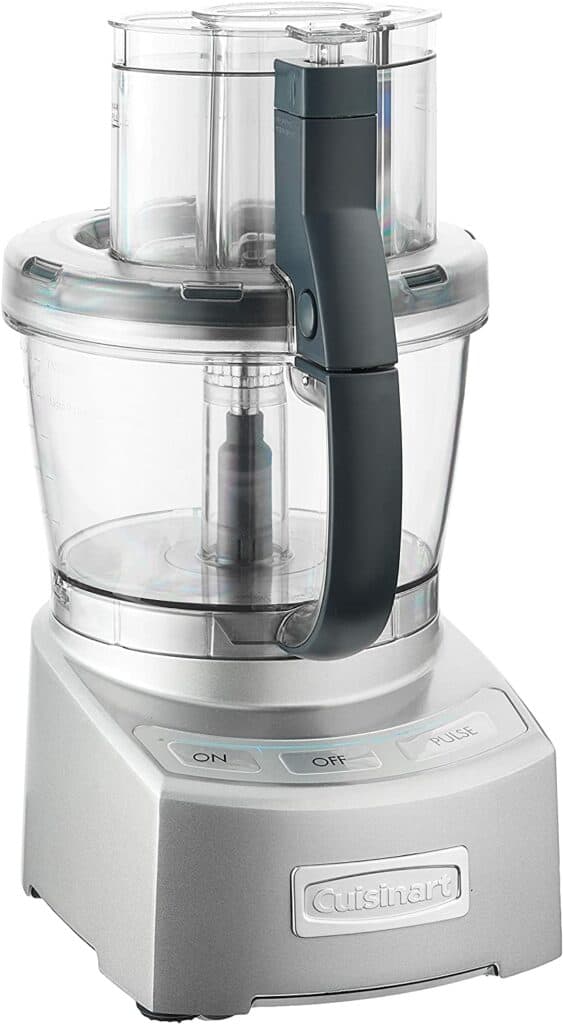 An elite processor for an elite range of tasks, this machine by Cuisineart makes slicing vegetables effortless and enables chefs to cook delicious meals with much less manual labor.
The powerful 1000-watt motor and 12-cup work bowl make it easier to prepare large batches of food without stopping. It also includes several interchangeable discs: an adjustable 1-6mm slicing disc, large and small chopping blades, a dough blade, and both a fine and a medium flexible shredding disc. This, along with the On/Off/Pulse with blue LED lights control keys, will keep you in charge of your food's consistency.
When it comes to cleaning and safety, the Cuisinart processor is also highly equipped. All of the removable parts are dishwasher safe, the non-slip feet prevent skidding, and it comes with a seal-tight advantage system to keep liquids in. The 10-year motor warranty will also give you plenty of peace of mind.
Pros
1000 watt motor
Comes with lots of interchangeable discs
SealTight system
10-year motor warranty
Cons
The Major Differences Between Commercial and Household Food Processers
So, you might be wondering why you can't simply take your processor from home and use it in your commercial kitchen? Well, the major difference between commercial and household food processors is that commercial ones are significantly more powerful and can process larger quantities of food. Household processors, on the other hand, have a smaller work bowl since they're not meant to be used for production-level cooking. Here's an analysis of each:
Advantages of Commercial Food Processers
Commercial food processors had handle much larger loads than household ones. They come with many useful attachments which allow them to slice things like vegetables into perfectly uniform pieces, grate cheese, mix dough for delicious homemade bread, and perform many other kitchen tasks.
If you find that you're frequently prepping large amounts of food, then it can be time-consuming, and you might be best to invest in one of these powerful machines. They can handle almost any type of blending task too – from puréeing soup to making mayonnaise – quickly and efficiently. This is because they use much stronger motors than household ones do.
Finally, commercial processors are designed specifically for heavy-duty use, which means that they are built to last. They also come with commercial warranties, which means you'll get free repairs or parts if something was to go wrong with your machine.
The Disadvantages of Commercial Food Processers
On the other hand, commercial food processors have a few disadvantages too. They are often bulkier than household ones and take up a lot more space. Because of this, they are much heavy which makes them less portable.
They are also considerably more expensive than household appliances, which can be off-putting for some people who don't use them very often. They also tend to be noisier than other kitchen appliances because they're so powerful.
Despite these disadvantages, commercial food processors are still a worthwhile investment if you find that you regularly need to prepare large batches of food or ingredients.
The best way to avoid these problems is by buying one that's the right size for your needs – this will ensure that you're not overspending, that your processor will earn its money's worth, and that you can effectively use your machine without issues.
You should also try and get one with attachments since this will improve their versatility, will mean they can complete more tasks, ultimately saving you time and increasing their worth further.
Commercial Food Processor Safety Tips
As with all commercial kitchen equipment, you need to make sure you're operating food processors safely. They may seem harmless, but can cause serious injury if they're not operated safely and according to best practices. Here are a few tips for safely operating a commercial food processor:
Always follow the manufacturer's instructions.
Never reach into the work bowl or put your hand in between rotating blades.
Check the electrical plug and socket for burn marks, buzzing or crackling sounds fuses blowing, circuit-breakers tripping. If it feels too hot to touch, unplug it immediately.
Avoid spilling food, liquid, or water into the food processor. Make sure you keep the power cord and electrical socket dry.
Although the food processor blades are removable and dishwasher-safe, the base is electric and should only be wiped down with a damp cloth to clean.
Switch off the food processer when you are not using it.
Be careful that nothing falls into the machine – this includes other foods which might contain allergens, fingernails, saliva, hair, pieces of clothing, or anything else which could contaminate the food.
Don't process more than what the bowl size is going to hold – this will prevent spillage and reduce wear on the motor.
If the appliance doesn't have a safety switch, then triple-check it's been correctly put together and nothing is loose before you turn it on.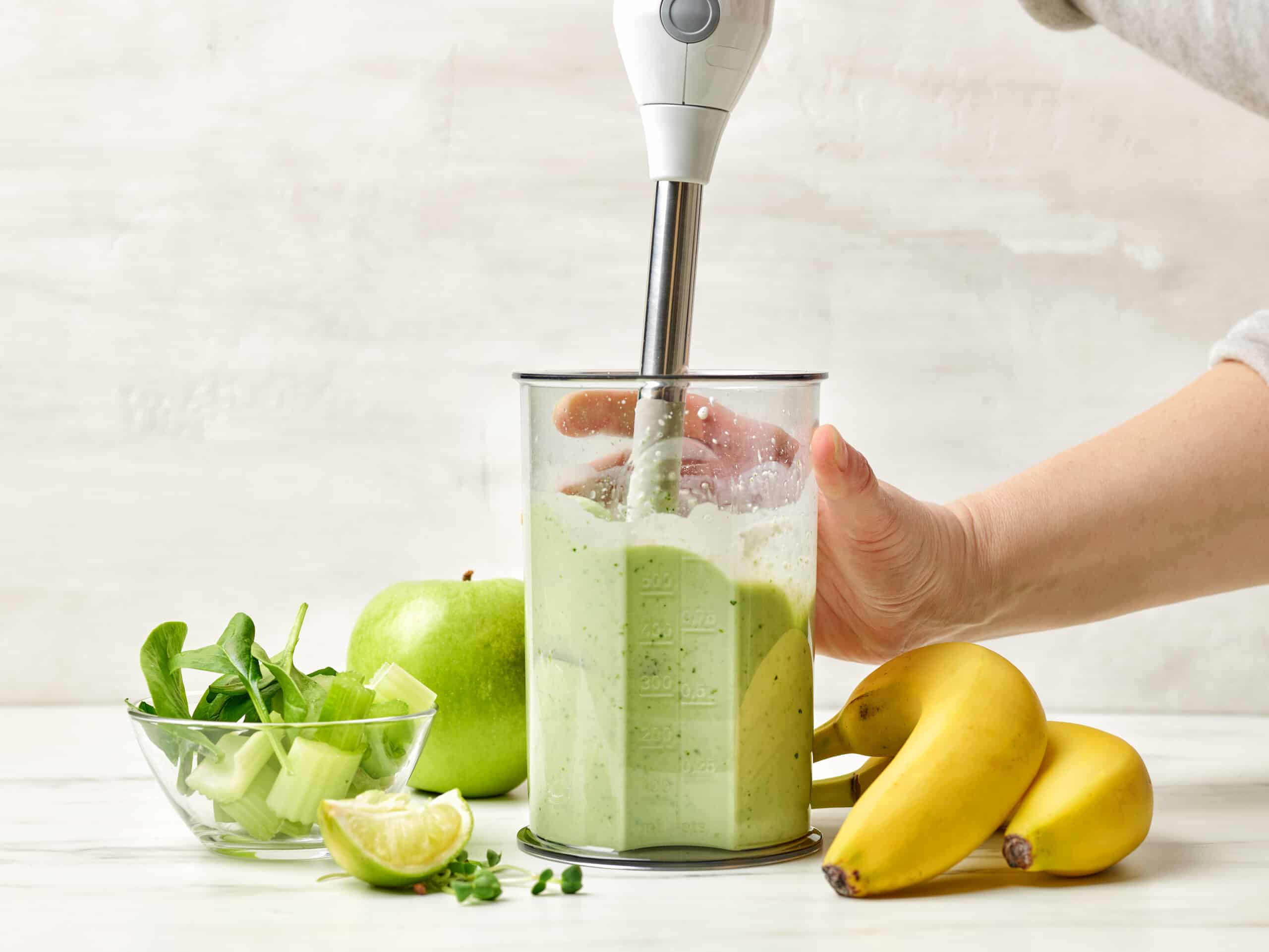 FAQs
Question: What food processor do professional chefs use?
Answer: Professional chefs use a range of different food processer brands, but the most popular are Robot Coupe, KitchenAid, and Cuisinart.
Question: How much does a commercial food processor cost?
Answer: Commercial processors are typically priced higher than their household counterparts because they tend to be more powerful or versatile (or both). In general, they can range from $150 to over $1000.
Question: Is a food processor worth the money?
Answer: Absolutely. As with all commercial kitchen equipment, it's best to do your research and shop around before you decide on one, but food processors can be an invaluable part of your kitchen.
They're best for those who want to make large batches of food, have difficulty chopping lots of ingredients by hand, or need a way to prepare food quickly. They're also best for those who want to save time and they can literally save you hours of time preparing and chopping ingredients.
Food processors vary in price from cheap to really expensive depending on what they can do, and you can always buy a cheaper one first, and then upgrade later down the line. If you're not sure which kind of food processor best meets your needs then ask someone who works at a store about the different types of food processors available or read customer reviews online.
Question: What size commercial food processor should I get?
Answer: It depends on how often you'll be using it, so it's best to work out how frequently you'll need it and for what dishes before you decide on a model.
Question: What should I look for in a commercial food processor?
Answer: It depends on what your personal requirements are – some processors have more features than others such as slicing attachments, extra bowls, reversible blades (for different textures), and safety switches. At the minimum, you should try to find one with lots of attachments as this will allow you to use it for more tasks.
Question: Should I buy a blender or food processor?
Answer: A blender is better suited to liquid-based foods like soups, sauces, and smoothies, whereas a food processor is best for chopping, slicing, or mixing. So, once again, this depends on what you plan on using the appliance for. If you plan to make a lot of liquid-based foods or drinks, then a blender would probably be better.
Overall
As you can see, choosing the best commercial food processor need a fair bit of thought. The best food processor for your kitchen will depend on what you need it to do, how often you plan on using it, and how much space you have. The best advice we can give is to first think about the types of tasks you'll be using it for, then think about how often you'll be using it. After that, take a look at the best-selling food processors on different websites and make your decision from there.
As with any piece of kitchen equipment, quality matters, and if you make the best decision, you could invest in a valuable piece of equipment that will last you for years to come.