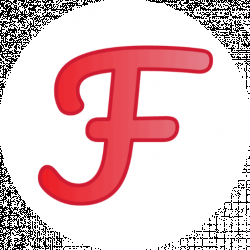 Latest posts by Food Service HQ Team
(see all)
Wusthof knives are some of the most trusted kitchen knives on the market. From kitchen supply stores like Williams-Sonoma to the prep space of a professional chef, you'll see Wusthof knives everywhere.
Wusthof began in Germany in 1814 and has dominated the knife market for nearly the past 50 years. German knife-maker Henckels is a close second. Wusthof manufactures very high-quality knives and they continue to pursue excellence in all of their processes.
The company remains in the family today, with seventh-generation Harald and Viola Wusthof at the helm. They make plenty of different lines and models, so it's important to know what they are and what you should be looking for.
Forged vs Stamped Lines


Wusthof offers two different types of designs with many different lines in each category. Forged knives are more expensive, but much better quality than stamped knives, so when looking to purchase Wusthof knives, you'll get a better value out of the forged varieties.
Forged
Forging steel makes it stronger. It shapes the steel molecules and creates a blade that's less flexible. That means your knife will stay sharp for longer. Forged knives are also made from a single piece of steel that is heated and then pounded into shape. This allows the manufacturer to create a bolster to protect your hand.
Forged knives are a lot easier to sharpen because of their strength. They don't bend or twist against the sharpening steel or whetstone. But this lack of flexibility may cause problems in some cases. Filleting fish works better with a stamped knife. Forged steel is also much more expensive, but it will last a lifetime.
Wusthof has many different lines of forged knives, including:
Classic – triple-riveted polypropylene handle that feels like wood
Classic Ikon – curved, ergonomic polypropylene handle that feels like wood
Classic Ikon Creme – creme-colored Classic Ikon
Ikon (Blackwood) – curved African Blackwood handle made of wood
Grand Prix II – curved polypropylene handle that feels synthetic
Cordon Bleu – Classic in look and feel without a bolster
Culinary – curved stainless steel handle
Epicure – Retooled designed with recycled wood fiber handle custom made for Sur La Table
Xline – Modern design with polypropylene handle that looks like wood, custom made for Williams-Sonoma, difficult to find in the United States
Stamped
Creating stamped knives is a lot like using a cookie cutter to shape cookies. These knives are made out of a large piece of stainless steel and the shape of the knife is stamped out with a machine. The handle is added later, then sharpened and polished.
While people typically think forged cutlery is better, there are reasons why you would use a stamped knife. In fact, sometimes it simply comes down to your personal preference. Stamped cutlery is much more affordable, so it's a great choice for someone on a budget.
It's still made with the same type of steel as forged cutlery, so you're still getting a great knife, it just won't last as long. They're not as strong as forged knives and they're much more flexible, meaning they need to be sharpened more often.
Stamped knives also don't have a bolster to protect your hand or give you a place to hold it while you're cutting.
Wusthof stamped knives are fewer than forged lines but include:
Gourmet – stamped version of the Classic forged
Silverpoint (II) – stamped version of the Grand Prix forged
Pro – light and thin design
How Wusthof Knives are Made
All Wusthof knives use the same X50CrMoV15 stainless steel. They enhance this steel's durability, hardness, and resistance to corrosion by adding molybdenum and vanadium. There's nothing particularly special about this steel, but the way it's forged makes it tough, and you won't experience any rusting.
Making Forged Knives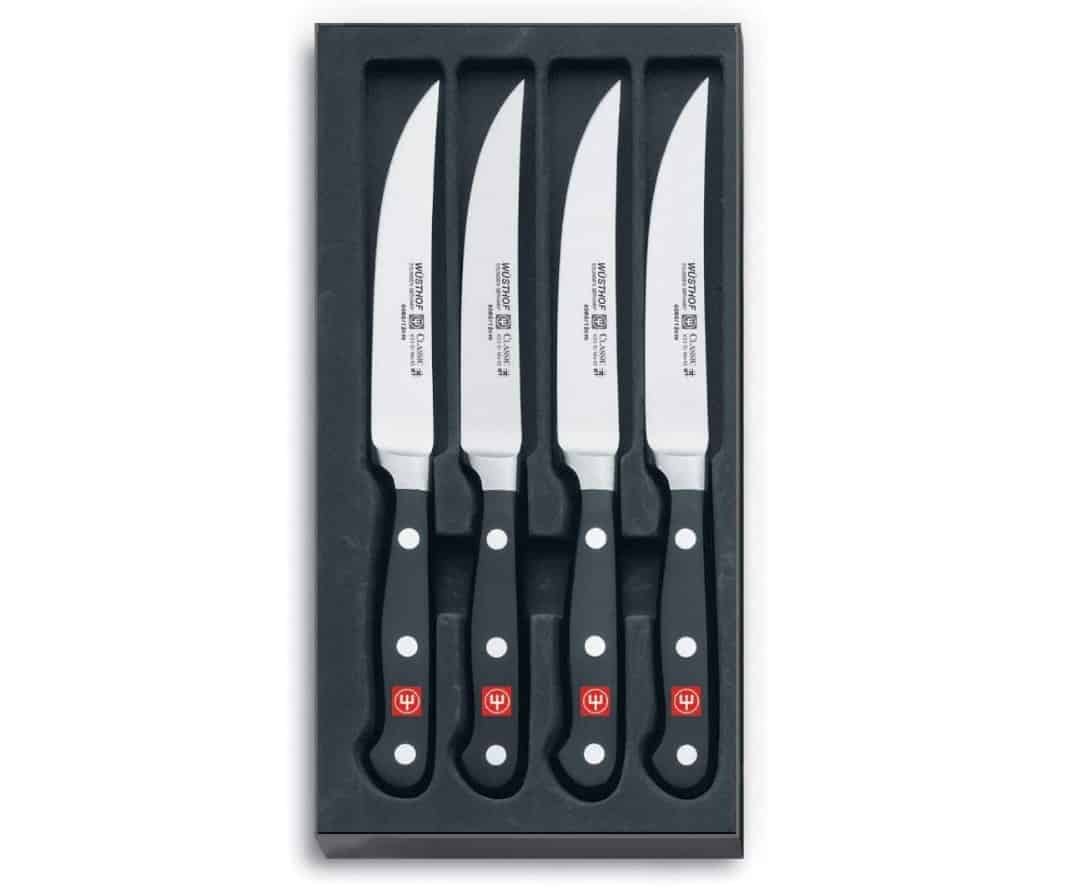 All Wusthof forged knives are drop forged from a single billet of steel. That means they're full-tang with the blade and the handle is one solid piece from the tip to the heel. They're heat-treated to a 58 on the Rockwell hardness scale, which is common among German knife manufacturers.
As part of the last step, nearly all knives are sharpened to a 14-degree angle on each side. This ensures that the blade can withstand a lot of stress without chipping and will maintain its sharp edge for longer.
The only notable exception to this rule falls on the Japanese hybrid models like nakiri, chai dao, and santoku. They are sharpened at a 10-degree angle on each side, making them sharper and better able to slice through food with less resistance.
All forged lines share the same manufacturing process. The customization comes into play when shopping for the style you like and should be evaluated by their balance and feel. While an Ikon chef knife with a Blackwood handle will cost quite a bit more than a Classic chef knife, that doesn't mean it's better quality. It simply means it's more well-balanced. To the average person, it all comes down to what you like the best because they both are excellent knives.
Making Stamped Knives
Wusthoff stamped knives are literally stamped out of the same stainless steel as forged knives. However, heat treatment and tempering occur after they're stamped, rather than at the beginning, like with forged knives.
This manufacturing process is less involved and results in lower quality and lower price. Thanks to technological advancements in manufacturing, there's much less of a difference in quality between stamped and forged knives than there used to be.
You'll still get excellent durability with a stamped knife, and it will cost much less. But because Wusthof's forging process is so much better than other manufacturers, you'll likely notice the difference if you use the two knives side by side. In some cases, it makes the extra expense of a forged knife worth it.
Recommended Lines
There are many different Wusthof lines, and we'll review the best ones here. Keep in mind that all of these knives are forged from the same steel, are full tang, and are tempered to 58 HRC. All except the Asian hybrids are sharpened at a 14-degree angle.
Classic collection
This is the original Wusthof knife with a triple-riveted polypropylene handle. It looks and feels like wood, although it's not. It's well-balanced and not too heavy, so it's a great way to feel like a pro with a simple design that works every time.
The Classic collection is the largest of Wusthof's collections with about 70 styles, and that doesn't include accessories like forks. You'll find everything you need in this collection from three different cheese knives to an ultra-narrow salmon slicer. There's also a bird's beak paring knife, chef knives ranging from 8-14 inches, and a full range of Japanese hybrids.
While not everyone has a matching knife collection in their kitchen, this is the collection to choose if you must have a matching set. It's the most comprehensive of all of Wusthof's collections. As you continue to expand your collection, you'll likely find what you need in the Classic series.
Ikon collection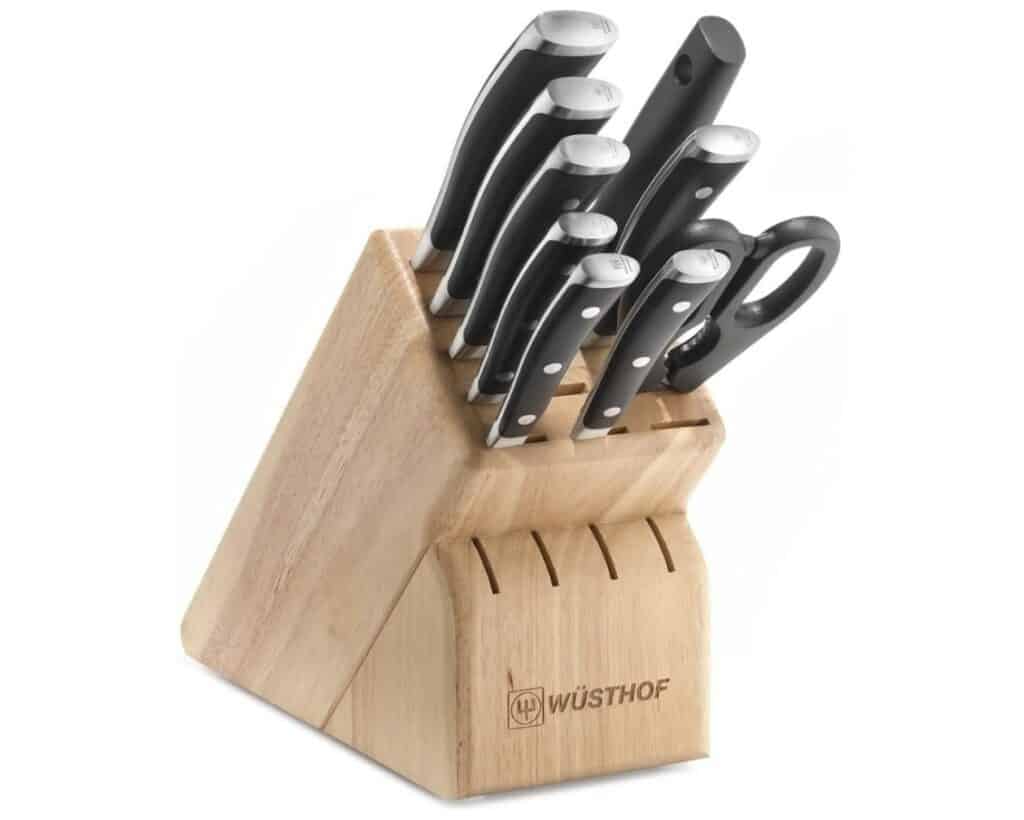 This collection is more contemporary in appearance. It has a curved ergonomic handle with rounded edges. It also comes in three different colors. The knives are identical, but you can choose from black, creme, or wood.
The half bolster on these knives gives it a slightly different feel and balance than the Classic, and makes it easier to sharpen. It also contains what Wusthof calls a second half-bolster at the end of the knife, which works to balance the knife even more.
The handle is what makes this knife special. It looks graceful and it fits smoothly in your hand better than most other styles. The great thing about this series is that they're beautiful and incredibly functional.
The black-handled knives in the Ikon collection number 28 styles including 8, 9, and 10-inch chef knives as well as a 6 ½ inch santoku. Ikon creme knives come in 17 varieties including 6, 8, and 9-inch chef plus a 6 ½ inch santoku.
Ikon Blackwood knives are the top of the line in this collection and come with a genuine Granadilla wood handle. It's one of the hardest woods in the world, so it's classy and beautiful. You can feel the difference when you hold this one.
The blades are slightly lighter and thinner than other Ikon knives and this style comes in 20 different varieties.
Epicure Collection


This collection was a custom design for Sur La Table in a partnership with cutting board maker Epicurean. The handle is made of recycled wood fiber, which is the same material as the Epicurean Richlite cutting boards. Every part of the knife was retooled by Wusthof engineers from the shape of the blade with a steeper curve at the tip to the continuous arc in the spine. It also has a full-sized bolster, which is bigger than the Ikon.
It features a ceramic coating for protection, which also prevents food from sticking to it. The blade is wider than the Classic or the Ikon blades and the handle feels roomier. This is a great collection for people with large hands. This collection is one of the smallest, with only 8 knives in the bunch.
Le Cordon Bleu collection
This collection may look nearly identical to the Classic collection at first glance. It's not much different, but it was designed in a collaboration with the Le Cordon Bleu culinary school and is tailored for chefs.
It features a half bolster like the Ikon to lessen its weight. It's 30% lighter than the Classic knives, which makes less work out of chopping ingredients. The half bolster also makes it easier to sharpen.
There are only 11 knives in this collection.
Grand Prix II collection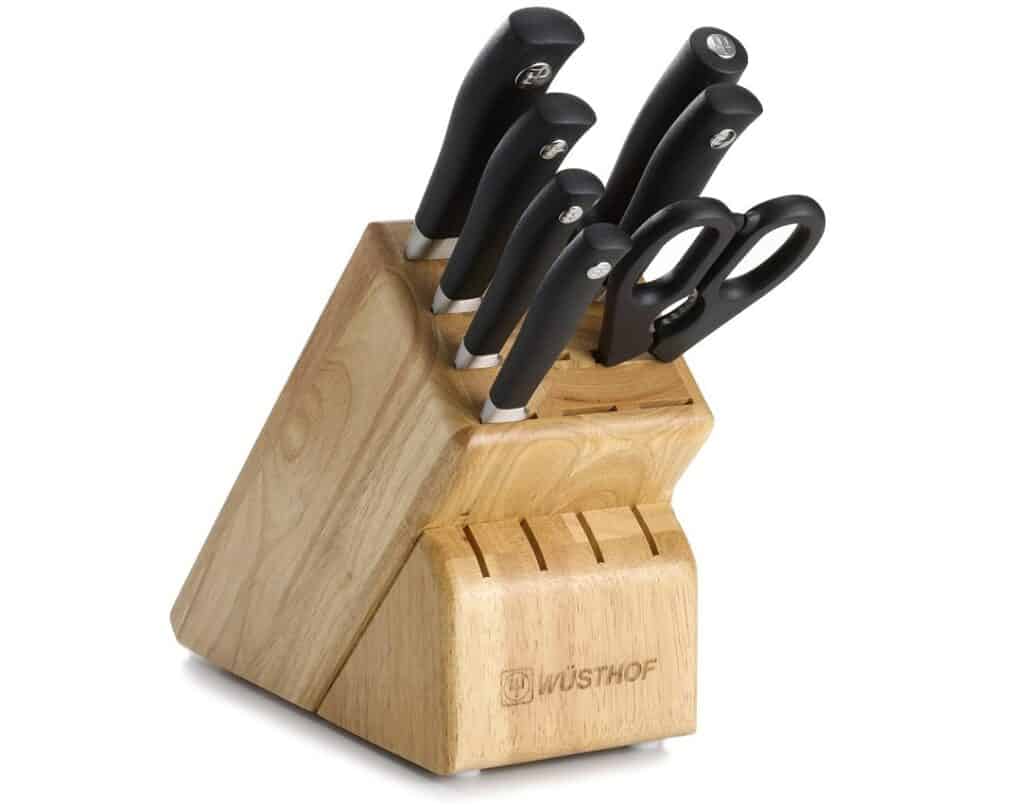 This collection is less expensive and a bit less stylish than the Classic Ikon, but Wusthof still doesn't skimp on quality when it comes to the blade and the handle. The blade has a similar curve and ergonomic design but without rivets.
The difference here is that the material of the handle looks and feels like a synthetic material. It's light lighter and lacks the feel of quality that other collections have. This is a great option if you have a tight budget but still want a quality knife. Some people even prefer lighter weight.
This collection features a large bolster that makes it harder to sharpen by offers more protection for your hands. There are 30 knives in this collection including chef knives from 6-10 inches, a cleaver, and two Japanese hybrids.
Culinar Collection
The design of this collection is sleek, stylish, and contemporary. It's made entirely of polished steel, including the handle. Without a bolster or any gripping texture on it at all, it's something that should be used with great care.
If you like smooth steel, this 20-knife collection may be for you. It has the same quality as all other Wusthof forged knives but appeals to a totally different aesthetic preference.
Xline Collection
The dynamic lines of this collection feature a crossover at the center of the bolster, which creates an X linking the handle to the blade. It looks intelligent, but it's ergonomic as well. It features corners, edges, and straight lines that continue from the handle all the way through the blade.
This striking design has won awards for its elegance, but it's very heavy. It may be the most beautiful collection, but it's the heaviest. If you appreciate heft in a knife, you may enjoy these, but they're rare and hard to find. It's also a very small collection, with just 8 knives.
Recommended Japanese-Style Knives
Although most collections feature at least one Japanese-style knife, there are a few recommended styles that stand out among the others. These knives are incredibly useful with a slightly reduced length and weight.
These knives come in 5 and 7 inches, they're forged, full tang, and are sharpened to a 10-degree angle rather than 14. This improves the sharpness and increases your slicing power without increasing your effort.
Classic Ikon santoku, 7-inch


This knife is nimble and elegant. It also features an incredibly comfortable Ikon handle. It will slice through an avocado or a melon, but can also chop oregano. It also comes in the Classic collection, which has a slightly different handle.
You may also want to consider this knife as part of the Asian two-knife set because you also get a 3-inch, a straight edge paring knife for cheaper than buying them separately.
Classic Chai Dao Hollow Edge, 7-inch


Chai dao is actually Chinese, but this Asian-style knife features a curved cutting edge rather than a straight one. It's easy to rock back and forth as you dice vegetables. This saves energy, but the technique takes some practice.
It also features a wide blade that can be used to scoop what you just chopped and throw it in the pot. It's wider than the Ikon santoku and comes with or without a scalloped edge.
Classic Nakiri, 7-inch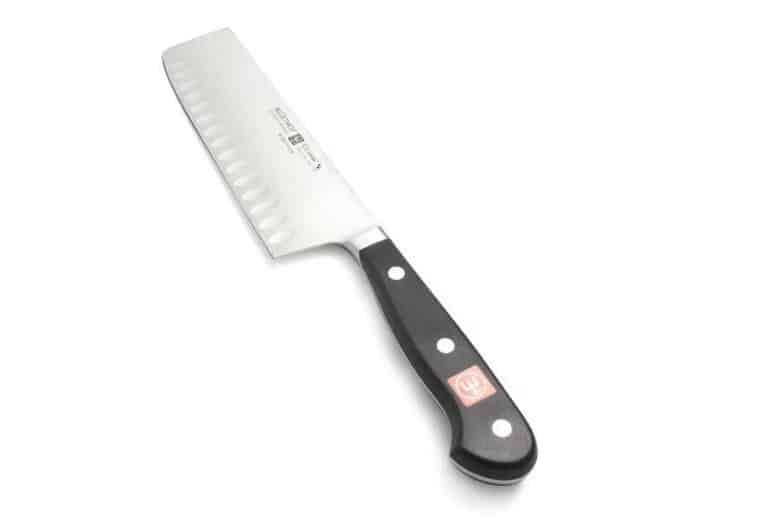 This gorgeous knife features a tall, narrow blade. It's a great size, making it less cumbersome than traditional cleavers. It's easy to scoop and chop and the rounded tip makes it much safer. It's ideal for someone who does a lot of dicing, but can be used for just about anything.
Knife Sets
Many people prefer to purchase single knives and build their collections themselves so they get exactly what they want. Knife sets and knife block sets can be tricky, because you rarely get everything you need and you'll even wind up with knives you never use.
However, these sets are useful for starting your collection without having to make a ton of buying decisions, and they're ideal solutions for people who don't know a lot about knives yet. They also make great gifts.
This is not a definitive or exhaustive list of all of Wusthof's sets. There are too many to count and just because it's not on the list doesn't mean it's not a great set!
Paring Knife Sets


These sets are extremely useful because they feature two of the knives every kitchen should have. They have a chef knife and a paring knife. These particular sets have a 3 ½-inch paring knife and an 8-inch chef knife, which should be a standard in all kitchens. They're a perfect size.
Here are some great paring knife sets:
Wusthof Grand Prix II 2-piece knife starter set
Wusthof Le Cordon Bleu 2-piece starter knife set
Wusthof Classic Ikon 2-piece Asian santoku and paring knife set
Wusthof 200th anniversary 2-piece knife set
Medium Knife Sets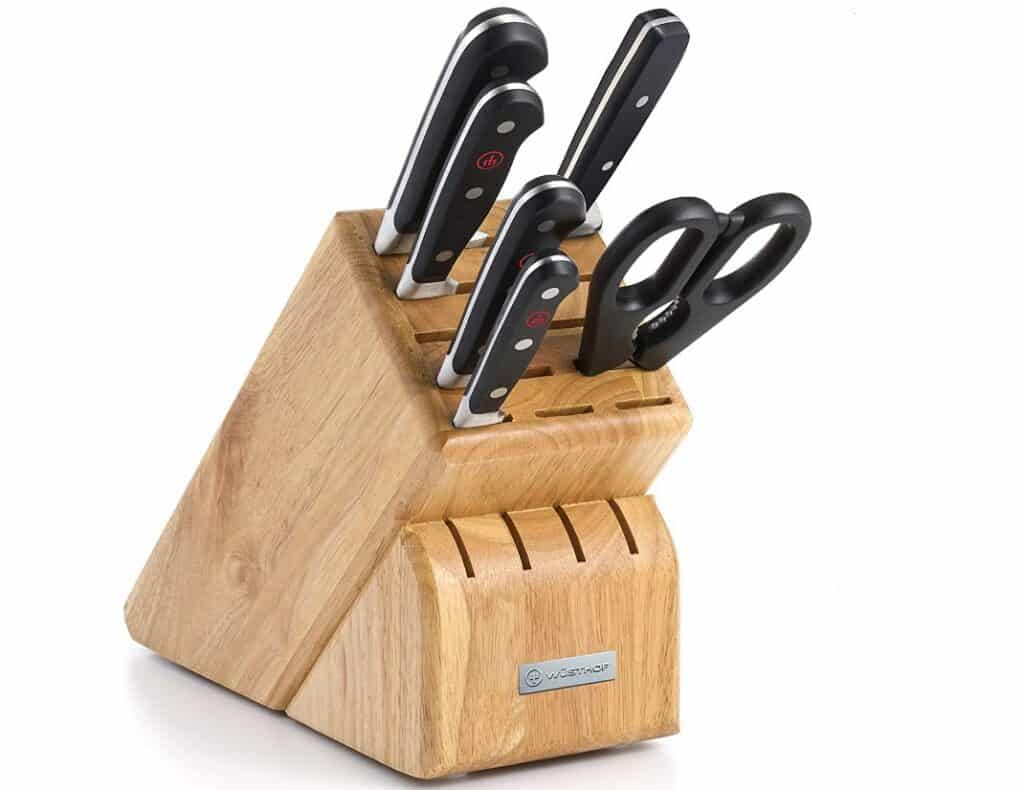 These sets are slightly larger than the paring knife sets and they feature many of the core knives every kitchen needs. They're ideal for people who want all of their knives to look the same and fit in their own block.
Most come with the same knives including chef, shears, paring, utility, bread, honing steel, and a block. There are three different types of wood for the block as well.
Here are some excellent medium-sized sets:
Wusthof Epicure 7-piece knife block set
Wusthof Classic Ikon 7-piece knife block set
Wusthof Grand Prix II 10-piece knife block set
Large Knife Sets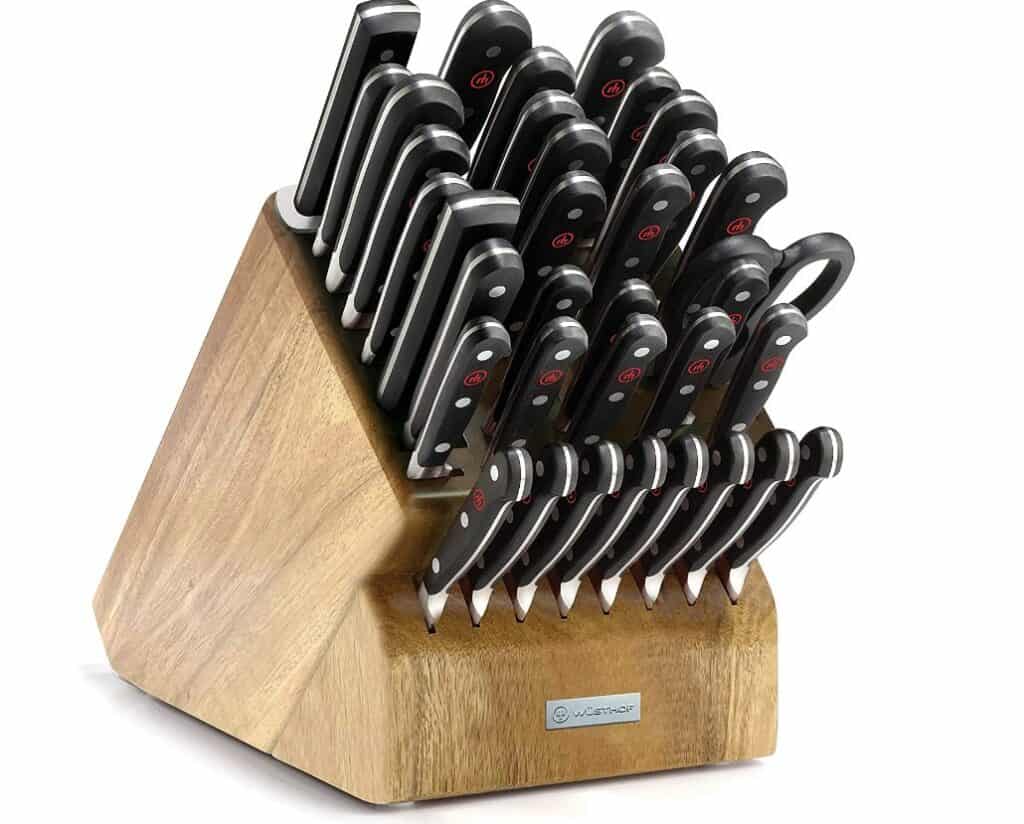 These sets come with even more knives, are more expensive, and can sometimes include things you really don't need. However, they frequently come with a steak knife set, which is very useful.
If you enjoy cooking and it's within your budget, these are great sets. Some of the best are:
Wusthof Classic 21-piece knife block set
Wusthof Classic Ikon 22-piece block knife set
Steak Knife Sets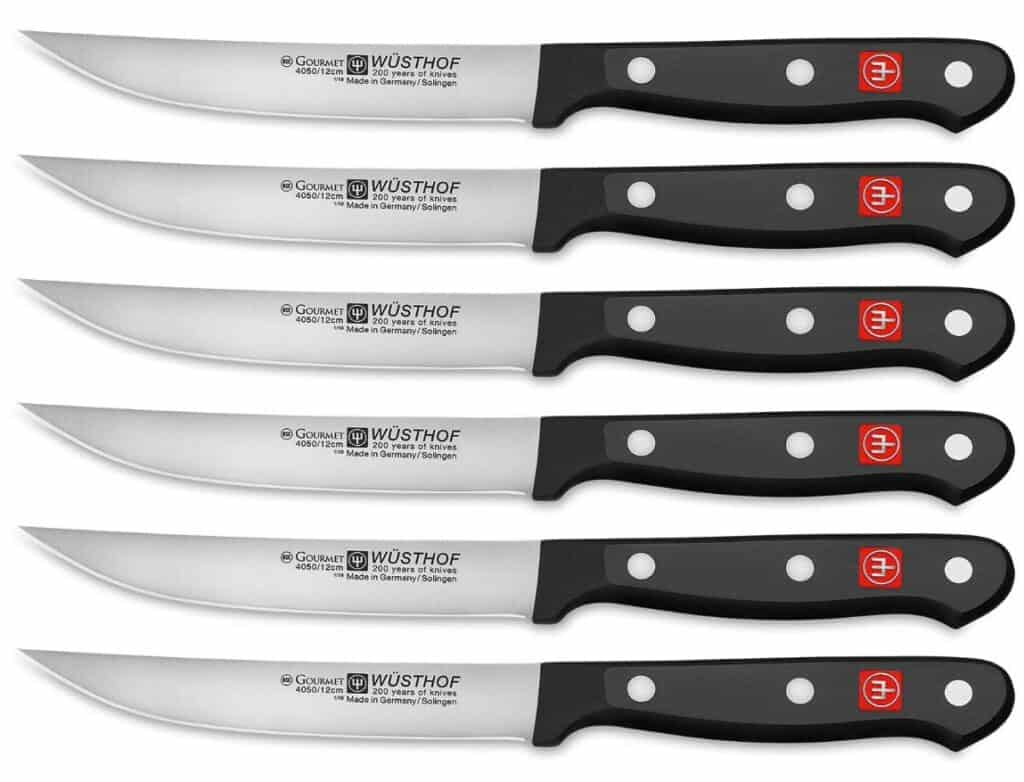 If you already have all the knives you need, but you're on the prowl for an excellent set of steak knives that you can purchase separately, you'll find plenty of options from Wusthof.
Here are some of the best:
Wusthof stainless steel steak knives, set of 6 or set of 8 with wooden case
Wusthof Classic steak knives, set of 4
Wusthof Classic Ikon steak knives, set of 4 with wooden case, also in creme or Blackwood
Alternatives
If you're looking for quality knives for your kitchen, Wusthof isn't the only option. While they're one of the best, there are other knife manufacturers that also make great knives of different styles and with different features.
Dalstrong Shogun Series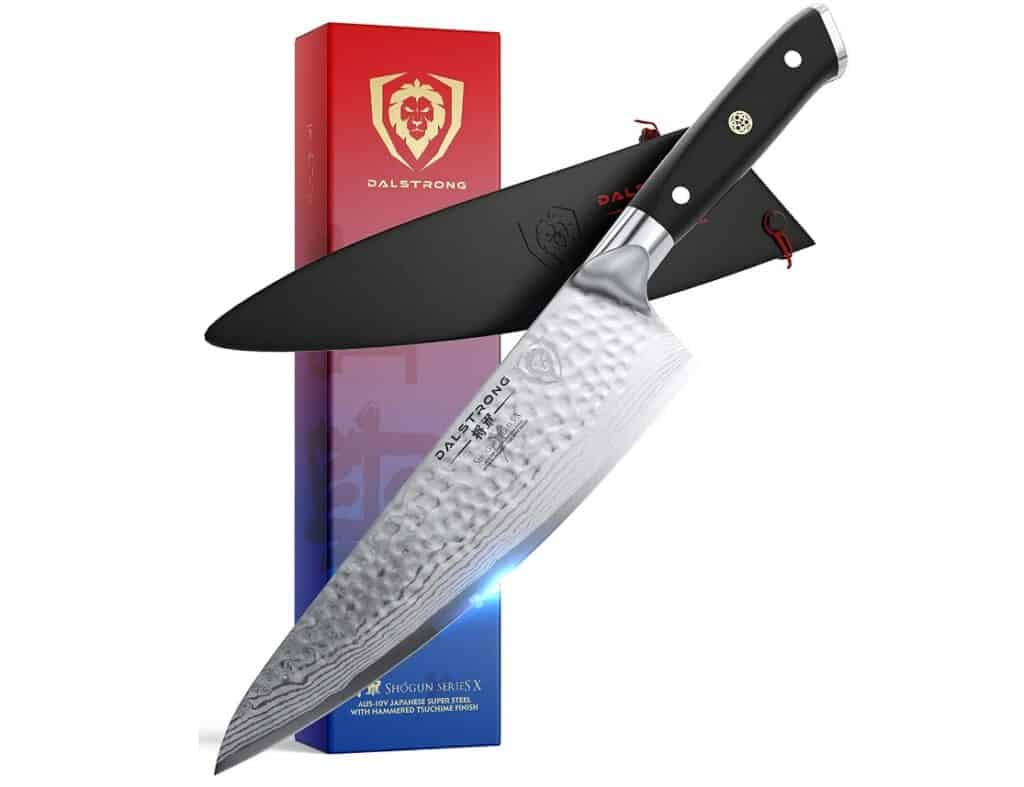 For those who like Wusthof, but want something a bit more affordable, Dalstrong is a great option. These knives are made of high-carbon stainless steel with a Japanese steel cutting core. They're finished by being cryogenically tempered to increase hardness, flexibility, and strength.
These knives are beautifully hammered to decrease drag. They also feature a military-grade garolite handle to reduce weight so you can achieve more precision.
J.A. Henckels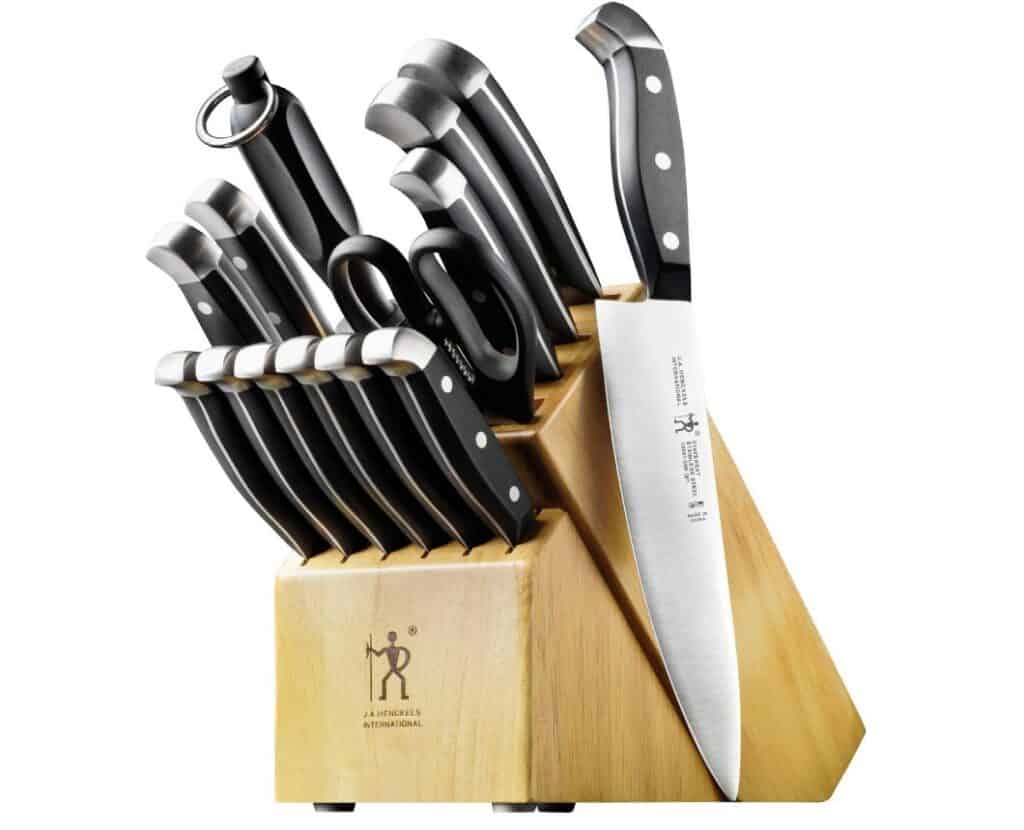 J.A. Henckels knives are on par with Wusthof as far as both price and quality go, so it may not be immediately apparent why you might choose one of these over a Wusthof. However, much like Wusthof, they make a wide variety of styles, some of which you may like better.
In addition, when holding a Wusthof and a J.A. Henckels knife simultaneously, some people simply prefer the feel of the Henckels. It all comes down to how the knife feels in your hand and how comfortable you are holding it.
Victorinox Fibrox Series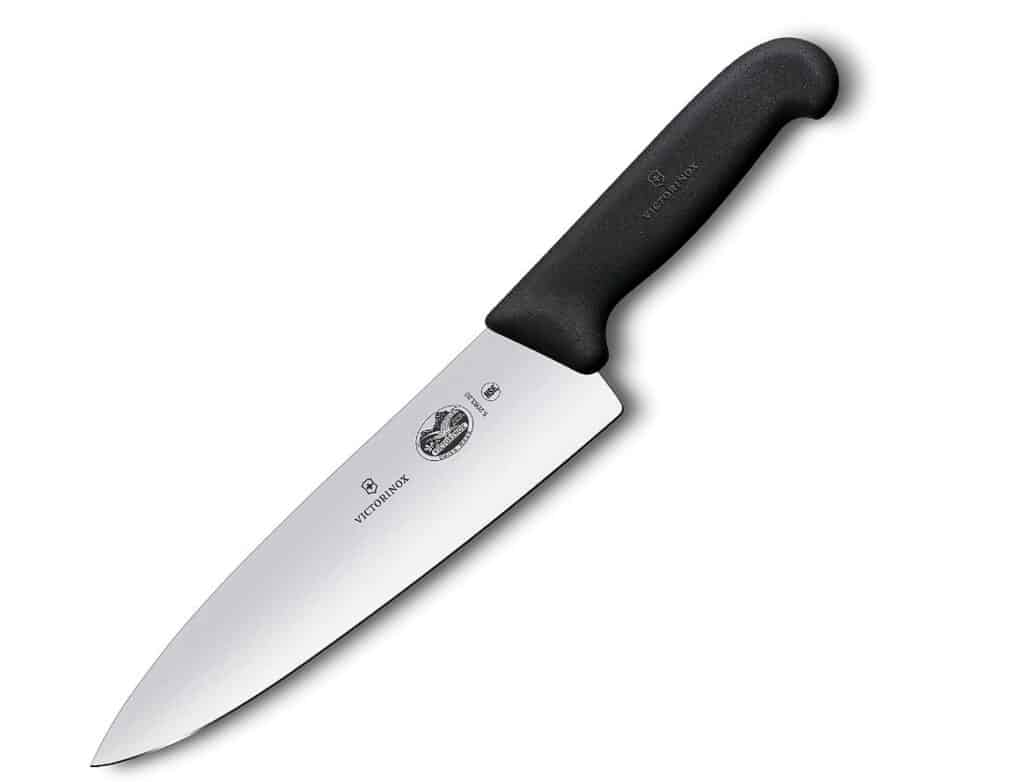 Victorinox makes some of the best knives you can get on a budget. It's suggested by many publications for home cooks on a budget. It features an ergonomic plastic handle that's comfortable for most people, but the blade won't be as sharp as some other knives. However, it does feature great comfort and maneuverability.
fAQs
Question: Are Wusthof steak knives good?
Answer: Wusthof makes some of the highest quality knives on the market, and that applies to their steak knives as well. Because they're made of such high quality, you can expect to spend a lot of money on them.
They have several different steak knife sets as well as larger block sets that come with steak knives.
Question: What are the best steak knives on the market?
Answer: While Wusthof makes some of the best knives on the market, there are other quality manufacturers as well, including Dalstrong and J.A. Henckels. Don't discount a cheaper knife because it's cheaper. If you like how it looks and it feels good in your hand, that matters, too.
Question: What should I look for when buying a steak knife?
Answer: Just like any kitchen knife, you need to make sure the knife is comfortable, sturdy, and well-balanced. It should also be sharp and look good. Your comfort and style are very important when selecting the right knives for your kitchen.
Question: Are Wusthof knives worth the money?
Answer: Wusthof knives are absolutely worth the money, and if you have it in your budget, it's the way to go. They have a great reputation for quality knives that provide immense value to any kitchen. They last a long time, they stay sharp, and they feel and perform well.
Final Thoughts
My personal preference is the Wusthof Ikon Blackwood style because it's beautiful. The ergonomic handle makes it comfortable to hold, and its performance is excellent. However, the Classic design is just as good, and it's cheaper.
It all comes down to your personal preference. All Wusthof knives are made with quality and you'll be happy with them for a long time. They're definitely worth whatever you can spend on them.