Latest posts by Alice Smith
(see all)
Choosing one of the best commercial meat grinders for your restaurant can be a difficult task. There are many considerations to keep in mind, such as what type of meat you want to grind, how much money you have to spend, and what size you need.
It is important that before making any decisions about which meat grinder is right for your needs, you first decide what kind of food service business you operate and what you will be using the grinder for.
If you're looking for the best meat grinders to buy for your restaurant, then this blog post is for you. There are a lot of different types of meat grinders on the market – from manual to electric and everything in between. It can be difficult to choose which one is right for you. We will go over what features make a good grinder as well as some product recommendations so that choosing becomes easier.
What Is a Commercial Meat Grinder?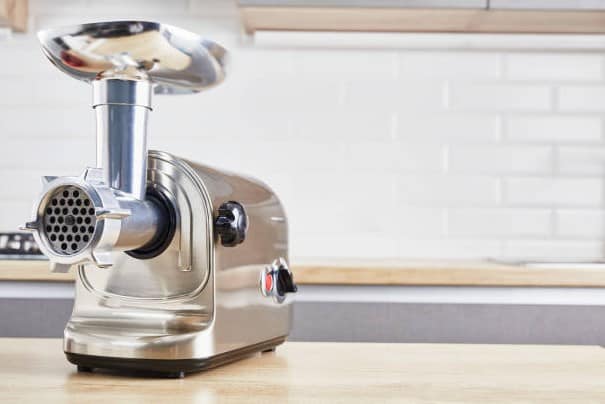 A commercial meat grinder is a device that uses a series of augers, knives, and cutting plates to grind the meat up finely. This type of grinder is typically used in restaurants, delis, or grocery stores for ground beef, pork and other kinds of meats to be added as an ingredient in various dishes.
Meat Grinders come in several types: countertop grinders which tend to be smaller and more compact, or floor models that are typically much larger and heavier duty than their counter-top equivalent. For meat grinding purposes we would recommend the size of your commercial grade grinder based on how much of your ground meat you will be serving per day. This is going to determine what kind of volume it has to handle every hour.
A lot of restaurants may want different options depending on whether they serve breakfast, lunch or dinner so make sure also take into consideration what times each day you need your grinder. If price is a factor for you, then it is best to purchase one that can handle lots of different functions and switch the plates out based on your needs.
How Do Commercial Meat Grinders Work?
Commercial meat grinders work by first grinding the meat into small particles through a series of gears and blades. The ground meat is then forced out of the grinder by an auger that uses high levels of torque to push it along until it finally comes out as large tubes or middles in size.
Some processors have different options for what type of plate they can use which determines how fine your product will be when you are done grinding (coarse, medium, or extra-fine).
When choosing between coarse, medium, or fine grinds on a commercial-grade machine remember this: Coarsely chopped meats make great chili because there will still be visible chunks throughout every bite so guests won't feel like their food has been blended up too much.
Medium cuts work well with hamburgers because it gives the meat a nice texture while still keeping everything uniform and easy to cook. Finely chopped meats work well on things like tacos or burritos, especially if you are using shredded chicken as filling since this ensures that every bite will be similar in terms of size and flavor profile.
Commercial meat grinders come with different size compartments where the meat will be fed into before it gets chopped up by blades or cutters on the inside. The number refers to how many pounds can fit within each compartment so that you don't have overflow when trying to fill them all at once.
For example, if your restaurant serves 100 meals per day then you would need a commercial-grade grinder that has enough space for about 20 lbs., this way every time you have a full load you can leave the grinder for a few minutes and it will be ready to go when you are.
A commercial-grade grinder is designed for heavy-duty use with minimal maintenance. This means they typically last much longer than most household grinders would. So make sure when purchasing one that you understand how powerful each motor really is inside before trying to grind anything through your machine.
Some machines have no trouble handling bones but others may overheat quickly from too much resistance therefore grinding up more bone than usual could damage some parts completely rendering them useless.
What Are The Different Types of Commercial Meat Grinders?
There are several different types of commercial meat grinders that you can purchase for your restaurant. Most large food-processing companies will also have their own line of commercial meat grinder products to help improve efficiency and profitability.
But there are a few types we would recommend before making the decision which one is right for you:
Manual Meat Grinder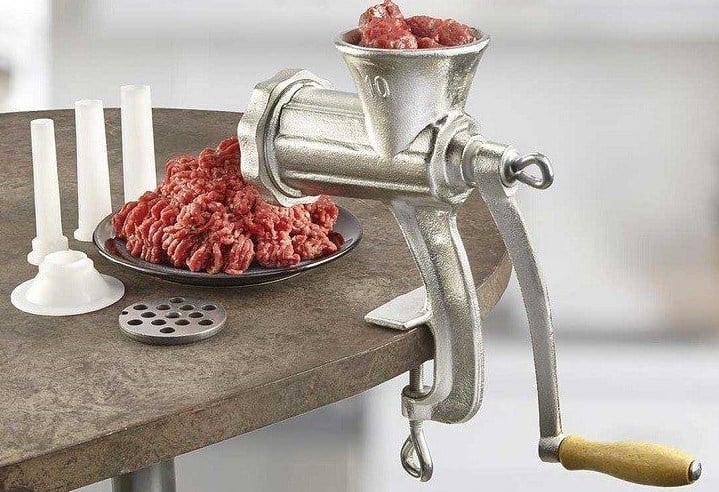 A manual meat grinder has the same kind of gears and blades as an electric grinder but is usually on a much smaller scale. These are typically designed for home (although you do get some commercial manual grinders). This is because the manual work involved with these machines is quite high. You have to continuously twist a crack to grind up the meat.
Electric meat grinder
Also known as an automatic meat grinder, an electric grinder is a great option if you want to avoid using your hands when grinding up meats. They typically come with plates that will allow you to adjust the texture of your product from very fine (almost like making sausage) all the way down to coarsely chopped depending on what you need for your specific menu.
These come with either a standard power cord to plug into the wall or they also have options where you can attach them directly onto an existing grinder in order to save space on one of your work tables. If this is something that will benefit your restaurant then you can actually purchase one designed specifically for your business's needs.
Another benefit of electric meat grinders is that they typically come with some type of motorized assistance handles which means you don't have to put as much pressure on the machine in order for it to work properly throughout its entire cycle. This helps reduce any fatigue from using a manual or hand-crank grinder for extended periods of time.
Electric meat grinders are a great way to keep your product consistent and make sure you don't end up with any large chunks making it onto the grill or into your cooking. The only downside is that they are typically on the more expensive side, but if you can see a clear benefit of having one then it will be well worth the investment.
Countertop Meat Grinders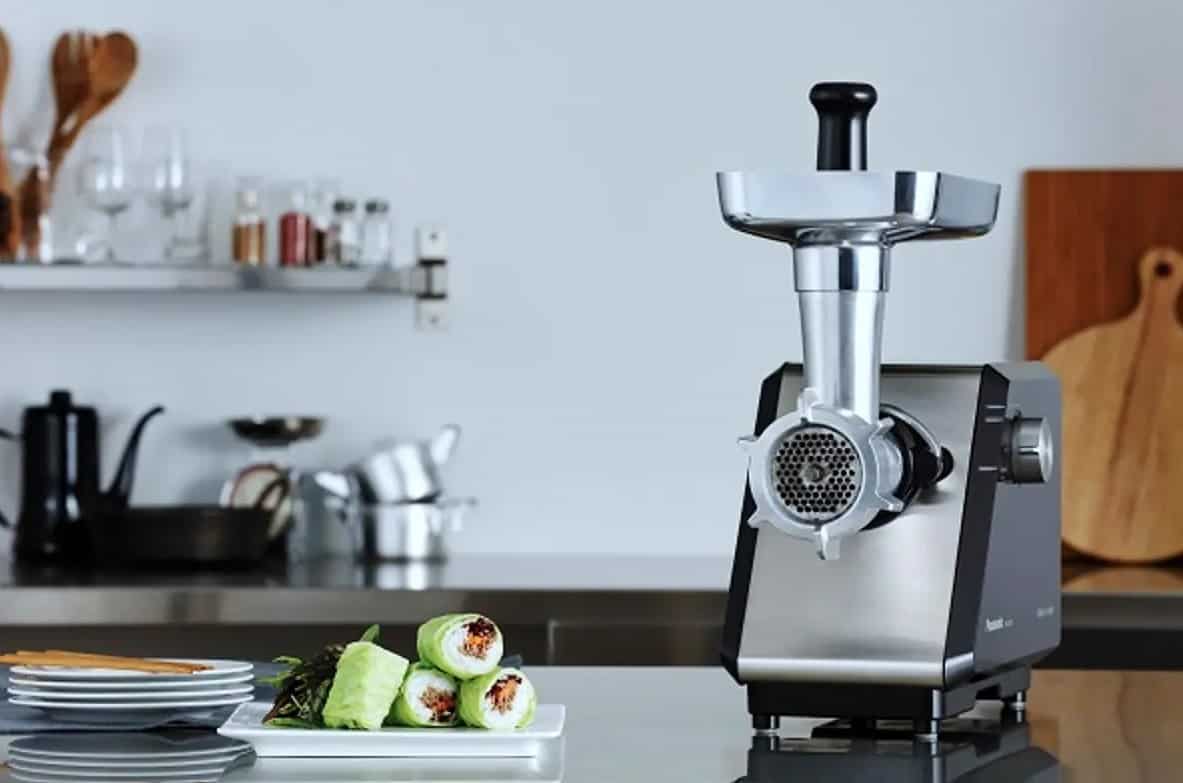 A countertop meat grinder can be either electric or manual. They both have a few adjustment plates and come with some type of handle attached. The main difference between the two types is that countertop grinders are typically much smaller than commercial-grade machines so you will be limited on how much meat can be ground up at once.
They are also not usually expensive which makes them an excellent option for small businesses that don't need to prepare large quantities of meat on a daily basis. If you only cook up certain types of meals once or twice per week then this could be the perfect grinder for your business and will allow you to save money each month on utilities.
Freestanding Meat Grinders
A freestanding meat grinder is typically much larger than a countertop grinder. This means that they can handle a higher volume of products at once which makes them great for restaurants, but also very expensive to purchase and maintain.
One thing you have to consider with any type of commercial meat grinder though is the space it will take up in your kitchen. Because it is a freestanding unit, you'll need to find somewhere to store it, and it's rather a bulky machine. If you are only cooking up a small batch of food then the countertop grinder would work just fine and possibly save your business money over time.
What Should You Look For In a Commercial Meat Grinder?
There are several things that you should look for in a commercial meat grinder, but one of the most important is that it has the horsepower to handle a high volume in order to keep up with your business. You'll need to make sure you purchase a meat grinder that comes with the right amount of plates to meet your needs in order to get the exact texture you require for each type of dish.
You should also look at how much food it can process per minute and what its dimensions are so you can make sure that you have enough room on your work tables and storage areas to accommodate the machine. Here are some of the most important things you should consider in a meat grinder:
Size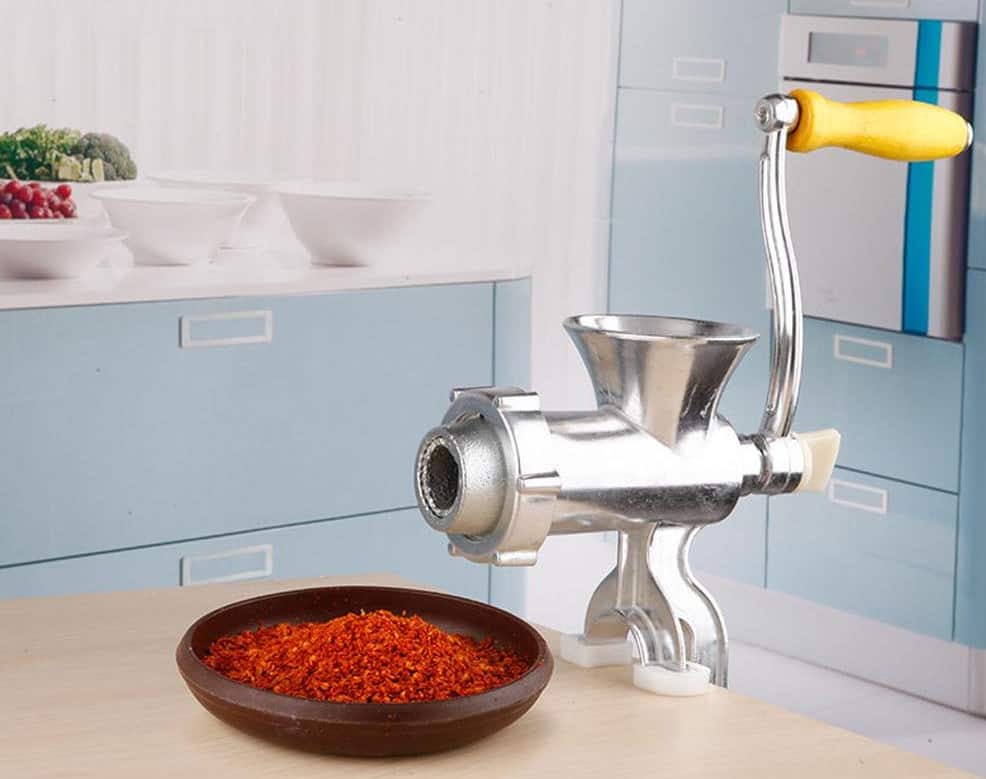 The size of your meat grinder is definitely something to consider as you don't want to purchase anything that is too small for your business. You'll also need to make sure your kitchen has enough room for the grinder, as they can be rather hefty machines.
Horsepower
The power of the motor in a meat grinder is another important factor as it will determine how quickly and efficiently it can process raw meat. You also need to make sure that the meat grinder has enough horsepower to keep up with your business throughout an entire year.
Number of Plates
Most commercial-grade grinders come with several different size grinding plates which allow you to change the texture and consistency of each type of dish you are making. You need to ensure that it comes equipped with the right number and size of plates so you can meet your needs.
Maintenance Costs/Warranty
It is very important that you purchase a meat grinder with the lowest possible maintenance costs and one that has a warranty included in case anything happens to it during its lifespan. This will ensure not only peace of mind but also save you money as repairs or replacements are costly.
Manual or Electric?
Of course, you will also need to decide whether you want a manual meat grinder or an electric one. An electric meat grinder is much more expensive, but it does offer many benefits such as higher speeds and the ability to handle tougher meats without any problems whatsoever.
Manual grinders are great for beginners or those who don't grind up a lot of meat on a regular basis, but they are slower and a lot more effort to use. On the plus side, they are cheaper so, if you are budget constrained, a manual grinder might be a better option.
Capacity
You'll also need to consider the capacity of the grinder as it will determine how much meat you can process per hour. This will once again largely depend on how much meat you need to grind up on a daily basis throughout the year.
Efficiency
You also need to consider the efficiency of each meat grinder as it will determine how much food you can process per hour. This in conjunction with the capacity and horsepower will help you make your final decision on which commercial-grade model is best suited for your business needs. This will also determine how much your grinder will cost to run, to make sure to look for an energy-efficient model.
Ease of Cleaning
Because of the type of food that you're processing it is very important that you purchase a meat grinder with the easiest and fastest cleaning process. This will ensure that no bacteria is getting trapped in the grinder, and you are able to clean it efficiently. It will also mean that your employees have time to handle all of their other duties throughout the day which leads to lower labor costs, increased profits, and happier workers as well.
Material
Most commercial grinders are made out of stainless steel and aluminum which is the best combination for durability, cleanliness, and efficiency. It allows for easy cleaning as well.
Included Attachments
It is very important to make sure that any meat grinder you are considering buying has all the right attachments included so you can begin using it as soon as possible. You need a stand, plates, knife sharpener, auger brushes, and more which will ensure your investment lasts for many years without needing to buy costly extra parts.
Features
You also need to make sure that the meat grinder you are considering buying has the right features for your business. We recommend those with safety features, low maintenance costs, additional plates, and a warranty of at least 2 years to ensure it is worth your investment.
Warranty
Talking of warranty, this is one of the most important features to look for in a meat grinder as it will tell you how long your machine can last before needing repairs or replacements.
It will also show you how much faith the manufacturer has in its own produce which can be a tell-tale sign if it's good quality or not. This also ensures that you won't end up spending any money on unexpected costs which could have been avoided if you had bought an extended warranty.
Price
Lastly, you'll need to think about the price. This is another major factor as you want to ensure that your costs are low so you can maximize profits. A commercial meat grinder will cost more than a household model, but it's also much better and lasts for many years without needing repairs or replacements.
Commercial Meat Grinder Best Use Tips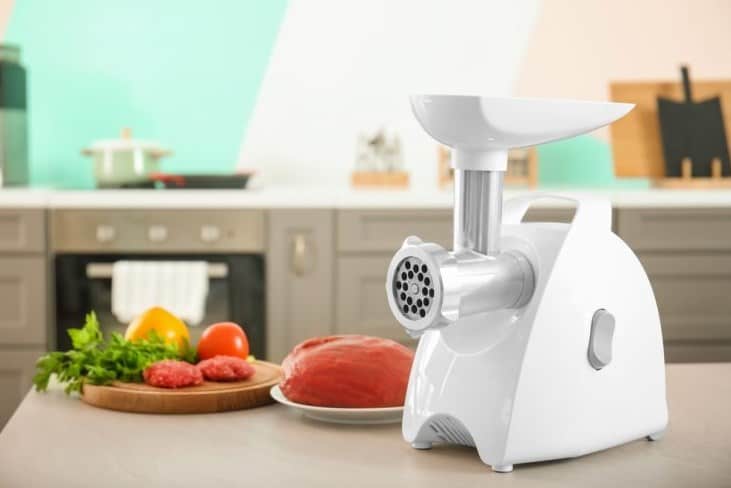 Here are some top tips for getting the most out of your meat grinder.
When grinding meat, make sure the meat is cold and use cold equipment to reduce the risk of sticking.
To store your ground meat, place it in an air-tight container as soon as you're done grinding. This will ensure that nothing spills out and that the meat stays fresh.
Make sure to wash your hands before handling raw ground meat. Otherwise, you risk contaminating the food with any uncooked or unready foods.
Some cuts of meat are stringier than others. Pork, lamb, and beef work best when making a hamburger because they have more fat in them which will make grinding go faster.
To prevent the meat from sticking and to make things easier, freeze your meat and grinder parts before using them.
Ensuring you do not overload your grinder is essential. This will reduce the strain on the motor which can lead to unnecessary food waste.
To change the taste of your meat, experiment with seasonings by mixing and matching different flavors to create a unique blend. For example, if you are using lamb then cumin or paprika are good spice options.
If you're using a manual grinder, it may be beneficial to grind the meat twice. This will ensure that you get a nice consistency in your meat.
Since raw meat has the potential to become contaminated with bacteria, it should not be left out beyond 2 hours.
Do not put your hands in the meat grinder. You risk grinding your fingers and getting seriously hurt.
Clean your grinder thoroughly after use to ensure it does not accumulate bacteria. Always disassemble and sanitize your grinder with soap and warm water.
What Criteria Did We Use To Come Up With These Recommendations?
We made these selections by looking at the different criteria that a meat grinder needs to have in order for it to be considered one of the best. These include:
Torque and power – how strong is its ability to grind meats.
Durability – its resistance against wear and tear. The more durable, the longer you can use it without having issues with efficiency or functionality.
Ease of use – is this machine easy enough so even those who aren't as familiar will easily learn how to operate this equipment?
Versatility – can this meat grinder process various types of proteins? Is there an option where you can adjust things like plate size and speed accordingly?
Warranty or guarantee – if something goes wrong, does your product come with a warranty?
Price – how much does it cost? Are there better options for less money, or is this product worth the price you pay?
Overall, the recommendations included in this article are the best of the best in terms of quality and value. If you want a product that will last, offers great versatility and is easy to use, then these recommendations will surely suit your needs.
Our Top Meat Grinder Recommendations
KWS Professional Commercial Electric Meat Grinder Stainless Steel Meat Grinder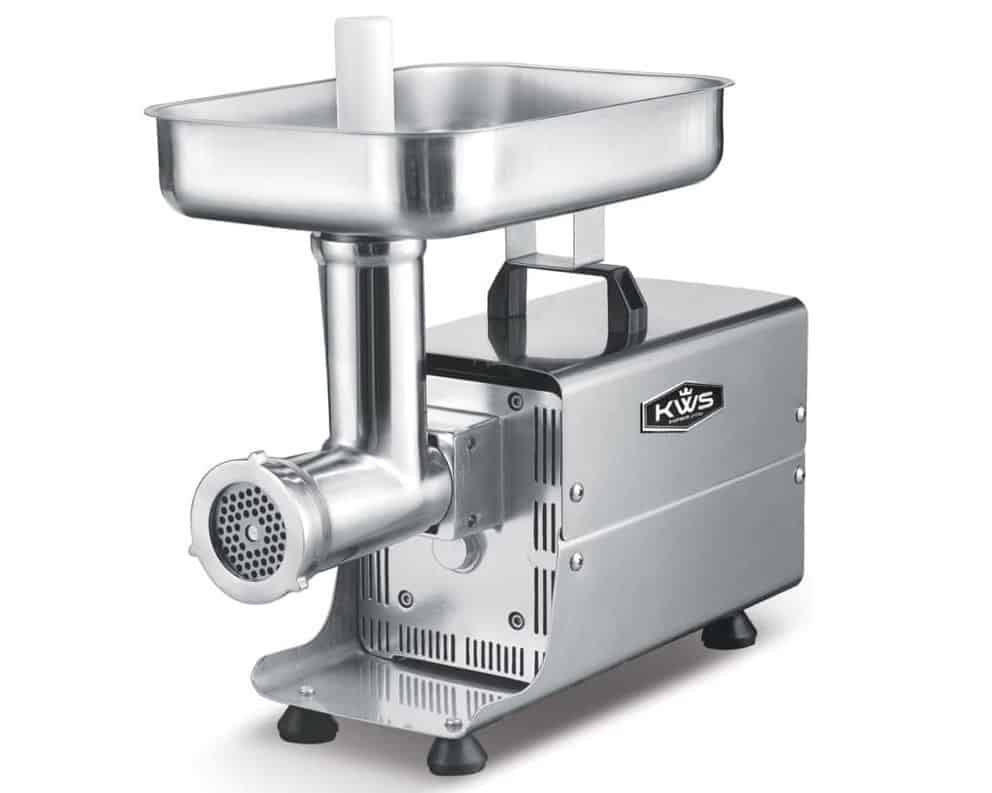 The KitchenWare Station ME-22 is a 1.5 horsepower heavy-duty commercial meat grinder that can grind up to 485 pounds of meat per hour. Constructed with stainless steel, the ME-22 is easy to clean and operate. It comes with three sausage stuffing tubes, a replacement knife, a plastic pusher, a gasket, a stainless steel meat tray, and two grinder plates.
This meat grinder will work best in a restaurant, meat processing plant, deli or butcher shop, or a range of other catering establishments. This meat grinder is fast, efficient, and easy to use making it a perfect fit for small businesses
Pros:
The motor is great for grinding large quantities of meat
Easy to clean and operate
Cons:
KitchenAid Metal Food Grinder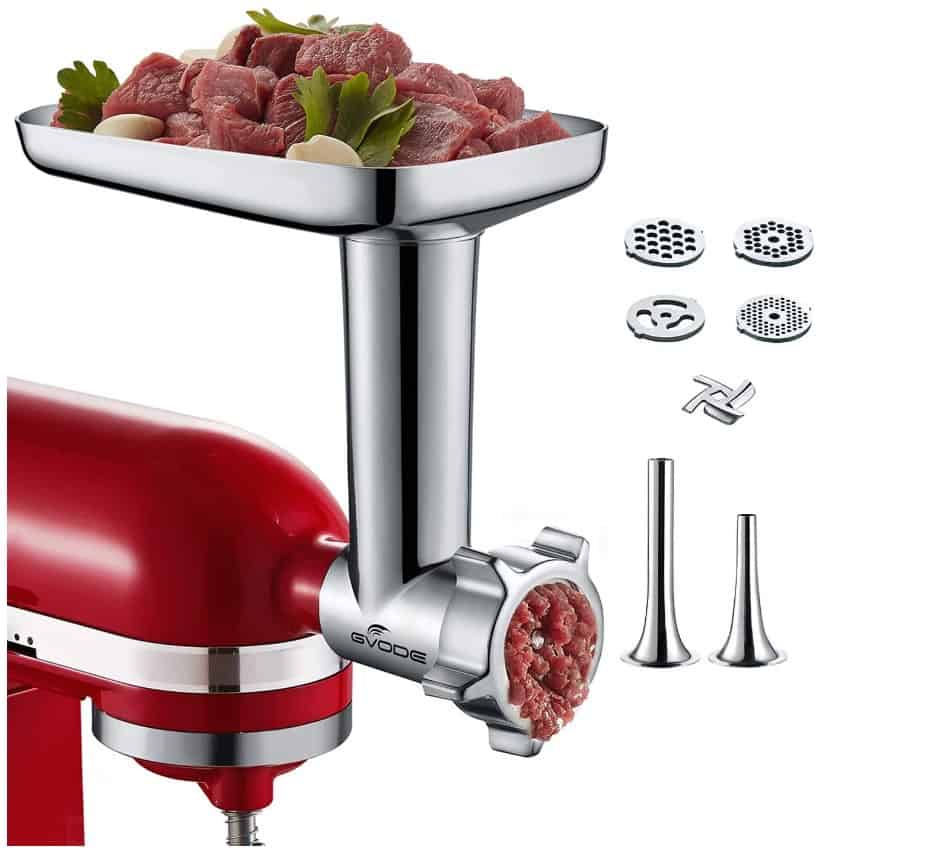 With this grinder, you have the option of grinding meats into fine, medium-sized, or coarse ground types. Three plates are included with your purchase so that you can choose from a variety of options.
This meat grinder is made of a rust-resistant aluminum alloy and has an extra-large food tray so that you can process larger amounts without interruption. If you intend to take your meat grinder with you, the appliance comes with a carry case that can store additional essentials. This is particularly useful for portable businesses or food trucks. However, to use this grinder, you'll also need a KitchenAid mixer.
Pros:
Convenient to use in any kitchen
Comes with a carry case and extra aluminum attachments
The oversized meat tray is extremely useful
Compact design is easy to store
Cons:
Needs an additional KitchenAid mixer in order to work (stand of any model will suffice).
Cuisinart Electric Meat Grinder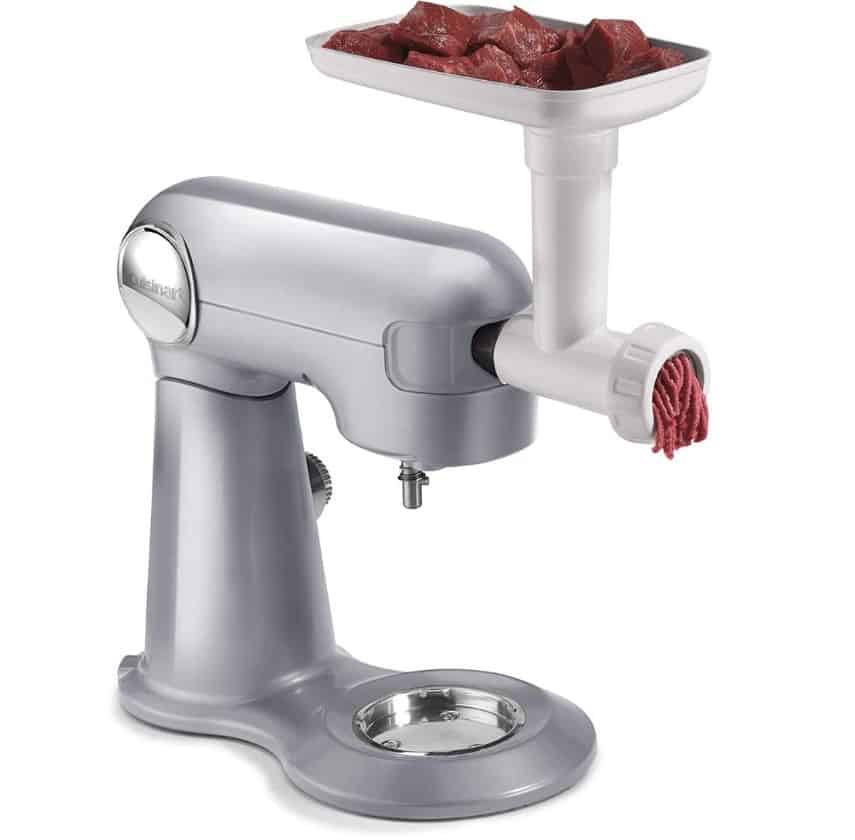 This Cuisinart model is a great choice for your meat grinder because it allows you to process different types of meat with ease, from beef and turkey to venison and chicken. This machine with a 300-watt motor can grind three pounds of meat in one minute. In addition, you can get finely ground, medium-ground, or coarsely ground meat depending on your preferences with 3 cutting plates.
This three-way switch makes this machine easy to operate. You can toggle between on, off, and reverse. However, this grinder is fairly loud; so it might be a deal-breaker if the noise level is a big consideration for you.
Pros:
Has a powerful 300-watt motor, making it suitable for heavy-duty grinding.
Comes with 3 blades, each designed for different qualities in grinding meat
It's very easy to operate
Cons:
800/1100W Commercial Mincer, Butchers Meat Grinder, Stainless Steel Meat Chopper, Heavy Duty Grinding Meat Machine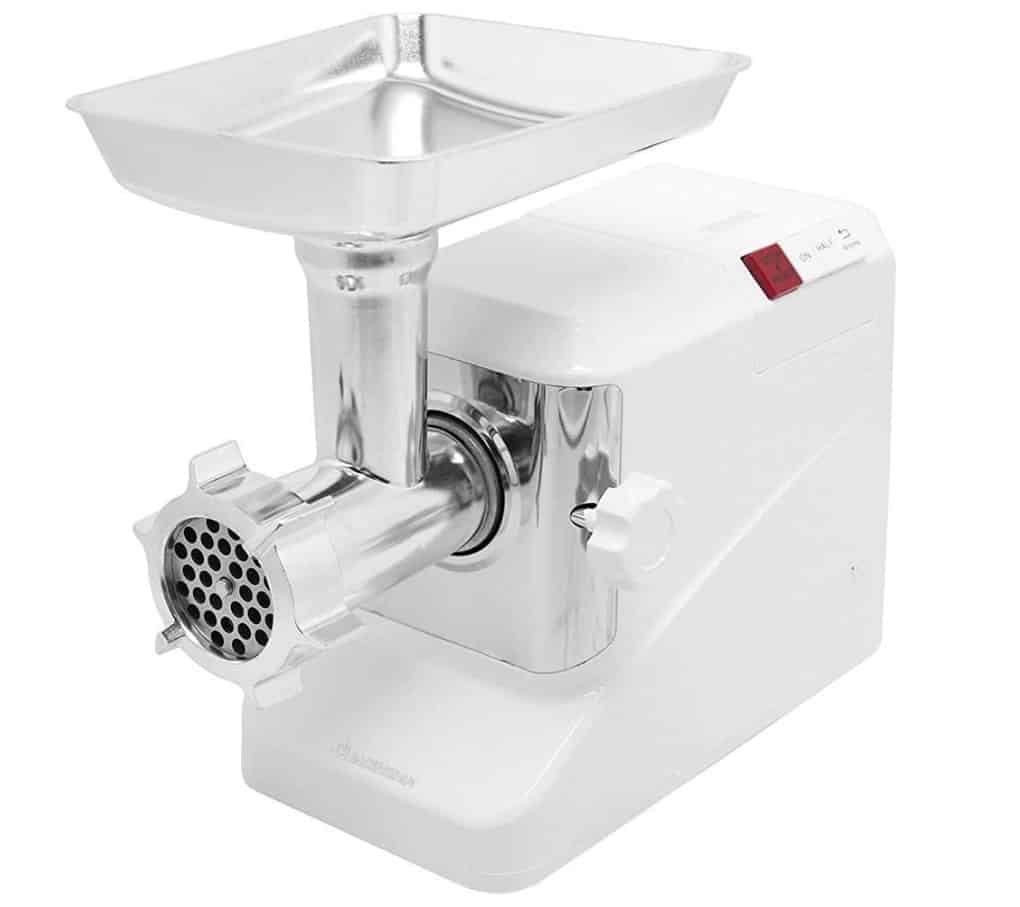 This meat grinder is the perfect choice for all professional kitchens, restaurants, and small businesses. If you are looking for a high-quality meat grinder that is easy to use but can grind large amounts of meats in seconds, then this machine will be your best option!
It can grind both bone meat and boneless meat. It can process various meats, like beef, mutton, chicken legs/thighs, or other parts of the animal you wished to use for your homemade sausage. It can also grind garlic, chili, ginger, and various other ingredients.
Built using stainless steel, iron, and chromium-plated metals; the blade is made of manganese steel that is rust-proof, durable, and wear-resistant. It also has powerful motors of 800W and 1100W. In terms of how efficient it is, the motor can process up to 220KG of meat per hour. Lastly, it's very easy to clean, which makes it a great choice for commercial use.
Pros:
Has a powerful blade that is rust-proof and wear-resistant
Easy to clean.
Processes up 220KG meat per hour
Very high efficient motors
Cons:
Weston Pro Series Electric Meat Grinder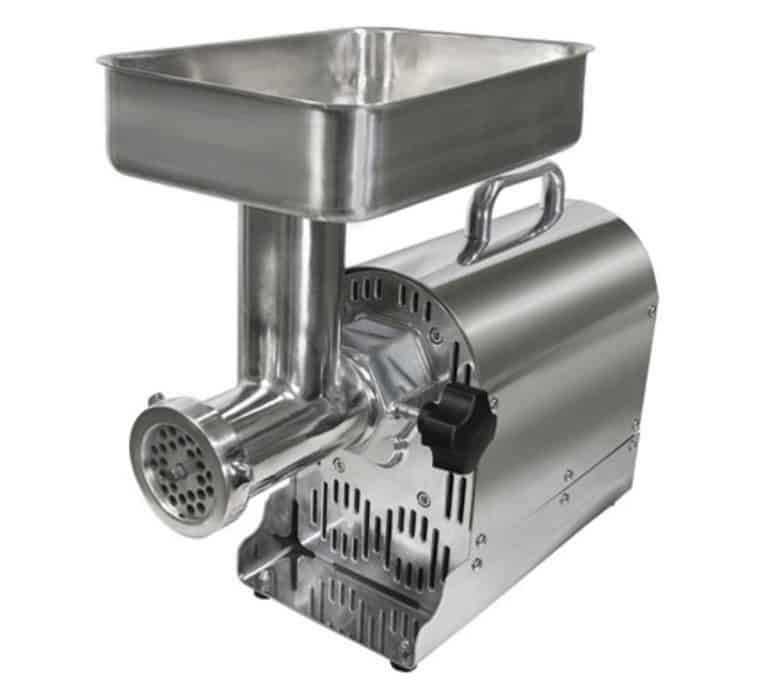 One of the best meat grinders is the Weston Pro Series. This particular model features an air-cooled motor rated at 1500 watts and offers a maximum output of 18 pounds per minute. The rugged steel gears and powerful motor are two notable qualities of this unit. Despite being bulky and heavy, the handle makes this unit easy to move in the kitchen.
This grinder comes with plenty of useful accessories like a sausage stuffing kit and a high-speed auger. This meat grinder has removable parts that are easy to clean by hand, but not suitable for the dishwasher. A 5-year warranty is also included as a standard.
Pros:
1500 watt motor with air cooling
Can generate up to 18 pounds of ground meat every minute
It comes with a five-year warranty.
This product has included many accessories
Cons:
This meat grinder is considerably bulky and heavy
PRO-CUT KG-22 Meat Grinder, 1 hp Motor, Stainless Steel Construction, Washerless Grinding System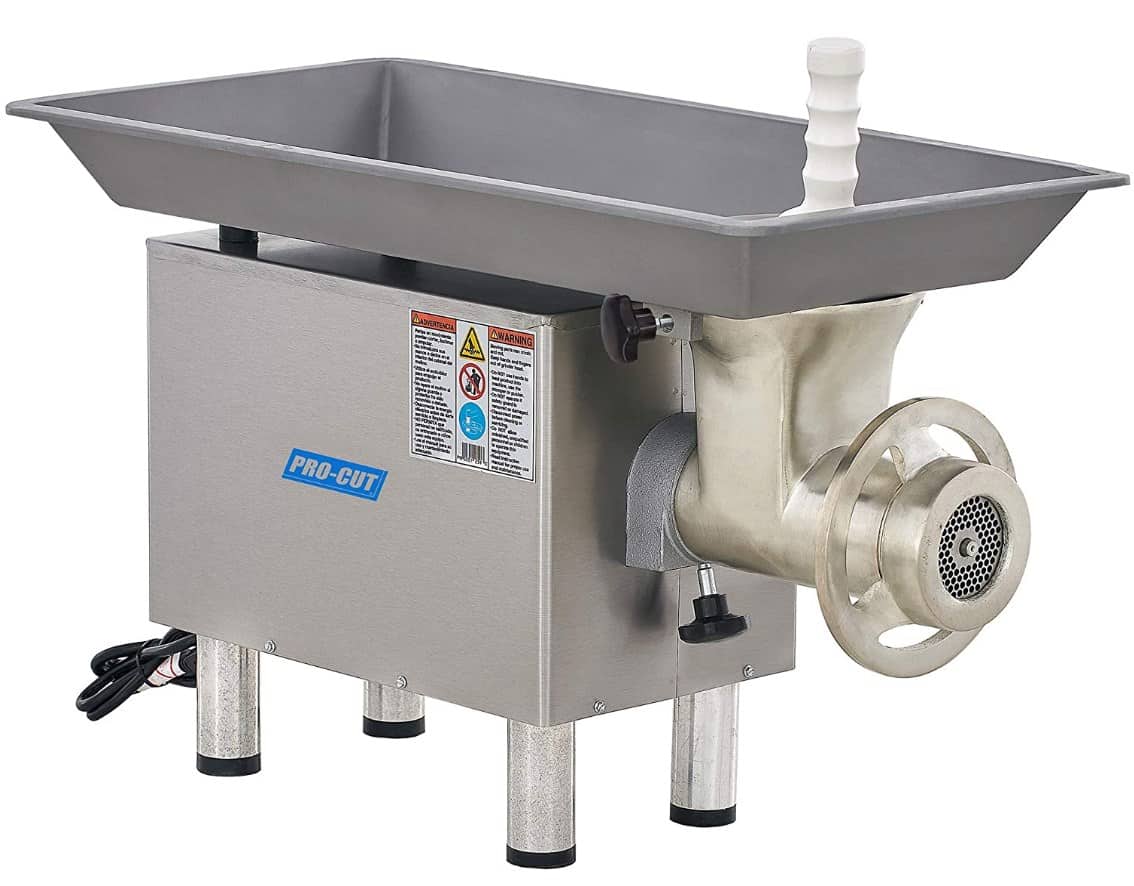 The Pro-Cut KG-22 meat grinder was designed for use in small commercial operations and is a great meat grinder. Its powerful one-horsepower motor is capable of processing up to 1720 pounds of delicious ground meat per hour. It also comes with a 3/16″ plate, stomper, and grinder knife.
In addition to using it as a standard grinder, the Pro-Cut KG-22W can be used as a food processor for making dips, jellies, and salsas. It can also be used as a sausage maker. This meat grinder has twelve standard plates that come with the machine. It is ideal for commercial use due to its amazing speed, high versatility, and low cost, and it doesn't take up much room in the kitchen.
Pros:
Efficiently grinds up to 1720 pounds of meat per hour
Comes with a powerful one-horsepower motor ​
Can be used in various ways and can double up as a food processor
Cons:
Conclusion…
The meat grinder can be one of the most important pieces in your kitchen, particularly for restaurants that serve a lot of meat like burger joints. Whether you plan on grinding pork to make sausages or making ground beef for a burger, you must have the right type to suit your needs.
Overall, we think that the Weston Pro Series Electric Meat Grinder and the KWS Professional Commercial Electric Meat Grinder are the best grinders for a range of different kitchen operations. They are both powerful grinders that can process large amounts of meats at once, have a great range of features, and are easy to use and clean as well.
We hope this information will help guide you when shopping around for an appropriate machine as well as give you some tips on usage so that your restaurant can be successful!