Latest posts by Alice Smith
(see all)
"What should I consider before opening a restaurant?" This question is what every entrepreneur wants to know before they start their new catering business. And there are many different answers.
It is not as easy as just buying a venue, or even deciding what type of restaurant you want it to be. There are so many factors that go into what makes for a successful establishment: location, what type of cuisine you will serve, what the menu will look like, and more.
Nonetheless, starting a restaurant is an exciting prospect. The process of creating what will be your livelihood, something that you will be proud to share with the world, can seem daunting at first and it is important to take your time and do research before diving in head-first. But, if you enjoy cooking delicious food and love being in the kitchen, then starting a restaurant is definitely an option worth exploring.
This blog post contains some top tips for starting a restaurant as well as what questions to ask yourself before making the big decision. We will cover what is essential for any aspiring restaurateur and what type of restaurants might be best for you.
Restaurants And Their Importance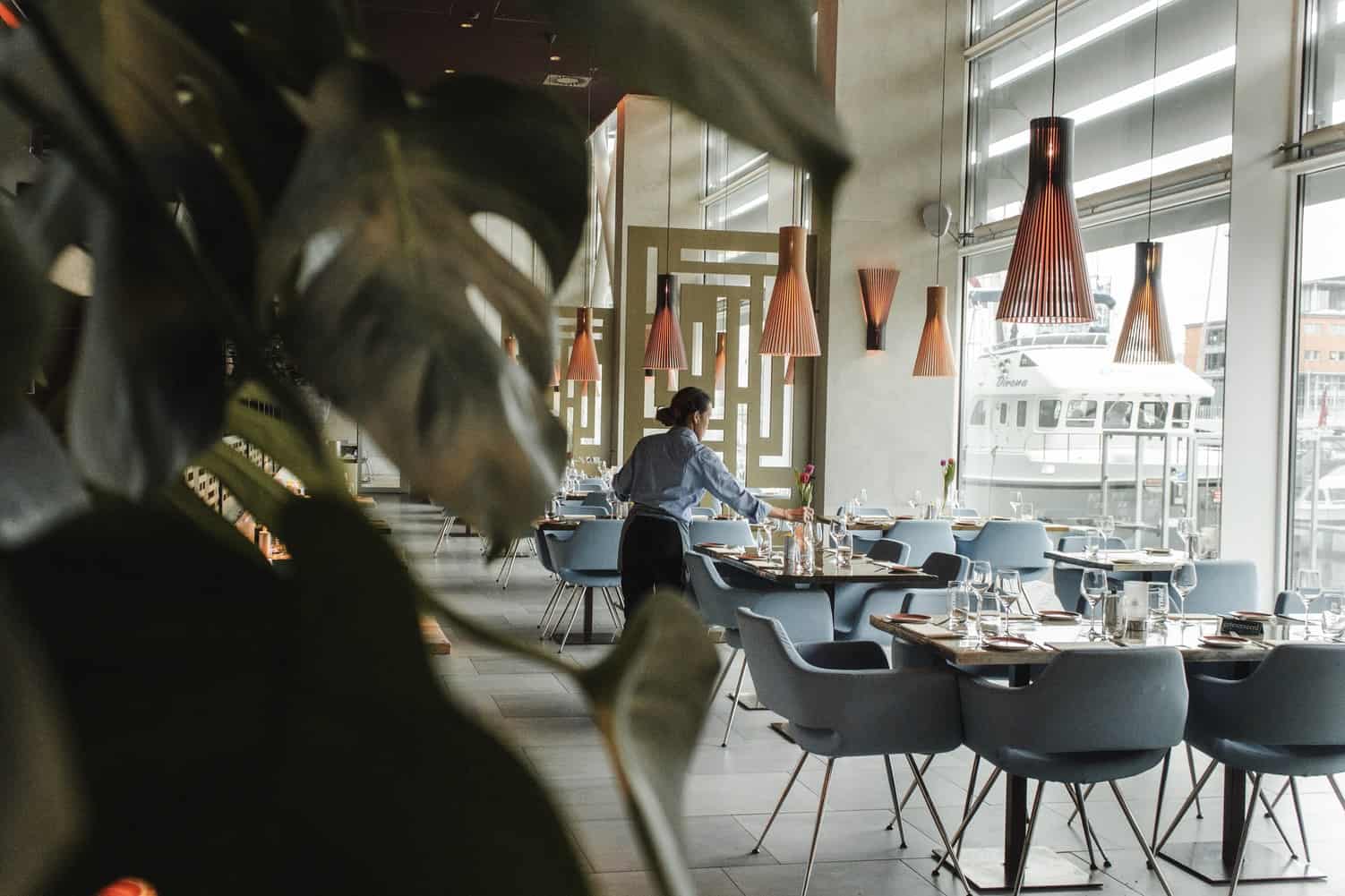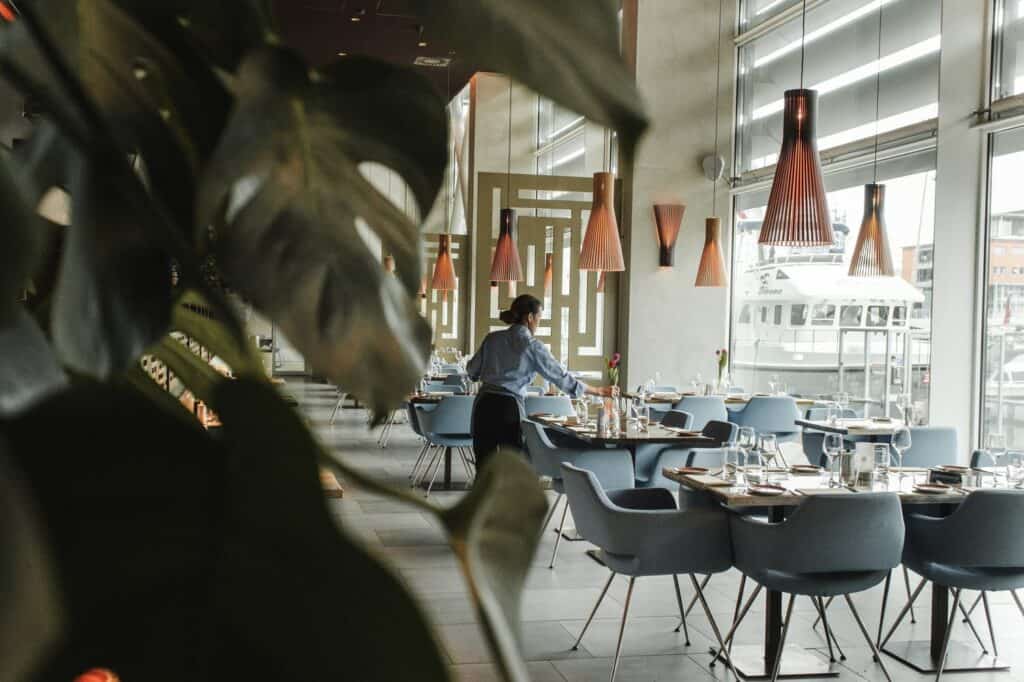 But first, let's have a look at where restaurants came from. Restaurants have been around for centuries and they have become an integral part of the world. From humble beginnings, they have evolved to what we know them as today: a staple that's been adopted all over the globe and an industry that is responsible for 10% of the worldwide economy.
Nowadays, there are so many different types of restaurants around the world and for every occasion. And people don't tend to think twice about visiting restaurants these days. For example, when people go out on a day trip, they will most likely visit a restaurant. When people travel to a different country, they will almost certainly visit at least one restaurant. When friends meet up, or people visit family, or two people go out on a date, they will usually go to a restaurant.
Restaurants are now an essential part of what makes a city, town, or destination what it is. They can be seen as extensions to peoples' dining rooms, places where they feel comfortable bringing their guests, and knowing that the food will always be good.
Restaurants also open up people's minds and introduce them to other cultures and cuisines they would never have tried otherwise. They are a way of bringing people together, sharing cultures, sharing laughs, and exploring different tastes.
When it comes to starting a restaurant, there are endless choices, countless possibilities, and most certainly something for everyone.
What Are The Different Types of Restaurants?
So, what about types. Well, there are many types of different restaurants. They all have something to offer, which is what makes eating out so popular. The following list will go through the most popular types of restaurants and the type of food and service you can expect at each:
Fine Dining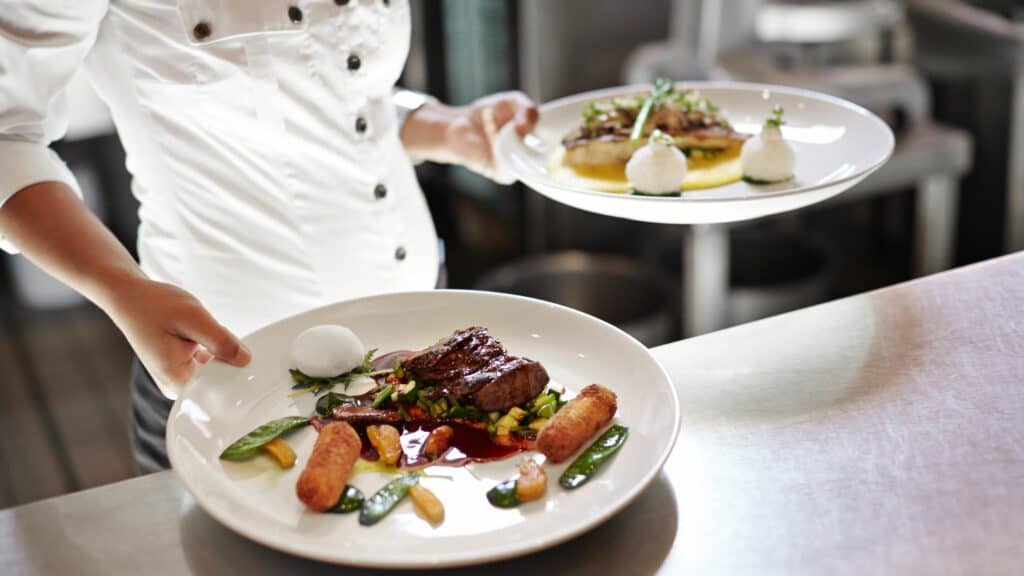 In the past, fine dining meant what is now considered high-end restaurants. These days though, it means a type of restaurant that focuses on quality and gourmet food. They might not have table service or an extensive menu but they usually offer excellent wine lists and you can expect to find chefs in traditional attire. Of course, fine dining does still encompass black tie events and high-end establishments, but it's become a much more broad phrase over recent years.
Casual Dining
These restaurants are what you would find in your hometown. They often have table service, serve a wide range of food and drinks, and offer some type of family-friendly atmosphere. You can expect to see waitresses or waitresses dressed as such with hair up but not traditional formal attire like at fine dining restaurants.
This will usually also incorporate both national and global chain restaurants and traditional pubs and guest houses. Chains are what you will find in most malls and shopping centers, often with the same menu across locations but different waitresses or cooks each time.
Quick Service
These restaurants are what you find in places like airports and hospitals. They offer fast food, such as a hamburger or hot dog, but the quality will not be what it would be at casual dining locations. You can expect to see people waiting for their order at these types of restaurants and they might not necessarily have table service.
Fast Food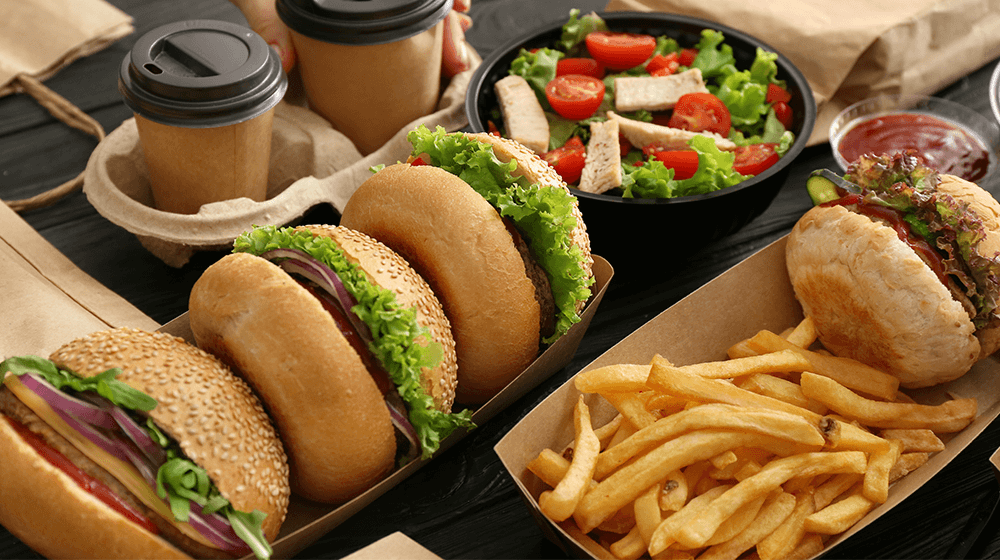 Fast food restaurants are what you would typically find on the side of a highway. They offer what is usually some variation or another of burgers, fries, and soda/juice but this can also include other foods like breakfast items or baked goods, or foods from other cuisines like Chinese or Indian dishes.
This type of restaurant will have limited seating with no table service so customers are expected to order at the counter and take their food back to their table. The quality of these restaurants is often debatable, and it's usually fairly unhealthy food, but the service is very quick and it's normally quite tasty.
Cafe
Cafes offer a variety of different things. They can serve as what you would call an "eat-in" or "take-out" meal and they often have tables both indoors and outdoors.  Their menu will usually include breakfast items, sandwiches/wraps, soups, salads, coffee, and sometimes alcoholic beverages.
They are often what you would find in the downtown section of a city and they offer more food than what coffee shops do, such as sandwiches, fresh soups with bread, and sometimes even fresh pizza. You can also get lots of different types of cafes, including artisan, brunch, and grab-and-go.
Buffet
These types of restaurants offer what is called a "hot plate" or "buffet" food.  The buffet provides all-you-can-eat, self-serve food which doesn't usually have table service. The quality of these types of restaurants will depend on what it's going to be serving (for example if it's a Chinese buffet, what you would find might be more of the traditional items) but what is offered should change on occasion to keep things fresh.
Family-style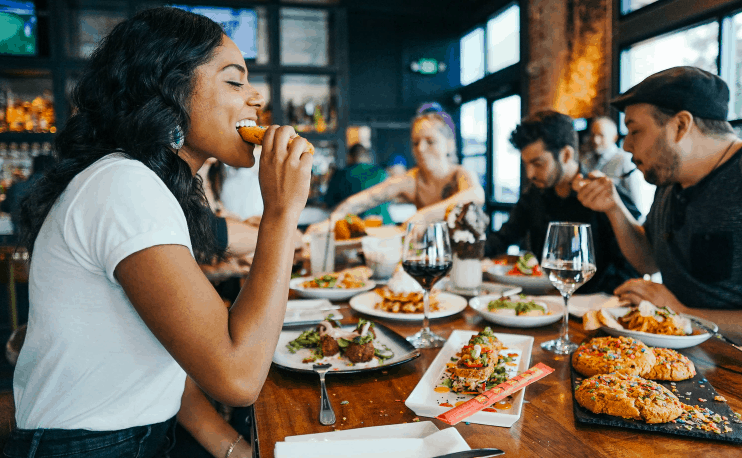 Family-styles restaurants offer a variety of home-cooked dishes that are usually served on large platters or in bowls. Families will come to this type of restaurant to share, and multiple servings of the same dish are offered to everyone sitting around the table and sharing.
Pop-up restaurant
A pop-up restaurant is often temporary but can offer a range of cuisines from burgers to fine dining. The term pop-up encompassed anything from a temporary restaurant, perhaps at a seasonal market, to a summer beer garden in a tent. What they serve will depend on what the chef prepares, and these restaurants tend to have very short life spans before moving onto another location.
Food truck
Food trucks have become quite trendy in recent years. They are what you would find in the parking lot of a store, outside an office building, a hotdog stand at a sports game, or anywhere there is heavy traffic, such as on college campuses or festivals.
They usually offer a variety of street food and they often travel from location to location at various times during the day depending on what their schedule dictates and what areas are busiest.
Virtual restaurants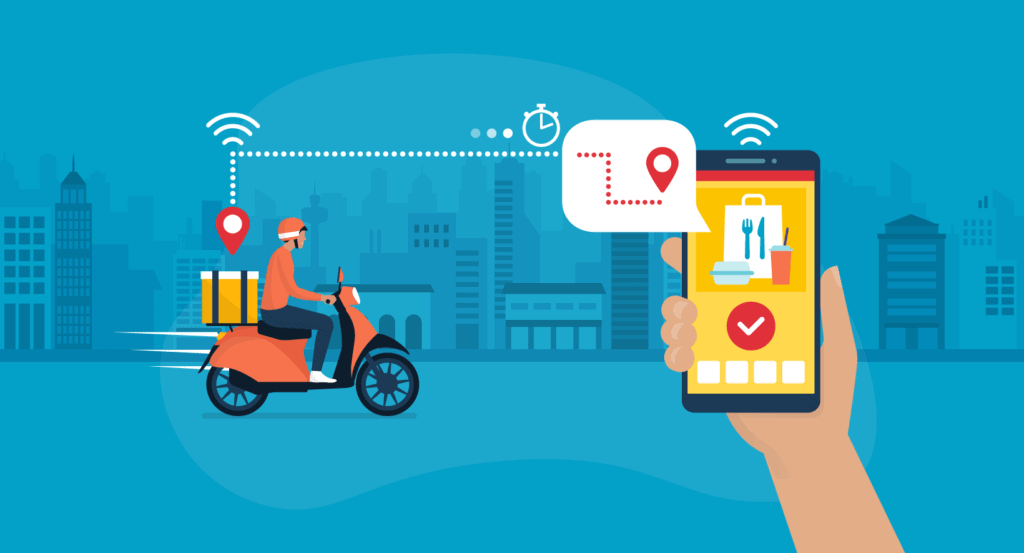 This type of restaurant is only available to order online. Also known as ghost restaurants, they don't have a sit-down service at all, and you simply access their website, order what you want, and get it delivered. What they offer is fairly flexible and depends on the season and the chefs. This type of restaurant will have low overhead costs and usually partner with delivery services like Deliveroo or UberEats.
What to Consider Before Starting a Restaurant
So, what should you consider before starting your own dream restaurant? Here are a few things to think about:
Do You Have Experience?
This is one of the most important questions to ask yourself before deciding to start a restaurant. Do you have any restaurant experience? Do you know what it takes to run a restaurant? This encompasses the front of the house, back of the house, and admin sides of the business.
Some people have been cooks their whole life but lack what it takes from a business perspective to run a restaurant, and there are others with an MBA in entrepreneurship and no experience cooking at all. Both of these people could make great restaurant owners but may need a little help getting started.
Once you've worked out which areas you might need a little help with, you'll need to think about a…
Business Plan
A business plan is what will help you to make a successful restaurant. A lot of people think that they can launch their own restaurant without one, but this couldn't be further from the truth!
Even if it's just for yourself – writing out what your concept or idea is and what you're going to do with it on paper will help you get organized. This means that when you start dealing with investors or other potential partners, everyone knows what has been agreed upon.
It also means that you'll have goals, predicted outcomes, a record of your expenditure, and most importantly, a plan of which direction your business is going to go.
You'll need to cover all aspects of the business, from what your restaurant's name is going to be, what the menu will look like, what type of atmosphere you want it to have, and what times you will be open. Don't forget what the restaurant will look like and what type of marketing plan you'll need to get people through the doors.
Once you have what you need on paper, it's time to…
Investigate Your Location
Before starting your dream restaurant, you'll need to find out where the best place is for one. It can be tricky because what might work in one area won't necessarily work in another- that's why it's important to investigate before committing to space.
For example, a restaurant that's on the outskirts of town may have plenty of foot traffic but no parking space for customers, while another in a bustling downtown area would see a lot more business with people driving or walking by and finding it easier as well as safer to park their cars nearby.
It can also depend on what type of food you're serving – fast-casual restaurants don't need much room so they are often placed right next door to other businesses while fine dining establishments will usually require something like an old restored building like a church or hall, where there is ample room for tables and chairs, wine cellars, private rooms, and parking for guests.
Work Out the Finances
Getting a restaurant up and running can be expensive, so you'll have to work out what your budget is going to look like before proceeding. You might need something as small as $10,000 or more than $200,000, depending on what kind of restaurant experience you're looking to provide your customers.
If your budget is a little on the lower end, what you might want to do is start out with a smaller establishment and slowly build up your fan base. It can take months or even years before people are willing to give up their hard-earned money in return for food from an unknown restaurant owner with no experience.
Alternatively, to get the finances immediately, you could take out a loan.
Taking Out Business Loans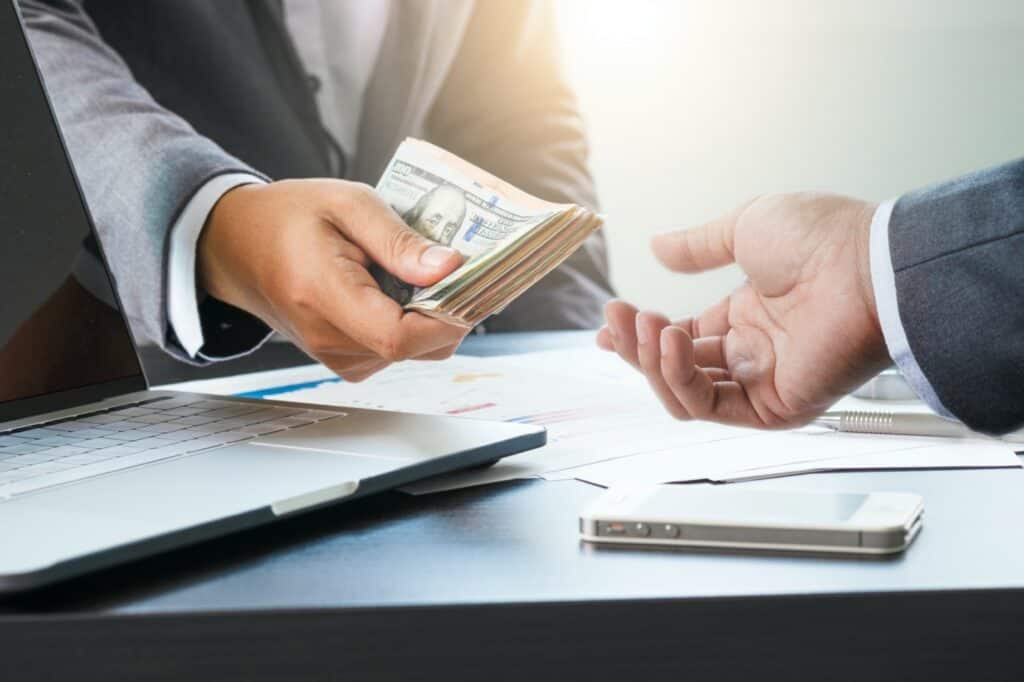 If you're able to get what's called a 'business loan,' it will usually allow time for the momentum to starts taking shape, and allow you to start your restaurant as soon as possible. As more customers are attracted to what you offer, your restaurant may pick up in popularity on its own.
You could also take out a commercial loan or a business line of credit.
A commercial loan is often used by startups who need to make large initial purchases. It might be what you need to get the restaurant up and running, but they require a very good credit score and it can take quite a while before you actually see the money.
A business line of credit is a bit like a credit card – you can simply draw from the agreed-upon amount and pay it back at a later date. If you need to buy something but don't have what's called 'liquid cash,' this can be a good option.
Each type of loan has its benefits and drawbacks, as does every kind of borrowing. You will get charged interest and there are usually steep penalties for missing payments, however, you'll need to think about what is best for your business and what will work. If you want to get started immediately and have a clear plan in place, this might be the best option.
Smooth Out the Legalities
The food industry is a heavily regulated one and before you start your restaurant, you'll need to make sure that everything you're doing is above board. Check with the government and local authorities to confirm what type of licensing requirements there are before starting anything.
Regulations can also depend on what country you're in. For example, if it's Australia then all food businesses must have either an EPC (Establishment) license or a WHC (Wine), Cider & Brewed Beverage Licence. The latter is often needed by restaurants that serve alcohol while the former helps control how much they sell as well as what time they open their doors.
The most common types of licenses you might need are a 'food business registration' which is required if you plan to sell, cook, store, prepare or distribute foods along with an 'alcohol license', a 'music license' if you plan on playing music, a 'business license', an 'employer identification number' or EIN, and a 'resale license'.
Depending on where you live you may need more than this, so be sure to double-check with your government before you open. You'll need to apply for all these at least 30 days before you open your doors.
Decide On a Clear Restaurant Concept
Once all the permits are cleared, it's time to decide on a concept for your new restaurant.
The first thing to think about is what kind of food you want to serve. Do customers come looking for something in particular in this area? Are people more likely to want what can be found in a traditional pub restaurant or are they seeking out more expensive dishes?
There are a few key things you'll need to think about here:
Theme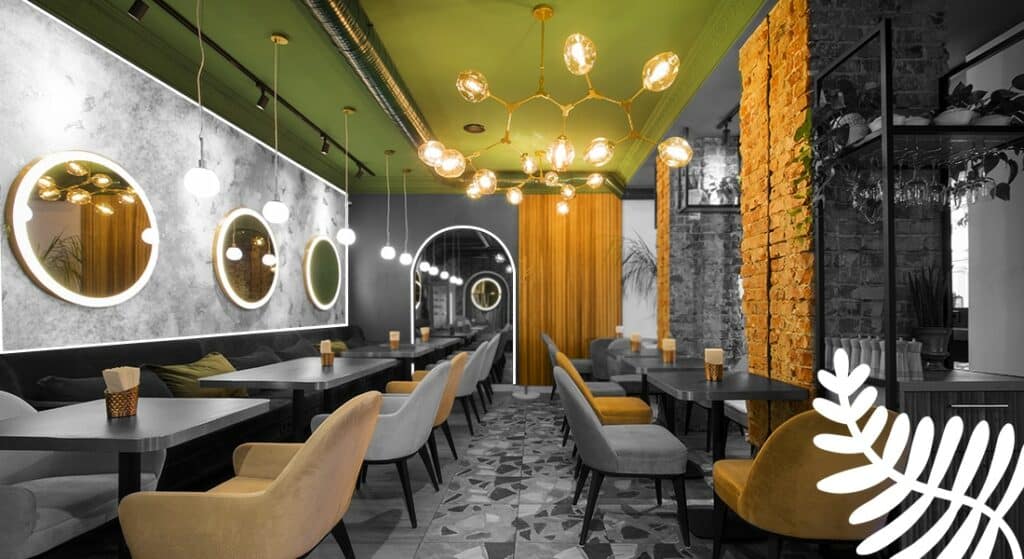 Do you want to theme your restaurant? You can theme a restaurant around anything from a type of food to your favorite foreign country.
But, if you want your restaurant to be known for what kind of food they serve, theming it around the cuisine (or choosing the cuisine based on the theme) can both help with marketing and make it easier when people are looking at reviews or considering where they would like to eat out.
Target customers
Do you want your restaurant to target young adults, families, or couples?
This is going to help the branding of your restaurant. For example, what kind of food do customers expect from certain types of restaurants? Family restaurants might need a more extensive children's menu or a range of sharing dishes, whilst a traditional fine-dining restaurant might focus more on unique flavors and unusual pairings.
Opening hours
Lastly, what are your opening hours? Do you want to be open for breakfast, lunch, and dinner or do you just want to serve afternoon tea or brunch?
Opening hours can make a big difference to what your restaurant is going to serve. For example, if it's only open during certain times of the day, then you'll have the choice to serve breakfast options that might not be available in the evenings.
Plus, customers might not want a big, heavy meal before 5 pm, so restaurants open until 6 pm might want to limit their portion sizes. However, on the flip side, many traditional English pubs will serve a Sunday roast from 12 pm onwards, so it really depends on a lot of factors.
Design your layout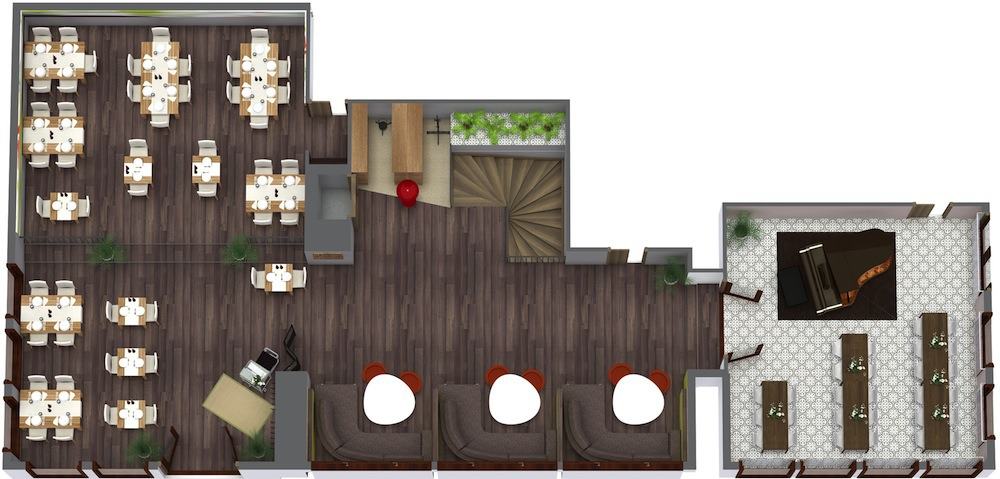 Once you've worked out your concept, it's time to design your layout. The layout of what a restaurant is going to look like can also make a huge difference to what people expect from you and how they feel inside your venue.
For example, some restaurants might want to have a bar area with more seating or the option for people to sit just outside and enjoy their meal, while others may prefer an open kitchen so they can see what's happening to their food.
A lot more goes into designing a new restaurant and you may also need to incorporate your theme into the design. For instance, a seafood-themed restaurant might go for a nautical decoration, while an upscale brunch cafe might opt for a bright, open design with geo patterns and an earthy color scheme.
Design your menu
Once you've worked out what kind of restaurant it will be and what type of food you'll serve, the next thing to think about is what specifics you're going to add to the menu.
Some things that come into play here are:
You'll need to consider your target audience (children won't typically eat elaborate, fancy dishes), your theme (is it a seafood menu, barbecue menu, or French-themed cafe), and what type of restaurant you're looking to start.
Then, you'll also need to consider the price of your ingredients. Expensive ingredients like saffron or truffles can be what makes your dishes special, but if they're too expensive, you'll have to increase prices to cover your costs, and then customers might not want to order them. If you offer a wide range of prices then this will allow people to try more of what you have on offer.
Next, consider what kind the 'flavor profile' of your restaurant, and what kind of cuisine it will be. For example, Italian food is typically tomato-based, can be spicy with lots of rich flavors while French-style might have a more delicate taste to them.
Lastly for consideration in designing your menu is what you want the price point to be like. This can depend on what type of restaurant you're opening but also how you want to compete in what's available, but more on price later.
Hire your staff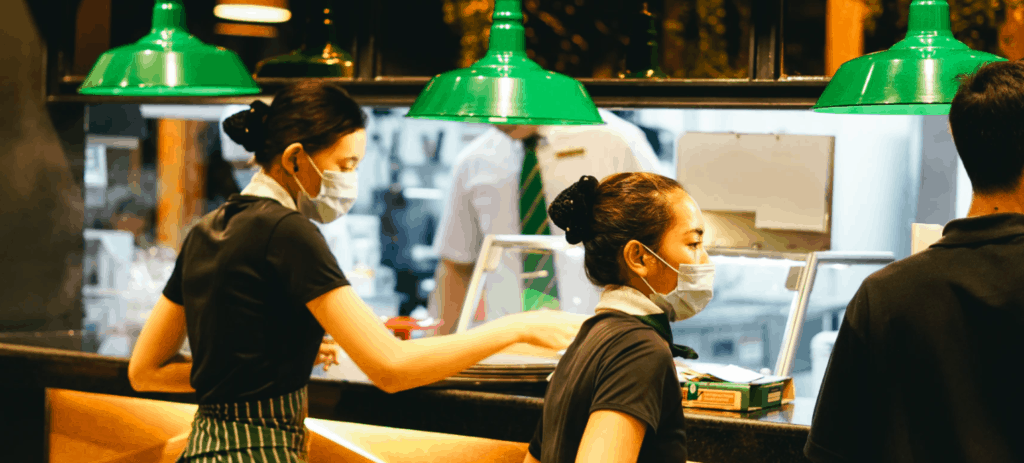 Your staff will play a critical role in your restaurant's production. Unless of course, you own a one-man-band food truck!
It's vital not to underestimate what a good team can do for your restaurant and what they'll contribute in terms of customer service.
For example, if you're opening an upscale brunch café then it would be best to hire at least a couple of waitresses with experience in the industry. Average service won't cut it when people are paying top-dollar for their artisan coffee and avocado on toast!
You'll also need to consider chefs. You might not need more than one chef for a small diner, but what about if you're opening a large, Italian restaurant? How many chefs do you need to cook up your spaghetti bolognese, homemade ravioli, or freshly made sourdough pizzas?
Consider what skills are needed in the kitchen, too. A crepe-making station needs someone with experience in cooking pancakes while a sushi bar requires somebody with experience in Japanese cuisine. Do you need a specialist pastry chef, a chef with Michelin-star expertise, or will a casual cook who's worked at the local pub be enough after a bit of training?
Are you hiring for full-time positions or are you looking to hire for part-time work only on weekends? Staff might also require training – even if it's just simple training on how you'd like your restaurant to run – so make sure this is something you take into account before hiring anyone. This will save you time, later on, should someone need some extra help or guidance at work.
Next, consider what kind of staff coverage you want? Will there only be one person serving customers or do you want a waiter and waitress? How many people do you need back of the house – will you need a dedicated kitchen porter as well as chefs?
But possibly the most important factor to consider before hiring your staff members, do they fit in with your company's ethos? You'll need to find someone whose personality fits with both yours, other staff members, and the overall feel of your establishment.
Order Your Equipment
Next, you'll need to order what kitchen equipment you need before opening your restaurant. From pots and pans to dishwasher detergent, there's a whole lot of commercial kitchen equipment you'll need to stock up on. This (aside from the building costs) can be one of the most expensive parts of starting a restaurant, so be sure to put a lot of thought into the items that you buy and what you'll need them for.
For example, if your restaurant is going to be a seafood joint then it would be best to buy at least one large fish kettle and a deep fryer or two depending on what kind of menu items you want to offer up.
Price your dishes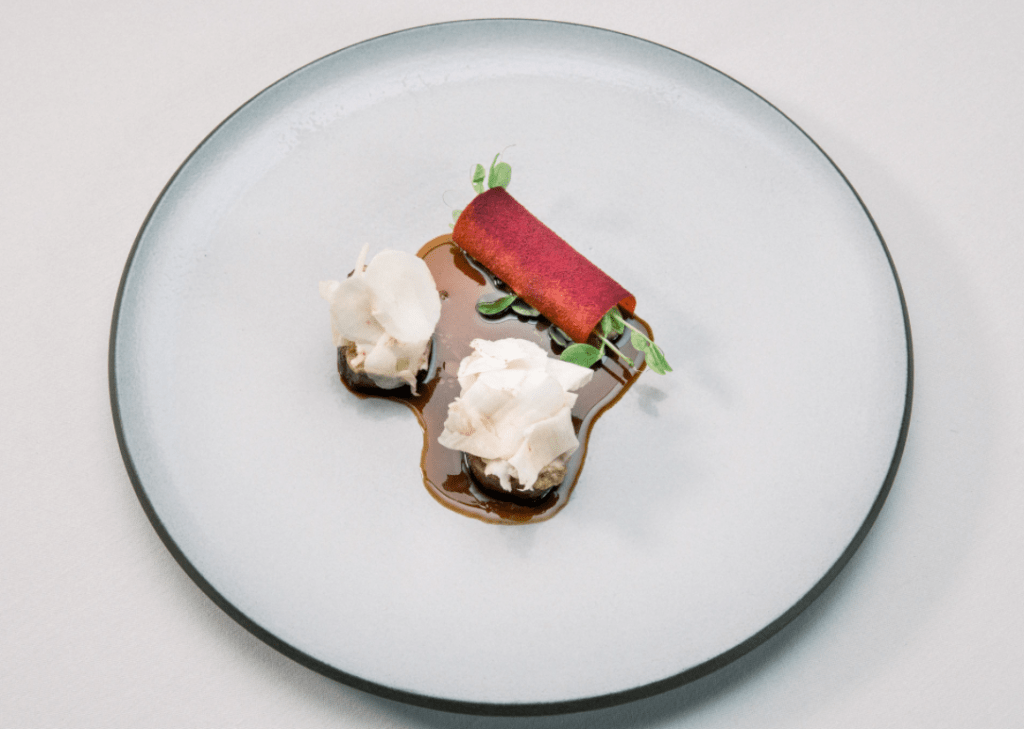 Putting a price on your dishes will rely quite heavily on the ingredients that you've sourced, what the supplier's prices are, and the scale of your restaurant. For example, upscale dining will naturally be higher-quality and therefore pricier than fast food.
If your restaurant is in a city or a busy tourist area, the prices will also likely be higher. This will either be because you'll have to compete with what's available on other menus and more people are likely to visit or – in the case of some remote tourist destinations – because customers might have limited options which will give you more liberty to charge higher prices.
But be careful not to put customers off. Some people might be more inclined to wait until they get home to eat or nip to the local supermarket and pick up a sandwich if restaurant prices nearby are too high. So, make sure to find a happy medium that pays for the ingredients and staffing costs, suits your restaurant, and it's too pricey.
Choose the Perfect Name
Naming your restaurant is a lot like naming your child. It's what people are going to call you for the rest of your life so it needs to be perfect!
The name should represent what type of dishes or feel the food will have and what kind of ambiance you want customers to experience when they walk in.
Your restaurant name should also be easy to pronounce and memorable for people so they can know it when they're walking around town looking for a good place to eat.
Marketing Your Restaurant
One of the most important points to consider before starting a restaurant is how you're going to market it. This should all be part of your business plan (which we covered earlier), but here are a few things to think about:
Research
Market research is very important. Look into what other restaurants in your area are doing to advertise. Is there anything nearby that's similar to what you're trying to start?
Competition
Once you've discovered if there's any competition in your local area, it's time to dig into what exactly that competition is doing to succeed.
Are they on social media? Which platforms – Facebook, Twitter, Instagram, or all of them?
Are they offering any food deals?
Is their website ranking on Google?
Once you've found what the competition is doing, it'll be a lot easier for you to come up with a marketing strategy that will work for your restaurant.
It's always best to experiment with a few strategies, however. Once you find what works best for you, run with it – even if what you're doing is completely different from what your competition does.
How Will You Advertise?
After a bit of experimentation, it's time to decide how you will advertise your new restaurant?
Some of the best ways to advertise are through online ads, like Facebook and Google Ads. However, how you can advertise will largely depend on your budget. Some ideas include placing an ad in a local paper or even advertising on billboards throughout the town.
The key is to find what works best for you and then really focus on it. Creating a website can also help advertise what your business has to offer because people will be able to see all of the information about what your restaurant is before they even walk in.
Social Media
These days, social media is key to a successful business, and many platforms, such as Instagram, can work really well for advertising new restaurants or catering establishments. Mouthwatering pictures of food will intrigue people and may even persuade them to check you out. So, don't dismiss the power of social networks.
Top Tips for Starting a Restaurant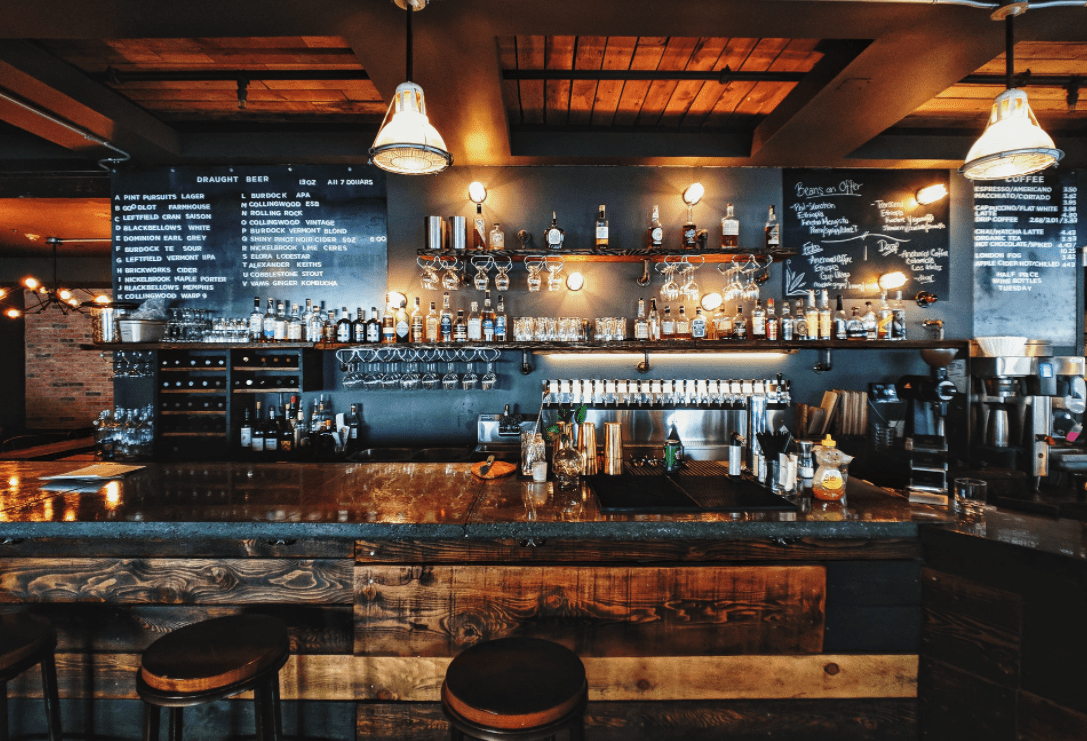 So, if you think you're ready to dip your toes in the world of being a restauranteur, here are some top tips for starting your own restaurant:
Hire the best chefs you can afford. Food quality is crucial, and if what you're offering isn't up to par, people will instantly be put off.
Budget what it'll cost to run your restaurant for at least a year in advance. This will allow you to forecast what's going on, what costs are rising, and what the demand is like so you can plan accordingly.
Know your concept. And I mean REALLY know it. Understand thoroughly what your business stands for and what you offer.
Get a unique menu card. An eye-catching menu card will make your restaurant more memorable for people and, when they feel peckish, they might remember you as a good place to eat!
Create what you want. This is YOUR business, and this is what YOU should be doing every day. Don't start something if you don't feel passionate about what you're doing.
Stay committed and focused on what your restaurant offers. Don't be tempted to start a new business because it may be more profitable at first glance, but don't forget that what pays off, in the end, is providing something people love or need – not just what's "popular for profit."
Create a dedicated, optimized website. This needs to be easy to use on all devices, including mobile phones, and it should be clean, simple, and easy to navigate.
Translate what you offer into different languages for your international customers, especially if your restaurant is in a touristy destination.
Partner with other business owners. You might be thinking that this could end up giving up your customers, but partnerships can actually work wonders for new businesses. Partnering up with grocery stores in the region where you're opening, or maybe even other restaurants can be extremely beneficial and give you lots of extra exposure.
Invest in your customers. The bottom line is that what often makes or breaks a business, in the long run, is what kind of customer experience you're providing. So, make sure it ticks all the boxes.
fAQs
Question: What are the factors to consider before opening a restaurant?
Answer: Before starting a restaurant, there are lots of things you'll need to consider. The first thing to consider is what type of restaurant you want and what kind of food you'll serve. It's also important to think about the location, how much money you'll need for startup costs, what permits are required by your state/city, whether or not there will be competition nearby in terms of similar restaurants.
Question: How much money do you need to start a small restaurant?
Answer: The costs for opening a small restaurant vary depending on what type of food you want to serve, what your location will be, and what permits are required by local regulations. The startup cost could be anywhere between $50-$150 thousand.
Question: How do you create a restaurant concept?
Answer: The concept of a restaurant is what you want your restaurant to represent and what it will be known for. Think about what type of food, service style, atmosphere, etc., you'd like to provide.
Question: Why do so many restaurants fail?
Answer: The restaurant industry is tough. Restaurants fail because of a variety of reasons including the restaurant concept, food quality, price, competition in your area, what types of customers were attracted to it (tourists or locals), lack of marketing strategy/knowledge of how to market well. But the most common reason restaurants fail is the owners don't have enough experience with running restaurants before opening one.
Conclusion
Overall, the most important thing is to have a clear vision for what you want your restaurant to be. Once you know this, it should help in everything from the menu and how much inventory you need to order upfront, all the way down to where you place tables and chairs.
We hope these tips helped get your creative juices flowing! But, whether you're just starting the process or are already on your way to opening your restaurant doors, never stop learning about how to start a restaurant. There's always more knowledge out there for you to find and learn!