Latest posts by Jodie Chiffey
(see all)
A Sonic ice maker is a wonderful invention. It is by far the most convenient, fastest, and most efficient way to produce large amounts of ice nuggets that are needed in all sorts of gastronomic businesses. Are you looking for this type of machine right now? Our best Sonic Ice Maker guide will provide you with all the information you need to make an educated decision and get yourself the device you'll truly love.
This guide focuses on commercial-grade Sonic ice makers designed for smaller, middle, and large gastronomic venues. We have divided our recommendations into several categories based on their distinctive features so that you can find the best solution for you.
But first, let's discuss what to look for and what to avoid when choosing a Sonic Ice Maker.
What To Look For In A Sonic Ice Maker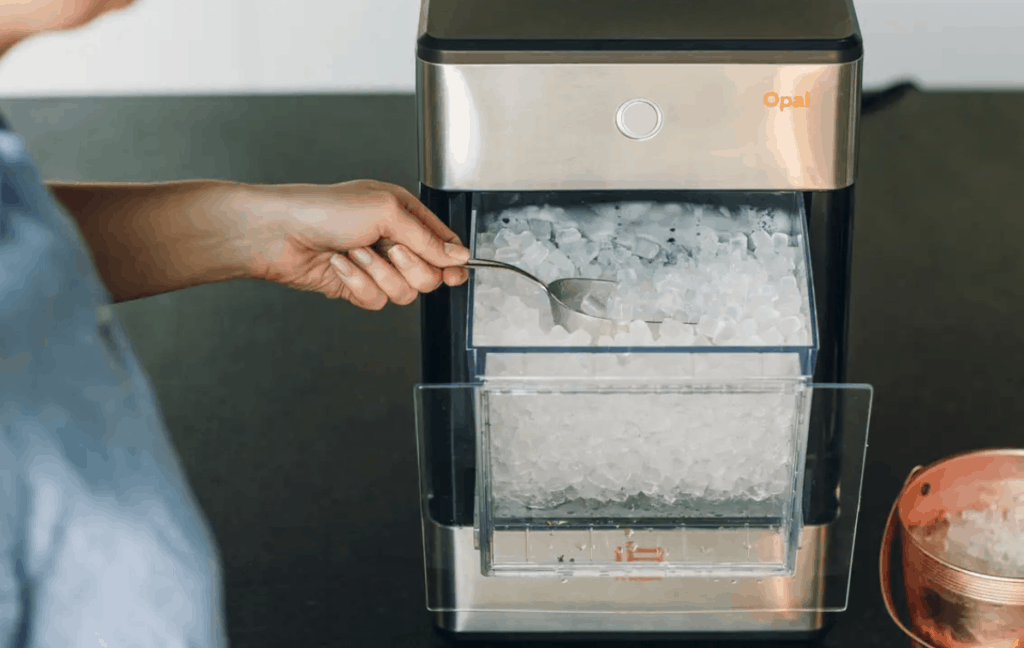 A Sonic ice maker, also known as a nugget ice maker, is a sophisticated device that uses an auger system to form large quantities of perfectly even and chewy ice nuggets directly from plain cold water. These are mainly used for popsicles, slushies, or mixed alcoholic/non-alcoholic drinks sold in all sorts of commercial venues.
However, these useful machines are quite expensive, and they also come with considerable operational costs, so you should think about your purchase thoroughly. Let's summarize the most important factors, features, and qualities you should think about when choosing your sonic ice maker:
Installation
Commercial ice makers can be installed either on the counter, under the counter, or they can also be completely freestanding. These three common types of ice makers all come with some advantages and disadvantages. Which one will be the best choice for you mainly depends on your current kitchen/bar setup, the interior layout of your venue, and the amount of ice you usually need.
Countertop Ice Makers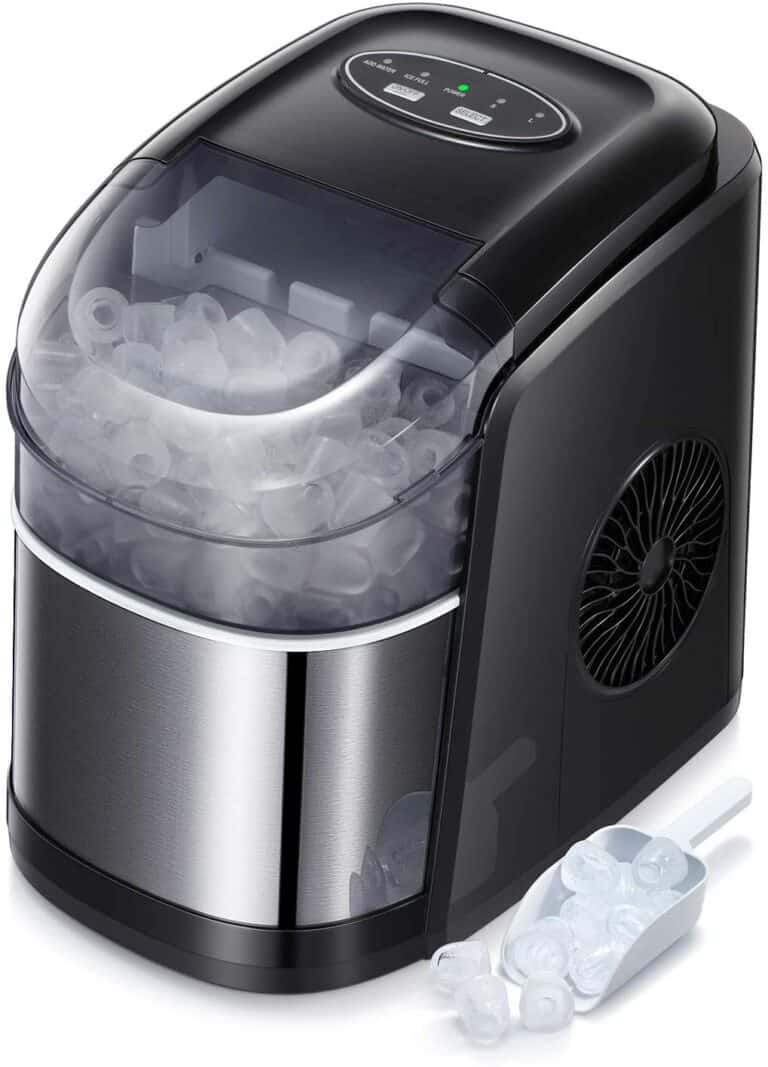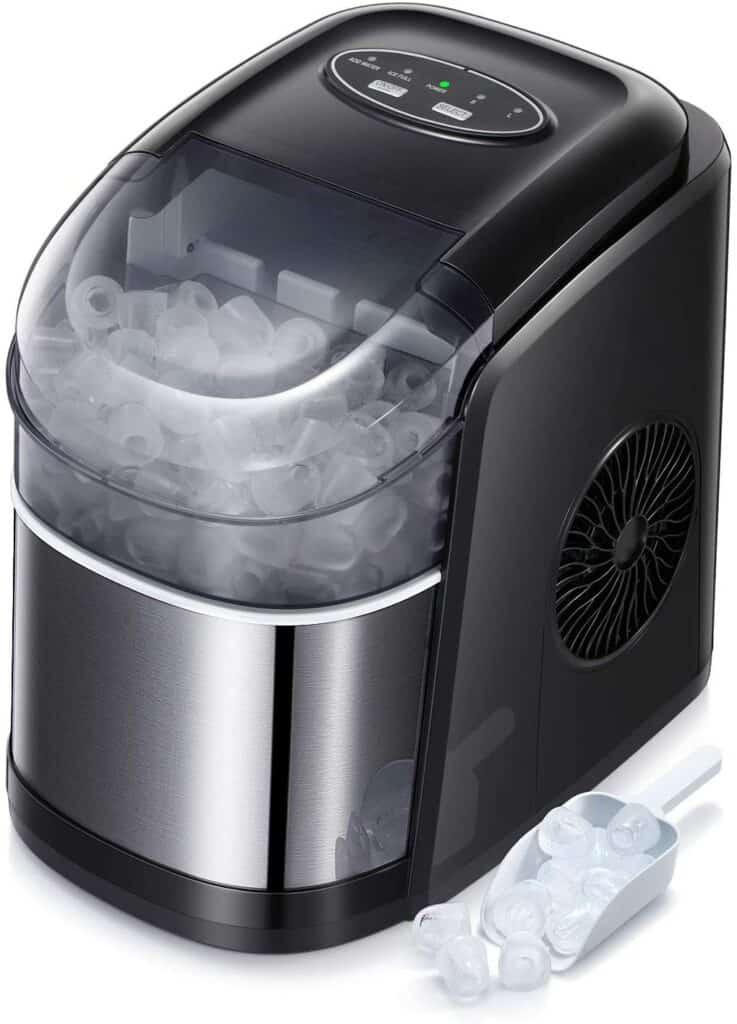 Countertop ice makers are straightforward to install. These machines usually have their own water reservoir (= no need to have a water hookup), so you only need to plug them in electricity, and you're ready to go.
Countertop ice makers are often cheaper than the other types, and they are also easy to transport and move from place to place. But, on the other hand, keep in mind that they will occupy quite a large portion of your counter space, and they usually don't have the biggest capacity either.
Under Counter Ice Maker
The Under-counter ice maker is either attached to (built-in) or hidden under the counter. It is a great solution for both small spaces and stylish venues that look much better without appliances and machines on display. If you have enough free space under the counter, these machines can also have quite a big capacity, which makes them recommendable for larger businesses.
Freestanding Ice Maker
Freestanding ice maker models include some of the largest machines on the market. They boast large capacity and are capable of serving many customers fast, smoothly, and reliably. Although they can be large and heavy, these ice makers are usually still perfectly portable, making them a great solution for events (e.g., concerts, festivals, fairs, etc.)
Depending on the particular model and size of the freestanding sonic ice maker, these machines can be moderate to very expensive. They also usually need to stand close to a water source.
Capacity
As we've already mentioned above, ice makers can have quite different capacities. For example, smaller machines can produce just around 25-35 lbs of ice nuggets per day, whereas the largest commercial ice makers might be able to make up to 300 lbs of ice daily.
Of course, there's no point in buying such a large and efficient ice maker if you don't really need the vast amount of ice they can produce. On the other hand, buying the smallest capacity comes with a risk that you won't be able to serve all your customers once you run out of your daily dose of ice. The best option for most commercial venues probably lies somewhere in the middle.
Ease of use
Commercial kitchen equipment and supplies are usually designed for professionals who know how to operate them properly. Nevertheless, if you want to save your (or your staff's) time and energy, choosing the machine that is easy to use, clean, and maintain over its overly complicated alternative is always a good idea.
Type of ice
Sonic ice makers are often known as nugget ice makers because they usually produce small rounded ice nuggets. Nevertheless, some recipes or applications might require standard ice cubes or shredded ice instead. Make sure that the machine you're buying can produce the exact style, shape, and size of ice you require.
Reliability and warranty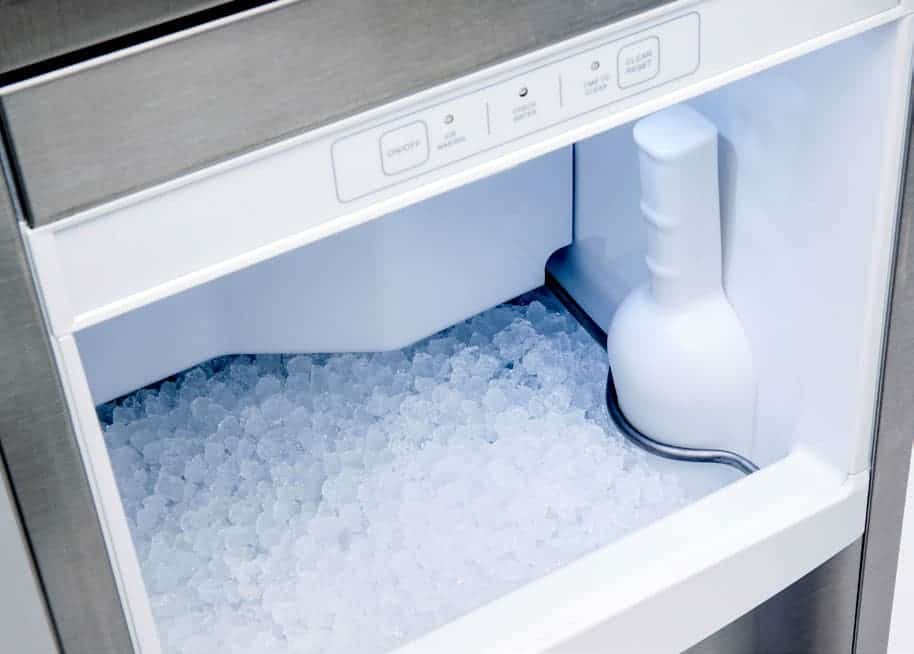 Sonic ice makers are sophisticated machines, but they can potentially break in quite many ways. If it suddenly malfunctions in the middle of a busy shift, it can cost you lots of nerves, money, and even some disappointed customers. Although even the best machine on the market can eventually fail, investing in reputable brands and machines with many positive reviews from other users might help you stay away from the trouble.
Besides that, most of the reputable manufacturers sell their ice makers along with some sort of warranty. Obviously, the larger/more comprehensive warranty you get, the better.
Price and cost-effectiveness
Commercial-grade sonic ice makers can cost you anywhere between several hundred and several thousands of dollars. The actual price mostly corresponds to the capacity, type, or extra features of the machine. Are you looking for some tricks or hacks on how to get a quality sonic ice maker for less? Well, it all depends on your priorities.
Machines made by reputable American brands, for example, are usually significantly more expensive than their Asian counterparts, even though they can sometimes be equally good and effective. Nevertheless, it is usually easier to resolve an issue with a local company when something goes wrong than the one residing overseas.
If you need to cut the expenses, you can also opt for a second-hand machine instead of buying a new one. Restaurants and bars often resell their equipment at a good price when they need to upgrade their gear or when they're closing. However, you should thoroughly inspect any second-hand kitchen equipment before purchasing it (ideally with the help of a professional technician) to avoid investing in a broken or worn-out machine.
Our Best Sonic Ice Maker Reviews
Now that you know your basics let's move on to our recommendations for some of the best sonic ice makers you can currently find on the market. We've divided them into three categories based on their type of installation. Each of the categories includes both budget-friendly and high-end solutions:
Best Countertop Sonic Ice Makers
We created a list of the best countertop sonic ice makers on the market. We chose these ice makers based on affordability, ease of use, sizing, and customer reviews.
Countertop sonic ice makers are usually the smallest ones, most lightweight, and also easiest to transport. They are often the most affordable solutions too. On the other hand, their capacity is usually smaller, making them suitable mostly for smaller venues. If you're looking for this type of ice maker, here are two options for you:
FRIGIDAIRE EFIC235-AMZ Countertop Nugget Ice Maker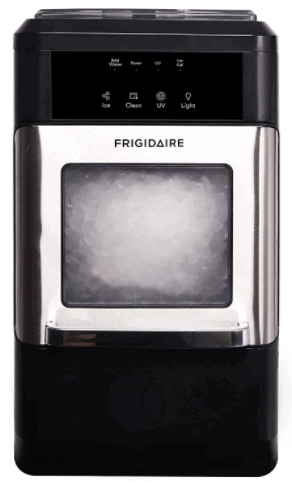 FRIGIDAIRE EFIC235-AMZ is a popular countertop sonic ice maker capable of producing 44 lbs of ice nuggets per day. This is a relatively small, lightweight, and easily portable machine (12 x 17 x 19 inches/19 pounds) made of stainless steel and plastic. It boasts a sleek black-and-silver design, so you'll probably like the way it looks on the counter. What you'll probably like a bit less is its loud operational noise.
This ice maker of Asian origin works fast and efficiently: It requires just about 15 minutes to create a load of crunchy ice nuggets, which are subsequently stored in a 3lbs container. Then, as the ice slowly melts, the machine automatically collects the water and uses it for another batch of ice. Compared with some other ice makers, this is an affordable machine, and it also comes with free returns.
Pros
Nice design
Small and lightweight
Easily portable
Affordable
Automatically reuses melted water
Cons
Relatively small capacity
Made in China
Noisy
GE Profile Opal Countertop Ice Maker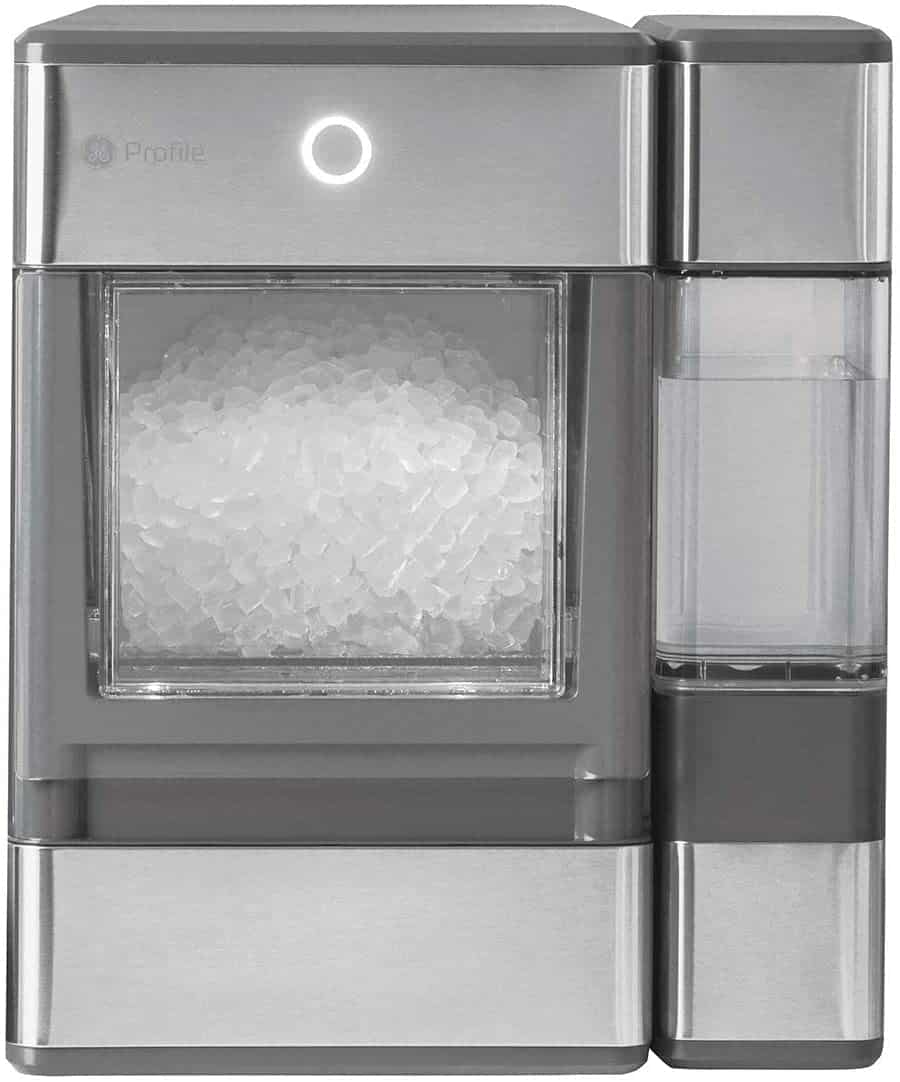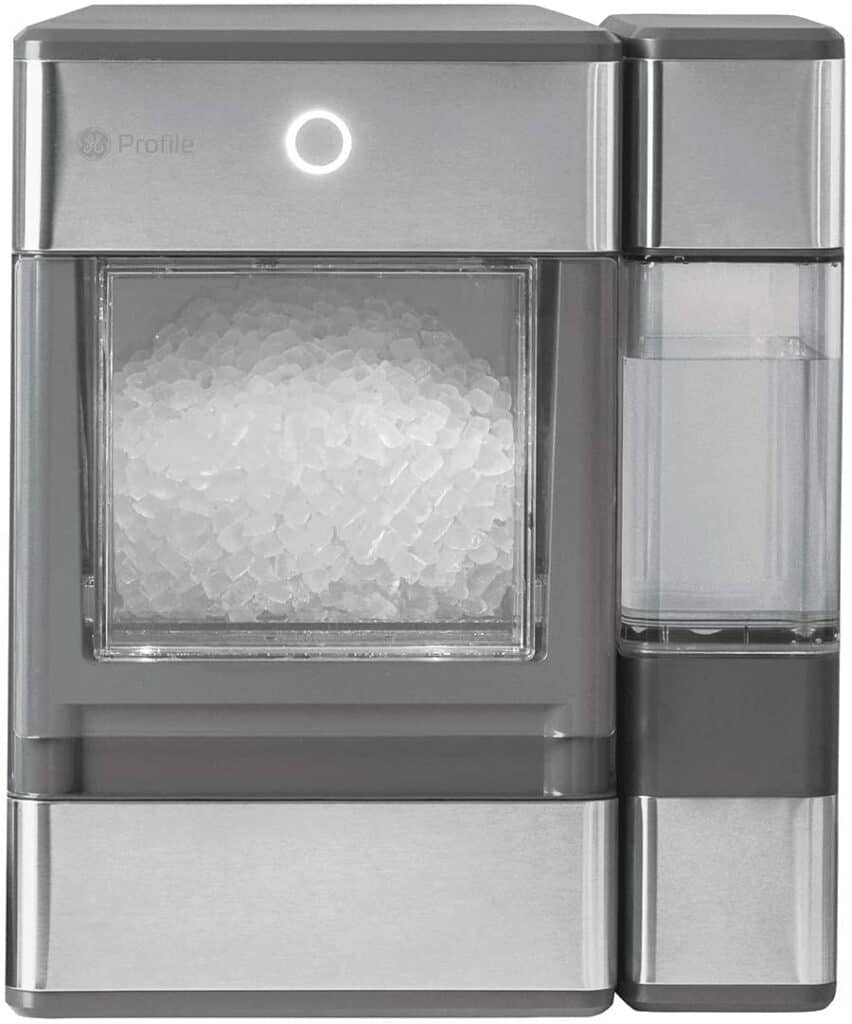 GE Profile Opal is another countertop sonic ice maker great for both commercial and private use. It is relatively small and lightweight (15.5 x 10.5 x 16.5 inches/47 pounds), and you will most likely adore its elegant silver design. This machine produces nuggets fast and efficiently, providing you with the first load of ice in just about 20 minutes. It has a storage bin with 3 lbs capacity, and it's able to produce up to 24 pounds of ice per day in total.
Some of the downsides of this machine include the loud squeaky noise it makes when producing the nuggets. If you use it in a noisy bar, it probably won't be an issue, but it is not suitable for a peaceful cafeteria where people come to read books or work on their laptops. Another drawback is Opal's price. In comparison with other similar ice makers, this one is quite expensive.
Pros
Beautiful design
Relatively small and light
Fast and efficient
Sturdy construction
Cons
Noisy
Expensive
Small capacity
Best Under-Counter Sonic Ice Makers
If you have more free space under the counter than on it, you will probably prefer an under-counter machine. These sonic ice-makers are often large, sturdy, and they can produce greater amounts of ice in comparison with the countertop units. Here are some under-counter alternatives you might find interesting:
Scotsman UN1520A-1 Under-Counter Nugget Ice Maker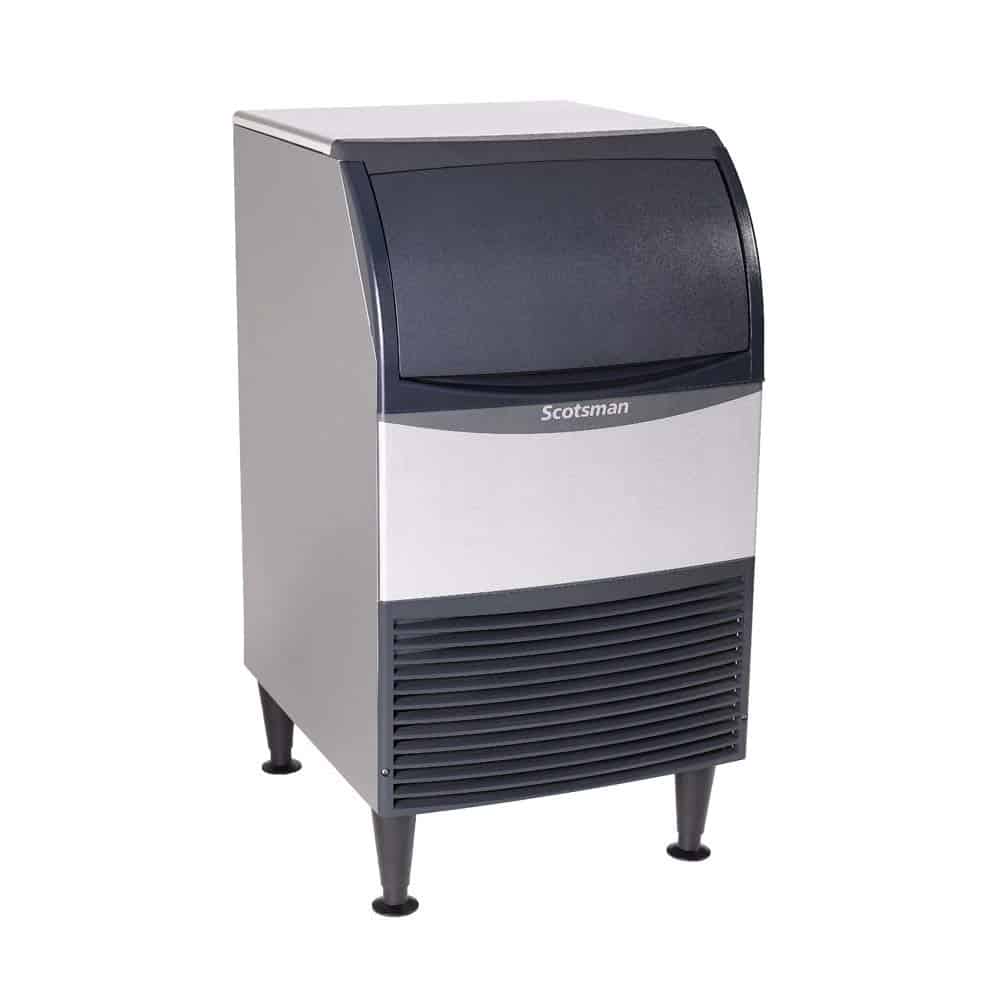 If you're looking for a truly powerful solution (and your budget allows you to invest a bit more), you should certainly consider Scotsman UN1520A-1. Despite its space-saving design (the machine is only 20" wide), this American ice maker can produce up to 167 lb of chewable ice nuggets per day and store 57 lbs of ice at any time.
The housing of this machine is made of heavy-duty rust-free aluminum, whereas the evaporator and auger are constructed from stainless steel for maximum durability. At the same time, the machine is energetically efficient, and it also looks very good. The only downside of this device I can really think of is its high price.
Pros
Large capacity
Durable design
Top-quality materials
Powerful and efficient
Made in the US
Cons
Smad Under-Counter Built-In Commercial Ice Maker with Freezer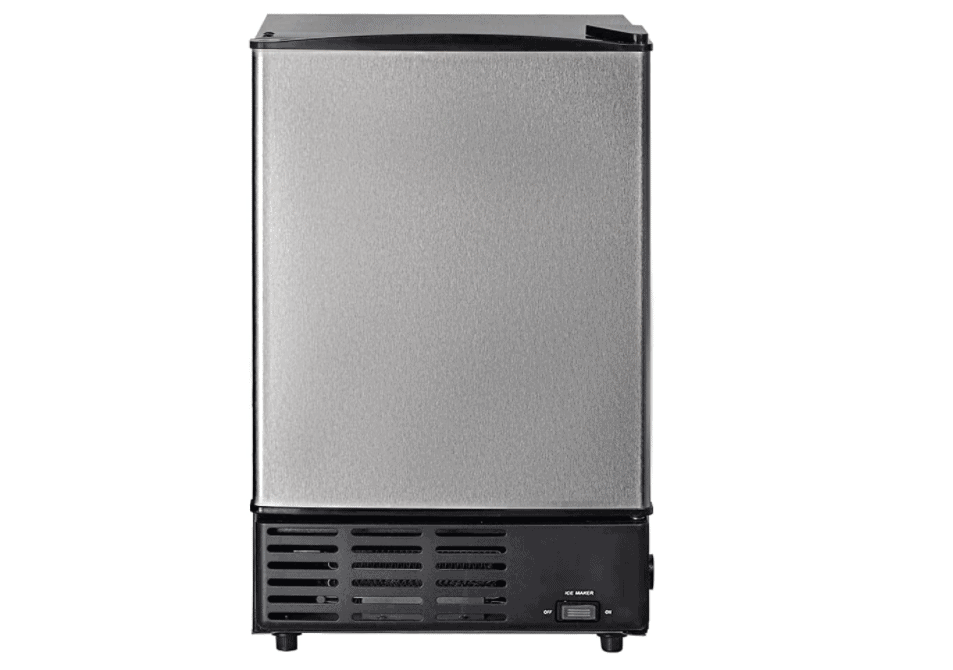 Smad's Ice Maker is an efficient commercial-grade machine specifically designed for convenient under-counter installation. It has front venting, a reversible door, and a freezer bin to store up to 6 pounds of ice. This machine also has several useful safety features like automatic overfill prevention, an auto shut-off that activates when ice storage is full.
Although this ice maker is quite large, it can only produce about 12 pounds of ice per day. Also, note that it needs to be constantly attached to an external source of cold water since it has no internal water reservoir. On the other hand, this is one of the cheapest built-in ice makers you can currently get, so if you're on a budget, this is a reasonable choice.
Pros
Convenient built-in under-counter design
Includes a freezer
Affordable
Safe
Cons
Small capacity
It needs to be attached to an external water source
Best Freestanding Sonic Ice Makers
Freestanding sonic ice makers are usually the first choice of those who need the most powerful and versatile solution. These machines combine the best of all worlds: they have a large capacity, yet they remain perfectly portable. One of their few disadvantages, though, is their higher price.
ADT Commercial Freestanding Ice Maker Machine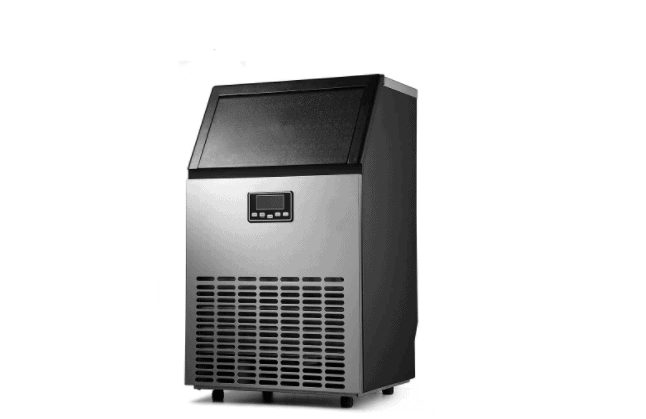 If you're looking for a high-capacity freestanding sonic ice maker, yet you need to stay on a budget, ADT's Commercial Freestanding Ice Maker might be one of your best options. This machine can produce up to 100 lbs of ice in 24 hours and store up to 44 lbs in its internal storage bin.
But the biggest asset of this machine is probably its great versatility: you can either connect it to an in-line water supply or feed it with gallon-bottled water when in-line supply is not available. In addition, the machine is sturdy and durable, made mostly of stainless steel, yet it could be a bit easier to drain and clean. It also comes with a 1-year warranty.
Pros
Large capacity
Affordable
It can be used with both in-line water or water gallons
Durable and comes with a warranty
Cons
Draining could be a bit easier
Snooker 155 Lb Freestanding Nugget Ice Maker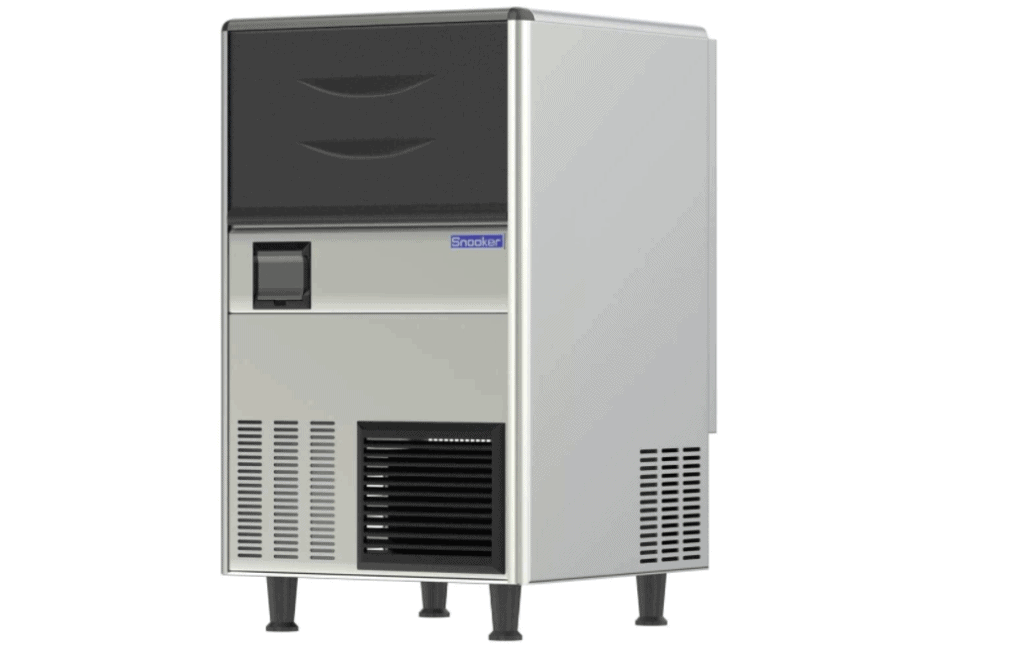 Those who are willing to invest more in the higher capacity, efficiency, and overall performance of their sonic ice maker should definitely take a look at Snooker's Commercial-Grade Freestanding Nugget Ice Maker. This large capacity machine can produce up to 155 pounds of ice nuggets per day, which makes it a great solution for large venues or massive events.
The unit is made of stainless steel, and it can be used as a stand-alone or installed under the counter. It comes with a scoop and water filter. Unlike many other (even much smaller) ice makers, this machine is tranquil, and it also boasts perfectly intuitive controls. The greatest disadvantage is its high price, and some users might also be discouraged by its Asian origin.
Pros
Large capacity
Durable, heavy-duty construction
Works as a stand-alone or inbuilt undercounter machine
Quiet operation
Ease of use
Cons
FAQs
Question: What Is Sonic Ice?
Answer: Sonic ice is also known as cubelet ice, pellet ice, or nugget ice. Regardless of the name, it is basically a soft and chewable style of ice that was originally invented for convenient rehydrating of particularly weak patients in hospitals. Nowadays, this type of ice is mainly used in bars, cafeterias, clubs, and restaurants – anywhere where they serve drinks with large amounts of ice. Sonic ice makers are fully automatic machines that are making these ice nuggets from plain cold water.
Question: Why Are Sonic Ice Makers So Expensive?
Answer: Sonic ice makers are relatively complex and sophisticated machines. Depending on their size, efficiency, performance, capacity, used materials, and technologies, they can cost anywhere from several hundred to several thousand of dollars. The most expensive ice makers usually come from American producers, whereas Asian machines are often significantly cheaper.
Question: Can You Use Sonic Ice Maker At Home?
Answer: Absolutely. Besides many commercial-grade ice makers, numerous small, perfectly portable, and relatively cheap sonic ice makers are particularly suitable for at-home use. They usually have quite a small capacity, but unless you throw a party with hundreds of guests, it should produce enough ice for your private use.
Question: Is Chewing Sonic Ice Bad For Your Teeth?
Answer: Chewing nugget ice can cause various types of dental damage, including chipped or broken teeth. It can also damage your enamel. If that happens, you will be much more sensitive to cold or hot food, and your teeth will also be more prone to cavities and tooth decay.
Question: Do You Need An In-Line Water Supply For A Sonic Ice Maker?
Answer: That depends on the specific model. Some smaller and portable sonic ice makers are equipped with an inbuilt water reservoir, so they don't need to be anywhere near the water supply to work properly. Others require a standard hookup, or they can, alternatively, also be fed by bottled gallon water.
Final Verdict
If you're an owner of a cafeteria, a fast food, a food truck, or a bar where you're serving cold drinks, an efficient and reliable sonic ice maker is a must. However, finding the right model can be difficult if you don't know what to look for and what to avoid.
If you're on a budget, the light and affordable FRIGIDAIRE EFIC235-AMZ is a great countertop option. However, if you're looking for something a little more heavy-duty, then the under-counter machine such as the Scotsman UN1520A-1 is the one to go with, or a versatile freestanding unit like the ADT's Commercial Freestanding Ice Maker is also one of our favorites.
We hope that our best Sonic Ice Maker guide has provided you with all the answers you were looking for and navigated you towards the best ice maker for you and your business.
Looking for more guides on finding the best commercial kitchen equipment? Read our Best Commercial French Fry Cutter or Best Commercial Baking Rack guides next!