Latest posts by Maddy Chiffey
(see all)
If you're looking for the best commercial tortilla maker, then this guide should prove helpful. I have reviewed the five best ones and will provide my findings in this post, including the advantages and disadvantages of each product listed.
Tortilla makers can be an essential part of a commercial kitchen for restaurants that serve the tasty Mexican favorite in great amounts. Mobile caterers and festival and carnival food merchants can find this appliance one of the most profitable to have. But, of course, it is important to find the right one for your food business, and here is where this guide should help.
I have included a wide range of commercial tortilla makers, from the budget-friendly to the higher end. If you're in a hurry, you can see my chosen five just below.
At a Glance: 5 Best Commercial Tortilla Makers 
What is a Commercial Tortilla Maker? 
A commercial tortilla maker is a heavy-duty item designed to feed a lot of people, endure heavy use, and withstand the test of time. For these reasons, commercial tortilla makers (or presses) are made of robust metals. Tortilla makers have three fundamental parts; a handle, a flat hinged base, and a fixed plain surface.
The shape will always be round to result in perfectly rounded corn or flour tortillas. Before the invention of this simple but hugely convenient appliance, people would make tortillas purely by hand and flatten and shape the dough without any machinery input. A commercial tortilla maker ensures that every tortilla is the right shape and width every time.
Do You Need a Commercial Tortilla Maker?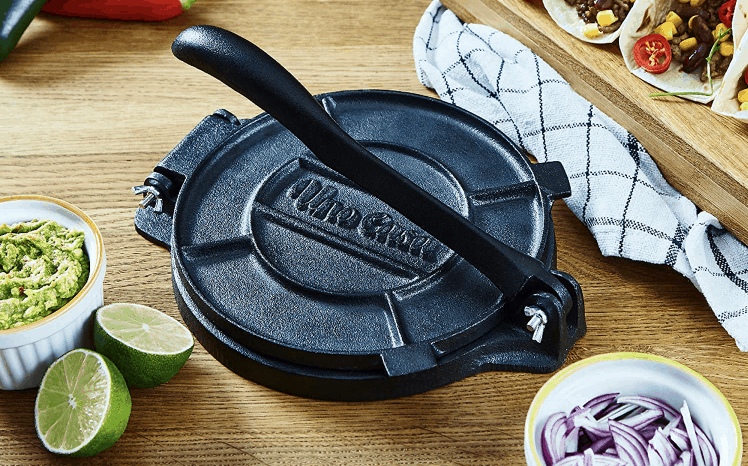 If your livelihood is based on the dishes you serve in a restaurant, you can't afford to overlook any item that can ensure consistent quality for customers.
Much like the right kind of commercial cooking pans, commercial tortilla makers can have a considerable bearing on the quality of the food you present and serve diners. The tortilla industry is one of the fastest-growing in the US, so with stiff competition, a commercial tortilla maker could prove to be a great asset.
There are some other great benefits to installing a commercial tortilla maker into your professional kitchen, and these are as follows.
The Taste 
A tortilla is made up of such simple ingredients that it is easy to presume the taste of the finished product isn't as important as the fillings that go into it. While, in part, it is true that the spicy flavors of the filling take over the blander flavor of the tortilla, the tortilla itself still has a taste.
Nobody wants to go into a restaurant to order something they could have bought in the mini-mart. You owe it to your customers to be serving fresh, tasty food, and a commercial tortilla maker ensures the greatest convenience to do this.
Easy of Use 
Any member of the kitchen team can operate this kitchen tool with no challenge. I have mentioned the three parts that make the tortilla maker, and this is really there is to it. The dough is put inside the tortilla maker and pressed down – hence, they're often referred to as presses. This is really all there is to it!
Saves on Resources
Tortilla makers are great time savers, which is often imperative in a busy commercial kitchen. In addition to this, they also ensure that every single tortilla they make will be the same, and so each customer is served with the same shape, size, and thinness of tortilla.
Making a batch of tortillas by hand involves a step-by-step process that is draining on time resources. You would mix the dough, chop it up into uniformed pieces, manually press it until it is completely thin and perfectly circular – this step, in particular, takes a lot of time. With a commercial tortilla press, you simply have to make the dough.
Having a commercial tortilla maker in the kitchen will also be a great money saver. The price of bulk buying tortillas from a store will be much higher than simply buying flour, oil, and salt to make your own. As already mentioned, they will also taste a whole lot better too!
Bottom Line
A commercial tortilla maker saves time and money while ensuring consistent quality for customers. They're also pretty affordable in comparison to other kitchen appliances.
Before moving on to my chosen five best commercial tortilla makers, I will outline a helpful buying guide to ensure that you know what to look out for when choosing this kitchen tool.
Commercial Tortilla Maker Buying Guide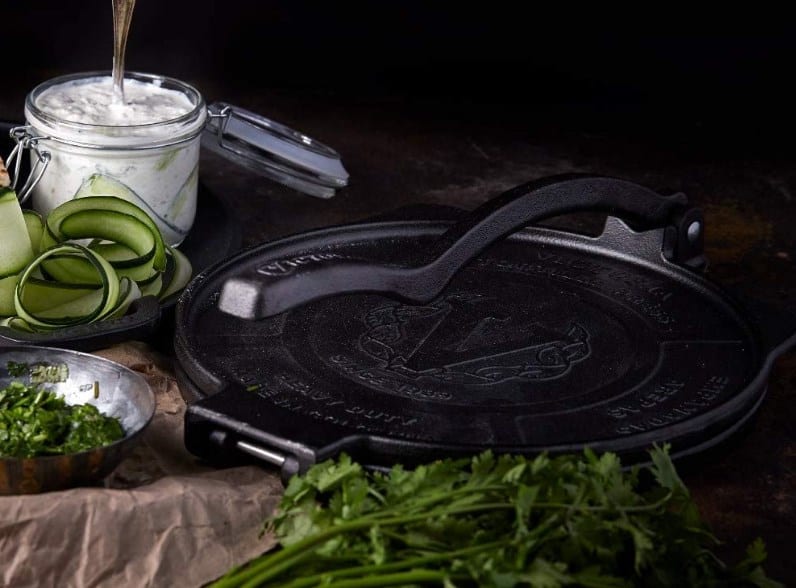 There are a few things to consider when looking to buy a commercial tortilla maker for your kitchen, and I will outline these here:
Price 
Most commercial tortilla makers will be relatively affordable; you can expect excellent quality for very little financial investment. I have included in this guide a budget buy, the Eleganceinlife Cast Iron Tortilla Press that costs a little over 20 bucks, and the highest priced product is the Victoria Commercial Grade Cast Iron Tortilla Press, which is under $90.
The average price for an excellent quality, heavy-duty commercial tortilla maker, is around $40. Either side of this number, you should ask yourself why – too low, is it low quality, too high, and the question is it worth it?
Material 
There are five different materials used to make up commercial tortilla makers. And, these are:
Cast Iron 
Cast iron is a hugely popular option, as it is extremely heavy, which results in less effort from the user and greater results for the tortilla. In addition, its finishing will maintain the circular shape of the tortilla so that it heats and cooks evenly.
Aluminum 
Aluminum is easy to care for and light in weight. Cast iron is much heavier, but aluminum can be much cheaper. A tortilla maker made from aluminum can result in distorted shapes and uneven thickness. Still, if there is a sturdy material handle, this can help counteract this – with a little elbow grease!
Wood
Wood is the traditional material for tortilla makers, originating from Mexico. The aesthetics of a wooden tortilla maker are its greatest feature, as they tend not to be very durable, often resulting in warping, splitting, or cracks after just a few uses.
Plastic 
Plastic tortilla makers are generally found in local markets or discount retailers; they are often very affordable but usually not recommended by professional chefs or cooking enthusiasts. This isn't the most sturdy material, nor will it be heavy enough to press without force.
Electric 
An electric tortilla maker will be an all-in-one product that can both press and cook the tortillas. This will often be multiuse and able to make flatbreads, gyros, and focaccia.
Size
It would be wise to consider what size of tortillas you want to make before buying a commercial tortilla maker. They tend to be from 6-in to 12-in in diameter. If you're going to form tacos, you would be fine with a small, 6-in size press. However, for burritos, 8-in or larger would be better. It may also be worthwhile considering how much space you have on your prep table too.
Cleaning 
The ease of cleaning depends greatly on the material, and the shape, of the tortilla press. For example, the more complex the shape, the more difficult it will likely be to clean. Also, if you opt for a wooden commercial tortilla maker, this will be harder to keep clean and sanitary.
Cast iron shines again here, as it is so simple to clean and keep hygienic. However, cast iron does require some special care to prevent corrosion and rust.
Five Best Commercial Tortilla Makers 
Victoria Commercial Grade Cast Iron Tortilla Press – Our #1 Top Pick

Indestructible "HD Iron"
Unbreakable Handle
Number One Best Seller

Find Here
Eleganceinlife Cast Iron Tortilla Press – Our #1 Budget Buy

Commercial Restaurant Grade
Balanced Weight
Highly Affordable

Find Here
Uno Casa Cast Iron Tortilla Press

Free 100 Pcs Parchment Paper
Digital E-Book Included
Pre-Seasoned Cast Iron

Find Here
StarBlue Cast Iron Tortilla Maker

Free 100 Pieces of Oil Paper and Recipes E-Book
Seasoned with 100% Non-GMO Flaxseed Oil
Designed by Chefs

Find Here
Tortillada Premium Cast Iron Tortilla Press

 High-Grade Cast Iron
Pre-Seasoned Surface
Free E-Book, 50 Tortilla Recipes

Find Here
#1 Victoria Commercial Grade Cast Iron Tortilla Press – Our #1 Top Pick!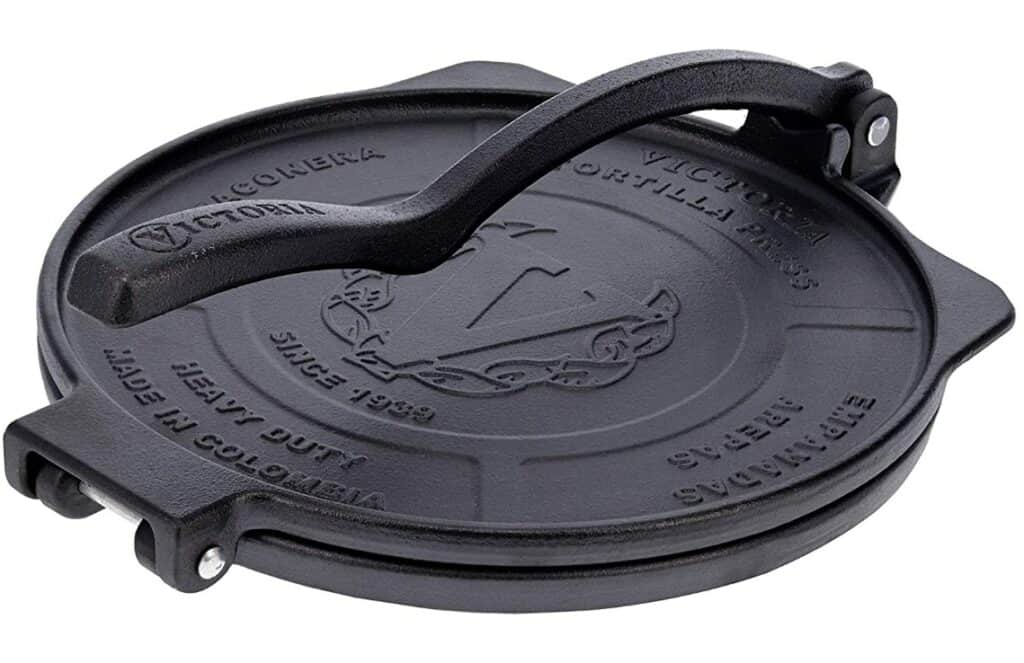 Victoria Commercial Grade Cast Iron Tortilla Press is a number one bestseller on Amazon and my chosen number one for overall performance and quality – although I do appreciate it isn't the most budget-friendly option. This is a cast-iron (indestructible HD), heavy-duty kitchen tool to help one to make homemade tortillas with excellent efficiency.
The Victoria brand uses the most innovative sand molding techniques and equipment to guarantee perfect thin, flat, and even tortillas with every use. Using the gadget is simple, and due to the heavy iron material, minimal effort is needed. There is a plate stopper that results in guaranteed even tortillas, and the brand helps further with some great recipes here.
You could use this press for different foods, such as empanadas, flatbreads, and arepas, to justify the higher initial outlay. I am reviewing the 10-in HD iron tortilla press, but the brand also does 6.5-in, 8-in, and 8-in HD iron models.
Pros
Indestructible HD Iron
Little Effort Needed
Guaranteed Results
Cons
If You're not in the US, There's Little Chance of Sourcing one Without High Shipping Costs – Global Stock Would be Appreciated!
Assembly is Required – Albeit Simple Assembly
Many Consumers Speak of Breakages – of Older Models
#2 Eleganceinlife Cast Iron Tortilla Press – Our #1 Budget Buy!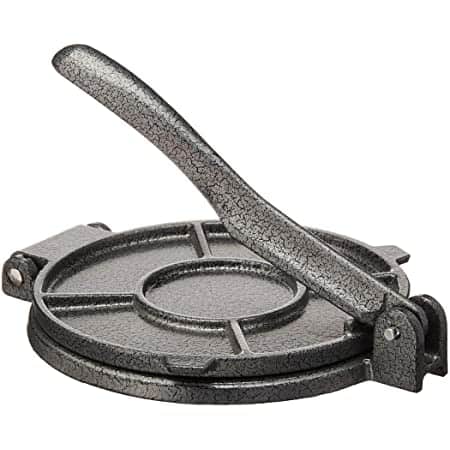 The Eleganceinlife Cast Iron Tortilla Press is an excellent choice for a commercial kitchen, where the budget is limited, but no compromises are to be made on quality! For a highly affordable price, this heavy-duty tortilla press can feed the masses with perfectly formed tortillas every single time.
Made from cast iron, the Eleganceinlife Tortilla Press has an improved base and handle, from previous versions, for excellent efficiency and balanced press and heat distribution. This results in perfectly rounded and evenly cooked tortillas, empanadas, tostones, or arepas.
The size is slightly smaller than I would usually like, at 7.3-in, but great for smaller hands and ideal for a family-friendly restaurant with a children's menu or lighter bites section. Despite its lower price, this tortilla maker is not a thin or lightweight press and instead a very sturdy, genuine cast iron.
The item arrives in a nice-looking presentation box with the handle off but is very simple to assemble. The surface is pre-coated, so it can be used straight away with no sticking. It takes up little room on the countertop, and the clean-up couldn't be more simple – just wipe and rinse, and you're good to go!
Pros
Incredible Value for Money
Heavy-Duty Cast Iron
Nice Box – Could be Purchased as a Gift
Cons
Made in China, not US
The Handle Bolts Could be More Secure
High Shipping Cost to Return
#3 Uno Casa Cast Iron Tortilla Press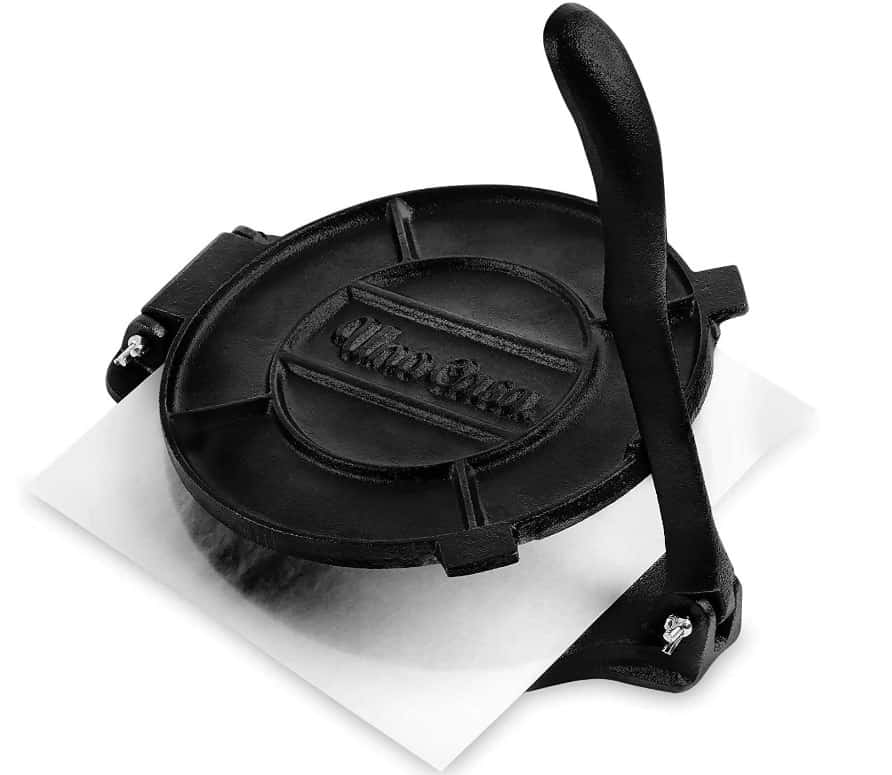 The heavy-duty Uno Casa Cast Iron Tortilla Press is slightly bigger than a traditional tortilla maker, at 10-inches, and comes with a 100-pack of branded parchment paper rounds, an e-book packed with recipe ideas, and an extra screw set.
This tortilla maker is a breeze to use; dollop a dough circle into the center and simply press down the top. Due to the hefty weight of the cast iron, the mixture will immediately form into a nice rounded tortilla. The bottom of the press is pre-seasoned so that you can use it straight away, plus the press comes with 100 parchment papers (alone, these wouldn't cost a great deal, but still, it's better when they're free!).
At a little over 12 lb, this is a pretty heavy item to handle, but most higher-quality countertop appliances tend to be a bit heavier in weight. The Uno Casa tortilla press is very sturdy, and I believe it to be very durable. The tortilla maker arrives well packaged and on time.
Pros
Freebies Included
Large Size
Very Durable
Cons
Some Reviews State Missing Parts on Arrival
A Little on the Expensive Side
#4 StarBlue Cast Iron Tortilla Maker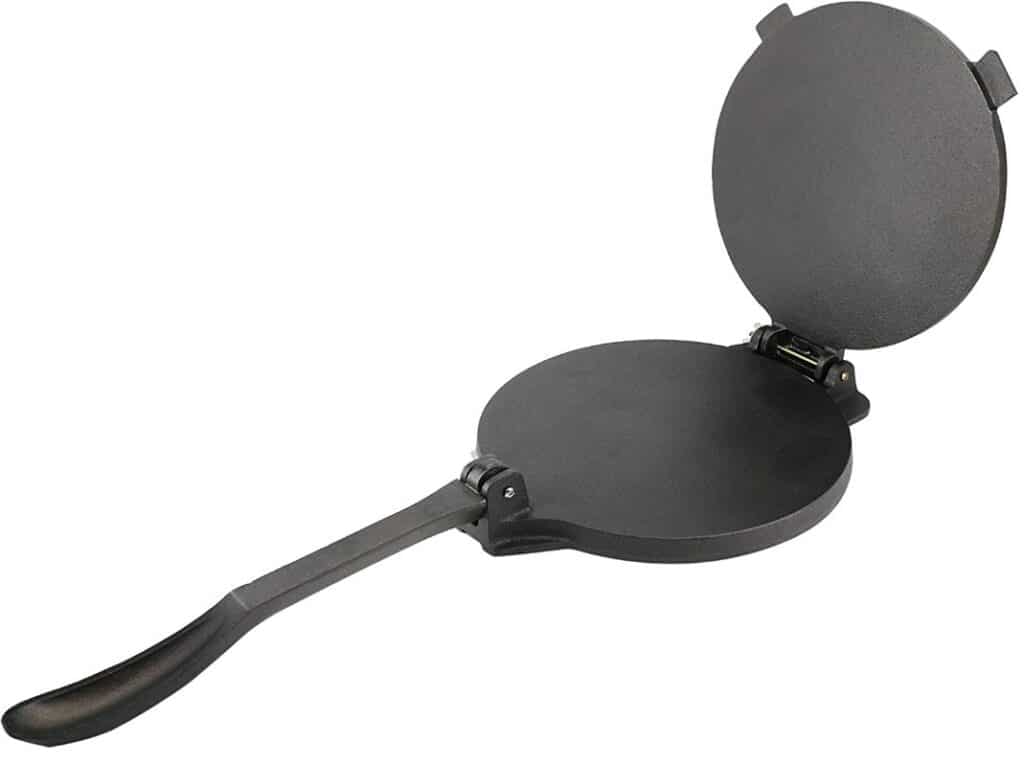 Designed by chefs, the StarBlue Cast Iron Tortilla Maker is a press to tick many boxes. It is of generous size, with a 10-in diameter, and made from pure cast iron for incredible durability. Being created with the input of chefs who know exactly what is needed in the commercial kitchen, this is a highly efficient tortilla maker built to last.
With easy and even pressing, the StarBlue tortilla maker doesn't need a lot of strength or much pressure to work. This is due to the hefty weight of the iron, which does most of the work with little manual input required. It is practically maintenance-free due to the 100% pure non-GMO flaxseed oil pre-seasoning, which means it can be used immediately after delivery.
At 12.54 lb, the StarBlue tortilla maker is pretty heavy but certainly not unmovable. It can be stored easily in a cupboard or on a kitchen shelf. However, sitting permanently on a countertop isn't ruled out either as it doesn't take up a considerable amount of room. The tortilla maker arrived with 100 pieces of oil paper and access to a free recipe ebook. If this is too large, the brand retails an 8-inch version here.
Pros
Designed by Chefs who Know What a Commercial Kitchen Needs
Great Longevity
Free Parchment Papers (x100), Plus Free Recipe Ebook
Cons
The Bolts are Pretty Low-Quality
Rubber Footings Would be a Good Add-on to Protect the Countertop
#5 Tortillada Premium Cast Iron Tortilla Press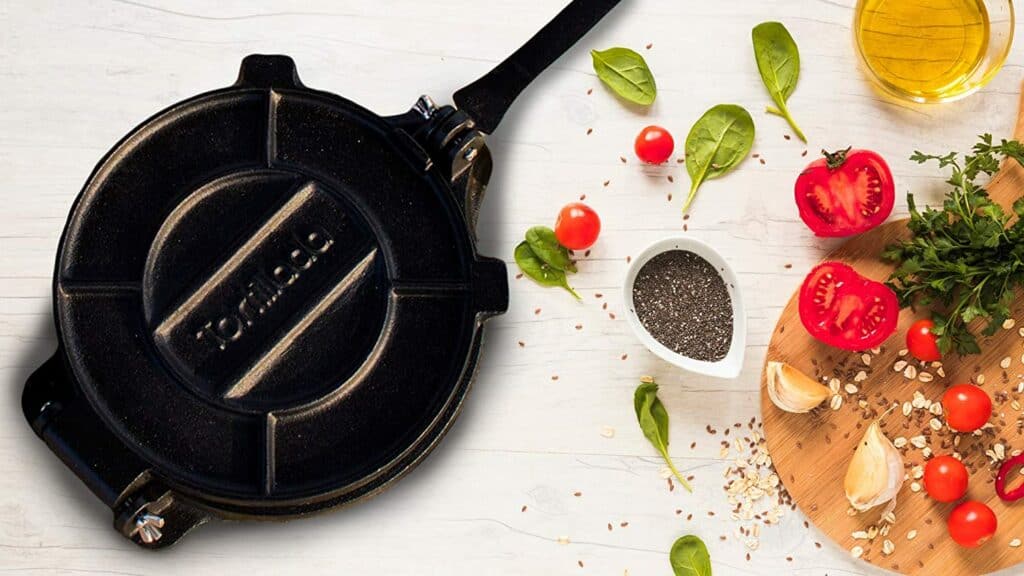 Tortillada Premium Cast Iron Tortilla Press is a leading brand in the tortilla maker industry and has many benefits. I like the pre-seasoned surface to use this press immediately and how heavy-duty the item is. It feels strong and incredibly sturdy, I am convinced that it will withstand years of use. The durability seems remarkable here.
You should find that the Tortillada tortilla press is robust, easy to use, and simple to clean. There is minimum effort required to clean; a simple wipe down with a damp cloth is all that is necessary. The press sits nicely on a countertop without taking up much room and is heavy yet not uncomfortably so to move when needed.
The item arrives well-packaged and with clear instructions on using and maintaining the tortilla maker to increase its longevity. It also comes with a free ebook with around 50 different delicious tortilla recipes – this is sent to you via email a few days after the purchase and is available in five different languages.
There are two size options, 8-in and 10-in, with 7 lb and 12.7lb, respectively. This commercial tortilla maker is at the mid-range of the price spectrum. It is a German-made high-quality piece of kitchen equipment that offers excellent reliability. The customer service is also ideal, promising to respond to all inquiries within 24-hours, 7-days a week.
Pros
Feels Exceptionally Sturdy
2 Size Options
Excellent Customer Service
Cons
Slight Sliding Between the Top and Bottom Plates
Many Reviewers Complain of Uneven Tortillas – This May be Technique or Mixture However
FAQs
Question: What is the Most Common Type of Tortillas in Restaurants?
Answer: Often the star of the show in authentic Mexican restaurants is the corn tortilla. Corn tortillas are the traditional choice and are often considered to have more flavor than their flour counterparts.
Question: Is it Worth the Investment?
Answer: The main advantage of using a commercial tortilla maker is that it will quickly and uniformly create flat, thin disks of the desired texture. If you make tortillas regularly or in large quantities, then I would strongly suggest purchasing a commercial tortilla maker.
Question: Is it Worth it For Taste Alone?
Answer: If you were to compare a frozen, supermarket-purchased tortilla to a fresh homemade one, the difference would be notable. Store-bought, frozen tortillas often have additional substances and preservatives added to them. These extra components affect the taste of the tortilla and could even be harmful if eaten in excess to a person's health.
Best Commercial Tortilla Maker – My Verdict
Our budget buy, the Eleganceinlife Cast Iron Tortilla Press is an excellent choice for someone who wants excellent quality, without a great expense. I recommend either the Uno Casa Cast Iron Tortilla Press or the StarBlue Cast Iron Tortilla Maker for those wanting extra-large sizes. Both are great buys, but I like the fact that chefs have designed the StarBlue press.
The Tortillada Premium Cast Iron Tortilla Press is high-grade cast iron, comes with a handy recipe ebook, and feels exceptionally sturdy when using.
However, our overall favorite is the Victoria Commercial Grade Cast Iron Tortilla Press. The curved handle is reinforced and has an anti-locking feature, and this new-and-improved Victoria tortilla press has a re-bolstered bottom for greater durability. It feels sturdy yet not uncomfortably heavy to hold, and maneuvering around the countertop when needed is simple.