Latest posts by Maddy Chiffey
(see all)
Any commercial chef worth his salt will have a routine, and a facility, for storing grease and fat. Grease, primarily from tasty meats like bacon, can be reused to add extra flavor to various dishes. But, there are times when every kitchen has to dispose of grease and fat. In this guide, I will review the six best grease bags and fat trappers to help get rid of those unwanted substances efficiently.
Having suitable grease bags and fat trappers in a professional kitchen can help things to run more smoothly. I have previously written about the best bacon grease containers that allow storing grease and fat; however, this post focuses on the best bags and trappers, which help get rid of the grease and fat you cannot reuse.
These items may not be the most essential products to have in a professional kitchen, nor will they be the most expensive, but there are huge differences between price points.
Some grease bags and fat trappers will be hugely inexpensive, but this may mean poor quality that results in leaking or spillages. I will include a few lower-end priced products and be honest about my findings. I will also include some more highly-priced grease bags and fat trappers and some that are middle-of-the-road as regards financial outlay.
If you're in a hurry, here are the grease bags and fat toppers I will be looking into:
At a Glance: Six Best Grease Bags and Fat Toppers
What is The Point of Grease Bags and Fat Trappers?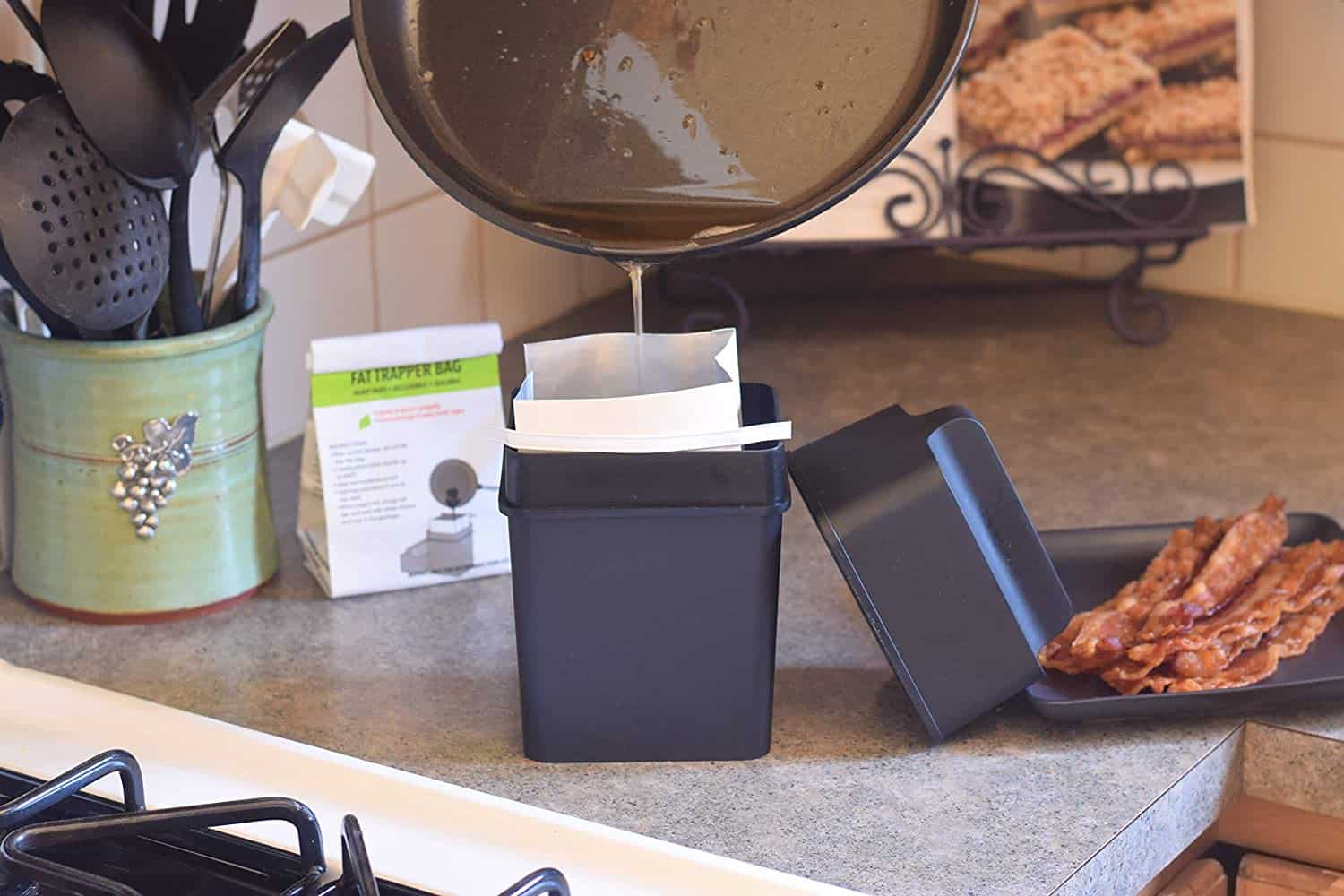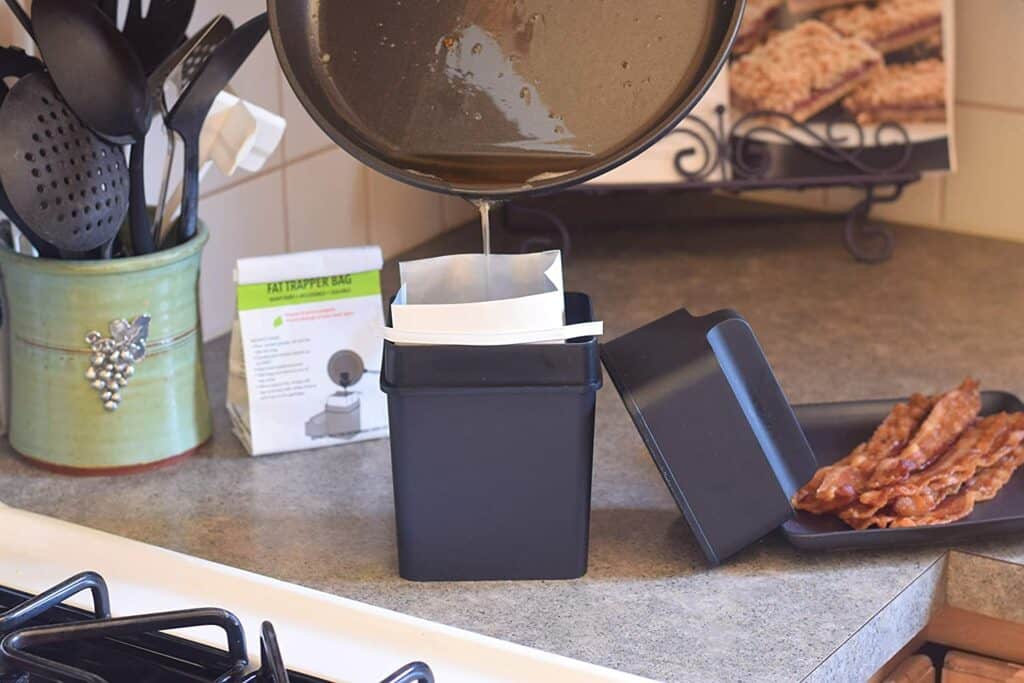 Grease bags and fat trappers offer temporary storage for grease and fat wastage. Some have substantial volume capacities to safely store lots of kitchen grease before it is responsibly disposed of. Others are more of one-time use. Their longevity is often reflected in their price points.
The primary purpose of purchasing grease bags and fat trappers is to discard unwanted grease and fat without causing any problems within the kitchen.
For very small grease waste solutions, you can use ordinary Tupperware boxes instead – ideally, Tupperware with airtight lids too. This is very inexpensive, as Tupperware containers don't cost a lot and can be reused. But, their drawback is that they can be fragile and susceptible to damages resulting in grease leaking or potent smells in the kitchen.
You could also use glass mason jars, which are much sturdier than plastic Tupperware and won't warp due to heat or be easily pierced. However, they are glass and so can shatter or smash, and the process of removing the grease to recycle it is more complicated than with a plastic Tupperware container.
Often recycling centers will only take the grease unless it is in biodegradable packaging, which mason jars are not. So for much larger quantities, the only real option is to have a high-quality, durable fat trapper.
Reusing Grease and Fat 
Reheating cooking oil can be damaging to our health. Possibly more so than we imagined. If you're a health-conscious chef serving healthier foods and ingredients, then reusing grease and fat could be undoing your good work and increasing the risk of problems for customers such as obesity, higher cholesterol, and even diabetes.
Other factors may be more personal to a restaurant's reputation, such as the negative impact of old grease on the flavor of a dish, its overall quality, and the hygiene rating given to the establishment by food inspectors. Not all fat is good to reuse, and even that which is should only be kept for a maximum of 3-months within a refrigerator.
If you have contained grease or fat after using it once, the second time it is used, it should be discarded, and this is where grease bags and fat trappers come in.
Problems Caused by Pouring Grease and Fat Down Drains 
Grease bags and fat trappers are excellent provisions for containing grease and fat and throwing it away responsibly. We're a nation of learners, and it wasn't long ago that people thought nothing of simply pouring old grease and fat down the sink, but we are aware of the potential dangers associated with this.
As soon as grease, or fat, cools, it will solidify, so when it is tipped down a sink, it quickly causes expensive blockages within the system. Often people think that breaking the oil down with boiling water or solutions will remedy this, but this isn't the case. As soon as it cools, it will re-solidify and cause drain pipes and sewers to become blocked.
Moreover, oils could also travel into waterways, including lakes and rivers that provide life to our wild animals. As this oil builds up, it will cause the oxygen levels in the water to drop, leading to the suffocation of fish and the ill-health of animals who rely on this water to survive.
Not safely disposing of your kitchen grease can also get you into trouble with the law. In most states, stringent laws govern the disposal of commercial kitchen fats, namely mandated grease traps and waste collection that can be transported in large quantities to be converted into biofuel.
Find out more about this with the Green Restaurant Association.
Choosing the Right Grease Bag and Fat Trapper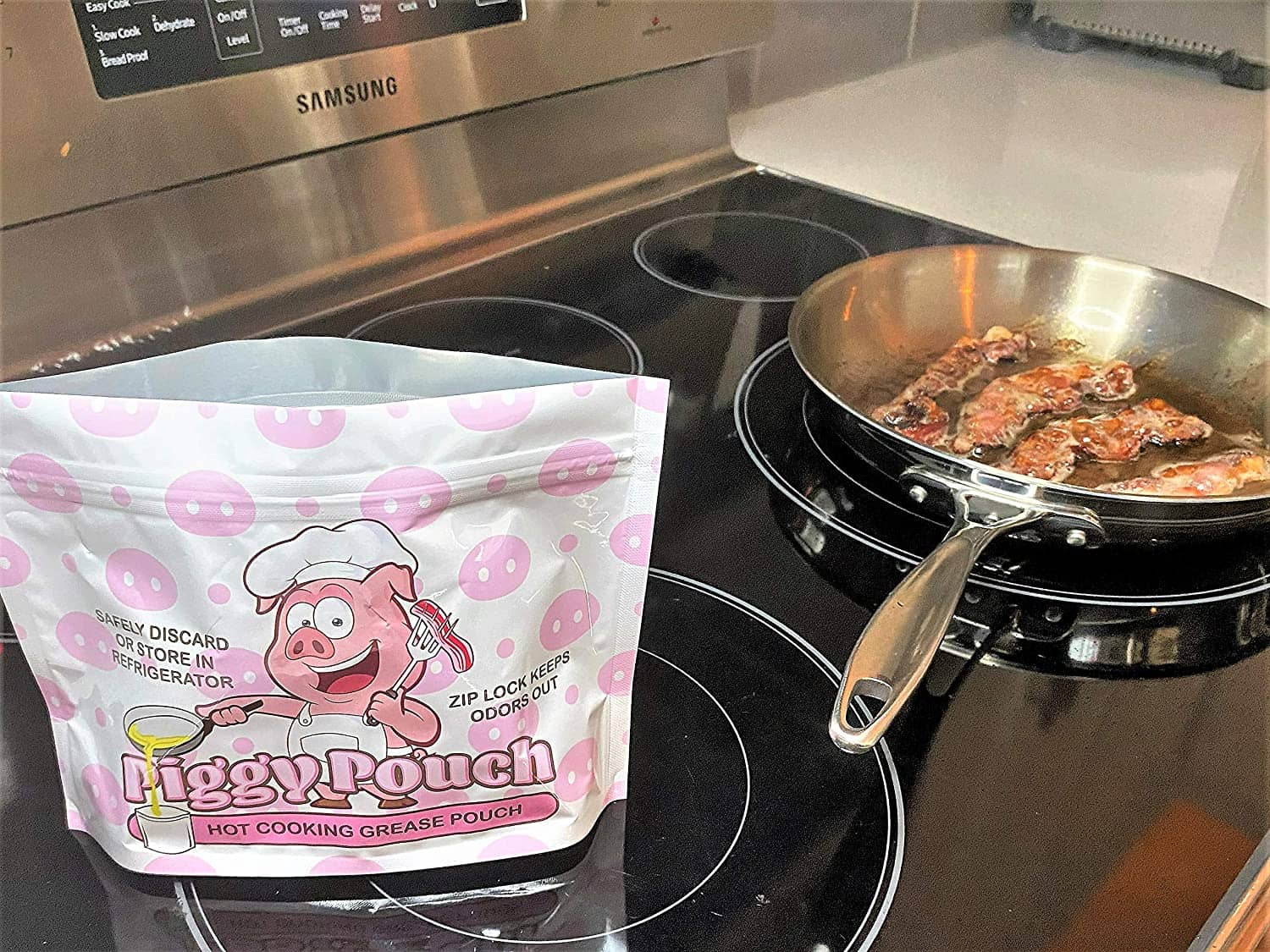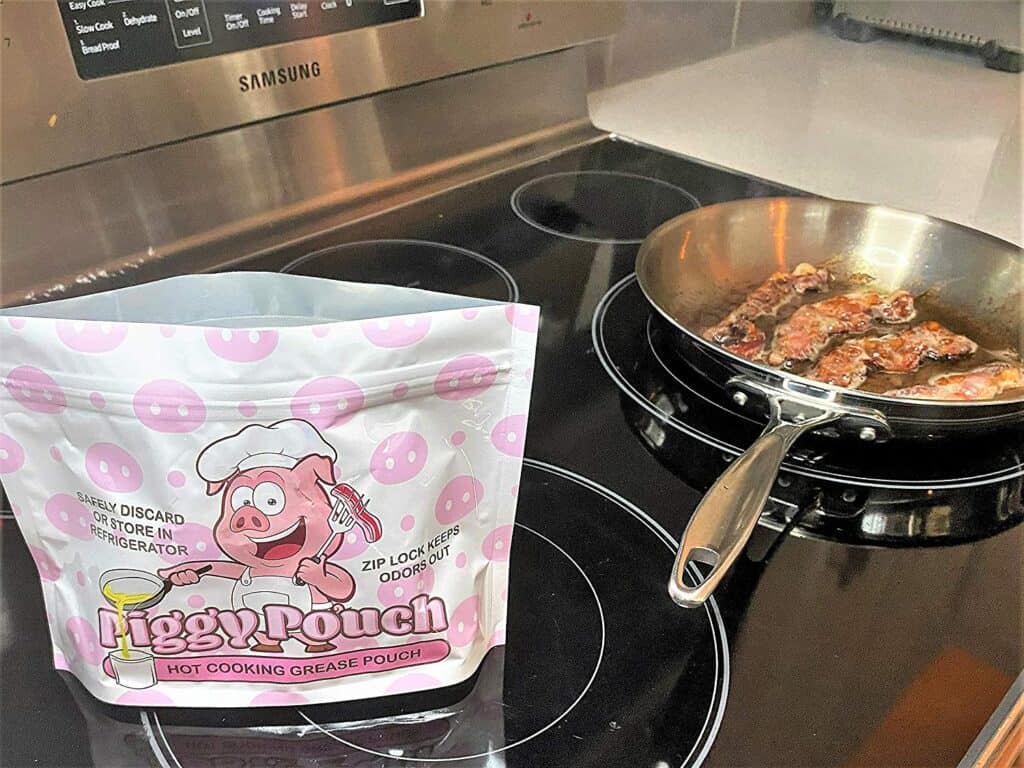 Grease Bags and fat trappers aren't at the top of the list for things you need for a commercial kitchen, but they can be instrumental – especially if you find the right ones for your kitchen.
One of the main benefits of choosing to dispose of kitchen fats with designated bags or trappers is recycling responsibly and sticking to the recycling legislation. So, the material of the bags is important. Confusingly, I have found many grease bags and trappers that are made of non-biodegradable materials, such as plastics, which really defeats the point.
The size of the bags can be an important consideration, especially for a smaller kitchen or a kitchen that doesn't need to recycle large amounts of fat. And, of course, the price is another factor. However, most grease bags are highly affordable, and those which don't tend to be 'bulk buys' with additional bags or storage solutions included.
Fat trappers contain much larger volumes of fat than grease bags and are more suitable for larger commercial kitchens. However, they are considerably more expensive. It is a personal choice whether fat trappers or grease bags will be the better product for you. Consider the size of your commercial fryers as a helpful starting point.
I will provide honest reviews of the grease bags and fat toppers I have researched and include their pros and cons and their affordability factors to help you choose the right product for your commercial kitchen.
6 Best Grease Bags and Fat Trappers
Kleen Fat Trapper System with TWELVE Disposable Grease Bags – Our #1 Top Pick

13-piece Set
Made in USA
High Heat Tolerance

Find Here
Grease Daddy Plus – Our #1 Budget Buy

Heat Resistant Packaging
Holds 36 ounces of Grease and Waste
5 Bags Included

Find Here
Ashland PolyTrap 4835 70 lb Grease Trap

Durable Polyethylene Construction
Includes a Flow Control Device
70 lb Capacity

Find Here
Grease Bags – Compostable

Compostable Packaging
Resealable Bag
Landfill Friendly

Find Here
Ashland PolyTrap APGI-100 250 lb Grease Trap

Scientifically Placed, Removable Baffles
Non-skid 3/4″ Poly Cover with Recessed Handles
100 GPM Flow Rate

Find Here
Touch Up Cup Grease Bags 

Heat Resistant
6 Disposable Pouches
Airtight Zips

Find Here
#1 Kleen Fat Trapper System with Twelve Disposable Grease Bags – #1 Top Pick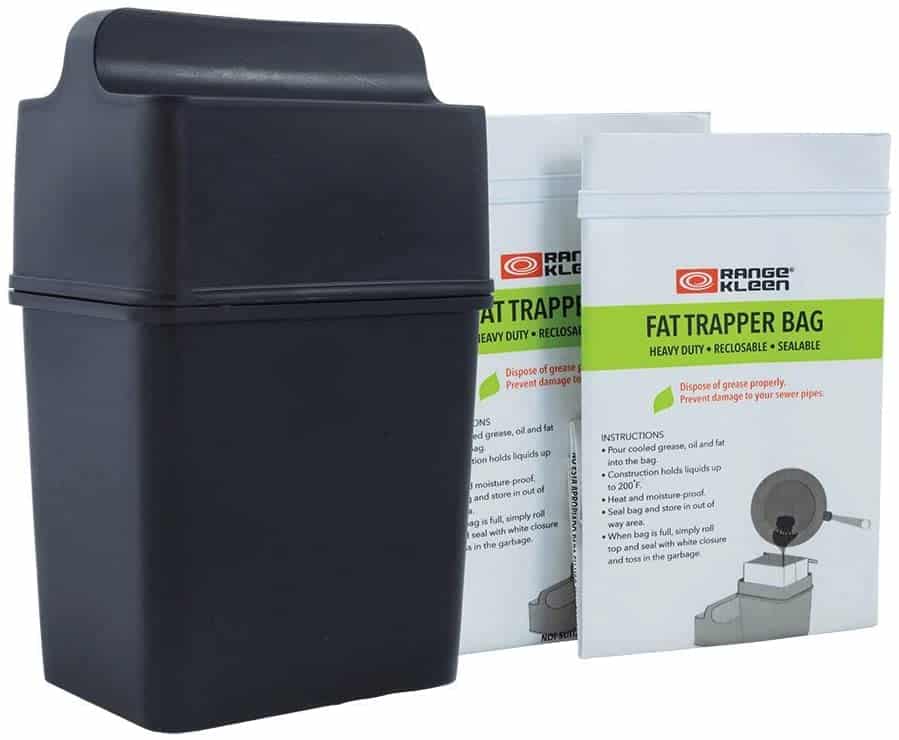 For just over $20, I didn't know whether this six-piece set was best being set as our top pick or our bargain buy, but the incredible extras cemented the Kleen Fat Trapper System with TWELVE Disposable Grease Bags position as the number one.
This system comes with a very generous twelve reclosable and disposable fat trapping bags. The bags are easy to close, and they keep in any unpleasant smells associated with old grease and fat.
The bags each measure 4-in x 3-in x 6.75-in and contain 22 oz of liquid. The plastic storage container measures 4.5-in x 3.75-in x 8.5-in, so it isn't large, but on the bright side, this means it doesn't take up a lot of room in the refrigerator or on the countertop. In addition, the bags feel very sturdy and are heat resistant to temperatures of 200 degrees Fahrenheit and below.
The fat trapper system and the grease bags are made in the USA. The bags are easy to use, very durable, and feel exceptionally strong. This product has been featured on many shopping channels, such as QVC, as a game-changer in the kitchen.
While I think this may be true for domestic kitchens, or smaller commercial kitchens, larger establishments may need to look for larger alternatives.
The brand advises to remove the bag from the container when full, fold the top, and 'throw in the trash,' but this will depend on the legislation for commercial kitchen waste in your area. Although the amount is low enough not to warrant attention, I would advise you to check your nearest recycling center's rules and always dispose of garbage responsibly.
Pros
Made in the USA
Strong, Sturdy Bags
Neat and Convenient Storage System
Cons
Small Bags and System
Possibly Misleading Recycling Advice
Bags Called Disposable – May Not Be So For Commercial Kitchens
#2 Grease Daddy Plus – Our #1 Budget Buy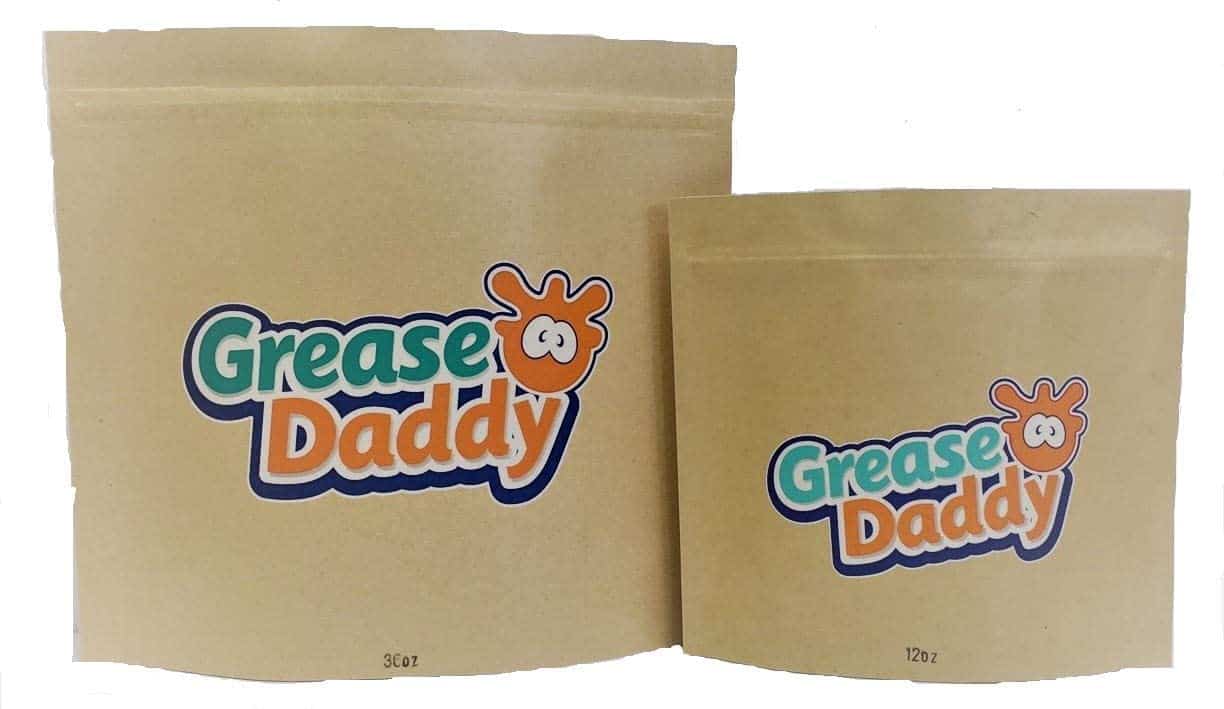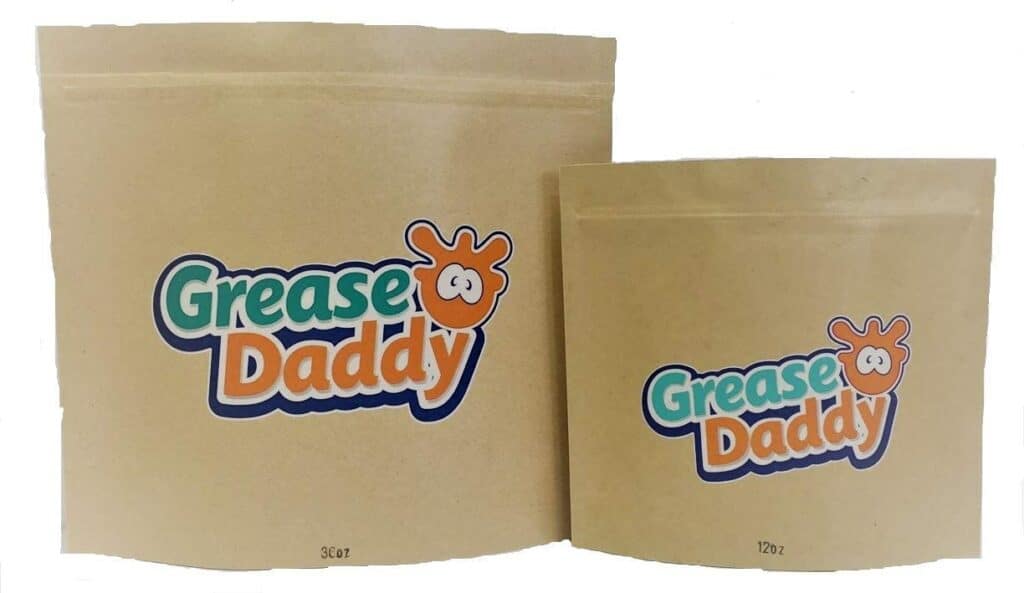 Grease Daddy Plus are five individual bags that each contain 36 ounces of grease and waste. They make a good choice for smaller eateries or mobile caterers, as well as the home chef. But, for larger commercial kitchens, are unlikely to be big enough. They have, however, made our budget buy spot due to their incredible value – of less than $2 per bag.
The bag packaging is heat resistant, so there is no need to wait for the grease or fat to fully cool before pouring in. The bags easily seal back up, and I can't see how there could be any leakages; the outside of the bag feels tough and sturdy.
The pouches are small and cannot handle much grease, but they are a better alternative to pouring the same amount of fat down the drain. So, for the environmentally-conscious chef who doesn't get rid of large quantities of fat, these are a good buy.
Pros
Highly Affordable
Heat Resistant
The American Brand is Helping here(EPA Grant Number: R834264)
Cons
Very Small
Not Suitable for Large Kitchens
#3 Ashland PolyTrap 4835 70 lb Grease Trap 
Made in America, the Ashland PolyTrap 4835 70 lb Grease Trap is an excellent option for larger commercial kitchens. The grease trap has threaded connections that prevent grease and oil from entering plumbing systems and into wastewater facilities where they can't be processed correctly and could adversely impact environmental impact.
This grease trap is exceptionally robust. Made from seamless, durable polyethylene that will not leak, corrode or rust, it is set to stand the test of time. I found that this model is pretty lightweight and easier to handle than heavier metal grease traps, so installing it in the kitchen is less of a challenge.
A flow restrictor fits onto an interceptor to slow the incoming of wastewater before redirecting through the removable and scientifically placed baffles inside. The lid has a D-ring sealing gasket which is secured by solid metal bolts. It is equipped with complete inlet and outlet connections too.
There is a 35 GPM flow rate, and this grease trap has a capacity of 70 lb, and the overall dimensions are 32.5-in x 22-in x 19-in. The Ashland PolyTrap 4835 70 lb Grease Trap is PDI certified, but there is a Prop 65 warning to CA residents.
Pros
Fair Pricing for Commercial Appliances
Relatively Easy to Maneuver
Exceptionally Durable
Cons
CA Residents Prop 65 Warning
#4 Grease Bags – Compostable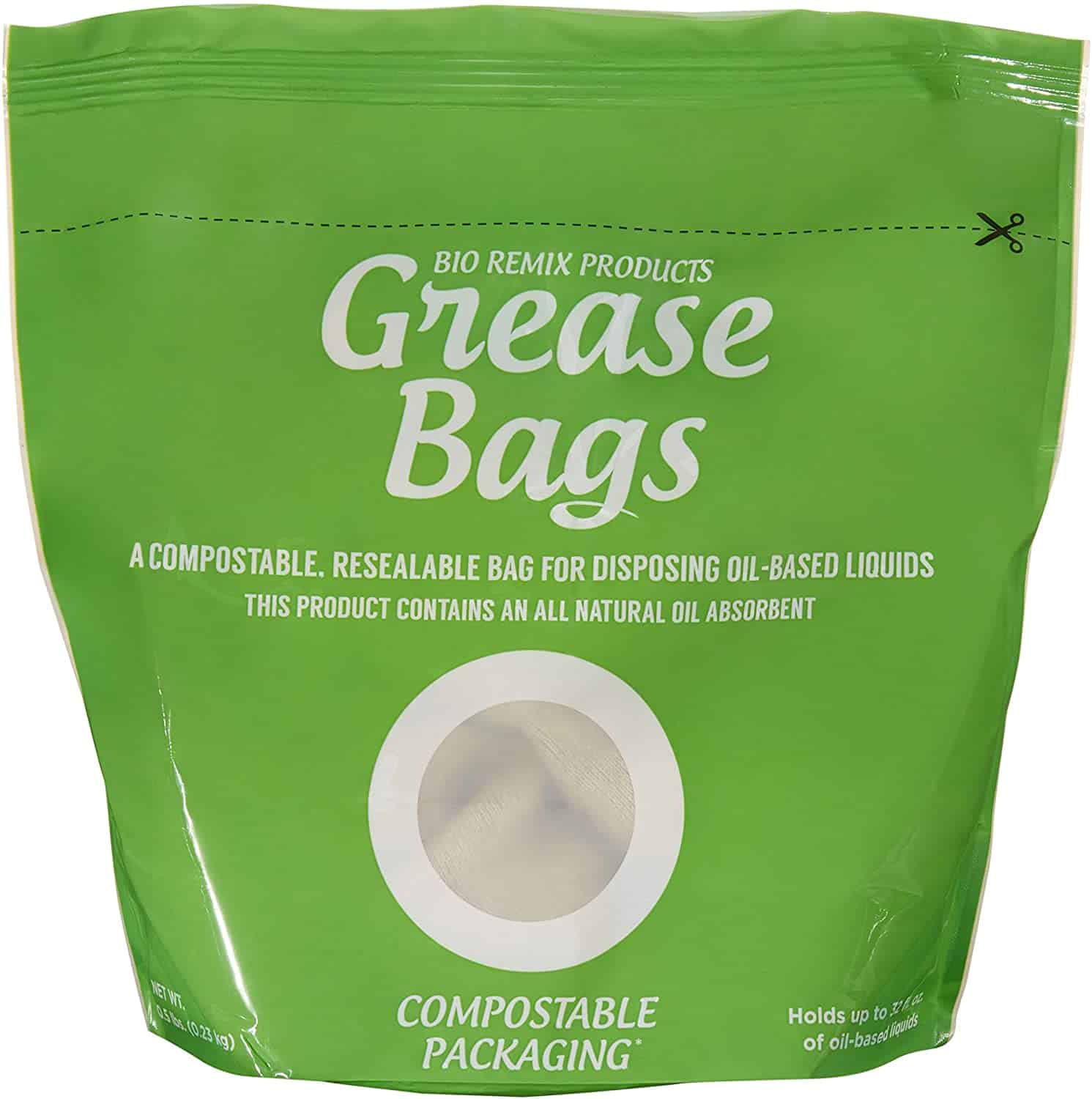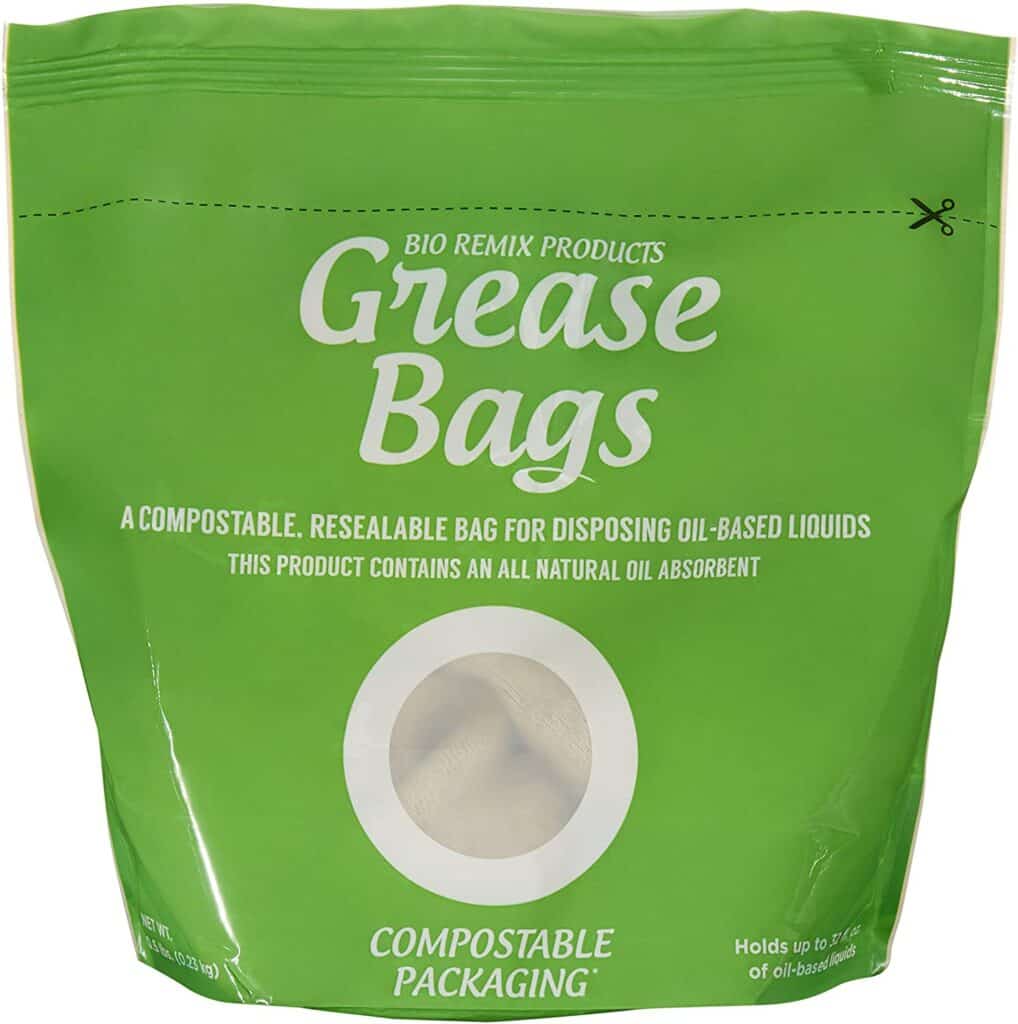 I really like the Grease Bags – Compostable as they provide an eco-friendly way to do an eco-friendly chore. The bags are landfill friendly and biodegradable due to their compostable packaging – it couldn't be any greener. Simply add your fat to the 32 oz bags and recycle responsibly.
The bags are surprisingly durable and very tough, there is no leakage, and they feel difficult to tear or rip. Grease Bags claim to be the only leakproof method as the oil put into them isn't absorbed, but encapsulated which means that it shouldn't ever leak during transport, in the trash, or landfill. They're all-natural and designed to lock in the unwanted oil – forever!
As they are grease bags, they don't have the same capacity as a fat trapper, but they're a good choice for smaller kitchens.
Pros
100% Natural Solution
Leakproof
Very Informative Website – See here 
Cons
#5 Ashland PolyTrap APGI-100 – 250 lb Grease Trap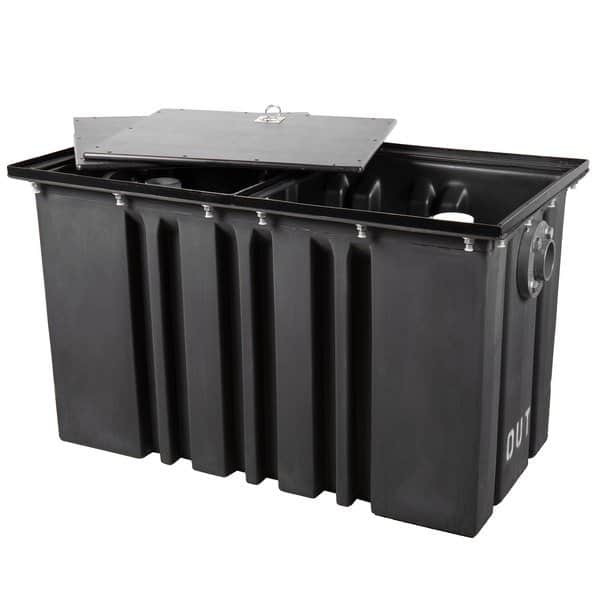 The Ashland PolyTrap APGI-100 250 lb Grease Trap has very similar features to the Ashland PolyTrap 4835 70 lb Grease Trap, but there are a few differences. Their similarities are the threaded connections, durable and seamless polyethylene material, and relative lightweight. There are also the same complete inlet and outlet connections.
Now, for the differences. The lid of the Ashland PolyTrap APGI-100 250 lb Grease Trap is made of ¾-in poly material and has recessed handles to make the removal of the cover more straightforward. The cover is also non-skid, and the entire unit is a leakproof construction.
This grease trap can hold up to 250 lb of fat, has a 100 GPM flow rate and 3-in threaded connections. It is 53-in in length, 29.5-in wide, and 32-in high. It is the most expensive in this guide and just under $2,000, but there is fast shipping – usually within a day, and a 1-year warranty.
Pros
Large Volume Capacity
Durable Polyethylene Construction – Won't Corrode Or Rust
Leak-Proof
Cons 
Large Financial Outlay
Prop 65 Warning for CA Residents
#6 Touch Up Cup Grease Bags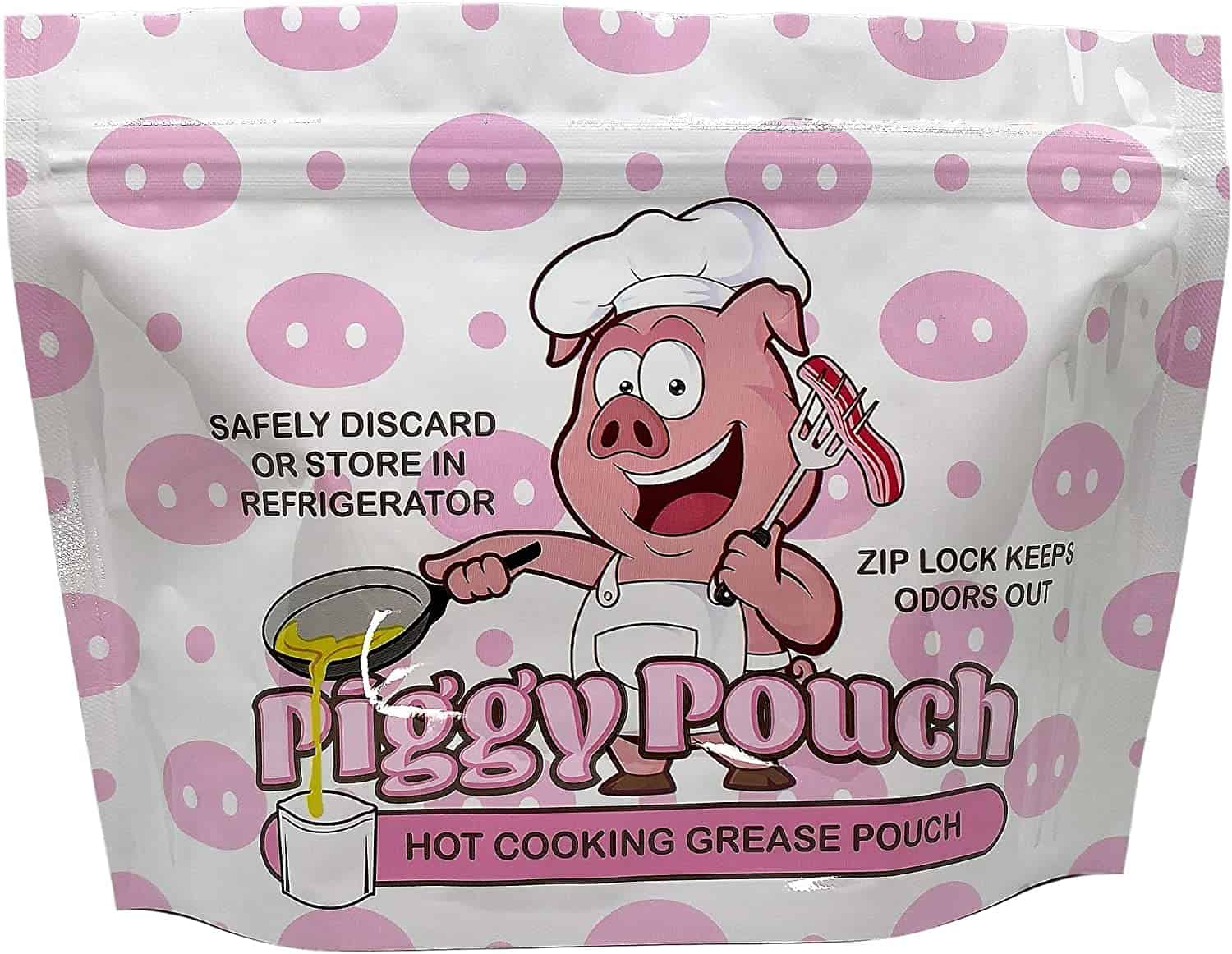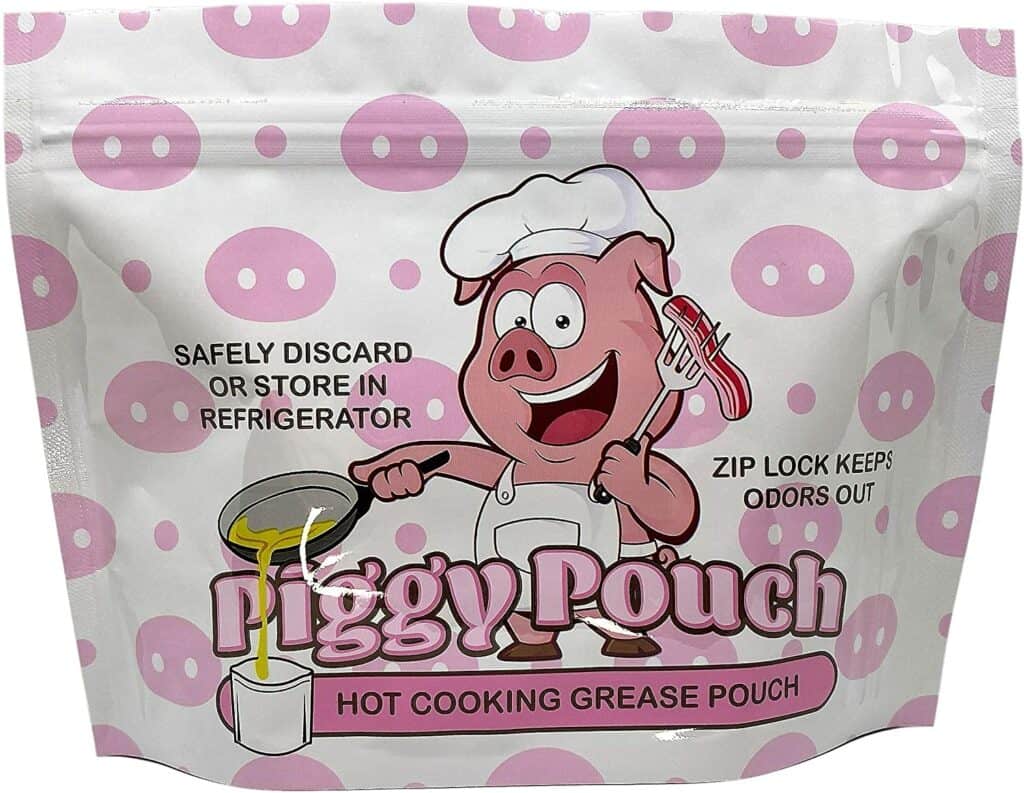 I love the Touch Up Cup Grease Bags design, but more than this, some great features would suit smaller professional kitchens, mobile caterers, or the home chef. There are six bags included, which are reclosable and disposable. The bags can also handle heat up to 300°F and hold 24 oz of liquid.
The bags can be stored in the refrigerator if you want to reuse the cooking grease and can be discarded with general waste. Each zip lock pouch measures 8-in by 6-in, and although they are made from flexible plastic, they expand on the bottom to stand unaided. No odors are released, and they are leakproof. The interior is made from foil.
Pros
Cute Packaging
Stand Alone Pouches
6 Per Purchase
Cons
FAQs About Grease Bags and Fat Trappers
Does a Little Grease Down The Drain Really Hurt?
The issue with this theory is that if everyone thought this, the consequences could be disastrous. We are educated enough today to know the effects that we have on the environment.
How Does a Grease Trap Work?
Fats are 10 to 15% less dense than water, so grease won't mix with it and instead floats on the top. The water passes through products such as #3 and #5, leaving the fats in the units. This is why grease trappers require cleaning and pumping regularly – which is done by a specialist team and not the user.
Where do Grease Traps go?
There are two main kinds of grease traps. Exterior grease traps sit either underground or outside of a building – this type can hold thousands of gallons. Interior grease traps tend to be located within the kitchen and sit near a dishwasher or sink. They will be plumbed in, much like a dishwasher or washing machine.
Best Grease Bags and Fat Trappers – My Verdict
For larger establishments, the Ashland PolyTrap 4835 70 lb Grease Trap is a great choice. This grease trap has a 70lb capacity, is PDI certified, extremely durable, and has a fair price point for large commercial appliances.
For the largest establishment, I would recommend the Ashland PolyTrap APGI-100 250 lb Grease Trap; it is a more considerable financial outlay, but with a large volume capacity and durable construction, this can easily be considered an investment product.
When it comes to grease bags, our top pick is the Kleen Fat Trapper System with TWELVE Disposable Grease Bags because I like the additional security of an outer storage system and felt that consumers get a lot of products for their money. The Grease Daddy Plus and Touch Up Cup Grease Bags are another couple of highly affordable products, but the capacity is low.
There really is no better product for the highly eco-conscious amongst us than the Grease Bags – Compostable. I found their website very educational and felt that their products are not a gimmick but great solutions to an everyday problem within a domestic or smaller commercial kitchen.