Latest posts by Maddy Chiffey
(see all)
If you're looking to buy the best commercial butcher block table for your commercial kitchen, then this guide should help. I have done all of the necessary research to find what makes a great butcher block table and the different options available. I have looked across various price points to suit all budgets.
It may be that you're unsure if your establishment would benefit from investing in a butcher block table, so I have provided information about their benefits, as well as any possible drawbacks. In addition, I have looked into the different features and materials and explained their pros and cons to help with your purchasing decision.
This guide features some of the best commercial butcher block tables on the market today, but if you're eager to get going, you can see the links to my chosen products just below.
At a Glance: 5 Best Commercial Butcher Block Tables
Does my Commercial Kitchen Need a Butcher Block Table?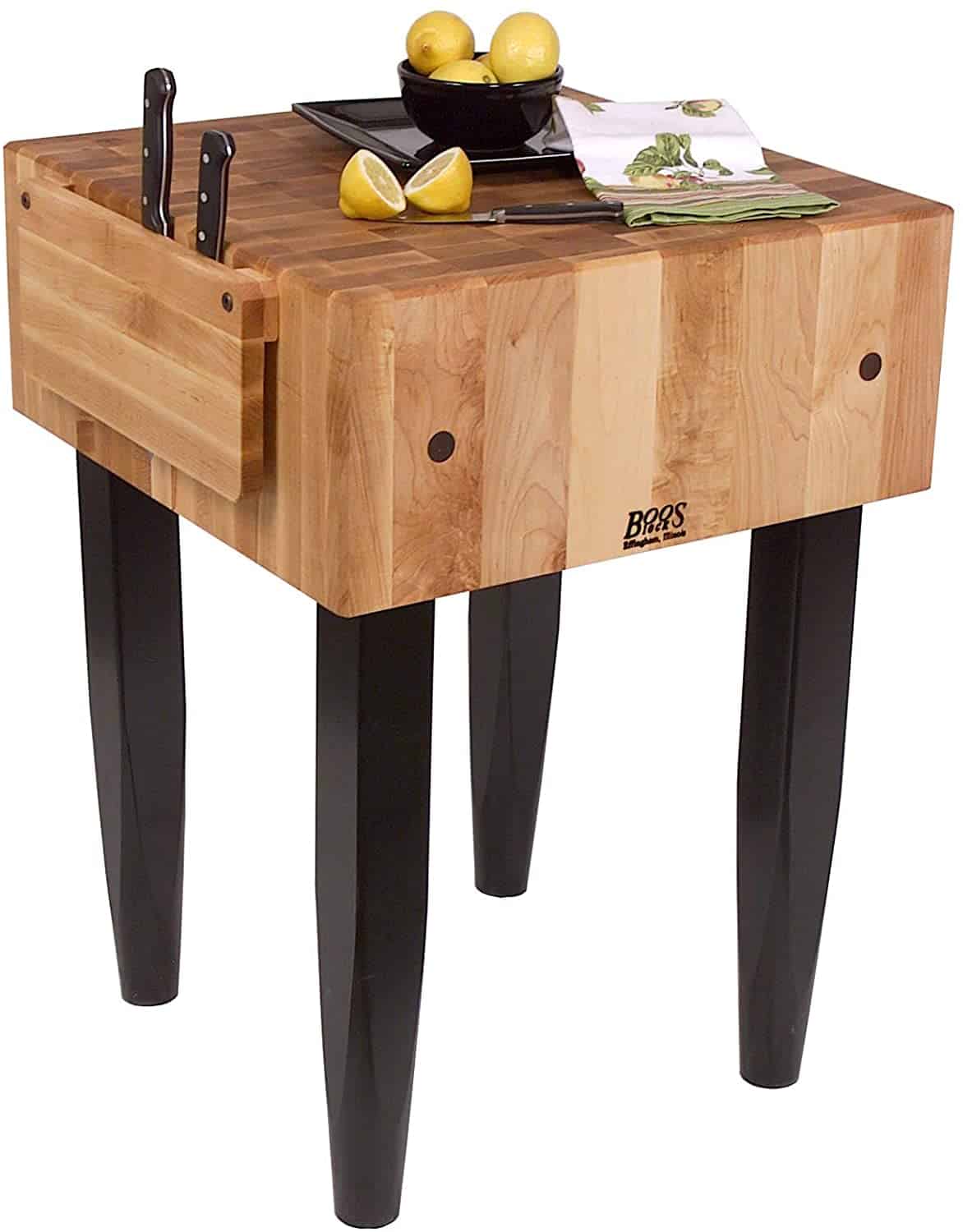 If you prepare a lot of meat in a commercial kitchen, then a butcher table is an essential prep table for doing this. Most butcher block tables will have a wooden top, which is a great surface for increasing the longevity of kitchen knives, as wood will absorb the sharp blades and prevent blunting.
As well as wooden tops, some chefs opt for a stainless steel surface; both materials have their pros and cons, which are discussed further on in the post. Any type of butcher block table is an excellent piece of kitchen equipment for when serious tenderizing, chopping, slicing, and cutting of meat needs to be done, especially if regularly.
Lastly, butcher block tables are naturally beautiful and warm, upgrading the aesthetics as well as the productivity in a commercial kitchen.
Buying the Best Commercial Butcher Block Table for Your Professional Kitchen – A Buyers Guide
Commercial kitchens can vary greatly; they can be compact and able to serve small numbers of people, they can be by the roadside and specialize in fast food, or they can be vast. What kind of kitchen equipment is needed for your kitchen will boil down to the size of your commercial kitchen, the budget you have, and the importance of the item – i.e., How often it will be used.
The right butcher block table for a large steakhouse could well be too big of an investment for a mobile caterer. Similarly, what suits a fast-food restaurant, could not be adequate for a high-end hotel. Here are a few things to consider when shopping for the best commercial butcher block table for your establishment.
Size 
Like all commercial prep tables, butcher block tables come in a range of sizes. Some are pretty compact, taking up little room, whereas others could run wall-to-wall. The size of the butcher block table you select should fit well into your current kitchen, so ensure that you measure the space twice before settling on a size.
Suppose you have a relatively small kitchen but specialize in meat. In that case, it could be an idea to opt for a butcher block table of a larger size that could be multiuse – for example, have additional shelves or a suitable surface for other food preparation. Another option could be to look at a butcher block table that can fold down or is on wheels to be stored out of the kitchen easily.
Design
Most butcher block tables for commercial kitchens come in similar designs; wooden tops on wooden or metal legs. But, there are differences. For example, the top surface you choose can have a considerable impact on the kitchen's aesthetics and the longevity of the table. Some tables can include extra storage solutions, such as under shelves, cupboards, or drawers.
The design must be useful for you; there is little point in opting for a great-looking butcher block table if there is little else on offer. The table needs to be durable, easy to clean, and offer great longevity – this is often not found in delicate decor.
For those who choose a wooden butcher block table, there are often choices between maple, which adds warmth to the kitchen—Walnut, which can add depth and richness. Or, Cherrywood for a splash of color.
Chefs who want a seamless and consistent kitchen design may be better looking for stainless steel table designs where a butcher's chopping board could be added and removed as suits.
Top Surface 
Wood and stainless steel are the prominent top surfaces for butcher block tables. Both are great options, offering durability, longevity, and helping kitchen productivity.
A wooden surface will be much kinder to knives and prolong their sharpness and longevity. It is also more difficult to mark wood, so the new look should last for a longer time.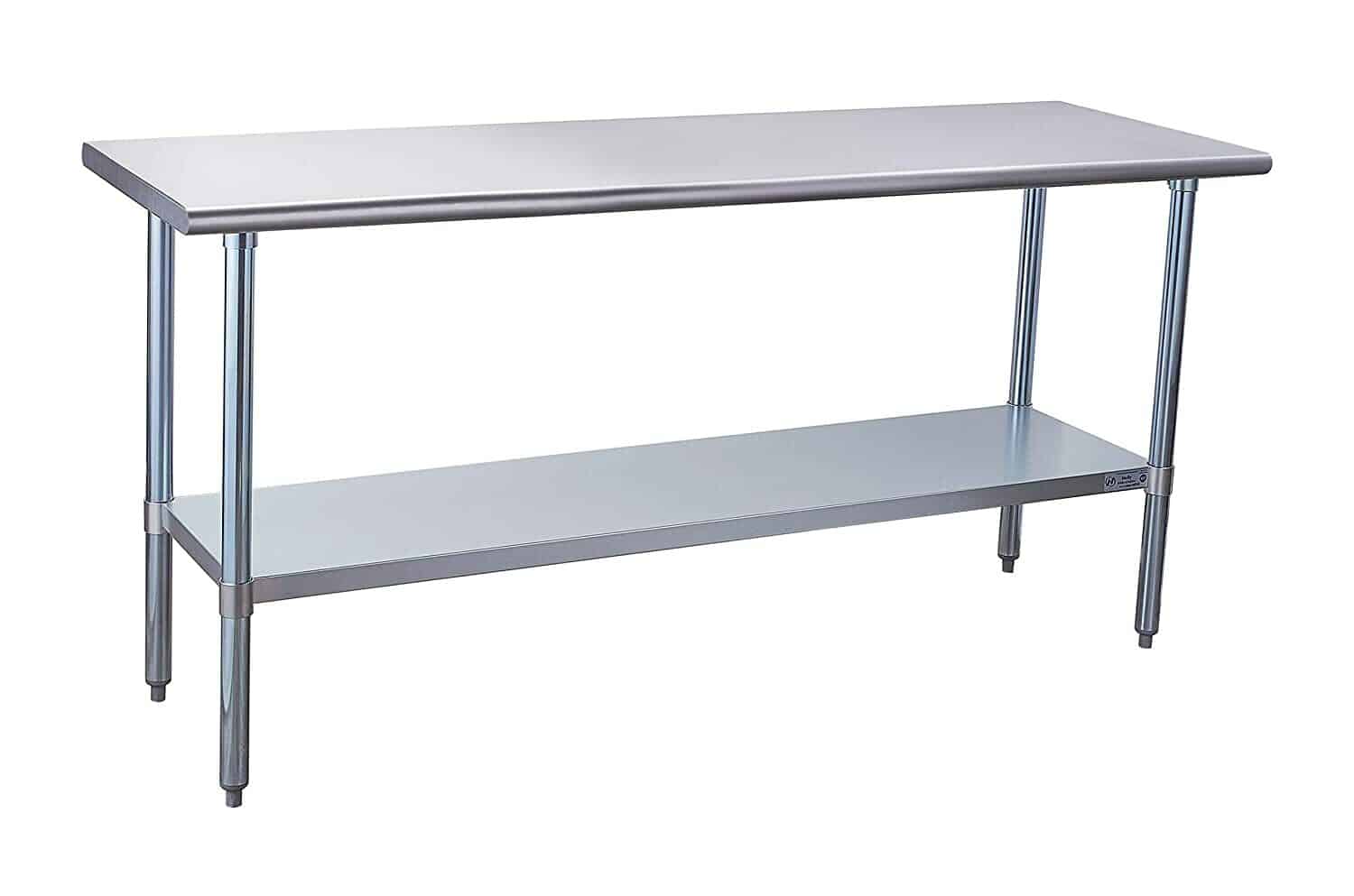 The type of wooden top you would be best looking for would be durable hardwood, such as walnut or maple. These woods have smaller pores, so they are less likely to harbor bacteria. Bamboo is another good choice, as it is naturally water-resistant.
Stainless steel resists rusting, burning, and of course, staining. It is a 100% recyclable metal and pretty much indestructible. For those who do a lot of meat preparation, a stainless steel prep table with a good-quality chopping board could be a cost-effective and very long-lasting installation.
Even if you choose a wooden top with stainless steel legs, the addition of this metal will always be a worthwhile consideration for a commercial kitchen.
5 Best Commercial Butcher Block Tables 
John Boos Block Stainless Steel Kitchen Cart – Our #1 Top Pick

1-Year Warranty
Removable Maple Cutting Board
Stainless Steel Shelves

Buy it Here
Casual Home Kitchen Island with Solid American Hardwood Top – Our #1 Bargain Pick

Solid Wooden Top
Pull Out Storage Drawer
X2 Storage Shelves

Click Here to Buy
Advance Tabco Wood Top Table with Galvanized Undershelf 

Hard Maple Wood Top
4-in High Sides
Best in Class Award in Food Service

Find it Here
Hally Stainless Steel Table for Prep & Work

Adjustable Height
NSF Commercial Heavy Duty
Under Shelf and Backsplash

Buy Now 
Eagle Group Wood Top Work Table with Galvanized Undershelf 

Galvanized Steel Legs
NSF Listed
Made in America

See Here
#1 John Boos Block Stainless Steel Kitchen Cart – Our #1 Top Choice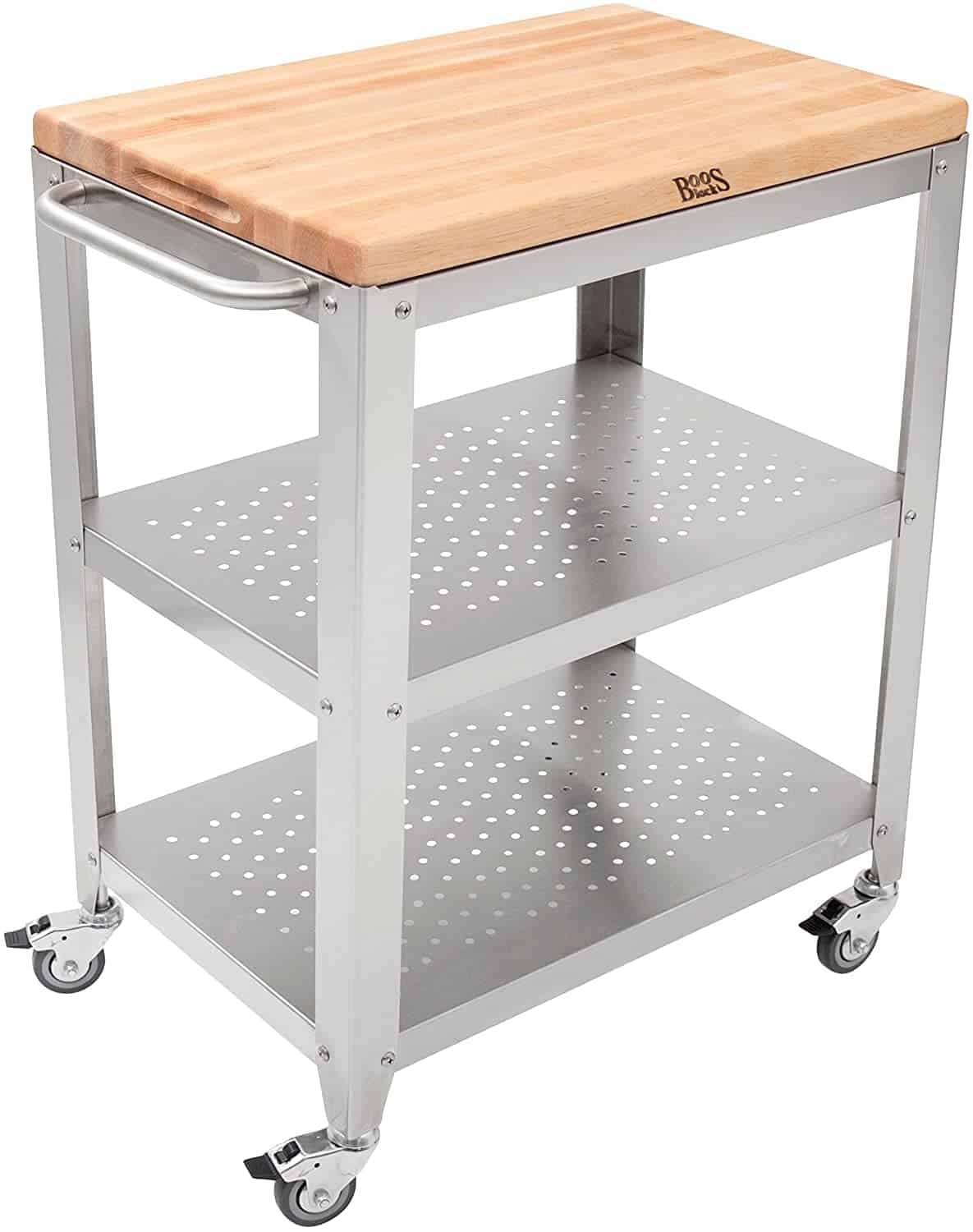 The John Boos Block Stainless Steel Kitchen Cart is an excellent choice for a commercial butcher block table, but it is pretty expensive at a little under $700. However, the level of quality in materials and craftsmanship is awe-inspiring. Coming from a U.S brand with 125-years of experience, this block table is not going to let you down – and there are thousands of reviews to attest to this.
As John Boos prep tables go, this one is a compact design at 20-in x 30-in. The 100% maple wood top is of outstanding quality, with beautiful linear edge grain construction. The maple wood board is 1.5-in thick and also fully removable and reversible. It feels smooth, with no rough finishes or edging.
The shelves underneath are perforated and made of top-quality stainless steel; they are easy to keep sanitary and great for storing meat waiting to be prepped. Other features include a stainless steel towel bar and commercial-grade wheels. This prep table comes with a one-year warranty.
Pros
Made Entirely in the USA
100% Marple Wood Top
High-Grade Stainless Steel
Commercial Grade Wheels
Long-Established Brand
Cons
Additional Purchase of John Boos Board Cream Needed to Seal the Wood
Top Surface Slightly Small
Table Could Be Too Low for Some
Pricey
#2 Casual Home Kitchen Island – Our #1 Bargain Pick 
The Casual Home Kitchen Island has six different color options and is Amazon's Choice for Kitchen Islands. I chose to review this product for this guide because the price is excellent value for money, and the solid American hardwood top would be an ideal prep surface for meat. I also like the amount of additional storage offered with the drawer and underneath shelves.
This is a great option for smaller kitchens that would benefit from additional storage. Each shelf can hold 50 lb, which is perfectly adequate for meat-related prep items, such as burger presses, mixers, food processors, and pots and pans. The drawer is plenty big enough to hold all the relevant utensils and is soft-close too. Putting the drawer in does require a Phillips-head screwdriver but is very straightforward to do.
I like the stainless steel towel rack, its position, and how easy to wipe clean it is. The Kitchen Island can be part of a set, which includes a smaller kitchen island, and breakfast set with stools. This could make for beautiful aesthetics if you have an open-plan commercial kitchen and complete the restaurant seating area with some of these products.
Pros
Great Price
Part of a Set for a Uniform Look
Excellent Storage Included
Very Sturdy
American Hardwood Top
Cons
Not Advertised as 'Commercial'
Dispatch Time is Fairly Long
Tool Assembly
#3 Advance Tabco Table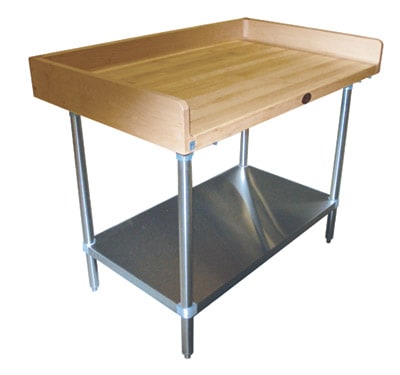 The Advance Tabco Wood Top Table with Galvanized Undershelf features a laminated 1 ¾-in thick hard maple wood top. There are x3 4-in high coved corner rises in the same material to keep the ingredients within the prep area and reduce spillages. The undershelf is galvanized, and the feet are adjustable for precise leveling. This is an ideal table for the busiest commercial kitchen.
This block table is an award winner, NSF certified and made entirely in America. The prep area is ample, at 36-in x 84-in, and the overall dimensions are generous, making this a medium-to-large table for the professional kitchen. Standing at 39.5-in, being 84-in long, and 36-in wide, the table is big enough to chop, dice, tenderize and prepare any cuts of meat with ease.
The top feels smooth with no rough edging and is easy to maintain with regular oiling. The brand is an industry leader and has more than 6,000 products available for the commercial kitchen. There is a great live chat feature on their website, which you can access here, and you can also apply for credit for this item on their website.
Pros
American Made
Large Size
Other Sizes Available: 48-in, 60-in, 72-in, 96-in
Undershelf
Cons
Price May Rise This August
Delivery Can Take 8-Weeks or More
#4 Hally Stainless Steel Table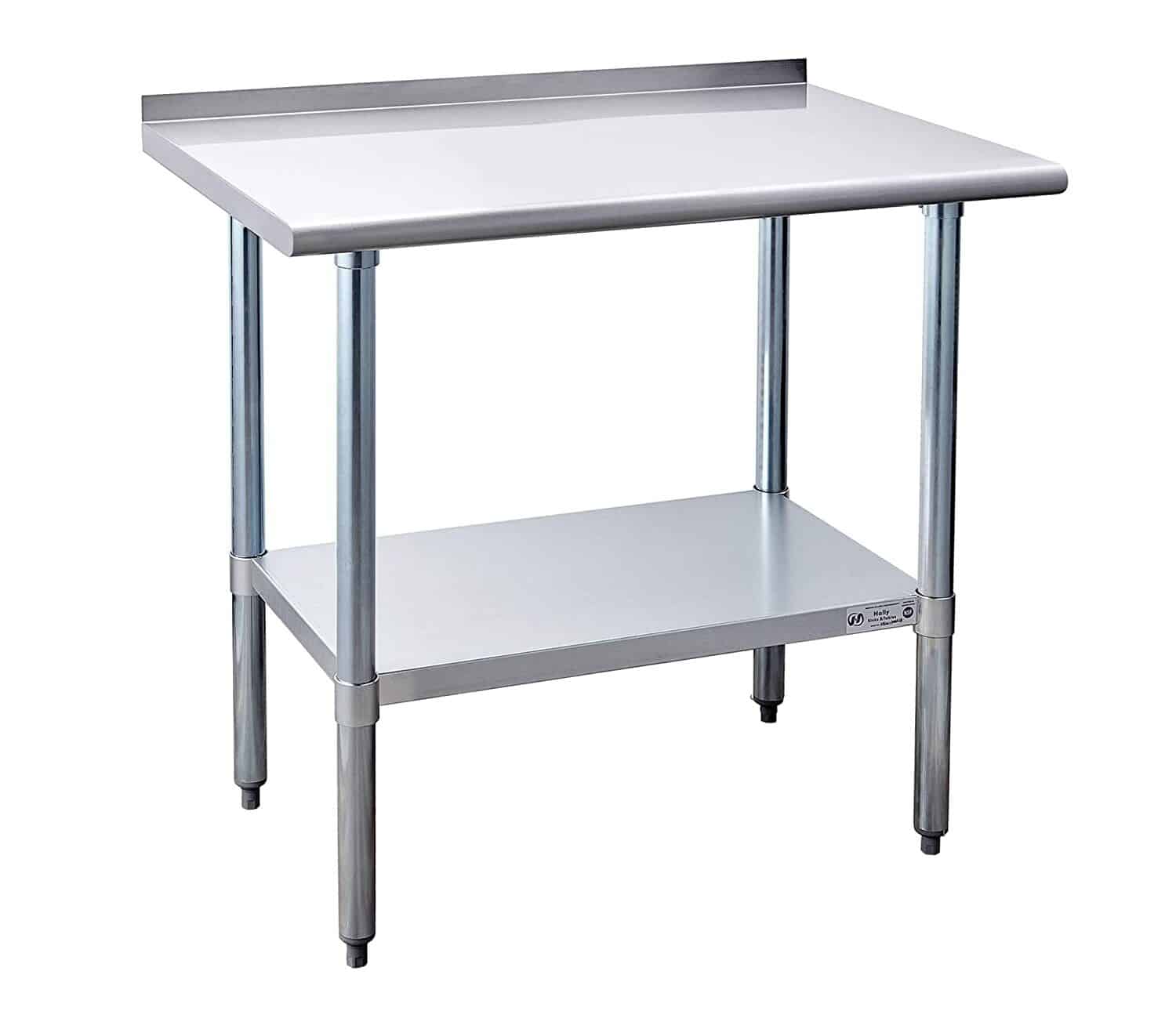 The Hally Stainless Steel Table for Prep & Work is very competitively priced and an online bestseller. This is an excellent choice for a commercial kitchen where affordable simplicity is needed. This table is adjustable to get the most comfortable working height for you, and as the top is entirely stainless steel, it is simple to keep it sanitary.
The construction is 18-gauge, polished stainless steel, including the 1.5-in backsplash and the sturdy undershelf, which is also galvanized. The feet are adjustable and finished with non-slip matting. The table is solid, with a 450 lb capacity; it is also relatively spacious and offers excellent storage.
There are five sizes to choose from and a 30-day refund policy on all. As you can't prepare meat directly onto the surface, if you want to keep it mark-free, you could purchase this chopping board by John Boos, which perfectly fits the tabletop and comes very highly recommended.
Pros
Reasonable Price
High-Grade Stainless Steel
Different Size Options
Storage
Non-Slip Wheels
Easy to Maintain
Cons
Additional Chopping Board Necessary
In Stock 'Soon,' We Can't Be Sure When
#5 Eagle Group Wood Top Table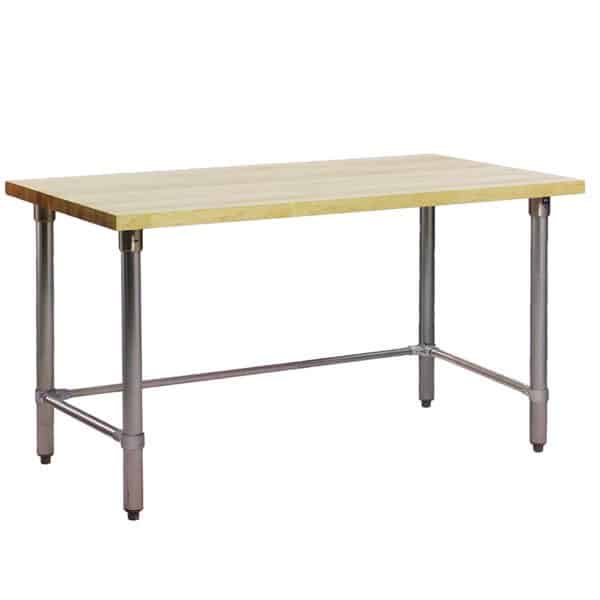 The Eagle Group Wood Top Work Table with Galvanized Undershelf is excellent for carving meats due to its 1 ¾-in thick hardwood top. Slicing and dicing should be a dream on this butcher block table, which is supported by (4) galvanized steel 1 ⅝-in legs with plastic bullet feet.
The 4-in backsplash is made from the same material as the top and is easy to wipe clean and maintain. The block table is of outstanding quality and feels smooth to the touch. The table dimensions are 30-in x 60-in, and it stands at 36 ¼-in tall. The undershelf is made from galvanized steel and offers ample storage for all your meal prep needs.
Eagle Group was founded in 1947 and is now America's largest manufacturer of commercial foodservice equipment. When looking for an essential commercial kitchen item, the brand matters, and with Eagle Group, you can trust the quality and longevity of its products.
Pros
Thick, Hardwood Top
4-in Backsplash
Galvanized Undershelf
Long Established Brand
Ample Storage
Cons
Quote Needs to be Requested (Although Retailing at Around $900 Elsewhere)
Prop 65 Warning: CA Residents
FAQs
Question: What is the Best Way to Clean and Care for my Wood Top Table?
Answer: As with all wooden products, hand washing is the best way to clean them. If you find that your wooden top block table is starting to show signs of wear and tear, you can restore it with a food-safe wood conditioner, such as this one here by Howard Products.
Firstly, clean and dry the top. Then generously apply the conditioner with a soft cloth and leave it to soak in before removing the excess. This application should be done every couple of months to keep the butcher block table in its best condition.
Question: Can I Put Kitchen Equipment on my Butcher Block Table?
Answer: Smaller appliances such as blenders or bread slicers, for example, should be fine. However, it is recommended to limit the placement of heavy objects on work tables for maximum stability. There is plenty of equipment stands available, and their sole purpose is to provide surface or storage solutions for heavier kitchen items.
I like this stand-by Tribesigns Stores, which is space-saving and multifunctional, with ample storage.
Question:  Will the Commercial Butcher Block Table I Buy Look Exactly Like the One Pictured?
Answer: If you opt for a wooden top table, no two items will look identical due to natural differences in the wood. While the products will have been designed from the same type of wood you see pictured online, everyone will have its own wood-grain and unique appearance. Colors may be slightly lighter or darker in addition.
There isn't this concern with stainless steel tops and why they are so popular as add-ons for an established commercial kitchen that is kitted out with stainless steel.
The Best Commercial Butcher Block Table – My Verdict
There is something unique that I like about each product listed in this guide.
With the Eagle Group Wood Top Work Table, it is the smooth, sturdy finish of the wooden top that sets it apart. However, I wouldn't say I like how the price isn't instantly accessible, and there is a Prop 65 Warning for CA residents. The Hally Stainless Steel Table is an excellent foundation for a butcher block table, but an additional chopping board would be necessary.
The Advance Tabco Wood Top Table is a great size, an award winner, and American-made. The top is thick maple wood, and the undershelf is made from galvanized steel. This NSF-certified table offers incredible durability, but prices are set to rise, and delivery can take around two months.
I was very impressed with the Casual Home Kitchen Island; how sturdy it is and the excellent storage features included. But, dispatch time can be pretty lengthy.
Overall, I was most taken with the John Boos Block Stainless Steel Kitchen Cart and found the quality to be outstanding. I like the 100% maple wood top and that it is reversible and removable. I also like the perforated underneath shelves. However, this table could be too low for some and is a little pricey.