Latest posts by Alice Smith
(see all)
When you're looking to buy the best commercial pizza oven, there are so many options available that it can a bit be overwhelming. The commercial pizza oven is one of the most important pieces of equipment in any Italian kitchen. It's what allows you to cook up a whole range of delicious pizzas, bread, and other delicacies that will keep your customers coming back for more.
But it's not just Italian restaurants that should invest in this specialist oven. Pizza is a staple in the food industry. It's also one of the most popular foods in America. And if you want the pizza that your establishment sells to be the best of the best, then you'll need a top oven for the job.
The type of pizzeria you are running is going to be a huge factor in what commercial pizza oven will work best for your establishment. For example, if you are running a pizzeria that specializes in thin-crust pizza (like New York style), then a decked-out commercial gas brick-oven might not be the right decision for you since it would likely produce too much heat and cause your crust to burn.
On the other hand, if you have an Italian cuisine restaurant that makes deep-dish Chicago-style pizzas, then it would make sense to get yourself a commercial electric stone-deck oven with plenty of cooking space!
Pizza ovens used to cook these mouth-watering pies come in all shapes and sizes, so how do you know which commercial pizza oven is the best for your business? Pizza ovens are not a commercial kitchen's most glamorous appliance. They may seem pretty straightforward, but there is more to commercial pizza ovens than meets the eye.
That's where we come in!
In this blog post, we'll cover everything from the best types of commercial pizza ovens to what features and accessories to look for when purchasing one. We'll also share some top tips on how to make the most out of your commercial pizza oven and creates pizza that makes even the most hardcore pizza lovers say 'Mamma Mia!'
Pizza Ovens and Their Uses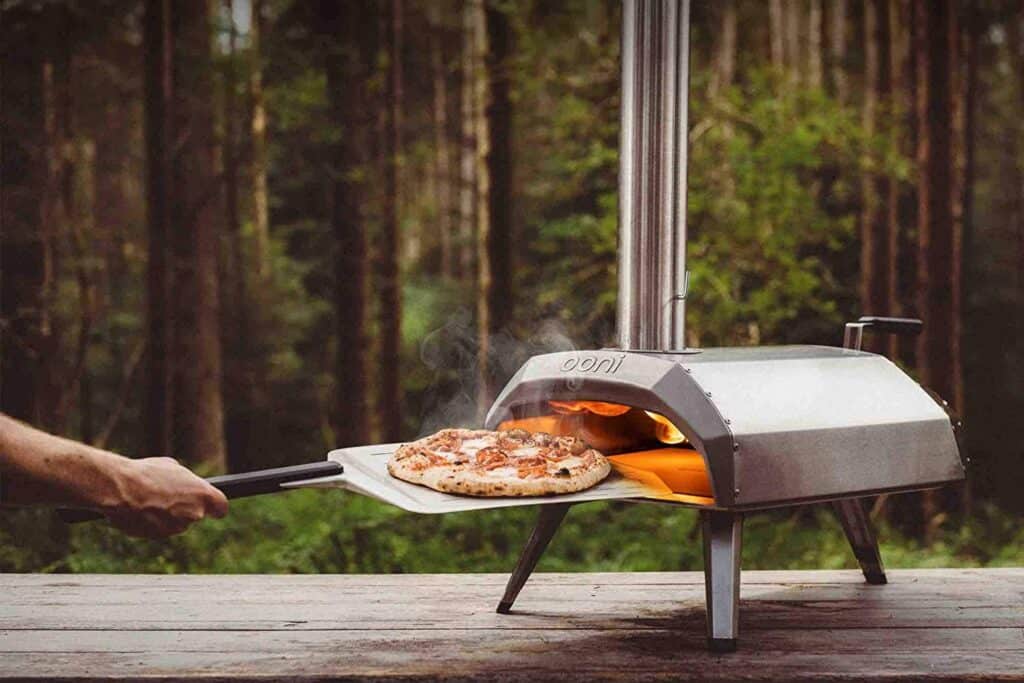 Freshly made pizza is a simple and delicious way to wow your customers, get stuck into outdoor cooking, and create delicious flavors that you just can't get from your standard commercial oven.
The first pizza oven was created in Italy in the 1970s and so began the tradition of brick-based cooking. Today, pizza ovens come in many different shapes and sizes, each with its own special use. For example, commercial gas brick-oven pizza ovens are great for pizzerias that specialize in thick crust pizza.
These commercial pizza ovens produce very high temperatures which cook the dough quickly on the inside while simultaneously crisping up a thin layer of breadcrumbs or flour on the outside to create a crispy "shell".
Deeper commercial electric stone decked-out pizza ovens would be better suited for restaurants making thin-crust pizzas because they allow you to bake your pies at a much lower temperature than an 800-degree commercial gas brick oven.
However, what many people don't know is that pizza ovens can be used to cook a lot more than just pizzas. They can also handle roasted vegetables, steaks, meats including barbecued meat, fresh bread loaves, focaccia, garlic bread, and even stews and casseroles. It's an incredibly versatile machine and can be a complete game-changer for many kitchens.
Basic Types of Pizza Oven
There are several different types of commercial pizza ovens on the market, each with its own special purpose and use. These are the most popular types of pizza ovens that you can buy for your establishment:
Portable pizza ovens
Portable commercial pizza ovens are typically gas-fueled and make it easy to cook pizzas in a variety of settings. You can even take them out into the beer garden, they're great for pop-up restaurants or food trucks or you could even take them home, and bring them on a road trip for some tasty outdoor cooking on the go. They do tend to be expensive though, but the quick cooking time and easy maneuverability definitely make up for it.
Barbecue-top pizza ovens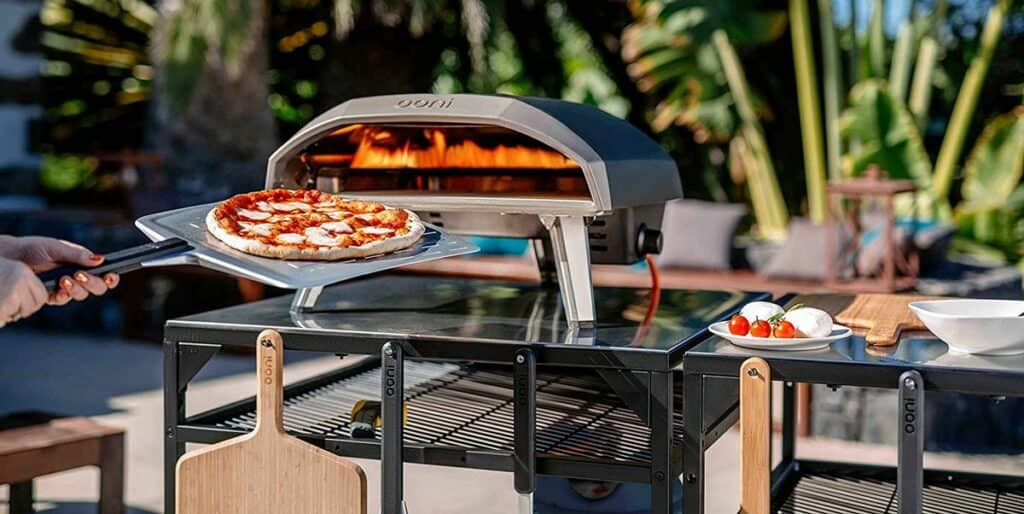 Barbecue top ovens are a type of commercial pizza oven that is mounted on top of a barbecue or grill. They tend to be cheap, but they do take up an even bigger amount of space than your standard portable commercial pizza oven. Plus, the cooking time can often exceed 45 minutes for just one pizza!
So if you're after some quick-cooking and want a smaller unit, the portable oven is usually the better option. However, if you're looking for an efficient way to provide delicious pizza then combining it with your grill is a great way to do so.
Freestanding Pizza Ovens
These are what you'd typically find in a commercial setting like a restaurant or commercial kitchen. They provide a huge pizza cooking space that can typically handle between 4 and 6 pizzas at once and are great for making both thin, New York-style crusts or deep-dish Chicago pies that require plenty of heat to adequately cook the dough inside.
Freestanding ovens are typically either wood-fired or gas-fired. Wood-fired used charcoal logs and requires a bit more knowledge of pizza cooking to handle the temperature and get the best from the oven. Nonetheless, it's a great way to cook pizza and the oven will provide that rustic pizzeria feel that caterers love.
Gas commercial pizza ovens, on the other hand, are much easier to use but can be more expensive to run and maintain. This is because they require gas tanks, ventilation, and installation work in order for them to function properly.
Both of these options are much pricier than portable pizza ovens, however, they're much larger and can cook more at once, so it depends on the scale of your pizza needs. If you need a free-standing option but are looking to save a bit of money and get a bit crafty, you could even build your own pizza oven with bricks!
Build-in Pizza Ovens
This type of pizza oven can be easily adapted to fit into a variety of existing indoor or outdoor spaces, such as brick outdoor grills or even fireplaces. They're also a great way to add an element of pizzazz and style to any commercial kitchen.
Naturally, they can also be quite expensive and can be fired by either gas or wood, but they're a great way to obtain a commercial pizza oven that's completely customized to your needs.
In-depth Types of Pizza Oven
Building on what we've already covered, there is still more variety of pizza ovens to choose from. Once you've selected one of the basic styles above, you'll need to decide on your material and design. Here are a few options:
Masonry oven – these pizza ovens are built from bricks and often provide a rustic feel to commercial kitchens. They retain heat very well, can easily go above 500 °C, and are extremely personable so you can make the design your own. They're very durable but can be more time-consuming and expensive to maintain and install.
Igloo oven – these commercial pizza ovens are based on the typical Italian domed wood-fired oven. The round shape allows even distribution of heat within the chamber. There are two types: Neapolitan dome or Tuscany dome, the former of which is lower, flatter, and slightly smaller. They can be found in a variety of sizes, with some even being big enough to cook up to 16 pizzas at a time.
Barrel vaulted oven – these commercial pizza ovens are made from clay and fire brick. The oven floor is rectangular, the walls are thick, and it has a front-facing opening. There are two types of barrel-vaulted oven: enclosed vault, where the opening can be shut, or open vault where it cannot. Out of the two, the enclosed vault will give you the best pizza, a quicker cooking method, and a temperature that is easier to maintain. They're one of the most durable types of commercial pizza oven but can once again be more expensive to install.
Tower oven – these commercial pizza ovens are made from brick or stone and provide a very traditional feel. They're also the most expensive commercial pizza oven to install.
Modular oven – these can be assembled in a number of ways. They usually come with a kit that includes pre-made, easy-to-set-up modules. They're also usually one of the cheapest commercial pizza ovens to install, but don't get quite as hot as a brick one.
Convection oven – Suitable for small-scale pizza making, these ovens can typically fit 1-2 pizzas inside at once and will cook them in around 5-6 minutes, depending on the crust size.
Deck oven – designed for medium production, deck ovens can usually fit up to 6 pizzas in at once. They require fairly constant attention and the pizzas will need to be moved around a lot to keep from burning.
Conveyor oven – allowing for continuous pizza production, this commercial pizza oven type is designed for commercial kitchens that need to produce large quantities of pizzas at once. To use it, simply place your pizzas on the conveyor belt and the oven will put it through set temperature at the set speed.
What to Look For When Buying a Pizza Oven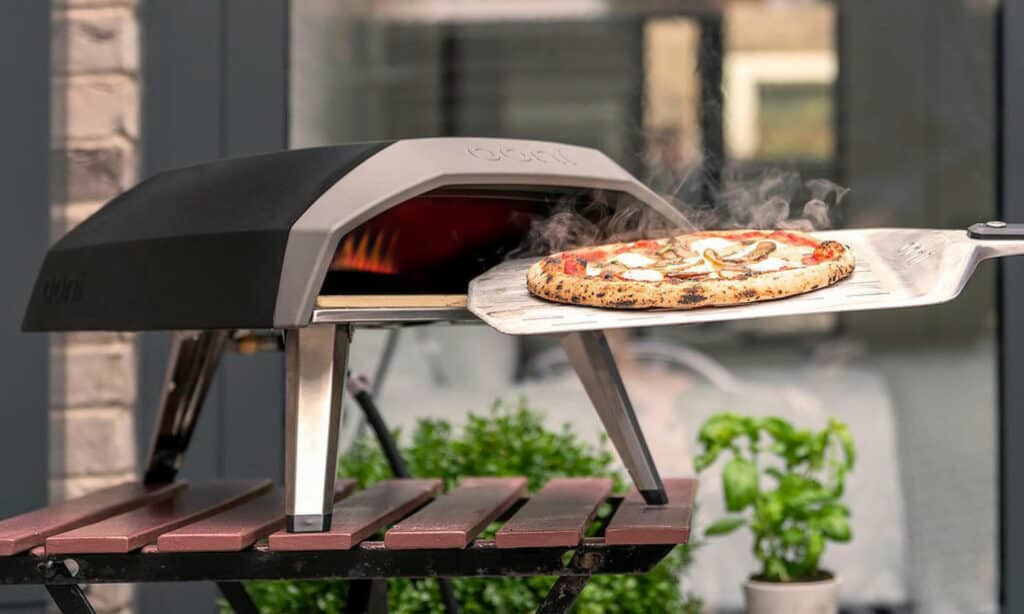 There are many factors that can affect what type and size of commercial pizza oven you want. For example, the size or capacity will depend on how many pizzas your establishment would like to be able to cook at any given time.
You may also need an infrared broiler which is great if you want to add charring abilities as they have in Italian restaurants. Or maybe you just need something low maintenance such as a stainless steel cooking chamber with lots of insulation so it doesn't take up too much space?
Whichever pizza option you are looking for, here are a few things to consider before buying a commercial pizza oven:
Space
Do you have enough space for your pizza oven? What about outdoor kitchen space? Consider whether you want your oven to be an indoor or outdoor piece of kitchen equipment and if you are limited on space, how much of your commercial kitchen can you make available for your pizza oven.
Indoor or outdoor
If it's an outdoor oven, where will it go outdoors? Do you have an outdoor garden for customers or clients to enjoy?
What will you need in terms of kitchen equipment for outdoor cooking: tables, chairs, heating sources, outdoor pizza oven equipment? You may also want a pizza oven that's portable or can be easily moved from place to place if necessary
If you're after an indoor oven, how much space do you have available indoors and what are the structural requirements? What kind of equipment do you have available to use with an indoor pizza oven? For example, if your commercial restaurant only uses gas stoves and has no electric power source nearby, would you need an outdoor pizza oven that can be plugged in?
Costs and budget
What costs are you able to invest in as a business owner? What is your budget like and have you considered the accessories that go with a pizza oven as well as running costs, fuels, and potentially a dedicated pizza chef? Do you have enough money available to buy an expensive pizza oven or are you looking for something more cost-effective?
How much room there is to cook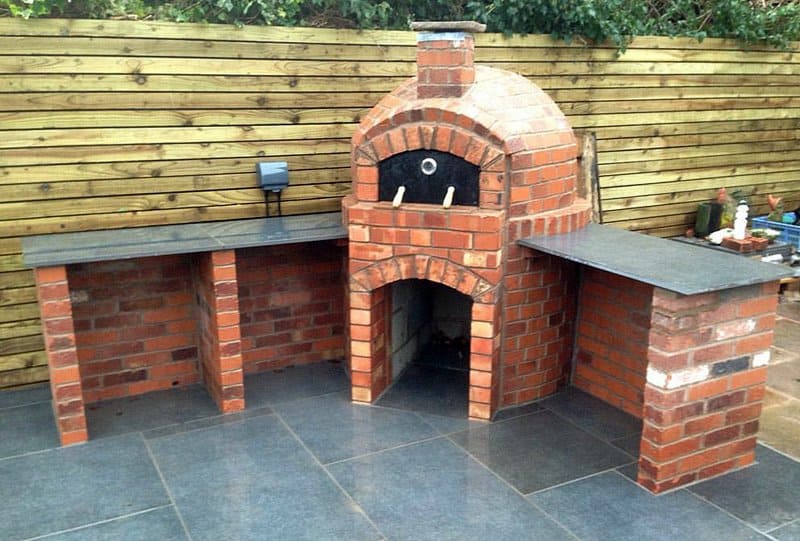 As well as external space, you'll also need to think about how many pizzas you want to fit in the oven at once. Is the dish a popular menu item on your menu or something you will only serve in summer or as a special? You'll need to think about how often you will be using the oven, typical cooking times for pizzas, as well as how many pizza orders you'll think you can handle during peak service.
What Fuels Should You Use?
What are you looking at using to fuel your oven? Do you want an oven that can be used with wood, charcoal, or would you prefer a gas oven?
Design and materials
Consider the design of your oven. Commercial pizza ovens are often designed to suit specific purposes and available restaurant spaces, so it is advisable to have an idea of the design you want before looking at oven options.
What materials do you want your oven made from? Do you prefer a stainless steel pizza oven or would wood, stone, or brick be better for aesthetics and appearance reasons in your kitchen or outdoor space?
Features
What features are you looking for? Do you want an infrared broiler, a convection fan, or a deck with various cooking surfaces and areas to work on? Should your commercial pizza oven have a temperature gauge so that you know how hot the inside is getting at any given time during cooking as well as timers or thermostats which can control the commercial pizza oven?
Ease of cleaning
Make sure to take into account whether or not your oven is easy to clean and maintain? Do you want an easy-to-clean door, for example, removable shelves, or one that can be wiped down easily?
What Are the Best Pizza Ovens for Commercial Use?
We chose the pizza ovens listed in this guide based on pricing, availability, and positive customer reviews.
Fornetto Alto Wood Fired Pizza Oven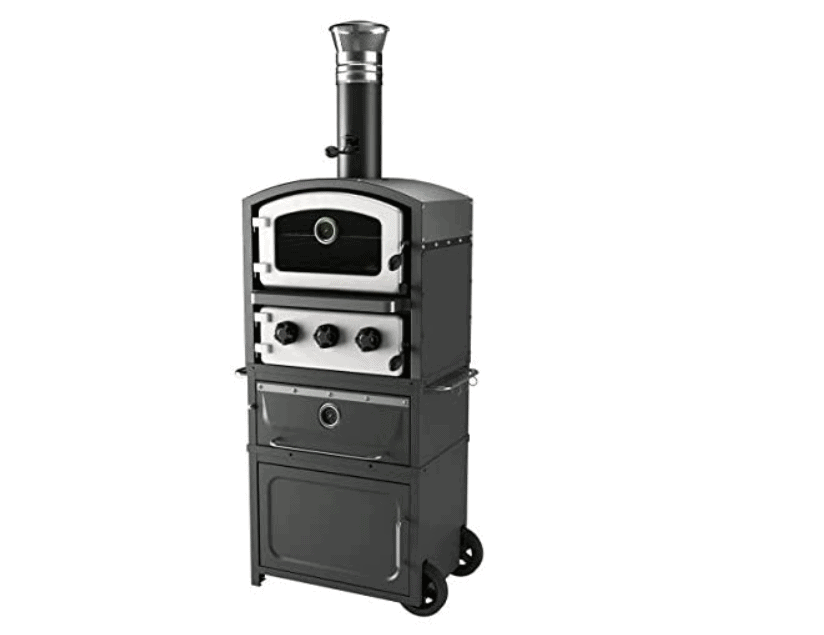 Created with chefs in mind, the Fornetto Alto Wood Fired Pizza Oven is versatile and effective. It's ideal for any pizza connoisseur and has excellent features. This outdoor oven not only works as a conventional oven, but it also features the ability to slow-cook and smoke meat. It has a pull-out rack for easy maintenance of the wood or charcoal and it is portable with 2 wheels.
The black design and bold buttons are the perfect appealing design for any pub or restaurant. But it is also practical as well as beautiful because it can reach temperatures of up to 650°. In addition, its steel cast iron material is durable and easy to clean.
Pros
Sleek, attractive look
Can also be used as a smoker
Easy to clean, durable material
Can reach temperatures of up to 650°
Cons
Can only be used outside
Might take some practice for beginners to use
Lincat Premium Range Double Deck Pizza Oven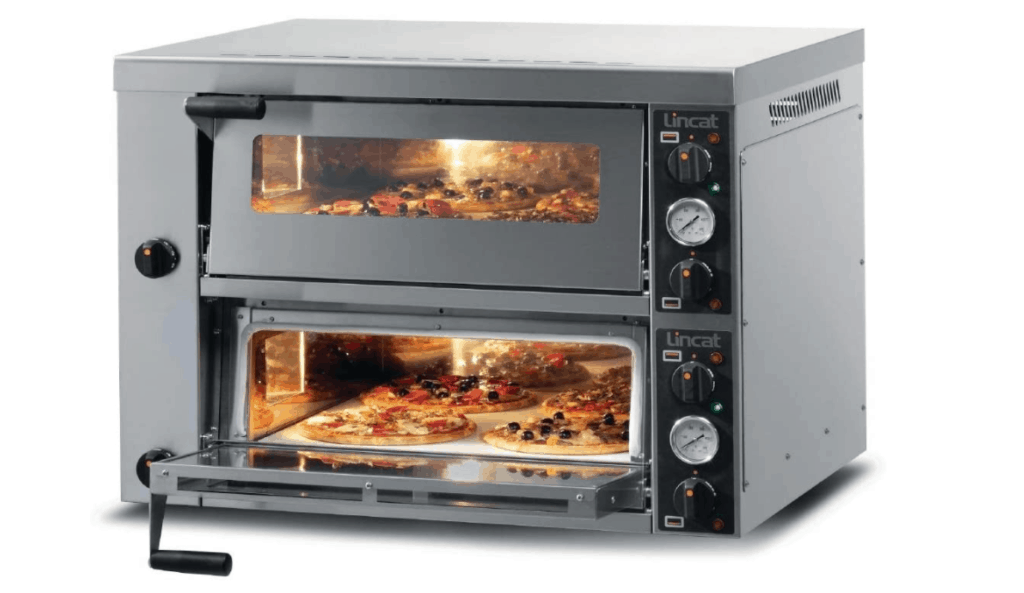 This double-deck countertop pizza oven is ideal for small spaces that also want to offer the perfect pizzas. The two ovens are stackable and independently operated, meaning you can turn one or both on depending on the busyness of your restaurant and the demand for the dish.
It features double glazed construction for added efficiency, with handy glass windows so you can see exactly what's going on inside. Each oven has a 16mm thick firebrick base, which helps to spread the heat evenly around the pizzas and cook them quicker.
This also helps to make it more versatile and it can handle loaves of bread, ciabatta, focaccia, and even lasagne and jacket potatoes as well as pizzas. This oven is a strong contender in the game of pizza ovens and, if you own a small restaurant or eatery, the compact size and intuitive design make this model perfect.
Pros
The two ovens work independently meaning you can converse energy and only use what you need
It's compact enough to fit in small restaurants
It has two 16mm firebrick bases
Cons
A little expensive
Slow heat-up time
TurboChef FRE-9500-1 – Convection Commercial Electric Pizza Oven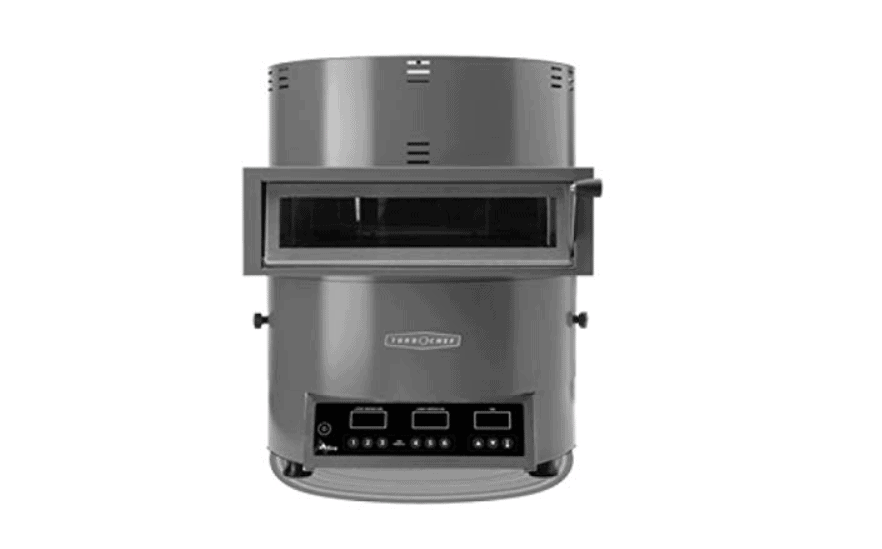 The funky design of this commercial pizza oven is just the tip of the iceberg. The feature set here is quite extensive. Not only is this oven countertop meaning it can fit in lots of different types of catering establishments, but it's also fully electric and doesn't have a vent, so it's incredibly energy efficient.
The model has dual automated thermostat regulators, making it easy to adjust the cooking temperature and 60 preset timers that allow you to cook a range of different foods.
The stainless steel exterior looks stylish, but it's also easy to clean, long-lasting, and simple to maintain. But it does have a few downsides – it can only cook one 14-inch pizza at once, and it takes about 30 minutes to eat up. However, once it's hot, each pizza will take about 1-2 minutes to cook, which certainly makes up for it!
Pros
Energy-efficient design
Dual controls
60 preset timers
Will cook a pizza in 1-2 minutes
Sleep appearance
Cons
Can only cook one pizza at once
Takes a long time to heat up
Omcan 11387 Conveyor Commercial Pizza Oven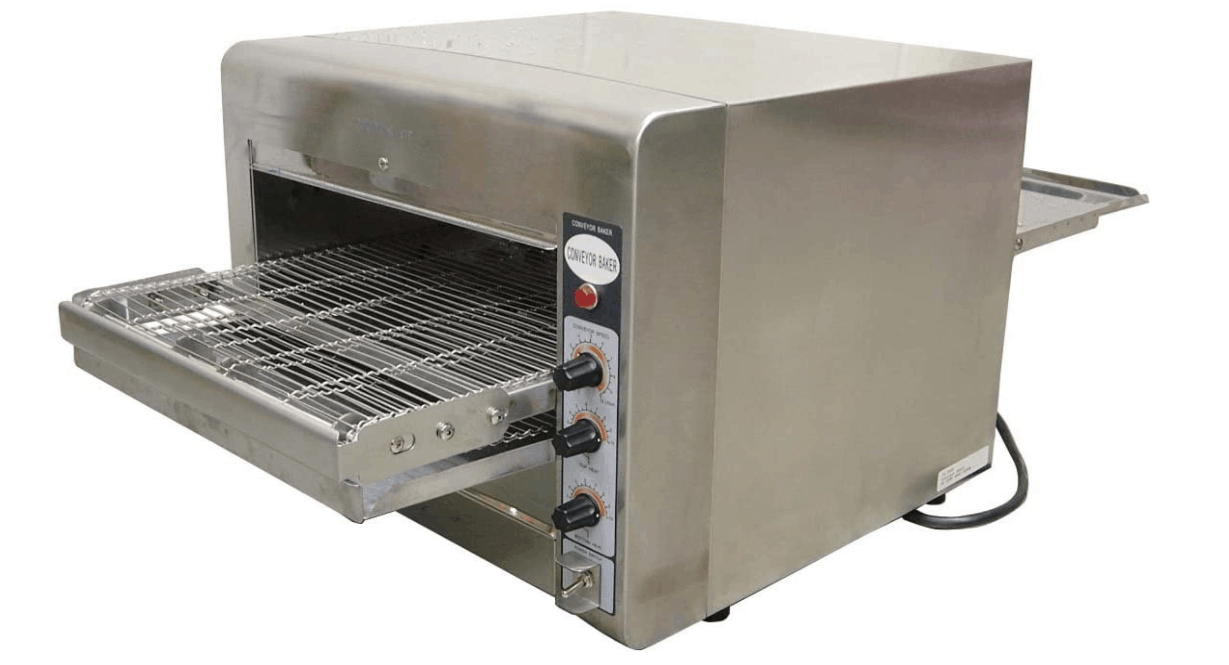 If you're after a conveyor pizza oven that doesn't take up too much space, then this model by Omcan is perfect for commercial use. The oven has been created to offer more uniform heating using infrared heating units at both the top and bottom of the oven. This ensures that pizzas will cook evenly all over, and quickly too.
It can handle 16 14" inch, 19 12" inch, or 25 9" inch pizzas, making it perfect for larger restaurants, fast food restaurants, or family-style diners where people share food. It's also highly versatile and can be used for preparing pizza, bread, and bagels. As well as adjusting the temperature, you can also adjust the speed of the conveyor belt.
The commercial pizza oven is built to last – it's incredibly durable and easy to clean – meaning it'll withstand any busy commercial kitchen environment. It's also fully portable, so great for food trucks, pop-up restaurants, or even taking home after a shift and having a pizza party with the family.
Pros
Adjustable conveyor system cooks pizza quickly and evenly
Can fit pizzas up to 25 9" inches
Fully portable
Cons
Can't cook different meals at once
Roccbox by Gozney Outdoor Gas Pizza Oven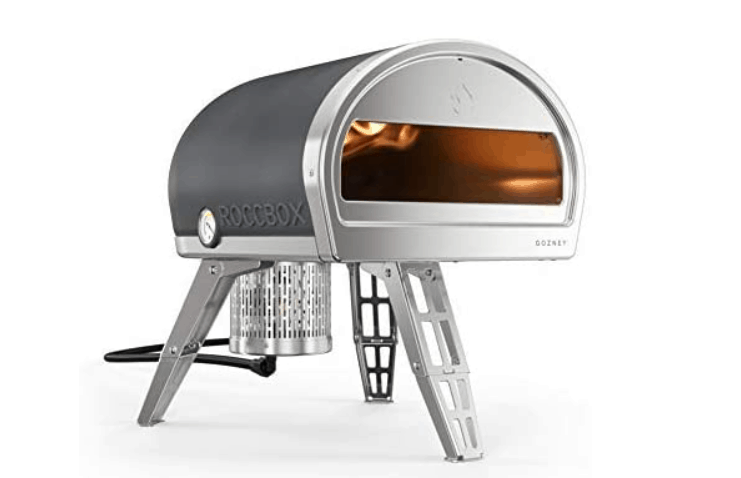 Featuring the traditional igloo look that many pizza lovers look for in an oven, this outdoor model by Gozney can cook using both wood and gas. The portable model is made of durable steel, reaches temperatures of up to 932°F, and is manufactured to be lightweight. It can take a standard Neapolitan pizza from raw to gooey cheese, crispy crust perfection in around 2 minutes.
It also comes with a range of great features. The preheat time is super fast and it's great at maintaining a high temperature, retaining up to 86% of its heat. This also helps it to save fuel.
It comes with an already-fitted thermometer to make it easy to check the temperature and an exclusive safe-touch silicone jacket to prevent you from burning yourself if you touch the outside. The legs are completely retractable which makes it incredibly easy to store. It's portable too and comes with a pizza peel.
Pros
Traditional pizza oven design
Duel fuel, can burn both wood and gas
Lightweight and portable
Retains 86% of its heat
Cons
The temperature gauge can fog up
Pizza Oven Features and Accessories
As well as the actual pizza oven itself, there is a range of accessories you'll need to think about when purchasing a pizza oven. These include:
Temperature gauge
To check if the oven is at the ideal temperature, many pizza ovens (particularly portable and barbecue topped ones) feature a temperature gauge on the side. These can range in smartness, from giving the precise temperature in either degree of Fahrenheit or simply saying 'warm' or 'hot'. However, if your oven doesn't come with one, you'll likely need to buy one separately.
Pizza peel or paddle
This is a commercial pizza oven accessory that will help you to transfer pizzas from your pizza oven and onto plates in order to serve them up at the table. It can be made of different materials as well such as wood, metal, plastic, or stone. Some pizza ovens come with a pizza peel or paddle included, but once again, you'll need to buy one if not.
Thermostat and timer
This will help you to control the temperature inside your commercial pizza oven for more accurate cooking as well as monitor how long it is on for – very handy if you're an inexperienced baker.
Chimney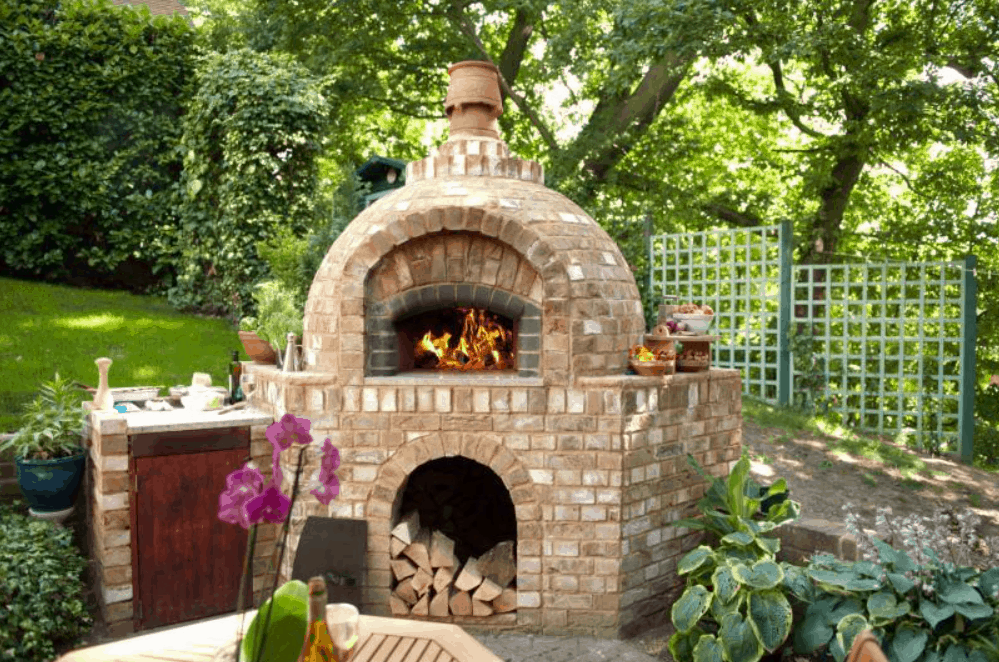 A chimney is used to remove excess fumes and smoke from commercial pizza ovens that are fired by wood or charcoal. This will help to keep you safe while cooking and improve visibility inside the oven. Although, these are typically only found in wood or charcoal ovens as they tend to get smokier.
Pizza stone
This commercial pizza oven accessory helps to transfer heat into your pizza dough, making it crispy and delicious. It's usually found in the base of commercial pizza ovens that are used with wood or charcoal as they help to create a better cooking surface for your food.
Pizza cutter
This essential pizza oven accessory is used to cut through your pizzas or other food that you're cooking in order to make them easier for serving.
Cooking With a Pizza Oven Top Tips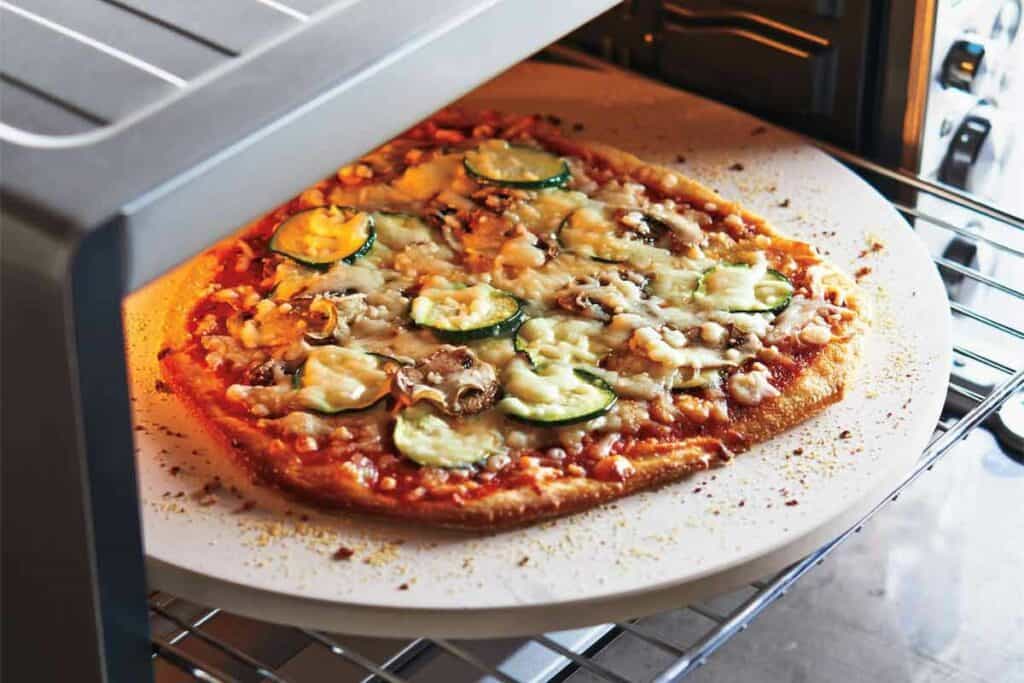 When it comes to cooking pizza in a traditional oven, there can be a little more to it than simply turning the oven on and hoping for the best. Here are some commercial pizza oven cooking top tips to ensure perfect, tasty pizzas:
Don't go mad with the toppings
Too many toppings on a pizza can cause it to sag and prevent the base from properly crisping up. Keep it simple with a few high-quality toppings and you'll get better results.
Wait for the pizza oven to heat up
A commercial pizza oven will take some time before reaching the desired temperature. Make sure to wait at least 15 minutes before starting cooking your pizzas. This ensures the pizza is able to cook evenly from all sides.
Rotate your pizza oven halfway through cooking
This is a great way to get an evenly cooked pizza as the heat doesn't just stay in one place. Pizza stones help with this too, because they transfer heat from all directions which ensures better results.
Don't open the oven door too often
Just like when baking bread or cakes, opening and closing your oven door too often will disrupt how evenly heated it is inside, which can lead to uneven or undercooked pizza. Keep opening interruptions as few as possible for more perfect results every time.
Keep the temperature consistent
A commercial pizza oven that is fired by wood or charcoal should have an ideal temperature of 450°C – 500°C which is perfect for cooking pizza. If you go too high the pizza will dry out and if it's not hot enough your dough won't cook properly. Keeping the temperature consistent will ensure the pizza cooks to the same level all over.
Dust your peeler with flour
Pizza dough can be sticky and the last thing you want is the pizza sticking to the peeler! Dusting the peeler with a little flour before using it can ensure this doesn't happen and prevent an awkward stuck pizza situation.
Put your pizza together on the peel
Another pizza peel trick is to put your pizza together on the commercial pizza oven peel before you put it in. This way, you won't have to faff around transferring the pizza to the peel and them to the oven, which can lead to sloppy presentation and even a broken pizza.
Pizza ovens can be used for other things too
Don't just limit yourself to pizza in your oven! Pizza ovens can be used to cook a variety of other things including bread dough, barbecued meats, fish, and vegetables.
Here's a few more top pizza making tips:
Place your pizza base on an oven tray or stone to help it cook evenly.
Be careful not to burn the edges of your pizza base as these can become too dark, to the point where they're inedible.
Place an aluminum foil sheet under your pizza oven tray or oven stone to make it easier to remove the commercial pizza.
Adjust your oven temperature according to the type of pizza you're cooking (thin crust or deep dish, for example) and how long it's been sitting out before being cooked.
FAQs
Question: What should I look for in a pizza oven?
Answer: When you're buying a commercial pizza oven, the most important things to look for are how big it is, the fuel it uses, and the overall design. You need to make sure that your commercial pizza oven will be able to handle your needs and enable you to perform an efficient service and satisfy hungry customers.
Question: What type of pizza oven is best?
Answer: There are a few different types of commercial pizza ovens: gas, electric, wood-fired, or coal-fired. Gas commercial pizza ovens have the advantage that they're cheap to run and don't need any kindling which is great if you're short on time or space for storing firewood.
Electric ovens also require no kindling and are a great choice if you're looking for a commercial pizza oven that will save on time and energy costs. Wood-fired ovens are more traditional and have the advantage of being able to produce pizzas with an artisan crust, while coal-fired pizza ovens can cook your dough more quickly than other types but maybe less versatile.
Question: What commercial pizza oven features should I be looking for?
Answer: There are a few pizza oven features that can make your life as a pizza chef easier and help you produce better pizzas. This includes an inbuilt thermometer which will ensure the heat is constant, or adjustable shelves so you don't have to go up and down when cooking different sizes of pizzas. An oven that comes with a paddle or other accessories is also extremely useful and will save on costs.
Question: How do I clean my commercial pizza oven?
Answer: Cleaning your commercial pizza oven is important to maintain it in its best condition and ensure the safety of your staff. You can use a hose pipe or pressure washer on an electric commercial pizza oven, but make sure you don't get water inside. If you're using a gas oven that has gas, then make sure to never use anything other than the pizza oven's own cleaning tool.
Question: Is a wood-fired pizza oven worth it?
Answer: Definitely. For the perfect pizza, a wood-fired oven will give your pizzas a desirable artisan crust and you'll get a taste that you simply can't achieve with a standard oven.