Latest posts by Jodie Chiffey
(see all)
Do you know what makes a good french fry cutter? What to look for and what to avoid? Which type and brand of french fry cutter will be the best option for your specific type of business?
Our best commercial French fry cutter guide will help you navigate your way towards the most efficient, valuable, and convenient solution for you based on numerous factors, including the size of your kitchen, desired features, and budget.
Let's start with a brief analysis of what to look for.
What To Look For In A French Fry Cutter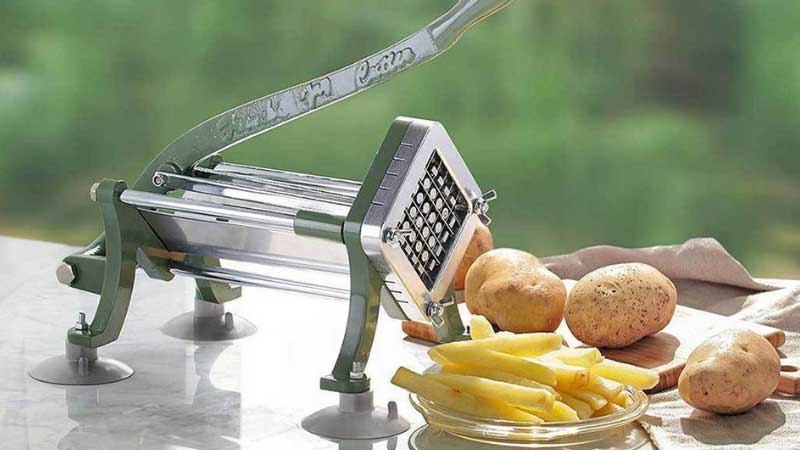 Not sure what to expect and require from your french fry cutter? Check out this shortlist of features and specifications you should consider before making the purchase:
Ease of use and efficiency
Have you ever tried making fries without a fry cutter? Then you surely know that it is absolutely possible, yet it takes a lot of time, effort, and some skills and experience. So when you're buying a commercial French fry cutter, look for a device that will make this process easier and faster.
Keep in mind that this machine doesn't have to have many features and extra functions. In fact, the simpler your cutter is, the faster and smoother your workflow will usually be.
Durability
The market is full of cheap restaurant kitchen equipment supplies made of lightweight and attractively colorful materials. But if you're looking for professional-grade gear that won't let you down when you need it the most, look for durable, heavy-duty cutters that can really withstand a large workload in a commercial kitchen.
In practice, this mostly means preferring metal (stainless steel, aluminum, cast iron, etc.) to other materials. While plastic equipment might work well in a home environment, it mustn't last nearly as long in a restaurant or bistro. Nevertheless, there are exceptions – a sturdy food-grade ABS can, for example, outlive a low-quality iron.
Method of operation
French fry cutters can be operated either manually or automatically. Mechanical devices can be vertical or horizontal and have various shapes or sizes, but they all basically use your manual power transformed via some sort of a handle or press leverage to cut the potato into pieces. Electric cutters have an engine that makes the whole process automated, so your only task is feeding the machine with the potatoes and collecting the fries.
Obviously, automatic cutters will cost you considerably more money. Nevertheless, if you're cutting large amounts of fries daily, the investment is reasonable.
Versatility and adjustability
If you'd like to use your fry cutter for various recipes and types of meals, you can choose a device that comes with different cutting blades for thicker and thinner cuts (e.g., 1/2″ and 3/8"). Some cutters can even include attachments for potato wedges or spirals.
Hygienic standards
To avoid potential risks of bacteria contamination, all commercial-grade kitchen equipment should be straightforward to clean. Although this might not seem as important with french fry cutters as it is, for example, with a multi-purpose food processor or a meat grinder, you shouldn't underestimate the hygienic standards of these cutters either.
How to find the most hygienic cutter? First, look for materials that can be properly sanitized. Your best choice is food-grade stainless steel or anodized aluminum. Secondly, make sure that the cutter can be easily disassembled, and there are no inaccessible blind spots where debris and dirt can accumulate. Finally, if some detachable parts of your cutter can be washed in a dishwasher, keeping it thoroughly clean will be even easier.
Price and cost-effectiveness
When you explore your options on the market, you'll see that a fry cutter can cost you anywhere from tens to hundreds of dollars. Of course, most of us would like to spend as little as possible, but compromising safety and durability to save a few bucks is usually a bad idea – especially in a commercial kitchen.
Always search for the best available value for money and, if possible, rather look for deals and discounts on quality products instead of settling with the cheapest ones.
Our Best Commercial French Fry Cutter Reviews
Based on all the aforementioned criteria and our personal experience, we've pulled together a list of the most recommended commercial French fry cutters you can currently find on the market. To make it clearer, we have divided our recommendations into several categories based on their most characteristic assets.
Best Manual French Fry Cutters
If you run a small bistro, a food truck, or a restaurant with fries on the menu just as one of many side dishes, you probably don't need to invest in a heavy-duty electric fry cutter. Here are two simple, affordable, yet perfectly efficient manual cutters that should serve you well.
POP AirFry Mate Stainless Steel French Fry Cutter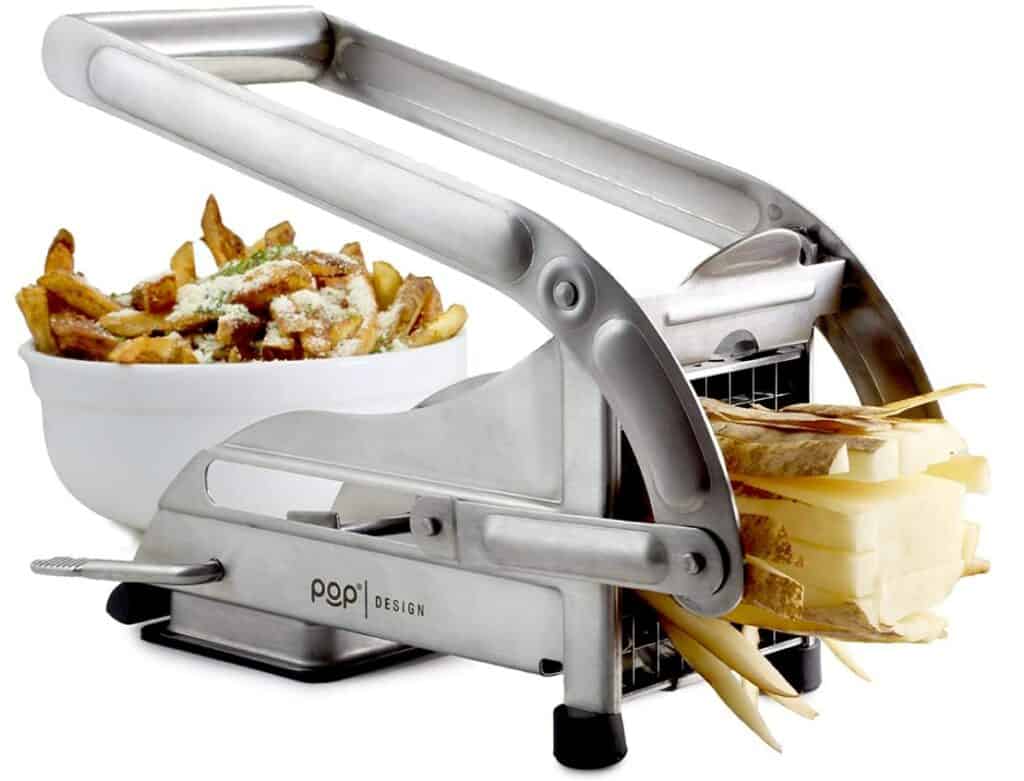 POP AirFry Mate is a simple manual cutter for potato and vegetable fries that boast a heavy-duty all-metal construction and comes with two replaceable cutting blades for 1/2″ thick or 3/8″ thin fries. It is recommended for commercial and at-home kitchens – measuring just 10 x 5 x 5 inches and weighing just 1.6 pounds. In addition, this cutter can be easily stored away after every use.
The whole construction is made of stainless steel and holds firmly on the counter/tabletop thanks to the powerful suction cups. Although it is hard to imagine what could go wrong with this sturdy and simplistic tool, you'll be surely pleased to hear that it comes with a lifetime warranty.
Pros
Sturdy stainless steel construction
Lifetime warranty
Two replaceable blades for thick and thin cutting
Affordable
Small and lightweight
Cons
Not suitable for big kitchens and large quantities of fries
Weston French Fry Cutter and Veggie Dicer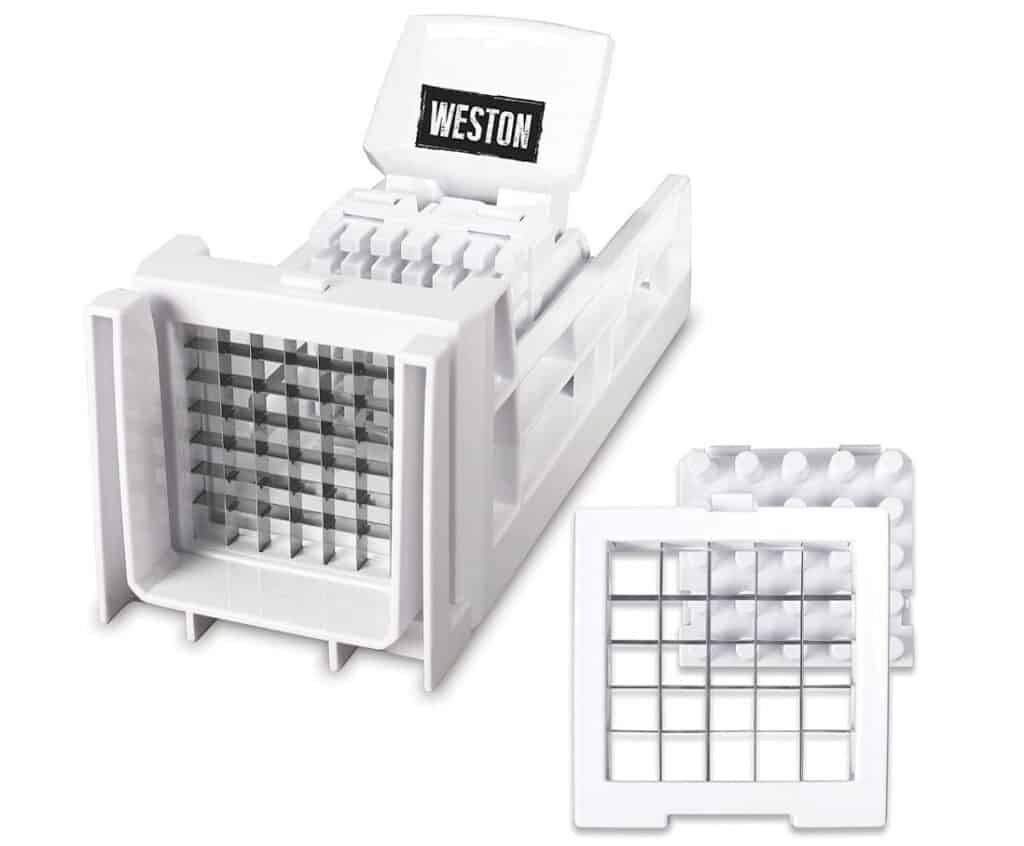 Weston is a well-known American producer of various useful food processing tools for both commercial and private use. Their manual French Fry Cutter and Veggie Dicer will surely appeal to those who need a simple, reliable, affordable, yet efficient tool to prepare professionally-looking potato fries.
Moreover, as its name suggests, this device can also help you prepare evenly diced vegetables. There are two replaceable blades and food pushers for convenient and flexible use. The whole cutter is lightweight and small – nevertheless, note that it is made of plastic resin, so it might not be as durable as some of the all-metal alternatives.
Pros
Lightweight and portable
Affordable
Reputable brand
Includes replaceable blades
Cons
Plastic housing might not be as durable as some metal alternatives
Probably too small and fragile for intensive commercial use
Best Automatic French Fry Cutters
If your restaurant or food truck sells tons of fries daily, investing in an automated electric cutter surely sounds like a good idea. Although it is more expensive and it bears a potential risk of failures and repairs, an electric fry cutter can improve your workflow significantly.
Sopito Professional Electric Potato Cutter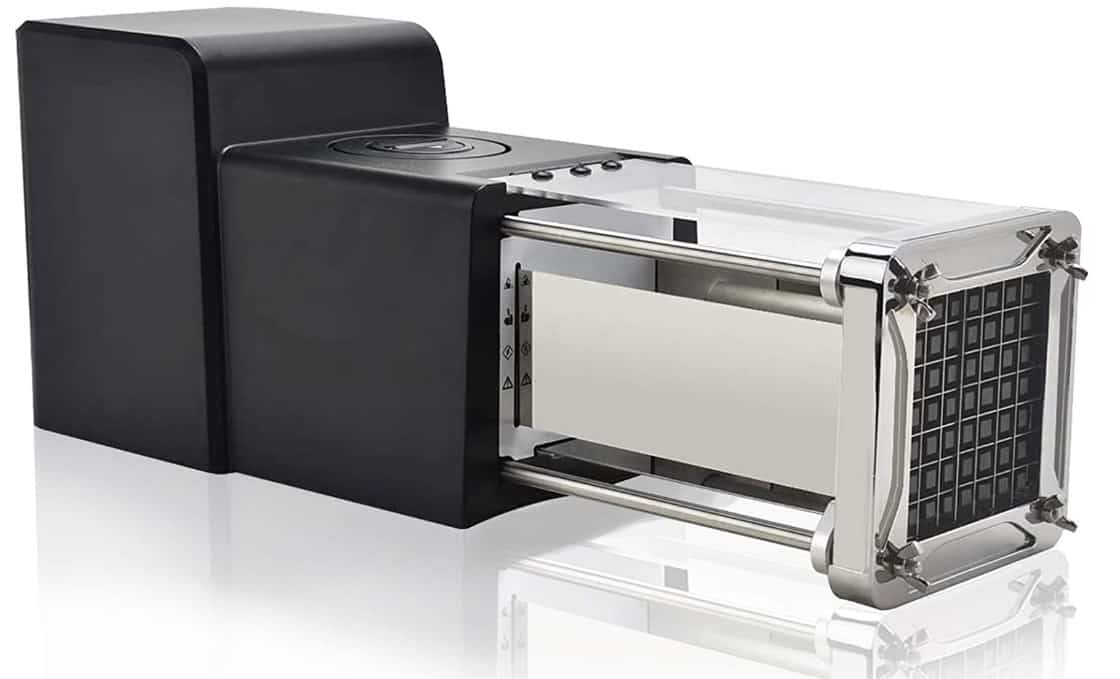 Simple, yet perfectly efficient and truly reliable. Sopito's Professional Electric Fry Cutter is a useful tool for any commercial kitchen or enthusiastic home chef who wants to make large amounts of perfectly even fries almost effortlessly. Its rectangular black design also looks very sleek.
The cutter is equipped with a sharp and durable 5.2 x 5.1 inches blade made of food-grade stainless steel. It can easily cut elegant 1/2 inches fries from any type of potato or other types of vegetables and fruits. Just note that any replacement blades for this cutter must be bought separately. Operating this 2-button machine is extremely easy and safe. Moreover, this cutter also comes with a convenient 24-month warranty.
Pros
24-month warranty
Sleek black and silver design
Powerful and reliable
Simple 2-button operation
Cons
Replaceable blades must be bought separately
Large and bulky horizontal design
VBENLEM Vertical Electric Fry Cutter With Replaceable Blades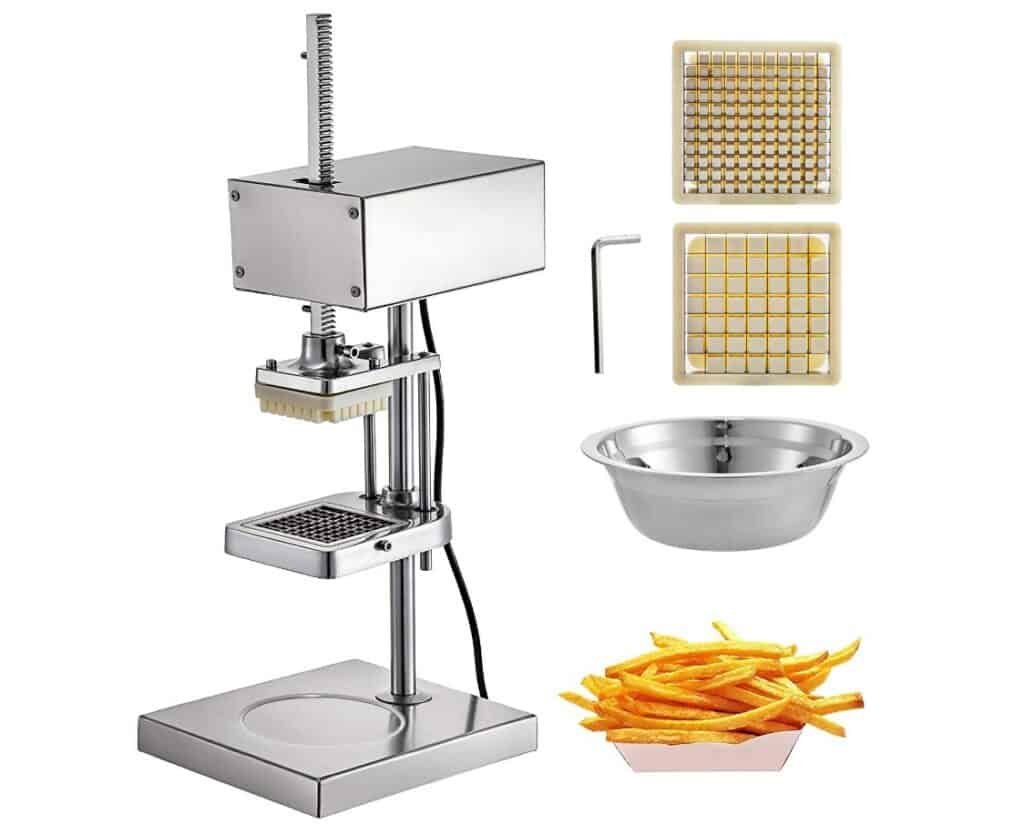 If you're looking for a convenient automatic cutter with a relatively small footprint, VBENLEM's vertical electric fry cutter might be exactly what you are looking for. This commercial-grade machine has an in-built 25W copper engine that spares you from most efforts and cuts potatoes smoothly and fast. Just beware that the engine is not the strongest, so it might struggle and need more time when cutting some extra-hard types of potatoes.
One of the greatest incentives of this machine is the included set of three replaceable blades for different sizes of fries. You can even choose between two different sets: one includes 9/9/13 mm and 8-wedge blades, whereas the other comes with 8/10/12 mm cutting blades.
Pros
Durable stainless steel construction
Vertical design with a small footprint
It comes with several replaceable blades
Simple operation
Cons
A bit slow performance
The engine doesn't cope too well with extra-hard potatoes
Quite expensive
Best Budget-Friendly French Fry Cutters
Need to stay on budget? That doesn't necessarily mean that you have to settle with low-quality and unreliable products. Here are some solid inexpensive fry cutters that can do the job very well.
Progressive International Tower Fry Cutter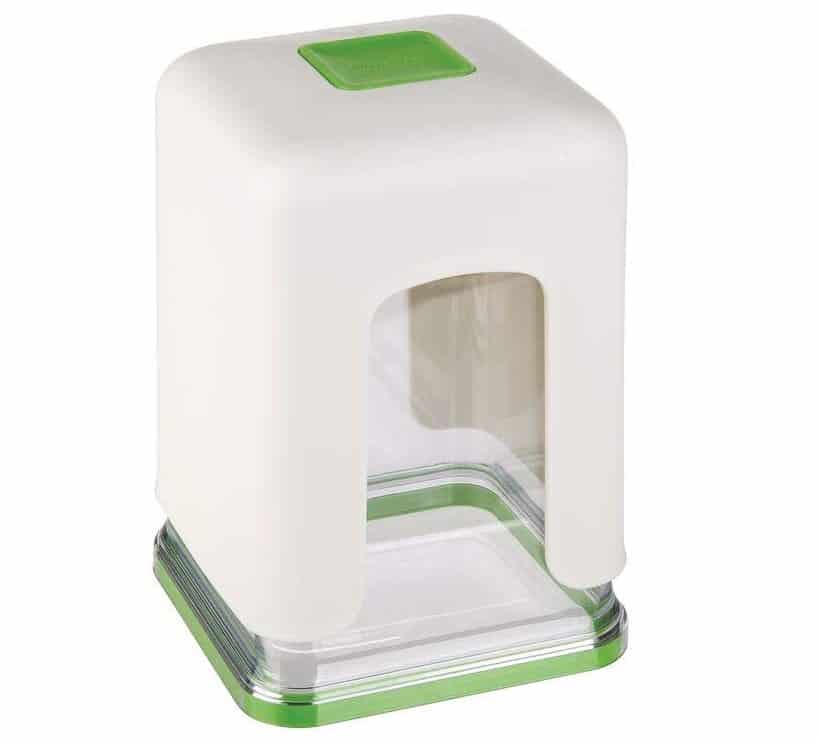 Progressive International Tower Fry Cutter is an innovative fry/vegetable cutter that looks very different from most other tools you can find on the market. It boasts an original closed design that makes cutting extremely safe and conveniently mess-free. Most parts of this cutter are also dishwasher-safe.
The non-skid base secures the whole cutting tower to the surface and makes its use even easier and more comfortable. All you really need to do is feed this cutter with potatoes and press the pop-up pusher down towards the table. Note that this simple, budget-friendly cutter is made of plastic and relatively fragile (easy to bend) metal, so it must be handled with some care.
Pros
Great price
Attractive and innovative design
Easy to clean and dishwasher safe
One-motion operation
Cons
Plastic and slightly bending metal are quite fragile materials
Probably too small for a large commercial kitchen
Geedel Professional Potato Cutter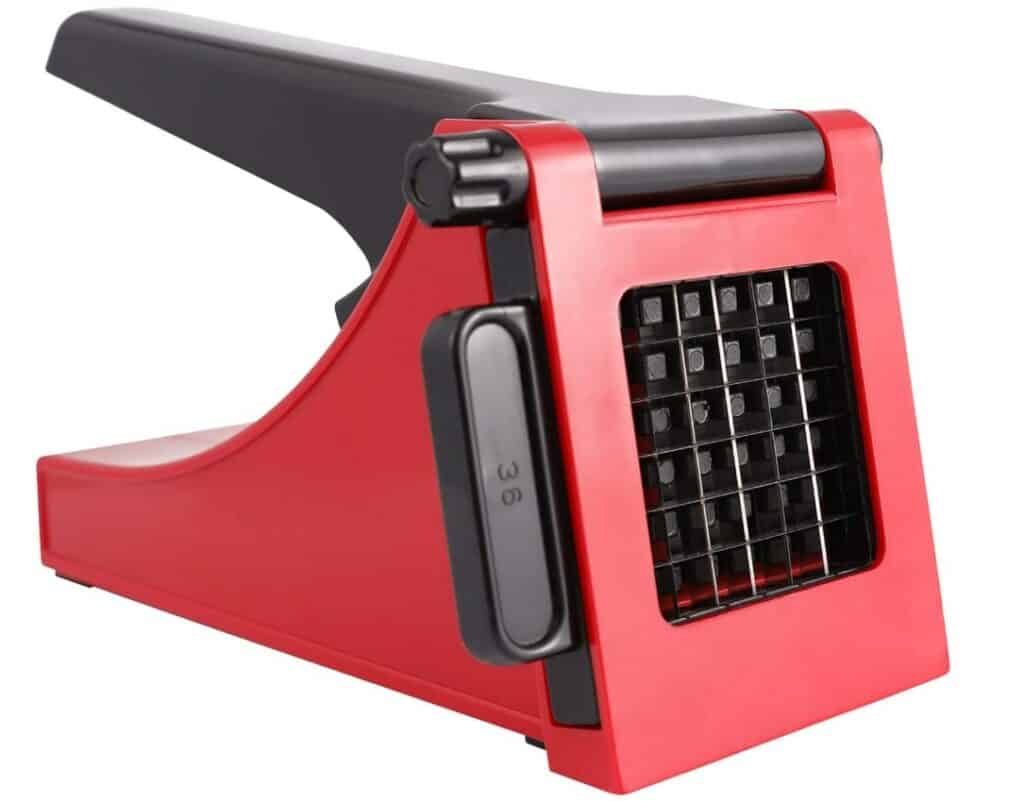 Geedel's Multipurpose Potato/Vegetable Cutter is an affordable gadget made of food-grade ABS plastic and stainless steel. It features a large ergonomic handle with four anti-slip rubber tips that helps you press the potato/vegetable against the steel blade without excessive effort.
The cutter might not be the largest and most sophisticated machine on the market, but it can be effectively used for cutting various types of food, including carrots, onions, or cucumbers. It is also effortless to take apart and clean – an ideal solution for a small food truck or fast-food stand. Moreover, it is also pretty small, lightweight, and perfectly portable.
Pros
Affordable
Small footprint, lightweight, portable design
Easy to clean and dishwasher-safe
Suitable for cutting various types of food
Cons
Plastic parts (although in food-grade quality and BPA-free)
Ideal for occasional, not intensive use
Most Versatile French Fry Cutters
Some French fry cutters come with additional accessories that allow you to adjust their performance exactly to your need or use the device for some other tasks besides fry cutting. If you'd like to invest in such a versatile machine, here are our top recommendations.
POP Design Commercial Grade Vegetable Spiralizer and Potato Cutter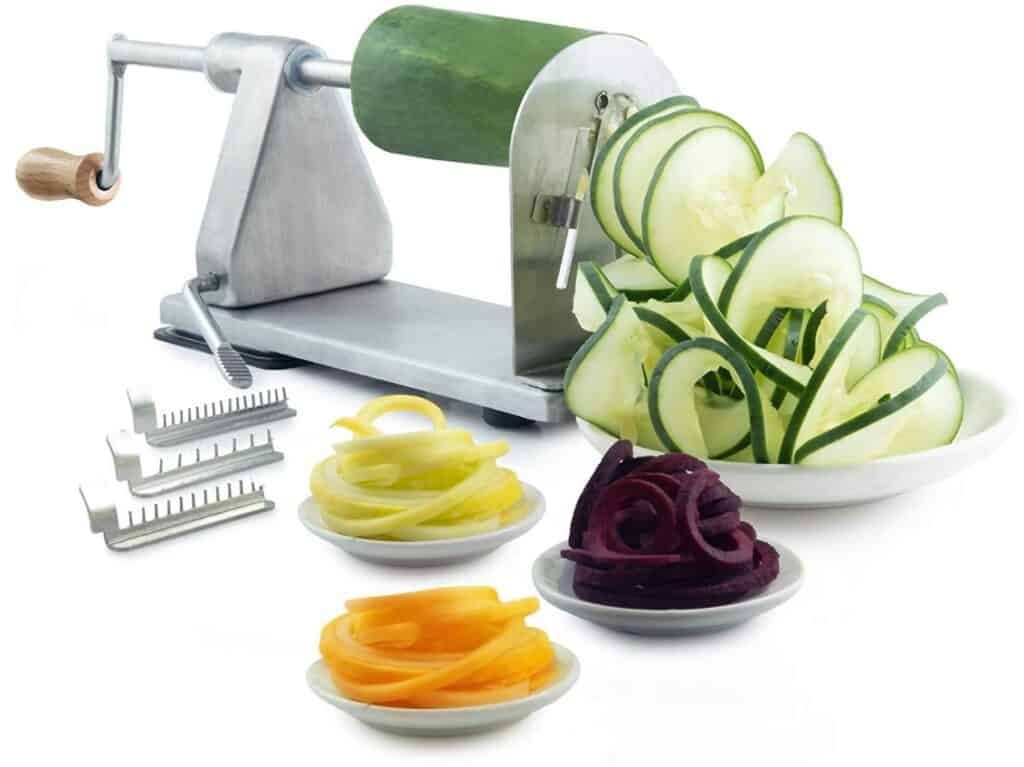 Looking for chips with a twist? POP Design 2 in 1 Spiralizer & Cutter is an efficient multipurpose manual tool that allows you to create several different types of trendy and fun potato cuts. Thanks to the interchangeable blades, it can cut curly fries, julienne-style noodles, and impressive spirals from different types of vegetables and potatoes.
This handy machine is made of stainless steel, and you can easily operate it with a wooden handle. Thanks to the suction cups, it holds firmly to the surface. As with all POP Design products, this multi-purpose manual cutter comes with a lifetime warranty.
Pros
Multifunctional cutter
Portable and lightweight
Affordable
Lifetime warranty
Cons
Too small and slow for large commercial kitchens
Tiger Chef 14-piece Commercial Grade Heavy Duty French Fry Cutter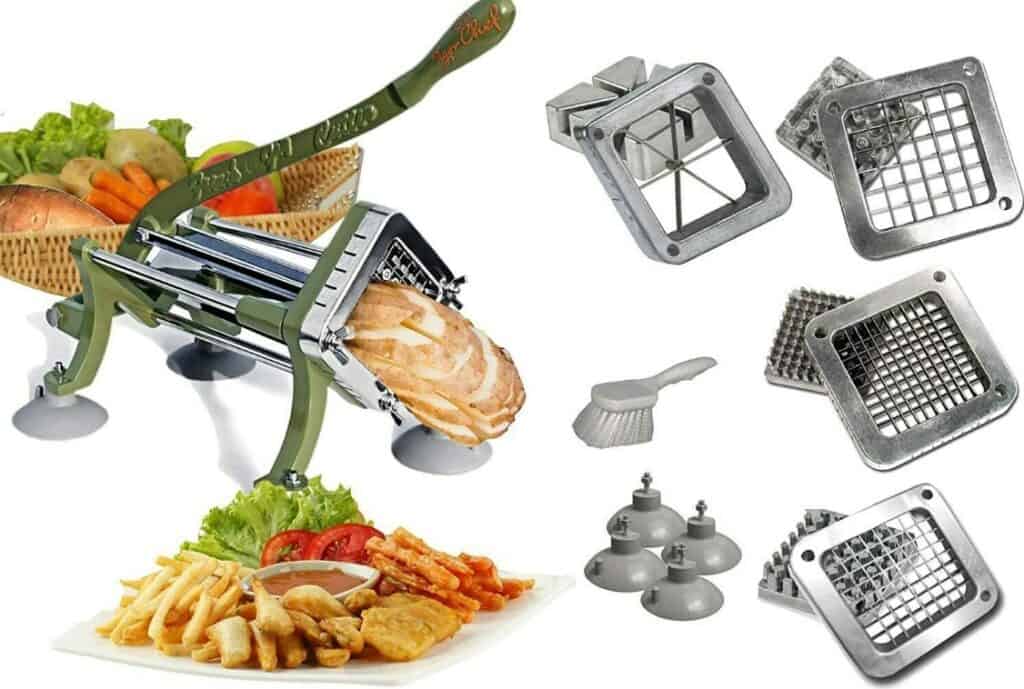 Many of the fry cutters on our list come with several replacement blades, but only Tiger Chef's 14-Piece Heavy-Duty Cutter includes 3 different cutting blades, 2 sizes of wedge blades, and several other attachments and accessories for an extra-wide range of applications.
This is a comprehensive restaurant-grade cutter that should satisfy even the pickiest users. It has a sturdy all-metal design, convenient suction legs for added stability, and an extra cleaning brush to wipe away any residues throughout the use. Just be warned that using this manual machine requires some physical force (especially when using harder types of potatoes). It's also one of the pricier fry cutters on the market.
Pros
Many replaceable blades and attachments
Sturdy all-metal design
It comes with an extra cleaning brush
Cons
It takes some effort to cut harder potatoes
A bit pricy for a manual cutter
Final Verdict
Finding the best French fry cutter might seem like a straightforward task – until you actually see the vast range of products on offer and start considering them one by one. Nevertheless, there's no need to overthink it: If you trust your instincts, take into account your true needs and possibilities, and set a realistic budget, you cannot really go wrong.
If you, most of all, need to stay on budget, you should be perfectly fine with a simple ABS-made cutter like the Geedel Professional Cutter. In case you need an effective electric machine capable of processing large quantities really fast, look for the likes of Sopito Professional Electric Fry Cutter. If you can settle with a simple manual cutter, we recommend trying Weston's French Fry Cutter and Veggie Dicer. And those who crave multifunctionality and innovation should definitely consider POP Design's 2 in 1 Spiralizer & Cutter.
Whether you're going with some of our recommendations or you've stumbled upon an even better product on your own, keep in mind that the best French fry cutter is always the one that saves you time, effort, and expenses without compromising your safety. We wish you tons of delicious fries and countless returning fry-loving customers!
FAQs
Question: Are French fry cutters worth it?
Answer: Although you certainly can make great French fries without a professional cutter, these devices can significantly reduce the time and effort it requires. If you're running a commercial kitchen that prepares large amounts of fries daily, buying a potato cutter is surely a reasonable investment.
Question: What else can you use a French fry cutter for?
Answer: French fry cutters are much more versatile machines than you might probably think. Besides cutting potatoes into fry-style pieces, they can also help you cut various vegetables, fruit, and some other food products for many original recipes. Some sophisticated cutters even come with several different blades to provide you with even more options.
Question: Can you cut French fries with a food processor?
Answer: Yes, some multifunctional food processors can include a special fry cutting blade, so you can make pretty impressive French fries with this machine even without owning a dedicated fry cutter.
Nevertheless, most of these accessories are only intended for occasional use, and they must not withstand the demanding conditions of everyday use in a commercial kitchen. If you cut fries in large quantities daily, it is recommended to buy an original fry cutter.
Question: What is the average size of French fry?
Answer: The average length of French fry is somewhere around 59 mm. The most popular thickness of fry is reportedly 3/8 ".
Question: Are French fry cutters dishwasher-safe?
Answer: Some French fry cutters can be partially dishwasher safe – it mostly applies to cutters made of sturdy plastic and food-grade metals. Nevertheless, keep in mind that sharp cutting blades should not be washed in dishwashers at all, so you still must clean at least some parts of the cutter manually.