Latest posts by Alice Smith
(see all)
In the restaurant industry, there is a trend of emphasizing the visual aspects and creating an experience for customers. One way to do that is with food displays and merchandisers. Food displays are used primarily in restaurants, while merchandisers are more commonly found in grocery stores. The choice between which one you want to use depends on what your needs are as well as how much space you have available.
If you own a restaurant, then you probably know that using food displays and merchandisers is one of the best ways to increase sales, and customers will see yummy things and be tempted to purchase them. They are also a great way to get your restaurant noticed, keep the kitchen stocked with fresh ingredients, and an easy way for customers to know what is offered in your store.
There are many different types of food displays and merchandisers on the market today, so it can be difficult finding the one that is best for you. That's why we've written this blog article – so you can learn more about what is out there, what features they should have, and some product recommendations.
In this article, we will go over everything you need to know about these two types of products so that you can find the best one for your restaurant.
What Is a Food Display?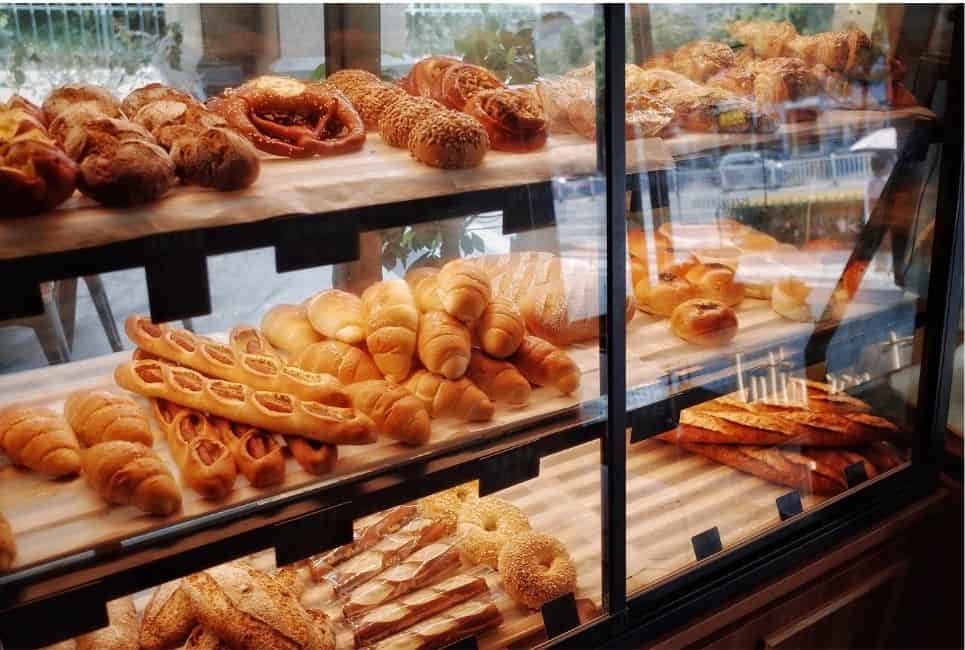 A food display is a special type of attractive display for food or drinks. It's a great way to show customers what your store has to offer. They can come in a range of shapes and sizes, depending on what you want to get out of them. Some food displays are meant for fresh food only, while others include packaged goods as well. They can also be built right into your countertops or used as freestanding units that customers pass by every day.
However, food displays aren't typically electrical. They are stands or baskets or tiered displays that allow you to maximize the amount of space you have while still showing customers what they can expect from your store.
What Is a Food Merchandiser?
A merchandiser is similar to a food display in that it allows customers to see what you offer, but there are some key differences between them. This is more of a transparent display cabinet, typically with a glass door on the front so you can see inside, and a shelf or two at the bottom.
Some food merchandisers are built into refrigerators for convenience for both customers and staff. It means customers can easily see what's inside, and there is no need for staff to open up the case when looking through your inventory.
However, merchandisers typically have an electrical function – like refrigeration or heating elements. The goal of these units is usually for keeping perishables fresh and hot foods hot until they are purchased to eat (for example, sausage rolls and slices of pizza).
They aren't meant for long-term storage though; if you need something for longer periods than what a merchandiser offers, then consider purchasing hot holding devices, freezers or coolers instead.
Merchandisers can also display packaged goods as well as fresh foods. Food displays usually require employees or managers to stock them periodically, but many businesses use both types of units together in different areas throughout their stores.
How Do Food Displays and Merchandisers Work?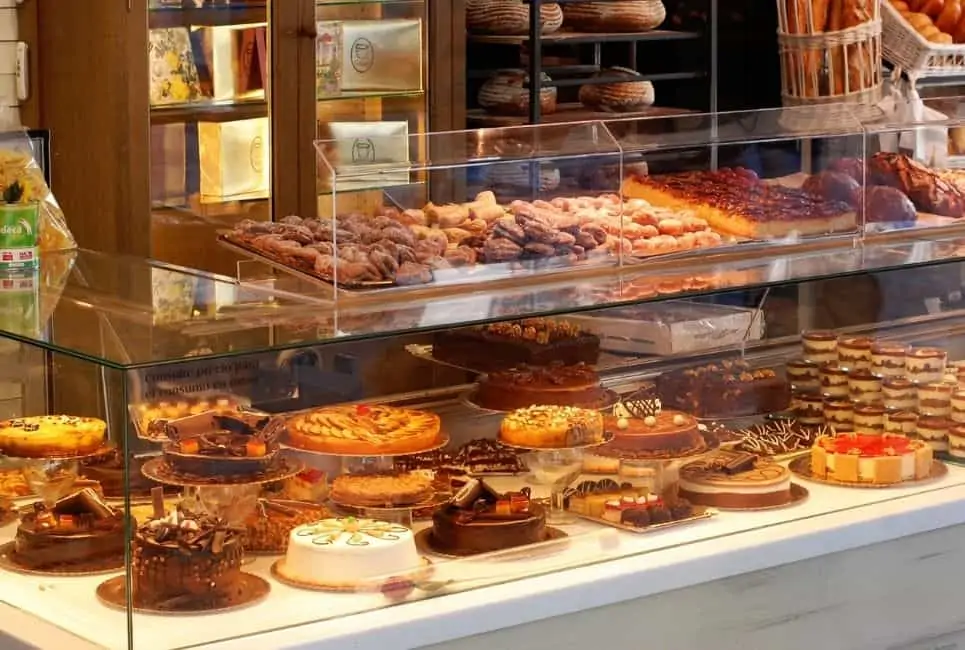 Food displays work quite simply. They are stationary stands that restaurant owners or catering business owners can use to show off their products. They are a great way to market your restaurant and entice customers who might otherwise walk by without ever knowing what you have in store for them.
Merchandisers, on the other hand, typically need an electrical connection of some kind (although there are exceptions). Some models can be plugged into regular outlets or they can be hard-wired when that is more convenient.
Either way, many businesses use both types of units together – food displays near exits and entrances so people know what's available before going inside, while merchandisers provide fresh options once someone gets closer to ordering their food.
Food display stands also come with different tiers depending on how tall they are; this makes it easier for employees stocking them if everything isn't the same height. Merchandisers have shelves that are adjustable so you can make room for taller items, or even split the space down the middle if needed.
What Are the Different Types of Food Displays and Merchandisers?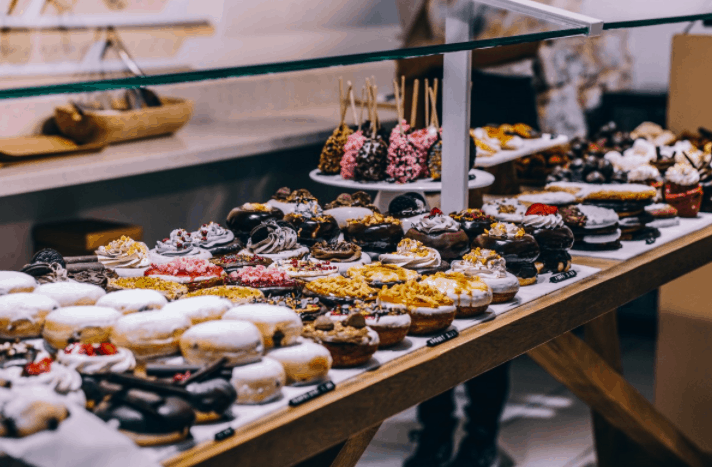 There are many different types and designs of food displays and merchandisers. This makes it easier for restaurant owners to find the right one for their business, depending on what they want to accomplish with it.
Some of the most common types are:
Pie cabinets
A pie cabinet is a display that is typically used for desserts like pies, cakes, and brownies. It can also be used for other items as well depending on your needs. Some stores use them to store drinks instead of having a separate refrigerated unit nearby.
Soda/juice cabinets
A soda or juice cabinet works in much the same way as a pie cabinet, but it is typically used for drinks instead of baked goods. This model can also be split down the middle if needed to provide more refrigeration space in a limited amount of floor space.
Beverage coolers
A beverage cooler case usually contains several shelves so you can offer up different types and sizes of beverages while still keeping them organized. These units are often used in combination with food displays to keep everything organized.
Hamburger and hot dog cabinets
You can find these types of display cases at many fast-food restaurants, or street food carts, but they work well for catering businesses too. They have a heating element inside them that allows you to serve up items like burgers, hot dogs, French fries, with ease.
Cheese cabinets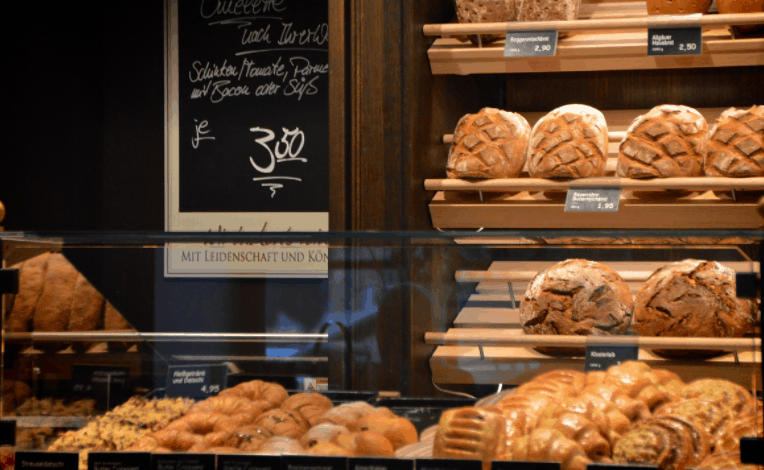 These types of units are perfect for any catering business that specializes in serving up appetizers and snacks. They have a bottom shelf where you can store items like crackers or breadsticks (or anything else you want to keep cold), while the top has room for cheese, meats, and other items that are best served at room temperature.
Heated display units
Heated display cases typically have a heating element inside them that allows you to keep items like soups, pizza, and sandwiches warm until customers order them. They have multiple shelves and are usually made from stainless steel and glass.
Ice cream cabinets
These units look similar to heated display cases but they can be flipped around so the top is used for displaying the items instead of heating them. You can also find these types of units with refrigerated drawers underneath so you have more flexibility when it comes to storing different kinds of food and beverages.
Ambient display units
Ambient display cases are usually found in grocery stores and other larger retail outlets. They have glass doors so customers can see what is available before they buy, making it easier for them to pick up items on their way out instead of stopping at a food counter first. Ambient units are typically used for storing items that don't need to be chilled or kept hot, like cookies or cakes.
Cold display units
These types of cases are also used in grocery stores and other large retail outlets, but also in gyms, cafes, and sandwich shops. They have a glass front with refrigerated drawers inside so you can store different kinds of food, including pre-made cold sandwiches, wraps, and pots of cut-up fruit.
Jacket potato ovens
Jacket potato ovens are used specifically for cooking up potatoes. They come in standard and deluxe models that have different features, depending on the needs of your business. They often have a transparent glass section on the front door, so both chefs and customers can see the potatoes cooking inside.
Salad station
A salad station is perfect for any catering business that serves up salads. It has a bottom shelf where you can store items like plates and cutlery, while the top has space for different types of salads. The salad items are usually laid out like a buffet and customers can help themselves to what they want. And create the perfect plate.
Pizza display units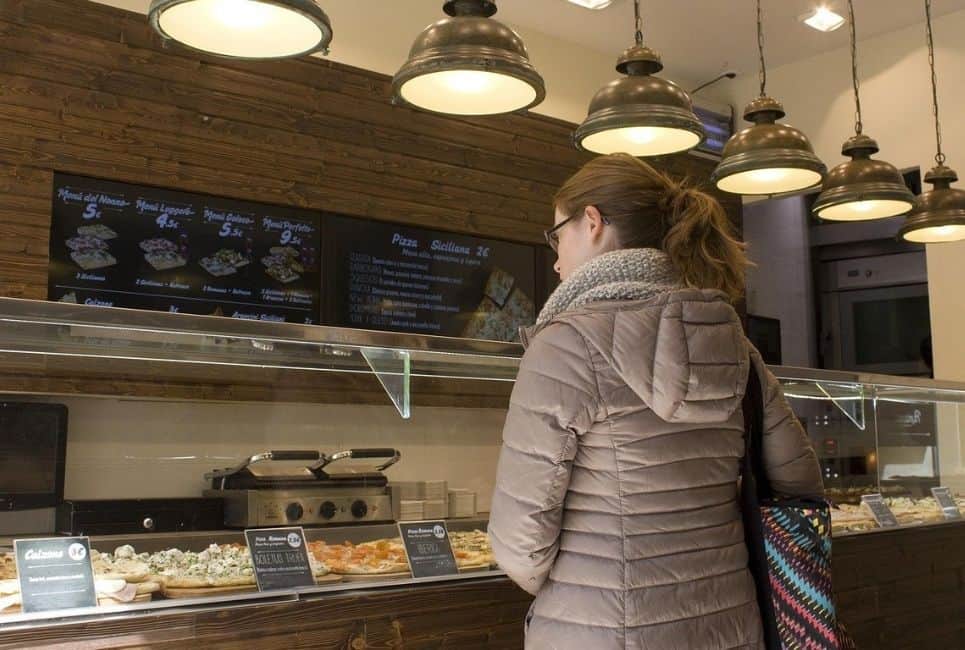 These types of units are perfect for serving up pizzas. They have several shelves and glass walls, with plenty of space to layout pizzas of all kinds of toppings. They normally have room to either display the whole pizza (depending on how large it is) or pizza slices. This allows customers to choose what they want before placing an order.
Display stands and risers
Display stands and risers are perfect for creating different types of food displays in your restaurant or catering business. They are similar to shelving except they stand upright instead of hanging on a wall. They help to give you more flexibility when it comes to merchandising, which is especially important if you have limited floor space.
Food storage jars
Food storage jars are perfect for storing different types of ingredients in your restaurant or catering business. They can be used to store items like cookies, sweets, and other goods. You can also use them to store nuts or candies that you want customers to be able to see. They can even be used to display things like packaged mints or mini shortbreads that might go on the side of a cup of coffee.
Buffet trays and platters
Buffet trays and platters help to give you more flexibility when it comes to merchandising, which is especially important if you have limited floor space. You can display lots of different types of food, and they usually have lids to keep food protected and at the correct temperature.
Display baskets
Commonly seen at hotels breakfasts storing bread rolls or other baked goods, display baskets are perfect for restaurants and catering businesses that want to create a display for baked items. They help make your food displays look more appealing.
Chafing dishes
Used for serving up food like hot dogs, chili cheese fries, and other similar items, chafing dishes are perfect for restaurants or catering businesses that specialize in quick snacks. They come with a stand so you can place them on counters without needing much space.
Cloches
Perfect for keeping food warm, cloches help to make your food displays look more appealing. They are also great at keeping bugs and other insects off of bread or baked goods that might be on display in your restaurant or catering business.
Cake stands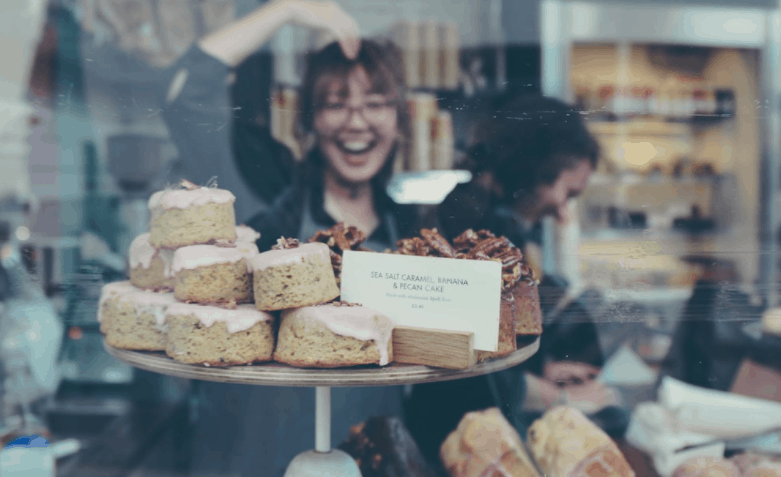 Cake stands are perfect for displaying different types of desserts in your catering business. They help make your food displays look more appealing and can also be used to add height to other items that you might have on display, such as cupcakes.
What Should You Look For In a Food Display and Merchandiser?
When shopping around for food displays and merchandisers, there are certain features that you want to keep an eye out for.
For instance, price, durability, style, and appearance. You'll need to pay attention to the capacity (how much it holds), refrigerated vs non-refrigerated units, and the size of the unit itself (is it too large or small?). You'll also need to think about lighting options (if applicable), shelf adjustments on individual units – whether they're fixed or moveable – what shelving is included with products – this is usually only an option with larger setups since smaller models don't typically need extra storage space; each one may already come with shelves or racks on the inside.
Some of these features are standard on most merchandisers, but not necessarily all food displays out there. For instance, many glass-door models will come with adjustable shelves while other stationary units might only include a shelf at the bottom and nothing else.
Either way, make sure to take note of what is included so you can get an idea of how much space to expect for each unit – even if it doesn't seem like that big of a deal now.
Additionally, think about where you're going to be putting your food display stands when they arrive and whether or not they'll need any electrical work done beforehand. In some cases, it may require an electrician who specializes in restaurant equipment to do the work, but other times you can set everything up yourself with just a little bit of know-how.
But let's have a look at what to look for in a food display and merchandiser in more detail:
Security
Particularly with food displays that aren't constantly monitored, you want to make sure that the food inside is safe from theft. For hot and cold food items, you'll need to look for models with locks on the glass door; this will keep people from reaching in and helping themselves without permission or paying.
For buffet trays, chafing dishes, display baskets, and cake stands make sure to look for a model that can be locked.
Capacity
How much food can your food displays hold? This is a big question and it's one that needs to be answered in detail. For instance, are you looking for food display stands that can accommodate large or small items? You'll also need to think about whether you want your units to sit on the floor or if they should go up on counters. This might depend largely on the style of your restaurant or catering business.
Efficiency
With electric models, efficiency is definitely something to consider. Many food displays and merchandisers have adjustable temperature controls, which is a huge plus.
In addition to thinking about price, think about how often you're going to be using your merchandise units. If there's an event or holiday that requires lots of special items on display (for example, Christmas or Thanksgiving), then it might be worth spending more money on a unit that can accommodate all of your needs.
Ease of cleaning
Think about how easy it is to clean the food displays and merchandisers you're thinking of buying. Do they have removable glass doors or are the shelves inside adjustable? This alone will make cleaning a lot easier, but it's also about what the food display is made of and what you can easily disinfect. For example, stainless steel food displays are a great choice because they're easy to clean and don't absorb bacteria or germs as much as other materials might.
What Do You Need It For?
Now, this may seem like an obvious one but hear us out. Of course, if you're looking for a way to store pizza, you're not going to buy a cake stand. But you will need to make sure that what you purchase is fit for your purpose. For example, many people don't think about their buffet trays when they're buying food display stands; this is a mistake because you can use them to store foods like salads and desserts.
Size
Food display stands come in all different sizes, which can be confusing when you're trying to figure out just what you need. In terms of capacity and efficiency, it's important that your food displays are going to be able to handle whatever items or dishes you have planned for them.
Electric or non-electric?
Food display stands may have electric heating or cooling units, which can be a lifesaver when trying to keep things warm at the right temperature.
However, they are not only more expensive but also more complicated than non-electric models. Things like light settings and thermostats might seem like a good idea, but they can also be difficult to operate and maintain. But of course, if you're displaying perishable foods, keeping them out of the danger zone is essential.
Price
Food display stands vary in price depending on the material that it's made from (stainless steel food displays are more expensive than plastic), how many shelves or drawers there are inside of them, what kind of heating unit is used if any at all, and how much capacity or space is available. Make sure to consider the price when deciding on what food merchandisers you need and what you can afford to spend.
Attractiveness
Of course, you're buying a food display and merchandiser in order to make your dishes look more attractive. But this is exactly why you'll need to consider the attractiveness of the actual unit you're looking at purchasing.
For example, if you have a buffet area or salad bar in your restaurant, it might be worth spending more on adjustable shelves that can accommodate larger dishes and platters. This will make the food display much more attractive to customers than one without these features would be.
Internal organization
If you're buying a food display stand, you might be tempted to simply pick one that can hold as many dishes and platters as possible. However, this often means less organization which could mean a messier-looking buffet area or salad bar. So when considering the best food displays for your restaurant, make sure there are options for tidy internal organization.
Material
Lastly, consider the material the display is made from. Whether or not you're looking for stainless steel food displays, many other options could have a significant impact on its cost. For example, plastic food display stands will be less expensive than metal ones. However, the latter looks much better and can last longer as well because they don't break down nearly as easily. Plus, the material will have a direct correlation to how durable your display is.
Food Display and Merchandisers Best Use Tips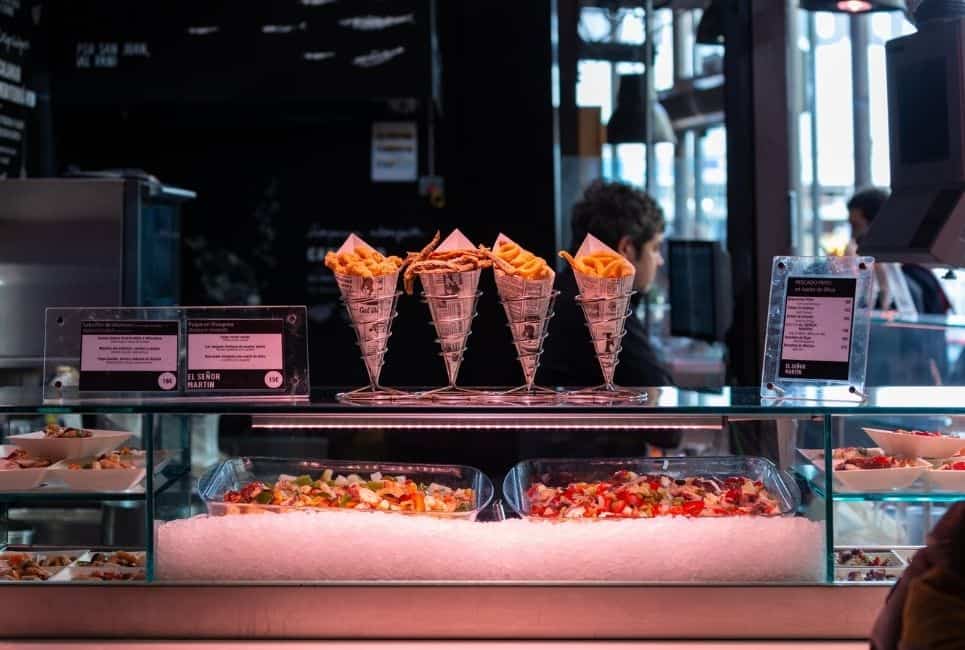 Here are some top tips for getting the most out of your food display or merchandiser:
Think about your design – do you want your display to be free-standing or built into a wall? This is an important consideration because it can affect the type of food displays and merchandisers that are right for you.
Size – make sure to measure out how much space there will be available before buying any food displays. And we don't just mean space in your restaurant. Space around the display so customers can easily access it and space between the items inside too, so it doesn't end up looking like a crowded mess.
Use bright eye-catching colors – you could have the most beautiful food displays and merchandisers in your restaurant, but this won't matter much if customers can't see them. Make sure to pick bright colors, or decorate with colors, that make it easy for people to find what they're looking for.
Varying the heights of your displays will also help – if you're placing two food displays of the same size next to each other, this can make it seem crowded and will be difficult for customers to see everything that's inside. So consider varying heights in your display so there are no awkward gaps or wasted space between them.
Use light settings correctly – whether you have table lamps with adjustable dimmers or LED lights in your food displays, make sure to consider the right lighting settings for different times of the day.
Displays like baskets, timber boxes, and racks can be great for adding a little more storage space to your restaurant – if you have some spare wall or countertop space, these can also make great drink displays and merchandisers too. They're also super affordable and they look good.
Remember to make it clear to the customer what you are serving – for example, instead of using a generic label that says 'salad', try labeling your salad bowls with signs like "Greek Salad" or "Caesar Salad". This will make it easier for customers to see what they're looking at and know exactly how much is inside.
Tell people about allergens too – this is particularly important for customers with allergies who may have to ask about the ingredients in specific dishes.
Clean your displays regularly – your food displays should be cleaned regularly so that any bacteria doesn't spread across the entire buffet or salad bar.
What Criteria Did We Use to Come Up with These Suggestions?
To come up with the selections below, we used customer review data from trustworthy sources. We also looked for reputable brands that have been around for a while and are respected in their field because this makes it more likely they'll be able to provide high-quality food displays or merchandisers.
We also considered features like warranty, whether the display was easy to clean, what it was made from, and whether the price is worth the quality.
We also checked out whether the food displays or merchandisers were adjustable in height, which is a must for certain types of buffet-style restaurants. And finally, we looked at what they cost and how long they will last – because if something isn't affordable you'll be more likely to replace it than stick with it.
Our Top Food Display and Merchandiser Recommendations
Buffalo Countertop Heated Food Display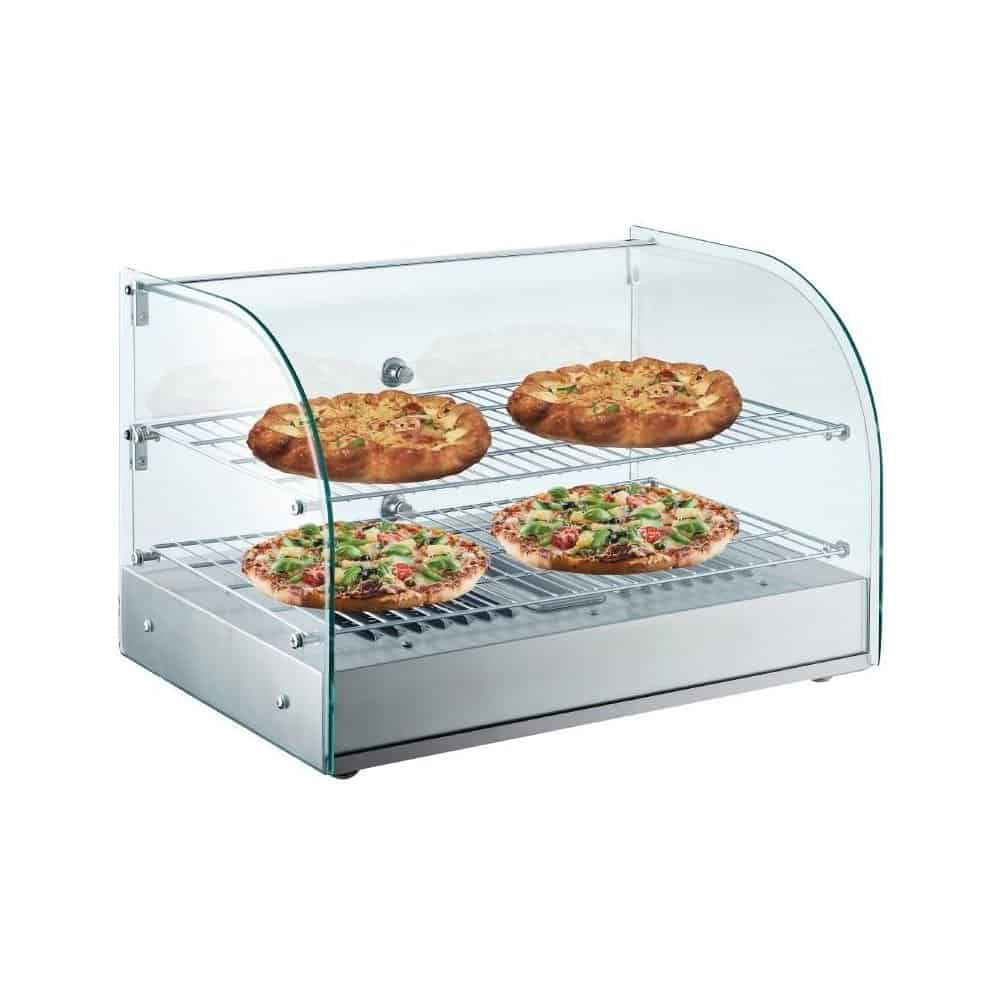 Offering a reliable, four-sided heated glass display as well as baskets and other merchandising accessories, this product is perfect for the attractive presentation of pies, pasties, sausage rolls, and more. Specially designed for easy cleaning, display units are accessed from the rear glass doors and temperature can be adjusted with simple dial control.
With efficient LED lighting and an internal water tray, your product will look better for longer without drying out. This handy heated food display is a great choice for a range of catering establishments including convenience stores, indoor markets, service stations, and more.
Pros:
Stylish glass and stainless steel design
Easy to use and clean with removable rear sliding doors
Adjustable temperature range between 30°C and 90°C
Cons:
Expensive
Might be too small for some organizations
Olympia FSC Acacia Wood Riser Set (Pack of 3)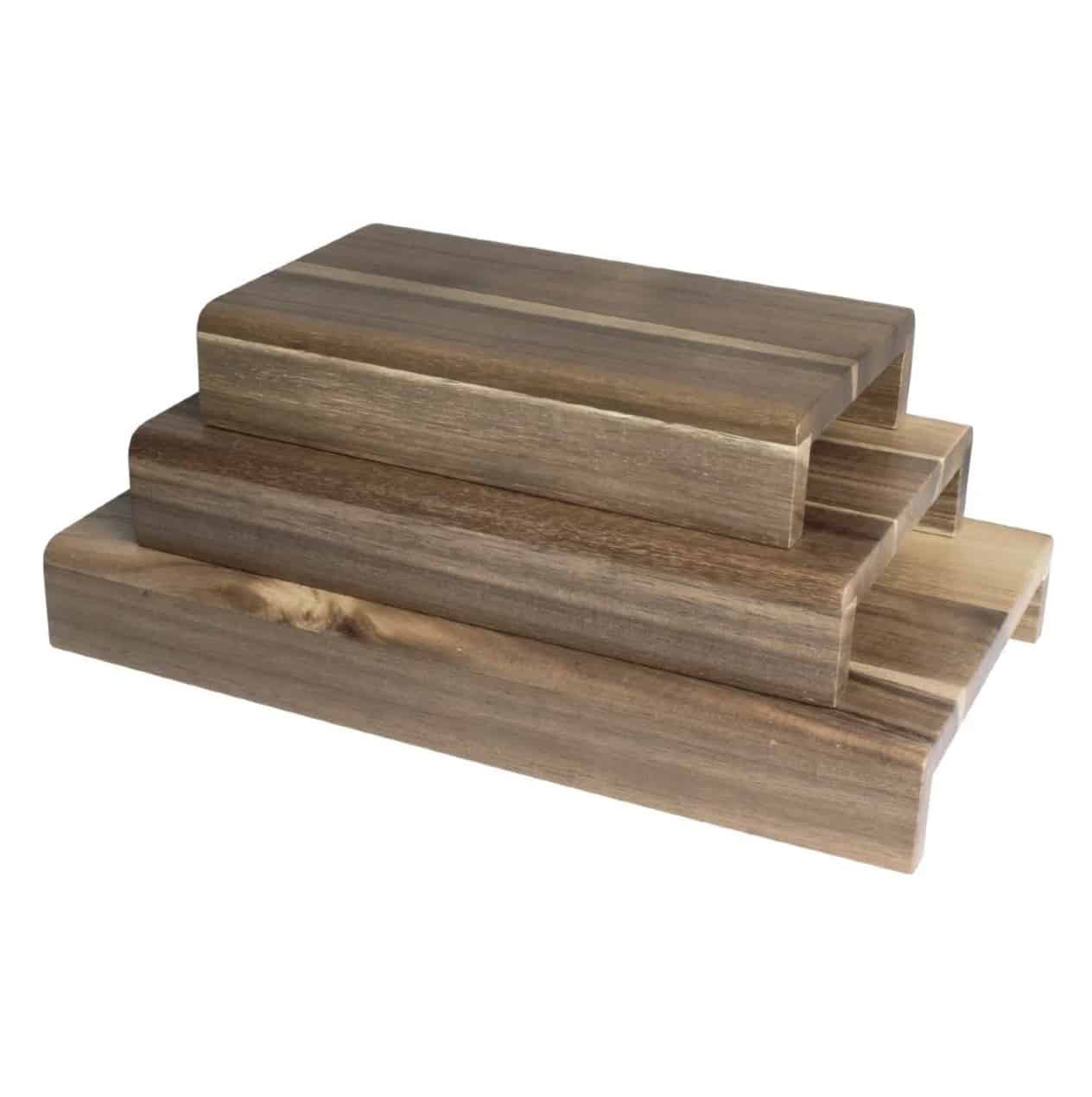 To add height to displays or break up lateral lines, you may consider using some wooden risers. Food display risers like these from Olympia are a great way to do so. Each of the three risers is made from acacia wood and provides wonderful rustic touch to your table or buffet settings. They will definitely make an inviting area for guests.
There is an equal height between each riser, but the length and width vary, allowing you to fit your display to the available space.
These display boards are perfect for serving meals at tables. They have a raised construction so that they can be placed in front of customers and allow them to view the food easily from their table. The footed base of this tray is safe to support large, heavy platters and doesn't compromise on style.
Pros:
Beautiful rustic design
Equal height between risers
Safe to use with large, heavy platters
Cons:
It may not be suitable for every type of restaurant
APS Bread Roll Dispenser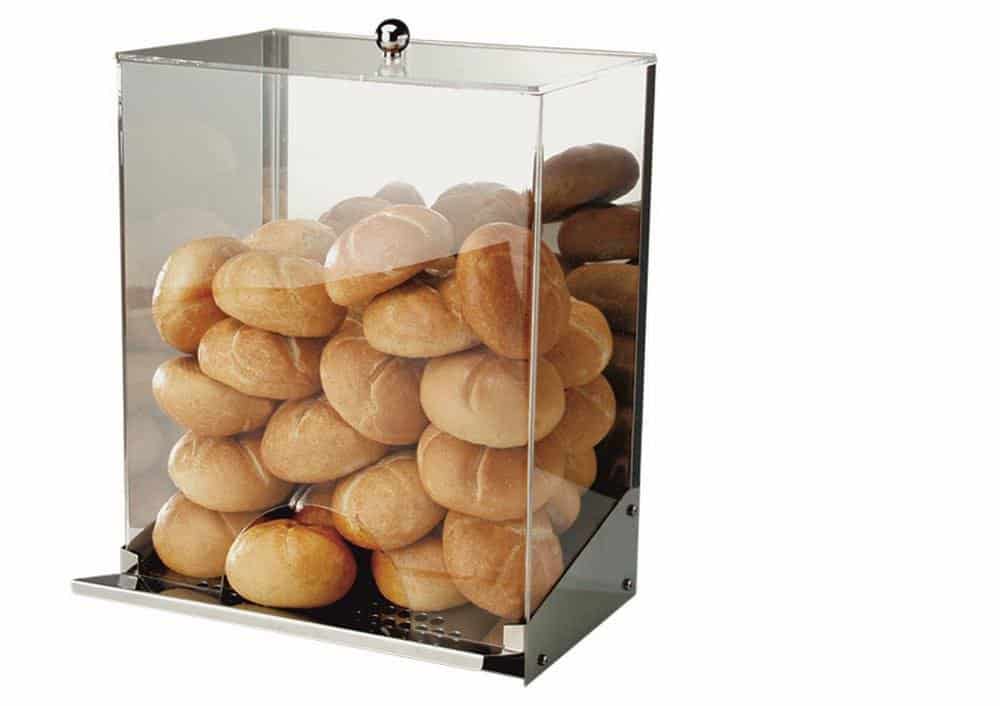 This handy bread roll dispenser is a great way to save space and give your buffet or salad bar a stylish edge. The sleek stainless steel finish is not only extremely durable but also gives the dispenser a timeless look that will complement any décor – from traditional to contemporary.
A perfect choice for serving breakfast or as an accompaniment to soup stations, it holds two large trays of bread rolls and has a flip-up lid for easy access. This ensures that your guests are able to choose from a variety of fresh-baked options without having to wait too long – saving you time in the kitchen whilst increasing throughput.
Featuring a removable lid for easy refills and top-fill, this bread merchandiser offers the ability to spin trays for simple rotation. Additionally, it has a pull-out drawer that allows for quick cleaning.
Pros:
Stylish design and durable stainless steel construction
Easy to use and pull out drawer makes it easy to clean
Affordable price-point
Cons:
Might be too small for some restaurants
Polar G-Series Countertop Food Display Fridge 160Ltr Black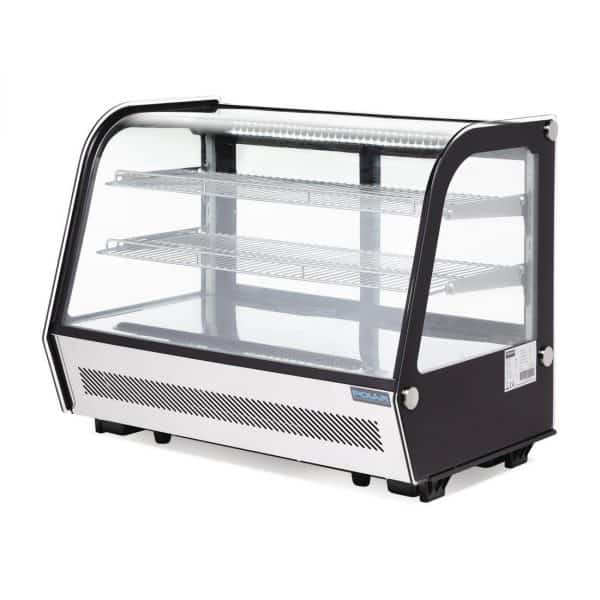 The Polar G-Series display fridge is a stylish and reliable solution for chilling and displaying pastries, desserts, and drinks. This will help businesses maximize sales by providing a merchandising solution that will better sell chilled foods. It's the perfect solution for cafés, bakeries, or takeaways, and similar quick-service establishments.
The chiller has two adjustable and removable shelves and a removable rear door, making it easier to provide a wide range of food options. Thanks to the rear-mounted digital control panel, the fridge is effortless to set up. Now you can easily store food at its ideal temperature. It is also easy to use and maintain, saving time at the end of a busy service.
Pros:
Sturdy stainless steel construction
Stylish black and silver design
The removable rear door makes it easy to clean
Easy to use digital temperature controls
Cons:
fAQs
Question: What does a food merchandiser do?
Answer: A food merchandiser is a self-contained unit that keeps perishable foods at the perfect temperature to maximize their freshness and taste. The units are often used by hotels, restaurants, cafés, and other establishments that need to keep buffet or hot counter foods warm for long periods of time.
Question: Why do you need a display fridge?
Answer: If you run a café, restaurant, or hotel buffet, then having an attractive display fridge is essential. Display fridges not only keep your food cold and fresh but also help enhance the overall appearance of your establishment by creating inviting spaces for customers to enjoy their meals. In addition, these types of displays are very versatile as they can be used in both front and back-of-house settings.
Question: What are the benefits of a hot food display?
Answer: Hot food displays are a cost-efficient way to keep your buffet or self-service station well stocked with delicious foods. The units provide an excellent front of house solution for busy establishments that need plenty of space and access to freshly prepared items at all times, such as hotels, restaurants, cafés, and canteens
Question: What is a merchandiser at a grocery store?
Answer: In-store merchandisers are used by food manufacturers and grocery stores to market their products. These units showcase a wide range of items, such as snacks, drinks, candy bars, or even fresh produce like fruit and vegetables.
Question: What are the requirements for displaying food?
Answer: There are a number of mounting options available for food displays, including countertops and floor standing models. To help you decide which option is right for your establishment, it's important to consider the following criteria:
• The type of foods that will be displayed – Fresh produce can generally benefit from being placed on stands or at counters whereas chilled items may be best suited to a floor standing display.
• The location of the unit – Where you will be putting your food display can help determine what kind is right for you. If it's going in front of a window, then an eye-catching model may be ideal. Alternatively, if it's placed at the back of the house where no one can see it, then a smaller and more practical option is probably best.
The budget available for the unit – Food displays come in a range of sizes and styles. If you are on a tight budget or if there's no room to spare at all, then investing in an affordable but highly efficient display fridge will be your most sensible choice.
Question: How long should displayed food be displayed for?
Answer: The length of time that a product stays fresh is determined by several factors, including the type and quality of its packaging. Generally speaking, unopened products will keep their best qualities for around six months whereas opened items or fresh foods should be eaten within two days or three days max.
Question: What temperature is safe for food?
Answer: If food is stored at the incorrect temperature, bacteria can start to grow and cause it to degrade. For most food types, this safe zone falls between 4°C and 60°C. This is known as the danger zone and should be avoided at all costs. Of course, packaged foods like crisps and cookies don't need to worry about this – it only affects fresh foods.
Question: What is the best food display for a restaurant?
Answer: The most important factors to consider when choosing a unit are: what foods you will need to store, how often they will need topping up, where it's located within your establishment and whether or not other staff members can access it with ease. For this reason, a front counter hot food display is generally the most versatile and practical option for cafés, restaurants, canteens, or waiting areas.
Question: What are some common foods displayed?
Answer: Some of the most commonly displayed foods include pre-packaged sandwiches or salads that need refrigerated storage. Hot foods include pizza, pastries, hot meat (like chicken pieces), and paninis, while others include fresh fruit, vegetables, or snacks.
Question: What are the benefits of a self-serve station?
Answer: A self-service buffet is perfect for busy establishments where people want to serve themselves but don't have the time to prepare their meals from scratch. These stations can also help you save money in certain cases as they do not require staff to work behind them.
Question: How much does a food display cost?
Answer: The cost of food displays varies from as little as $100 up to thousands of dollars, depending on the size and style you need. If your budget is tight then a compact but highly efficient countertop model will be ideal for many cafés or restaurants.
Question: What is the life expectancy of a food display and merchandiser?
Answer: The lifespan of a food display or merchandiser varies from product to product. Generally speaking, small units are likely to last for around five years whereas larger models will be more durable and could potentially run for up to ten years without requiring any major repairs.
Best Food Displays and Merchandisers: Conclusion…
Food displays and merchandisers are a great way to show your customers what you have available for them. Whether you're looking for something simple like an inexpensive countertop food display or more elaborate centerpieces with refrigeration, we've covered all of the bases so that you can make an informed decision about which one best suits your establishment's needs.
Overall, if you need a hot food dispenser, we suggest going with the Buffalo countertop heated display, and for cold food displays, the Polar G Series countertop display is excellent. For ambient displays, there are a range of shelves, staggered displays, and baskets displays available.
The guide should help eliminate some of the guesswork involved in selecting these units while taking into account budget constraints as well. Hopefully, we've helped you to identify the best food display and merchandiser for your restaurant.