Latest posts by Jodie Chiffey
(see all)
Cheese cutting is not easy and does not come naturally to most people, so some people may choose to purchase sliced cheese. But while they may be convenient, they often have questionable freshness. Trying to get the cheese slice just right using a knife can be tedious, time-consuming, and inconsistent. However, the right cheese slicer can be just what you need to make your work easier and produce the freshest cheese slices.
In this best commercial cheese slicer guide, we help you choose a cheese slicer that will meet your needs based on several factors, including your budget and desired features. Let's begin with what to look for when choosing a cheese slicer.
Things to Think About When Choosing a Commercial Slicer 
Cheese slicers come in different forms, shapes, and sizes. Some of them can even cut other foods as well. The following are the key factors to consider when choosing the best cheese slicer for your needs.
Characteristics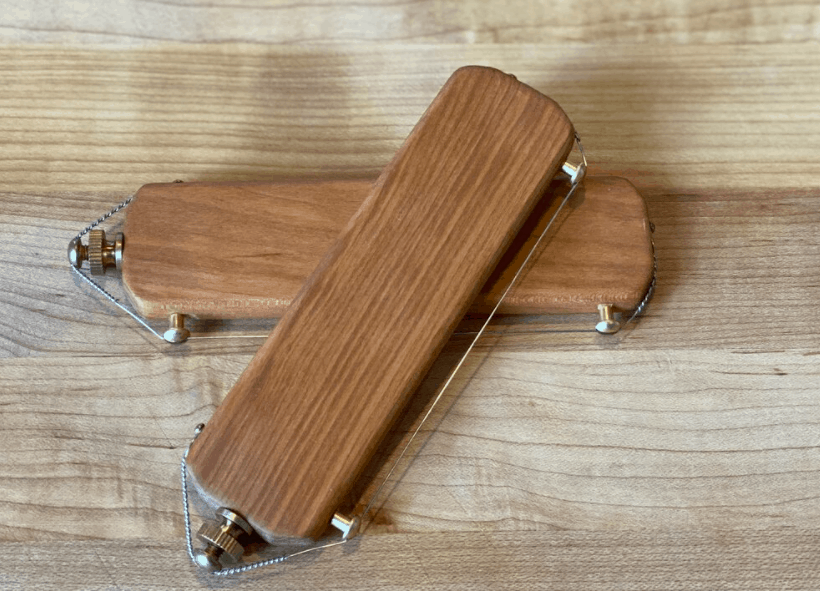 There are two types of handheld cheese slicers. The first is a slicer that uses wire to cut cheese into different-sized slices. Some models offer the option to adjust the tension of the wire. The second type has a head shaped like a shovel, with the shaving blade, and you simply draw the blade across your cheese to slice. These are often referred to as block or base models.
The latter models work with a tabletop and are therefore bulkier, with some having adequate space to serve the sliced cheese. The former work like a vegetable peeler to slice off pieces of the cheese block and are often smaller.
Build
The cutting wires or blades on most cheese slicers are often made of steel. This is because steel has the necessary strength to slice even the hardest cheeses like Parmesan and Romano and is safe enough to cut food. The base of the cutter can be made from wood, plastic, or metal, depending on the manufacturer.. These materials do not affect the functionality of the cheese cutter too much, so the choice can be down to personal preference.
Handheld cheese cutters are often made of zinc alloys or other similar materials. In addition, most plastic handles have a silicone outer covering to make them easier to grip.
Ease of Use
Ease of use is a factor that will affect the type of handheld cheese slicer to choose. A slicer with a sturdy handle will be very important if you use it to cut a lot of cheeses. This allows you to apply consistent pressure when slicing even the hardest of cheeses. Ergonomic handles can help reduce the strain on your wrist.
Block models can give you the pressure you need without the strain. But the blade needs to be sharp enough to make the work easier, particularly for hard cheeses. Since you don't generally need to lift a block slicer, they are preferable when cutting a large amount of cheese, but they do take up a lot of storage space in the kitchen.
Thickness and Flexibility 

You get more flexibility in terms of the thickness of the slice when you use a block slicer. This is because they give you the required room to move the cheese under the block or wire as needed. Some wire-blade models allow you to adjust the rollers to easily choose how thick you want your slices to be. Pie-serving slicers may not have this provision, but you can layer the cheese to adjust thickness as needed.
Usability
Some cheese slicers can be versatile enough to cut other foods. You can use a base/block model to cut sausages, cucumbers, radishes, peppers, and even lettuce. You can cut even more types of foods with certain block slicers.. Wire blades are fairly limited and may not slice through other foods or even harder cheeses.
Handheld slicers are better for hard types of cheese. Base slicers are ideal for hard, semi-hard, soft, or semi-soft cheeses, slicing through them easily.
Safety
Your cheese slicer is a cutting tool, just like a kitchen knife, and should be used with caution. Straight-edged blades are far sharper and should be used more cautiously than wire blades.
The Best Commercial Cheese Slicer Reviews
Keeping the above factors in mind, we've put together a list of the best commercial cheese slicers in the current market. The cheese slicers on this list are selected based on their effectiveness, flexibility, versatility, and ease of use.
Westmark Multipurpose Cheese and Food Slicer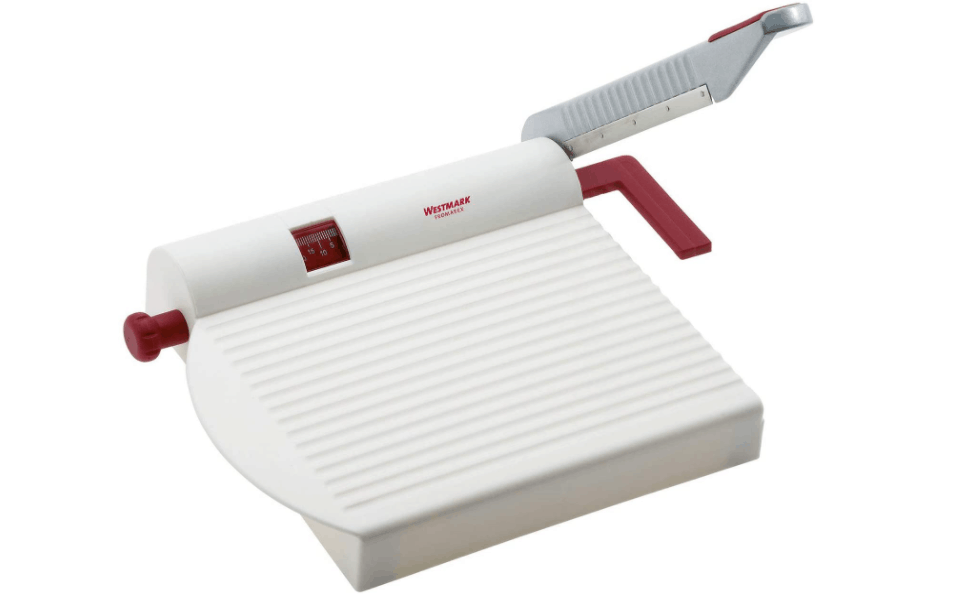 The Westmark Multipurpose Cheese Slicer has a very high-quality steel blade that is versatile enough to slice all types of cheese and other foods, including most types of meats and vegetables.
It is also very flexible, allowing you to adjust the thickness of the slice using a conveniently placed dial. To use it, just place your cheese on a cutting board and slide it onto the slicer's blade (marked by a red guard) for the perfect slice.
The board allows you room to keep the cheese slices until you are ready to serve. The bottom of the slicer is fitted with protective rubber studs to reduce the chances of slipping during slicing. This slicer is also one of the easiest to clean; you can hand wash it.
Pros 
A 5-year warranty gives you peace of mind
The stainless-steel blade is a guarantee of durability
It can easily slice both soft and hard kinds of cheese as well as other types of foods, including meats, vegetables, and fruits
You can easily adjust the thickness of the slice
Rubber studs make cutting easy and safe
Cons
It is not dishwasher safe
The plastic base can be damaged easily
Prodyne Thick Beechwood Cheese Slicer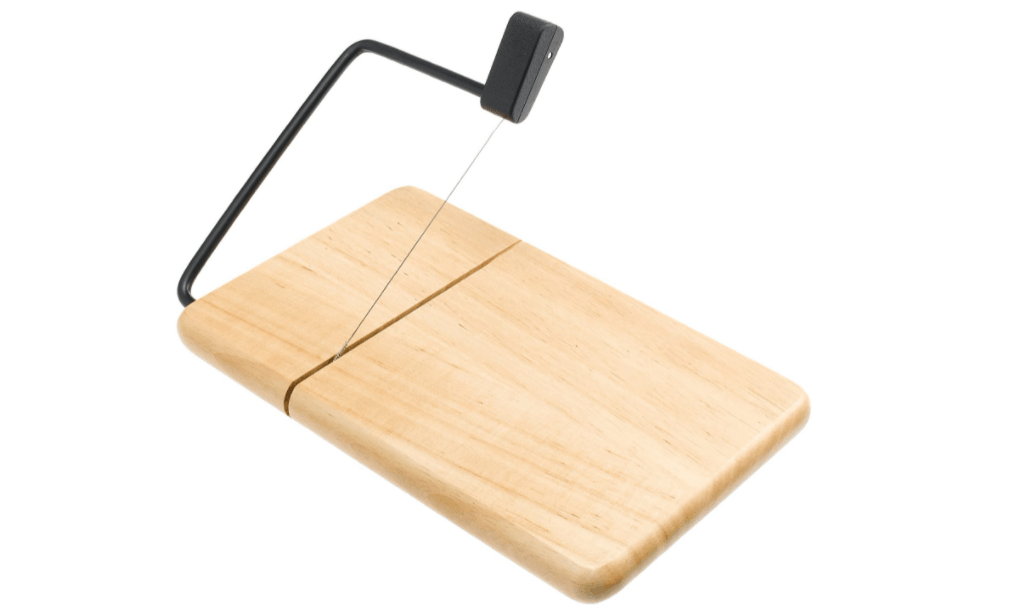 The cutting wire on this slicer, made of stainless steel attached to its black arm, allows it to easily cut through even the hardest cheeses to produce slices with varying slices. It also has a beechwood base that can serve the additional function of a serving board.
The Prodyne Thick Beechwood Cheese Slicer also has non-slip rubber contacts to help protect the countertop by reducing unwanted movement during movement.. Its simple, flat design makes it very easy to wash by hand.
Pros
It offers a lifetime warranty
It can cut cheese in very thin slicers
The cutting wires are replaceable
It comes with non-slip rubber feet
A wooden base that can be used as a serving board
Cons
It is not dishwasher safe
You may not be able to adjust the thickness of the cut
Westmark Heavy Duty Wire Cheese Slicer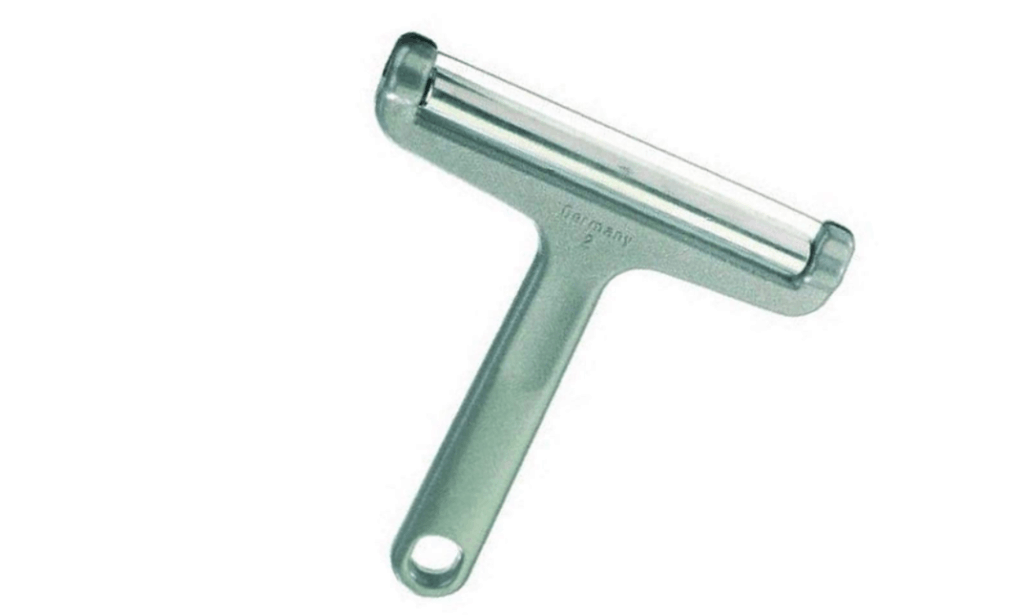 This handheld slicer from Westmark is one of the best heavy-duty slicers in the market. It is relatively inexpensive compared to other similar models, and it is suitable for cutting both soft and hard kinds of cheese. It also allows you to easily change the thickness of the slice by simply adjusting the angle of the cut.
The Westmark Heavy Duty Cheese Slicer includes a wire cutter and a roller made from high-quality stainless steel and an aluminum handle. This combination of materials makes this slicer one of the most durable, providing quality slicing services for years.
Pros
A 5-year warranty that you get with all Westmark slicers
It is affordable
Dishwasher safe, although you can also wash it by hand
It is made of sturdy materials to guarantee durability
Cons
You cannot guarantee the uniform thickness of the slices
Fox Run Marble Cheese Slicer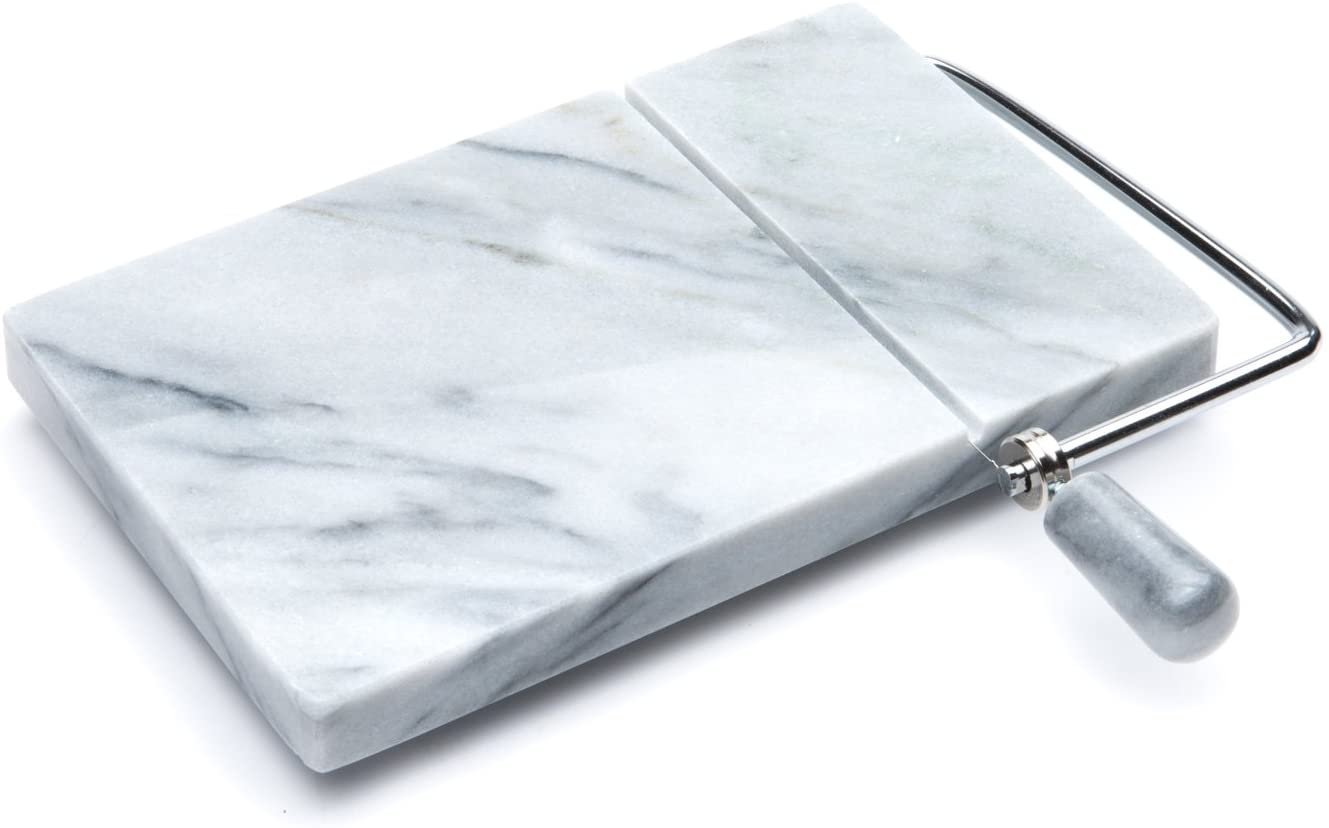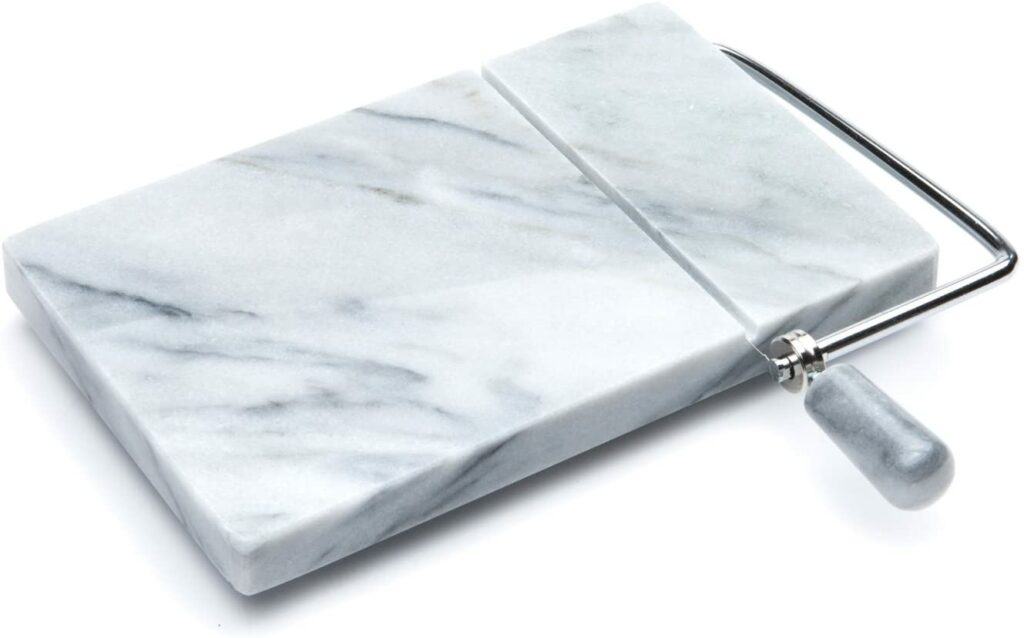 This Fox Run Marble Cheese Slicer is made entirely of marble. The elegant stone structure also features the colors and patterns that you can expect from marble. This material makes it one of the most aesthetically pleasing slicers in the market.
The surface is non-stick, making it ideal for easy slicing as well as the perfect serving board. The cutting wire is made of stainless steel, making it an ideal choice for cutting all types of cheeses. When you purchase this slicer, you get two blades with each purchase, both adjustable to help you get the desired thickness.
We recommend washing the slicer in warm water using a mild soap. However, it is important to note that Marble can easily absorb the soap, so thorough rinsing is often required.
Pros
It comes with 2 replacement wires
Marble gives it an unmatched aesthetic appeal
It is easy to clean
It can cut both soft and hard kinds of cheese
Has rubber feet to protect countertops
Cons
You may not be able to adjust the thickness of the slice
It is not dishwasher safe
BOSKA Copenhagen Cheese Slicer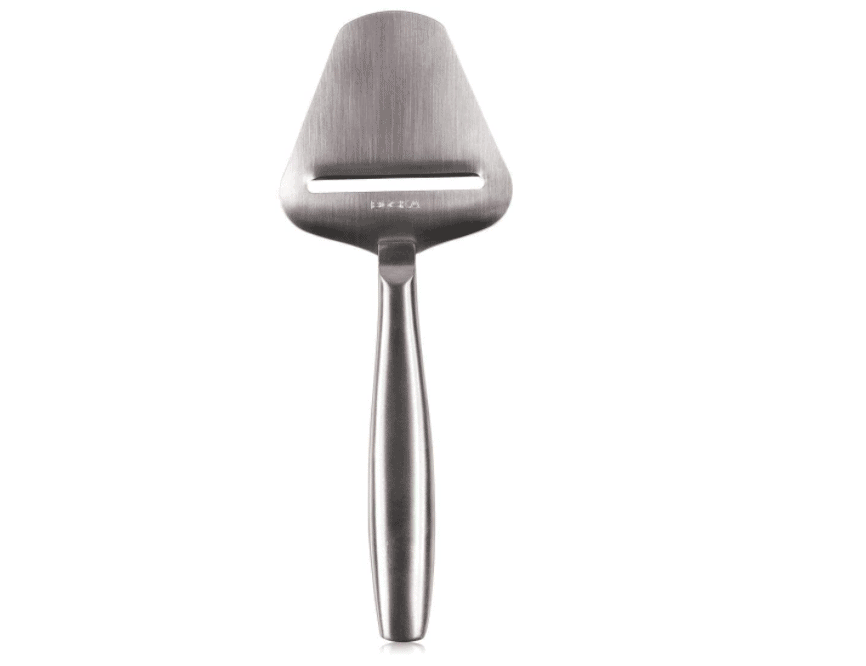 If you are looking for a slicer designed for slicing hard cheeses, the BOSKA Copenhagen is a good choice. It comes with a durable, stainless-steel blade, useful for slicing all types of cheeses. An ergonomic handle for easy handling complements the common and highly effective design.
The shovel-shaped head also makes it easy to exert the force needed to slice through even the hardest cheeses without straining the wrist too much. It is dishwasher safe, although it may not be ideal for slicing softer cheeses such as Brie and Roquefort.
Pros
Perfect for slicing all types of cheeses, but particularly hard cheeses.
It is dishwasher safe
Ergonomic handle makes cutting easy
A flexible blade for a more precise cut
Cons
The slices can be too thin, and there is no way to adjust the thickness
OXO Cheese Slicer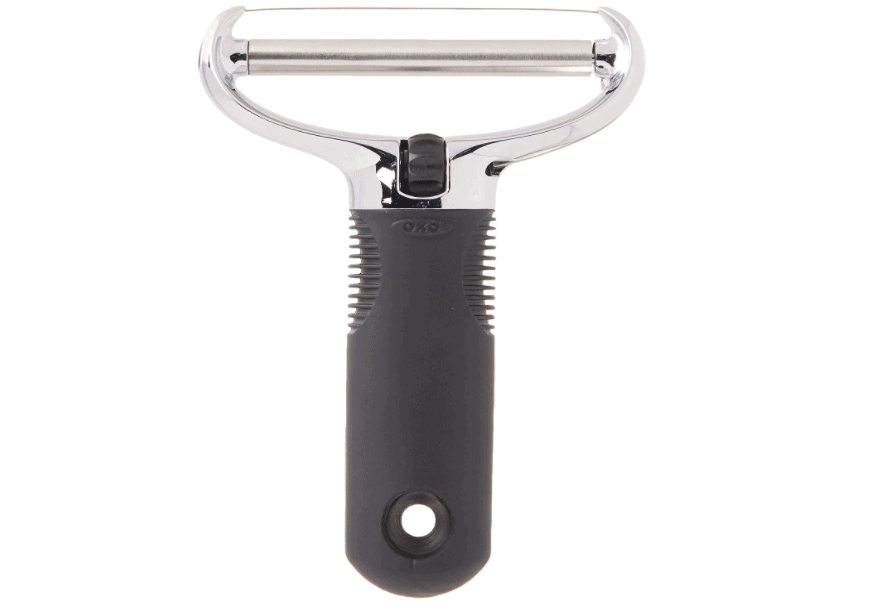 If you want a slicer that you can use every day, the OXO Cheese Slicer is a good one. This is because it has an ergonomic handle to help secure your grip, allowing you to slice away for a long time without having to worry about tired hands,
You can easily adjust the tension of the wire for various thicknesses using a button at the top of the handle. This will produce different densities of the cheeses, depending on your needs. This slicer also comes with two additional wires, and it is dishwasher safe.
Pros
Easily adjust the slicing wire for different-sized slices
An ergonomic handle provides a very comfortable grip
It is made of zinc alloy to guarantee durability
It can cut a variety of cheeses
Cons 
It can be hard to achieve uniformity in the slices
FAQs
Question: What is the Best Slicer to Choose?
Answer: The best slicer depends on a number of factors, including the kind of cheese and thickness you want to cut. Base/block slicers can be an ideal choice when you want to cut hard to medium-soft cheeses, and you can vary the thickness of the slice by simply tilting the angle of the slicer as you slice.
Tabletop slicers are an ideal choice if you want a variety of thicknesses for your slices. They are easily adjustable, meaning that they will also work well with all kinds of cheeses.
Question: What Materials Make the Best Cheese Slicers?
Answer: Choose slicers that are made from durable but lightweight materials like aluminum, zinc alloys, and stainless steel. Zinc-coated wire cutters or stainless-steel ones are also more effective and durable, ensuring they will remain a part of your kitchen equipment for a long time.
You should, however, avoid handheld slicers made from weak materials such as plastic. But there are some tabletop slicers that have very durable plastic bases.
Question: Is it Safe to Wash Cheese Slicers in a Dishwasher?
Answer: Most slicers will be labeled dishwasher-safe, but it is often better to clean than by hand. This is especially true if your slicer is made from aluminum and zinc, which don't handle the dishwasher that well.
Even stainless-steel slicers can be prone to corrosion when you put them in a dishwasher. Slicers with wire cutters may also not handle a dishwasher very well, as you risk damaging the wires, making the slicer blunt.
Question: Are Cheese Slicers Durable?
Answer: Although the materials used to make the cheese slicer can determine how durable it is, other factors, including how often you use it and how you clean it, also come into play. If you use the slicer to cut hard cheeses, chances are the blade will not last very long.
Question: What is the Difference Between a Cheese Wire and a Plane?
Answer: A Cheese wire is fine, and when it is very tense, it can be a good way to slice through soft cheeses. A Plane, on the other hand, comes with a sharp blade attached to the handle, ideal for shaving off skinny slices of cheese. A plane works in much the same way as a potato peeler.
Question: What is the Best Way to Slice Cheese?
Answer: The key to serving any kind of cheese is to maintain the flavor of the cheese. Slicing cheese and, by extension, the slicer that you choose to use can affect the flavor of the cheese. To maintain flavor, try to slice the cheese as evenly as possible. A cheese slicer, like the ones mentioned here, gives you the best chance of getting an even slice every time, something that can be impossible when using a kitchen knife. Slicers also give you uniformity in the slices, important for presentation and serving, important in any restaurant setting.
Final Verdict
Slicing cheese can be made so much easier when you use the right kind of slicer. Most people find it easier to use a handheld slicer for most types of cheeses because it is so much easier to store, clean, and use. Block/base slicers, on the other hand, can give you a more precise cut, not to mention that most serve a dual purpose, allowing you to sever the cheese right on the base of the slicer.
The key takeaway when choosing a cheese slicer is the material used to make the cutter. The Westmark Multipurpose Cheese Slicer is an ideal solution when you want a multi-functional tool that will cut cheese and many other types of foods.
It is a great compliment for the ordinary kitchen knife. The Westmark Heavy Duty Wire Slicer, on the other hand, is an ideal solution for both hard and soft cheeses. It is a durable solution and a great choice when you want a tool designed to last a lifetime.
If you would like a cheese slicer that will also act as the perfect serving tray, the Fox Run Marble Cheese Slicer, with its elegant marble design, is a great choice. Not only is it a functional slicer, but it is aesthetically pleasing enough to serve the perfectly sliced cheese pieces.
For daily use, we recommend the OXO Cheese Slicer. It is a durable solution with an ergonomic handle, ideal for regular cheese slicing. This makes it the ideal solution when you need to slice a lot of cheese without tiring your hands.