Latest posts by Maddy Chiffey
(see all)
When baking batches of pizzas, consistency, and speed are needed, and this is where ordinary pizza ovens can fail. This guide features six of the best pizza conveyor belt options for your commercial kitchen, which can help with the productivity and efficiency of cooking large numbers of pizzas.
There are different pizza conveyor belt options out there, and I have looked at each one to provide a comprehensive guide to help you achieve your best buy. I have explained my product criteria further in the article and have reviewed each product thoroughly to list its pros and cons honestly.
I have also outlined the many benefits a pizza conveyor belt will bring to a commercial kitchen and why this can undoubtedly be considered an essential kitchen item for some. If you're in a hurry to get going, I have linked to the products I have researched just below.
At a Glance: 6 Best Pizza Conveyor Belts
The Benefits of a Pizza Conveyor Oven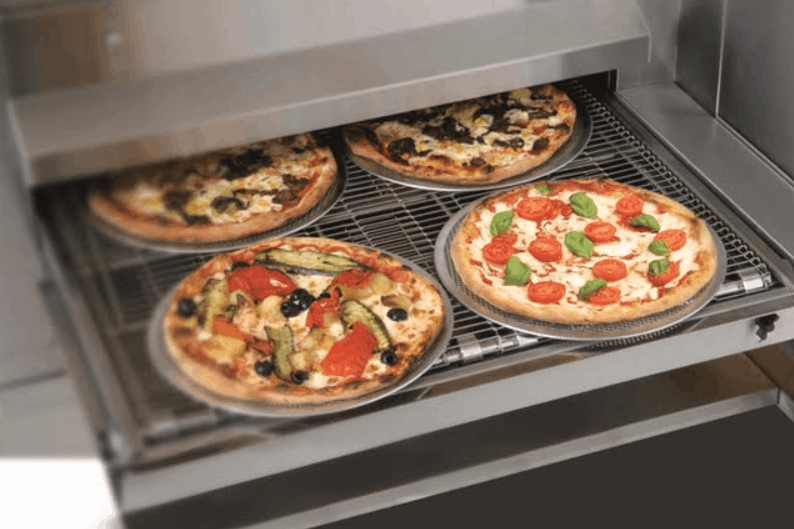 A pizza conveyor oven is a continuous cooking platform, which will churn out pizzas as fast as you can make them. They're simple to use, as the conveyor belt does all of the cooking. After placing the pizza on the belt, the machine will pull it through at a set speed and temperature.
Some pizza conveyor belts increase the production capacity by being stackable, often up to four conveyor ovens stacked on top of each other. Conveyor pizza ovens are an excellent option for commercial kitchens where speed, consistency, and efficiency are the main priorities.
Production Volume
Although sizes and capacities vary, generally, each deck on a larger conveyor belt will produce around 100 pizzas per hour. Medium-sized pizza conveyor belts will typically produce up to 75 pizzas hourly, and smaller conveyor belts tend to cope with up to 50 pizzas an hour.
Time-Saving 
It generally takes a conveyor belt around four to five minutes to cook a pizza, making this type of pizza oven an excellent choice for a fast-paced pizzeria. Because the pizzas pass through, or under, constant heat, there is no time lost for heat recovery, and the oven can be consistently used.
Financial Savings 
Because you can serve a much higher number of pizzas with a conveyor oven, when compared to other types of pizza ovens, you can make more sales. More sales equal more profit. Typically pizza-making equipment and ingredients are a low financial investment but with one of the highest profit margins.
In 2019, Americans spent $11 billion on pizza deliveries, and the food delivery sector was valued at $25 billion the previous year, which means that pizza is taking around 56% of the market. If you can churn out a significant number of pizzas, then you could be making a substantial amount of money.
Conveyor ovens are much faster than any other type of pizza oven. For example, a brick-built pizza oven can take up to an hour to heat and then only take one to two pizzas at a time, cooking them for 15 to 30 minutes. This is a time-consuming operation that is unlikely to feed the masses quickly. Conveyor ovens heat up in around 15 minutes, then are good to go.
Drawbacks to Pizza Conveyor Belt Options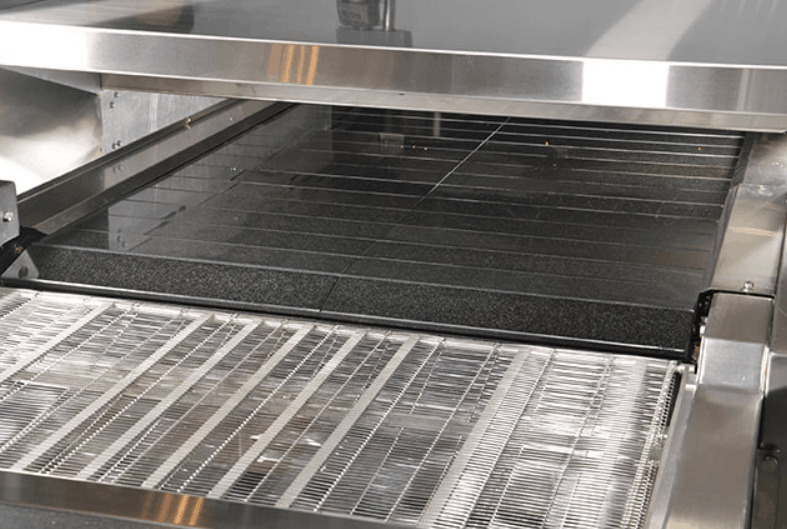 As with any product, the pizza conveyor belt has its disadvantages. The main drawback is that conveyor ovens are relatively complicated pieces of machinery. This means that they can be more prone to unexpected breakdowns, which could render your restaurant out of order while you wait on parts or repairs.
Conveyor belts are also much larger than other pizza oven options, so they may not be suitable for smaller commercial kitchens. This is especially true for kitchens low on space that also need to accommodate a pizza prep table, refrigerators, freezers, and other large items. Conveyor belts can also be pretty difficult to clean and are often much more expensive to buy.
Our Product Criteria 
Before looking at our list of pizza conveyor belt options, I want you to know the criteria used to select my featured products. The pizza conveyor belt options weren't chosen at random or sent to us to review. Instead, each product has been chosen based on its own merits and has been properly vetted.
All of the pizza conveyor belt options in this guide had to be:
Well Reviewed: As well as my own findings, I was interested in other consumer reviews of the products. For the conveyor oven to be featured, it had to have received more positive feedback than bad.
Well Made: I am only interested in featuring products that consist of high-quality materials and that have been well made to provide excellent durability and longevity.
Well Priced: I have featured products across the price points, so the prices do vary. However, I have ensured that even the most expensive product is fairly priced and taken into account brand reputation, construction materials, warranties, and part prices.
6 Best Pizza Conveyor Belt Options
XLT3240 Conveyor Oven – Our Top Pick!

24/7/365 LIVE Global Tech Support
10 Year Warranty
Award-Winning

Find Here
Qubestove: Rotating Pizza Oven and Stove – Our Budget Pick!

Portable and Detachable
Cooks 1 Pizza in 90 Seconds
No Electricity Needed

Find Here
Shenga Countertop Conveyor Pizza Oven

Cooks 30 Pizzas per Hour
Stainless Steel Material
Digital Thermostat

Find Here
Omcan Conveyor Commercial Restaurant Countertop Pizza Oven

Can Cook 25 Pizzas per Hour
Adjustable Heat Control Option
Built-in Infrared Heaters

Find Here
Lincoln Digital Countertop Conveyorized Ventless Electric Oven 

Stainless Steel Exterior
Ventless Design
Stackable

Find Here
Lincoln Natural Gas Triple Conveyor Oven 

FastBake Technology
Hundreds of Pizza per Hour
Adjustable Temperature Range

Find Here
#1 XLT3240 Conveyor Oven – Our #1 Top Pick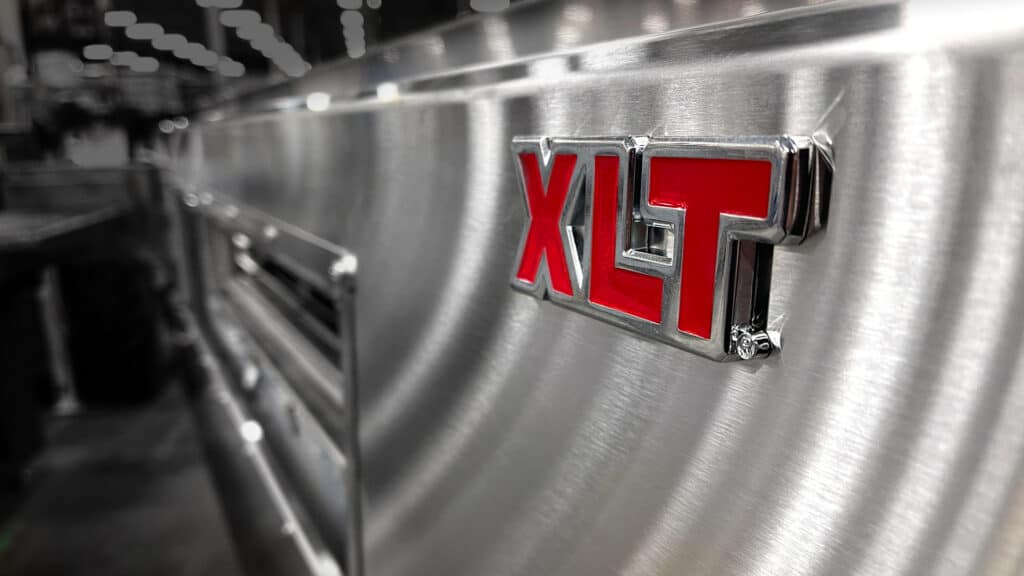 The XLT3240 Conveyor Oven has been crafted using more than 60-years of operation, with expertise and experience developing simple-to-use, high-quality products from a leading manufacturer. The XLT product line represents years of valuable experience to result in best-of-class solutions, and this conveyor oven certainly doesn't disappoint.
This is a state-of-the-art appliance with a price tag to match. The XLT3240 model is fast, and reliable providing consistent baking of large batches of pizzas. I was surprised with how quiet this conveyor oven is, almost silent, due to the patented 'quiet fire' burners. This can be a single pizza conveyor oven or stacked to a double or triple operation.
Some of the features I love are the quiet fire burners, optical flame sensor technology, 40-in baking chamber, 32-in wide conveyor belt, and that the entire unit is stainless steel. A removable front panel enables you to clean deep within the oven, which takes away the typical drawback of this oven type being difficult to clean.
Pros
Made in the USA
10-Year Warranty Available
High-Quality Parts
Entirely Stainless Steel
Magnetic Sandwich Door
Removable Front Panel
Fast and Consistent Cooking
24/7 Live Technical Support
Cons
Initial Delivery Can be Several Weeks
Price Not Disclosed on Brand Website (Retails just under $10,000 elsewhere)
Parts (if needed) Can Take Time to Arrive
#2 Quebestove: Rotating Pizza Oven and Stove – Our #1 Budget Pick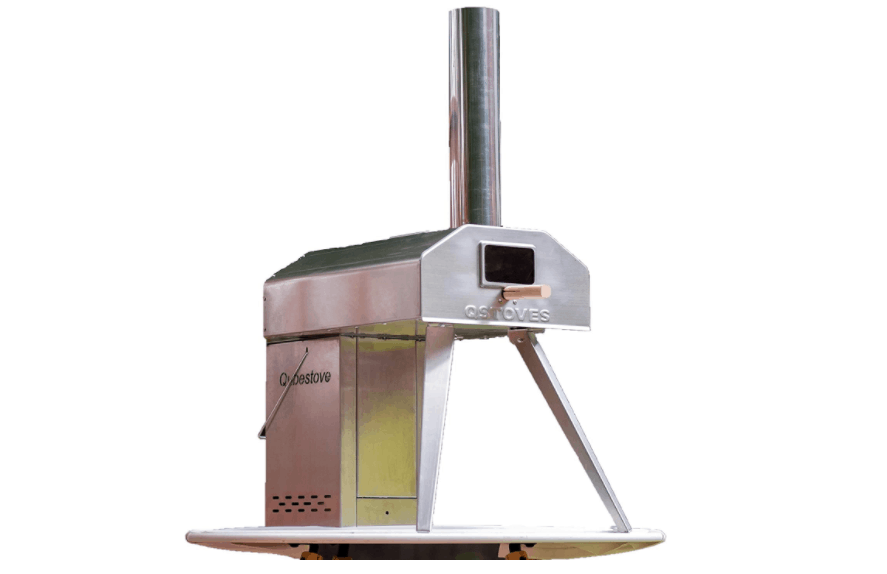 Although not a typical conveyor belt, the Qubestove: Rotating Pizza Oven and Stove shares many of the same quick-cook features and is an ideal choice for mobile caterers or street-food vendors. This oven cooks a single pizza in just 90 seconds, which means a quick turnover for a fast-paced eatery.
Its initial outlay is exceptionally reasonable, at under $400, and If you register the product, you will increase the standard 1-year warranty to 3-years, at no extra cost to you. Quebestove pizza oven is designed for outdoor use and is portable and detachable – so that stove/fire pit can be used independently. The entire unit is made from high-gauge stainless steel.
A 12.6-in rotating pizza stone distributes even heat and produces a quick-cook and well-cooked pizza in one and a half minutes. It takes around 10 minutes to reach the maximum temperature of 575℃, and there is no smoke produced or electricity needed making this cheap to run and safe to be around.
Pros
Highly Affordable
Cheap to Run
High-Gauge Stainless Steel
Cooks Fast
Even-Heat
Longer Warranty Available at no Extra Cost
Cons
Cooks One Pizza at a Time (Albeit in 90-seconds)
Input Needed to Keep Heat at Desired Temperature
Wooden Pellets Sold Separately
#3 Shenga Countertop Conveyor Pizza Oven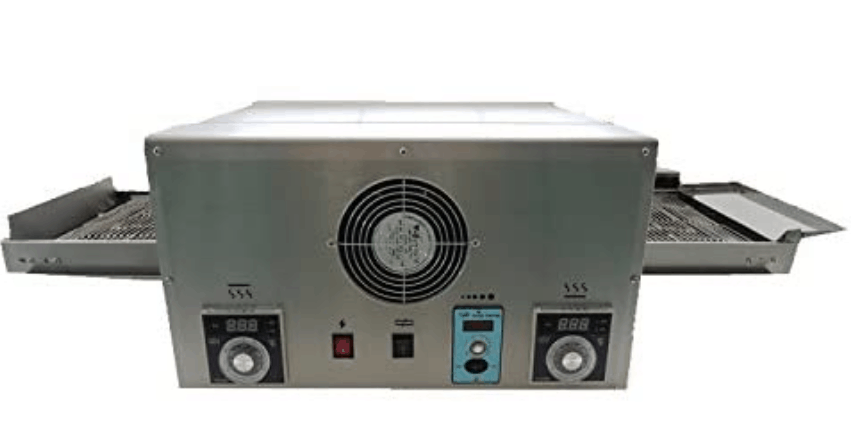 Countertop appliances can have great advantages to smaller commercial kitchens, and this is one of the most significant benefits of the space-saving Shenga Countertop Conveyor Pizza Oven. I have been unable to find consumer reviews for this product, so this research is based on my own findings. The brand has nearly 20-years of retailing experience, and you can find out more about them here.
If you're looking for a high-quality yet affordable countertop conveyor pizza oven, then this one is a great choice. It is a left-to-right operation, very convenient to use, and produces pizzas quickly – taking around 5-minutes to complete one pizza and making up to 30 pizzas per hour.
The Shenga pizza conveyor belt is electric, compact, and versatile. Although it is small compared to similar products, it is also mighty. It weighs 60kg and is made entirely of stainless steel, so it should be highly durable and last a long time. This oven comes with a standard one-year warranty.
Pros
Stainless Steel Construction
Quick Heat up
Fair Price
1 Year Warranty
Digital Thermostat
Cons
Reviews aren't There
Made in China
Shipping from China – May Mean a Long Wait
#4 Omcan Conveyor Commercial Restaurant Countertop Pizza Oven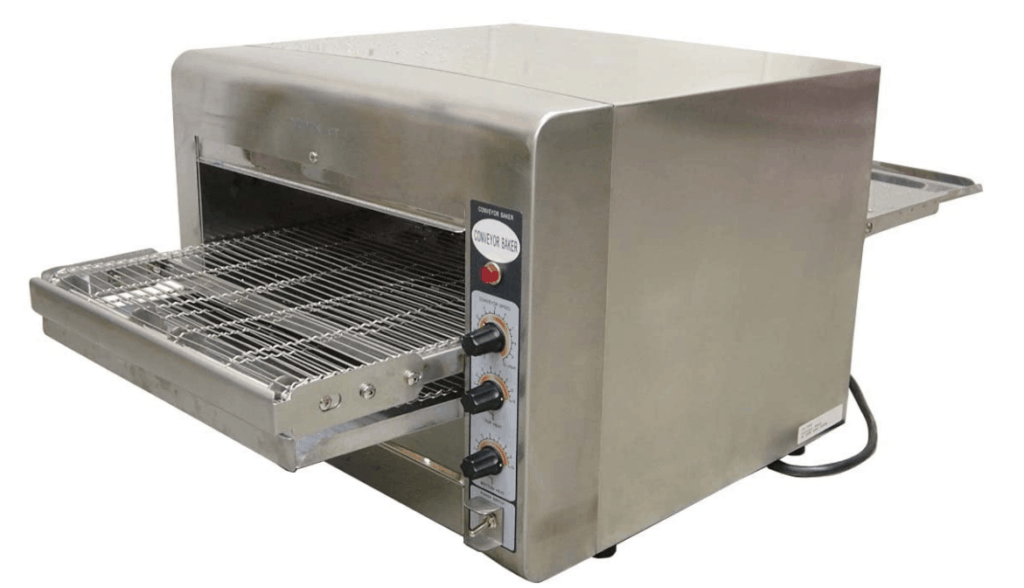 Another countertop model is the Omcan Conveyor Commercial Restaurant Countertop Pizza Oven, made from stainless steel and can cook 25 pizzas per hour; this is a great choice. Retailing for slightly more than the Shenga, but with the addition of an adjustable heat control option, and built-in infrared heaters, I feel this is justified.
This is a ventless conveyor belt designed for consistent heat with adjustable speed controls. The belt is 14 inches wide, so able to accommodate the majority of popular pizza sizes in varying ways – for example, it can cook sixteen 14-in pizzas per hour, nineteen 12-in pizzas, or twenty-five 9-in pizzas.
The Omcan pizza conveyor belt is entirely stainless steel, so it looks shiny and is anti-rust and anti-corrosion. It has a temperature range from 60°C – 260°C and compact dimensions of 41-in x 18.5-in x 15.7-in. This pizza conveyor oven comes with a one-year part and labor warranty.
Pros
Fair Price
Adjustable Temperature Control
Built-in Infrared Heaters
Stainless Steel
1-Year Parts and Labor Warranty
Cons
25 Pizzas per Hour is for 9-in Only
One Review Cites Faults after Months of Use
#5 Lincoln Digital Countertop Conveyorized Ventless Electric Oven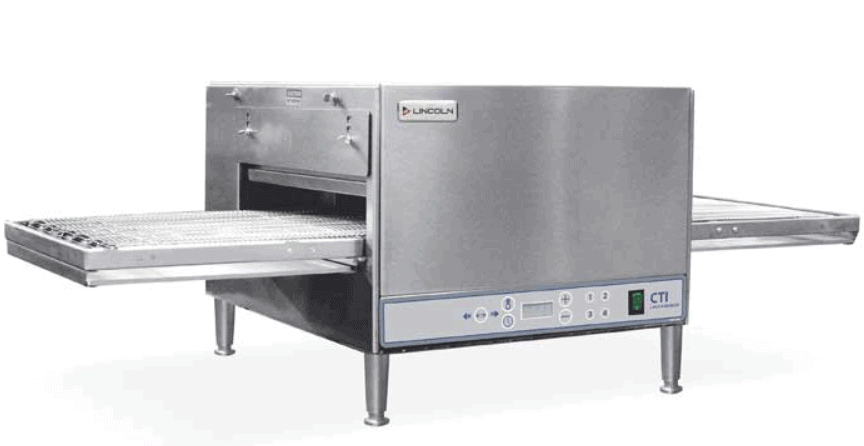 A countertop model with many additional features, the Lincoln Digital Countertop Conveyorized Ventless Electric Oven can jumpstart your kitchen efficiency with its ultra-fast cooking time and the ability to cook pizzas in just 30-seconds. This countertop conveyor belt oven is ventless electric and highly versatile; you can cook a range of foods such as toasted sandwiches and flatbreads.
The belt is 16-in wide and the cooking chamber 20-in long, making the size ample for a variety of applications. There is an integrated air impingement feature, where food is cooked under jets of hot air, which provides uniform heat and decreases the cooking time. The exterior is strong stainless steel, ensuring years of durability. It feels smooth and doesn't harbor fingermarks.
If you wish to add to this conveyor oven, it is stackable and can hold two more ovens vertically. The temperature range of 200-550 degrees Fahrenheit is perfect for various pizza styles and other foods, and due to the stainless steel and 3-in wide opening, cleaning is simple. The initial outlay is considerably higher than most, at around $8,000, but it comes with financing options.
Pros
Stainless Steel Construction
Ventless – Lower Installation Cost
Stackable
Push Button Digital Controls
Quick Shipping – Usually Within 1 Business Day
Cons
Large Financial Outlay
Large Size – Reducing Benefits of Countertop Space-Saving Idea
#6 Lincoln Natural Gas Triple Conveyor Oven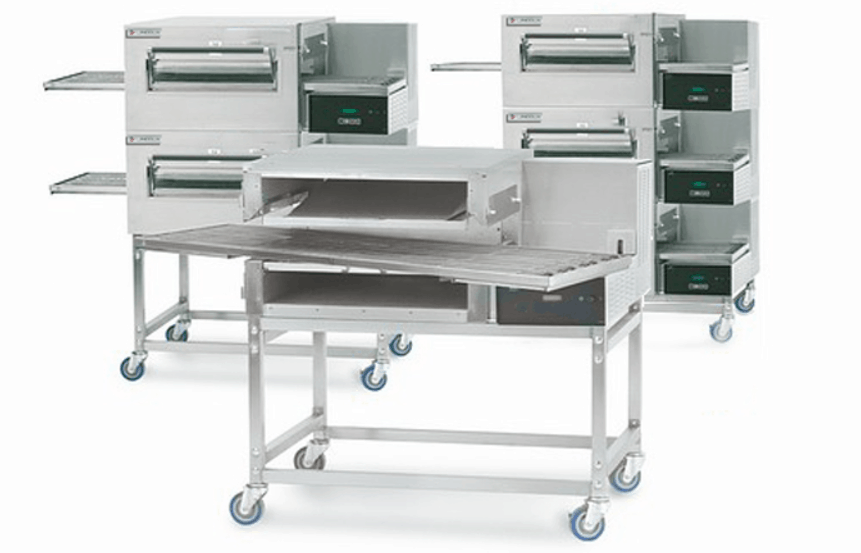 At just under $60,000, the Lincoln Natural Gas Triple Conveyor Oven is one of the best pizza conveyor belt ovens you could buy. The FastBake technology increases the cooking speed by 35% without taking anything away from the quality. This unit is three stacked ovens for excellent space efficiency and high-volume cooking – with each oven able to cook 182 12-in pies per hour.
If you need to churn out 546 pizzas per hour, this demand is met with the Lincoln Triple Conveyor oven. You can tailor this product to your own specifications, with impingement fingers being removable and customizable, adjustable temperature range, and conveyor speed adjusts. The product was made in the US and is CE listed, UL classified EPH, CSA design cert, and CSA blue flame.
There is a highly convenient digital control panel (per oven) with the ability to lock settings to prevent accidental tampering. I like the glass access door, which allows you to keep an eye on the pizzas, and that the entire construction is durable stainless steel for superb durability. The unit comes with a 2-in gas connection to be installed by a professional.
Pros
546 Pizzas per Hour
Ability to Use One, Two, or Three Ovens at Once
Safety Certifications
FastBake Technology
Durable Stainless Steel
Cons
Huge Financial Investment
Gas Safety Engineer Must Install the Oven
Prop 65 Warning – CA Residents
fAQs
Question: What Is The Best Kind of Pizza to Cook in a Pizza Conveyor Belt Oven?
Answer: It is widely confirmed that New York Style and Neapolitan pizzas are the best types of pizzas to cook in a pizza conveyor belt oven. However, most styles will cook well, even deep dishes and pizza pies, although the speed may need to be slightly slower and the temperature reduced.
Question: Which Pizza Chain Uses a Pizza Conveyor Belt Oven?
Answer: Actually, most commercial pizza chains will use this type of pizza oven, including Domino's, Pizza Hut, and Papa Johns. They set the temperature to around 350-450º F and find these models the most efficient to use for high-demand restaurants.
Question: What Else can you Cook in a Pizza Conveyor Oven?
Answer: Pizza conveyor belts can be classified as multi-purpose machines, as they can bake much more than just pizzas. Conveyor ovens can be used as a versatile solution for baking cookies, pretzels, and bread, as well as egg rolls, frozen cheese sticks, french fries, and quesadillas.
Best Pizza Conveyor Belt Options: Final Thoughts
Finding the best commercial conveyor pizza oven can be pretty challenging, considering that you could be looking for the foundation of your business. When choosing a conveyor belt oven, you should ensure that you can both find and understand the spec sheet, and often this entails a good amount of research.
As well as improving productivity, a pizza conveyor belt should be used with expert knowledge of the machine to avoid any accidents. You could consider our budget option for a toe into the water option, Qubestove: Rotating Pizza Oven and Stove, which can bring great advantages, with the biggest being a lower financial risk.
The Omcan Conveyor Countertop Pizza Oven, made from stainless steel and able to cook 25 pizzas per hour, is a great choice. It is priced similarly to the Shenga Countertop Conveyor Pizza Oven but has the added advantages of built-in infrared heaters and adjustable heat control. I did, however, like the quick heat up and polished stainless steel of the Shenga model.
Another excellent choice for a countertop model is the Lincoln Digital Countertop Conveyorized Ventless Electric Oven; a significant outlay initially, this could well be the workhorse of the commercial kitchen, fully cooking pizzas in just 30 seconds. It also boasts a ventless design and super fast shipping.
The most expensive on the list is the Lincoln Natural Gas Triple Conveyor Oven, which can cook hundreds of pizzas per hour and could be a game-changer for a commercial kitchen that needs to cook and sell this volume of pizzas. This appliance features innovative FastBake technology and can be used as a singular, double, or triple oven.
Our best buy is the XLT3240 Conveyor Oven. More than six decades in the making, this is a state-of-the-art appliance, providing consistency, efficiency, and reliability for a commercial kitchen. It has patented 'quiet fire' burners, making it an almost silent operation, and is stackable if you wish to increase the pizza batches. However, delivery can take some time.
The products I have listed could serve as a guide in choosing the right pizza conveyor belt for you, but ultimately you have to select the appliance that you believe would give your business the best return.