Latest posts by Alice Smith
(see all)
Cooking is an art. The best chefs know that the perfect dishes are cooked with love and care, not just thrown together for a quick meal. But even if you're not in the kitchen every day, it's important to have tools that will make your food taste great and look beautiful!
You may have seen commercial ovens in restaurants or other professional kitchens, or even on television. They are typically large and heavy-duty pieces of equipment that can do everything from baking to broiling. When it comes to commercial ovens, there are a lot of choices.
There are convection ovens, combi-steam, and steam ovens, combination microwaves, and convection units. What is best for you? The best way to find out is to do research on the best commercial ovens before buying one. This is where this best commercial ovens guide comes in!
Commercial ovens are designed for working kitchens and can be used by all catering establishments from high-end restaurants to bakeries. Some of the best ovens on the market today offer high-quality features like convection cooking options, multiple rack positions, wide openings for large trays, a self-cleaning option, and more. If you're looking to purchase a new oven for your business, this blog post will have all the information you need.
What To Look For When Buying a Commercial Oven
Commercial ovens are best used by businesses like restaurants, hotels, cafes, and much more that need to cook large quantities of food at once. There are some great features these ovens offer and they can make life much easier for professional chefs. However, not all of the commercial ovens on the market have these features.
To make sure you're buying the best oven for your business, there are a few things you'll want to look out for. These are some of the top factors you'll need to consider when you're looking for your next commercial oven:
Size
Size is one of the first things to consider when buying a commercial oven. You want to make sure that you have enough space for your new appliance and doesn't take up too much room in your kitchen. For best results, measure the dimensions of where you'll put it before making any purchases.
Price
Commercial ovens are best for big businesses like restaurants and bakeries, and, because of their commercial purpose, they usually come with a business-sized price tag! But, that doesn't mean they're out of reach. You'll want to decide how much you can spend on your oven before deciding anything. If you don't have a lot of money in the budget, it's best not to get your heart set on an expensive commercial oven, so always check your budget before you start shopping.
Oven type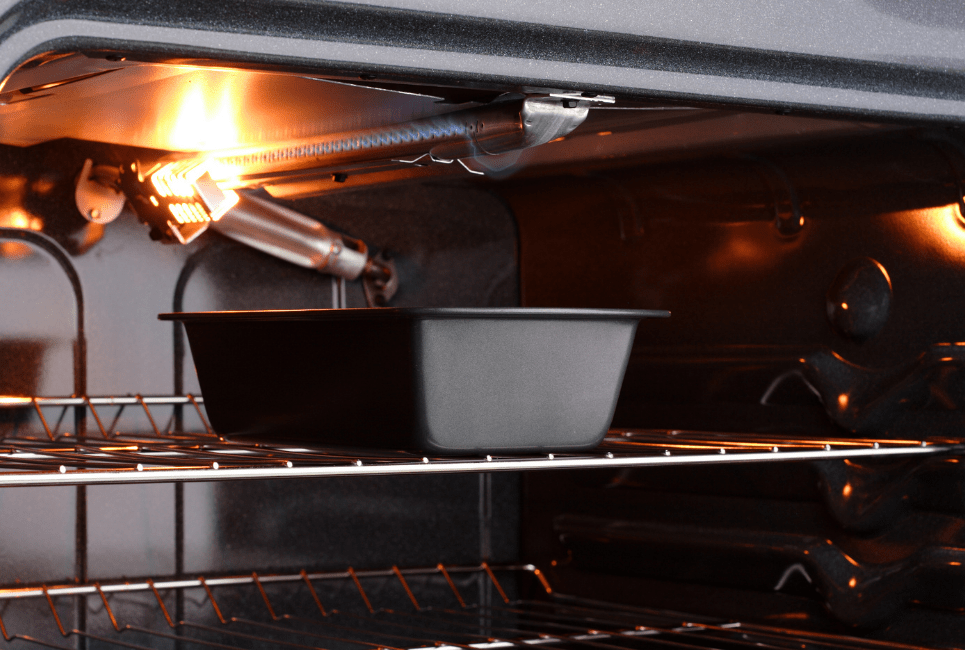 Another consideration when buying a commercial oven is the type of food you'll be cooking. If you're not going to use your oven for baking, then an electric or gas model may best suit your needs (although there are some great convection and infrared models on the market). Different ovens suit different cooking methods and foodstuffs better, so it's better to consider what you'll be using the oven for mainly before you decide on an oven type.
Customizable features
Think about whether you want an oven with customizable features. Some ovens come with fancy additions like a rotisserie, broilers, and more. These best commercial ovens on the market today can be even customized to make your business run even smoother.
Power Type
This is one of the most common debates when looking for the best commercial oven. Gas, or electricity? Well, both have their advantages depending on your needs. Gas ovens are best for cooking in a hurry because they can reach higher temperatures and cook food faster than electric models. They also use an open flame, which is preferable to many professional chefs.
Electric ovens take longer to heat up and are generally harder to control, but they're much easier to clean, and tend to be cheaper to purchase. They also use less energy which is great for saving money.
No matter what type of oven you're looking to buy, it's best to go with one that best suits the needs of your business – not just personal preferences. You'll want to make sure there's enough space in your kitchen and your oven best matches the type of food you'll be cooking.
Plumbing
Some ovens using steam, or other water-based cooking methods and, as such, may require a water line connection. If you're not familiar with the best plumbing practices, make sure to check if your specific oven needs a water line connection before buying.
Energy efficient
The best commercial oven should be energy-efficient so it won't take up too much power from your electrical grid or gas supply. This will also save money on heating bills and help your business to be more efficient Look for an oven with a high-energy efficiency rating so you can save money on your monthly expenses while you enjoy the benefits of owning a commercial oven.
Ease of Cleaning
Let's be honest, scrubbing an oven is not really anybody's favorite job. Because of this, it's best to go with an oven that is easy to clean so you don't have a tough time when it comes down to deep cleaning. These best commercial ovens come equipped with technologies like enamel interiors and stainless steel exteriors, making them easier than ever before. Some even have a self-cleaning feature, so you just need to switch it on at the end of a busy shift.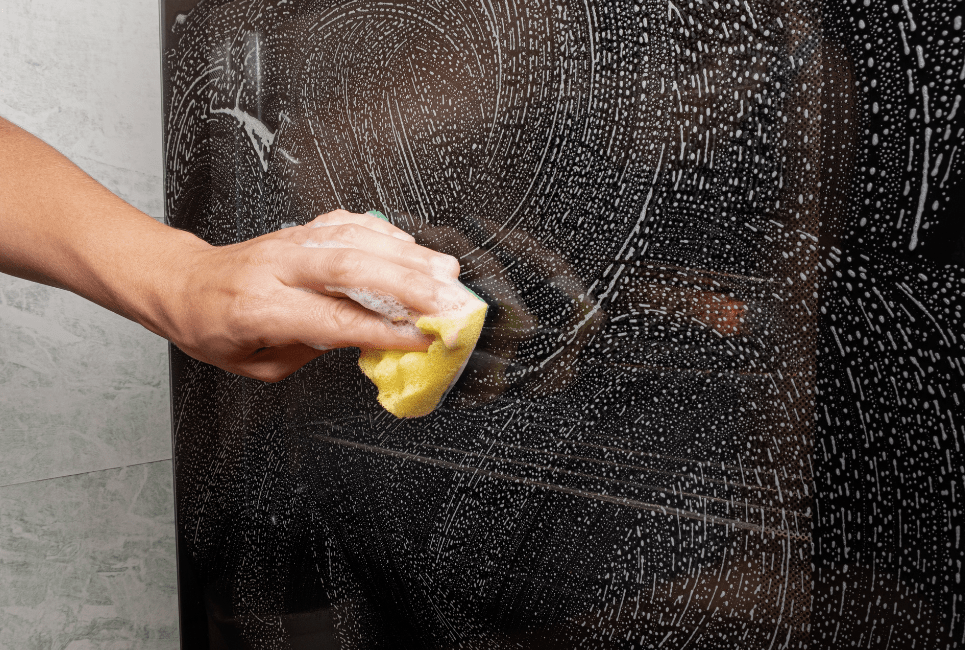 What Are The Types of Ovens Used In Commercial Kitchens?
There are a few different types of best commercial ovens that can be found in most professional kitchens. The best commercial ovens for baking usually use convection cooking methods, which evenly cook food while circulating hot air. There are also commercial ovens available on the market today that offer infrared and rotisserie options to make your meal prep even easier.
Here are some of the types of ovens most commonly used in commercial kitchens:
Standard Oven
A standard oven is a basic oven that can cook most food products. It usually has one or two racks and open space on the top. These types of commercial ovens don't specialize in any particular type of food and are suitable for a range of different cooking types. They can also be known as radiant ovens.
Combination Oven
A combination oven is one of the most popular ovens in a commercial kitchen. It can perform a variety of tasks as it's equipped with convection, steam, gas, infrared, and other technologies for the best results. If you're looking to cook foods that require multiple cooking methods simultaneously, the best commercial ovens with a combination cooking system may best suit your needs. These ovens also have self-cleaning technology
A rotisserie is an oven where food is rotated on a spit over heat, usually while being basted or roasted in some fashion. They are best for meats and other foods that need long-duration exposure to high temperatures without burning.
Steam Oven
A steam oven will use a special type of heating system where water is heated and then sprayed on or under food to cook it evenly, for the best results. Steam commercial ovens are best for chefs that need to cook a lot of vegetables or for steaming rice, or potatoes.
Infrared Oven
An infrared commercial oven is an oven that cooks on a grate where heat and radiation are emitted from all directions. This provides a different cooking experience than other ovens that just heat the food up from below. This type of oven can cook evenly in less time, and can best be used for cooking meat.
Convection Oven
A convection oven relies on hot air circulating around the food to cook it evenly. This type of commercial oven can be combined with other cooking methods, like infrared or radiant heat sources, and is best for baking. Many bakeries will have a convection oven and it can handle everything from making the perfect crispy, delicate pastries to baking a crusty loaf of bread.
Conveyor Oven
Ovens with a conveyor system are best for cooking large batches of food quickly. This type of commercial oven revolves around this central, horizontal axis and can be loaded from both sides. It's best to go with an oven that has adjustable temperature control as it will allow you to cook different types of foods at different best commercial oven temperatures.
Pizza Ovens
An oven that is best for cooking pizza will be equipped with a stone floor, as well as an insulated dome to keep heat inside. These commercial ovens can either be inside or outside and come in a range of designs and materials. Suitable for an Italian restaurant, or another type of pizza restaurant, this type of oven is essential for perfect pizzas.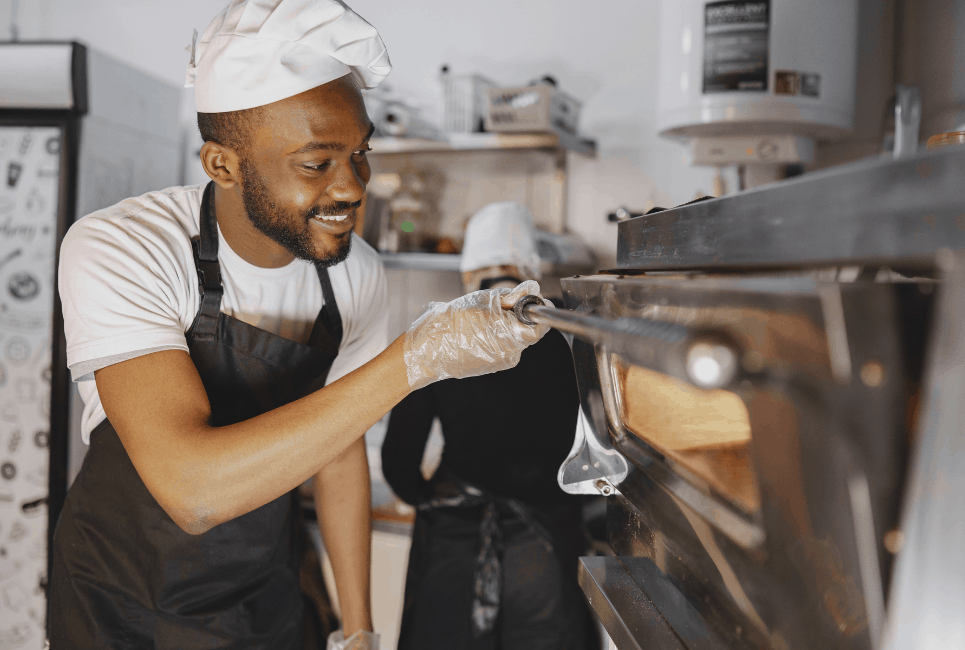 Cook and Hold Ovens
Commercial ovens with a cook and hold system are best for preparing large quantities of food in advance. These ovens use either dry heat or steam and can keep food hot whilst keeping it from spoiling when it's not being served immediately. They also allow you to make sure that your whole dish is cooked evenly.
High-Speed Ovens
High-speed best commercial ovens are best when cooking large batches of food very quickly. They are great for restaurants, but also for fast food joints or grab-and-go type establishments. They combine the same technology used in microwaves with oven technology and the resultant machine can cook food up to 15 times faster than a standard oven.
Potato Oven
Designed specifically for spuds, commercial ovens best for potatoes will have a metal floor and walls, which are designed to best cook the best quality jacket potatoes. They also come with an aluminum plate that covers the oven cavity – this helps keep all of your delicious spuds in one place while cooking them evenly at high temperatures.
The major differences between gas and electric ovens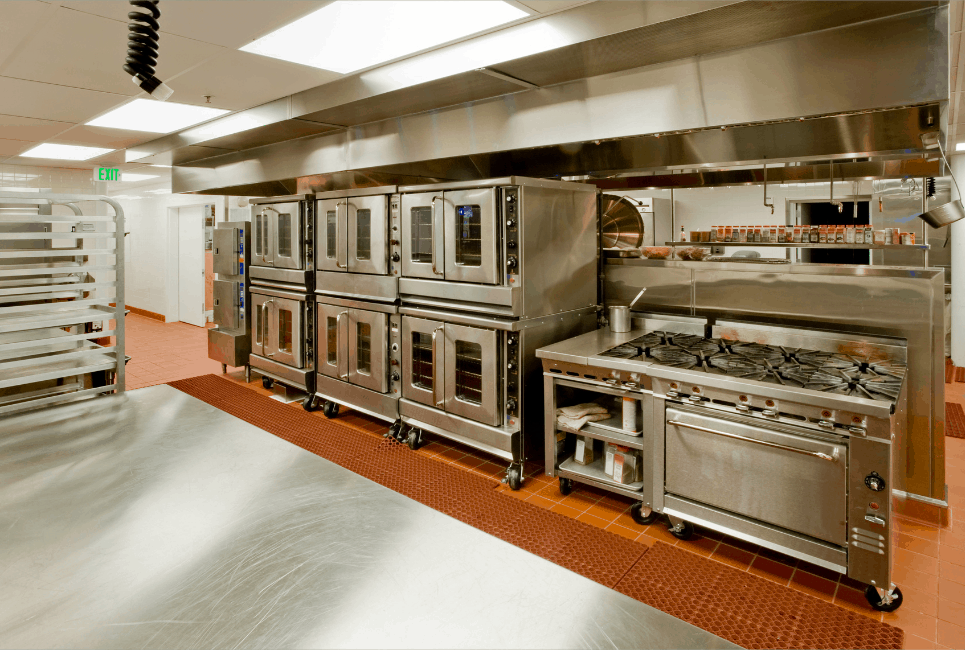 There are several major differences between gas and electric ovens. Firstly, gas ovens require the use of natural gas and are usually more expensive to buy. You will need to have the oven professionally installed as it will need to be hooked up to a gas line.
In comparison, electric commercial ovens have a heating source that is independent of their cooking surface. This means it can be used with multiple types of cookware such as an open grill or griddle for searing meats or making pancakes.
However, when it comes to the difference between gas and electric ovens, each comes with its set of benefits and drawbacks. This means you'll need to know how much cooking style is important to you when selecting your preferred type of oven.
Whether you prefer a gas or an electric oven can also be greatly influenced by your personal cooking preferences in the past. Some people hate induction cooking and would much prefer a normal gas ring, whereas others hate how difficult a gas oven is to clean compared to an electric one.
Whichever your preference, these are the pros and cons of gas and electric ovens:
The Advantages of Gas Ovens
Cheaper to run – electricity typically costs more per unit, so you'll end up spending less money on a gas oven.
Gas ovens are also typically cheaper to buy upfront.
The hobs on a gas oven are fast-heating and great for simmering food.
Gas ovens will usually heat up quicker than electric ovens, both inside and on the hob.
They are easier to control, turn off instantly, and temperature adjustments will happen quicker.
Heat spreads evenly across the base of saucepans, leading to a more even cook when using a hob
The Disadvantages of Gas Ovens
Gas doesn't always distribute heat as evenly as electric ovens. This means that your food might not be as cooked in the center.
Gas ovens often require a lot more maintenance than electric ovens do – including periodic gas inspections and cleanings to make sure no leaks occur.
Gas ovens don't usually have a fan inside them, meaning they'll usually be hotter at the top than the bottom, which can lead to uneven cooking.
Although the hobs are usually quicker to heat up, inside the oven itself, electric ovens tend to tackle large quantities better than gas ovens do. This means it may take longer to heat up larger dishes thoroughly in a gas oven.
They are trickier to clean – food can get stuck on the floor of gas ovens, which is difficult to clean compared to their electric counterparts.
You'll need a qualified gas professional to install the oven, and they will need to be accredited by the Gas Safe Register.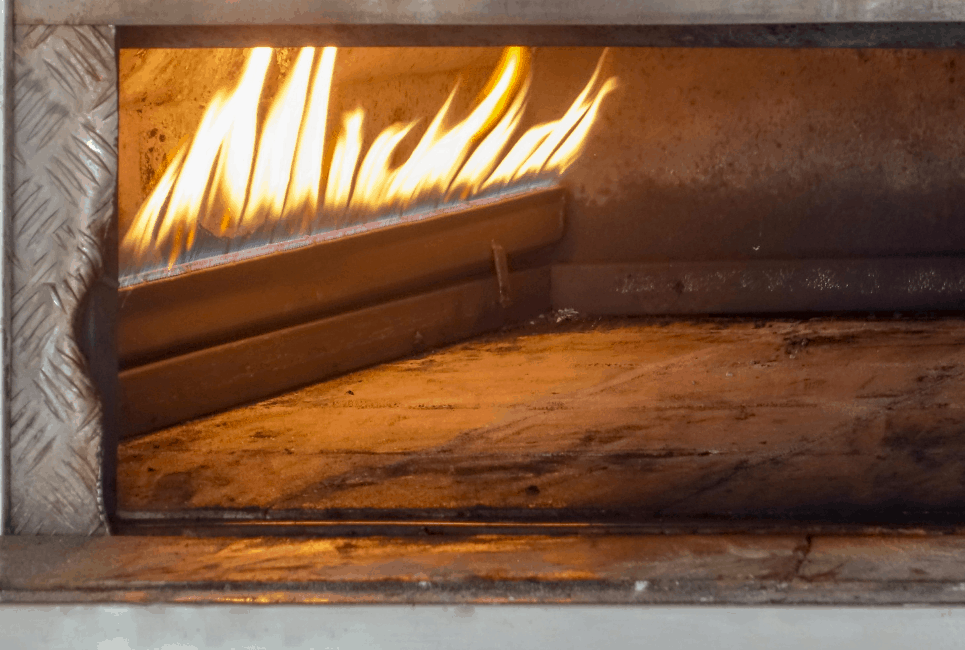 The Advantages of Electric Ovens
Electric ovens are much more portable than gas ovens which makes them best for temporary catering jobs or taking on the road with mobile cooking.
They're also less expensive in terms of installation and usually, just need to be plugged in.
Electric ovens tend to distribute heat more evenly around inside them. This means it's easier to achieve consistent results, especially when baking large batches. Thus you can be sure that a recipe will turn out the same every time.
They typically have an internal fan that helps to evenly distribute and circulate heat.
Electric ovens are generally easier and quicker to maintain than gas ones, with less need for maintenance and no risk of leaks.
Some electric ovens come with much more advanced features. This includes a multi-function oven, which means you can use different heat functions to cook simultaneously.
Easy to clean – cooking surfaces are usually flat, meaning they can be cleaned with a simple wipe over with a damp cloth. This is even more true if you have touch control buttons.
Electric ovens tend to have a better grilling function than their gas counterparts.
Electric ovens will have an induction hob. This means that gas will be less likely to escape when cooking food at high heat and the hob is more efficient, and it can cook faster.
The Disadvantages of Electric Ovens
They are more costly to run – electricity typically costs more per unit, so you'll end up spending more money on an electric oven.
You have to be careful when using them because if the power goes out or is accidentally cut off they can't turn themselves back on – a gas stove will just relight automatically and come back on.
Electric ovens take longer to heat up, and can sometimes take around 20 minutes or more to get as hot inside them. Temperature changes will also take longer.
The hob will usually stay hot after you've turned them off. This means that your dishes will still be cooking when you've turned off the hob, or you could get burned by touching a hob that you thought was off.
Commercial Oven Safety Tips
Here are some safety tips for using a commercial oven:
Keep loose items away from an open flame – this includes anything from clothes to paper.
Keep a fire extinguisher nearby – in case of an emergency, this could be a lifesaver. And would certainly save your business from being shut down. Never use water on a grease fire because this could potentially spread the fire as opposed to putting it out.
Use oven gloves when removing items from a hot oven – to avoid getting burned by hot surfaces.
Ensure the oven is cleaned regularly – grease is very flammable, so, as well as ensuring your kitchen is hygienic, this could potentially prevent a fire.
Follow care and maintenance procedures – this includes regular checks of ovens and stovetops, as well as cleaning.
Ensure you know what the rules are for your gas supply – hiring a qualified professional to install an electric or gas oven is recommended.
Examine any potential risks at work – such as whether it's safe to store chemicals near heating equipment like stoves or ovens.
Don't overload the oven – hot food toppling off shelves is a potential health risk.
Don't exceed the maximum temperature that the oven is designed to be at – this could lead to damage and even a possible fire.
Commercial Oven Recommendations
Lincat Silverlink 600 Electric Oven Range ESLR9C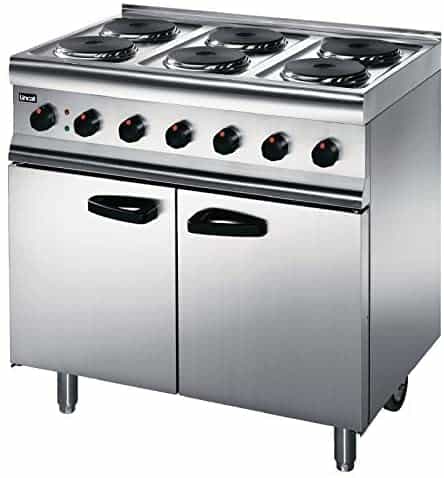 If you're looking for the perfect oven for your business, the Lincat Silverlink 600 Electric Range may have just what you're looking for. The UK-made oven offers six cooking rings, which means you can choose low or high-temperature cooking methods. This electric oven gives you the option to fry, boil, and simmer pots and pans of food with professional precision.
The powerful 6,000W double oven cavity offers generous cooking capacity accessible through the side-opening double doors. The oven is exponentially faster when heating up due to the fan-assisted and double insulated design. This is essential for doors that are opened frequently in a busy kitchen. The fully pressed sections of the hob dishes are easy to clean and stay pristine, which is an essential feature for a professional cooking environment.
Pros
Easy to clean
Large capacity cooking space
6 cooking rings
Fast heat-up helps maintain temperature when doors are opened frequently
Cons
Might be too small for some kitchens
Rational iCombi Classic Combi Oven ICC 10-1/1/E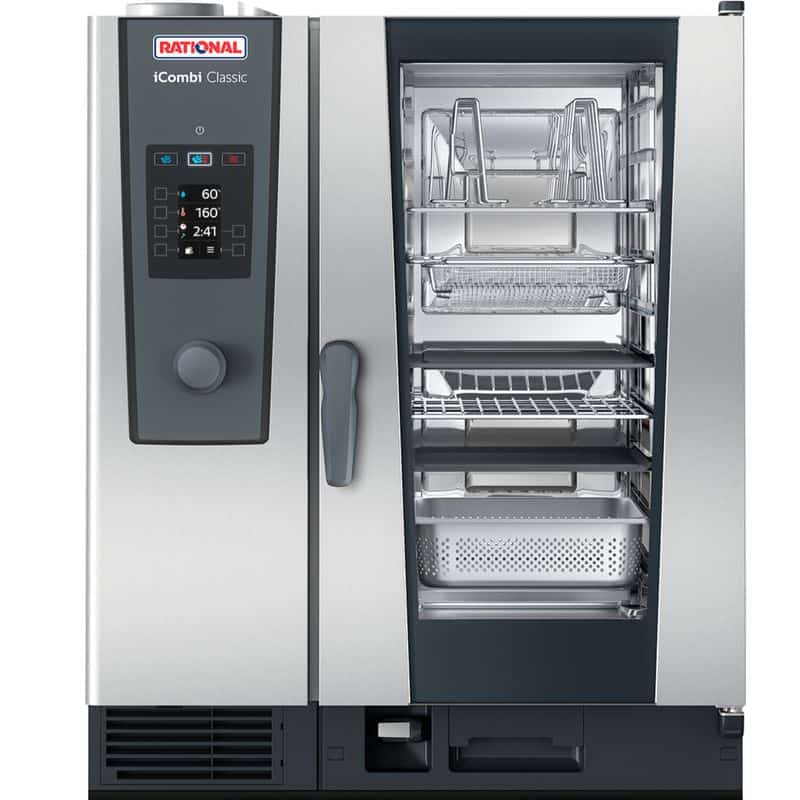 The Rational iCombi Classic 1011E combi oven offers a variety of cooking modes. Combination ovens are excellent for allowing various cooking styles. They can be used for the purposes of steaming, baking, roasting, and more. Rational ovens, in particular, are designed for high-volume food services and restaurants.
The oven is compatible with gastronorm specifications, which means it can fit up to ten 1/1 pans. The oven is suited for up to 150 meals per day, and transferring food between appliances becomes easy.
This oven is also easy to use and has the ability to save up to 100 recipes, which means it can quickly cook a large volume of different menu items. The self-cleaning programs automatically clean the oven for you to ensure they remain clean and keep producing excellent dishes.
Pros
Can perform a variety of cooking methods
Fully gastronorm compatible
Can cook up to 150 meals per day
Self-cleaning
Cons
Buffalo Convection Oven 100Ltr
An excellent cooking appliance for commercial kitchens, this Buffalo 100 Litre convection oven can be used for cooking pizza, roasts, and more. It is an electricity-powered convection oven which means it heats up quickly to ensure thorough cooking. It's also equipped with powerful fan-assisted cooking technology to keep an even temperature throughout.
The 100-liter capacity accommodates large gastronorm pans, allowing for a quick transfer between appliances. The user-friendly dial on the oven controls are incredibly easy to operate. Overall, the oven is easy to use, clean, and maintain.
Pros
Simple to install – just plug in and go. This also makes it highly portable.
Easy to clean design
Intuitive controls
Rapid heat-up technology
Cons
Might be too small for some kitchens
Alto-Shaam Smoker Cook & Hold Oven 767-SK/III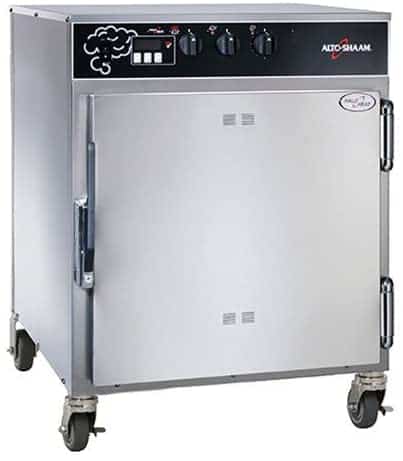 The Alto-Shaam 767-SK/III has a mix of available benefits. It is both an oven and a smoker, as well as a cook and hold oven. This cooking appliance is very easy to use, with an intuitive control panel that offers up multiple options for your chosen recipe.
It can cook, hold, and smoke meats, poultry, and fish or cold smoke cheeses and fish. The smoke timer is especially useful for smoking meats like pulled pork or pulled chicken to create a variety of flavors, including mild, medium, and heavy smoke.
Alto-Shaam's unique method of cooking food uses far less energy than other ovens, making them especially beneficial for commercial kitchens. You can also add plenty of additional flavor without having to add salts, fats, or sugars. So, not only does this oven offers unique and versatile cooking methods, but it can also create healthy and energy-efficient additions to your menu
Pros
Cook, hold, and smoke with one handy machine
Intuitive, easy to use, design
A smoke timer allows chefs to create a variety of flavors
Cons
Might be too small for some kitchens
Expensive
fAQs
Question: How do I choose a commercial oven?
Answer: To choose a commercial oven, you should consider the size of your industrial kitchen and its capacity. The best type of best industrial oven for you will depend on what your needs are. Smaller spaces might need an electric one while larger areas may require a gas or convection unit.
Question: Which oven is best for commercial baking?
Answer:  Convection ovens best suit kitchens where a lot of baking is required – such as when preparing pies and pastries and particularly in a commercial bakery. These type of ovens rely on convection heating to distribute heat evenly throughout the cavity as gas do, so they can produce the perfect crusty outside and soft fluffy interior of foods.
Question: How much does a commercial oven cost?
Answer:  The best commercial ovens will depend on the size and type you need but generally range from $500 to well over $10,000. It is quite an expense, but plays a crucial role in your kitchen activities so, it should be something that is thoroughly considered before purchasing.
Question: Which type of oven should I buy?
Answer:  The type of commercial ovens you choose should depend on your needs – smaller spaces might need a single oven, or an all-in-one type unit that combines an oven with a hob and a grill. However, larger areas may require both a gas, steam, and a convection oven to suit all their needs.
Question: How do I maintain my commercial oven?
Answer:  It's important to know how to keeps the best commercial ovens clean and in good condition. You can do so by following these steps:
• Industrial ovens should be cleaned on a regular basis to remove food from the cavities, heating elements, and cooking surfaces.
Add soap or detergent with water in your oven before running it through a full cycle.
• It's best to also clean the outside of industrial equipment that goes in the oven (such as gastronorm trays) by scrubbing all surfaces with warm soapy water and a sponge or soft cloth to remove food debris, grease, and any other unwanted buildups.
• After cleaning your oven from dirt, use baking soda on top and wipe it down with a wet cloth.
Commercial ovens should ideally be cleaned thoroughly at least once per week to prevent the accumulation of any bacteria or grime that may grow.
Question: What is the average life span of a commercial oven?
Answer:  On average, the best commercial ovens have an estimated lifespan of around 15 years for an electric oven. A gas oven can last anything between 18 and 25 years if it's looked after properly.
Best Commercial Ovens Guide: Conclusion
Ultimately, a commercial oven is a very important addition to any professional kitchen. It provides the opportunity for cooking a wide range of foods while still maintaining energy, efficiency, and affordability.
So what are the best commercial ovens? The decision will depend on your needs – smaller spaces might need a smaller unit, while a larger kitchen may require several different specialist ovens. You should also consider how often you use the oven, which type of food is being cooked in it, and whether or not there's enough space for storage.
It can be quite pricey to purchase so make sure you do some research before making a final verdict. So, have a look back through this post, decide what you're looking for in a commercial oven, and then it's time to go oven shopping!