Latest posts by Maddy Chiffey
(see all)
If you're looking for a commercial toaster for your professional kitchen, or breakfast buffet table in a restaurant, then this guide features seven of the best ones around today. I have researched every product listed to provide unbiased, genuine information on my findings.
Toast is, simply put: great, which is probably why 70% of us eat it for breakfast! It is cheap to make, with a significantly high-profit margin. If you want to ensure you're serving the best toast possible, have a look at my guide of the best commercial bread slicers – some of which are so aesthetically pleasing, they could be left out front-of-house for diners to help themselves.
If you're serving large quantities of toast, then a commercial toaster model must be up to the task. Commercial toaster models are different from domestic ones, as they must be more heavy-duty and withstand heavy use. This guide should help you choose the model most suitable for your commercial needs, whether you run a restaurant, cafe, or even hospital ward.
Have a look at the seven commercial toaster models below to see what products this article will include.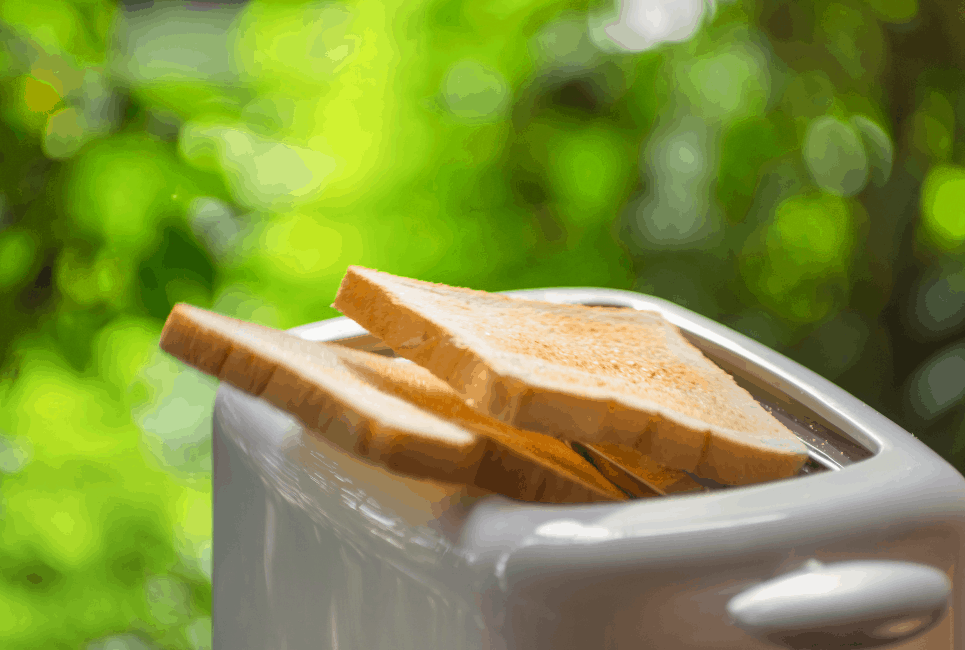 At a Glance: 7 Best Commercial Toaster Models
Is it Worth Investing in a Commercial Toaster Model?
Commercial toaster models can be considerably more expensive than a domestic toaster, and often it is wise to wonder if commercial kitchen equipment is worth the higher price point. The difference is that domestic appliances tend to be used by one family once a day – if that.
For commercial appliances, there could be hundreds of different people needing the result daily, so the use is much heavier – which means the device has to withstand this. In addition, commercial toaster models are made from more durable, higher-quality materials, making them more long-lasting and more expensive.
I have included some commercial toaster models at the lower end of the price point so that start-up kitchens, or professional kitchens with a tighter budget, can still purchase a commercial toaster that should meet their needs.
What Type of Commercial Toaster is Best?
It is possible to toast bread, bagels, crumpets, waffles, and so on through various toasting machines. When it comes to commercial toaster models, three primary types of toasters are specifically designed for the task: Vertical, Conveyor, and Pop-Up. Let's look at the advantages and drawbacks of these toaster models:
Vertical Models
Vertical toasters provide quick and precise toasting. This is often the choice for take-aways or quick-service restaurants that need to toast buns and bagels, in addition to bread. Vertical toasters are an excellent choice for those who will be cooking for a constant stream of customers, where a high level of consistently cooked buns and breads are required.
Vertical models take up less room on the kitchen floor, as their size is taken up by their height. This type of toaster can cook thousands of items per hour in rapid succession (often in mere seconds), but they are the most expensive of the toaster models and can run into thousands of dollars.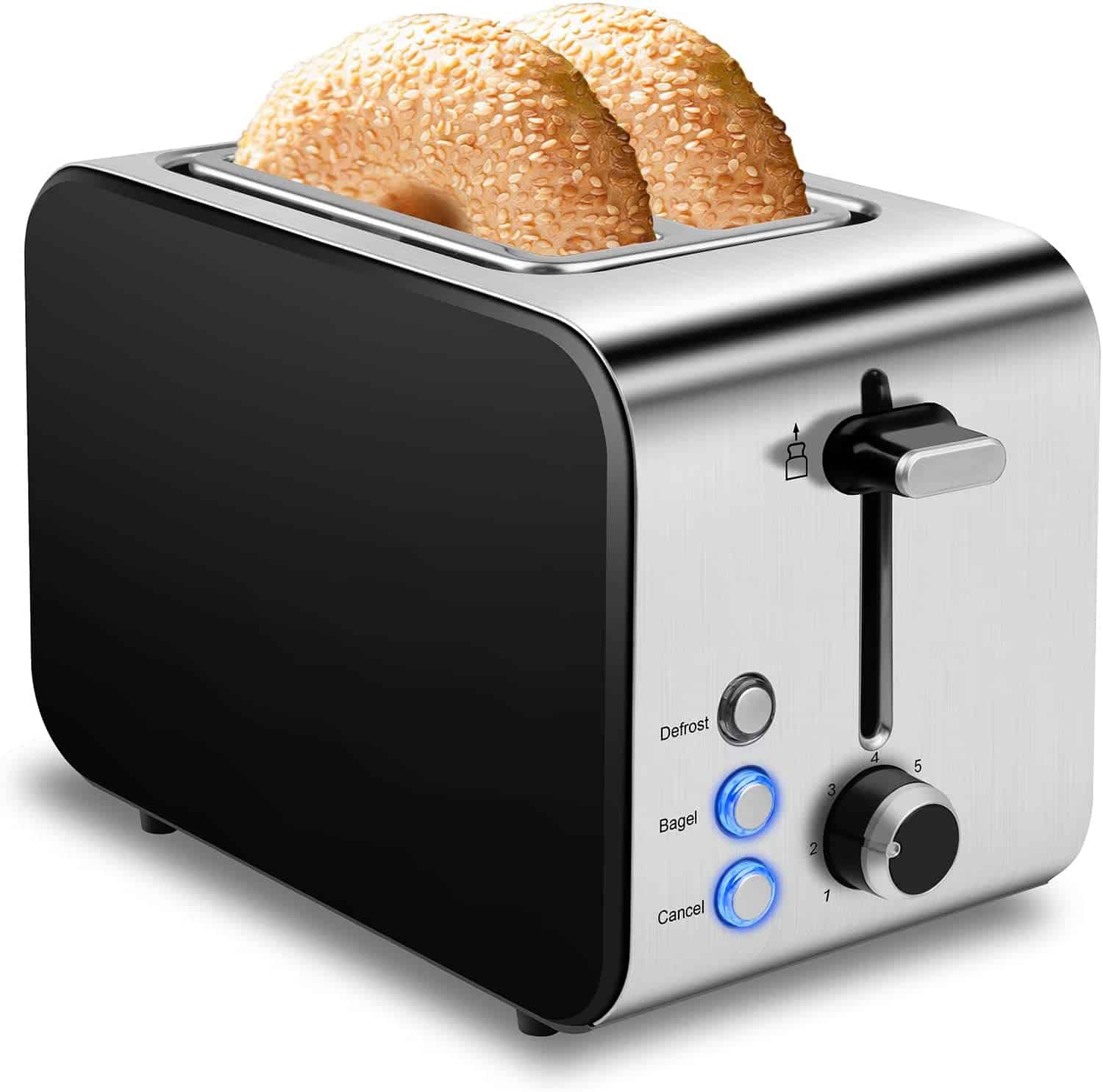 Conveyor Models 
Often called a rotary toaster, the conveyor toaster model has a food-safe chain mechanical which drags bread slowly past the cooking elements, which results in consistently cooked toast every time.
These models are best for self-service restaurants, canteens, cafeterias and sit neatly on a countertop. Conveyor models can be single, double, or triple slice versions and be suitable for up to one thousand slices per hour, model depending. Conveyor toaster models are cheaper than vertical models but tend to be more expensive than pop-up toasters.
Pop-Up Models
The Pop-Up toaster model is probably the most common type of professional toaster for the commercial chef. These toasters are available in a wide range of shapes and sizes and can accommodate 2, 3, 4, 6, 8, or 12 slices of bread, model depending. Depending on the number of slots, you could get up to 400 slices per hour.
The Pop-Up toaster is the cheapest model of the three and tends to have advantages such as more affordable parts, faster delivery, and is more straightforward to operate.
Pop-up toasters are good for cafes, hotels, residential care homes, and hospitals. But, there are elements of these models known to break pretty easily, and they tend not to be as long-lasting as other types of toasters.
Selection Criteria 
In my review guide, I have included a range of commercial toaster models, chosen for their quality level and high consumer reviews. I have ensured that there is a toaster model to fit most budgets and that every commercial kitchen and establishment can benefit from owning one of these toaster models.
The criteria I used to make the selections in this commercial toaster model guide include customer reviews, ease of use, durability, useful features, capacity, and prices.
Customer Reviews: Although some models featured do have some fairly critical reviews, for them to be included in this guide the vast majority will be positive. In addition, they will be from verified purchasers.
Ease of Use: For a toaster model to be beneficial it must be easy to use, either in a fast-paced commercial kitchen or by the diner themselves.
Durability: How durable a toaster model will depend greatly on the quality of the materials used for the construction, this means stainless steel or high-grade plastic. Customer reviews can also back manufacturers' claims of durability.
Product Features: As well as the traditional toaster models, some will have new innovative features, such as digital technology. Others may have features to aid the speed or the clean-up. I will list any stand-out features in the pros section of the product descriptions.
Part Availability: Often commercial equipment breaks, and this can cause havoc for a restaurant, so I have looked for toaster models that have a good part availability, with fast shipping.
Prices: This guide features toaster models from the highly affordable to the very high end so that readers have a large range of budget options for a commercial toaster.
Every toaster model featured has its own strength; some are better for fast-paced bakeries, others are more tailored towards restaurant buffet tables. Each toaster model that I have included will be a quality appliance that you can trust.
7 Best Commercial Toaster Models
WantJoin Commercial Conveyor Toaster – Our #1 Top Pick

150 Slices per Hour
7 Speed Options
3 Toasting Modes

Find it Here
Dash Clear View Slot Toaster – Our #1 Budget Pick

7 Color Options
See-Through Window
Designed in New York City

Find it Here
VEVOR Commercial Conveyor Toaster

450 Slices per Hour
Food-Grade Stainless Steel
2600W

Find it Here
CUSIBOX Stainless Steel Toaster 

3 Color Options
6 Browning Settings
ETL Safety Certified

Find it Here
Vollrath Conveyor Toaster 

Adjustable Legs
Energy Efficient
Made in America

Find it Here
Cuisinart Digital Toaster 

Stainless Steel
Blue LED Digital Display
Self Adjusting Slots

Find it Here
Hacto King Vertical Conveyor Toaster 

Up to 1000 Slices per Hour
Power Saving Thermostat
NSF Listed

Find it Here
#1 WantJoin Commercial Conveyor Toaster – Our #1 Top Pick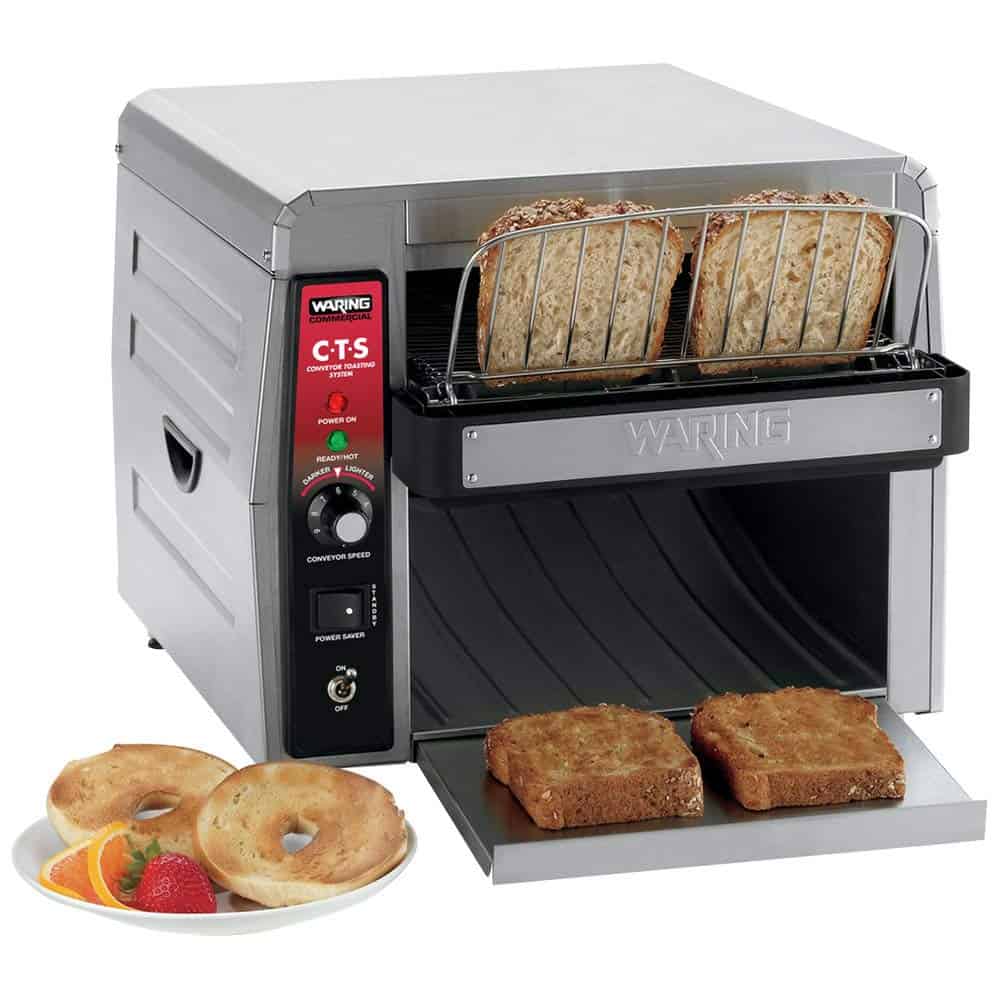 The compact and efficient WantJoin Commercial Conveyor Toaster is an excellent choice for a commercial kitchen and attractive enough for a self-service restaurant. The frame is made from food-grade stainless steel, with the interior featuring 304 stainless steel, making this a premium quality product.
There are seven speeds and three toasting modes to choose from, and the toaster is capable of toasting bread, donuts, bagels, and other bread products. You can get 150 slicers per hour, all evenly cooked and toasted to your preference. I especially like the chargrill lines left on the toast using setting four.
The appliance sits relatively high on the countertop or restaurant table, making the operation comfortable as there is no need to bend or stretch to use this toaster. The exterior is wipe-clean, and there is a removable crumb tray at the back of the toaster where you can shake away the leftover bread pieces.
The WantJoin Conveyor Toaster is reasonably priced for the features but a little high on the spectrum.
Pros
High-Quality Construction
Wipe-Clean
Easy to Use
Cons
High Price
Feels a Little Flimsy to Assemble
#2 Dash Clear View Toaster – Our #1 Budget Pick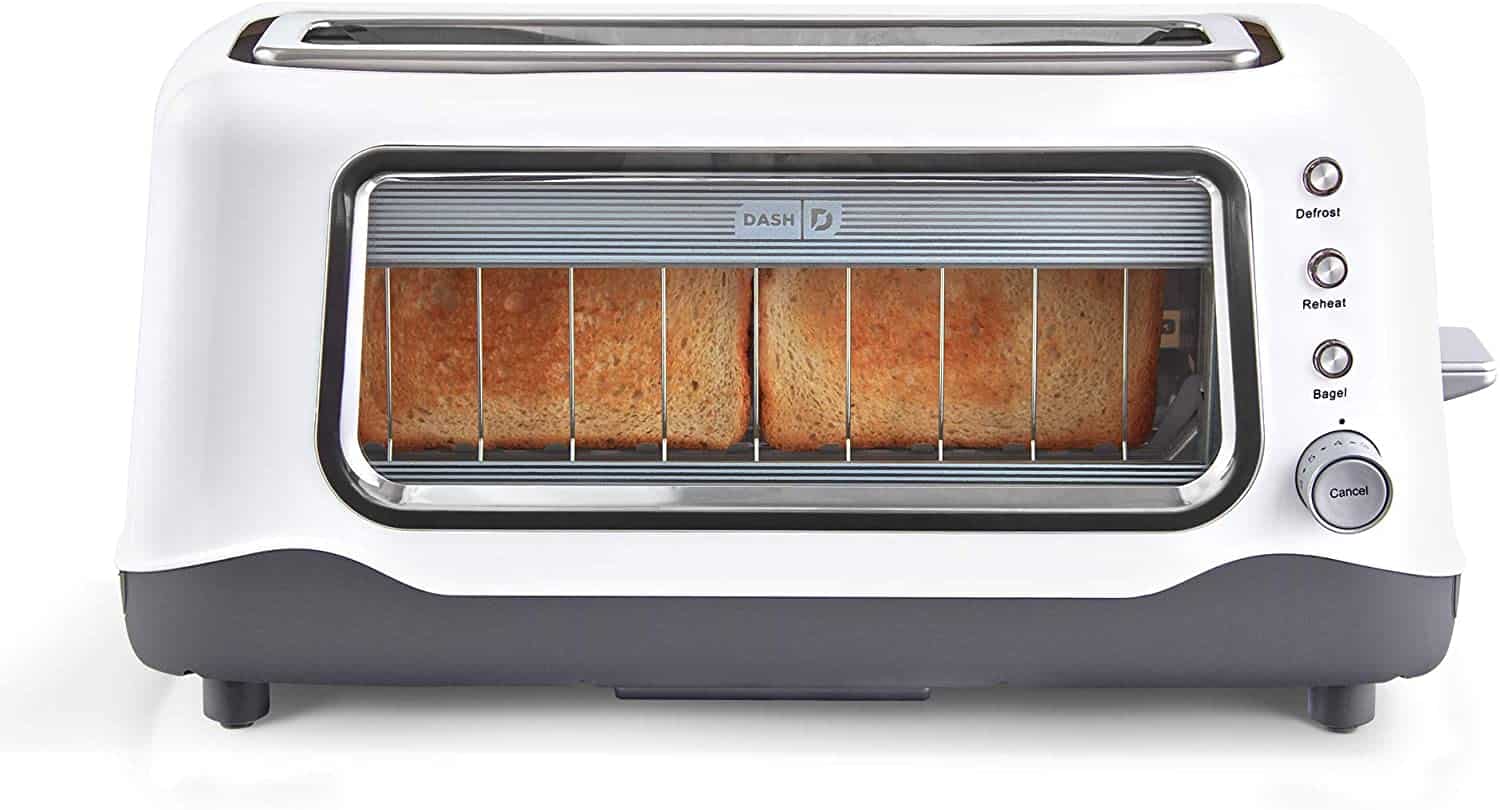 As well as the great price, there is a lot to like about our budget pick; the Dash Clear View Slot Toaster, including the large range of color options – seven in total. My favorite aspect, unique to this product, is the see-through viewing window – it may be gimmicky, but it is unusual, and some people like to see their food cooking!
The extra-wide slots allow you to cook bagels and waffles, as well as bread, and there is a defrost button making this toaster multifunctional. There are seven browning settings to choose from and an easy pull-out crumb tray for a quick clean-up. This pop-up toaster was designed in New York City, and there is US-based customer support and a 1-year warranty.
The toaster is small and compact, taking up minimal room on the countertop. It can toast any kind of bread or bread product and is easy to clean and simple to use. It is also affordable. But, there are some drawbacks. It is made of plastic, and this is obvious to the eye and the feel. It doesn't feel as sturdy as others and doesn't look near their price point.
However, it has so far pleased thousands of consumers and has a lot going for it; whether it is durable enough for your commercial kitchen is up to you to decide.
Pros
Great Price
Viewing Window
Simple to Use
Lots of Color Options
Cons
Looks and Feels Lower End
Possibly not the Most Durable
#3 VEVOR Commercial Conveyor Toaster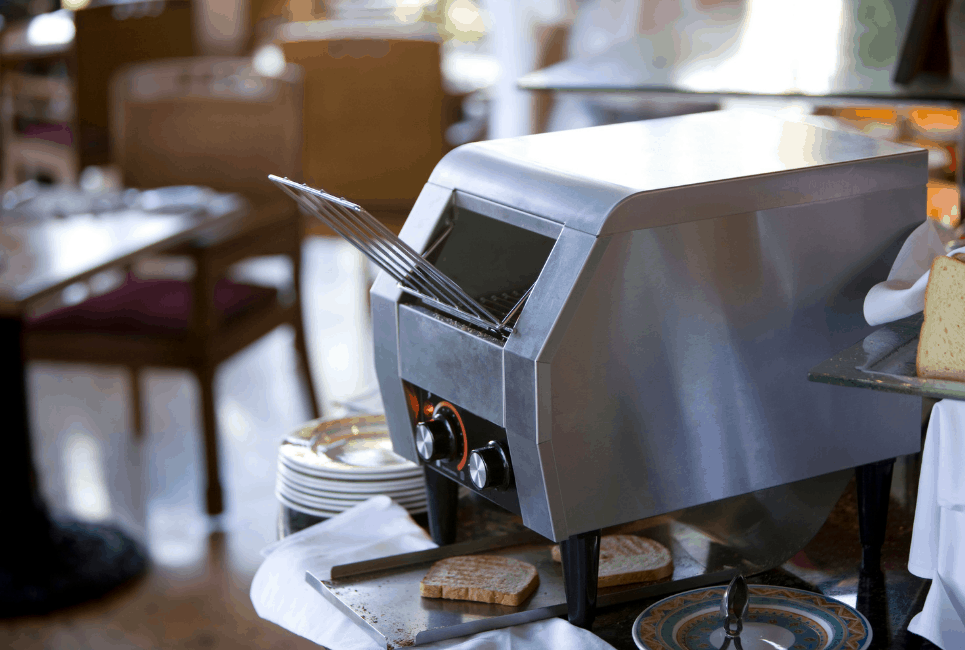 The VEVOR Commercial Conveyor Toaster can toast more than 450 slices of bread per hour and is a great choice for any commercial kitchen; efficient, straightforward, and hardy. Made from food-grade stainless steel, this toaster is highly durable. I like the non-slip feet, which provide extra security in keeping the toaster positioned on a countertop or self-service counter.
The stainless steel construction means that the toaster will not rust or corrode and that it should provide years of use. It feels robust and sturdy, and the outside remains cool to the touch to prevent any burns to customers or staff who use it. There are three different toasting modes and seven different browning levels to choose from.
The Vevor conveyor toaster can toast any bread product well and make the morning rush a breeze. It requires 10-minutes to heat up, so it can't be used instantly, and the price may be a little high for some.
Pros
Very Durable
Reliable for Commercial Kitchen
450 Slices per Hour
High-Quality Stainless Steel
Cons
Price is a Little High
Can't be Used Instantly
#4 CUSIBOX Stainless Steel Toaster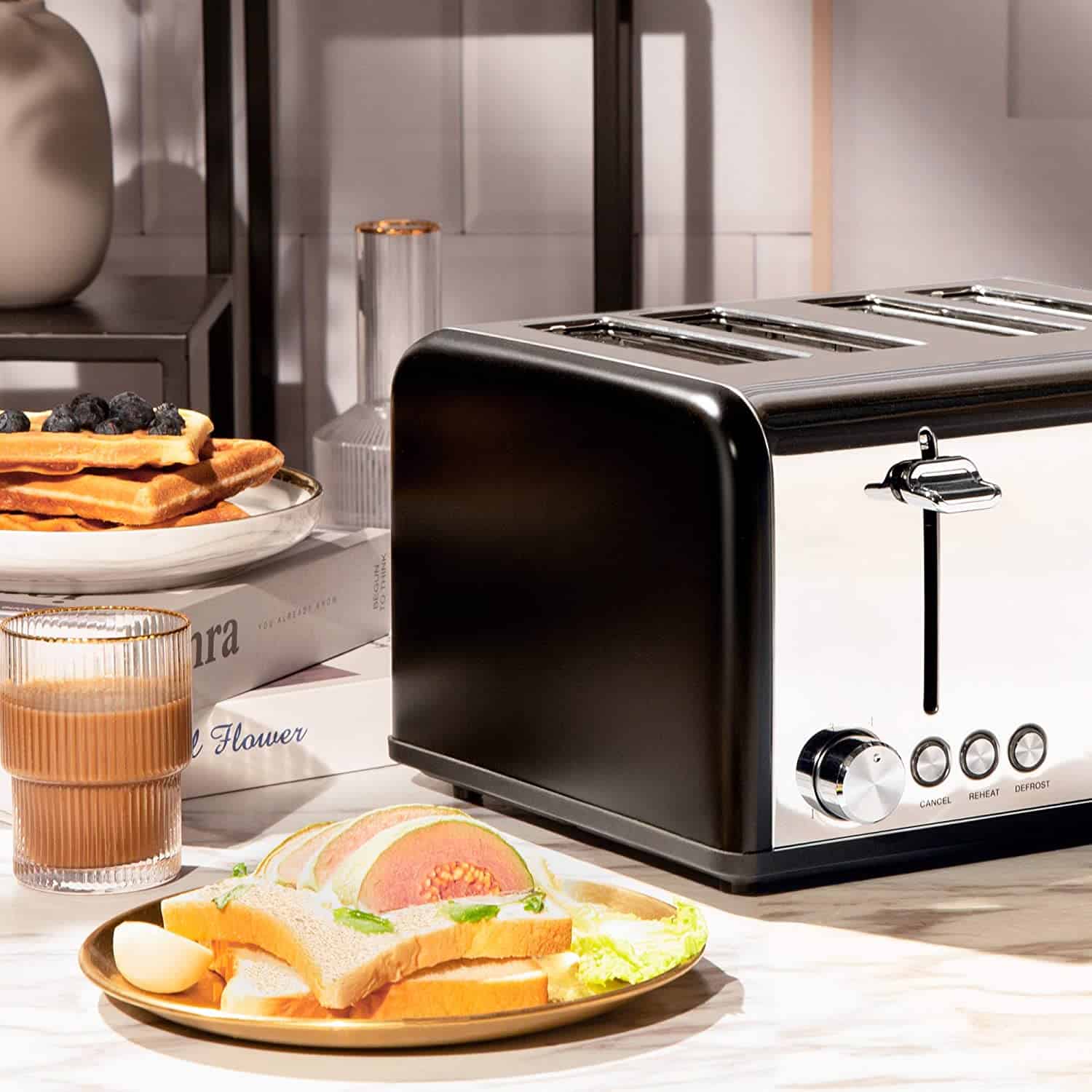 Amazon Choice for 'Commercial 4 Slice Toasters' is the CUSIBOX Stainless Steel Toaster. This toaster cannot produce hundreds of slices per hour, but it does have a lot to like. Firstly, the dual independent control panels allow you to toast four slices to two different settings simultaneously. It can toast any width of bread or bread product, and it is fast!
The time taken to toast bread, to my liking, is almost twice that of my domestic toaster. It is so easy to use and has two removable crumb trays. There are three basic functions, six browning controls, and a solid high lever; that feels strong and durable.
This toaster comes with a 90-day money-back guarantee, so it is a risk-free purchase; if it isn't adequate, just send it back! There are three color options, warm cream, black or red, and the construction is a high-quality, polished stainless steel. The finish almost looks like a mirror and surprisingly doesn't harbor fingermarks, as you may think. Overall, this is a great buy.
Pros
Stunning High-Shine Finish
Fast Toasting
Durable
90-day Money-Back Guarantee
Cons
Price a Little High for a 4-Slice Toaster
#5 Vollrath Conveyor Toaster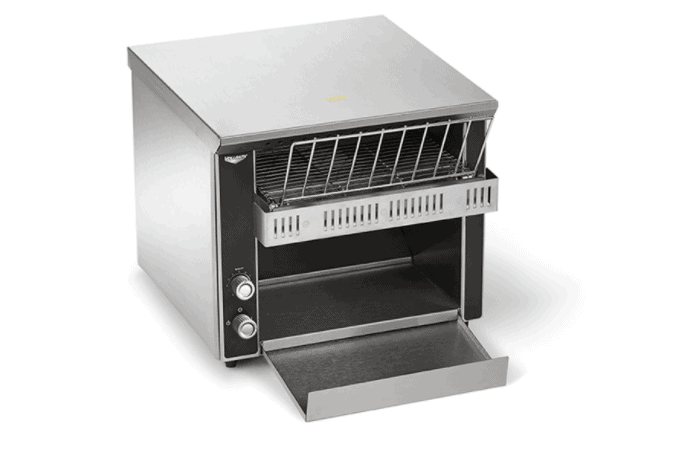 The Vollrath Conveyor Toaster is an excellent choice for a breakfast buffet, coffee shop, or restaurant kitchen. It can toast up to 350 slices per hour, and with its standard opening, it is great for regular bread. This toaster model has the industry's only maintenance-free drive system, which uses a stainless steel drive chain and doesn't need regular lubrication.
For excellent energy efficiency and even toasting, there is forced convection in play. The toaster has energy-efficient quartz heaters, which quickly react, and a variable speed conveyor control so that staff can customize the operation to the desired browning level. There is also a standby mode, which reduces energy usage by nearly 75% during slower periods.
The Vollrath Conveyor Toaster was made in the US, is NFS Listed, and has been tested and meets the safety standards imposed by the US and Canada. Built with durable stainless and aluminized steel, this toaster is designed to last. There is a 1-year manufacturer warranty and protection plans available at under $30 p.m.
Pros
Maintenance Free
Variable Speed Control
Energy Efficient
Built-in the USA
350 Slices per Hour
Cons
#6 Cuisinart Digital Toaster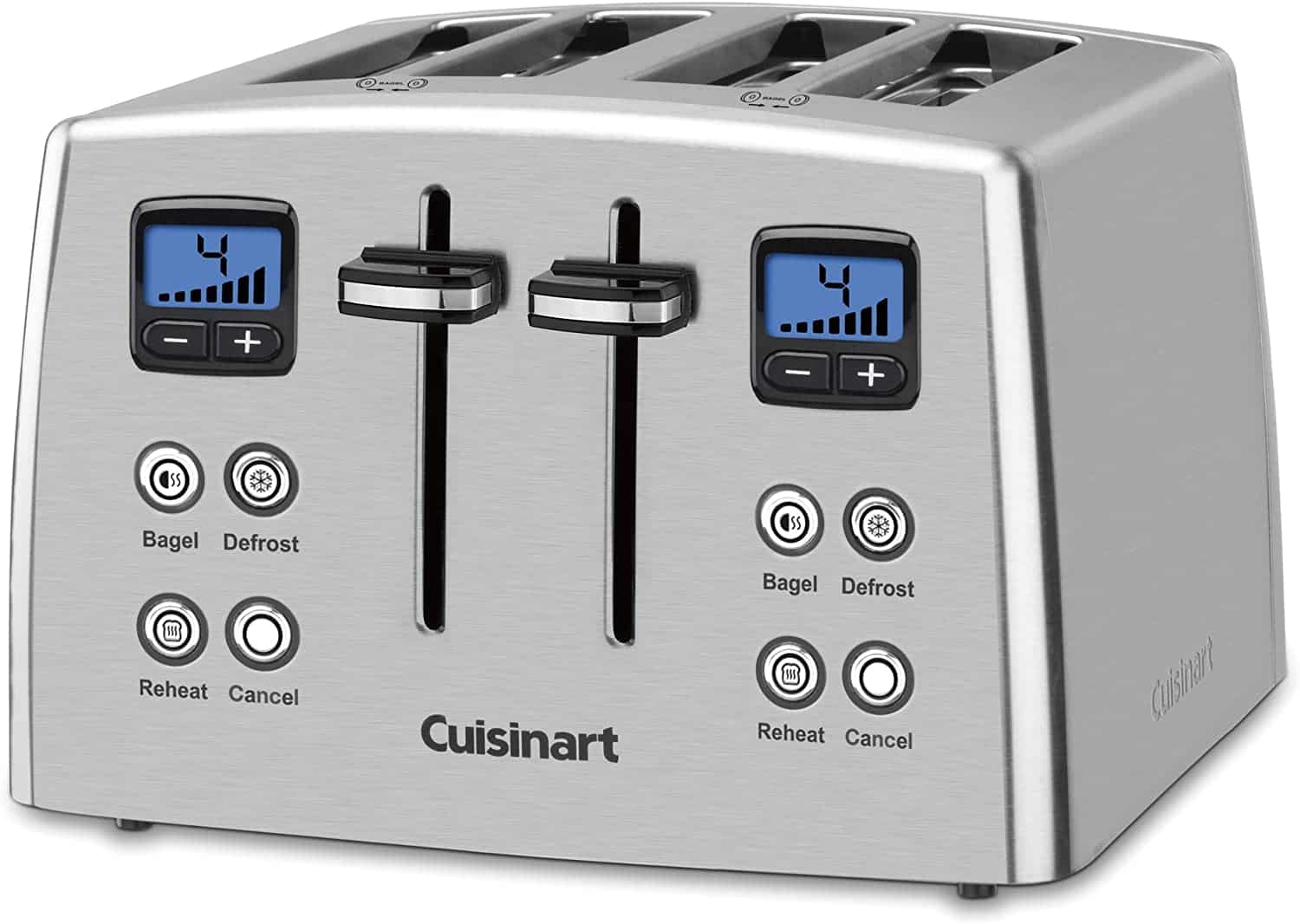 The Cuisinart Digital Toaster is a beautifully designed toaster that should fit well in any commercial kitchen. The four-piece toaster acts as two separate toasters in one, with dual controls allowing for separate toasting of each side at the same time. The interior holders will automatically widen or narrow to accommodate the bread or bread product slice, grip it firmly, and cook it evenly.
There is a blue LED display, where your chosen number will be displayed – from one to seven, one being the lightest and seven the darkest. There is a great bagel feature, where the interior of the bagel cooks to a crispy finish, but the outside will remain softer. The housing is all stainless steel and polished to an almost mirror finish.
There are two crumb trays, and the unit is wipe-clean, making it straightforward to look after. It is easy to use, looks great, and performs well. However, you're not going to get hundreds of slices per hour, and the price may be a little high to some for a four-slice toaster.
Pros
Elegant Design
High Shine Finish
Blue LED Display
Automatic Grip
Digital Controls
Bagel and Defrost Function
3-year Limited Warranty
Cons
Some Consumers Mention a High-Pitched Noise
Expensive for a Four-Slice Toaster
Plastic Handles Difficult to Push Down
#7 Hacto King Vertical Conveyor Toaster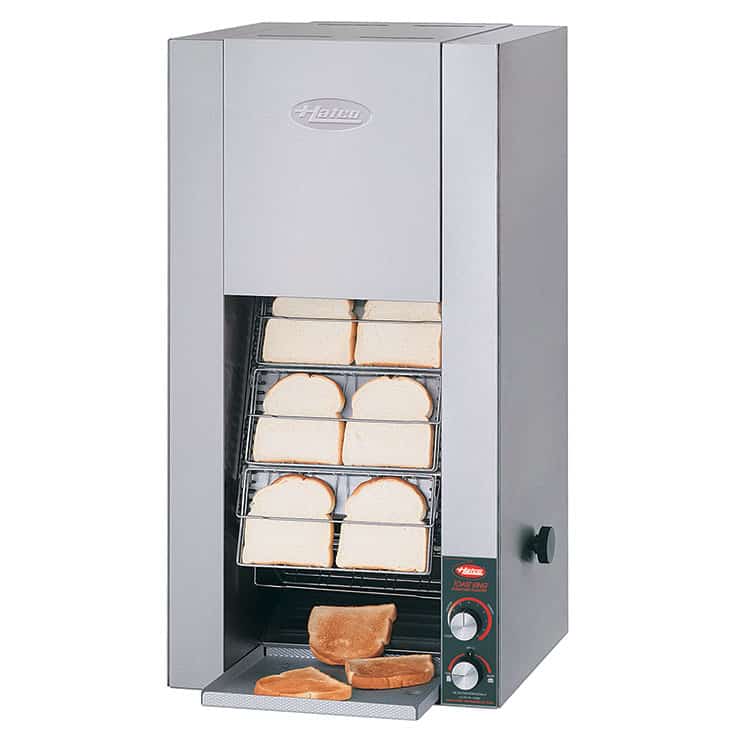 The Hacto King Vertical Conveyor Toaster is a workhorse for any commercial kitchen where lots of toast is needed quickly. You can toast bread, buns, french toast, and waffles faster than ever with this toaster. It relied on conveyor speed to adjust the texture and color of the product, which allows you to make adjustments instantly without having to wait for heat changes.
There is even color distribution because there are reflectors behind both sets of elements; this also makes the Hacto King toaster more energy efficient. A ColorGuard sensing system monitors and adjusts the temperature and the speed consistently. This smart technology results in consistent quality batches every time, and the three-basket access makes loading and unloading a breeze.
This toaster can toast up to 1,500 slices of bread per hour! The stainless steel construction is fully insulated, resulting in one of the coolest surface temperatures in the industry, plus the fiberglass heat barrier reflects the heat into the toasting area. This is a definite contender for a busy commercial kitchen! It looks great, is easy to use, and is highly reliable.
Pros
Exclusive ColorGuard system
Up to 1500 bread slices per hour
Adjustable conveyor speed
Cons
Very High Price (Nearly $3,000)
FAQs
Question: What Electrical Requirements Do I Need For A Conveyor Toaster?
Lower-production conveyor toaster models can fit a standard 120V connection. However, if you want a model that boasts more than 500 slices per hour, you would likely need a heavier-duty connection, like a 208/240V.
Question: How Do You Safely Clean And Remove Crumbs From A Toaster?
Keeping your commercial toaster clean is essential for the overall safety and performance of the appliance. Before you clean the toaster, you should always switch it off at the wall, unplug it, and ensure it is cool. The outside can be wiped down daily with a wipe or cloth; a small brush can be useful to get into those tough-to-reach spaces.
Most commercial toasters will have a crumb tray, which can be removed, wiped, and cleaned easily. It is important never to turn the toaster upside down or to shake them to remove crumbs, as this can loosen internal components and lodge the crumbs inside further.
Question: How Often Should I Replace A Commercial Toaster?
Toasters can be pretty temperamental as they age. Especially if a toaster isn't well-maintained, regularly cleaned, or subject to heavy use, you can expect all of this to have a detrimental bearing on its longevity. It is recommended to replace a commercial toaster between every six to eight years for maximum efficiency.
The Best Commercial Toaster Model – Final Verdict
Finding the best commercial toaster model can seem like a straightforward task, that is, until you see the vast range of products and features on offer, then start to really consider them one by one. If most of all, the priority is to stay on budget, I highly recommend the Dash Clear View Slot Toaster; it won't compete with the big boys on the market, but its price is outstanding.
If the case is that you are looking just for a pop-up toaster, then the CUSIBOX Stainless Steel Toaster and the Cuisinart Digital Toaster are both great options for a commercial kitchen. The CUSIBOX has a stunning high-shine finish and toasts bread rapidly, but it could be a little expensive for a 4-slice toaster. With the Cuisinart, you have pure elegance, a digital display, and a great bagel feature, but again, the price may be too much for 4-slices of bread.
The Vollrath Conveyor Toaster and the VEVOR Commercial Conveyor Toaster are excellent examples of conveyor toasters, and both would make a great addition to a commercial restaurant. The Vollrath is the more expensive out of the two, but it has some great features and is 100% maintenance-free!
The most expensive and largest in the guide is the Hacto King Vertical Conveyor Toaster. Capable of toasting 1500 slices per hour, this is a workhorse of a toaster that could make life much easier in a busy professional kitchen where lots of toast is needed quickly. However, the initial outlay is high.
Our top pick is the WantJoin Commercial Conveyor Toaster. The construction is high-quality; it is easy to use and simple to clean. But, the price is high, and it can appear a little flimsy to a professional's eye. Whether you opt for a commercial toaster found in this guide or choose to find one yourself, I hope it has been helpful to see the different toaster models out there and compare their prices and features.