Latest posts by Maddy Chiffey
(see all)
Buying commercial bowls for your professional kitchen, or even domestic kitchen, may not be a prospect that requires a lot of thought. But, it does require some. This guide of the eight best commercial bowls folder will include all of the research and results you will need to help with the shopping process, including some great bargain buys and the best money bowls can buy folder!
Much like with restaurant steak knives , the aesthetics of a commercial pasta bowl should be as high of a priority as their quality. But unlike larger kitchen equipment, this doesn't necessarily have to mean more expensive. Some commercial bowls are currently retailing at highly affordable prices, some of which are considerably more. For fairness, I have included folder bowls across the price points in this guide.
If you're in a hurry, just below, you will see our chosen eight.
At a Glance: 8 Best Commercial Pasta Bowls
Buying the Right Commercial Pasta Bowls for your Establishment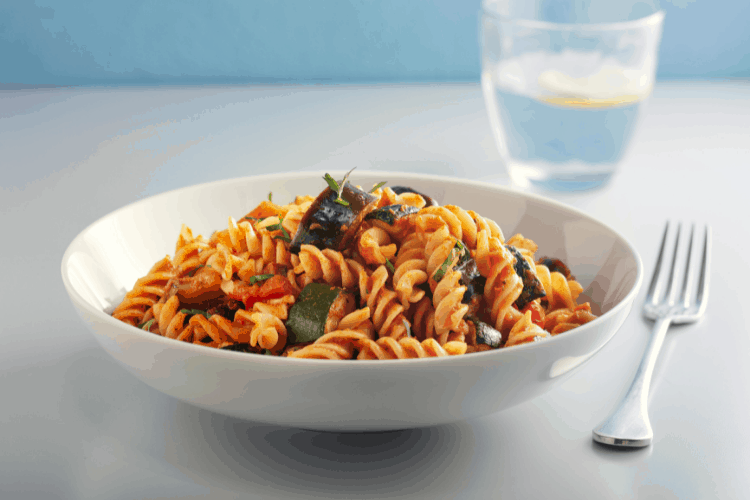 Your commercial crockery set will likely come with soup and salad bowls but are unlikely to include larger-format pasta bowls. While you can enjoy some quick spaghetti in pretty much any bowl, serving folder in a dedicated folder bowl provides a more professional image for clientele.
More than the aesthetics, commercial bowls pasta also supply the authenticity to enrich traditional Italian cuisine.  Out of 800,000 American restaurants, around 100,000 will serve Italian food , so this is a cuisine with stiff competition – maybe the right pasta bowls will require more consideration than you thought?
The best pasta bowls are larger than regular bowls, typically between 20 to 30-ounces or more. In addition, bowls are lower and wider than ordinary bowls, designed to make the eating of pasta easier. When you consider that more than half of Americans eat pasta every week, this is a dish that could bode exceptionally well in your restaurant. So, it's essential to serve it right.
There are some things to consider when looking to stock your kitchen with commercial bowls folder, and these are as follows:
Colors
Bowls are typically white folder, making them easy to coordinate with current restaurant plates and bowls. Often, bowls can have a colored edging or be ablaze with floral patterns, authentic Italian imagery, or modern-day swirl designs.
Look at the interior of your establishment and the existing place settings to see if plain white or bright and bold would be the best fit. My guide is a mixed bag of colors and designs, hoping that every reader finds something suitable.
Materials
Most commercial bowls are made of porcelain china, ceramic, melamine, tempered glass, plastic, or wood – basically, all the materials bar steel! Each material has its advantages and its drawback. For me, I love the look and feel of a genuine china bowl, but I appreciate this can be considered too delicate for a busy kitchen.
Ceramic, plastic, and melamine are durable choices that should offer great longevity. Tempered glass can be pretty fragile but an excellent choice for high hygiene levels. Wood looks rustic but can be a chore to maintain a good standard.
Cleaning Method
Some conveniences are necessary for a commercial kitchen; others are more of a benefit. When it comes to cleaning commercial bowls folder, not all of them will be easy-clean, ie, dishwasher safe, neither will they all be able to withstand microwave heat.
If you have a fast-paced kitchen where bowls need to be used in a quick rotation, it may be wise to look for a suitable material for dishwasher cleaning, such as plastic.
Price
Bowls range in price, from our bargain pick at just over $15 (for a 4-piece set) to the most expensive on the list, the Rosanna Set (4-piece) retailing at just under $60. Look elsewhere, and you can find a single folder bowl for hundreds of dollars that haven't made it into my guide.
If you have a high-end establishment, you will likely want to avoid serving customers food on plates that cost $3 each.  Conversely, cheap and cheerful eateries will not be considering a $20 plate to load with lower-priced food. As a general rule of thumb, I always advise you to opt for the highest quality level that your budget allows.
8 Best Commercial Pasta Bowls
Y YHY Pasta Bowls (Set of Six)

– Our #1 Top Pick

Amazon Best Seller

Porcelain Construction

Anti-Scratch Surface

Find

Here

Winco Wooden Pasta Bowls (Set of Four)

– Our #1 Bargain Pick

10-in Plates

Wooden Construction

Hospitality Favorites

Find

Here

LE TAUCI Pasta Bowls (Set of Four)

Amazon Choice

4 Color Options

Chip and Crack Resistant

Find

Here

Teocera Pasta Bowls (Set of Four)

5 Color Options

Dishwasher and Microwave Safe

Premium Food-Grade Porcelain

Find

Here

Rosanna Pasta Bowls (Set of Four)

Refined Porcelain

4 Separate Designs

Microwave and Dishwasher Safe

Find

Here

Yundu Gray Marble Pasta Bowls (Set of Four)

2 Size Options

3 Color Options (All Marble Swirl Pattern)

Ceramic Bowls

Find

Here

KitchenTour Floral Pasta Bowls (Set of Six)

Unique Square Shape

Smooth Glaze Plate Protection

3 Color Options

Find

Here

DOWAN Pasta Bowls (Set of Four)

Slightly Angled Rim

Microwave and Dishwasher Safe

2 Color Options

Find

Here
Y YHY Pasta Bowls – Our #1 Top Pick!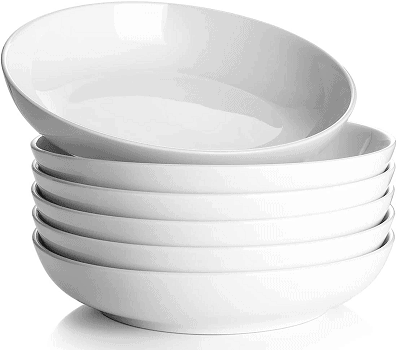 Our top pick is the six-piece Y YHY Pasta Bowls . Each plate has a 30oz capacity, is 8.5-in wide, and has a depth of 1.75-in. The sides of the bowls are perfectly straight and relatively wide.I am reviewing the porcelain white six-piece set, but the brand does sell other colors, patterns, and sizes through their Amazon shop and their own website; see here.
I was pleased to find how well protected the bowls had been for shipping, each one is wrapped in an individual protective sleeve, and the bowls are neatly stacked to arrive in perfect condition. I found, through my research, that the delivery of the bowl set is well received across the board.
The bowls can be used in the microwave, and their larger lip remains cool, so there isn't much of a risk of burning hands when retrieving. They are also dishwasher safe and stack well together for this. The Y YHY folder bowls are made of sturdy porcelain and feel strong. I particularly like their shallow bases, which keep the contents of the meal inside well.
This set is multifunctional and can be used to serve soup, in addition to the folder, which helps to justify their price point – which, although reasonable, is a little higher than some. Overall I was really impressed with this set, right down to the pure white color, which would mean they'd suit more traditional, white dinner services as add-on plates.
Pros
Packaged Extremely Well for Delivery

high quality porcelain

Feel Strong and Durable

Pristine White Color

Reasonable Price
Cons
If you're looking for all-American-made, these bowls are made in China.
Winco Wooden Pasta Bowls – Our #1 Bargain Pick!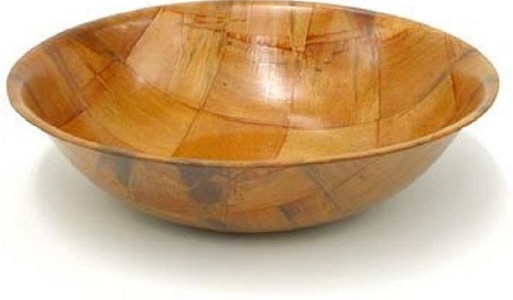 The Winco Wooden Pasta Bowls are a great choice for the hunter bargain, retailing at a very affordable price – for four pasta bowls, they're also surprisingly good quality. The Winco brand has a 30-year history of top-quality manufacturing products, at reasonable price points, for chefs, restaurateurs, and others in the hospitality industry.
I wanted to try some wooden folder bowls for this guide and was very glad about my selection of the Winco set.  Four solid wooden bowls are delivered, securely packaged, and fully intact. I thought, on first impression, they may not be sturdy, but they are surprisingly so – and leak-free, even holding cups of water to prove this point, perfectly suitably.
This set would be hard to beat for those wanting a low-cost set or a rustic-looking wooden set of commercial bowls. Lightweight, durable, affordable, and aesthetically pleasing, there is little to dislike about these pasta bowls.
Pros
Great Value for Money

Solid Wood Bowls

lightweight

Leading Brand
Cons
If you don't like wooden bowls, these aren't for you

Some consumers mention unfinished bowls with some splits
LE TAUCI Pasta Bowls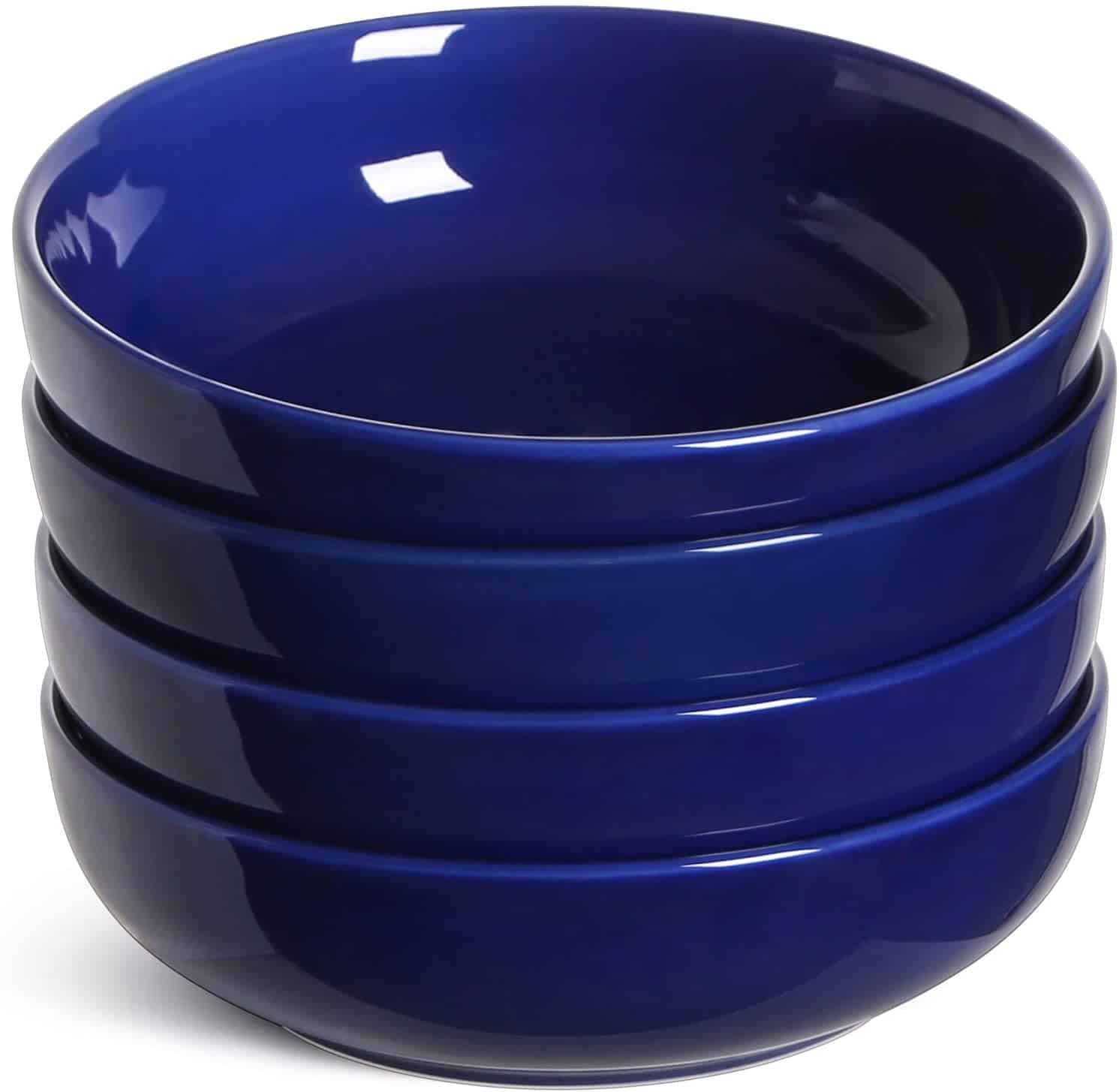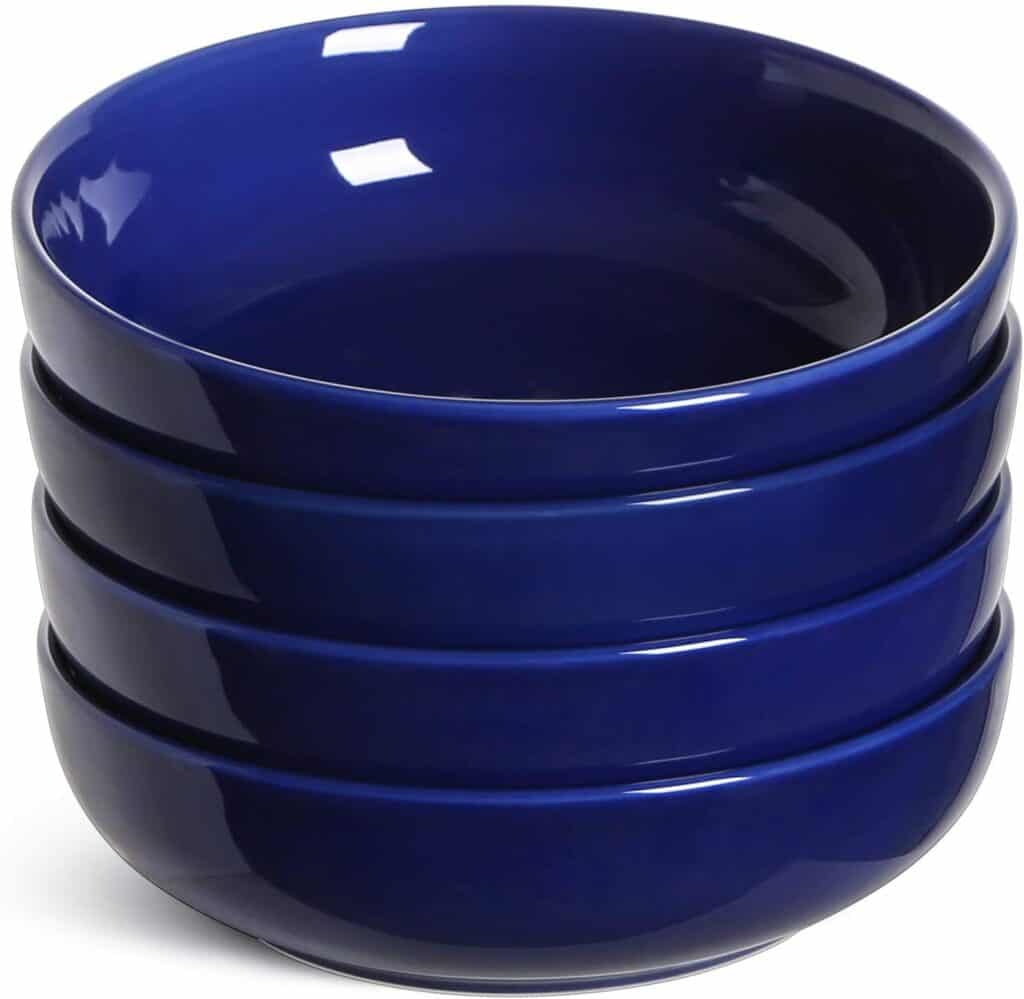 The LE TAUCI Pasta Bowls have the highly desired 'Amazon Choice' logo, which means the product is highly rated, well-priced, and available for immediate shipping. The first thing I noted was the size of these bowls, at 8.5-in diameter and with a depth of 2.4-in; they are well proportioned, large pasta bowls that would suit a range of other dishes.
In our Instagram generation, photographs of food are commonplace, it is worth mentioning that the shallow silhouette of the plates allows for great showcasing pics of culinary masterpieces. The mouths of the bowls are large for easy holding and quicker cooling of the food. They feel comfortable to hold in hand, with a good thickness and weight.
They are approved stoneware and very durable items that are chip and crack-resistant. There are other color options, Matte Black, Blue, and Red, which have varying RRPs. The brand strives for modern products that are of high-quality and fair prices – they've ticked every box with this set. The LE TAUCI bowls can withstand oven heat, microwave heat, and dishwasher cleaning.
Pros
Oven, Microwave, and Dishwasher Safe

Large Capacity

Modern Design

Good Quality
Cons
Price is Slightly High

Not American Made

Some Reviewers Quote the Color to be 'Off White'
Teocera Pasta Bowls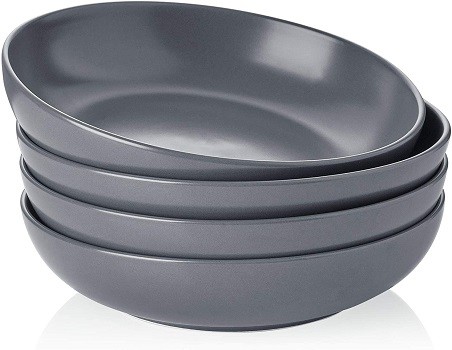 The Teocera Pasta Bowls are a timeless classic, and with the many color options, you would be sure to find one of their 4-piece sets to complement any restaurant interior. The size and shape are ideal for generous portions of dishes, containing even the largest lasagna slab – Looking for a commercial lasagna pan? Check out this guide .
The set is packaged well, with a speedy delivery through Amazon. Inside you will find really high-quality bowls made of premium food-grade porcelain. I chose to review the Matte Gray set, which looks clean, classic, and fit for any restaurant table. Other color options include Matte Black, Navy, White, and Turquoise.
I believe this set offers great longevity and durability – they seem made to last and can be used in freezers, dishwashers, or microwaves.  If you have open shelving, this set is an excellent option due to how well they stack – looking extremely neat while being easily accessible. They would also fit nicely underneath the pizza prep table.
Pros
Great Color

Good Size and Shape

Speedy Delivery

Aesthetically Pleasing
Cons
No Protective Finish, So Utensil Marks Could be an Issue

On the Expensive Side
Rosanna Pasta Bowls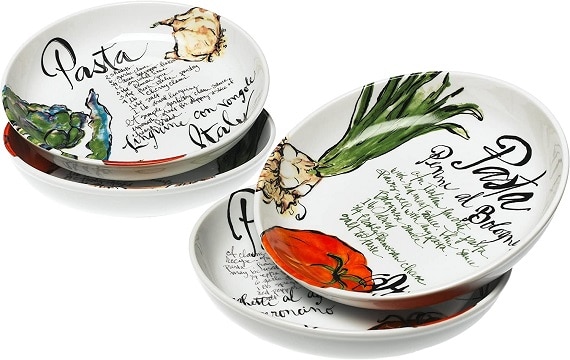 The Rosanna Pasta Bowls are the priciest set in this guide, but for some, they will undoubtedly seem worth it. Each of the four bowls has its unique pattern – genuine Italian imagery, with an authentic Italian recipe imprinted on each one. The bowls are made of refined porcelain and arrive well protected in a square gift box.
You can put the bowls in microwaves and dishwashers, and they are very durable despite their delicate look. They're 8 inches in diameter and an inch and a half deep, making them great other dishes in addition to pasta, such as soups and desserts.
The Rosanna brand also sells other tableware in similarly striking designs, including salt shakers, serving platters, and serving bowls.
I feel that bowls are stunning in color and design and certainly not ordinary tableware. However, there are some mentions from other consumers of damaged plates, discoloration, and slightly small sizing. I wouldn't expect to see any negativity around them for their high price tag, but you can't please them all!
Pros
Beautiful Design and Color

Unique Bowls

Ability to Complete the Set with Matching Tableware
Cons
Smaller Sizes than Some

Discoloration Mentioned by Consumers

Other Consumers Cite Some Damaged Bowls on Arrival

Very Expensive
Yundu Gray Marble Pasta Bowls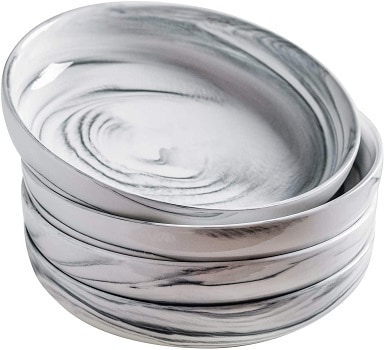 Coming in 8-in or 10-in and three different color options, the Yundu Gray Marble Bowls Pasta is beautiful in design, with commercial-grade quality. I reviewed the 8-in bowls in gray marble and found them a lovely bowl that feels comfortable to hold. The 8-in bowls are perfect for restaurant portions, where quality over quantity is often the desired goal.
The bowls are ceramic, made from calcining pure natural marble soil, which is of first-class quality. They're dishwasher safe and easy to stack – looking great on open shelves in a commercial kitchen. You can also use these bowls in a microwave, and they are incredibly durable. There are no toxins or lead in the bowls, and they're crack and chip resistant.
The bowls are comfortable to hold but slightly heavy; each weighs over 2lb, so they're better for eating on a table rather than standing. The ceramic is sturdy but a more delicate material, so breakages are not an impossibility. They're well-polished and look great – you could also buy different tableware from the same brand for a uniform presentation.
The warranty is highly generous; 30-day no-quibble refund or replacement.
Pros
beautiful bowls

sturdy

Well Priced

Durable
Cons
Patterns not 100% Symmetrical
KitchenTour Floral Pasta Bowls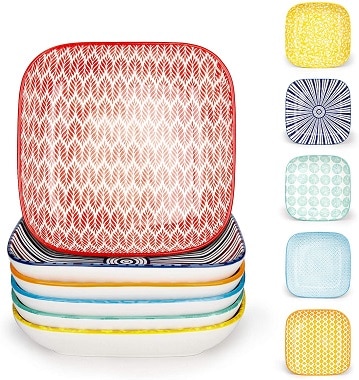 The KitchenTour Floral Pasta Bowls could be an excellent addition to a bold, bright, and bespoke restaurant. Their unique and elegant designs, on perfect square shapes, can add a touch of elegance – or bohemian – to your restaurant tables.
There are three styles of pattern to choose from; colorful, vintage, or classic white. I was taken with the vintage set, so I decided to review these further. The bowls come in a well-wrapped box, and delivery is fast. You receive six different colored and patterned bowls in the vintage folder bowl set – of the same shape and size (8-in squared) for easy stacking.
The mish/mash of color will certainly make for a talking point and help to bring a plain table alive. The KitchenTour folder bowls are all ceramic and finished with a glossy glaze that acts as a barrier between sharp cutlery, stains, and the foundations of the plate – aiding longevity. They can be cleaned in a dishwasher and have excellent high-temperature resistance.
Pros
Striking Design

Great Colors

Perfect Squares

Excellent High-Temperature Resistance
Cons
Get Very Hot in the Microwave
DOWAN Pasta Bowls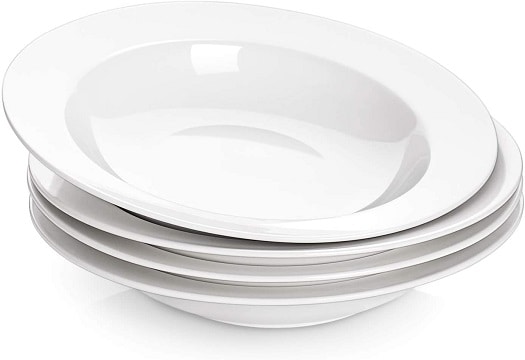 The DOWAN Pasta Bowls are the staple pasta bowl for any Italian restaurant. Simple yet stylish, this 4-piece set is reasonably priced (if slightly high) but highly durable. The bowls are 9.5-in diameter and hold a hearty portion of paste. They're also very versatile and a good size for a range of other savory or sweet dishes.
I like how the rims are slightly angled and think this should prevent spillages from the kitchen to the table and offer protection to the hands from burns and scalds. The bowls are minimalist, solid-white in color, allowing the food to really take center stage.
The stark appearance also means that this set should fit in with other white tableware, making sound financial sense.
The DOWAN pasta bowls are made from high-quality porcelain, very durable, and compatible with dishwasher cleaning and microwave heating. If any bowls are damaged during transportation, the brand will replace them at no cost to the buyer or offer a full refund.
The brand sells a larger plate set – which includes six bowls folder for around $75. This set is more affordable at under $30.
Frequently Asked Questions
Question: What is the Difference Between a Pasta Bowl and a Soup Bowl?
Answer: These two bowls can be considered interchangeable, however, the formal china dinner service will include soup bowls, but it won't include folder bowls.
Soup bowls are typically made of materials, whereas pasta bowls come in a range of materials and will likely have matching serving bowls to purchase in addition.
Question: Are Pasta Bowls Essential for a Commercial Kitchen?
Answer: A typical checklist of commercial kitchen equipment likely won't include the bowl set as an essential folder. However, pasta bowls are designed especially for this meal as their sides keep the sauce, pasta and meat within the bowl and make it easier for the eater.
If you're serving lots of pasta, it is worth considering purchasing commercial pasta bowls for your restaurant; their many other benefits are laid out in this guide.
Question: What is the Traditional Italian Way to Serve Pasta in a Restaurant?
Answer: Italians are more relaxed with eating rules but have different customs to Americans regarding table etiquette, portion sizes, and manners. A genuine, authentic Italian chef will serve small portions of great food in a pasta bowl, topped with sauce.
They won't provide a knife to help the diner, as the sides of the bowl provide the hard surface for the fork or spoon to chop against.
So, What is the Best Commercial Pasta Bowl?

My Verdict.
Depending on what you're looking for from your bowls folder, each product listed offers something different. The Winco Wooden Pasta Bowls are a bargain price and have a rustic Italian look to them.
If imagery is crucial, you can't beat the stunningly designed, fine porcelain Rosanna Pasta Bowls ; however, they are expensive.
The KitchenTour Floral Pasta Bowls (Set of Six) are an excellent choice for a restaurant that is 'out there with its aesthetics; These bohemian-looking bowls come in beautiful colors with great patterns, but they are hot to handle, and their design isn't for everyone.
If you want a simple white set of bowls folder, then the DOWAN Bowls Pasta , LE TAUCI Bowls Pasta , or our #1 top pick, the Y YHY Bowls Pasta, are all excellent choices.
Crisp white, with remarkable durability and with similar retail prices, there aren't a significant number of differences between these three options. However, I did like the secure packaging, quick delivery, and clear high-quality of the Y THY set.
The gray Teocera Pasta Bowls or marble patterned Yundu Gray Marble Pasta Bowls could be great fits, with an existing chic interior of a modern restaurant.
I found the Teocera set to be a great color and good size but was disappointed to see a protective finish, so I query how well they will retain a fresh, new look. The Yundu set is well-priced, sturdy, and looks great. For the perfectionist chef, however, the Yunu bowls are not 100% symmetrical.