Latest posts by Alice Smith
(see all)
Meat slicers are a kitchen tool that is used to cut large pieces of meat into thinner and more manageable sizes. They work by running the meat down the length of a metal blade, which then cuts it according to how thin or thick you want your slices. There are many different varieties of commercial meat slicers on the market today – some for home use, and others designed specifically for business kitchens.
However, when you are in the market for a new commercial meat slicer, it can be difficult to know what to look for. Sure, there are plenty of options out there that have different features and benefits, but which one is the best?
We've done some research on this topic and compiled a list of the commercial meat slicers that we think are at the top of their class. In this article, we will take a look at what kind of considerations you should make when purchasing the best commercial meat slicers for your restaurant or catering business.
What Is A Commercial Meat Slicer?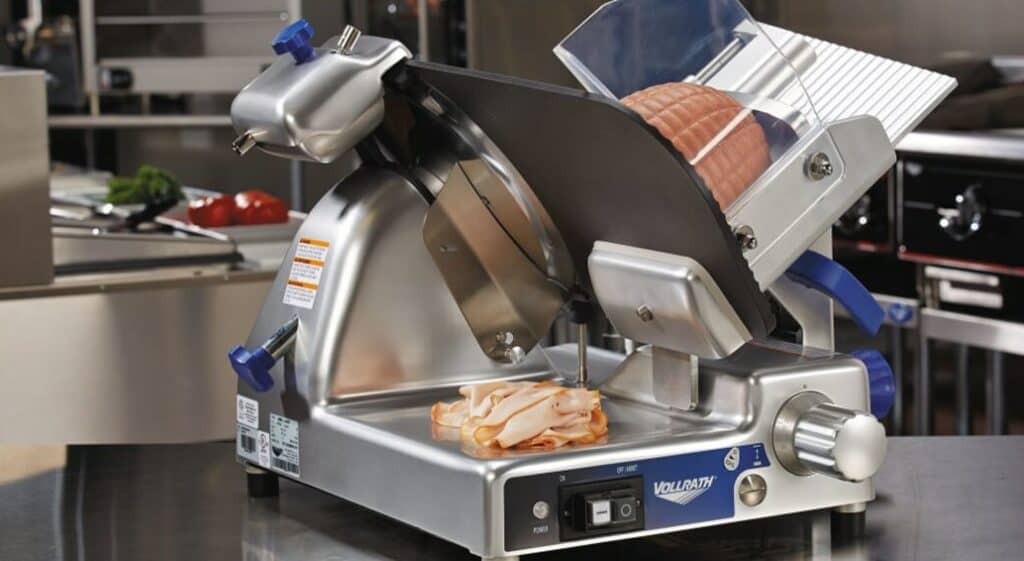 A commercial meat slicer is a kitchen tool typically used to cut large pieces of meat into smaller and more manageable shapes. It can create thin slices for a deli, or carve thicker slices for a carvery. They typically carve meat by running it against a metal blade, which will then slice it according to how thick or thin you want your slices.
Meat slicers can make short work of what would be a long and tedious job and can save kitchen workers hours.
The most common use of a commercial meat slicer in restaurants and catering businesses is to cut large pieces of beef, pork, chicken, or turkey into smaller shapes that are more manageable for consumption. This can include thin cuts like salami slices from regular-sized chunks, thicker ones like sirloin steak, or more unique shapes like bacon bits.
How Do Commercial Meat Slicers Work?
The design of commercial meat slicers is based on the same principle as most kitchen knives. It consists of a sharp blade that continuously moves back and forth, with one side sharpened for slicing while the other remains dull for safety purposes. As it swings or slides into contact with the meat, an upward motion forces it through and creates perfect, uniform slices of meat.
What Are The Different Types Of Commercial Meat Slicers?
There are several different types of commercial meat slicers, each with different features and benefits. The most basic type is a hand-operated model that requires the user to turn it manually by pressing down on one side of the blade while pushing the other up against whatever piece they are cutting. This can be difficult for inexperienced users who often end up pulling or tearing at their food.
While this type of hand-operated slicer is the cheapest on the market, it has many drawbacks. The blade can be difficult to control and not as sharp. It also requires a lot more effort when in use, which means that you will have to purchase one with adjustable speeds if you want it for your restaurant's specific needs.
There are also automatic models which eliminate many of the problems the manual ones face. However, these are a few of the most popular types of meat slicers on the market today:
Manual Meat Slicer
This type of meat slicer requires the user to turn it manually by pressing down on one side of the blade while pushing up against whatever piece they are cutting. While this type of meat slicer is the cheapest on the market, it has many drawbacks.
This design can be more difficult to use for more inexperienced carvers and does not usually offer as many features. The blade can be difficult to control and not as sharp. It also takes a lot more effort to use because of the manual action of slicing the meat.
Automatic Meat Slicer
Automatic meat slicers are another option for those looking to purchase a commercial meat slicer. They cost more than their manual counterparts, but they offer several benefits that make them worth the price tag.
The first advantage is how much easier it is to use an automatic model because all you have to do is load your ingredients and push down on the trigger to start the machine. That being said, many automatic models can only operate at one speed and have a blade that dulls quickly with repeated use.
The second advantage of an automatic meat slicer is the amount of time it saves you when doing repetitive tasks like slicing meat for a lot of sandwiches, or a deli counter, or if your restaurant does a high volume of business and needs to serve many customers each day. Automatic models also come with features that make them safer for use in restaurants.
Flywheel Meat Slicer
The flywheel meat slicer is the most preferred choice of many for a commercial meat slicer because it offers several benefits over other models.
First and foremost this is another machine that's incredibly easy to operate – you simply have to load your ingredients up on top of the machine's cutting board and press a button to start.
They are also much quieter than other types, including electric models. This makes them great for restaurants that need to keep noise levels down as there will be no squealing or spinning of blades in use. Plus, similar to the automatic meat slicer, they too will save restaurants a lot of time in the long run.
What Should You Look For In A Commercial Meat Slicer?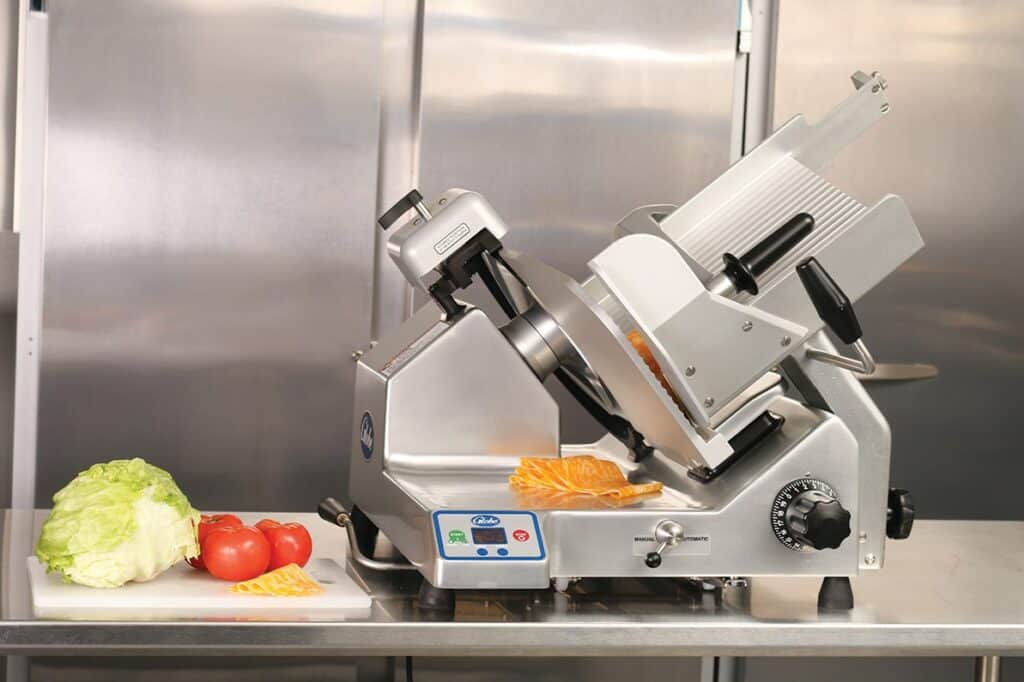 When purchasing a commercial meat slicer, several factors come into play: what kind of meats will it be used on? What is its intended use – restaurant/catering business only, or a fresh foods counter use? How much are you looking to spend?
If your business will only be using it for meats like chicken, turkey, ham, and beef, any model in this price range is a good buy. If you want something that can handle all types of meat or if most of the food prep at home involves slicing them as well (chicken breasts), then more expensive models with adjustable speeds would work better because they have sharper blades and cut through tougher foods easier.
However, here are some of the most important factors to consider when purchasing a commercial meat slicer:
Machine Size
Most home meat slicers are standard in size, but if you have one, don't let that deceive you. For commercial use, the machines are considerably bulkier, but you'll need to make sure that the one you buy is large enough for your needs.
Commercial models will have a larger cutting board and more space between the blade and food pusher than most other types of machines do because it has to be able to handle slicing all kinds of meats.
The larger board is also important because it gives you more space to work with when loading your ingredients on top – especially if the model has adjustable speeds so that you can sort of 'shuffle' them while in use. And finally, a commercial meat slicer will have wheels for easy maneuvering around in a busy kitchen.
Blade Size
The blade size on a commercial meat slicer is also something you'll need to consider because it will depend on the types and thicknesses of meats it has to cut. So you should make sure that your machine's cutting width will suit your needs before purchasing one.
Most blades are between 12-14 inches in length, but some can extend up to 20 inches or more.
The advantage that the latter offers are greater safety because they have less chance of getting stuck in the food like their round counterparts do when it gets wedged between two pieces or if you miss your mark.
Efficiency
One of the best things about a commercial meat slicer is that it will be much more efficient than trying to slice meats manually with a knife. However, there are many different types of meat slicers, and it's important to think about your needs before purchasing a particular model.
For example, if you'll only be using your commercial meat slicer occasionally, then one of the smaller models or ones that are more like an attachment for a stand mixer would work well and would probably be more cost-effective. However, if you want something that can handle high-volume tasks like preparing food in bulk, a larger machine will work better but may use more energy.
The size of the machine doesn't necessarily correspond to the amount of energy used, so be sure to check this before you make a purchase.
Heavy-Duty Design
An important feature of any commercial meat slicer is its durability.
The heavier-duty the machine, the better it will be at handling tough meats like beef and lamb. This means that you'll have an easier time cutting through them without having to worry about your blade getting stuck or not being able to make a clean cut all the way through.
Of course, the heavier-duty a machine is, the more it will cost because of its construction and material.
But if you're looking to use your meat slicer in an extremely high-volume environment or need something that can handle tough meats with ease, then this may be worth the investment for you.
Type Of Blade
The type of blade on a commercial meat slicer will also affect its efficiency, as some models have more than one. Most machines feature two blades – the first being what's called an "annular" or circular blade and the second which is referred to as a "serrated." The annular blade is what you'll use for most of your slicing, and the serrated blade comes into play when it's time to cut through delicate foods like ham that have a softer outer layer.
If you're looking for something more specialized – say if you want to slice everything from potatoes to cucumbers – then this is worth considering since some models offer additional blades for different purposes.
Ease Of Cleaning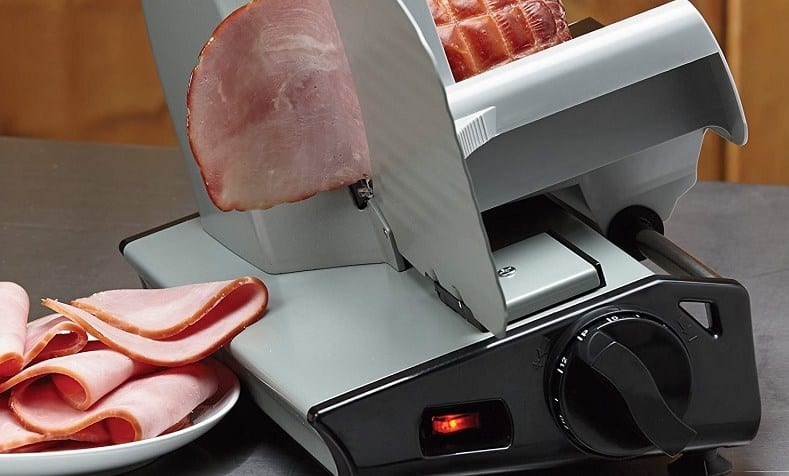 Another thing to consider is how easy it will be to clean your new machine. Most commercial meat slicers have detachable blades which are dishwasher-safe. But you'll want to double-check that the blades are removable blades and other pieces that can easily fit in the dishwasher so that you don't have any hassle when trying to wash them.
Power
A commercial meat slicer will need to have a certain power level in order for it to be effective.
The amount of horsepower or wattage of the engine determines how fast you'll be able to cut through tougher meats, and models with higher-powered motors will usually make easier work of the job, but cost more money. But if all your slicer will be used for is simple slicing, then a lower-powered machine would work well and save you some money.
Cut Thickness
One last thing to consider is the thickness of your cut. If you're looking for a thinner slice, then that's not always something you can change with any machine.
Some models let you adjust this for thicker cuts by turning a knob on the side. However, other types of meat slicers available will only produce one type of thickness, so this is something you'll need to work into your plan.
Safety Features
Safety is also an important factor to consider when purchasing a commercial meat slicer.
Some models have built-in safety features like blade guards and anti-jamming mechanisms, while others are missing these kinds of protections. So, it's worth looking into the specific model you're considering before making your purchase.
Gravity vs Vertical feed
There are two basic types of commercial meat slicers: vertical feed and horizontal. This is also something you'll need to consider before purchasing a slicer because the type will depend on what sort of meat cut you end up with.
There are also models that offer both options too, so this might be an option if you want some variety in your kitchen setup or if you're looking for one machine to do it all.
Price
You'll also want to consider the price of your commercial meat slicer. Like with all kitchen equipment, some models will cost more than others, so that's something else worth keeping in mind before making a purchase.
If affordability is important for you then there are plenty of cheaper options available. Just be sure not to sacrifice quality by going with an inexpensive model.
Warranty
Last, but not least, you'll want to make sure that your commercial meat slicer is covered by a warranty. The length of the warranty will depend on how much you're willing to spend. Some models come with lifetime warranties while others are only for one year.
It's worth looking into what kind of coverage your machine comes with before making a purchase, as the warranty will often reflect how much confidence that manufacturer has in their product.
The Major Differences Between Electric And Manual Meat Slicers
There are many differences between electric and manual meat slicers.
For example, electric slicers are faster because they don't require as much effort from the user to operate. But there is some maintenance required for an electric machine, like keeping the motor in check and maintaining all the different components.
Electric models are typically more expensive. They usually come with more features and additional built-in safety features like blade guards and anti-jamming mechanisms, which manual versional often don't have.
However, manual meat slicers tend to be better for delicate jobs because the blades come with a finer edge that will help you slice things such as cheese as well as meat. It's also quieter than the noisy motor on an electric model, plus it can operate without being plugged into an outlet so they're better suited for portable catering establishments.
Furthermore, there is not as much maintenance required when using a manual machine. But, when it comes to slicing meat, everything has to be done manually, which means every single slice has to be cut manually. This can be a rather tedious and tiring task.
Let's dive into those pros and cons of each type of slicer in more detail:
The Advantages Of Electric Meat Slicers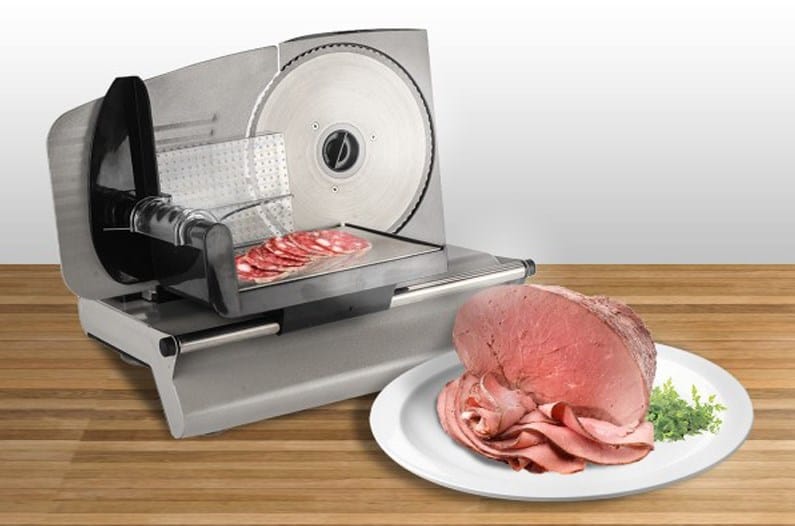 Much faster than slicing by hand, and much less tiring.
Electric models are also great for businesses that need to process a lot of food in a short amount of time, such as delis and caterers.
Many electric models come with features that make them safer to operate like blade guards or anti-jamming mechanisms.
Because there's less human involvement, electric slicers are often much safer than manual ones.
Many electric meat slicers have digital programming features, making it even easier to get perfect cuts of meat.
They come with built-in sharpening for when the blade starts to dull. Some electric models come with a built-in sharpening feature, which is great because it prevents you from wasting your time trying to sharpen the blade yourself.
Reduces waste – because they are so precise, an electric meat slicer will reduce the amount of waste involved in the process.
The Advantages Of Manual Meat Slicers
Manual meat slicers can also be used to slice a variety of foods – including cheese and vegetables. Since manual meat slicers are easy to use, they're good for light tasks such as slicing cheese or vegetables.
Manual meat slicers are quieter than electric ones, making less distracting kitchen noise.
Manual models require much less maintenance than electric ones as there is no motor to maintain, making them a great option for those who don't want to worry about upkeep.
They are more efficient – manual meat slicers are one of the most efficient types of meat slicers when used correctly. This is partly because they don't use any power to run.
They don't require a power outlet to be used, making them much more portable and perfect for businesses that move (like food trucks).
Commercial Meat Slicer Best Use Tips
Here are some best use tips for commercial meat slicers.
If you need a machine that can handle both types of foods, then it might be a good idea to take into consideration what tasks you will be doing most often. This is because different models are better suited for specific jobs like slicing thick meats or slicing delicate cheese, so it's worth looking at the features before purchasing any machine in order to ensure that it can handle your needs best.
Keep the machine clean – this will ensure that it lasts longer and doesn't break down as quickly. If you have a manual machine, then running water over the blades after each use is enough to keep them clean while electric models need some kind of cleaning solution like vinegar or alcohol in order to get rid of build-up from food particles.
Read the instruction manual – it's important to do so in order to avoid any accidents or damaging your machine. This will help you learn how the machine operates and what it needs for proper care. This is also a good idea because even though they are often easier to handle, there is still some maintenance required with electric models that can't be avoided.
Use cut-resistant gloves when you're using the machine. Keep a close eye on the blade – it's important to do this to avoid any accidents.
Check the guards – make sure they're in place and working correctly to ensure that you don't get hurt.
Maintain the machine – this includes lubricating it with a small amount of oil, so be sure to do so every few months or as recommended by the manufacturer.
Make adjustments manually when necessary like changing your thickness for different types of foods; electric models will not do this automatically but manual models need you to turn knobs on the side of the device for different thicknesses.
Clear the clutter out the way before you use your meat slicer – this will help to keep you safe and ensure that the machine doesn't get clogged with food particles.
Keep it out of the heat or cold when not in use – this is important because extreme temperatures can cause metal parts to warp, which means they won't work properly anymore.
Clean the blades – this will help them last longer and also make your slicing easier because they won't get clogged with food particles.
My Top Commercial Meat Slicer Recommendations
KWS Premium Commercial 320w Electric Meat Slicer 10″ Stainless Steel Blade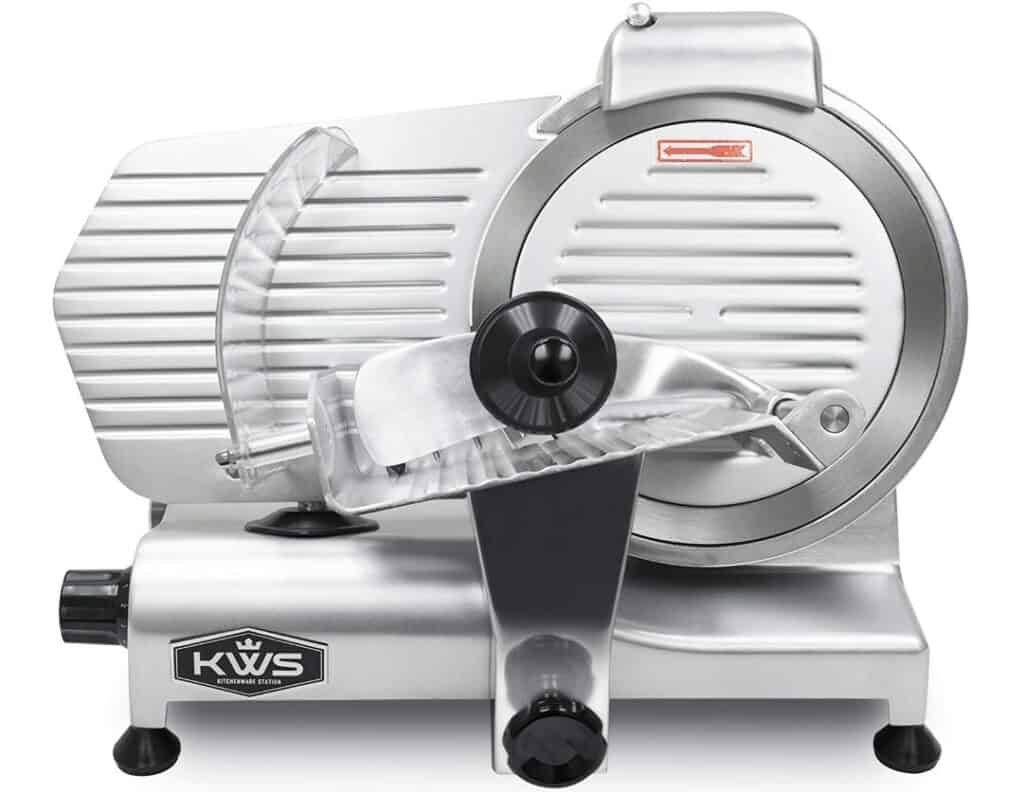 At the higher end of the price range for electric meat slicers, the KWS Premium slicer is one to consider based on a few features. It has a 320-watt motor, which is more than enough power for any meat slicing task.
It's also equipped with an adjustable thickness control that makes it easy to slice different types of meats and the blade can be removed and replaced easily in case you need to replace or sharpen it at some point down the line. Overall, the slicer does what it's meant to do, and does its job with surprising efficiency.
Pros:
Can produce perfect, thin slices
Well built and heavy-duty
Powerful machine
Cons:
Expensive
Small food tray
It can be tricky to clean
Commercial Semi-Auto Ppsl 12HD Meat Slicer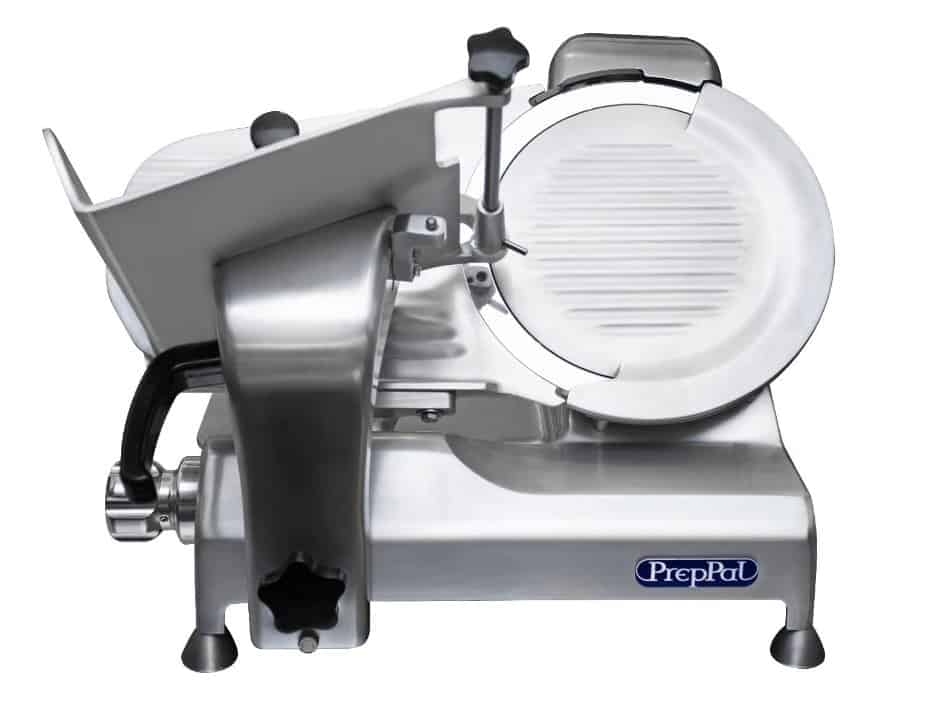 This stainless steel slicer will give you perfect cuts of meat. The blades are sharp and will slice your meat with a nice, clean-cut. You can adjust the thickness of the slices by turning a knob that corresponds to thinner or thicker cuts. The blade is easy to replace if it ever needs repair or replacement because of wear and tear from use over time.
The meat slicer can help you produce thin 14 mm slices of meat quickly. Your knife will always be safe because it can't operate without the safety cover. That means no risk of accidental cuts when using your meat slicer.
Pros:
Large food unloading plate
Easy to clean and stain resistant
Sealed splash zones for added hygiene
1 year's warranty
Cons:
BESWOOD 10″ Premium Chromium-plated Carbon Steel Blade Electric Slicer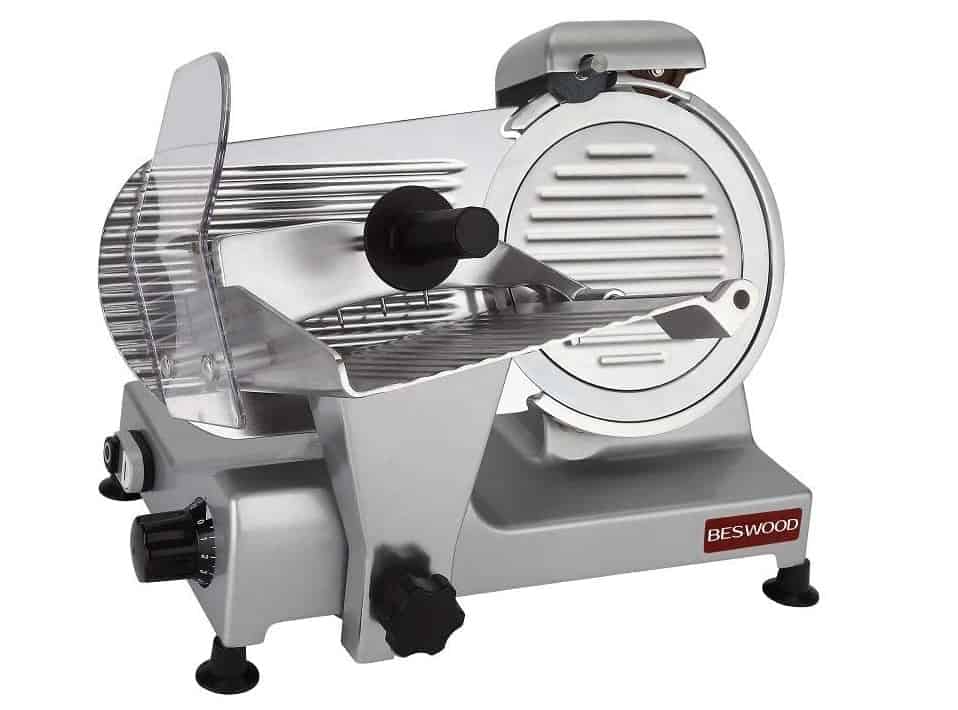 This is a powerful electric meat slicer that will help you slice your meats finely and quickly. This is a premium meat slicer, manufactured by an Australian company catering to professional kitchens.
The blades are razor-sharp, which means they'll cut through any type of food with ease and precision. They can also produce tiny, wafer-thin slices, which some of the others on this list just aren't capable of. It also has some great safety features, including the fact that it won't turn on accidentally.
The motor is surprisingly quiet and, despite it being an Australian company, it passes all the US safety regulations.
The machine is very easy to use. You'll also get your money's worth from this commercial meat slicer because it comes with a 240-watt motor that will make slicing easier than ever before.
Pros:
Is capable of wafer-thin slicing
Quiet motor, but powerful
Cons:
It can be tricky to clean
Quite a bulky design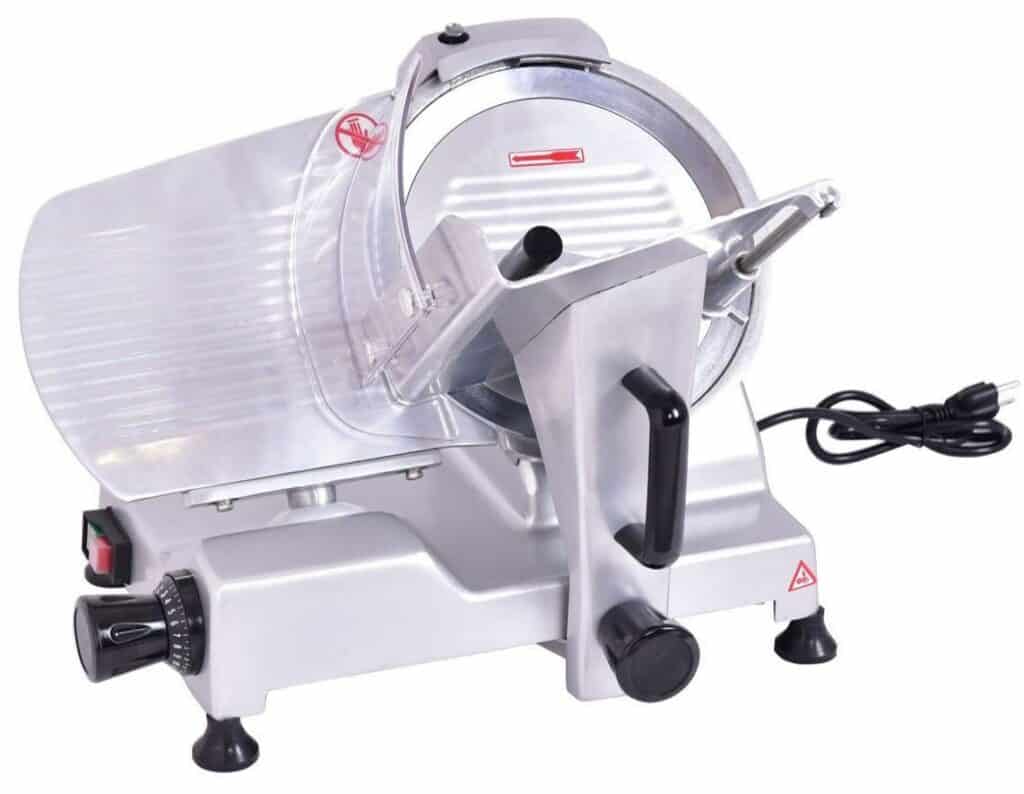 This machine from Giantex is a great choice for commercial use. It's thicker than most other meat slicers on the market, which is ideal for cutting through heavy-cut pieces of meat. This machine also does not have complex parts that are difficult to clean, so keeping it in good condition should be relatively easy.
The blade holder can be adjusted by hand to your desired thickness and the knob is also manual. A meat slicer is an ideal accessory for any type of food service, as it will allow you to cut meats that need a specific thickness like ham or turkey. Particularly popular with restaurants but versatile enough for any type of food, these precision instruments are excellent at slicing meat to the perfect thickness. It's also equipped with handy whetstones that are controlled by buttons.
Pros:
Ideal for cutting larger pieces of meat
Easy to clean
Can cut a wide range of meats into specific sizes
Cons:
What Criteria Did We Use To Make These Selections?
To make these selections we looked at:
How big is the slicer? How much room will it take up?
Is it ideal for commercial use or home/small business usage?
Can it slice a wide range of meats and thicknesses effectively?
How easy is it to clean this meat slicer compared with others on the market?
Does this machine have any notable safety features that might make it more appropriate for commercial kitchens?
How do they compare to other meat slicers on the market in terms of price and value?
Overall, we feel that these are important things to consider before buying a new meat slicer. The features that we have listed here should help you make an informed decision when purchasing your new meat slicer.
FAQs
Question: What is the best meat slicer on the market?
Answer: There are many different meat slicers on the market, and each one will have its own strengths, but we love the KWS Premium Commercial 320w Electric Meat Slicer. Nonetheless, It's really a matter of which type you need for your specific needs based on what types of meats you're slicing and how often they'll be used.
Question: How do I clean my commercial meat slicer?
Answer: To clean your meat slicer, you will need to first remove all detachable parts. Some models can be easily cleaned with a cloth while others require more intensive cleaning or to be placed through the dishwasher. Be aware of what type of meat slicer you're buying before making your purchase to avoid a problem down the line when it's time to clean.
Question: What should I look for in a commercial meat slicer?
Answer: There are many things to consider when looking for a commercial meat slicer, from the type of food you plan on slicing (some types may not work as well or at all) to what features will be most helpful. Make sure that you know your needs and requirements before making any decision about which one to purchase.
Question: What does a commercial meat slicer do?
Answer: A commercial meat slicer will allow you to slice your meats perfectly and quickly, which is important when dealing with larger quantities. It can also produce tiny slices that are perfect for sandwiches and other types of delicate food.
Question: Is a commercial meat slicer worth it?
Answer: Any commercial meat slicer will be worth it if you need to slice meats quickly and professionally. When not used for professional purposes, a home model is often enough to handle the everyday slicing needs of most people.
Question: What are the benefits of a commercial meat slicer?
Answer: One benefit that comes from owning a commercial meat slicer would be the safety features that many of them come with. There are also the benefits of precision cuts and consistent thicknesses, as well as safety from dangerous blades or knives for those who don't have experience using tools like a butcher's steel.
Question: Can you use a meat slicer on hot meat?
Answer: Yes, meat slicers can be used to slice meat that is hot or cold. But, it all depends on what type of meat slicer you have as to how well it operates.
Question: Are belt-driven meat slicers better?
Answer: Belt-driven meat slicers are better for those who need to slice a lot of meat. They're also usually easier to clean than their electric counterparts, and many people find them more reliable as well. If you don't mind the noise and have plenty of space in your kitchen or restaurant then this is likely the best choice for you.
Question: How much does a commercial meat slicer cost?
Answer: The cost of a commercial meat slicer can vary depending on the size, model, and brand. Consider your budget as well as what you need before making any purchase to ensure that you get the right one for your specific needs. However, they can range from $500 to above $10,000
Question: Can you use a meat slicer to cut cheese?
Answer: Yes, a commercial meat slicer is perfect for slicing cheese. You can also use it to cut some vegetables and fruits if you want as well.
Question: Can you cut frozen meat with a meat slicer?
Answer: You can use a meat slicer to slice frozen meats, but it's not advisable. Meat slicers are less effective because it's not as easy for the blade to get through the tough exterior. As such, be sure to thaw your meat in order to make this process easier, or just cut cold cuts instead if possible.
Question: What is the life expectancy of a commercial meat slicer?
Answer: The life expectancy of a commercial meat slicer is difficult to say because it depends on many factors such as how often you use the machine, what type of food you're slicing, and even the operator and how often the machine is maintained. However, on average, they'll last between five years to ten years.
Conclusion
Choosing the right meat slicer for your business can be a difficult decision. There are many factors to consider before making any purchase, including what type of meat you'll be slicing and how often you plan on using it.
The best thing to do is first determine what type of commercial model will be best for your needs. Do you need something that has safety features, high precision cuts, and consistent thicknesses? If so, then an electric meat slicer might be the way to go. On the other hand, if energy saving and price are more important factors than anything else then manual models may suit your purposes better.
Overall, we feel that the KWS Premium Commercial 320w Electric Meat Slice is one of the best choices you can make. It has a safety sensor to prevent any accidents, it's extremely easy to use and clean, plus it gives precise cuts every time with consistency in thicknesses for a range of different meats.
It may not be the cheapest meat slicer, but its price tag is definitely worth the benefits that come from owning such an efficient machine. No matter which option suits you best, we hope this article helped by providing some helpful information about their benefits as well as what to look for in a commercial meat slicer. Happy slicing!