Latest posts by Maddy Chiffey
(see all)
In this article, I will be reviewing the five best commercial cooking pots out there, including details of where to buy and all the relevant information about each product. In addition, I will include warranty details, pros and cons, and my personal opinion of each commercial cooking pot I have researched.
Buying commercial cooking pots for the professional kitchen can take some time and thought. But, after all, they're an integral part of the kitchen and have a considerable bearing on the quality of the food served.
Commercial cooking pots have a large price spectrum. Some are very budget-friendly but tend to be fairly basic. Others are more of a considerable financial outlay, and I'm here to find out if this is justified. I will include a range of materials and features too. If you're in a rush, I have posted my chosen five just below.
At a Glance: 5 Best Commercial Cooking Pots
Buying the Right Commercial Cooking Pot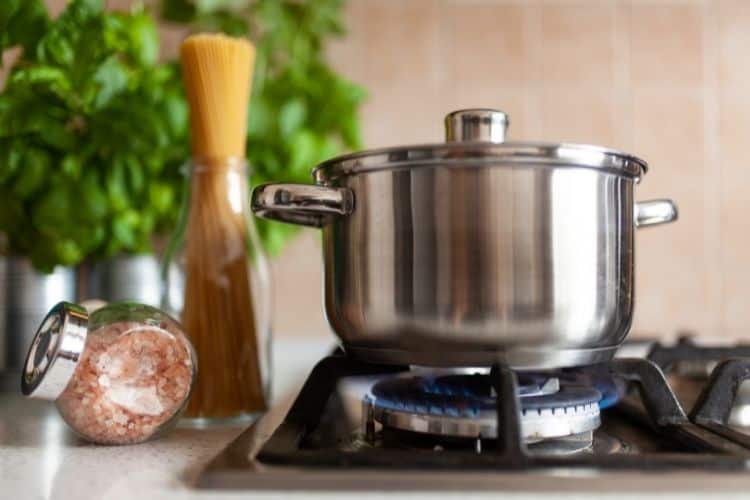 From boiling large batches of pasta to simmering curries and chilies, a good-quality stockport is a must-have restaurant kitchen supply. It is a piece of equipment that can be used throughout the seasons but comes into its own over the winter months when diners prefer hearty favorites such as soups and broths.
The best commercial cooking pot for you depends greatly on your individual cooking style. Whether you're looking for a robust and study commercial pot to regularly slow cook your famous tomato sauce, or brew stocks and soups, there are some things to consider before shopping: the size, shape, and material of the pot, primarily.
Most commercial cooking pots will be made out of carbon steel, stainless steel, or anodized aluminum. These are great materials for obtaining equal heat distribution and preventing food from burning, but there are some pros and cons to each metal, and I will cover these further down.
The most suitable cooking pot size and shape will depend on your intended use. Cooking pots can be as small as six quarts, which will be perfectly adequate for a single cook in a smaller establishment.
At their larger end, they can be 80-quarts or more, big enough to feed a small village. Pots can be tall and narrow, wider and denser, or more evenly shaped.
Choosing the Best Materials
As mentioned above, commercial cooking pots come in three primary materials. The most popular is stainless steel, which is universally used for its easy sanitation, longevity, and durability. But, even this metal has its drawbacks.
So, let's look at the advantages and disadvantages of the primary materials before getting to the reviews of my chosen five best commercial cooking pots.
Stainless Steel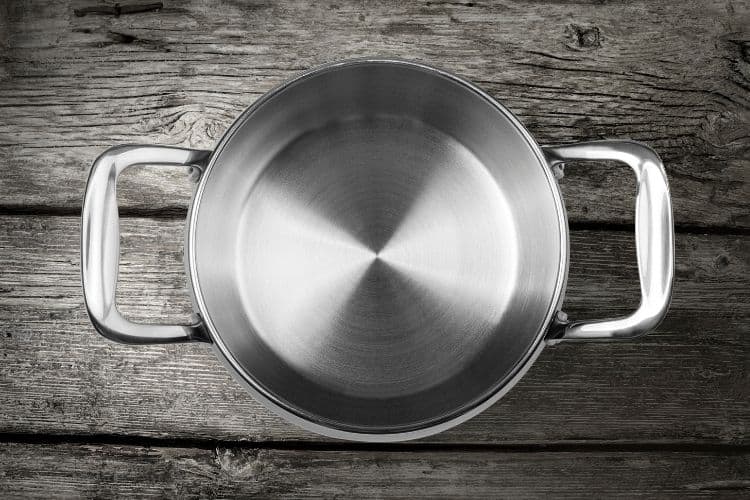 Commercial stainless steel cookware can be life-changing for chefs who often create dishes that include acidic ingredients. Unlike other metals, stainless steel doesn't show signs of physically pitting, nor will it discolor delicate sauces. As a result, stainless steel cookware is essential when food presentation is vital for generating good feedback and repeat custom.
Pros of Stainless Steel
Non-corrosive, Long-lasting, Durable
Great for Acidic Foods and Sauces
Various Metal Coatings to Improve Performance
Non-reactive; Maintains Flavors
Cons of Stainless Steel
Heat Distribution can be Inconsistent
Unless Using Non-stick Cookware, Food can Stick
Takes Longer than Most to Heat-up
Aluminum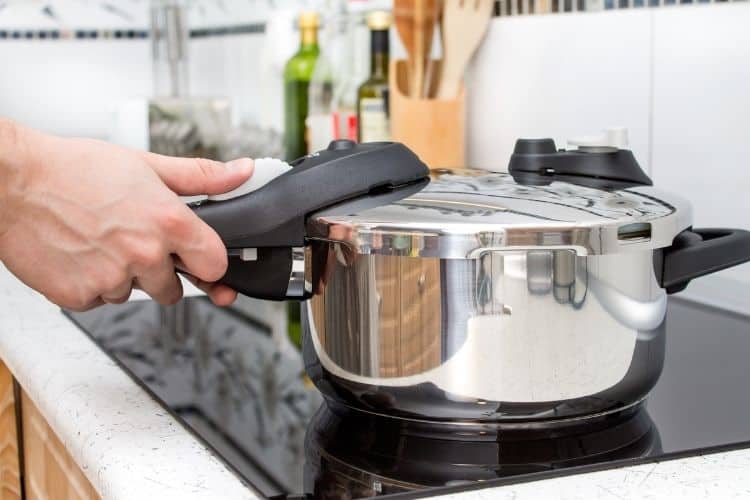 Aluminum cookware can be vital in a fast-paced commercial kitchen. It is a material that heats up rapidly, cools down just as fast, and can be used again in quick succession.
Commercial cookware made from aluminum tends to be more budget-friendly than other metals and can often be coated with non-stick finishes to enhance its durability. But, there are some major drawbacks.
Pros of Aluminum
Tends to be More Budget-Friendly
Lighter Weight – Handle More Easily
Fast Heat up and Cool Down
Ideal for Omelets, Eggs and Low Acidic Foods
Warp Resisting and Even Heat Distribution More Likely
Cons of Aluminum
May Impact Foods Taste
High Acidic Foods May Damage the Pot
Prone to Discoloration
Carbon Steel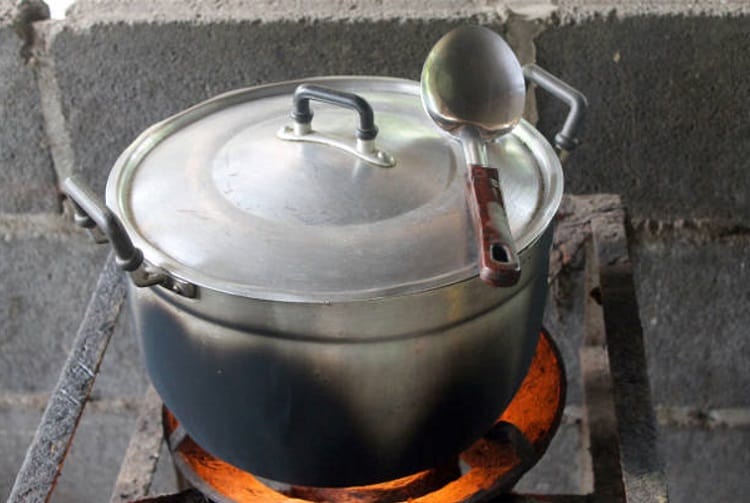 Carbon steel is a more affordable option than cast iron; it has many of the same benefits but is a fraction of the weight – and cost. In addition, carbon steel utilizes non-stick finishes, is excellent for searing foods, has a quick heat up and cool down, and has oven-safe convenience.
Commercial kitchens have been using this material for quick-cook meals like stir fry for years, but it also has its place in the slower cooking sector.
Pros of Carbon Steel
Excellent Alternative to Cast Iron
Highly Durable
Non-stick
Quick Heat-up and Cool Down
Very Versatile
Cons of Carbon Steel
Relatively High Maintenance – Proper Seasoning Required
Not Good for Acidic Foods
Struggles to Maintain High Heat
As well as the material, the size and shape are also important considerations. I will include the full dimensions of each cooking pot I have chosen. Now, let's look at the commercial cooking pots I will be reviewing:
Five Best Commercial Cooking Pots
HOMICHEF Commercial Grade Large Stock Pot – Our #1 Top Pick

Nickel Free Stainless Steel
4 Size Options
3-Ply Construction in the 7MM Thick Base

Buy it Here
AmazonCommercial 10 Qt. Stock Pot – Our #1 Budget Buy!

21-gauge, Food-grade 18/8 Stainless Steel
Reinforced Stainless-steel Side Handles
Oven-safe up to 500°F

Buy it Here
Viking 3-Ply Stainless Steel Stock Pot

Magnetic Exterior
Ergonomically Designed Stay-cool Handles
Oven and Dishwasher Safe

Buy it Here
Cooks Standard 30 Quart Professional Grade Stock Pot 

Brushed 18/10 Stainless Steel
Aluminum Disc Capsuled Bottom
Solid Lid

Buy it Here
Concord Cookware Stainless Steel Stock Pot Kettle, 80-Quart

Extra Large Size (Larger Available!)
Commercial Quality 1.0mm Thick 18/8 Stainless Steel
Solid Construction

Buy it Here
HOMICHEF Commercial Grade Large Stock Pot – Our #1 Top Pick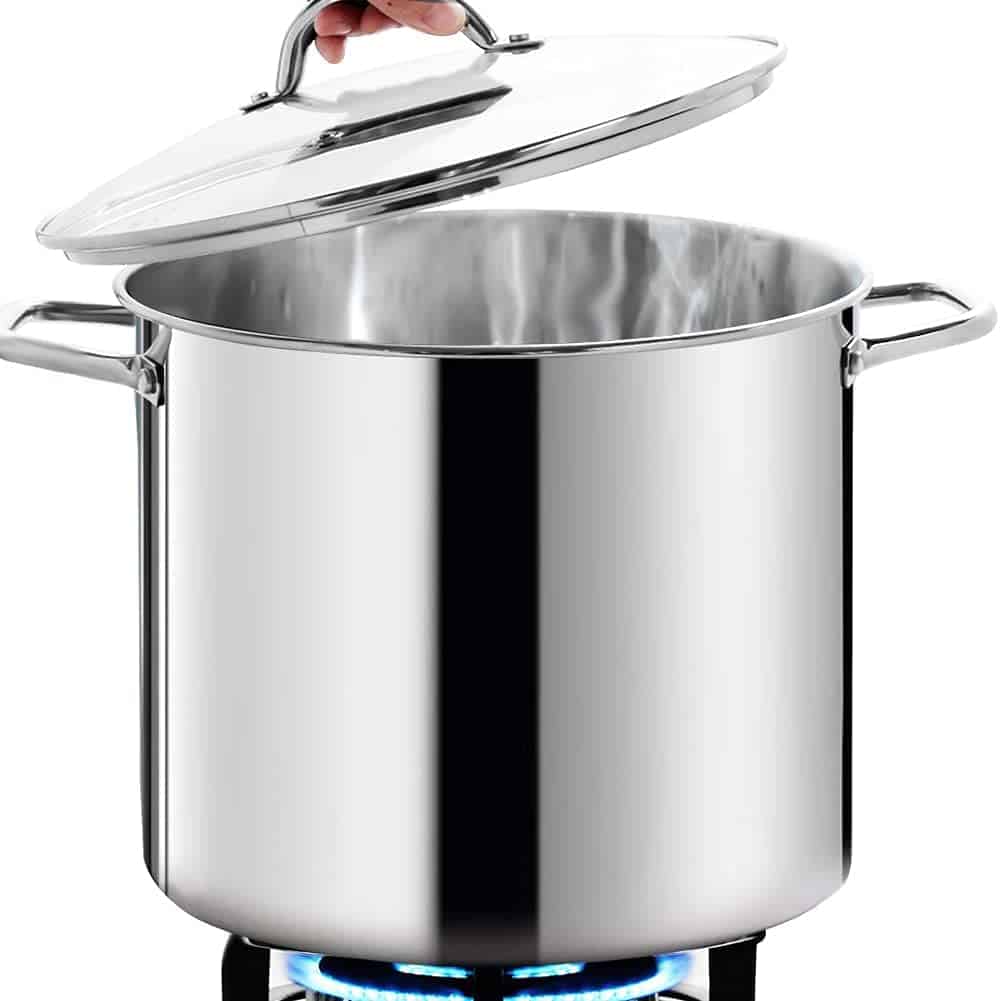 Highly rated by more than 3,000 Amazon customers, the HOMICHEF Commercial Grade Large Stock Pot is certainly a good choice for the commercial chef. I particularly like the cool-grip handles – as a starting point – as this is something not all commercial cooking pots have. It certainly makes the whole experience of cooking more manageable and safer.
The multi-layered stainless steel design also features a glass lid that has a steam vent. This means that you can keep an eye on the food without disturbing it by removing the lid. The HOMICHEF stockpot is versatile and can be used for simmering, boiling, and blanching a variety of dishes. The timeless French kitchen elegance design would look great in any kitchen.
It is deceptively light and only weighs 5.7 lb, so moving it around the kitchen is a breeze; again, the cool-grip handles aid this. There are other sizes available: 12QT, 16QT, and 24QT. I am reviewing the 20QT stock pot, which is certainly large enough to cater to the masses, with cooking dimensions of 11-in by 12-in.
The stainless steel used is entirely nickel-free and so non-toxic and non-allergic. The bottom of the pot has a 7MM thick base, which contributes to its overall feeling of sturdiness. The whole pot looks elegant and has a mirror-polished exterior, with a matte polished interior. The glass lid is see-through, and the glass tempered for additional safety.
There is a one-month full refund trial period and a 6-year warranty with this purchase, as well as a lifetime customer service from the brand.
Pros
Cool-grip Handles
No Nickel
Very Sturdy
Great Warranty
Cons
Made in Asia
Instructions State to 'Only Use on Medium Heat'
It Doesn't Make Clear if Oven Safe
AmazonCommercial 10 Qt. Stock Pot – Our #1 Budget Buy!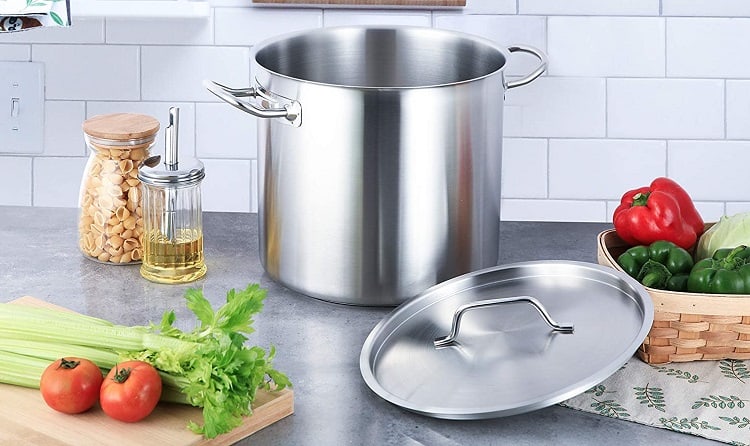 The AmazonCommercial 10 Qt. Stock Pot is smaller than most but perfectly adequate for batch cooking sauces, stews, curries, and other one-pot favorites. The pot has been designed for both domestic and commercial use, and I believe it would be a great product for any kitchen.
It is lightweight, hardy, easy to use, and easy to clean – plus, incredibly affordable.
For a little over $40, I was surprised at the quality of the materials used to construct this stock pot. There is 21-gauge, food-grade 18/8 stainless steel to make up the body of the pot, and the bottom has an aluminum-clad base, which helps with the fast heat and even heat distribution while cooking.
The handles are reinforced and stainless steel for a secure hold. They feel very sturdy, but they do warm up with the pot. The lid is again stainless steel and sits flat on top of the pan to trap moisture and heat. This stock pot measures 15.7-in by 10.9-in by 7.5-in, but there are several other size options to choose from, with the largest being a huge 60QT.
AmazonCommercial Stock Pot is oven safe, up to 500°F, and can withstand dishwasher cleaning. Amazon products are reliable, and in keeping with the brand's reputation, there is often great value for money to be had; this is undoubtedly the case with this purchase.
The sturdiness, ease of use, and low purchase price make this an excellent choice for any commercial chef.
Pros
Great Value for Money
Excellent Quality Materials
Very Sturdy Pot
Easy to Use and Clean
Cons
Handles do Heat up Quickly
Made in China
Fairly New Product – Longevity Could be Questionable
Viking 3-Ply Stainless Steel Stock Pot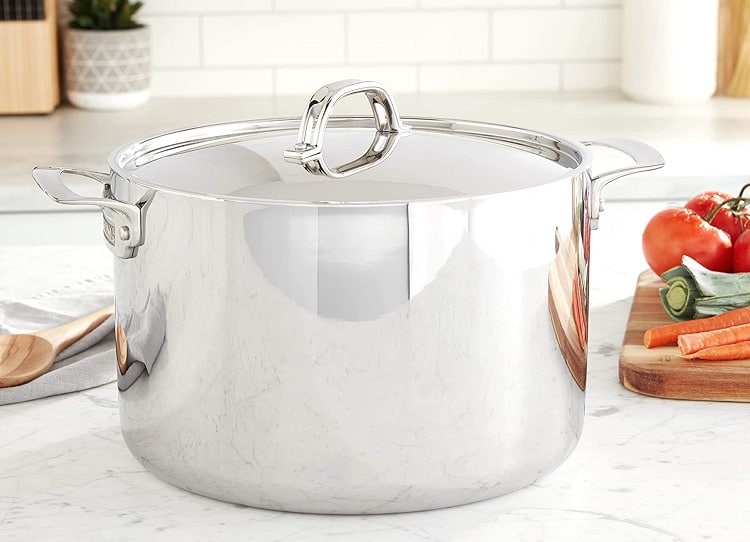 If you like a smaller, more squat stockpot, then the Viking 3-Ply Stainless Steel Stock Pot could be a good option. It is made of commercial-grade stainless steel and has a magnetic exterior, so it is suitable to use on any cooking surface. The 3-ply construction distributions heat evenly, and there are highly convenient stay-cool handles – I really love this feature!
When lifting the Viking pot, you may be surprised at its lightness (just 8lb) for such high-quality stainless steel, but this, in addition to the handles, means that it is pretty simple to use. Inside the pot, handy measurements are running up one side, which takes away the need to use measuring jugs when adding in stock or other liquids – a small feature, but a handy one never-the-less.
I was pleased to find that this stockpot is both oven and dishwasher safe, as this brings so much convenience to busy commercial kitchens. A drawback for me is that the lid is solid and without a steam vent, so you do need to lift it completely to check on the food and allow some steam to be released.
The Viking brand has been around for 25-years and specializes in elegant, top-quality commercial cookware. Check out their Amazon store to see more of their fantastic products, including professional cutlery, non-stick bakeware, and stainless steel utensils.
Pros
Stay-cool Handles
High-quality Stainless Steel
Long Established Brand
Internal Measuring Guide
Cons
A Little Expensive
Solid, Non-Transparent Lid
Unclear Where This is Manufactured
Cooks Standard 30 Quart Professional Grade Stock Pot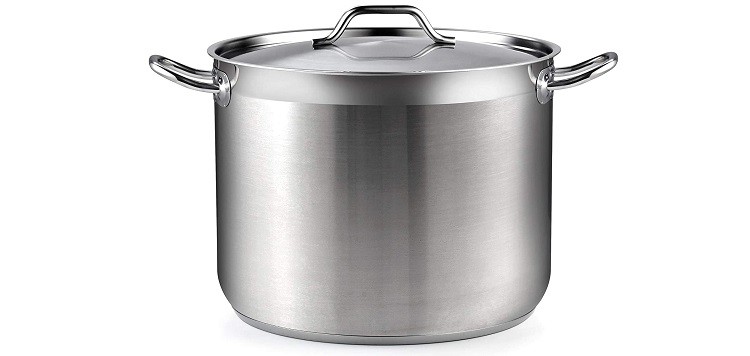 The Cooks Standard 30 Quart Professional Grade Stock Pot is surprisingly durable for its reasonable price point. There are other buying options; 8QT, 11QT, and 20QT – so you should find a size suitable for your kitchen by the Cooks Standard brand.
I am reviewing the 30 QT, which is the largest size at 14.5-in high, yet it is effortless to move around at only 12lb in weight.
The quality is beyond what I expected; this pot is made with brushed 18/10 stainless steel, both inside and out. Often the interior of pans is less durable and sturdy than the outside, which can make cleaning more difficult, but this isn't the case with the Cooks Standard model, and clean-up is simple.
The bottom of the pot has an aluminum disc layer, which increases the stability further and makes it suitable for a range of cooking surfaces. The brushed steel removes the high maintenance of mirrored steel, as this can attract finger marks and stains and be challenging to keep beautifully shiny. The aesthetics of this pot remain clean and mark-free.
The handles are wide and comfortable to hold, they also stay relatively cool during cooking, so it is comfortable to lift the pot by the handles without the need for a towel. The pot can be transferred straight into the oven from the stove and is oven-safe up to temperatures of 500F.
There are upsides and downsides to the lid, I found. It is tapered, so it offers drip-free/balanced pouring; however, it is opaque, so you need to lift it entirely to check the dish.
Pros
Incredible Quality
Brushed Stainless Steel Inside and Out
Lightweight yet Large
Cool-touch Handles
Tapered Lid
California Based Brand
Cons
Concord Cookware Stainless Steel Stock Pot Kettle 80-Quart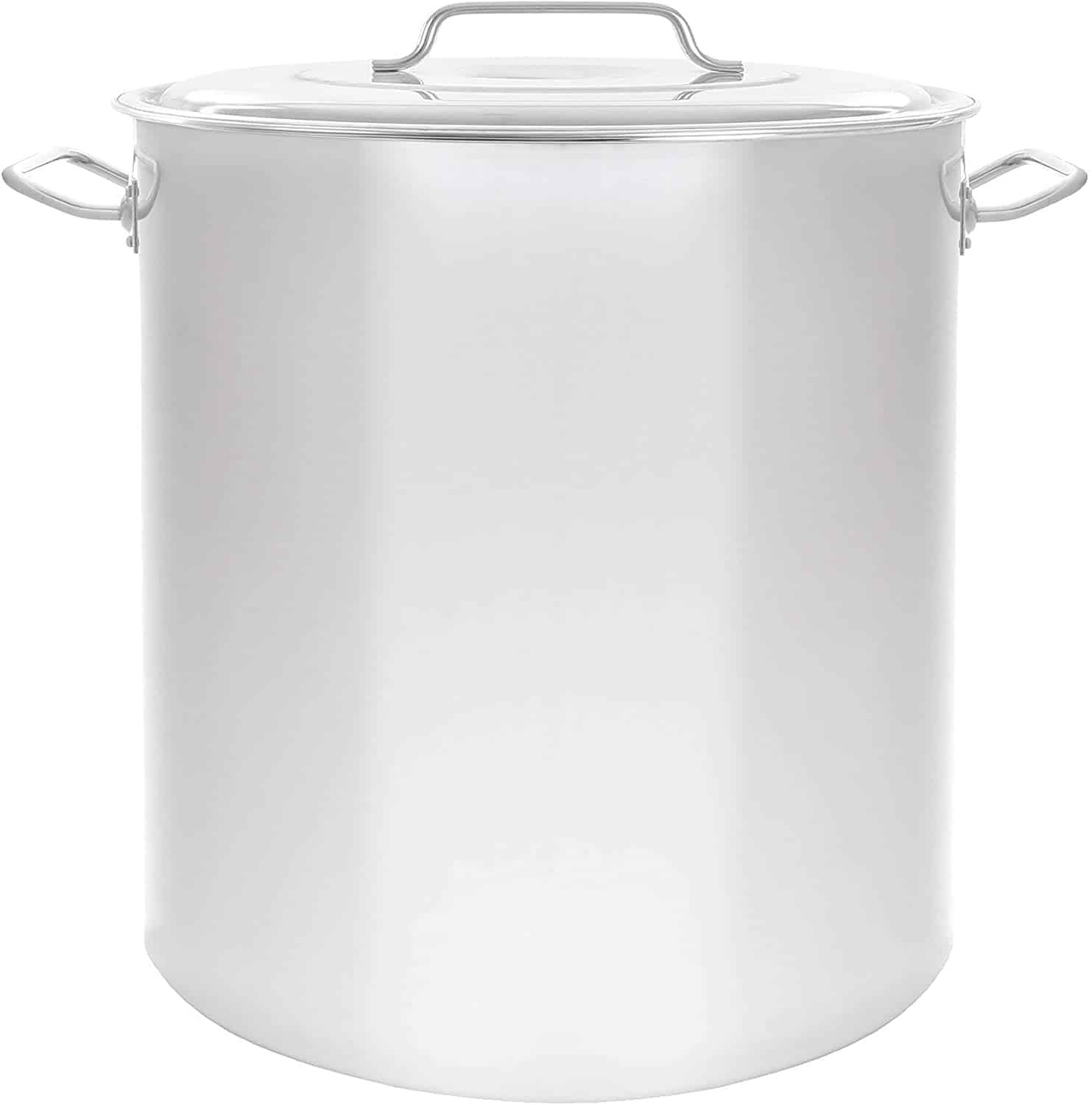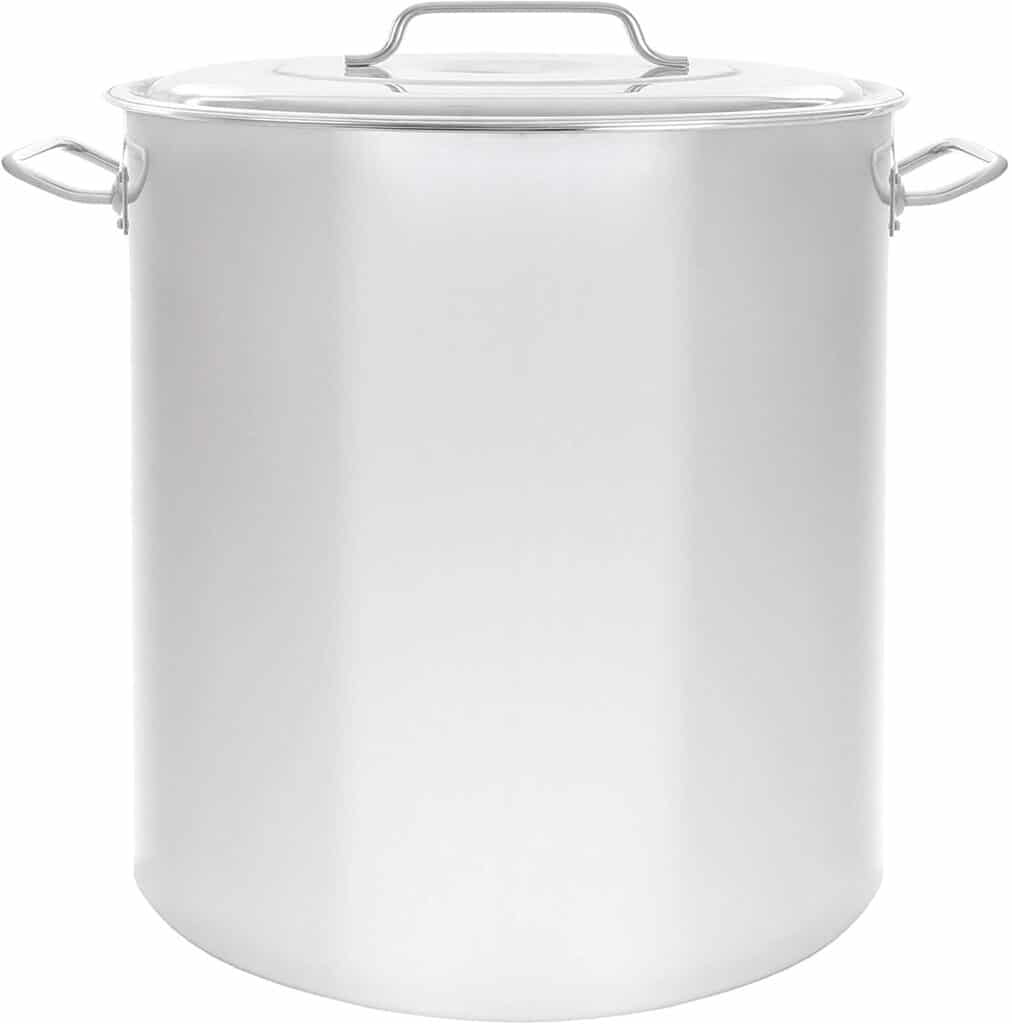 The Concord Cookware Stainless Steel Stock Pot Kettle, 80-Quart, is the largest commercial stock pot I have researched. However, it is certainly not the largest that the Concord brand does; they have eight different sizes, going up to 180 Quarts! These are the giant pots in the game.
The 80 Quart stockpot measures 18-in wide and 19-in high, with the lid on. It pretty much stands above knee height and, at 22 lb, is a two-person lift onto the countertop or stove! The entire pot is made from stainless steel, including the handles and the lid. The stainless steel is commercial grade and 1mm thick around the pot, making it incredibly sturdy.
The handles of the Concord stockpot are reinforced with a stainless steel plate, which makes them solid. The lid is opaque and domed to keep the contents inside the pot and reduce leaks. I have found mixed reviews online, with some problems noted about missing lids on delivery and issues with the one-year warranty; however, most people seem very happy with their purchase.
Pros
Large Capacity
Entire Stainless Steel Build
Lots of Size Options
Cons
Mixed Reviews – Issues With Delivery and Missing Parts
Non-Magnetic Bottom
Opaque Lid
fAQs
Question: What is The Best Way to Deep Clean a Stainless Steel Cooking Pot?
Answer: Many of the stainless steel cooking pots I have featured are dishwasher safe; however, due to their large size and often the need to quickly reuse them, dishwasher cleaning isn't always the best option.
Stainless steel pots can become damaged if exposed to cleaning solutions that contain vinegar, chlorine, or table salt, so they shouldn't be left to soak and always be well rinsed.
You can clean stainless steel to a deep-clean standard with a natural, homemade concoction of baking soda, distilled white vinegar, fresh lemon juice, and boiling water – this is a great cleansing solution that provides an accelerated, natural clean.
Question: How Long Can I Safely Keep Soups and Sauces Sitting in a Cooking Pot?
Answer: According to the FDA food code, there are two main options: If the fluid is below 41°f initially, you can safely leave it sitting for four hours before it must be discarded. If it didn't reach above 70°f and was below 41°f, to begin with, then it can be kept out for six hours.
Once the soup or sauce has cooled down thoroughly, it can be stored safely in the refrigerator for up to 3-days, to be reused.
Question: Can I Store Soups, Sauces, or Other One-Pot Meals in The Pot Inside the Refrigerator?
Answer: If your dish is acidic, i.e., contains vinegar, citrus juice, or tomato sauce, this can damage a stainless steel cooking pot, as can undissolved salt crystals. It is OK to use stainless steel to cook these foods, but I would avoid storing the food in the same pot as this could result in pitting, staining, or damage to the metal.
The Best Commercial Cooking Pot – My Verdict
I would be happy to recommend any of the commercial cooking pots I have featured in this guide. However, each one offers something different, which may make them a more suitable option for you. As with any product best buy guide I have written, the best option will always be a personal choice.
Our budget buy, the AmazonCommercial 10 Qt. Stock Pot offers incredible value for money, and I was surprised with the high quality of the pot and just how sturdy it is. It's very easy to use and clean, but the handles heat up quickly, and because this is a relatively new product, I can't be sure of its longevity – although it looks promising.
The Viking 3-Ply Stainless Steel Stock Pot comes from a long-established brand, which manufactures an extensive range of commercial cookware. I liked the stay-cool handles and the internal measuring guide, but this is a little on the expensive side.
It is also unclear where the pot was made; although not an issue for some, it may be for others who like transparency with products.
There is a lot to like with the Californian-based Cooks Standard 30 Quart Professional Grade Stock Pot; the quality is remarkable with stainless steel inside and outside of the pot. I like the cool-touch handles, how lightweight the pot is, and that the lid is tapered. However, the lid is also opaque, and the pot isn't non-stick, which does let it down somewhat.
I came across mixed reviews for the Concord Cookware Stainless Steel Stock Pot Kettle, 80-Quart, with some buyers mentioning missing parts and issues with delivery. Those who did like the pot – who were in the majority – appreciated the large capacity of the 80QT, the many buying options, and the fact that the entire pot is 100% stainless steel.
The overall top pick, HOMICHEF Commercial Grade Large Stock Pot, has many benefits for a commercial chef and the professional kitchen. The cool-grip handles are a major plus, and the warranty of six years is incredibly generous. The pot features no nickel and is extremely sturdy. It can only be used over medium heat but is a very durable pot that should stand the test of time.