Latest posts by Alice Smith
(see all)
When it comes to commercial sinks, there are a variety of options. And while they all have the same basic functions of providing business owners with a clean and efficient way to wash dishes and prepare food, there are differences that need to be considered before choosing one for your kitchen.
Whether you're looking for stainless steel or cast iron, under-mount or drop-in, we've compiled an informative guide on commercial sinks that takes into account the different types available so you can make an informed decision as well as the best type of sink for each situation.
Uses of Sinks in Commercial Kitchens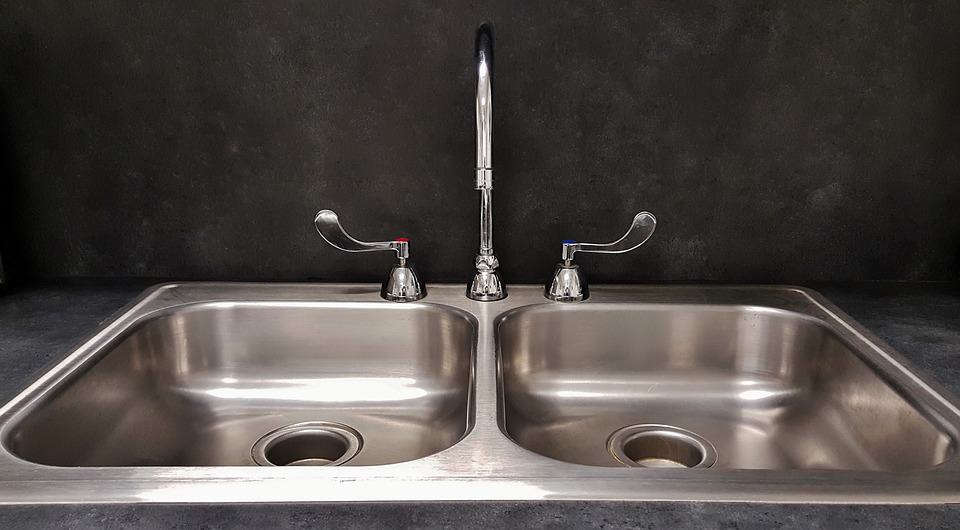 Commercial sinks are an important part of any kitchen and are typically used for three key purposes: washing dishes, preparing food, and cleanup.
Washing Dishes
Washing dishes is the most common use for a commercial sink. Commercial sinks are often located near dishwashers so that once plates and dishes have been rinsed in the sink, they can be moved straight to the washer. It also means that when one rack of dirty dishes finishes being washed, they can be quickly moved to the drying area without leaving too much mess or water on the floor (which can be dangerous).
There are several different options for washing sinks. For instance, some kitchen spaces might also have two sinks for washing – one for rinsing and the other for washing with washing up liquid. Some might also have two sinks with one positioned lower than the other. This allows hot water to flow down through into another basin where cold water sits at a different height so it doesn't splash onto people during this process.
Preparing Food
There are several different ways to prepare food with sinks. They're most often used for washing ingredients such as vegetables and fruits. But they can also be used for cooling hot foods such as eggs and rice, draining cooked foods like pasta or potatoes, and filling saucepans with water before they are placed on the hob.
Cleanup
Finally, after all the food has been served and customers leave, it's usually time to clean everything up before going home for the night.
In most commercial kitchens, sinks are essential for cleanup – whether it's for wiping down counters with hot water and detergent, filling your mop bucket – you can actually get dedicated sinks for this – or scrubbing the extractor fan filters during a deep clean.
Cleanup sinks can be stainless steel, cast iron, under-mount (where you mount them underneath your counter), or drop-in (where you pull them out when needed).
The Importance of Commercial Sinks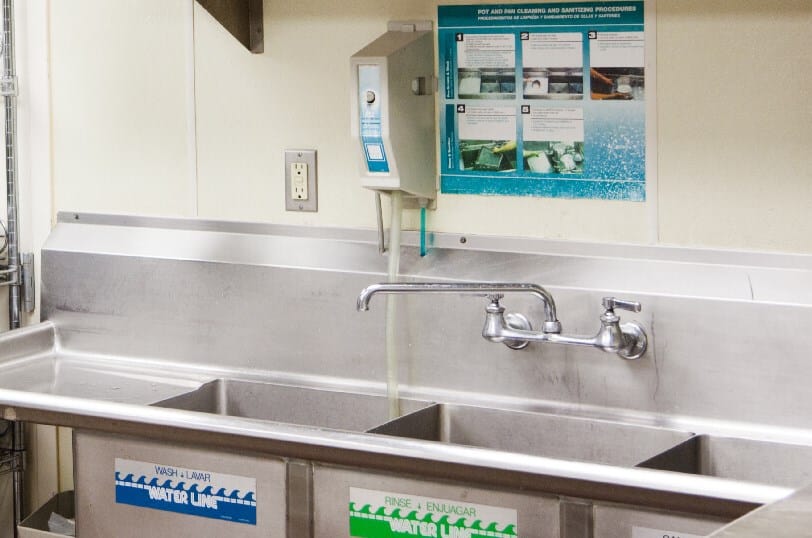 Health and safety are critical in a commercial kitchen. And this means that commercial sinks are vital too because they help to keep kitchens clean and safe. All commercial kitchens have to have a sink by food hygiene standard law – to meet the local health department and FDA Food Codes, larger kitchens need multiple.
They must be able to withstand the heavy use of commercial kitchens. They must also be easy to clean to keep businesses safe from potential contamination like bacteria and other diseases that can come with food preparation.
Cleaning your Commercial Sinks
Commercial sinks must be easy to maintain so that businesses don't run into any potential contamination issues in the kitchen. This includes bacteria or other diseases like salmonella.
For this reason, they're often made of stainless steel for their durability and resistance to rusting or tarnishing in a wet environment. This also makes it easier to scrub away at stains and means you won't have to worry about needing replacement parts every few months due to wear and tear.
To keep most commercial kitchens' sinks looking shiny and new, simply wipe them down periodically with an appropriate cleaner (such as detergent or bleach) and make sure the drain is clear so there's no clogging up pipes.
Replacing Wear-and-Tear Parts
However, that doesn't mean to say that you'll never need to change parts. Over time, some commercial sinks will need new parts to replace any that have worn out.
For instance, the sink drain might be clogged up and not function properly or its surface may start to show signs of corrosion. These are all things you'll want to keep an eye out for as, if they get out of hand, they can cause serious problems in a commercial kitchen.
What Types of Commercial Sinks are There?
Commercial sinks come in different shapes and sizes so it's important that you choose one that is appropriate for your kitchen space. This could mean size (you don't want too much wasted space), material (will stainless steel work best), or installation style (under-mount vs drop-in). Here are a few of the most common types of commercial sinks:
Compartment sinks
Portable sinks
Sink cabinets
Hand sinks
Prep sinks
Mop sinks
Disposable sinks
Bar sinks
Drop-In & under-mount sinks
Let's look into these in a little more detail:
Compartment sinks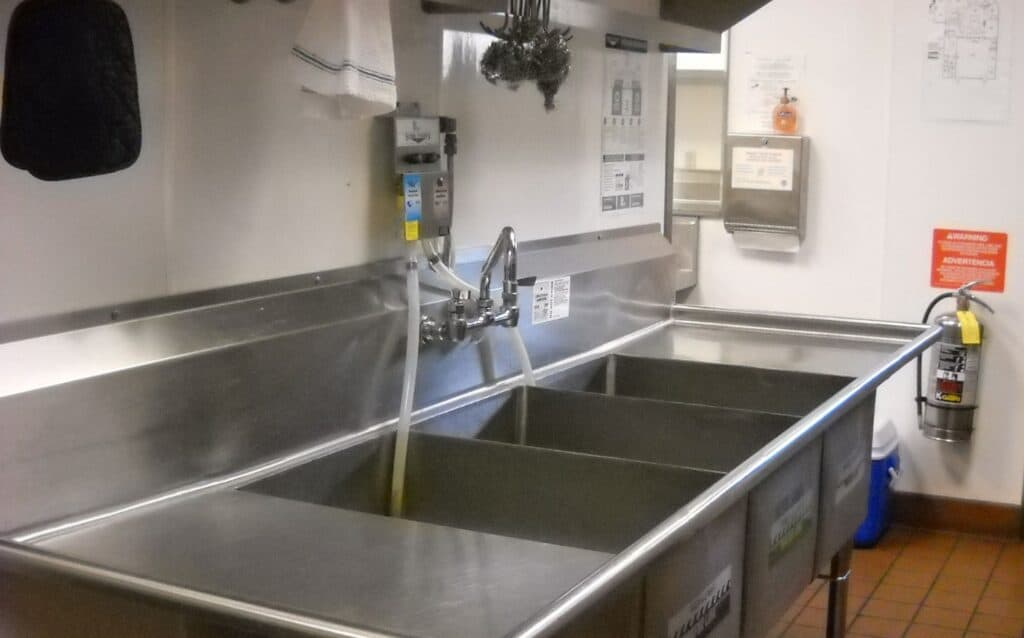 Compartment sinks are convenient for commercial kitchens because they offer plenty of storage space, plenty of room, and are easy to clean. They're usually made from stainless steel with one, two, three, or more compartments. Each section has a drain in the bottom so, to keep it nice and tidy, you simply need to wash off any residue before dry-wiping down the surface with a damp cloth.
So, how many compartments do you need?
One compartment sinks are great for smaller spaces and they're often found in nurses' stations, cafes, or bakeries. They're perfect for washing ingredients, filling pots with water, and taking care of other small food prep tasks.
Two compartment sinks are a good option if you have a bit more space and are often found in restaurants, hospitals, or institutional kitchens. They are used for washing food, thawing frozen food, scraping and soaking equipment, and cleaning certain types of kitchen equipment.
Three compartment sinks are perfect for bigger commercial spaces and they're often found in schools, catering companies, or hotels. This is what's required by most health departments and they can handle all of the above, and cleaning too. You'll typically use one compartment for washing, another for rinsing, and the third for sanitizing.
Compartment sinks are very different from small-scale sinks, and regulations state that they shouldn't be used for handwashing or as a mop basin. They come in a range of sizes to suit your kitchen and are usually made of stainless steel, which is easy to scrub.
Portable sinks
Some restaurants, like mobile food trucks, don't have permanent fittings where a sink can be fitted into place. In this case, you might want to use a portable sink instead which gives you more flexibility when it comes to kitchen hygiene.
There are two types of portable sinks:
The first type is a handwashing cart that you can wheel around. It's usually made of stainless steel, has a pump for the water supply, and will be attached to pipes with an adapter or drawstring kit.
The second type is the most common and is mounted on legs. It will have a water supply hose and it's often referred to as an island or mobile sink.
These are ideal for mobile food services and can come with legs that fold down so they fit in the back of a truck. They are also often able to plug into your hot water and come with built-in soap and paper towel dispensers.
Sink cabinets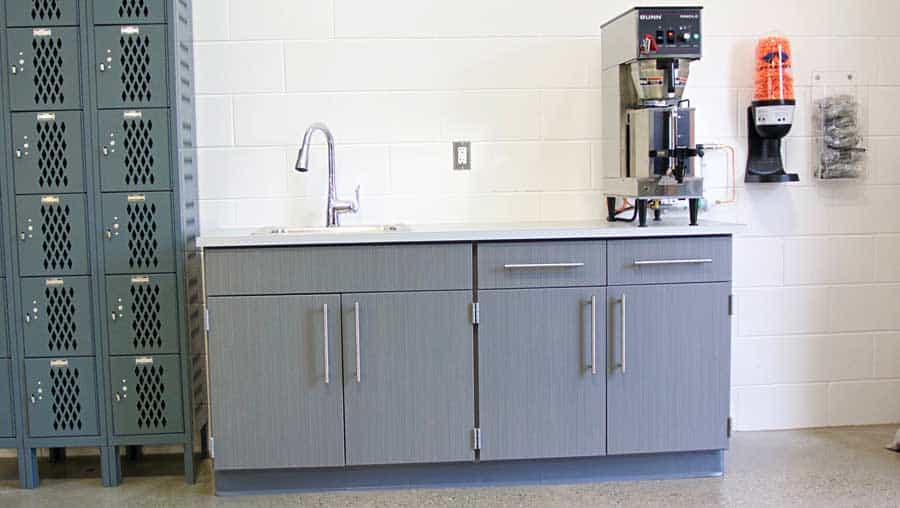 If your commercial kitchen has room, sink cabinets are another option to consider because they will offer plenty of space and make maintenance much easier. Similar to a sink cabinet in a home bathroom, they're excellent for keeping everything neat and tidy as all equipment (such as cleaning equipment) can be stored inside.
Sink cabinets come in a range of styles, materials, sizes, and installation types to suit different types of kitchens. They are usually installed in the cabinet's base for built-in drainage and are typically made of stainless steel so you don't need to worry about leakage or cleaning issues.
Hand sinks
The second most important type of sink in a commercial kitchen, hand sinks are designed for handwashing only and not cleaning.
The FDA food code requires every commercial kitchen to have at least one handwashing sink to comply with food safety standards. It's also important to ensure you have soap and paper towel dispensers within easy reach. You'll need to mount these on the wall near the sink so it doesn't get in people's way when they're washing, rinsing, or drying their hands.
You'll also need to consider where you place the sink in relation to food prep areas, entrances, and exits. Sinks should be easy for employees to access after handling potentially hazardous foods such as raw meat. In addition, it's worth noting that the food code also requires side splashes on washbasins located near food preparation areas.
Prep sinks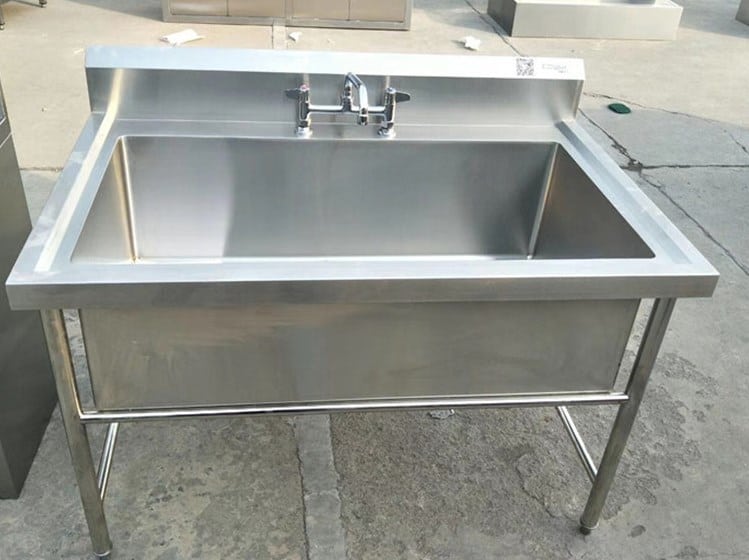 Prep sinks are sinks dedicated to food preparation. These sinks are usually installed next to the dishwashing station or in a wet prep area where they're easy for employees to use. Once again, they're most commonly made from stainless steel.
Prep sinks should be installed at a height where employees can easily wash vegetables and prepare other foods. While they are in use, they should also be cleaned every 4 hours, and more frequently if they have been used to prep hazardous or raw ingredients.
Mop sinks
Sometimes called janitorial sinks, mop sinks are sinks that are specially designed for emptying mop buckets into and cleaning mops or other cleaning tools. They're usually installed in a certain section of your kitchen, away from the raw food prep, mounted on legs, or installed on the floor. These sinks are also available in tall janitor cabinets.
A typical design has an overflow drain, side splashes, and some have a dropped-front which makes it easier to empty the bucket and reach in and clean. The basin also needs to be deep enough for water, detergent, and dirty water not to overflow after mopping.
Mop sinks can also contain storage space for the mop and bucket and come with a stainless steel basin.
Disposal sinks
Disposal sinks are designed for disposing of food waste. They're not used as a handwashing sink or for any other purpose, and should only be installed in areas where you'll dispose of food. They usually have a water source to ensure that food can be washed away easily.
Designed to help dispose of waste, this type of sink has a large drain, and tall sloping sides to help guide food down. It can also have an overflow system with side splashes to help prevent leaks, along with splash baffles and sleep guards with a raised flange to prevent unwanted items from slipping down the chute.
Bar sinks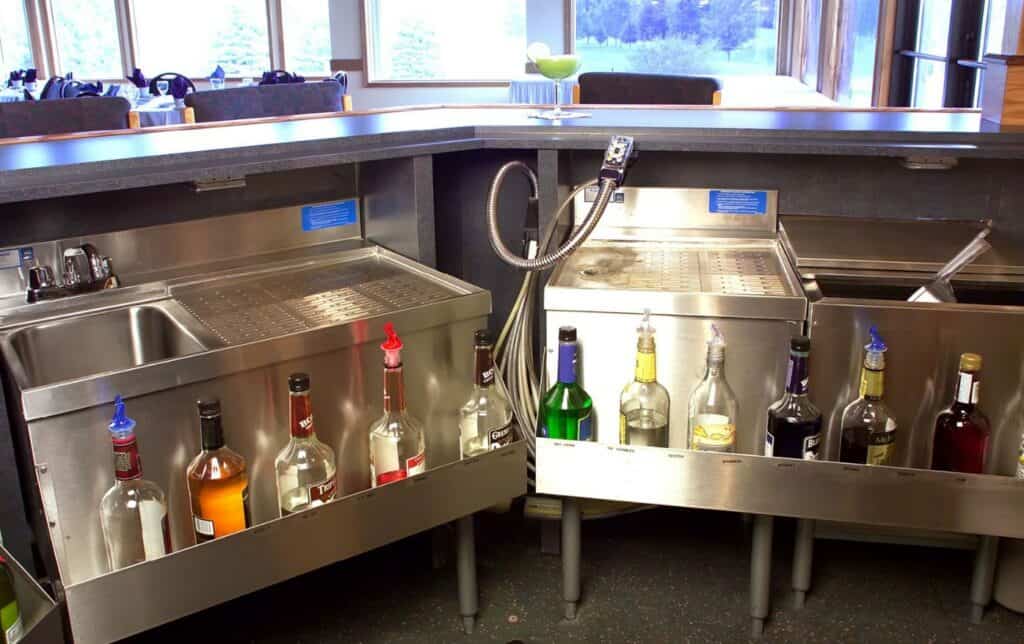 Designed to be placed under bars, these sinks are used for washing dishes, washing hands, and emptying drinks. They're usually made of stainless steel and have a drain system that directs the water away. They are also usually installed at a low height, so employees can easily wash out glasses and clean their hands. This also means they are hidden from customers and are usually placed under the countertop.
They are often very similarly designed to compartment sinks, but bar sinks do come in a variety of styles. They can be open, enclosed, and some come with an additional ice bin, speed rails, or a waste chute in front of the sink.
Drop-In & under-mount sinks
Drop-in and under-mount sinks have either a drop-in or under-mount design. A drop-in sink means they slide into the countertop and sit on top of it, similar to how a kitchen sink would look in a home.
An under-mount sink goes underneath the countertop, which means they're installed below a cutout. Drop-in sinks are generally easier to install, but they're less attractive and more difficult to clean compared to the under-mount version.
They're can also be made of different materials but stainless steel is usually best for commercial kitchen use.
The Major Differences Between Handwashing Sinks and Food Prep Sinks
When it comes to commercial sinks, the two main types and the most common types you'll see in a commercial kitchen are handwashing sinks and food prep sinks. But what are the differences? Can you not wash your hands in any sink?
Unfortunately not, because this breaks health and safety regulations. Handwashing sinks are designed for handwashing only. They're usually installed lower than prep sinks to cater to every employee, however, they should still be at a comfortable height for whoever is washing their hands.
Handwashing sinks are required to have soap, paper towels for drying hands, and both hot and cold (or mixed) water supplies.
Food prep sinks, on the other hand, are not for hand washing. They have different drainage systems that make it easier for small pieces of food to go down while keeping surrounding areas clean. They are also larger, deeper, and heavier than handwashing sinks, and usually have more compartments.
Ultimately, the main difference between these sinks is that handwashing sinks are designed for washing your hands, while food prep sinks are not. This makes it easier to keep the kitchen clean because there's less chance of cross-contamination with other surfaces.
Commercial Sink Health and Safety Tips
When using any type of commercial sink, you should always adhere to the food standards health and safety code. Here are several health and safety tips to ensure that you're meeting the correct sink regulations in your kitchen:
No matter how small the restaurant, every commercial kitchen should have at least two sinks.
You will usually need at least one double compartment sink for washing and rinsing equipment.
You are also required to have a sink for washing your hands. The hand-washing sink cannot be used for any other purpose.
In kitchens where sinks are used exclusively in the preparation of food, the hot water supply is not essential.
However, for any other sink, they must be connected to both a hot and cold water source.
The type of sink should only be used for its correct purpose. For example, mop sinks should not be used for handwashing, and food prep sinks should not be used to wash dishes.
Sinks should be large enough to accommodate the day-to-day runnings of your business. This means they should fit all equipment that needs to be washed and various volumes of food without overflowing and causing spills.
In small catering organizations (like food trucks or mobile catering venues), you can use the same sink for prepping food and cleaning equipment so long as it is thoroughly cleaned between each process. However, this does not apply to restaurants.
The size of the venue will usually determine the number of handwashing sinks required.
Hand washing sinks need to be strategically placed – near entrances or exits, near toilets, or within an easy distance from prep sinks so employees can easily wash their hands after handling hazardous food.
Paper towels and soap dispensers are required to be placed at handwashing sinks.
Automatic taps and soap dispensers are preferred but not essential as these prevent germs and cross-contamination on the taps and soap pumps.
Our Top Commercial Sink Recommendations
Since there are so many different types of commercial sinks, it can be difficult to know which one is best for your kitchen. These are a few of our top commercial sink choices for kitchens.
Vogue Deep Pot Sink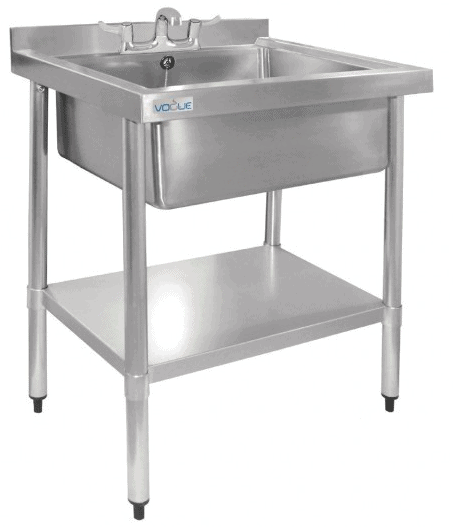 This deep pot wash sink by Vogue will make washing your pots and pans much easier. It has an extra deep, heavy-duty bowl that can hold up to 100 liters of water and it's made from professional-grade 304 stainless steel for added strength and durability.
The raised lip channels of the sink area designed to redirect spills back into the basin and the raised rear upstand includes a barrier to keep liquid from going down the back of the sink. Both these features help to protect your walls, floors, and other kitchen appliances from spills.
The strong legs are adjustable, meaning you can position the sink at a range of heights to suit your kitchen, and they are also strong for stable positioning. The sink is incredibly easy to clean with a simple, wipe-down bowl and it's supplied with all waste and wall fixings.
Pros
Can hold up to 100 liters of water
Professional 304 stainless steel constructions
Convenient spill preventing design
Easy to clean
Cons
Franke Sissons Double Sink Right Hand Drainer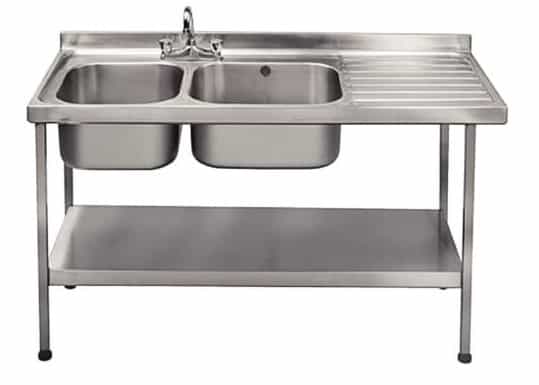 Perfect for most small to medium-sized commercial kitchens, this double compartment sink by Franke Sissons is an ideal choice. This sink includes two compartment bowls to prep food as well as clean dishes. It also features a right-hand drainer for easy storage of clean equipment before it is put away.
The sink is made from highly durable 304 stainless steel with an external satin finish. The steel is 1.2mm thick, making it incredibly hygienic, strong, and will likely last you a lifetime. The smaller left sink also comes with a 38mm basket strainer outlet, perfect for catching food waste.
Pros
Double compartment sink
Right-hand drainer
Highly durable construction
38mm basket strainer
Cons
Double compartment might be too small for some kitchens
Only one drainer
Vogue Stainless Steel Knee Operated Sink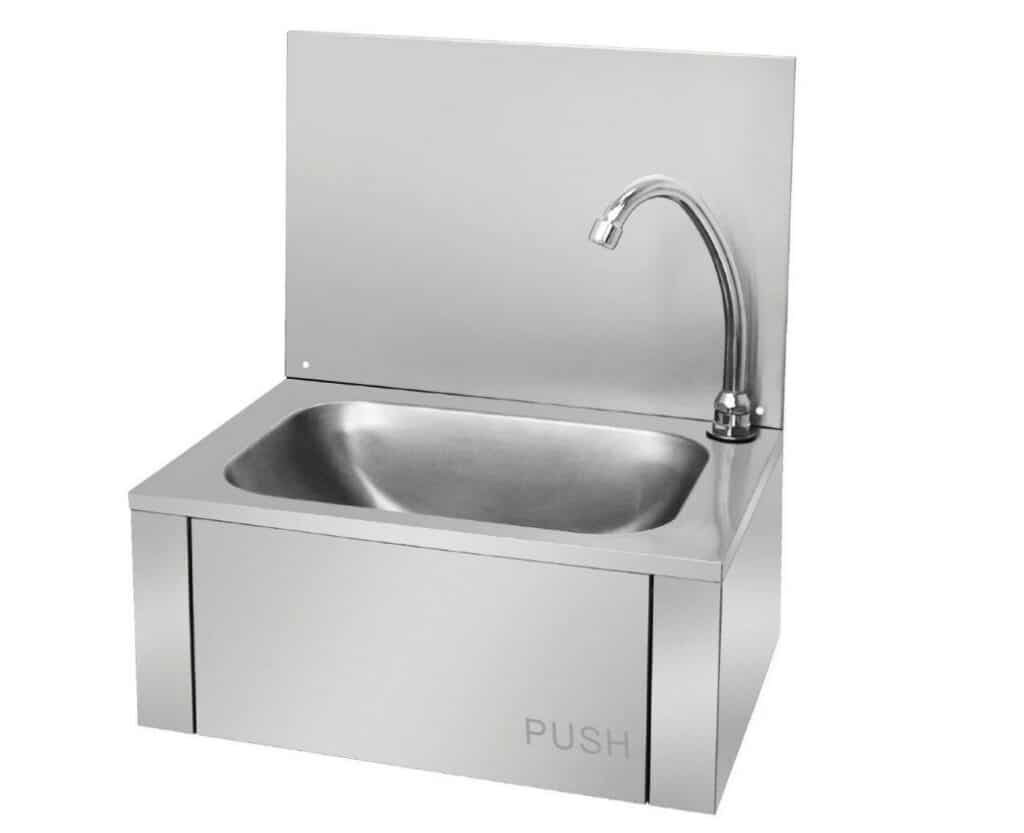 For the ultimate hygienic hand-washing, this handbasin by Vogue is an ideal choice for a busy commercial kitchen. It operates by pushing a button with your knee which gives you completely hands-free handwashing as there's no need to turn on a tap or push a button. The sink only operates when the knee button is pressed, which both saves water and is extremely convenient for staff.
It comes with a stainless steel splashback to prevent water from trickling down the back of the sink, the bowl is very simple to wipe clean and it comes with a drain boss, a pre-mixer valve, and a spout. It also comes with an adjustable tap, so there are no additional expenses.
Pros
Hygienic, hands-free handwashing solution
Knee button operated
Stainless steel splashback
Comes with an inclusive tap
Cons
A little more expensive than standard hand washbasins
Vogue Stainless Steel Mop Sink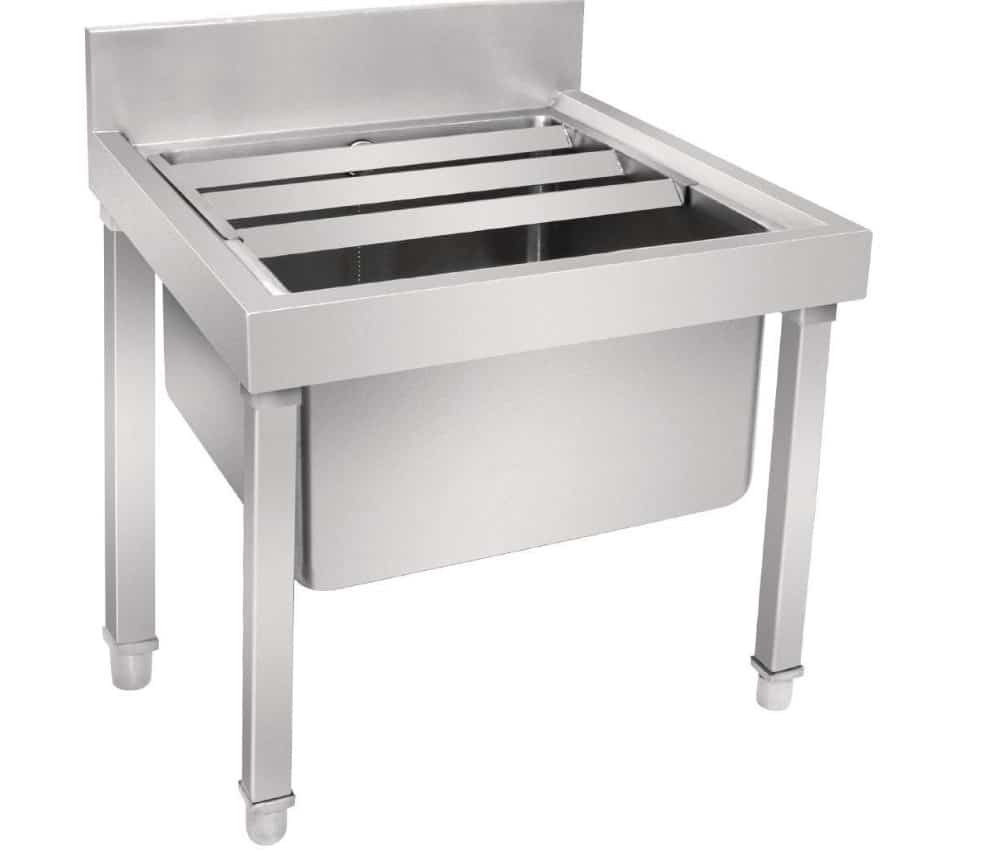 Another great example by Vogue, the large size of this sink makes it suitable for large mop buckets. It's great for bigger commercial kitchens that need additional cleaning facilities and will make the end-of-the-day cleanup much simpler.
The 100m upstand helps to protect against any spills and it features a removable bucket rest. It's also a surprisingly compact unit, will fit in some of the tightest of spaces, and is ideal for storing out of the way. The adjustable feet are great for placing on uneven floors.
The sink is also very easy to clean with a simple, wipe-down bowl and it has a splashback to prevent spills. Finally, the sturdy stainless steel construction is incredibly long-lasting.
Pros
Suitable for large buckets
The compact unit will fit in small spaces
Adjustable feet
Cons
Overall
Commercial sinks have an incredibly important place in any kitchen. Most kitchens need at least two sinks in order to function efficiently and choosing the right commercial kitchen sink will be an important investment for your business.
We hope this guide has given you some insight into the different types of commercial sinks and what they can do to help your busy kitchen. Not every type of sink is going to meet every kitchen's needs, so use this article as a guideline and spend time figuring out what is most important for you.
Think about the size of your establishment, design preferences, and what you need to do on a daily basis. Then, you'll be able to find the perfect commercial kitchen sinks to help you get it all done.