Latest posts by Maddy Chiffey
(see all)
If you're looking to buy the best takoyaki pan for your commercial kitchen, then our guide has some of the best around! I have shopped and done the necessary research into each product featured to save you time – and money.
A takoyaki pan isn't an essential kitchen item for every establishment. However, the dish (of octopus balls) is one of Japan's most famous soul foods and growing rapidly in popularity here in the US. So, if you're a seafood restaurant, an eatery that follows trends, or, of course, a Japanese restaurant, then the purchase of a Takoyaji pan is pretty important.
There are other ways to make this delicacy, such as with a multipurpose grill or selection of pans. Still, to guarantee perfection every time, a dedicated takoyaki pan is the best option. This guide will explain what to look for when purchasing a takoyaki pan and look at some popular FAQs. My best takoyaki pan guide will also feature some of the best around, across the price points.
If you're in a hurry to get going, you can see the products I will go into further detail of just below.
At a Glance: 8 Best Takoyaki Pans 
Takoyaki Pan Buying Guide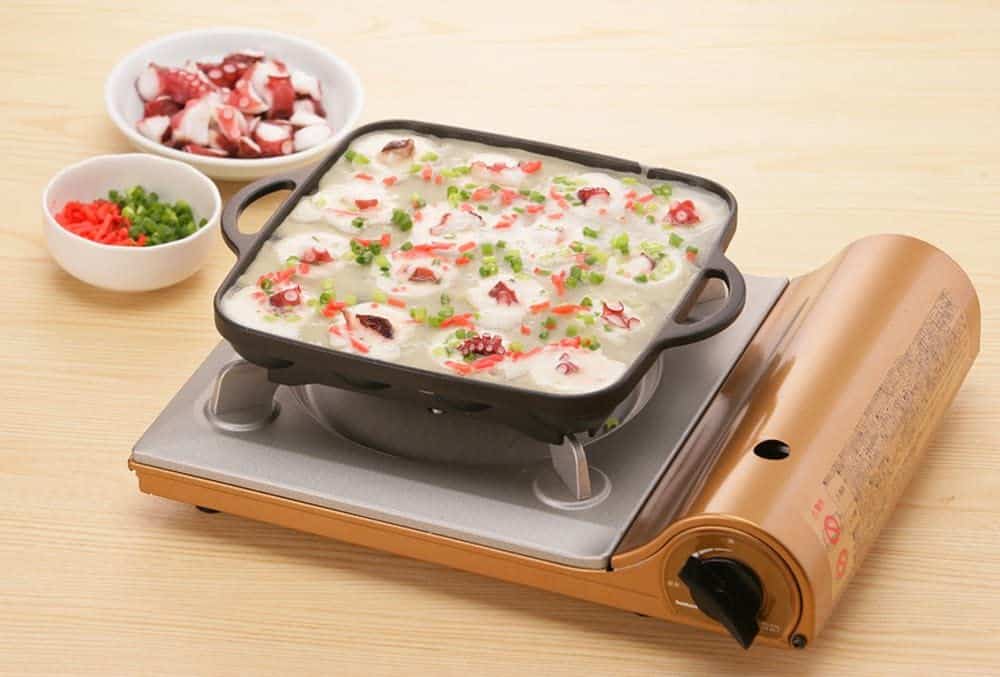 Street food in the US has transformed from cheap, end-of-the-night necessities to well-sought after cuisine. Street food brings tourists, and locals, in their hoards to vendors who provide this type of meal. Tending to be relatively low in price, street food is excellent in taste and offers migrants a taste of home, as well as natives a taste of the more exotic.
Takoyaki is one of the most popular Japanese street foods. Its translation means 'fried octopus,' formed into ball-shaped dumplings and generously slathered in a sweet and sour sauce, then topped with bonito flakes.
It is best-eaten piping hot, which is why takoyaki fairs so well as grab-and-go street food. It is, however, also a dish found in specialty restaurants, food courts, and supermarkets. This guide will focus on the best pans around to cook this specialty dish.
What is a Takoyaki Pan?
Firstly, for those who are unsure, a takoyaki pan is traditionally a cast iron griddle pan. The iron provides even heat distribution, which is important when many portions are being cooked at once. Takoyaki pans can also cook other dishes, such as Dutch pancakes, Chinese dumplings, muffins, cakes, om-rice, and quick bread recipes.
Buying a Takoyaki Pan 
You don't necessarily need a specialty takoyaki pan to make great batches of the dish, but it is best to have one if you make takoyaki regularly. There are some things to consider when looking for the right commercial pan for your kitchen; these are as follows:
Electric or Traditional?
Traditional takoyaki pans are usually cast iron trays with multiple inlets. In more recent times, the invention of electric takoyaki pans brought ease and convenience to busy restaurants and kitchens. Doing most of the work for you, an electric takoyaki pan, like our #1 pick, can make preparing and cooking the dish very simple. Some electric takoyaki pans will even do the flipping for you!
Size 
Takoyaki pans will all create multiple portions of takoyaki, usually ranging from 6 to 24, with the average being 12: the more inlets, generally the more the price increases. If you plan to use traditional cast iron or aluminum takoyaki pan on top of a stove, it would be wise to measure the cooking area you have before purchasing.
There are specialized gas burners by the same brands as the pans designed to fit them perfectly, such as this gas burner by Iwantani to match their takoyaki pan. A specialized grill can be a space-saving solution, leaving the stove free, as well as being easy to store in a commercial kitchen.
Price 
A takoyaki pan isn't going to be the most expensive item in the commercial kitchen. But, it is still worth sticking to the rule of buying the highest level of quality that you can afford. I have found a bargain buy product, the UPIT Takoyaki Maker, which retails at less than $20. The most expensive takoyaki maker on the list is the electric takoyaki maker by Sugiyama, which is over $160.
Both products fundamentally do the same thing; cook takoyaki, and each has its advantage – the bargain pick is excellent value for money, but the best buy offers incredible convenience.
8 Best Takoyaki Pans 
AUTOMATIC ELECTRIC JAPANESE TAKOYAKI GRILL PAN – Our #1 Top Pick

Non-stick Molded Plate
Automatically Turns the Takoyaki
Wipe Clean

Buy Here
UPIT Takoyaki Maker – Our #1 Budget Pick

Aluminum alloy with Nonstick coating
Easy to Clean
Made in Korea

Buy Here
Iwatani Takoyaki Grill Pan

Aluminum Pan
Non-Stick Coating
Compatible Grill Available

Buy Here
Yamazen Takoyaki Device

Makes 24 Takoyaki
Electric Device
Easy to Store

Buy Here
Heat and Home Multifunction Baker

3-in-1 Multi-Function
Utensils Included
Easy to Use

Buy Here
Norpro Nonstick Stuffed Pancake Pan

Cast-aluminum
Quick Heat
Cool Handle

Buy Here
CookKing – TAKOYAKI Nonstick Grill Pan

High-quality Cast Aluminum
Compatible with any Gas Burner
Non Stick

Buy Here
Nordic Ware Danish Ebleskiver Pan

Heavy, Warp-resistant Cast Aluminum
Made in the USA, with Handle from China
PFOA Free, Non-stick Coating

Buy Here
#1 AUTOMATIC ELECTRIC JAPANESE TAKOYAKI GRILL PAN – Our #1 Top Pick!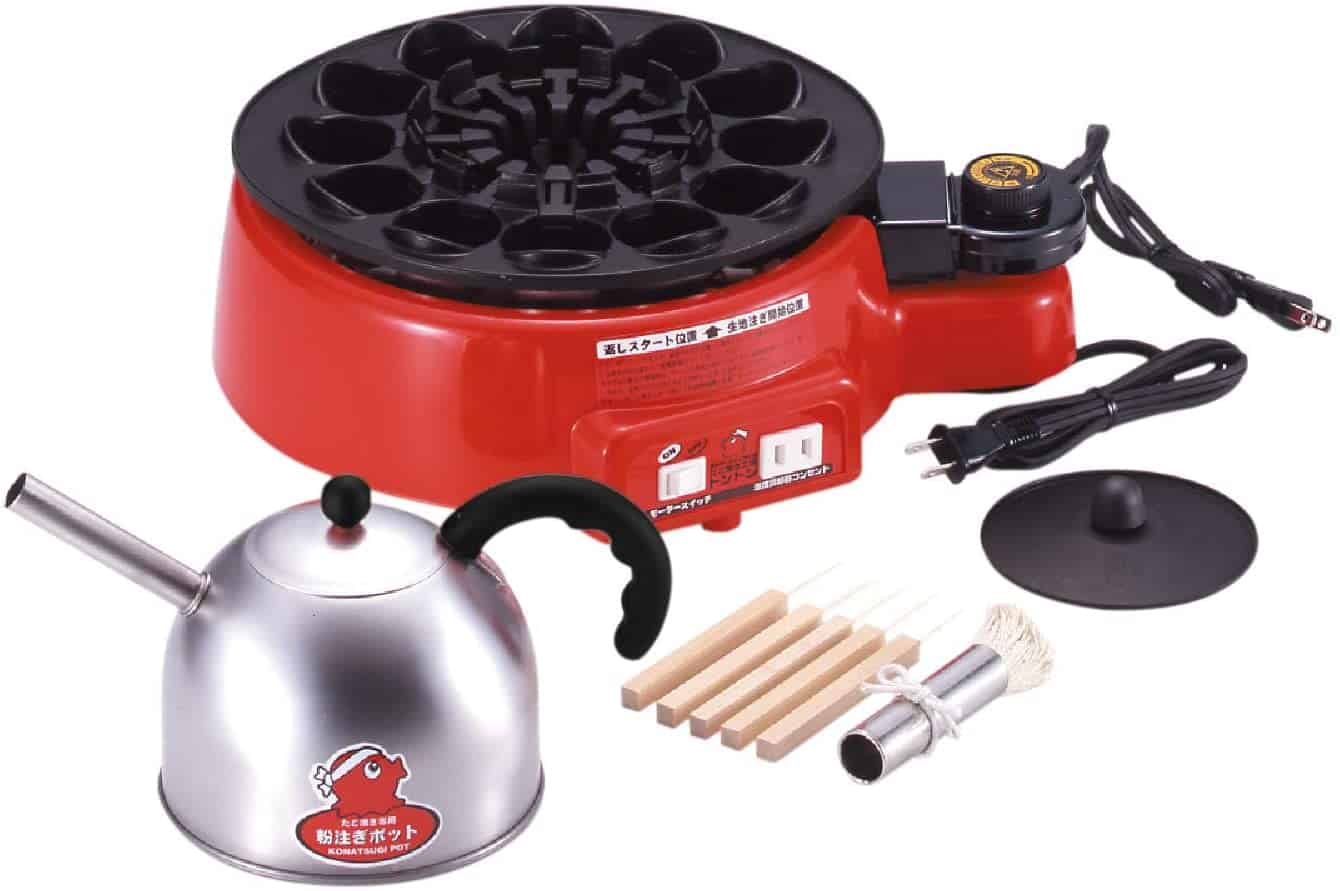 The AUTOMATIC ELECTRIC JAPANESE TAKOYAKI GRILL PAN by Sugiyama-Metal is a highly versatile cooking machine with good value for money. It can cook a range of foods, is nonstick, and has a built-in thermostat, so twelve portions of takoyaki can be cooked evenly at one time and at the right temperature.
I was surprised at the large size of this device; it will take up a lot of room on the countertop and maybe a little difficult to store. However, the heat temperature control dial is impressive, allowing you to choose from seven temperature settings.
There are twelve inlets to fill with batter and ingredients, and each has a line indicating where to fill up to. Once you have added your batter and ingredients, turn the gadget on. After a few moments, or when you feel it is time to flip the takoyaki, you press the switch for the automatic flip mechanism to activate.
Now, the automatic flip, I was a little disappointed with; expecting all singing and dancing flipping to begin, it was merely the inner metal lifting up and down – as it moves its way around the perimeter, each ball should flip in turn. A little assistance is required as the balls can stick or not be flipped fully – especially if the inner gadget touches the soft batter.
The results are, however, remarkable. Twelve perfect balls, each one crispy and delicious, as well as thoroughly cooked. I rate this highly as an excellent choice for a busy vendor who can keep an eye on the gadget and assist when needed but who needs a takoyaki pan that does most of the work.
Pros
Perfect End Results
Minimal Manual Input
Versatile Cooking Gadget
Cons
Assistance is Required – Not 100% Automatic
#2 UPIT Takoyaki Maker – Our #1 Budget Pick!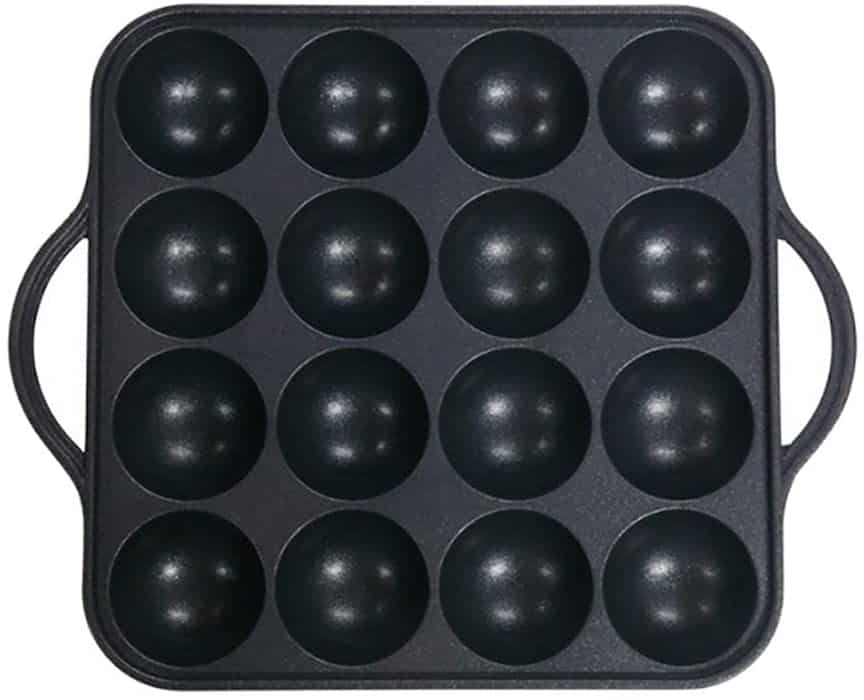 I was hugely impressed with the UPIT Takoyaki Maker; it is straightforward to use, easy to clean, and simple to store. You can make sixteen portions at one time, and the inlets are generously sized 1.7-in diameter. The pan is nonstick, and you can see this from the moment you begin to use it; the batter swirls freely in the beginning, and when it is time to flip, nothing is left behind.
Due to the generous size of the inlets, it is simple to use two sticks to turn the takoyaki – more experienced chefs will be able to do this in mere seconds, I feel, but even for those who it takes slightly longer, this is going to still be under a minute for the whole batch.
The aluminum alloy material heats up quickly, and the heat is distributed evenly. This results in sixteen perfectly cooked portions of takoyaki, each with a delicious crisp coating. The taste is enriched by the quality of the pan, and it is hard to believe just how affordable this item is—a real winner, perfect for any commercial kitchen.
Pros
Incredible Value for Money
Good Portion Size Inlets
Quick Heat Up
Cons
Handles a Little Small to Grab With a Towel
#3 Iwatani Takoyaki Grill Pan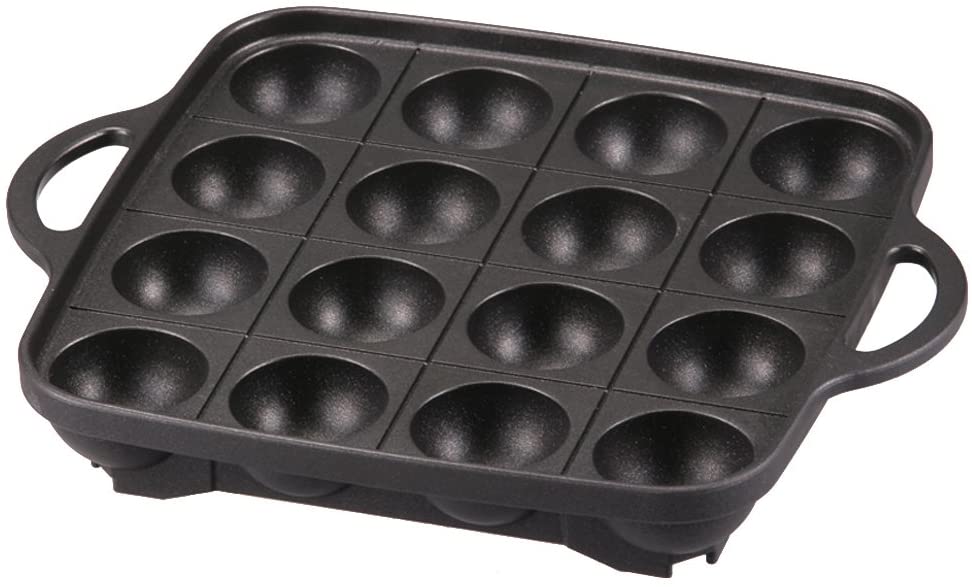 The Iwatani Takoyaki Grill Pan is perfectly square, offering enough inlets to cook sixteen portions of takoyaki. You can use the brand's matching gas burner, which fits the item perfectly, or another of similar size. Their gas burner retails at a little over $40 and is very lightweight but well-rated online.
There is nothing seemingly special about this takoyaki pan at first glance, but it is a no-frills product that does exactly what you would want – cooks portions of takoyaki quickly and well. Turning the takoyaki balls is simple due to the nonstick coating, and removing them after is straightforward.
The pan is aluminum, not cast iron, but it feels exceptionally sturdy never-the-less. It is heavier than you would expect from aluminum, but I believe this means there is excellent durability to be had from the pan.
You can clean the Iwatani takoyaki pan by rinsing it under a tap or wiping it with a damp cloth. Dishwasher cleaning is not recommended. My favorite aspect is the square shape, purely for the aesthetics and the compatibility this provides with most gas burners.
You could use a traditional gas stove or even an electric hob with this item if you didn't want to purchase a gas burner, and this would work just the same.
Pros
Works on Gas or Electric Hobs
Very Sturdy Pan
Aesthetically Pleasing Square Shape
Cons
Currently Great Price at Amazon – RRP Much Higher
#4 Yamazen Takoyaki Device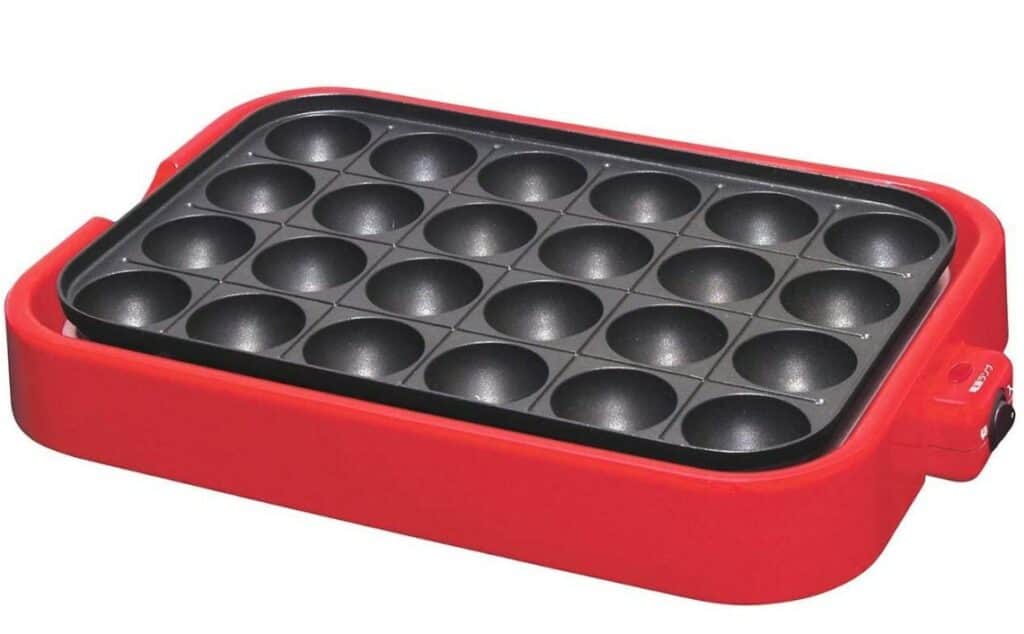 The Yamazen Takoyaki Device can cook 24 takoyaki portions simultaneously; this is one of only two products on the list to cook this number. I was surprised to find just one heat setting on the device, so it was guesswork to gauge the temperature initially. The holes are slightly smaller than most, but this often equates with a faster cooking time.
The heat up is pretty slow, and it takes time to see any action start to develop. Without any sizzle noise to hear, it is a judgment call (to a novice takoyaki cooker like me) to know when to flip. Flipping is slightly challenging due to the smaller size of the inlets. As the temperature remains relatively low throughout, parts of the takoyaki stayed softer than I'd have liked.
The results were good, however. Each takoyaki ball had a golden brown finish, but I would have liked the pan to leave a more distinct flavor and felt this was a little lacking. The gadget is great for cooking a large batch of takoyaki, as long as expectations are kept reasonable.
Pros
24 Takoyaji at One Time
Removable Tray for Easy Cleaning
Good Results
Cons
#5 Heat and Home Multifunction Baker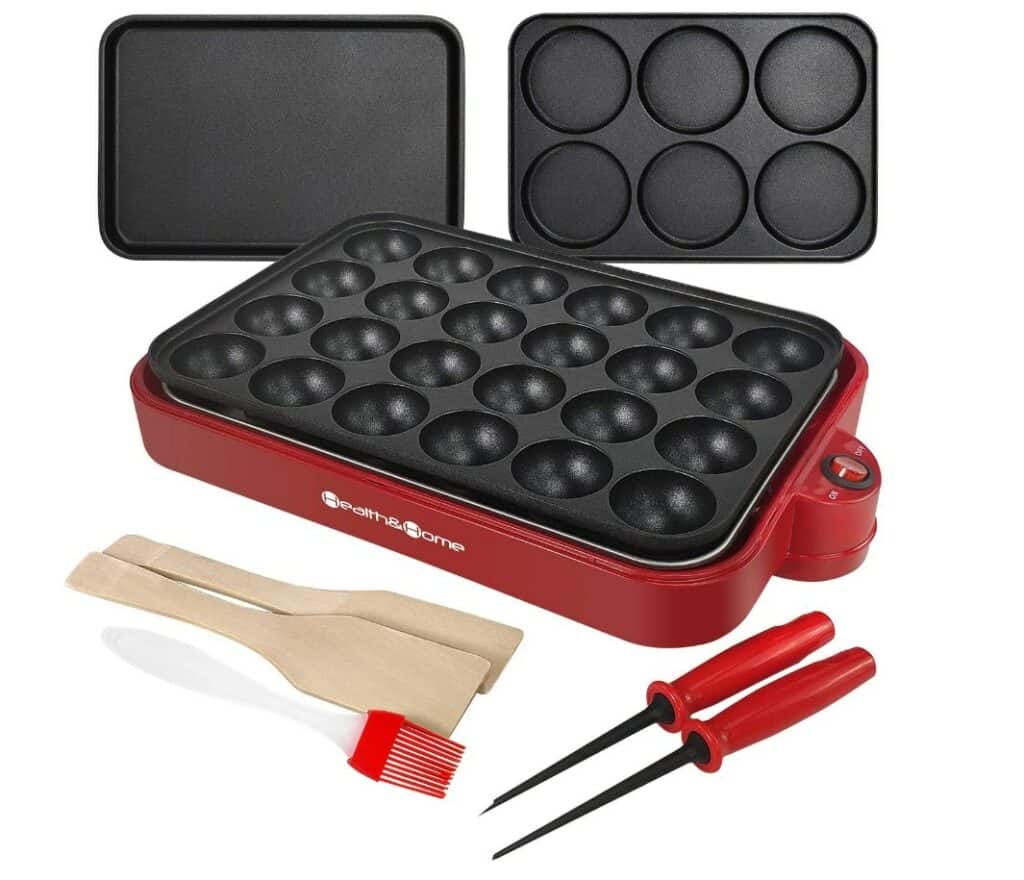 For a great price, the Heat and Home Multifunction Baker can cook a variety of dishes, much like any other commercial countertop griddle, with the addition of being able to cook 24 portions of takoyaki. The product has one unit base and three interchangeable baking plates; one standard grill pan, one 6-hole cake plate, and one 24-hole pan.
You can change the plates simply, and each one is nonstick and easy to clean. The storage of the Heat and Home Multifunction Baker is straightforward, and its compact dimensions are just 13.58-in x 9-in x 2.72-in, so it will fit on most commercial kitchen shelves, in a cupboard, or on a countertop without taking up too much room.
The dimensions of the inlets for takoyaki are 1.5-in, which results in perfectly formed bite-size balls. The Heat and Home Multifunction Baker is an 80W plug-in device; however, there isn't a temperature control setting, and the heat is either on or off – it takes longer than you'd expect to cook takoyaki for this reason. Still, they form well and are easy to lift out.
I like that utensils are included, although those who prefer to use bamboo sticks for takoyaki should note that the sticks included are metal. The price is highly reasonable for a multi-use product, and there are very few drawbacks to the Heat and Home Baker.
Pros
Excellent Value for Money
Easy to Flip and Lift Takoyaki
Useful Utensils Included
Cons
#6 Norpro Non-stick Stuffed Pancake Pan
Norpro is a brand regularly featured in our review guides, see their bread slicer review here and their burger press review here. With the Norpro Nonstick Stuffed Pancake Pan, you get the great value for money that the brand is renowned for, alongside a really good-quality product.
The cast-aluminum construction heats quickly, and due to the size of the pan, this fits on most oven tops or gas burners with ease. The nonstick surface is true to its word, and takoyaki is easy to flip midway and lift at the end. Due to the high quality of the construction, the balls have a beautiful golden brown finish, and the even heat ensures that every bite will taste good.
The inlets are 2.25-in, which is slightly larger than traditional takoyaki. Still, as it cooks seven at a time, these could make for great starters in seafood or Japanese restaurant – or generous servings elsewhere. I like that the handle remains cool throughout cooking, so it is easy to lift off the heat to serve the takoyaki piping hot directly to the plate.
Pros
Cook a Variety of Dishes with Ease
Stay Cool Handle
Generous Portion Sizes
Excellent Value for Money
Sits on a Flat Top Stove
Cons
Size isn't for Traditional Takoyaki
Makes an Odd Number of Takoyaki Portions
#7 CookKing – TAKOYAKI Non Stick Grill Pan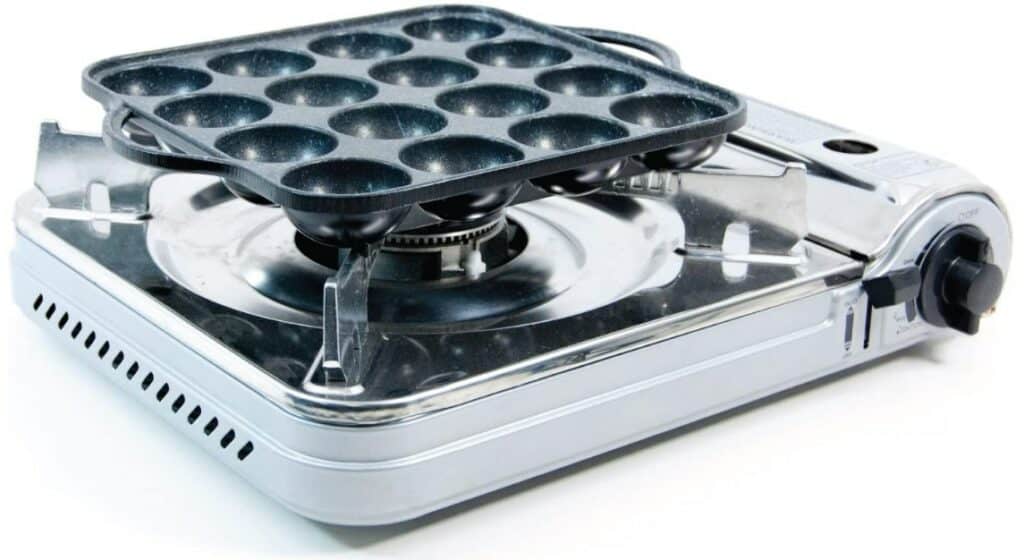 When the CookKing – TAKOYAKI Nonstick Grill Pan arrives, it instantly feels authentic; the box is plain, showing only a photograph of the pan and its title, written in a Japanese-style font. I believe this would therefore make an excellent gift for someone new to cooking this dish or anyone who likes to try new things in the kitchen.
For a commercial kitchen, the CookKing – TAKOYAKI Grill Pan certainly has its place. Its perfect square shape, of 7.8-in a side, means it's simple to store anywhere – I also think this shape is one of the best aesthetically for a takoyaki pan. The pan is made from cast aluminum and is relatively heavy, at 1 lb; it also feels very sturdy.
You can use this on top of a gas stove or gas burner, and there are four bottom prongs to keep the pan in place during cooking – an excellent safety feature. You may find that the inner four molds heat up the fastest, but you can override the effects of this by moving the takoyaki balls around. The results are slightly smaller than you'd expect but perfect in shape and consistency.
Pros
Feels Sturdy
Excellent Safety Features
Perfect Results in Shape and Consistency
Cons
Not Even Heat Distribution
Slightly Small Portions
#8 Nordic Ware Danish Ebleskiver Pan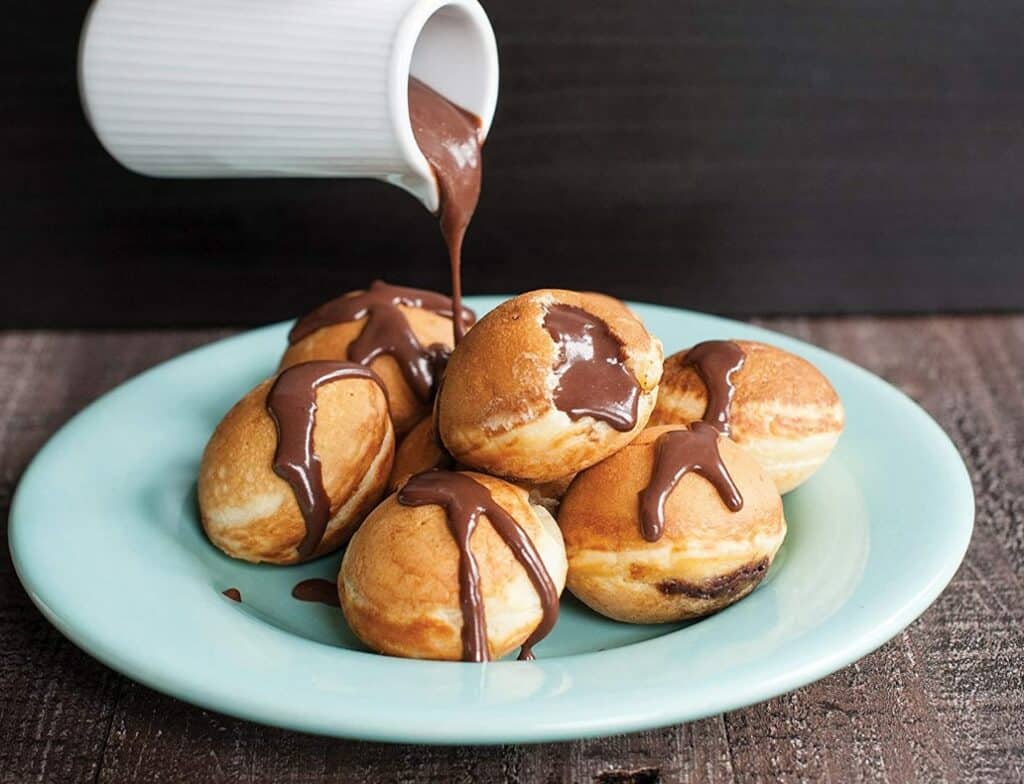 Made in America by a long-standing and trusted brand, the Nordic Ware Danish Ebleskiver Pan is built to last. Founded in 1946 as a family company, Nordic Ware now manufactures more than 400 different every day and specialty Scandinavian products globally. You know with this brand, you have brought quality, and their Ebleskiver pan does not disappoint.
The pan is made here in the USA, but the handle has been imported from China; it is a stay-cool handle made from wood, which adds a rustic touch. I like the notch on the end of the handle, so you could hang it from a peg or hook in the commercial kitchen for convenient storage.
Heavy cast aluminum means that the pan will not warp, even at high temperatures, and it is also safe on both gas and electric stovetops. The finished takoyaki's are perfect circular shapes, well-cooked throughout, and the clean-up is a breeze. Due to the wooden handle, I would hand wash this pan to protect its longevity – it has been regularly considered an 'heirloom' in many online reviews!
Pros
Durability and Longevity
Great Brand Reputation
Easy to Use
Stay Cool Handle
Cons
FAQs
Question: Do You Have to Use Octopus is Takoyaki?
Answer: Traditionally this dish is fried octopus; it translates to 'fried octopus,' but this doesn't mean there can't be variations made. You could opt for bacon, ham, fish, or other seafood as well as vegetarian alternatives – just ensure you make diners aware of the change.
Question: There is No Cast-Iron Takoyaki Pan in This Guide?
Answer: Cast Iron Takoyaki Pans are the more authentic and traditional choice. However, they do have their drawbacks, and I felt they were more than the pans I featured. For example, they are not nonstick – which can significantly impact takoyaki – they're not recommended for delicate fish and seafood. They require a lot of maintenance and are prone to rust and discoloration.
You don't get these cons with the materials I have featured.
Question: Is an Electric Takoyaki Pan Better?
Answer: An electric takoyaki pan is a great gadget to invest in if you're planning to make a lot of takoyaki; however, the price of these gadgets is considerably higher than a traditional pan. It is up to you to see this as a sensible financial investment for your commercial kitchen or an unnecessary expense.
Final Verdict: What's the Best Takoyaki Pan?
A takoyaki pan doesn't have to cost a lot, and some are great multi-use items such as the Heat and Home Multifunction Baker, Norpro Nonstick Stuffed Pancake Pan, and the Nordic Ware Danish Ebleskiver Pan, which makes great financial sense. There is so much going for our budget pick, the UPIT Takoyaki Maker, and I struggled to find any real drawbacks for the item.
However, for those who want to try an electric option, both the Yamazen Takoyaki Device and the AUTOMATIC ELECTRIC JAPANESE TAKOYAKI GRILL PAN (our #1 top pick) are excellent options. For me, the top pick has the better temperature control range and provides perfect results every time, whereas the on/off the heat of the Yamazen device leaves you slightly restricted.
I liked the square-shaped Iwatani Takoyaki Grill Pan, which is very sturdy and works on any hob, but you must be quick if you want to grab it at its current price as this may well rise back to its much higher RRP. The CookKing – TAKOYAKI Nonstick Grill Pan has excellent safety features and feels a sturdy construction. However, heat isn't evenly distributed, and the portion sizes are on the small side.
Each item has its pros and cons, unique selling points, and it is up to you which one draws you in the most. All make great takoyaki!