Latest posts by Jodie Chiffey
(see all)
A good fryer plays an essential role in many modern commercial kitchens. Looking for the one that would fit into yours perfectly? Today we'll focus on Frymaster GF14, a popular all-purpose professional fryer that has already been around for quite some time.
Users usually praise this heavy-duty appliance for its extreme durability, perfect reliability, and decent value for money. But even the best kitchen equipment has some flaws, right? So in this Frymaster GF14 review, let's check in detail to see if this fryer is really your best option.
First, we'll summarize the technical specifications of this machine:
Key Specifications of Frymaster GF14
| | |
| --- | --- |
| Type of fryer | Open-pot Standard Gas Fryer |
| Burner | Master Jet burner heat transfer system |
| Capacity | 40 lbs./50 lbs optional oil capacity |
| Frying area | 12″ x 15″ x 4″ (30.5 x 38.1 x 10.2 cm) |
| Input | 100,000 Btu/hr. (25,189 kcal/hr.) (29.3 kw/hr.) |
| Dimensions/weight | 155/8″ x 307/8″ x 411/8″/152 lbs |
| Latest price | Click here for the latest price |
Core Features of Frymaster GF14
Before we get to the details, you should probably know that Frymaster GF14 comes in two variations: standard gas and natural gas fryer. In this review, we will focus mainly on the standard gas version, which is probably more common and easier to find on the market. Let's see how it looks, works, and performs:
Construction and Design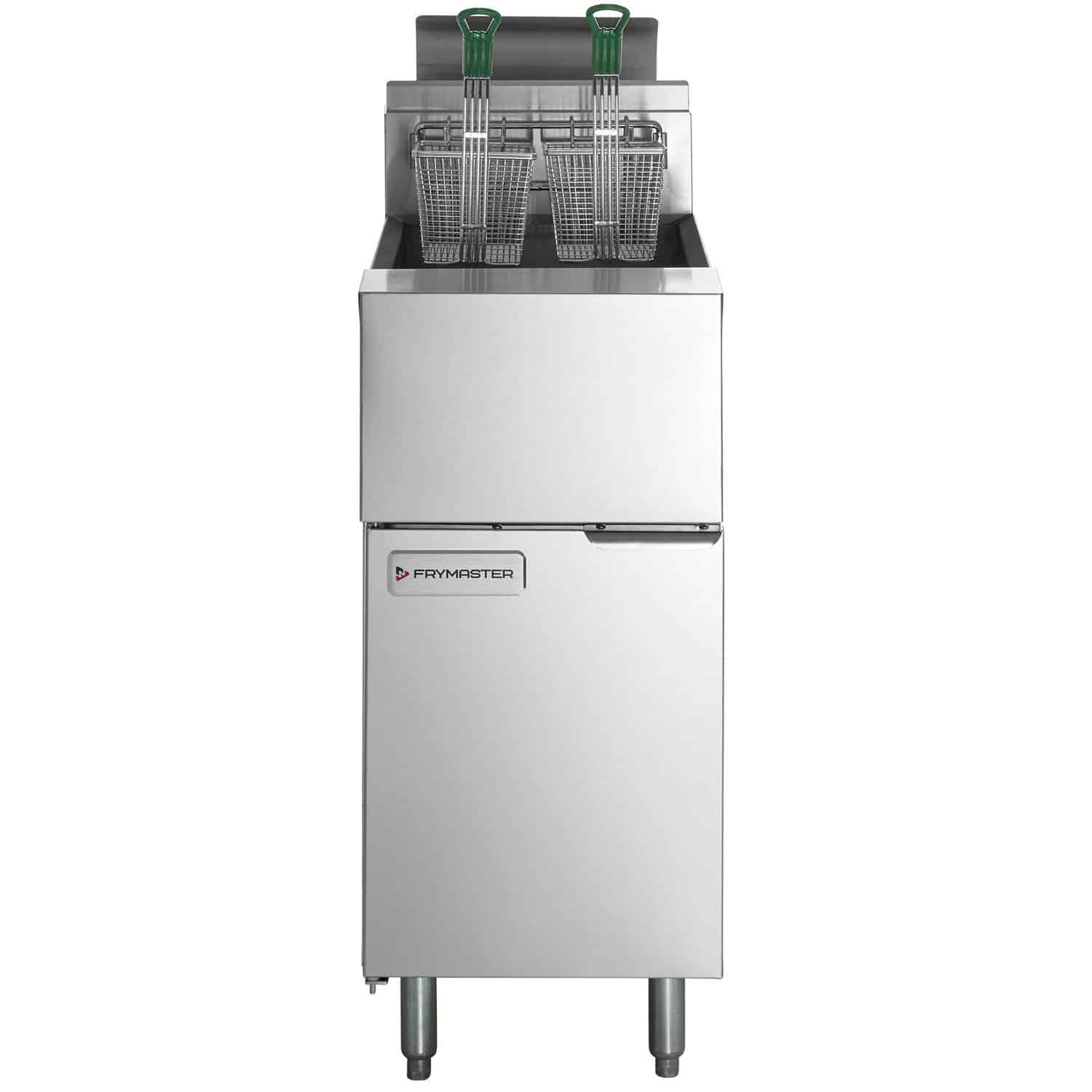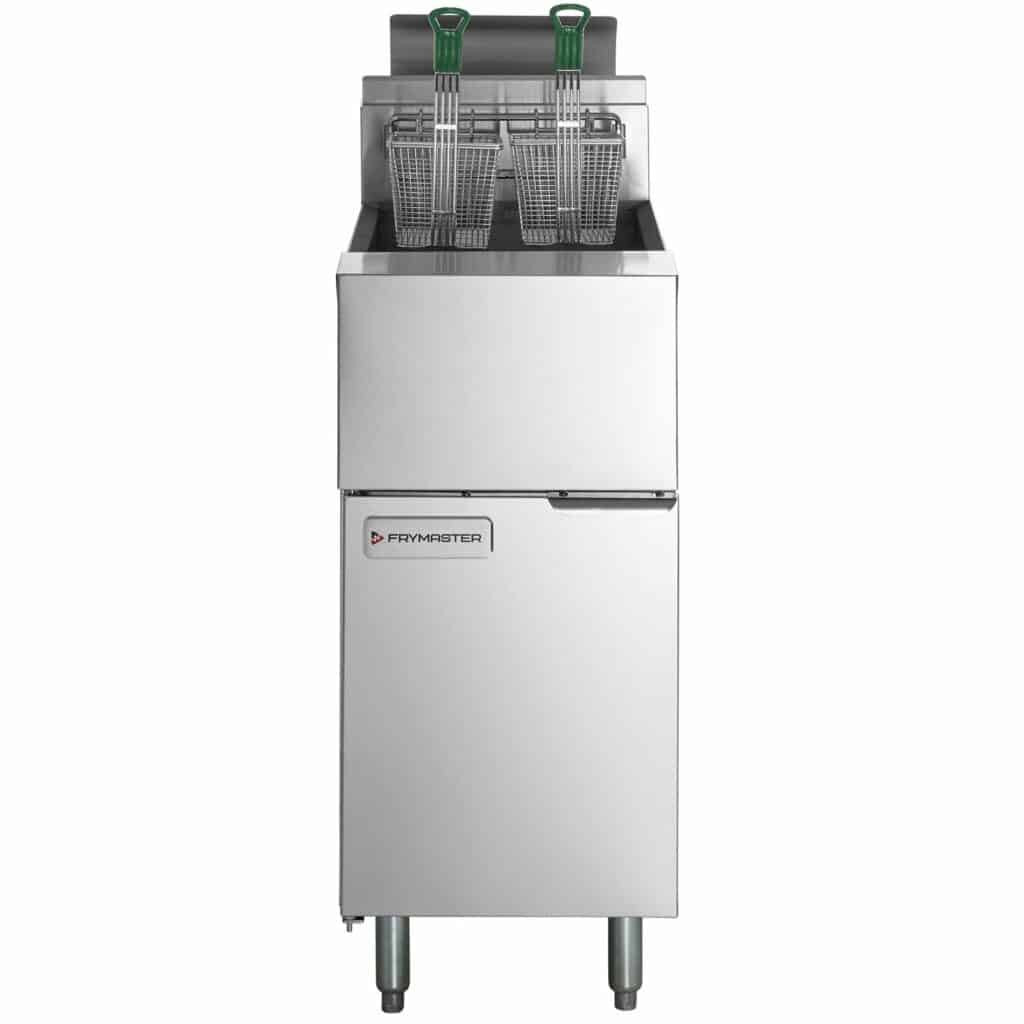 Frymaster GF14 is a versatile and conveniently designed commercial-grade gas fryer that can be used for a wide variety of foods. As you would probably expect from the professional fryer, it is quite a robust and heavy piece of equipment, ideal for middle-to-large commercial kitchens in restaurants, fast foods, etc.
The fry pots on this all-metal machine are made of welded, heavy-gauge stainless steel, and it comes with a standard set of accessories, including the baskets and sediment trays.
The fryer has a convenient open-pot design (you can choose between 40 or 50-pound oil capacity pots), which is easy to clean and maintain. Collecting and removing the sediments with a deep collection zone and draining the used oil with the large 1-1-4" IPS ball-type drain valve on this fryer is very convenient.
The installation of this device is also straightforward since the GF14 fryer does not need any electric hookups (the fryer uses a millivolt temperature control circuit, which does not require any external power).
The machine must be, however, either manually filtered or filtered with a portable filtration unit – you can use, for example, the dedicated Frymaster PF50 portable filter. The fryer also requires installing 6-inch steel legs (standard equipment) or casters (optional).
Functions and Controls
Frymaster GF series fryers are designed for versatile use – whether you're frying meat, vegetables, french fries, or anything else, with GF14, you always have a useful piece of equipment at hand. Moreover, this fryer is also very easy to use so that you can entrust its operation even to your junior chefs.
To turn the fryer on, just open the large metal cabinet door and set the desired temperature on a smoothly running dial knob inside. At the same place, you'll find a simple push-button igniter (Piezo) that initiates the heating.
Once the heating starts, you can start preparing your food since the oil will achieve the desired temperature really quickly. GF14 is a perfect solution for large kitchens with a fast turnaround. The fryer comes with two twin baskets that can easily accommodate up to 65 pounds of french fries (in other words, 250 portions) in a single hour.
Thanks to the jet heating system, the heat is perfectly distributed all over the frying area, so you get reliable and even results in such large batches too. Integrated sensors immediately notice any temperature changes and activate adequate burner response.
One of the very few downsides of this unit is that both baskets basically come into a common large oil tank, so you cannot set the temperature for each of them separately.
On the other hand, you can still handle two separate batches of food individually if you, for example, need to put one in the oil earlier than the other. I really like the ease of use this fryer provides, and I also find it very quiet compared to some other fryers I've tried before.
Safety
Fryers can be relatively dangerous if they're not handled properly. Frymaster GF14 has some basic yet effective safety features that can eliminate most of the possible risks. If, for example, the temperature in the fryer exceeds the safety limits, there is an automatic shut-off feature that immediately turns it off.
In addition, to keep your hands safe from harm while handling the hot metal wire, they both are equipped with cold-touch handles.
Of course, the best safety measures you can put into practice here are following all the instructions closely, cleaning and maintaining the unit thoroughly and regularly, and training all your employees properly before allowing them to work with this fryer.
Reliability
Frymaster's fryers are heavy-duty machines designed to last for years. That does not apply only to the sturdy all-metal housing of this fryer but also to its functional components, including the heat transfer system, which is probably the most important (and critical) part of the whole machine.
All the accessories, including covers, handles, and other parts (that often tend to break first), also feel very durable and reliable. In any case, the Frymaster GF14 fryer comes with 1-year parts and labor warranty and an extended 5-years warranty on its fry pot.
Price
Open-pot commercial grade fryers are usually considered to be a high-end solution. Nevertheless, Frymaster GF15 provides you with all the benefits and advantages of this design at a relatively reasonable price. For its latest price quote, click here.
Pros of the Frymaster GF14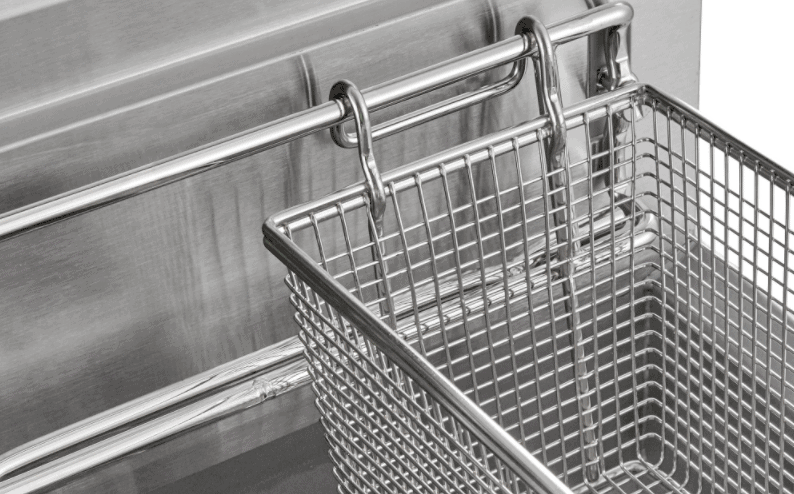 Still not sure if this heavy-duty gas fryer is what you are looking for? Let's review its biggest assets once more:
Durable design and construction
Frymaster GF14 is truly a heavy-duty piece of equipment that is praised by its users for its perfect durability and trustworthiness. Made of stainless steel and designed to last for ages, this is a great solution for anyone who wants to invest in reliable kitchen gear.
Large Capacity
If you're looking for equipment that would fit into your middle-to-large professional kitchen and complement your fast workflow, this large-capacity gas fryer certainly has what it takes. With two baskets and 40/50 lbs. oil tank capacity, you can easily feed a whole regiment of hungry customers in a single hour.
Ease of Use
Operating a gas fryer is usually not a job that requires a senior chef. Nevertheless, this thoughtful machine with very few controls makes it all even easier.
If you don't have any previous experience with commercial-grade fryers and you're a bit nervous about installing and operating one, GF14 is a perfectly recommendable solution.
Convenient Open-Pot Design
Open pot design provides you with unrestricted access to the interior of the machine. This allows you to clean it properly, get rid of the old oil and residues without any major obstacles, and keep your fryer clean and hygienic at all times.
No Electric Hookup Needed
Thanks to its design and heating system, this fryer does not need an electric hookup. This provides you with many possibilities when it comes to the placement and installation of your unit.
Warranty
Although this durable machine is apparently built to last, it is always good to know that you are covered by a warranty from its manufacturer. In this case, you get a 1-year warranty on parts and labor and a special 5-years warranty on the stainless-steel frying pot.
Price
Although commercial-grade open-pot gas fryers are probably never 'cheap', Frymaster GF14 offers a good value for money in comparison with many other (often not so reliable or versatile) fryers on the market.
Cons of the Frymaster GF14
This commercial fryer is great, but it still has some downsides you should know about before ordering yours:
No Individual Pots
Although this fryer is truly huge and offers great capacity for frying lots of food at once, it basically consists of a single large pot, so you cannot use the frying baskets separately at different temperatures.
Large and Heavy
As with most commercial gas fryers, this device is designed mostly to stay in one place, so it is not very well equipped for transportation and replacement. If you have limited space in your kitchen or you're moving your equipment often for various events, this bulky and heavy fryer might not be your best option.
Price (again)
Although, as I've already mentioned, Frymaster GF14 is relatively affordable in comparison with many similarly large and capable open-pot fryers, it is still far from being cheap and budget-friendly. If you're in doubt whether you really need to make such an investment, reconsider your usual workflow, turnaround, and some other unique specifics of your kitchen routine. Maybe you'll find out that you would be just as happy with some of the significantly cheaper alternatives.
Are There Any Alternatives?
If you're looking for a reliable gas fryer with a large capacity, Frymaster GF14 is surely a good choice. Nevertheless, it is not the only option you have. Maybe you'll find some of these alternatives interesting too:
KITMA Premium Commercial Deep Fryer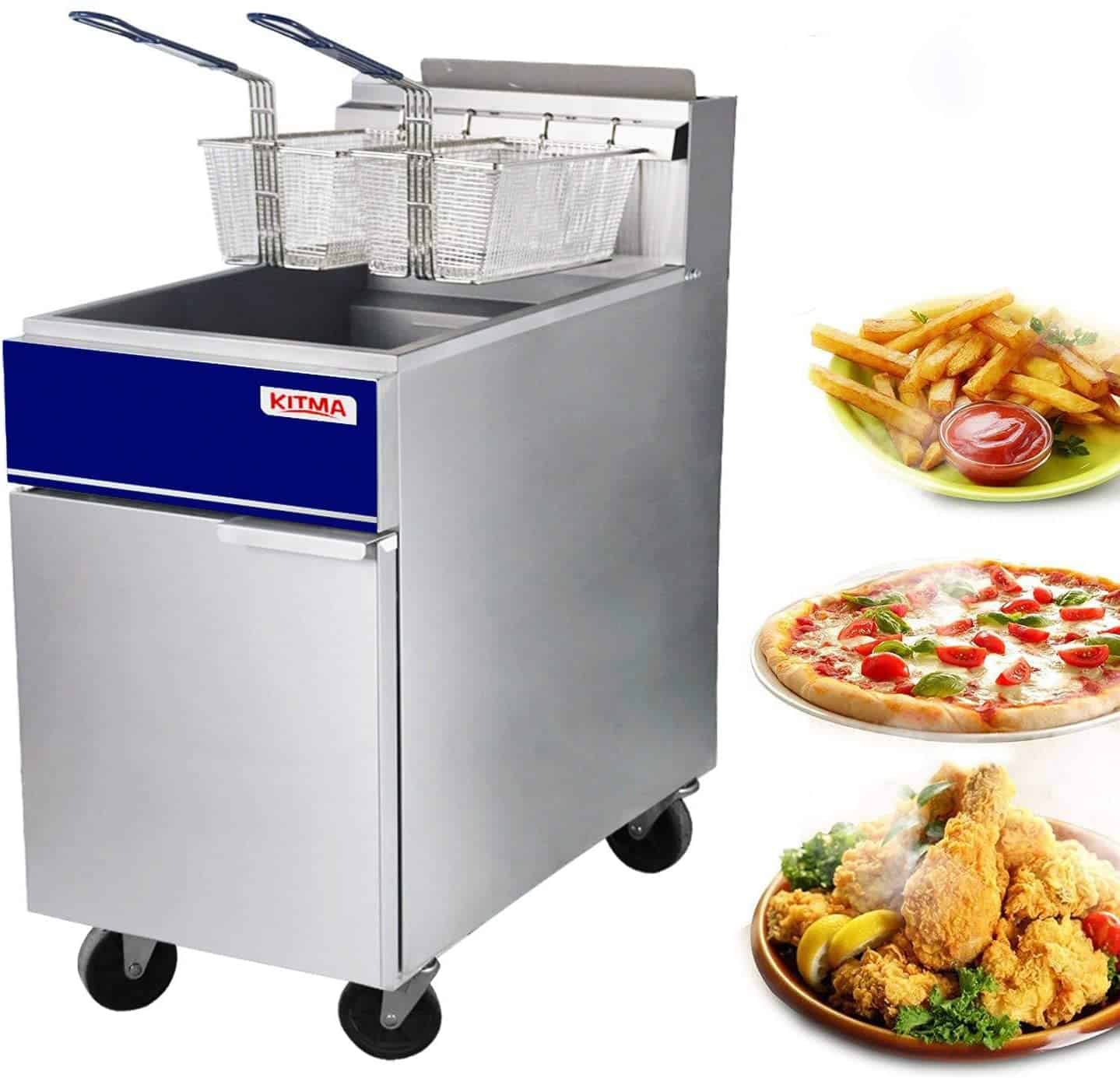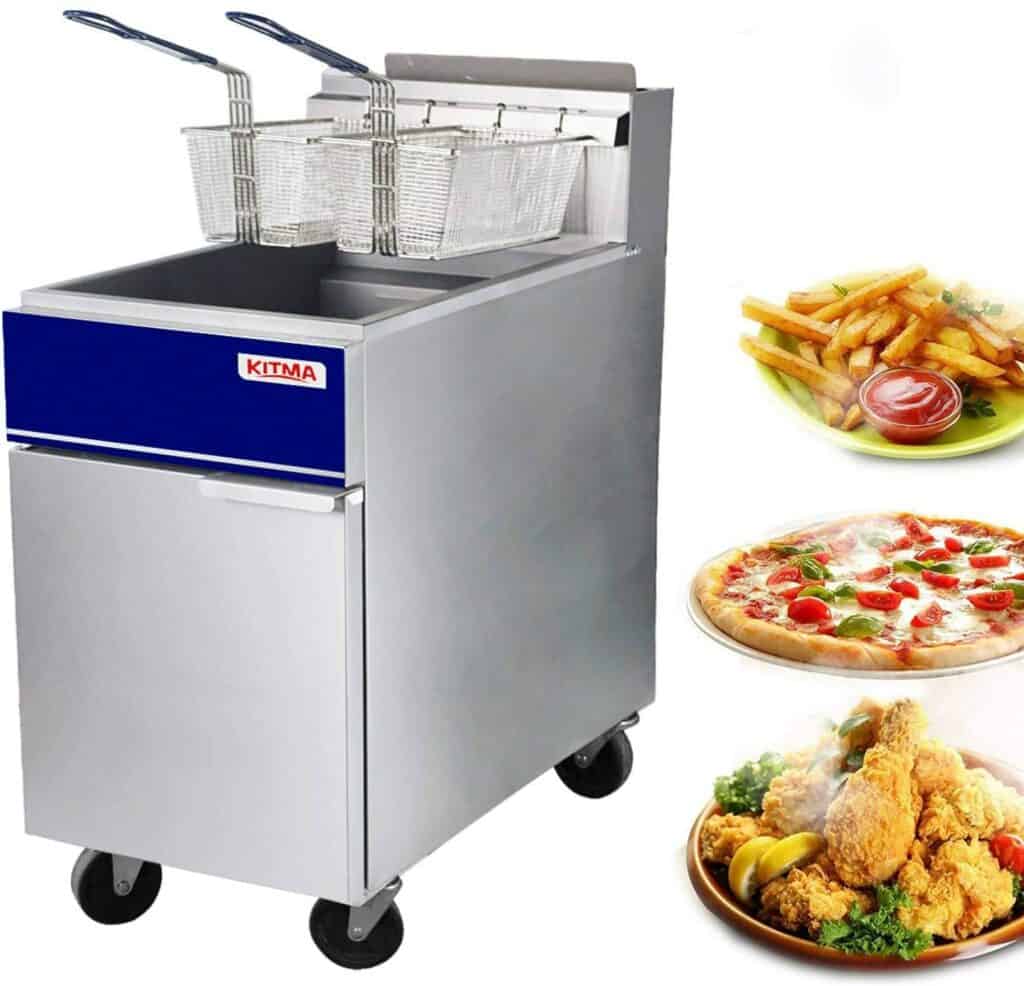 KITMA Premium Commercial Deep Fryer is a robust natural gas fryer for professional use with various nice features. It allows temperature adjustment between 200°F and 400°F, a safety valve providing automatic voltage stabilization, two wired frying baskets, and an oil cooling zone at the bottom of the oil tank. The tank itself has a capacity of 34.7 liters.
This deep fryer has an Asian origin, which probably contributes to its affordability. However, rest assured that it is fully approved and certified in the US, and the company also provides a parts & labor warranty for every purchased unit.
Bioexcel Two-Tank Outdoor Deep Fryer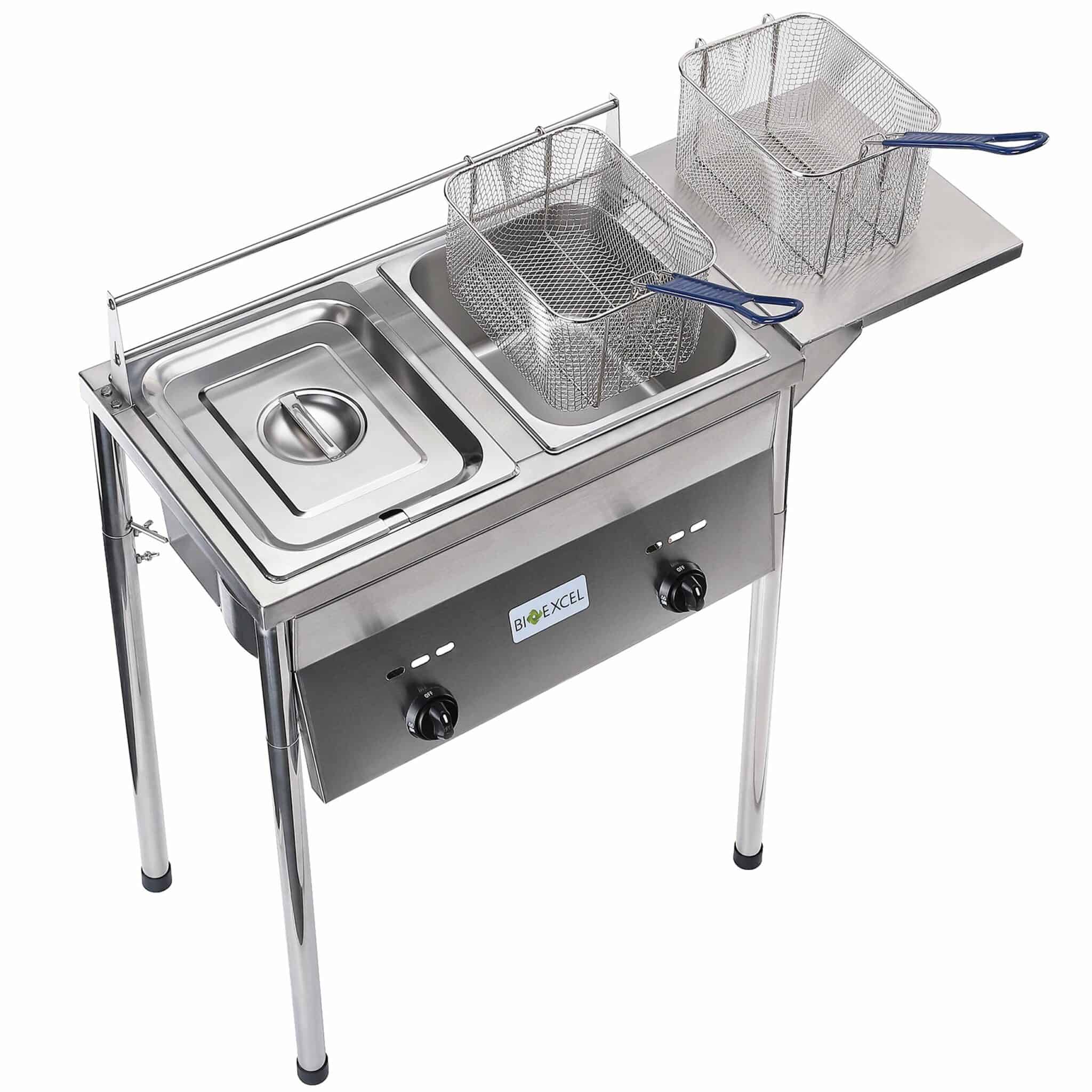 Is your gastronomic business mostly oriented to the outdoors environment? Bioexcel Two-Tank Deep Fryer is a perfectly convenient solution for anyone who wants to offer freshly fried food at open-air events since it's very well adapted for transport.
It consists of a heavy-duty stainless steel frame and twin 2-gallon oil tanks which can be heated individually, which is very convenient if you want to use just one of them or you need to set each one to a different temperature. In comparison with many other heavy-duty commercial fryers, this unit is also quite budget-friendly.
FAQs
Question: How Much Does Frymaster GF14 Weigh?
Answer: Commercial grade gas fryers are usually quite robust. Frymaster GF14 is an all-metal device (mostly made of stainless steel) weighing 152 lbs.
Question: How Often Should You Boil Out a Frymaster GF14 Fryer?
Answer: Boiling out your deep fryer is an important maintenance procedure that basically consists of removing old used oil, filling the fryer with water and detergent, and subsequently boiling the water with the cleaner to clean the inner parts of the fryer from any residues.
This process should be performed with your Frymaster GF14 fryer approximately every 3 months depending on how intensively you are using the fryer.
Question: How Do You Fix a Frymaster GF 14 Fryer?
Answer: Frymaster GF series fryers are considered very reliable and durable, so you most likely won't have to deal with any serious issues with the machine for at least several years after the purchase.
Nevertheless, if something eventually goes wrong, the usual suspects are oil filtration, burner malfunction, or issues with the temperature control.
Each Frymaster fryer is delivered with a manual that includes basic troubleshooting instructions. Nevertheless, if you're not sure what is wrong with your fryer or the standard recommendations don't seem to work, you should definitely seek an authorized service and get your fryer fixed professionally.
Frymaster GF14 Review: Final thoughts
Frymaster GF14 is a Simple Yet Efficient Fryer for Large ZKitchens. Frymaster GF14 Pro-Grade Gas Fryer is a sought-after piece of kitchen equipment – and I perfectly understand why. It is durable, reliable, very easy to use, and ready to satisfy both chefs and customers even in the busiest venues.
It is also designed and produced by a reputable American brand that provides a warranty on all of its products and has all types of spare components and accessories at hand whenever you need them. If you're looking for a trustworthy machine that would fit into your kitchen setup perfectly and last for ages, this investment is probably worth making.
Nevertheless, GF14 is not the only commercial fryer on the market. If you would prefer something smaller, lighter, easier to transport, or cheaper, our 'alternatives section' provides you with just two of the countless options you currently have.
In any case, we hope that this review helps you make the right decision and find the best fryer for your kitchen as soon as possible. Need more inspiration and advice? How about reading our American Range Fryer Guide or Best Commercial Burger Press Guide next?