Latest posts by Alice Smith
(see all)
Microwaves are best known for cooking food quickly, and they've become a staple in many kitchens. But the best commercial microwaves can also do more than just reheat leftovers. They can be an essential tool when it comes to cooking food, defrosting food, or other tasks like making sauces or melting chocolate.
These days, there are a lot of commercial microwaves out there to choose from. Microwaves can help you make food quickly and efficiently, however, it's not always easy to know what type of microwave to buy.
So, how do you know which one is best for you? What are the best microwaves on the market? What should you look for when buying a commercial microwave? Does your commercial microwave need to be NSF certified? These are all common questions that people ask when it comes to purchasing a new microwave.
However, there are also plenty of other factors to consider when trying to decide on the best microwave. So, when you need a microwave that will last for years and provide excellent results, make sure to take these tips into account!
Microwaves and Their Uses
Microwaves have become a necessity in many modern homes and restaurants. Who has time anymore to wait for the stove to heat up? Luckily, microwaves have come a long way and this tool has many different uses that make it irreplaceable in the kitchen.
Microwaves were first invented in 1946 by building on radar technology that was developed and used during the war. The first 'Radarrange' was sold that same year. Since then, microwaves have gained countless features, become known for their quick cooking time, and are frequently used in commercial kitchens to speed up lengthy cooking processes.
Today, commercial microwaves can be used for cooking, reheating pre-prepared food, defrosting or thawing frozen foods, and quickly steaming foods. They can save a lot of time, money, and energy in a busy kitchen.
Types of Microwave
There are a few types of microwaves that you could choose for your catering establishment:
Combination Microwaves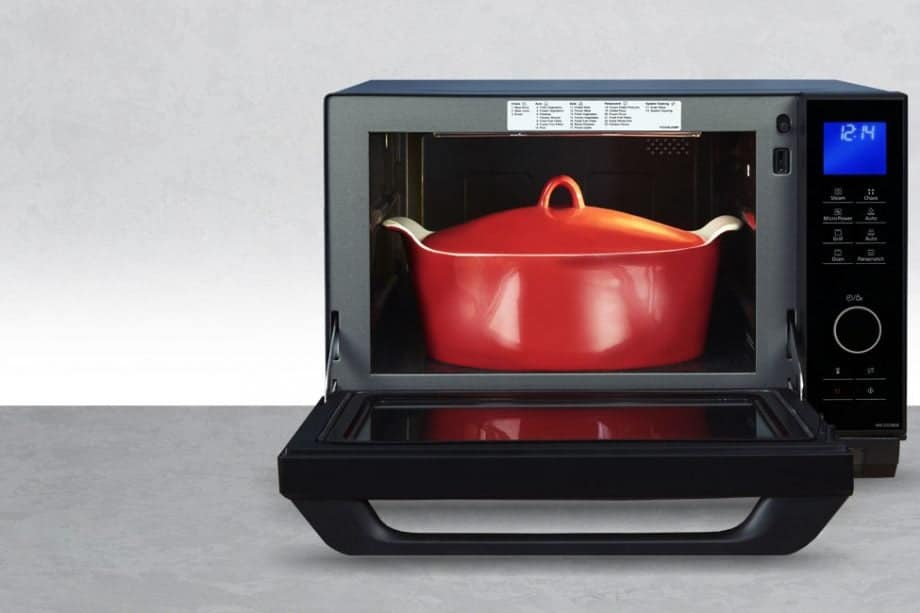 Combi microwaves are exactly what they sound like – microwaves that can offer a combination of different cooking options. They can cook and defrost, but some can also grill and bake food. They are best for catering establishments that need to cook a lot of different types of food at high speed. They are also best if you have limited space or countertops and want an all-in-one appliance in your kitchen.
These models usually come with two racks so that you can simultaneously cook larger dishes while reheating smaller ones. They're perfect for kitchens short on space because they provide more options without taking up the valuable room needed for other appliances like ovens or ranges.
Manual Microwaves
The simpler version of the digital microwave, manual microwaves is very easy to use. They have two dials: one for turning the power on and another for setting a cooking time. They don't allow you to pre-program functions and usually only have one rack.
These microwaves are best used for kitchens where you need a fast, easy way to reheat small items or make simple sauces without any fuss. They don't require any special instruction and are pretty much a plug-in-and-go type of machine.
Programmable Microwaves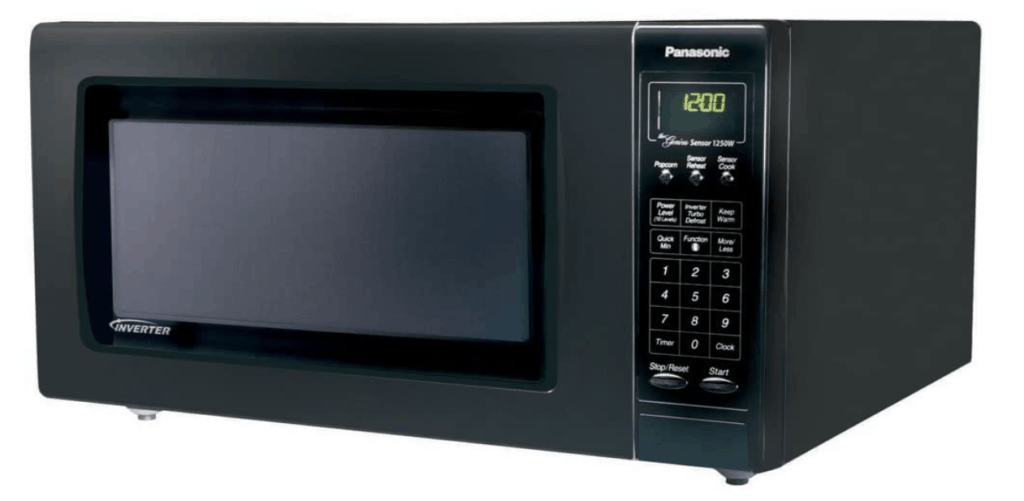 Programmable microwaves are the opposite of manual microwaves. They're best when you want to be able to cook larger dishes or reheat items with specific cooking times, or customizable programs.
They usually come equipped with a digital timer, which allows for full pre-programming of the microwave's functions and settings. This feature is best used by restaurants that need more precise control over how food is heated up in the kitchen. It also allows chefs to have select buttons for reheating certain dishes, for example, a soup program specifically for reheating soup portions.
This means it can also help reduce any waste from overcooked food because there is no guesswork involved in making sure your dish reaches an optimal temperature before being served.
Solo Microwaves
Solo microwaves are the basic level of microwaves. They are best for kitchens that need to reheat a few items or cook one dish at a time. They are the cheapest type of microwave and can be found just about anywhere from the average household kitchen to an office building.
These models come equipped with just one rack, which means they're best for reheating cups of soup, portions of meat, or defrosting meat rather than cooking entire large meals. Solo microwaves also usually don't offer any other options beyond cooking so they're best suited towards simple tasks where little fuss is needed before the food is served.
Grill Microwaves
Grill microwaves are one step up from solo microwaves. They are capable of everything that a solo microwave can do, but also offers the option of grilling food. This will give your customers that lovely chargrill taste without having to fire up the grill.
This feature is best for kitchens where you need an easy way to cook a larger meal without using any other appliances, or if your kitchen lacks space for different cooking equipment like ovens and ranges. Grill microwaves can handle a range of tasks from heating up pizza without it losing its crisp crust, reheating pre-cooked meals with sauces, or cooking chicken or fish while keeping the crispy skin.
Convection Microwaves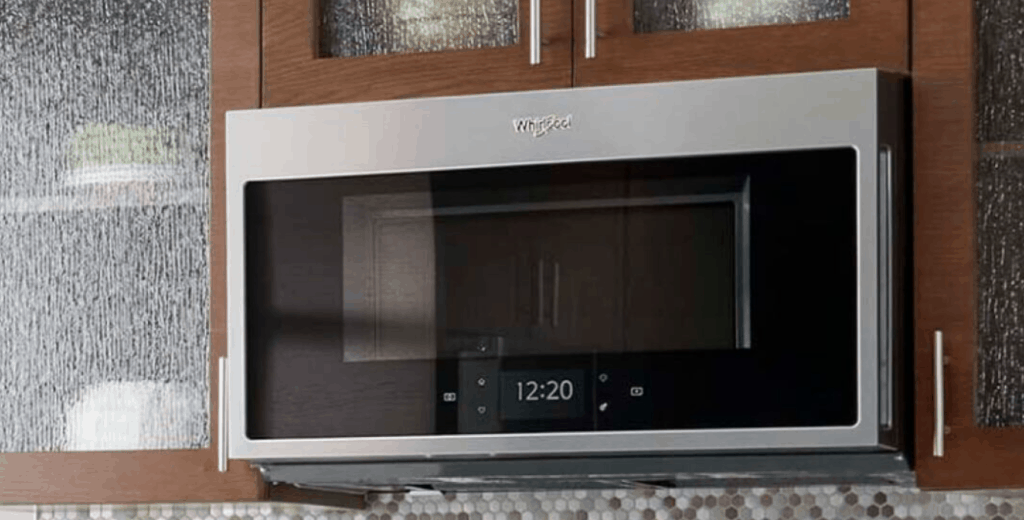 These are the top end of microwaves. They offer the best cooking versatility as they can cook, reheat, defrost, and even bake.
They usually come equipped with a rotating rack that evenly distributes heat in order to produce food that's beautifully browned on all sides without any scorching or charring of the surface. They are perfect for kitchens where you need an appliance capable of handling more complicated tasks like baking cakes and pies from scratch.
They are, however, by far the most expensive option out of the types of commercial microwaves listed.
Our Criteria
Before we break down our list of recommendations, we want to show you the criteria we used to choose the specific commercial microwaves we've listed. The commercial microwaves we've created here weren't randomly chosen. Instead, we carefully vetted each of the dough hooks in this list. 
All of the dough hooks we put in this list had to be:
Affordable

: We wanted to make sure we recommended commercial dough hooks for a variety of price ranges. That way, you can be certain to find a commercial microwave that fits perfectly in your price range.

Positive customer reviews

: Besides our own positive testing experiences, we made sure other customers using these dough hooks also had a generally positive experience.

Sturdily made

: We vigorously tested all of the microwaves in this list in a variety of different conditions. This way, we could ensure the microwaves recommended in this guide will withstand the wear and tear your business puts it through. 
What to Look For When Buying a Commercial Microwave?
So, what should you look for before purchasing a commercial microwave? One of the considerations you have to think about when looking for commercial microwaves is cooking power. But that's not all you'll need to consider:
Power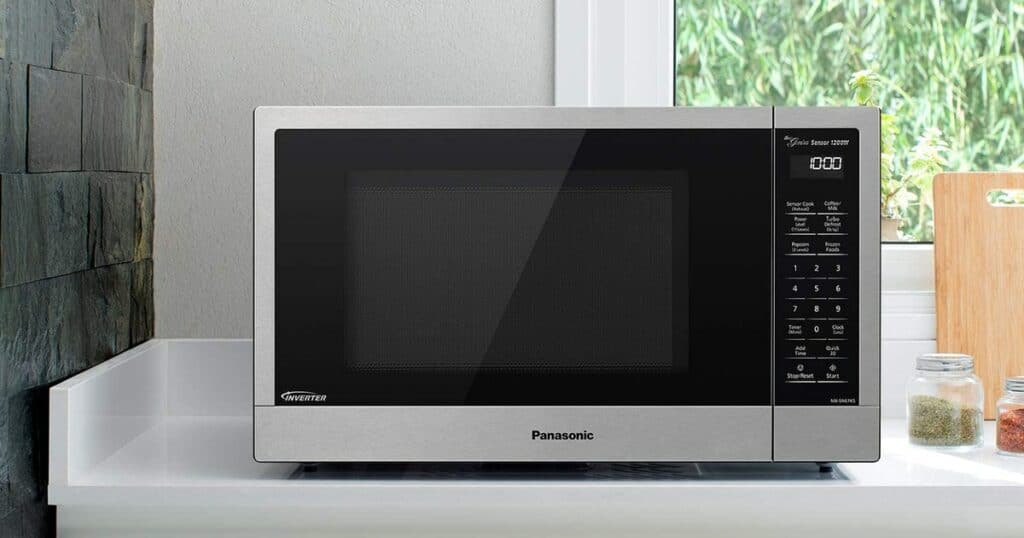 The best microwaves will have a wattage that can handle your needs and be able to cook everything from frozen dinners all the way up to baked goods like cakes or pies.
Safety Features
Another thing you'll want to consider when purchasing a commercial microwave is the safety features. For example, some include a sensor that will automatically turn off after reaching set time and power levels, as well as an auto-reheat setting for when you're cooking with wet foods or liquids such as soup or sauce so it doesn't boil over.
Capacity
Be sure to select a microwave that offers a capacity that suits your needs. If you don't need to reheat many items at the same time, then you may not need a high level of cooking power or as large of a microwave. With this in mind, it's best to think about what types of dishes and meals you'll need to cook, reheat, or defrost in order to determine what best fits your needs.
Size
Building on the internal capacity, the external size of your chosen microwave will also be important to consider.
Commercial microwaves can range in size from small countertop units perfect for kitchens where space is limited all the way up to large machines that are better suited towards commercial settings like restaurants or cafeterias.
Features
Aside from power and safety features, the best microwaves will also come with a variety of other great features. Some have a clock or timer in order to help you keep track of cooking times without having to hover over your microwave while it cooks, as well as an option for defrosting food, a grill setting, or any other programmable extras.
Manual or Programmable?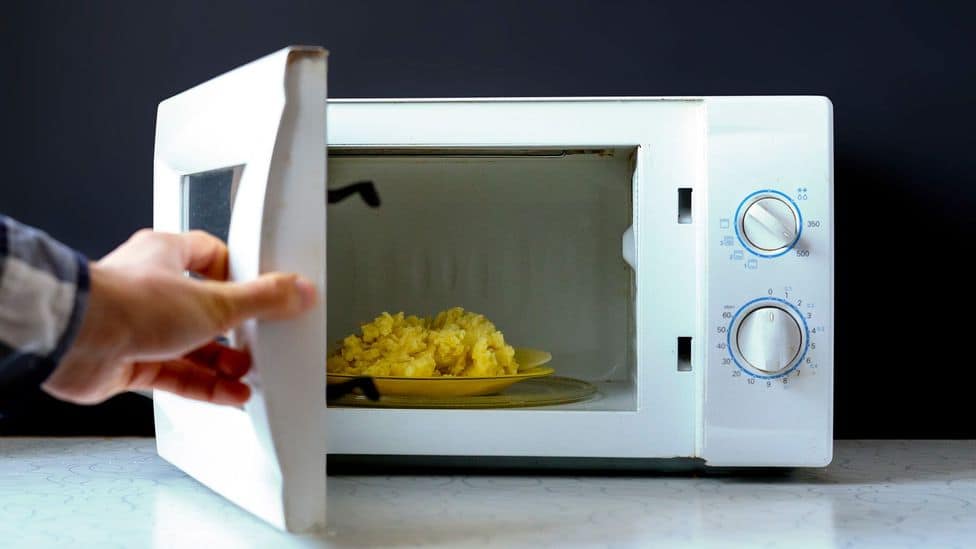 Do you want a manual microwave, which will come with a pre-set timer and power levels, or would you rather have one that's suited for more specific tasks and gives you the ability to program your own settings.
Light, Medium, or Heavy Duty?
If you need the best microwave for commercial use like at busy restaurants or cafeterias, then it's best to look for one that is either medium-heavy duty.
Light duty microwaves are best suited towards smaller kitchens or offices where space may be limited while the heaviest duty models can handle more complicated tasks such as cooking large batches of food or heating larger quantities of liquids like soup.
Brand
One of the best ways to narrow down your choice for the best microwave is by looking at brand and customer reviews. It's important that you take quality into consideration, but don't disregard cheaper options. If they'll work well for your needs then they could still be a viable option, and they'll save you a bit of cash as well!
Price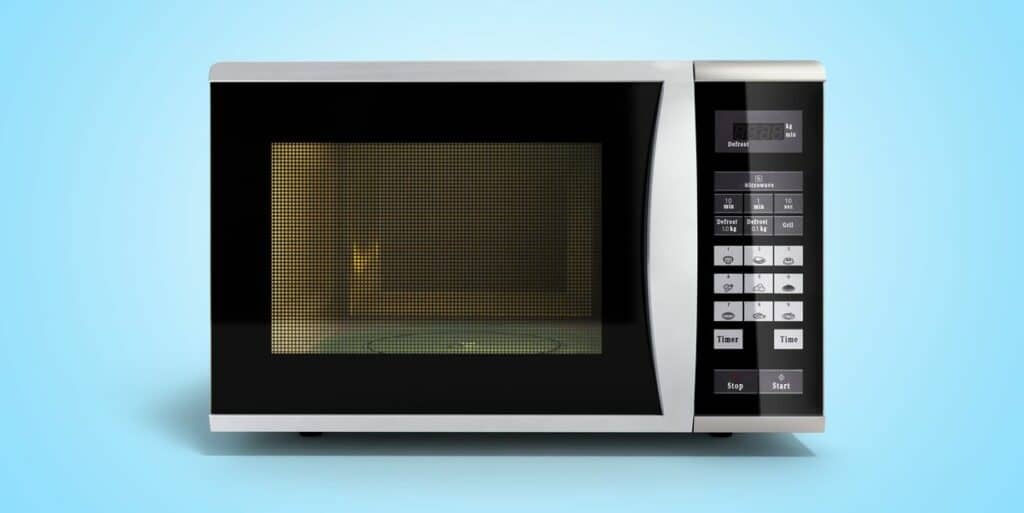 Commercial microwaves will come in a number of different price ranges. It's best to look for one that matches your needs and is within your budget.
Durability
Durability is important when it comes to the best microwaves. If you work with a lot of wet foods, then look for models that are professionally sealed to help prevent any liquids from leaking onto the heating element and causing damage. Furthermore, be sure to look for a commercial microwave with a stainless steel interior instead of plastic as these last longer without becoming damaged.
Warranty
As well as price, it's important to consider the warranty of the microwave. It's best to find one that offers a longer warranty so you don't have as much worry about damages long term.
Ease of Cleaning
Lastly, commercial microwaves can be one of the most used appliances in any kitchen. As with any commercial piece of cooking equipment, they will get dirty. Microwaves often get splashes of food on the inside and occasionally dramatic food explosions if foods are cooked too long or at too high a temperature. Therefore ease of cleaning is vital and the best commercial microwaves will have a non-stick interior and be simple to wipe down the exterior.
What Are The Best Microwaves For Commercial Kitchens?
Panasonic Countertop Commercial Microwave Oven NE-1054F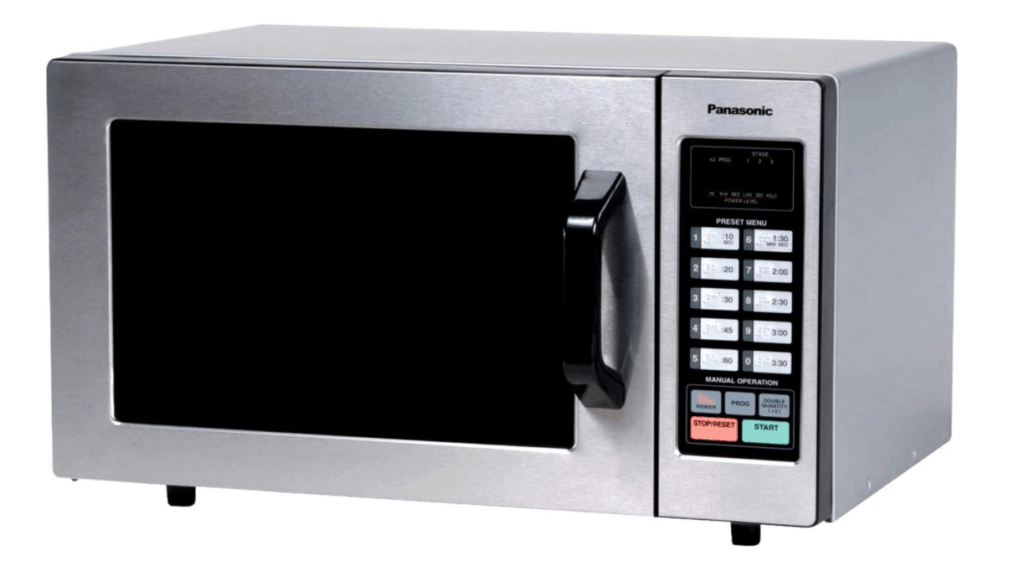 Are you in the market for a commercial microwave lightweight on price but not on features? Panasonic's microwaves should be your first port of call. This heavyweight countertop model is ideal for hotels, restaurants, fast-food restaurants, cafeterias, and many other types of catering businesses.
Its 1000W and 0.8 cubic foot capacity will give you fast cooking results and the bottom energy feed means increased efficiency and faster cooking. The touch control keypad offers 10 different programmable buttons, and 20-memory capability presets ranging from 10 seconds up to 3:30 minutes. It also has 6 power levels, so will literally have everything you need for your establishment.
The stainless steel exterior is easy to clean and the inside is simple to wipe down too. Plus, it's incredibly durable and comes with an NSF & UL certification.
Pros
This heavyweight microwave can perform a range of tasks
NSF and UL certified
10 programmable buttons
Affordable price
Cons
Silver design is quite plain
Noisy door and beeping
Sharp Electronics R-21LCF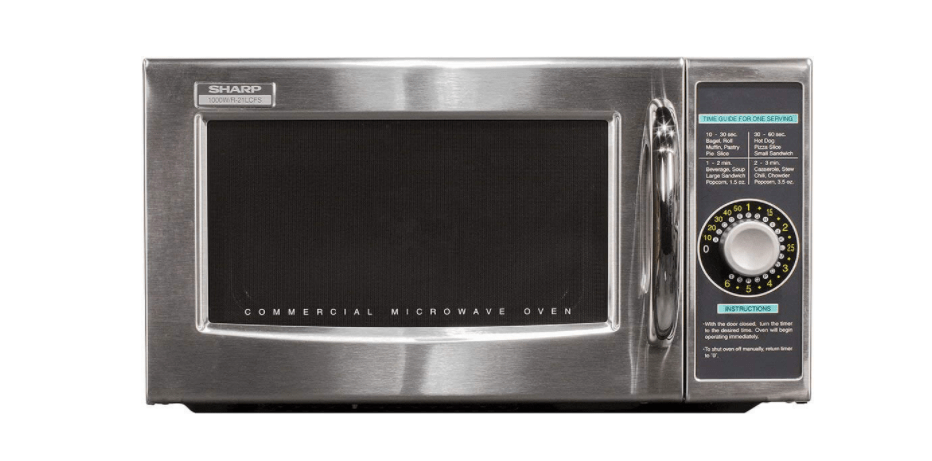 The Sharp R-21LCF is a fantastic microwave for your kitchen or any other specific location. It's important to maintain that comfortable simplicity we all look for in our modern kitchen appliances, and the R-21LCF does just that without lowering the overall high quality and great range of functionality.
The simple dial knob on the front allows you to easily adjust the timing in a way that a soft-touch keypad just doesn't do – it's all too easy to misclick, or not quite press the button with a keypad – but with this dial, it's always precise and easy.
On top of that, it features a heating time guide on the control panel which provides you with some popular foods and their required heating times, to make things easier still.
When it comes to cleaning, the Sharp microwave also excels. It comes with two removable splash guards which make cleaning it a piece of cake. The stainless steel exterior has an appealing vintage look but is also very simple to wipe down.
Pros
Convenient dial knob makes setting the timer easy
The heating guide helps you heat food quicker
Large interior space
Cons
Expensive
No panel to show how much time is left
Panasonic NN-SN966S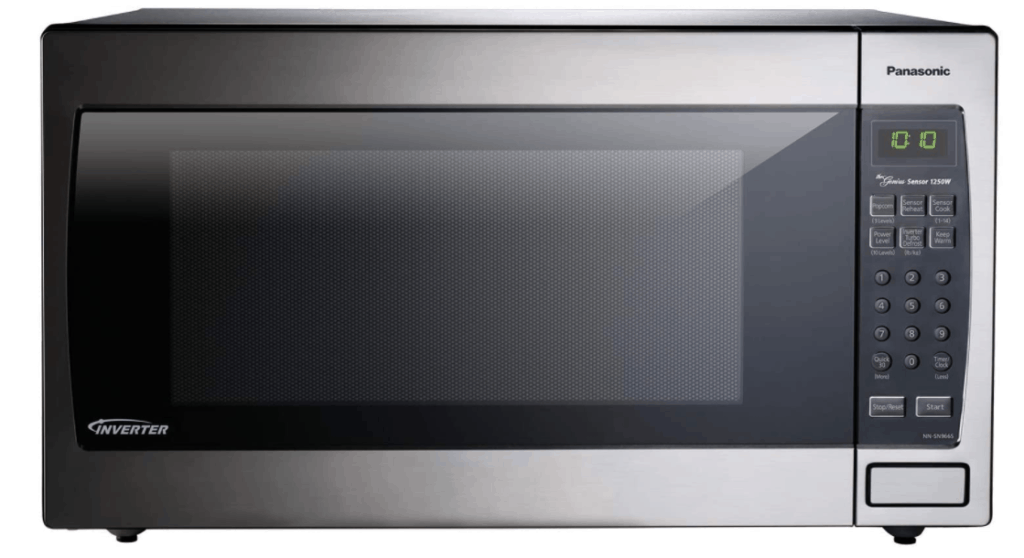 When it comes to commercial microwaves, Panasonic frequently rules the roost. The same can be said for the incredibly high-quality NN-SN966S. Frequently rated as the best commercial microwave currently on the market, the oven has a range of powerful and professional features.
The most important of these features being the inverter technology that Panasonic has used to maintain the microwave's energy without fluctuation. This cooks food much more evenly, and you end up with tastier, hotter dishes. It also has sensor technology that detects the levels of moisture in your dishes and cooks them accordingly.
Aside from fancy features, the 2.2 cubic feet can heat large volumes of food at once. It also has a high 1250 wattage output, comes with 12 preset items, a digital control panel, a 4-digit timer display, and a handy 'keep warm' feature to hold food at ready-to-eat temperatures.
Pros
Inverter technology cooks food more evenly
Sensor technology
Large 2.2 cubic feet capacity
High 1250 wattage
Cons
You sometimes need to press the buttons more than once
Loud beeping
NuWave XL-30 Quart Convection Microwave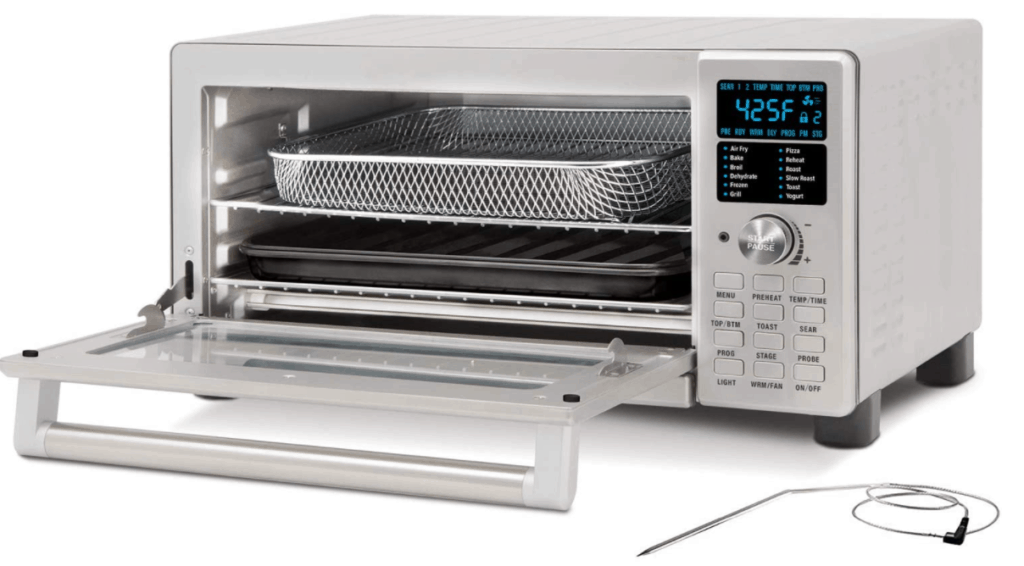 This 1800W microwave by NuWave has the power and versatility to do whatever you need it for, whether that means grilling burgers or reheating soups.
One of the most important items to look for when buying a microwave is how many cooking functionalities it has. The 12 preset cooking functions on this model include roasting, broiling, baking, and more, and will make your life much easier.
This microwave delivers its heating from three different methods. It works through conduction, convection, and radiant heat which penetrates the food and can reach up to 450° F.
The exterior is stainless steel with a brushed finish, there are racks on the inside that resist warping and offer stability when moving food around in the oven, and the handy tempered glass door allows you to easily see what's going on inside.
Pros
12 preset functions
Heats food up to 450° F via 3 different methods
Attractive brushed silver finish
Portable and smaller than a traditional oven
Cons
Control panel can be a little complicated to get used to
Amana HDC12A2 Heavy Duty Commercial Microwave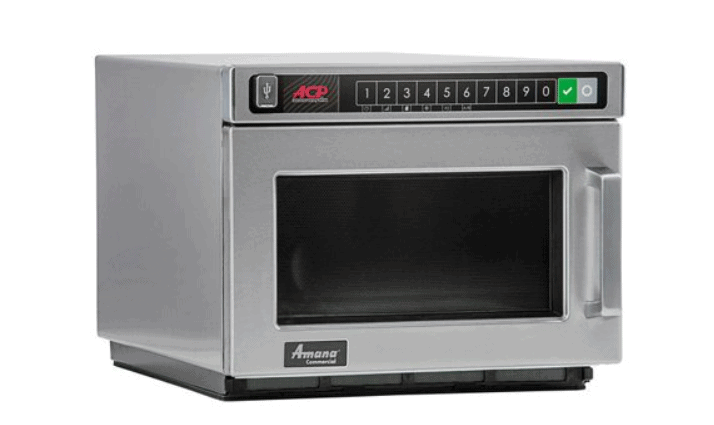 This 1200 watt Amana heavy-duty commercial microwave is constructed from durable, easy-to-clean stainless steel. It was designed with the professional kitchen in mind and has a sleek and modern look.
This microwave's 11 power settings and stackable construction will easily fit into a tight commercial kitchen space. It's superbly constructed, strong, and can fit most large objects, including entire plates of food. Before long, it will become the most relied-upon appliance in the kitchen.
Pros
Durable, strong construction
Sleek, attractive look
11 power settings
Stackable with other kitchen appliances
Cons
The Major Differences Between Commercial And Household Microwaves
Commercial microwaves are extremely different from your average household machine. They are best suited for larger kitchens. Any catering business that tries to use a common household microwave for their busy kitchen tasks will probably find out very quickly that they just aren't up to the task!
Microwaves designed for commercial use are made to meet the special needs of restaurants and other businesses. For instance, they have more power to handle the needs of large batches or dense, heavy items like casseroles.
They are also able to perform a variety of different cooking tasks, such as baking and grilling in addition to just being able to reheat dishes. There are models that can defrost, grills foods, and even boil water. These microwaves will often be much pricier than household devices due to their reliability and durability under constant use.
Commercial microwaves will often come with a variety of different features and options. This can include an auto-adjustable power setting so you know how much energy to put into your food (in order to prevent any overcooking or undercooking) as well as programming custom times if needed.
The most important consideration when shopping for the best microwave is whether you need one with an oven setting or not so if this doesn't feel necessary then it's best to go with a smaller model without all these extra features because your options will always be cheaper.
Advantages of Commercial Microwaves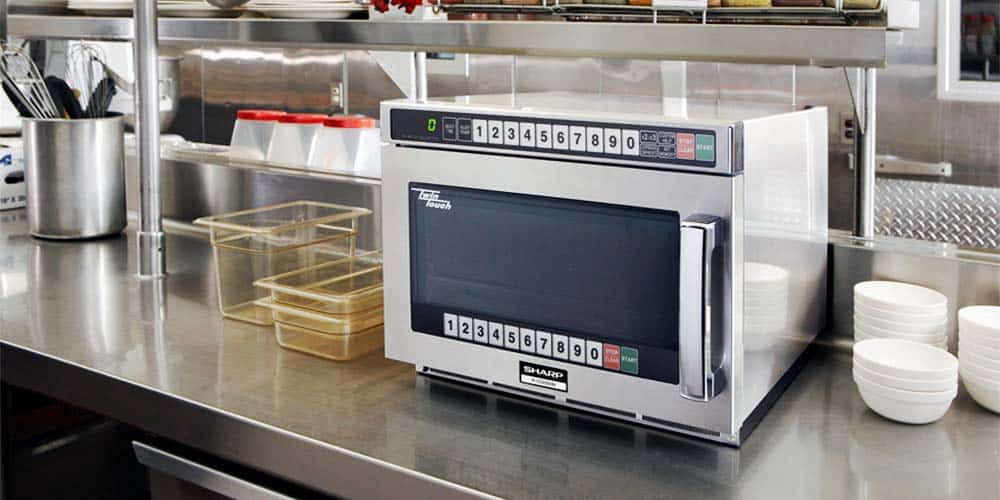 There are plenty of advantages to commercial microwaves:
Commercial microwaves are made to withstand constant use which is perfect for busy kitchens with a lot of dishes being prepared all day long.
They have more power and typically have a higher wattage, meaning they can handle anything from simple reheating up through baking casseroles or grilling pizza.
Commercial microwaves are able to handle a much higher quantity of food without having to worry about overloading and causing any damage – but they'll still get the job done quickly.
These types of machines will often come with a variety of different features and options such as an auto-adjustable power setting, as well as programming custom times meaning you can set a range of pre-determined programs for different dishes you want to cook.
Another advantage is that they come with a commercial warranty and can usually be serviced if there is ever any need.
Disadvantages of Commercial Microwaves
There are, however, a few disadvantages of commercial microwaves:
Bulkier – they are usually large appliances that can take up quite a lot of space, especially in smaller kitchens.
Prices are usually more expensive due to the special needs of this machine in a commercial setting.
Some people don't like how loud these types of devices can be when running, especially in an already noisy setting such as a restaurant kitchen where things move quickly all the time.
Design – they can be quite plainly designed in silver stainless steel without much variety.
Microwave Best Use Tips
When it comes to using a commercial microwave, here are a few best practices to follow:
When using the timer function on a microwave always set it for a little bit less than you want it to be in order to prevent overcooking your dish.
Always make sure the dish you put in the microwave, is microwave safe.
Follow the manufacturer's guidelines for correct use and best practices as well as any instructions for the specific item.
Read the microwave's manufacturer manual to get a full list of hints and tips, along with safety guidelines so you know how best to utilize this device in your kitchen.
Do not put metal bowls or utensils in the microwave.
Always cover food before you microwave it – this prevents it from drying out, and ensures that it doesn't splatter or explode and covers the inside of your microwave in food.
Clean your commercial microwave at least once daily at the end of every shift, although more it if gets particularly dirty during service. This will keep it clean and in good condition.
Stir your foods occasionally throughout their cooking time.
Be careful when removing dishes from the microwave, because the containers can sometimes get very hot.
Food should always be bubbling or steaming when you remove it from the microwave.
Wrapping foods in a damp paper towel or adding a cup of water to the microwave whilst you're cooking foods, can help to keep them moist when cooking.
Overall
Microwaves have come a long way since the first design was registered in 1946. From convection to turntables, and from compact microwaves for small households to large commercial microwave ovens, there's certainly plenty to choose from! Out of all of the microwaves on this list, we highly recommend the Panasonic Countertop Commercial Microwave Oven NE-1054F because of its durability and versatility.
It doesn't matter if it is your first time buying a microwave for your kitchen or tenth; if you're ready to start shopping, use our handy guide as a starting point.
So, go ahead and read up on all that there is to know about these handy little machines so that next time you find yourself at a commercial appliance store, not only will you be able to identify which type of oven would best suit your needs but also have a good idea of its feature set too. Happy cooking!