Latest posts by Alice Smith
(see all)
When you run a commercial kitchen, it is important to have the right equipment for food prep. But choosing commercial food prep equipment can be a daunting task. There are many different types of commercial food prep equipment, and each one has its own benefits and drawbacks.
These include blenders, mixers, knives & blades, bowls & pans, pots & pans, and much more. Some commercial food prep equipment is more expensive than others, while some take up a lot of room in the kitchen. When you think about commercial food prep equipment, you probably imagine huge restaurant kitchens with large, grey dishwashers and chunky, industrial ovens.
The truth is that commercial food prep equipment can be found in any size kitchen, from a small restaurant to a home-based catering company. It's perfect for large-scale operations as well as smaller businesses because it offers the best of both worlds: convenience and efficiency.
In this blog post, we will discuss some of the best pieces of commercial food prep equipment, some pros, and cons of, safety tips, and answer some frequently asked questions.
What is commercial food prep equipment?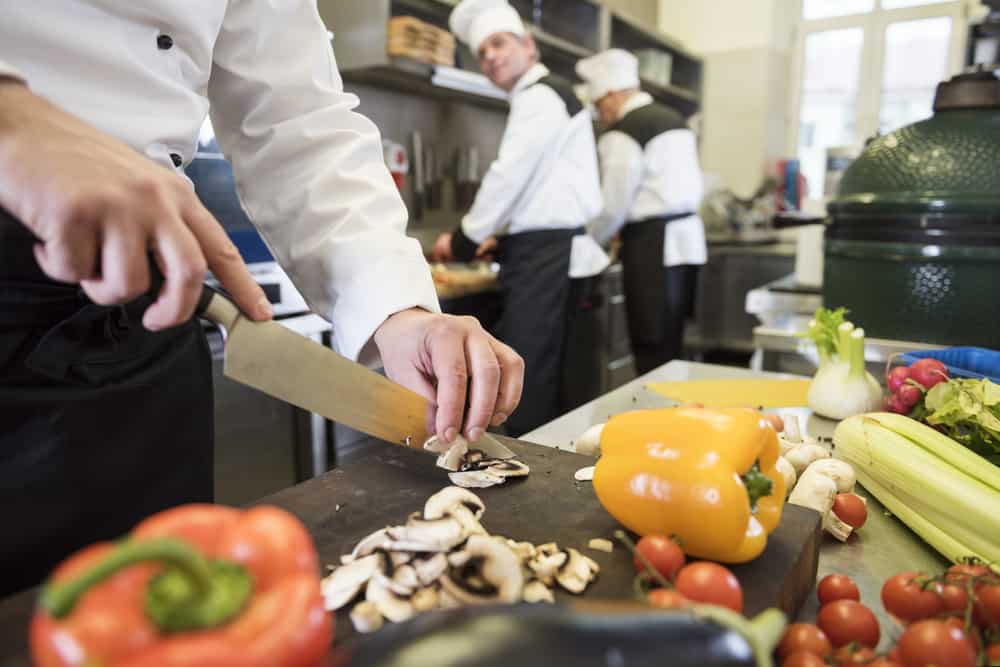 Commercial food prep equipment is equipment that is used for food preparation in a commercial kitchen. This includes everything from slicing foods, to mixing foods, and every type of food prep you can think of. Having the right equipment can make all aspects of prep more efficient, improve service times, and reduce your business's day-to-day operating costs.
This is because food prep tasks, for instance, vegetable preparation such as slicing and chopping, kneading dough, making sauces, and even washing dishes, are typically conducted manually by a chef. However, this can be long, tedious work, and takes lots of time out of a chef's busy day – in fact, prep is one of the most time-consuming tasks in a commercial kitchen.
That is where food prep equipment comes in. Commercial prep equipment is designed with enhanced durability and safety features to make it more efficient in a busy restaurant setting. With additional appliances to help prepare food (food processors, blenders, mixers, mincers, and more) the process of cooking and preparing ingredients will be much fast or even completely automated.
So, whether you run a café, gastropub, bakery, or busy restaurant, this selection of cutting-edge food prep machines will help you reduce operating costs and drive efficiency.
What are the best pieces of commercial food prep equipment?
So, what prep equipment should you have in your kitchen?
Some of the top pieces of commercial food prep equipment that any catering establishment might use includes:
Stick Blenders
Food Processers
Dough Mixers
Blenders
Dehydrators
Food Blenders
Bar Blenders
Pasta Makers
Mincers
Let's dig into these in a bit more detail:
Stick Blenders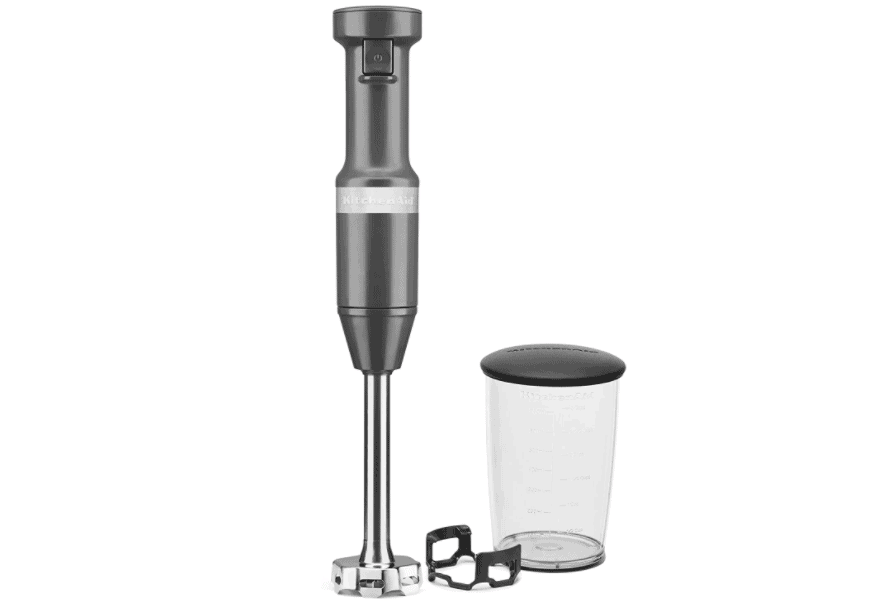 A stick blender is a type of blender with a long, stick design that is perfect for commercial kitchens. Commercial stick blenders or hand blenders are a kitchen essential and can seriously save time in food prep.
These units are designed to be used directly in pots and pans, so chefs can boil up a soup mix, take it off the hob, blend instantly, and serve. Much easier than scooping ingredients manually into a separate container to be blended. This also comes in handy for mobile catering or other situations where a countertop blender may not be available.
A commercial blender can simplify many processes in a professional kitchen. They are designed to mix and blend enormous amounts of foods including huge batches of soups, sauces, batters, mayonnaise, gravies, and many more.
Food Processers
Commercial food processors are also designed specifically for handling large amounts of ingredients. The powerful motors make them ideal for chopping vegetables into chunks, shredding chicken, or grating large quantities of cheese, or many other functions.
It's even possible to prepare bread or other types of dough using these machines. This doesn't require half as much manual labor as kneading by hand does. This is just one of the reasons food processors are an essential piece of prep equipment, especially if you're looking to save time and streamline your kitchen operations.
Because of their varied uses and dramatic time-saving capabilities, they come in a range of sizes and styles to suit a range of commercial kitchens. Food processors are a fantastic way to reduce preparation time and provide consistent appearances and textures to your dishes.
Dough Mixers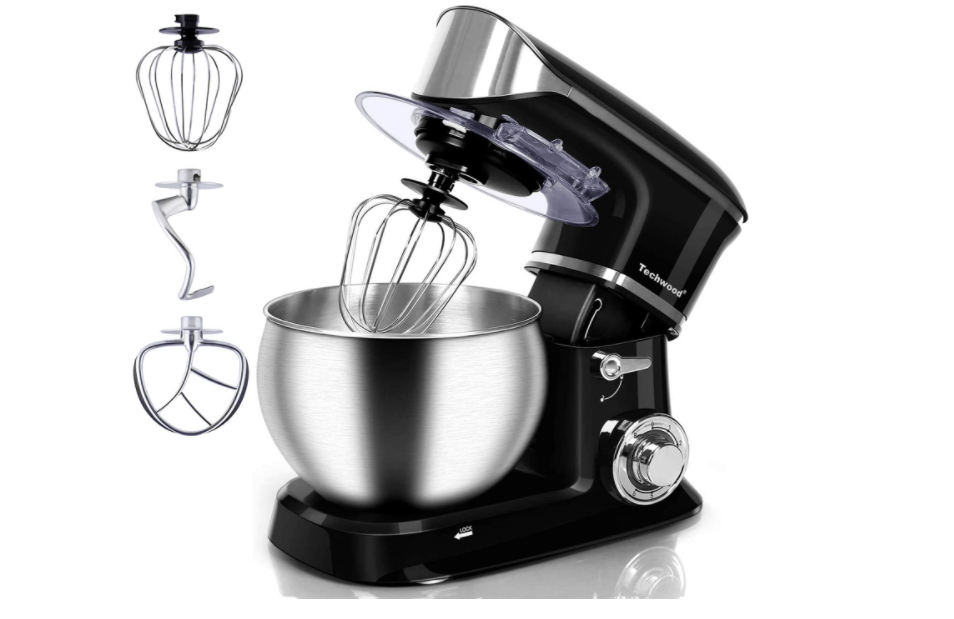 Another commercial food prep machine that is perfect for saving time in the kitchen is the dough mixer. These units are primarily used for preparing pastry crusts, pizza bases, or bread dough with minimal manual labor required – mixing everything by hand just doesn't compare.
The commercial dough mixer is often a favorite with Italian restaurants, bakeries, cafes, breakfast restaurants, or any other type of kitchen that serves its own bread. They are also very easy to use, versatile, reliable, and low-maintenance machines.
Which dough mixer you go for will depend on the type of kitchen that you have, how much you will be using the mixer, and how much space you have available, as some of the machines can be rather chunky.
There are many different types of dough mixers on the market, each with its own benefits and drawbacks. But the two basic types are planetary mixers or single screw machines.
Planetary dough mixers are best for mixing denser bread doughs because they are much heavier and have the ability to process larger quantities of ingredients. Single screw dough mixers on the other hand are perfect for mixing lighter bread doughs or pizza crusts because they require less power and are smaller.
However, if you cook quite a range of dishes, then the best option might be something like an all-in-one commercial stand mixer as it comes equipped with many tools including attachments such as paddle beaters, wire whip, hook mixers, dough hooks, and more. This makes it possible to use one machine for multiple cooking projects, which is both much more convenient and saves space on your countertops.
Slicers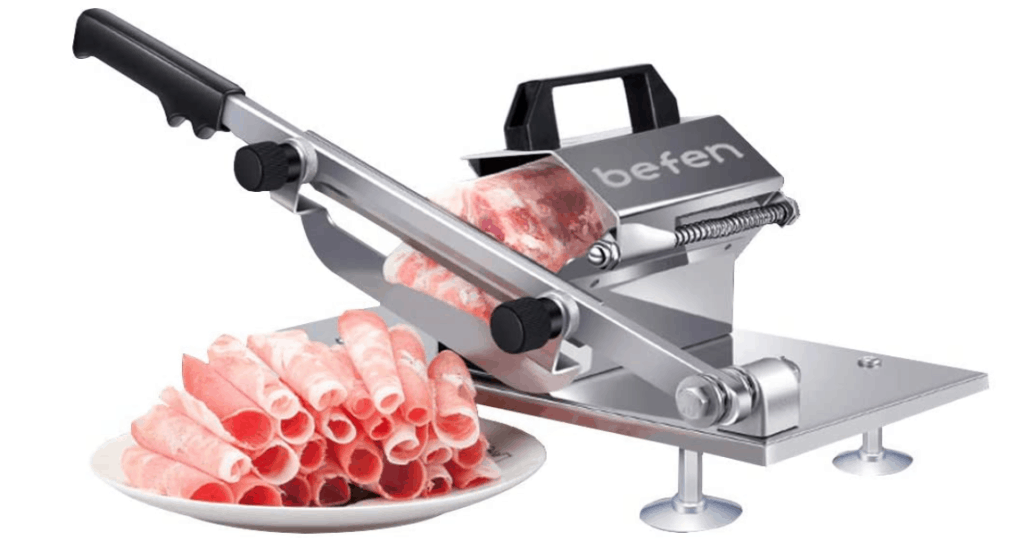 For uniform slices of cheese, veggies, or meat, slicers are an essential investment for your kitchen. These food prep machines come in two different types: commercial meat slicers and commercial vegetable slicers.
Meat slicers are used for slicing cooked meats into uniform, paper-thin slices- perfect for preparing deli items on a regular basis. They often include rotating blades to ensure consistent thickness across all your cuts of beef, chicken breast, ham, pork loin, or other types of meat.
Some models also have an adjustable guide so you can control how thick or thin the slices are going to be. They are easy and quick to clean with many models including removable parts which makes them easier than ever to maintain too. Meat slicers were designed to help with precision, reduce waste, and control portion sizes, which they do effortlessly.
Commercial vegetable slicers work in a very similar way but for slices of vegetables and fruit instead of meats. They can be used to chop, or slice, your ingredients in a fraction of the time it would take by hand, and a great for salad bars, or restaurants that serve lots of salad garnishes with their main meals.
Food Blenders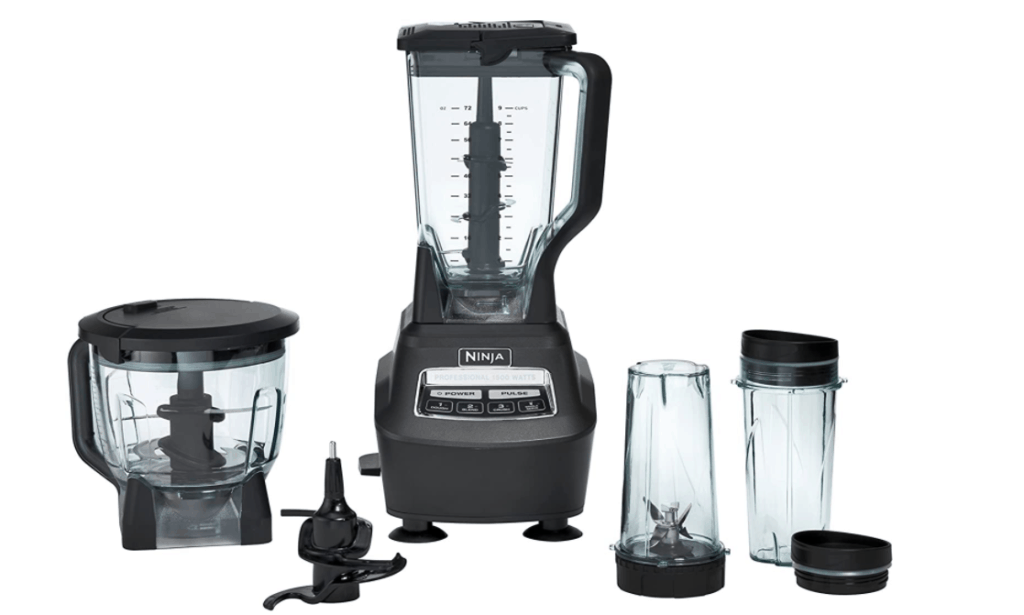 People often confuse blenders with food processors, but they have two very different purposes. While a food processor is mainly used for chopping, slicing, or grating ingredients, blenders are designed for blitzing whole ingredients into a liquid. They are great for making soups, sauces, smoothies, and shakes.
While commercial food processors can also be used to blend ingredients, they are not designed for it and will often result in a gritty texture, a lumpy finish, or half of the ingredients blended whilst the rest is smeared up the sides of the bowl.
Blenders are designed to produce a smooth finish every time. Commercial blenders are much larger (so are able to handle larger quantities of ingredients), much more hardwearing, and easier to clean than their household counterparts. Blenders also come in variable speeds which you can mix up depending on the type of food you're blending.
The two main types of commercial blender units available are immersion blenders and traditional commercial blenders with pitchers. Immersion blenders are also known as stick blenders which we covered earlier in the article.
In comparison, commercial blenders have a container, a motorized base, and spinning blades that blend your ingredients quicker and more efficiently than immersion blenders can. But they do take up a lot more space on your countertop and are usually more expensive.
Bar Blenders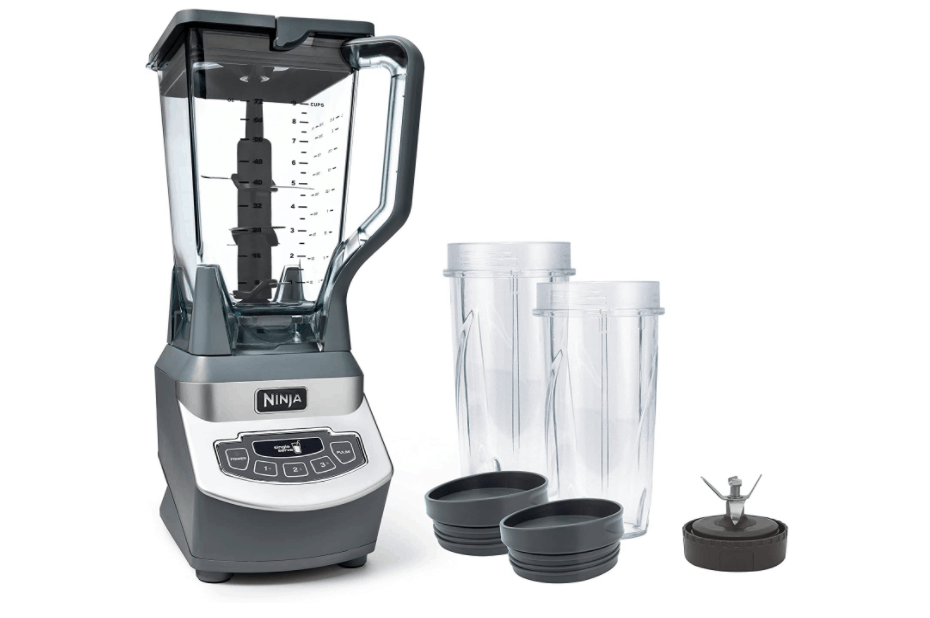 Very similar to commercial food blenders (above), bar blenders are also able to blitz ingredients to a pulp quickly and easily. They're typically used to make cocktails, smoothies, or milkshakes and have large containers which can blend up to two liters, and sometimes more, of ingredients at once. This makes them perfect for fast-paced bars where the drinks need blending in bulk.
They have plenty of advantages: made from commercial quality materials, they are usually dishwasher safe, durable, and long-lasting. Of course, they will also cut your prep time in half, and allow bartenders to whip up delicious drinks easily, quickly, and perfectly.
The disadvantages of these commercial blenders? They can take up a lot of space on your bar or countertop, and some are very expensive, costing up to and over $1000.
To save money, some commercial food processors or food blenders also have a bar blender function, which is perfect for those who don't want to buy two separate machines. But if you're after a dedicated machine that lives behind the bar and don't want to keep moving it back and forth into the kitchen, then it'll be much simpler to invest in a dedicated bar blender.
Dehydrators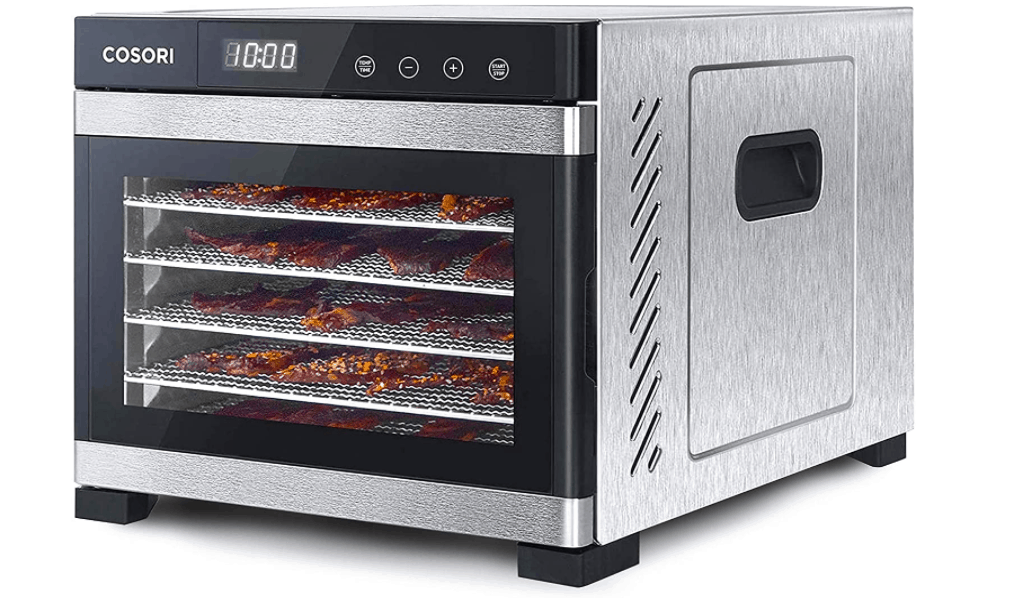 A dehydrator is commonly used to extend the lifespan of your food. Unlike a typical oven or microwave, it is able to dry food in a fraction of the time it would take using other methods, which once again great for saving time on food prep.
They are an inexpensive and convenient way to make all sorts of dried foods, with textures ranging from crispy to chewy. Dehydrators really help you to expand your boundaries as a chef.
They allow you to create decorative garnishes for appetizers and desserts such as edible potpourri, or slices of dried fruit; they also allow you to create homemade yogurt, beef jerky, and a whole range of other delicious and unusual food products.
Pasta Makers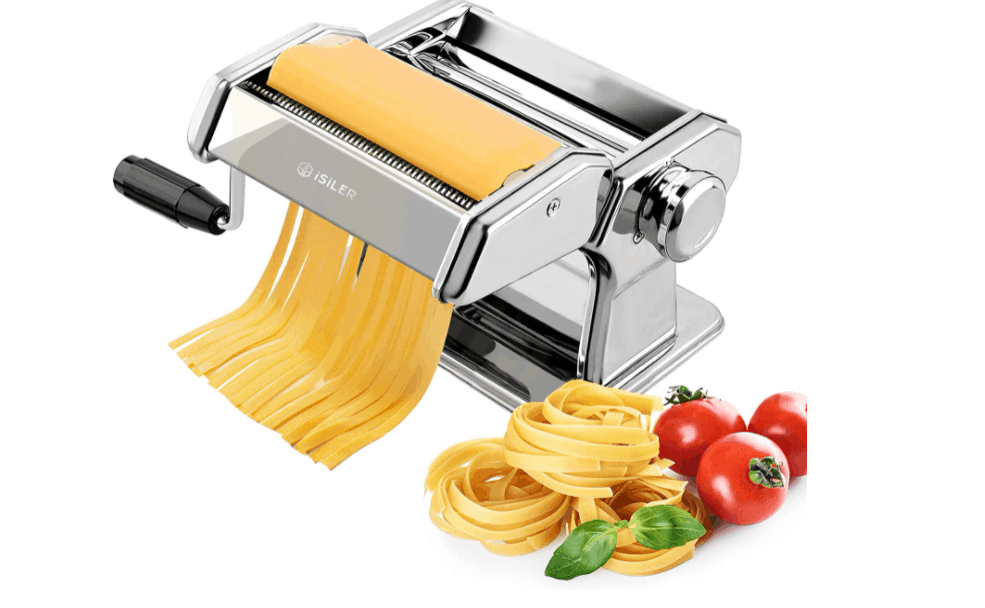 For unbeatable homemade Italian cuisine, the perfect pasta maker is essential. Commercial pasta makers can create large quantities of fresh spaghetti, fusilli, pappardelle, cannelloni, penne, macaroni, and even more types of pasta quickly and efficiently.
What's more, commercial pasta machines are very easy to use – they allow you to make pasta dough in minutes compares to using your hands, and most commercial pasta machines come with several different attachments for each type of pasta.
There are two different types of commercial pasta makers: a manual machine or an automatic one. The manual machine will usually have a handle on one side which you rotate, and the pasta will come out the other end. The automatic pasta machine has a motor that rotates for you to create the dough, whilst making sure there are no air bubbles or dry patches.
Although they will both provide you with the perfect pasta shapes, which one you invest in will usually depend on how much time you have, how much budget you have, and how much space you have. The manual machines are considerably smaller and cheaper than the electric, however, it is more time-consuming to make pasta with them. The eclectic on the other hand practically does it all for you, but they can be bulky and often come with a steep price tag.
But, if you need to regularly make handmade pasta from scratch, either would be a worthwhile investment and both of these machines will last you years to come.
Mincers
If you make homemade burgers, meatballs, or simple mice dishes like chili con carne or spaghetti bolognese, then a mincing will likely be an important part of your food prep routine. A commercial mincer will help you to create finely ground meat in a fraction of the time it would take with other methods.
These high-quality food preparation appliances are reliable and provide a simple method for creating delicious homemade mince. Many commercial mincers can also be used as grinders too if they come equipped with different attachments.
The only disadvantage of commercial mincers is that they can, once again, take up a lot of space on your kitchen countertop. So it's important to consider your needs before you buy. If burgers are high up on your menu, then a commercial mincer will improve the quality of your product, save you money, and save a lot of prep time. In this case, it would definitely be worth your money.
The Major Differences Between Commercial Food Prep Equipment and Household Food Prep Equipment
There are plenty of benefits to commercial food prep equipment, but it's important to understand the major differences between what you'd buy for a restaurant, what what you'd buy for your home kitchen. For example, it's not advisable to take your bender from home and try to use it in your commercial kitchen – you'll likely spend a lot of time emptying and refilling a small container, and frequent use could easily damage the mechanism.
The first thing you're probably thinking about is the price. Yes, commercial machines are usually a lot more expensive than their household counterparts. But this doesn't mean they're not worth the investment – in fact, commercial food prep equipment will save you time on many of your other jobs! They'll also last much longer with regular use too, which ultimately makes them worth the money.
So, when it comes to stocking out your professional kitchen, it's always best to go for professional equipment. But, here are a few advantages and disadvantages of each:
Advantages of Commercial Food Prep Equipment
Commercial food prep equipment is made from high-quality materials and is often more durable than household appliances.
The commercial kitchen is a clean environment. As such, food prep equipment is designed to be easy to clean to prevent the risk of cross-contamination between foods.
Comercial equipment often has additional features that household equipment doesn't need.
It's usually larger, and so it can prepare higher volumes of ingredients at once.
It can also operate continuously with less risk of breaks, or overheating from frequent use.
Commercial prep machines are built for industrial cooking and designed to be tough enough to withstand a commercial kitchen environment.
Equipment comes with a commercial warranty, which will cover you if anything was to break or go wrong.
The Disadvantages of Commercial Food Prep Equipment
They are larger machines which will take up more space in your kitchen.
They are usually much heavier too, making them less portable and harder to move.
They can be expensive to run and use a lot of gas and electricity.
Machines can be much pricier to buy – and so it's worth researching beforehand what type of equipment would suit your needs best to both make it cost-effective and to make sure it's right for your commercial kitchen.
They can be expensive to repair or replace if something goes wrong out of warranty.
Commercial Food Prep Equipment Safety Tips
Safety in a commercial kitchen is paramount. Mistakes, carelessness, and improper training can all lead to injury of staff and customers, or cross-contamination of food.
So, here are a few prep machine safety tips to help you keep your kitchen running smoothly:
Don't ever let anyone operate a commercial prep appliance if they're not trained properly or aren't familiar with how to use it.
Make sure everyone knows how to shut down machinery safely in case of emergencies.
Always thoroughly sanitize all commercial prep equipment after use, particularly equipment that's been handling raw or cooked meat, like slicers or mincers.
Keep commercial food preparation areas well lit – even with the correct amount of training, insufficient light can cause slips and accidents.
Make sure that anything electrical has an approved plug or power source; always turn off appliances first rather than unplugging them directly by hand.
Ensure no liquid falls on or gets into power sockets.
If it feels like an appliance is overheating, switch off the appliance immediately and wait for it to cool down.
Our Top Commercial Food Prep Equipment Recommendations
Chef Works K472 Dynamic MX91 Stick Blender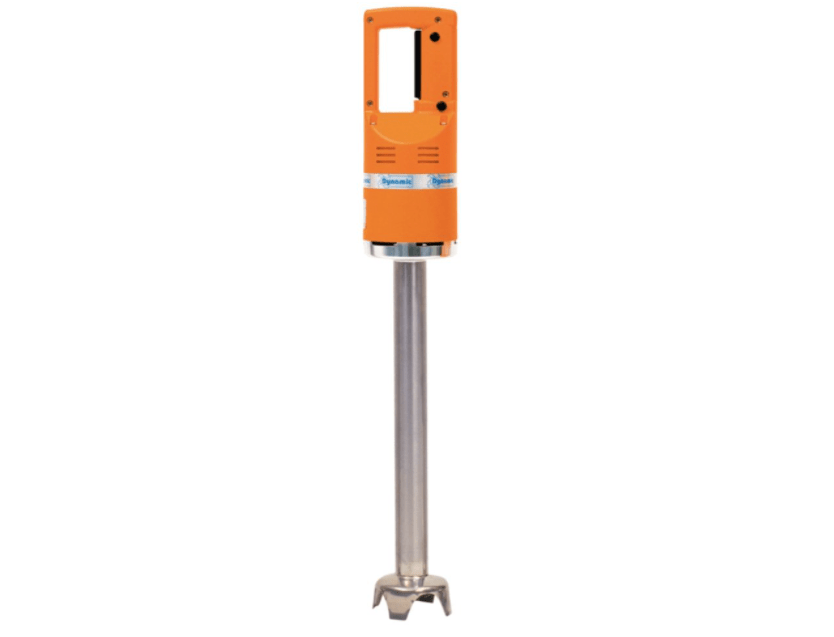 For a great, all-around blender, this stick blender by Chef Works is a fantastic option. It has an incredible long blending arm which gives it a massive blend capacity of 100 liters. This is long enough to reach the bottom layer of most commercial pots and pans, and suitable for mass cooking operations.
The arm is stainless steel for seamlessly easy cleaning and it has a safety lock button to minimize accidents. However, it only has a single speed, which may not be desirable for some kitchens, and it is quite an expensive model. For smaller organizations, you could probably buy something smaller and achieve similar results, but for large-scale kitchens, it is ideal.
Pros
Massive 100-liter blend capacity
Very long blending arm
Easy cleaning arm
Cons
It only has a single speed
Expensive
Breville BFP800XL Sous Chef Food Processor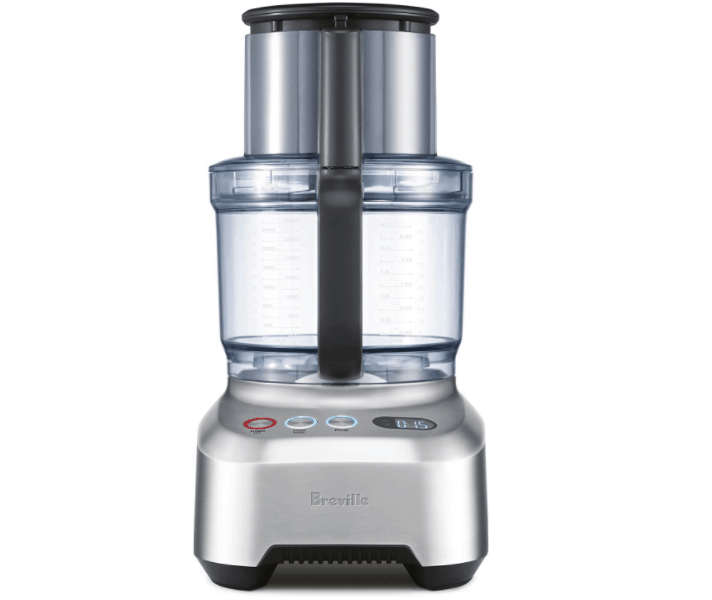 For a state-of-the-art food processor, you'll love this Breville model. It is powerful enough to handle any type of food you can make and it comes with plenty of useful features. The wide feed tube makes it easy to produce beautiful, uniform cuts in tough vegetables, and with the many blade options, you can complete a variety of kitchen prep tasks.
The heavy-duty 1200-watt motor was designed for frequent use and the 2.5 cup mini-processing bowl and 16-cup lidded work bowl are both great for large or small tasks.
It also has a range of useful safety features. The 4 rubber anti-slip feet keep it secure on your worktop. The silicone seals will prevent leakage of liquid foods while an automatic safety lock means the machine will turn off if it is accidentally opened.
Not limited to any particular kitchen space, the blender's parts are easy to store either vertically or horizontally. It even comes with a stackable storage case for all removable parts. The blend containers are detachable and made from BPA-free plastic for easy cleaning.
Pros
Comes with 3 blades and 5 discs
Non-slip feet
Large and small food pusher for all types of ingredients
The inclusive safety braking system
Powerful motor
Cons
Minneer Electric Commercial Pasta Maker Machine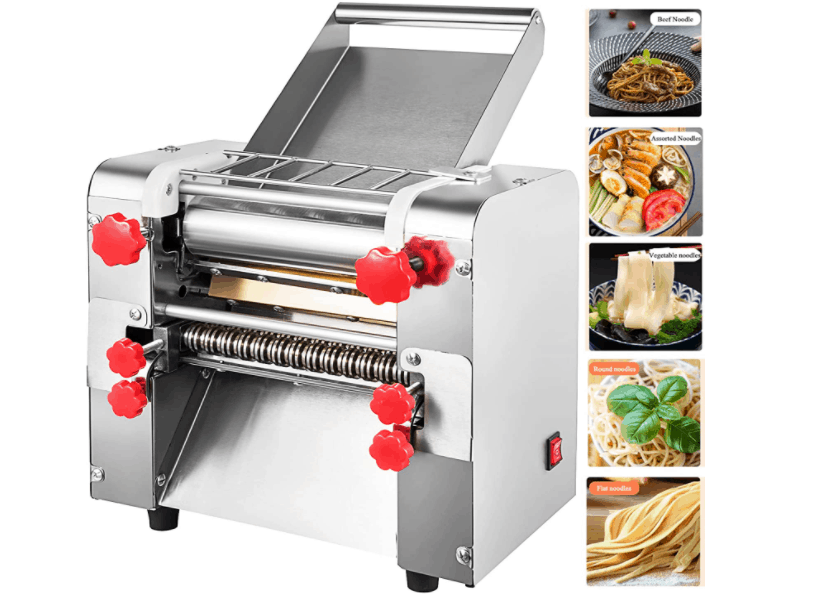 For effortless pasta-making, this machine by Minneer is commercial-grade. It is heavy-duty and can produce fettuccine, lasagne, linguine, spaghetti, and even other food items like vermicelli or Chinese noodles.
It has an adjustable thickness setting and can create thick stips of pasta or noodles that are thin but not too thin – perfect for cooking al dente. The thickness of dough can be adjusted between 0- 20mm, while the thickness of the pasta itself can be between 3mm or 9mm.
Made from solid food-grade stainless steel, this machine is remarkably hard-wearing and will last you for years to come. The 2200W motor is incredibly powerful whilst being reliable, and it has automatic overheating protection to prevent accidents. The entire machine is also very easy to clean – simply wipe with a cloth after use.
Pros
Adjustable dough and noodle thickness
Durably made to be long lasting
Powerful 2200-watt motor
Cons
Chef's Choice 615A000 Meat Slicer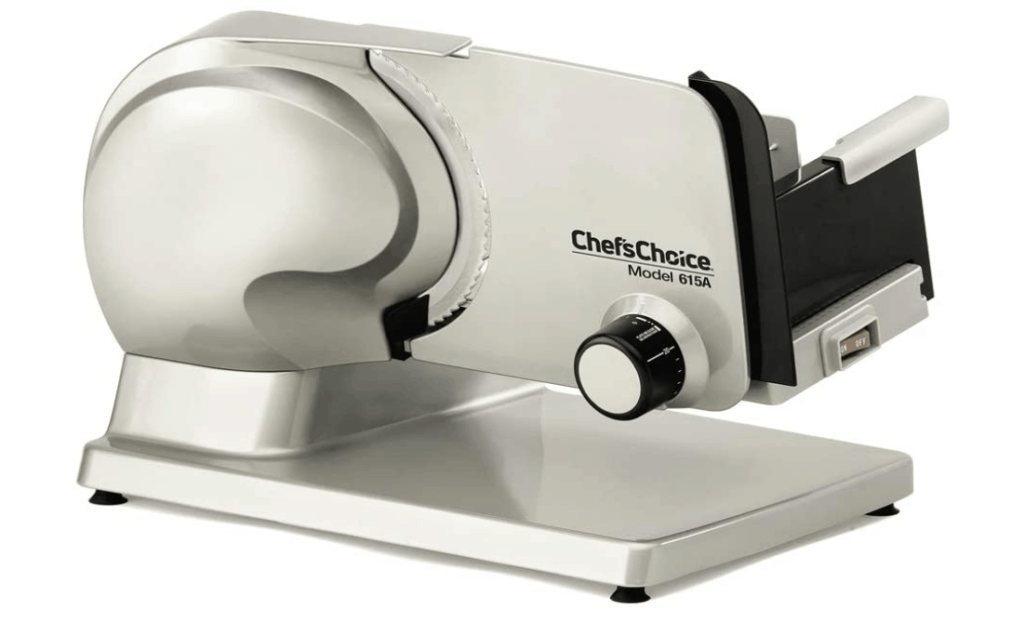 For a high precision and even higher speed slicer, look no further. This versatile machine has a high-powered 120-watt motor, capable of providing a wide range of slicing capabilities. It's also super quiet, which means no additional noisy kitchen appliances in your kitchen.
This food slicer by Chef's Choice is a master craftsman and can produce thin slices of bacon, jerky, ham, pork, or bread for restaurants, delis, or other catering establishments. You can slice either wafer-thin shavings or inch-thick chunks of meat. There are also plenty of safety features – a titled cartridge prevents slips, the locking button will secure it in the correct position, and the non-slip feet prevent it from sliding around on your worktop.
Lastly, the compact size will fit on most kitchen counters, the cast aluminum, and stainless steel construction will ensure durability, and the detachable parts make this machine very easy to clean.
Pros
Powerful, quiet motor
Can slice in a variety of thicknesses
Lots of safety features
Cons
The thickness knob can be stiff
Suction cup feet can sometimes get stuck
fAQs
Question: What is commercial food prep equipment?
Answer: Commercial food prep equipment is a type of kitchen prep equipment that is designed for commercial kitchens. It's usually more powerful than regular food prep machines and more durable. It's also usually larger and heavier duty, as it's designed for commercial use rather than more casual home use.
Question: How long do commercial food prep machines last with regular use?
Answer: Commercial-grade usually means a longer lifespan and commercial food prep machines can last up to 15 years with regular use, much longer than household equipment. Commercial equipment also comes with a commercial warranty that will take care of any repairs or replacements early on, which is another reason they'll likely stick around for longer.
Question: What features does commercial cooking equipment have?
Answer: Commercial kitchen equipment can handle a wider variety of tasks. They are also usually larger and heavier duty – which means that they can handle the high volume of use from commercial establishments.
Commercial equipment often comes with various attachments depending on what you need them for (for example, slicing, grating, or blending). They will have advanced safety features like automatic shutoff functions as well if they are motorized, a range of pre-programmed functionality settings, and advanced modes too for more kitchen versatility.
Question: How do I choose the right type of commercial food prep equipment?
Answer: The type of commercial food prep equipment you need will depend on the tasks you want to undertake. For example, if your commercial kitchen is small and doesn't have much storage space then you might need more compact equipment.
If you're looking for versatile machines with various attachments, then be sure to pick out one that'll suit your needs. No matter what task or project in mind, be sure to think before you buy and choose the option that best suits your kitchen and can handle all those tough jobs.
Question: Where can I buy commercial food prep equipment?
Answer: You can buy commercial food prep equipment in many industrial kitchen and restaurant supply stores. This will give you access to a range of different options, which you will be able to view beforehand. You'll also be able to ask the store experts for help with your decision.
Usually, it'll also be possible to purchase online, through a catalog or an online marketplace like Amazon. Whilst this might give you an even larger range of available supplies, the downside to this is you won't be able to view the item beforehand or ask people for help.
Question: What commercial food prep machine should I buy for my commercial kitchen?
Answer: There are a lot of different commercial food preparation machines available on the market, so it's important to do your research beforehand. Commercial food prep equipment will vary in size and number of features, which can make choosing one difficult – but be sure to put your business's needs first, and you'll likely end up with a machine that will last you years to come.
Overall
There you have it! There is plenty of commercial food prep equipment that will all be a great asset to your restaurant kitchen. They are durable and powerful machines, but also come with modern features like safety functions that keep you safe in the workplace. We hope this article has helped you find the best commercial food preparation machine for your kitchen needs.