Latest posts by Alice Smith
(see all)
The key to a successful buffet isn't just in the food. It's also about how the food is presented, what ingredients are used, how hot the food is served, and, of course, how it tastes.
This is why having the best buffet and banquet equipment for your business is so important. There are all sorts of buffets around the world: breakfast buffets at hotels, all-you-can-eat buffet restaurants, school cafeterias, and banquets and party buffets.
Each of them may need something slightly different depending on what they are serving. But when it comes to any buffet or banquet, the right buffet equipment can make or break your business. You want to choose equipment that will get the job done, while also being cost-effective for your catering needs, and well presented for guests.
In this blog post, we will go over some of the most popular types of buffet service available, what kind of buffet equipment is best for each, and some recommendations on who we think makes the best products in this space!
Buffets and Banquets and Their Uses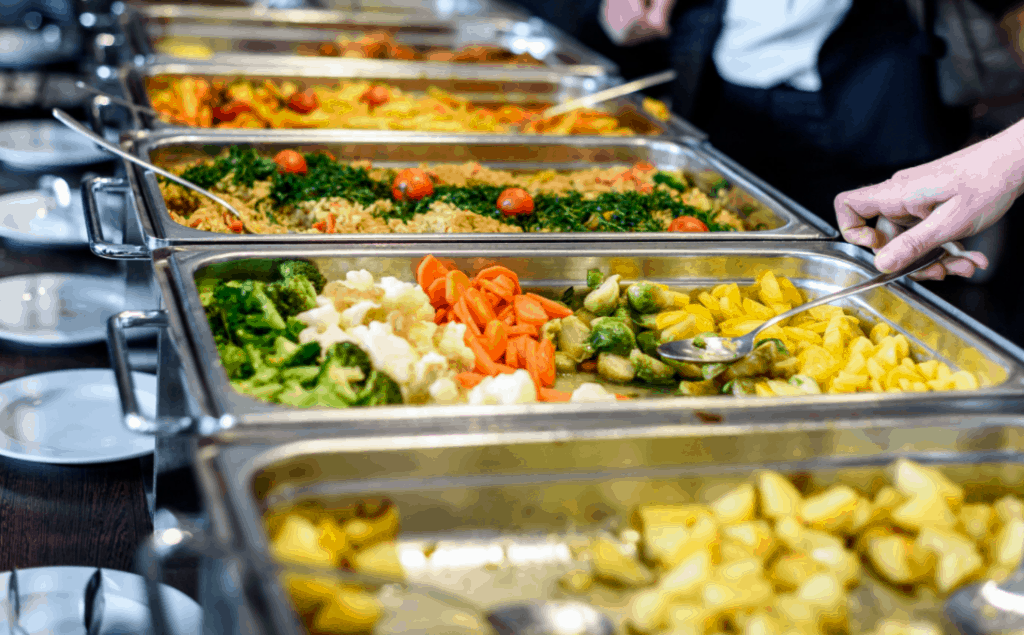 We've already touched slightly on the different types of buffets and banquets, but let's dig into this in a little more detail. Buffets date back years; they were once a way to show off the wealth of your family. The name came from France where a 'buffet' was originally the piece of furniture used to serve this type of meal. It later became the name for the food and style of dining itself.
Buffets are now a favorite for people hosting parties or having guests over; they're popular in restaurants and rotates or office dining. It's an easy, versatile way of serving food – all you need is a large hall or room, and a suitable serving station.
Banquet Halls are typically used for buffets. They can be village halls or rooms in hotels and are often used for weddings and other large events that require catering services. A banquet hall can also function as a meeting space for work-based presentations and is served with a simple buffet lunch.
These days, there's no limit on the type of cuisine used for buffets either. You can have Chinese buffets, Indian buffets, simple sandwich buffets, finger food buffets, and even global buffets with food from all around the world.
So, if you're thinking of going into the buffet or banqueting side of catering, there is endless possibility. There is also plenty of equipment that you'll need to buy.
What is the Best Buffet Equipment for your Food Service?
These are the different types of buffet equipment you'll need to invest in:
Drop-In Food Warmers and Bain Marie
Warming Drawers
Syrup Warmers
Heat Lamps
Buffet Warmers
Heated Shelf
Pots and Pans
Ovens
Catering Equipment
Grill
Microwave
Refrigeration
Ice Machine
Cold Food Pans
Refrigerator Cabinets
Carving counters
Serving Counters
Drinks Counters
Frost-Top Counters
Ice Cream Serving Counter
Utensil Holders
Plate Dispenser
Tray Rack
Condiment Station
Toasters or Toast Conveyor belts
Serving tools
There are several sides to this: the prep equipment, the serving equipment, and the storage equipment. Let's look into these:
Keeping Food Hot
Drop-In Food Warmers and Bain Marie
Drop-in food warmers or Bain Maries are great for keeping large pots of sauce-based foods such as soup or even oatmeal at a perfect temperature for buffet service.
Not only that, but they also look great as well with their signature stainless steel and glass appearance. They usually have a slot for storing a ladle or serving spoon which is great for keeping things tidy. Just remember to invest in the right-sized pans to match your warmer, or you could end up in a bit of a pickle.
Warming Drawers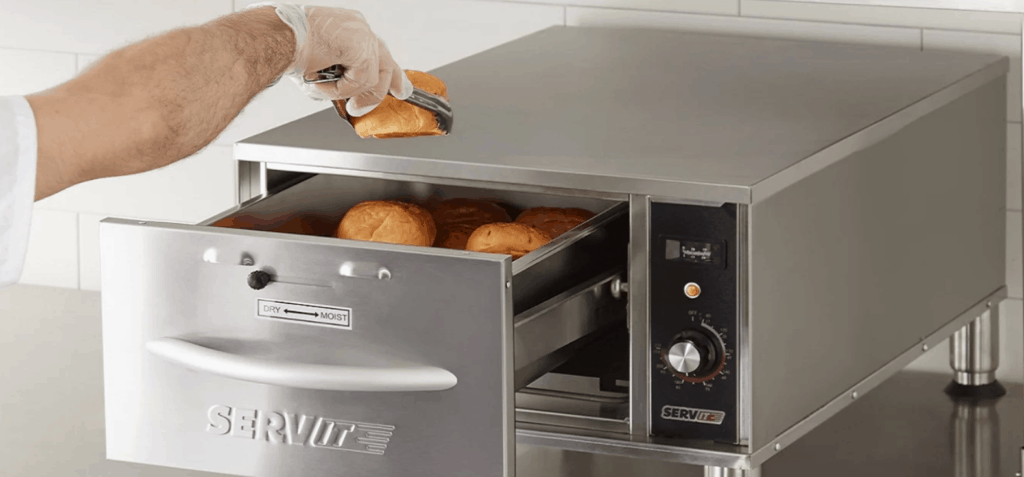 Warming drawers are perfect for keeping things like fresh bread, buns, or sandwiches warm. They can be used at the front of a buffet line, or you could use them in-between your buffet station so that there is always food available on both sides.
Syrup Warmers
Perfect for breakfast or dessert buffets, syrup warmers are ideal for keeping sauces such as maple syrup or chocolate sauce warm. People can come and help themselves and drizzle sauce over pancakes or dessert items like brownies.
Heat Lamps
Buffet heat lamps are a great way of keeping buffet items warm, as they provide even heat over time. They can be purchased as stand-alone units or one by one for certain areas where you need a little more heat.
Buffet heat lamps are especially useful if you have a larger room space with multiple buffet stations, as they can cover areas that standard buffet warmers miss. If you notice some areas of your buffet station aren't getting enough warmth from the lights, just add in one or two extra buffet lamps.
Buffet Warmers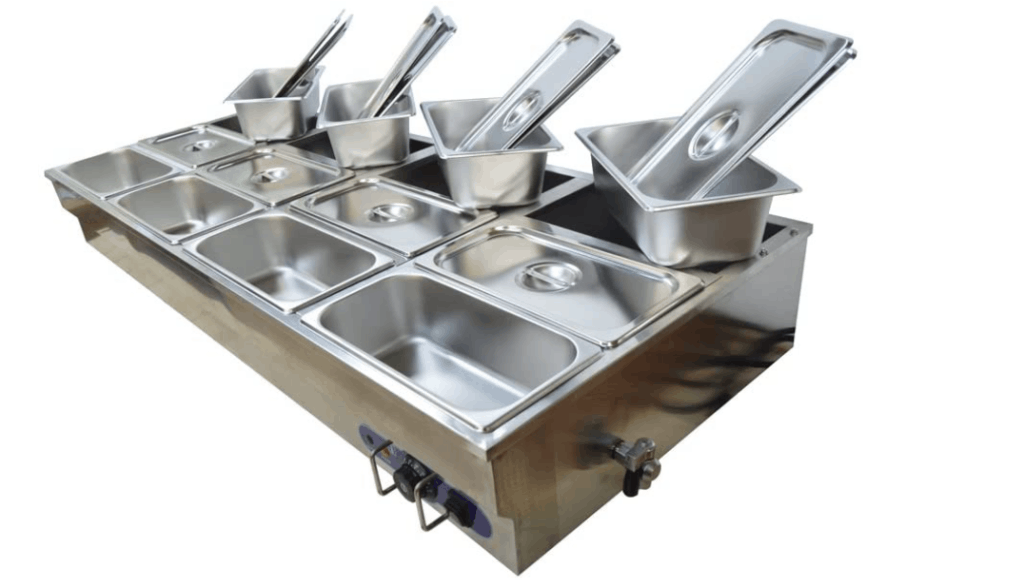 Buffet warmers can keep all sorts of dishes warm, from mashed potatoes to macaroni cheese. This is the typical piece of buffet equipment that you'll probably have seen before – it emits heat from both the bottom and the top to keep food at optimum temperature.
They can be heated up before serving in preparation for when your guests are ready to eat. You can also buy them with or without serving dishes, but if you buy dishes separately, you will need to check they are the correct size for the warmer.
Heated Shelf
As opposed to a buffet warmer, a heated shelf warms food up from the bottom and not the top. Nonetheless, they can still keep items like pies and buffet desserts at optimum serving temperature. They also don't take up nearly as much space as a buffet warmer either, so they are ideal for smaller rooms.
Carving counters
If you've ever been to a carvery then you will have seen the rows of sizzling hot meat lined up under heat lamps, ready to be sliced. This will have been on a carving counter.
Equipped with everything you'll need to keep joints of meat hot and a cutting board for easy serving, this is great for a Sunday roast buffet or any other type of meaty free-for-all. Although, I recommend placing a staff member on a carving counter to oversee portion sizes.
Cooking Equipment
Pots and Pans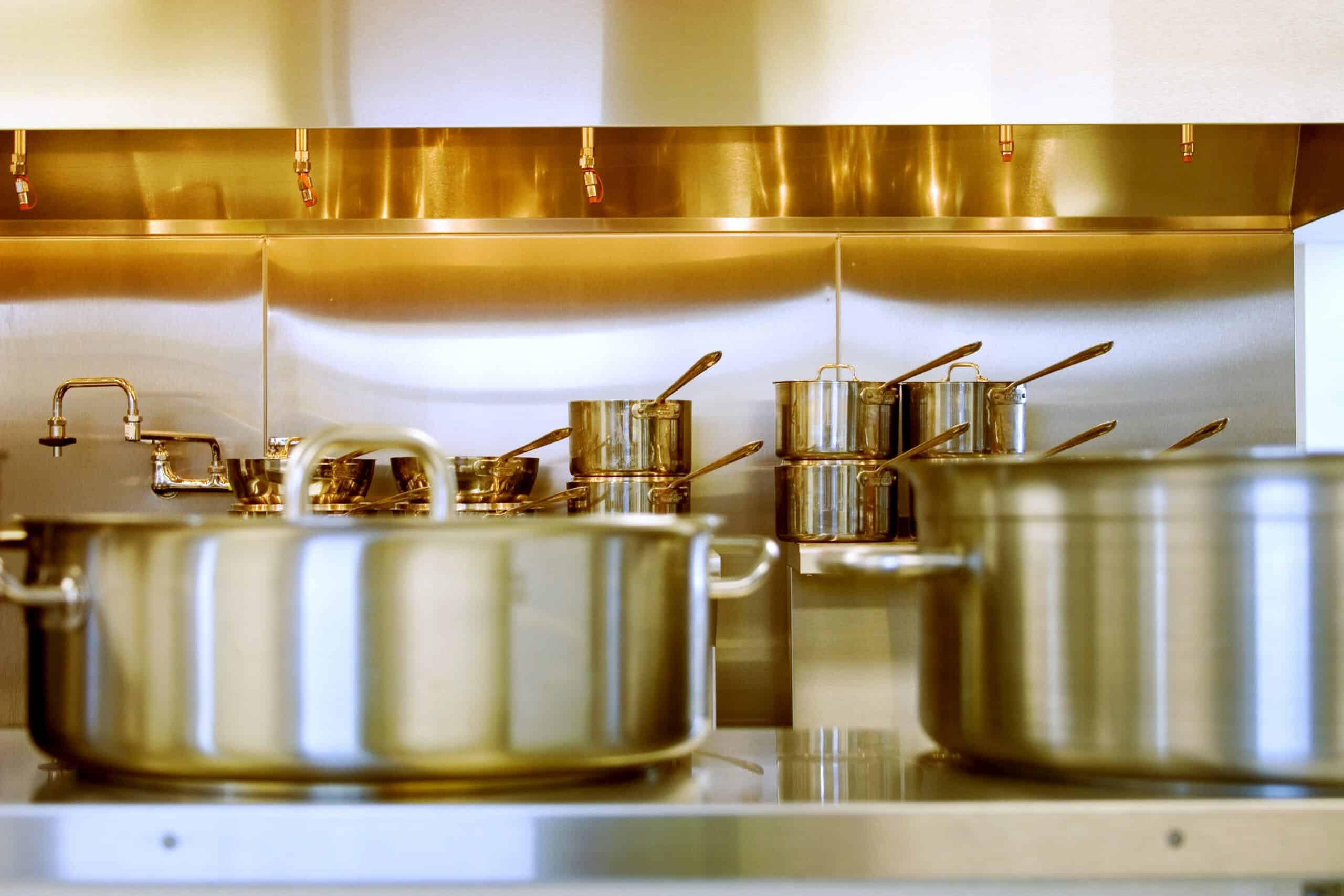 Commercial pots and pans are a necessary investment of every catering business, and buffets are no exception. You'll need to buy a lot of them for buffet serving because of the sheer volume of food that you'll be cooking.
Be sure to opt for a high-quality material such as stainless steel because it's durable and conducts heat well. Pans like this will also be non-stick, for easy cleaning.
Ovens
Another catering necessity is a commercial oven. There are lots of different types of ovens out there, so you'll need to decide what type of oven best suits your business. The most common types of catering oven are:
Convection Oven – A convection uses a fan to circulate air which helps cook food more evenly. They are usually quite compact and great for small spaces. They also sometimes have a feature specifically for helping bread rise.
Combination Oven – A combination oven is, as the name suggests, a combination of two types of ovens. It's an especially powerful type of catering equipment and can function as a convection oven, a steamer, or even a fryer if needed. These types of ovens are incredibly popular, but also come with an increased price tag.
Steam Oven – A steam oven uses steam to cook food. This is one of the more expensive types of buffet equipment, but it's great if you're cooking large amounts of rice, fish, or vegetables.
Catering Equipment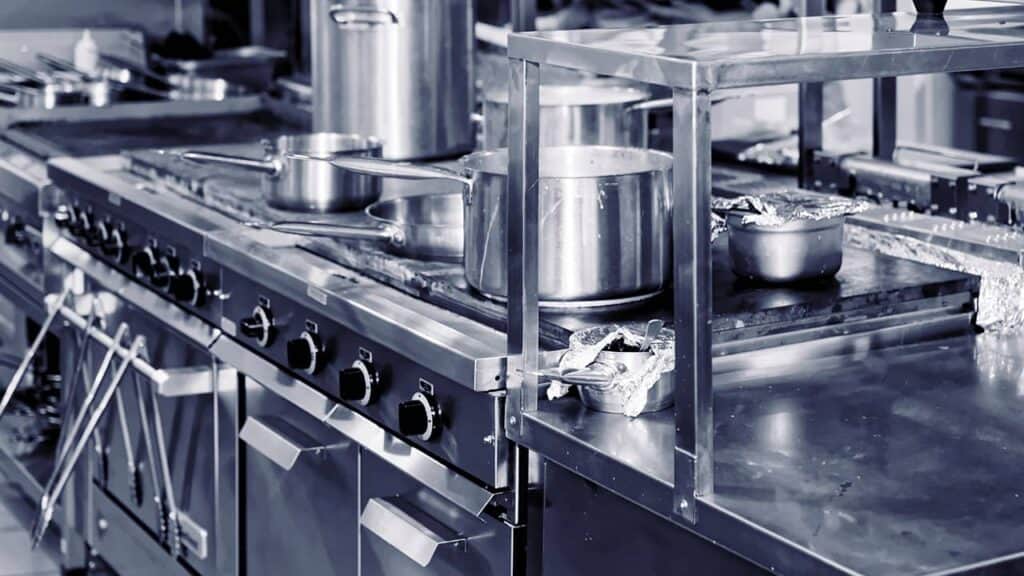 You'll also need a wide range of catering equipment to prepare the food for your buffets.
This includes:
Chopping boards
Chef knives
Knife sharpeners
Colindres
Steamers (unless you have a steamer oven)
Blenders
Mixers
Mixing bowls
A range of utensils (spoons, whisks, ladles, spatulas, etc)
Graters
Baking trays
This also includes protective equipment like oven mitts, aprons or chef whites, and hairnets.
Grill
If your buffet includes meat like steak or BBQ food, then you might need to invest in a good quality grill. Grills are typically gas-powered, but you can buy an electric grill if you'd prefer.
Electric grills are generally more expensive than their counterpart though; they'll also take longer to heat up than gas. Plus, need to consider whether you're going to grill the food to order, or you'll need one primarily in the back to prep things.
Microwave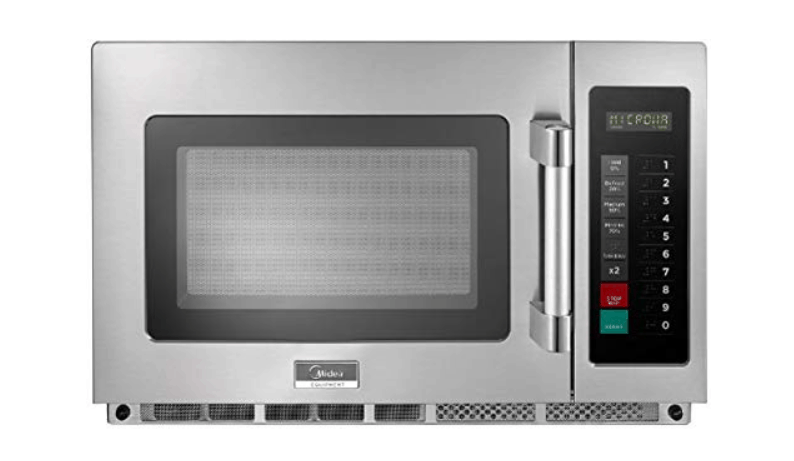 Most catering establishments will have at least one microwave. Of course, you won't want to rely on this completely, but a microwave can be used to quickly reheat things that have already been prepped. Be sure to invest in a commercial-grade microwave, because the ones suitable for home use usually can't usually withstand the busy kitchen life.
Refrigerators and Freezers
Refrigerators and freezers can be used for storing both prepped and raw ingredients, and keeping beverages cool. You can buy many different types based on the size of your operation. Freestanding commercial units are quite popular, but you can also buy under-counter fridges or freezers, and, if you have space, you could even invest in a walk-in.
Keeping Food Cool
Ice Machine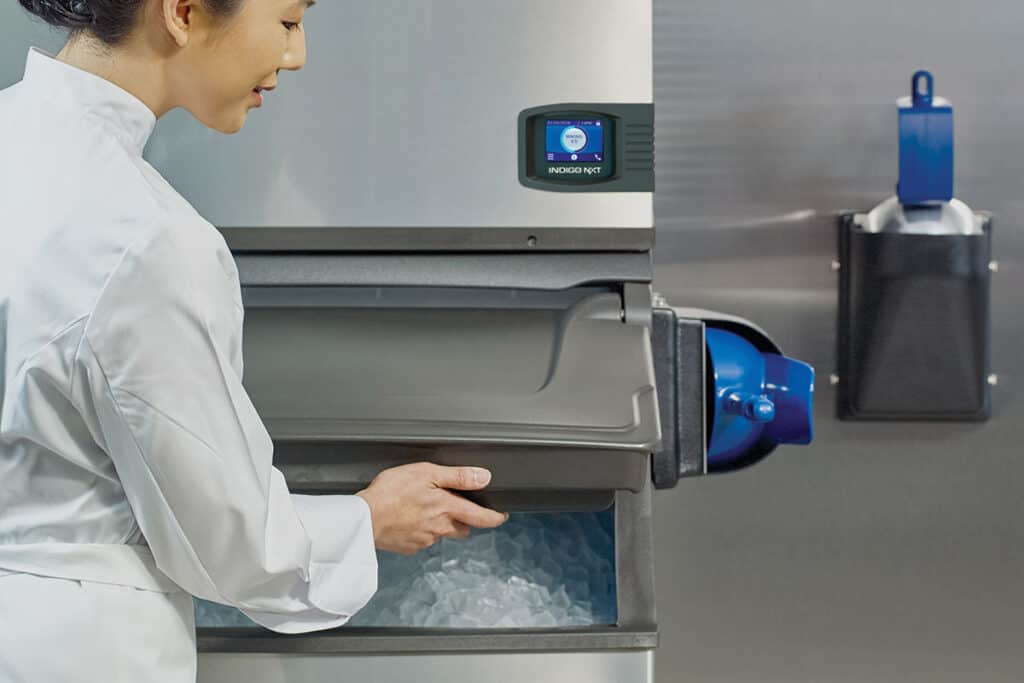 An ice machine is essential to any buffet. It can be used for both keeping drinks cool and making ice cubes for iced water or cocktails.
Cold Food Pans
Cold food pans are used to keep buffet dishes fresh and chilled. They are the cold version of the buffet warmer and are great at keeping chilled foods at the optimum cold temperature. Ideal for salad or dessert bars, they are usually made of stainless steel and come in a range of sizes.
Refrigerator Cabinets
If you need to keep packaged items or beverages cool, then a refrigerator cabinet might be exactly what you need. These types of cabinets are great for buffets that offer beverages, salads, and sandwiches. They will also keep prepped foods out of the way – customers can simply open the cabinet and choose their item.
Drinks Counters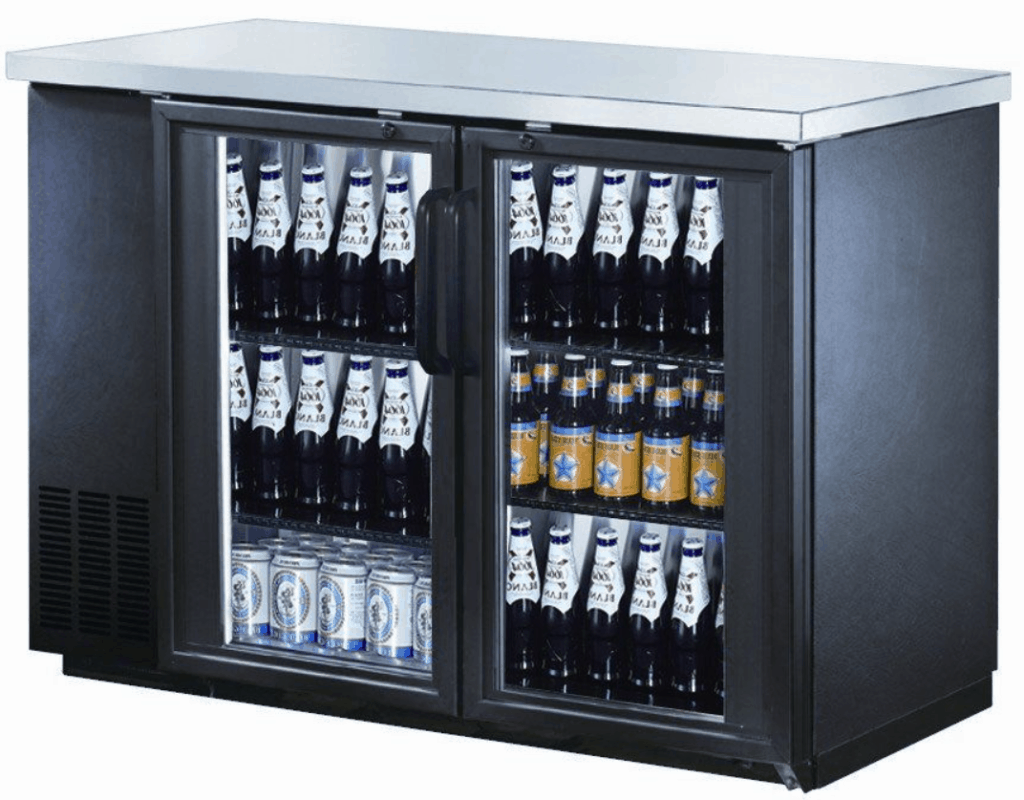 Drinks counters are similar to refrigerator counters. Some drinks are best served at a certain temperature which is where the drinks counters come in. You can keep cans of drink chilled on ice and customers the self-service options give people more control over how much they want to purchase.
Frost-Top Counters
Frost top counters are mechanically cooled stations – they are also similar to buffet warmers except they are cold instead of hot. These types of counters will keep the food fresh and chilled so it doesn't go bad quickly, but it also gives customers easy access to help themselves. They are typically used for salads or chilled desserts.
Ice Cream Serving Counter
Who doesn't love ice cream at the end of their meal? Whether you're offering customers help-yourself scoops of hard ice cream or having an employee stand by to offer assistance, the ice-cream serving counter will definitely be a hit with the guests.
Other Buffer Serving Equipment
Utensil Holders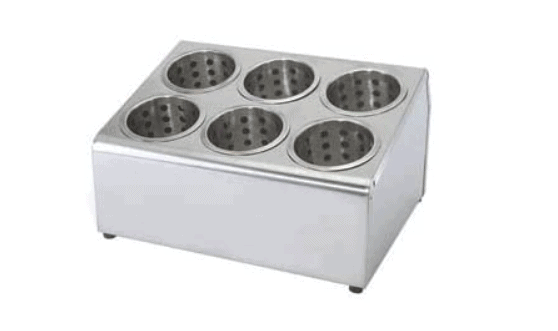 Utensil holders are a piece of must-have buffet equipment. They make your buffet more inviting and allow customers to help themselves without making a mess of your tables and utensils. Utensil holders come in all shapes and sizes, so be sure to pick one that's suited to your needs. Your utensil holder should have enough to hold utensils for all of your guests at least twice during peak service times.
Plate Dispenser
Plate dispensers are an easy way to both provide customers with plates and keep them warm. It will allow you to keep your buffet looking neat and organized.
Usually spring-loaded, a plate dispenser provides customers with easy access to plates at the beginning of the buffet line. Bear in mind that health and safety regulations usually mean that your customers can usually only have one plate per serving, so ensure you have enough plate dispensers to hold plates for a busy restaurant.
Tray Rack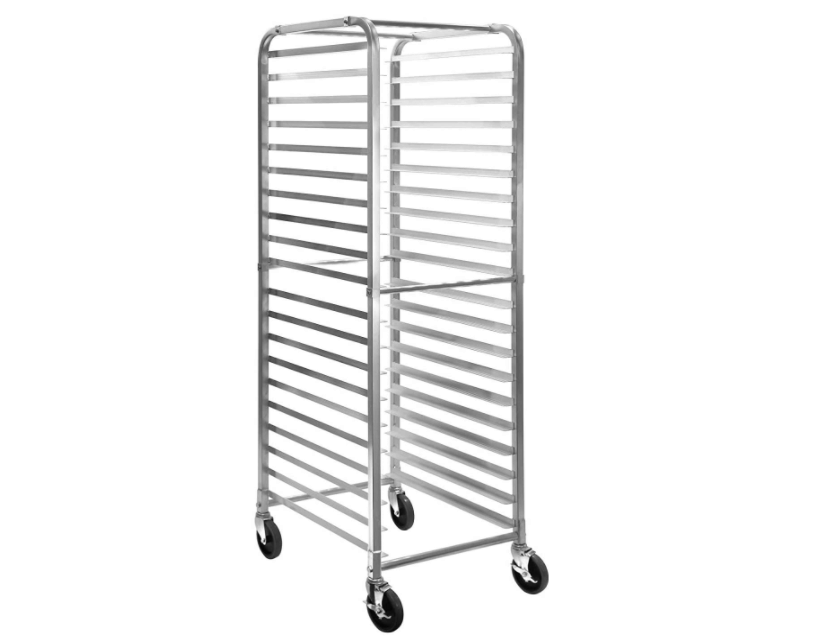 These can be used for either cleaning or serving. Servers can load trays with used plates and cutlery, or use them as an easy way to refill buffet dishes or serve made-to-order meals. Tray racks can be bought in a range of sizes so be sure to purchase enough to accommodate your business at its busiest.
Condiment Station
A condiment station is an attractive buffet station that holds all your condiments in one place. This is great for restaurants, cafes, and cafeterias alike. Whether you have a roast dinner buffet and need somewhere to store gravy and apple sauce, or a hot dog or barbecue buffet and need a station for ketchup and mustard, a condiment station will be perfect.
It also doesn't matter if you are offering packets of sauces, sauce pumps, or serving sauce freshly made, this station will help guests add the perfect extras to their plate.
Toasters or Toast Conveyor belts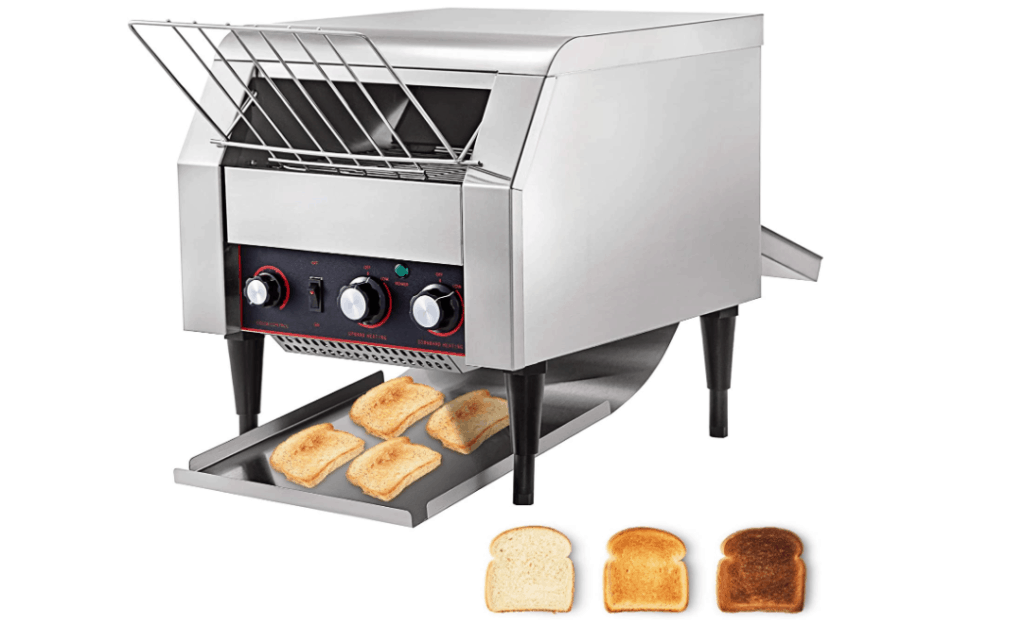 A buffet toaster is another essential piece of equipment. There are several types to choose from but the one you go for will depends on the traffic in your buffet. If you're expecting things to get quite busy, then a conveyor toaster would be better suited. Whereas if things will be quite quiet, then a regular 4-slice toaster, should fit the bill.
Serving tools
From tongs to spoons to ladles, make sure you have enough equipment to serve every dish you are offering. There should be a minimum of one serving utensil per dish and sometimes two, depending on the size.
The Major Differences Between Buffets and other Catering Establishments
There are several differences between buffets and other catering establishments. The main one, however, is that buffets are help-yourself. In comparison, most restaurants, cafes, or pubs are table service or a la carte dining.
Advantages of Buffets and Banquets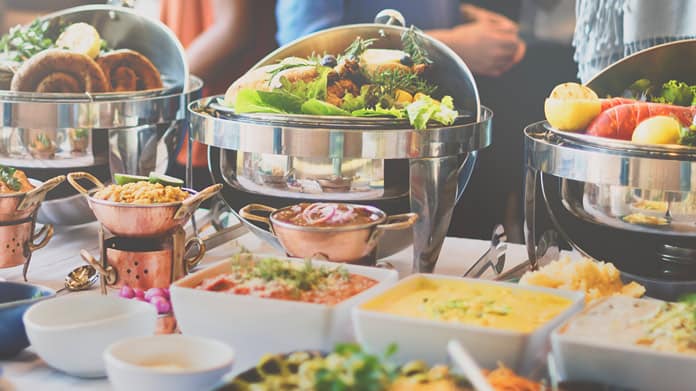 Buffet restaurants have many advantages. For example, buffet catering is cheaper than a la cart dining because there are no servers to pay. In addition, buffets allow people with dietary restrictions or allergies to pick and choose their food with fewer restrictions.
Furthermore, buffet restaurants offer more variety in their menus as opposed to some limited à la cartes. Buffets are also more affordable and accessible to a wider audience, especially as some a la cart dining is incredibly expensive once you factor in starters, mains, and desserts.
The Disadvantages of Buffets and Banquets
However, buffet catering does have its drawbacks. Guests are often more likely to fill themselves up on buffet food and not leave room for desserts or other side dishes, such as appetizers (which can be added extras). Plus, buffet service means there is less control over the quality of the guests' experience. It also means that diners are frequently getting up and down from their table, which can disrupt the family-feel of eating out.
Lastly, buffet service can be less hygienic than traditional dining because guests might touch food and put it back – of course, this issue is eliminated if staff members are serving the buffet.
Safety Tips
Food safety is crucial in any hospitality establishment. It's especially important in buffets because customers (who are not trained in food safety), are often the ones serving the food. There are several steps you'll need to follow in order to keep a buffet safe, both for customers and avoid a health and safety lawsuit.
Keep food out of the Temperature Danger Zone
All potential harmful food should be kept out of the Temperature Danger Zone, which is between 4°C to 60°C. This is the temperature range in which harmful bacteria and other microorganisms are most susceptible to multiplying.
The most high-risk foods are:
Meat and poultry
Fish and shellfish
Rice
Eggs and dairy products
If you're hot holding these types of foods remember to stir them regularly to ensure heat is evenly distributed throughout the food, check the temperatures often (with a cleaned, sanitized, and calibrated thermometer), and make sure that when you check food temperatures, you are checking the thickest part of the food.
Supervise and monitor self-service areas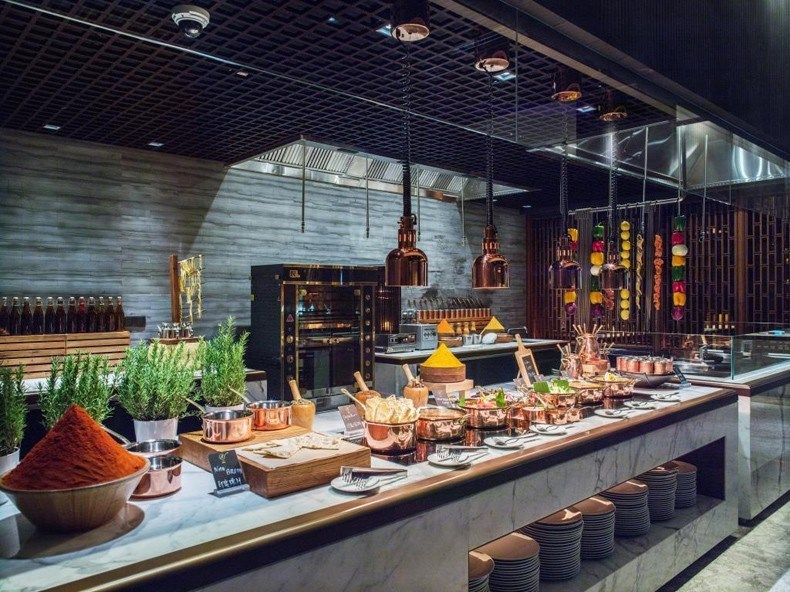 Buffets can be problematic because food-safety-trained experts aren't always the ones distributing the food. However, this is why staff members have to be extra vigilant. It's essentials that guests don't contaminate buffet food with items like their bare hands, germs, or utensils that have been used already for a different dish.
Try to allocate one staff member per station to oversee the buffet and make sure people are doing things correctly. It's also important though that customers don't feel uncomfortable, so people with good customer service skills are best for this task. Correct signage – such as 'please use tongs provided', – can also help enforce these rules.
Clearly label food allergens
Just like if people were choosing their meal from a regular menu, you are required to let people know exactly what is in the dishes they are eating. Not correctly labeling allergens could result in a customer have an anaphylactic shock, or worse, so this is incredibly important.
The 14 allergens are:
Celery,
Cereals containing gluten (such as barley and oats),
Crustaceans (such as prawns, crabs, and lobsters),
Eggs,
Fish,
Lupin,
Milk,
Molluscs (such as mussels and oysters),
Mustard,
Peanuts,
Sesame,
Soybeans,
Sulfur dioxide and sulfites (if they are at a concentration of more than ten parts per million)
Tree nuts (such as almonds, hazelnuts, walnuts, brazil nuts, cashews, pecans, pistachios, and macadamia nuts).
As well as making people aware of allergens, you'll also need to label whether the dish is suitable for vegans or vegetarians and whether it contains ingredients that could interfere with religion such as halal meat or pork.
Only use one utensil per dish
For similar reasons to labeling allergens, having at least one utensil per dish will help prevent cross-contamination between dishes. This will also prevent people from using their hands if they can't find the correct serving utensil.
On the buffet, it's best to use tongs or spatulas for meats and seafood as these will minimize contact that could lead to cross-contamination. For soups and spoons, use a ladle and for other dishes, serving spoons are fine.
It's also important to stay on top of this. Utensils with dirty handles or dry, crusted-on food will once again, discourage customers from using them. So, make sure staff are on-site to change utensils when they are starting to get dirty.
Stock rotates all food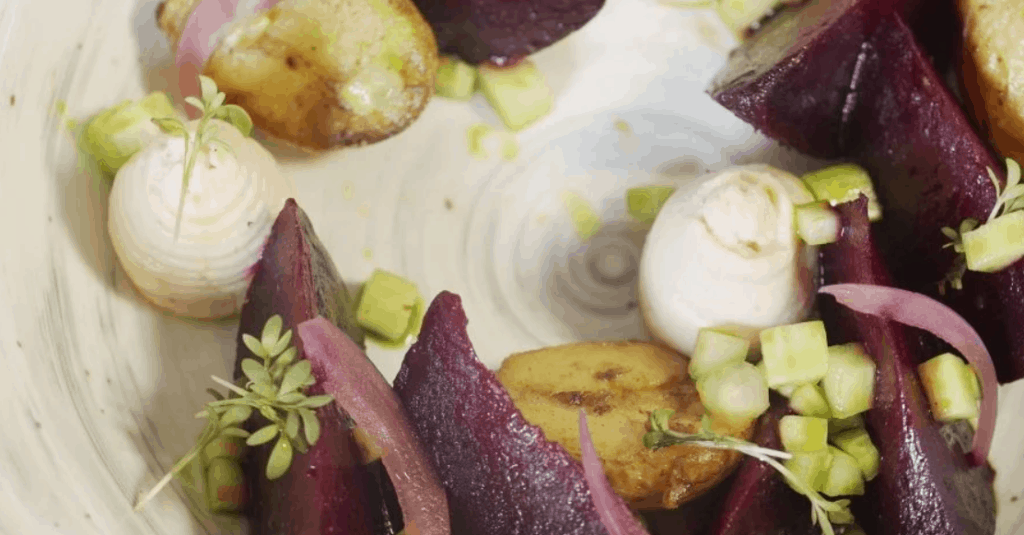 In a fridge, this is easy: keep the new food at the front and use it in date order. But with a buffet or banquet, this can be slightly more challenging.
You'll need to make sure that all new food that is brought out isn't simply placed on top of the older food. This is partly because customers will usually go for the newer, fresher dishes, and the older ones will end up sitting there, and if this happens, you could risk the older food going bad.
So, always make sure to stock rotate food and make sure the older dishes are eaten before the new ones. Plus, if you have any doubts about whether a food is safe to eat, throw it straight out.
Ensure all staff members are trained on food safety
This may seem like an obvious point, but lack of basic food hygiene can cause countless issues with buffet food. There are always risks, so make sure all staff know to:
Cover all food items with lids when possible – this helps prevent germs, bacteria from flies, or other sources from getting into the food. It also helps prevent food from going dry or spoiling.
Make sure the handles of utensils don't touch the food items – if so, you'll have hundreds of people germs entering the dish.
Never re-use buffet food and throw everything leftover away at the end of the day.
Keep cutlery and napkins far away from the food and ensure customers are using one plate per trip to the buffet table.
Clear dirty plates and cutlery off of customers' tables, and clean and wipe food trays frequently.
Buy serving stations with sneeze guards to prevent germs or bacteria from getting into dishes.
Keep raw food and cooked food separate.
Never add fresh food to old batches of food.
Our Top Recommendations for Buffet Equipment
These are our top recommendations for buffet equipment for your establishment: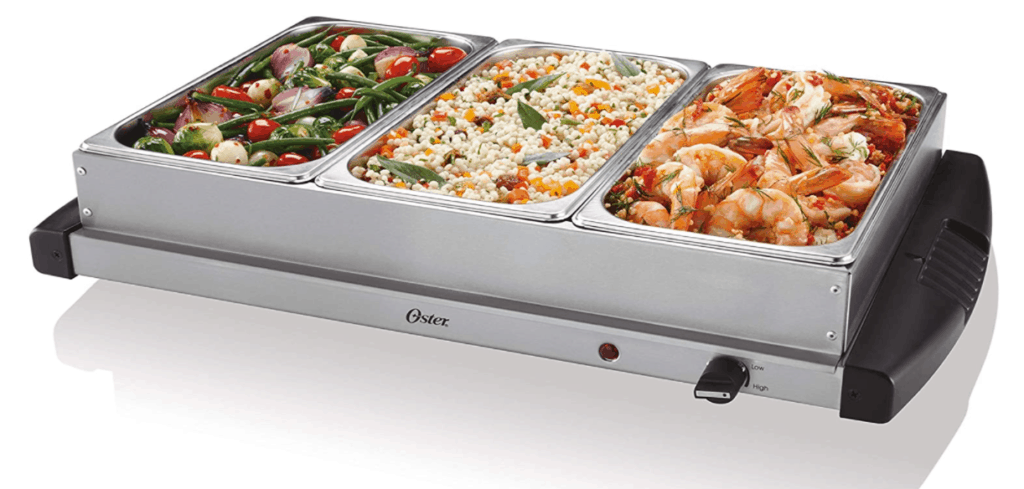 This cost-friendly buffet server is made from durable stainless steel and has fantastic efficiency. It's solidly constructed, made with durable materials and a ceramic coating that will last for years. It also has an attractive design, perfect for front-of-house serving.
It features three different serving pots – perfect for buffets serving a range of different dishes – and its decent size means you will be able to fit plenty in each.
Made from stainless steel with a ceramic coating that is 4 times as durable as other heating trays
3 2-1/2-quart warming trays with lids
Dishwasher safe for easy cleaning
Clear power indicator light and variable heat controls for ease of use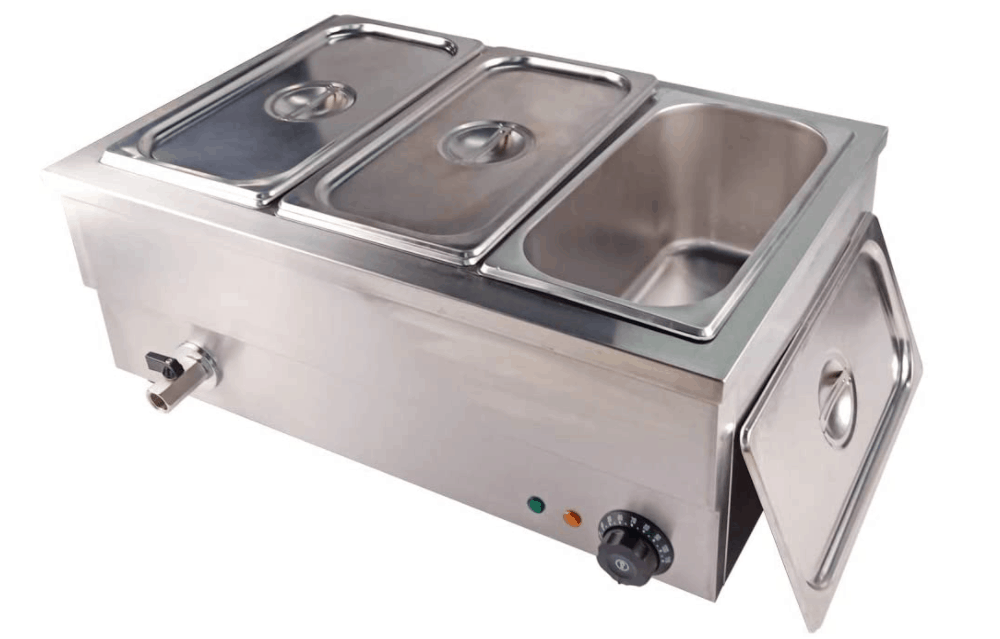 Ideal for buffets serving multiple dishes, this food warmer has 6 sections for keeping plenty of food hot at once. Made from durable stainless steel, it was built to last and it's also easy to clean and highly durable – perfect for everyday use.
Great for large volumes – contains 6 1/6*150mm pots with lids
Easy to clean and completely dishwasher safe
Adjustable temperature controls allow you to keep different foods at the perfect heat
Can be used wet or dry, hot or cold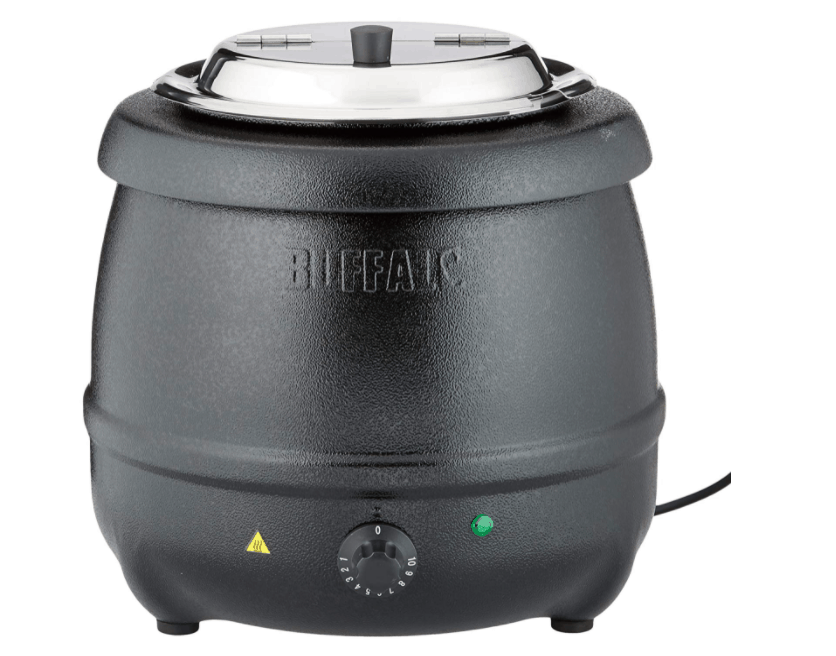 Ideal for soups, stews, or sauces, this Bain Marie-style soup kettle is perfect for a buffet environment. With a groove to store your ladle and hinged lid for serving easy, it will keep food hot and customers happy.
Large 10-liter capacity makes it perfect for big crowds
Stainless steel material is durable and makes for easy cleaning
Wet-heat only operation
Variable simmer means you can control the temperature
Wyott HTL2-10 Trendline Mobile Heated Two Tube Dish Dispenser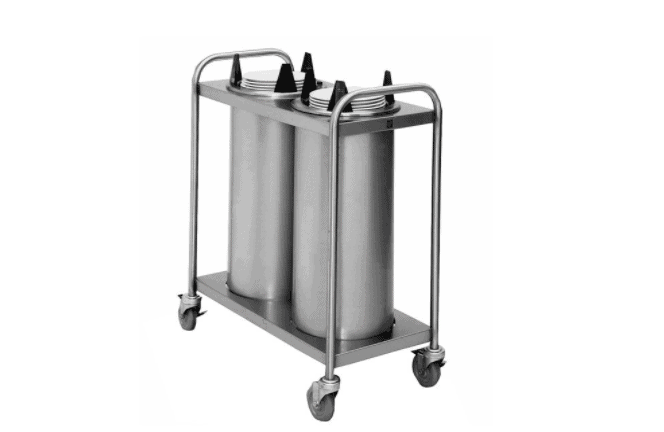 For easy plate dispensing, this two-tube portable dish dispenser is ideal. The smart, space-saving solution includes a heating system to keep your guest's plates warm. It's mobile which is both convenient for moving location and for easy cleaning, and it's made from stainless steel for added durability and longer-lasting.
Capable of holding dishes from 9 1/4″ to 10 1/8″ in diameter
Can hold up to 210 lb. of dishes in each tube
Stainless steel for easy cleaning and durability
Freestanding for easy mobility
fAQs
Question: How many types of buffet services are there?
Answer: There are two main types of buffet service, cold and hot buffets. However, among these, there are these 5 main sub-types of buffet:
• All You Can Eat – As the name suggests, you can help yourself to whichever dishes you like.
• Cafeteria Style – You are typically served by someone and move along a line.
• Catered – this is typically catering for parties, weddings, or business meetings.
• Special Occasions – Usually offered for a special event like a Valentine's Day finger buffet instead of the regular menu.
• Healthy Option – They have this at places like Pizza Hut, where you can help yourself to the salad bar alongside the regular menu.
Question: What is the difference between a buffet and a banquet?
Answer: Although they may require similar equipment, a buffet and a banquet are rather different.
A buffet is a meal where guests serve themselves rather than wait for food to be served. They are usually casual and informal and can serve all types of dishes. Guests will go to a serving table and help themselves to the dishes on offer before going back to their seats.
A banquet, on the other hand, is more formal. It's typically a meal served over with several courses by waiters. Guests will stay in their seats and wait for the food to be served.
One significant difference between buffets and banquets is that a banquet may be held in honor of someone (such as a wedding, a birthday party, or an anniversary), whereas buffets are generally just held to offer food.
Question: How do you make a buffet look good?
Answer: Simply put, it's just about how you present your buffet to make it look good and inviting for guests. Of course, the food is important too – think of what people will want on offer at your buffet table before presenting anything to them. Then use different style plates, stacked plates, attractive garnishes, and complementary colors to make dishes stand out.
Conclusion
Setting up a buffet can be overwhelming, but it doesn't have to be. We hope that this blog post has given you some food for thought about what buffet equipment and supplies are necessary to get your restaurant or service up and running. When it comes to buffet equipment, it's not just hot-holding and keeping things chilled, you'll also need fridges, freezers, ovens, catering equipment, and lots of different serving stations.
But, now you know what supplies are necessary for putting together your own spread, how to keep everything sanitary, and a few top recommendations, so guests leave full and happy!