Latest posts by Jodie Chiffey
(see all)
Pitco SG14 is a natural gas stainless steel floor fryer that can be found in many professional kitchens. If you're considering buying this unit, our Pitco SG14 review will provide you with all the information you need to make an informed decision.
Commercial gas fryers are a must in any kitchen that produces breaded food, french fries, or other popular fried food types in large quantities. In fact, it is one of the key pieces of professional cooking equipment that can have a huge influence on the overall workflow and performance of your venue.
In this review, we'll take a look at the SG14's technical specifications, most valuable qualities, and we'll also discuss some drawbacks that might make you look for alternatives. Luckily we've provided some of those, too, if you decide the Pitco SG14 isn't the right option.
But first, let's start with a brief overview of Pitco SG14's key parameters.
Key Specifications of Pitco SG14
| | |
| --- | --- |
| Type of fryer | Commercial floor natural gas fryer |
| Burner | Solstice burner technology |
| Capacity | 40-50 lb. oil capacity |
| Frying area | 14"x 14" |
| Input | 110,000 Btu/hr. |
| Dimensions/weight | 25 x 46 x 60 inches/230 pounds |
| Latest price | Click here for the latest price |
Core Features of Pitco SG14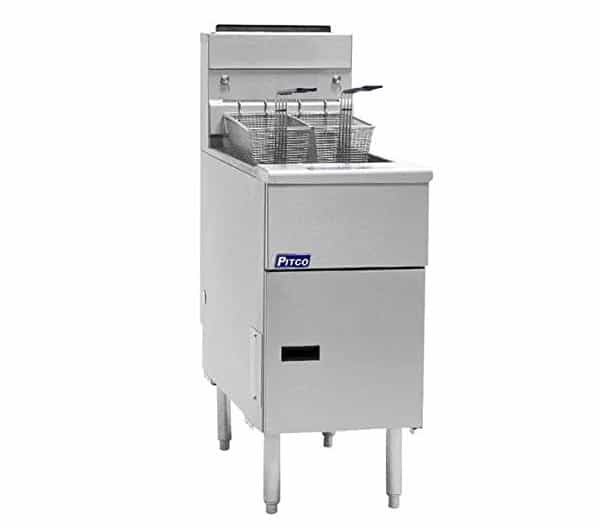 Now let's examine this floor fryer in detail and search for its strengths and weaknesses:
Construction And Design
When it comes to design and construction, Pitco SG14 might seem very similar to dozens of other standard commercial-grade gas fryers on the market. It consists of a robust all-metal cabinet designed to stand on the floor, and the included set of 9″ (height-adjustable) legs that allow for more comfortable cleaning under and around the device.
The all-metal housing of this fryer is made of shiny stainless steel. It looks solid and sturdy, including the 3/16″ bottom door hinge and other movable components that can occasionally cause trouble after months of extensive use. All parts and surfaces of this unit also appear to be easy to clean, with very few blind spots.
Considering the size and capacity of this unit, the Pitco SG14 will probably be the best match for smaller and middle kitchens. It measures 25 x 46 x 60 inches and boasts 40 to 50 lbs frying oil capacity.
One of the greatest advantages of this machine is that it comes with two separate frying baskets, so you can prepare two separate batches of fried food at once according to your momentary needs. (Note: You can actually choose between configurations with 2-twin baskets and one large)
Unlike some other fryers, Pitco SG14 does not come with caster wheels right out of the box, but they can be ordered at an additional cost directly from the producer. Other optional accessories include fish grids, reversible splash guards, a backup thermostat, and many other useful components and add-ons.
Functions And Controls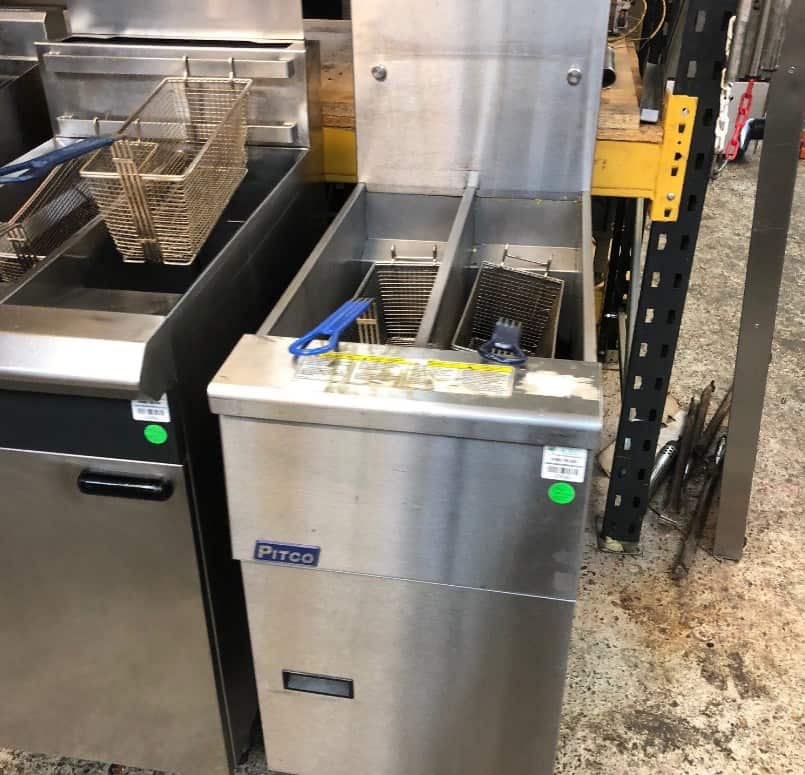 One of the most important factors you should consider when choosing your commercial gas fryer is surely ease of use. In this regard, the Pitco SG-14 looks pretty good.
It all starts with the super-easy ignition process that is conveniently facilitated by the Solstice burner technology. This type of burner does not require any additional blowers or ceramics, and it can be easily mastered even by total beginners. The burner is also reportedly self-cleaning (this feature is even patented), maximizing its performance and durability while making the maintenance almost effortless.
This fryer has thermostatic controls and a safety shut-off switch for excessive temperature. It also boasts separate manual gas shut-offs for convenient front servicing. In addition, the modern atmospheric heating system provides fast response and minimal recovery times, which allows you to prepare a large variety of products within a short timeframe.
As I've already suggested above, this piece of equipment is very easy to maintain and clean. The tube rack allows all the crumbs and debris into the cool zone, where they can be easily and safely collected. A 1 1/4″ wide port drain valve allows for swift draining of all the used oil. The baskets, moreover, have removable hangers, which makes thorough cleaning of these accessories a breeze.
Safety
As with all gas-operated kitchen devices, Pitco SG14 natural gas floor fryers must be treated with special care and some simple precautions. Nevertheless, the manufacturer also equipped this device with several convenient safety measures (mostly various emergency shut-offs, non-heating handles, etc.) that can make you feel safe and self-conscious around this machine.
Of course, the crucial preconditions for the safe operation of this fryer are professional installation and regular maintenance/check-ups. Making sure that all your staff is properly trained on working with these types of commercial-grade machines is always a good idea too.
Reliability
When you're running a restaurant or a fast-food venue with a high turnaround and long working hours, you certainly need equipment that can be trusted and relied on every day. In this regard, Pitco SG14 seems to be a reasonable solution.
This gas fryer is, in general, considered to be very solid and durable, and it also boasts several "Best in Class" awards by operators. In their online reviews, many users also report that they had their Pitco fryers for 10 or even more years without any major issues or failures.
Of course, as with any kitchen equipment, you might experience some occasional hiccups with Pitco SG14 too. Fortunately, many of them can be easily resolved on your own with a simple troubleshooting guide and a bit of experience.
If your machine, for example, won't turn on, there might be a tripped circuit breaker, which means that you will have to reset and restart the circuit. Some issues can also be caused by clogging, which can be fixed by cleaning or replacing filter media.
Rarely, these fryers can reportedly overheat too. This can be caused by several reasons, including ​​an internal wiring fault, broken circulation motor, or even incorrect voltage. In any case, this type of error certainly requires professional service.
In any case, Pitco offers a comprehensive warranty of up to 10 years on all of its products and components. Moreover, many authorized servicemen at hand specialize in these machines, so all the potential issues are usually easily resolvable.
Price
When it comes to price, Pitco SG14 stands somewhere in the middle. It's definitely not the most expensive, yet at the same time surely not the cheapest freestanding gas fryer on the market either. Nevertheless, given the durability, versatility, and good reputation of the brand, I believe the price is just right.
The producer even offers advantageous financing options for those who are at the beginning of their gastronomic journey. Last but not least, thanks to consuming just about 110,000 BTU per hour, this fryer is also quite energy-efficient. For its latest price, click here.
Pros of the Pitco SG14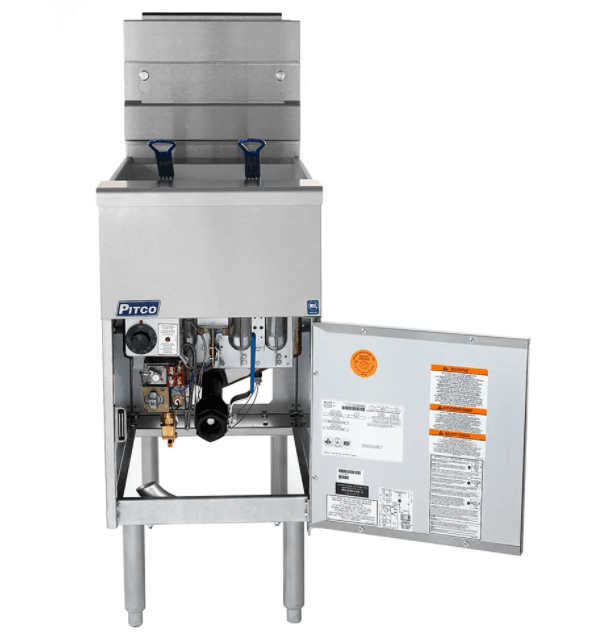 Still not sure whether Pitco SG14 is the best freestanding gas fryer for your kitchen? Let's review all the qualities and benefits of this device once more:
Ease of use
Operating this commercial-grade gas fryer is very easy. The burner doesn't require any blowers or ceramics, and the device is highly responsive and perfectly adjustable. So if you're looking for a fryer that can be easily operated even by total beginners, this is a good choice.
Safety measures
This gas fryer implements safety shut-offs and several other useful mechanisms that will help you prevent unpleasant incidents and potential hazards in your kitchen.
Durability
Pitco SG14 is a heavy-duty commercial-grade fryer that should be able to serve you well for many years to come. Moreover, it comes with a warranty too.
Optional configuration
Would you like two twin fry baskets or one large? This fryer can be modified, adjusted, or expanded right to your needs and preferences.
Easy maintenance
Cleaning and maintaining commercial kitchen equipment can be a headache and often consumes lots of time and manpower. But Pitco fryers make these procedures quite effortless thanks to their thoughtful design and some useful gadgets like a self-cleaning burner.
Reputable brand
Nowadays, the market is full of perfectly affordable and reliably looking kitchen equipment from nameless manufacturers, mostly based in Asia. Experienced users will most likely agree, however, that these purchases are often a hit and miss. If you're one of those people who prefer verified and reputable brands (and don't hesitate to pay a bit more for them), Pitco fryers are some of your best options.
Energetic efficiency
Consuming just about 110,000 BTU per hour, this natural gas fryer is remarkably energy efficient. It is certainly a great advantage whether you look at this fact from an economic or ecological viewpoint.
Cons of Pitco SG14
No fryer is perfect. Here are some possible drawbacks of Pitco SG14:
Not the greatest capacity
Pitco SG14 is not the largest gas fryer on the market. Its capacity (40-50 lbs) can be a bit limiting for those who need to produce large quantities of fried food daily. If you're running a large kitchen and specialize mostly in fried goods, you should probably consider buying a bit larger device.
Not the cheapest fryer
If you're on a tight budget, you might be discouraged by the relatively high price of this fryer. Although there are many more expensive fryers on the market, you can also find similarly reliable fryers at a more affordable price.
Are there any alternatives?
Pitco SG14 is not the only recommendable gas fryer on the market. Here are some other alternatives you might probably like even more:
Frymaster GF14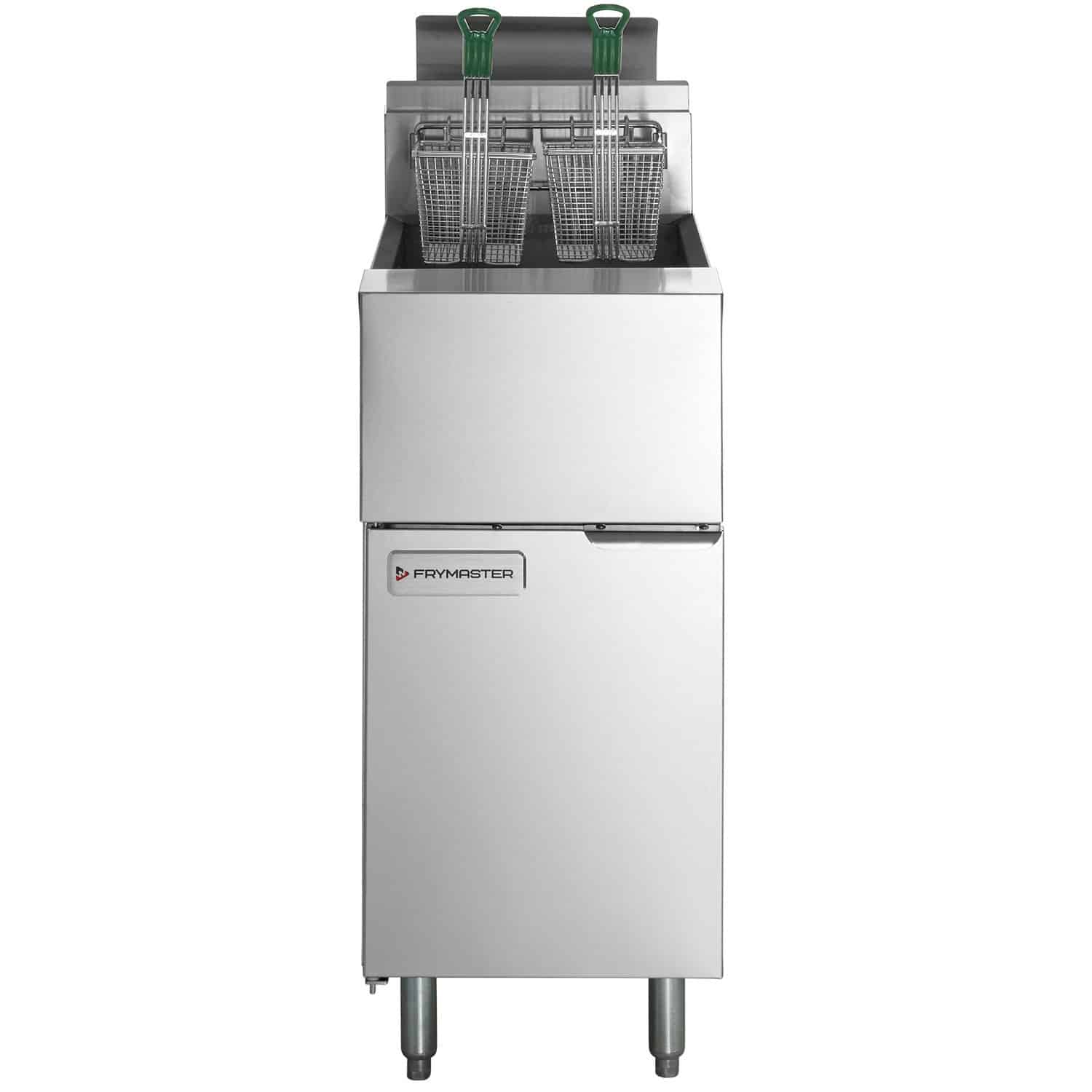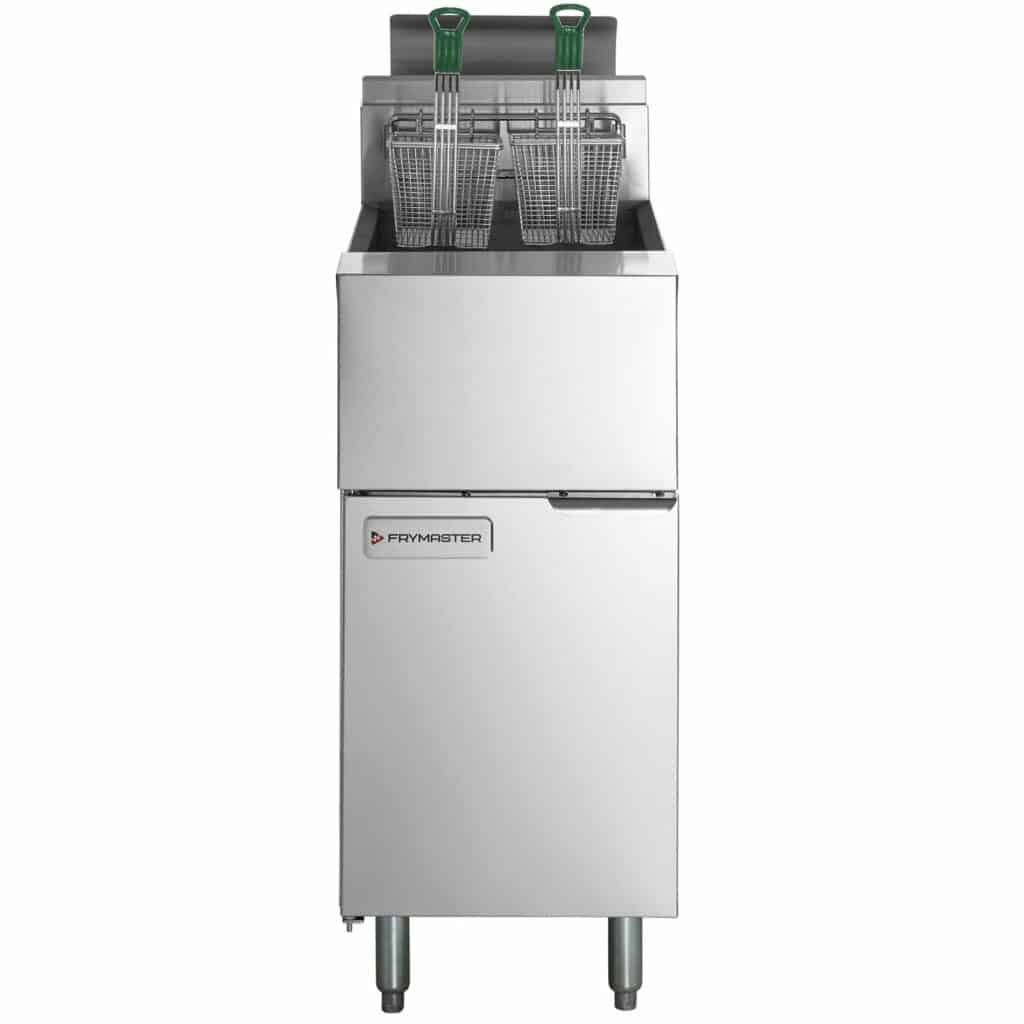 Frymaster GF14 is a popular commercial-grade gas fryer from another reputable American manufacturer. It boasts a convenient open-pot design that allows for effortless cleaning. It is made of stainless steel, and you'll surely like its powerful jet burner heating system, which helps you adapt the fryer to different desired temperatures quickly and conveniently.
The Frymaster GF14 has the same capacity and Pitco SG14 (optional 40/50lbs oil tanks), and it also has two separate frying baskets. It is, however, slightly smaller and lighter than the Pitco counterpart, and it's also slightly more energetically efficient (100,000 BTU/hr).
For more information, check out our Frymaster GF14 review.
Pitco Frialator SG18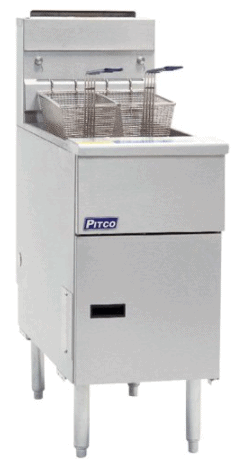 If you would like to stick to the reputable Pitco fryers, yet you need a machine with a larger capacity, you should definitely take a look at the Pitco Frialator SG18. This freestanding deep fryer has 70-90 lbs capacity – almost two times more than Pitco SG14.
But otherwise, you can enjoy most of the great features, qualities, and gadgets we've discussed in our SG14's review: the Solstice burner, durable stainless steel housing, and also its perfect ease of use. But, of course, be prepared that this larger device will cost you more than the smaller counterpart.
FAQs
Question: How do you boil a Pitco fryer?
Answer: When you turn the fryer on, ignite it, and the oil reaches 100°C temperature, it will automatically go into the "BOIL" mode. Let the fryer soak for a while before using it to loosen out any potential remnants of carbon.
Question: How do you reset a Pitco fryer?
Answer: On some occasions, your Pitco gas fryer will need to be reset. Mostly, this relates to a standard maintenance routine and changing of the oil. The whole procedure is very simple and straightforward.
First, turn off the fryer by switching the main power switch into the OFF position and unplugging the unit from the wall socket. Now you need to allow the unit to cool down, which might take around one hour. Once the oil is no longer hot, remove it from the tank and add a new one. Press the self-cleaning burner system reset button, which can be found right behind the front panel. Now just restart the unit and let it heat up again.
Question: Where are Pitco fryers made?
Answer: Pitco is an American company. Although they admit to ordering components and parts from all over the world, they do assemble all their commercial gas fryers directly in the city of Bow, New Hampshire, where the company has its headquarters.
Final Thoughts: Pitco SG14 Is a Reliable Choice For Smaller Kitchens
Choosing the right commercial gas fryer is mostly about finding the best possible balance between the objective qualities of a certain device and your subjective preferences. When it comes to Pitco SG14, I believe that it will mostly meet the criteria of smaller-to-middle businesses that need heavy-duty, perfectly reliable equipment with the easy operation but don't necessarily require extra-large capacity.
Are you unsure about this purchase because of the higher price of this gas fryer? Then you still have many other good options on the market, too, including the large-capacity Pitco Frialator SG18 and two-pot Frymaster GF14.
For more great commercial-grade fryers and detailed tips on choosing the best among them, check out our comprehensive Commercial Fryer Guide.