Latest posts by Jodie Chiffey
(see all)
A fryer is probably the most important appliance in a commercial kitchen. Cooks use it for everything, from making bread to preparing garnishes to make main meals like fried chicken. Suffice to say that a fryer can make or break your restaurant.
Frymaster is a company known for its commercial kitchen appliances. The company has been making fryers that have restaurant owners singing praises. If you are curious about Frymaster Fryers, then you are in the right place. We have identified 8 of the best Frymaster fryer models and taken a deeper look into what makes them the best choice for your kitchen.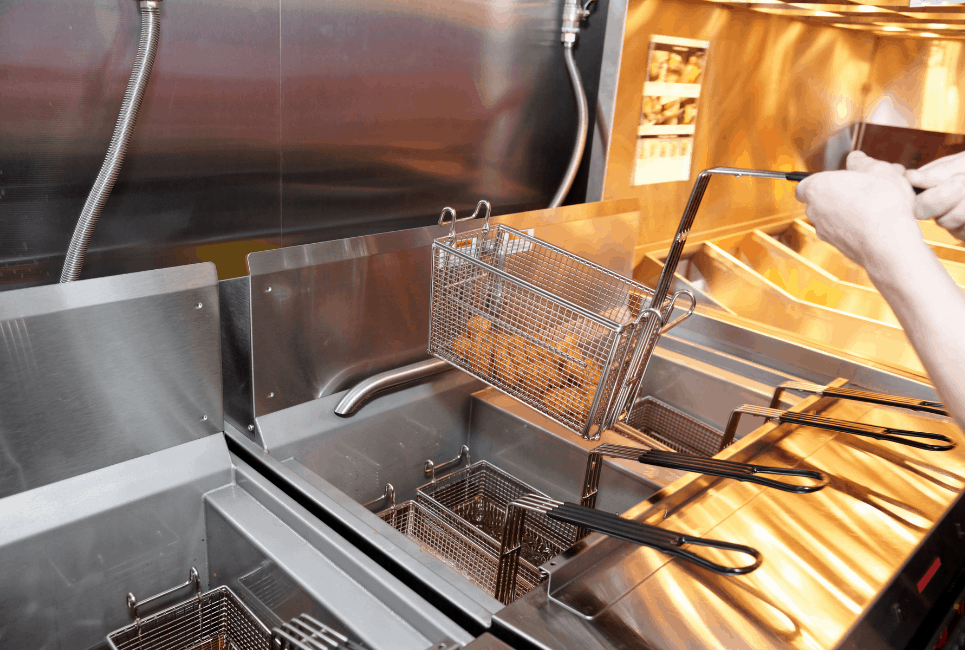 At a Glance: 8 Best Frymaster Fryer Models
| | | | | |
| --- | --- | --- | --- | --- |
| Name | Dimensions | Best for | Weight | More Info |
| Frymaster GF14SD Gas Fryer | 35" x 21" x 46" | Durability | 139lbs | Find out more |
| Frymaster ESG35T Natural Gas Floor Fryer | 36" x 22" x 47" | Fuel efficiency | 165lbs | Find out more |
| Frymaster GF40SD Floor Fryer | 31" x 17" x 16" | Stability when using | 146lbs | Find out more |
| Frymaster RE14 Electric Fryer | 45.2" x 15.6" x 31" | Large-scale cooking with electricity | 150lbs | Find out more |
| Frymaster PH155 Gas Fryer | 36" x 22" x 46.5" | Maximizing output in small spaces | 202lbs | Find out more |
| Frymaster SR14E Electric Fryer | 15.75" x 27.25" x 44" | Small-scale cooking with electricity | 180lbs | Find out more |
| Frymaster MJ1CF Gas Fryer | 20.9" x 39.8" x 46.3" | Large-scale cooking | 250lbs | Find out more |
| Frymaster MJ150 Floor Fryer | 16" x 31.63" x 46.63" | Cooking large in a smaller fryer | 202lbs | Find out more |
Selection Criteria
Fryers are an essential appliance for any restaurant or food shop kitchen. Since they carry a lot of oil and come into constant contact with food, picking the right one is important. We used the following criteria to make our list of the eight best Frymaster fryer models:
Sturdy Construction:
A fryer holds what is perhaps the most dangerous of cooking ingredients: hot oil. If a fryer is not designed to contain oil at very high temperatures, then the consequences could be disastrous. We have selected fryers that are made from strong materials. These fryers are not easy to tip over, and will not melt or form holes when cooking oil reaches the maximum temperatures.
Spacious
The purpose of our list is to give you fryers that can be used in professional settings. For this reason, we have picked fryers that have enough space to fry food for dozens of people. In addition, all the fryers on our list can fit two fry baskets at once for maximum output.
Durability
A fryer is an investment, and if it stops working, then you can lose a lot of money. To reduce the need to buy a new fryer after a year or two, we have picked fryers that have a proven user record of working for a number of years, even up to more than a decade.
Reasons to Buy a Frymaster Fryer
Maximum Temperature Control
The oil temperature at which French fries are cooked is not the same at which a garnish is prepared. A fryer should be able to maintain the temperature you set until the food is ready. Frymaster fryers do exactly that. You can comfortably set a low cooking temperature for your fries and go about preparing a salad without worrying that the temperature will rise and scorch your food.
Easy Cleanup Process
Frymaster fryers are designed to make daily cleanup a breeze. They have an easily accessible cold zone that collects food debris so you can sweep it out. The open design of the fry pots also makes it a simple task to scrub the oil compartment. Drainage at the bottom of the fryers gets rid of used oil within seconds.
Trusted Brand
Frymaster has been in the business of making kitchen appliances for more than eight decades. The company is continuously refining its products to make the best quality for each type of food kitchen. As a result, Frymaster's fryers are renowned in the restaurant business, and you are assured of high-quality output regardless of the model you invest in.
Tips for Using a Frymaster Fryer
Use High Smoke Point Oil
Most commercial cooking requires temperatures above 350F. Unfortunately, not many oils can reach these temperatures without producing smoke, which can, in turn, contaminate food. Using oils with a high smoke point will make it easy for you to consistently produce high-quality food and use your oil for longer. Canola oil, vegetable oil, and sunflower oil are great options for deep frying.
Only Fry Dry Foods
Like everyone knows, water and oil are not friends. A commercial kitchen is highly sensitive, and small mistakes can have disastrous effects. Ensure you only dip water-free food into your fryer. If you have washed a food, leave it to dry on paper towels or a rack, then season it before deep-frying it.
Conduct Monthly Boil-Outs
Consistently cleaning the fry pot area of your deep fryer is essential if you want to produce quality food for long. Changing out the cooking oil and removing any food remains is key to keeping the fry pot food safe. Another essential cleanup method is the boil-out procedure. This is when you remove the used oil, mix water with a fryer cleaning agent, and boil it inside the fry pot. Doing this at least once a month helps remove grease and food remains, restoring the fry pot's ability to produce quality, tasty food.
8 Best Frymaster Fryer Models
1. Frymaster GF14SD Gas Fryer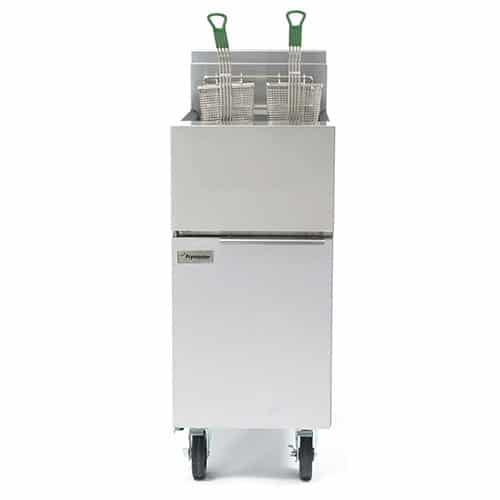 The Frymaster GF14SD Fryer is known for its ability to withstand the ups and downs of a professional kitchen without breaking down. This is a floor fryer made from stainless steel. Other parts like the doors, cabinets and fryer pot are also made from the same material. This makes the fryer food-grade and suitable for use in large-scale cooking. Four 5 inch casters, 2 of which have locks, enable the fryer to stand sturdily so that you can operate it safely.
This fryer uses natural gas as fuel, with a 100,000 BTU capacity. There are multiple features that expand the fuel efficiency of this fryer. It uses a Master Jet burner with metal targets at intervals for even heat transfer around the unit. The GF14SD also has an in-built thermostat that is highly sensitive to temperature changes and alerts the burner as to when to increase fuel use. This results in more efficient use of fuel so you can save on the amount of gas spent.
Frymaster GF14SD is also easy to maintain and clean. The bottom compartment is a cold zone that slopes forward, trapping any debris from the oil above. This prevents the particles from interacting with the fuel and so prevents a burning smell that can contaminate the cooking oil and affect the outcome of food. The forward tilt of the cold zone also makes it easy to sweep out the trapped debris. You can also easily clear out the oil using a 1.25-inch drain.
Pros
Made from durable, food-quality stainless steel.
Features efficient gas consumption.
It has a highly sensitive thermostat for proper temperature regulation.
Fitted with supporting casters, 2 of which are lockable.
A forward-sloping cold zone enables easy cleanup.
Cons
The pilot light can take a long time to turn on.
2. Frymaster ESG35T Natural Gas Floor Fryer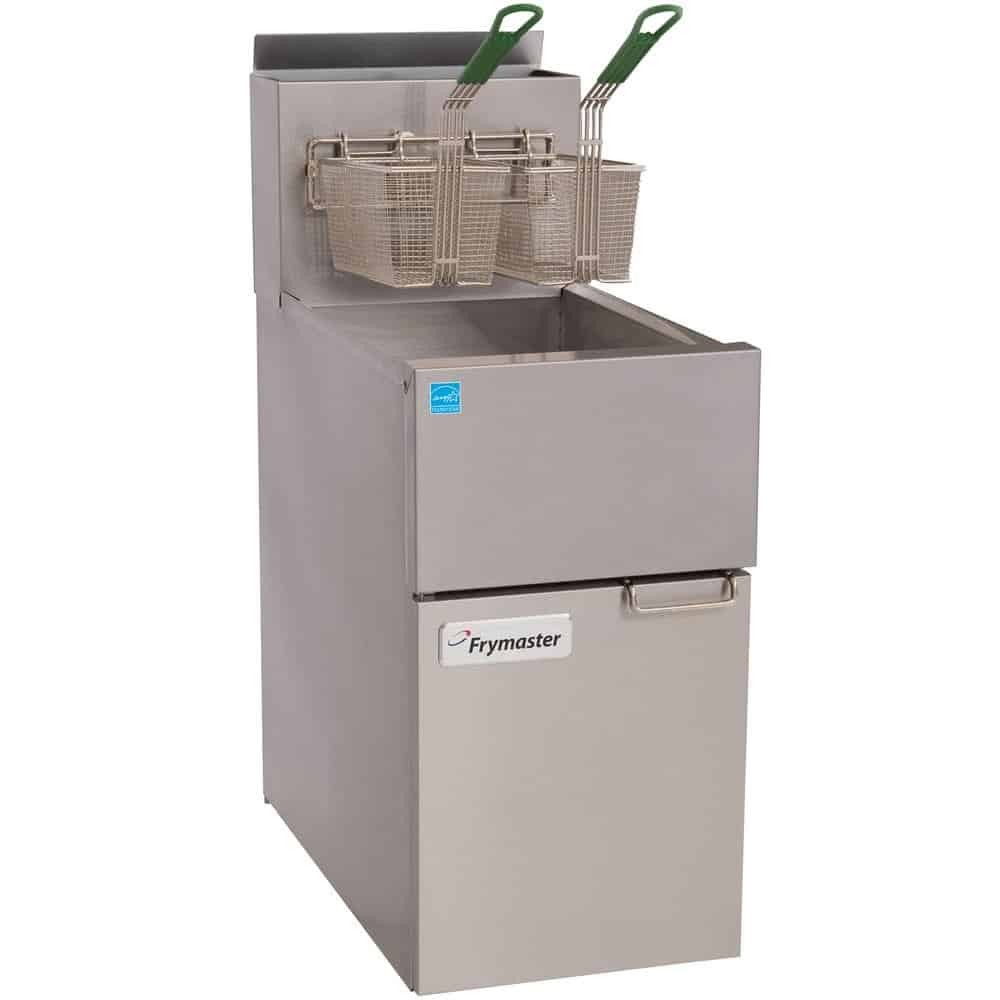 The Frymaster ESG35T is a highly energy-efficient fryer model that will be a joy to use in your restaurant's kitchen. It uses natural gas as fuel with an hourly consumption of 70,000 BTU. The fryer is equipped with three 6 inch heating tubes that quickly distribute the heat and maintain the temperature to prevent heat loss.
The result is 33% less fuel consumption and a 27% reduction in heat loss. You will save a lot on fuel costs when you use the Frymaster ESG35T.
This fryer is equipped with a 35-pound fry area that can hold up to two fry baskets at a time. The heating elements enable you to make up to 50% oil savings when cooking while giving you the same productivity as a fryer with ten more pounds of capacity.
The fryer pot, flue cover, and doors are made from stainless steel, a material that can endure the high traffic use of a professional kitchen.
The fryer is also equipped with a cold zone underneath the fry pot. This area collects all the pieces that would otherwise burn and contaminate the oil. The fryer pot has a tilted bottom that makes it easier to collect any impurities. This lets you use cooking oil for longer and maintain the quality of the food you make.
Pros
Large enough to fit two frying baskets.
It is fitted with heating tubes for even heat distribution and cooking.
Consumes 33% less energy compared to competitor models.
Fully utilizes cooking oil, reducing consumption by half.
A forward-tilting cold zone facilitates easy cleanup.
Cons
The thermostat can have trouble regulating temperature.
3. Frymaster GF40SD Floor Fryer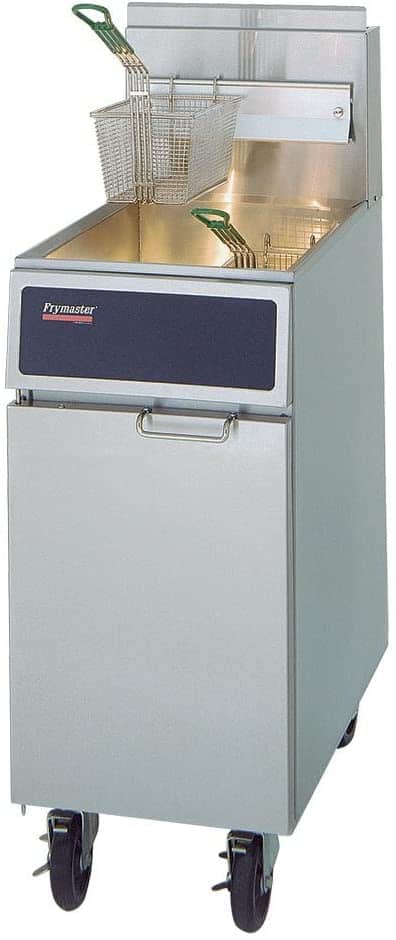 The Frymaster GF40SD is another fryer built with efficiency and durability in mind. This is a fryer that uses natural gas as fuel. It has an hourly consumption rate of 122,000 BTU, making it a very energy-efficient fryer that surpasses many of the same capacity in the market. It fits two fry baskets at one time, letting you make full use of the 50-pound oil capacity.
Fuel efficiency is enhanced by the thermostat that quickly senses temperature changes and activates the Master Jet burner.
The fryer's open design allows heat to spread easily and evenly. This feature also makes the fryer easier to clean since it is easy to reach all sides of the fry pot. You can quickly release used oil through the drainage hole located near the feet of the fryer.
At 50 pounds oil capacity, it can be disastrous if this fryer tilts over. This is why it is equipped with six stabilizing casters to keep it in place the whole time it is in operation. One caster is adjustable, so you can lift the fryer to your desired height.
Additional safety is guaranteed by the stainless steel material used to make all parts that come into contact with food. This enduring construction makes this fryer a great choice for busy restaurants.
Pros
Large enough to suit the needs of a mid-sized commercial kitchen.
Open fry pot design facilitates faster heat distribution.
Consumes fuel at rates lower than models of the same size.
It is fitted with six casters to enhance stability.
It is made from food-safe and durable stainless steel.
Cons
4. Frymaster RE14 Electric Fryer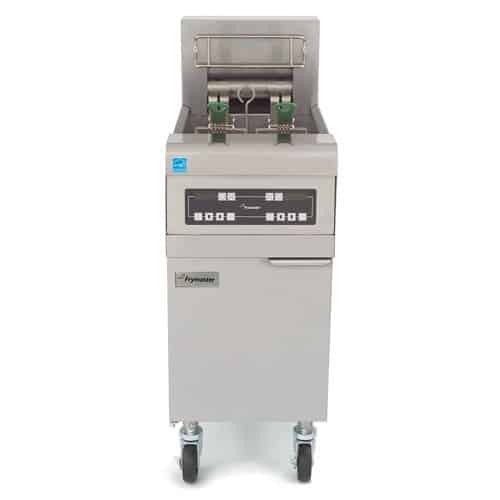 The RE14 is the first electric fryer on our list, and its features are nothing short of amazing. It is a freestanding fryer that is completely sturdy, so you will not have to worry about it tipping over if someone accidentally bumps into it. It has an oil capacity of 50 pounds but can churn out 68 pounds of fries for each hour it is on. This allows you to use it in a high-traffic fast-food restaurant or food truck.
The Frymaster RE14 Electric Fryer is equipped with a centrally placed thermostat that accurately assesses the temperature distribution in the fryer. It has a swing-up property that senses a 1F temperature difference and readjusts back to your desired settings.
This feature prevents oil from cooling too much and reduces the amount of electricity that would be used to reheat it. It also prevents overheating of the oil, reducing the number of oil changes you would do.
In addition to being a cost-saving fryer, the RE14 has a big cold zone beneath the fry pot. Here, sediments from the oil collect and are protected from burning and release a foul smell.
In addition, the sloping bottom of the cold zone makes it easy to clean out any grease and dirt that collects here. To exchange the oil, simply release the used one through the ball drain near the bottom of the dryer, and you are good to go.
Pros
It can fry food more than 10 pounds of its oil capacity every hour.
Adjusts temperatures quickly using the centrally-mounted thermostat.
A large cold zone maintains the quality of the oil.
Has a fitted ball drain for proper discarding of used oil.
Sturdy construction ensures stability throughout.
Cons
The RE14 is more expensive than other fryers of its size.
5. Frymaster PH155 Gas Fryer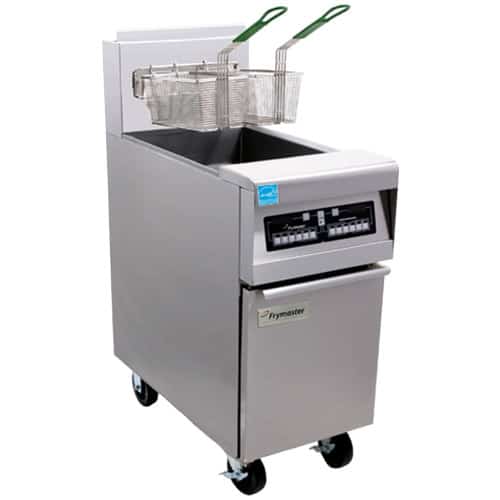 The Frymaster PH155 is a gas fryer with a large cooking capacity, making it the ideal fryer for a bigger establishment. It has a fry pot that can hold up to 50 pounds of oil. This fry pot can fit two standard-size fry baskets and produce up to 85 pounds of fries per hour. This puts the PH155 ahead of other fryers of other similar-sized fryers in the market.
This is a freestanding fryer that will be right at home in your restaurant's kitchen. It uses natural gas as fuel and is designed to maximize fuel efficiency. The top area of the fryer is open to allow heat to distribute evenly across the cooking surface. Its in-built thermostat is highly responsive and gives you total control over which temperature you cook at. An infrared burner maintains even temperatures in the cooking oil, ensuring that you get consistent results each time.
When it comes to cleaning, multiple features make the maintenance of the Frymaster PH155 Gas Fryer easy. The cold zone beneath the fry pot is wide and deep, with a sloping bottom that collects all debris from the oil.
There is also a valve near the bottom of the fryer that quickly lets out used oil and other debris. You can regularly use the boil-out method to restore the cooking pot into the right cooking shape.
Pros
Fry pot can produce up to 35 pounds more food than its oil capacity.
Open fry pot area allows faster heat distribution for more efficiency.
A highly responsive thermostat maintains the set temperatures.
Features a valve outlet for releasing used oil.
A wide cold zone enables fast cleanup of food debris.
Cons
The fryer is expensive compared to other models of the same size.
6. Frymaster SR14E Electric Fryer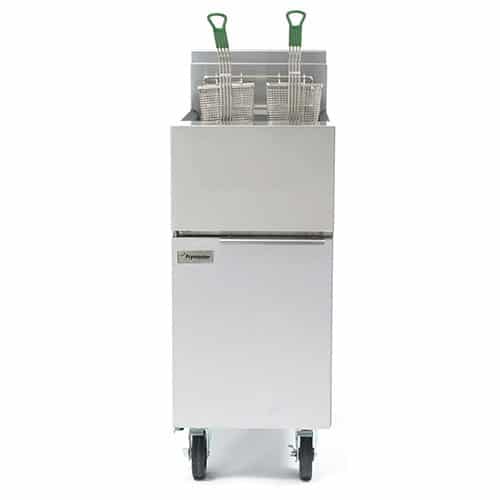 The Frymaster SR14E is another electric fryer designed to reduce your energy bills. It has a fry pot with a cooking oil capacity of 40 pounds. You can use two fry baskets at a time to enhance the output, making the SR14E ideal for use during peak dinner hours. With its freestanding design, this fryer will fit into any space in your restaurant's kitchen.
All parts of the fryer are made from stainless steel, with aluminum material used to construct the sides. It uses a 1-phase electric output that can produce up to 208V. A simple power switch turns the unit on, and an indicator light signals that the fryer is in operation. The SR14E is designed to cook everything, from fries, meat, and different types of bread.
As a freestanding fryer, the SR14E is supported by four 6 inch legs. These legs are adjustable, enabling you to lift the fryer up to the desired level. There is also a temperature probe that maintains an even oil temperature in all areas of the fry pot. The large cool zone of the fryer collects any sediments and allows you to use your cooking oil for longer.
Pros
Makes efficient use of electricity for faster cooking.
It is made from durable materials for long-lasting use.
It is supported by metallic legs that enhance its stability.
It comes with a temperature probe for proper heat management.
It is fitted with a big cool zone to facilitate faster cleanup.
Cons
Cooking capacity may not be enough for high-traffic eateries.
7. Frymaster MJ1CF Gas Fryer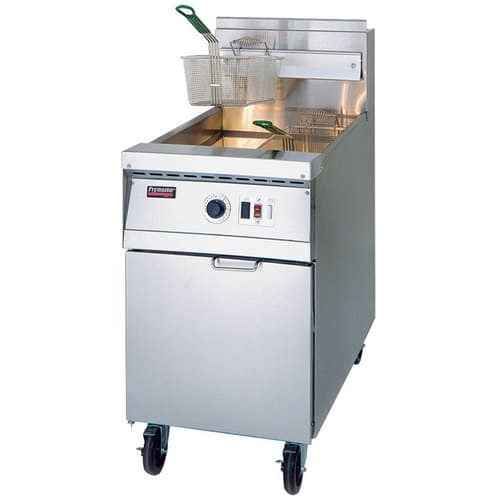 The Frymaster MJ1CF is a freestanding gas fryer designed for use in larger restaurants. It has an 80 pound oil capacity, ideal for churning out high amounts of food each hour. As a freestanding fryer with caster supports, you can safely move it from place to place in your kitchen without any hassle.
This fryer uses natural gas to heat up the cooking oil. It has a BTU of 150,000, which is lower than that of other fryers in its size. It uses a Master Jet burner system with metal targets placed over a wide area. This allows even heat distribution, so all areas of the fryer produce the same quality of food.
A fast-acting thermostat recognizes a 1F temperature change and brings it back to the temperature you set. This system reduces gas consumption and helps you make savings on energy bills.
The Frymaster MJ1CF is easy to clean. It has a deep cold zone underneath the fry pot where any debris from the cooking oil is collected. The bottom of the cold zone is forward-sloping to make the cleanup process easier. There is also a 1.25-inch ball drain through which used oil can quickly be released.
Pros
Large enough to suit the needs of a large establishment.
Freestanding with supports to enhance stability.
Efficiently uses energy to reduce costs.
The thermostat balances temperature so that you get quality food.
Easy to clean and maintain.
Cons
Users report a temperature regulation issue.
8. Frymaster MJ150 Floor Fryer
To close off our list is the Frymaster MJ150, a fryer with a 50-pound cooking oil capacity. It can produce up to 80 pounds of fries each hour, making this a great fryer option for a busy restaurant. The fry pot, floor, and doors are made from stainless steel, while the cabinet is made from enamel. These materials are highly durable, and you can expect the fryer to last you years.
This is a gas fryer that uses natural gas as fuel. To optimize efficiency in energy consumption, this fryer is equipped with a centrally mounted thermostat. This thermostat is highly sensitive and reduces instances of temperature overshoot. You can be assured of evenly cooked meals that will delight your customers each time.
The Frymaster MJ150 is a floor fryer equipped with casters that keep it in place. There is a cold zone with a sloping bottom where any debris from the fry pot collects. A front valve near the bottom of the fryer is a handy feature that makes cleaning out the oil easy.
A flush feature at the front of the fryer swirls cooking oil in the fry pot, dislodging debris that falls into the drain for cleaning. You can also easily sweep out the cold zone to keep your fryer in top shape.
Pros
Large enough to suit the operations of a large commercial kitchen.
A centrally mounted thermostat helps maintain food quality.
It has a flush feature that makes it easy to clean out food debris.
It is made from durable material that can withstand a lot of use.
The fryer is easy to clean and maintain.
Cons
The price is costly for the small capacity.
Best Frymaster Fryer Model Guide: FAQs
Question: Can I leave the oil overnight in my fryer?
Answer: You can leave the oil overnight in your fry pot, but make sure this does not exceed more than a few days. To keep the oil at a good quality, filter it once it cools to remove any food remains. These will decay if left for too long and spoil your oil. If you leave it overnight, cover the top of the fry pot until when you next use the oil. However, it is better to empty your fryer and place the oil somewhere cool and dark so that the breakdown process is slowed.
Question: When should I change out the cooking oil?
Answer: Experts recommend changing cooking oil at least twice a week in a busy restaurant and at least twice a month if the fryer is not used as much. However, you may need to change the oil sooner if it has a burning smell, if it becomes too dark, or if the food you fry does not taste as it should.
Question: How often should I clean out my Frymaster Fryer?
Answer: You should clean out your fryer every day after its use has ended. Wash the baskets each time you finish cooking one dish. Wipe down the outside of the fryer at the end of the day or whenever there is spillage. You should use fryer soap to clean the fry pot entirely before adding new oil whenever you change your oil. And once every three months, do a deep cleaning of the fryer, including scouring its inside and outside.
Question: Which is the Best Frymaster Fryer Model?
Answer: The Frymaster ESG35T Natural Gas Floor Fryer is the best overall Frymaster Fryer model, in my opinion. This fryer uses modern technology to make it highly energy efficient, reducing your energy bills. Its capacity makes it a great choice for a medium-sized restaurant with high traffic.