Latest posts by Maddy Chiffey
(see all)
Berkel meat slicers are made of high-quality materials and are well constructed to be durable and reliable workhorses in the commercial kitchen. Berkel has meat-specific slicers, as well as slicers for bread, cheese, and universal slicers for all food types. This guide will focus on the five best Berkel slicer models.
Commercial bread slicers and commercial cheese slicers are different from those crafted just for meat – or universal/multi-use slicers that can tackle most food types. If you're currently using a bread or cheese slicer for cutting meat, then you're likely struggling to get perfect slices every time.
With a Berkel meat slicer, you're guaranteed reliability – it's what the brand is known for, but what else can you expect? Read on to find out if this brand is really worth the price tag and what the alternatives are.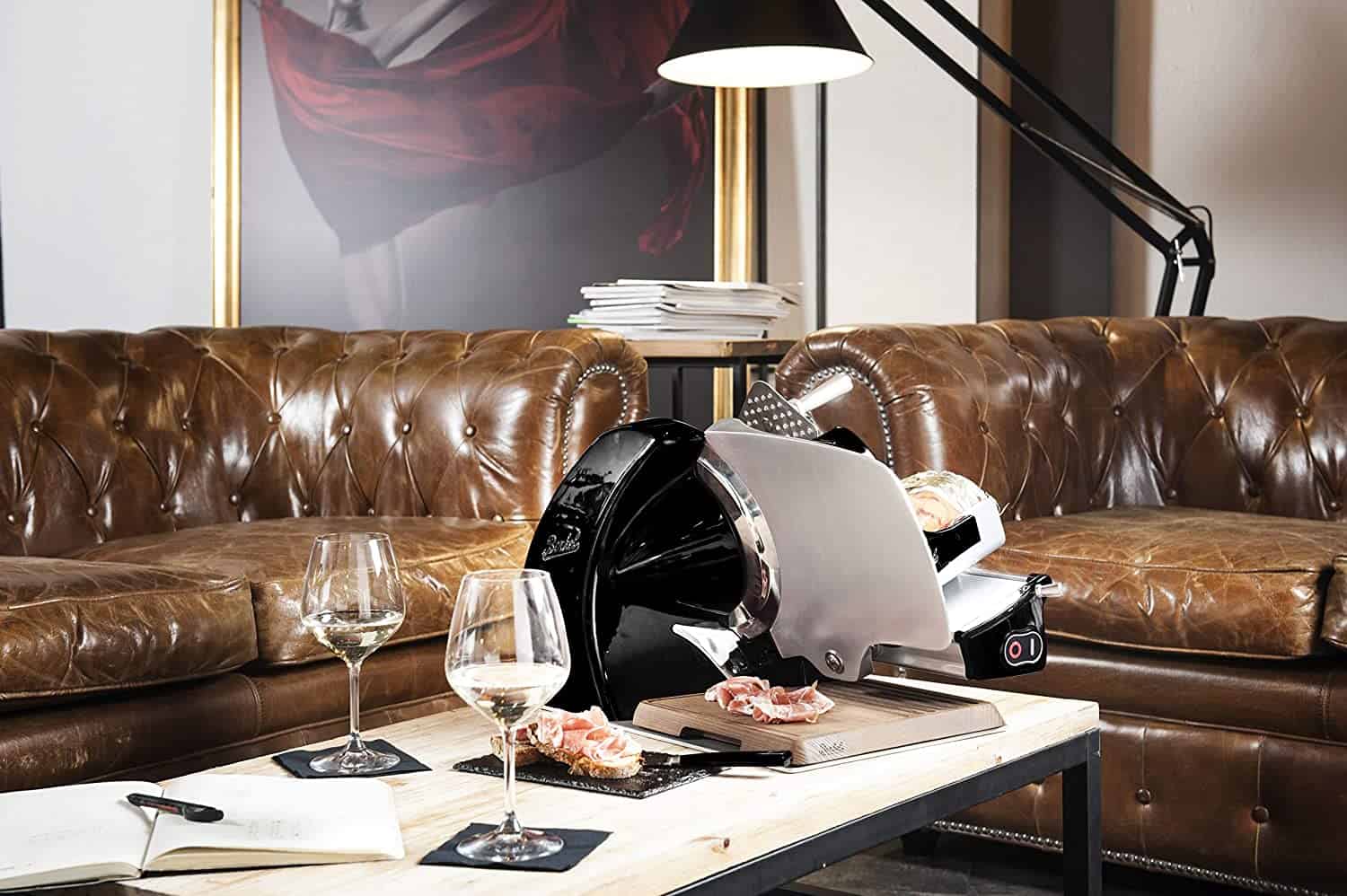 At a Glance: 5 Best Berkel Meat Slicers
Why Choose Berkel?
Berkel has a 100-year history of producing consistently reliable, top-quality, and affordable equipment for the commercial kitchen. It combines innovation and experience, which contribute to the brand being a leading manufacturer in the USA.
The brand began in Rotterdam in 1898, when W.A. Van Berkel came up with a brand new way of slicing meat in his butcher's shop more efficiently. This led to the world's very first meat slicing machine, a revolution.
By 1907, Berkel meat slicers were being used in England, Canada, Mexico, and all over Europe. Two years later, the machines began to be manufactured in Chicago. The Netherlands-born brand is now associated with the Vulcan Food Equipment Group, as well as being a division of the ITW Food Equipment Group.
With a Berkel meat slicer, you can expect great quality, longevity, durability, and a genuinely excellent piece of equipment. Berkel doesn't sell low-priced commercial equipment, but they do manufacture equipment that lasts. Take good care of your Berkel slicer, and it'll be a product that won't need to be replaced; however, if there are issues, then the brand has great after-sales service.
The Different Berkel Meat Slicer Models
Berkel currently retails seventeen different slicers, so it can be challenging to know which one is best for your needs. Berkel has three different slicer categories, which are explained below.
Gravity Feed
Berkels Gravity-Feed 800 Series offers manual and automatic models with a wide variety of knife sizes. These meat slicers come with an anodized aluminum finish, removable carriage, and the knives are all chrome plated and carbon steel. These are the most expensive of the models and run into thousands of dollars.
Premier
The premier series has a lot to offer with hardened stainless steel knives, a ½ hp motor, an NSF-approved polymer base, and a 13-in blade. Their unique feature is the drop zone, which improves cleanability.
FlyWheel
The Fly Wheel series includes the most vintage-looking models and with a hefty price tag. They're timeless classics, with hand-operation and automatic models available. You can select the thickness levels manually, and these slicers are the most aesthetically pleasing of all.
Choosing the Right Berkel Meat Slicer for Your Needs
Berkel produces premium quality slicers designed for constant and heavy use. These models offer design features to enhance slice precision, the smoothness of operation, and the safety of use. Some have additional design features that can be highly beneficial to some.
Here are some features worth considering when buying a Berkel meat slicer.
Blade Size: Berkel slicers tend to have larger cutting blades for all-round use, typically between 10-in to 14-in. Entry and mid-level brands often have smaller blades for lighter use. Industry-wide, a 12-in cutting blade is the most common option.
Horsepower: The higher the horsepower of the slicer, then the more regular use it will withstand.
Product Tray: Most meat slicers can hold products that range from 7.5-in to 12-in within the carriage. If you're planning to slice more oversized products, it is essential to verify that the slicer's carriage will accommodate this.
Cleanability: Some slicers have special kickstand-style legs that let you prop the slicer upwards to clean underneath; this is a great feature for safety. There are cleaning tools and brushes that can help get into the gaps, and blades should be fully removable.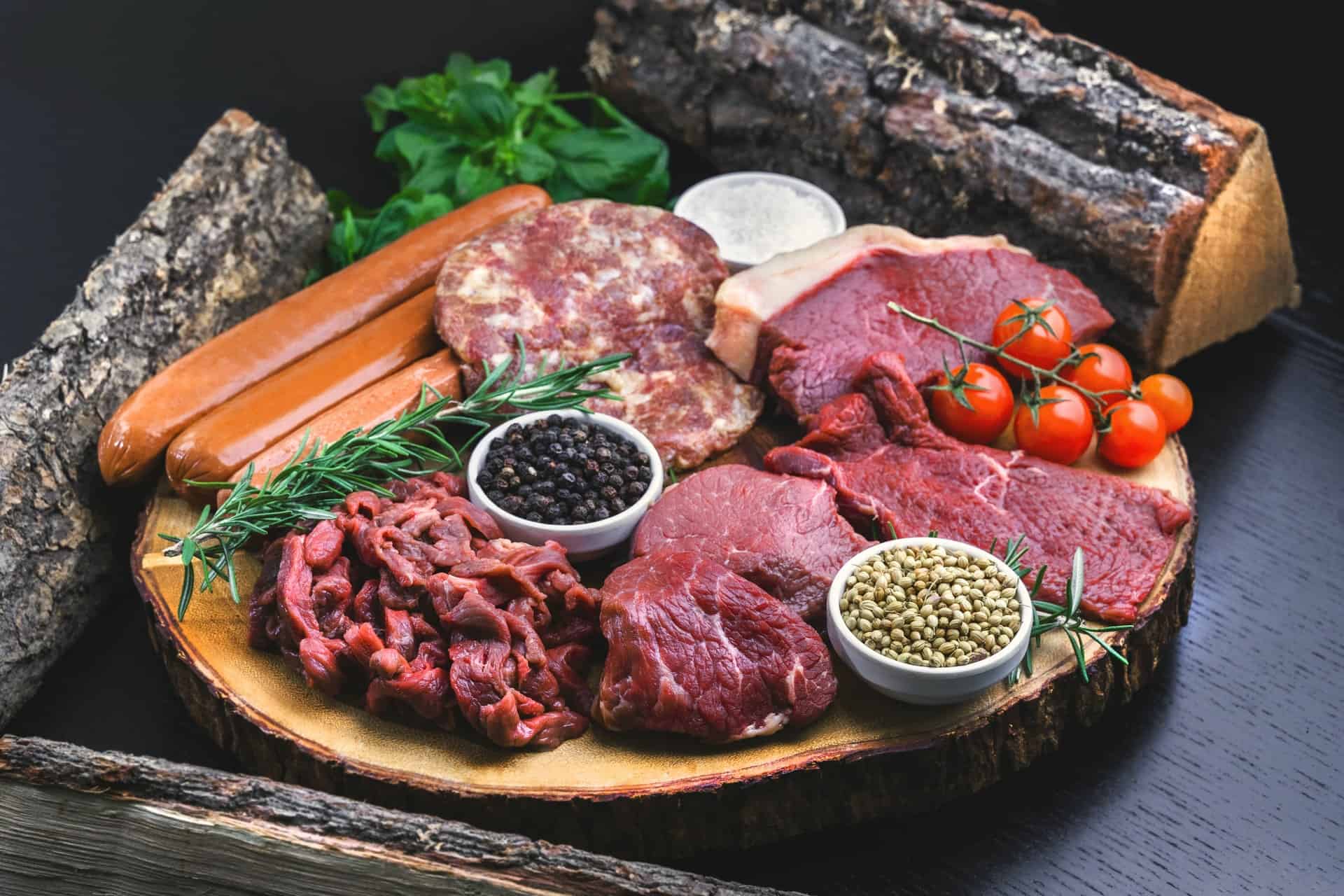 Some Other Considerations Require Further Thought, And These Are:
Manual vs Automatic
An automatic meat slicer, with an electric motor moving the tray back and forth, is hugely convenient, especially when slicing large amounts of meat as it will slice continuously without requiring the physical labor of staff. Large delis, supermarkets, and bakeries tend to use automatic slicers for their incredible convenience.
A manual slicer is a more traditional option, and with no electric elements, there's no drain on the kitchen's utility usage. The lack of additional components also means less can go wrong, and they tend to be cheaper to purchase. But, unless you have arms like Popeye, using a manual meat slicer for large volumes of food is a tremendous amount of effort.
Belt vs Gear Driven
Most meat slicers today will be belt-driven. Theoretically, slicers with a gear-driven blade will be more durable, but if it requires a repair, it will cost a substantial amount of money than a simple belt replacement.
Safety Features
Safety can't be understated with any piece of equipment that involves a razor-sharp spinning blade close to the hands during operation. Every member of kitchen staff who uses a meat slicer should have adequate training before their first go.
You would be wise to consider some other safety features before purchasing a commercial meat slicer. And, these are:
Knife Guard: Typically, all meat slicers will expose as little of the blade as possible to increase the user's safety. On some meat slicers, you will be able to remove the blade to clean it fully, but it will be permanently attached to others. When cleaning an attached blade, always ensure the appliance is turned off at the wall first.
No-Volt Release: This is an excellent safety feature to look for. It requires the user to push the power button to restart the slicer once it's been unplugged for cleaning. Or if the power was interrupted. This means that the slicer won't automatically begin cutting if there's been a malfunction or disturbance to operation.
Gauge Plate Interlock: This safety feature requires the gauge plate to be set at zero before the product tray can be tilted or removed before cleaning. This way, the blade's edge, and the operator's fingers, are protected.
Product Criteria
Berkel produces seventeen different types of slicers, and this guide features just five of them. Here's what those slicers needed to have to be considered our five best.
Features
The Berkel meat slicers in this guide have a range of features, some of which will suit different types of commercial kitchens more appropriately. For every reader to find a product suitable for them in this guide, I looked for something unique for each slicer listed.
Popularity
As well as my own findings, I wanted to ensure that the slicers listed were well received by other consumers. This meant good to excellent reviews, in the majority.
Price Range
Some Berkel slicers are very expensive; others are a little more affordable. For fairness, I have included slicers across the price range in this guide.
Ease of Use
To help with the flow of operation for a commercial kitchen, I have looked for the meat slicers that are the easiest to use and require minimal training for all staff members.
Five Best Berkel Meat Slicers
Berkel 827E-PLUS 12″ Manual Gravity Feed Meat Slicer -1/3 hp – Our #1 Top Pick

12″ Carbon Steel Knife
Totally Enclosed Knife Motor
Removable Components

Find it Here
Berkel Home Line 250 Slicer – Our #1 Budget Pick

Electric Slicer
Professional Push Buttons with LED Indicators
Black Aluminum Alloy Body

Find it Here
Berkel Red Line 220 Slicer 

Classic, Vintage Look
9-in Blade
Adjustable Thickness

Find it Here
Berkel Volano P15 Slicer

Stainless Steel Body
Elegant, Vintage Design
Built-in Sharpener

Find it Here
Berkel Classic Flywheel Prosciutto Slicer

13-in Blade
Chrome Plated Carbon Steel Knife
Hand operated Design

Find it Here
#1 Berkel 827E-PLUS 12″ Manual Gravity Feed Meat Slicer -1/3 hp – Our #1 Top Pick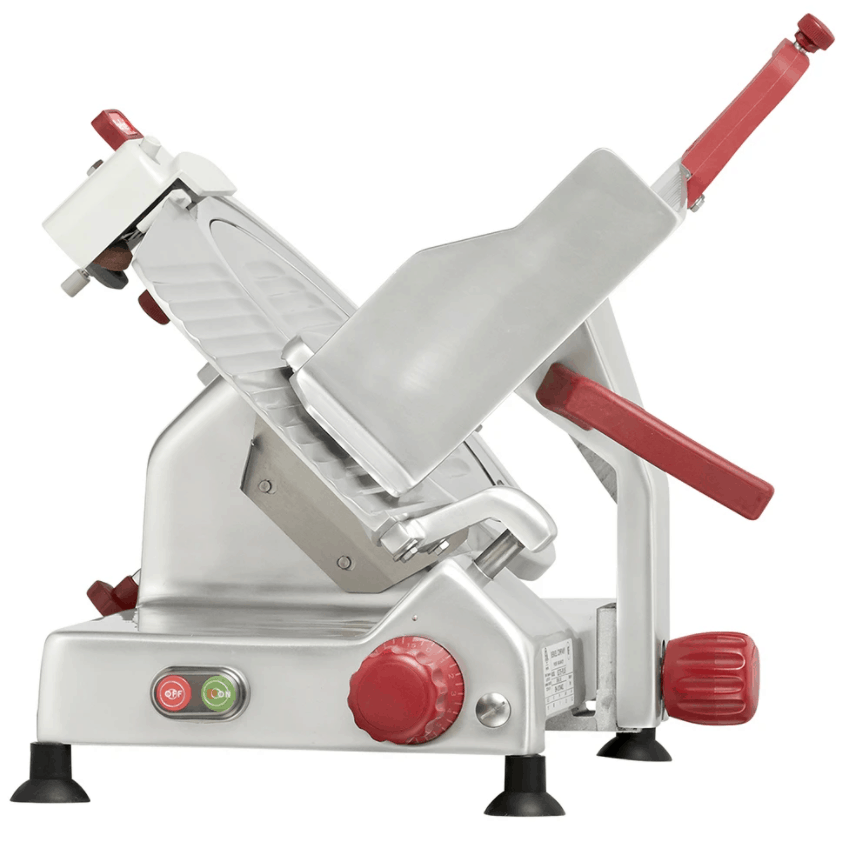 The simplicity of the Berkel 827E-PLUS 12″ Manual Gravity Feed Meat Slicer -1/3 hp is one of its finest qualities. It is so easy to use and safe that kitchen staff will need minimal training to be able to use this slicer like a pro. The blade is 12-in, and the knife motor is enclosed. There is just a one-speed setting, and this slicer is recommended for medium-volume use.
The knife is made from carbon steel and built to last. You can easily adjust the thickness, from tissue-thin cuts to more generous slices, and the motor will withstand several hours of use per day. The feed tray is mounted at a 45-degree angle, using gravity to its advantage and resulting in consistent slices every time.
This is a manual slicer, giving you complete control, and I found the ergonomic push handle very comfortable to hold and use. The product pusher tray prevents slipping and increases the safety of the user. I love the built-in sharpener, which gives the blade a razor-sharp edge, and how easy this product is to use and clean.
Pros
Comfortable Ergonomic Handle
Tilted Feed Tray
Built-in Sharpener
High-Quality Materials
Easy to Use and Clean
NSF Listed
Cons
Prop 65 Warning CA Residents
Not Electric – Labor Required to Use
Best for Medium-Volume Use
#2 Berkel Home Line 250 Slicer – Our #1 Budget Pick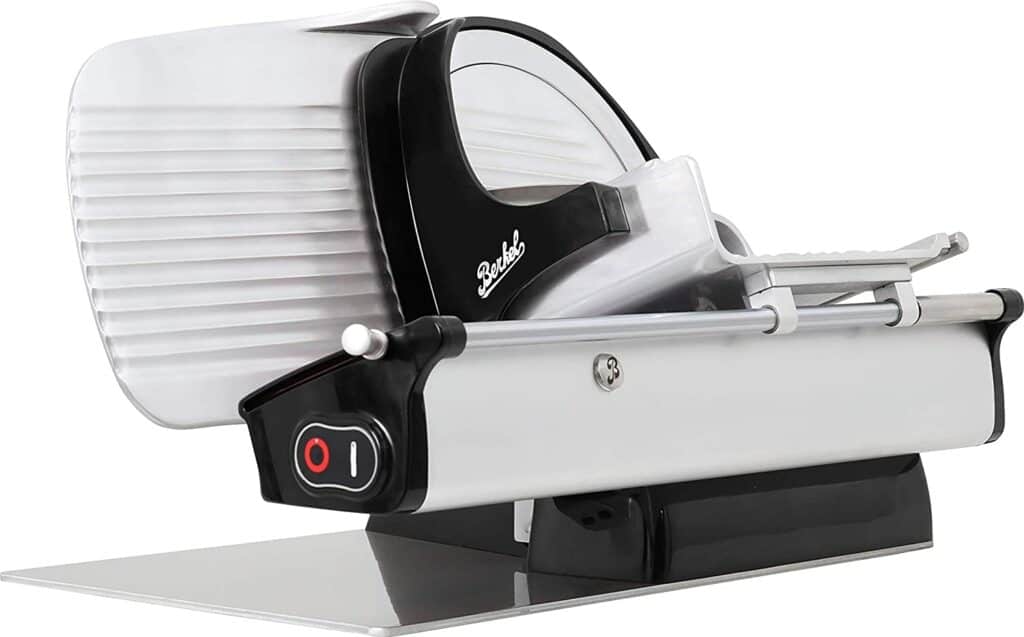 The Berkel Home Line 250 Slicer is our budget pick, but it is not a budget slicer. At just under $700, this is very much a high-end price, just not for Berkel. So, what do we lose here? Well, at first glance, nothing. The materials are of great quality (aluminum alloy), the safety features are excellent, and the accuracy of the slicing is perfect.
There are two color options, black or red, and two blade sizes, 8-in and 10-in, to choose from. This model is recommended for home use, but a start-up cafe or small deli could certainly benefit from the product; I just don't feel it would be up to heavy use. Although electric, this isn't the fastest slicer I have reviewed, which does let it down somewhat.
The Home Line 250 Slicer is durable due to the aluminum alloy body, which has a lovely high shine finish. To remove the blade, you need to tilt the slicer to a 90° angle for optimal safe cleaning. It is a great size, easy to use, and almost silent during operation. For a low-mid volume commercial kitchen or the home, this is an excellent meat slicer by Berkel.
Pros
Low Price – For Berkel Equipment
Silent Operation
Easy Clean
High Gloss Finish
High-Quality Materials
Electric Slicer, No Manual Labor
Cons
May not Withstand Heavy Use
Cutting Board Shown is Sold Separately – This isn't Made Very Clear
#3 Berkel Red Line 220 Slicer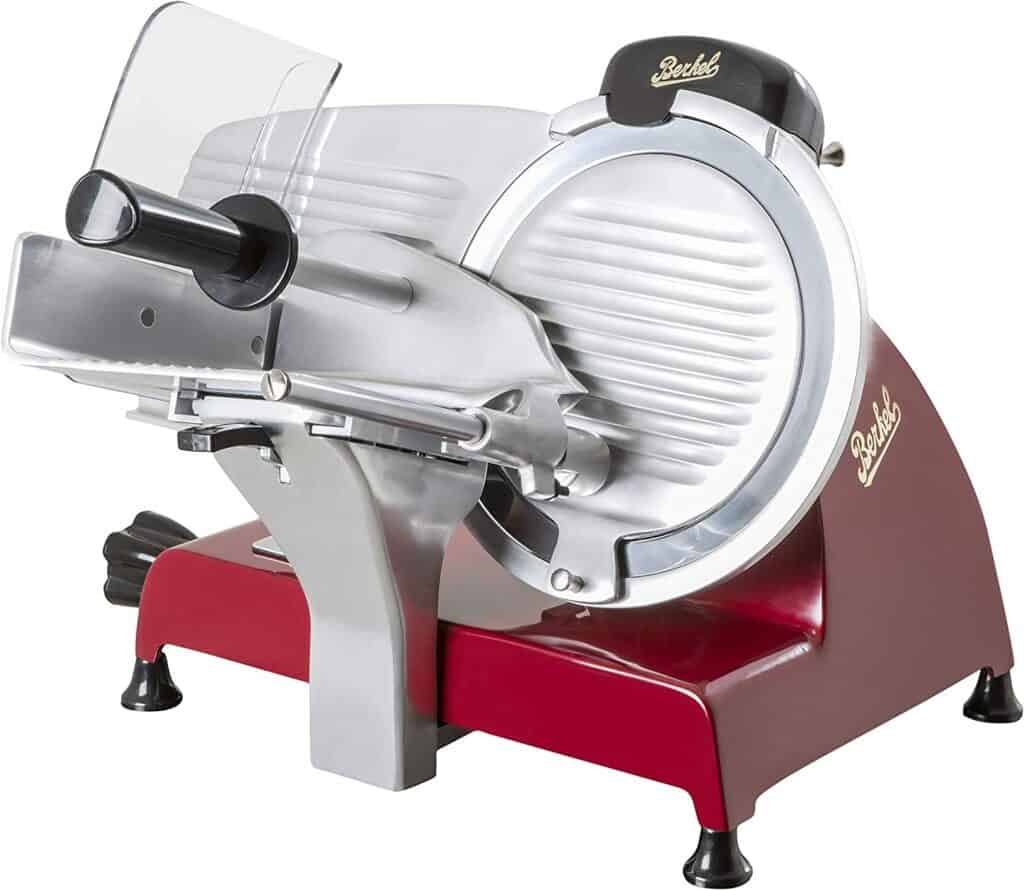 The Berkel Red Line 220 Slicer cuts a range of foods, in addition to meat, and unlike some other multi-use slicers, this one cuts all foods to millimeter precision. It is semi-automatic, so it requires some labor to operate, but is so easy to use; effortlessly gliding over the product with the chrome-plated steel blade – which is razor-sharp.
I like this slicer's modern and elegant design and feel it would contribute to the stylish decor within a deli or cafe – being a little too pretty to spend its days hidden in a commercial kitchen. You can adjust the thickness with ease and to as narrow as wafer-thin meat, cheese or veggies.
A great convenience of this slicer is that the removable parts are all dishwasher safe for optimum sanitation. The rest of the slicer and its aluminum-alloy structure can be easily wiped clean. There are professional push buttons with handy LED indicators, and the price is reasonable for the level of craftsmanship and materials.
Pros
Elegant Design
Precision Cuts
Easy to Use
Removable Components
LED Indicators
Cons
Manufactured in India, Not America
Heavy to Lift and Move
#4 Berkel Volano P15 Slicer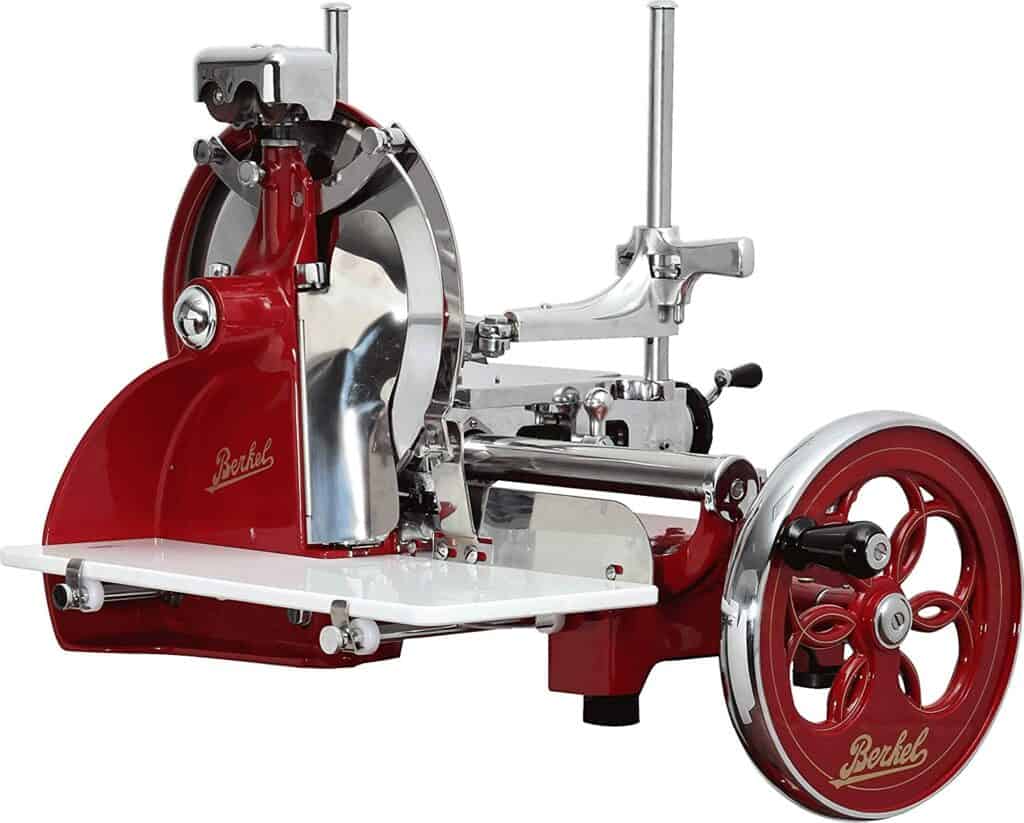 The Berkel Volano P15 Slicer is simply beautiful. This high-end, artisanal meat slicer is every inch vintage, with its original flywheel design, great attention to detail, and high-quality manufacturing. This flywheel meat slicer is a replica of the historic 1940's model, and we just love it.
The dimensions are compact, making this slicer relatively space-saving, and every component has been thoughtfully planned and placed. For example, the built-in sharpener has a steel cover, and the chrome finishes complete the beautiful imagery, making it a bit of a talking piece behind the counter.
A downside to this model is its weight. At 130lb, it isn't easy to lift or move and requires a sturdy shelf if it isn't to be placed on the countertop. This is one of the most popular Berkel models and the longest-running design, still very much the same model it was in the 1940s. If it isn't broken, don't fix it!
Pros
Beautiful Design
Vintage Model
Space Saving
Cons
#5 Berkel Classic Flywheel Prosciutto Slicer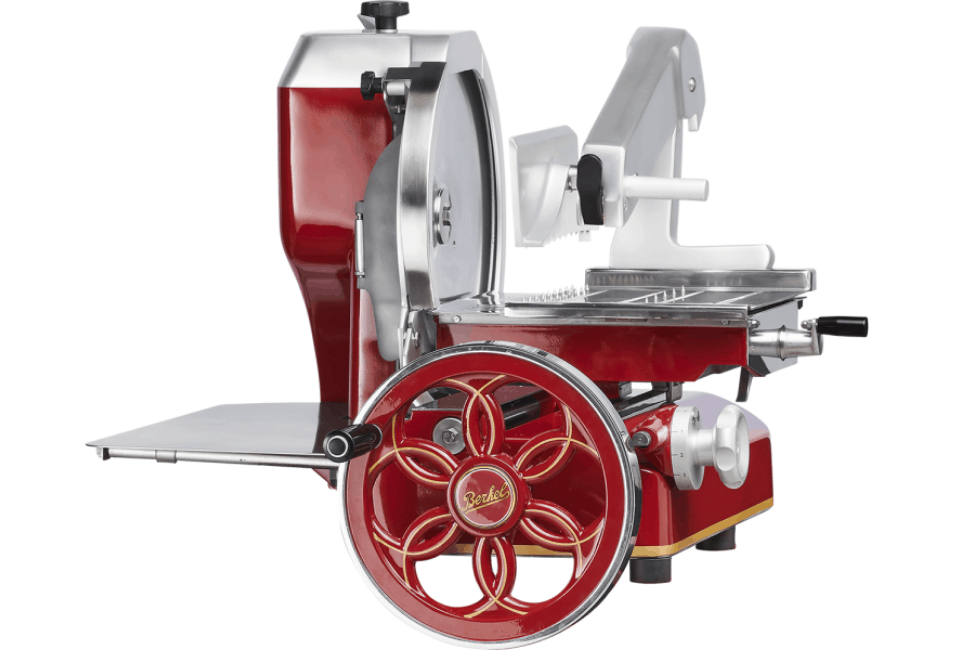 The Berkel Classic Flywheel Prosciutto Slicer is perfect for slicing pieces of delicious prosciutto and signature meats, as well as cheeses. Impress customers with this classic flywheel slicer; with its precision knife and warm red color, it is ideal for delis and specialist shops where an authentic machine will upgrade the aesthetics.
The 13-in blade is chromium-plated and carbon steel – it is razor-sharp and cuts perfect slicers even at tissue-thin widths. It is easy and smooth to use, with the low-resistance flywheel making it simple for all kitchen staff to operate, with a bit of safety training. You don't have to worry about sharpening the blade as there is a built-in, dual-action sharpener to do that for you.
This model is easy to disassemble and clean at the end of the day and simple to put back together. The only drawback I have found is the expense; although a beautiful, timeless piece that has so much going for it, it is a substantial investment. This is also a manual slicer, so some elbow grease is needed.
Pros
Beautifully Designed for Front of House
Low-resistance Flywheel for Easy Slicing
Integrated Precision System
Built-in, Heavy-Duty, Dual-Action Knife Sharpener
NSF Listed
Cons
Prop 65 Warning CA Residents
Very Expensive
Manual Only Operation
FAQs
Question: What Are The Alternatives To Berkel Meat Slicers?
Answer: There are thousands of brands out there, so the alternative to a Berkel meat slicer will depend on your intended use. If you want a high-end slicer that can reasonably compete with this standard, then the BASSWOOD 10″ Premium Chromium-Plated Electric Meat Slicer is a good choice.
A bargain buy would be the OSTBA Electric Bread Slicer, although mainly a plastic construction, there is 200W of electric power. This slicer can precisely cut bread, meat, cheese, fruits, and vegetables with ease.
For an alternative Flywheel model, the Globe 12-in Manual Slicer is an excellent Berkel alternative. Similarly priced and with a lot of the same features, this slicer looks just as great as the Berkel flywheel models but can't slice cheese too well.
Question: How Much Should I Spend On A Berkel Meat Slicer?
Answer: How much you spend on a Berkel meat slicer will depend on how much you intend to use it and for how long. If you're looking for a kitchen workhorse that will last for many years, then it is worth investing in a pricer model. However, if the slicer will be used intermittently, or you're just starting a restaurant business, then it may be wiser to look for a refurbished model or a different brand.
Question: What Foods Can Not Be Cut With A Berkel Meat Slicer?
Answer: Although some Berkel slicers can be multi-use, there are some foods you should avoid slicing, regardless of the model. For example, don't use foods with seeds as these can damage the machine. Avoid meats on the bone, as well as frozen meat, and don't slice cooked meat right after raw to avoid cross-contamination.