Latest posts by Jodie Chiffey
(see all)
If you're looking for a reliable fryer for your restaurant or fast food, Pitco is one of the best and most popular brands to look at. Deciding on the particular model can, however, be quite difficult. But this Pitco Commercial fryer model guide should make it much easier.
First, this article will introduce you to the Pitco fryers in general and explain all of their major qualities and benefits. Then, I'll discuss the available types of technologies, special features, and design specifications that make these units so desirable.
Subsequently, I'll discuss some of the most popular Pitco fryers in detail, one by one, to help you choose the right one for you. Moreover, I'll also add a few alternative recommendations for those who realize that Pitco might not be their best choice after all.
Key Specifications of Pitco Commercial Fryers
| | |
| --- | --- |
| Full company name | PITCO Frialator |
| Types of fuel | Electric, gas |
| Series available | Economy, ROV, Solstice, Solstice Supreme, |
| Country of origin | USA |
| Price range | Middle |
| Official website | pitco.com |
Core features of the Pitco Commercial Fryers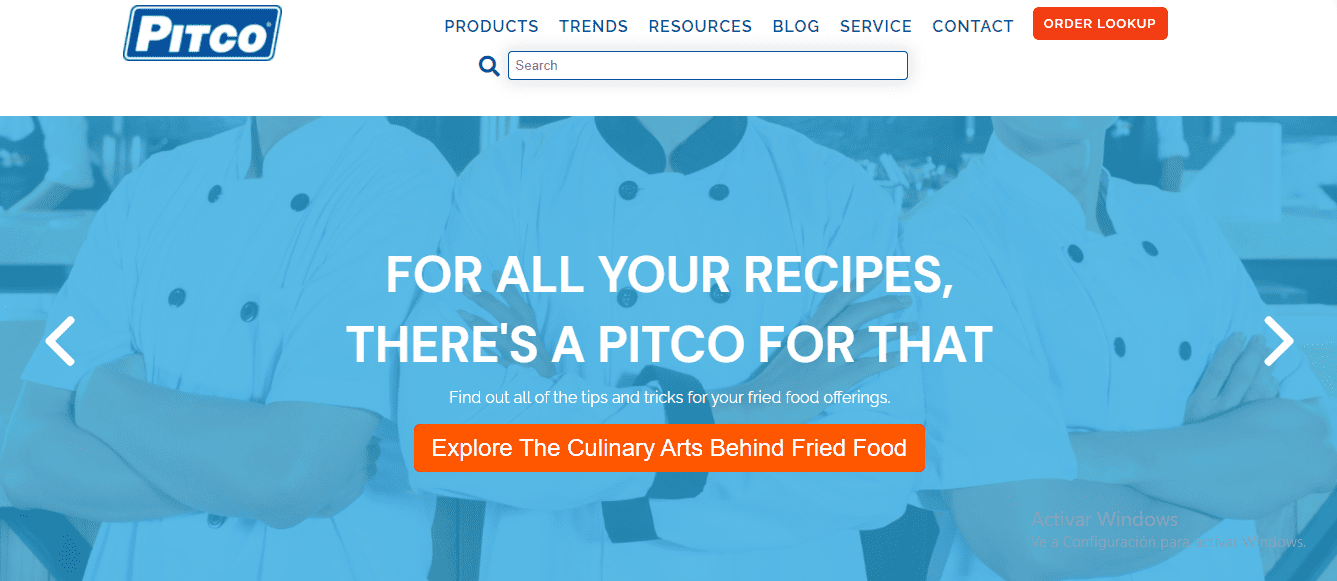 Pitco is one of the oldest and most reputable fryer manufacturers on the market. The company was established in 1918, so it already boasts more than 100 years of history, tradition, and experience. This brand's portfolio is pretty diverse, ranging from compact to large capacity fryers of various types. It also includes numerous filtration and oil management systems.
Each of these products will probably attract a slightly different type of customer. There are perfect fits for limited budgets, some nice energy-efficient solutions, simple, user-friendly machines, and a few sophisticated pieces full of cutting-edge technologies.
This versatility, after all, is definitely one of the greatest advantages of this brand. Let's discuss it closer.
Construction
Pitco fryers come in all different sizes and shapes. Whether you have a super-tiny kitchen or a large establishment with heavy traffic, you should be able to find the right fryer for your needs in Pitco's vast portfolio. Although the design, measurements, and individual features of these appliances can differ a lot, what they all have in common is their sturdy, robust, heavy-duty construction.
Pitco focuses exclusively on commercial kitchen equipment, clearly recognizing and understanding what a professional appliance should look like. These fryers are, by a rule, seated in a thick stainless steel housing that is effectively immune to corrosion and able to withstand even some harsher handling in your busy kitchen.
Design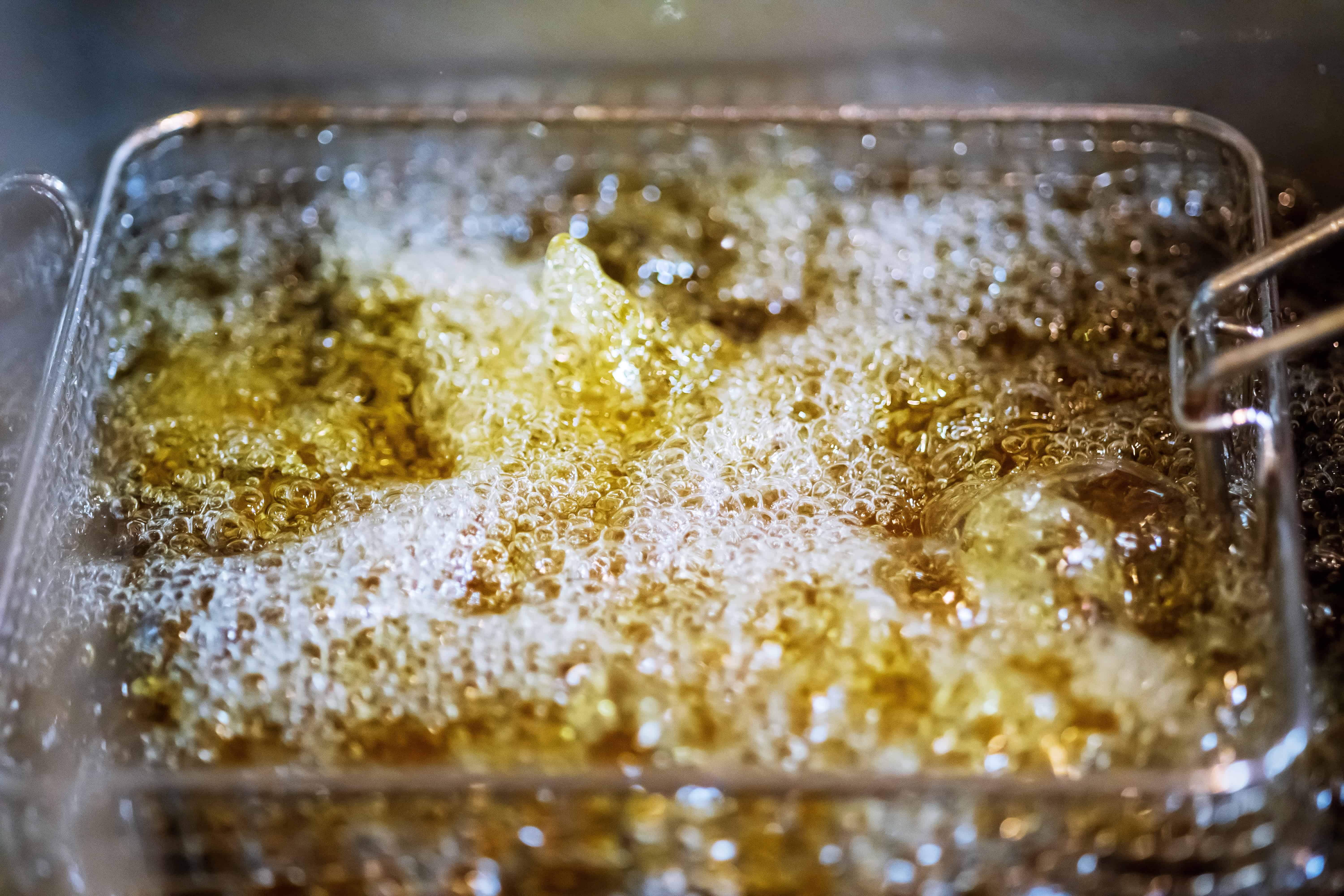 From some of the smaller models like Pitco SG14 all the way to the extra-large beasts like Pitco 65C+S, all Pitco fryers are fitted with robust compartment doors that provide you with convenient access to the ignition and some other inner components.
These floor-standing fryers can be either standing on solid and steely legs (sometimes conveniently height-adjustable) or on caster wheels with or without brakes for upgraded movability. The design is completed with an accurately high splash guard, and a set of two or three frying baskets is usually included in the price too.
Additionally, you can choose from a wide range of available accessories that will further improve the versatility and functionality of your fryer.
Functions and Technologies
Pitco commercial fryers are not only well constructed, but they also boast a nice range of modern technologies and features that make them perform really great.
The most important aspect here is probably the used method of heating. Many of Pitco's fryer models are tube-fired, which means that the frying oil in the tank is heated up by a set of three to five heating tubes. This technology is highly effective, and it also creates a free space for a considerably larger cold zone.
Another feature that makes Pitco fryers highly desirable is a Solstice burner, which is one of the most efficient burner technologies currently on the market. In addition, solstice burners draw in a larger volume of primary air, which significantly improves the final air-gas mixture.
With the additional help of a baffle, Pitco fryers achieve an industry-leading 70 percent thermal efficiency.
Controls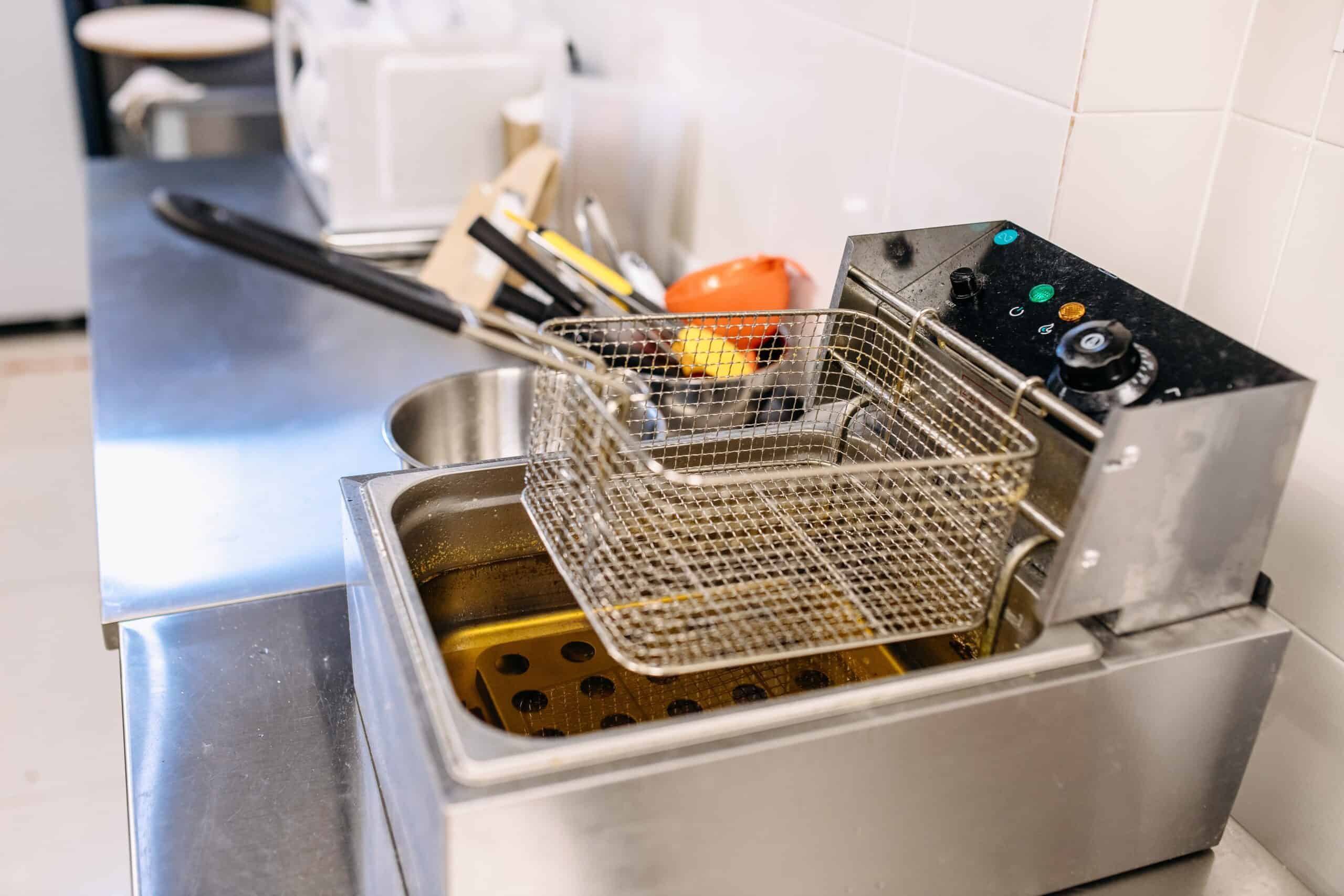 Pitco's range of commercial fryers offers various types of controls ranging from simple solid-state switches and dialing knobs all the way to sophisticated digital interfaces and Infinity touch controls. Of course, the most advanced controls are usually associated with the newest and most expensive models, but even the basic models offer great user-friendliness and precise controls.
The newer Pitco models are also full of various helpful sensors that will indicate when the frying tank runs out of oil or when the temperature shifts. All these practical details will provide you with a perfect sense of control over the fryer and the complete adjustability of its performance.
Fuel Type and Energy Efficiency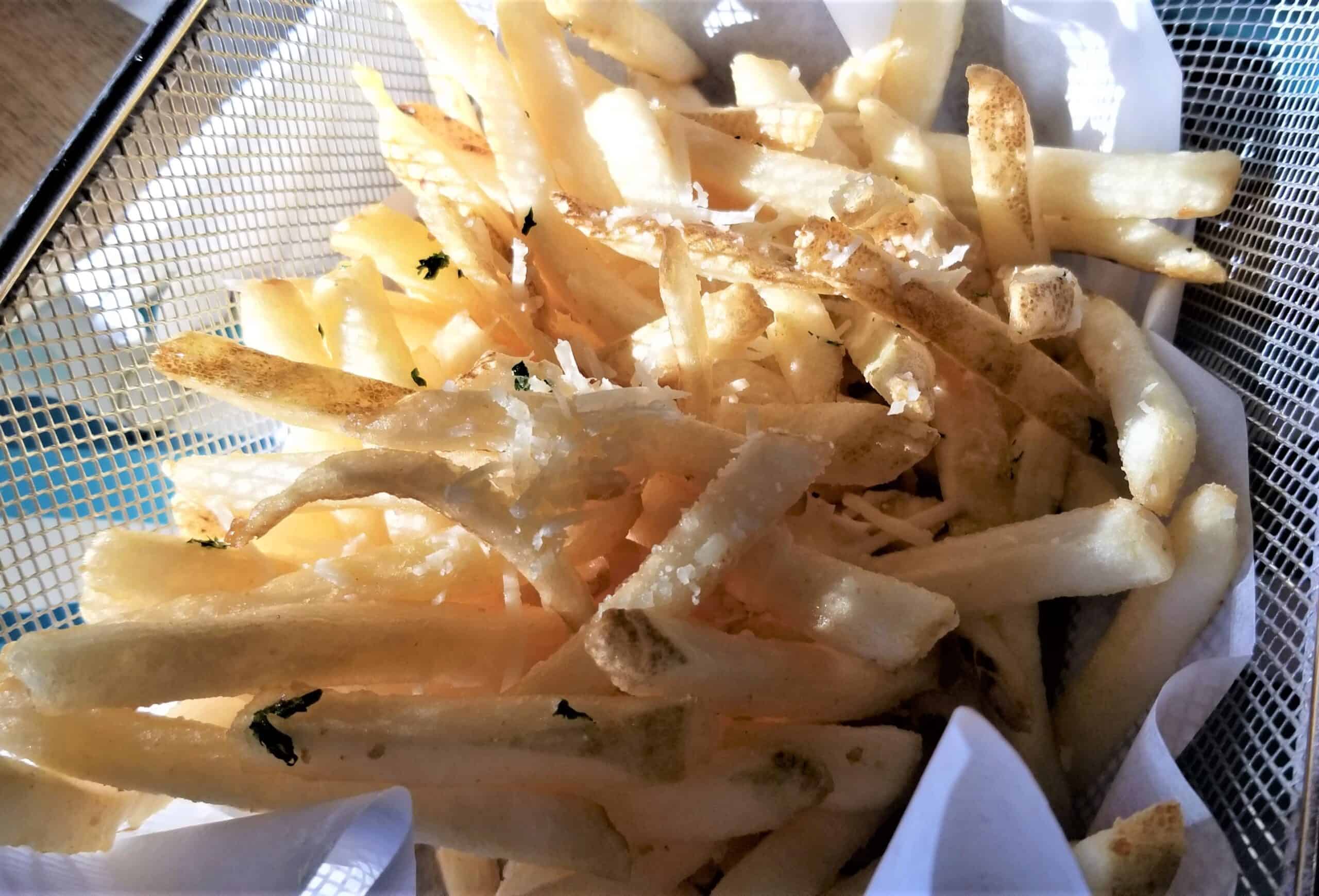 If you're running a brick-and-mortar restaurant somewhere downtown, you can probably choose the best type of fuel for your fryer solely based on your personal preferences or based on the overall operational costs.
Nevertheless, those who operate mobile food trucks, small portable food stalls, or restaurants in remote locations are often confined to the only power source that's available to them, which limits their selection of fryers quite considerably. Pitco, fortunately, provides good solutions for everyone.
Gas Fryers
Are you keen to buy a gas-fueled commercial fryer? These appliances boast great efficiency and reasonable operational costs, making them a preferred choice for many professional chefs.
Pitco's catalog contains both natural gas and propane gas fryers – often, the very same fryer can even be easily converted from one to the other (with a simple conversion kit), providing you with great versatility.
Electric Fryers
(e.g., like the Pitco E24) are your best solution if you can't access a permanent gas supply and/or you cannot use cylindered gas for operation or safety reasons (remember that safe use of gas in your kitchen is conditioned by your access to direct ventilation).
Electricity is a widely available, very efficient, yet also quite expensive energy source. Nevertheless, Pitco tries to minimize these economic disadvantages (as well as the carbon footprint of its appliances) with various technologies and upgrades.
Pitco's ROV-series fryers, for example, combine modern features such as automatic filtration, automatic oil top-off, JIB management, and modular Solstice burner system for dramatically reduced oil consumption and operational costs. Some of the most energy-efficient Pitco fryers even boast blue Energy Star labels.
Safety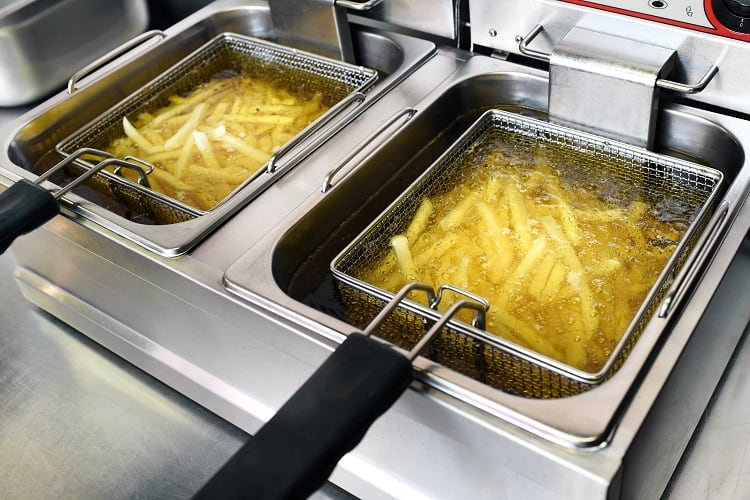 Large commercial deep fryers can be relatively dangerous machines. Some of the potential risks related to their energy sources (short circuits, gas leaks, etc.). Others are associated with hot surfaces and large volumes of scorching oil.
While the manufacturers can only go so far when it comes to the prevention of injuries/damage caused by the human factor, they can minimize the risks associated with the technology by deploying various safety shut-off mechanisms and fuses.
Pitco, for example, equips its fryers with an integrated gas control valve that regulates the gas flow safely in all different situations. A ​​built-in flue deflector navigates hot gases safely out through the ventilation system. A temperature limit switch autonomously turns off the gas supply when the fryer exceeds the temperature limit (450 °F).
Of course, Pitco fryers also comply with all the official safety standards and regulations.
Reliability
Pitco is a reputable company residing directly in the US. Its commercial cooking appliances are believed to be some of the most reliable and durable products in their respective categories.
Thousands of customer reviews suggest that these appliances are really made to last, and even if they do eventually need some repair or readjustment, there's a thick network of authorized servicemen and widely available replacement parts around the country, so you should be able to get your appliance back together fast and painlessly.
Moreover, all of the fryers in Pitco's catalog come with a comprehensive warranty policy that covers the products for up to 10 years from purchase. But it is not impossible to keep your commercial fryer in great shape for even longer. The actual life expectancy depends on regular cleaning, good maintenance, and considerate handling of the appliance.
Price
Price is definitely one of the most important factors for most of those who seek to buy a commercial deep fryer. But before you jump on the cheapest offer, think twice about the overall operational costs, potential risks of repairs, and the prospect of premature failure of a low-cost appliance. After all, even the biggest brands can offer good deals or budget-friendly alternatives.
Pitco commercial fryers can cost you anywhere from a few hundred to several thousand dollars. The brand has a nice range of affordable basic fryers in its Economy series. Yet, there are also super-large, super-efficient fryers packed with modern technologies and features for those who are willing to pay more for something special.
Pitco Commercial Fryer Model Guide: Top 5 Models in Detail
Now when you know all about the brand in general, let's focus on the individual models on offer. Although I'd love to introduce you to each and every Pitco commercial fryer out there, there are just too many of them to include in a single article. That's why I've created this short list of Top 5 Pitco commercial fryers worth recommending.
They cover different types, sizes, and price ranges of these appliances, so they should serve as a good representative selection.
Pitco SG14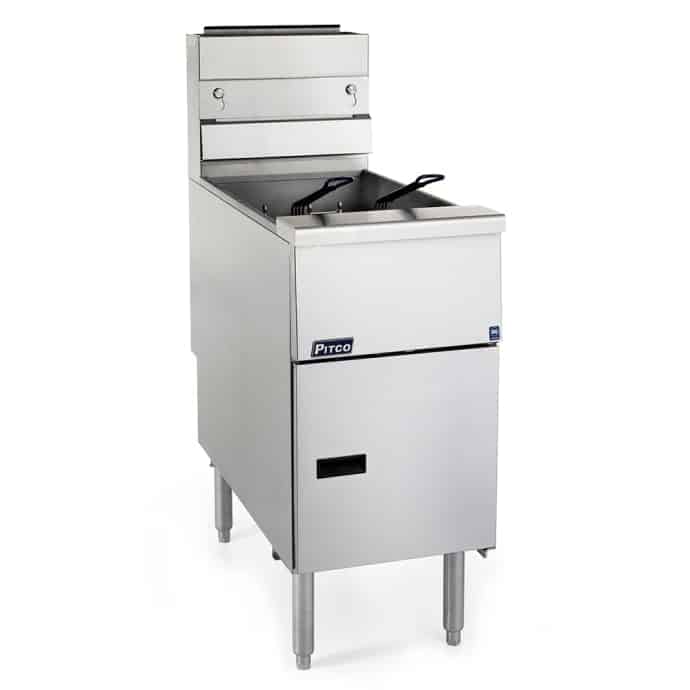 Still don't have a clue what type of fryer you are actually looking for? Pitco SG14 is one of the most versatile units that will certainly satisfy many different types of users. This basic gas fryer has a 40-50 lb. oil capacity, impressive consumption of just 110,000 Btu/hr, and a 14″ x 14″ frying area.
This basic fryer has thermostatic controls and a safety shut-off switch for excessive temperature. It deploys an atmospheric heating system with popular Solstice burner technology, which further improves its efficiency. Although this fryer is not the largest, costs quite a lot, and doesn't offer most of the newest Pitco's control technologies, it is still an exceptionally good choice.
Pros:
Simple operation
Energy efficiency
Versatility
Cons:
Relatively high price for the small capacity and a bit outdated controls.
Pitco SG18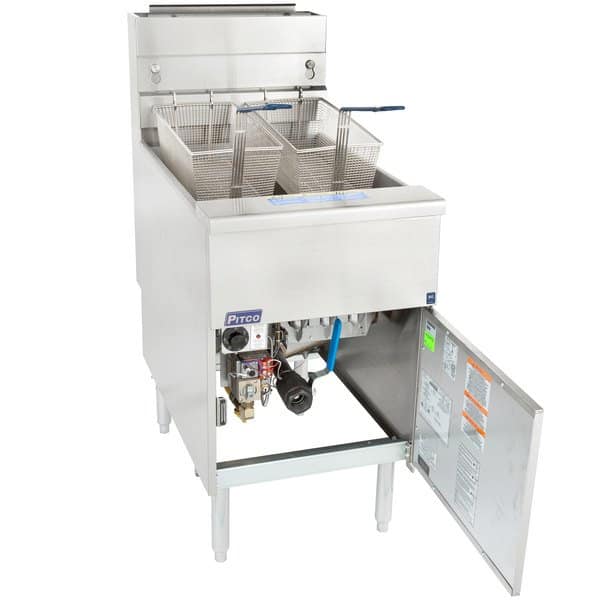 Pitco SG18 is another commercial floor-standing natural gas fryer from the same manufacturer with the ability to attract all the different types of users. In comparison with the aforementioned SG14, this model is slightly larger: it boasts 70-90 lb. oil capacity and an 18 x 18-inches cooking area. Again, this is a gas-fueled fryer using a Solstice burner with ​​a self-cleaning solenoid.
SG18 has simple yet exact thermostatic temperature control that will allow you to take complete control over the operation. This fryer is also quite energy-efficient, consuming just about 140.000 BTUs per hour of operation. Just keep in mind that it is a relatively large and expensive appliance.
Pros:
Efficient
Above the average cooking area
Great for larger kitchens
Cons:
It's probably too large and pricy for smaller kitchens
Pitco E35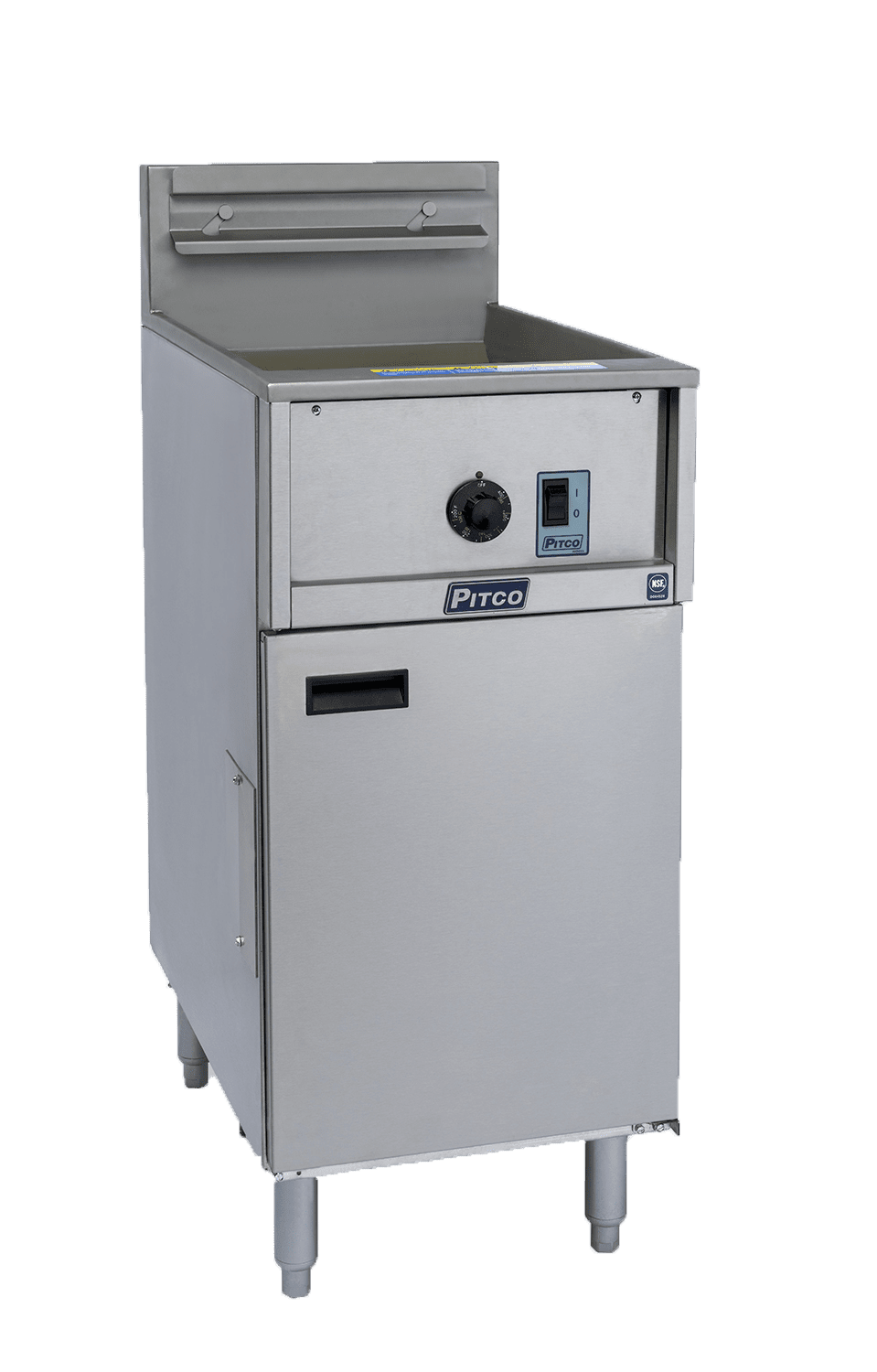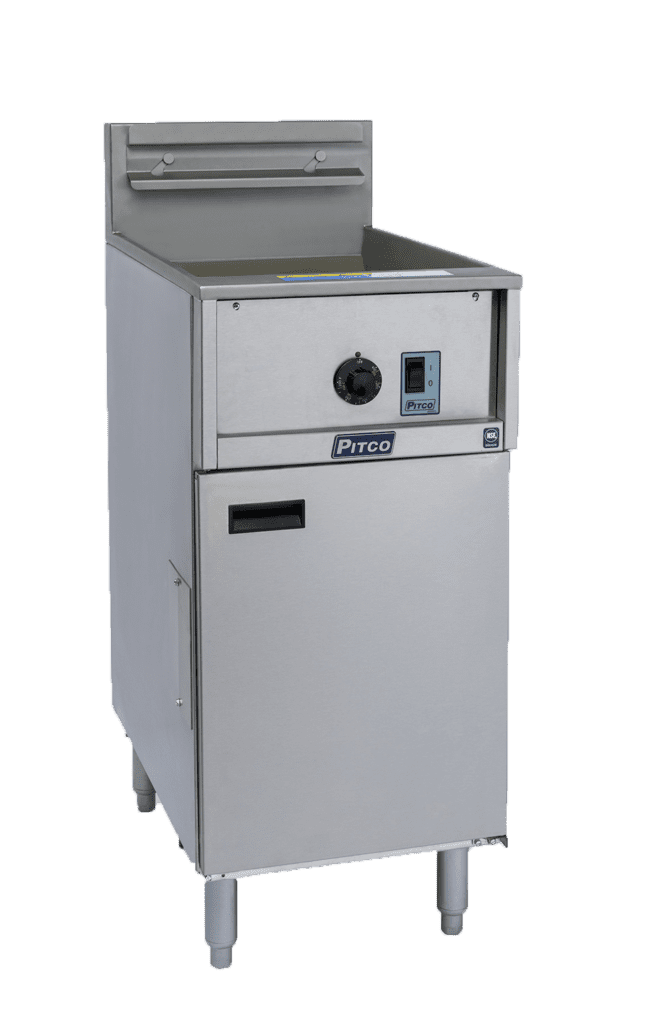 If you don't want to or cannot use a gas-fueled deep fryer in your kitchen, Pitco E35 is a good electric alternative. This is a relatively compact model with a tank capacity of just 35 lbs. of oil, yet thanks to its efficient, great performance, it can produce impressive amounts of fried foods fast and effortlessly.
The fryer runs on 15kW power and comes with a standard 14″ x 14″ cooking area. It is specifically designed for budget-minded customers who need to cut expenses without compromising their fryer's overall quality and reliability. Of course, keep in mind that the cost of electricity somewhat increases the basic operational costs of this machine.
Pros:
Good performance
Ideal for those who cannot access gas supply
Small fryer for smaller kitchens
Cons:
Electricity is more expensive
Probably too small for some of the larger establishments
Pitco SSHLV14T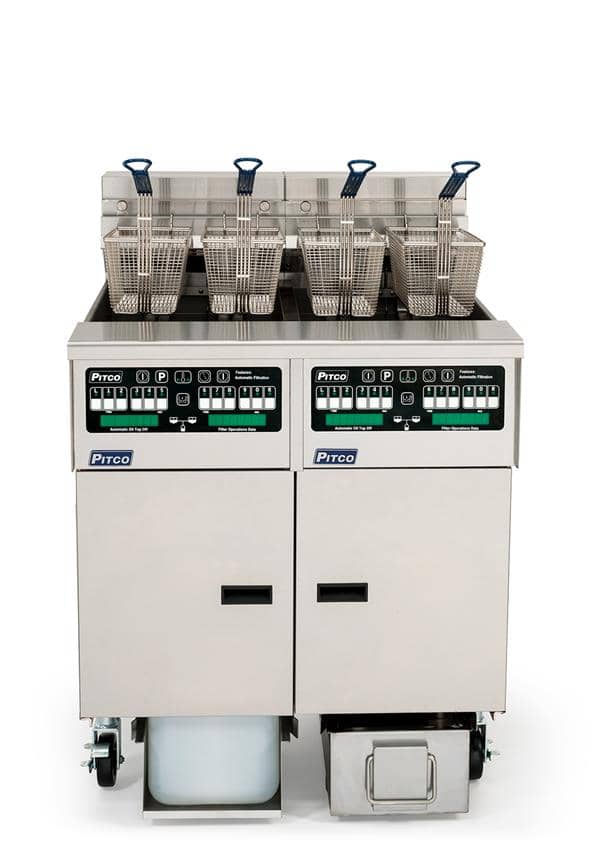 If you're willing to invest in one of the most sophisticated and capable machines in Pitco's catalog, check out Pitco SSHLV14T – an impressive split tank gas fryer from the company's most efficient ROV series. This split design allows you to control each half of the fryer separately and lets you keep different batches of food separated throughout the frying.
SSH V14T comes with a programmable control system. It can be used to indicate the number of active cooks, warn you about the upcoming term of oil filtration, and save data from the current frying session. This model also boasts Energy Star certification for its efficient operation and small carbon footprint.
Pros:
Energy Star certification
Lots of modern technologies
Split tank gas for separate batches of fried goods
Cons:
A large appliance that won't fit into smaller kitchens
Expensive
Pitco SSH55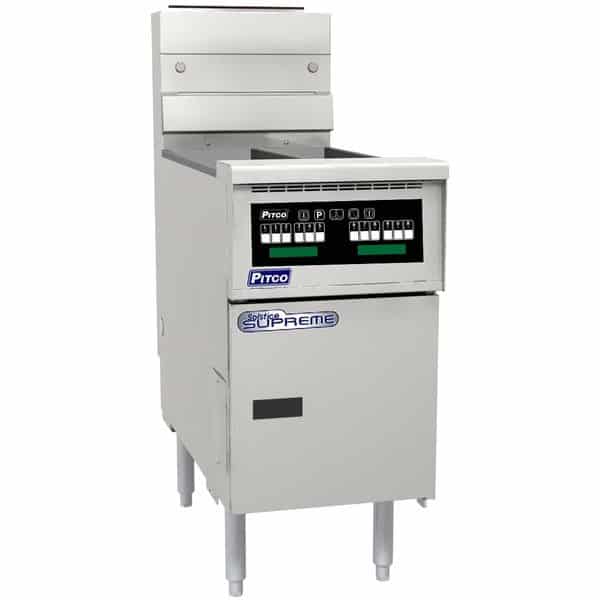 It's been quite a while now since Pitco first introduced the ground-breaking Solstice technology. Now it promotes an upgraded version of this burner system – Solstice Supreme. Pitco SSH55 is one of the few gas fryers from the brand's catalog equipped with this feature. It promises even better energy efficiency, faster heating, and more flexible temperature adjustment.
SSH55 comes with a 40-50 lbs. of oil capacity, so it should suit mostly mid-range establishments. It consumes just 80.000 BTUs per hour, and you can even choose an optional touch controls configuration for the most convenient user experience.
Pros:
Even more energy-efficient
Great for mid-range restaurants
Optional touch controls
Cons:
Are There Any Alternatives?
Not impressed by any of the Pitco commercial fryers we've mentioned so far? Here are some alternative brands and models for you to consider:
Frymaster Commercial Fryers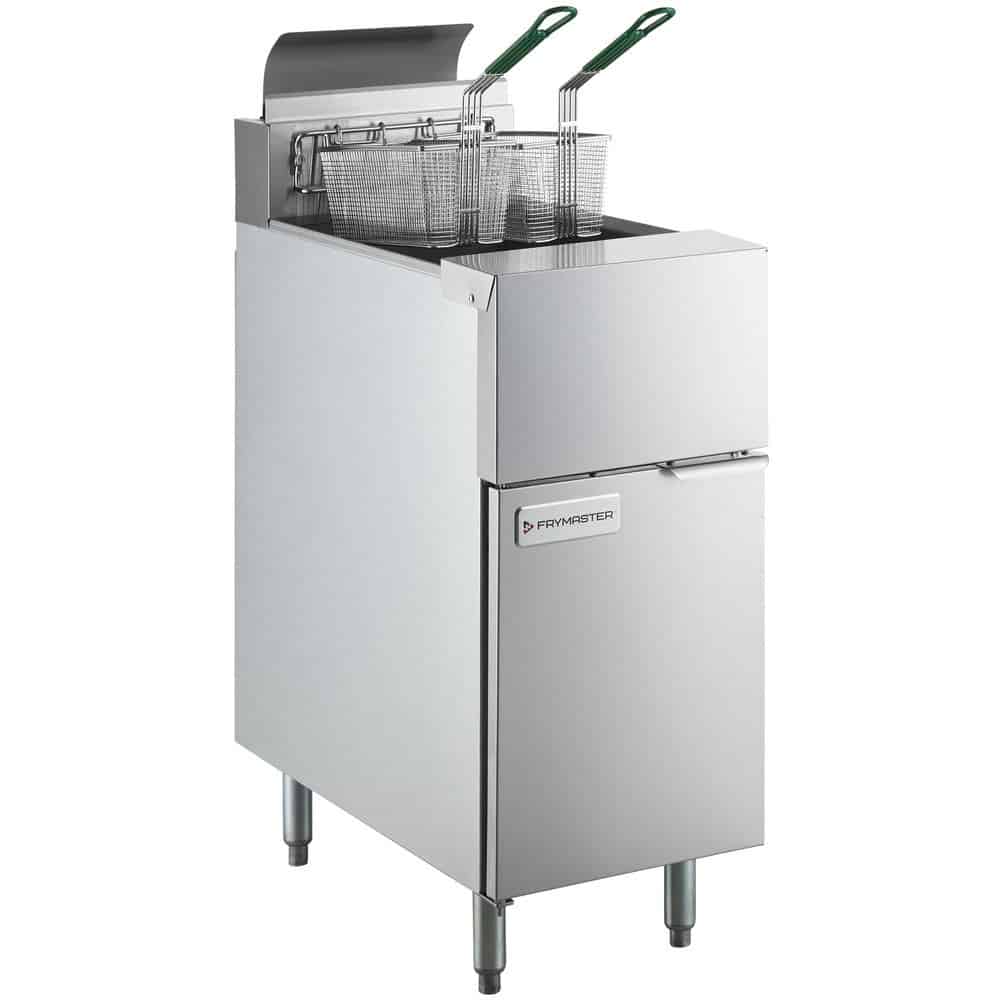 Frymaster is another reputable company known for its durable and reliable commercial kitchen appliances. Like Pitco, this brand boasts a vast range of deep fryers from electric and gas-fueled categories. Their most notable models include 40 lbs. gas-fueled Frymaster GF14SD, compact electric Frymaster RE14, and the large capacity Frymaster PH155.
When it comes to Frymaster's pricing, it is pretty similar to Pitco. The catalog has budget-friendly options and exclusive pieces of equipment for those willing to pay more. If you want to learn more about Frymaster's commercial fryers, check out this Frymaster Fryer Model Guide or an in-depth review of the Frymaster PF50 filtering system.
American Range Commercial Fryers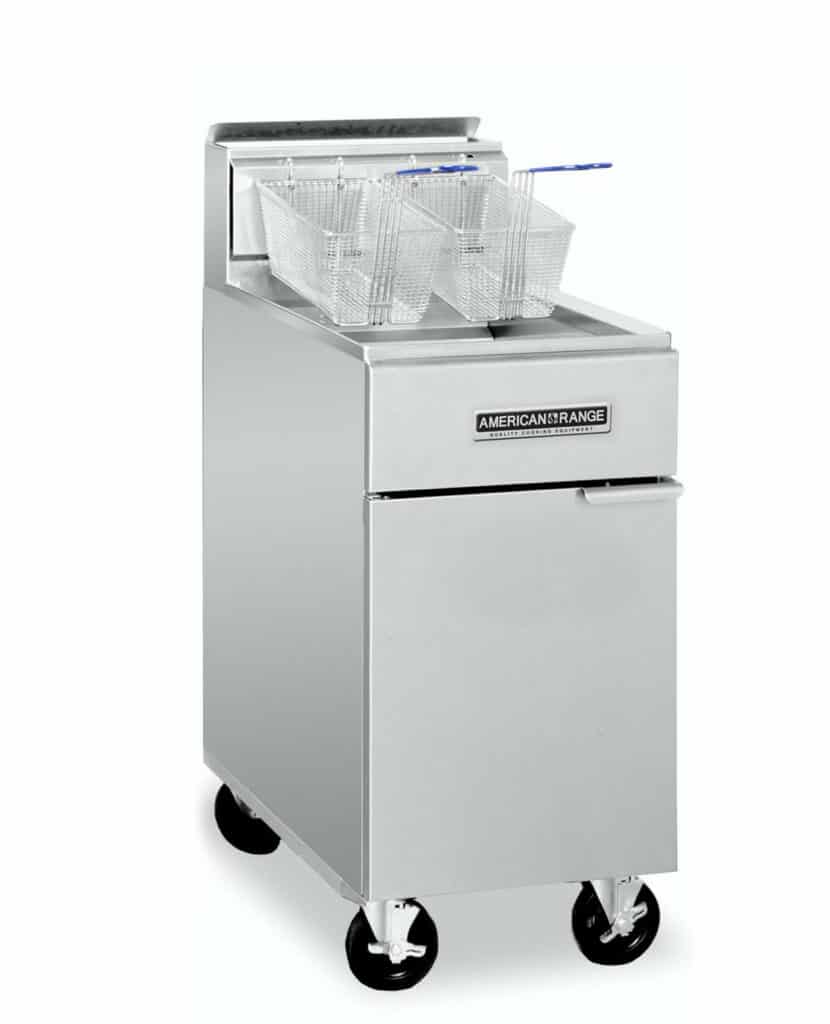 American Range is a well-renowned manufacturer of commercial fryers. Its offer consists of a wide selection of types, sizes, styles, and price ranges of fryers. These appliances are generally acclaimed for their efficiency, durability, and reliability.
American Range's portfolio has classic floor-standing fryers like AF-35/40, compact countertop fryers such as AFCT-15, and innovative fryers with integrated dump stations. Besides purely commercial equipment, the catalog also contains some quality gear for enthusiastic home chefs.
The biggest drawback here is probably the higher price – comparable professional American Range appliances are, on average, more expensive than most Pitco fryers. Unfortunately, there are also not many budget-friendly solutions for beginners or small kitchens.
If you want to learn more, read this complete Best American Range Fryer Guide written by one of my colleagues.
Lincat Commercial Fryers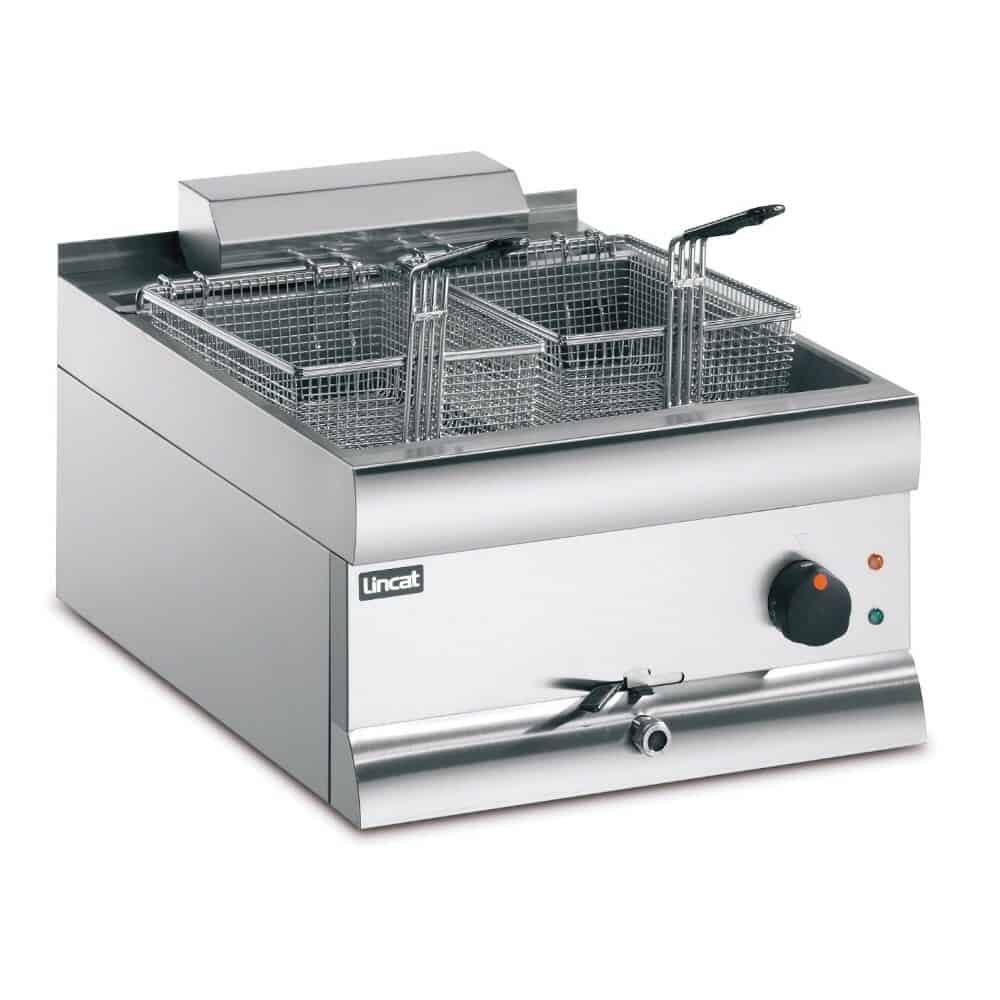 If you're not firmly decided to stick to American appliances, maybe you should take a closer look at some of the Lincat products. This British producer focuses on heavy-duty commercial fryers, water boilers, cookers, grills, and much more. Although it's not much recognized in the US yet, the European market perceives Lincat as one of its top brands.
When it comes to fryers, Lincat offers a wide range of options. Lincat DF36, for example, is a compact countertop single-tank electric fryer primarily suitable for small establishments or catering services. In contrast, Lincat Opus 800 is a large-capacity floor-standing fryer with pumped filtration and two baskets.
Regarding its price range, Lincat stands somewhere in the middle. For more valuable tips and recommendations, check out the full Commercial Fryer Shopping Guide.
FAQs
Question: Where are Pitco commercial fryers made?
Answer: Pitco is an American brand based in Bow, New Hampshire. This is where the company also has all of its assembly lines and inspection facilities. Nevertheless, the company now reportedly also works with various suppliers worldwide, so the fryers are most likely not produced on American soil to the smallest components.
Question: Do Pitco Commercial Fryers have their own filtration system?
Answer: Oil filtration is an essential part of your fryer's maintenance that should be performed regularly and thoroughly. Some Pitco commercial fryers are equipped with in-built filtration, but others need to be cleaned with an external portable filtering system.
Question: Which electric Pitco commercial fryer has Solstice technology?
Answer: Solstice technology makes Pitco fryers some of the most efficient appliances on the market in regard to their thermal efficiency. This burner technology is deployed in both gas and electric Pitco fryers, and there's even a series of Solstice Supreme gas fryers with an upgraded version of this technology.
If you're looking mainly for electric Solstice fryers, though, your options include models SE14, SE14X, SE14R, SE14T, SE18, SE18R, SE184, and SE148X.
Final thoughts: So, Which One Is the Best Pitco Commercial Fryer Model?
As you probably already know by now, Pitco makes a vast range of commercial fryers that should suit all the different types of establishments very well. Which one to choose? That should mainly depend on your personal preferences, budget, and conditions in your kitchen.
If you're dealing with limited space or budget, I would suggest going with a relatively compact and economic Pitco SG14. On the other hand, if you cannot access gas, try some of the energy-efficient electric solutions like Pitco E35. And in case you're after great capacity and the newest technologies, I would recommend Pitco SSHLV14T as your best option.
In any case, I hope this model guide helps you find a perfect commercial fryer that will make your business strive and grow. If you're looking for more shopping guides, how about reading the Best Chefs Choice Meat Slicers Model Guide or a Guide to Finding Best Commercial Cutlery next?