Latest posts by Jodie Chiffey
(see all)
Unless you're completely new to the commercial kitchen equipment, you've probably already heard of Pitco – one of the largest American producers of professional gas fryers. Are you considering expanding your setup with one of these appliances too? Today we'll discuss one of the largest natural gas fryers in Pitco's portfolio – Pitco SG18.
We'll explore its strengths and weaknesses and help you decide if this is the right deep fryer for you and your kitchen.
Whether your kitchen produces just french fries and chicken wings, or you're offering sophisticated deep-fried seafood and exotic desserts, a good gas fryer will probably be one of the most important pieces of your cooking equipment. But a fryer is also one of the most expensive kitchen appliances, so you should choose wisely and consider all the pros and cons before placing your order.
If you're currently considering purchasing Pitco SG18, you've come to the right place – our Pitco SG18 review and guide will provide you with all the information you need to hopefully make an informed decision.
First, let's start with a brief overview of Pitco SG18's key features and parameters.
Key specifications of Pitco SG18
| | |
| --- | --- |
| Type of fryer | Commercial floor natural gas fryer |
| Burner | Solstice burner + attached heat baffles |
| Capacity | 70-90 lb. oil capacity |
| Frying area | 18"x 18" |
| Input | 140,000 Btu/hr. |
| Dimensions/weight | 19.625″ x 34.469″ x 46.125″/226 pounds |
| Latest price | Click here for the latest price |
Core features of Pitco SG18
Now let's move on to exploring each feature and quality of this fryer in detail:
Construction and design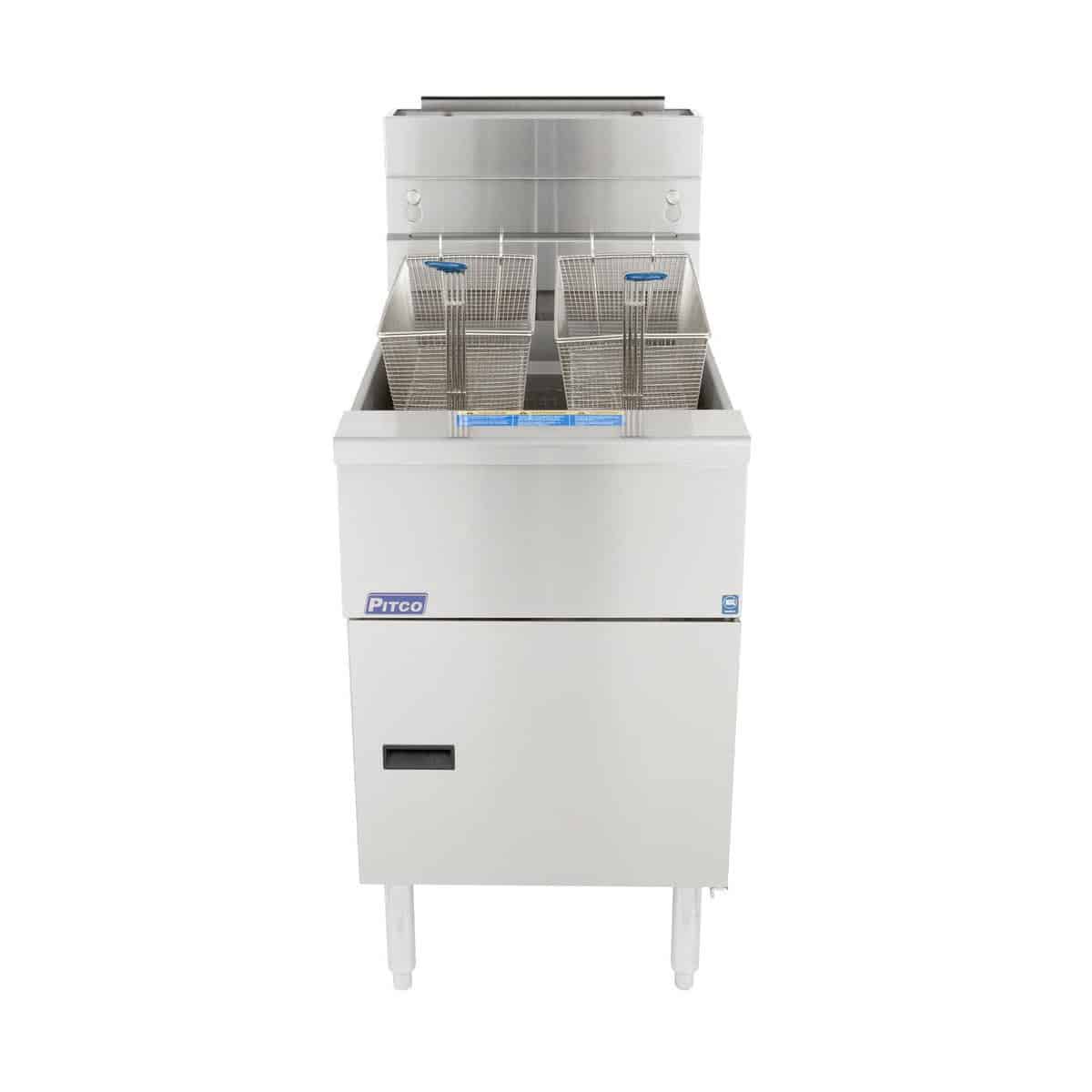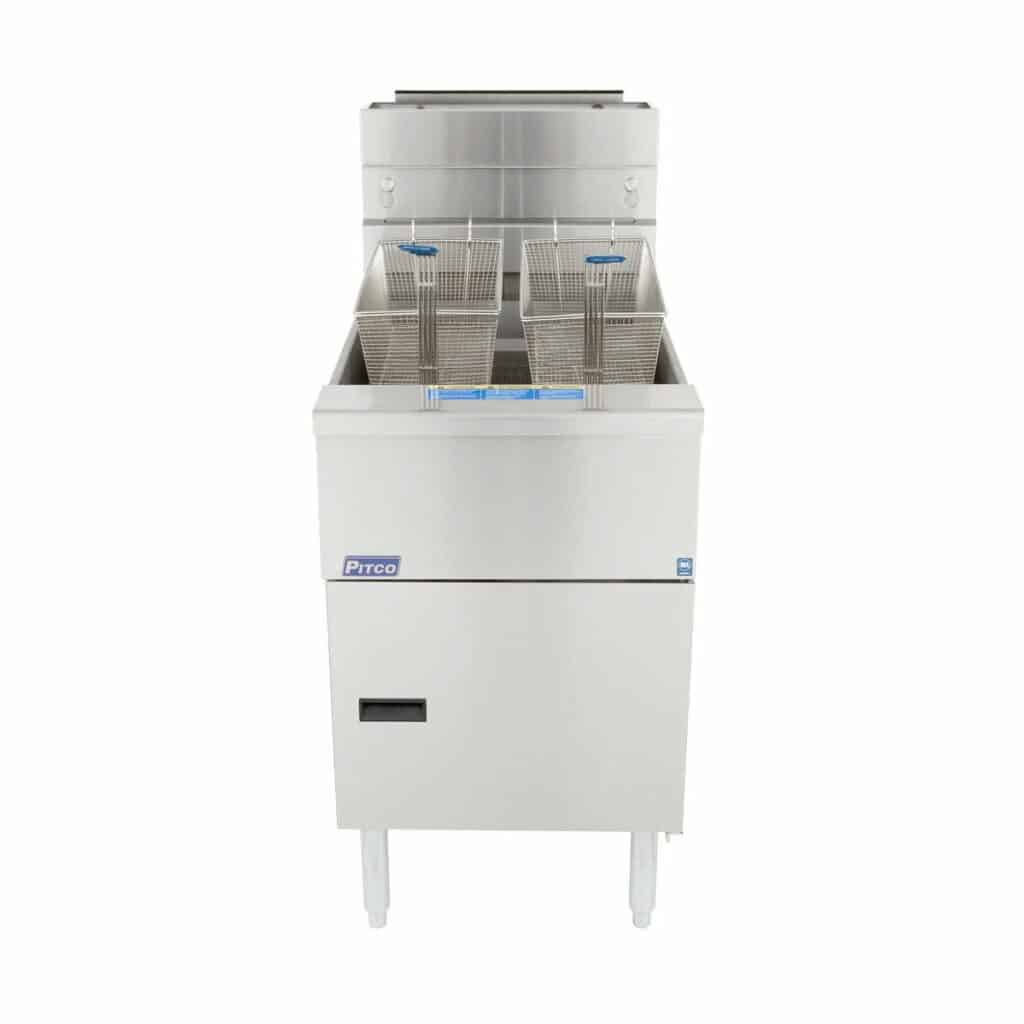 Pitco SG18 is one of the largest models you can currently find in the catalog of this renowned brand. Given its robust dimensions (19.6 x 34.5 x 46.1 inches) and above-the-average capacity, this unit is probably the best choice for middle-to-large establishments with spacious kitchens and loads of daily orders on fried goods.
The unit consists of a large metal cabinet made of top-quality stainless steel, and so is the oil tank, door, and all the other panels on this fryer. You can literally feel how sturdy this unit is when you get your hands on it, and you can also rest assured that each part of it is immune to rust and corrosion.
The tank in this fryer, as I've already mentioned, is really large. It can accommodate between 70 and 90 lbs of oil, which means that you can fry large loads of food in this fryer at once and cope with an endless queue of orders without any significant delays. Also, the frying area measuring 18" x 18" is the largest you can get with any of Pitco's commercial-grade gas fryers. This large space further simplifies and accelerates your workflow.
Just like all the Pitco fryers, this model comes with a wide range of optional accessories. The standard setup includes two nickel-plated rectangular fry baskets, a removable basket hanger, 9″ height-adjustable metal legs, and a convenient 1 ¼" drain. Optional accessories include caster wheels, tank covers, and some other useful additions.
Functions and controls
Pitco deep fryers are popular not only due to their reliability and durability, but they also attract many buyers thanks to their ease of use. Although SG18's size and capacity might be intimidating for inexperienced users, rest assured that it takes just very little effort to master the operation and maintenance of this unit.
The convenient Solstice burner technology facilitates the whole procedure. It doesn't need any additional blowers or ceramics, and the technology should also contain a self-cleaning solenoid, which not only saves your time and effort, but it also prevents possible clogging of the burner. The system is also equipped with high-temperature stainless steel heat baffles, which further improve the fryer's heating and combustion efficiency.
Setting the desired frying temperature is super easy with Pitco's thermostatic controls. The temperature setting ranges from 93 to 190°C (200 to 400F). The millivolt thermostat will maintain your desired temperature throughout the whole operation, ensuring that you will always get even and precise results.
If you decide to change the temperature setting though, the unit will respond quickly, adjusting the oil temperature to your new requirement without significant delays.
Safety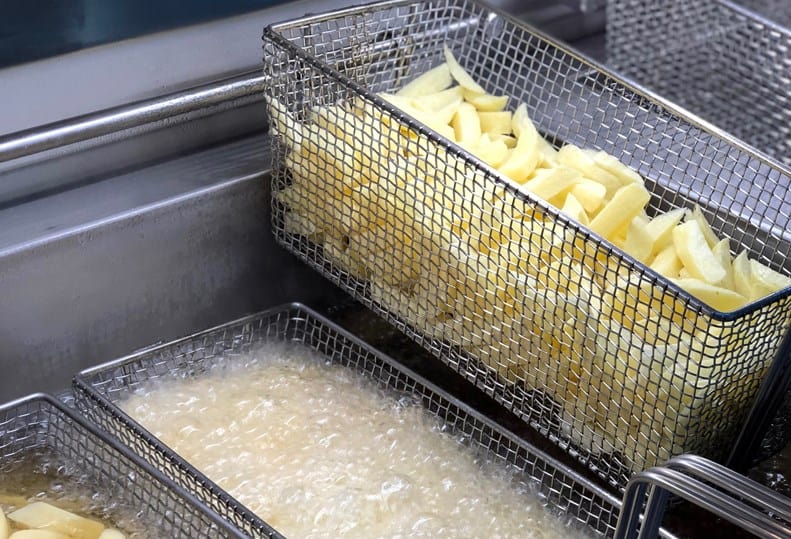 Although using sophisticated machines like Pitco SG18 might appear simple and safe as a child's game, keep in mind that you are still dealing with a potentially hazardous machine. Gas leaks, overheating, physical contact with hot surfaces, or scolding oil – all these threats are very real with any gas fryer if you don't take safety precautions, professional installation, or proper maintenance of these appliances seriously.
Nevertheless, Pitco fryers come with a handful of practical safety measures that prevent the most possible risks and incidents. First, the fryer is equipped with a safety shut-off switch for excessive temperature. If the fryer heats up uncontrollably, safety shut-off will cut it from power before it can do some serious harm or damage.
This fryer also features an integrated flue deflector, which directs hot gases safely out through your ventilation system, helping you avoid any direct contact with them. There are also manual gas shutoffs (mostly used for the fryer's safe and convenient front servicing) and several other safety features. Moreover, Pitco fryers boast many safety certificates and approvals that can further reassure you of their compliance with quality standards.
Still, keep in mind that the safe operation of your fryer will also depend on your (or your chef's) maintenance and operation routine. Make sure that all your staff knows how to work with this fryer before assigning them this responsibility.
Reliability
If you're looking for a fryer that can truly be trusted, Pitco is currently considered one of the most reliable brands in this field. These heavy-duty appliances are made to last and cope with the demanding environment of large kitchens without major hiccups.
The producer advises that SG18 should serve you well for at least 7 to 10 years, also reflected in Pitco's comprehensive warranty scheme. Nevertheless, some users claim they've been using their Pitco fryers even longer and they still work well.
In any case, the good news is that whatever might go wrong with your Pitco fryer, it can most likely be repaired or replaced. Compared to some cheaper brands, Pitco has all the necessary spare parts readily available at the sock. Many certified servicemen can fix these machines all around the country.
Price
When it comes to the costs of this investment, Pitco gas fryers are, in general, standing a bit above the average. Although there are numerous more expensive commercial fryers on the market, if you need to cut your expenses as much as possible, you will probably find SG18 too pricey.
On the other hand, keep in mind that your overall expenses will also include the operational costs of the fryer in the long run. Pitco SG18 consumes about 140,000 BTU per hour, which (considering its large capacity) makes it quite an energetically efficient choice.
For the latest price of this fryer, click here.
Pros of the Pitco SG18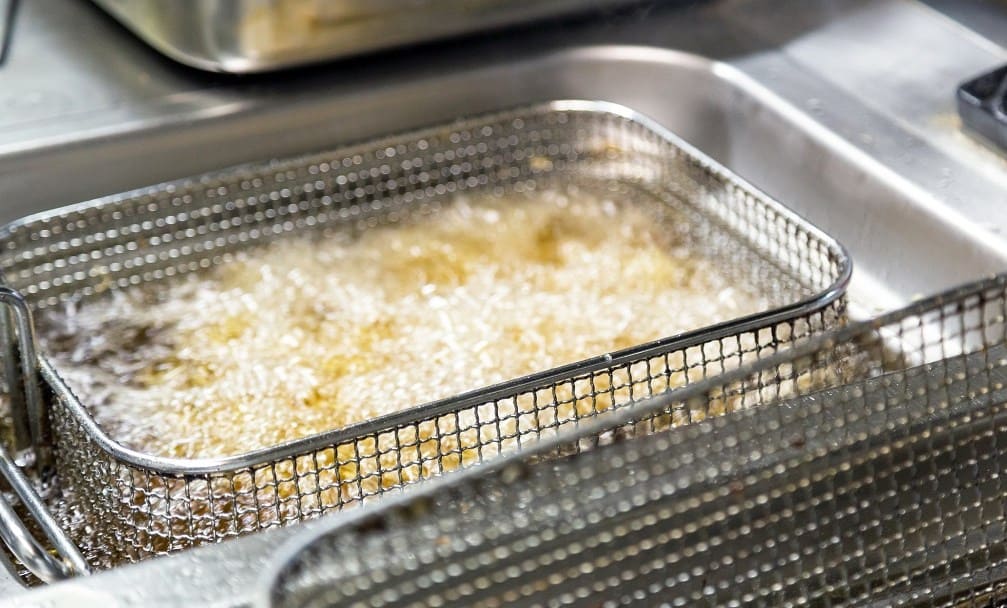 Still in doubt whether Pitco SG18 is the best large freestanding fryer for your commercial kitchen? Let's briefly summarize all its qualities and benefits:
Large capacity
If you need a large capacity commercial-grade gas fryer, your options on the market are somewhat limited. Pitco SG18, however, should completely satisfy even the largest restaurants with its 70-90 lbs oil tank and 18 x 18-inches large frying area.
Durable materials
All Pitco fryers are heavy-duty units made of top-quality stainless steel. Moreover, even the controls and other smaller components and accessories on this unit feel sturdy and durable. This is a good option if you need a fryer that can endure even the toughest conditions in a busy commercial kitchen.
Simple and precise settings
If you already have some experience with large professional deep fryers, Pitco SG18 will probably surprise you with its simple operation and short learning curve. In addition, the millivolt thermostat setting is also very precise and reliable, which helps you achieve even results every time.
Safety measures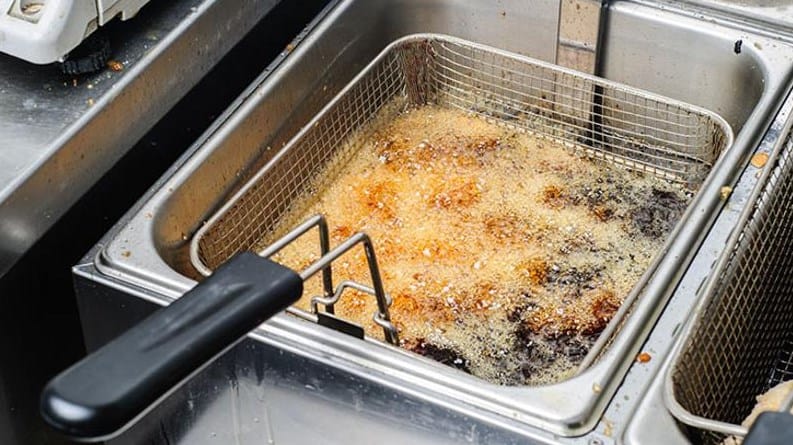 Gas appliances can cause a lot of trouble if they are not as safe and secured as they should be. Pitco, however, seems to approach this matter very responsibly – its gas-operated deep fryers are equipped with a range of safety features that directly address most of the potential hazards.
Reliability and warranty
Pitco is a well-established American manufacturer of heavy-duty kitchen equipment. It is a reliable, trustworthy company, and it also offers a very attractive warranty on its products.
Wide range of accessories
Pitco fryers come equipped with pretty much everything you're going to need to get started right out of the box. Moreover, this brand also offers a wide range of additional accessories that provide you with even more options for its application or improved comfort.
Energetic efficiency
Given how large and powerful this deep fryer is, its consumption of just about 140,000 BTU per hour makes it pretty much energy efficient. This is desired not only from the environmental point of view, but it also means that you're going to spend less on the operational costs of this fryer.
Cons of Pitco SG18
This fryer is really good – in fact, it is currently probably one of your best options in its class. Nevertheless, it still might not be perfectly suitable for everyone. Here are a few aspects you might want to reconsider before investing in Pitco SG18:
Large fryer for large kitchens
If you're running a smaller restaurant or fast food venue, Pitco SG18 might probably be a little too big for you. Physically, this appliance is really robust, so it will occupy quite a large space in your kitchen. If you're working in tight spaces, this might be a problem. Moreover, if you don't have a real use for its large capacity, you will also waste excessive energy and oil with no real benefits.
Relatively expensive
Investing in a good-quality deep fryer is certainly smart. Nevertheless, if you're on a budget, Pitco appliances might seem to you unnecessarily pricy. Although this brand surely boasts many qualities and advantages, you would be probably able to find decent alternatives at a notably better price.
Are there any alternatives?
As I've mentioned above, Pitco SG18 might be a great choice, but it's definitely not your only option. If you're not entirely sure about this purchase, maybe you will find some of our recommended alternatives more attractive:
Frymaster 11814GF Energy Star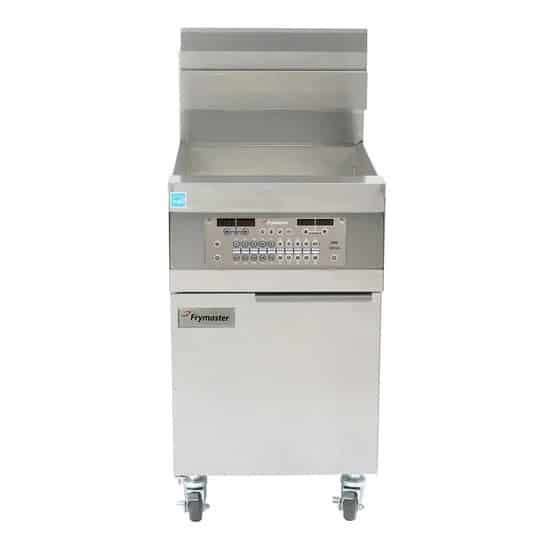 Frymaster is another popular American brand of professional deep fryers. If you're looking for a large-capacity alternative to Pitco SG18 in their catalog, you might be attracted to Frymaster 11814GF, which is in many regards similar, yet also boasts some important differences.
This model offers a 62 lbs. capacity, 18″ x 14″ frying area, and an innovative CM3.5 programmable controller with a smooth touchpad. This feature helps you achieve the most efficient performance of your fryer, which results in lower consumption of both energy and oil. The fryer also comes with a sophisticated filtration system and some useful accessories.
Pitco Frialator SG14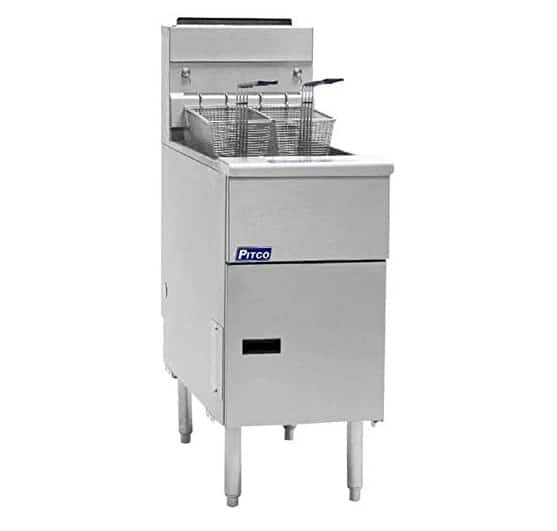 Would you like to take advantage of Pitco's outstanding qualities, but SG18 is a bit too large and expensive for you? No problem, we have a great solution for you: Pitco SG14 is a natural gas stainless steel floor fryer from the same brand with many similar features. Nevertheless, it is significantly smaller, offering just 40-50 lb. oil capacity and 14"x 14" frying area.
Logically, Pitco SG14 also has smaller input (110,000 Btu/hr.) and it costs less, making it a perfect solution for smaller restaurants or junior entrepreneurs. For more details on this interesting fryer, check out our full Pitco SG14 review and guide.
FAQs
Question: What is the best oil for deep frying in a Pitco SG18 fryer?
Answer: The most common and suitable type of oil for deep frying in commercial-grade fryers is vegetable oil. Nevertheless, some users also like to experiment with alternative options such as canola oil, peanut oil, soy oil, grapeseed oil, and so on. Keep in mind that some oils can burn out significantly faster than the others, and they can also leave more residues on the fryer itself, which will be more demanding on cleaning and maintenance.
Question: How do you repair a Pitco SG18 fryer?
Answer: Pitco has extensive troubleshooting manuals with tons of valuable information to help you resolve almost any potential issues with your fryer. Nevertheless, keep in mind that unprofessional modifications on your fryer might not only cause more technical issues, but they can even result in voided warranty and critical safety risks. If you're dealing with a specific problem and not sure how to proceed, you should definitely contact a professional serviceman.
Question: Where are Pitco fryers made?
Answer: Pitco is one of the largest manufacturers of commercial deep fryers in America. The company resides in the city of Bow, New Hampshire, where it also reportedly assembles all of its fryers. Nevertheless, note that the company admits to getting some of its components from other parts of the world.
Final thoughts: Pitco SG18 is a large-capacity deep fryer with many benefits
The Pitco SG18 might be quite expensive, but it is a safe choice with many benefits including reliability, durability, safety measures, and perfect ease of use.
The main advantage of SG18, however, is most likely its large capacity. A fryer that can accommodate up to 90 lbs. of oil at once can significantly speed up your workflow and allow you and your business to expand and grow.
Nevertheless, the extra-large capacity might not be important to everyone. If you think you'll be perfectly fine with a smaller fryer, maybe you should try a tinier and cheaper Pitco SG14 instead. Or how about the super-energy-efficient Frymaster 11814GF?
In any case, I hope that this review has helped you make the right decision about your new fryer. For more tips and tricks on how to choose the best one for you, check out our comprehensive Commercial Fryer Guide too!