Latest posts by Jodie Chiffey
(see all)
Every busy kitchen needs a pot filler faucet. In fact, a good one will transform your kitchen routine for the better. Pot filler faucets are a little different from the regular faucet in that they can expel more gallons of water faster, allowing you to fill even the largest of cooking pots with ease.
Depending on the design of the faucet, they can also have additional advantages. For example, some of them can swivel to make it even easier to fill any spot in your kitchen without all the heavy lifting.
In this guide, we'll be looking at some of the best commercial pot filler faucets currently available on the market. But before we get to the faucets themselves, we used the following selection criteria in our evaluation process.
Selection Criteria 
We've used strict criteria to narrow the search and find only the most functional and durable faucets with the necessary features to make your work easier.
The following are some of the things we looked for when choosing the ideal pot filler faucet;
Easy Installation: All the faucets on this list have been specifically chosen with ease of installation in mind. While you may need the services of a professional to install some of them, the whole process is uncomplicated, meaning that you can go from purchasing the faucet to using it in a matter of hours.
Durability: Our pot filler faucet selections are made of durable stainless steel and brass materials. Once a faucet is installed, the last thing you need is to replace it only after a few months of use.
Warranty: A warranty is a guarantee from the manufacturer that the product you purchased will serve you with little or no damage for the warranty duration. All the faucets on this list have a limited lifetime warranty, guaranteeing that they will serve you well as long as you need them.
6 Best Commercial Pot Filler Faucets

The following is a complete review of the best commercial pot filler faucets.
KOHLER K-99270- VS Artifacts Pot Filler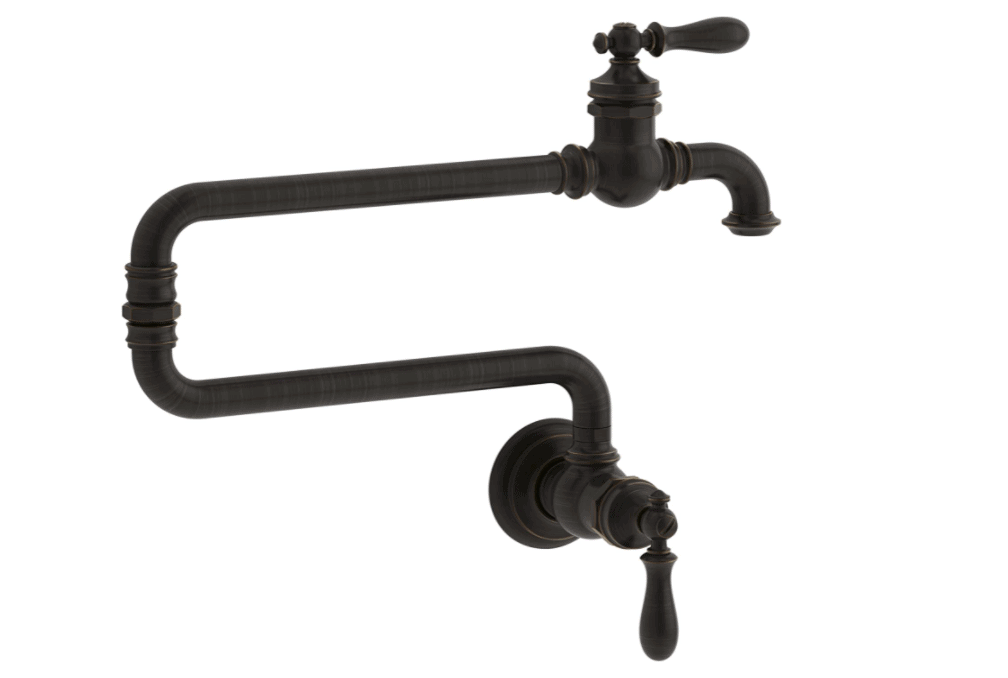 Kohler is a trusted brand for kitchen equipment, and they don't disappoint with the KOHLER K-99270- VS Artifacts Pot Filler. This pot filler has a design that is more functional than aesthetic. It has two handles, giving you the freedom you need to operate this easily, regardless of where you place your pots and pans.
It also has a very high water flow of 4 gallons per minute, suitable for filling large pots very quickly. It is very easy to mount, and the fact that it can be mounted on the wall allows you to save much-needed space on the countertop. The stainless-steel finish is not just easy to clean, but it will fit into your kitchen perfectly.
Kohler is a brand that guarantees quality, so you can expect that it will provide quality service for a long time. Yet, Kohler also offers a lifetime limited warranty, giving you the peace of mind that you will continue using the faucet without any problems for as long as you need it.
Pros 
Kohler is a trusted brand, so you can be guaranteed durability and functionality.
It can be mounted on the wall, which can save much-needed space
A very high-water flow allows you to fill even the largest pots of pans very quickly
The stainless-steel finish allows it to fit into any kitchen's décor
A lifetime warranty is very generous
Cons
It is a little bit expensive as compared to other models
Delta Traditional Wall-Mount Pot Filler Faucet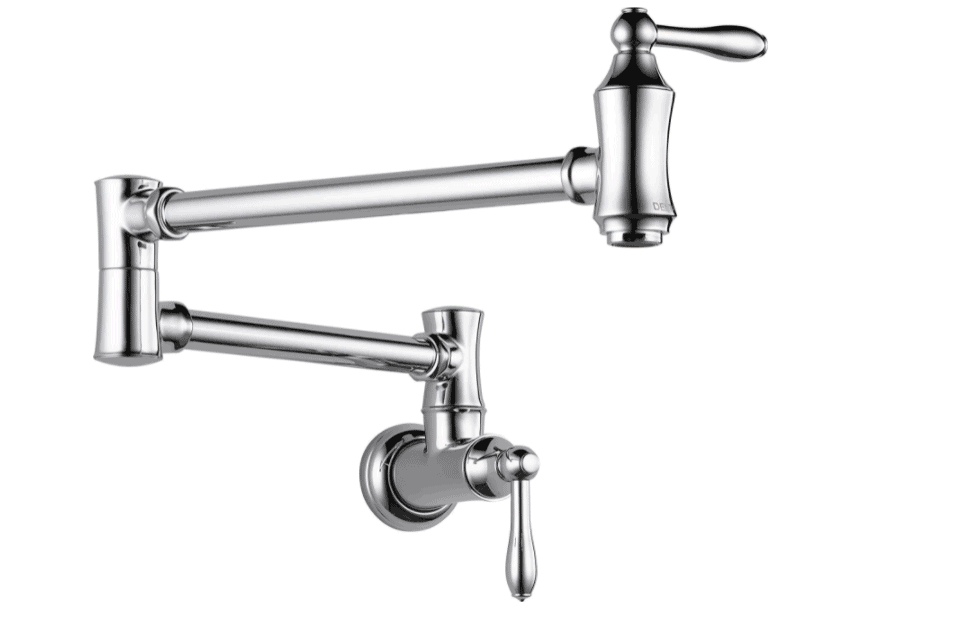 The Delta Traditional Wall-Mount Pot Filler Faucet is made of the most durable materials to ensure that it is sturdy enough to fit into the busiest kitchens. But this doesn't mean that it is not beautiful to look at, as it comes in various finishes, including champagne and Venetian finishes. However, you can choose stainless-steel or polished nickel if you prefer the shinier, metallic look.
The main material used to make this faucet is brass, meaning that it can be a bit heavier than most of the other options on this list. The manufacturer offers a limited lifetime warranty that will cover any issues with the faucet.
With a spot height of 7.22 inches and a reach of more than 23.62 inches, you will be able to fill up your pots wherever in the kitchen they may be. Mounting this faucet on the wall may not be very easy, but once you have it up, it will be a workhorse you can rely on.
Pros
You get a wide range of color finishes to choose from, making it easy to fit into your décor
A spout that can reach over 24 inches guarantees that you will be able to reach even the furthest of pots.
The brass material used to make this faucet makes it one of the most durable on this list.
Cons
Water pressure of 4 gallons per minute is ideal but less than the average water pressure of most other tools.
You may need professional help to install it
WOWOW Hot and Cold Pot Filler Faucet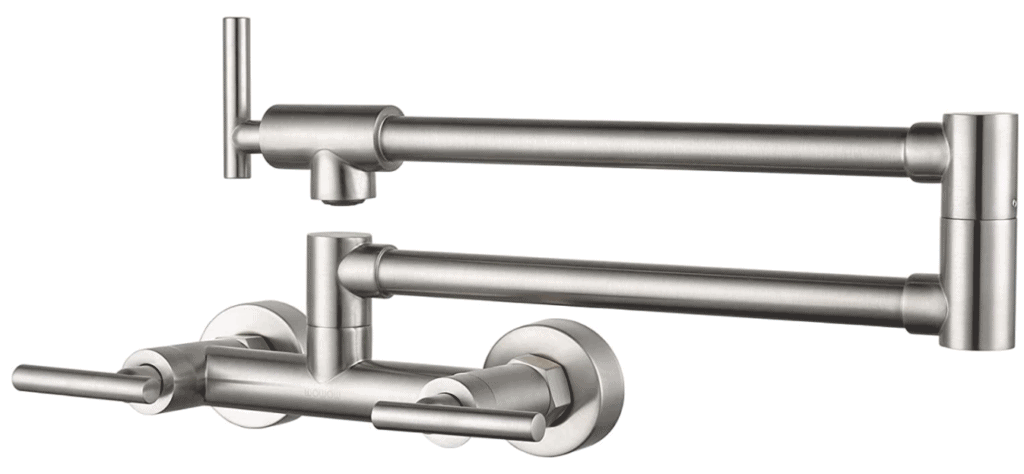 WOWOW is an ideal choice for the budget-conscious individual, but its affordability doesn't mean it is not useful. As the name suggests, it is designed to provide both hot and cold water, and it comes with a Neoperl aerator that allows you to increase the speed of the flow, depending on the size of the pot you're filling.
However, this faucet is very simple in design, although it does come in 3 different finishes; matte black, chrome, and brushed nickel. The main material used to make this faucet is high-quality brass, making it corrosion-free and safe for drinking or cooking water. It is also much easier to install than most similar options.
Pros
It is an affordable solution
It provides both hot and cold water
The body is made of top-grade brass to guaranteed durability
The spout has a reach of more than 22 inches
Cons
It is not wall mounted
You will need two holes for hot and cold-water lines during installation
IMLEZON Pot Filler Faucet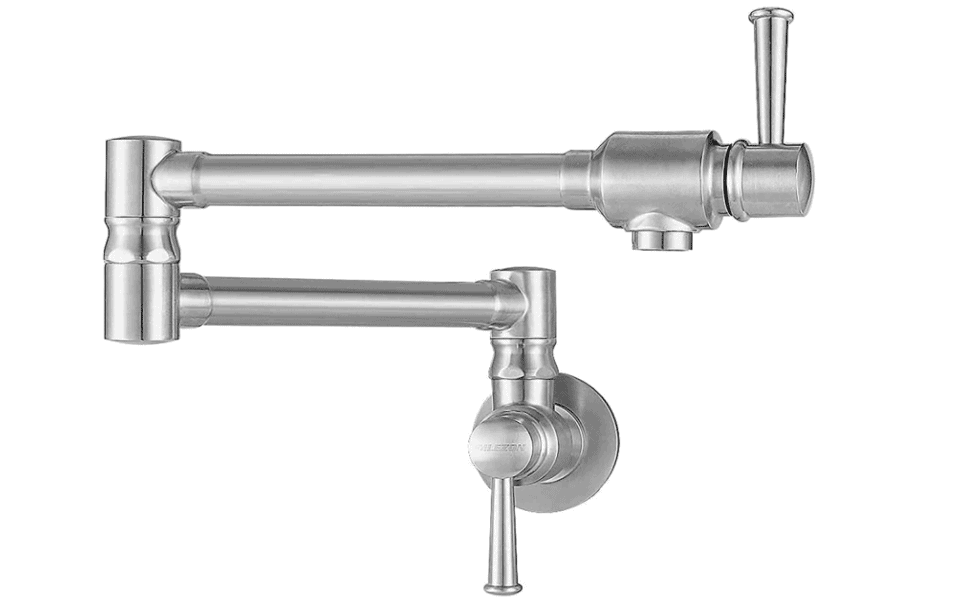 IMLEZON Pot Filler Faucet is an elegantly designed stainless-steel option that is solid enough to last a lifetime. Although not very heavy, it is solid and comes with two valves to allow you to easily manage the flow based on your needs. In addition, the length of the faucet's swivel arm can extend to the front burner of your stovetop. It can also be easily mounted on the wall and is foldable to save space in the kitchen.
It has a 5.5 gallons per minute water pressure, the best of any faucet we could find and ideal for filling even the largest of pots very quickly. The stainless-steel finish allows it to blend perfectly with all other kitchen equipment, and it is also very easy to clean.
Pros
It is very easy to install
The stainless-steel finish gives it an elegant finish and makes it very easy to clean.
The swivel arm can extend 21 inches around, and it is foldable
It is sturdy, rust-proof, and durable
5.5 gallons per minute water pressure is the best we've seen
Cons 
It is very expensive
It can be a little bit heavy
Kraus KFP-1603BG Artec Pro Faucet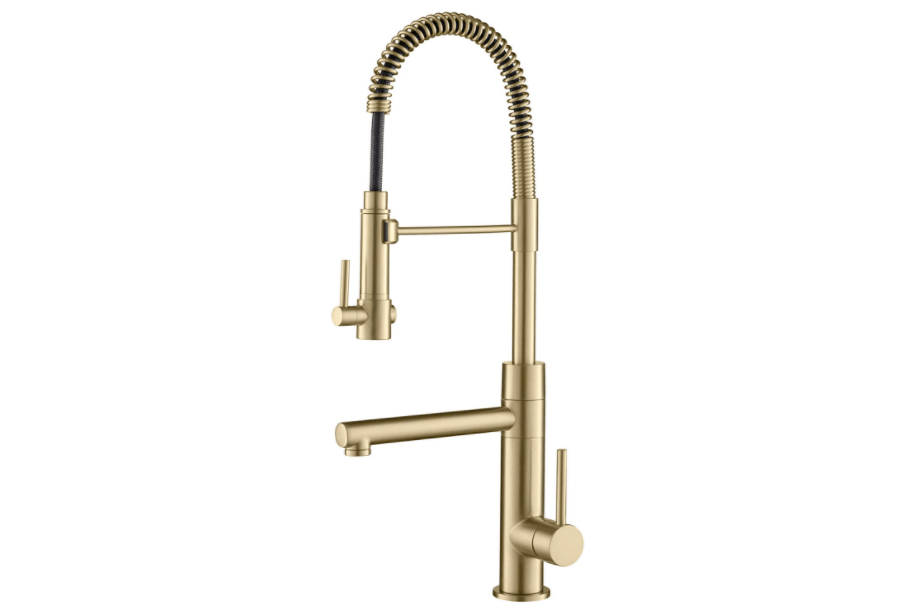 The Kraus KFP-1603BG Artec Pro Faucet marries elegance and functionality perfectly, combining the regular sink faucet with a fully functional pot filler spout. This combination allows you to save counter space even though this faucet is not a wall mount. The fact that it can be mounted on the countertop means that it is quite easy to install.
But at a pressure of 2.2 gallons per minute pressure, this is a faucet that may not be ideal for a busy commercial kitchen. However, it is a great solution when you want a pot filler that will also dabble as a fantastic dishwashing tool. It also comes with a warranty that covers the faucet body and the finish.
Pros
It is small enough to be an ideal choice for small stoves or limited spaces.
It is easy to install. You don't need any special plumbing accommodations
The luxurious gold finish makes it aesthetically pleasing
The magnetic, retractable head is rust-proof
Cons
The warranty only covers the faucet and the finish
The pressure of 2.2 gallons per minute is unremarkable.
Lordear Pot Filler Faucet Wall Mount Commercial Kitchen Pot Filler Faucet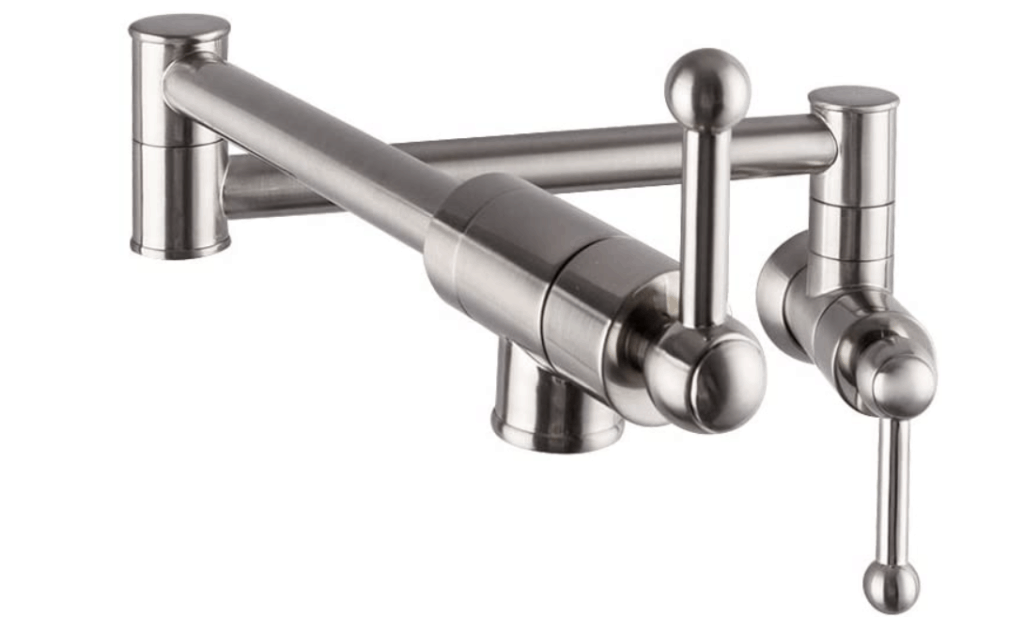 The Lordear Pot Filler faucet is another budget-friendly option that can be a great addition to any small or mid-sized kitchen. At full extension, it can reach a length of 19 inches, ideal for a medium range. It is also made entirely of brass with a nickel finish to make it durable and rust-proof. The inside of the faucet contains ceramic cartridges to further prevent rust and corrosion. The limited lifetime warranty covers any functionality issues and damage.
It can be mounted on the wall, thereby saving space, and since it only has cold water flow, you only need a single hold, making it very easy to install. In addition, its unique design makes it very aesthetically appealing while remaining highly functional.
Pros
Two handles make it easy to grip, and the balls at the end of the handles make turning it in and off easy.
The sturdy brass construction guarantees durability and reduced leakages
It is also corrosion and rust-proof
Limited lifetime warranty that covers the entire faucet
Cons
It only has a 19-inch range of motion
The finish is not stainless steel
The Best Commercial Pot Filler Faucet Buying Guide 
Whether you choose one of the faucets that we have reviewed above or you choose to do your own research to find the best option, the following are some important factors to keep in mind;
Flow Pressure (GPM) 
Gallons Per Minute (GPM) is a metric used to determine the flow rate of the water out of the faucet. The higher the GPM, the more water flowing from it. This is an important factor to consider because the higher the GPM, the faster you can fill the pots. It is the primary reason why you would need a pot filler faucet in the first place; because a regular kitchen sink is designed with a low GPM to avoid overwhelming the drain.
If you have a very large pot to fill and little time to do it, a faucet with a very high GPM is an ideal solution. It can be a good way for a busy kitchen to save a lot of time.
Positioning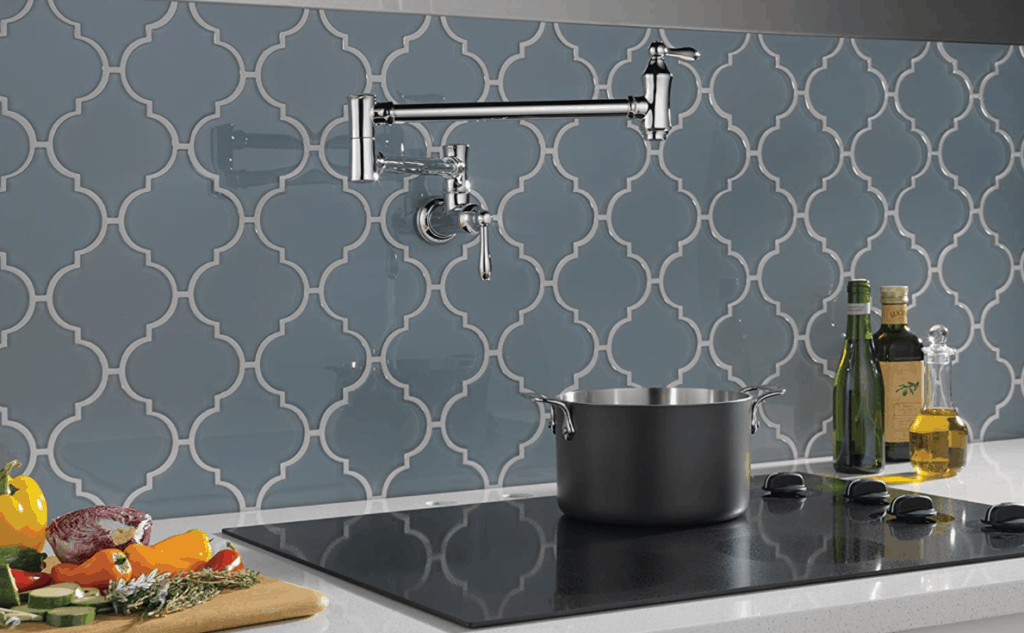 Kitchen pot filler faucets can either be mounted on the wall or the countertop. This positioning will often depend on the waterline and your own preferences. A wall-mounted faucet is more functional for most uses as it is often positioned above the stove area, easy to reach when needed, and folded away when not in use.
Countertop mounted (deck-mounted) pot filler faucets are often stronger in construction since they have to connect the counter itself. Therefore, they are a good choice when you have a lot of space around the stove.
Movement
Another important factor you need to consider when choosing a good pot filler faucet is its ability to swivel. Faucets that have movable parts are more functional and easier to use as they can reach where needed. For example, if you have a big pot with very high sides, then a faucet that can stretch to fill it will be advantageous to you. The same is true of an extra-large stovetop.
A faucet that is flexible enough prevents the need to carry heavy pots to the sink when you need to fill them, allowing you to focus more on more pertinent tasks.
Aesthetic Appeal 
While this may not affect the faucet's functionality in any way, the finishing, color, and general aesthetic appeal of any faucet can be a factor. This is because they come in different colors, finishes and are made of different materials.
You may choose a faucet with color or finishing that blends in with your kitchen décor. But you should always prioritize functionality over any other aspect of the faucet.
FAQs
Question: How High Should I Install the Pot Filler?
Answer: The height of the pot filler will depend on several factors, including the size of your kitchen, some of the other equipment or furniture in your kitchen, as well as the dimensions of the stove and sink.
However, it is worth noting that if you are installing the faucet above the stove, most manufacturers will specify the ideal height. This is because the faucet can get damaged as a result of constant exposure to the heat.
Question: Should the Pot Filler Match the Sink's Faucet?
Answer: You may want to coordinate the two, but many manufacturers will create a style that matches their faucet sets. When choosing a pot filler, measure carefully to ensure that the arm can clear the top of your range without hitting the cabinets.
Question: Does A Pot Filler Need a Valve?
Answer: Most pot filler faucets have two valves. This way, if one of the valves leaks, you can turn off the faucet to prevent water from leaking on the stove. It may also be a good idea to install an extra valve in the waterline, so you can turn off the faucet when you need to repair it.
Final Thoughts 
A Pot filler faucet is a must-have for any commercial kitchen or restaurant. Its main advantage is time management, allowing you to save time that would be otherwise spent lugging around heavy water pots.
For a fairly small kitchen with limited space, the Kraus KFP-1603BG Artec Pro Faucet is a great solution. The 2.2 GPM pressure may not be the best, but it is better than not having a filler faucet. This particular faucet is also an ideal dishwashing tool.
The IMLEZON Pot Filler Faucet is on the other end of the spectrum, an ideal solution for a larger kitchen with huge needs. Its 5.5 GPM pressure makes it a functional solution even when filling the largest of pots, and the fact that it is wall mounted makes it that much easier to use.
The Lordear Pot Filler faucet is the perfect compromise if you are looking for a faucet with high functionality but one that is affordable and small. This one is an ideal durable choice for the mid-sized kitchen.